In kayaking circles, inflatable whitewater kayaks are known as "Duckies." Why? Who knows? But that's how certain lingo develops within shared hobbies.
Once upon a time, I had an admittedly adverse attitude towards the "ducky," because there is something about an inflatable on the water that unnerves me.
Fortunately, inflatable kayaks have come a long way—so much so that many are rated for up to Class V rapids. Something like that shows immense durability in the construction process, including rugged decks with self-bailing, high-quality materials, and multiple air chambers.
After having jumped on a few of these by this point (not on any rapids but definitely in some heavy waves out on the Gulf of Mexico), I'm happy to say that I have more confidence than ever in some of the inflatable whitewater kayak offerings out there, including every one on this list.
Best Overall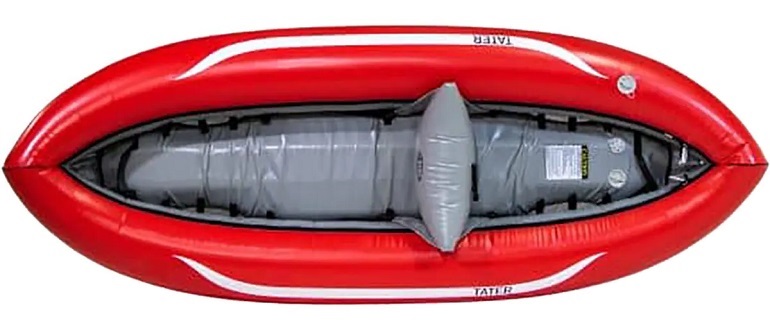 AIRE Tributary Tater
material: vinyl, pvc
item weight: 24.5 pounds
Runner Up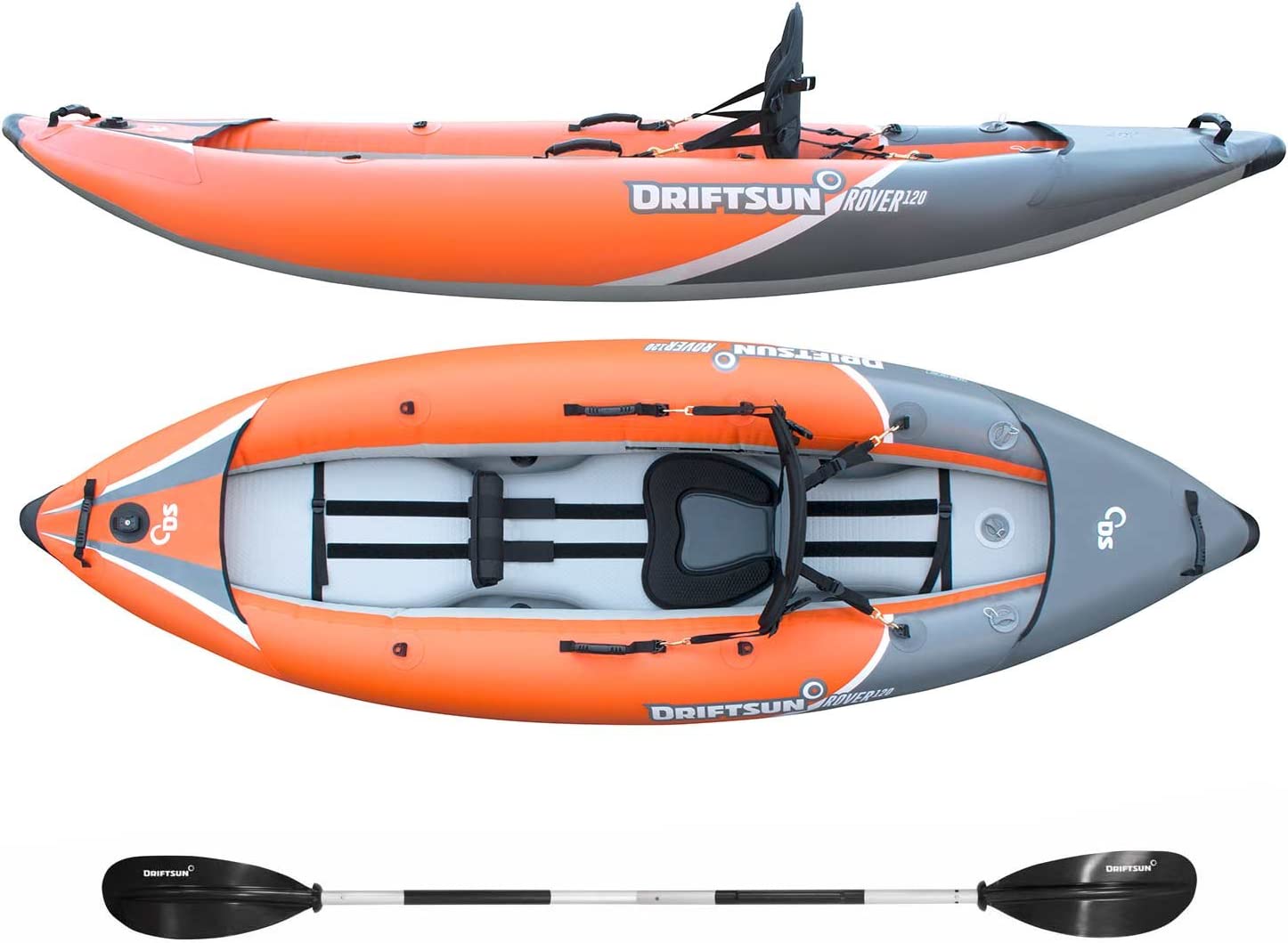 Driftsun Rover 120
material: pvc
item weight: 22 pounds
Best Tandem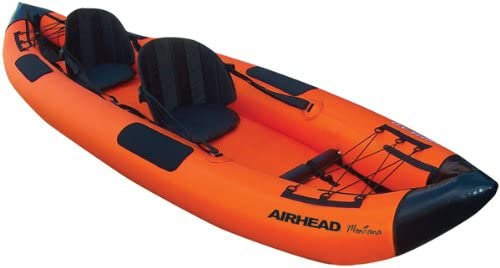 Airhead Montana
material: nylon
item weight: 36.3 pounds
Best for Beginners

AIRE Outfitter I
material: pvc
item weight: 36 pounds
Versatile Option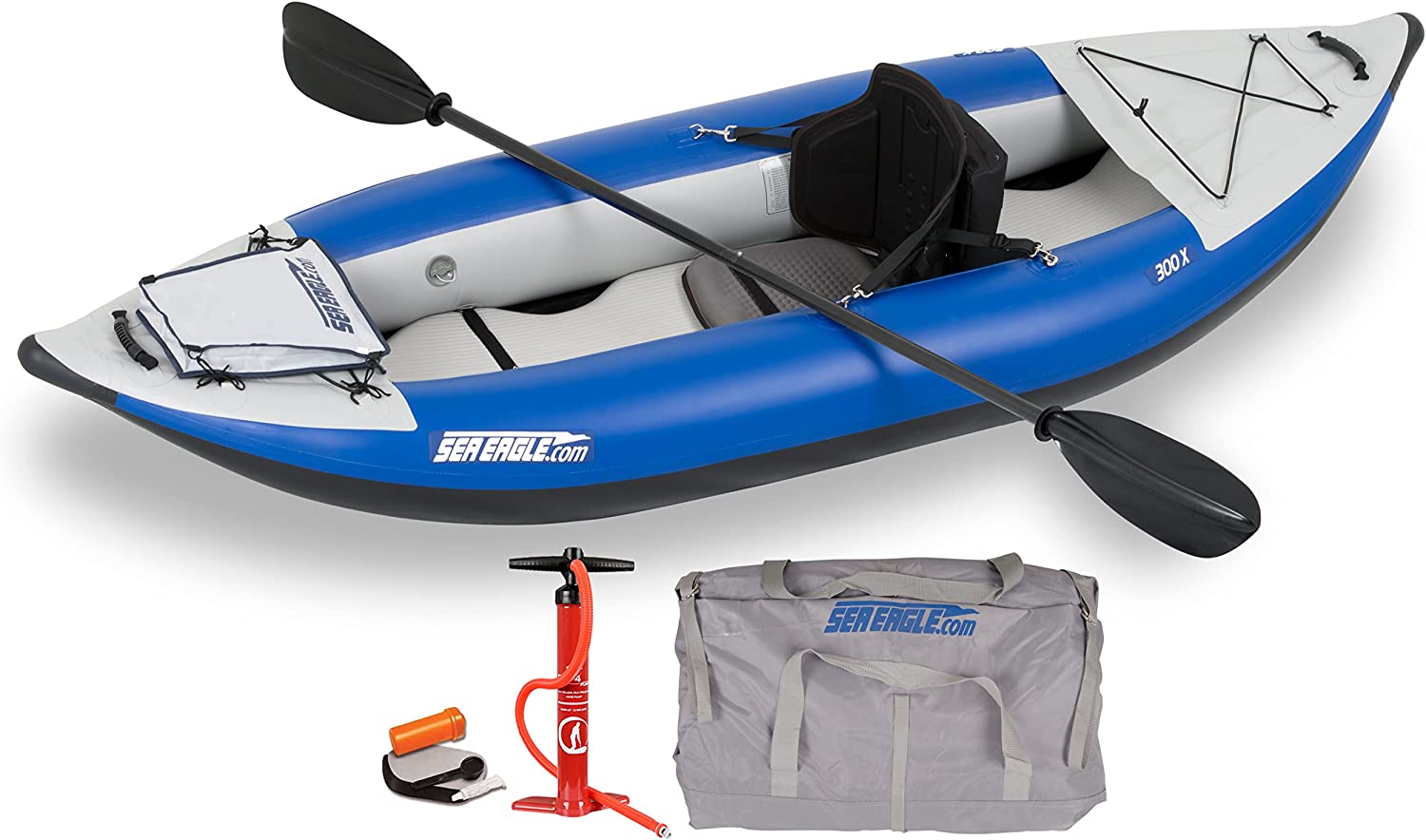 Sea Eagle Explorer 300x
material: NYLON
item weight: 30 pounds
Hybrid Design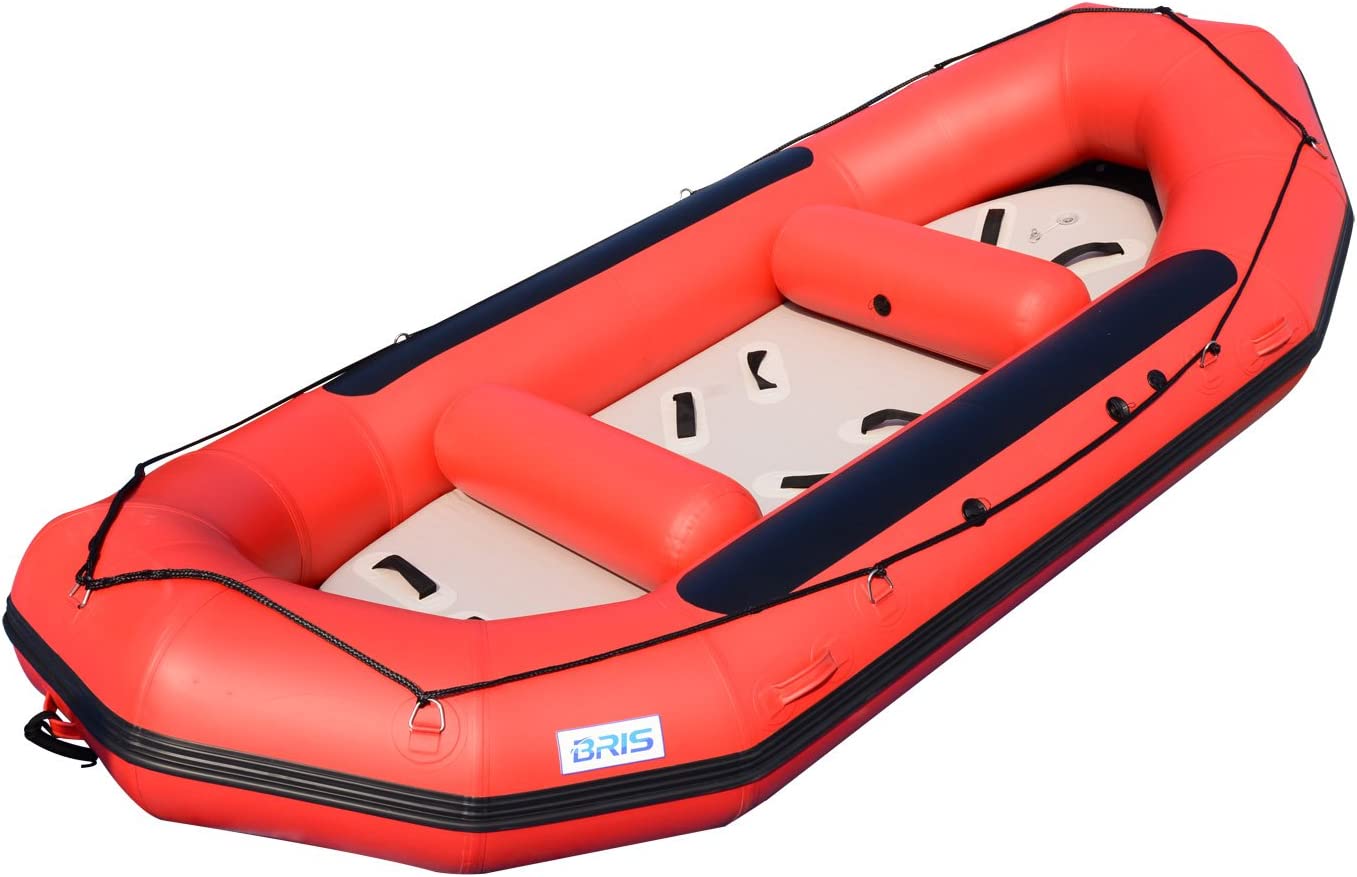 Bris 13 ft Inflatable
material: PVC
item weight: 128 pounds
Ultra Lightweight

Kokopelli Recon
material: nylon
item weight: 13 pounds
Super Spacious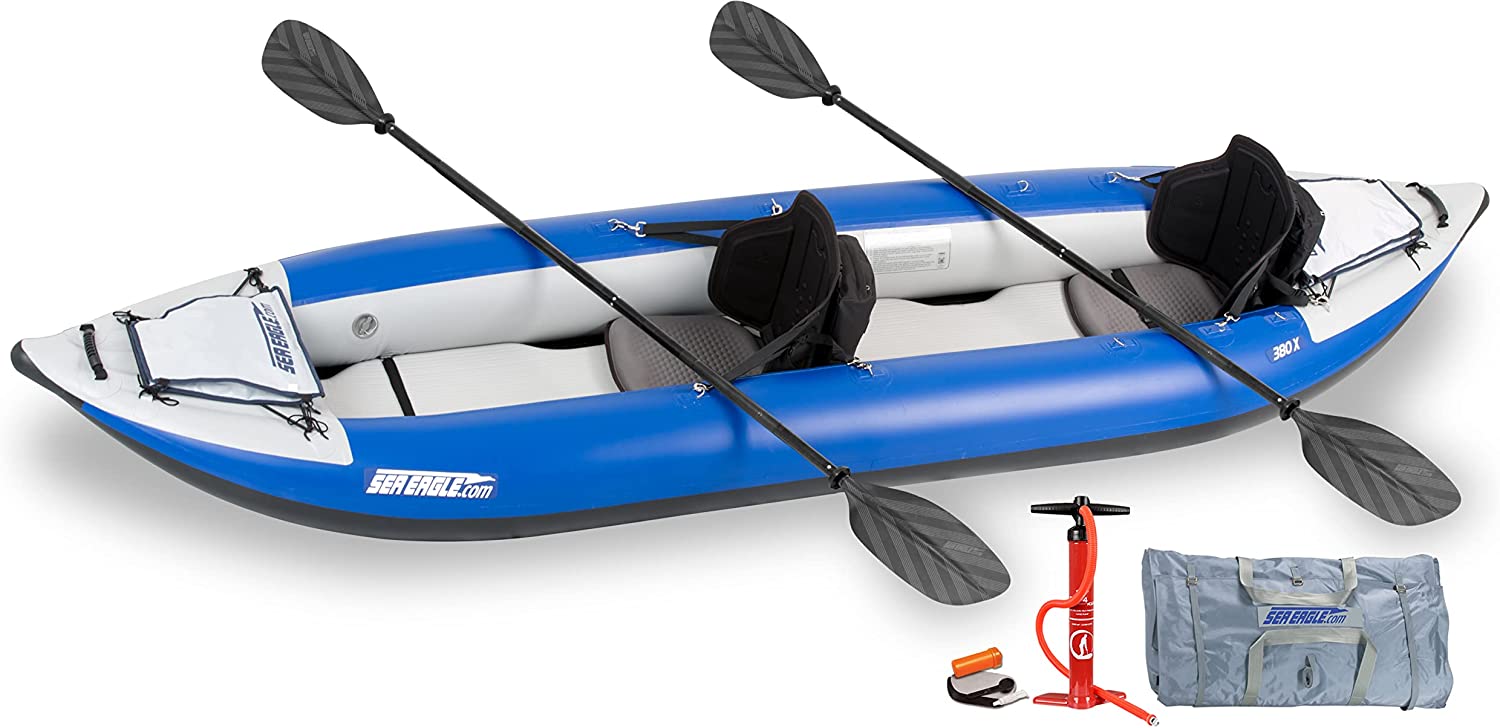 Sea Eagle Explorer 380x
material: decitex
item weight: 40 pounds
Best Inflatable Whitewater Kayaks
Inflatable kayaks are surging in popularity, and that's saying something because there are a lot of hardshell kayak enthusiasts out there actively changing their minds.
The inflatable whitewater kayaks on this list have extensive followings and are excellent options for newbies and veterans alike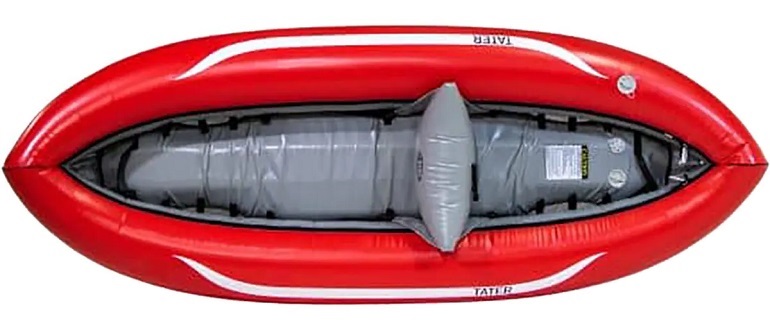 This little thing is a load of fun, weighs 24.5 lbs, has a load capacity of 275 lbs, and has a length of 8′ and 4″.
AIRE's smallest adult inflatable kayak, known as Tater, is considered a budget whitewater kayak, though it doesn't seem like the premium materials that go into its construction merit such a low price point.
The material is Denier Vinyl 1000 AirCell fabric, and it's designed to be highly durable while remaining fairly lightweight. It's one of the lightest inflatable whitewater kayaks on the market and can easily handle beginner runs below Class III rapids.
The largeness of the AIRE Tributary Tater may seem a bit off-putting, but its design is focused on achieving a low center of gravity. That's not a bad thing, and you'll understand why as you enjoy incredible stability in Class I and Class III rapids.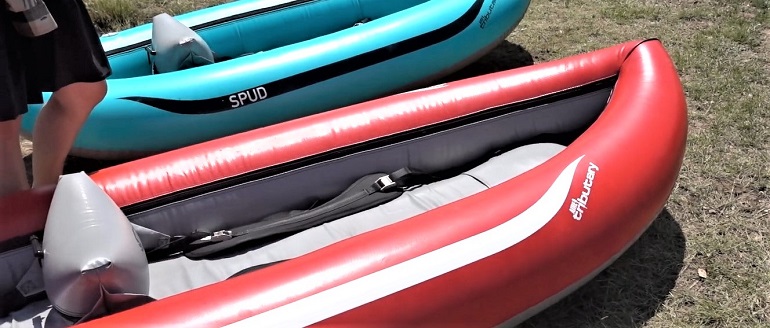 It's also a comfortable ride, with AIRE's addition of an inflatable thwart seat that's fully adjustable. It also punches better and handles crossing eddies with ease. The deck is manufactured for self-bailing and features double-mesh covers to keep the interior clean and devoid of water.
The AIRE Tributary Tater is actually an upgrade of the Tributary SPUD, which is AIRE's official Junior model. The Tater is a fantastic inflatable whitewater kayak, and it's even better as an upgrade from the junior version.
Pros
Great intro inflatable whitewater kayak
High durability
Extra mobility thanks to its short length
High degree of stability
Inflatable Thwart Seat is very comfortable
Cons
Too wide for tight turns and narrow spaces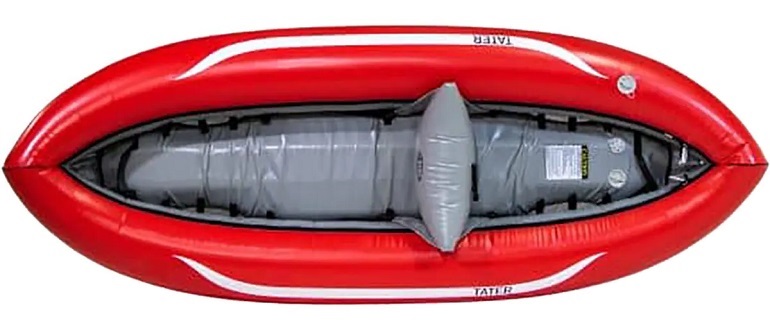 AIRE Tributary Tater
The Price of "AIRE Tributary Tater" varies, so check the latest price at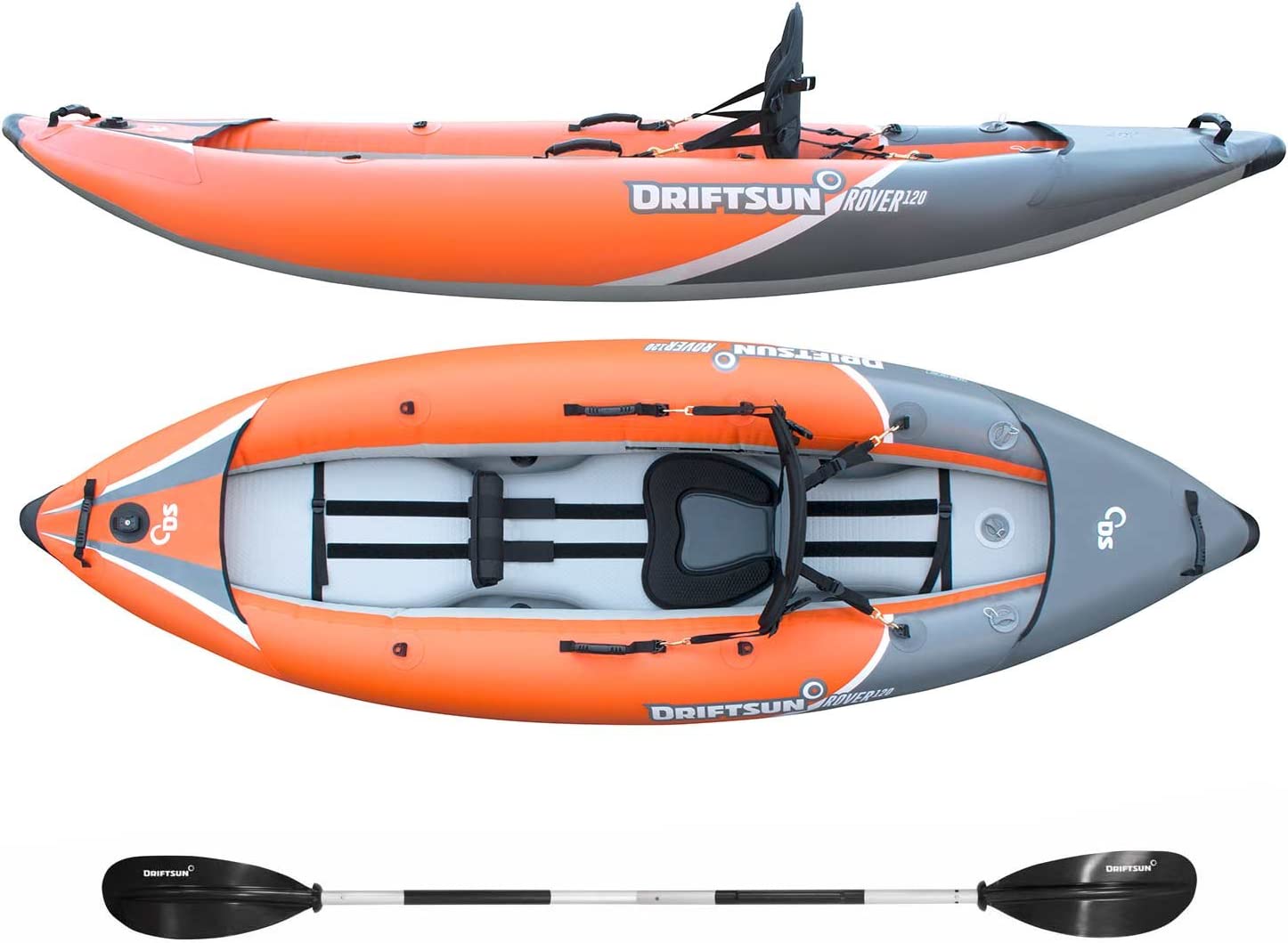 A natural step up on the list of best inflatable whitewater kayaks, the Driftsun Rover 120 is fit for rapids up to Class IV. The Rover 120 comes with drop-stitch flooring manufactured with 1000 Denier PVC that's reinforced with overlapping material.
It also has the advantage of a removable skeg, which I love because it opens up other kayaking opportunities outside of whitewater kayaking. If you just want to enjoy a day on the lake, throw the skeg on there, and you have both stability and a higher degree of mobility on flat water.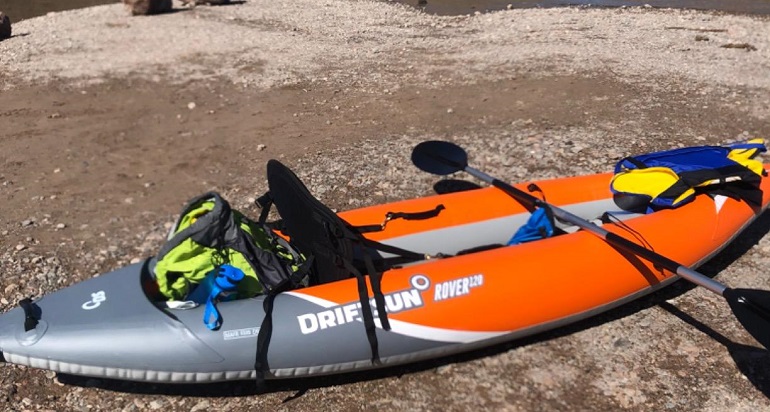 One of the best features of the Rover 120 is the included GoPro mount. If you have a GoPro or a compatible model, you can easily record all of your water-borne adventures. There's nothing quite like flipping, face-smacking the water, and having the entire episode caught on camera. Don't delete it!
The 120 includes three inflation points, and if you're quick, you will have it fully inflated and in the water in 5 to 7 minutes. The included grab handles are a nice addition as well, and they are accessible whether it's inflated or not.
The captain's seat is manufactured with foam and easily clips on and off when you're ready to go or packing it up for the day.
The Driftsun Rover is an excellent, all-around inflatable kayak that can handle Class IV rapids and below or a day out on the lake, though it lacks speed and tracking on the latter.
Pros
Highly durable, drop-stitch floor
Removable skeg
Included GoPro mount
Excellent drainage
Quick inflation time
Cons
Not very fast in flat water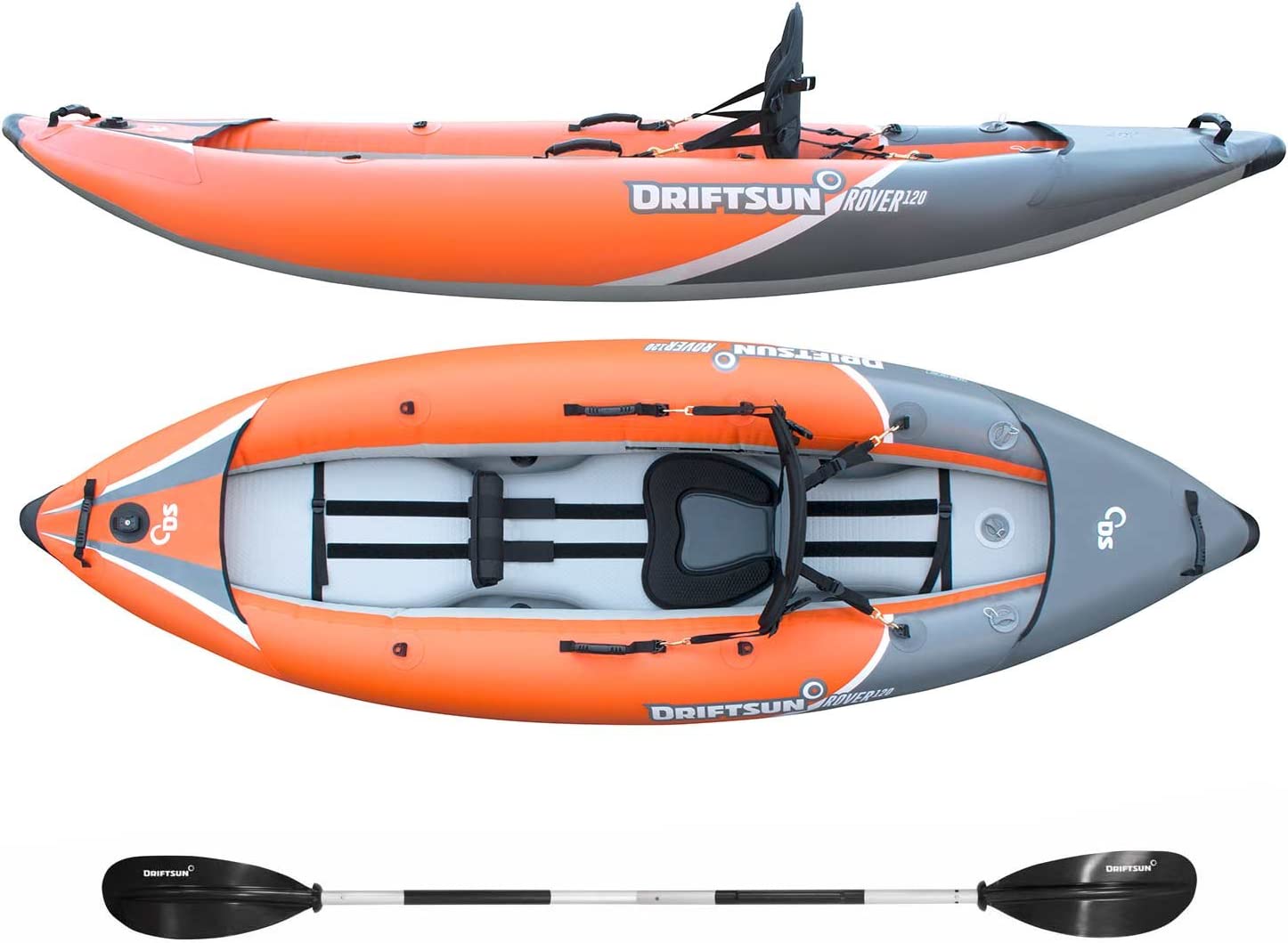 Driftsun Rover 120
The Price of "Driftsun Rover 120" varies, so check the latest price at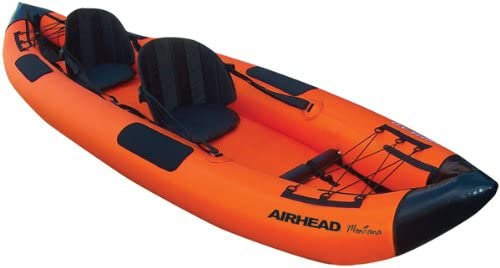 It's always a good idea to look for the NMMA (National Marine Manufacturer's Association) stamp of approval before you shell out the extra cash for an inflatable whitewater kayak.
The Airhead Montana is very proud of their 2-person inflatable kayak receiving that stamp of approval, so they market it heavily.
Is it up to your standards, however? You bet. Even better, it's a tandem inflatable kayak designed to handle some pretty extreme environments. Like many inflatable kayaks, the Airhead Montana maintains three air chambers and is manufactured in 840 Denier Nylon.
In addition, Airhead Montana saw fit to throw in a UV-resistance coating and a waterproof coating. Of course, if it wasn't waterproof, it wouldn't make for a very good boat. It's not designed for anything above class II rapids, but it's a ton of fun to hit up a Class I or II with a friend or significant other.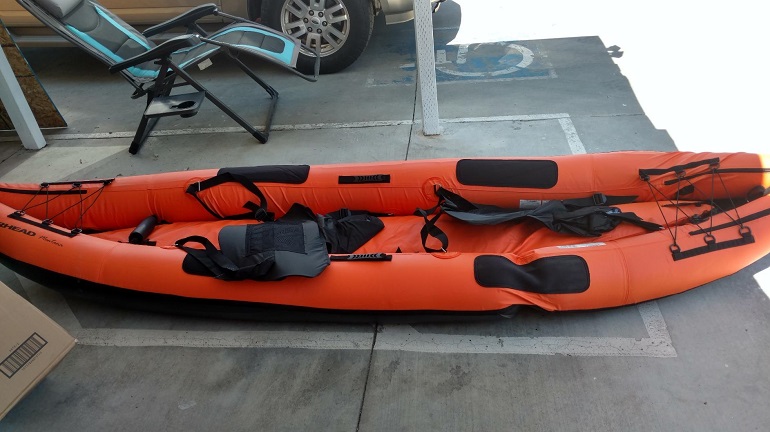 While you can't pack much in the way of gear when you're riding in an inflatable tandem kayak, the seats are inflatable, highly comfortable, and contain mesh backings to hold at least some of your belongings. If you enjoy riding solo, you'll have plenty of weight capacity and storage space.
This is a fantastic beginner option, especially if you hate kayaking as a solo paddler or you have a significant other who enjoys kayaking as well. It's not the fastest out there, and it only does okay on calm water, but it will help you learn the basics as you're getting started on rapids.
Pros
Weight capacity of 500 lbs
Excellent tracking
Quick, ten-minute inflation time
Air bladders feature an extra nylon covering
Perfect for larger and taller paddlers
Cons
Not at its best in flatwater
Doesn't come with a paddle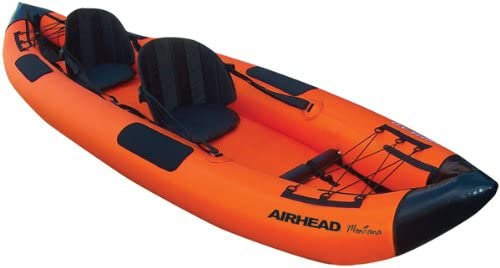 Airhead Montana
The Price of "Airhead Montana" varies, so check the latest price at

Another beginner-friendly, inflatable kayak, the AIRE Outfitter I is a highly durable, very stable kayak for whitewater kayaking. At 9′ 11″ in length and with a weight capacity of 400 lbs, it will hold larger and smaller passengers alike.
As inflatable kayaks go, it airs up fairly fast and is manufactured in 1100 Denier PVC, including the urethane AireCell fabric the company is known for. If you're looking for a playboat, look elsewhere. This is a pure newbie whitewater kayak.
AIRE manufactures some of the most popular inflatable kayaks for whitewater. Like many of AIRE's offerings, the Outfitter I has a high degree of stability on rapids and is fairly sluggish on calm water.
It has a low center of gravity with fantastic punch-through capability, and the high abrasion resistance means you will bounce off rocks with ease and with little worry of puncturing the material.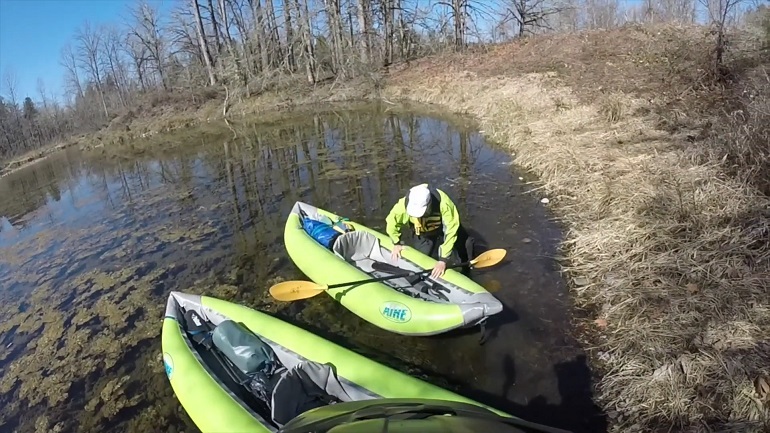 If you're interested in the Outfitter I, AIRE also manufactures a tandem inflatable kayak for whitewater—the Outfitter II. It's basically the same craft with the same high level of quality—but for two.
Pros
One of the most durable designs on the market
Great handling
Compact and portably
Rapid inflation
High stability
Cons

AIRE Outfitter I
The Price of "AIRE Outfitter I" varies, so check the latest price at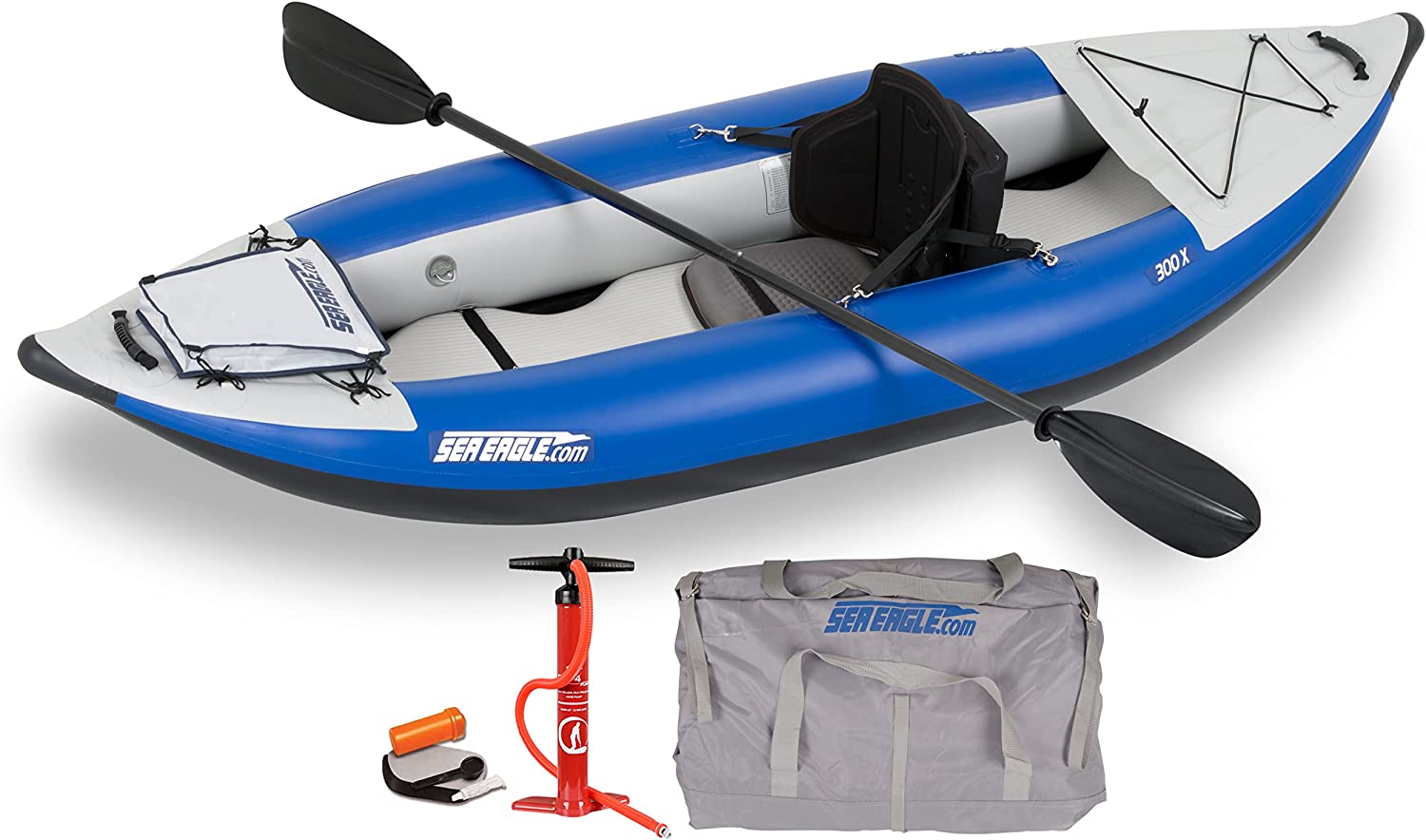 One of the best inflatable kayak brands on the market today is the Sea Eagle Explorer 300x. Unlike the previous inflatable kayaks, the 300x is far more streamlined and versatile. It can tackle Class IV rapids and is constructed of materials that will shrug off the worst you can throw at it.
Despite its toughness, the 300x weighs only 28 lbs and inflates to a 9′ 10″ length. This is also a kayak designed for rapid setup. The 300x will inflate and hit the water in as little as five minutes if you're in a hurry.
Sea Eagle intended for this kayak to be highly versatile while prepping it for every eventuality. It includes 18 D-rings, 16 rapid-drain holes, overlapping, and 1000 Denier PVC. It includes a foot pump which is far more effective than it looks. The 300x inflatable kayak can hold up to 350 lbs for the larger paddlers out there.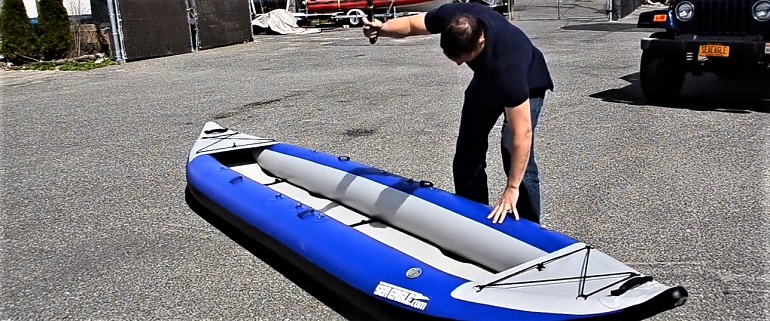 Whitewater kayakers tend to be drawn to the Sea Eagle Explorer 300x because of its high degree of durability and craftiness in the water. It's not the most rapidly maneuverable whitewater inflatable kayak in the world, but it's pretty close to a playboat if you want it to be.
Pros
Quadruple overlapping glue seams
Removable skeg
Includes a repair kit
Removable floor for quick cleaning
Bow and stern spray skirts
Cons
Difficult to clean the self-draining holes inside the boat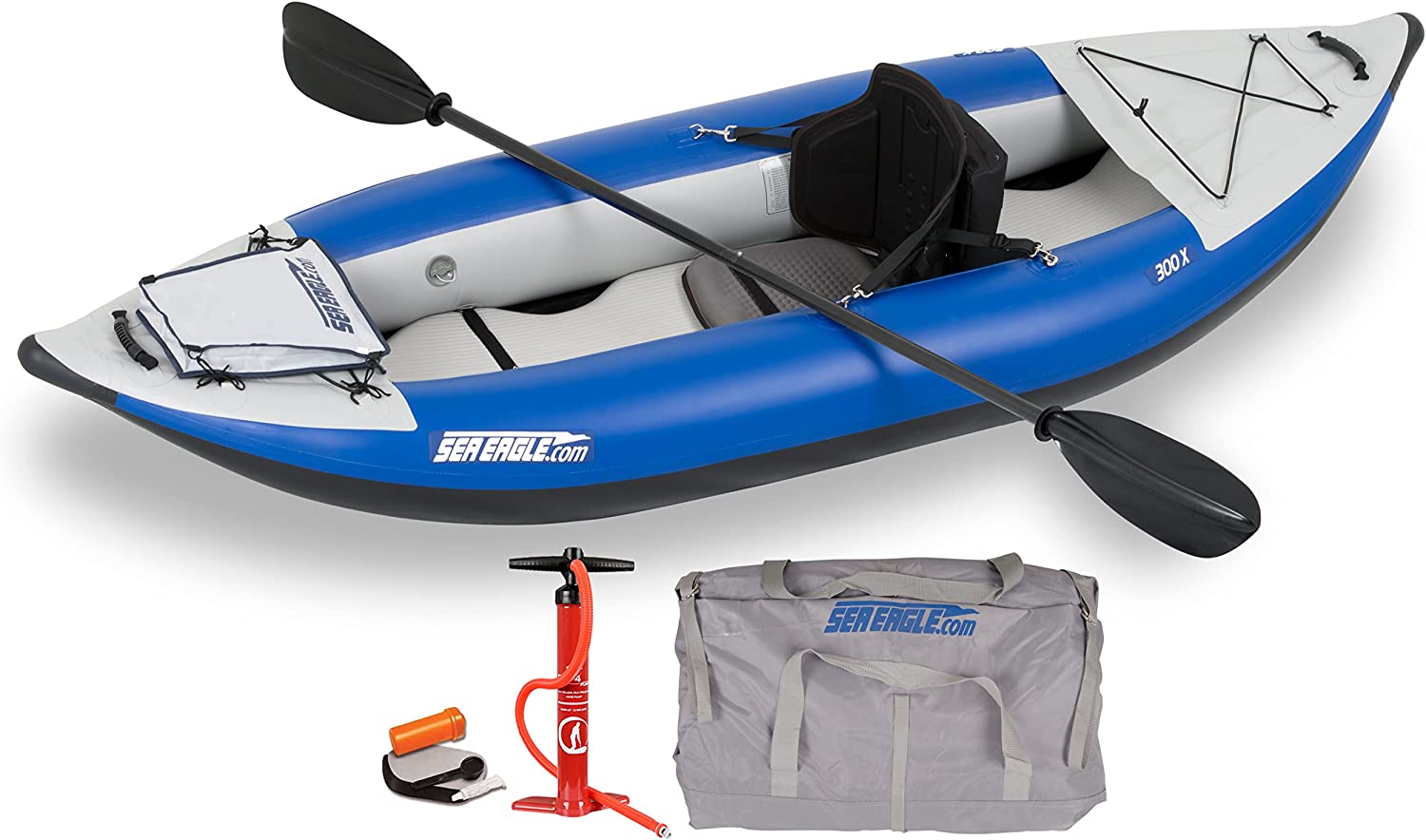 Sea Eagle Explorer 300x
The Price of "Sea Eagle Explorer 300x" varies, so check the latest price at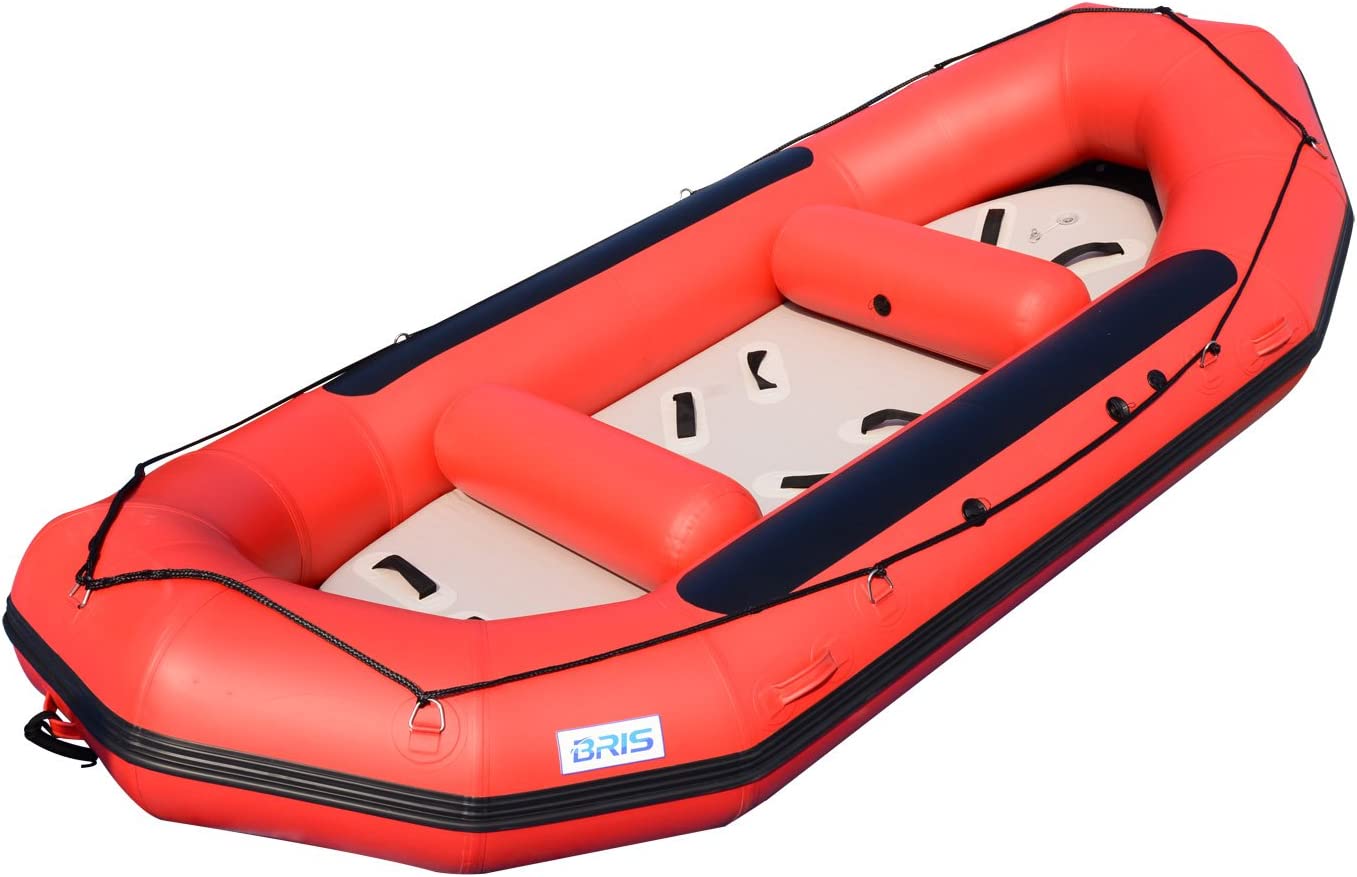 Bris is certainly not unfamiliar with whitewater inflatable kayaks. They've been in this business for a long time, and the Bris 13′ Inflatable is an exemplary kayak that's about as sturdy as they come.
Using quadruple folded 2000 Denier with heat welded seams. You would have trouble puncturing this thing with a razor-sharp, drop-point knife. Their inflatable kayaks don't look much like kayaks, but they do support an I-beam design and have incredible maneuverability.
The Bris 13′ tracks very well and shrugs off the worst that a raging river has to offer. It does have a wide design, which facilitates an excellent degree of stability but is pretty sluggish in flat water conditions, such as out on a lake.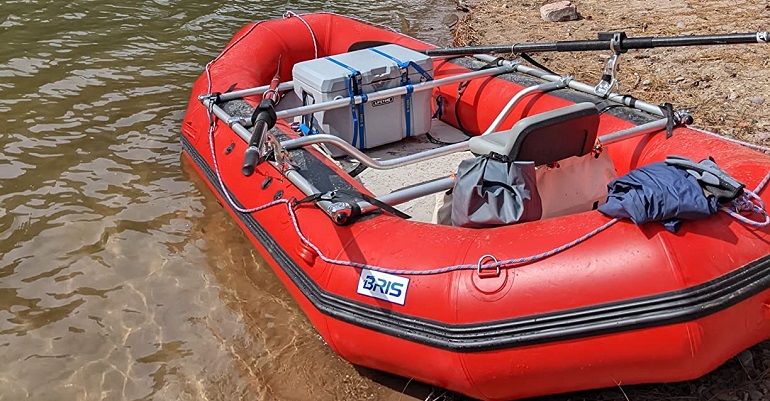 The drop-stitch flooring is also removable, making cleanup a breeze.
As an inflatable whitewater kayak, the Bris 13′ looks more like a whitewater raft. If you want to sit back and consider it, it's kind of a hybrid. Or, you could just jump in the thing and go whitewater kayaking.
Pros
Heat welded, quadruple layers
Excellent tracking capability
Lightweight but sturdy
Rapid inflation
Includes two inflatable thwarts
Cons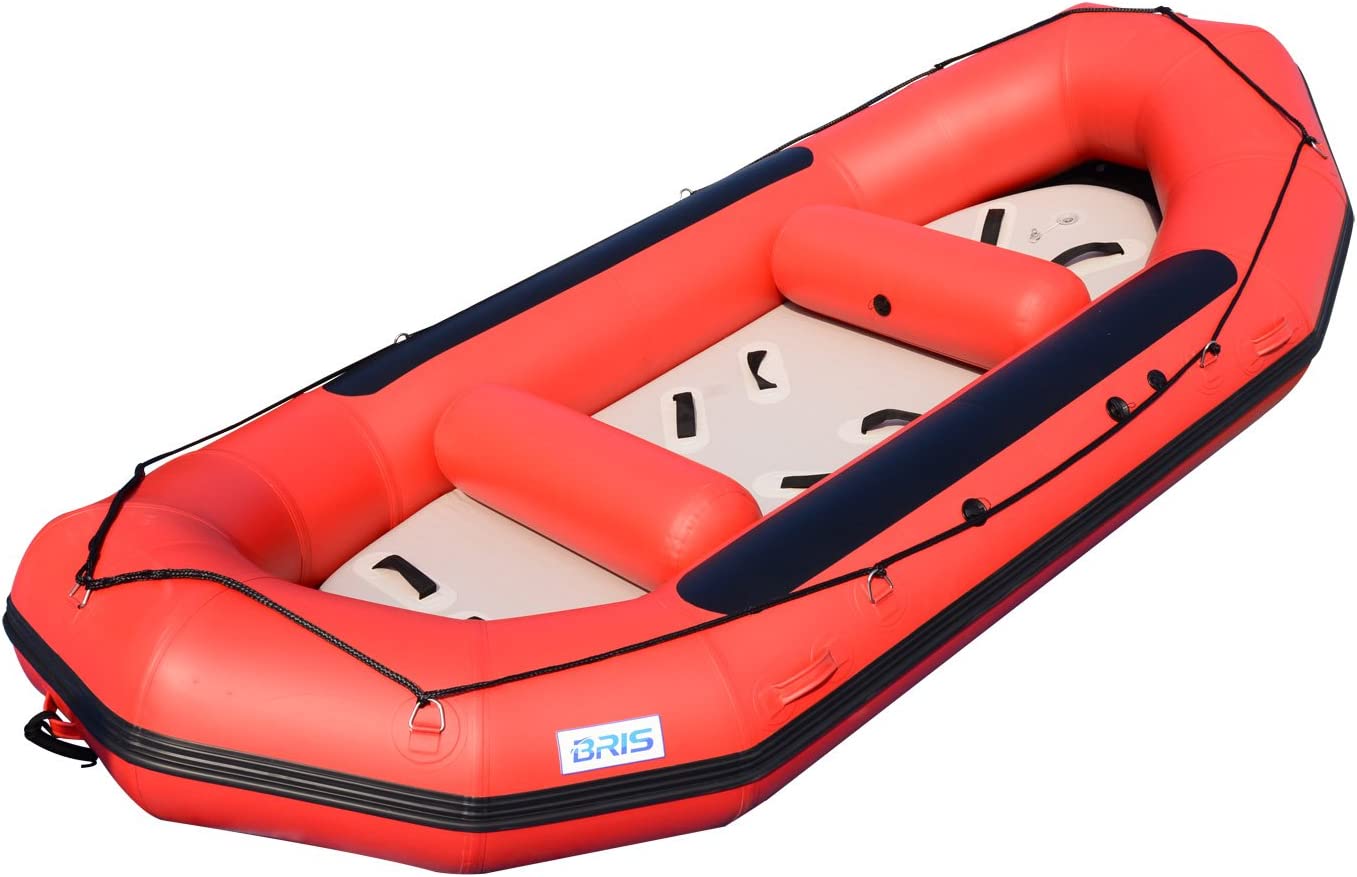 Bris 13 ft Inflatable
The Price of "Bris 13 ft Inflatable " varies, so check the latest price at

Another semi-kayak that looks more like a raft, Kokopelli just calls them packrafts. When it comes to whitewater rapids, however, the Kokopelli Recon is hard to beat. The drain holes for self-bailing are considered to be some of the best in the industry, and the craft handles like a breeze.
At an ultralight 18 lbs, the Recon is easily portable, and you can take it anywhere. It's rated for up to Class IV rapids, and the material allows for a small degree of over-inflation without compromising the toughness and durability in the water.
The 1000 Denier PVC is reinforced, and the craft features Leafield D7 valves. Kokopelli calls the Recon its "OG" packraft, and it's hard to argue with them. It makes for an excellent inflatable whitewater kayak, even if it's not really an inflatable kayak.
Pros
Reinforced Denier PVC tarpaulin.
Leafield D7 Valves
Very lightweight
Excellent tracking
Comes loaded with accessories and gear
Cons
Very wide, which may work against you in narrow spaces

Kokopelli Recon
The Price of "Kokopelli Recon" varies, so check the latest price at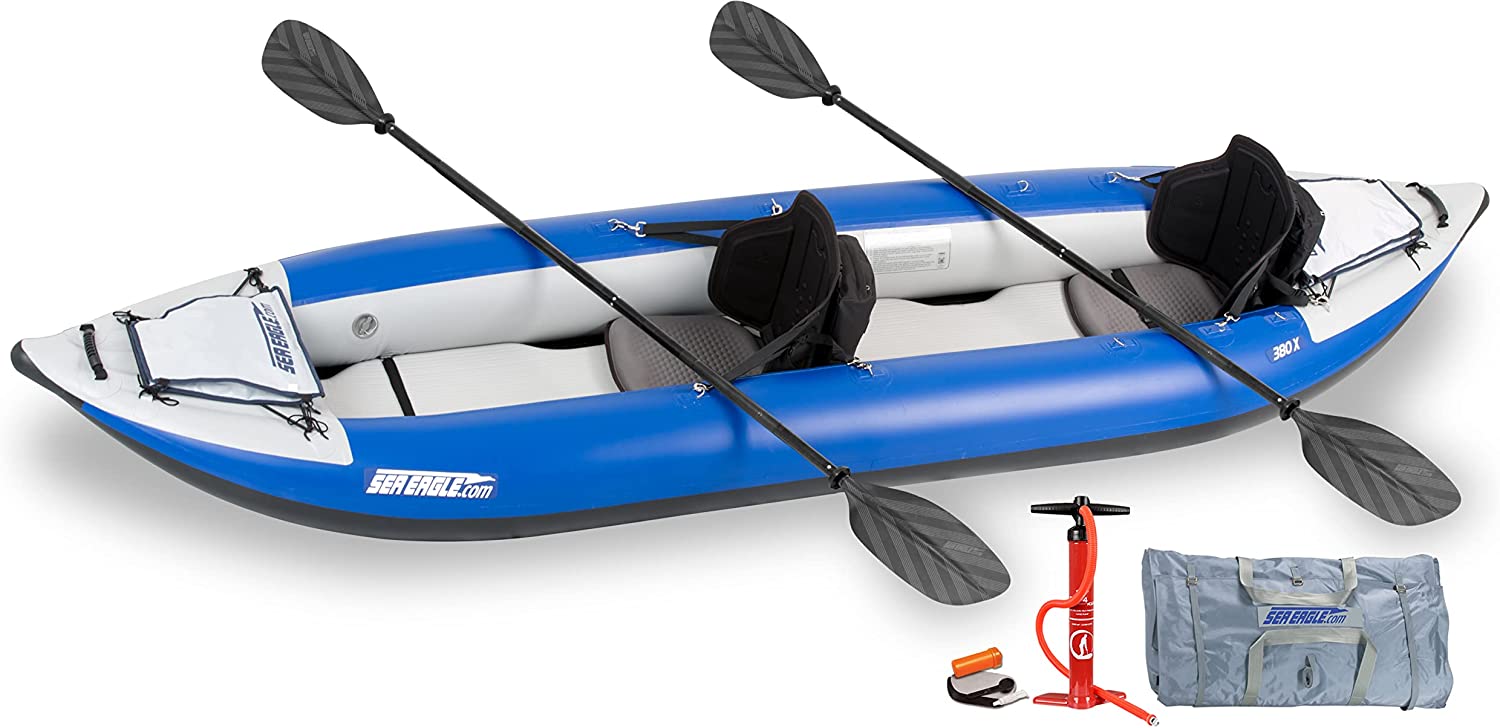 In case you didn't notice, I'm pretty impressed with the Sea Eagle Explorer 300x, so throwing in the 380x was really a no-brainer. Now, the 380x isn't a better performance version of the 300x. It's a comfortable tandem kayak for whitewater. I figure the 300x is so good, why not bring someone else along for the ride?
Everything that makes the 300x the best inflatable kayak in most cases is also applicable here, with the additional length and seat, of course.
This inflatable kayak takes a little longer to air up but is still pretty speedy. It also weighs a relatively lightweight 40 lbs, with a capacity of 750 lbs.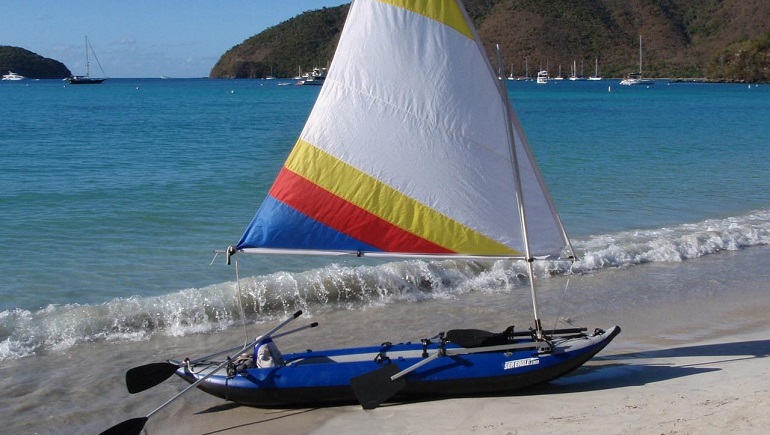 It's rare to find a whitewater inflatable kayak that is big enough for two paddlers and still has the capacity to bring along your family dog. The 380x is a gigantic inflatable kayak at 12′ 6″, yet it maneuvers like a jet aircraft on a calm day.
Stability is fantastic, and the same high-quality durability of the 300x is transferred to the 380x as well.
Pros
Equal or better tracking than most tandem inflatable kayaks for whitewater
Can easily tackle up to Class III rapids
Plenty of cargo space, even with two (if you leave the dog at home)
Built for stability
Very comfortable
Cons
Not as easy to handle solo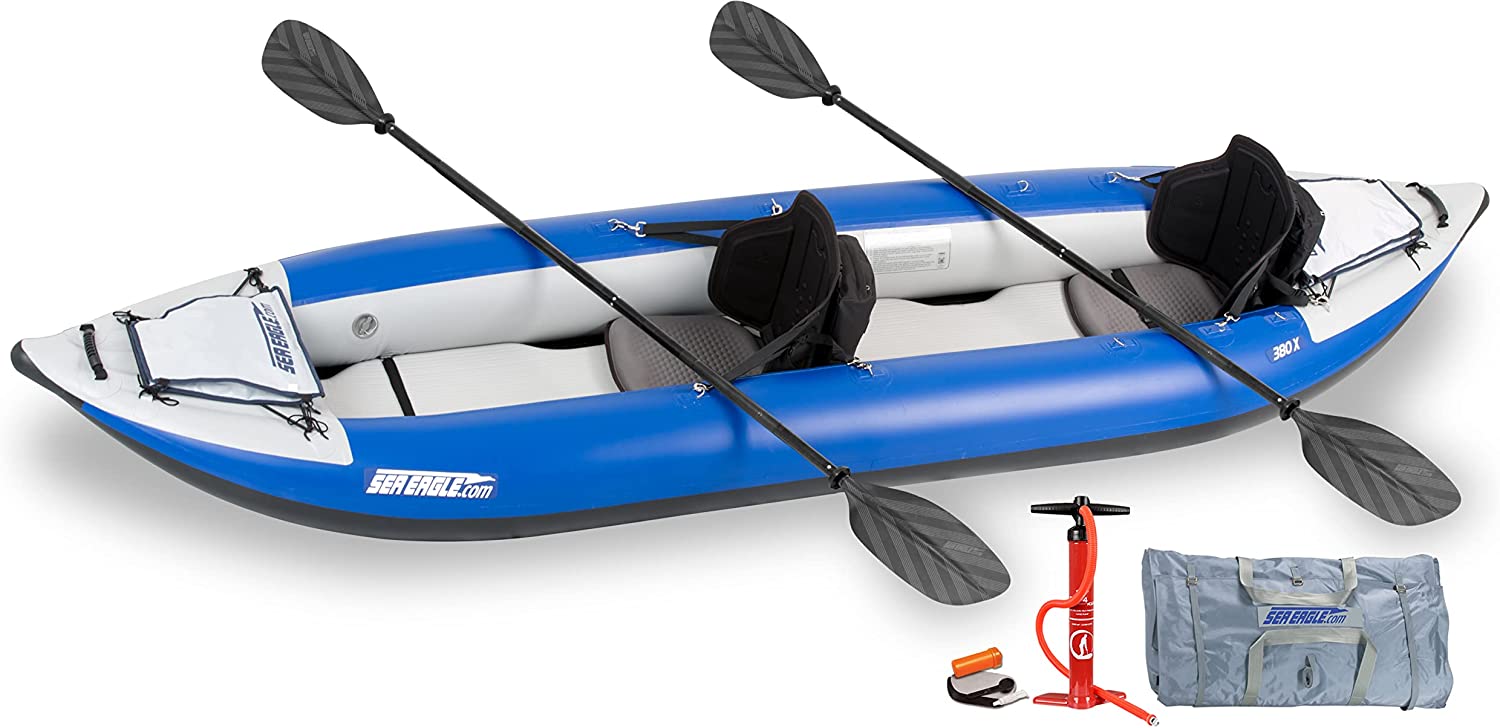 Sea Eagle Explorer 380x
The Price of "Sea Eagle Explorer 380x " varies, so check the latest price at
Top Features To Look For While Buying
A good inflatable kayak will come with several features that stand out, and they should stand out since it concerns both your safety and the capabilities of the whitewater kayak.
Durability
Rapids are notoriously cruel to kayaks, and inflatable kayaks, no matter what they're made of, are not on the same level as hard shells. That doesn't mean you can't own inflatable kayaks that aren't long-lasting and highly durable.
Look for PVC or Vinyl Materials
Solid inflatable kayaks should have thicker or overlapping materials
Long-lasting, inflatable kayaks should have multiple separate air chambers
Ensure the air chambers are wrapped in heavy-duty materials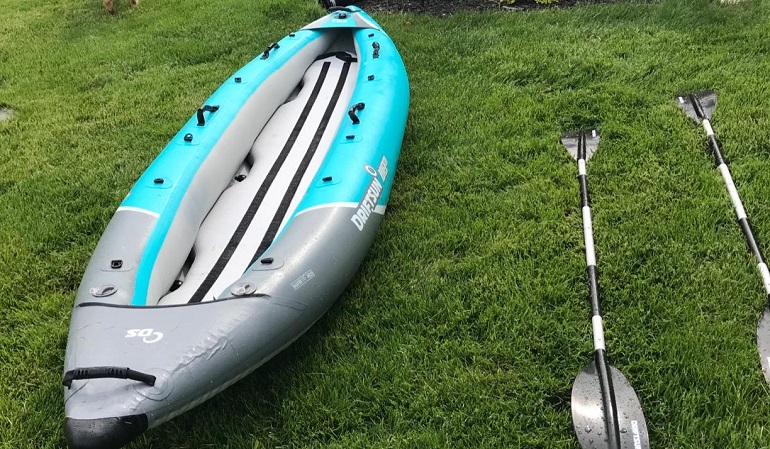 Whitewater paddling is a strenuous adventure on the water, and multiple separate air chambers will keep you from having to work that much harder or swim yourself out of a rough current if one of them deflates.
Buoyancy
The buoyancy of a kayak is basically the weight of the water volume the kayak displaces. So long as the weight in the kayak doesn't exceed the weight of displacement volume, the kayak will remain afloat.
An experienced whitewater kayaker is able to use buoyancy to create extra energy through turns or to pull tricks on the water. But, for your purposes, the more buoyancy the kayak has, the more weight you can put in it without creating a dangerous situation.
If you and your gear are heavier than the volume of displaced water, you won't be doing any whitewater paddling.
Stability
Stability doesn't exist in a vacuum and is often combined with the overall speed and maneuverability of an inflatable kayak for whitewater. The stability you want should be determined by what kind of whitewater kayaking you're prepared to engage in.
For Class IV and V rapids, you want maneuverability and stability rather than speed. The river itself will take care of the speed for you. For Class III rapids and below, speed is of the essence, and more of it means less stability.
Maneuverability
The reason maneuverability and stability go so well together is you often get both when you sacrifice speed. Most inflatable kayaks are a little wider and less streamlined than hard shell kayaks, which slows them down while providing a higher degree of maneuverability and stability.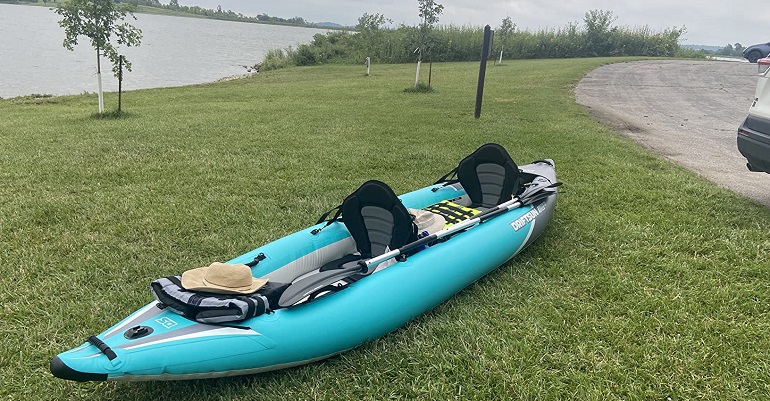 A sleeker, streamlined inflatable kayak for whitewater lacks stability and is less maneuverable, but acts like a bullet in the water.
Weight Limit
This is entirely based on what you want to bring along for the ride. Do you have kids? A significant other? A friend? What's your destination, and what will you need, both on the journey and when you get there?
If you're thinking you want to spend more time with the kids, teaching them the ins and outs of inflatable kayaks and whitewater kayaking, consider their weight and how much they will grow over the years. Inflatable kayaks won't grow with your kids or your pets, after all.
If you're the kind of person that enjoys running a 20-minute, raging white water excursion before you reach a place to camp out for the weekend, that's a lot of gear to bring along. Especially if you're talking about two or three nights of primitive camping.
Frequently Asked Questions
Are Inflatable Kayaks Good for Whitewater?
If you want my "oh-so-humble opinion," inflatable kayaks are fantastic for whitewater. The only real drawback to inflatable kayaks is their longevity. They simply don't last as long as hard-shell kayaks.
However, a good inflatable kayak will last 5 or 6 years' worth of whitewater rapids fun.
How Long Do Inflatable Kayaks Last?
A good inflatable kayak manufactured with PVC or vinyl can last up to 20 years. That's with moderate use or very easy use. However, if you're running Class III and up rapids often, you'll cut into that time heavily.
Take good care of it and consider the fact that UV, storage conditions, and how you treat it are all factors as well.
What Are the Pros and Cons of an Inflatable Kayak?
Even the best inflatable kayaks come with pros and cons, just like anything else in life.
Pros
Typically very lightweight compared to hard shell kayaks
Transporting an inflatable kayak doesn't require roof racks
Even the best inflatable is usually less expensive than hard shell kayaks
You can inflate them to desired comfort levels
Usually provide more stability
Cons
You have to inflate and deflate them
You'll never achieve the speed of a hard shell kayak
There's always the possibility an air chamber will pop
Susceptible to mold and mildew
Final Thoughts
Some of the best kayaks out there also happen to be my favorite inflatable kayaks. While I do a lot of sea kayaking, many of the principles of whitewater kayaking apply, and the inflatables on this list can take one heck of a beating while remaining afloat, ready for more.
The only downside with inflatable kayaks is an affordable kayak isn't necessarily the best. There are a lot of companies out there that push cheap kayaks, and that's where "affordable" loses its luster.
That's why lists like these are important—to give you an idea of what inflatable kayaks out there are good and which ones are not.
Stick with the blow-up whitewater kayaks on this list, and you'll be happy with your choice, ready for your first (or next) whitewater kayaking adventure.