Looking for exciting things to do in Kalpitiya? You've come to the right place.
From learning how to kitesurf on the famous flat water lagoons to paddle boarding through the wild mangroves, this article will walk you through our take on the coolest outdoor activities and things to do in Kalpitiya.
We'll also let you in on our insider tips for traveling to Kalpitiya (like internet speeds, restaurants, markets, and transport advice), which we've learned ourselves over the past 7 years of visiting the region.
But first, let's dive into a bit of background on this offbeat little corner of Sri Lanka.
Kalpitiya what? Kalpitiya who?
Carved into the northwest coast of Sri Lanka and jutting out on its own peninsula, Kalpitiya is a small fishing town known best for its strong seasonal wind and plentiful flat water lagoons.
Throughout history, the town has been used many times as a strategic military position; from the original Veddahs to the Tamil Kingdom, and from the Portuguese to the Dutch.
Today, Kalpitiya's shores are mostly wandered by local fishermen and the traveling watersports tribe who come to make the most of the world-class kiteboarding conditions. Still, the area is under strong watch by the Sri Lankan Army and you might sometimes find yourself sharing the water with military ships.
On and off the water, Kalpitiya's natural surroundings and rich wildlife are enough to make your jaw hit the floor. Dozens of species of whales, dolphins, sharks, and manta rays call these northern waters home; while inland, the nearby Wilpattu National Park is home to elephants, crocodiles, and one of the world's most densely populated wild leopard communities.
With adventure, nature, and culture by the bucket load, we reckon there's a pretty badass list of things to do in Kalpitiya.
Here are our highlights:
Things to do in Kalpitiya: Top Outdoor Activities
Kitesurfing on flat water lagoons
For well over a decade, Kalpitiya has sat at the very top of the list of Asia's best kiteboarding destinations, thanks to its super reliable, insanely strong seasonal wind and famous flat water lagoon.
In fact:
Kiteboarding in Kalpitiya is so renowned that the town was recently chosen as the host location for a crazy-ass competition from the Kiteboard Tour Asia, which saw reigning continental champs go head to head with riders from all over the world, including local talent Anishka Dinel who snagged first place in the Sri Lankan Nationals.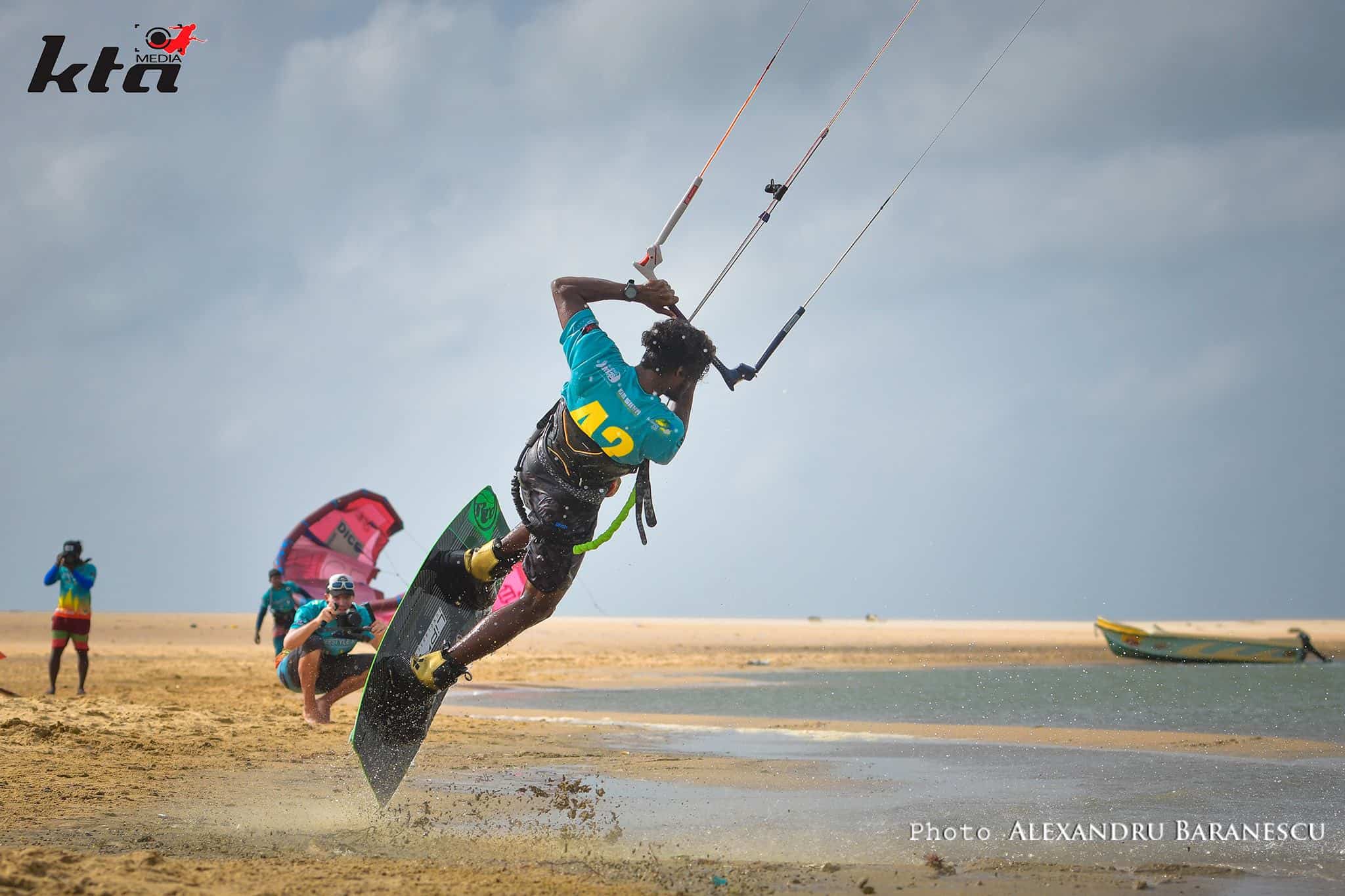 No two ways about it; kitesurfing is most definitely one of the coolest- not to mention most popular- things to do in Kalpitiya.
But here's a nugget of good news you mightn't have expected:
You don't need to be a seasoned board rider of any sort to get stuck into Kalpitiya's kitesurfing scene. If you're totally new to the sport but love the idea of trying it out yourself, head over to any one of the local kitesurfing schools and sign up for a beginner
r's course- you could be up and riding over a single weekend if you pull your socks right up!
As for all you intermediate and advanced kiteboarders?
Well, you guys have your pick of the bunch when it comes to local riding spots. Kalpitiya Lagoon is the star of the show, but you can also set off beyond the sandbars to explore the open waters of the Indian Ocean, or to neighbouring spots like Vella Island, Kappalady, Puttalam, or Mannar (more on that in our full guide to kitesurfing in Sri Lanka).
Diving at Sri Lanka's largest reef
Just an hour off the coast from Kalpitiya, the 300 kilometer long bar reef is the largest reef in Sri Lanka (not to mention, it's also one of the most pristine reefs on this side of India).
Because of all this natural awesomeness, it's by far the most popular spot for diving in Kalpitiya.
Not only that, but between the coral and tropical fish species that live here, the reef actually displays some of the greatest biodiversity found anywhere near this part of the Indian Ocean.
Nuts, isn't it?!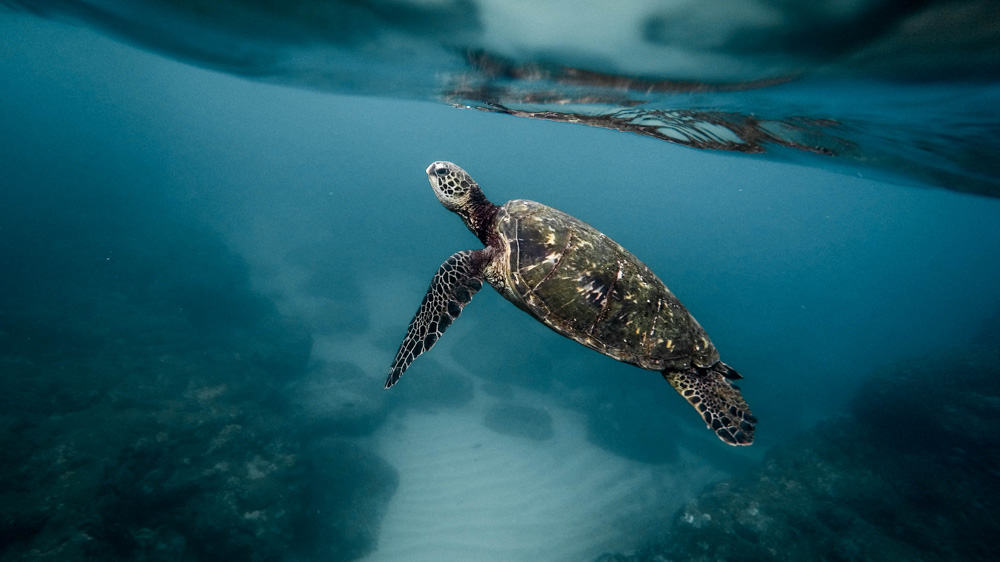 Diving here can bring you up close and personal with reef sharks, manta rays, sea turtles, and tons of tropical fish. Late November to early May is the best time of year to go diving in Kalpitiya, thanks to the fortuitous conditions hitting the west coast at this time of year.
Which is actually amazing timing, for a whole other reason:
Why, you ask?
Because, guys and gals, this coincides with whale and dolphin season.
Humpback whales are the most commonly seen, but there's also a good chance of seeing minke whales, sperm whales, melon-headed whales, and (if you're suuuuper lucky) blue whales- the largest mammal on earth.
Stand up paddle boarding through the mangroves
Paddle boarding (or SUPing) is an awesome way to get to know a new spot; we pump up our own inflatable Starboard Touring SUP whenever we get the chance to explore a new place. In short: SUPing is easily one of our favourite things to do in Kalpitiya.
Shall we tell you why?
The area around Kalpitiya is completely covered with mangrove plantations, sea estuaries, and flat water lagoons- which makes it a paradise for us nature lovers and wildlife junkies. On top of that, a bunch of the local paddle routes connect with the Indian Ocean, meaning in a single session you're just as likely to catch a glimpse of a monitor lizard in the mangroves as you are a dolphin in the sea.
Pretty awesome, right?!
Kappalady Lagoon is one of our absolute all-time favourite places to explore on a SUP. The lagoon stretches along the border of the peninsula for a kilometer and a half and is nicely protected from the wind outside.
Bordered by mangroves, the waterway twists, turns, and narrows to just a few meters in width. Negotiate your way through the narrowest parts of the river, discover hidden routes that take you out to sea, and play around on some baby waves at the point break back in Kalpitiya.
Rent your boards from local resorts or kitesurfing schools, the latter of which might even let you use them for free if you sign up for a kitesurfing course or rental package.
Wildlife spotting on land and sea
Without a doubt, whale and dolphin spotting is one of the most epic things to do in Kalpitiya. Humpback whales, minke whales, and dolphins make regular appearances along the northwest coastline (sperm whales and blue whales are less common, but they've been known to show up for some lucky wildlife spotters on occasion).
November-December and March-April is considered whale watching season in Kalpitiya, so these months are the ideal time to book a whale watching tour.
Now, if you're keen to take a break from the beach and explore some of the inland offerings, you should definitely make your way over to Wilpattu National Park. In just an hour and a half, you can totally transport yourself from the rural, sandy seascape in Kalpitiya to the lush jungle landscape of the park.
Elephants, leopards, crocodiles, sloth bears, mongoose, and sambar all roam free within the park grounds, which you can experience on a jeep safari in a single afternoon or on a seriously epic overnight adventure where you stake out in a safari tent or treehouse.
Mountain biking through the countryside
The scrubby terrain and country back roads surrounding Kalpitiya are ideal grounds for travelers looking to explore the area on a two-wheeled adventure. If you're feeling mega adventurous, you can even include Kalpitiya in an insane 6-day trail riding motorbike tour of Sri Lanka.
Local groups like Enduro Lanka have long been ripping around on these roads, tending to the tracks, and taking out groups of visitors on adrenaline fuelled dirt bike tours. Though unfortunately they're no longer operating commercially in Kalpitiya, they're still big advocates of the area's potential for cycling, mountain biking, and dirt biking.
"I have strong emotional connections to Kalpitiya" says Enduro Lanka's Chanakya Dissanayake, "I have been riding the Dutch Bay trail since 2007, during the war time when there was no commercial tourism". In an exclusive article with Echelon.lk, he details his favourite routes around the Anuradhapura District, just to the east of Kalpitiya, with the hopes of inspiring other adrenaline-seeking nomads to pursue them on their own.
Since Enduro Lanka's commercial closure, it's become a shade trickier to find quality bikes to rent in Kalpitiya. A few select resorts offer bicycle rentals to guests, though if you're keen to get stuck into something with a little more meat, it's worth checking out MTB.lk, which operates as close as Anuradhapura with their own fleet of high quality mountain bikes and customizable mtb tours.
FAQs about traveling in Kalpitiya
Accommodation in Kalpitiya?
See our recent post Where to stay in Kalpitiya for a list of the best hotels, guest houses and kite schools offering accommodation around Kalpitiya and Dutch Bay.
How is the internet in Kalpitiya?
It's been just over 20 years since Sri Lanka gained access to unrestricted internet (it was the first country in South Asia to do so). Since then, the quality and speed of internet in Kalpitiya town has been steadily improving.
In fact, every time Sri Lankan broadband speed doubles, the national GDP increases by 0.3% according to this study.
That being said, there's still plenty of room for further improvement.
Internet speeds in Kalpitiya average at 15 Mbps download and 7 Mbps upload (though in practice, the upload speed is often much lower), which is more or less in line with the Southeast Asian average. See stats for Sri Lanka's internet speed here.
Unfortunately, Kalpitiya town is frequently affected by power outs which can last as little as a few minutes and as long as several hours.
As for mobile internet in Kalpitiya:
If you're planning to work remotely from Kalpitiya, we advise getting your hands on a 4G dongle. SIM cards and 4G data are very cheap in Sri Lanka (around $5 USD for 5GB) and coverage is good. SIMs are available at the airport and in local convenience stores.
Dialog is the biggest mobile service provider in Sri Lanka, followed by Mobitel, and Etisalat.
Are there coworking spaces in Kalpitiya? Where can digital nomads work from?
The Sri Lanka digital nomad scene is growing fast, but as it stands, Kalpitiya is still pretty off-grid when it comes to remote work facilities.
There are currently no coworking spaces in Kalpitiya town, but there are a few cafes and restaurants with decent wifi quality, where you can easily find some quiet time in between eating hours. Most digital nomads in Sri Lanka tend to prefer Colombo or the southern surf spots, but working remotely here is also totally doable- as long as you don't need internet speeds higher than 20 Mbps.
Of the digital nomads who are already staying in long term in Kalpitiya, most of them work comfortably from the kiteboarding centers and their adjoining cafes. Most of them are open-air, have very good wifi, and serve fresh food and coffee every day.
When the kite stations are busy however, the wifi router can easily become overloaded. If you plan on working here, we definitely advise getting a 4G dongle as backup.
What are the best Kalpitiya restaurants?
Sri Lankan food is awesome, and though Kalpitiya town is rather small, there are a few choice places where you can get your grub on.
Delicious daals, coconut curries, and colourful dishes made with every spice you can imagine. Vegan and vegetarian food isn't always standard but is usually available if you ask specifically.
Overall, however, the eating out culture in Kalpitiya still has yet to catch on. You can count the town's restaurants on one hand. In effect, virtually all of the tourists end up eating at the restaurants and cafes attached to the kitesurf schools.
In terms of markets, there's little to be found in Kalpitiya town itself- although you can find fresh seafood markets and small wet markets in the neighbouring towns. The local supermarkets in Kalpitiya town are well-stocked. You'll find everything from fresh fruits and veggies to meats and various household goods.
How do you get to Kalpitiya?
Officially, Sri Lanka has two international airports- though virtually every flight arrives in Bandaranaike International Airport (Colombo). The airport is well-connected with the rest of Asia, and also offers daily direct flights to Europe and the Middle East. SriLankan Airlines and AirAsia offer the best range of low cost flights connecting Sri Lanka with the rest of Asia.
It takes roughly 4-5 hours to cover the 170-odd kilometers from Colombo to Kalpitiya, which you can do by car, bus, or train. Stay tuned for our upcoming article which details exactly how to get from Colombo to Kalpitiya.
What's the best way to get around Kalpitiya?
After you've made it from Colombo to Kalpitiya, the actual act of getting around Kalpitiya town is pretty straightforward.
Tuk tuks and three wheelers are the most common mode of transport for visitors. Some of the kiteboarding schools at Kalpitiya lagoon will even provide access to them at no extra cost if you're staying in their lodgings.
If you're planning to stay in Kalpitiya long term and you're keen on being mobile, you can rent a 125cc motorbike for around $10/day. It's hard to get that price down much though, even if you're negotiating long term rentals.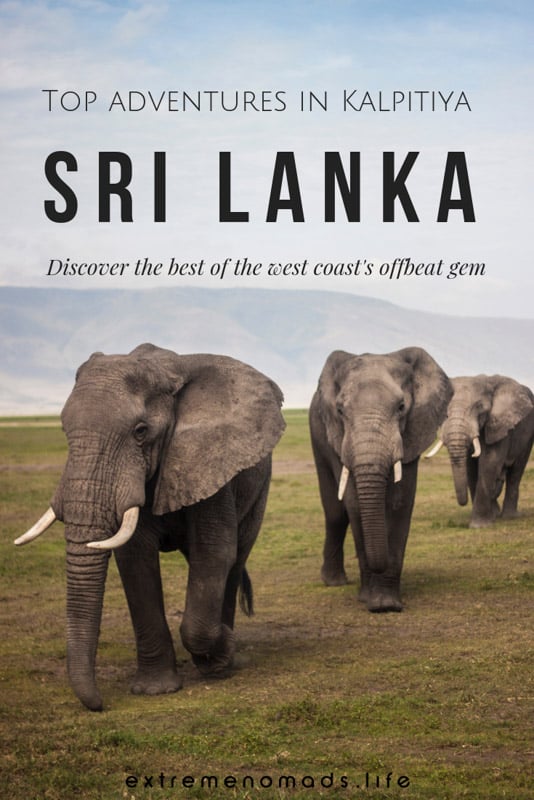 ---
Still have questions about things to do in Kalpitiya? Simply use our comments section below. Want to connect with like minded Extreme Nomads? Head on over to the Facebook group!