Traveling to Kalpitiya? Here's exactly what you need to know about the local kite spots, conditions, season, and clubs.
Sri Lanka plays a starring role in the kiteboarding industry, having long been the home of factories and test centers for big brand names like North (err… make that Duotone), Core, and Carved.
As for Kalpitiya? Baby, she's the heart of all the on-water action.
The little town has served as the country's main kiteboarding hub for over a decade now, and is still the most popular spot for kitesurfing in Sri Lanka.
Kalpitiya also happens to be the stomping ground of mega-talented pro riders like Ruben Lenten and Mikaili Sol, who at 14 years old has just snagged the coveted WKC World Champion title for women's freestyle. What a legend!
But that's not even the end of it:
Kalpitiya just played host to an epic weekend-long freestyle competition hosted by the Kiteboard Tour Asia, which saw 7X Asian champ, Thailand's 'Yo' Narapichit Pudla, defending his title against a pack of insanely stylish riders- including local talent Anishka Dinel.
You might also like:
Ain't no two ways about it:
Kalpitiya and kiteboarding are like wiiiiine and cheese, baby.
Thing is, times are a'changin' in Kalpitiya-land:
New schools are popping up like magic mushrooms in a pile of cow poo (it's more beautiful than it sounds, I swear).
The facilities, community, and on-site accommodation options have changed a ton in the past few years- which means it's high time for an updated guide on everything to do with the Kalpitiya kitesurfing scene.
So, now you know the backstory- let's get to the dirty details:
This article will take you through everything you need to know about kitesurfing in Kalpitiya. We'll start by telling you where all the best kite spots are, and if you're dying to know about when to score the best wind and what to expect from the local conditions, you can find all the answers in the following sections.
We'll even chuck in some tips for beginners and school recommendations, just for good measure!
Let's jump right in:
Best spots for kitesurfing in Kalpitiya
Kalpitiya Lagoon
Kalpitiya Lagoon has long been considered the top kitesurfing destination in Sri Lanka thanks to its perfectly reliable wind season and near constant stream of 25+ knots. Plenty of pro riders choose the lagoon as a space to train, sometimes even treating the local kite crew to exclusive pro coaching camps.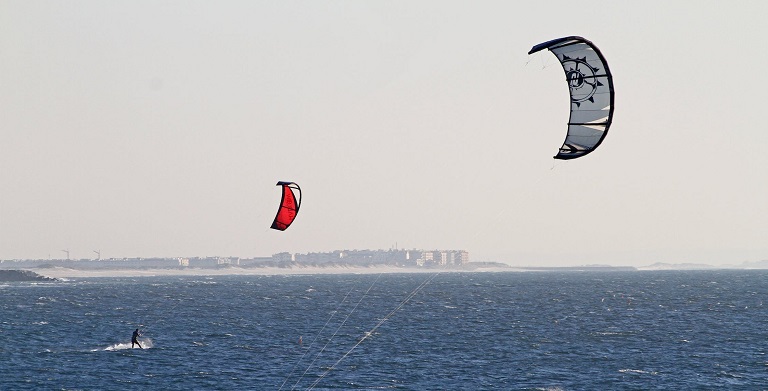 Alright, let's look at the spot itself:
The launch spot is located on the wide sandbar which separates the lagoon from the Indian Ocean. This is the opposite side to where you'll find the kite camps and schools, so you'll need to take a quick tuk-tuk ride over (5-15 minutes, depending on which school you're coming from).
The flat water lagoon comfortably holds 40-45 kiters, after which point it starts to feel a wee bit crowded. Thankfully, when it gets to that stage all you need to do is kite to the edge of the lagoon, pull in that bar, and pop hard enough to send yourself flying over to the ocean side of the sandbar- where there's always plenty of space (more on that in the next section).
Beginners typically report awesome experiences of learning how to kitesurf in the flat, shallow water at Kalpitiya Lagoon. If you're a beginner and you're considering Kalpitiya as a possible destination, make sure you check out these top rated beginner kitesurfing courses at the lagoon- by far the best way to get yourself started in the world of kiteboarding!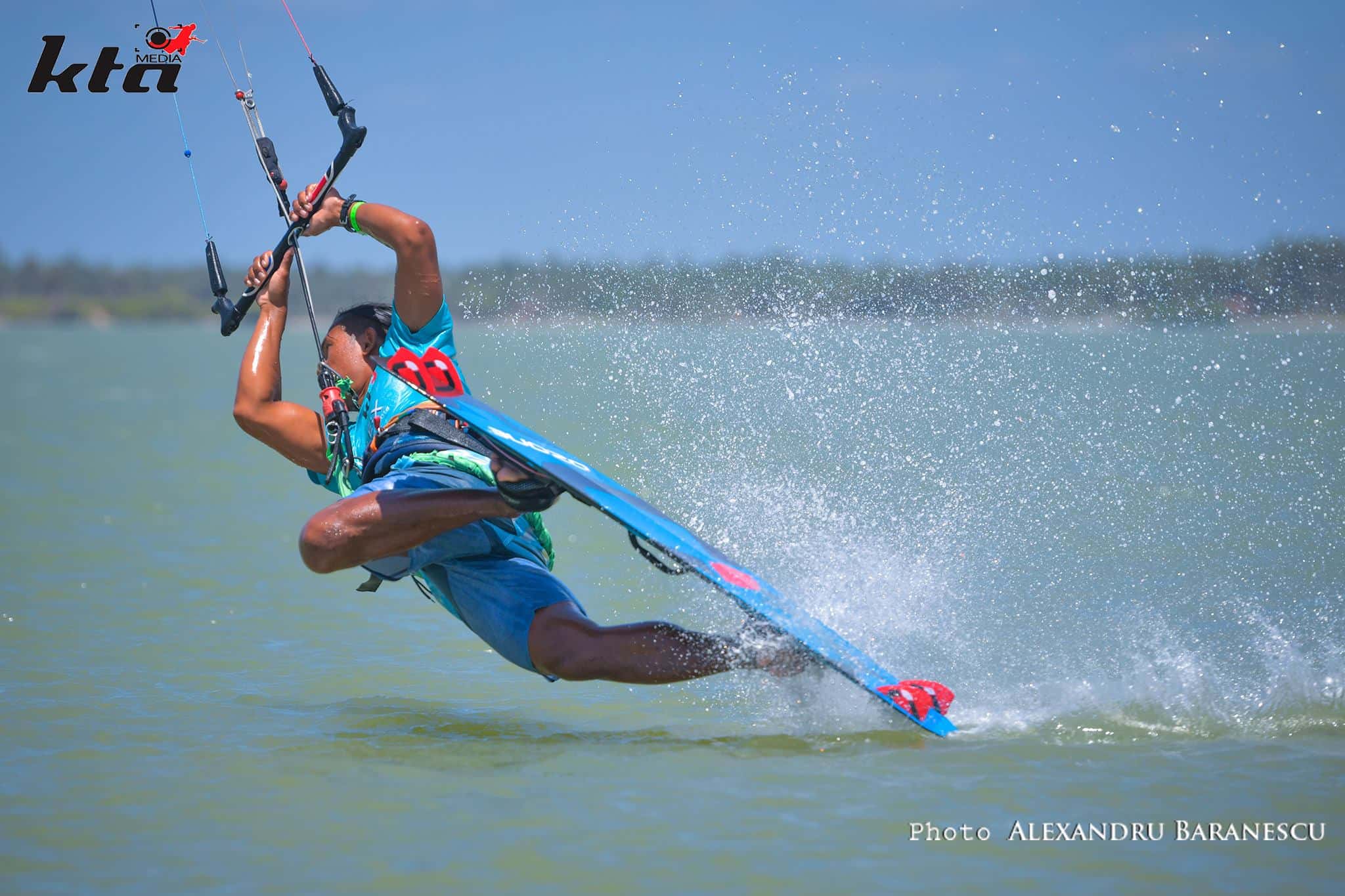 There are a dozen or so kitesurfing schools in Kalpitiya Lagoon to choose from. Most of them offer their own accommodation packages, which are definitely worth checking out.
The kite stations are also the epicenter of social activity in Kalpitiya, so if you're looking to hang out and meet people, this is the place to be.
Indian Ocean
Hop over to the other side of the sandbar that borders Kalpitiya Lagoon and you'll find yourself playing in the baby waves and shore break of the Indian Ocean.
During the main summer season, the wind chop and swell can be pretty challenging if you're not used to it- though it's still nothing compared with the likes of Mui Ne, Vietnam, for example. The winter season brings slightly calmer, more manageable water conditions- much more friendly for those of you who aren't yet confident out on the open sea.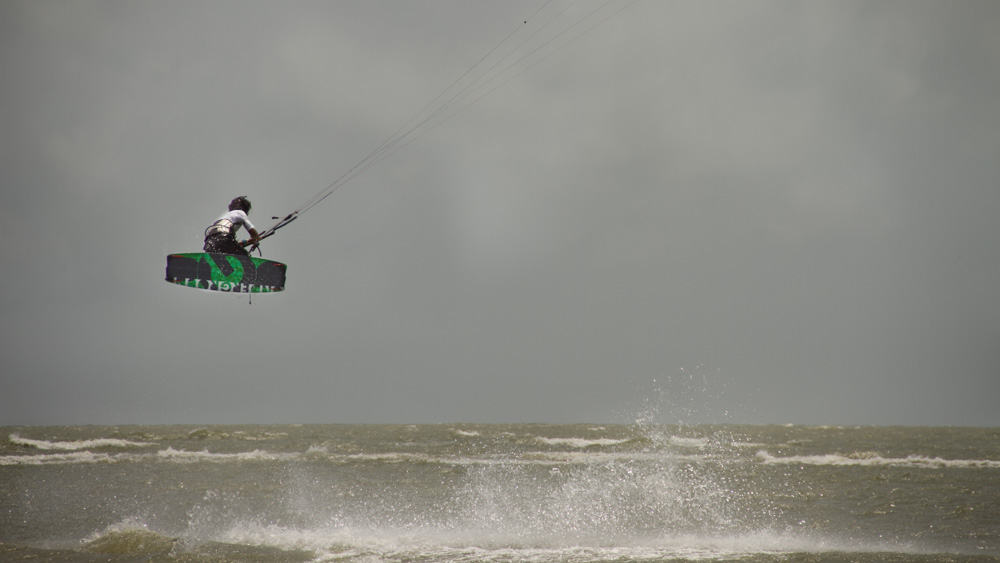 Donkey Spot
Just 300 odd meters away from the main Kalpitiya Lagoon, Donkey Spot is the place to head to to score some waves. There's a reef break just offshore which consistently sends clean, surfable waves rolling in towards the shore.
You're probably thinking "waves? Yeah right, all I've ever heard about kitesurfing in Kalpitiya is flat flat flat!".
But if you believe that, you're wrong!
Waves at Donkey Spot typically measure in 1.5-3 meters, according to the local experts.
While it's an epic place to spend an afternoon (or a whole day, if you're super keen on progressing your surfboard skills), Donkey Spot is perfect to explore as part of a downwinder to- or from, depending on the season and wind direction- the main Kalpitiya Lagoon.
Other spots for kitesurfing near Kalpitiya
Apart from the spots listed above, there are also a handful of other spots in the nearby vicinity that are worth checking out.
These include:
Kappalady Lagoon
Puttalam Lagoon
Vella Island
Mannar
To find out more about each of these spots (and why you should definitely have them on your kitesurfing bucket list), head on over to our full guide on kitesurfing in Sri Lanka.
Best season for kitesurfing in Kalpitiya
The main Kalpitiya kitesurfing season, which is the summer season, runs from mid-May until the end of September (or the beginning of October, if it's a good year). This period is considered to be the "main" kitesurfing season in Kalpitiya- but it's not the only one…
Then there's the "winter" kitesurfing season in Kalpitiya, which runs from mid-December through February/March. The winter winds are a wee bit less reliable and considerably lighter than that of the summer, averaging between 15-20 knots. The good news is, the winter winds are a lot less gusty (more on that in the next section).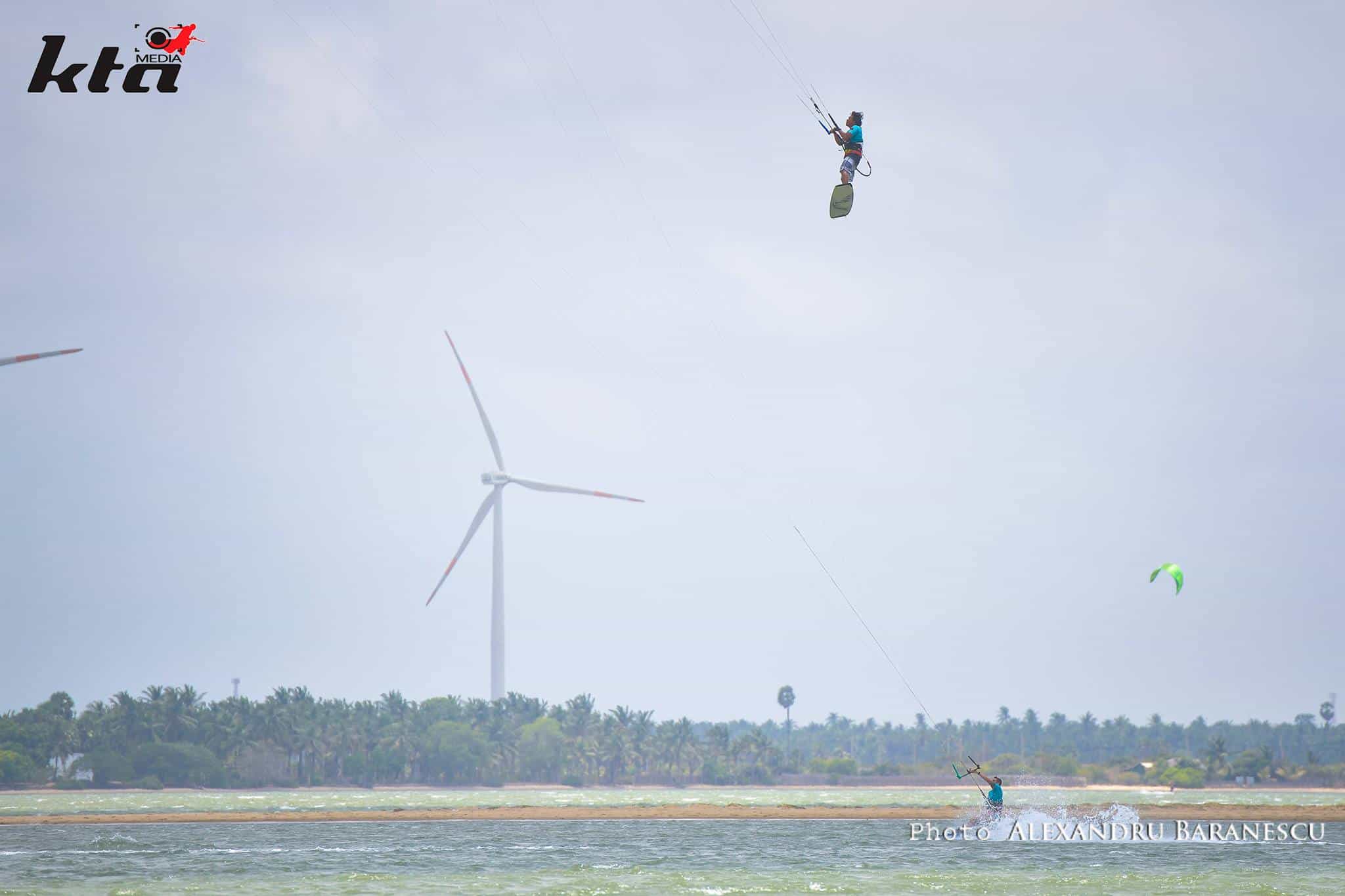 Conditions for kitesurfing in Kalpitiya
Wind
During the main (summer) kiteboarding season in Kalpitiya, the wind blows daily at an average of 25 knots- often with gusts in excess of 30. The Kalpitiya wind arrives over land from the southwest during these months, which is why it's usually very gusty by the time it reaches the lagoon.
The good news?
In high season, the wind blows virtually 24/7. Brace yourselves, guys and gals, you can expect to be kiting pretty much all day every day!
During the winter season for kitesurfing in Kalpitiya, the wind direction changes to northeast and the wind reaches the lagoon from across the sea- meaning it's much smoother and far less gusty than it is during the summer season.
For the latest updates on the Kalpitiya wind and forecast, check out the readings for windfinder Kalpitiya.
You might also like:
Water
Kalpitiya and the surrounding areas are known best for their lagoons, where the butter flat water is ideally suited to beginners and freestyle riders.
That said, there are also plenty of open sea spots which have moderate wind chop, as well as some proper wave riding spots (we'll talk more about that in the next section).
The water at the main spot, Kalpitiya Lagoon, is flat (apart from some small wind chop in the deepest middle portion of the lagoon).
The colour of the water is… shall we say, sometimes less than appealing. I suppose you could call it sort of a murky brown.
But don't let that put you off!
Local kitesurfers assure those passing through that the water is perfectly clean and poses no health risks (though, it being the tropics, bacterial infections are always something of a risk if you're kitesurfing with any small cuts or bites. It's always safer to wait until they're healed before hitting the water!).
Beach
At the main kite spot, Kalpitiya Lagoon, the sheltered water is separated from the Indian Ocean by a single sandbar, which is where all the launching and landing happens. There's absolutely tons of space along that sandy area, so you won't need to worry about navigating your way through a tangle of other people's lines.
Hazards
The sand itself is soft and lovely; the only thing you'll need to keep your eye out for are the evil spiky seashells which can seriously hurt if you step on one (not to mention the pain you'll feel if it punctures your kite bladder!). Whenever you're walking in the water of the lagoon, tread slowly so as not to impale yourself on one of these utterly Satanic spiky bastards.
Top Schools and Centers for Kitesurfing in Kalpitiya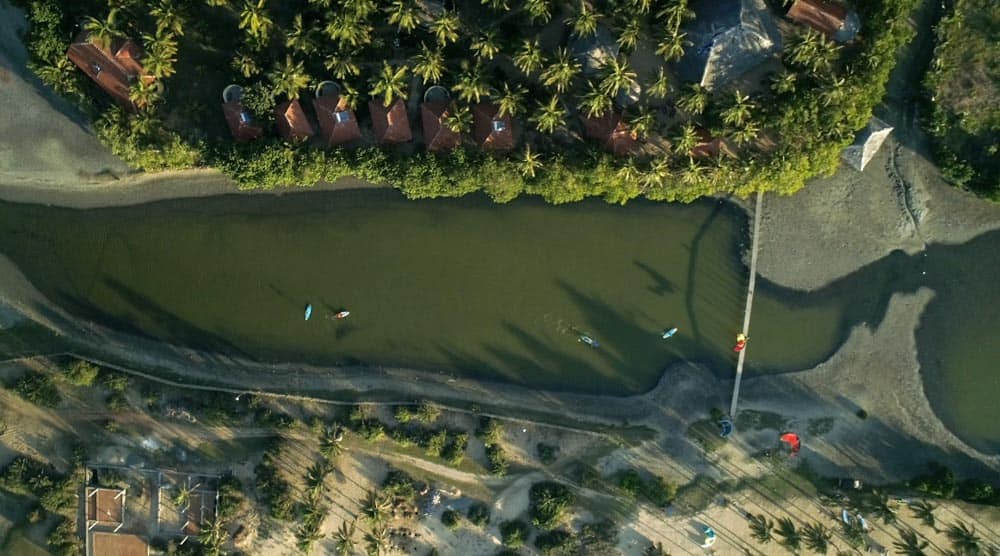 There are now close to a dozen kitesurfing schools in Kalpitiya, of which the number one on TripAdvisor is Margarita Kite School.
There are indeed tons of schools to choose from, each with its own unique vibe and offerings. That said, the two that we recommend from our own personal experience (as well as the overwhelmingly positive feedback from others) are:
Lessons and gear rental? Check. Beachside glamping? Check. Sea view villas? Check. All-inclusive luxury stays in a catamaran? Ohhh yes… Check. But KitesurfingLanka are about much more than just awesome services. They also have a huge focus on social and environmental causes in the locality. Their efforts range from teaching English to local kids and sterilising street dogs to powering the entire kite center off of solar energy.
If you're just interested in the accommodation part, check out their page on HotelsCombined.com
SriLankaKite
One of the longest standing kitesurfing schools in Kalpitiya, SriLankaKite offers full services in terms of lessons, advanced kite clinics, gear rental, and awesome kite tours to the nearby "secret" spots. They also have tons of accommodation options, from quirky teepees to luxury beach front bungalows.
Tips for beginners when kitesurfing in Kalpitiya
If you ask 10 different people whether or not Kalpitiya is a good place to learn kiteboarding, you'll most likely get 10 totally different answers. There are so many factors that go into the overall quality of a kiteboarding destination- from the wind speed and water conditions to how crowded the spot is.
In relation to Kalpitiya? Here's our take:
The flat water and shallow depth of the lagoon is great for beginners, especially when it comes to that tricky stage of learning how to ride the board for the very first time. There's plenty of space on the beach for you and your instructor to work on your kite control, and typically you won't need to worry about the sandy area being overcrowded.
Now, the lagoon area can get very busy during peak high season (June-Sept), which can make for a bit of a stressful environment when you're a new kiter. Consider booking your beginner's course early or late in the season to avoid the crowds.
Lastly, the wind in Kalpitiya is strong and reliable (a plus when it comes to learning how to kite) but it's very gusty during the summer, which can make things somewhat more challenging. Not impossible, by any means, just a shade trickier.
It's worth considering visiting Kalpitiya during the winter season, when the wind is steadier; or, if you're hoping to be there in the summer, making a trip to the nearby Kappalady Lagoon, where the wind is less gusty.
Lastly, make sure that you book a set of beginners' lessons with an IKO certified instructor. This is the only way of ensuring that you'll receive quality lessons with a teacher who 100% knows what they're doing (meaning you'll have the confidence and skills needed to get up and riding as fast as humanly possible!).
Non-kiting activities in Kalpitiya
Even though the town is still seriously remote, there are actually plenty of cool, adventurous things to do in Kalpitiya.
The waters just off the coast of Kalpitiya are home to an absolutely phenomenal reef- the largest one in Sri Lanka, in fact. Bar Reef, as it's known, is home to hundreds of species of coral and tropical fish, making it an epic place to do some snorkelling or diving.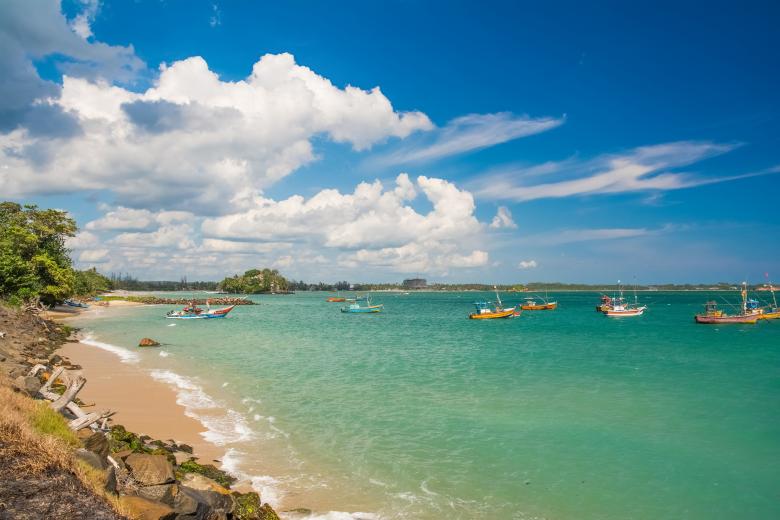 Whale and dolphin watching is also huge, with sperm whales, minke whales, and even the mega-beautiful blue whales all living right off the coast of Kalpitiya. There are squillions of tour companies operating locally who will take you out to the best whale spotting places. You can also fly solo and choose to explore the waters from your very own stand up paddle board, which most of the kite schools have available to rent.
If you're keen for a bit of on-land wildlife spotting, you've also got the Wilpattu National Park just a stone's throw away, where you can find elephants, leopards, and more.
Where to stay in Kalpitiya
Nowadays, there are buckets of options when it comes to finding a place to stay in Kalpitiya, from on-site beach bungalows to luxury hotels and pretty much everything in between.
If you're looking to maximise your session time, it's really cool to stay in the lagoon front bungalows operated by the kite schools. Not only from a kiting perspective, but also in terms of convenience and socialising, this is our favourite option.
For a full review of local accommodation options, check out our extensive guide on the best places to stay in Kalpitiya.
Or you can see all the listings on the spot on HotelsCombined.com
How to get to Kalpitiya
Now, when I hear stories about the first time Jim visited Kalpitiya back in 2011, I physically shudder at some parts (if there was ever an appropriate time to tell you about the horrific tale of him popping his shoulder out of its socket during a crazy downwinder at Vella, now would be it! But I'll spare you. You're welcome).
One of those other shudder inducing stories was his journey from Colombo airport to Kalpitiya.
Just a few years back, it would take you half the day just to get out of the airport and down the 170 km road to Kalpitiya.
Thankfully, things have improved quite a lot since then. Because of major improvements to the road, the journey from Colombo to Kalpitiya now takes around 4 hours by car (3 if you're lucky and don't hit any traffic snags coming out of the city).
A private car will set you back around $80, but you'll be able to get picked up straight from the airport and dropped off at the door of your digs in Kalpitiya (and let's face it, you can't put a price on avoiding the absolute nightmare that is Colombo traffic).
You can also choose to make the journey via public bus or train- full details of which are about to be available in our complete guide to traveling from Colombo to Kalpitiya. Stay tuned!
You might also like:
Hey, want to make sure you don't miss any of our future articles? just sign up to our monthly Extreme Nomads newsletter when exiting this page (also located in the footer / sidebar), or follow us on Facebook, Instagram, or Youtube for more original content from us!
Cover photo – Rider: Anishka Dinel – Photographer: Alexandru Baranescu – KTA
---