Brave The Wilds
If you head into the backcountry unprepared, then you can expect to get wiped out. This isn't the land of freshly paved piste and manicured moguls, everything out here is savage.
What better way to start off on the right foot than with a quality pair of backcountry ski boots?
Backcountry ski boots have got all the tiny details you need to make the most of the chunder.
From adjustable dials that work with an inner lacing system to a perfectly contoured boot nose and sides. They come in all shapes and sizes, and they don't take any prisoners.
The only question now is which pair is right for you? You'll have to read on to find out.
Best Boots for 2023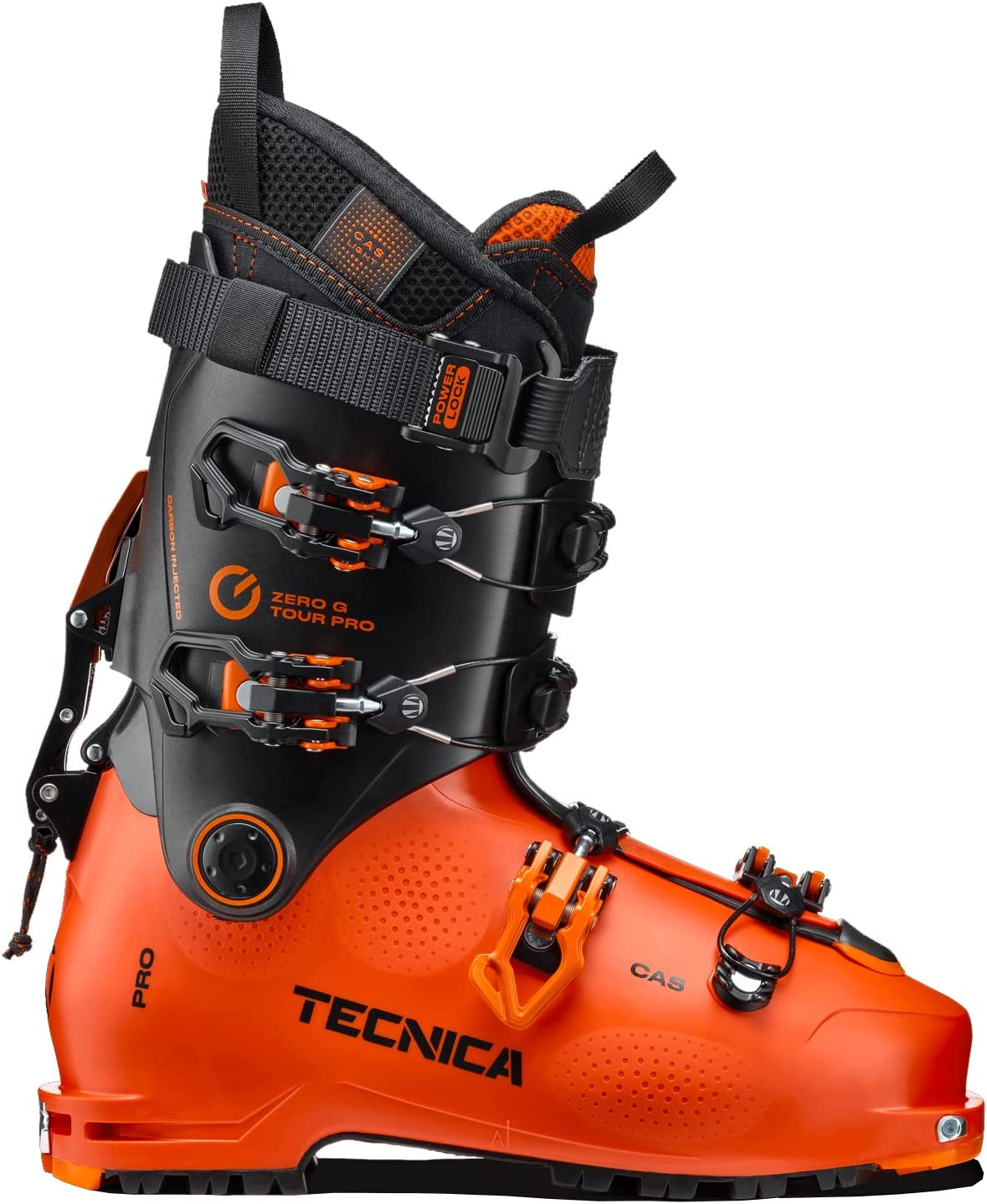 Tecnica Zero G Tour
Color: Orange/Black
Material: Grilamid & carbon fiber
Best Build Quality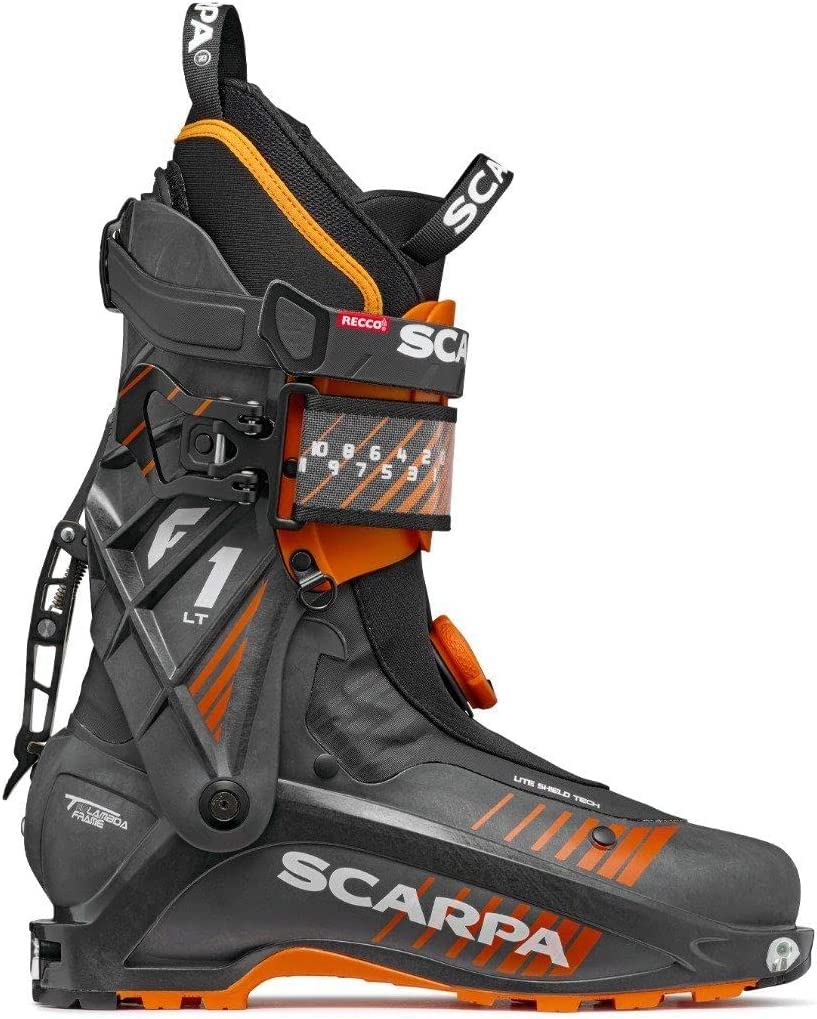 Scarpa F1 LT
Color: Carbon/Orange
Material: Carbon Grilamid LFT
Best Budget Option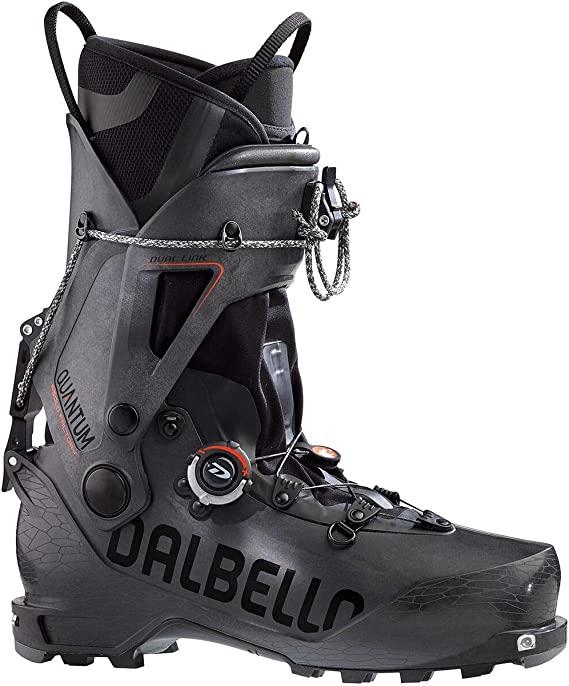 Dalbello Quantum Asolo
Color: Carbon
Material: Polyamide Carbon
Best Alpine Boot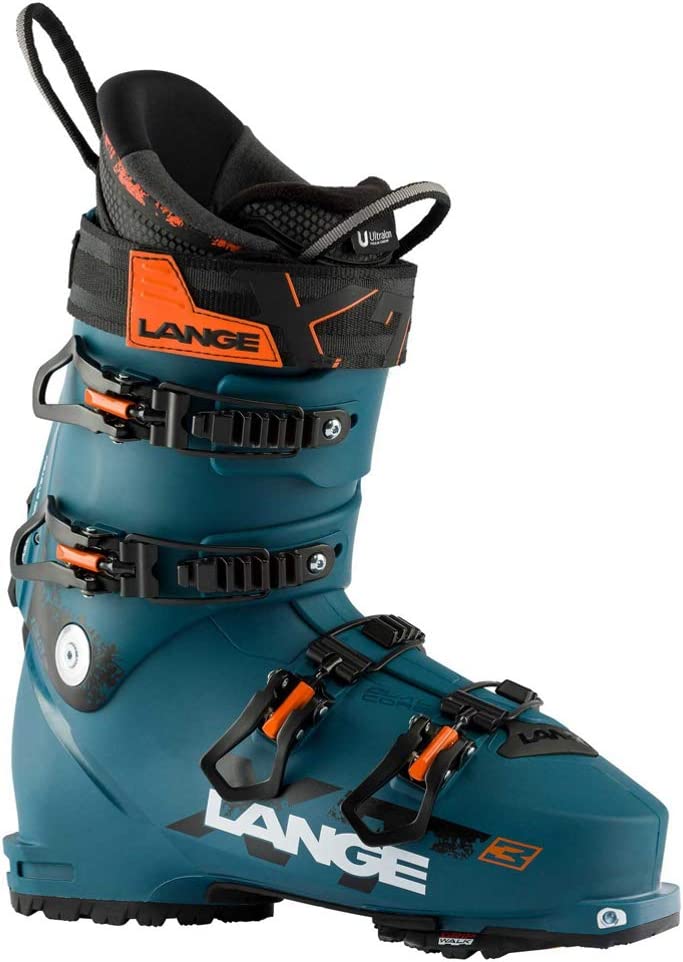 Lange XT3 130 MV
Color: Legend Blue
Material: Polyether
Best Ski Touring Boots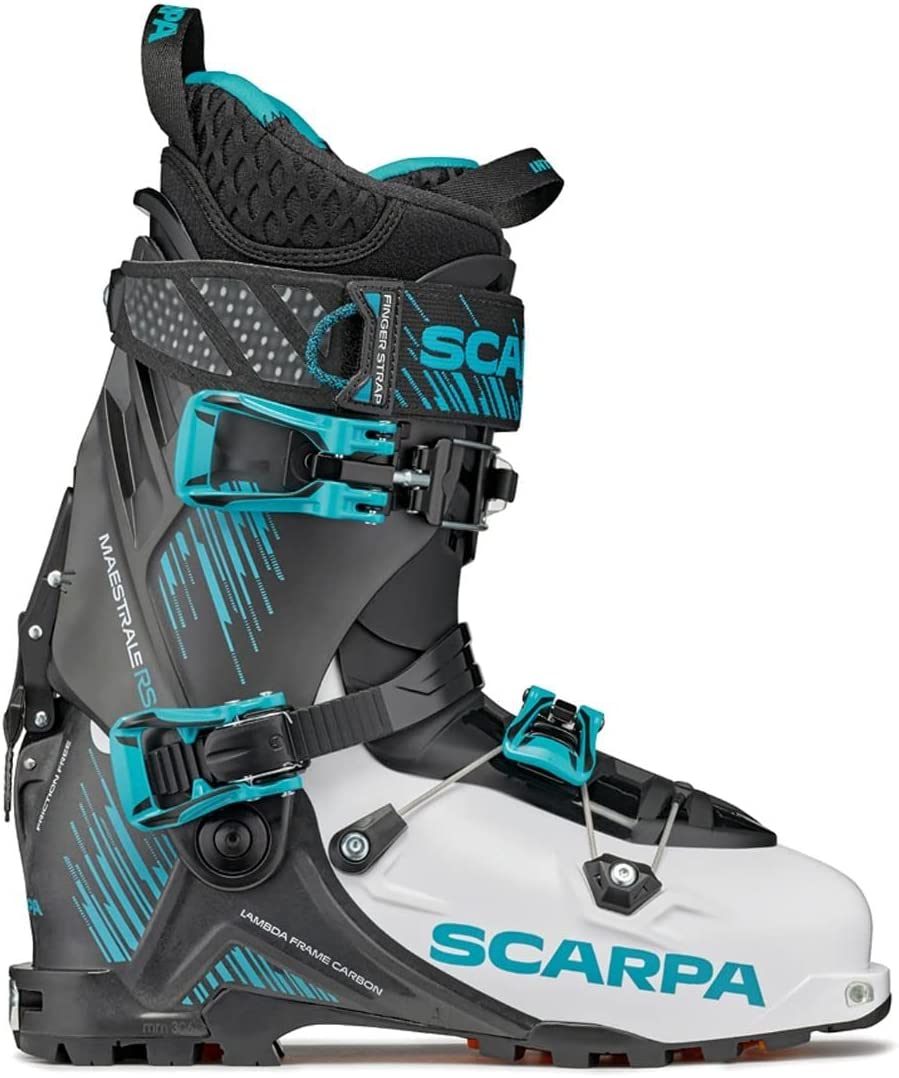 Scarpa Maestrale RS
Color: White/Black/Azure
Material: Grilamid
Best Fit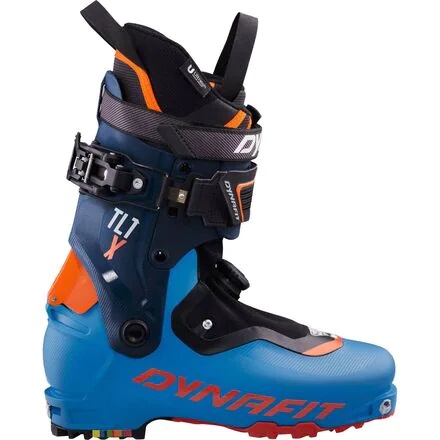 Dynafit TLT X
Color: Frost/Orange
Material: Grilamid
Best Power Transfer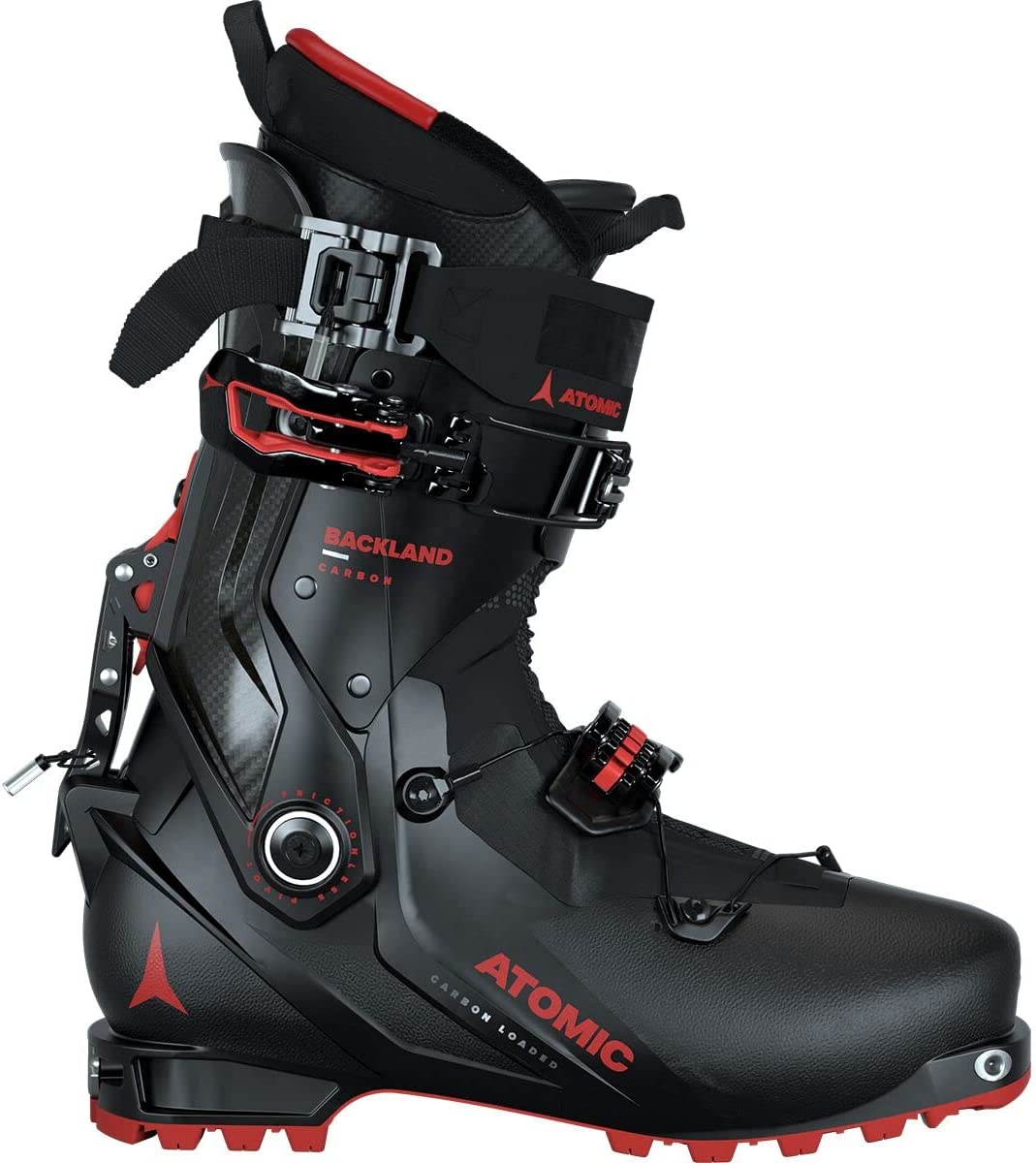 Atomic Backland Carbon
Color: Black
Material: carbon fiber
Best Optimized Design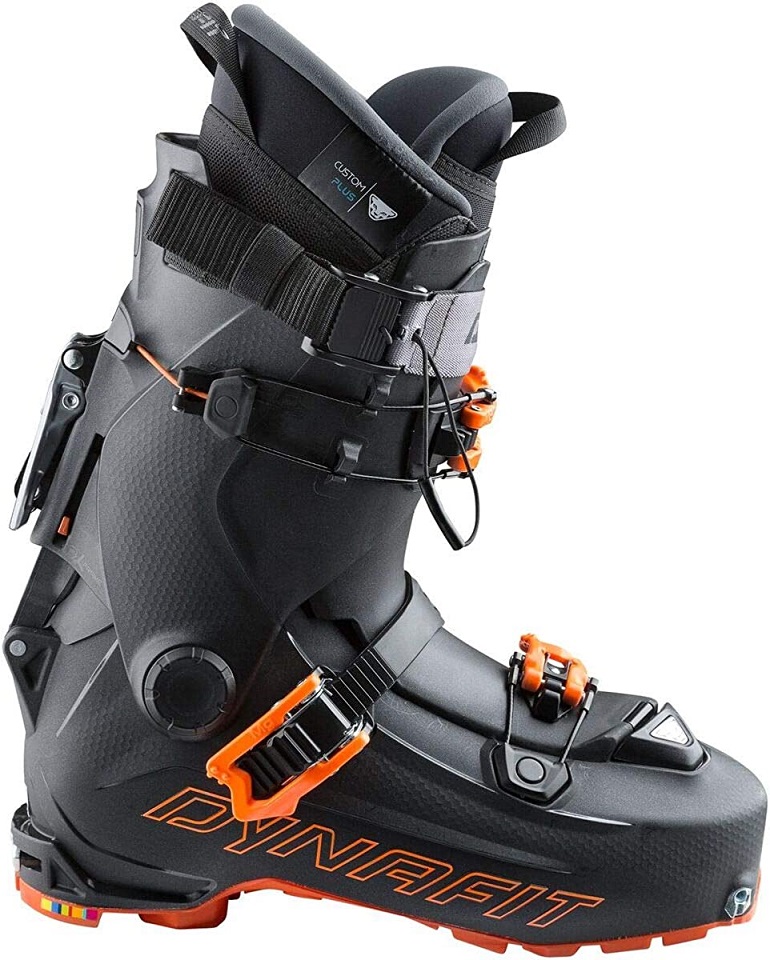 Dynafit Hoji Pro
Color: Fluorescent Orange
Material: Grilamid
Best Powder Option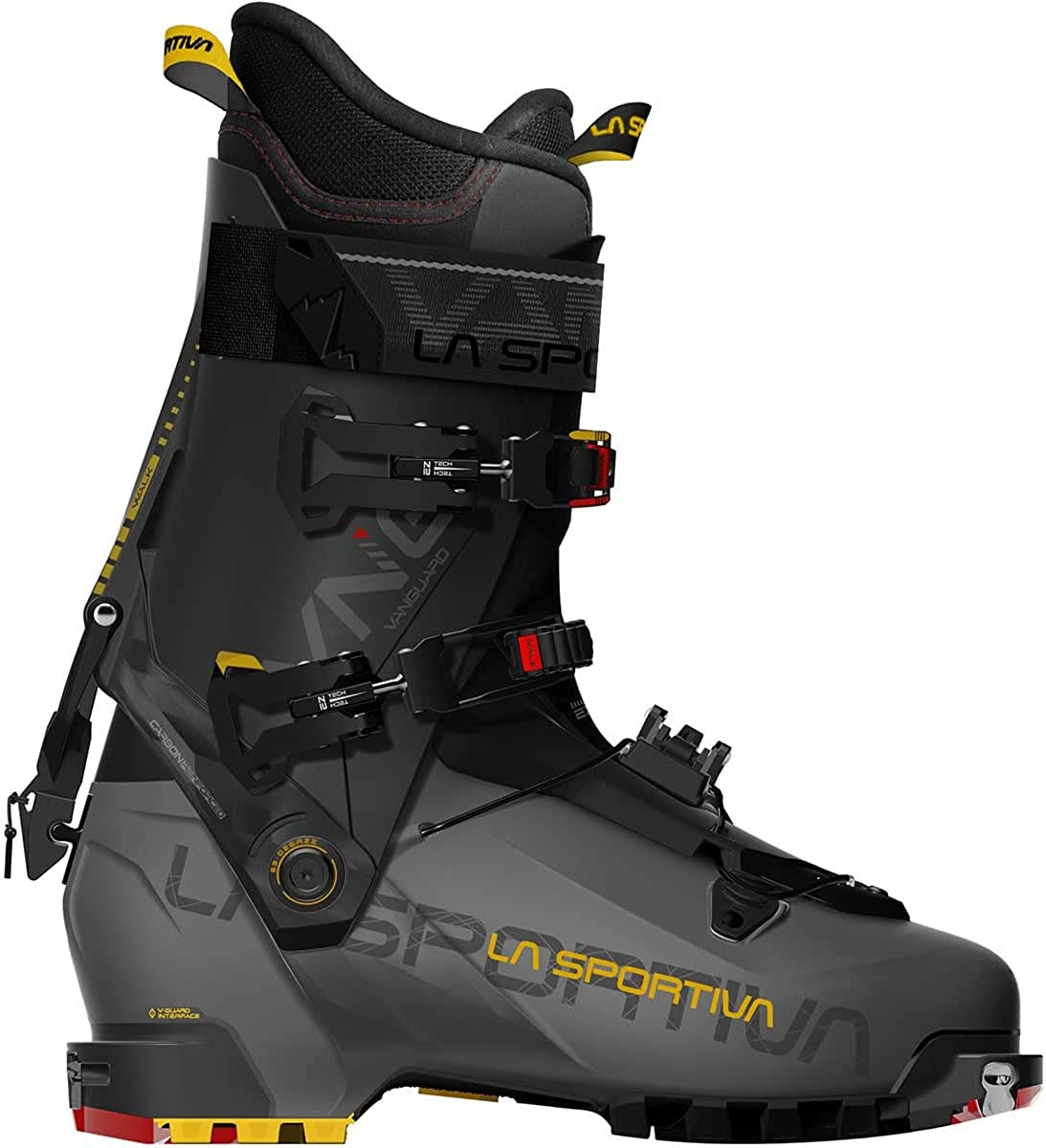 La Sportiva Vanguard
Color: Carbon-yellow
Material: Pebax bio
Best Of The Rest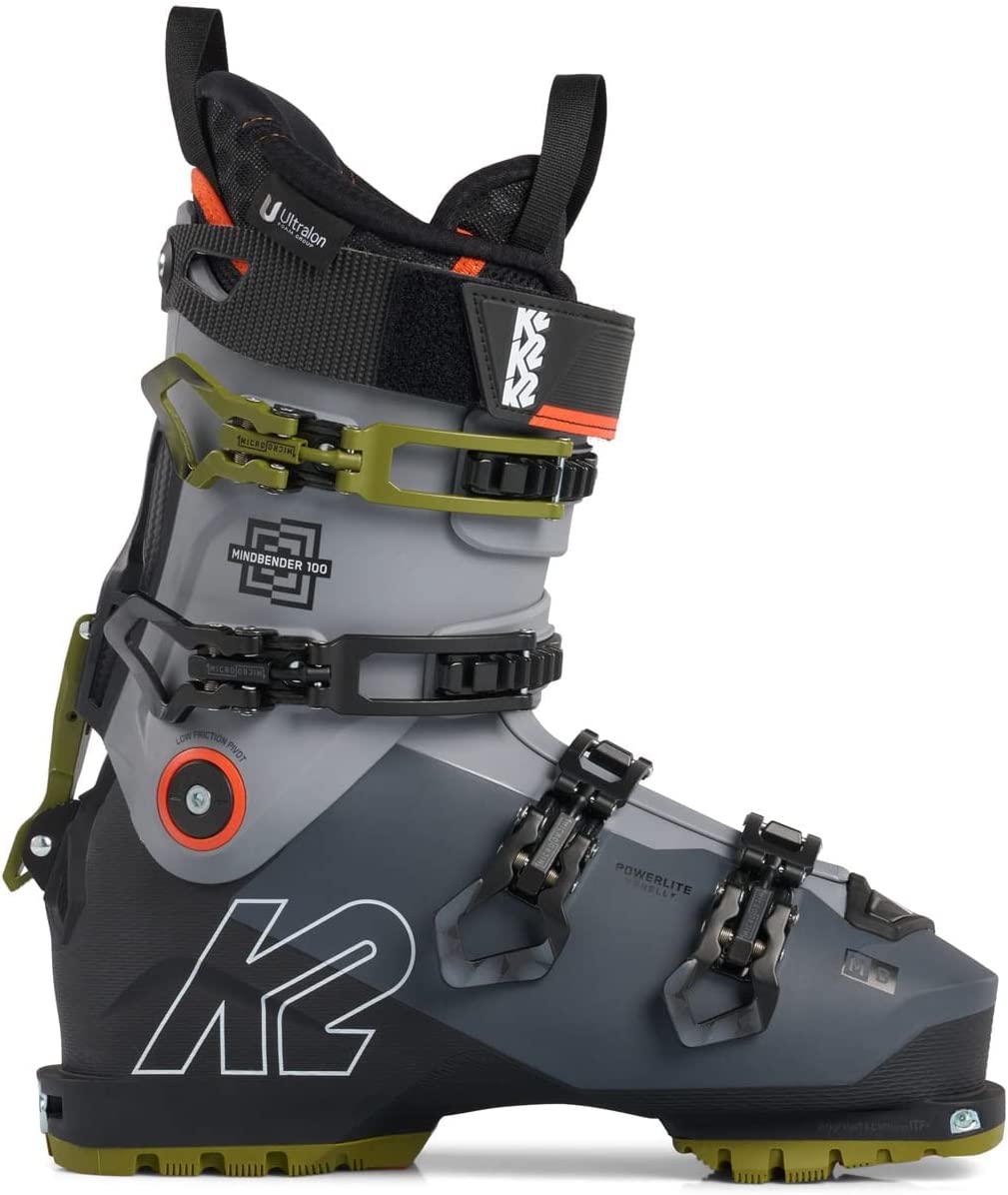 K2 Mindbender 100 MV
Color: Gray​/Blue
Material: TPU
The Top 10 Best Backcountry Ski Boots
When it comes to downhill performance and uphill performance, it doesn't get better than this. From the Tecnica Zero G Tour and its lightweight liner to any of the Lange boots on offer, what we have is the best of the best.
Backcountry skiing is demanding, only the backcountry ski boots down below are up to the task.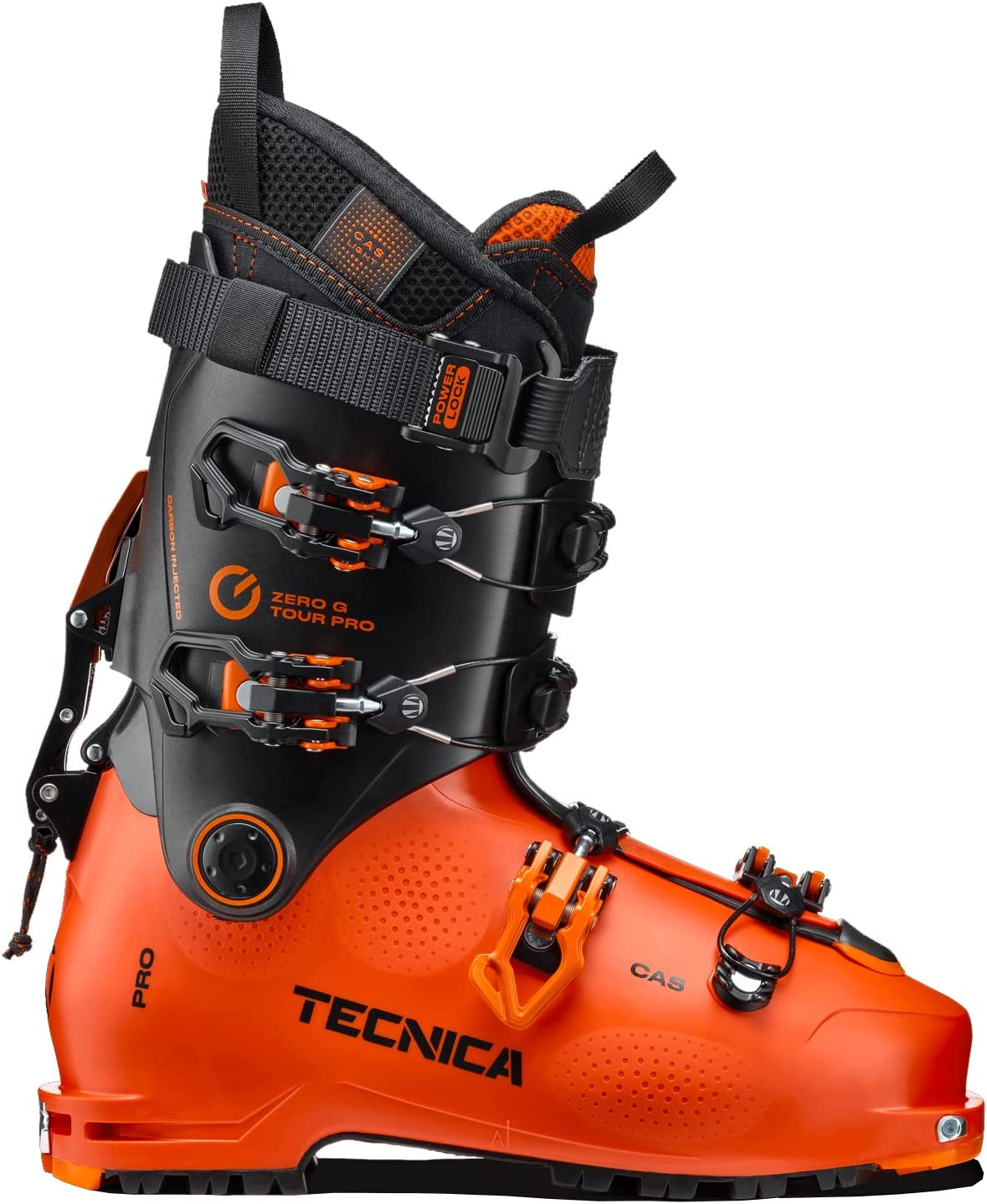 At the top of the food chain rest the Zero-g tour pro ski boots. With a shell that has been constructed with dual injections of both carbon fiber and Grilamid, you get more than just high durability at a low weight. You get quality engineering that covers all bases.
Grilamid is a material that has the lowest absorption of water out of all polyamide-like materials. This is a serious boast when it comes to skiing and snow sports in general. Having a shell that has been strategically constructed with Grilamid means that you have a formidable layer of water protection to count on.
Alongside this water guard are injections of carbon fiber. Carbon fiber has high stiffness and strength. The stiffer something is, the more responsive it is. That's not all, thanks to its corrosion-resistant properties, durability is all but guaranteed.
Now I don't know about you, but I sure do enjoy it when something I purchase is built to last. And these backcountry boots absolutely have everything that a ski boot should want if durability is its number one priority.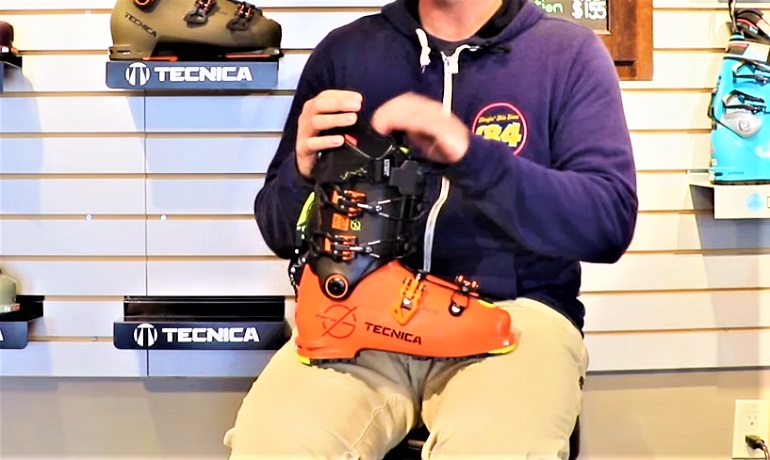 But that's not its best quality. No, the Tecnica Zero G Tour backcountry ski boot impressed me because of how lightweight it managed to be without sacrificing build quality. Everything that could be touched up was. Even the liner has seen improvements.
The liner of these backcountry boots is lightweight and has a waterproof membrane that is also breathable. Pair this up with magnesium buckles, and you have already shed a significant amount of baggage. Yet, the strength and longevity of these ski boots do not waver.
Backcountry skiing has met its dominator.
Features
Fit: Last of 99mm
Liner: Light and fit liner
Shell Materials: Co-injected carbon fiber and Grilamid
Sole: Dynafit touring sole
Best Feature: Light lock power strap for easy ski mode engagement
Ability Level: Advanced to expert
Pros
The mobility cuff system has a double-blocking lever that comes in fixed at two places. For increased stability and safety.
Buckling system that ensures great weight savings thanks to magnesium build.
The liner is lightweight and has a waterproof breathable membrane.
Cons
This is a stiffer boot, not suitable for any not expert skiers.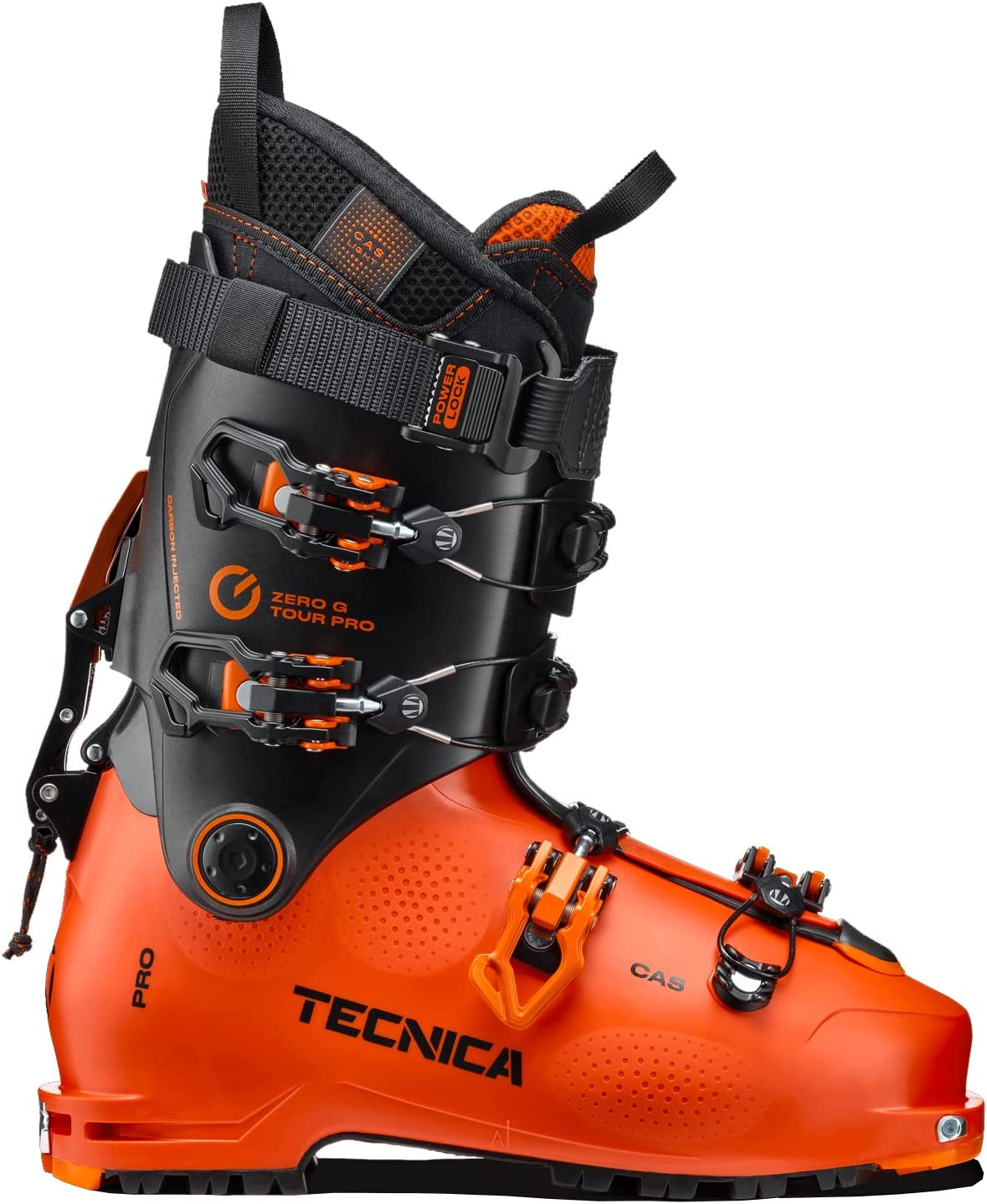 Tecnica Zero G Tour ski boots
The price of "Tecnica Zero G Tour ski boots " varies, so check the latest price at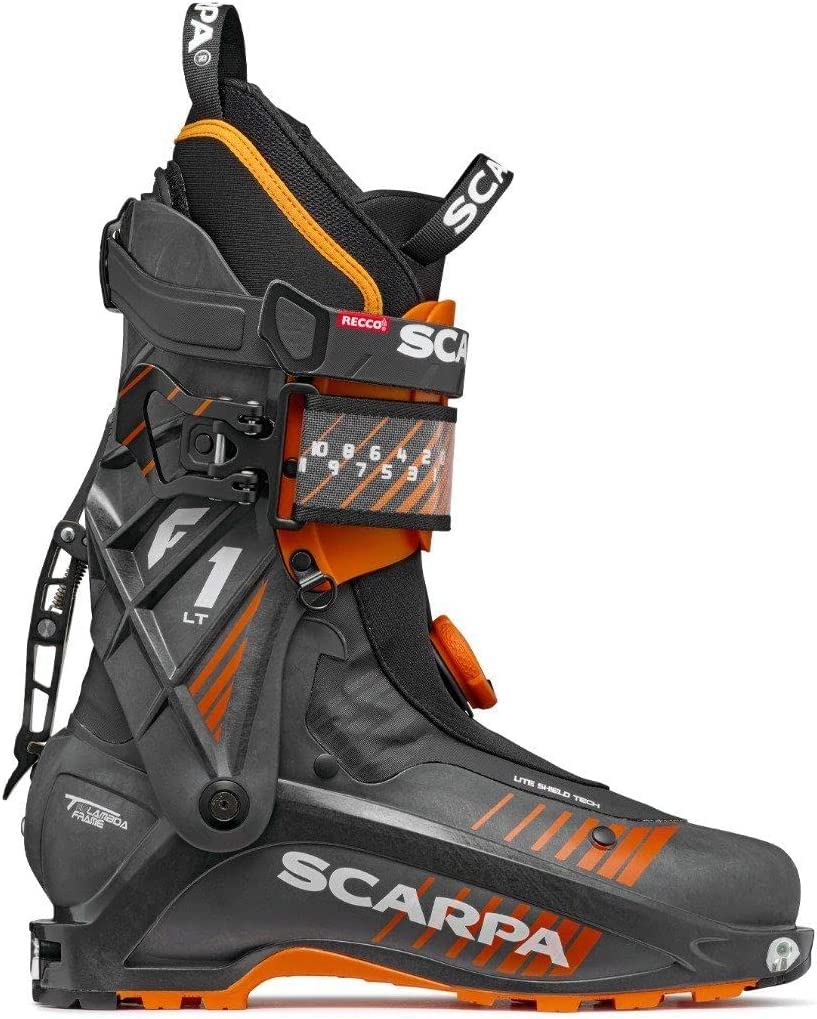 The Tecnica Zero G Tour ski boots knocked it out of the park, but surprisingly, I'd say that the Scarpa F1 LT boots have a better build quality. How was this achieved? Well, the Scarpa F1 LT ski boots were stuffed like a turkey with all the high-grade parts that you could think of.
Starting off with the liner, which was made from a thermo-moldable foam. What this means is that the heat from your feet caves in and lifts the areas that need to be adjusted. The liner contorts itself to better fit the natural carves and turns of your walkers.
Besides getting a comfortable fit, which you obviously do, what also sees an uptick is the responsiveness of your backcountry ski boots. More specifically, the speed at which you can get things done.
Backcountry skiing is all about speed and responsiveness. The terrain is tougher and more mixed, and being able to react accordingly to what is coming ahead is paramount. The F1s make sure that they do everything possible to aid you and your skiing style.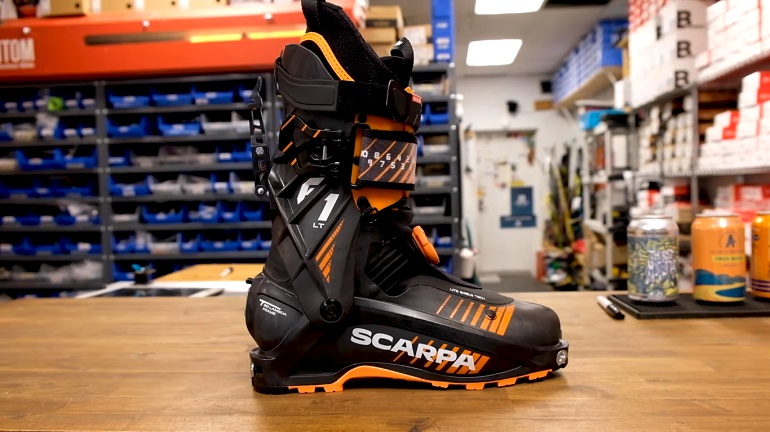 Special mention also has to be made to the waterproof gaiter system, which protects your feet and ankles from getting drenched. Even when not skiing, the F1s make for great lightweight touring boots. Thanks to the three different forward-inclined positions which you can choose from.
The best part is, that each one can be further adjusted. These had to be the best in build quality, other boots could not compete.
Features
Fit: Custom fit
Liner: Intuition thermo-moldable foam
Shell Materials: Carbon LFT shells
Sole: Vibram UFO RS rubber
Best Feature: Waterproof gaiter system
Ability Level: Intermediate
Pros
The ski walk mode offers three different forward adjust inclined positions.
The Lambda torsion frames increase rigidity and lateral stability for excellent downhill performance.
Benefit from the great power-to-weight ratio thanks to the shell and cuff designs.
Cons
They look amazing and feel amazing, no complaints.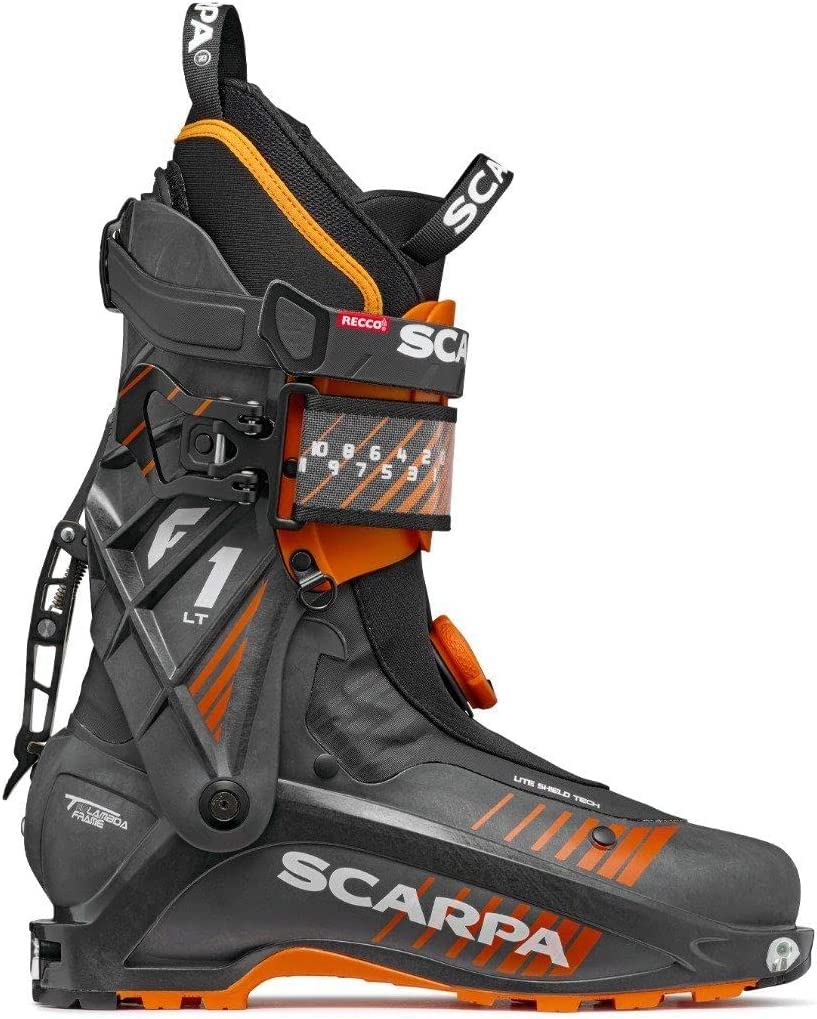 Scarpa F1 LT Ski Boots
The price of "Scarpa F1 LT Ski Boots " varies, so check the latest price at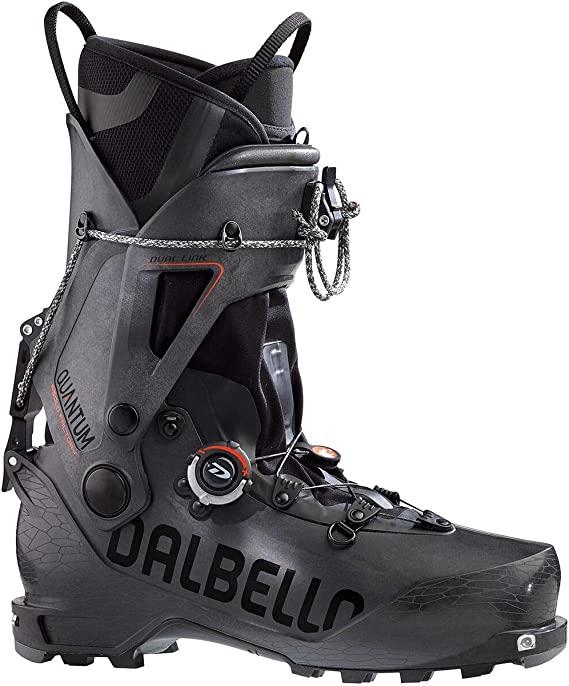 Dedicated backcountry skiers know that the cream of the crop when it comes to alpine ski boots, or any boots for that matter, are not known for their affordability. And the Quantum Asolos, standing in at around four hundred and ninety-plus dollars, surely doesn't help this.
However, when you take into account the price points of all of the backcountry ski boots on our list, you come to further appreciate the number quoted above. Despite this lower price, Dalbello did not take any shortcuts.
The Dalbello quantum Asolo factory boots have a dual-density sole that supports your arches naturally. This sole is made from Vibram. Vibram is a material that is widely used not just in downhill skiing boots but in most boots that are geared around climbing and hiking.
Why? Because of its impact resistance. This material allows the balls of your feet to strike the ground first. Reducing the overall strength of any impact significantly. This has a knock-on effect. Since the hits are dampened, the probability of injury is lowered significantly.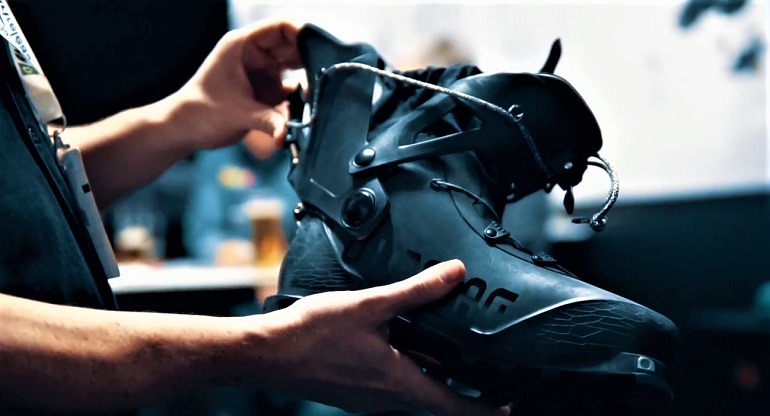 It's surprising to see this level of care and wearer support from a budget alpine boot. As if it wasn't enough, the boot board has been extended. Giving you greater edge control and stability.
The last thing I'll touch on is the abrasion-resistant pads that fill in the sides and openings of the Quantum Asolo boots. I haven't ever come across a budget option this good, in any sport.
Features
Fit: Last of 99mm
Liner: ID touring pro
Shell Materials: Polyamide composite carbon
Sole: Vibram dual-density sole
Best Feature: Two shell halves bonded together
Ability Level: Advanced to expert skiers
Pros
Has a quick lacing system that is supported by a hidden forty-five-degree lace at the instep area.
The boot board has been extended for more support when edging and increased stability.
One-hundred percent customizable anti-abrasion pads.
Cons
The fit is not suited for those with thin feet and skinny feet.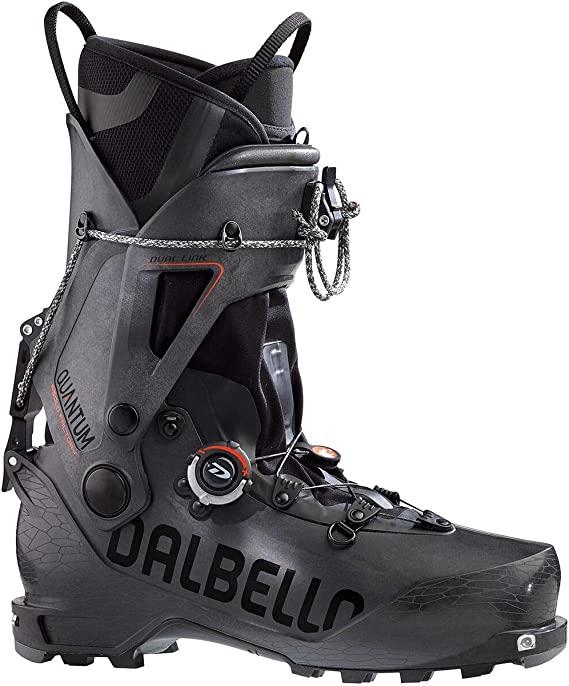 Dalbello Quantum Asolo Factory Ski Boots
The price of "Dalbello Quantum Asolo Factory Ski Boots" varies, so check the latest price at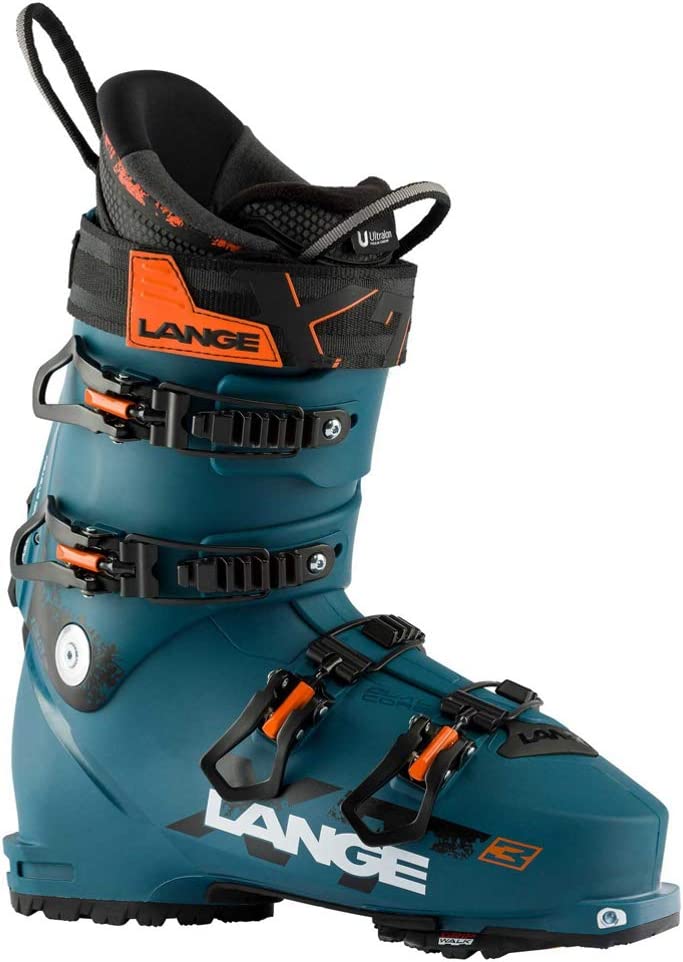 It's got a name long enough to need two mouths to fully pronounce but without a doubt, this ski boot is the one boot you'll need for ski mountaineering expeditions. A true alpine boot that comes with grip walk soles that'll latch onto your feet and give you a better standing on any terrain.
From the outside, the shell has been constructed using a power injection method. Two different amounts and kinds of plastic were injected into five key areas. Each area gets the type of plastic perfect for its job on hand.
Our heels take most of the hit when landing or walking and the spine of the boot is where we push off from. As a result, these two areas received the harder plastics. Areas that are more comfort-oriented, such as anything that wraps around your foot, were constructed with softer plastics.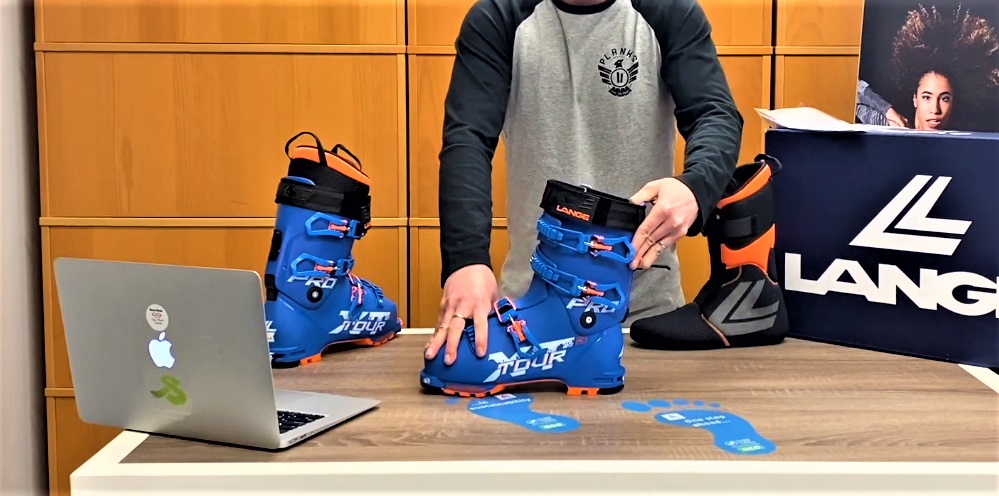 This led to a softer flex and better conformity to your foot shape. It sounds like you are being coddled, but aggressive backcountry skiers, aggressive skiers in general, know that ski mountaineering demands this kind of design.
What makes these boots the best alpine touring boots is their walk mode which has a fifty-three-degree range of motion. Reducing the strain on your feet and supporting their uplift.
However, the natural stance will take a little getting used to.
Features
Fit: 100mm last
Liner: Dual 3D full liner
Shell: Dual-core technology
Sole: Gripwalk soles
Best Feature: The liner is one hundred percent customizable
Ability Level: Advanced skiers and up
Pros
The forty-millimeter velcro strap accommodates all kinds of fits in an easy-to-use manner.
The shell has been reinforced at key specific points by five different injections of plastic.
Comes with a unique stance that increases your balance without blasting your quads.
Cons
I see the stance as a benefit, but others may find it hard to get accustomed to it.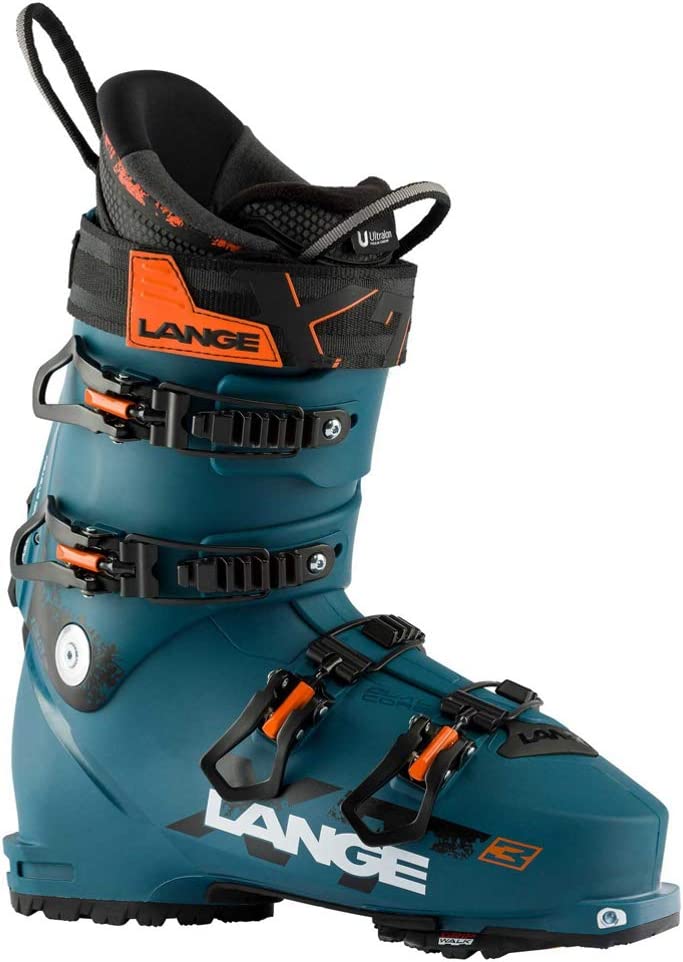 Lange XT3 Free 130 MV Ski Boots
The price of "Lange XT3 Free 130 MV Ski Boots " varies, so check the latest price at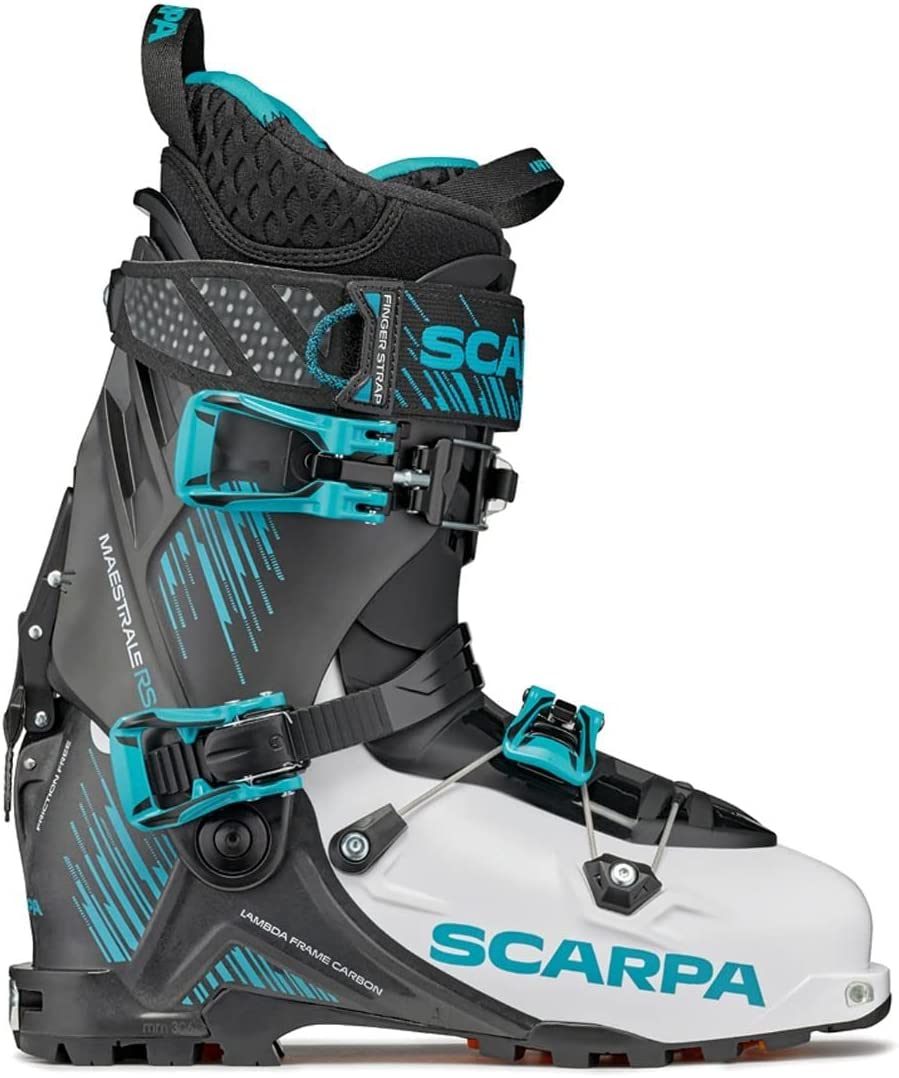 While the previous backcountry ski boot on our list was the best alpine-specific boot, the Maestrales are the best ski touring ones period. I'll go ahead and start with the liner. After all, it is a big reason as to why the walk mode of these boots is so damn comfortable.
The liner has a progressive flex running throughout it. A progressive flex is a flex that changes throughout the boot. The more you lean into it, the stiffer it'll get, otherwise, you get a softer and more forgiving rating. The benefits are that the flex rating changes depending on what you need.
It doesn't take a dedicated backcountry skier to know just what a game-changer this is.
As we have mentioned before with a previous entry, Grilamid and its low water absorbency have been included in the shell of these boots. The burly Vibram soles handle the hard stomps and the liner heat molds itself to better comfort you.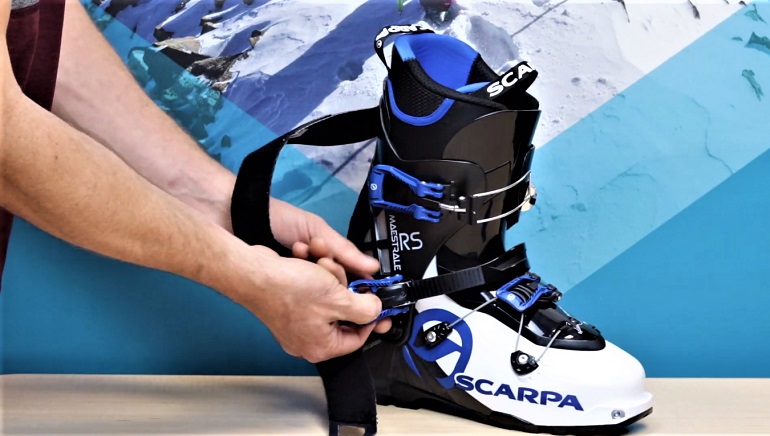 Even when setting out on short backcountry tours, the thick flex rating and the expansive range of motion of these boots give you the highest touring efficiency to be found.
With a touring capability this high, is it any wonder why the Maestrale can also be considered a race boot?
Features
Fit: 101mm last
Liner: Cross-fit progressive flex
Shell Materials: Carbon Grilamid LFT
Sole: Vibram cayman pro
Best Feature: Heat-molded liner
Ability Level: Advanced to expert
Pros
The shell is thinner and less cumbersome but still durable thanks to the carbon fibers added to its build.
The thick flex rating and the increased range of motion walk mode make these excellent touring-specific boots.
Secure onto your feet with a wave closure system with dual buckles for extra support.
Cons
They've got a wonderful design, but some skiers may be put off by the bright colors.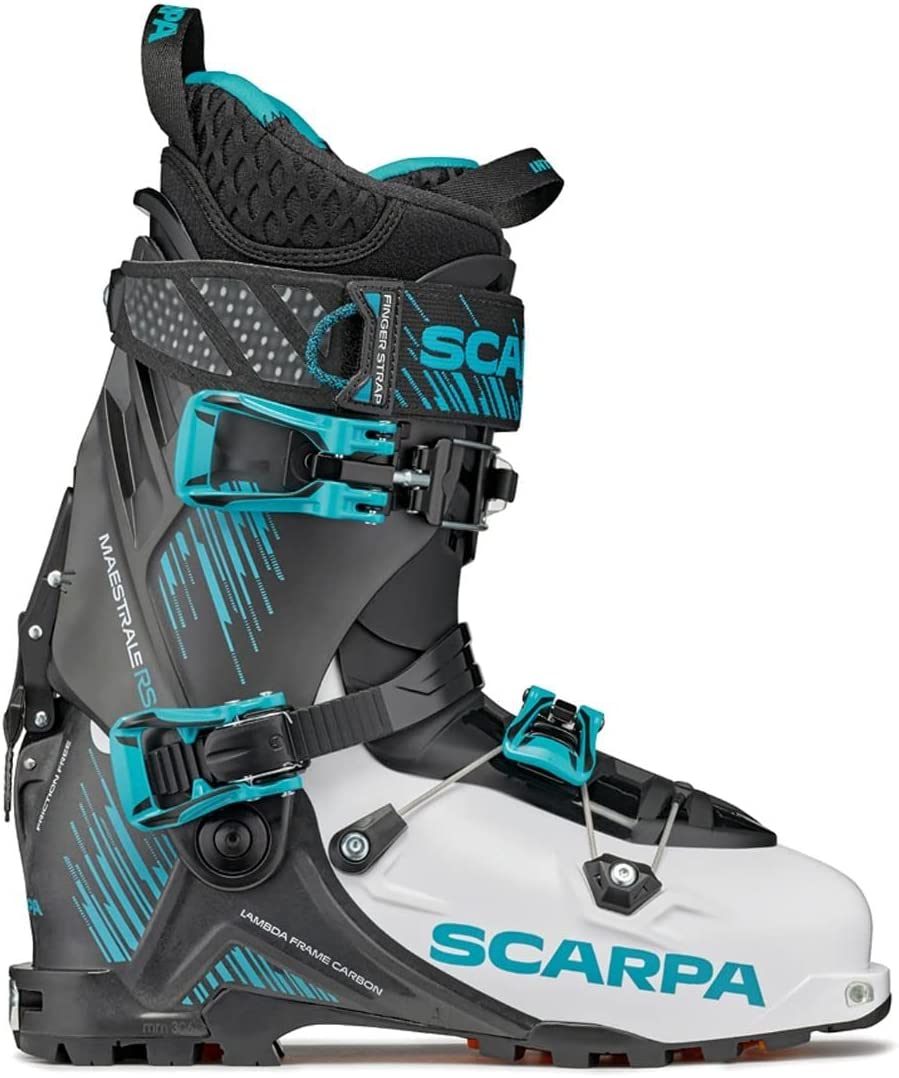 Scarpa Maestrale RS Ski Boots
The price of "Scarpa Maestrale RS Ski Boots" varies, so check the latest price at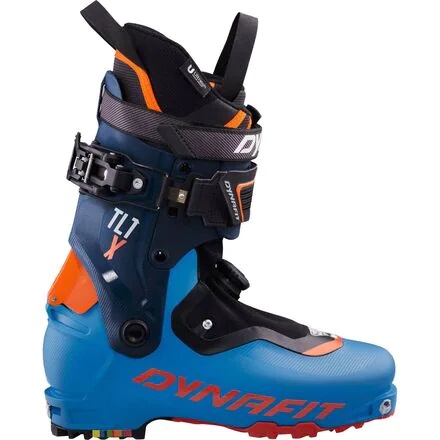 While I enjoy a pair of ultralight boots as much as the next guy, I prefer boots that allow you to dial in the right fit. What better way to achieve this task than to have a full-wrap cable that runs through the interior of the boot?
Then all you need is a dial that you can easily turn to tighten the boot as you please. This is a feature that most touring options should have. Most don't but fortunately for us, the Dynafit TLTs do.
I can't stress enough how great this dial is. We all know the difficulties of having to adjust your gear in the middle of the action. You don't want to stop, but you have to. Now, with an easy-to-turn dial, you can quickly fine-tune your fit and get right back to tearing it up.
With a one-hundred-and-one millimeter last and a walk mode designed to save you energy, there isn't a single spot in the functional design where these lightweight boots went wrong.
Pure quality.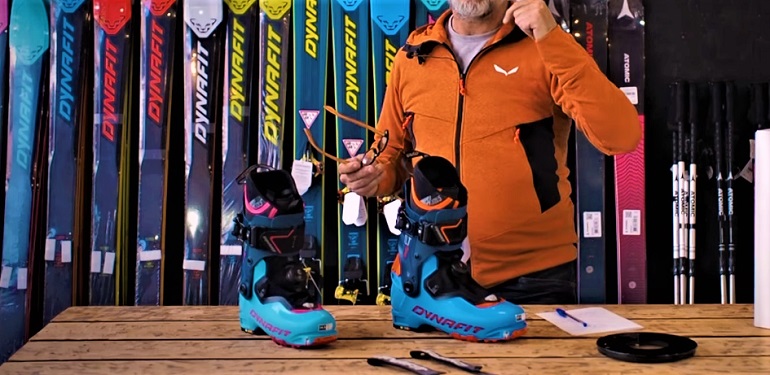 Features
Fit: 101mm last
Liner: Dynafitter 5
Shell Materials: Grilamid
Sole: Pomoca Climb
Best Feature: Energy-saving walk mode
Ability Level: Intermediates and up
Pros
Has a cuff rotation of sixty degrees which saves you energy when moving in walk mode.
A full-wrap cable runs throughout the interior of this dedicated backcountry boot which can be adjusted with a rotating dial.
A reliable build for technical terrain. Perfect alpine touring boots.
Cons
Only one, very flashy, color design to speak off.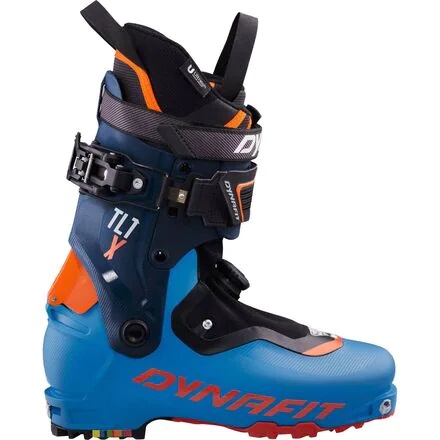 Dynafit TLT X Ski Boots
The price of "Dynafit TLT X Ski Boots " varies, so check the latest price at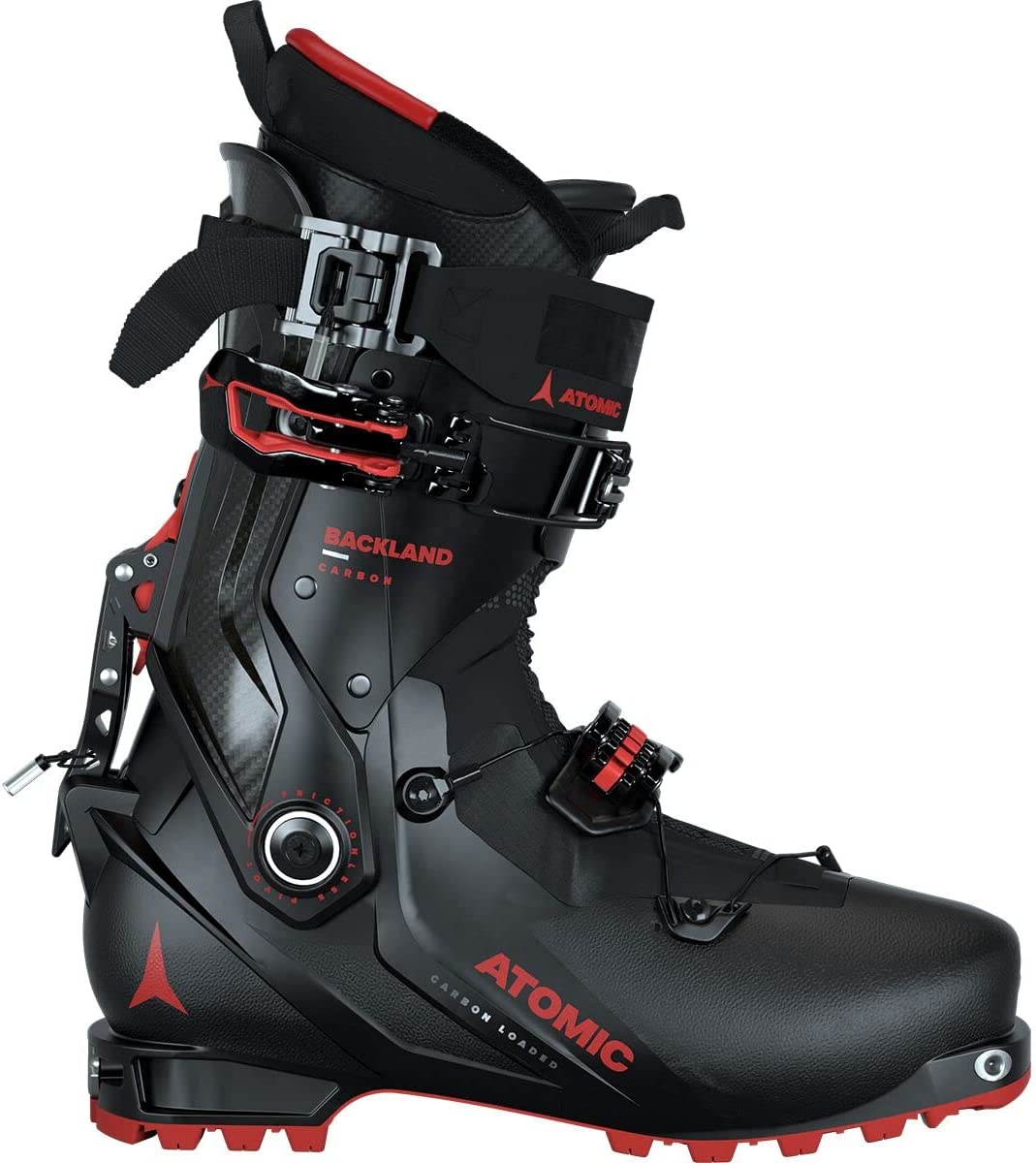 The Atomic Backlands have better power transfer than the Atomic Hawx Prime boots. This is no easy feat, and it is further compounded by the Skywalk rubber sole that each boot has.
Toward the spine, an asymmetric backbone is the key to this efficient energy transfer. By having something sturdy to steer with, your lateral energy transmission is improved. This effect causes a chain reaction, one that sees your edge grip become more effective.
My favorite thing about the Backlands is that they come with a boot fitter, liner laces, and a spoiler for your liner. Talk about bang for your buck! Right out of the box you get everything you need to fine-tune and customize these boots.
The last thing I'll touch on is the breathable liner of these boots. The platinum tour liner has special zones that act as vents. Releasing any excess heat buildup and making it a lot harder for you to sweat.
Besides energy transfer, comfort also takes priority here.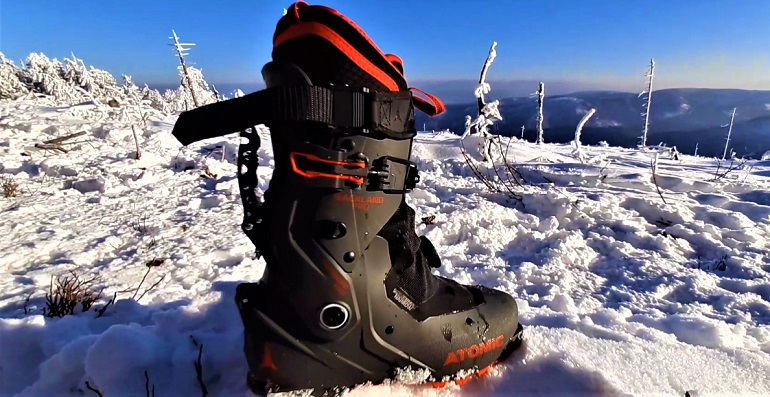 Features
Fit: Last of 98mm
Liner: Platinum tour liner
Shell Materials: Carbon-Loaded polyamide
Sole: Skywalk full rubber sole
Best Feature: Comes with size adjuster, liner laces, and liner spoiler
Ability Level: Advanced to expert
Pros
The asymmetric backbone improves lateral energy transmission, which increases your edge grip.
Breathable liner thanks to the special zones within the liner that allow heat to escape.
The shell, cuff, and liner are all heat fitted. Meaning you get a custom fit within minutes of wearing them.
Cons
Not many sizing options to choose from but this is due to the reliability of its heat-molded design.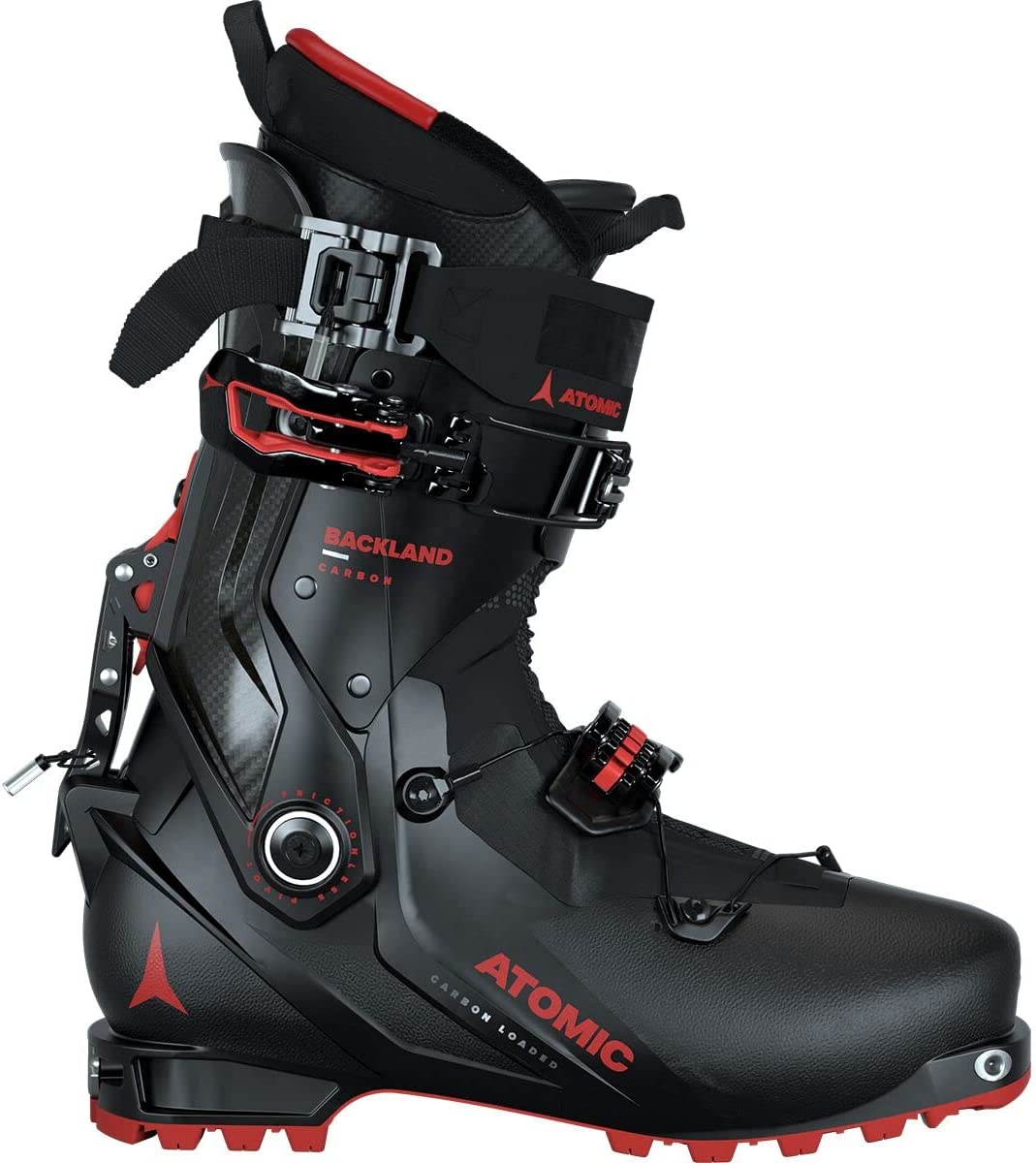 Atomic Backland Carbon Ski Boots
The price of "Atomic Backland Carbon Ski Boots " varies, so check the latest price at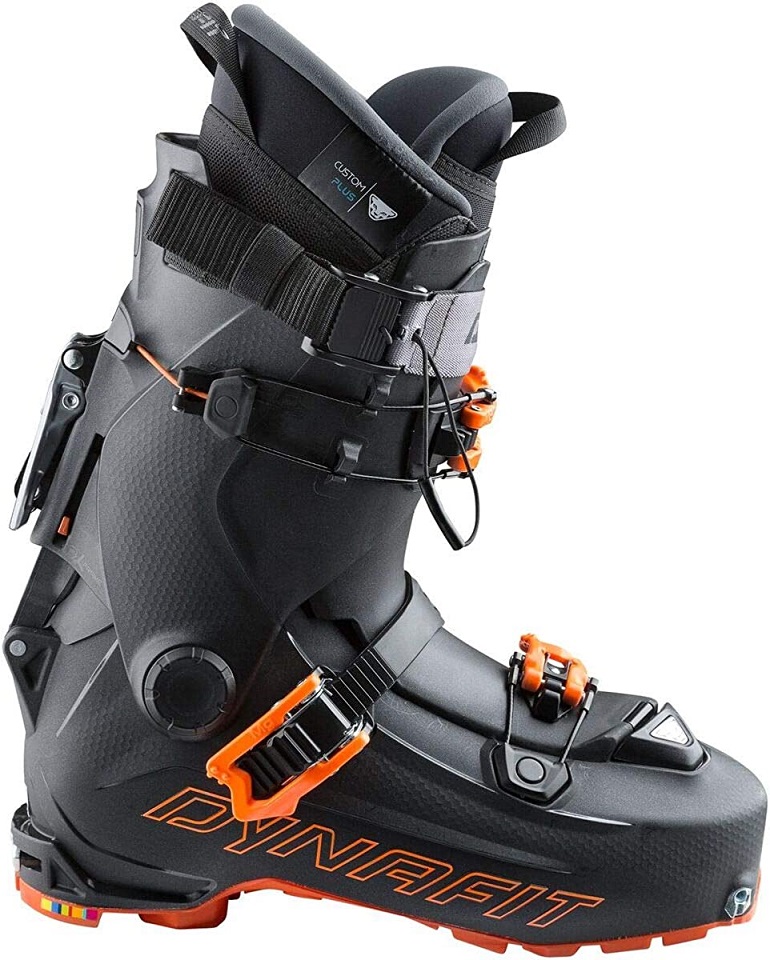 What does it mean to have an optimized design? When it refers to a backcountry ski boot, it means having areas of your boot designed in a way to improve your mobility. Areas that don't usually experience much attention to detail.
For the Hoji Pro, the outside nose and sides of the ski boot were contoured to create an icebreaker effect. One in which the snow moved around it and didn't offer as much resistance.
Even from within, the sole was designed to further enhance this effect. Aside from this, the welt from the toebox has been removed, talk about increased downhill performance and speed.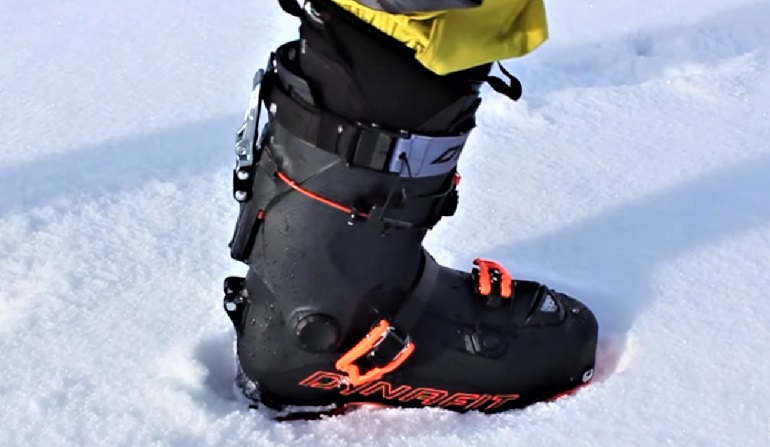 Features
Fit: Last of 103.5mm
Liner: Thermoformable liner
Shell Materials: Grilamid
Sole: Speed nose sole
Best Feature: Smooth contours on nose and boot sides
Ability Level: Advanced to expert
Pros
The nose and sides of these alpine boots have special contours that reduce resistance when moving through the snow.
The welt has been removed from the toebox, what this does is allow you to place more pressure forward. Increasing your power and speed.
Great last design that works well with high-volume feet.
Cons
Unfortunately, these alpine touring ski boots require bindings with tech toe and heel pin fittings.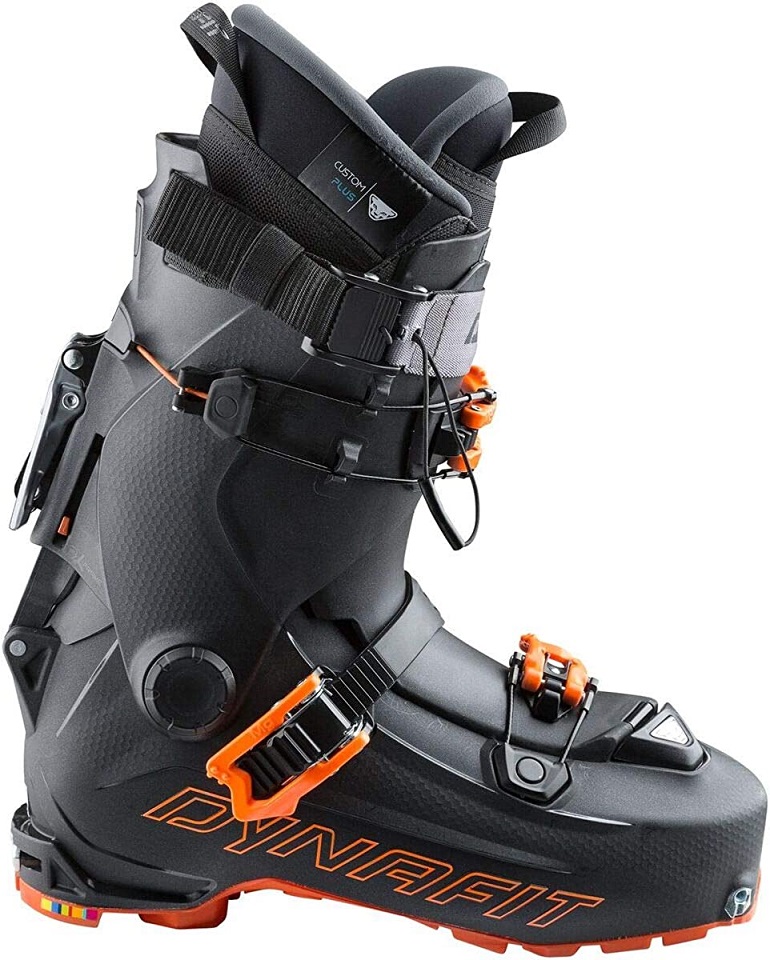 Dynafit Hoji Pro Tour Ski Boots
The price of "Dynafit Hoji Pro Tour Ski Boots " varies, so check the latest price at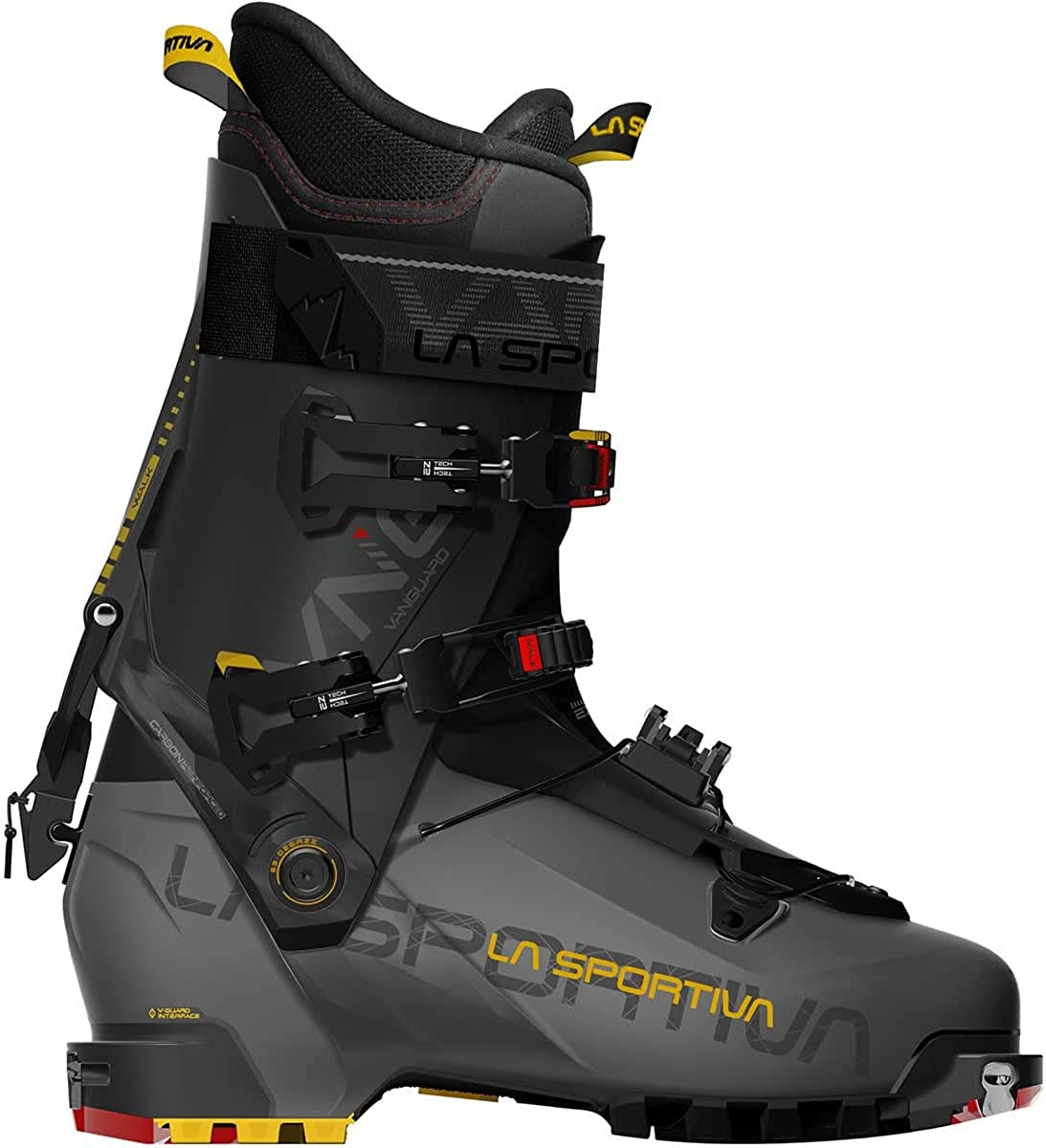 In general terms, a vanguard is a group of individuals leading the way in terms of innovation and new ideas. I'd definitely consider this ski boot made by La Sportiva to be a vanguard of sorts.
With a lightweight setup and a stiff flex to offer form and strength, you get responsiveness without discomfort. Now that there is innovation. The liner where your foot rests is both Thermo-moldable and has two different flex zones.
Granting you a comforting fit with the right amount of backing for specific areas. On the bottom, the rubber soles provide excellent traction on icy terrain. Even the look of these lighter weight boots has been improved. With color-coded parts for just the right amount of flair.
The best part is that for once we don't have a pair of boots best suited to advanced skiers. Intermediates are the target demographic here.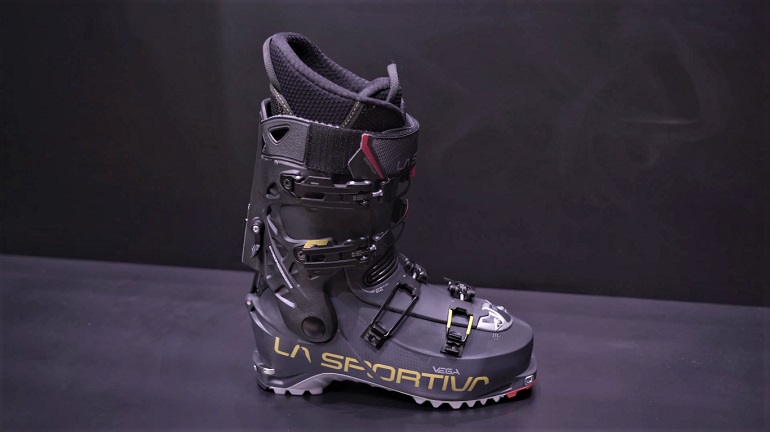 Features
Fit: Last of 102.5mm
Liner: Ultralon liner
Shell Materials: Pebax bio-based RNew
Sole: Vibram V-LUGS
Best Feature: Light yet stiff design
Ability Level: Intermediate and up
Pros
I loved how key parts of these alpine touring boots have been color coded. Made the outside design seem playful.
The liner is Thermo-moldable and has two different flex zones for your foot.
The rubber sole increases traction on icy boot packs.
Cons
There wasn't anything that really set it apart from other options.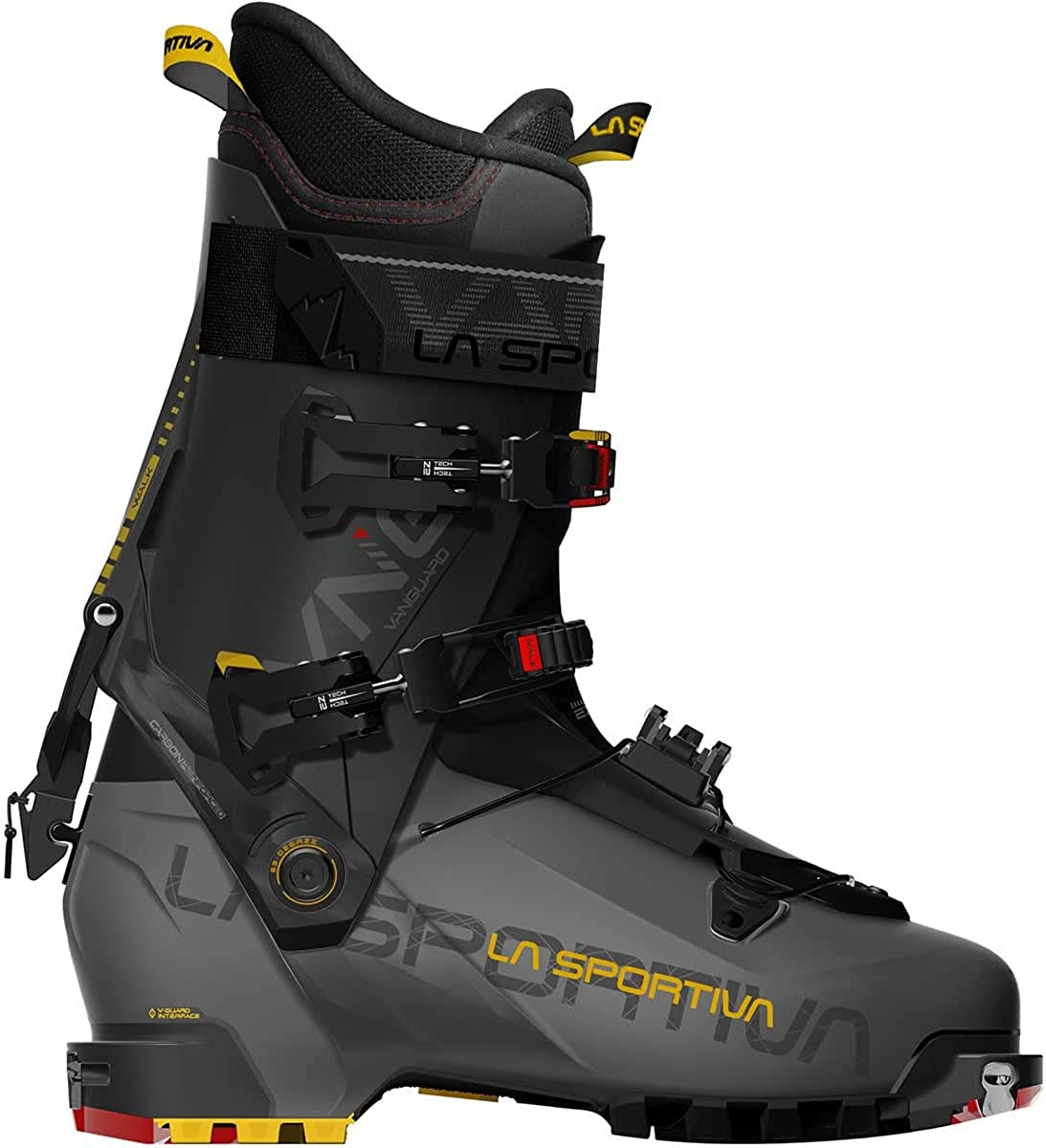 La Sportiva Vanguard Ski Boots 
The price of "La Sportiva Vanguard Ski Boots " varies, so check the latest price at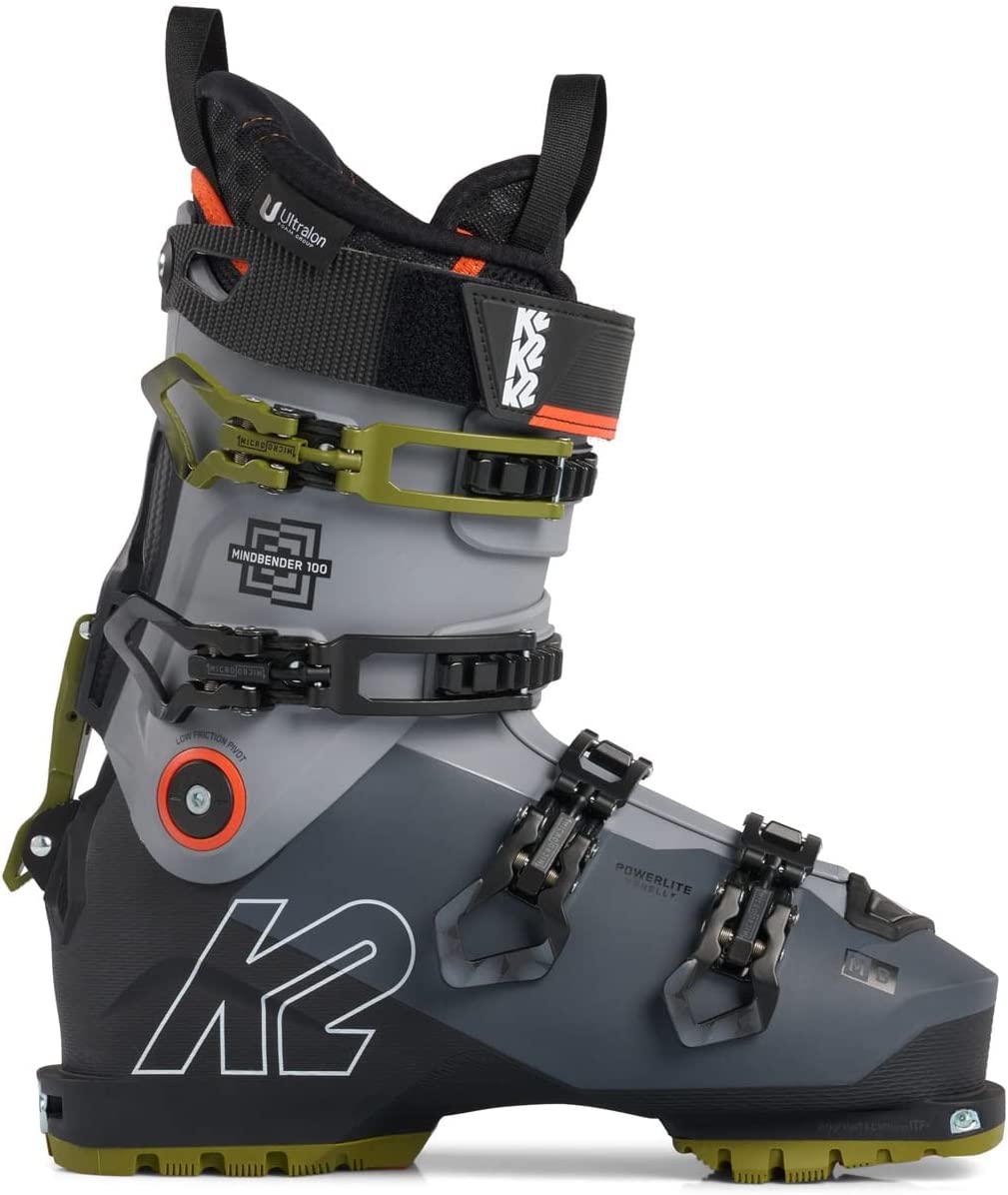 How do you get to the best of the rest position? Clearly, it's not by doing something better than the backcountry skiing boots that came before you. Then is it by doing something better than the rest? Despite what the name clearly states, not exactly.
The best of the rest moniker is for those that took what worked from other list entrants and then brought new features to the table. It's these little details that make or break this category.
The Mindbender 100s are loaded to the brim with these little details.
From the ankle pockets that come pre-molded into the boot, which prevent painful chaffing, to the increased range of motion that the walk mode provides, you get a lot. Perhaps the most striking thing about these boots, is that they are geared toward intermediates.
Usually, when you have an intricate design, manufacturers go all out to impress the experts. K2 bucked this trend and they even threw in a fast-fit instep to further prove their point.
This instep style makes it easy to slip into and out of the Mindbenders. Yet another feature that lets you focus on skiing without slowing you down. You can get a solid downhill performance out of them, obviously, there are better options, but these work well enough.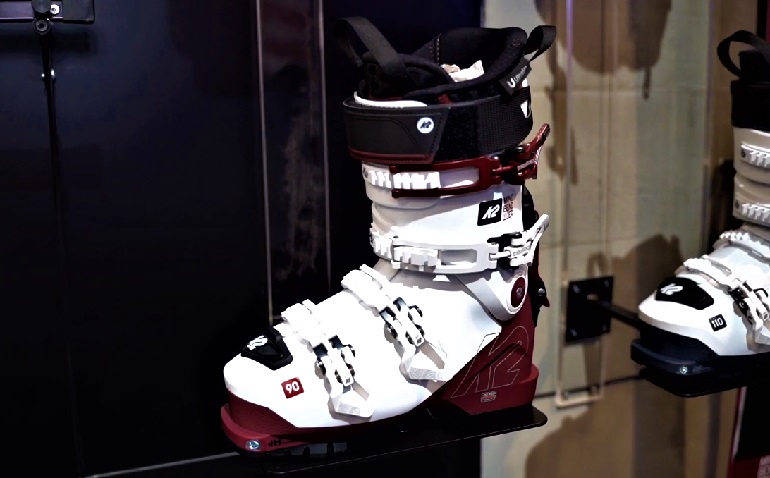 Features
Fit: Last of 100mm
Liner: Luxfit Pro Tour Liner
Shell: Powerlite shell
Sole: Gripwalk Outsoles
Best Feature: Walk mode with a fifty-degrees range of motion
Ability Level: Intermediate to advanced
Pros
Most of the liner is pre-molded, but certain areas have been made with heat-moldable foam.
Comes with ankle pockets that have also been pre-molded.
The fastfit instep allows for fast entry and exit into the boot. My favorite feature.
Cons
The boot flex rating is on the lower end. Expert skiers may want to seek out other options.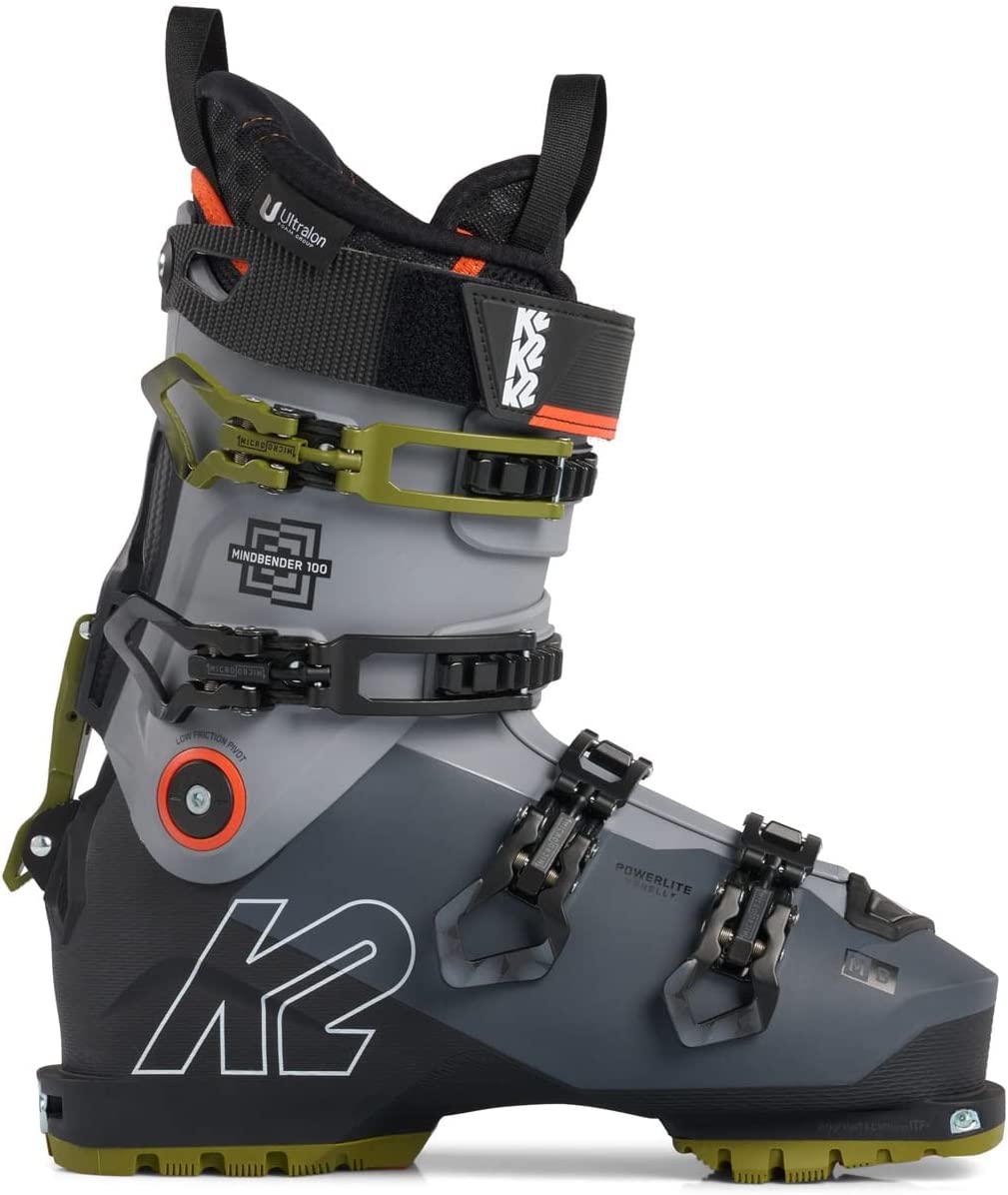 K2 Mindbender 100 MV Ski Boots
The price of "K2 Mindbender 100 MV Ski Boots" varies, so check the latest price at
Choosing the Best Dedicated Touring Boot for You
With many backcountry ski boot options to sort through, it's really easy to get overwhelmed. But choosing the one boot that is fit for your needs is an art form in its own right. There's a lot to consider and that's why we've broken down the key points for you down below.
Comfort and Fit
You wouldn't want to go five minutes in shoes that hurt you. Getting the right fit is equal parts important and complicated. Due to heat moldable liners and how your boot will fit into your alpine bindings, it is not as simple as getting something that doesn't squish your toes together.
What you want is a snug fit all around with a small amount of space available for your toes. Don't worry about the snug fit causing any bruising or cuts. Once you break them in, the heat moldable liner will expand to fit your feet.
The Dynafit TLTs have a dial for getting the fit just right and as a result, are the best boots for this category.
Touring Boot Warmth
How warm your boots should be, depends entirely on how easily you heat up. If you sweat easily and are prone to overheating, then it is best to get boots with a breathable liner. Something like the Atomic Backlands should be right up your alley.
However, if the inverse is true and you easily get cold then tighter-fitting boots with a strong spine should be on your radar. This is because boots of this nature don't allow as much cold air to rush in, and they conserve body heat much better than other options.
The Ease of Use of Your Touring Boot
How easily you can get into and out of your boots, as well as how easy it is to adjust the fit, are the key criteria here. As mentioned before, the Dynafit TLTs can be adjusted on the fly thanks to the dial that each boot comes with.
Certain boots also feature a custom instep for rapid entry and release. There are other ways in which a boot can be easy to use. Velcro straps and removable liners are the first two that come to mind. Any boots with these features won't give you a headache when messing around with them.
Uphill and Downhill Performance
How well a boot performs going uphill or downhill depends entirely on their walk and ski mode. A boot can be switched into either mode, doing so makes it easier to either walk or ski, go figure.
The way this is done is by changing the angle of the forward lean or any other part that has to do with this domain. A good rule of thumb is that any pair of boots with a walk mode that has fifty or more degrees of range of motion is a solid pickup.
You won't be requiring much more than that unless you want a specialized design like the Hoji Pros.
Touring Boot Weight
They are called touring because you are meant to go the extra mile with them. Hard to do that if they are weighing you down. Boots such as the Vanguards and the Tecnica zero g tours have got slimmed-down designs.
The main areas in which a boot can shed weight are the liner and the shell. Most shells have injections of different plastics in key areas. This strengthens the structure of the ski boot without weighing it down.
Keep in mind that you must also take into account the weight of your backcountry ski bindings and skis.
Transitions and Turns
Skiing is very much a performance-based sport. You are going to want as much responsiveness as possible. Boots that are form-fitting or have a liner that'll mold to fit the contours of your foot are the best picks for increased responsiveness.
For the most accurate turns and power transitions, you should aim for a stiff boot with a hard spine. Remember, the stiffer something is, the more responsive it becomes. Of course, there is a downside. Stiffer gear is much more demanding and less forgiving than other alternatives.
You must educate yourself and acquire the best equipment if you want to master the skill of backcountry skiing!
My Final Thoughts
Ski boots are a massive part of your skiing experience, it should go without saying that getting the right pair is important. But it is not always a matter of what is most comfortable at the moment. As you ski, the temperature of your body changes and so you need dynamic boots that can keep up.
This can be said for every aspect of your boots. You need to ensure that every feature can be adjusted to fit your needs at any given moment. As far as your performance goes, the rest is up to you. Your gear can only take you so far.