The act of fishing may not be considered by many to be an extreme sport, but the process of buying equipment certainly is. Going into a fishing shop without knowing what kayak fishing gear you want will feel like skydiving without a parachute.
Fish finders for kayaks come in a million styles, with many brands, and a ton of features that can very quickly become overwhelming. Knowing precisely what you want and for what purpose will shorten your time browsing by hours.
A lot of them use the same technology as each other but in different-sized packages. Learning your preferences will make life a lot easier.
Of course, most anglers won't need the more expensive fish finders, which can cost over $4000. To catch fish from a kayak, a cheap fish finder will usually do the trick.
Even with a basic kayak fish finder, you can still pick out shoals of fish swimming beneath the surface with relative ease.
Top Pick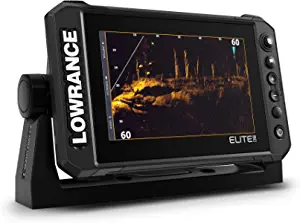 Lowrance Elite FS 7
SCREEN SIZE: 70 INCHES
item weight: 6.36 pounds
Affordable Option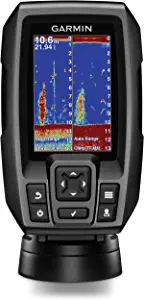 Garmin Striker 4
SCREEN SIZE: 3.5 INCHES
item weight: 0.5625 pounds
Portability & Convenience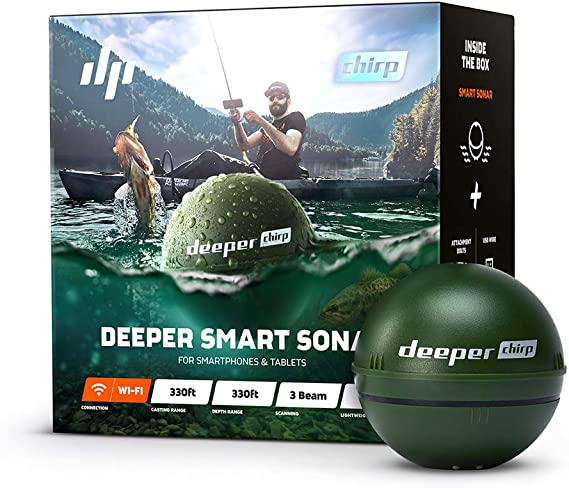 Deeper Chirp Castable and Portable Fish Finder
SCREEN SIZE: 4 INCHES
item weight: 0.56 pounds
Premium Choice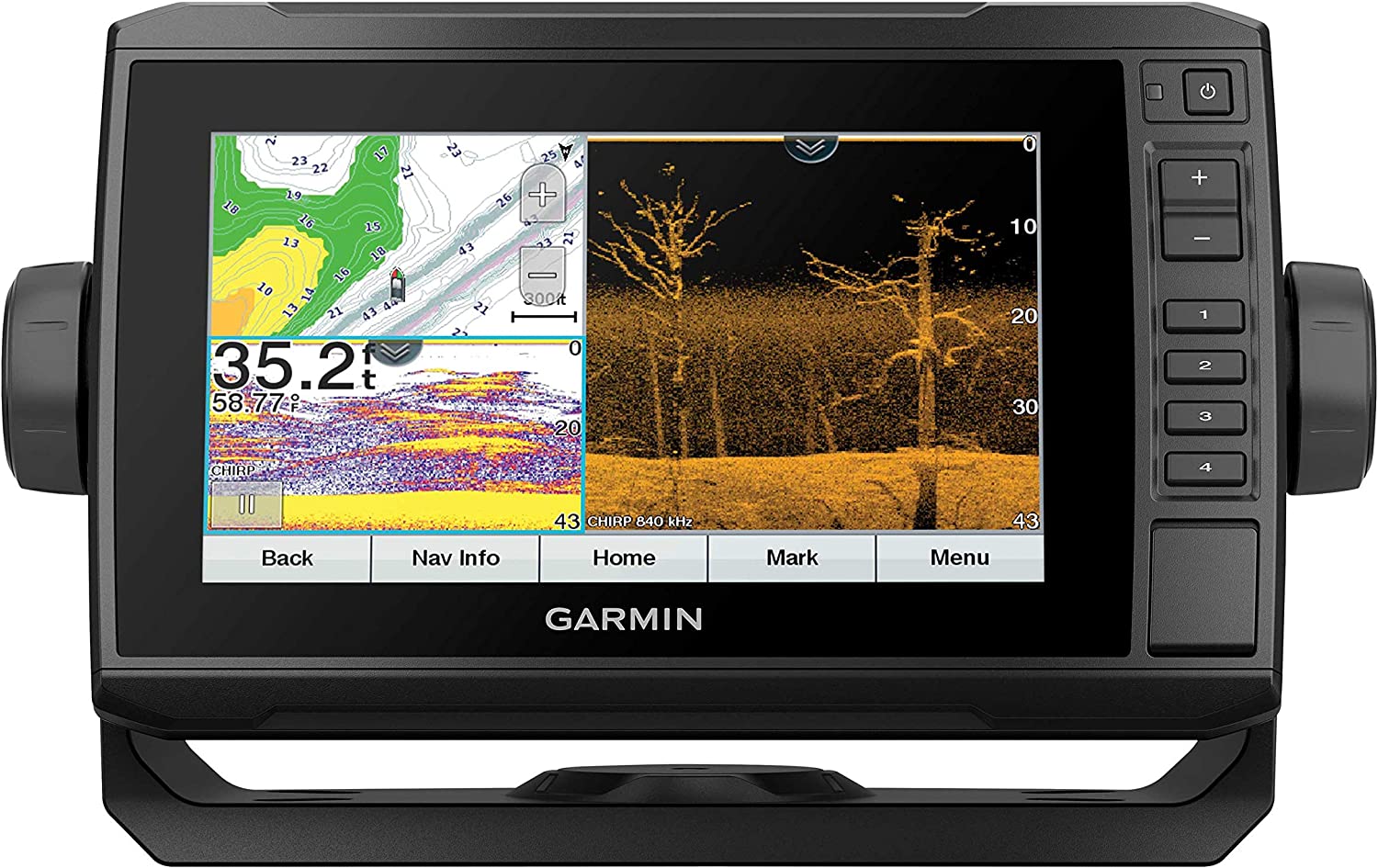 Garmin ECHOMAP UHDCV 73CV Fish Finder
SCREEN SIZE: 7 INCHES
item weight: 6.54 pounds
Best Side Imaging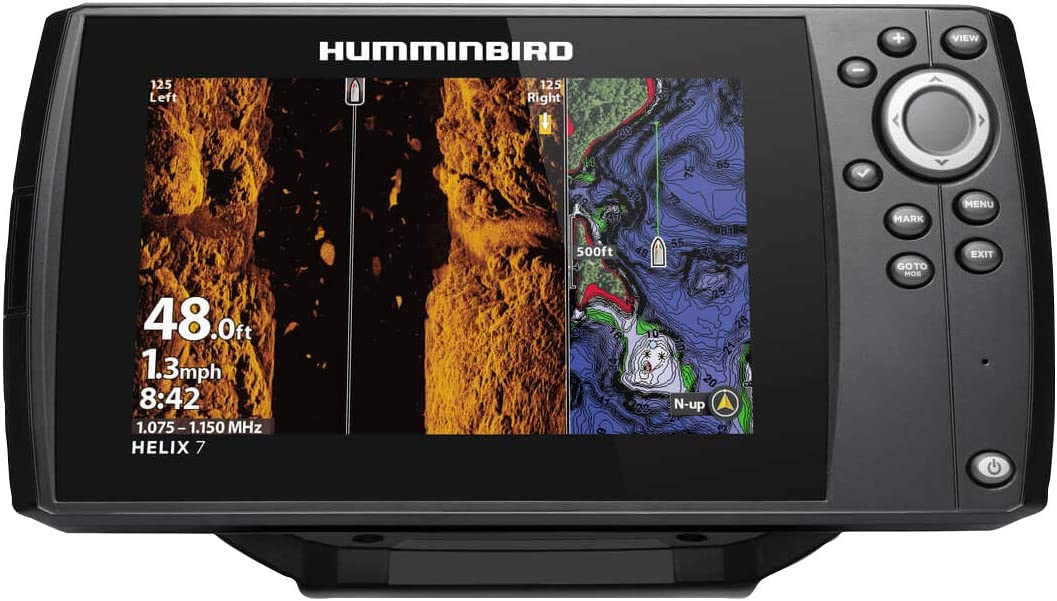 Humminbird Helix 7 Chirp Mega SI
SCREEN SIZE: 7 INCHES
item weight: 5.3 pounds
Enhanced Detail & Clarity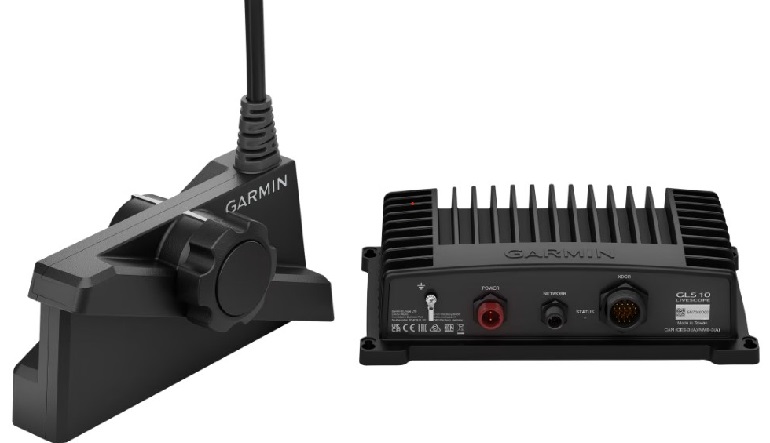 Garmin LiveScope Plus
SCREEN SIZE: 7.8 INCHES
item weight: 3 pounds
Great Value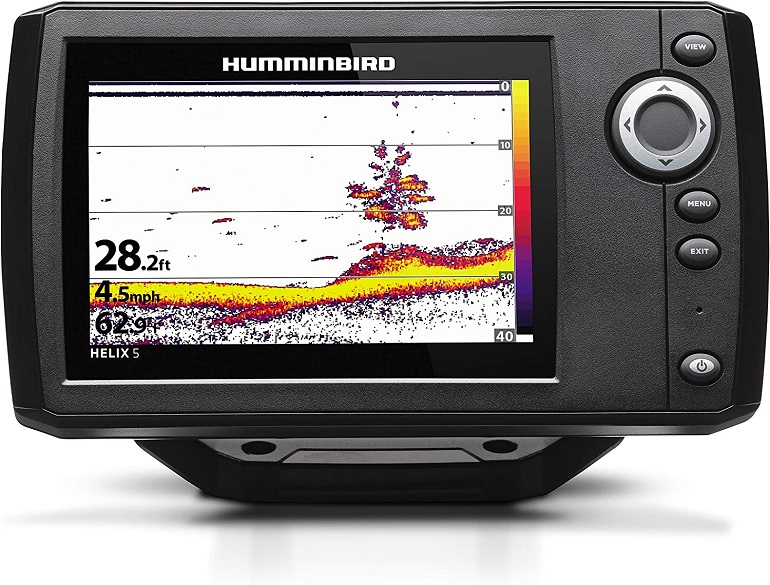 Helix 5 Sonar G2
SCREEN SIZE: 5 INCHES
item weight: 4 pounds
Lightweight & Low Cost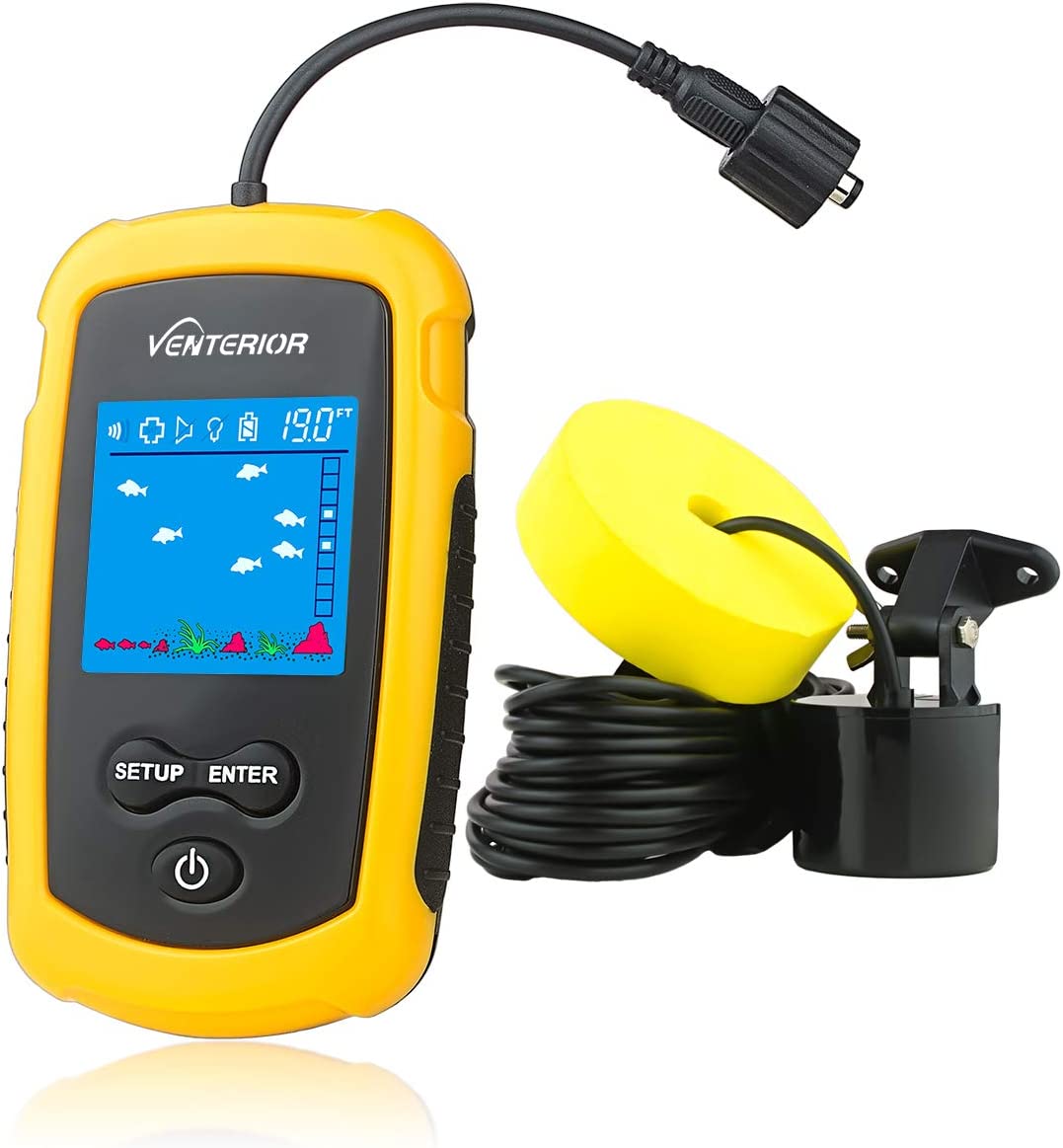 Venterior VT-FF001C Portable Wired Fish Finder
SCREEN SIZE: 2.6 INCHES
item weight: 1.8 pounds
8 Best Kayak Fish Finders
Picking your next kayak fish finder will depend on a large number of factors; first and foremost are budget and the size of your fishing kayak.
It is best to save for exactly the right fish finder you want or need rather than cheaping out on a lesser model. You also can't go buying a fish finder that won't fit on your kayak dashboard.
Take a look at this list, and I'm sure I will have listed something for every budget and need.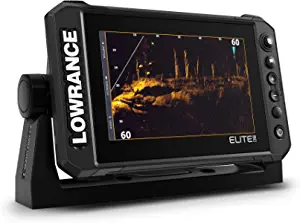 Lowrance is a name that is well known in the fish finder game. They produce models such as the Lowrance Hook Reveal and of course, this, the very well-loved Lowrance Elite FS 7.
The Elite is the more feature-rich, and slightly upgraded version of the Lowrance Hook Reveal and can provide a better fishing experience for the avid angler.
Lowrance comes with their own C-Maps preinstalled on their fish finder display. They allow you to work your way around 8,900 lakes in the US with your GPS-enabled fish finder. A perfect, topological map with contours and sizing helps you navigate around your favorite fishing spots.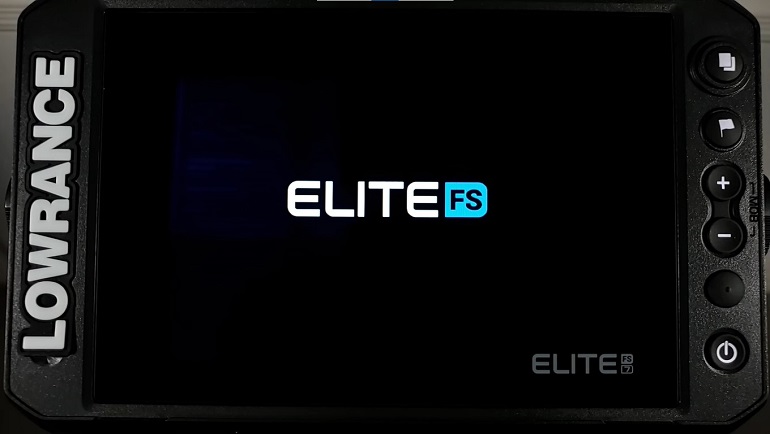 Underwater structures and fish are easily distinguishable via down imaging, side imaging, and Fishreveal. The down imaging provides remarkably detailed images of the bottom of wherever you are kayak fishing revealing, via the Fishreveal tech, the different fish around the kayak.
Fish-reveal highlights what it considers to be fish.
This upgraded version of the Hook Reveal features a touch screen, networking capabilities with multiple other fish finders for kayaks, and HD display quality.
It is a fantastic piece of kit for the kayak fisher who wants to find fish with ease. It isn't the cheapest, but it will do the job it was built for very well.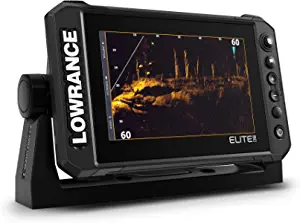 Lowrance Elite FS 7
The Price of "Lowrance Elite FS 7" varies, so check the latest price at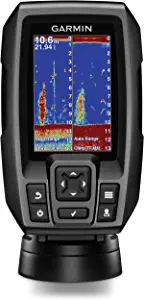 For the more budget-conscious anglers, the Striker range of Garmin fish finders is the ideal companion on your next fishing trip. The simple design can clip anywhere on your kayak and will display simple yet comprehensive and interactive sonar images on the 3.5″ display.
The nice thing about the Garmin striker, apart from its very affordable price, is its size. This is a compact fish finder that will be perfect for the smaller fishing kayak.
With smaller kayaks, space can often be an issue, they have much more reduced space than traditional fishing vessels, and often don't come with mounts or clips.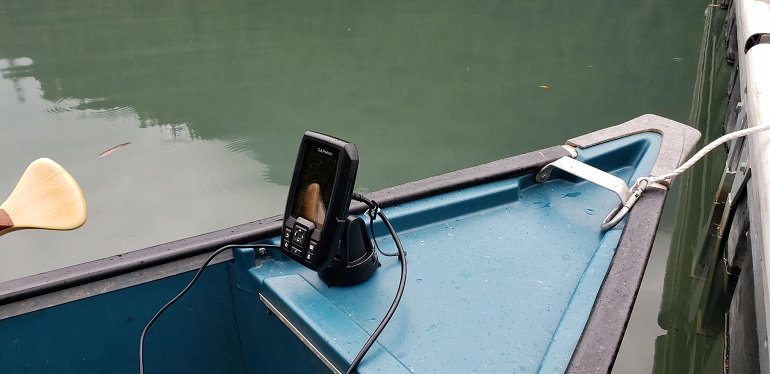 The Garmin Striker doesn't come with a lot of fish finder features but does have what you need to get out there and start identifying fish. The portable fish finder uses CHIRP sonar to create a smooth view of the water beneath you.
kayak GPS technology allows you to not only track your day out on the water but also ping and share your favorite spots around you.
The adjustable fish finder bracket can clip onto a kayak trolling motor or transom. This may not be ideal for most kayakers due to a lack of an engine in most cases. You may need to purchase a secondary mount to make it compatible with your equipment.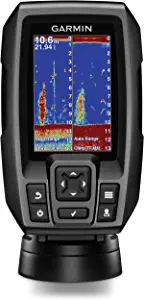 Garmin Striker 4
The Price of " Garmin Striker 4" varies, so check the latest price at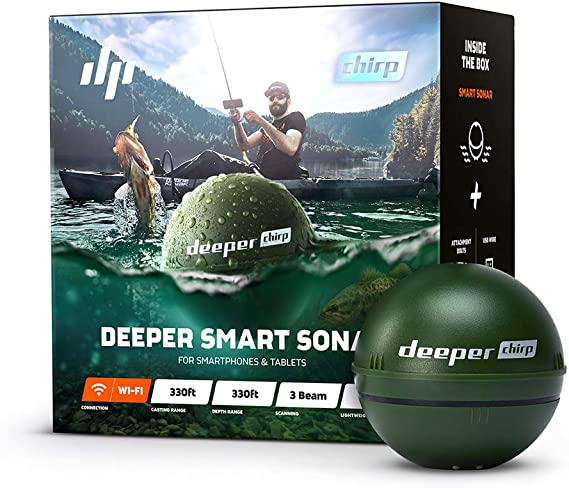 As fish finder technology advances, we often see the larger screen size, more detailed transducer signal, and networking taking center stage. With the Deeper Chirp, portability and ease of use have taken prevalence.
This is one of the best fish finders for anyone without a lot of space or the need for convenience.
This is the only castable fish finder on the market that offers the ability to fit this golf ball-sized transducer in your pocket or tackle box. Simply attach the high-resolution CHIRP sonar to your fishing line and cast it out into the area you want to map.
The lightweight and portable fish finder can be used anywhere and at any time, perfect for the kayak angler with less space.
The Deeper Chirp uses three beam angles to transmit a cone-shaped signal to your smartphone. It is compatible with both Android and Apple products.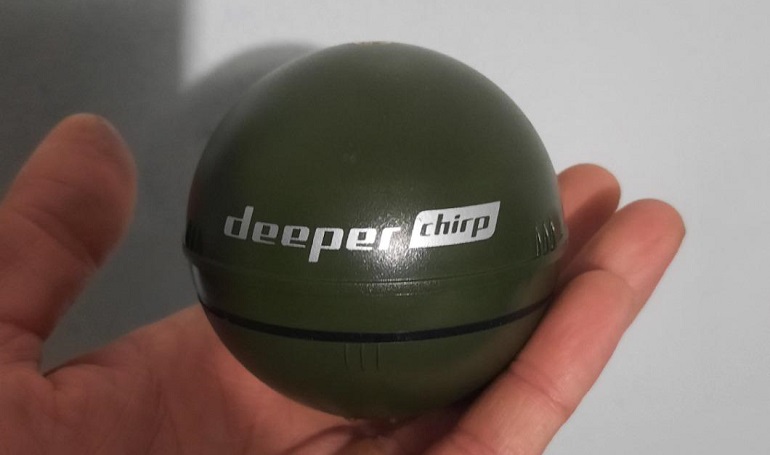 The CHIRP scan sonar sends the signal accurately over 330 feet and is able to scan 330 deep. The sonar signals can be used to map, log, and track your trips for future use. All the results can be saved and viewed on any device.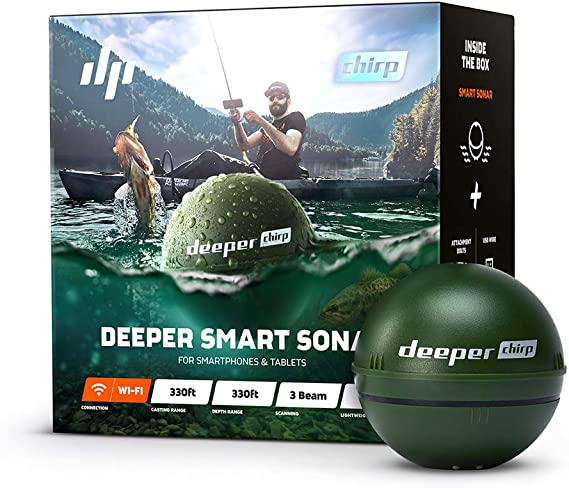 Deeper Chirp Castable and Portable Fish Finder
The Price of "Deeper Chirp Castable and Portable Fish Finder" varies, so check the latest price at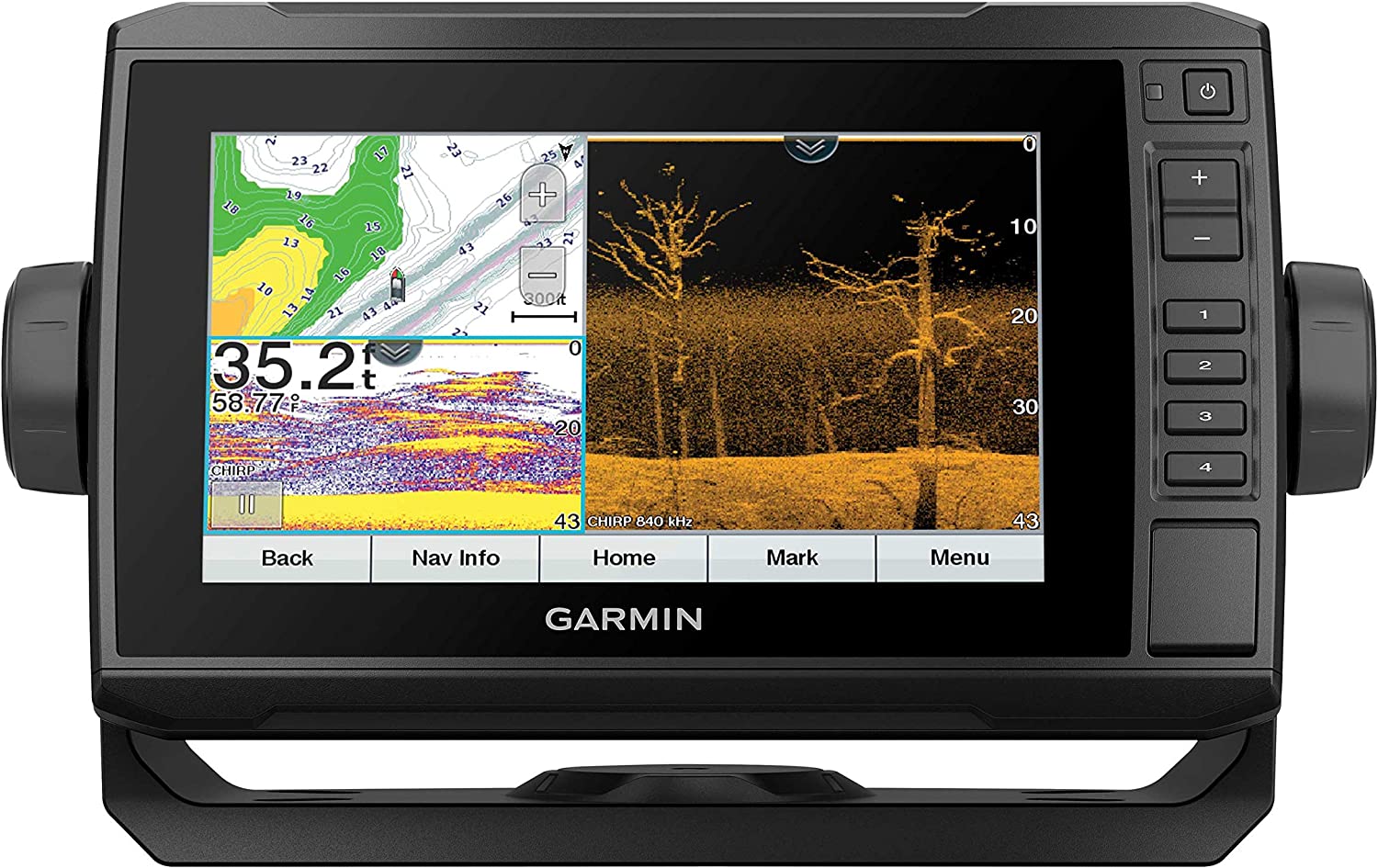 If you're in the market for the best kayak fish finder, you could do a lot worse than shopping with Garmin. They are fish finder manufacturers synonymous with quality mapping and navigation, and the Garmin Echomap UHD is a testament to this.
It comes with all the bells and whistles and makes finding fish an absolute breeze.
Garmin recently bought the company that supplies most of the lake mapping. Navitronics is able to give detailed and in-depth reviews of the bottoms and areas of 17,000 lakes in the world. The high-sensitivity GPS can give you an accurate location anywhere you are.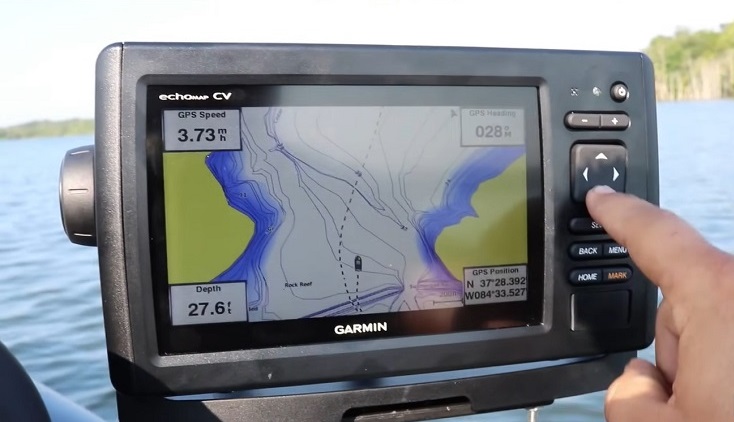 The included transducer supplies high-definition traditional sonar beneath the boat giving crystal-clear images of the water underneath your fishing kayak.
The high-definition images make the fish finder work super easy, with accurate readings of everything you need to see such as submerged logs and groups of fish.
Garmin takes their fish finder to the next level with some very impressive compatibility. With a specific fish finder mount, you are able to connect your equipment to a compatible trolling motor and control it from that.
For anglers fishing large lakes, this takes the need for constant engine control away. The fish finder can slowly track fish for you, hands-free.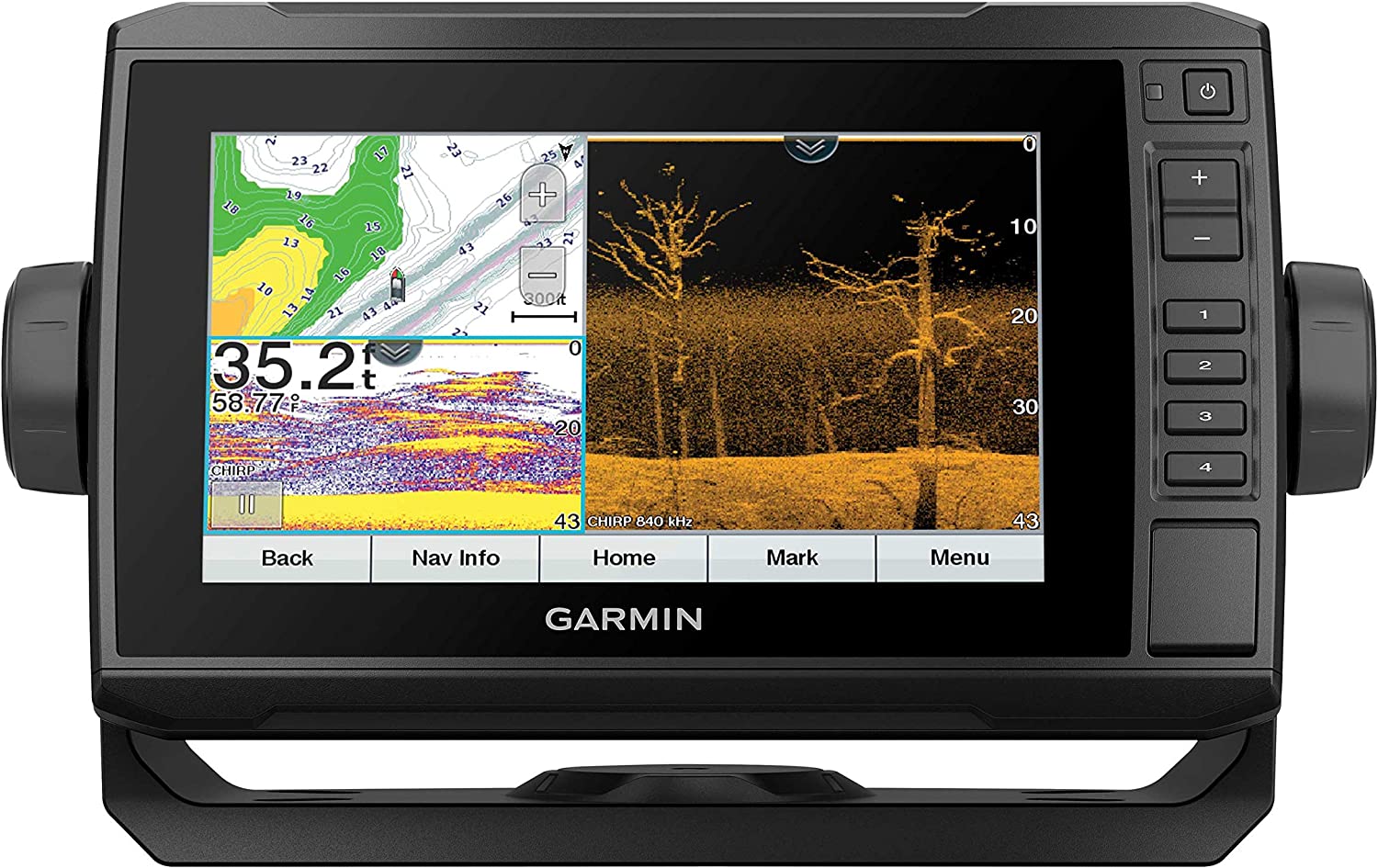 Garmin ECHOMAP UHDCV 73CV Fish Finder
The Price of "Garmin ECHOMAP UHDCV 73CV Fish Finder" varies, so check the latest price at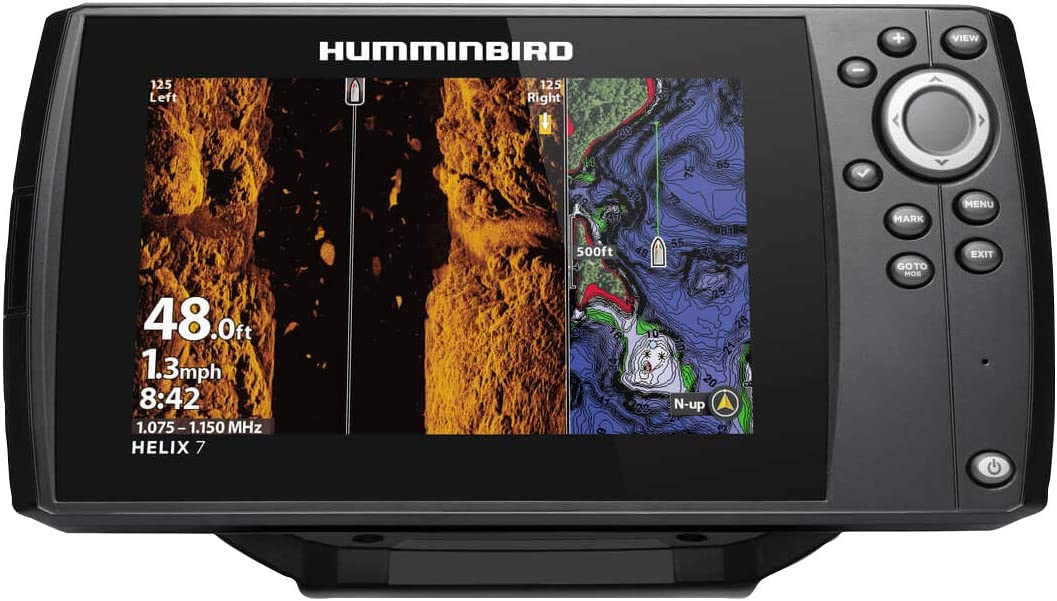 The down imaging and side imaging supplied by the best sonar fish finder will help you determine the exact location of fish and detritus even in deeper water. The Humminbird has some of the best side imaging sonar and depth finder sonar on the market.
High-contrast bathymetric readings are supplied to the seven-inch screen via razor-sharp high, powered signals from the dual-frequency transducer. The kayak fish finder can pick out details as small as bait schools, individual fish, and branches on submerged logs.
The high contrast color screen is able to display in split screen mode due to its fantastic size. You can load up over 21,000 maps via the easy installation kit and have them show your accurate location along with side imaging or down imaging.
Even in bright sunlight, the Helix's glare-resistant touch screen can be easily seen.
Similar to the previous model, the Helix 7 is able to chart and maintain a course. You can mark waypoints or choose a preset course and allow the imaging fish finder to drive your boat for you.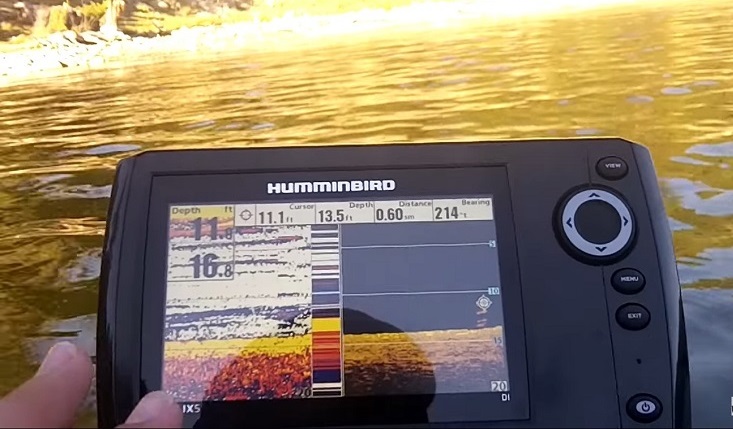 It can monitor speed and location. You no longer need to worry about steering, even in high winds or choppy waters. You can focus more on your kayak fishing and less on your driving.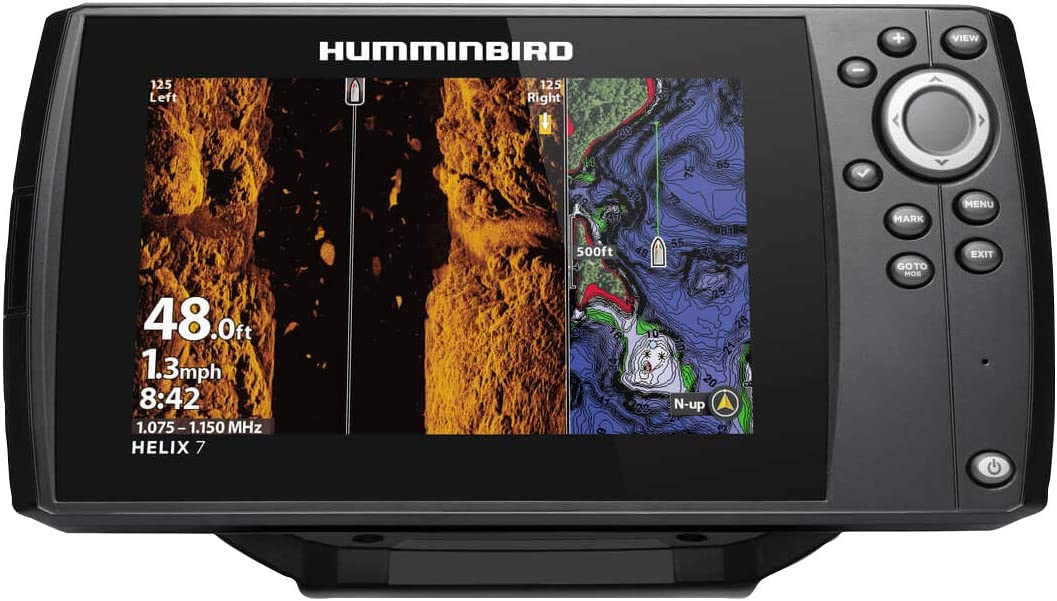 Humminbird Helix 7 Chirp Mega
The Price of "Humminbird Helix 7 Chirp Mega SI" varies, so check the latest price at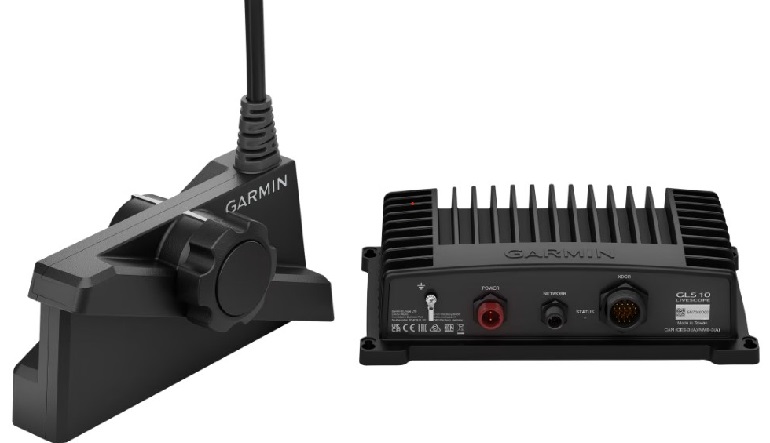 This is the ultimate accessory for the ultimate fishing accessory. When your Garmin fish finder isn't quite up to the job, slap on a LiveScope plus to give you the high-quality sonar you didn't have before. This turns your equipment into one of the best kayak fish finders on the market.
This fish finder combo will allow you to live track your surroundings via live sonar images provided by this mounted equipment.
By using a solid mounting solution on your gear track, be it on your trolling motor, or around the hull of your kayak, the LiveScope will provide in-depth imaging.
The equipment is able to be used in perspective mode, which shows your own view of the water, forward mode, showing directly in front of your vessel, and down mode which displays what is beneath and around your kayak.
The colors and contours with all of these modes will make fish clear and unmissable, even in murky waters.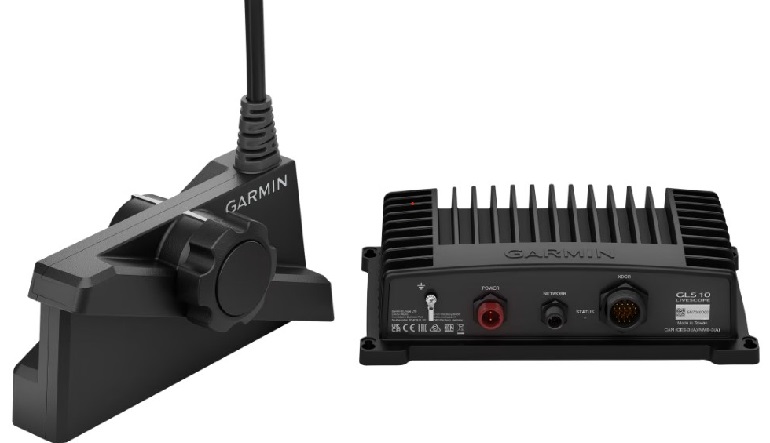 Garmin LiveScope Plus
The Price of "Garmin LiveScope Plus" varies, so check the latest price at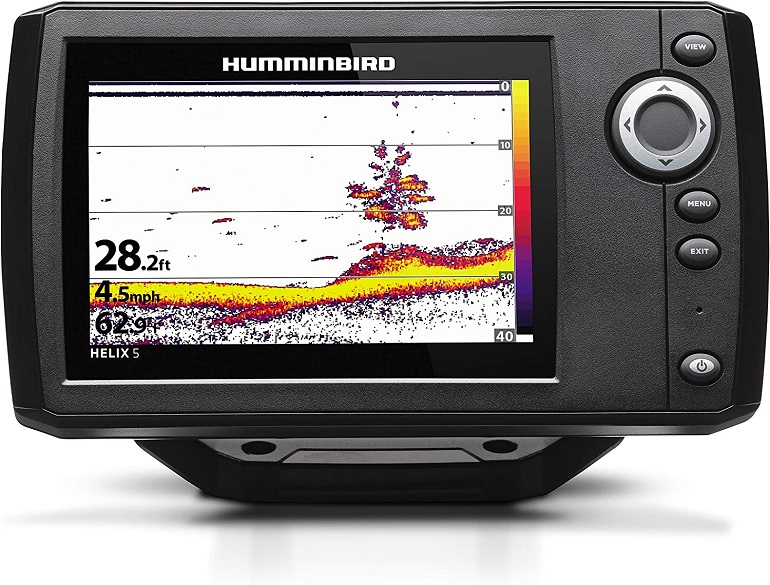 If the Helix 7 is a little out of your price range, or simply isn't the portable fish finder for your kayak size and needs, the Helix 5 Sonar may be the one for you.
The five-inch waterproof screen is able to switch between multiple displays and use its dual beam transducers to help you find the best fish from the comfortable kayak seat.
The dual beam transducers use two sonar signals to give more detailed down imaging depending on what you need. The two signals can be adjusted to need.
If you bring them together, you are able to measure the distance to the bottom of the water in a narrow beam more accurately, acting as a depth finder. Separating them gives a wider view similar to a side scan sonar.
The Helix 5 Sonar comes with a GPS tracking system that works to monitor speed and mark waypoints as you cruise around a lake.
For kayak anglers, monitoring speed means you can make sure you're not moving too fast for the shoals of fish you are trying to catch. When your kayak moves slowly, you want to make sure it is not being outpaced by your game.
This is a basic fish finder that will give you the control and vision you need to be able to pinpoint the next big catch. It may not have all the features of the best kayak fish finders on the market, but it is a whole lot better than having no equipment at all.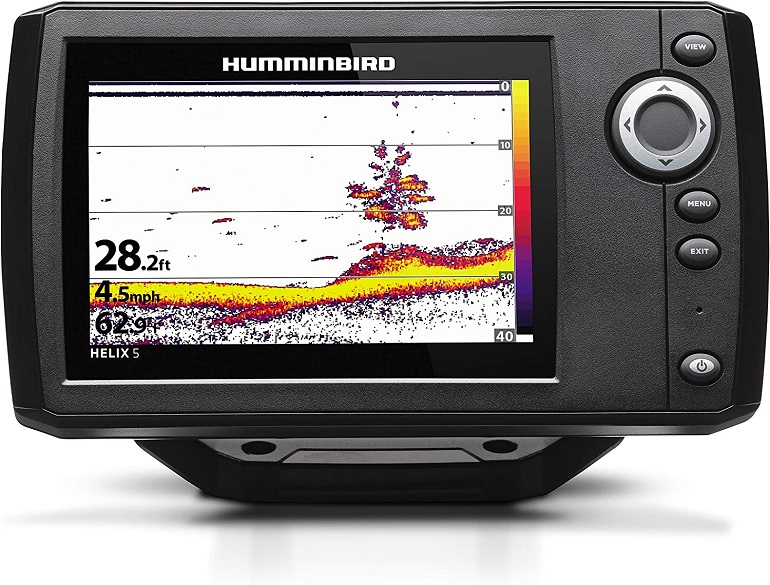 Helix 5 Sonar G2
The Price of "Helix 5 Sonar G2" varies, so check the latest price at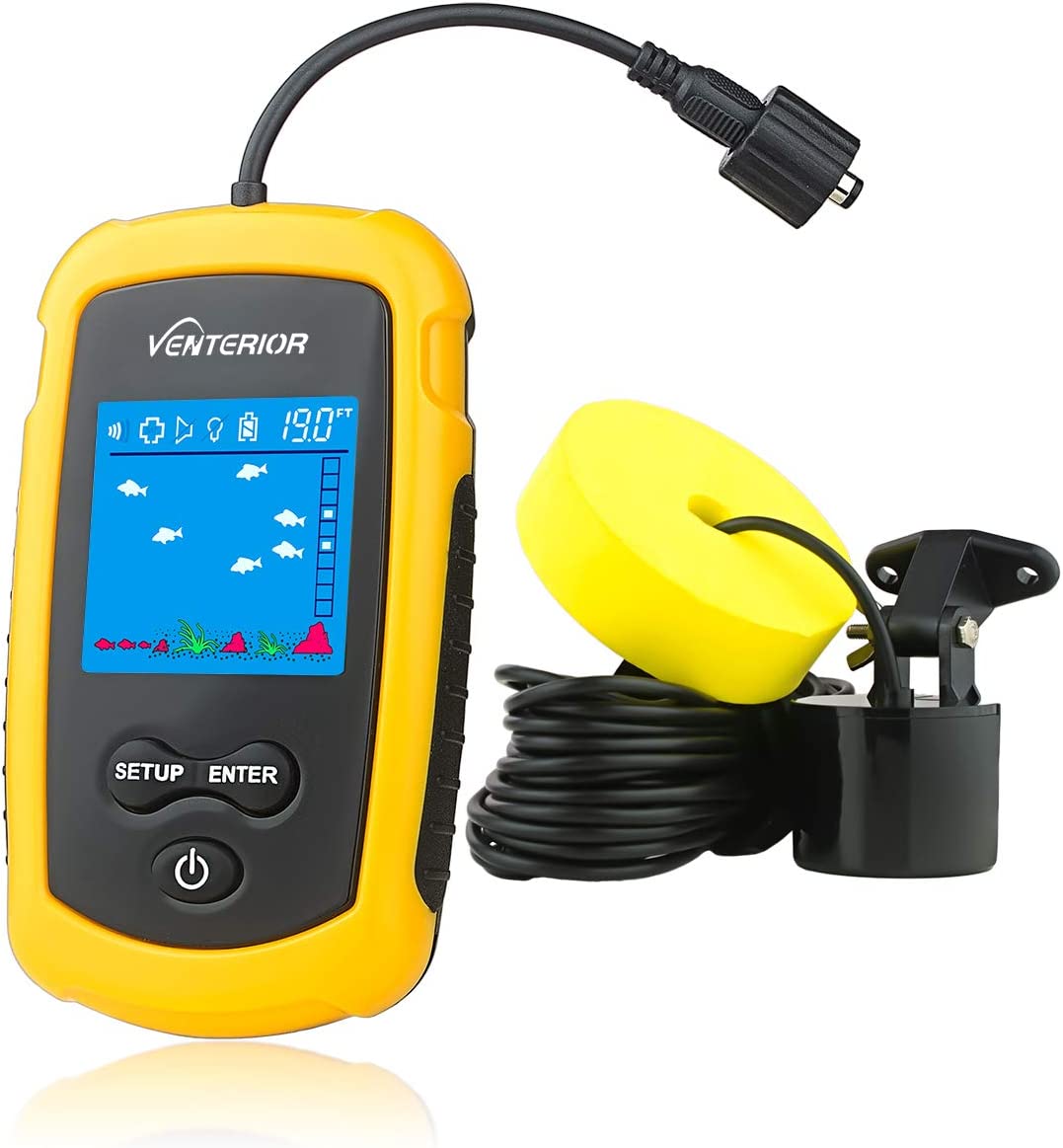 For the ultimate budget option, why not choose to go with a Venterior portable fish finder? It is the most portable depth finder we have reviewed today and is able to simply, quickly, and accurately display a very basic but still incredibly helpful view of whatever you happen to be kayaking over.
The tiny four-inch fish finder is able to strap around your neck and, via a simple sonar is able to display a 45-degree angle from the wired receiver.
The tiny package is able to display fish from 3 feet all the way up to 328 feet deep. This is a fantastic range for such a tiny bit of equipment.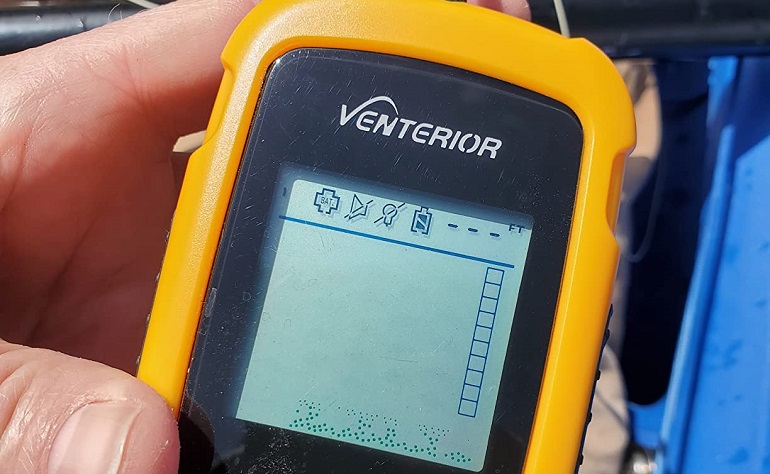 4 – 5 hours of continuous use can be achieved with fresh batteries. The transducer is able to give depth, and when over fish, can give size, depth, and location on the simple display.
It doesn't have the side imaging of the best fish finders but is still able to give you a serious advantage at a low weight and incredibly low cost.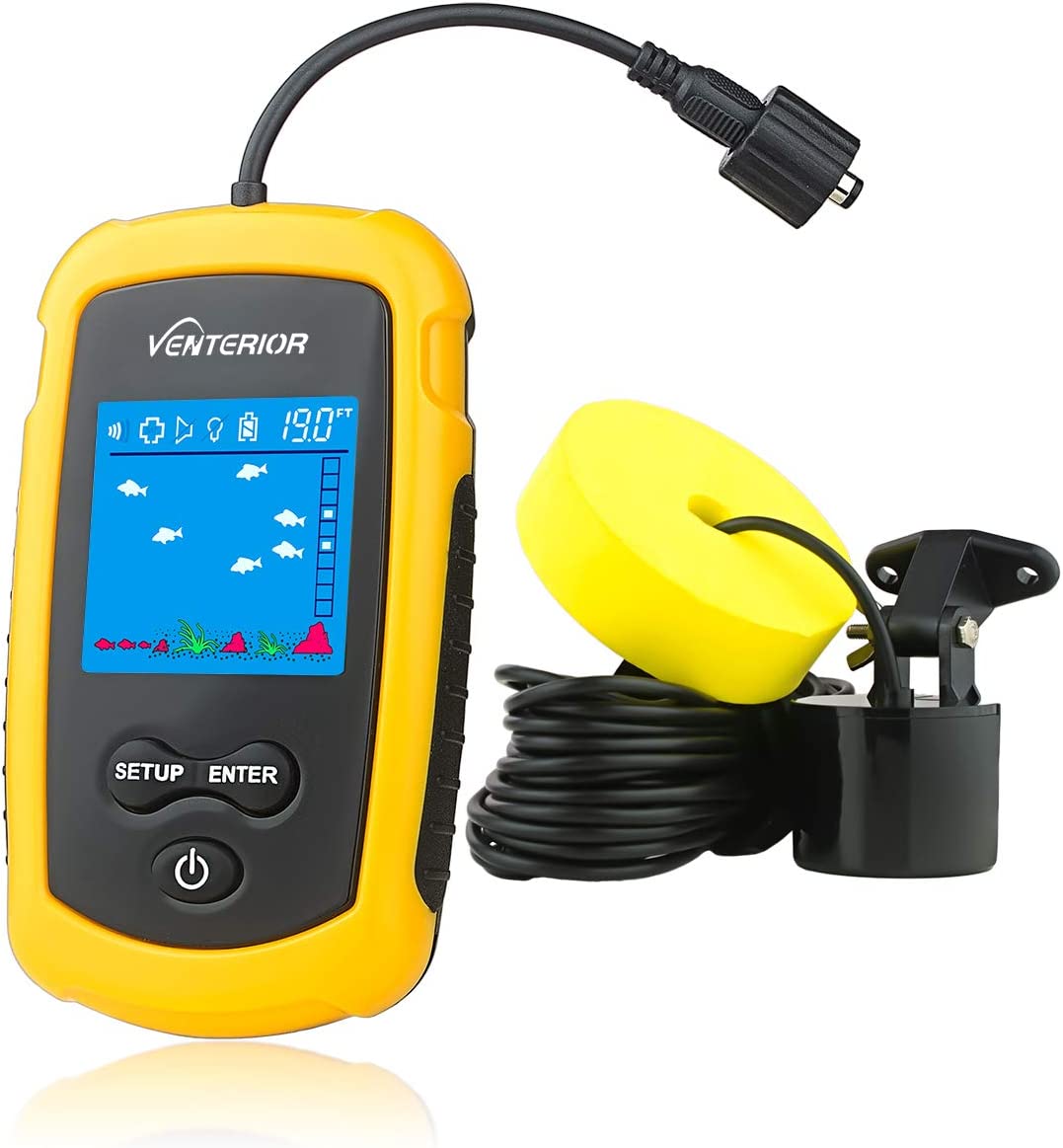 Venterior VT-FF001C Portable wired
The Price of "Venterior VT-FF001C Portable Wired " varies, so check the latest price at
A Buying Guide for the Best Kayak Fish Finder
When you first see someone using kayak fish finders on their trips, it is a revelation. The detail and insight into what is under the water completely change the game, no longer do you have to rely on thrown bait and guesswork to know where the next big catch is.
The problem lies with actually trying to find a fish finder for kayaks. They are designed for everything from shore fishing all the way up to deep sea trawlers, so making sure you have something appropriate is important.
Thankfully, I'm the fish finder nerd you need. Let me walk you through some of the more important elements of buying the best fish finder.
Size
For kayak anglers, this is a serious element to take into consideration. A kayak has a very limited amount of space usually and you can easily overload your deck with battery packs and large fish finders.
A lot of fish finders are made for much bigger vessels, so ensure you have both the mounting space and cockpit area to handle it. Of course, you'll want the biggest screen you can handle, but make sure you don't overestimate your kayak.
Portability
Not every kayak comes with the rails to accommodate a fish finder, so you'll need to make sure you can mount it without it getting knocked into the water by your swinging paddle blades.
Fish slime and excess water can make your deck slippy, and the last thing you want is your expensive equipment down with the very fish you were trying to catch.
Good portability means you can move your fish finder around as you need it, making sure it isn't in the way and can be tucked where you need it safely. Models such as the interior can even be worn around the neck for ultimate portability.
GPS Technology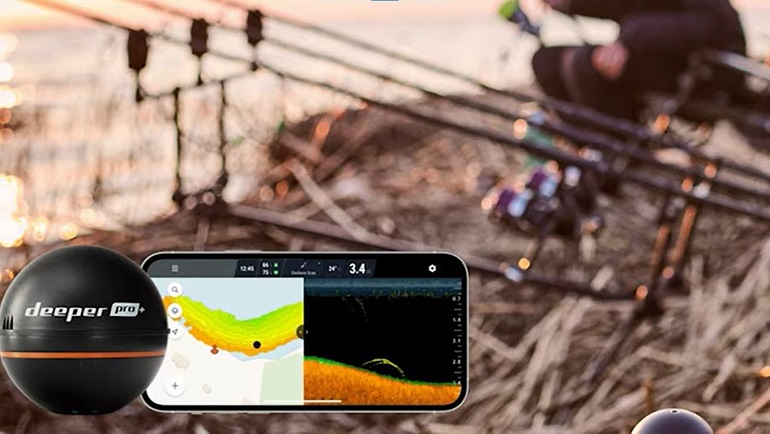 This is a feature that really separates the good fish finder from the great. Being able to not only find yourself on a lake map but also be able to be tracking speed and location whilst doing so is a fantastic boon whilst out and about.
GPS tracking often comes with a custom map covering that allows you to pinpoint favorite locations or points of interest for later trips.
Method of Imaging
Imaging comes in two main types, and each has its own benefits and downfalls. Choosing the right one for you is important.
Side Imaging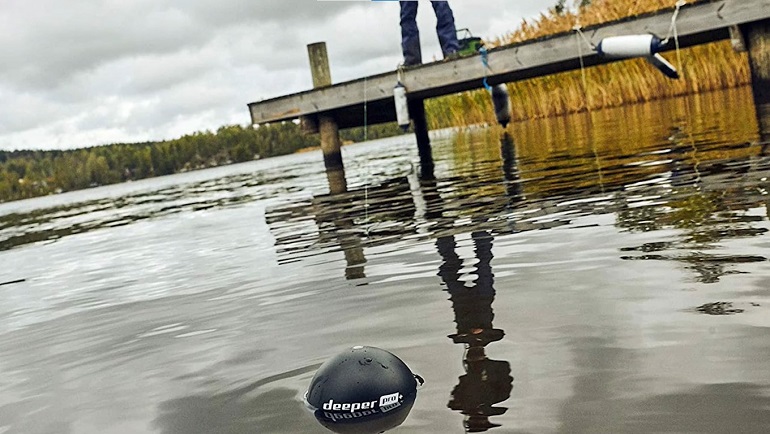 This method throws a sonar around your vessel, picking up a scan of either side. It gives a wide range of top-down information perfect for fishing from the side of your boat.
Down Imaging
This gives a detailed picture of the bottom of the water, picking out fish and features in a 2D image. The scan quality ranges from picking out basic shapes to being able to specifically identify fish, branches, bait, and many other underwater items.
Display
Displays can vary from highly detailed, color-coded imaging all the way down to simple LED displays of basic shapes under the water. Maps can be wildly detailed with beautiful high-definition contour lines and details that will guide you around your local water.
Deciding how much detail you want will affect the pricing of your unit drastically. The main thing to endure is that the display is able to be seen in bright light without too much glare and is completely waterproof. It doesn't matter how careful you are, you're going to get wet.
Extra Features
When shopping for the best fish finder for kayak fishing, you will notice a lot of them advertise so many extra features that promise to make your next trip incredibly easy. Options like a fishing log, map sharing, multi-interface networking, and fish identification make their lists long and complicated.
The best fish finder for you will only include what you need. If you are the more avid angler, then getting yourself a fish finder that can log every trip you have made and chart your most successful spots is a great choice. For the casual fisher, simply grab yourself some equipment that shows you where the big boys are.
Extra features will cost you extra dollars, so weigh up what you need to what you can afford.
Deep Water
Take care to find a fish finder that will scan deep enough for the lake you are in. They all come with power ratings that correlate to the depth they can scan to.
If you are only planning on paddling around shallow water can save some cash for extra features by cutting on depth power, but if you want to go out into the open ocean, you're going to need the watts to match.
Saltwater vs. Freshwater
Saltwater has higher organism content and a lot more noise than freshwater, so will often need certain settings and higher power. Make sure you are buying a unit for the water you need. Some freshwater units will not have the capability to work in saltwater.
Frequently Asked Fish Finder Questions
I'll answer the questions you would only end up fishing around the internet for later.
How Do You Power Kayak Fish Finders?
They can be powered in a multitude of ways, but the most common method is with a waterproof battery box stored in the hull of your craft. The battery box needs to be kept dry and safe. Some smaller units are able to run without a battery box and can power themselves for a few hours on small batteries.
How Long Will a Battery Run on a Fish Finder?
When using a 12v battery on a fish finder, you can expect to achieve about 50 hours from a regular 2amp fish finder.
Will Any Fish Finder Work With Any Kayak?
They will all work provided you have the space for both the power and the actual unit itself. There is no point in getting a finder that won't fit inside your craft. Make sure you have the gear track and rails to hold it securely whilst you paddle or motor around.
If I May Cast My Line
Kayak fishing is a wonderful way to enjoy a lake. It is serene and calm but punctuated with small pockets of high-octane hunting. You can while away the hours on a lake with a friend or alone just take in the beauty of the surrounding nature.
Fish finders are an excellent piece of equipment for anyone looking to take their hunting to the next level. They are able to give spectacular views of the water around and beneath the boat, highlighting both the water bed and the surrounding environment.
Using sonar and GPS combos, detailed images can be displayed right there in the comfort of your kayak.
In recent years, the best fish finder for kayaks has become incredibly technological. They are able to display GPS maps, depth, and side imaging area displays. Wireless fish finders can interact with multiple electronic units, including other fish finders, your motor, and even drones for the super dedicated.
Getting yourself a fish finder just improves your chances of landing that next big fish. (You can also take a look at the best kayak fishing net available on the market). You can claim all the glory of a record catch with the help of one excellent bit of kit. I guarantee once you give them a try, you'll never look back.