Whether you're a seasoned kayaker or just starting out, you know that it is essential to have the right gear and equipment. And in my opinion, one of the most important pieces of equipment is a kayak cart.
This unmatched tool will help you transport even the heaviest kayaks to and from your launch point.
The best canoe cart or kayak trolley for you will depend on a variety of factors, like the type of boat, the terrain (like sand or gravel), and the weight capacity you intend to carry.
When considering weight capacity, remember that fishing boats, canoes, and best tandem kayaks weigh significantly more than single boats like top sitting kayaks. You will also have to consider the weight that you will bring with you in addition to the weight of the boat.
With so many options on the market, how do you know which kayak cart is the best for you?
I've compiled a list of the top kayak carts considering the different types and their unique features to help you get the best performance out of your boat (and save you from carrying your yak).
The Beach Babe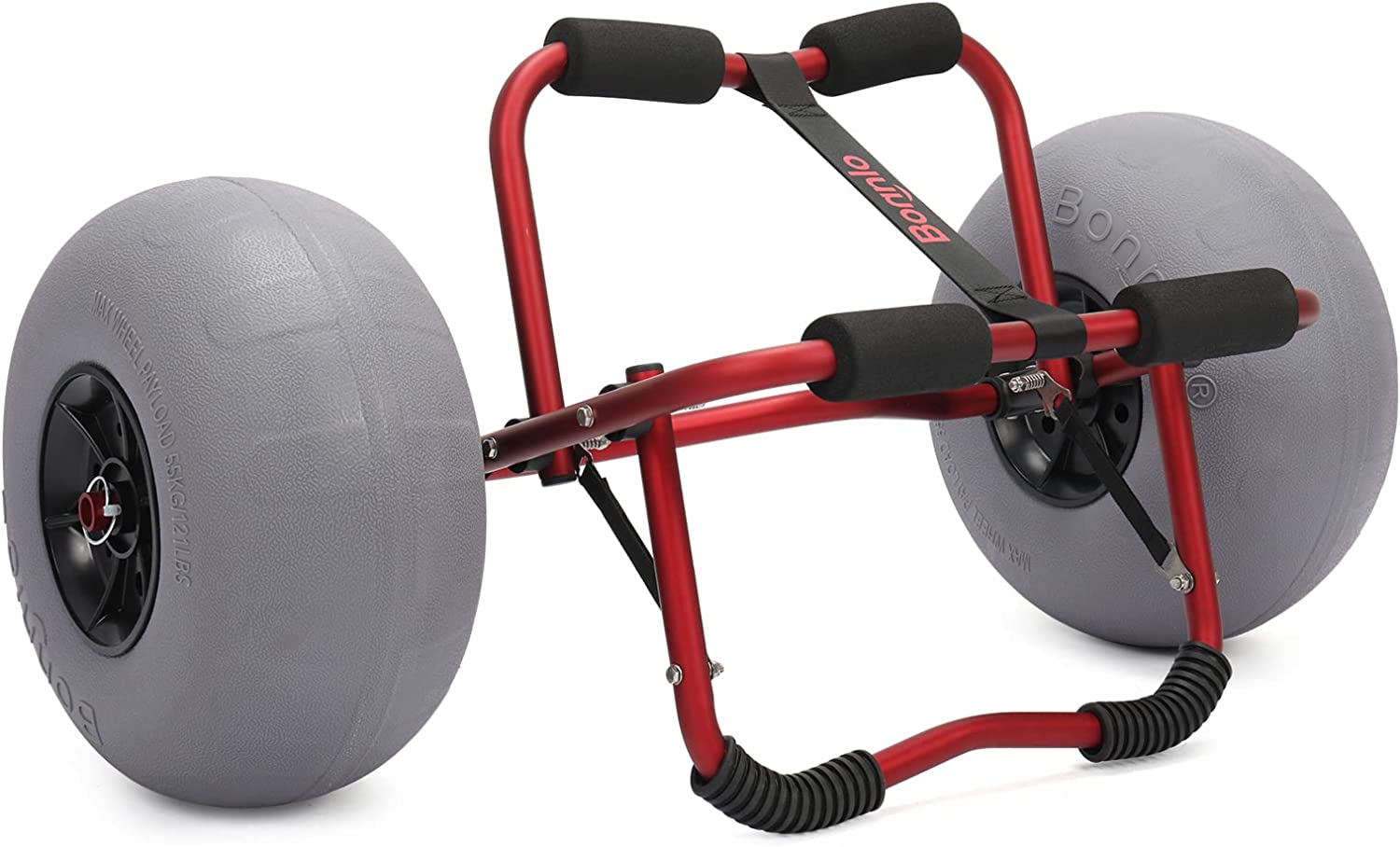 Bonnlo Kayak
Weight Capacity: 165 lbs
Bumper Pads: Foam
The Airless Cart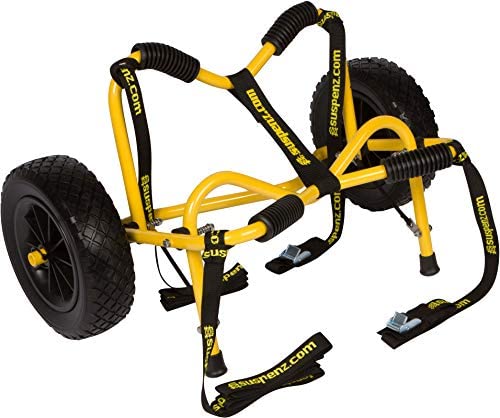 Suspenz Smart Airless
Weight Capacity: 150 lbs
Bumper Pads: Adjustable rubber pads
Best on a Budget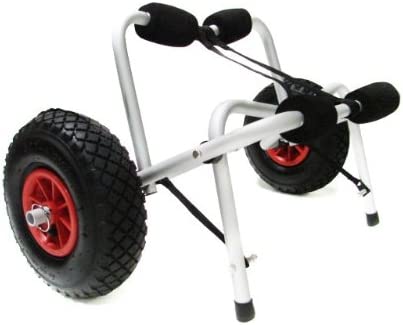 TMS Kayak Cart
Weight Capacity: 150 lbs
Bumper Pads: L Foam Bumpers
The Tank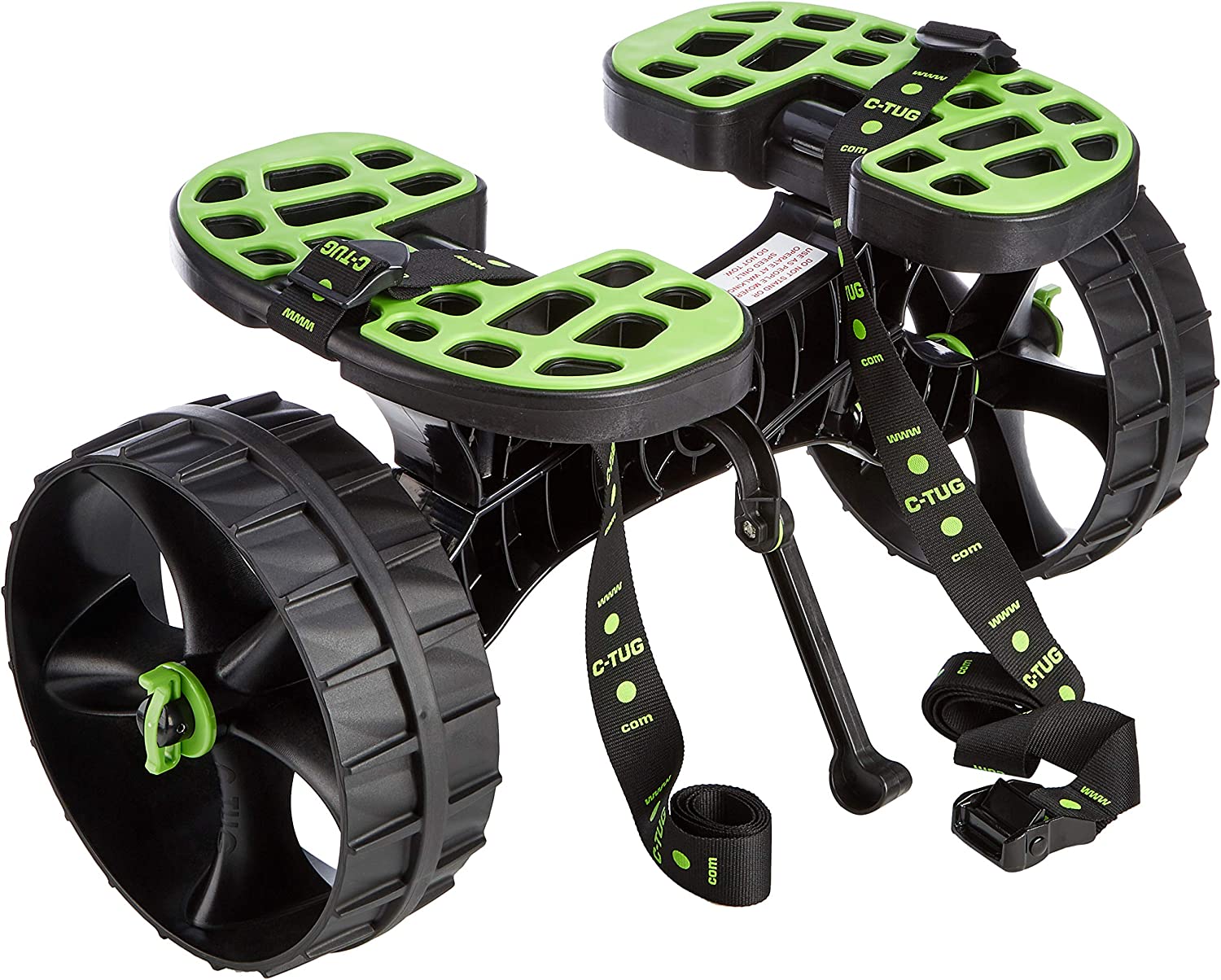 RAILBLAZA Ctug
Weight Capacity: 260 lbs
Bumper Pads: Rubber bumpers
Into the Wild Cart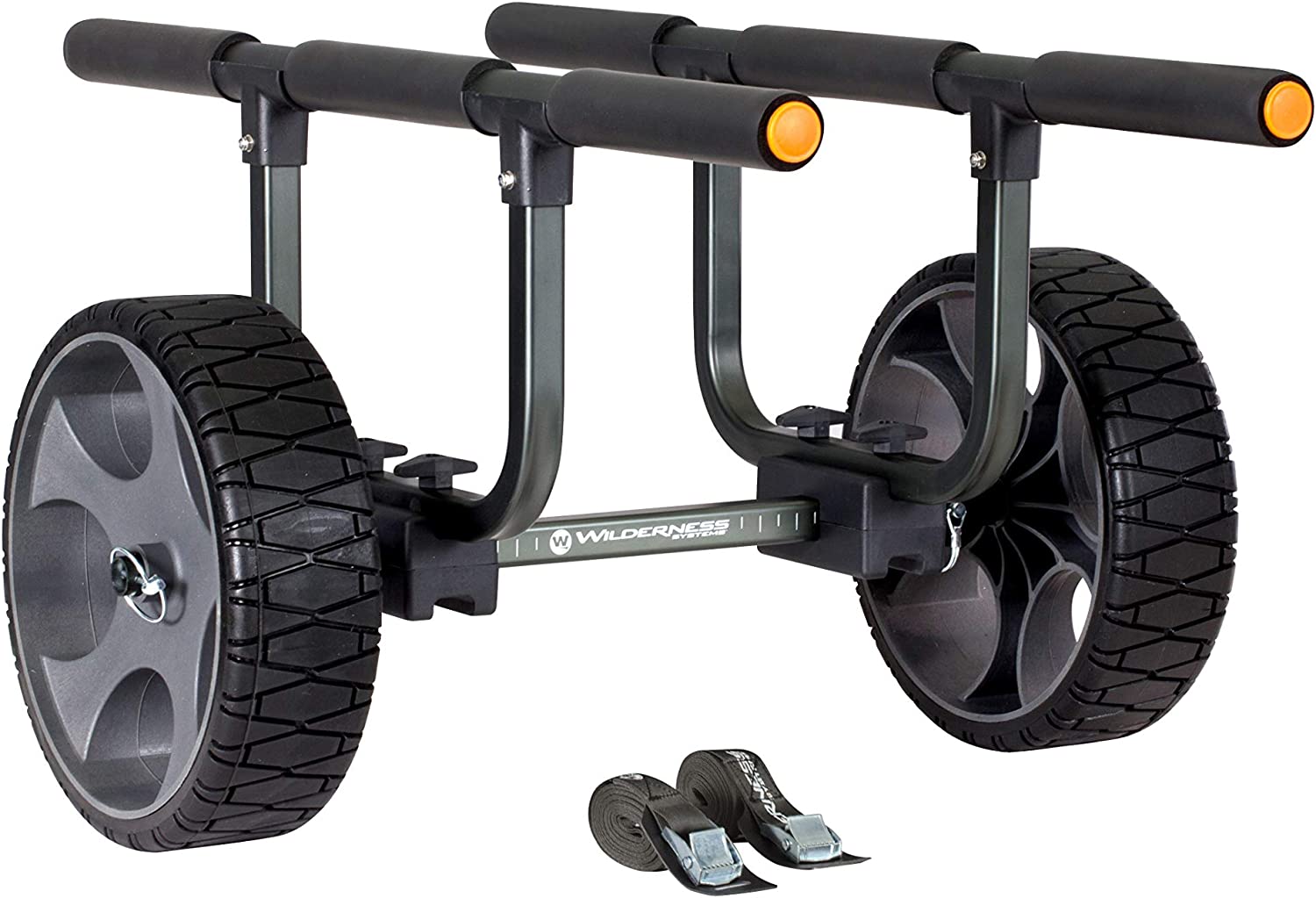 Wilderness Systems
Weight Capacity: 450 lbs
Bumper Pads: foam-covered
The Portable Cart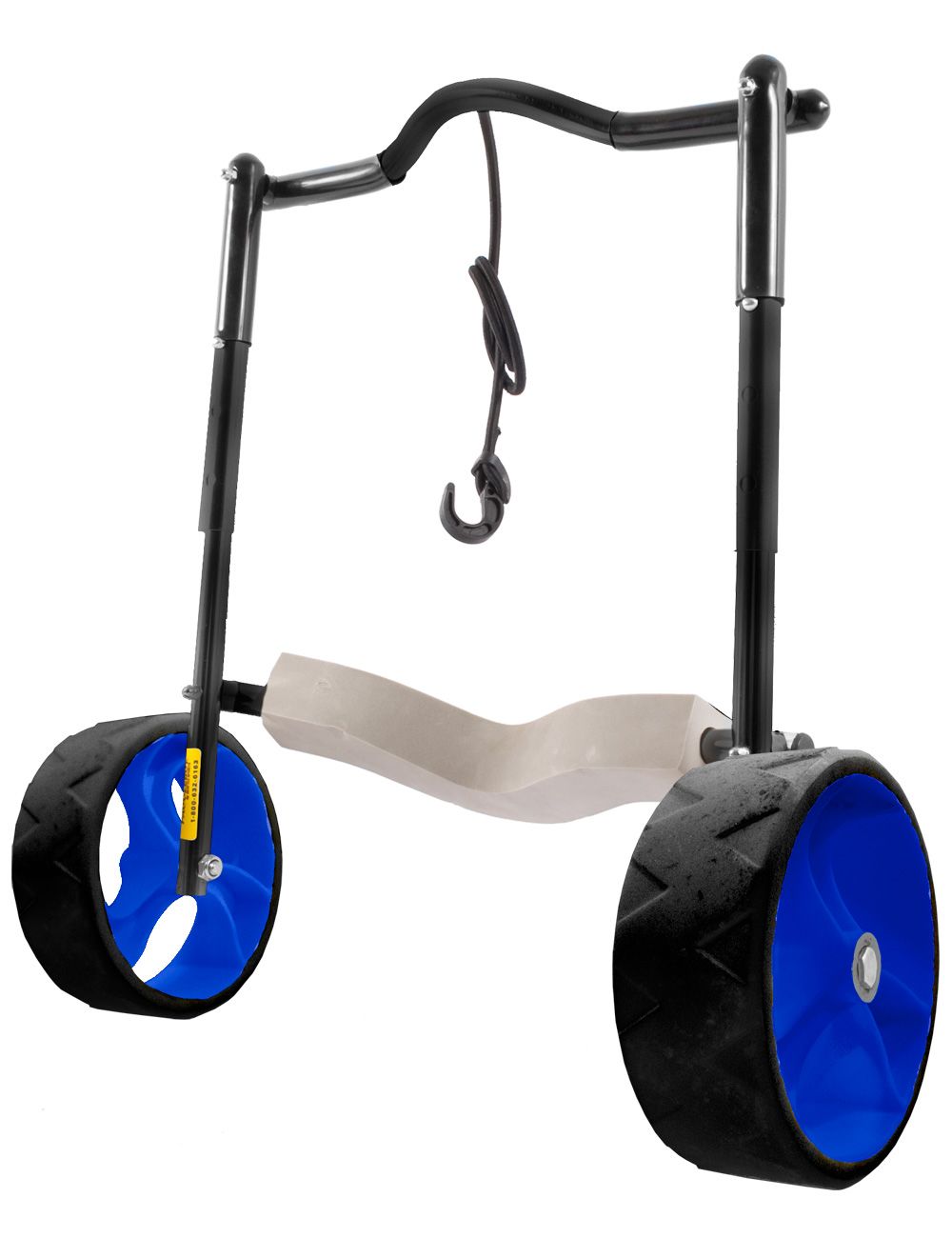 Original End Cart
Weight Capacity: 200 lbs
Bumper Pads: Foam bottom base
Lightweight and on a Budget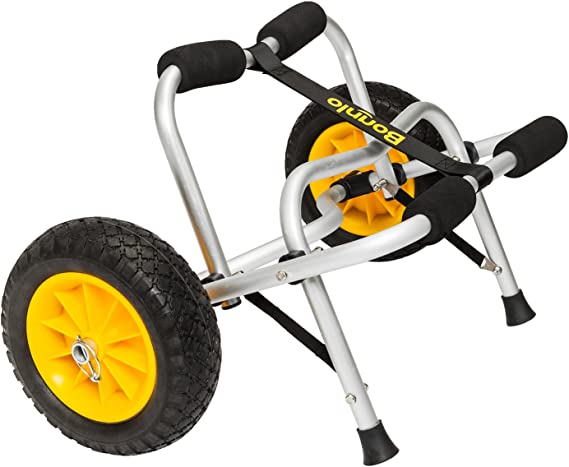 Bonnlo Kayak
Weight Capacity: 150 lbs
Bumper Pads: foam
Simple Does it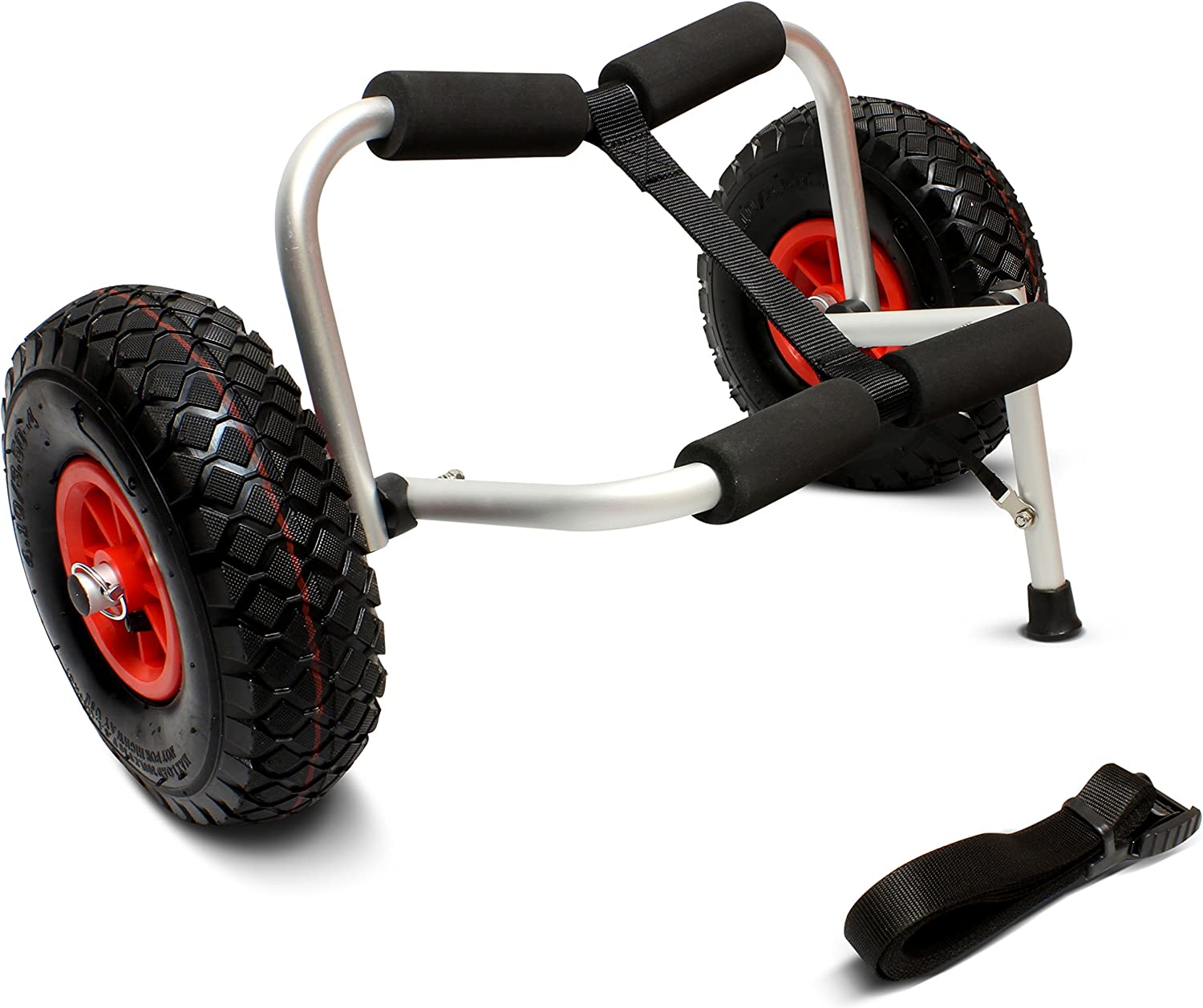 ABN Universal
Weight Capacity: 200 lbs
Bumper Pads: 4 oversized foam
The Best Kayak Carts
A kayak cart is a specialized trolley designed to help you transport your kayak from the car to the launch site and back. Kayak carts come in a variety of styles and sizes and can be used with both sit-on-top and sit-inside kayaks (and sometimes even canoes and SUPs!).
Kayak carts keep your vessel safe from harm while rolling it short and even long distances. Good carts should keep your kayak secure, so they won't fall in the process, otherwise, what would they be good for?
Now that you know what to look for in a kayak cart, it's time to make a choice. I've compiled a list of my top picks for the best kayak cart from personal experience and rigorous research. Let's take a look: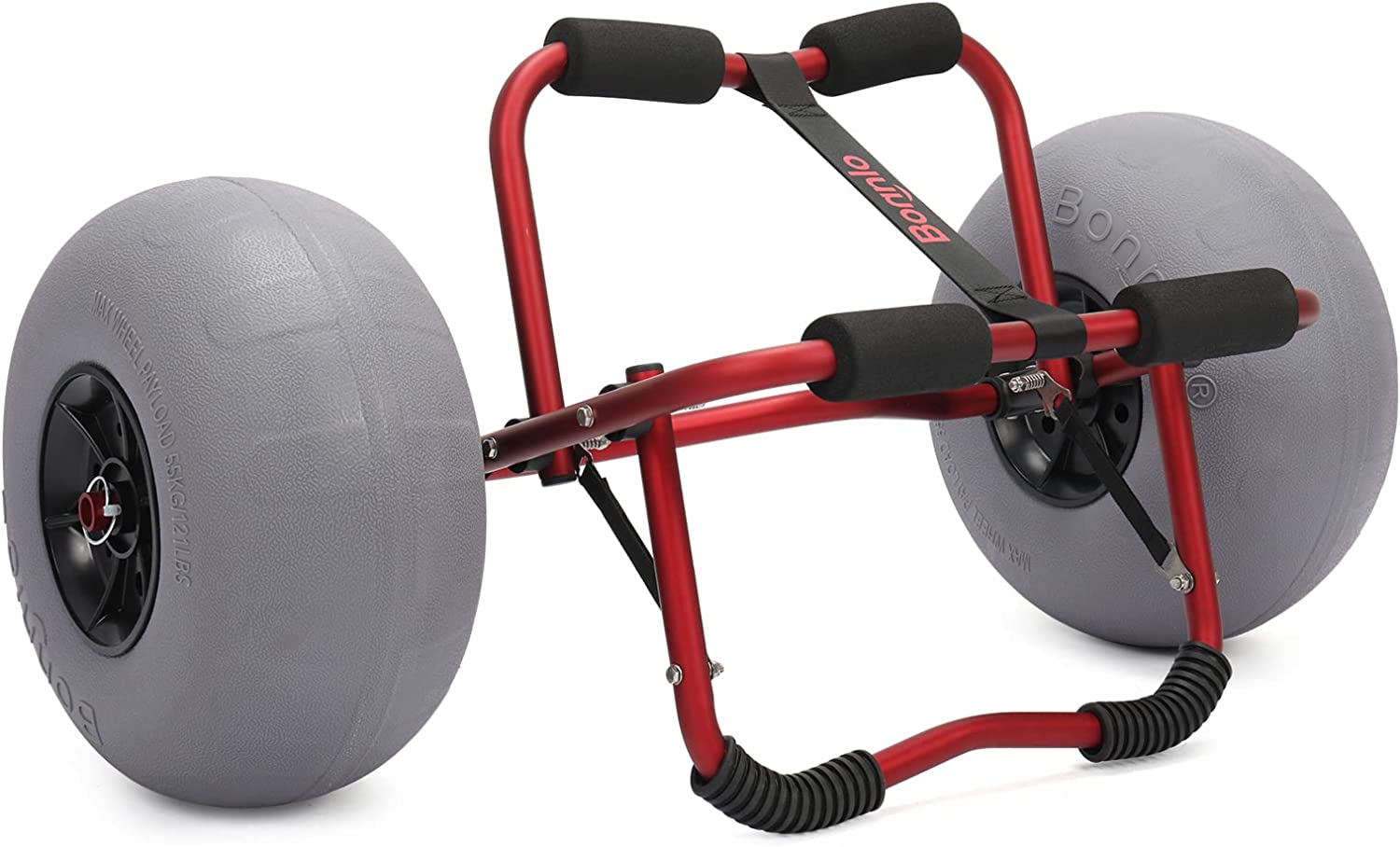 For those who take to the beach with their kayak, this is the cart for you. The Bonnlo Kayak Beach Cart is designed for easy rolling over sandy terrain. Sandy beaches are one of the toughest to master with any regular old wheel, which is why this cart is perfect for the beach.
This cart was built for moderate durability. With a larger diameter aluminum pipe between wheels, this cart certainly can hold its 165 lbs weight limit. For stable loading, the cart comes with a sturdy spring-loaded stand.
Storability is also moderate. The cart comes with a pump for your convenience, but that means more to store. Like other stands, this one easily folds up. However, the large wheels are bulkier than other wheels when stored on your boat or in a backpack.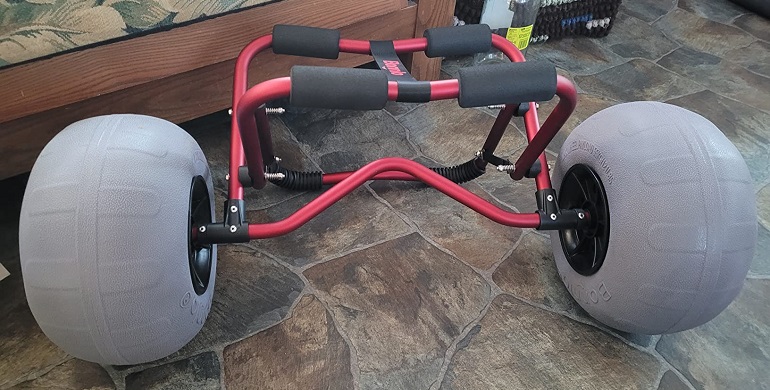 Besides the bulk, these balloon tires are really spectacular. Though it's quite a heavy cart, smooth sailing across the sand is something you can't ever forget. I regularly launch from sand, and these tires are unforgettable. For any paddler sand bound, you have to check this one out.
Features
Price: less than $150
Wheels: 12" low-pressure balloon tires
Straps: 2 ratchet straps
Cart Weight: 15 lbs
Weight Capacity: 165 lbs
Bumper Pads: Foam
Pros
Tires are great on sand
Comes with a pump
Ratchet straps provide a secure hold
Cons
Heavy with bulky tires
More to store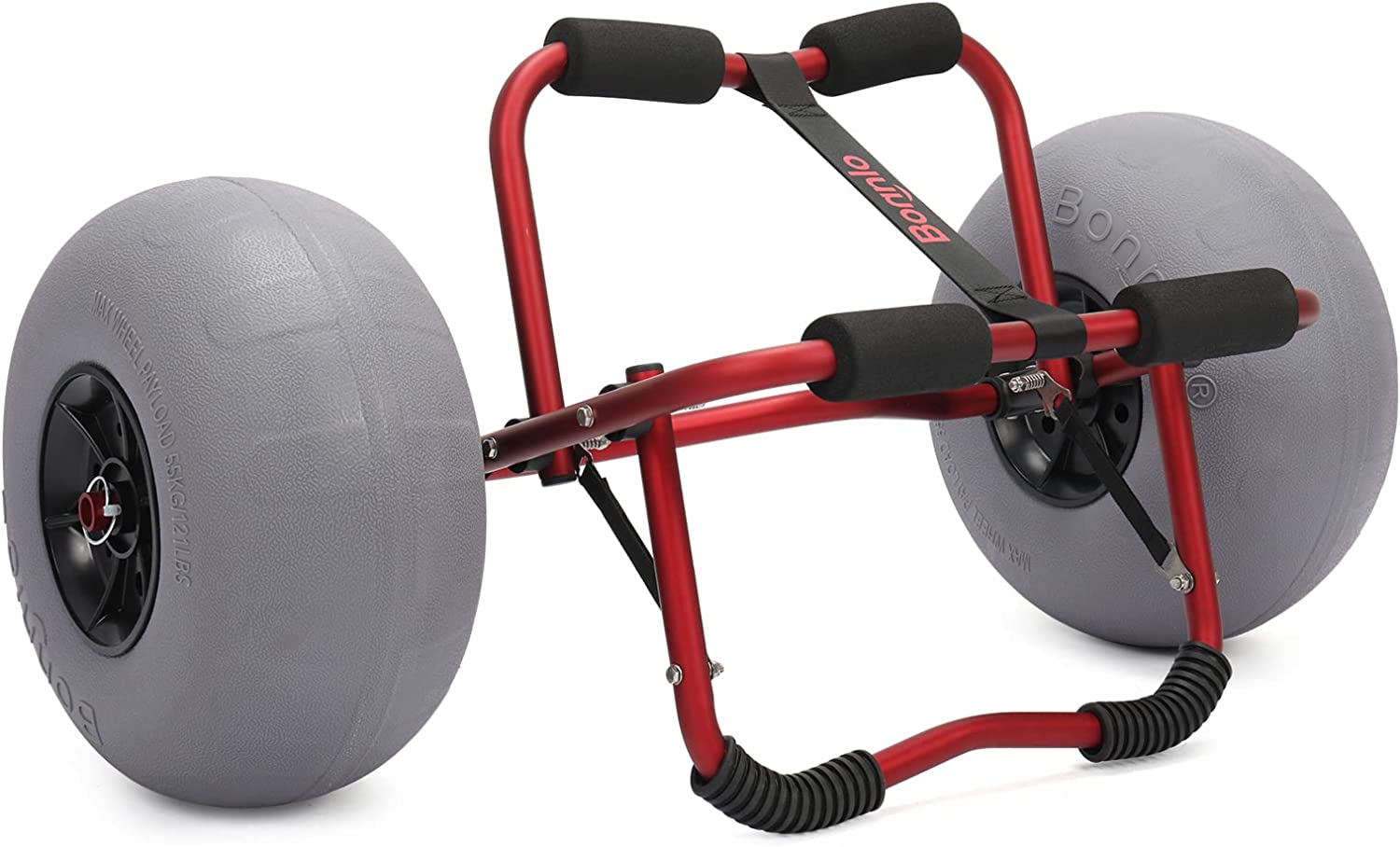 Bonnlo Kayak Beach Cart
The Price of "Bonnlo Kayak Beach Cart" varies, so check the latest price at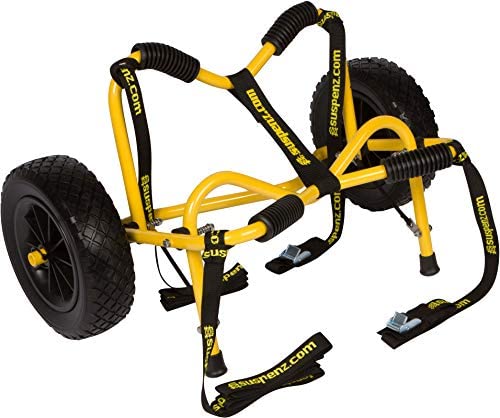 An all-around crowd pleaser is the Suspenz Smart Airless DLX Cart. As its name implies, the smart Airless DLX cart is lightweight. It's made of a powder-coated aluminum frame with stainless steel hardware and a dual-arm kickstand.
Foldable, lightweight, and easy to use, this kayak cart features airless tyres, which are, you guessed it, airless. Airless tyres mean they never go flat and can stand up to the roughest of rough terrains. It has no scupper hole poles because it's got four durable cam buckle straps.
With bold yellow color, this cart looks as great as it feels. It's sturdy enough for small kayaks, though it isn't the most suitable for long canoes. Turning with this kayak cart can get you stuck along your journey, so windy avenues aren't the best use of this cart either.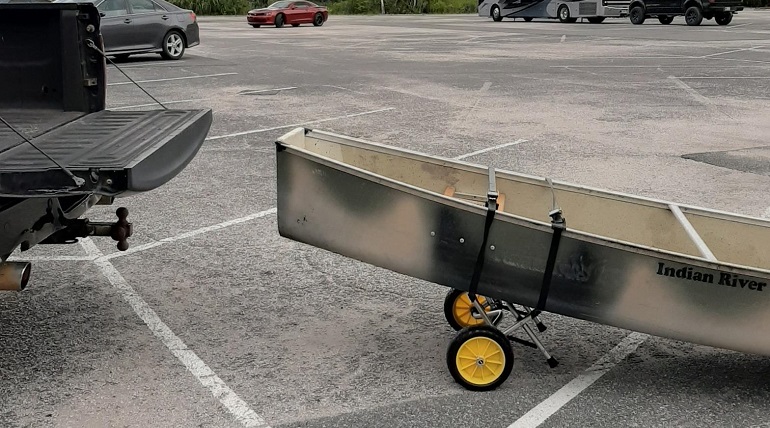 Overall, it is a fair price for a sturdy kayak canoe cart that is easy to strap up for toting and then fold up for storage. I like that it comes with its own carrying case, making it easy to store and carry. It needs to be stored flat when folded up, and probably at the bottom of your boat.
Features
Price: around $150
Wheels: Airless
Straps: 4 Cam Buckle Straps
Cart Weight: 9 lbs
Weight Capacity: 150 lbs
Bumper Pads: Adjustable rubber pads
Pros
Rubber pads are less likely to crack like foam
Dual kickstand
Stainless steel hardware
Good customer service
Cons
Not great for curvy roads
No adjustable width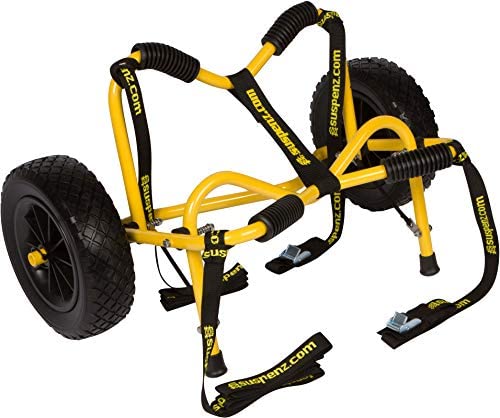 Suspenz Smart Airless DLX
The Price of "Suspenz Smart Airless DLX " varies, so check the latest price at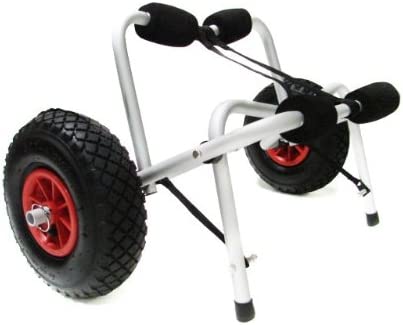 The TMS Kayak Cart is a great choice if you're looking for a budget-friendly cart that does the basics: tote. This cart has a lightweight aluminum frame that folds for easy storage.
However, the frame doesn't accommodate an adjustable width. I used it for my lightweight kayak though it might not be so suitable as a canoe trolley cart.
It comes with one long strap to secure your kayak, so if you don't already have some strap-down knowledge, you'll have to brush up. Or, adding new straps could improve this feature.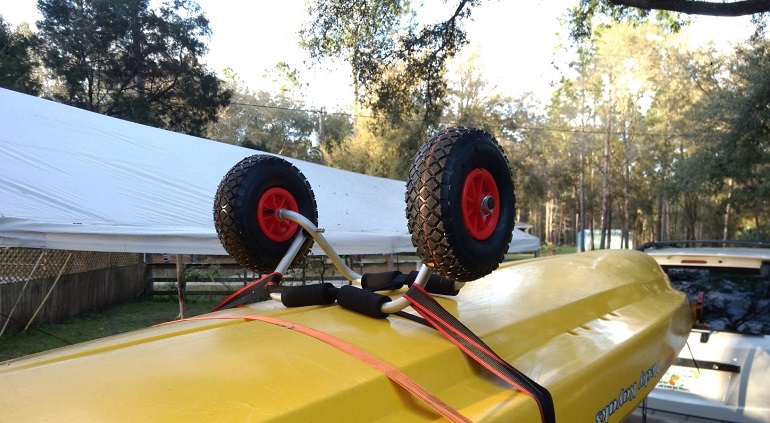 The wheels work, but may not be suitable for really rough terrain. The tires also smell weird at first. They are typical air tires which means a flat is a likely possibility, so having a flat tire kit on hand to fix it should help. However, these tires won't go far in the sand.
The U-shaped kickstand is a commendable feature, and it folds up with ease. This is a great addition for those who don't expect to use their cart heavily and on rough terrain. For light use and a lightweight boat, this is a great price option.
Features
Cost: almost $50
Wheels: 9.5 in. diameter
Straps: 12 ft. nylon strap with buckle
Cart Weight: 9 lbs
Weight Capacity: 150 lbs
Bumper Pads: L Foam Bumpers
Pros
Simple option for simple usage
Lowest price
Gets from A to B
Cons
No bearings on wheels
One large strap means you better be good at strapping in
Tires are smelly
Not advised to use in sand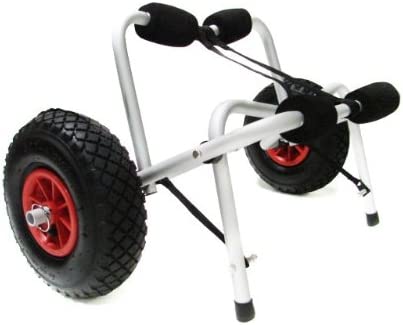 TMS Kayak Cart
The Price of "TMS Kayak Cart" varies, so check the latest price at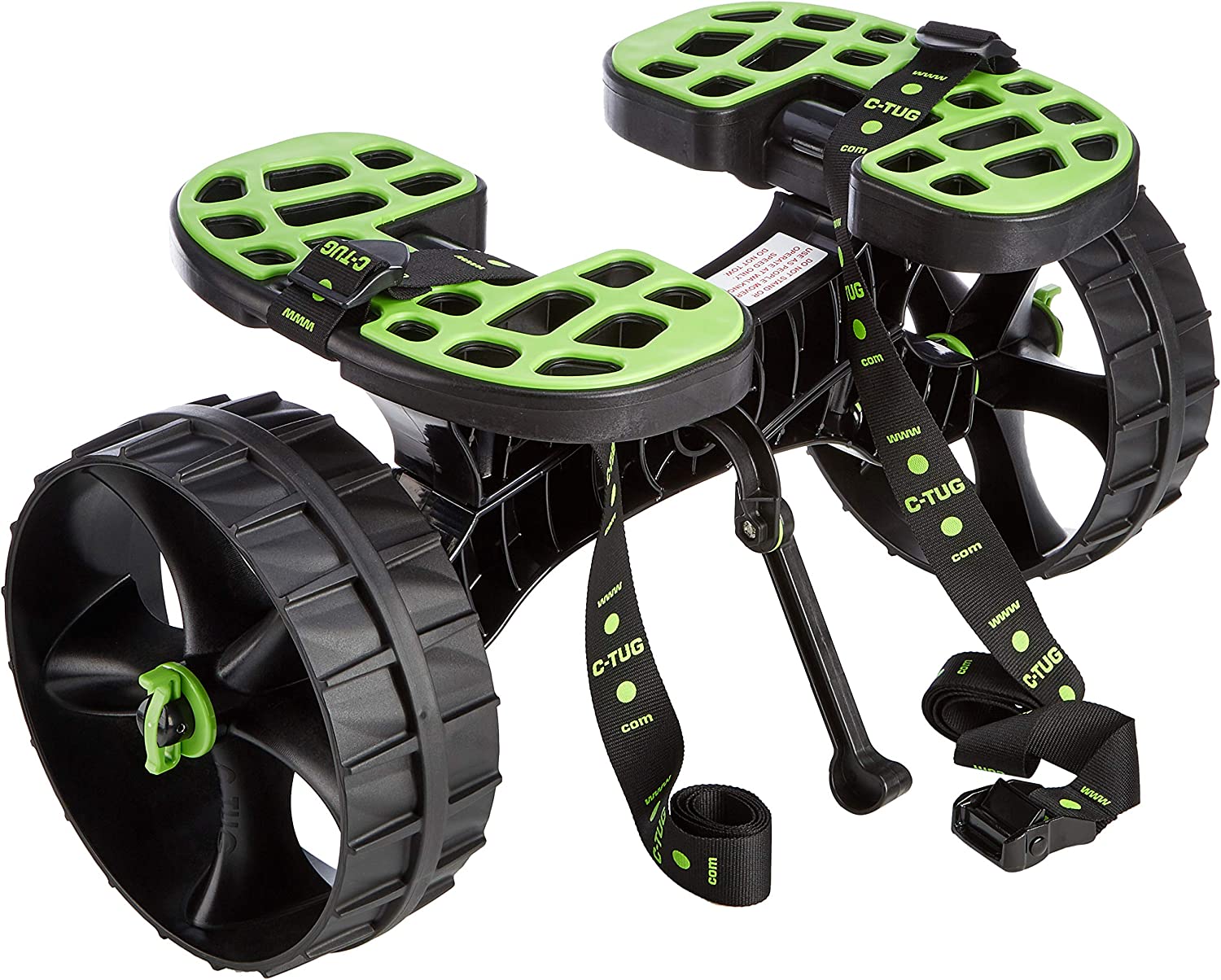 Looking like something extraterrestrial, the RAILBLAZA C tug Kayak Cart is out of this world but really just from New Zealand. The RAILBLAZA C tug has a super sturdy aluminum frame with UV-stabilized, engineering polymers, stainless steel, and anodized aluminum materials.
The wheels are no ordinary ones. Coming in at 10 inches in diameter, these puncture-free plastic wheels are some sturdy rollers. You can add on the Sandtrackz wheels sold separately for an extra smooth tote through soft sand.
What makes this one universal is the adjustable platform. Not in height but in angle. This means you can adjust the platform to form and fit any kayak's hull—even sea kayaks with their steep frames. From a tandem kayak tote to a canoe trolley cart, this is a tank.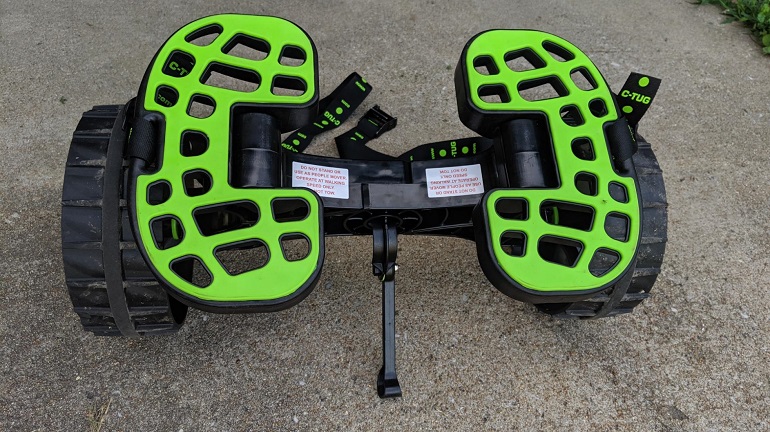 It comes with a kickstand, and, although it's all plastic, feels sturdy enough to carry a heavy fishing kayak or carrying kayaks, plural. I really enjoy the look and durability of this outstanding piece of equipment.
Features
Price: about $100
Wheels: 10 in. diameter puncture-free
Straps: 1 x 4 ft Strap, 1 x 5 ft Strap
Cart Weight: 10 lbs
Weight Capacity: 260 lbs
Bumper Pads: Rubber bumpers
Pros
Easy to assemble and disassemble
Easy to tote on the back of a kayak
Durable for any terrain
Adjustable platform with rubber bumpers
Cons
Difficult to stabilize
Wheel axel wearing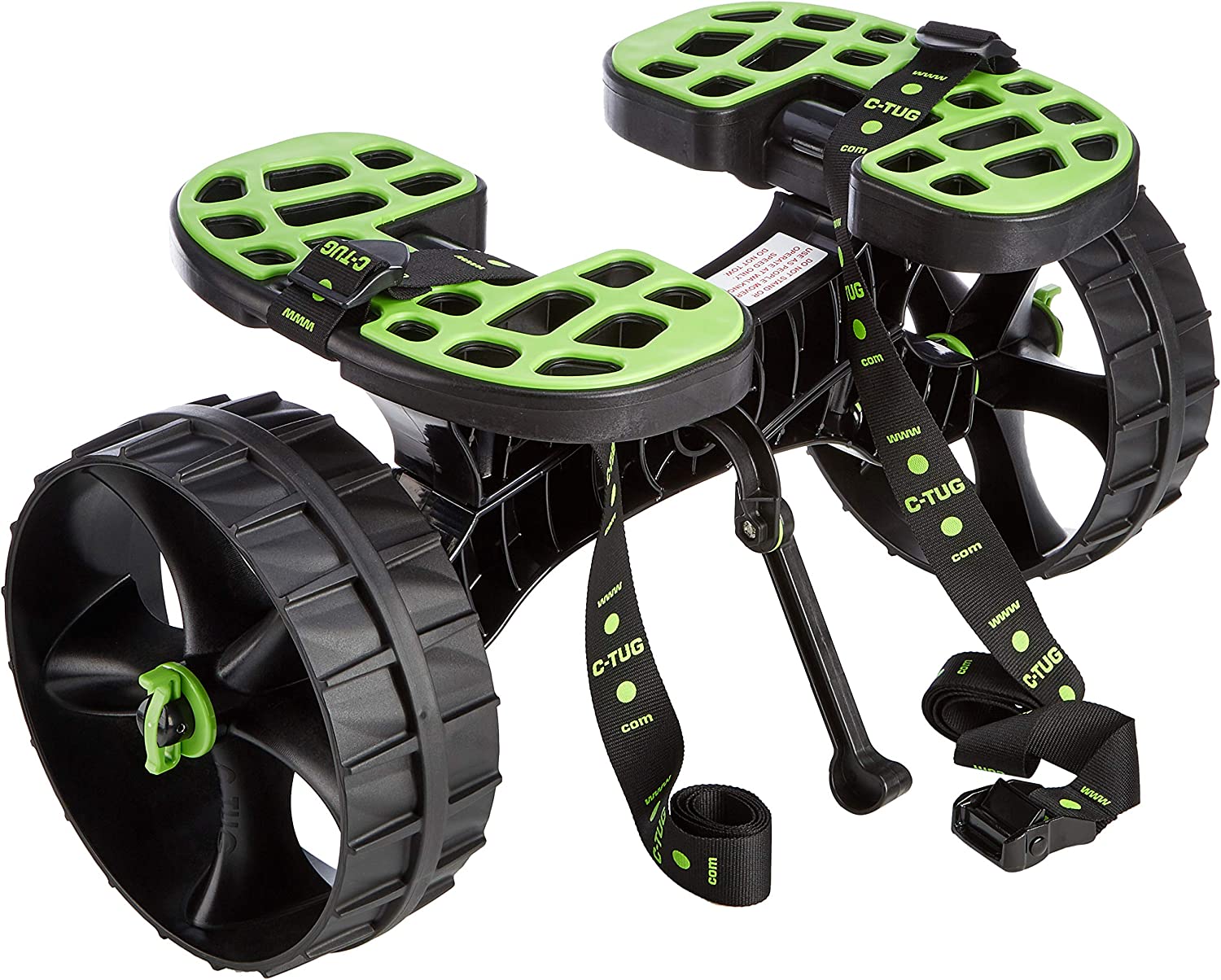 RAILBLAZA Ctug
The Price of " RAILBLAZA Ctug" varies, so check the latest price at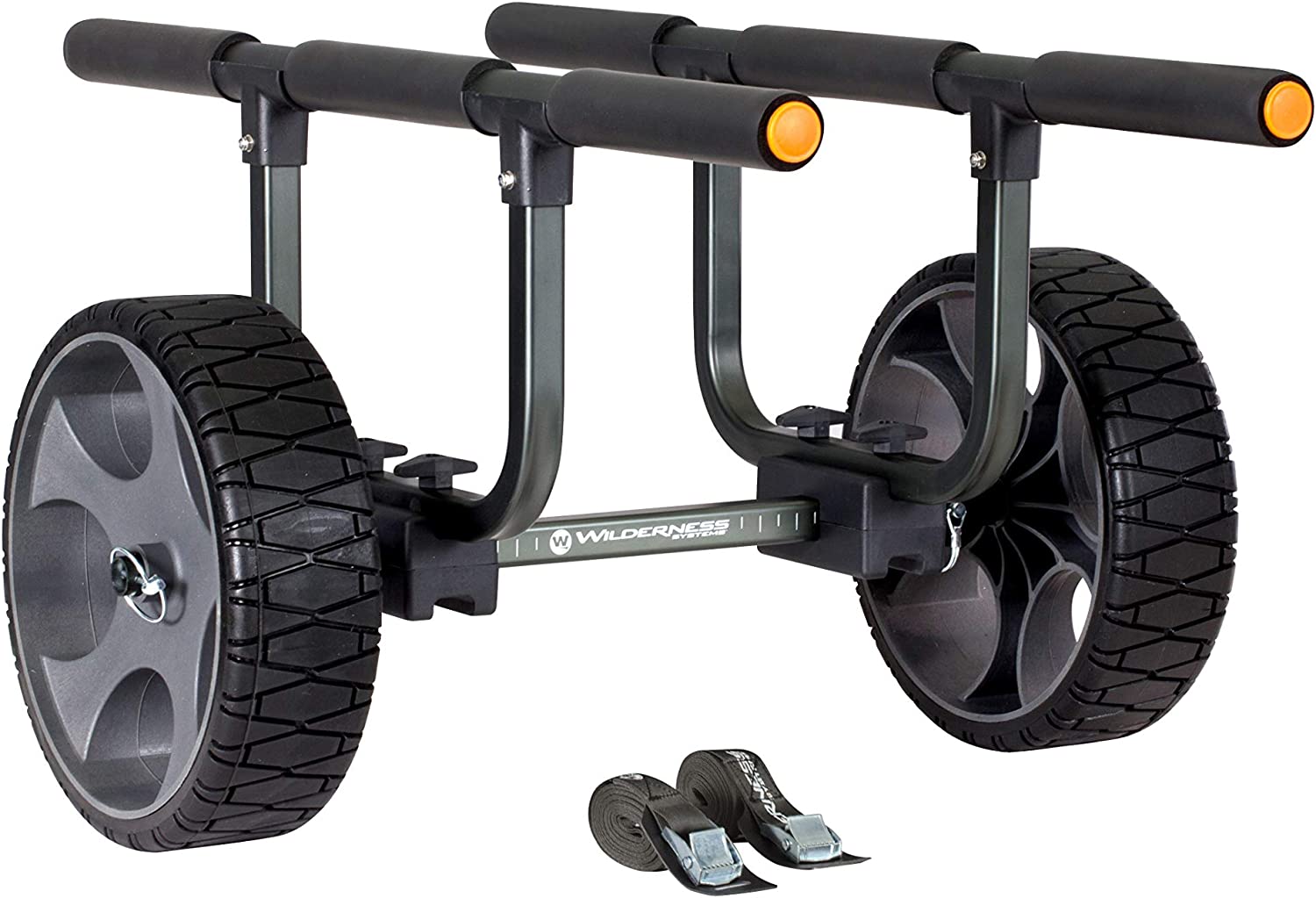 If you're going into the wild, consider the Wilderness Systems Heavy Duty Kayak Cart. Made with a marine-grade aluminum frame, this is made for serious outdoor nomads because it's sturdy, adjustable, and easy to store.
The reason I love this kayak and canoe cart is because it can completely disassemble easily.
It has three parts and the wheels: a bar to connect the wheels and two parts that look like handlebars that connect and hold the boat. This is essential for easy breakdown and storage anywhere, like the front storage hull of your kayak.
The bunker bar frame is flat without poles for scupper holes, which I admire. It looks simple because it is simple—and durable with rubber bumpers. It's so heavy-duty that it can accommodate bigger boats like tandem kayaks and large best river canoes.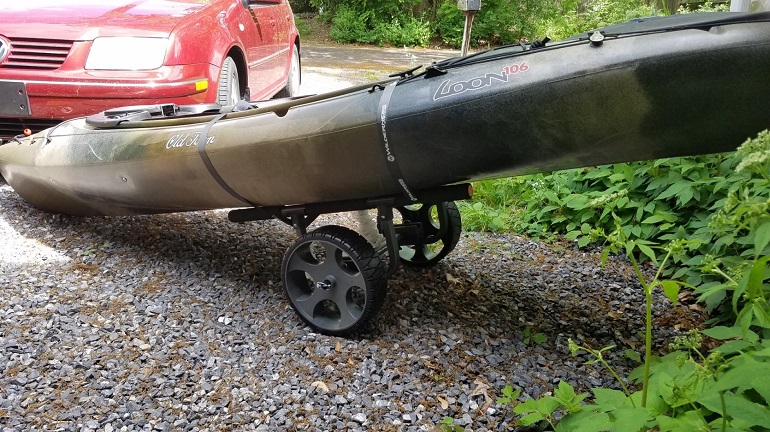 Beginners beware. Even though breakdown and setup need no instructions, you need some prior experience to use this kayak cart. Without a kickstand or proper cleaning and care, this product could prove more of a hassle to you.
But hey, you also have to know how to drive manual to drive a Porsche, and that is the kind of quality you get with this great kayak cart. This heavy-duty kayak cart is for transporting kayaks, canoes, even kayak canoe hybrids, and any type of boat. It's definitely a serious buy for a serious paddler.
Features
Price: a little above $200
Wheels: 12" diameter, no-flat wheels
Straps: Two mounting straps with buckles
Cart Weight: 13 lbs
Weight Capacity: 450 lbs
Bumper Pads: foam-covered bunker bar
Pros
Easy to store and assemble
Carries up to 450 lbs
Adjustable height and width options
Extremely sturdy with quality materials
Cons
Heaviest cart
No kickstand
Sand, salt, and dirt will damage components overtime without proper cleaning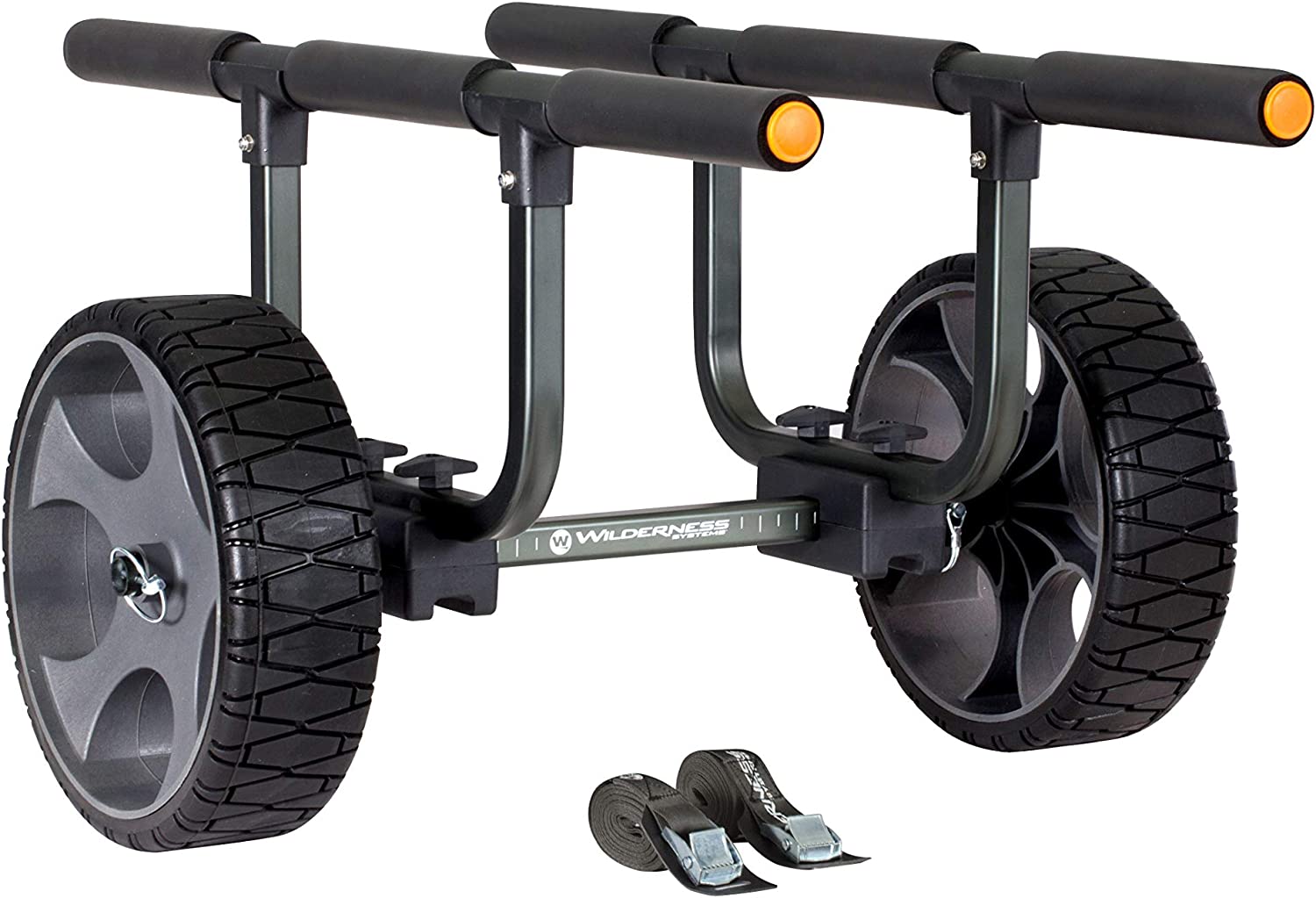 Wilderness Systems Heavy Duty
The Price of "Wilderness Systems Heavy Duty" varies, so check the latest price at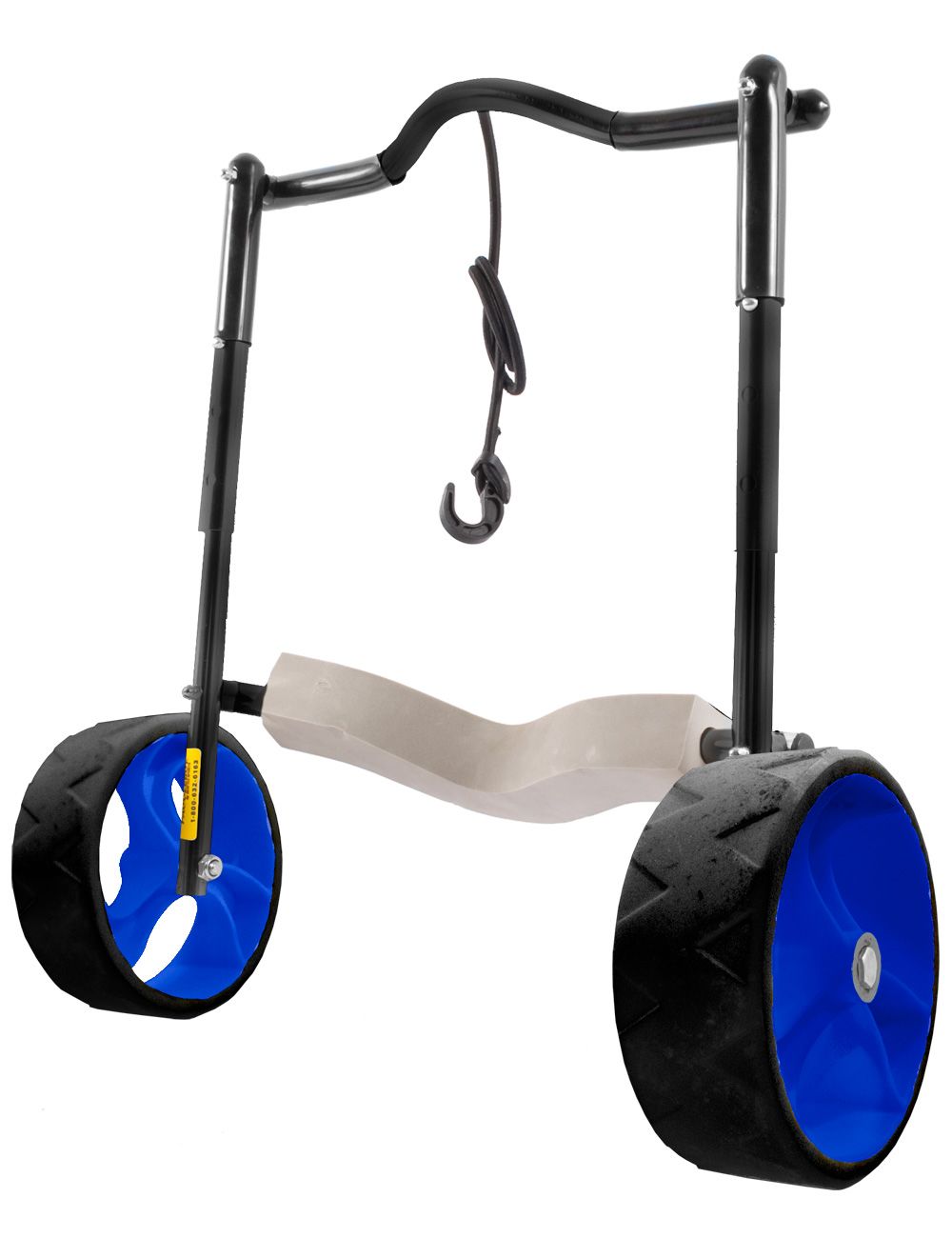 The Seattle Sport Original End Cart is a reasonable choice that is very stable and user-friendly. This kayak cart looks like a regular dolly at first but is actually a genius design.
Basically, you put one end of the kayak through the middle of the frame and the kayak cart acts like added kayak wheels. There's no twisting or turning or any other poles for scupper holes, just add the hook for extra hold and pull your kayak effortlessly from the front.
It features an adjustable frame with foam padding at the bottom where the kayak bottom will sit. This is a great travel accessory because it's lightweight and storable. The cart is super light at 6 lbs but only holds up to 200. I folded it in half and could fit it literally anywhere.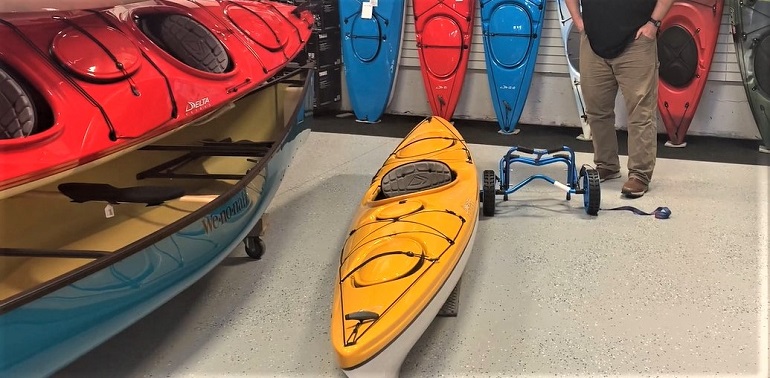 This boat is probably for lighter usage as well as lighter boats and is not the most heavy-duty cart out there. If you need a simple cart that's light and practical and you aren't going out in the sand, then this is a great choice kayak dolly for the price.
Features
Price: under $150
Wheels: Thermal molded, rubber tread no-flat wheels
Straps: Comes with a hook for stability
Cart Weight: 6 lbs
Weight Capacity: 200 lbs
Bumper Pads: Foam bottom base
Pros
Lightweight and storable
Unique design
No straps needed
Cons
Not the sturdiest
Not great in deep sand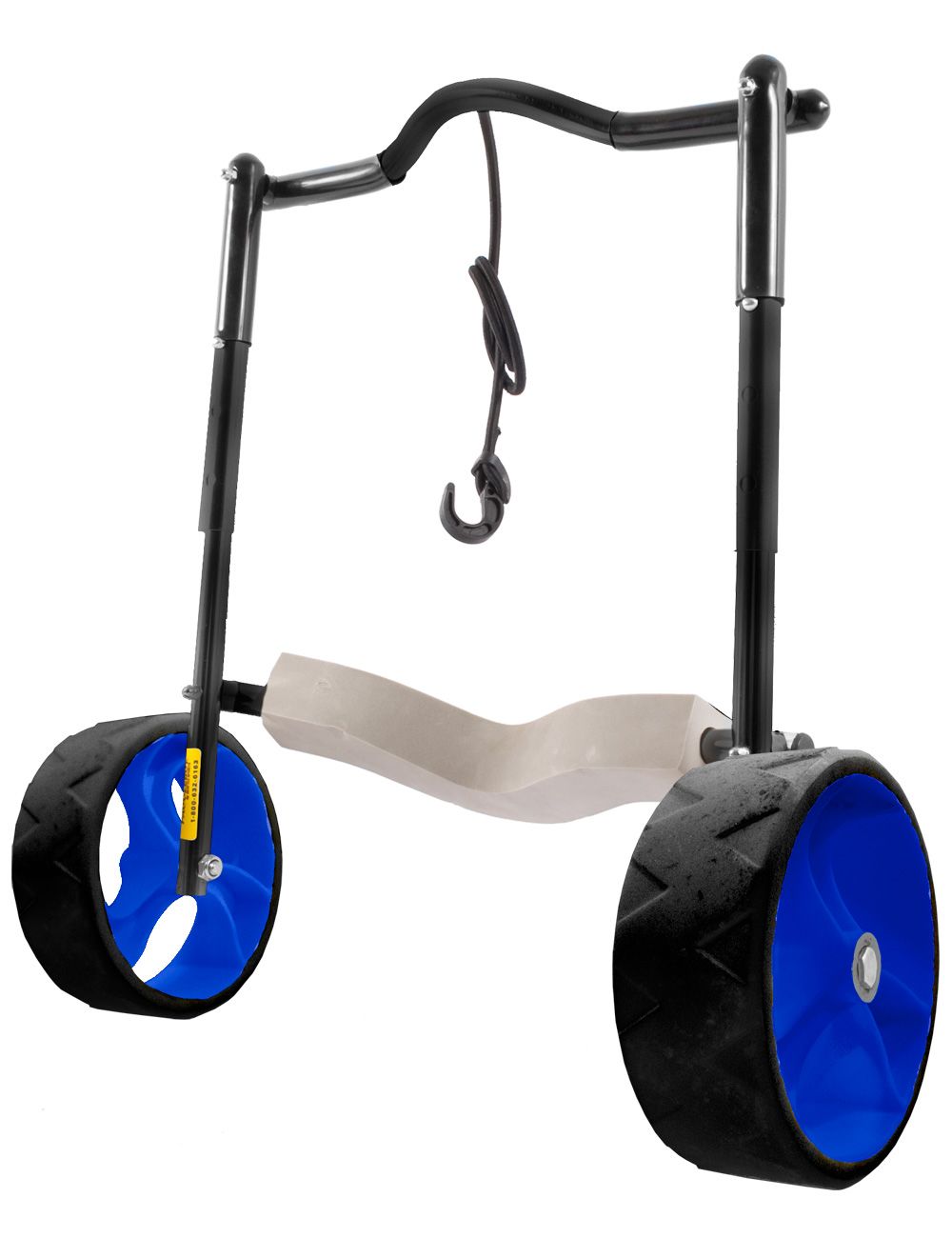 Original End Cart
The Price of "Original End Cart" varies, so check the latest price at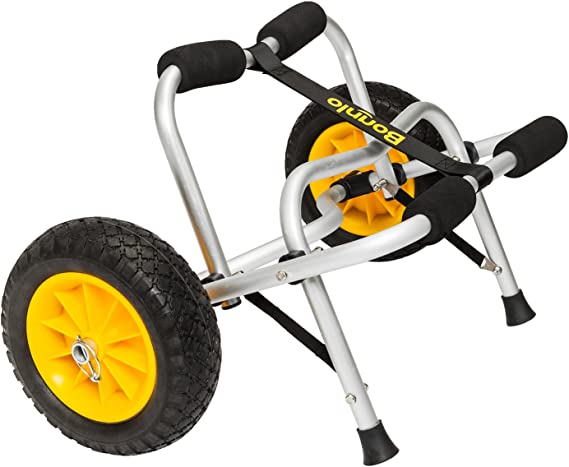 If you're looking for a sturdy all-around product for the price, the Bonnlo Kayak Cart Canoe Carrier Trolley is a great option. At more than half the price of Suspenz, the Bonnlo mimics a similar design only without the cool yellow color.
This kayak cart has a U-shaped kickstand, a wide aluminum frame with stainless steel hardware, two ratchet straps, and two airless tires. Best of all, it is an easy foldable design where the strap that holds your kayak in use, doubles as a carrying handle folded up.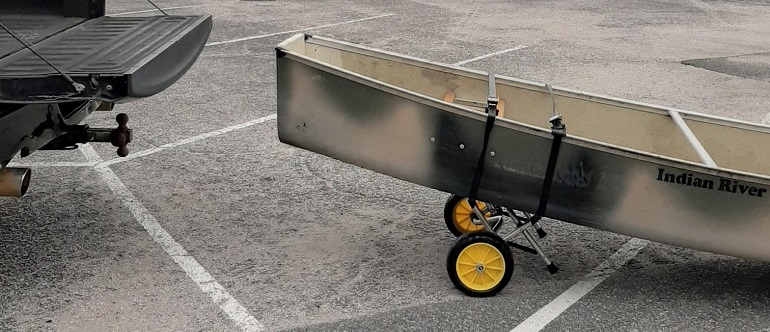 This is one of the best kayak carts for its storable feature. The quick-release lynch pins remove the wheels easily, which is a great feature for easy storage in your kayak or backpack while paddling. The tires are small enough to store anywhere, though also a bit small for rougher terrain.
You may be looking for a budget-friendly option, but the weight of your boat is also a factor. The Bonnlo falls a bit short in weight capacity only carrying 150 lbs. However, if that's no issue, then this is a great buy.
Features
Price: a little more than $50
Wheels: 10" diameter airless tires
Straps: Two 7.75 FT ratchet straps
Cart Weight: 9 lbs
Weight Capacity: 150 lbs
Bumper Pads: foam
Pros
Quick-release lynchpins for wheel removal
Sturdy tires and quality straps
Lightweight frame with stainless steel hardware
Cons
Can be tricky at first to attach without folding on itself
Doesn't carry a lot of weight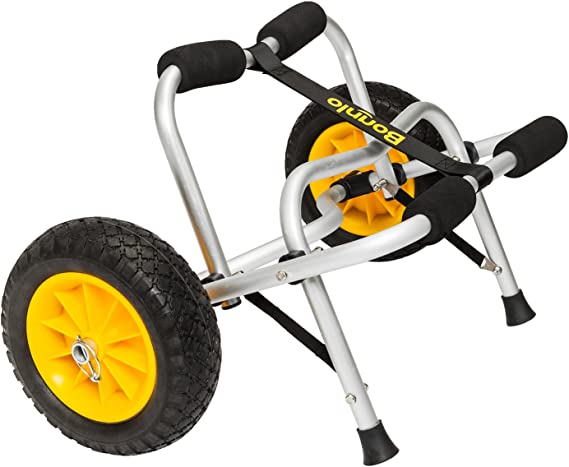 Bonnlo Kayak Cart Canoe
The Price of "Bonnlo Kayak Cart Canoe" varies, so check the latest price at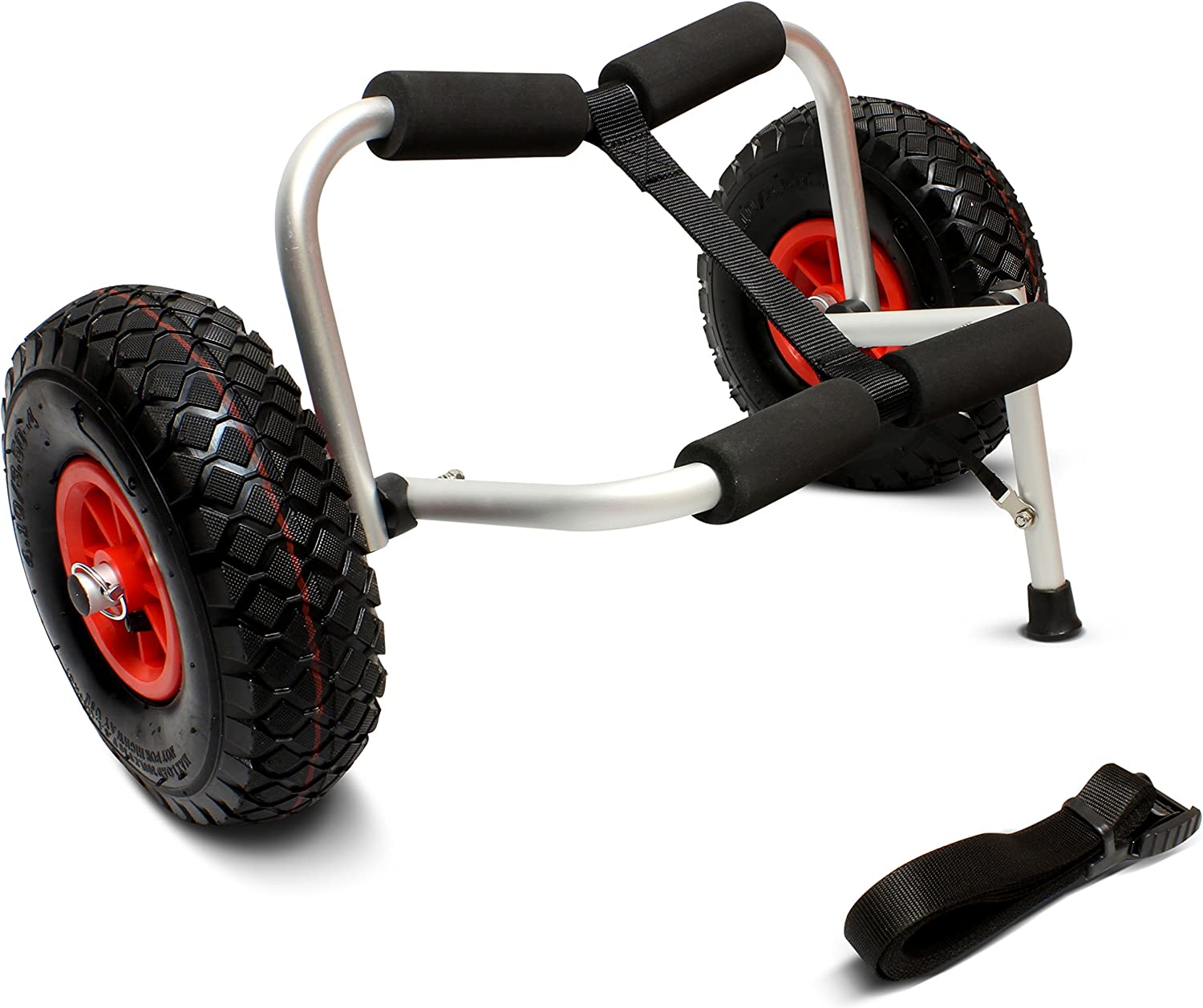 Our final pick doesn't come with all the bells and whistles, but that's what is so great about it: simplicity. The ABN Universal Kayak Carrier is a great inexpensive, no-frills kayak cart from a Midwestern, family-owned business.
This cart features a sturdy aluminum frame, one kickstand, and foam padding. It is a small and compact cart that does one thing: tote your kayak. It is lightweight and can be disassembled to fit in your backpack.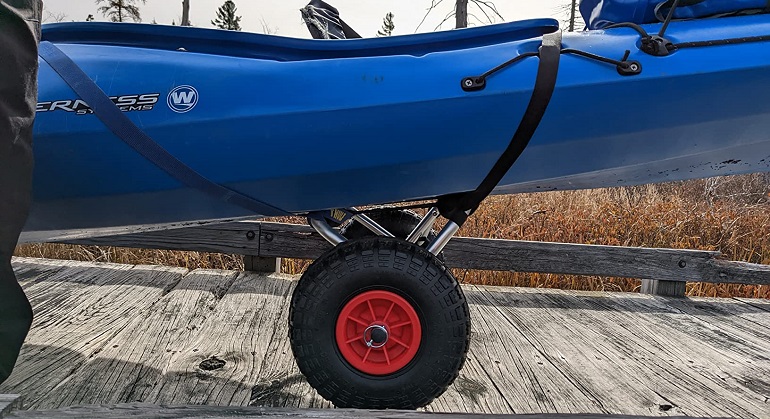 Unlike some other choices, this cart has air tires which could result in a flat tire one day. It only has one long strap with a plastic buckle which, to me, is a potential hazard to break over future use. Though, this cart boasts its one-year warranty for short-term assurance.
Though, for under $60, this kayak cart is a steal. And it can be customizable. Add in airless tires and some new straps—bam! You have a cart that resembles one three times its price. Overall, this is one of the best kayak carts for its practicality, even without a manual.
Features
Price: around $5
Wheels: 9.5" Knobby air tires
Straps: 12 ft. tie-down strap
Cart Weight: 7 lbs
Weight Capacity: 200 lbs
Bumper Pads: 4 oversized foam pads
Pros
Great price
Small and storable
Simple design
Cons
Air tires are vulnerable to flats
Needs some customizing
Strap has a plastic buckle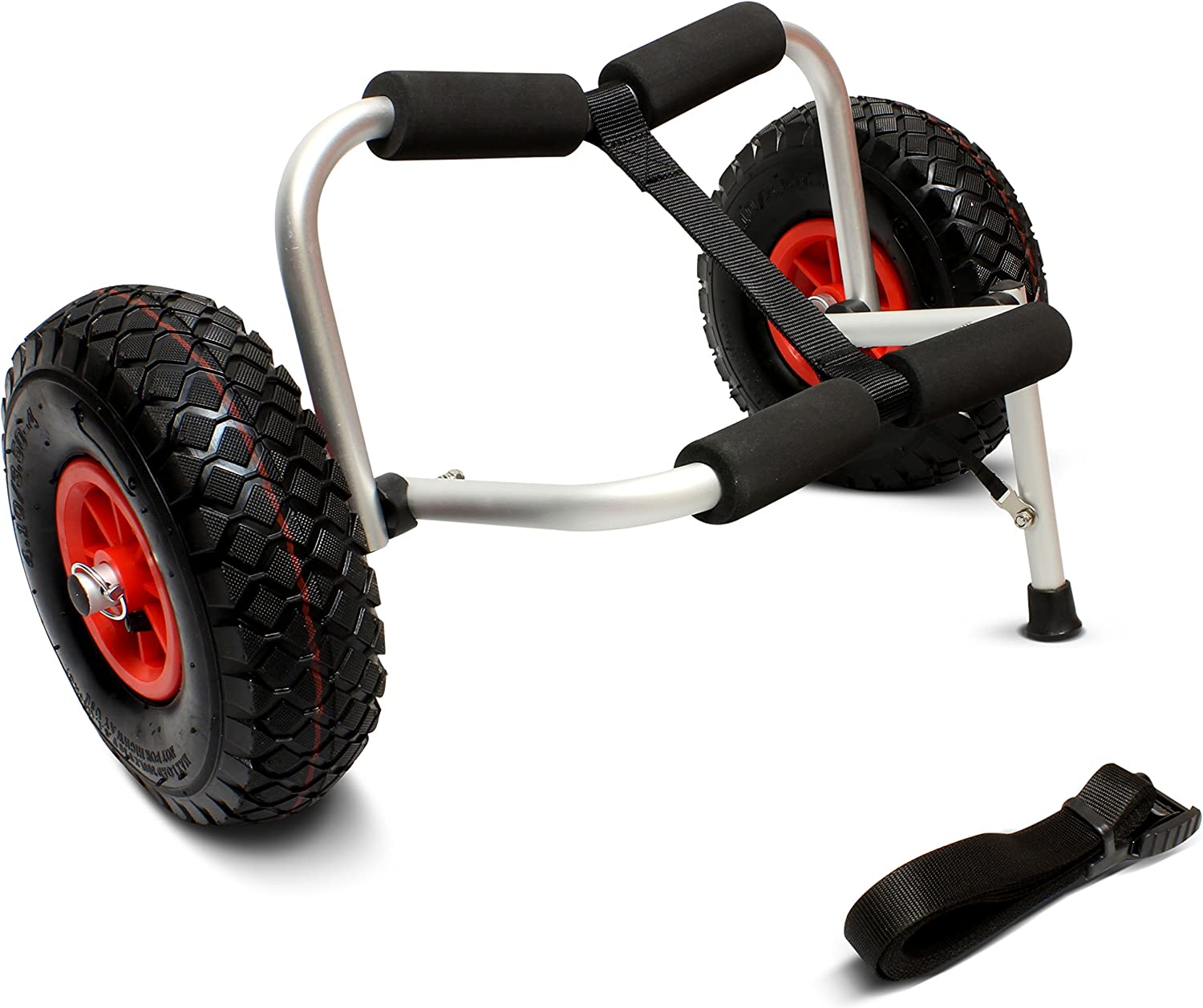 ABN Universal Kayak
The Price of "ABN Universal Kayak" varies, so check the latest price at
Benefits of Kayak Carts
Kayak trolleys are essential to a kayaking adventure that has a secluded launch spot, including sandy beaches and hiking trails. Because the added weight of a boat can make it difficult to transport, I always utilize my carts for transporting.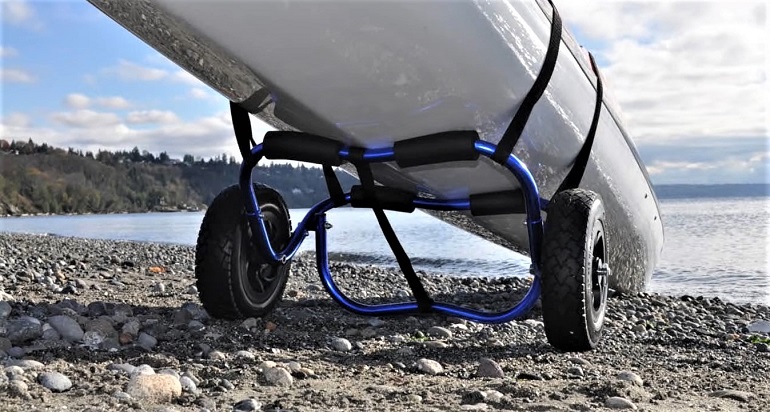 The water's edge might be miles away from where I've parked, so you can imagine how much effort has to be put into just launching the boat.
Kayak carts are a great way to transport your kayak easily and efficiently. Not only do they save time and energy, but they also help protect your kayak from damage. If you already consider the best car kayak roof rack for your car, you might also consider a kayak cart.
If you're constantly traveling long distances in rough terrain to your launch spot, a kayak cart is a great addition to your gear artillery. The portable trolleys help you maneuver the kayak over large rocks, around sharp corners, and sometimes through the sand to save your back and arm strength for paddling.
Types of Kayak Carts
A good kayak cart should accommodate all vessel shapes because, let's face it, there are a lot of different-shaped boats out there. Those who have a sit-on-top kayak need to fit the flat and wide shape of their boat.
Other boat shapes are wedged and don't sit flat like canoes. These especially need secure straps so that it doesn't wobble along while toting it.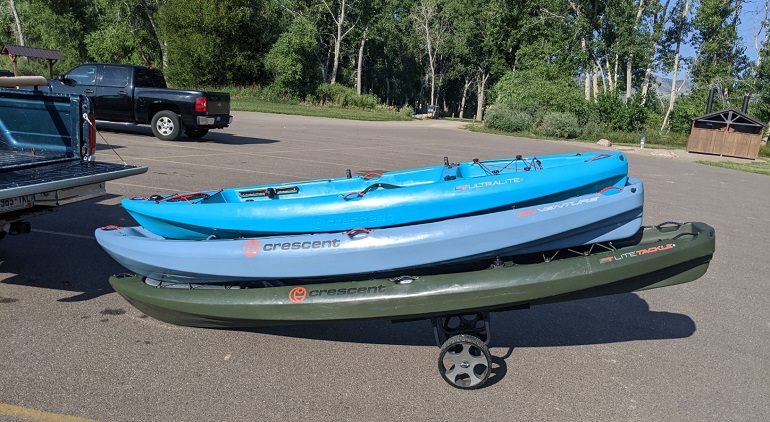 When it comes to kayak carts, there are a few different types to choose from. The three categories covered in this article are basic, common, and heavy-duty kayak carts.
Basic carts are simple, lightweight and foldable. They tend to be small without much ground clearance but tote just fine. They have regular air-filled tires, and one strap, and get the job done without many extras.
The most common type of kayak cart is designed for transporting lightweight kayaks and canoes. These carts have a frame made of aluminum and have features such as adjustable height, a kickstand, airless wheels, and durable straps.
The most durable type of cart for a sit-in kayak or kayak canoe is the heavy-duty cart, which is designed for transporting heavier boats like for a fishing kayak. These carts usually have a larger frame and larger airless wheels, as well as adjustable height and rubberized pads.
Features To Consider When Choosing a Kayak Cart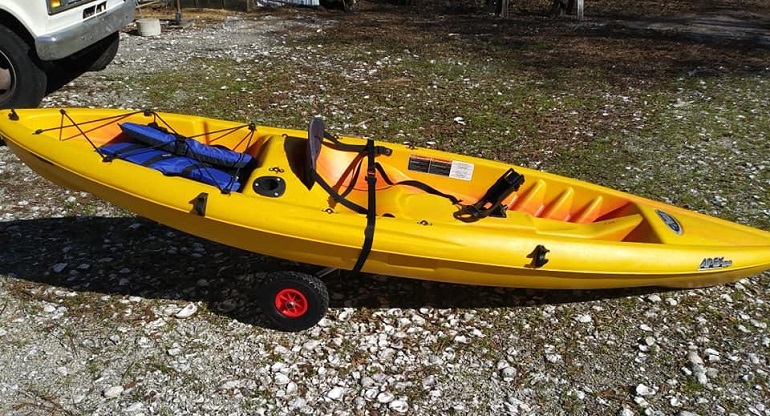 Because there are so many types of boats and options for carts, it's important to identify the most adequate features that you need for your new cart.
Weight Capacity
The first is the weight capacity of the cart. You'll want to make sure the cart can handle the weight of your boat and any gear you might be transporting in it. Are you a day-tripper or a long-hauler? For heavy boats packed with gear, consider a heavy-duty cart.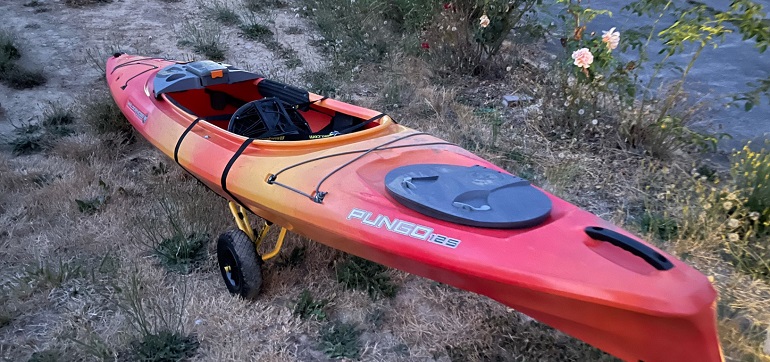 Wheels
The second feature to consider is the type of wheels. If you've got some rough roads ahead, you'll want to make sure the cart has large, durable wheels that can handle it. Carts come with air-filled or airless tires. Though they both get the job done, I typically recommend airless tires because they won't go flat.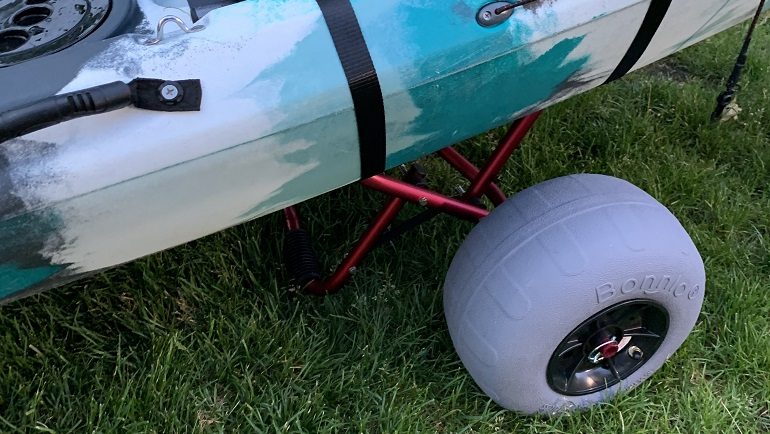 Other Features
Finally, you'll want to make sure the cart is easy to assemble and break down, as well as easy to store. This is especially important when considering where you will store the cart while you paddle. Some can fit in a boat's storage area, while others can fit in a backpack.
FAQs
Is a Kayak Cart Worth It?
This is subjective because sometimes a paddler might prefer an inflatable kayak, which needs no cart at all. Sit-on-top kayaks are some of the best lightweight kayaks but still weigh around 20 lbs or more. In my opinion, carts are more than worth the cost, because it saves me a lot of hassle.
For multiple kayaks, large and heavy kayaks, or kayak canoes, and a long stretch to the waterfront, a cart can be helpful to those who don't enjoy carrying the weight, like me. But, hey, some people do!
If you like to take your boat out on the water and you do it often without being able to drive up to the launch site, you might want to consider a cart. It makes transporting a lot easier, especially if you paddle solo. Keep in mind that carrying the weight of your boat before paddling is tiring.
Where To Store a Kayak Cart on the Water?
Good question. You can run the kayak or canoe cart back to your car trunk after toting your boat if you're worried about it (and the car's not too far). You could also use a simple bike lock and strap it to something.
Typically, though, you should be able to store it in your boat, and some carts can even break down so you can store it in a backpack. If your boat lacks any more weight capacity, then this can become problematic with a heavier cart.
The best kayaks for kids, for example, don't carry much weight, so they might not be the best to store a cart in. A sit-on-top kayak might not have a lot of storage space and might not be able to store a cart either. Storage is definitely something to consider when purchasing a cart.
Who Should Use a Kayak Cart?
I think anyone should use one. If you are carrying an inflatable kayak, then no. Typically, I park the car a long way away from the water, so carrying the boat can be straining, especially if I have a lot of paddling to do.
Sit-on-top kayaks can be heavy, and sit-in kayaks can be even heavier, making a cart the perfect toting accessory for all recreational kayaks. I'm not lifting tons of weights regularly, so it's a no-brainer to me in order to save my arms, back, and everything else.
Final Thoughts
There are tons of carts on the market. Whether a basic or heavy-duty kayak cart, they all have different features to consider when choosing the right one.
Be sure to take into account whether you have sit-on-top kayaks, sit-in kayaks, canoes, or other shaped boats and their weight. The terrain to launch is also important because it might determine the type of wheels you need.
Most carts are aluminum instead of having a steel frame because a steel frame will be extra weight to carry in your boat. And, as you know, heavy loads on a kayak are not a desirable feature.
Kayak carts will definitely improve your paddling experience. With the right kayak trolley, you'll be able to get the best performance out of your kayak or kayak canoe.
So, what are you waiting for? Get out on the water, and get out there with your new cart!