So, You've Gained Experience and left the 'beginner skier' label behind. And you are not an advanced skier. Well, not just yet.
As intermediate skiers, you have more courage than beginner skiers. This is one of the reasons you're willing to invest in a new pair of skis.
You've mastered turning, controlling speed, and stopping. You now need skis that can turn easily, don't need changing after only one season, don't vibrate at high speeds, work well off-piste, and are versatile.
We continuously learn if we allow ourselves to do that. Apart from internal support, an intermediate skier will need some good gear to continue his/her progress. Because, let's face it, as a beginner, it is easier to ski than snowboard. On the other hand, it is harder to progress as a skier than as a snowboarder.
Let's consider the ski length, width, and durability to find the best pair for the intermediate skier. Most of the skis will fall into the all-mountain category. 
Best Overall

Blizzard Rustler 11 Skis
Ability Level:

Advanced-Expert

Rocker Type:

Rocker/Camber/Rocker
Luxurious Skis for Men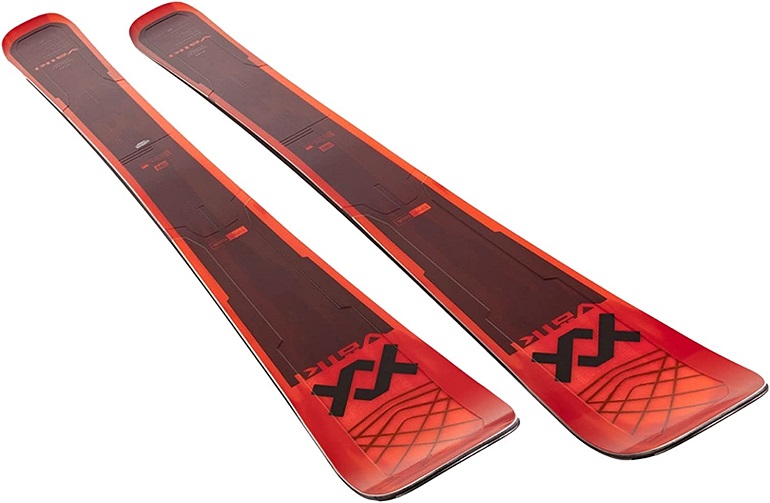 Volkl Mantra M6
Ability Level:

Advanced-Expert

Rocker Type:

Rocker/Camber/Rocker
Best Selling Skis for Men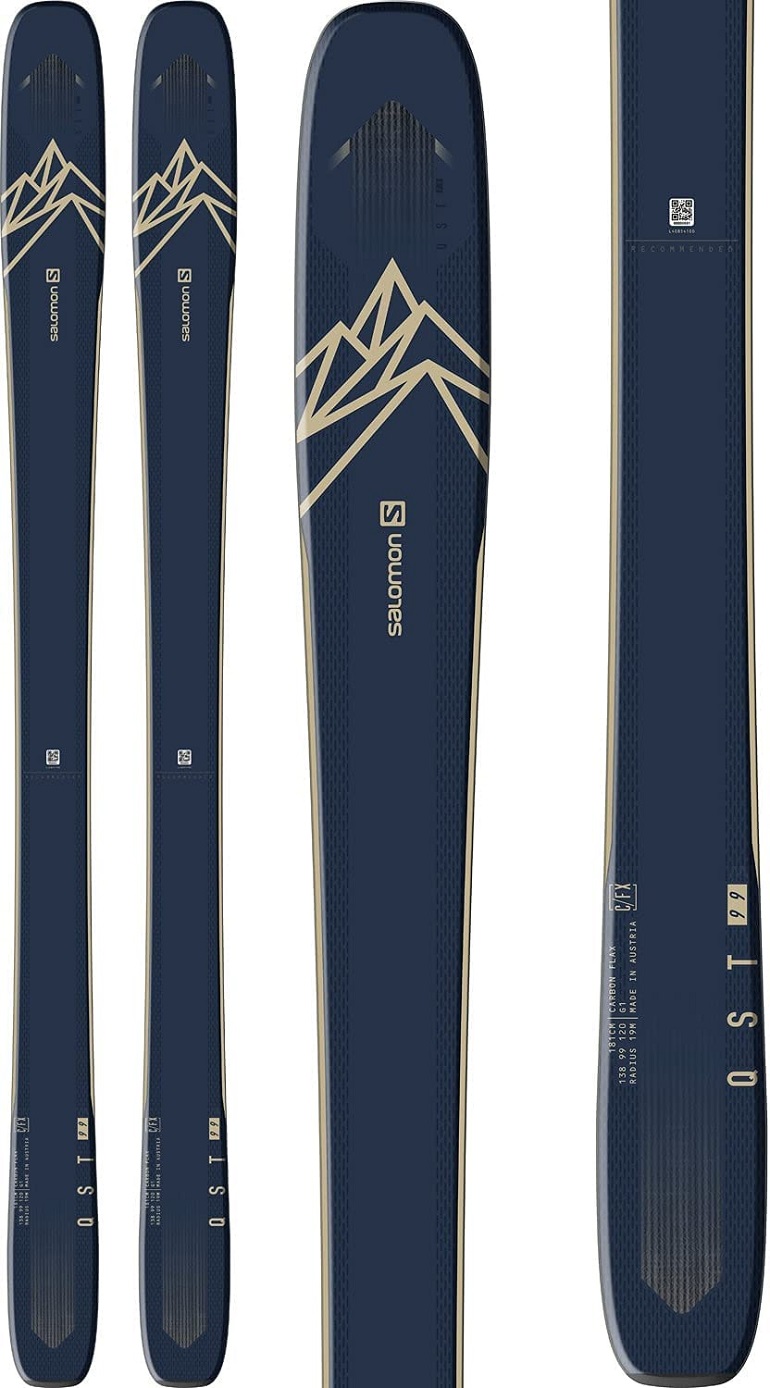 Salomon QST
Ability Level:

Advanced-Expert

Rocker Type:

Rocker/Camber/Rocker
Too Good True Skis for Men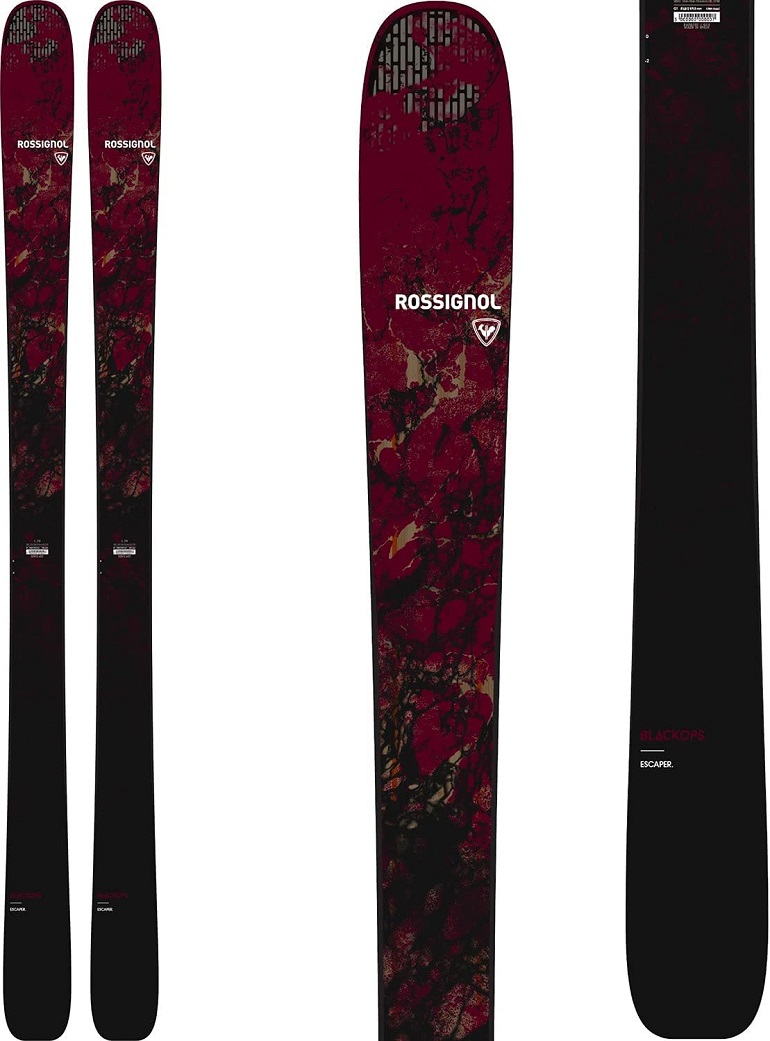 Rossignol Black Ops Escaper
Ability Level:

Intermediate-Advanced

Rocker Type:

Rocker/Camber/Rocker
Confidence Booster Skis for Women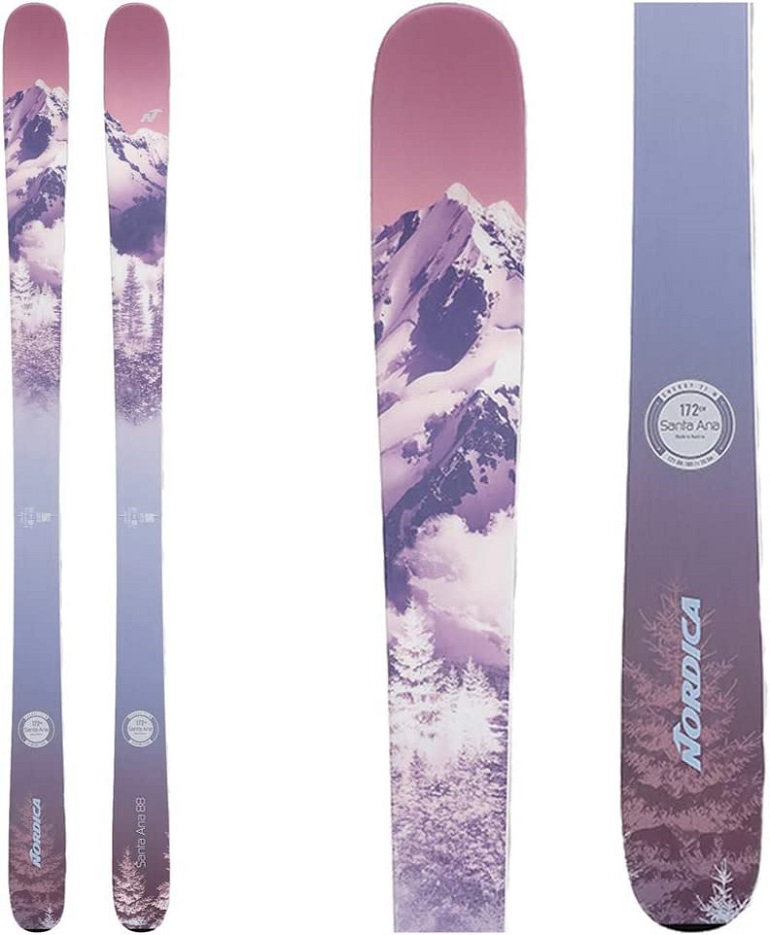 Nordica Santa Ana 88 Ski
Ability Level:

Intermediate-Advanced

Rocker Type:

Rocker/Camber/Rocker
Freeride Magic Skis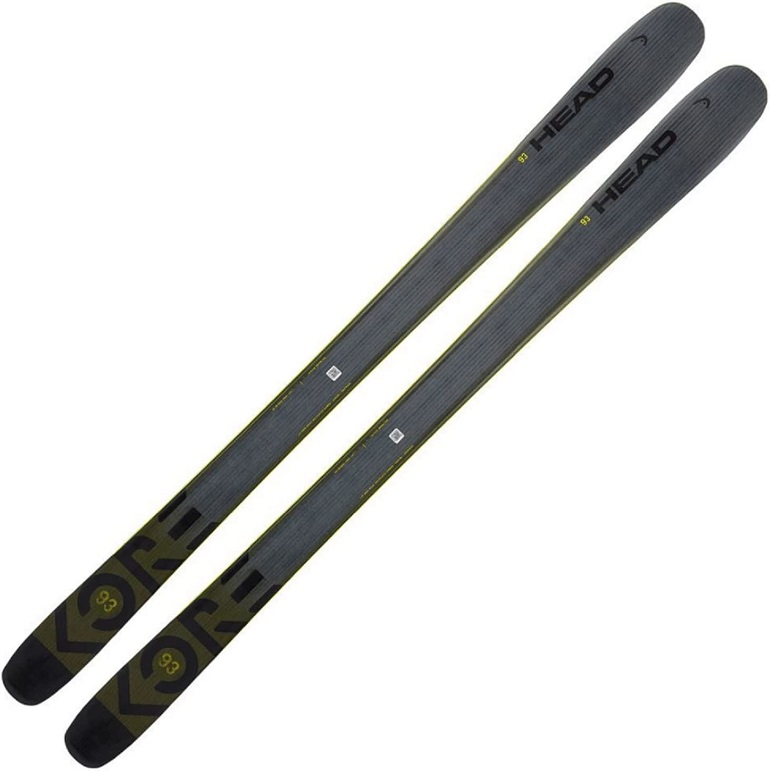 HEAD Unisex Kore 93
Ability Level:

Intermediate-Advanced

Rocker Type:

Rocker/Camber/Rocker
Stable Skis for Men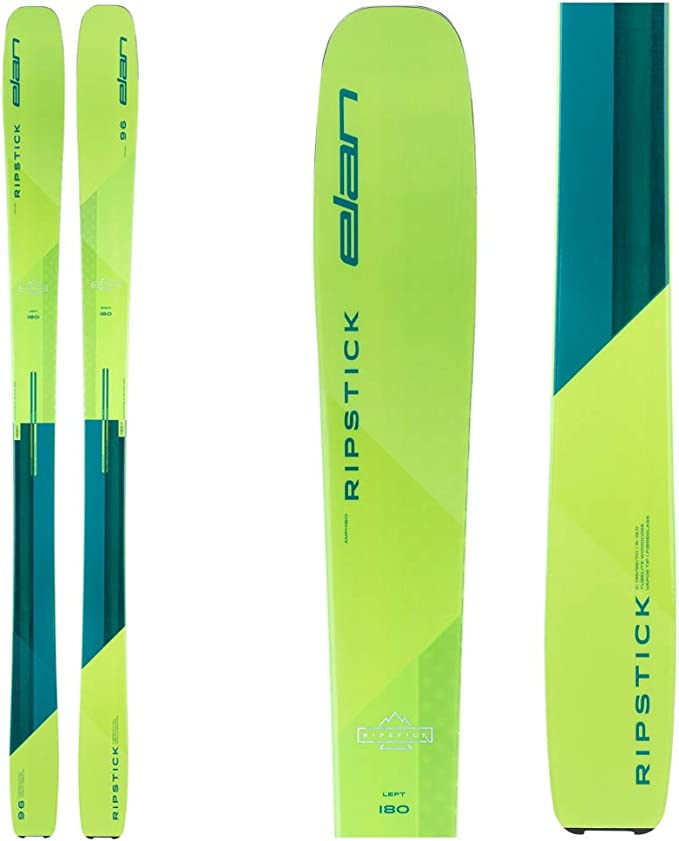 Elan Ripstick 96 Skis
Ability Level:

Intermediate-Advanced

Rocker Type:

Rocker/Camber/Rocker
Our Top Picks of the Best Skis for Intermediate Skiers
What is your goal? To advance, right? Most importantly, as I always say, you should have fun. Disconnect. Breathe in that fresh mountain air. Look at those clouds moving swiftly.
And then focus on gear that can allow you to do that: enjoy. Moments don't last. Poof, they're gone!
Don't waste time focusing on very technical gear while missing out on beautiful times lived on the mountain: a sunset, an extremely clear day, a very foggy day, or a day with the deepest of snows. You'll remember them all. (Not so sure about the equipment, though. Then again, not noticing your equipment is what makes it great.)
Let's go through a selection of the best skis for intermediate skiers.
Stable and fun at the same time, the Blizzard Rustler 11 Skis can pretty much satisfy all riders and especially intermediate skiers.
They have Rocker at the tip and tail and are cambered in the middle section. These features increase flotation on powder, making the skis even easier to handle.
At the same time, the Camber guarantees a solid grip on firm snow. Carving on packed snow and linking turns will be easier, thanks to the Camber.
The skis have a multi-layer wood core, leading to high performance with a light feel. Those at Blizzard focus on durability, so expect to buy a pair of skis that will be with you for a long time.
These are not the best skis on icy terrain but do wonders in milder conditions and soft snow. The skis initiate turns easily, are very responsive, and make for a smooth ride in ski resorts. It's no surprise that we are dealing with award-winning skis.  

Blizzard Rustler 11 Skis
The price of "Blizzard Rustler 11 SkiS" varies, so check the latest price at
The Völkl Mantra M6 Skis are on the expensive/luxurious side of fun and have become more predictable and capable compared to the previous M5 model. They include a tip and tail Rocker and a Camber in the middle section.
An intermediate skier minus? These hybrid skis are more suited for advanced skiers and/or professional ones, maybe even upper intermediate riders, if we stretch it.
The poplar and beech layer makes a very durable core (hardwood in the binding area and lighter wood surrounding it). It seems like these best all-around skis have no limit and are great at carving.
Are you ready for another plus? The design of the skis is a very attractive one. Have a look!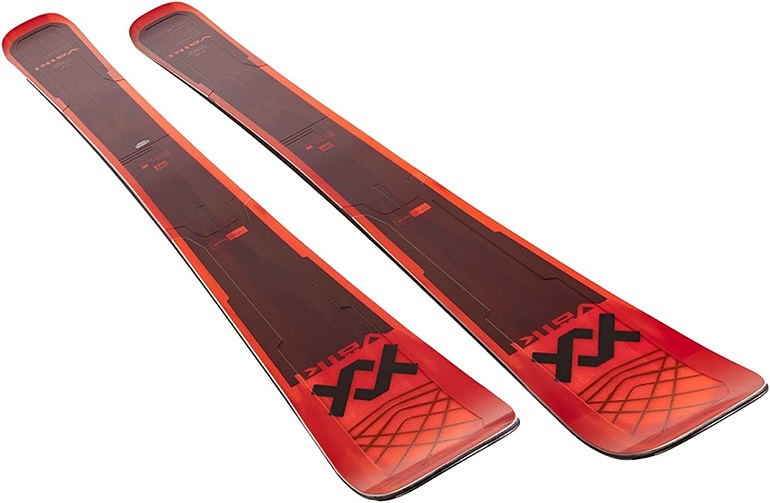 Volkl Mantra M6
The price of "Volkl Mantra M6" varies, so check the latest price at
They're all-terrain Rocker (with a Rocker both in the tip and tail and Camber in the middle) and light! This hybrid equipment provides both stability at high speeds and maneuverability in powder and deeper snow conditions. It helps you maintain control even on ice.
It can get a little bumpy at high speeds, but the Salomon QST skis are also poppy and playful. You can enjoy smoother turn initiation. The cork used in the ski tip contributes to a high level of vibration absorption achieved, with even less weight.  
This pair of skis is one of the best all-around adventure partners, which you will rely on for many years in various weather conditions and on different terrain.
The price is really friendly, too, making this pair a strong contender for the 'best ski' title. After all, they are some of the best-selling skis of the last three years.
Salomon QST
The price of "Salomon QST" varies, so check the latest price at
Built with Pauwlonia wood core, these skis are said to turn themselves! Jokes aside, you know a good pair when you see it. We are dealing with a lightweight all-mountain ski that will help you navigate through bumps and around trees.
With a medium-tip Rocker and low-tail Rocker, as well as a low Camber in the middle section, these skis are quite versatile. After all, the Rossignol Black Ops Escaper Skis are all-mountain skis, with a medium turning radius.
So, you'll be happy with your skiing day either around the resort or in the backcountry, so be ready to put those backcountry skis on.
Some skiers claim that these cool-looking skis are not as light as advertised. And if they truly aren't, you'll get a plus of stability.
Some more impressive and unique features? The Damp Tech reduces vibrations and adds control in variable ski conditions.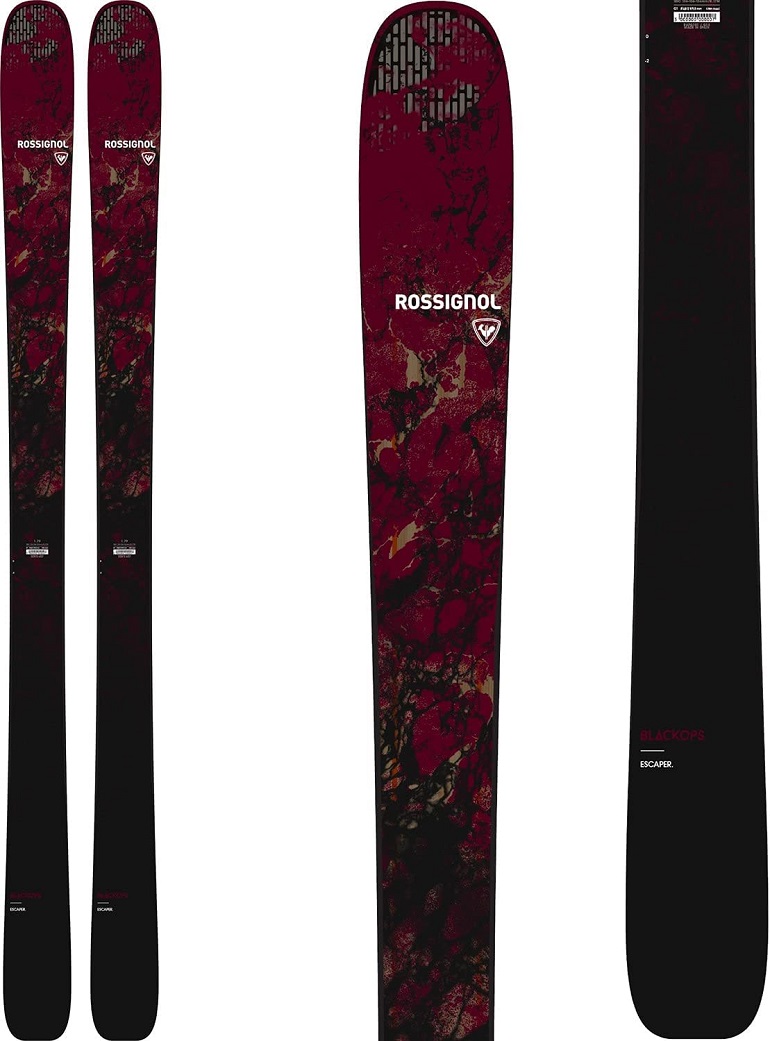 Rossignol Black Ops Escaper
The price of "Rossignol Black Ops Escaper" varies, so check the latest price at
They say that nobody does 'All-Mountain skis' like Nordica, and this pair makes no exception. After all, it is the company's best-selling women's ski model.
It will be equally fun riding on groomed slopes and enjoying a powder day with your powder skis.
The balanced performance on the mountain is partly due to the smooth tip and tail Rocker with Camber underfoot. You are dealing with a very stable ski pair, which helps build up the confidence needed to complete your runs.
These skis are easy to control and maneuver, and Nordica emphasizes fun! Not performance and competition, but fun!
Consequently, riding Nordica Santa Ana 88 Skis will be an entirely different way to experience the groomed trails for women skiers.  
Think about this award-winning pair as a game-changer as far as ski touring is concerned.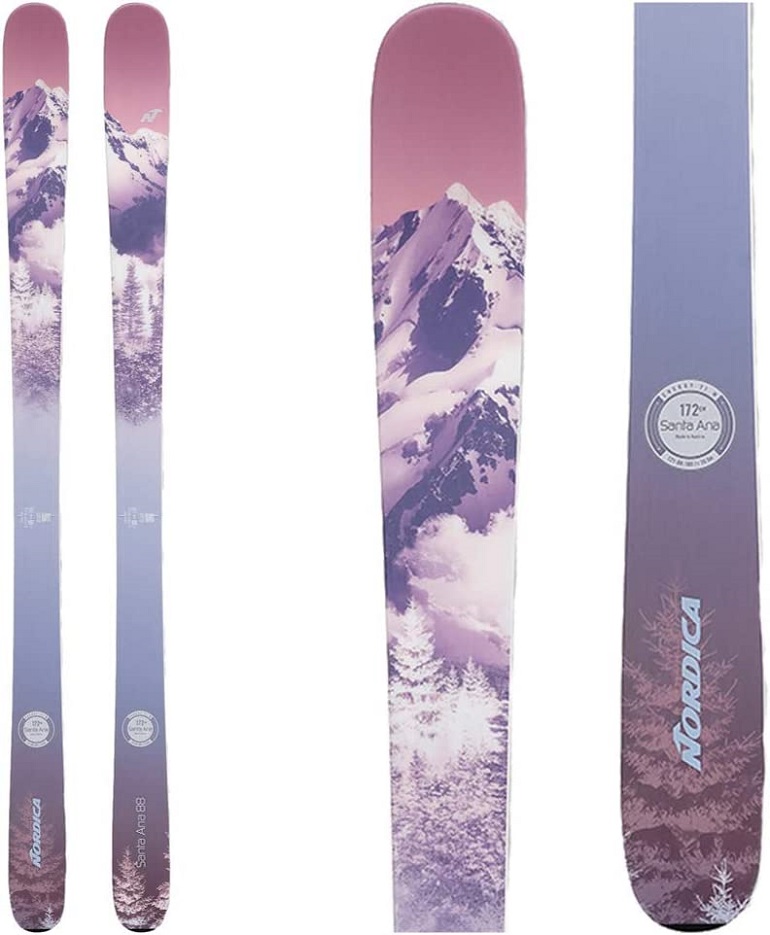 Nordica Santa Ana 88 Ski
The price of "Product Name" varies, so check the latest price at
The carob and poplar wood core is perfect for those who like it light without sacrificing power to ride down the mountain.
Durability is also guaranteed with this wood core (and the added graphene – the hardest material on the planet – and carbon). There is a subtle Rocker in the tip and tail, and we have a Camber underfoot.
Skiing with the Kore 93 is on the stiffer side, so it is not the best pair for bump skiing. Still, it can conquer tough snow conditions, powder, and everything there is in between. A true freeride option to take into account by all those in love with backcountry skiing!
Sure, the price tag may not be right, but quality and ultimate fun on the slopes are priceless.
Also, test them first; they might just be a better fit for advanced riders, possibly upper intermediates, too. Know your ability level and your end goal.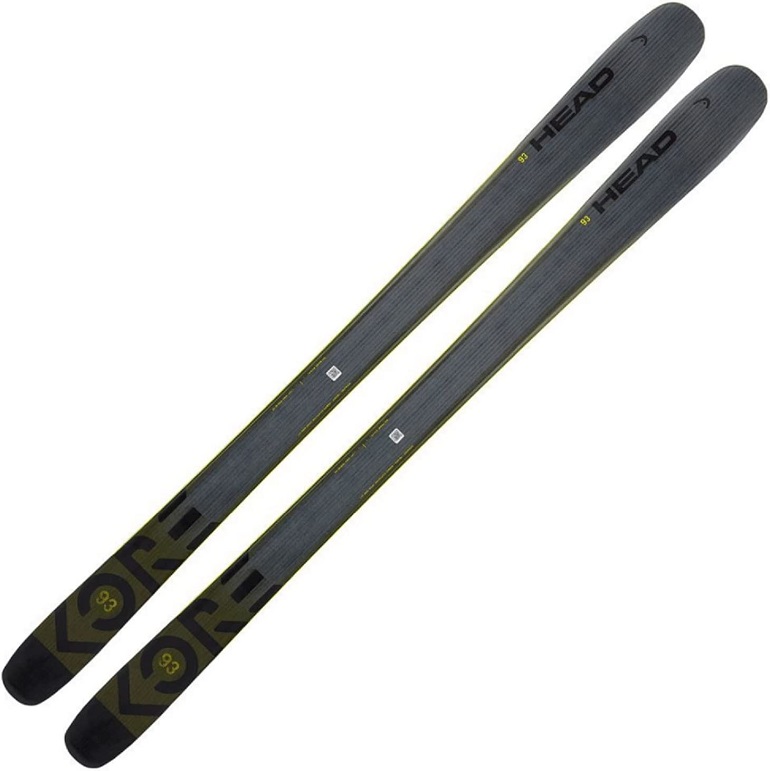 HEAD Unisex Kore 93
The price of "HEAD Unisex Kore 93" varies, so check the latest price at
Again, here are some skis that seem to turn on their own! With this highly technologized pair of all-mountain skis, stability seems to be the keyword, at any speed.
The Elan Ripstick 96 skis provide great flotation and powerful edge grip, turning out to be very playful and versatile on groomed runs.
The Amphibio profile brings extra precision and edge grip to your ride via the cambered inside edge, while the forgiveness and smooth transitions are provided by the rockered outside edge.
The TubeLite Wood Core and the Amphibio Carbon Line technology help create a lightweight structure, while the vapor inserts reduce weight and vibration even more. All these translate into some smooth riding on the slopes.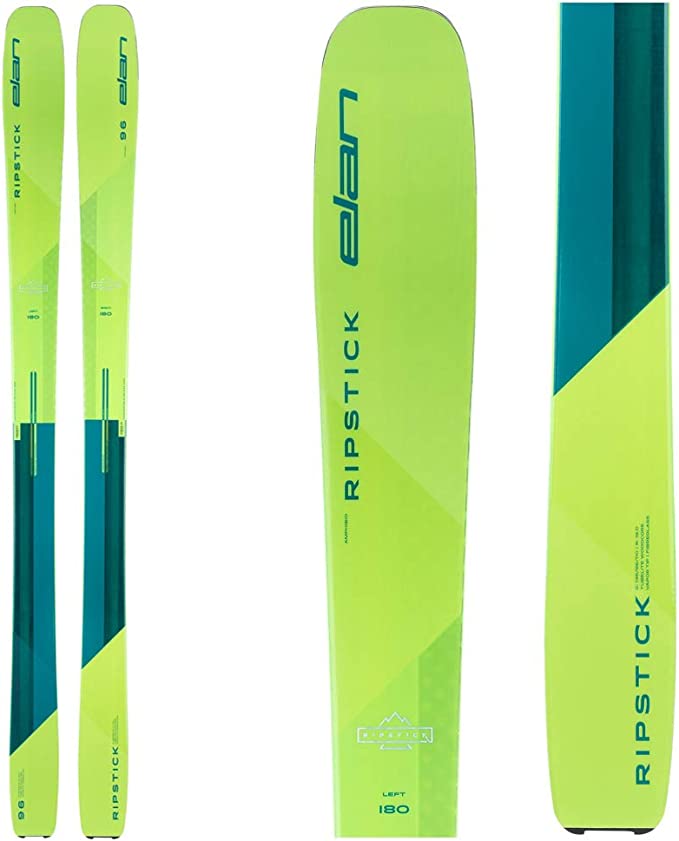 Elan Ripstick 96 Skis
The price of "Elan Ripstick 96 Skis" varies, so check the latest price at
What to Search for in a Good Pair of Skis for Intermediate Riders?
Rule of thumb for the best ski for intermediate skier adventures? Everything should fall in the middle (and we are talking about most skis here and their features).
Materials
Many all-mountain skis are built with a wooden core. However, the latest materials used have helped improve shock absorption, weight, and flexibility, to be enjoyed by all intermediate skiers.
Length
While beginner skis are shorter, the optimal ski's length for intermediate riders should be 12-14 cm shorter than the height of the rider (usually, by measuring up to their nose or chin).
Freeride skis should be longer. Also, if choosing skis with a high Rocker percentage, longer skis should be selected. 
Width
95 mm waist width should work well for intermediate skiers. It is on the lower end of all-mountain freeride skis, which can be used on a multitude of terrain types, floating better on powder.
The skis should be narrow enough to facilitate turns but wide enough to provide comfortable riding in new terrains (wider skis support all-mountain ski rides). 
Weight
Some lightweight skis will help you improve your movements. Models with extremely light weight should be avoided, though. The more confidence you have skiing, the heavier the skis. They will provide more stability riding groomed runs.  
Shape
The shape of the skis is important, especially if – as an intermediate – you've become aware of the type of terrain that you like and your skiing style. Using the technological advances to your benefit will help your progress.
Camber
Look at Camber as the arch built into the ski length. The tip and the tail are the contact points for a Camber design. It is ideal for skiing, groomed runs, and connecting long turns.
A cambered ski is a carving ski. It improves carving and edge control and helps more aggressive skiers progress with improved confidence. A cambered ski is usually a narrower ski.
Rocker
The design of a pure Rocker ski is concave. The contact point is in the middle of the ski, with the tip and the tail of the ski lifting off the ground.
Rocker is more suited for powder (think 'powder ski') and freestyle skiing. These skis are mode adequate for off-piste skiing, as you won't catch an edge easily.
When visiting the ski shop, bear in mind that rockered skis are optimal for more advanced skiers.  
Hybrid
Hybrid Camber/Rocker skis have become quite the rage. They have the Camber shape in the middle section, with tip and tail Rocker.
The percentage of Rocker used will also influence the performance of the rider on certain terrains. They will also help with basic turns and are great for intermediate skiers.
Most powder skis are Rocker, and most carving skis are Camber, so their union could be a happy and profitable match for the skier. While Rocker skis will be great for riding powder and the backcountry, Camber skis are ideal for skiing groomers.
Flexibility
Medium flex is the best option and the sweet spot for intermediate skiers. However, stiffer skis will also go well (think 'freeride'). It will help skiers and open up opportunities for tackling different types of terrain.
Versatility
On-piste, off-piste, trees, moguls, powder, park, choppy snow, soft snow, deep snow, steep terrain… what makes you tick?
If you haven't thought of your preferences yet, as an intermediate rider, you'll want a pair of skis that can tackle all terrain. Versatile skis make all-mountain skiing fun!
At the same time, it should help you improve your skiing technique, and not be too advanced to hurt your technique and make riding unenjoyable.
Durability & price
One of the reasons for buying the right fit of intermediate skis is that they'd be with you for a long time. Skis are not inexpensive. They are quite an investment, made both with your head and your heart.
What is on your mind when contemplating buying a pair of intermediate skis?
As an intermediate skier ready to 'commit' to buying a new pair of skis that would last for more than one season, you'd surely have many questions.
Two of the most important follow. I hope that my answers will provide you with some peace of mind. 
What Size Skis Are for an Intermediate Skier?
If you're looking for a short answer, it's 95 mm waist width.
Let me detail it—all-mountain freeride skis range between 95 and 110 mm waist width. Most all-mountain skis can adapt to all conditions and terrains.
An important note to consider is that freestyle skis are stiffer. On the other hand, they are wider and float better on powder, that is, we are dealing with a dedicated powder ski.
What kind of a skier are you and which is your favorite 'playground'? 
Are Shorter Skis Better for Intermediate Riders?
Shorter skis are easier to turn but less stable at higher speeds, while the opposite applies to longer skis. You've guessed! They're harder to turn but more stable at higher speeds.
Short skis are a great choice for beginner skiers, as they help initiate turns more easily. But you're past that; you've learned the techniques and you've mastered them.
In the end, the choice is yours. Ask yourself a clarifying question if still in doubt: 'What counts more – turning made easy or stability when speeding?'. Would all intermediate skiers reply the same way?
 
Are You up for Riding That New Pair of Skis for Intermediate Skiers?
Have you found your line as far as intermediate skiing is concerned? Are you willing to sacrifice something or do you want it all from the best intermediate skis out there? Is there one ski pair to check all your boxes?
Quality, the ultimate size for you, the most lightweight and durable materials to help you progress while you gather kilometers on the slope… and the list can go on.
What about shape? Are you looking for a cambered profile? Does Rocker fit you better? Or would a hybrid make riding most enjoyable for you and your intermediate skier friends? (You know how the story goes and how these questions lead to other questions, which follow.)
Do you like to ski aggressively or do you enjoy playing in powder more? Are you in need of a more forgiving pair of skis or some powder skis are the ones on your wishlist?
How do you feel about medium flexibility or do you enjoy stiffer skis for guaranteed fun on a freeriding session or a backcountry adventure? Maybe even deep snow?
What is your budget? Are you willing to spend more money on own skis but are aware at the same time that those skis are going to accompany you adventure after adventure many years from now?
There is no successful recipe for the best/perfect skis for intermediate skiers, but you can take what you find most appropriate from all descriptions and features, gather the pieces and information, and create your perfect pair of skis for intermediate skiing on the whole mountain in your mind.