Don't Let Your Hard Work Go to Waste
It takes a lot of work to get yourself into snowboarding. You wait for the right moment of the year. Days ticking away, and calendar pages are being turned. After several fortnights, the time has arrived.
You pick out a pair of snowboard bindings and purchase a snowboard, dropping several hundred dollars for both. Online, in between procrastination and random internet browsing, you purchase a lift ticket.
Finally, you drive to the resort and wade through the crowd. Making your way to the lift, ferrying you to the top of the mountain.
The Realization
At the mountain's peak, you sit down on the snow so that you can starp your lightest snowboarding boots into gear. That's when you realize the cold hard truth.
Your jacket's backside isn't longer than the front. Your jacket also lacks a powder skirt. Nothing to protect you from directly sitting on the ground. Ice cold needles pelt your backside before a wet wave begins to seep into your pants.
No, you didn't wet yourself, it's the snow.
You stand up and attempt to put on your jacket hood, but you can't. Your regular jacket doesn't have a helmet-compatible hood or an adjustable hood. Trying to push past it all, you begin to ride.
As you do so, you get colder. The combination of wet snow being absorbed by your cotton clothing and your own body's moisture proves too much for you to handle. Your day comes to an early and miserable end.
A snowboard jacket could have saved you. A snowboard jacket with a waterproof shell could have stopped any liquid absorption. With vents to let out excess moisture and with an adjustable hood for your helmet.
So much potential, time, and money thrown away. Don't sacrifice all of your efforts. Purchase a snowboard jacket and reap the rewards.
Best Quality Overall
Burton AK 2L GORE-TEX Cyclic
Hood type:fixed hood
Material:polyster
Best Women's Overall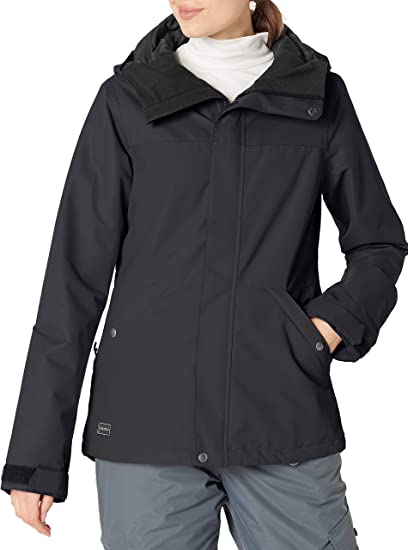 Volcom Bolt Insulated
Hood type:fixed hood
Material:polyster
Excellent Lining And Membrane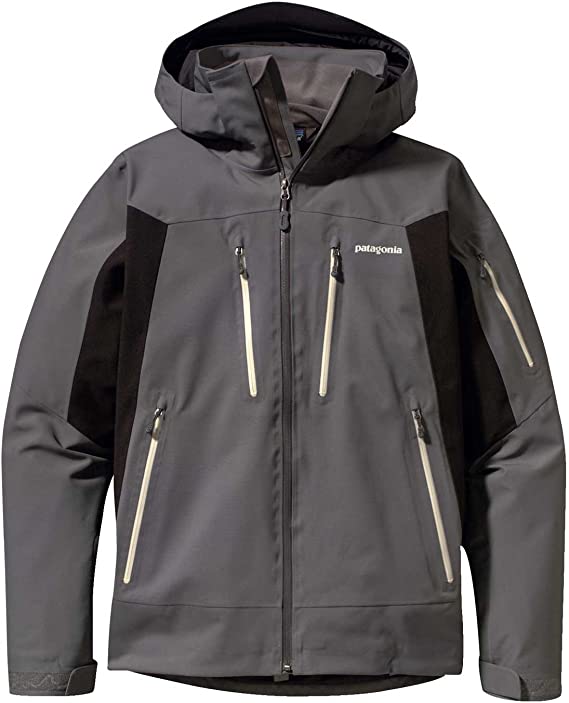 Patagonia Powder Bowl
Hood type:fixed hood
Material:GORE-TEX,POLYSTER
Best Women's Budget Jacket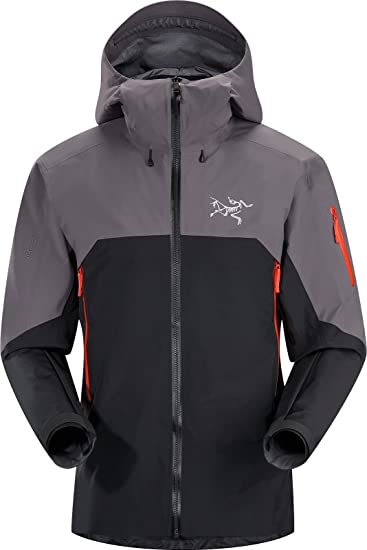 Arc'teryx Rush GORE-TEX Jacket
Hood type:FIXED HOOD
Material:GORE-TEX
Best Insulated Option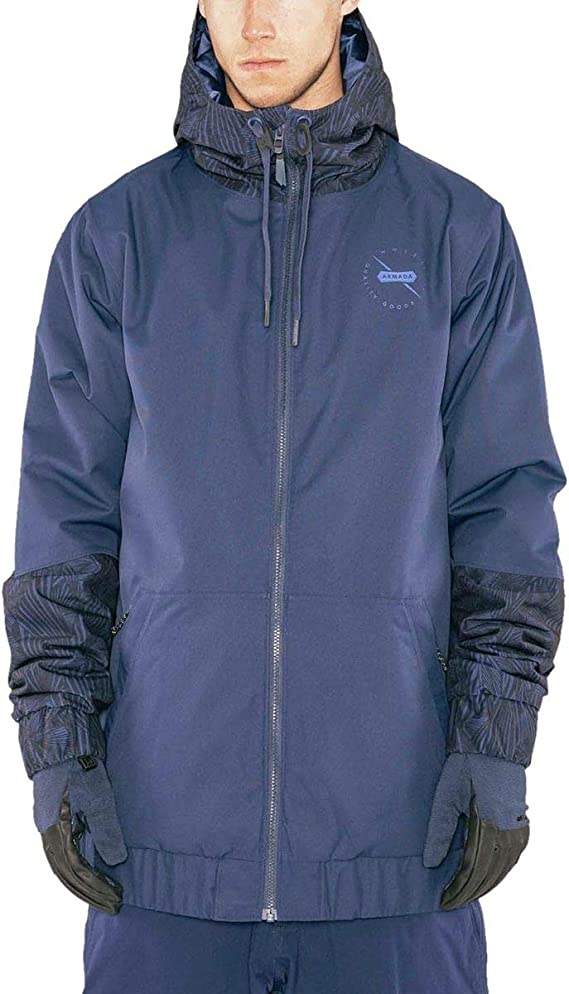 Armada Baxter
Hood type:FIXED HOOD
Material:POLYSTER
Best Range of Features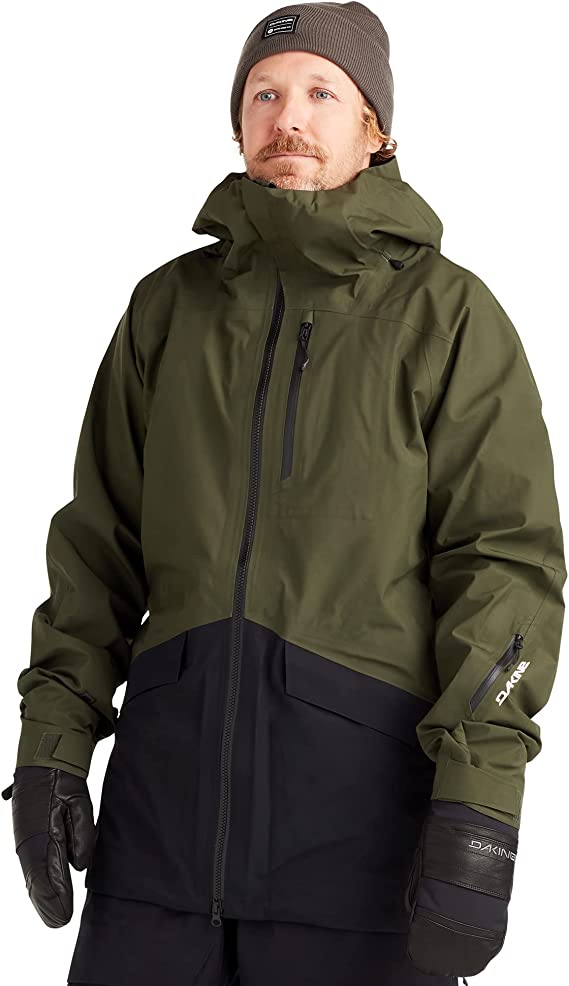 Dakine Stoker Gore-Tex 3L
Hood type:FIXED HOOD
Material:RECYCLED POLYSTER
Best For Storage Pockets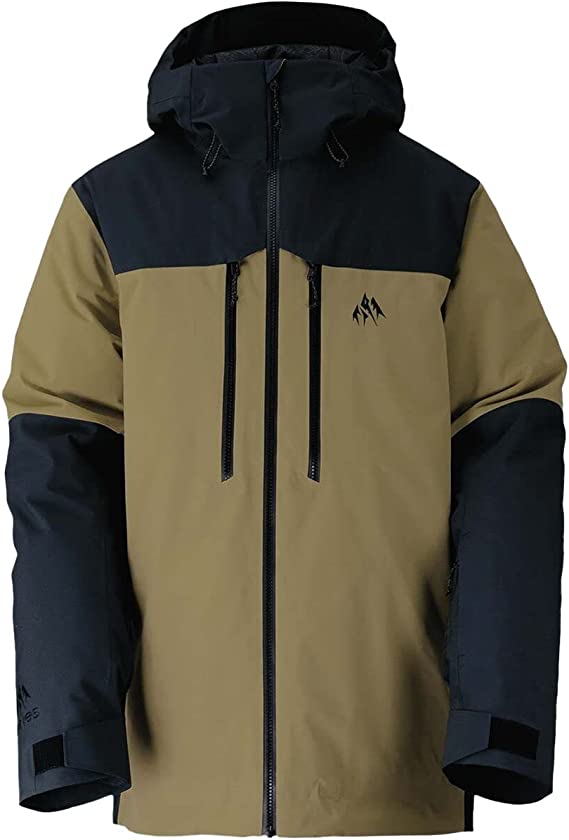 Jones Mountain Surf Parka
Hood type:fixed hood
Material:Recycled polyster
For Both Men & Women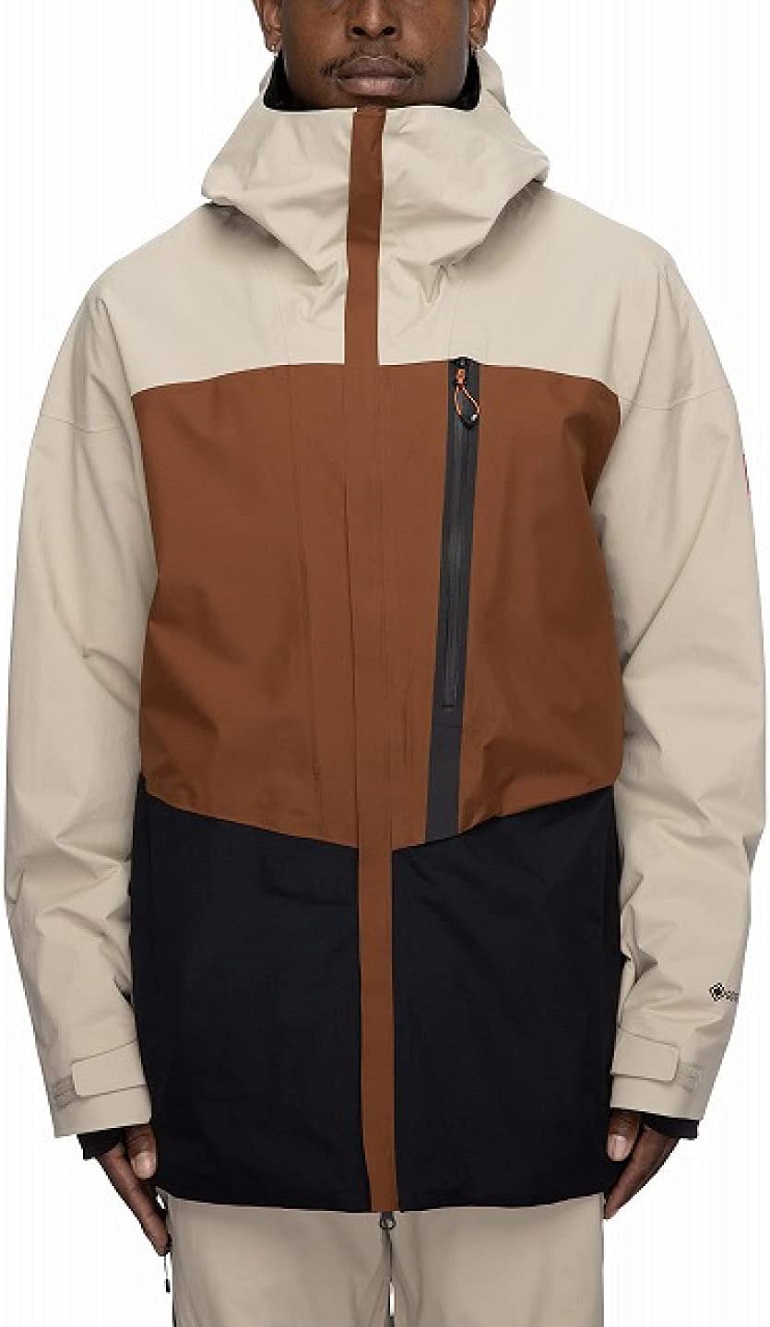 686 GLCR GORE-TEX Jacket
Hood type:fixed hood
Material:nylon,polyster
Loaded with features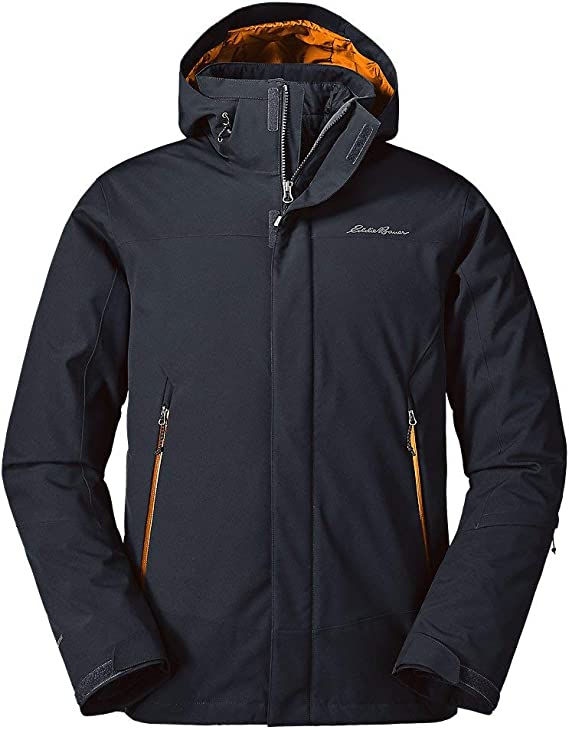 Eddie Bauer Powder Search 3-in-1 Jacket
Hood type:fixed hood
Material:gore-tex
Great Quality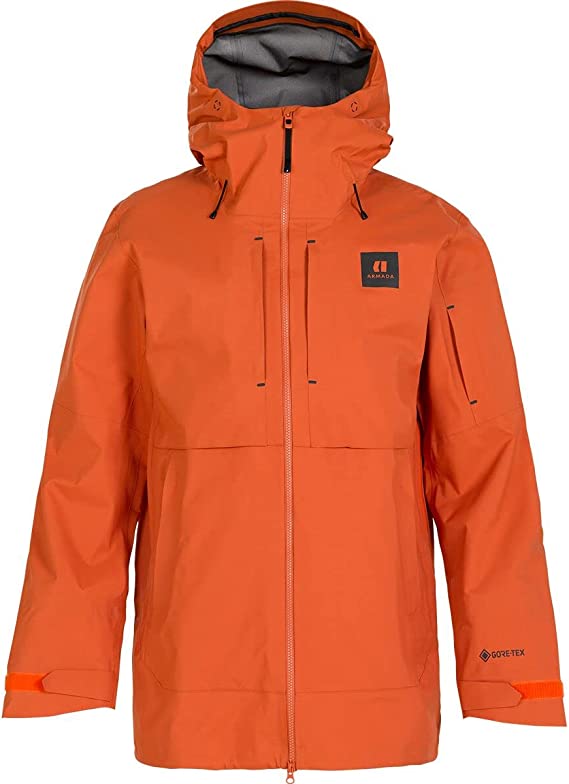 Armada Haydon 3L Gore-Tex
Hood type:fixed hood
Material:GORE-TEX
Best Snowboard Jackets – Top 10 Picks
From synthetic insulation to powder skirts and pit zips. Who knew that snowboarding jackets could differ so much? Below we have assembled the all-star lineup for the 2022/2023 snowboarding season.
Keep in mind that these jackets differ greatly in form and functionality. Some weigh more than others as a result of their multi-layered design. If you are a rider that doesn't care for insulation and doesn't want to be weighed down, then the aforementioned is not your best bet.
For those that want to get their money's worth in use and duration, any multi-layered jacket (especially with gore-tex layering) should be your first choice.
No matter your style, we've got it all!
And if you are searching for the right bindings or all-around snowboards to pair up, then click the provided links.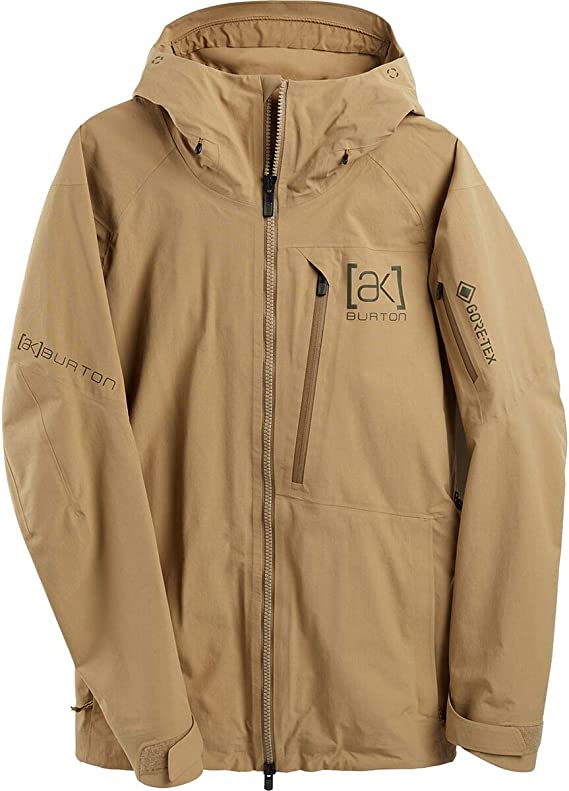 In pole position is a jacket from a company that should be no stranger to snowboarders around the world.
Burton's AK line has managed to create a jacket that not only has a face fabric constructed from 2 layers but a membrane that is also composed of duo layers. Setting up four walls of defense against the elements.
Defense of the Rider
Depending on which colorway option you choose, you'll be getting a different kind of face fabric. The Forest Night, Mountaineer, and Maui Sunset colorways come with a duo layer of Dobby fabric. This fabric is ideal for cold temperatures.
Other color options will have a 2-layer Plain Weave fabric. Plain weave fabrics are less absorbent than other competing fabrics. So either way, you will be getting a quality face fabric.
Underneath this layer, stands a 2l gore-tex membrane that has been bonded only to the outer fabric. But why? The reason is that this allows the separate lining inside to be only optimized for versatility and rider comfort.
The Burton AK 2L GORE-TEX Cyclic has all the minor features of the rest but based on the snow-stopping performance of its face fabric and gore-tex membrane, no one else can compete.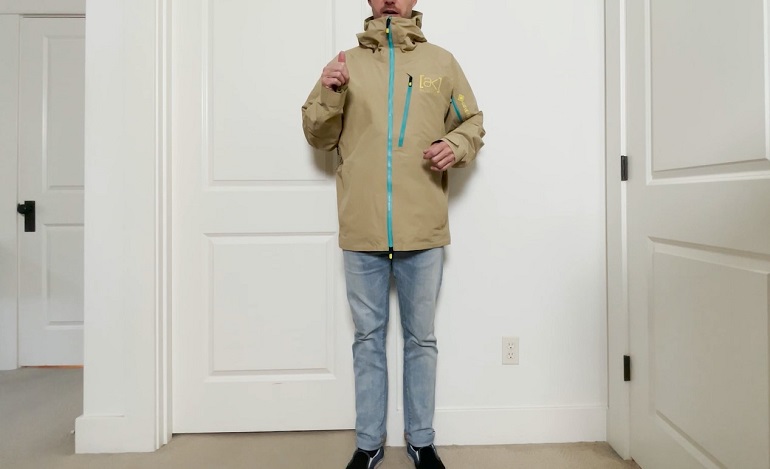 Features
Fit: Regular
Length: Hip length
Waterproof rating: 28,000
Breathability rating: 20,000
Powder Skirt: Removable
Insulation: No insulation
Warranty: Limited lifetime
Pros
StormForm Fulltime Contour™ Hood fits well over helmets and integrates with goggles. Allows space for a balaclava.
Fully taped seams for zero intrusion from water.
Zippered chest pockets for easy access.
Cons
The fixed hood does not allow for adjustments.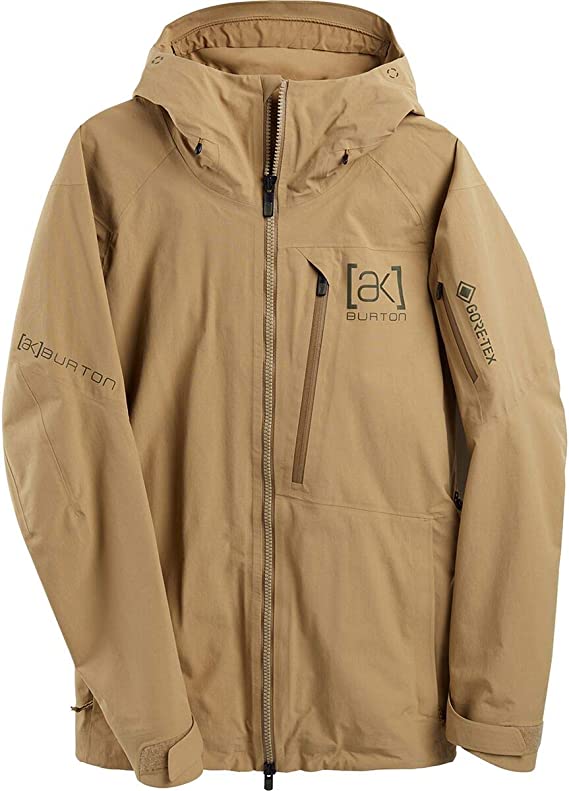 Burton AK 2L GORE-TEX Cyclic
The price of "Burton AK 2L GORE-TEX Cyclic" varies, so check the latest price at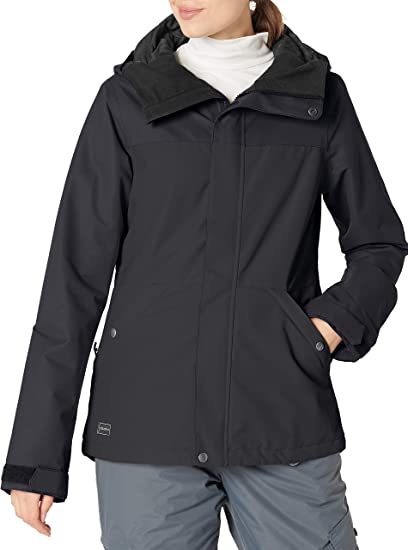 Volcom and their dedication to creating pants and jackets that link up effortlessly always leave me impressed.
This wonderful Zip Tech interface marks its return here, but there is more to the Bolt Insulated than just being able to connect with every Volcom pants on the market.
Science is Elegance, V-Science more so
The face fabric and the membrane are both imbued with the power of V-Science. V-Science gives the waterproof membrane the ability to breathe. (Who said we needed gore-tex? ) Bringing to life the structure so that it can dump out any excess heat.
This is a feature that you will need because as the name would suggest, the Bolt is insulated. Packed with 80g insulation on the body and 60g insulation for each sleeve.
You are going to be nice and toasty on the slopes and with a membrane that'll flush out the excess moisture.
Covered at both ends.
The slim fit of the Bolt keeps you looking great while not compromising your flexibility. Many would doubt the protection of slim-fit gear, but with insulation and polyester material used throughout its structure, you'll stay warm and dry.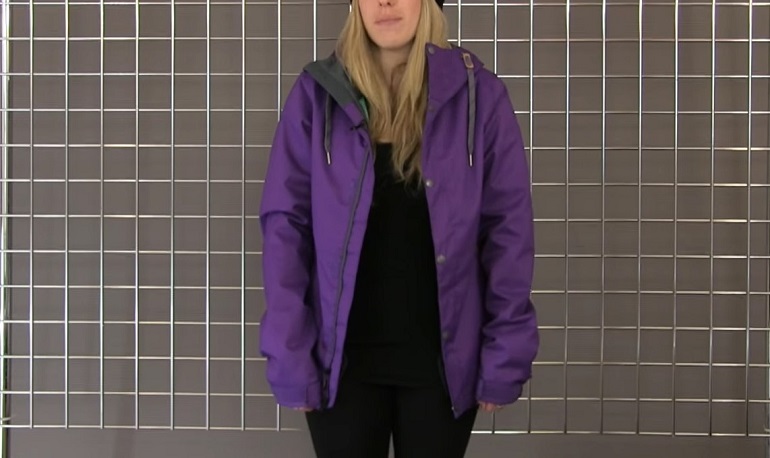 Features
Fit: Slim
Length: Hip-length
Waterproof rating: 10,000
Breathability rating: 5,000
Powder Skirt: Yes
Insulation: Synthetic
Warranty: 2 years
Pros
The lining system is backed by V-Science. Very breathable material.
The EQS Fit makes for a lighter-weight jacket that isn't baggy.
Chin guard prevents chafing on your face.
Cons
The hip-length may prove too short for riders that sit on the snow to strap in.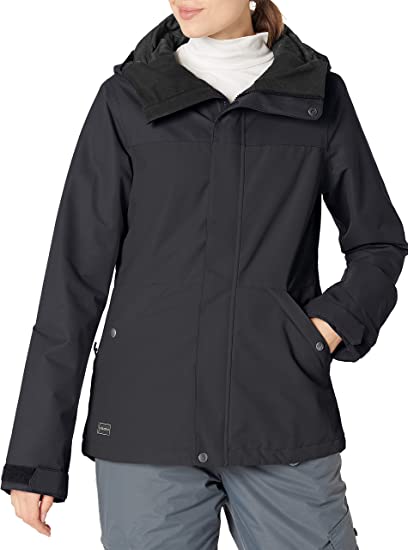 Volcom Bolt Insulated
The price of "Volcom Bolt Insulated" varies, so check the latest price at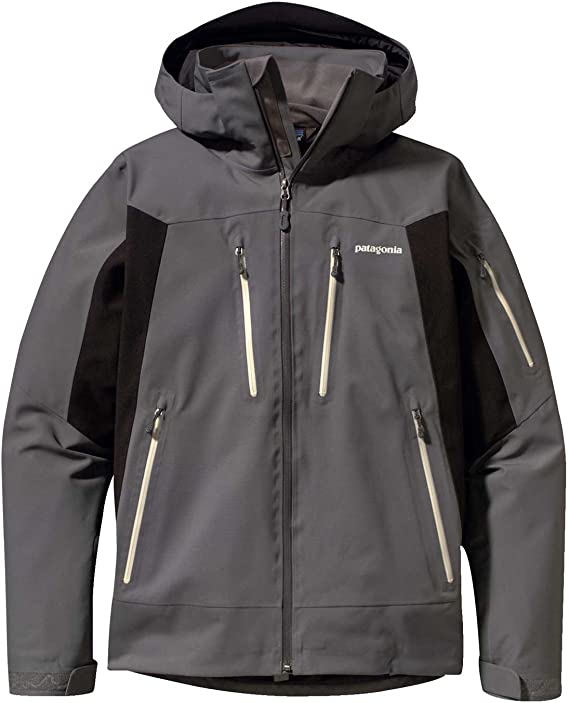 Powder Bowl, now that is a fun name to say, but this Patagonia offering means business. Backed upfront with bomber gore-tex weather guard and with sturdy construction to boot.
Patagonia doesn't just want you to use the Powder Bowl, they want you to run it into the ground. When the dust has settled, you'll see that it is still in mint condition.
Lined with quality
The lining material for the Powder Bowl is split into two sections. The sleeves are lined with 100% polyester mesh. A material that is strong and lightweight while still being quick to dry.
The other half of the equation (the torso section) is lined with brushed polyester mesh. All of the benefits that the sleeves have, so does the torso, but this polyester is brushed. Brushed polyester has four-way stretch capabilities, being able to stretch horizontally more so than vertically.
The membrane has an astoundingly thin layer of expanded polytetrafluoroethylene. Now, what in God's name is that?
A material that has over 9 billion pores per square inch! Yeah, you heard me right, 9 billion. Water vapor gets out, but nothing gets in.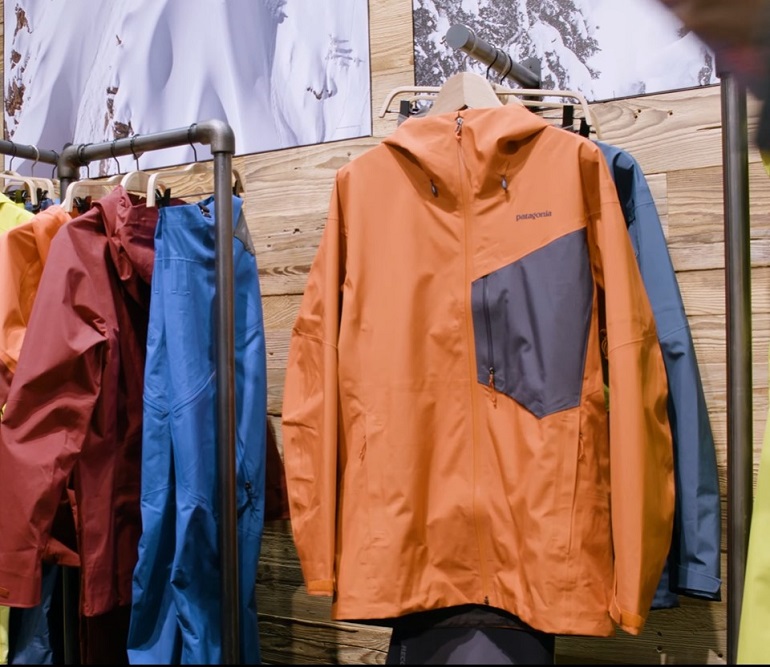 Features
Fit: Regular
Length: Hip-length
Waterproof rating: 28,000
Breathability rating: 20,000
Powder Skirt: Yes
Insulation: No insulation
Warranty: Limited lifetime
Pros
Waterproof zippers that reduce weight and bulk.
Overall weight and bulk are reduced due to the slim fit design of several jacket features.
Pit zips for fast and efficient release of heat.
Cons
This Patagonia jacket may have a tighter fit than some are used to, but there is still enough room underneath for additional jackets.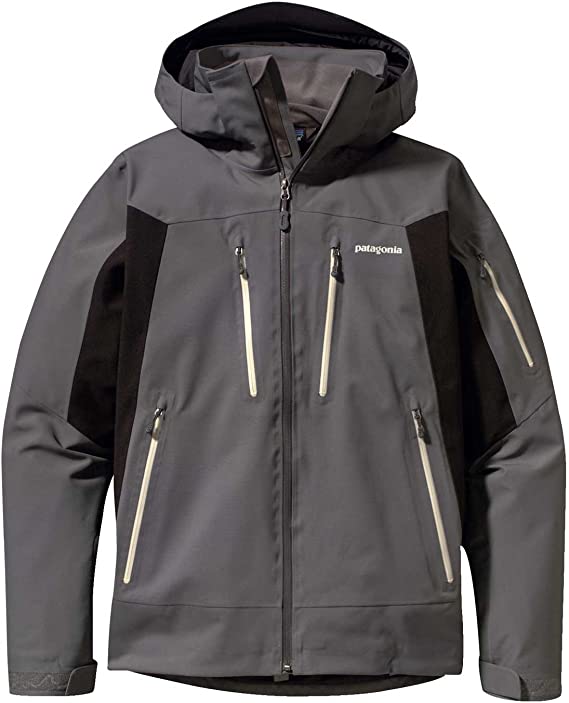 Patagonia Powder Bowl
The price of "Patagonia Powder Bowl" varies, so check the latest price at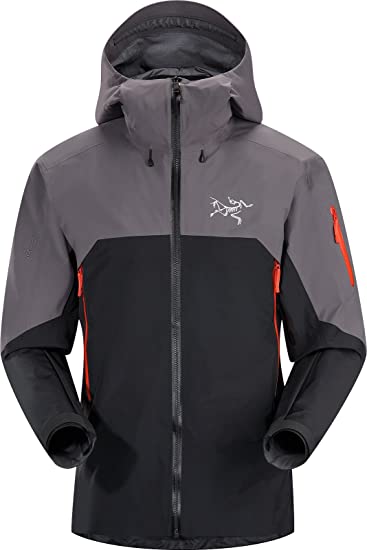 Not everyone is made of money, and we get that. This is why we were sure to include the Arc'teryx Rush GORE-TEX Jacket because it won't kill your wallet, but it will kill any chance of the snow conditions getting to you.
It's a murderer but the good kind.
DWR coated for your convenience
The outer shell of this jacket has been made with gore-tex pro. Things are getting serious. Gore-tex pro caps the areas of your body that exert the most heat and moisture with a breathable shell.
This targeted release of those unwanted elements keeps you comfortable throughout the duration of your ride. It also remains durable and waterproof so that you have some level of protection from the heat and cold.
The 3l gore-tex pro uses a multi-layer membrane that is bonded with the outer shell while backed with a robust inner lining.
This inner lining gives you the comfort to tackle the winter season without a misstep. With adjustable pit zips and an adjustable hem, if the standard design isn't enough, you can tinker away for your own version of perfect.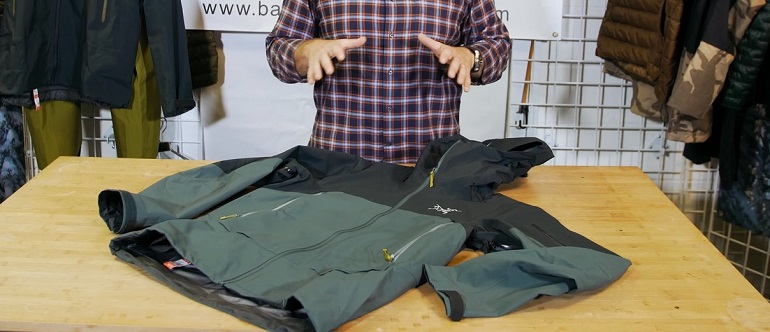 Features
Fit: Regular
Length: Hip-length
Waterproof rating: 28,000
Breathability rating: 25,000
Powder Skirt: Yes
Insulation: No insulation
Warranty: Limited lifetime
Pros
The Storm hood is a helmet-compatible hood that gives you full weather protection.
Waterproof zippers (pit zips) are located on your pits for ventilation and protection.
An internal mesh pocket for storage.
Cons
Special care is required when washing and drying this jacket.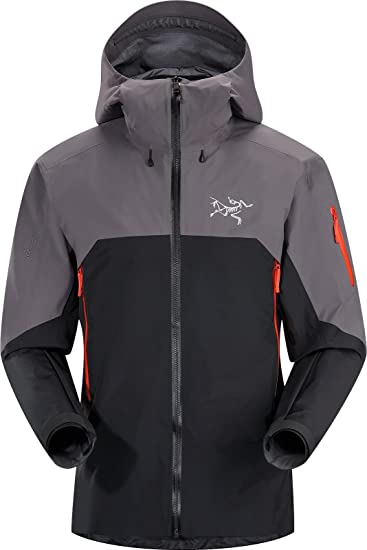 Arc'teryx Rush GORE-TEX Jacket
The price of "Arc'teryx Rush GORE-TEX Jacket" varies, so check the latest price at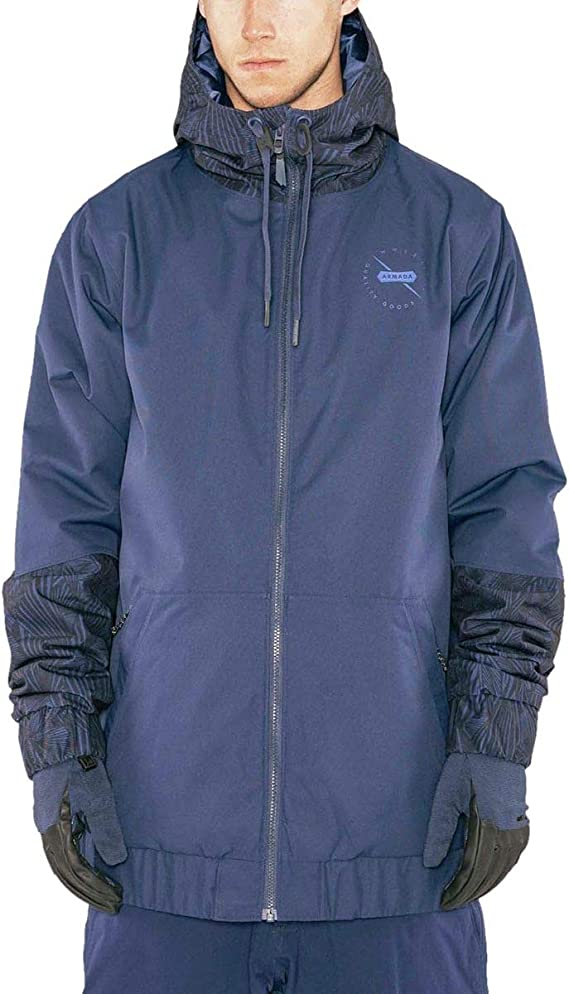 Last I checked, this bad boy was on sale. So head on over and check it out before you miss your opportunity to purchase one of the best insulated jackets on this list.
Resort riders (like you!) are sure to love its helmet-compatible hood and seams that have been fully taped.
Warm and tailored
Special attention was placed on the fit of this jacket. It's got a moderate tailored fit which means that when it comes to width and length, it has a regular fit.
Although some tailoring has been made in order to slim down the jacket with 2 inches added in length(on the back).
The insulation for the torso is top quality with 80g polyfill insulation. The sleeves and the hood have 60g insulation of the same material. Now I don't see how the winter chill could ever reach you through such packed protection.
The face fabric is made from 100% polyester, and it has been coated with DWR. Polyester alone was enough to handle the water, but with the DWR coating, you've got a fully sealed surface.
This is the option for the harshest conditions.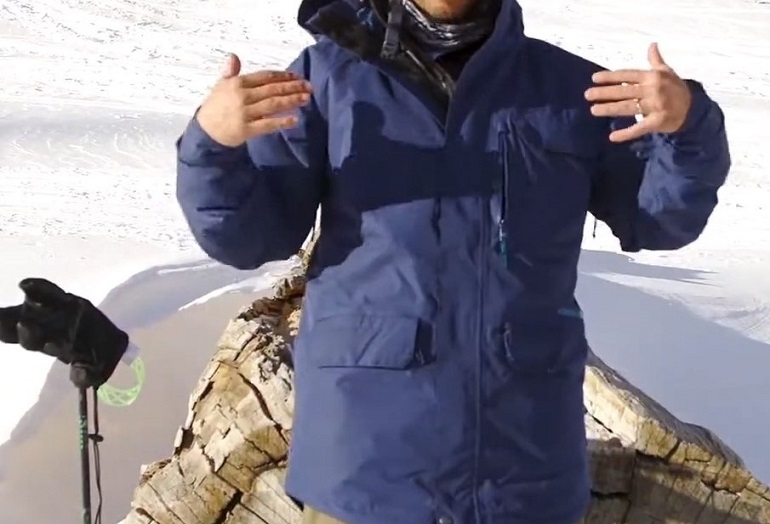 Features
Fit: Regular
Length: Hip-length
Waterproof rating: 10,000
Breathability rating: 10,000
Powder Skirt: No
Insulation: Synthetic
Warranty: 3 years
Pros
Two-layer construction makes for great durability and breathability.
Great full warranty for three years.
A performance-focused fit adorns the entire jacket.
Cons
You'll receive a better waterproof rating and breathability ratings from previous entries on the list. But not all regions require higher ratings.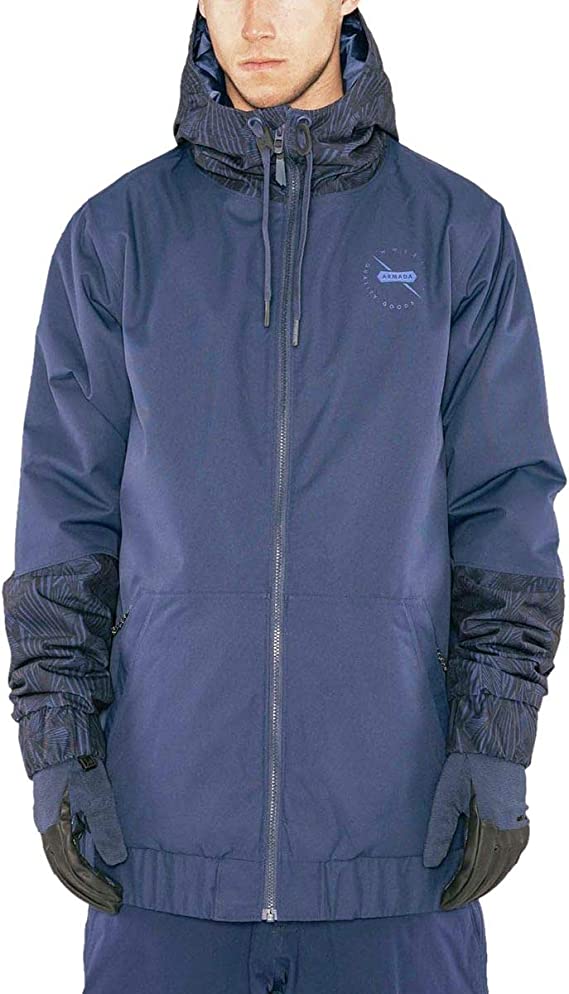 Armada Baxter
The price of "Armada Baxter" varies, so check the latest price at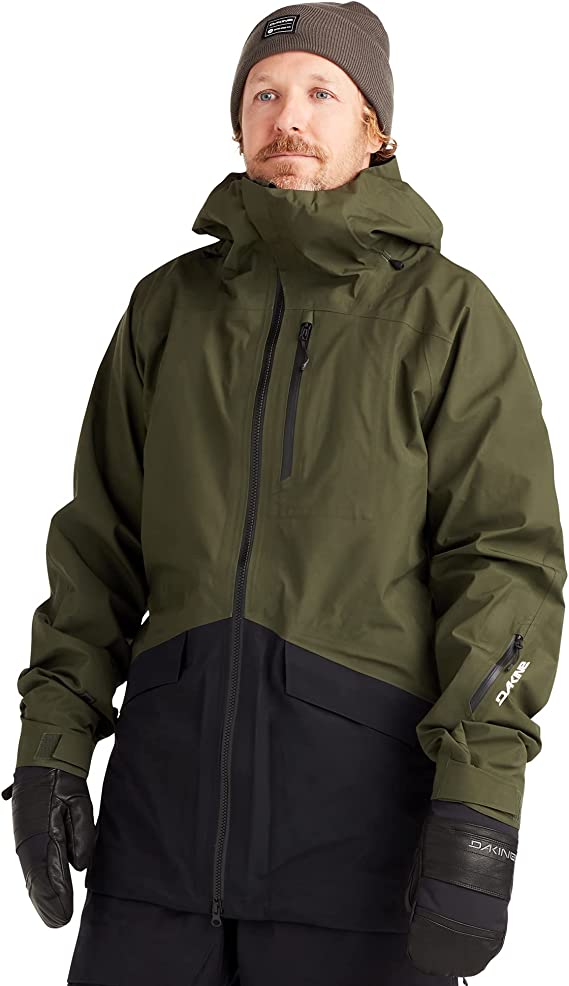 Dakine said "To hell with modesty!" when naming this jacket. You see it right there in the title, 3-layer gore-tex.
Gore-tex fabric is the best waterproof and breathable material that you can include in any bit of clothing, but that wasn't enough for Daking because they stuffed three layers of golden material into the Stoker.
Past the three layers
We can sit and chat about the 3-layer gore-tex that makes up the membrane of this best snowboarding jacket until the cows come home. But you probably already know about its benefits.
Instead, let's talk about the drop tail that lets you safely sit on the snow without any issues. Strapping in and out is so much easier when done this way. This jacket has a two-way adjustable fixed hood and a pass pocket located on your sleeve.
Chest and pit zips with aqua-guard zippers and stretch-wrist gaiters that fend off the wind from running a current up your arm work in tandem to get you comfortable and focused.
For its waterproofing and breathability, a polyester face fabric rests atop that much coveted 3l gore-tex fabric. All of this greatness secured in place by seams that are fully taped.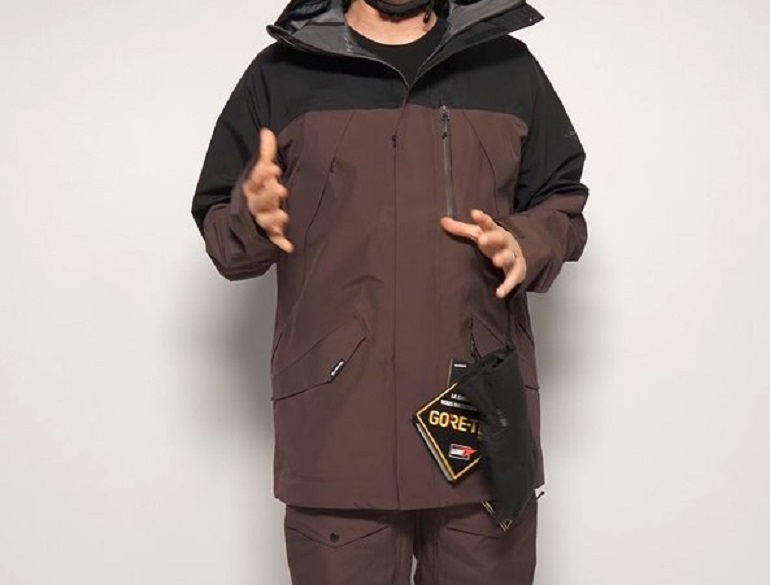 Features
Fit: Regular
Length: Hip-length
Waterproof rating: 28,000
Breathability rating: 20,000
Powder Skirt: Yes
Insulation: No insulation
Warranty: 2 years
Pros
Face fabric is made from one hundred percent recycled polyester.
Drop tail fit keeps your backside safe from the cold pow.
Solid waterproofing technology lines every zipper on the jacket.
Cons
No jacket-to-pants connection is available.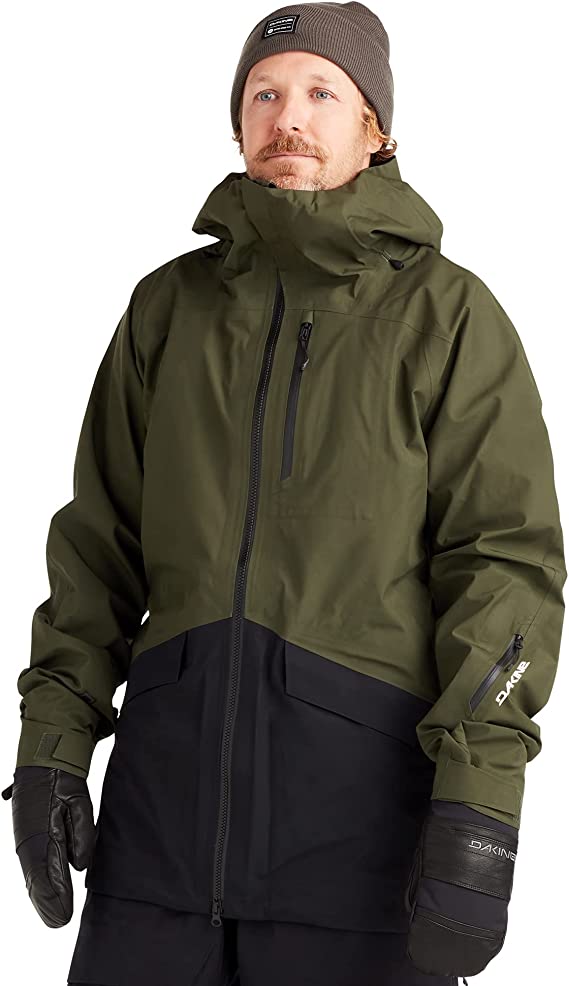 Dakine Stoker Gore-Tex 3L
The price of "Dakine Stoker Gore-Tex 3L" varies, so check the latest price at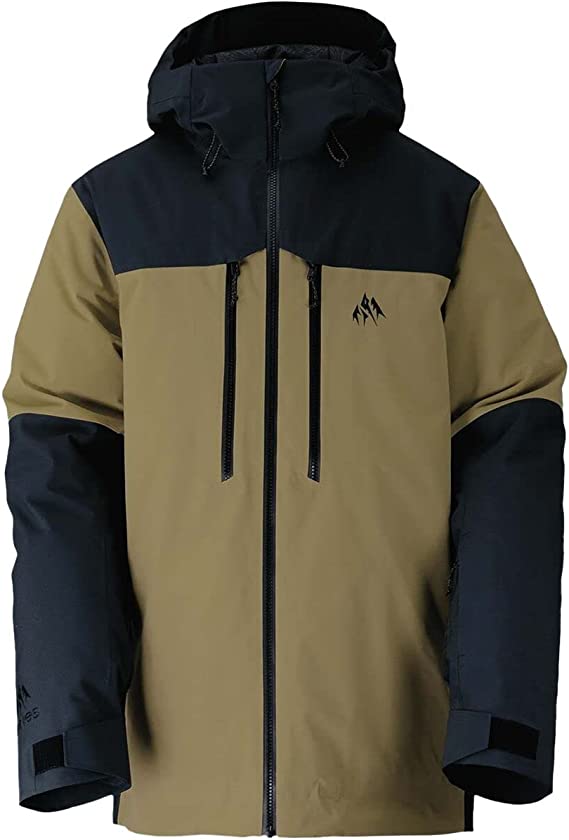 Built for the varied terrain of the mountain with an even more varied mix of different materials. We'll get to the exact breakdown of this jacket in a minute but first, let me showcase its largesse in design.
Around nine pockets are spread throughout this jacket! Nine! Somehow that sounds more than the 9 billion pores of the Patagonia Powder Bowl's membrane.
The pockets and face fabric
Two zippered pockets are located near the bottom and on the sides of the jacket. One for each hand. There is a chest pocket on the inside of the jacket and then two external chest pockets.
On your forearm, there is a pocket, this one is for your pass. Then on the inside of the jacket, there are two large drop pockets and a minimalist phone pocket.
How on Earth can so many pockets fit onto the Jones Mountain Surf Parka?
It's a much easier task to accomplish when the jacket's length extends to your thighs. Like this one does. The outside face fabric of the jacket is a calculated mix of recycled polyester and 4-way stretch polyester with 75D mechanical stretch.
My favorite jacket on this list and the one that I would personally recommend to anyone I know.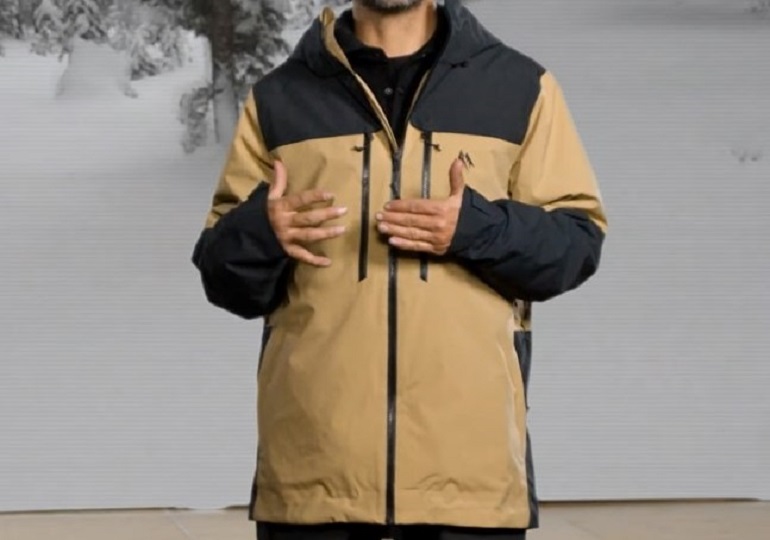 Features
Fit: Regular
Length: Thigh-length
Waterproof rating: 20,000
Breathability rating: 20,000
Powder Skirt: Yes
Insulation: PrimaLoft insulation
Warranty: Limited lifetime
Pros
Excellent length for protecting your body from cold temperatures. Easy to stay warm in this jacket.
Fully taped seams further enhance this jacket's waterproof capabilities.
The lining material is made from 100% recycled polyester.
Cons
I believe the length to be a great feature, but some riders may find it cumbersome.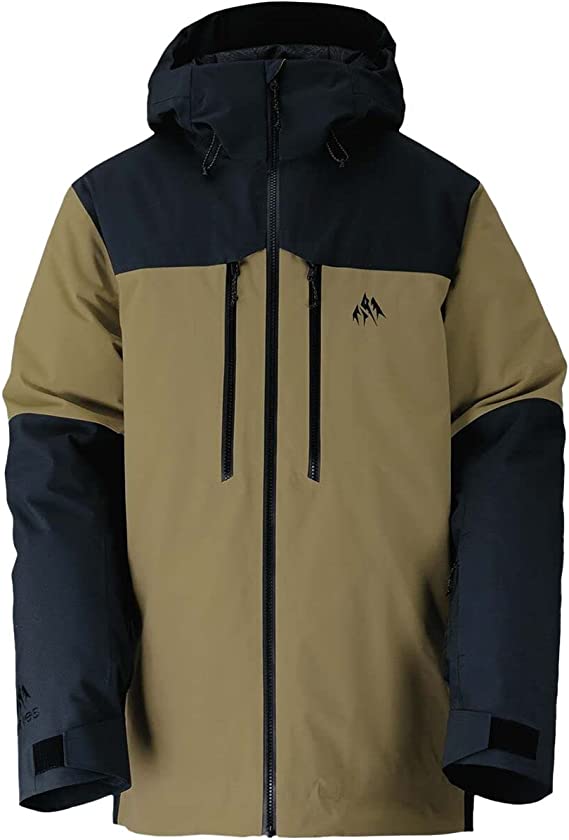 Jones Mountain Surf Parka
The price of "Jones Mountain Surf Parka" varies, so check the latest price at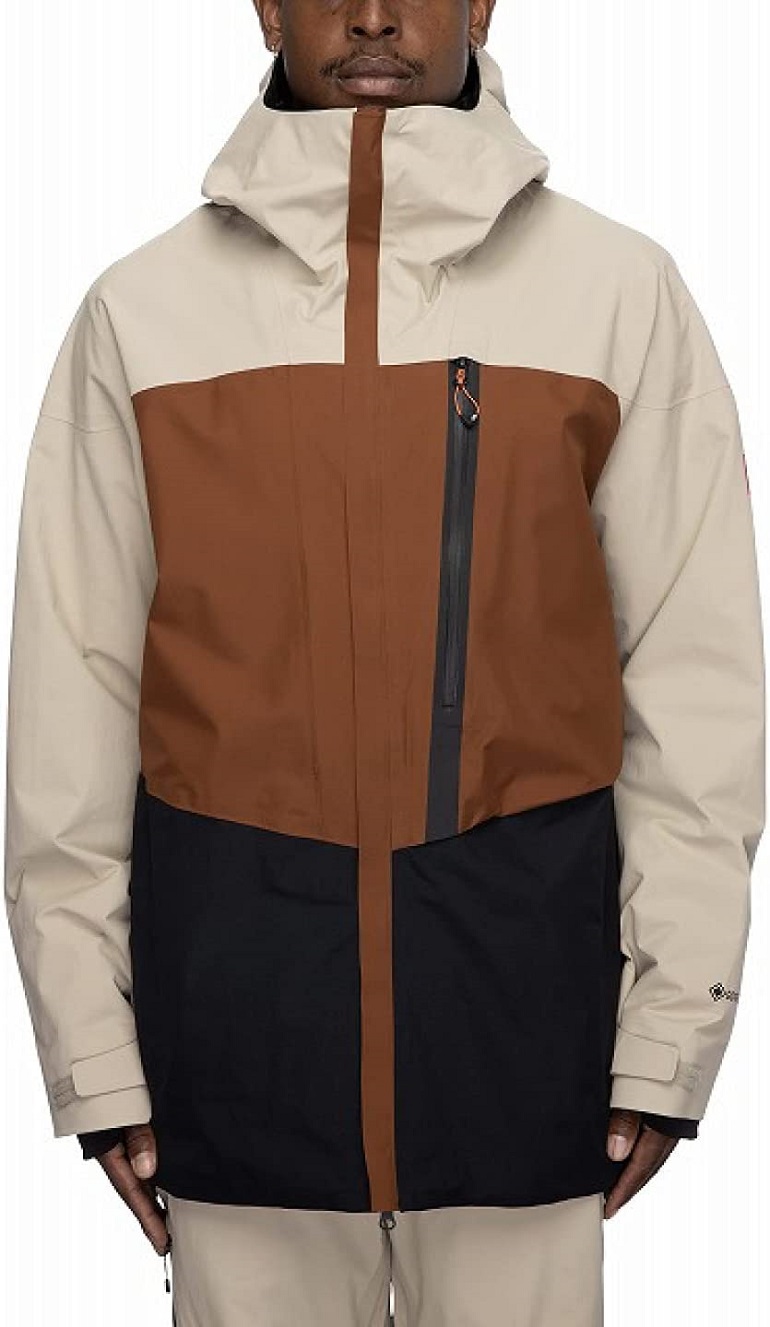 Alright, the name of this jacket is abysmal but don't let it dissuade you from an otherwise great product that can be used by both men and women.
The 686 GLCR likes to keep it simple with a 2-layer face fabric with gore-tex nylon and DWR coating on top. The further we dive into the specifications here, the more we realize that keeping things practical was the intended goal.
If only they had this mentality when naming the poor jacket.
Hood links, chest vents, and a particular fit
The 686 GLCR wants to stay out of your way unless you truly need it. This is why a proprietary clip has been added to the one-cinch hood adjuster, and a single loop exists within the hood itself.
This allows you to roll up your jacket into a tight package that can be easily stored and handled. Air-Flo chest vents exist to push water vapor outward from the areas that create and trap the most heat.
To top it all off, a curved articulation fit has been added to the areas where your elbows and knees are so that your movement isn't hindered in the slightest.
Great and practical design.
Features
Fit: Regular
Length: Hip-length
Waterproof rating: 28,000
Breathability rating: 20,000
Powder Skirt: Yes
Insulation: No insulation
Warranty: Limited lifetime
Pros
Fantastic waterproof rating of 28,000. Perfect for wetter regions like the Pacific North-West.
A great blend of gore-tex, nylon, and polyester for this jacket's construction.
Lengthy warranty of limited lifetime.
Cons
Only available in generic small, medium, and large sizes.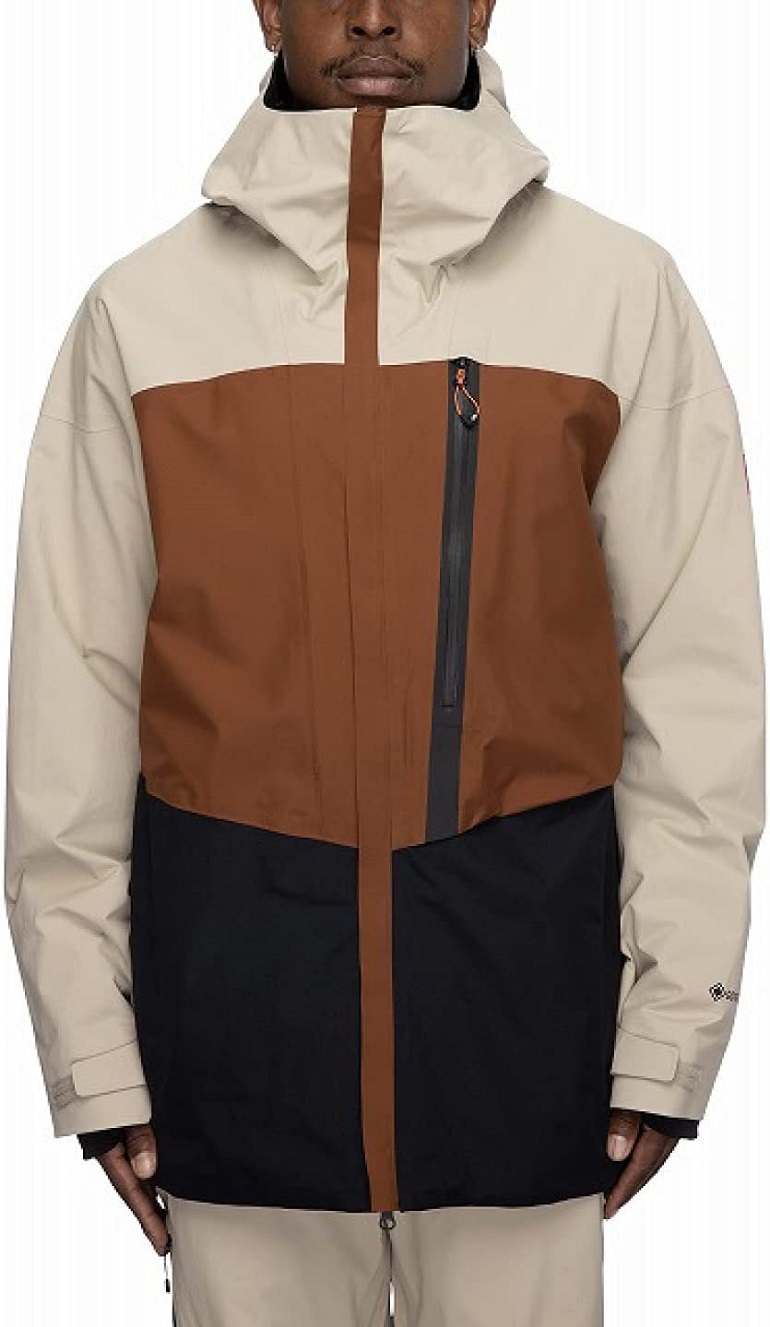 686 GLCR GORE-TEX Jacket
The price of "686 GLCR GORE-TEX Jacket" varies, so check the latest price at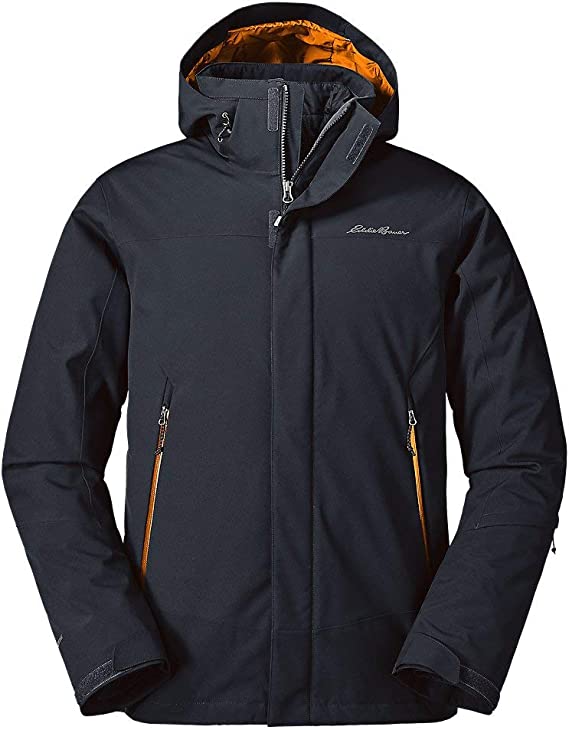 This 3-in-1 special has more than just seams that have been fully taped. It offers a breathable shell that has solid water protection and an integrated liner to zip into.
Use both the shell and liner or just one, depending on your temperature. Great ready to learn more about this Swiss-army blade of a jacket.
The true Shell jackets
Everything about the 3-in-1 can be adjusted. From the detachable helmet hood to the removable powder skirt. This is the jacket for riding your way. The cuffs, hem, and venting can all be adjusted through the use of zippers or a similar mechanism.
Throughout the jacket, you will find five pockets, one specially made for your resort pass. Itching to stay nice and warm? You can with this Eddie Bauer classic thanks to the RDS-certified 650-fill insulation.
Touched off with waterproof zippers and available in a taller option if you want full-body protection.
This is yet another stand-out among the best snowboard jackets of 2022. The amount of customization here lets these jackets evolve with you.
Snowboarding fits that truly feels dynamic and alive.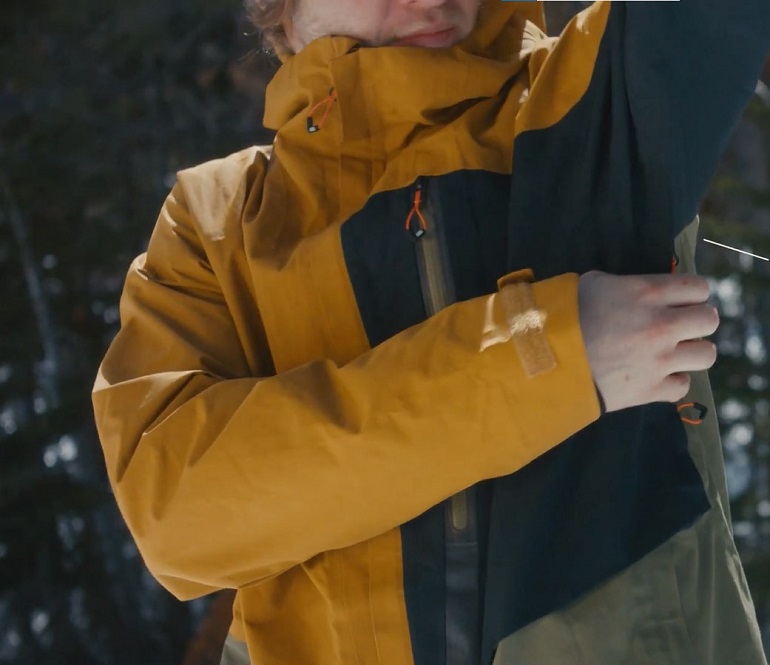 Features
Fit: Universal
Length: Hip-length
Waterproof rating: 10,000
Breathability rating: 10,000
Powder Skirt: Removable powder skirt
Insulation: 650 fill-down insulation
Pros
Adjustable draw-cord helps you adjust the fit around the waist. Adjustable cuffs are also included.
The zip-in premium down liner can be used for adjustable warmth.
Universal fit is sure to be compatible with riders of all sizes.
Cons
Due to the high number of pockets and seams that are fully taped, this jacket weighs more than most jackets.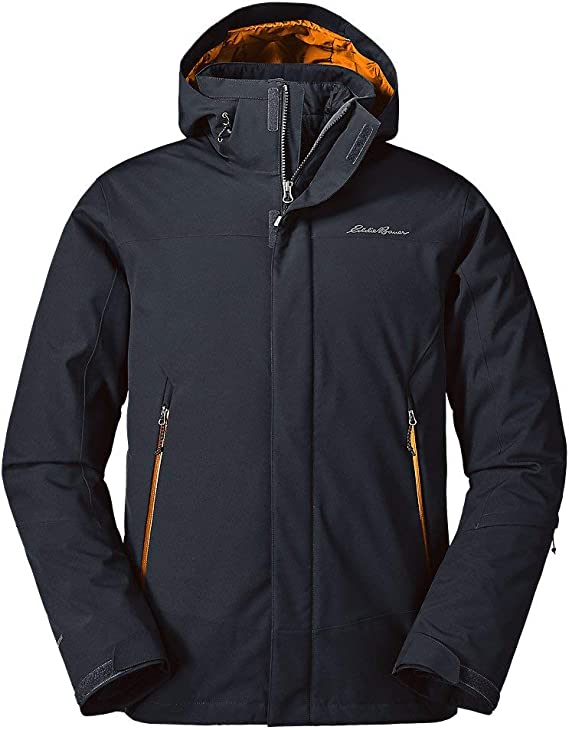 Eddie Bauer Powder Search 3-in-1 Jacket
The price of "Eddie Bauer Powder Search 3-in-1 Jacket " varies, so check the latest price at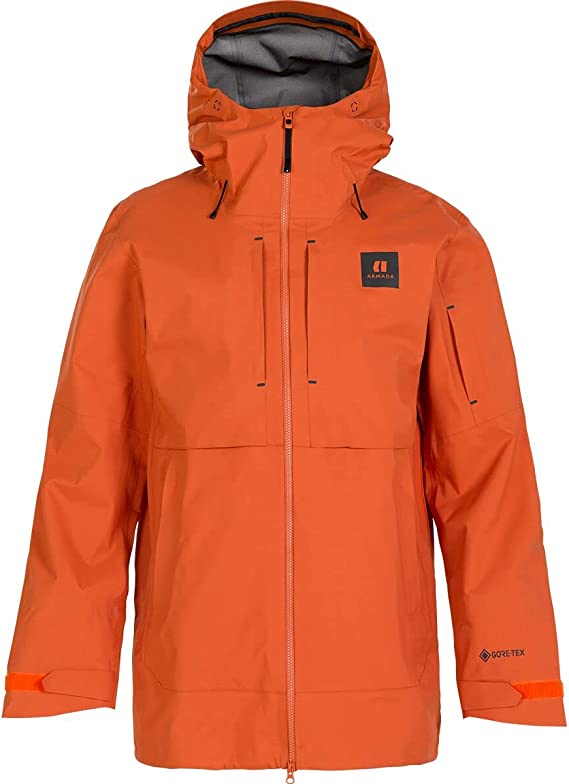 The last entry on our list is by no means the worst. Modesty was also forsaken here in order to showcase its three layers of gore-tex fabric. Measuring around hip-length with a powder skirt and a regular fit, we've got a pretty solid entry.
Great ratings, great service
The Haydon does what so many other jackets don't. Provide you with the protection that you need without sacrificing the comfort or extra features that you may require.
For example, with three layers and seams that are fully taped, you would expect this jacket to weigh you down immensely. But that isn't the case.
By forgoing insulation and relying on the three layers for comfort and warmth, you get all of the benefits of insulation without the added weight.
The waterproof rating is also high enough to tackle even the wettest regions that you may find yourself in. Seriously, a 28,000 waterproof rating is nothing to balk at.
Especially when some of the other offerings on this list don't even hit half of that number in their own ratings.
It's great service at no loss to you.
Features
Fit: Regular
Length: Hip-length
Waterproof rating: 28,000
Breathability rating: 20,000
Powder Skirt: Yes
Insulation: No insulation
Warranty: 3 years
Pros
Three-layer gore-tex construction for durability and breathability.
Micro-fleece chin guard and Lycra wrist gaiters, top-of-the-line protection and features.
Ykk waterproof zippers won't shut down on you due to getting wet.
Cons
Sadly, this great jacket offers no jacket-to-pants connection.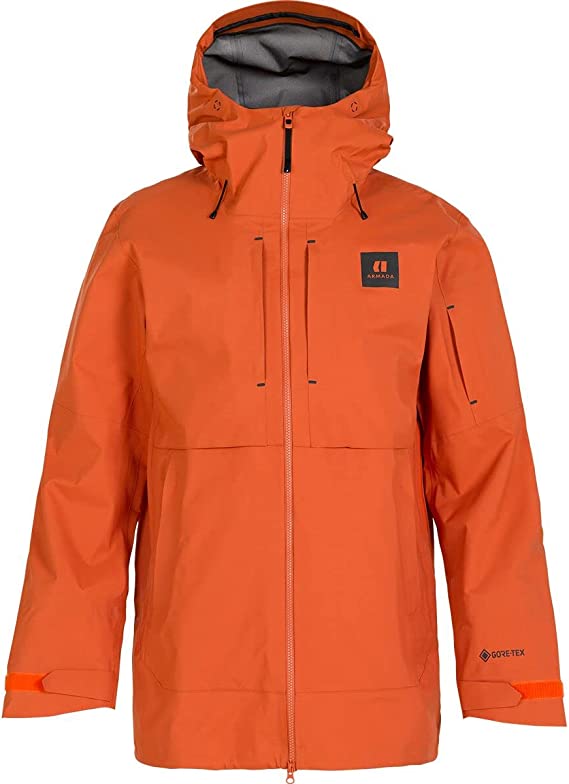 Armada Haydon 3L Gore-Tex
The price of "Armada Haydon 3L Gore-Tex" varies, so check the latest price at
Buyer's Guide: What's The Importance of That? Find Out Here
We've reached the bottom of the mountain, ground down the slopes, and seen all the best snowboard jackets for 2022 and 2023. You'd think that you are ready to make a purchase, can't go wrong with the selection above. But what about those that don't quite know their pick yet?
That's what this section is for. We are going to break down each important attribute and trait that the best snowboard jacket should and can have. This isn't any regular old jacket that you are buying. Keeping you warm is important, but there is much more to be had.
Your Natural Body Heat, Region Conditions, and Jacket Insulation
It's easy to get snowboarding jackets with the wrong amount of insulation. You could try it on at the store or read the specifications of the product and think to yourself, "I don't know what 60g insulation is but it sure sounds like a lot."
Here's the thing, it very well may be. The amount of insulation that your snowboarding jacket of choice needs depends entirely on what region you are riding in and your body.
Are you someone whose body heats up easily (like mine does), or is the cold your kryptonite? What region are you snowboarding in? For warmer regions like the Pacific Northwest, 60g insulation may be too much insulation.
Within a region like the one above, you could do well with a snowboard jacket that has no insulation! Colder parts of Canada and the US could get some absolutely freezing temperatures. Especially if it's windy.
Within these areas, seek out a snowboard jacket with at least 80g of insulation (for the body). Insulation can run up to 120gs and the core of the jacket (chest area), the sleeves, and the hood all have their own insulation rating.
Side Note: "The g in insulation scores stands for grams per square meter."
What Goes into Waterproofing?
A snowboard jacket needs a solid waterproof rating. You don't want to be out in the snow all day while you are wet. That is a recipe for disaster.
Not to mention that you'll be sitting in wet snow conditions, and so you'll want the powder skirt of your snowboard jacket to put up a valiant effort. What's there to it? The waterproof qualities of snowboard jackets are made up of three key components: the materials, DWR, and seam taping.
Materials
The king of the hill is gore-tex fabric, and that is not going to change any time soon. The best snowboard jackets utilize gore-tex in their construction. This would include the Burton AK 2L GORE-TEX Cyclic and the Arc'teryx Rush GORE-TEX Jacket. Both are fantastic snowboard jacket options.
The issue is that gore-tex can be expensive, the workaround that snowboard jacket manufacturers found was to create their own versions of the material, in-house. Do they all meet the lofty standards of gore-tex?
No, and the quality drops with the price. The cheaper the snowboard jacket the harder it is to stay dry when snowboarding on wet days or for prolonged periods of time.
Although the V-Science Membrane of the Volcom Bolt Insulated jackets has an excellent waterproof rating and all without the use of gore-tex.
Durable Water Repellant (DWR)
When a piece of snowboarding gear has a DWR coating applied to its face fabric, this acts as yet another layer of protection against the water. This way the material of your snowboard jacket receives some much-needed support.
Even polyester will eventually give in if constantly in contact with water or snow. All giants fall, I suppose. But that downfall can be prolonged with the help of DWR coating. With this coating, the internal structure of your snowboard jacket won't be overrun with moisture.
Most of the best snowboard jackets have DWR coating, but this also means that they are the most expensive.
Still, once you see that snow and water slip off of you as water does off a duck's back, you'll know it was worth it.
At the seams
The seams are the connection points where pieces of fabric become clothing. These seams can be taped over and "welded" in a number of ways. These connection points are areas of weakness where the moisture will seep in and work its way to your precious body.
A snowboard jacket may only have the critical seams taped. That is the seams that are subjected to the most moisture.
These snowboard jackets include the Volcom Bolt Insulated jackets. I would argue that in most regions this critical seam taping is more than enough.
Cheaper snowboard jackets not featured on this list will have seam taping that comes off over time. If you are looking for the best fully taped seams that don't weigh down your snowboard jacket, then purchase the Arc'teryx Rush GORE-TEX Jacket.
Breathability
Breathability comes into play when you are the kind of rider that finds themselves split boarding in warmer conditions or would rather hike back up the slopes than use a lift. I, myself am this kind of rider because I love the extra activity.
Snowboard jackets with a three-layer construction usually offer the best breathability ratings that you can find. These snowboard jackets tend to have no insulation or very little at that.
Some recommendations would be the Dakine Stoker Gore-Tex 3L or the Armada Haydon 3L Gore-Tex.
Snowboard Jacket Durability: Can It Take The Hits?
Much like the breathability of a snowboard jacket, three-layered jackets tend to be more durable than those with a lesser amount of layers underneath. Worry not, any snowboard jacket, even the cheaper ones, are created with a face fabric that is built to last.
The inverse of 3l gore-tex fabric would be a shell jacket, which is thinner and much lighter.
Snowboarding jackets withstand harsh snow conditions, that's what they are made for. So any one of the snowboarding jackets on this list will be able to stand the test of time. Although, the more durable a snowboard jacket is, the more it weighs.
Even in cases of early tears, the warranty policy of the snowboarding jacket has you covered.
Less Weight Or More?
The durability of your snowboard jacket directly affects its weight. One of the snowboard jackets on this list, the Arc'teryx Rush GORE-TEX Jacket, uses minimal seam taping in order to reduce the overall weight of the jacket.
Other snowboarding brands use similar clever tricks to lessen the load that riders will carry with them. A shell jacket weighs the least but is also the thinnest jacket around, durability and insulation take a hit.
If weight is not an issue, then carry on but otherwise, a shell jacket is going to be what you want.
The Size And How It Fits You
Most snowboarding gear is large and baggy. Riders want the comfort and space to be able to snowboard how they want. As a result, most snowboarding brands went in this direction.
But there do exist plenty of options that are either a regular fit or even a slim fit, particularly with women's clothing.
The area that you want to pay extra attention to is the back end of the snowboard jacket. You'll be sitting and landing on your backside a lot.
Having a long end that can protect your behind from the snow is great, but if you engage in backcountry riding then it may not be as necessary.
What's Common, What's To Be Expected?
There are a few features that remain universal throughout snowboard jacket,s and the best snowboard jacket will no doubt have all of these common features included in its design.
Some kind of waterproof protection and breathability design is a must. Most snowboard jackets also have a powder skirt which I believe is essential. A powder skirt stops powder from giving you quite the surprise by preventing it from going down your pants.
Do you dance? Because you will with snow in your pants!
Handwarmer pockets to help your fingers stay warm and underarm vents to air out areas where sweat and heat concentrate are also common. An adjustable hood can be found in any versatile jacket.
This list could go on and on. Although, a pass pocket on the sleeves is always a favorite of mine.
Snowboard Jackets vs. Ski Jackets: How Do They Measure Up?
There are two key ways in which the best snowboard jacket and a ski jacket differ. That is in their length and fit. The best snowboard jacket is baggy, this is because snowboarding is much more suited for freestyling. And wild freestyling at that.
The only time I'm freestyling is as I flail around before hitting the ground due to a bad jump.
The best snowboard jacket is also longer than ski jackets because when you snowboard, you will find that a portion of the time is spent sitting down on the snow as you strap out of and into your gear.
Sitting on the lift and falling on your backside (at least in the beginning) are also common occurrences.
Ski jackets fit tighter and are shorter in length than the best snowboarding jackets because skiing does not require as much movement as snowboarding.
You can use both jackets for either sport. However, your comfort level and performance may see a decline.
My Final Thoughts
Even the best snowboard jacket on the market may not be the best fit for you if it doesn't excel in the areas that you want to prioritize.
Just because the Burton AK 2L GORE-TEX Cyclic is at the top of our list does not mean that it'll be your personal number one.
A versatile jacket like the Armada Baxter may have everything you need for your particular region and snowboarding style, despite the fact that it doesn't have a powder skirt and the hood is fixed.
It's a matter of getting to know your needs as a rider. Not just the region or the mountain that you will be snowboarding on but also the time of year.
Personally, the best snowboard jacket for me is one that has a removable powder skirt because I don't catch as many fresh pow days as I would like.
I also prefer to freeride at high speeds than catch a turn. Figure out what you want and which snow jacket listed above will get you that.
Need a pair of snowboarding pants to go with your new jacket? Check our list to get the best recommendations. For example, The Volcom pants can connect to any Volcom jacket for some awesome full-body protection.