Versatility in the Form Of A Jacket
Snowboarding is a dynamic sport. Everything from the conditions to the location and even the snow itself can be different each time you head to the slopes. How can one deal with this amount of volatility when trying to practice their craft?
The answer is, you need the right tools that can adapt to the situation. Tools that can help you adapt to what is going on around you. We've covered how the right set of best snowboarding gloves can help keep your fingers fluid.
I've gone in-depth on the subject of snowboarding pants and how vital they are. But connected to your hands and legs is your upper torso. You know, that area that houses a majority of your organs. Kind of important.
Let's protect every corner of our bodies. That's why now it's time to bring you the best snowboard hoodies on the market. The right snowboarding hoodie has the functionality you need to prepare for the unexpected.
Best Overall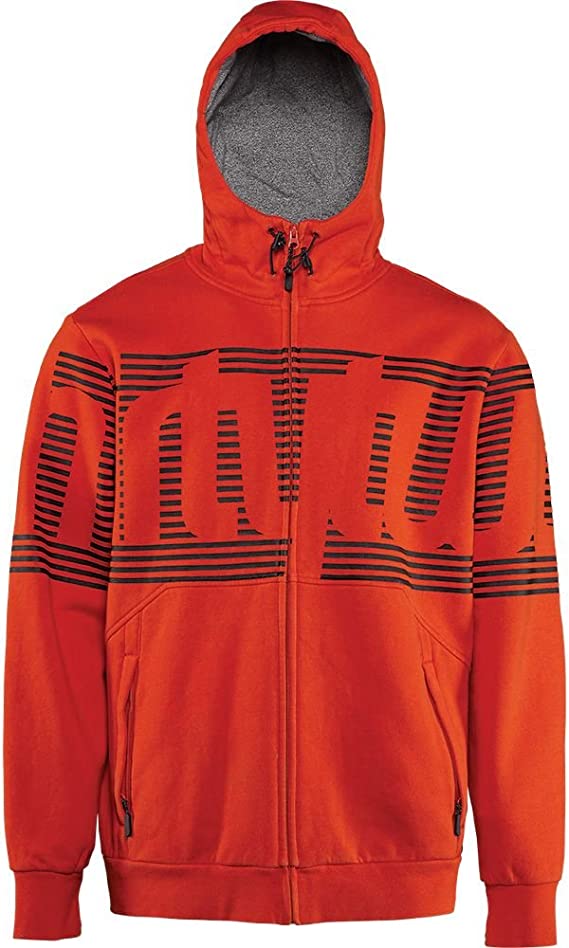 Thirty-two Men's Stamped Zip Fleece Hoodie
Manufacturer:Thirtytwo Snow Apparel
Fabric:Polyester,cotton
Most Comfortable Fit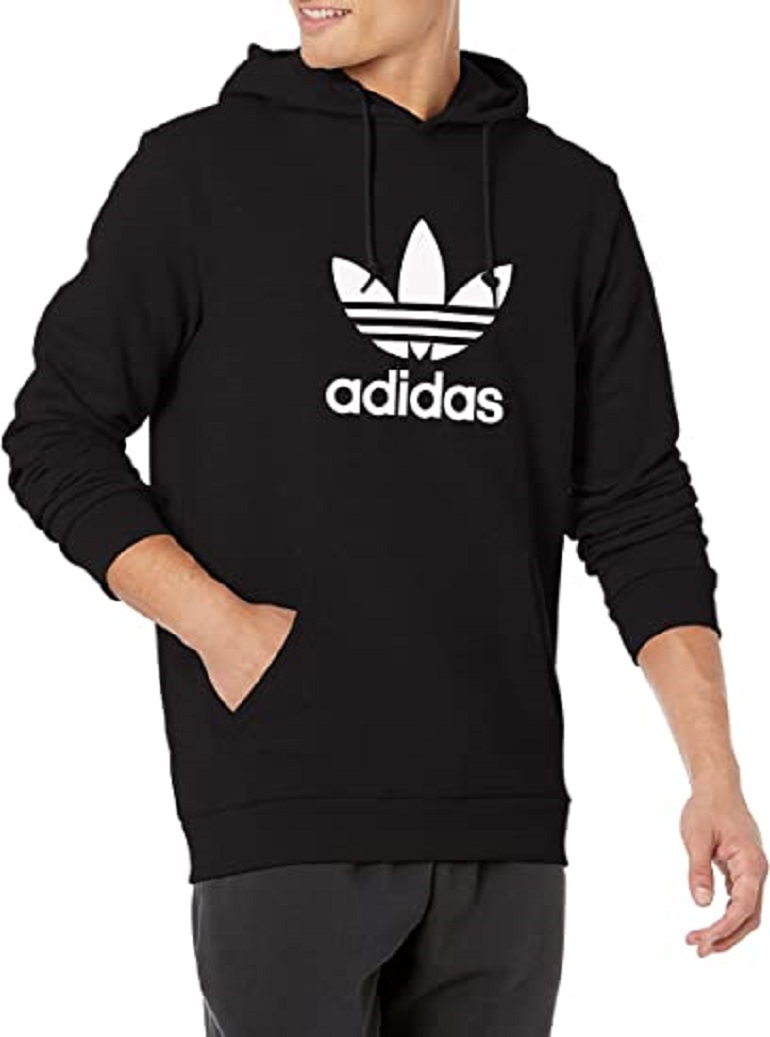 Adidas Originals Men's Trefoil Hoodie
Manufacturer:ADIJF
Fabric:Cotton
Most Affordable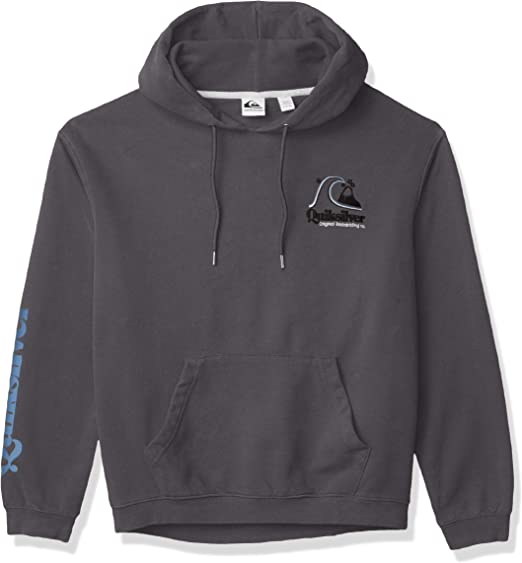 Quiksilver Men's Sweet AS Slab Hood Fleece
Manufacturer:Quiksilver
Fabric:Polyester
Best Women's Overall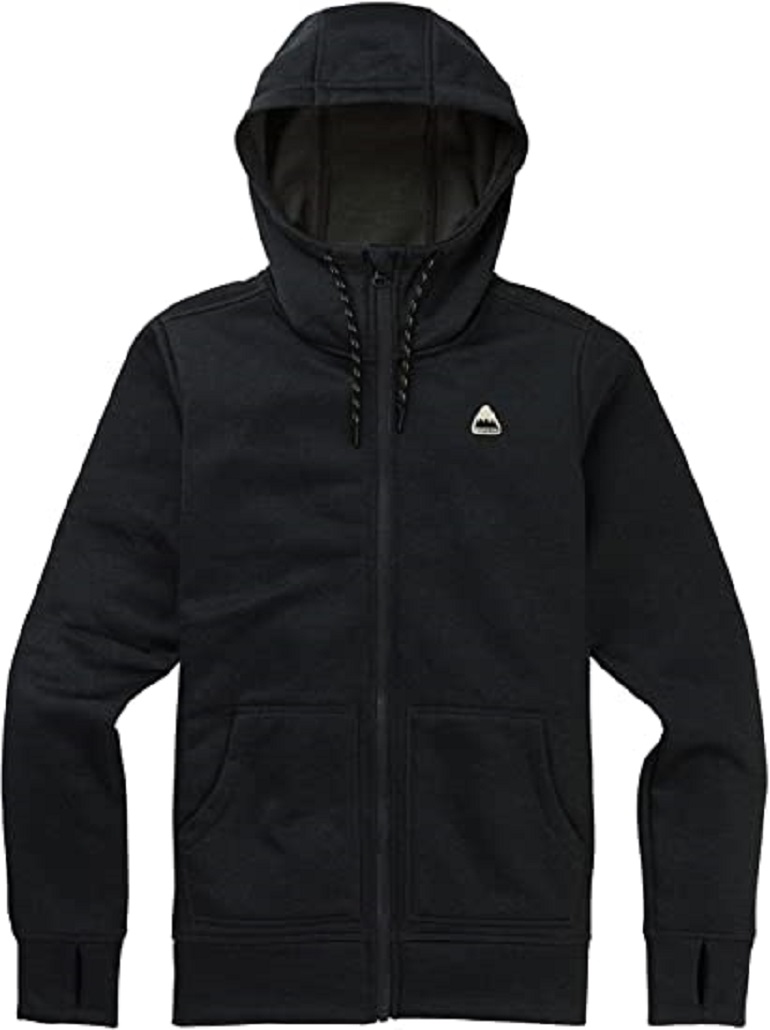 Burton Oak Full-Zip Women's Hoodie
Manufacturer:Burton Snowboards
Fabric:Polyester
Best Designed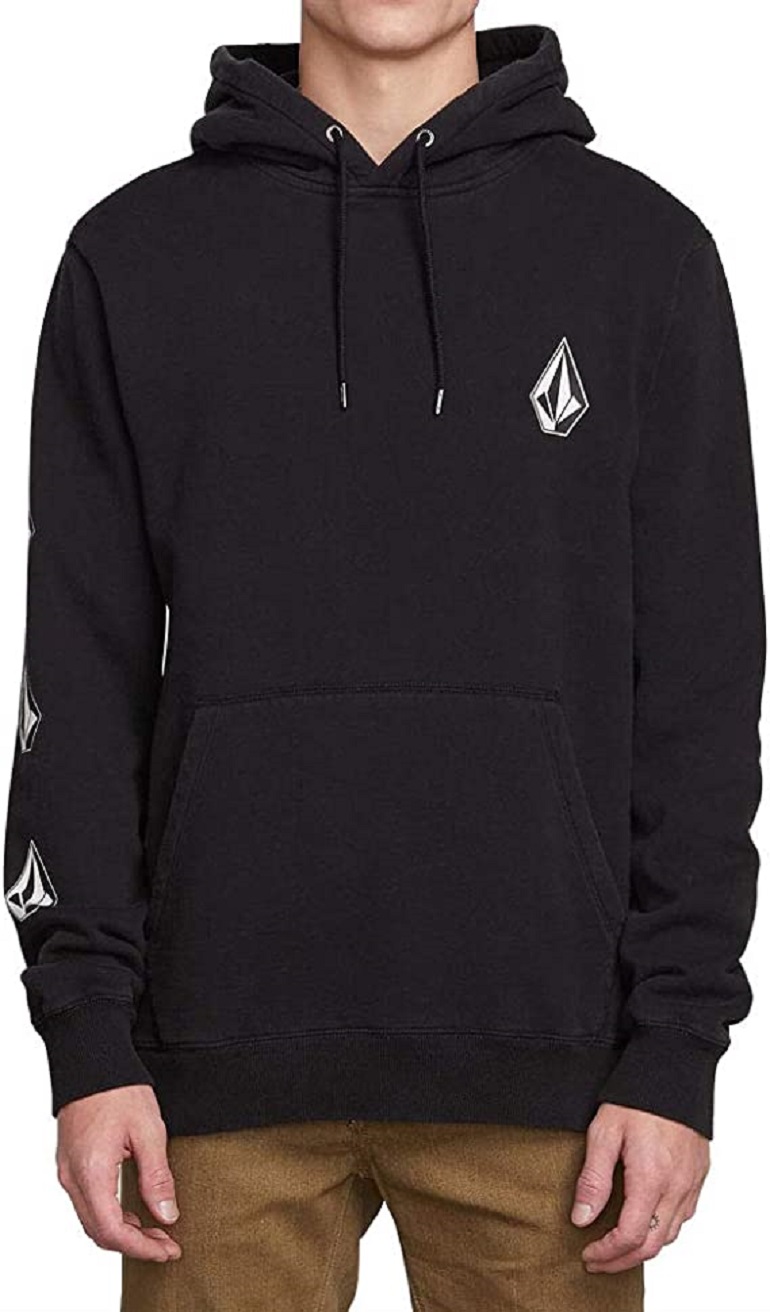 Volcom Men's Deadly Stone Pullover Fleece Hoodie
Manufacturer:Volcom
Fabric:Polyester,cotton
Best Snowboarding Hoodies – Top 5 Picks
We've only got five selections for you when it comes to the best snowboard hoodies. Why? Because when it comes to snowboard hoodies, the market is filled with repetitive iterations. We wanted to seek out snowboarding hoodies that either brought something new to the table or improved upon tradition.
For example, the Thirty-two Men's Stamped snowboarding hoodie. It's got the cotton you need to stay comfortable and warm. But a new material has also been added so that this full zip hoodie can do more to ward off the wet snow.
That's just the start of it. From men to women's choices and even an affordable option thrown in. There is something here for everyone.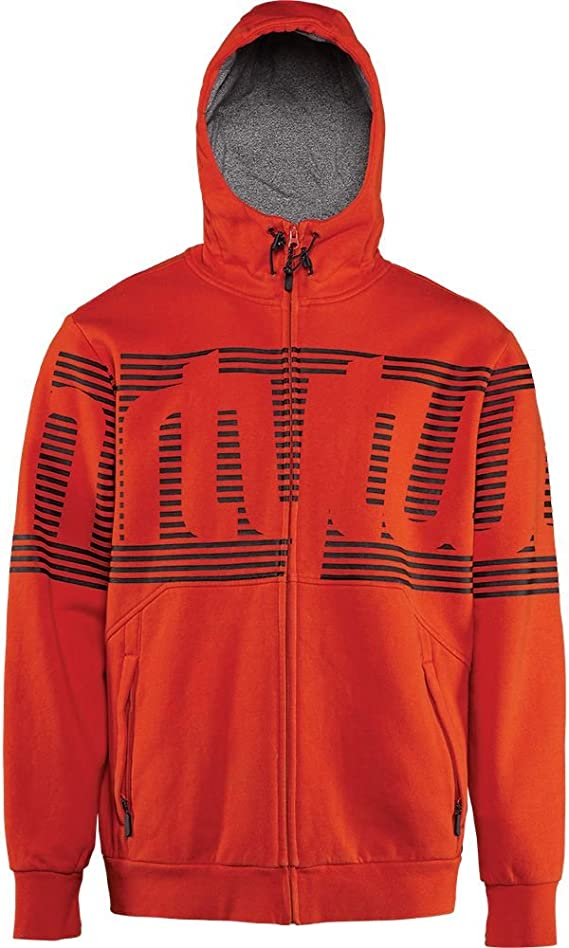 The Thirty-two Men's Stampedfull-zip hoodie is made from both cotton and polyester. Cotton retains heat, and any piece of clothing that is majority cotton is sure to keep you warm.
The issue with cotton is that it quickly absorbs water and other liquids. It's hard to stay dry. What did Thirty-two do in order to mitigate this design flaw? They stuck polyester into the mix. Polyester is a material that is both durable and quick to dry.
Now you've got a snowboarding hoodie that does what regular hoodies don't. Dry themselves and do so quickly.
The inside of this full-zip hoodie is layered with fleece. Fleece can quickly get rid of moisture. That means even if you are boiling up and sweating, the inside of your hoodie is working hard to dispose of the sweat.
Of course, any snowboard hoodies that come loaded with this great assortment of materials will suffer from bulk. While the Thirty-two Stamped hoodie isn't bulky, it does weigh around 1.61 pounds.
Not enough to stop your ride but something to consider.
Features
Fabric: 80% Cotton, 20% Polyester
Weight: 1.61 pounds
Closure Type: Zipper
Pockets: Two pockets
Fit: Medium-regular
Pros
Has quick-drying polyester added to its build.
Adjustable hood that provides warmth.
Great as a mid-layer under a more waterproof layer.
Cons
Not as many color options to choose from.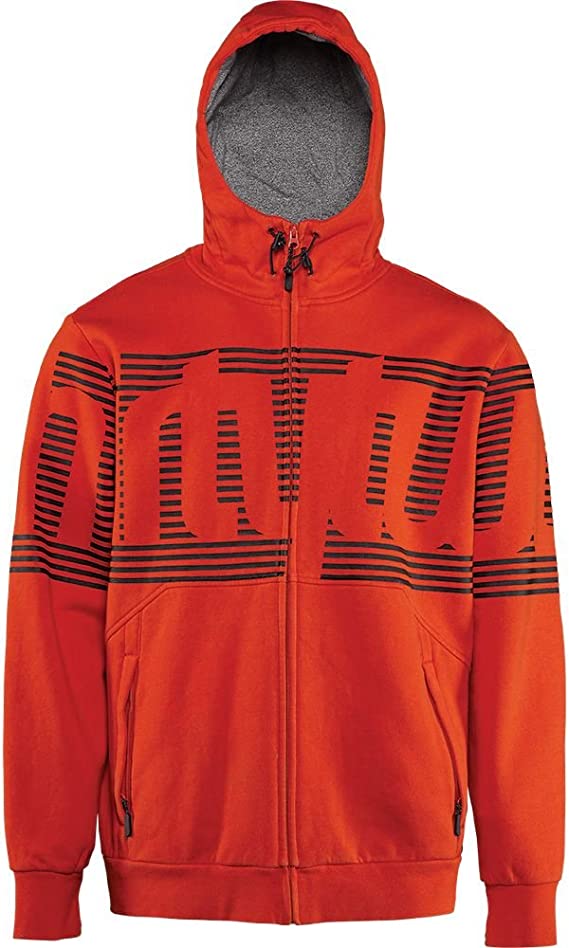 Thirty-two Men's Stamped Zip Fleece Hoodie
The price of "Thirty-two Men's Stamped Zip Fleece Hoodie " varies, so check the latest price at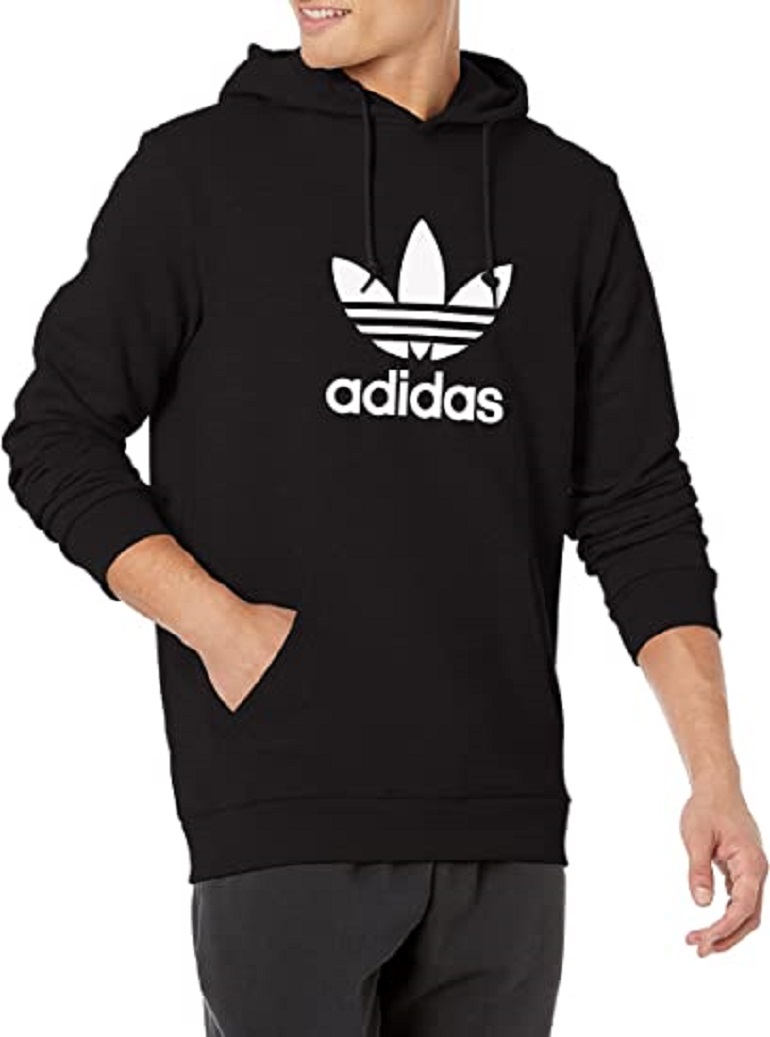 Let me be straight with you. It's an Adidas pullover hoodie. You know what you are going to get here. Quality construction by an established brand that fits great and feels even better.
The reason why it's on our list of best snowboard hoodies is that we found a number of its features to be wearer friendly.
The drawstring hood can be adjusted to tighten around your helmet. A snug fit to fight against the frigid temperatures or a loose hood when the sun feels just right.
The cuffs are ribbed. They won't slip and slide around, staying firmly in place as you ride. This is such a great feature because long sleeves that won't stay put are such an annoyance to ride in.
I like to hit the slopes with clothes that are tight and don't jangle about, no matter how hard I ride. This pullover hoodie does just that.
There are no zippered pockets here. For storage, one singular kangaroo pocket hangs from the front. It's easy to get into and out of when your hands are all gloved up.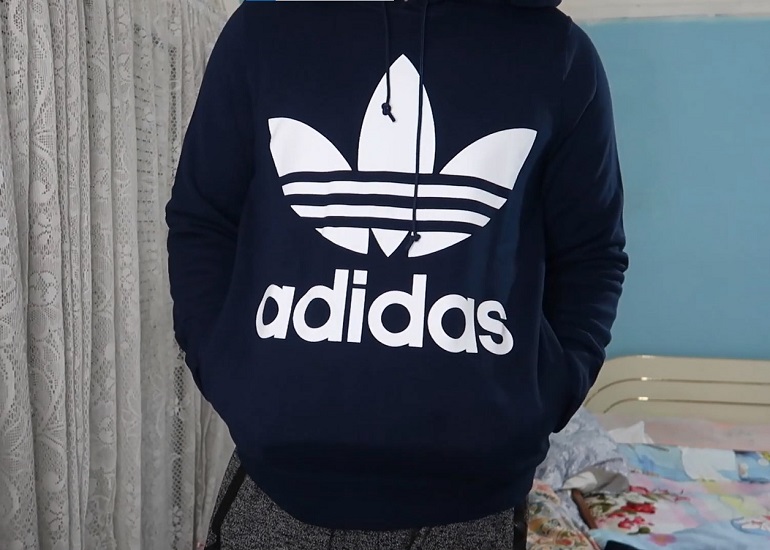 Features
Fabric: 100% Cotton
Weight: 1 pound
Closure Type: Pullover hoodie
Pockets: One kangaroo pocket
Fit: Regular fit
Pros
Classic Adidas style that always looks great and simple.
Made from 100% cotton, incredibly warm and soft.
Machine washable for easy maintenance.
Cons
No zipper. It'll give you a bit more trouble when putting on and taking off.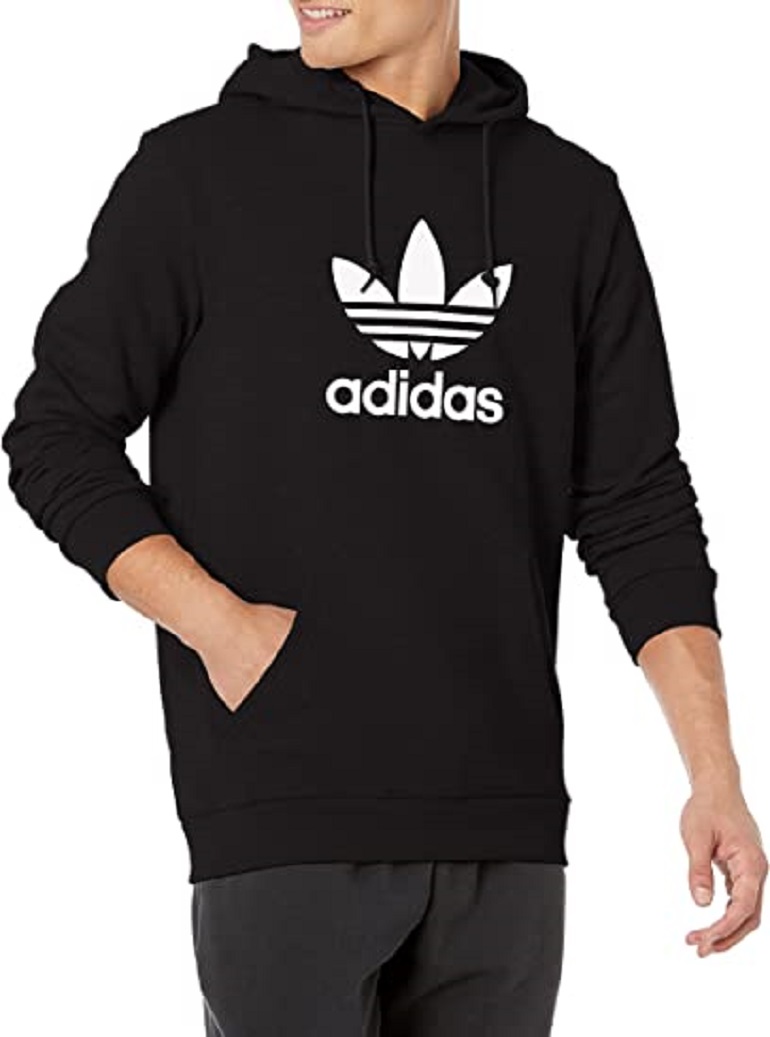 Adidas Originals Men's Trefoil Hoodie
The price of "Adidas Originals Men's Trefoil Hoodie" varies, so check the latest price at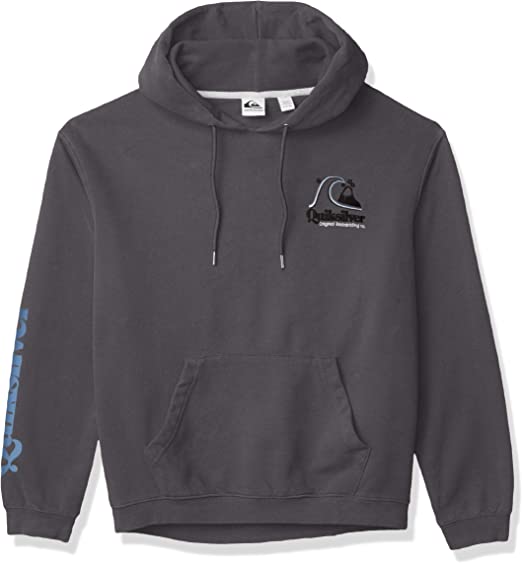 I'm actually surprised not only by the quality of this hoodie but also its price. The best snowboard hoodies have design features that address common issues or situations that'll occur on the mountain.
This AS Slab hoodie has got a fabric that is made from a thick blend of cotton and polyester.
It's a simple concept but one that other brands should consider adding to their snowboard hoodies. It may not be a full zip hoodie, but I honestly think that this minor design choice can be overlooked.
Its boxy fit doesn't constrain your natural body movements even as you freeride down the mountain. The quick-to-dry fabric and brushed sweat fabric work in tandem. Dispelling any water from the snow and any moisture from within.
But as I mentioned before, the stand-out feature here is the price. It's currently on sale and at half price. Thanks to small but standout design choices such as the cotton drawcord on the hood, this one is a steal.
Features
Fabric: 100% polyester
Weight: 1.3 pounds
Closure Type: Pullover hoodie
Pockets: One kangaroo pocket
Fit: Boxy-wide fit
Pros
The fabric is made from a blend of polyester and cotton.
Great quick-to-dry build that is excellent for snowboarding.
Brushed sweat fabric handles moisture with ease.
Cons
Bland color options to choose from.
Quiksilver Men's Sweet AS Slab Hood Fleece
The price of "Quiksilver Men's Sweet AS Slab Hood Fleece varies, so check the latest price at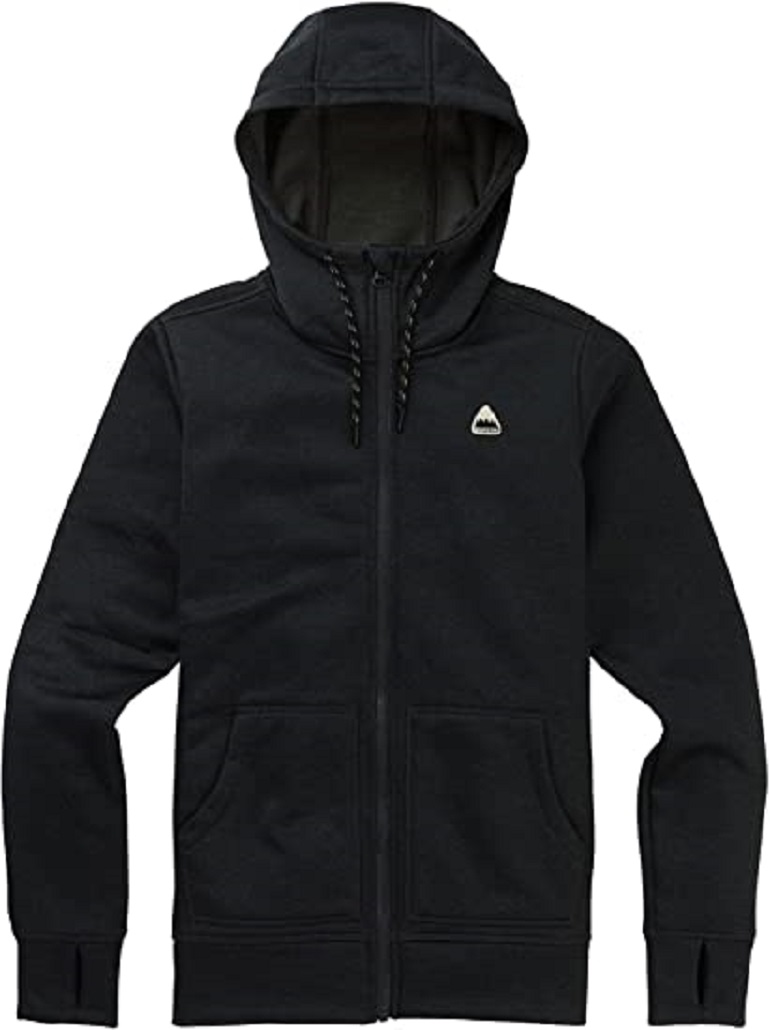 Burton is always a staple of these "best of lists," so it's no surprise that they would pop up again. The reason why they are the biggest and most recognized snowboarding brand is that they have unique design practices and are consistent with their quality.
These two traits once again find themselves in this Oak women's hoodie. The entire hoodie is made from 100% polyester brushed fleece. We already know that polyester is quick to dry, but it's got pretty great abrasion resistance as well.
It's also strong and lightweight. Now, throw in the fleece, and you've got moisture-wicking goodness in the largest area of your body.
The cuffs are thumb-hole cuffs. This style of cuffs has a loop in which you can insert your thumb. It's a small feature but one that I really enjoy. I find that this not only stops your sleeves from sinking down your forearm but also helps keep your hands warm.
What an elegant design. I am truly not worthy (nor the right gender) for this snowboarding hoodie.
Features
Fabric: 100% polyester
Weight: 12.31 ounces
Closure Type: Full-zip hoodie
Pockets: Two pockets
Fit: Regular fit
Pros
Not too baggy but not too tight. Can easily fit another layer underneath.
Draw-cord can be used to adjust the hood.
Lifetime warranty with an eco-friendly manufacturing process.
Cons
A bit long in length, could constrain your riding style.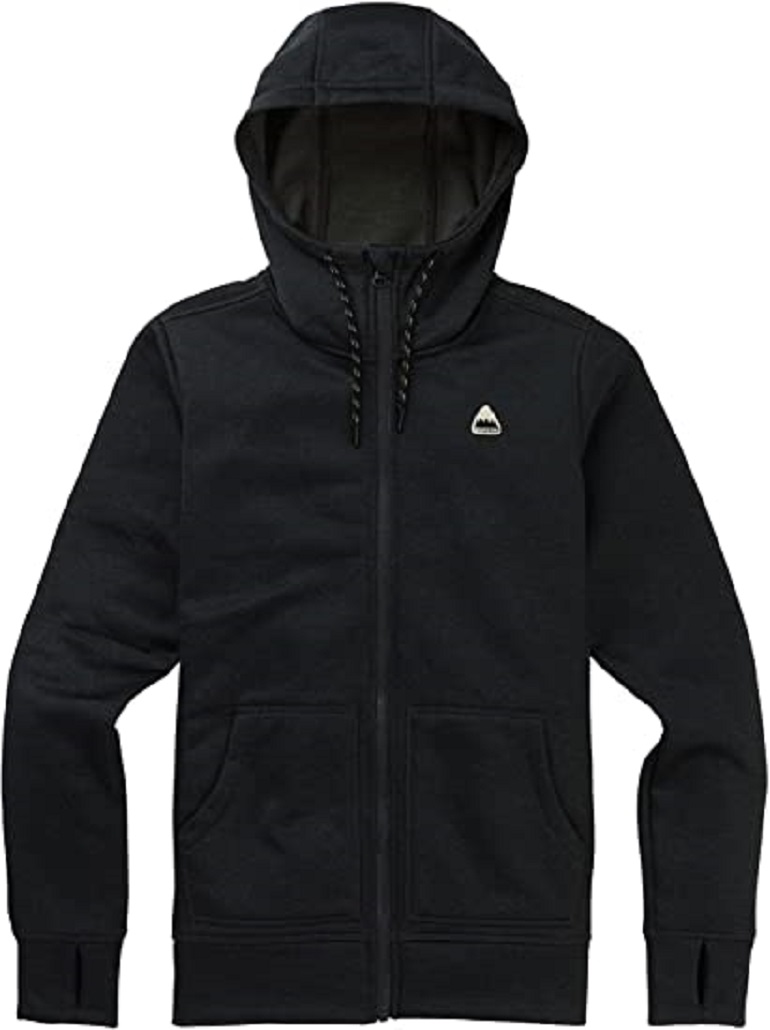 Burton Oak Full-Zip Women's Hoodie
The price of "Burton Oak Full-Zip Women's Hoodie" varies, so check the latest price at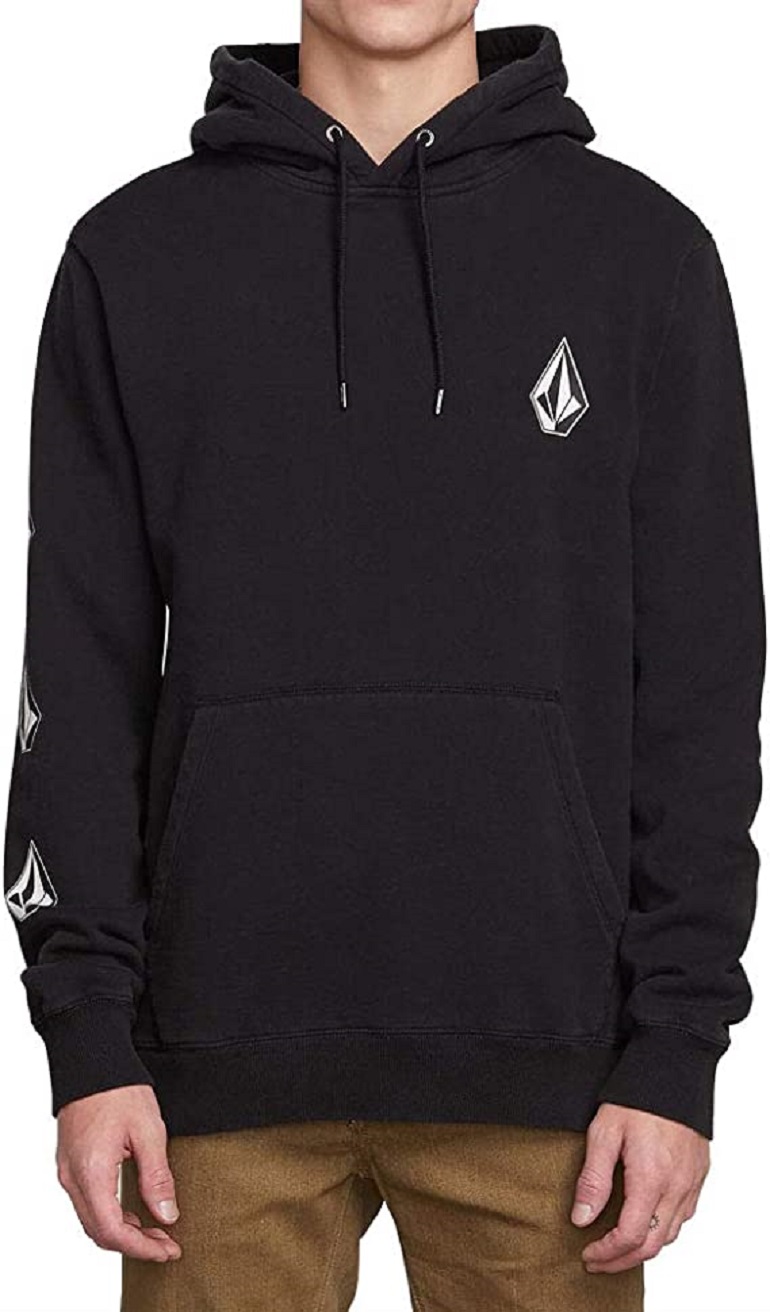 Your new favorite sweatshirt has arrived! This is the hoodie that you wear as your base layer. It's got Viscose material which may not be as durable as cotton but it is softer. Its smooth feel is perfect for a cold day out.
Any sweat or moisture fixated on your back will be taken care of thanks to the inner fleece layer. Both the fleece and viscose materials are covered in the majority of polyester. This is important because the polyester's durability will make up for the viscose's weaker structure.
It may not appear as such from the product images but the hoodie is surprisingly thick. Don't worry, while it may be one of the highest-weighing options on our list, it isn't too burly.
If you want to snowboard in style, then you've got to wear this Deadly Stones hoodie. The awesome Volcom emblem lines one of the sleeves. It's also imprinted on the chest. It doesn't just look good, it feels amazing, and it's functional for good snowboard boots.
A fantastically designed hoodie.
Features
Fabric: 75% polyester and 25% viscose
Weight: 1.36 pounds
Closure Type: Pullover hoodie
Pockets: One kangaroo pocket
Fit: True to size
Pros
Styled sleeves and emblem on the chest.
Viscose is lighter and smoother than cotton.
Interior neck taping for added comfort.
Cons
Not a tight fit but that's just my personal preference.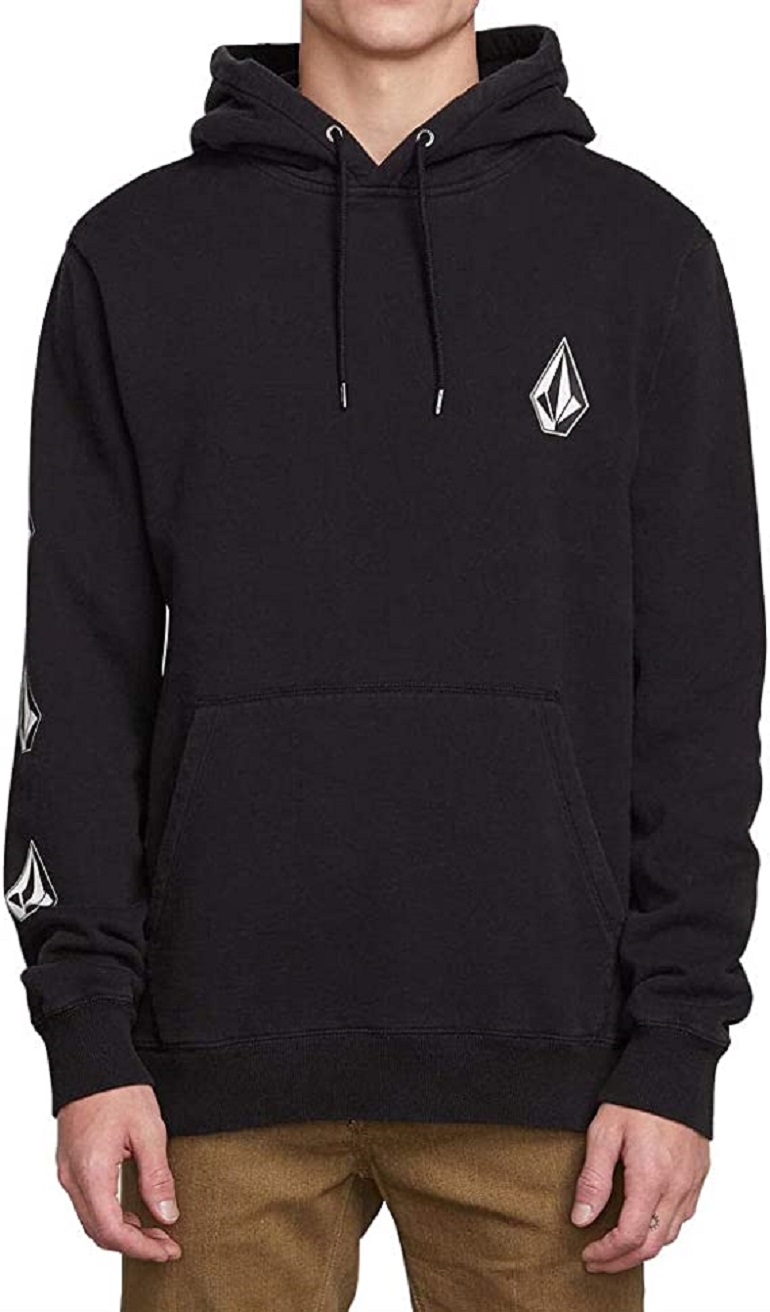 Volcom Men's Deadly Stone Pullover Fleece Hoodie
The price of "Volcom Men's Deadly Stone Pullover Fleece Hoodie" varies, so check the latest price at
What You Need to Know When Buying a Snowboarding Hoodie
From Volcom to Burton, shop at any of the top brands because they all have a great selection of insulated jackets. But don't place all of your stock into brand name recognition alone. There are four qualities that any hoodie (hydro hoodie, pullover hoodie, snowboarding hoodies) should have.
I've broken them down below for you to take a look at. The best snowboard hoodies listed above have a great ranking in all of these sections. You'd do well to pick any of these snowboarding hoodies up.
Waterproof
Fight Nature's ElementsHow much waterproof technology can a hoodie contain? After all, most hoodies are made from cotton. They are used as a bottom layer (under a jacket) to keep warm and nothing more. While this is partly true, there is a lot that a hoodie can do to put up a fighting chance against the water. For example, the Burton Oak Full-Zip Women's Hoodie has got a great polyester and fleece mix. The polyester lets your hoodie dry quickly, while the fleece deals with the moisture within. Some hoodies even come with a DWR coating. Something more to keep in mind.
Moisture Wicking
Fight Your Body's ElementsThe hoodies on the list above have all had fleece incorporated into their design. One way or another. This is great because when engaging in strenuous activities (like snowboarding, duh), it doesn't matter if you are surrounded by snow. You are going to sweat. The Quiksilver Men's Sweet AS Slab Hood Fleece (now that is a long name) has got brushed sweat fabric. If that can't handle the moisture, then all of the hoodies in the world don't stand a chance. Hoodies with a zipper down the middle are also great for regulating your temperature. Unzip them to enjoy a cool breeze.
Windproof
Stand Tall In The WindWindproof. What do hoodies require in order to be considered windproof? First and foremost is their fit. The tighter the fit, the less resistance that you'll experience when snowboarding.Walking around or riding with a baggy hoodie is not optimal. This is because your hoodie will turn into a makeshift mast. Letting the wind expand and push you backward. You can't possibly ride comfortably when you multiply the wind's power against your body.For the best wind resistance, get a regular fitting or tight fitting hoodie.
Breathable
Can Your Hood Breath For Your Body? Clothing that's breathable lets a good amount of circulation into your body. Snowboarding pants often employ the use of a gore-tex membrane in order to get breathability. Snowboarding helmets have vents running throughout their structure. So what can a hoodie do for breathability? A zipper. Having a zipper down the middle means that whenever you want to cool down, all you have to do is unzip it. Simple, easy, and completely in your control. The best kind of feature. Our number one choice, the Thirty-two Men's Stamped full-zip hoodie, is perfect for this. Don't get a pullover hoodie if you overheat easily. They aren't worth the effort. Get the Thirty-two Men's full-zip hoodie.
My Final Thoughts
Where does that leave us? When searching for a snowboarding hoodie, you'll want something that is easy to slip in and out of. Something with an adjustable hood and tight-fitting sleeves. In fact, for the best wind resistance, make sure that the entire hoodie is at least a regular fit.
Fortunately, the hoodies listed above have got everything required to make your snow day outing a successful one.
Remember to take into account your own body's specific needs. Those that overheat easily should get a zippered hoodie. Those that get cold fast will want to stick to the pullover options.
And those looking for a comfortable and great-fitting hoodie can choose from any of the options above.