Snowmobiles are compatible with seals. In their natural environment, they are elegant, mobile, and fast-moving. On land, out of their natural environment, they're ungainly, slow, and useless.
Snowmobiles have the same issue on and off the snow. Moving a heavy sled around a garage or driveway is a nightmare, especially in tight spaces.
Thankfully, dollys exist. They're a set of smaller wheels on platforms designed to clip around the two front skis and the rear track's wide wheelbase. With an excellent heavy-duty snowmobile dolly, you can move your vehicle around in the dry seasons for maintenance and storage.
Quality snowmobile dollies come in a number of different styles, ranging from sack barrow style, with heavy-duty lift bars, to the much more common three-piece snowmobile dolly sets.
Depending on what you need from your snowmobile dolly and the type of lift you may need determines the right dolly kit for you.
Top Pick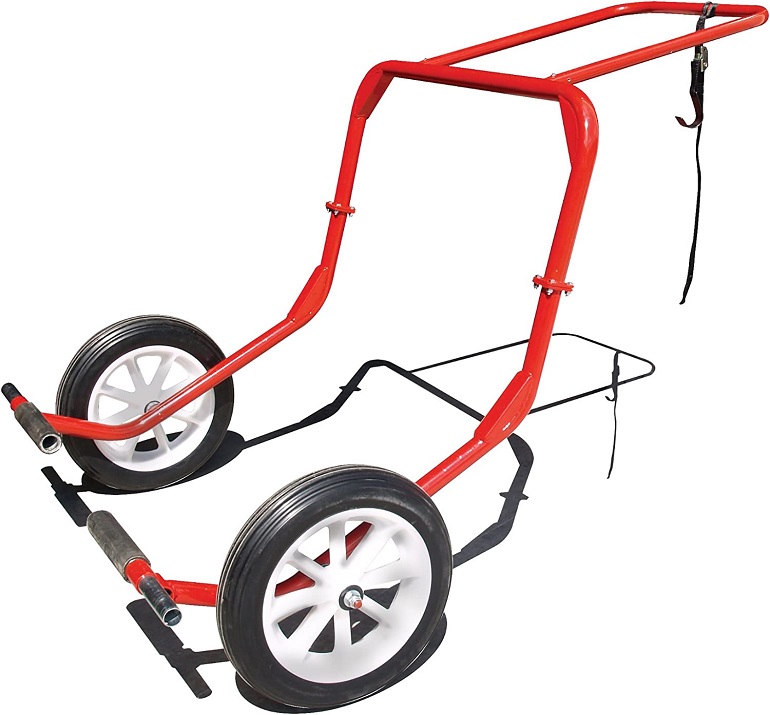 Extreme Max MDM2 Snowmobile Dolly
Brand: Extreme Max
Material:Alloy Steel
Traditional Style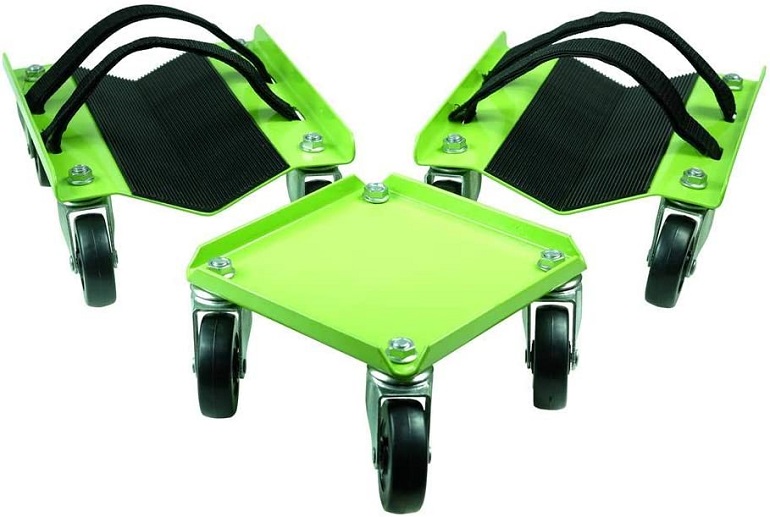 KASTFORCE KF2014 Heavy-Duty Dolly
Brand: KASTFORCE
Material: Nylon, Alloy Steel
Best Value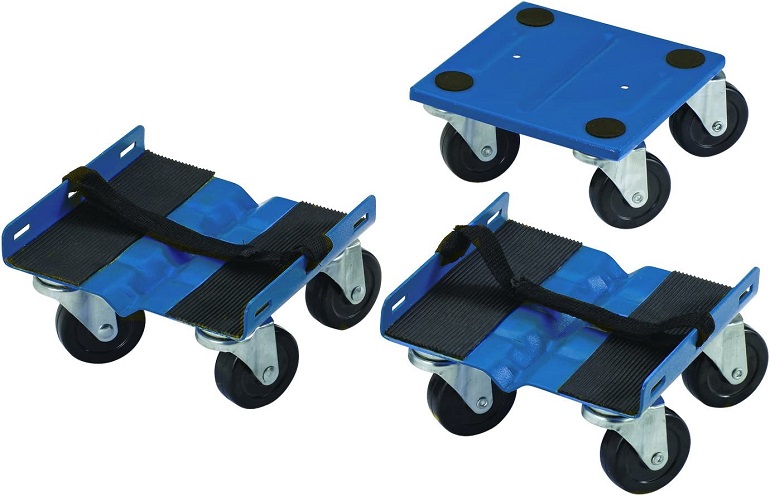 Shepherd Hardware Snowmobile Dolly
Brand: Shepherd Hardware
Material: Alloy Steel
Superb Durability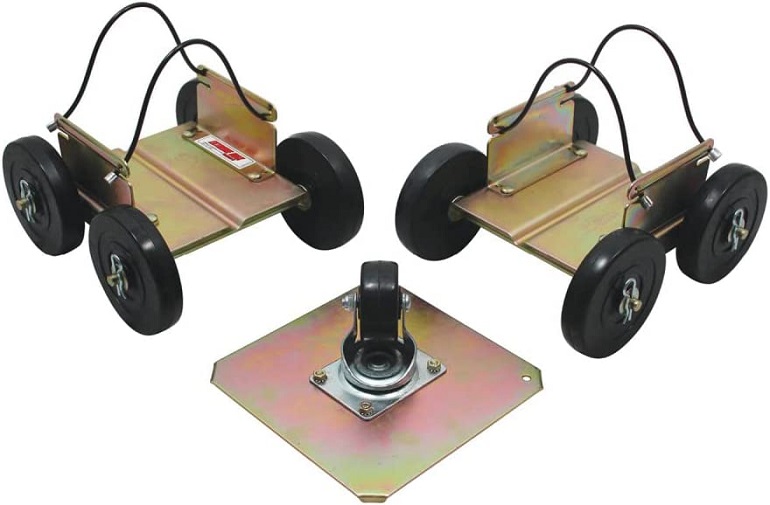 Extreme Max 5800.0200 Power Wheels
Brand: Extreme Max
Material: Alloy Steel
Maximum Versatility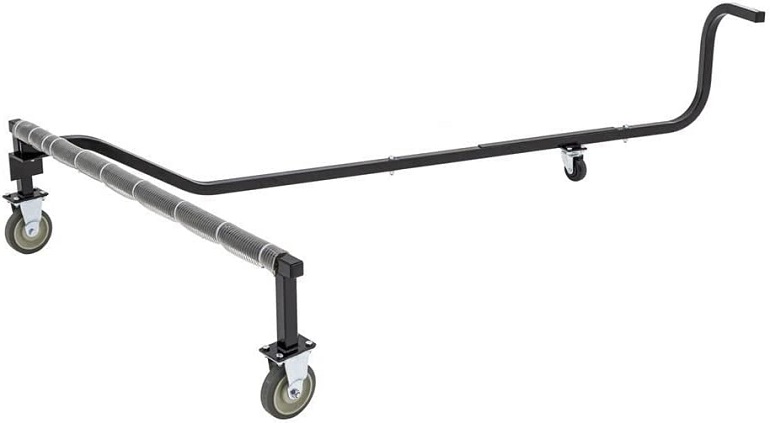 Black Ice SNO-Dolly Snowmobile Dolly
Brand: Black Ice
Material:Alloy Steel, Plastic
A Solid Selection of Snowmobile Dollies
Buying a new piece of maintenance kit can be a tiring and boring task. At initial glance, they all seem to be exactly the same and offer no more than each other. It's the subtle differences that make one just that little better than the other.
Maximum weight capacity, maneuverability, and whether it's built tough enough for your snowmobile are all important things to take into consideration.
Luckily, you have me to trawl through the markets and select some of the best snowmobile dolly sets out there.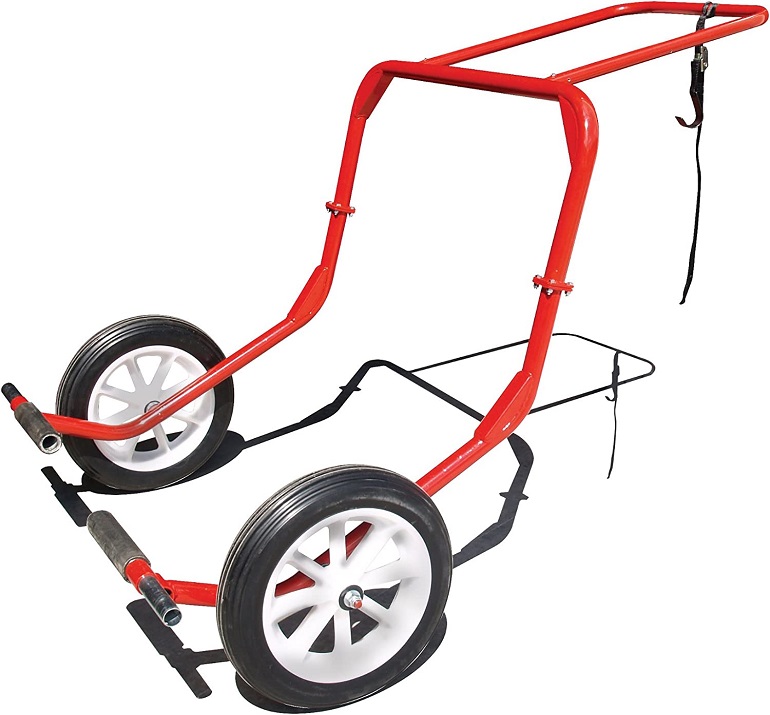 This is a serious piece of equipment for getting the job done. The title of Extreme Max Monster sums this beast up to a T. Moving your snowmobile should be a breeze with the powder-coated steel from Extreme Max.
The Extreme Max Monster is designed to slip under the rubber padding of the track on your sleds and fit around the snowmobile with its large frame. It leaves space between the powder-coated steel frame and your snowmobile without knocking your mirrors or handlebars.
With the adjustable handlebars and lift points, even the most heavy-duty sleds can be lifted to slide wheels under.
With the sled lifted up on the dolly, you can push or pull it around a garage easily using the Extreme Max oversized wheels. If you have ever had to make your way through slush or gravel with a heavy snowmobile you know how easy it is to get bogged down and oversized wheels are the solution.
Summary
The Extreme Max Monster is a heavy-duty piece of equipment for snowmobiles of all sizes. The adjustable front bar can be made to manipulate all shapes providing easy leverage on the big wheels.
The high weight capacity means you can move all snowmobiles. This would be a great tool to shift your snowmobile around with or even to lift it onto other, smaller snowmobile dolly sets.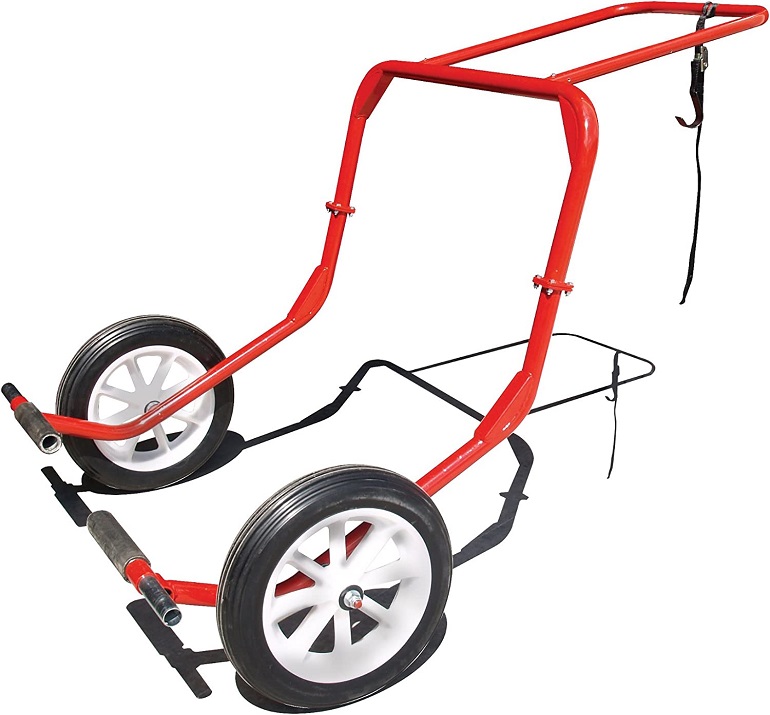 Extreme Max MDM2 Snowmobile Dolly
The price of "Extreme Max MDM2 Snowmobile Dolly" varies, so check the latest price at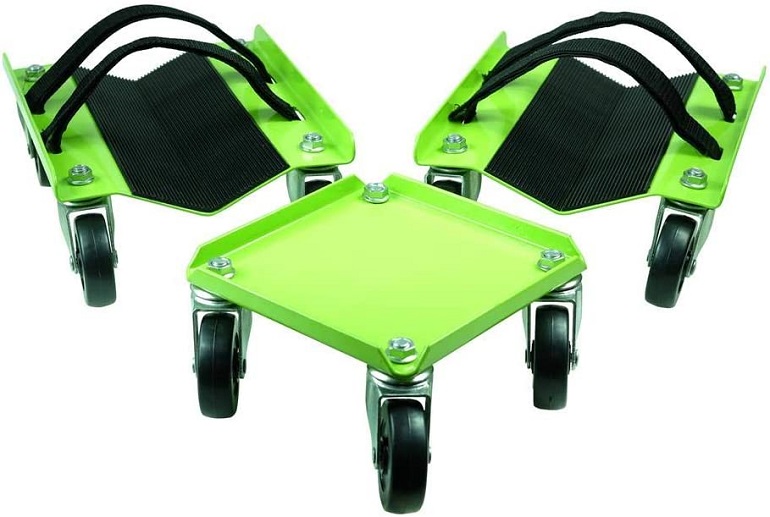 These are the more traditional style of snowmobile dollies with two front ski dollies and a single rear track dolly. They are intended to use their nylon tie-down straps to wrap around the front skis and then either use the rear track to push forward or lift the rear onto another dolly and slide the snowmobile around on this.
The Kastforce snowmobile dolly is made with heavy-duty work in mind, it has a fantastic weight capacity of 1500lbs. It will provide secure transport of even the heaviest snowmobile covered in ice, snow, and gear. It won't struggle to lift your stuff around your garage.
This snowmobile dolly is set up to hold your vehicle in good and tight. The front rubber grooves accommodate the skis nicely whilst keeping them locked in with two nylon tie-down straps. You can push the sled around, knowing it is securely held in place.
The wheels of the Kastforce are rather small, and much more suited to the smooth floor of a workshop or garage rather than gravel or soil. This is worth bearing in mind before you lift it onto them, you won't have a good ride through the mud with these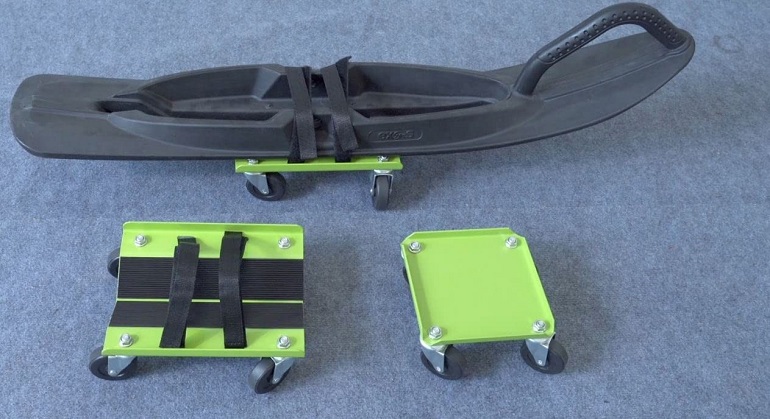 Summary
This is a great snowmobile dolly for the heavier snowmobile. It can carry a great amount of weight and keep it in place for some peace of mind when moving your snowmobile around.
A fantastic amount of maneuverability is provided by the 360-degree movement of the wheels. You can push your sled around with ease.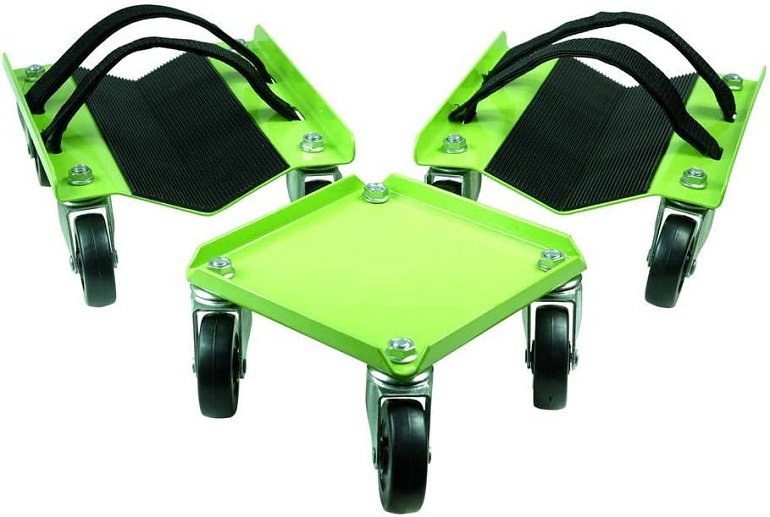 KASTFORCE KF2014 Heavy-Duty Dolly
The price of "KASTFORCE KF2014 Heavy-Duty Dolly" varies, so check the latest price at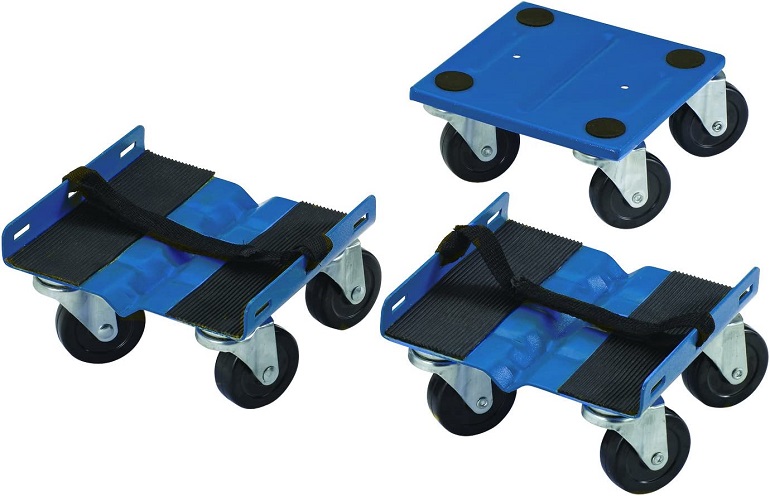 Shepherd Hardware has provided a cost-effective and reliable way to move your snowmobile around your storage space.
The small wheels on the study structures are designed to fit under your track and skis to give 360-degree movement around a flat surfaced area.
Shepherd Hardware specializes in casters, so you know they understand how to make stuff move. Their research and knowledge have gone into their specially designed Shepherd Hardware snowmobile dolly sets to keep your heavy sled moving freely.
The casters are low profile, keeping your snowmobile low to the ground. The lower center of gravity means when you lift your sled onto the three sets of wheels it maintains stability whilst being maneuvered.
You don't want your snowmobile falling off its dolly when you're moving about.
Summary
The Shepherd Hardware snowmobile dolly only has a maximum weight of 1000lbs across all three snowmobile dollies which is slightly less than the previous two reviewed but is still more than enough for the majority.
The small wheels are able to move around a flat surface with ease and are designed by a company that knows what they're doing.
Shepherd Hardware 9298 Dolly
The price of "Shepherd Hardware 9298 Dolly" varies, so check the latest price at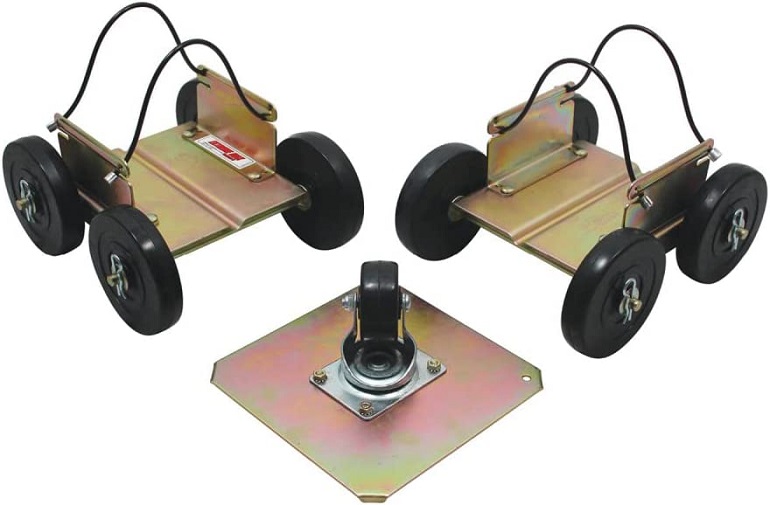 These are the second Extreme Max snowmobile dollies we're looking at in this article and they bring another of the best snowmobile products to the table. These are wide-wheel base snowmobile dollies designed to fit under the skis and under the rear track.
Extreme Max has designed a snowmobile dolly that can be driven. By not using the track dolly you can continue to use the track to move the sled forward on only the front two dollies.
The wheels are advertised as being able to be used up to 5mph across grass, dirt, and paved surfaces. The dolly should be able to withstand the pressure of propelled movements.
Extreme Max specializes in products that make maintenance and movement easy for all sorts of sporting vehicles. Their range of snowmobile-specific equipment has been well-researched, and the best snowmobile knowledge is put into it.
They have chosen to use a wide wheelbase with a low lift to give the wheels maximum stability and prevent your snowmobile from tipping.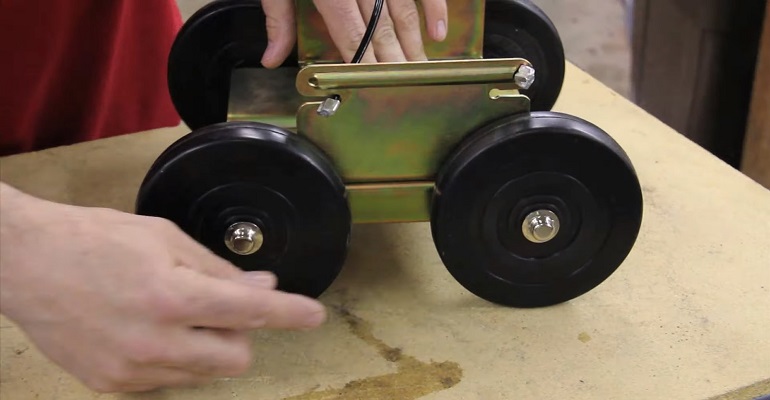 Summary
Extreme Max is a company dedicated to helping you move and maintain your equipment, whether it's through snowmobile dollies or motorcycle jacks.
The small wheels are able to be ridden off-road giving you much more flexibility on where you can move your snowmobile. This will be the best snowmobile dolly if you need to move across dirt or grass to get a lift for your sled.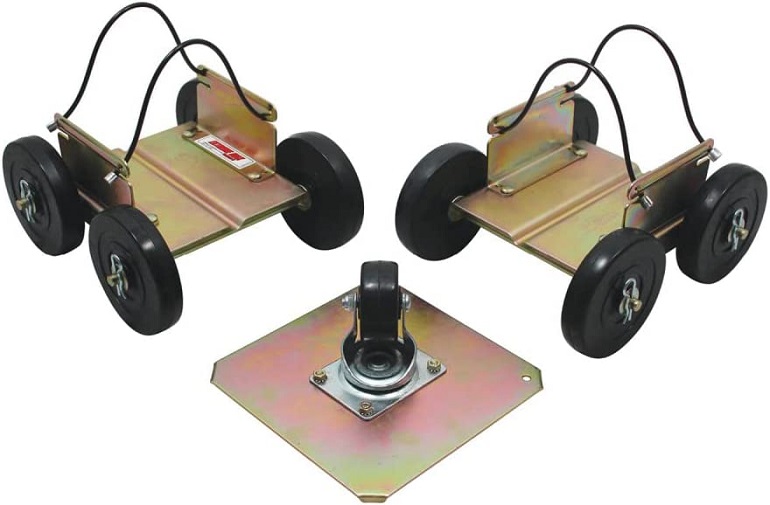 Extreme Max 5800.0200 Power Wheels
The price of "Extreme Max 5800.0200 Power Wheels " varies, so check the latest price at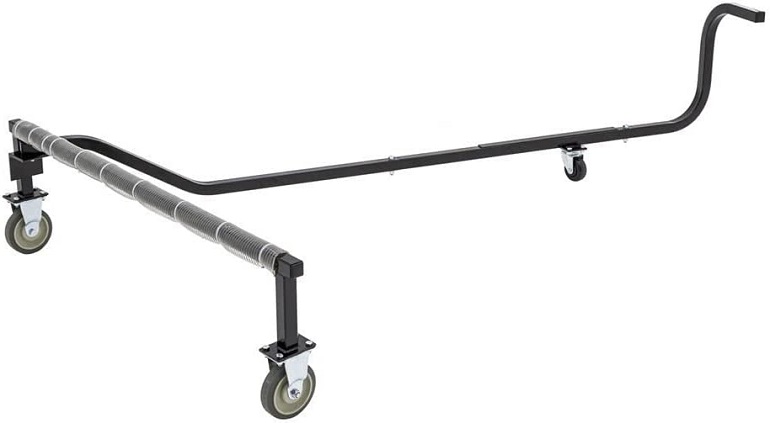 This is a snowmobile dolly similar to the one first reviewed by Extreme Max. The Black Ice Snowmobile dolly is made to slide under the frame of the snowmobile and lift it from the ground.
The easy lift provides some space underneath to do maintenance or simply move it around. You can even lift it onto another dolly.
The metal frame of the Black Ice Snowmobile dolly sports two rubber pads to prevent damage to the underside during a lift. When buying snowmobile dollies, it is important to make sure they won't cause damage to the paintwork so looking for rubber pads is always a good thing.
The big pneumatic wheels from Black Ice can tackle all sorts of terrain with ease and make moving your snowmobile over grass, gravel, and other surfaces relatively easy. Other snowmobile dollies may struggle on rough surfaces due to their small wheels but not this one.
When buying a snowmobile dolly, it is important to pay attention to the width and weight capacity. If your snowmobile is too heavy or wide for the dolly it will damage both the dolly and even worse, the snowmobile.
The Black Ice Snowmobile Dolly is built for a short wheelbase and only up to 700lbs, which is slightly less than the Extreme Max model seen earlier.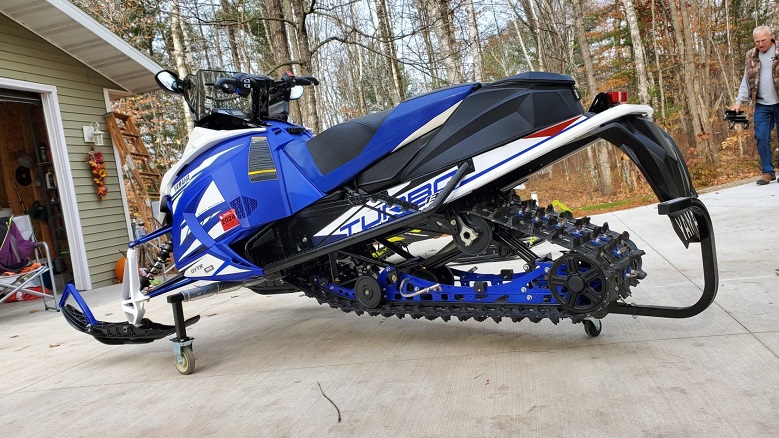 Summary
Black Ice has brought a versatile, heavy-duty, and useful snowmobile dolly to the market. It is able to be used over a vast array of surfaces and makes lifting and shifting a breeze.
The Black Ice dolly does not boast the width or strength of the previous Extreme Max model but does offer very good leverage and the ability to keep your snowmobile protected while using the dolly.
Pneumatic tires and reinforced powder-coated steel make this a formidable bit of equipment to have in your garage.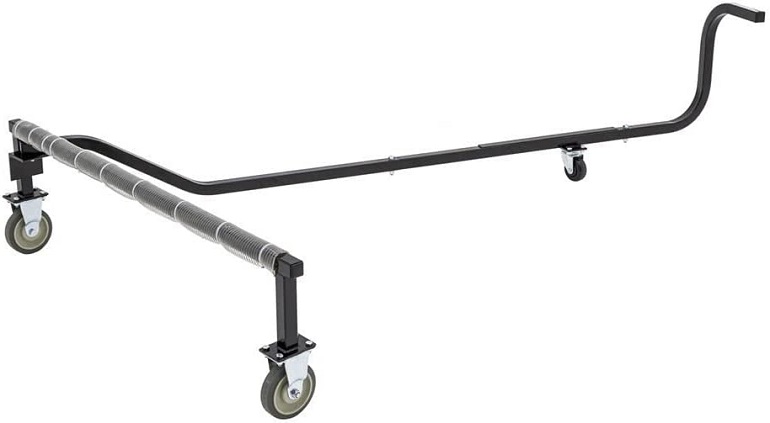 Black Ice SNO-Dolly Snowmobile Dolly
The price of "Black Ice SNO-Dolly Snowmobile Dolly" varies, so check the latest price at
What to Look For in The Best Snowmobile Dolly
Knowing what you're looking for before you start looking is half the battle won. It is a nightmare to start shopping when you have no idea what you're supposed to be looking at. Numbers and terminology can become overwhelming and confusing.
Luckily I am here to help you make the decision with ease. I'll highlight some of the more important aspects to keep an eye out for while perusing your next snowmobile dolly.
Type of Snowmobile Dolly
There are two main types of snowmobile dollies to keep an eye out for. The first is the three-plate, small caster wheelset. These fit under the two front skis and under the rear track.
They offer superior movement and can often be used with only the two front dollies with the use of the track for propulsion. The issue with these snowmobile dollies is their tiny wheels that aren't suitable for rough terrain.
The second main style of snowmobile dolly is the lift mechanism, such as the one seen by Extreme Max and Black Ice. They offer superior lift and, via the often much larger wheels, much better terrain access.
The negatives of these are their lack of maneuverability and large size.
Snowmobile Dolly Construction
Make sure you're buying quality materials when getting yourself a snowmobile dolly. Weak metals and cheap plastics will not support your equipment properly and could end up damaging it.
It is also worth taking note of the way it is built. Small extras like rubber pads around certain parts of the construction will stop damage to the paintwork and even denting. The rubber on a snowmobile dolly will stop the vehicle from sliding around and possibly falling off.
Reinforced straps around the front skis will also prevent excess movement and is a feature that should almost be considered essential.
Snowmobile Dolly Capacity
Ensure you get a snowmobile dolly that has the strength to hold your vehicle. If your snowmobile dolly cannot hold your sled, it may tip, break, or collapse resulting in damaged equipment.
Check both your own weight, including ice and gear, and compare it to the manufacturers' guidelines. Also you should know how much does snowmobile weight to buy a perfect dolly.
A Few Last Words From Me
I have ridden motorcycles, jet skis, and snowmobiles over the years and have had to try my hand at repairs a number of times.
Lifting the damn things is always a nightmare so to have something like a snowmobile dolly to help move a dead snowmobile is a godsend.
Even if you're just chucking it in storage for the warm season, having a snowmobile dolly will make garage space management all that easier.