Ever wondered how much does a snowmobile weigh? No? I'm sure your sled squeaks like a mouse because you didn't compare your weight with the weight of your Ski-Doo while buying it. And now you are blaming the company for this inconvenience of switching snowmobiles.
Aren't you the King of Kings? Sure you are! But it is okay. Stupidity is not a crime yet (although I wish it to be). You are free to go, Andrew. But before you go, let me share a secrete of mine as it might benefit you.
You know, I love money but what I love more than that is other people's money (IUKWIM). Mind if I took some bacon from your extreme wealth? I mean, don't you buy things without any prior homework? I thought you were that privileged.
Well, now that I am done ranting about lack of research and ignorance, let's dive into the sea of information regarding the weight of a snowmobile. Let's go and find out how much these snowmobiles weigh and what factors add to their overall load.
Because you don't want it to overshadow your riding abilities, right? Read on!
How Much Does A Snowmobile Weigh? (Average Weight)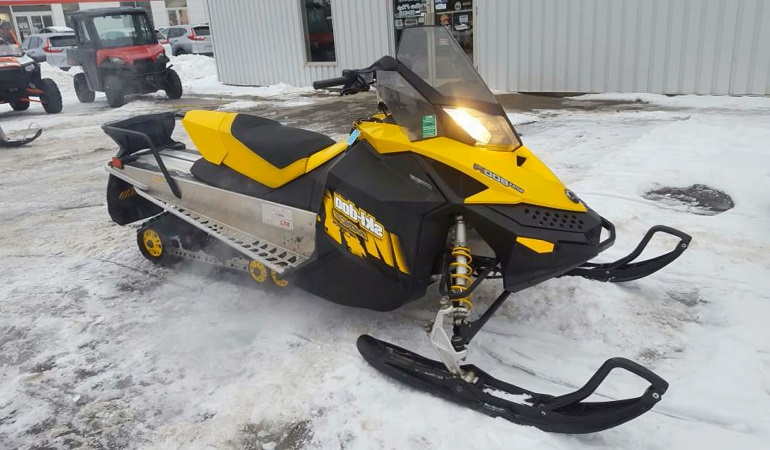 While purchasing a motor sled, price is always our top priority, but besides that, one should also take into consideration the importance and value of the exact weight of the snowmobile.
I mean, if the North is your destination, you probably don't want to go South just because your vehicle has taken its toll. No one wants disobedience, right?
Believe me when I say that the weight immensely influences the riding experience. So let's get familiar with it and save you the trouble of a wrong purchase.
Since snowmobiles come in a wide range of sizes and shapes, every snow sled weighs differently.
The reason behind it is the choice of design/construction, the type of material used in the framework, the engine oils, other fluids, etc.
While most two-stroke engine sled weighs between 400 to 600 lbs, the four-stroke engines weigh 1000 plus. These snowmobiles are available in different models like trail snowmobile, touring and performance snowmobile, etc.
The average weight of a typical snowmobile is 490 lbs. to 500 lbs. However, it can range from 400 pounds to 600 pounds. Besides just the weight of the sled, the load of the fuel tank/ engine coolant also adds up to its overall weight.
On average, a full tank amounts to 60 pounds. So, one can say that a snow sled weighs about 536 lbs. (476 pounds/215 kg of average dry weight + 60 pounds of fuel tank)
Dry And Wet Weight Of A Snowmobile
What is the dry and loaded weight? The dry weight of a snowmobile is the actual weight of the machine without any fluid, oil, and any additional weight of gear. On the contrary, the wet or loaded weight is the weight you get after filling its oil tank, etc.
Only the dry weight of the machine is mentioned on the website by the snowmobile manufacturers. So you need to add the extra weight of additional gear and storage/oil/gas tank to get a better idea of its overall weight and compare it to your skill set. Below is given the average dry weight rankings of different types of snowmobiles:
Touring Sled: 587 pounds
Utility Snowmobile: 570 pounds
Trail Ski-Doos: 499 pounds
Performance Snowmobile: 490 pounds
Mountain Snowmobile: 448 pounds
Mentioned below are some popular high-performance snowmobiles you can find on the market. Refer to the table given below to find their dry weights.
The brands are Arctic cat, Ski-doo, and Polaris. You know, a cat from the Arctic or a Ski-doo snowmobile is definitely going to nail the task.
Article Cat
| | |
| --- | --- |
| MODEL | WEIGHT |
| Bearcat 2000 XT | 636 lbs. |
| Pantera 7000 XT | 5767 lbs |
| Lynx 2000 | 494 lbs. |
| Lynx 2000 LT | 567 lbs. |
| M 8000 Hardcore Alpha One | 451,456 lbs. |
| M 8000 Mountain Cat Alpha One | 455,460,471 lbs. |
| Riot 6000 | 446,451,466,471 lbs |
| Riot 8000 | 521 lbs |
| Riot X 8000 | 525 lbs |
| ZR 120 | 167 lbs |
| ZR 200 | 210 lbbs |
| ZR 6000 Limited | 512 lbs |
| ZR 6000 R XC | 487 lbs |
| ZR 6000 SNO PRO | 504 lbs. |
| ZR 8000 Limited | 527lbs |
| ZR 8000 RR | 521lbs |
| ZR 8000 SNO PRO | 513 lbs |
| ZR 9000 Thundercat | 603 lbs |
Ski Duo
| | |
| --- | --- |
| MODEL | WEIGHT |
| Free ride 154 | 451 lbs. |
| Freeride 165 | 458 lbs |
| Grand Touring sport 900 ACE | 519 lbs. |
| Grand Touring sport 600 ACE | 567 lbs. |
| MXZ sport 600 | 447 lbs. |
| Renggade sport 600 | 447 lbs. |
| Summit X 850 E -TEC | 478 lbs |
| Backountry X 850 E -TEC | 456 lbs |
| Expenditure extreme | 595 lbs |
| Skandic SWT 900 ACE | 705 lbs |
| Turda sport 600 ACE | 486 lbs |
Polaris
| | |
| --- | --- |
| MODEL | WEIGHT |
| INDY Adventure 144 | 498 lbs. |
| INDY Adventure 155 | 524 lbs |
| INDY Adventure 137 | 471,472,478 lbs. |
| Switchback XRC | 442,449 lbs. |
| TITAN Adventure 155 | 658 lbs. |
| INDY XC 137 | 462,463,469 lbs |
| RMK KHAOS 155 | 413,420 lbs |
| RUSH PRO -S | 432,444 lbs |
| Voyageour 155 | 478.5 lbs |
| INDY | 147 lbs |
Which Factors Affect the Weight of Snowmobiles?
Let's see what features heavily affect the weight of a snowmobile:
Engine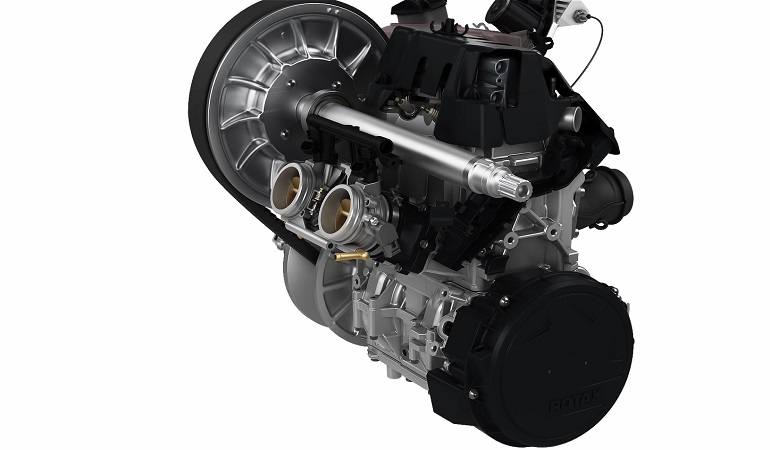 Let's talk about the heart of the machine i.e. engine. The engine makes the most of your vehicle's weight, thus the machine's heaviest part. However, the weight differs by its ability measured in cubic centimeters or 'cc.'
That is exactly why a heavy engine with grandiose capability consumes more fuel than a small engine with less ability.
When you are buying a motor sled, look for its cc value. This cc value tells about its speed, weight, and capacity. More ccs mean increased fuel consumption.
Therefore, a two-stroke engine is lighter than a four-stroke engine and also encompasses a lower working temperature.
Framework Material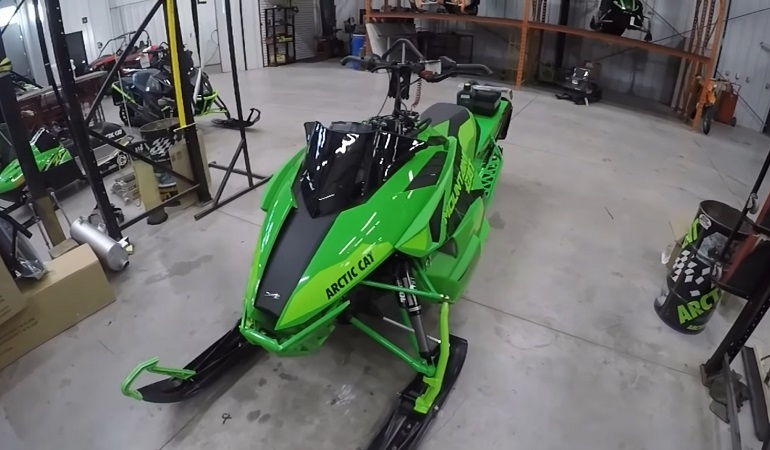 Every snowmobile you come across will be swanking a different material like fiber, metal, or steel.
Among all the base materials, carbon fiber is appreciated the most for its ability to dramatically reduce the machine's weight. It is not only lightweight in comparison to many but has good durability. But wait!
If you are one aggressive rider, fiber might not be for you as this material cannot stand rough handling. The body might shatter, and it is hard to fix if damaged. That is why the whole body needs to be replaced.
On the flip side, metal can easily be fixed. Here, you need not replace the whole structure but rather fix the dents and divots only.
Do you see? Metal can take a good beating! However, the metal body makes a heavier snowmobile. Moreover, there is a high chance of it getting rusted because of its contact with moisture.
Skis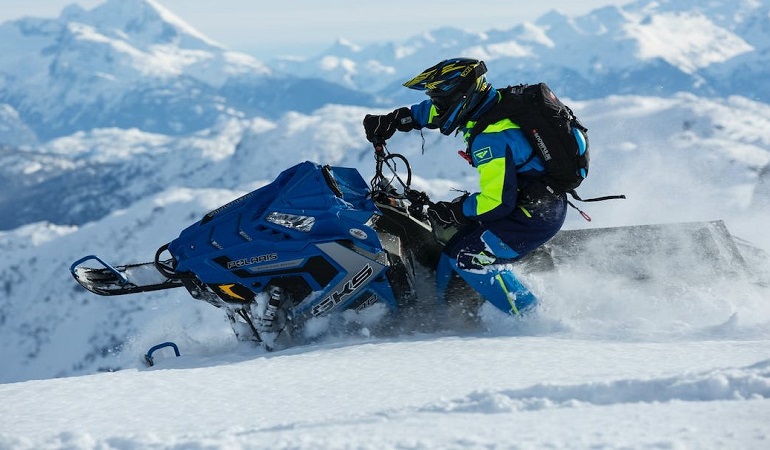 There are mainly two types of materials used in making skis: metal/ steel skis and plastic ones. The steel/metal skis weigh about 12.5 pounds, while the plastic skis weigh around 7.5 pounds.
Some snowmobilers prefer plastic, while others prefer metal because both have pros and cons. The best part about plastic is its resistance to damage. The plastic doesn't bend when driven on hard surfaces. However, the metal tends to bend. But it is an affordable option.
Seats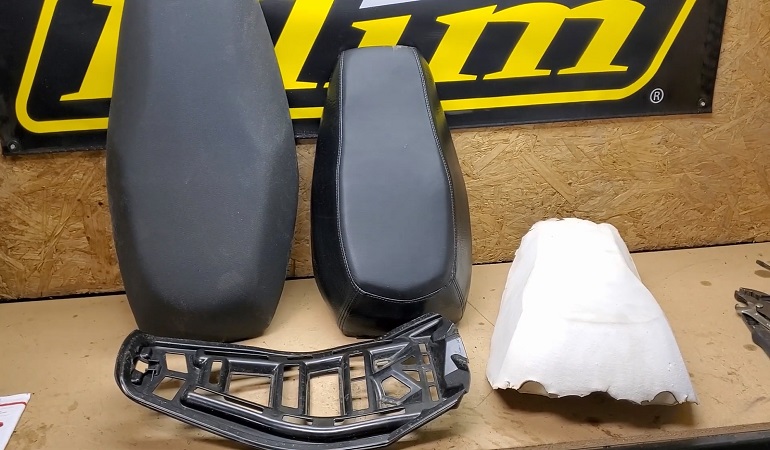 Not only the quantity but the quality of the material also does matter. You need to figure out how many seats you want and what's its impact.
A one-seater sled will weigh less than a two-seater; similarly, a three-seater will weigh more than both one or two-seater sleds. The padding material also adds extra pounds to your machine.
In addition, snowmobile tracks also may add up to 7 pounds to your snowmobile weights.
What's Better: A Heavier or Lighter Snowmobile?
It is a matter of personal preference. If you can handle a heavy sled, just go for it. However, if its fast and furious speed makes you go flying at the cost of control, leave it alone.
Many factors determine the right snowmobile for you, like; size, weight, type, etc. Weight makes one of the most important topics you need to cover if you don't want to compromise your riding abilities.
You must go through each important topic honestly to avoid buying the wrong one. You see, it is a very subjective matter.
However, let me try to simplify it a bit for you. Generally speaking, lightweight snowmobiles advocate superior maneuverability and easy turn initiations. Moreover, lighter sleds are easier to handle.
If you are a beginner, I recommend you go for a lighter snowmobile to learn the basics with much-needed ease and comfort. You know, too much power can prove daunting. Similarly, heavy weight can also prove tough to handle for some people.
Heavier snowmobiles tend to have hefty engines that not only potentially increase their overall weight but also their speed.
The heavy-duty engines are designed to take you on a magic carpet ride and tackle any type of condition. These heavy-weight champions offer more bite and dig but demand more energy to operate the snowmobile safely.
In the end, both have their pros and disadvantages. The lighter versions are easier to ride but can also feel more bouncy. The heavier versions offer more speed but are difficult to tame.
How To Minimize Snowmobile Weight?
If your sled carries more weight and gets heavier, it will definitely lose flotation. The motor sled will start trenching down into the pow, leaving you no solutions other than cutting down on its load. But how do you do it?
Well, many experienced riders tend to reduce the sled's overall weight by replacing the manufacturing facility parts with aftermarket parts.
One can easily find the lighter versions of many sled parts and swap them with the originals. However, snowmobile engines might be an exception, as you cannot risk swapping them.
Below are some replaceable parts that any person with a repairing understanding can change.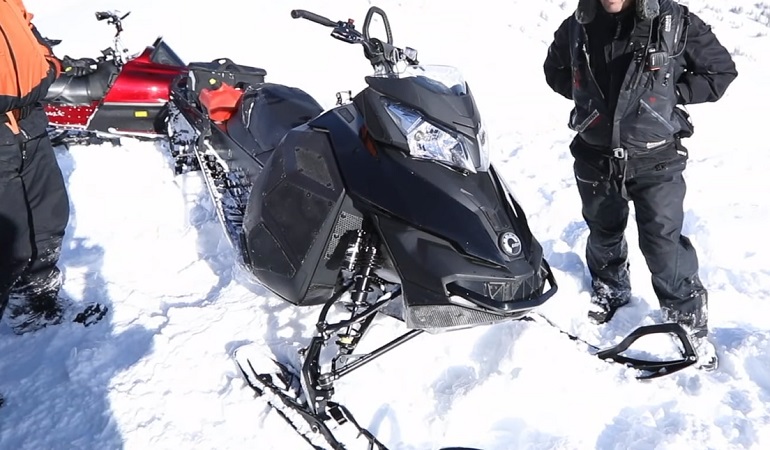 The Wheels: You can dramatically reduce the weight by replacing the bogie wheels with scratchers without compromising functionality.
The Seats: If your snowmobile has thick foam seats underlined with heavy metal, you might want to replace them with less foam and no metal seats that are way lighter than the original heavy-load seats.
Exhaust System: You can use only one pipeline and a can to further reduce a few pounds.
Steel Ski Cleanings: These don't necessarily demand to be made of steel which is why you can always replace some lightweight aluminum ski cleanings.
Change the Sleds: If the sleds of your motor are manufactured using any hefty material, try to change them with any lightweight, sturdy material and reduce weight up to 40 pounds.
Idlers: If you give a good look at the outside wheels at the front of your motor sled, you will notice they possess heavy-duty idlers that are dragging most of the weight of your vehicle. You can try and switch them with 2 to 2.75 inches idlers to reduce weight further.
The Shafts: Changing the steel shafts with aluminum can also reduce the total weight.
Which Are the Lightest Snowmobiles?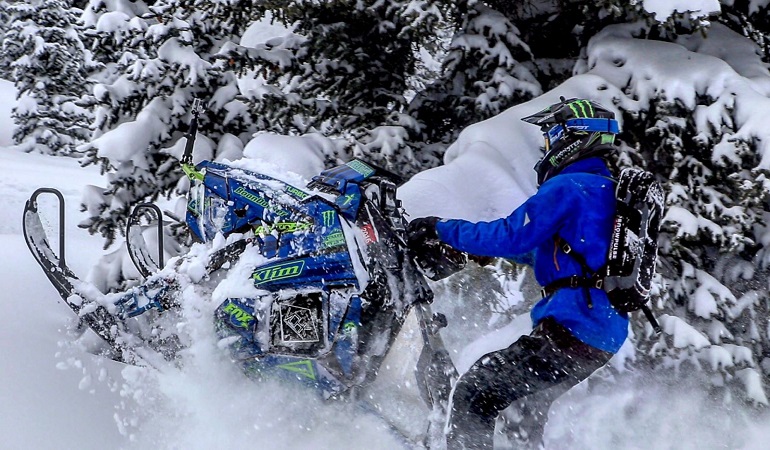 Mountain sleds are the lightest you can find on the market. With an average snowmobile weight of 203 kg or 448 pounds, mountain snowmobiles take over the snowy hills like no other.
As you know, snowmobiling on backcountry or peaks demands lightweight equipment; the hill sleds work like a dream by offering more control and making navigation easier. You know, when you are on a mountain, you desire control above all else.
If you get more specific, you will find the Polaris mountain snowmobiles the lightest. It feels like a feather on mountain terrains, weighing as little as 187 kg or 414 pounds.
Which Are the Heaviest Snowmobiles?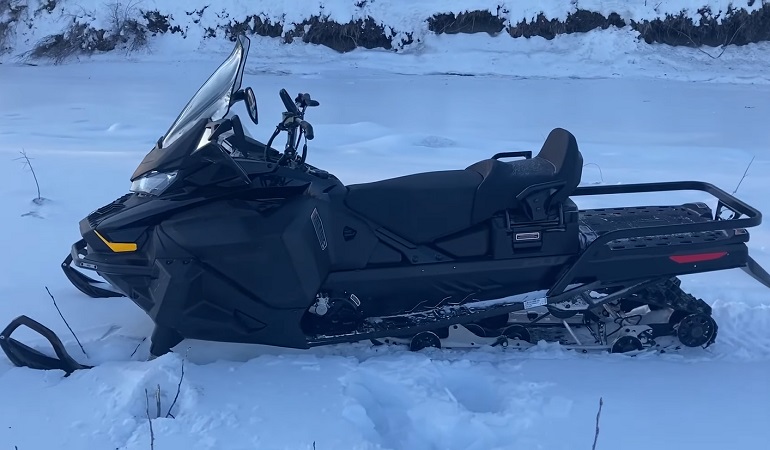 Touring Snowmobiles make the heaviest of them all. These snow sleds can weigh as much as 347 kg or 767 pounds. However, the average weight of a touring snowmobile is 587 pounds or 266 kg.
Touring Ski-Doos tend to be the heaviest because of their heavy-duty four-stroke engines. Besides the engine, the snowmobile is equipped with many extra facilities for long rides, the extra load of which adds up to its overall weight.
You know, a touring sled is meant to be driven over long distances and for long hours. That is why this SUV of the snowmobile world weighs the most.
Conclusion
Now you have learned about the many factors that influence a snowmobile's weight. You have also discovered the different ways you can use to reduce its weight.
So, always factor in your skill set, your weight and the weight of added accessories while deciding on a specific sled of a particular snowmobile weight. Also, you need to figure out if you can handle lighter snowmobiles or heavier snowmobiles.
Have fun riding, and be safe out there!