Through a New Lens
Snowmobiling is rough and rugged, not to mention dangerous.
Despite the luxury of having a motorized engine move you around, you need to maintain a good view of your surroundings. In the snow, everything is white, and so you might not be able to spot that cliff's edge until it's too late.
That's why you need a good pair of snowmobile goggles. Goggles that reduce glare and have a dark lens color that cuts down the bright light conditions. Anti-fog lenses wouldn't hurt either, better yet, an anti-fog inner lens.
We've got all this and more listed for you down below.
Best Snowmobile Goggles

KLIM Oculus Goggle
Color: Yellow
Material: Silicone
Best Comfort Option

509 Sinister X6
Color: Acid Green
Material: Polycarbonate
Best Performance Option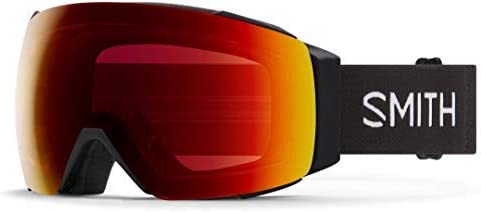 Smith I/O MAG Snow Goggle
Color: Black
Material: Metal
Best Frameless Design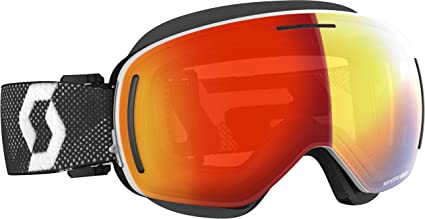 Scott LCG Snocross
Color: White/Black
Material: Silicone
Best Budget Option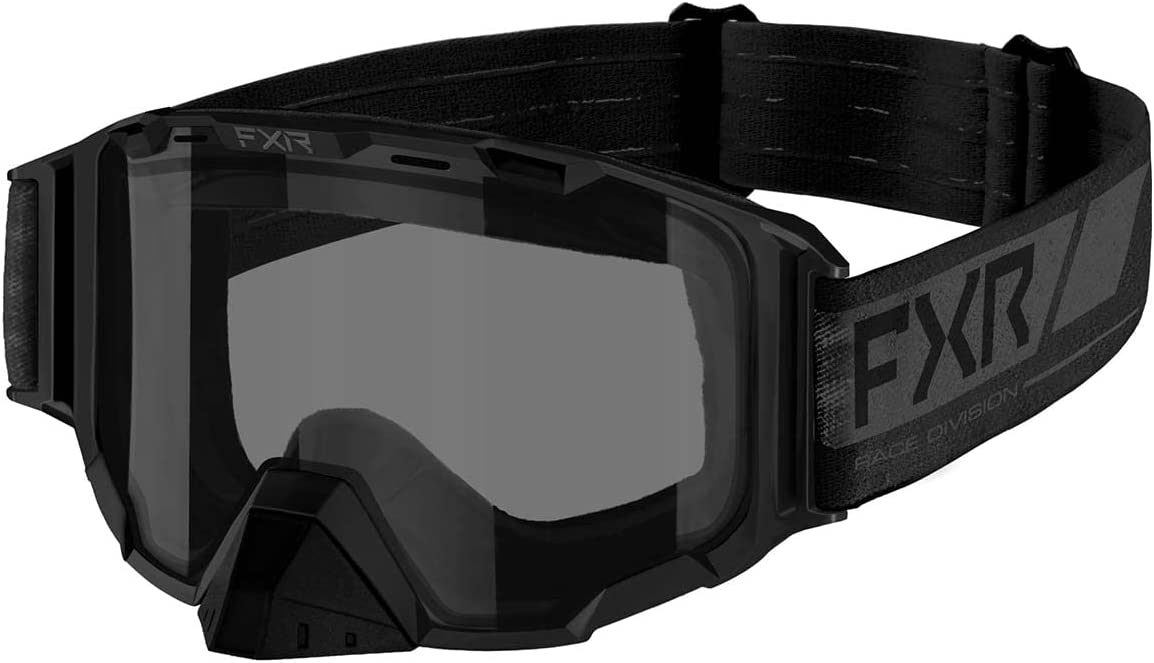 FXR Maverick
Color: Black
Material: Polycarbonate
Best Build Quality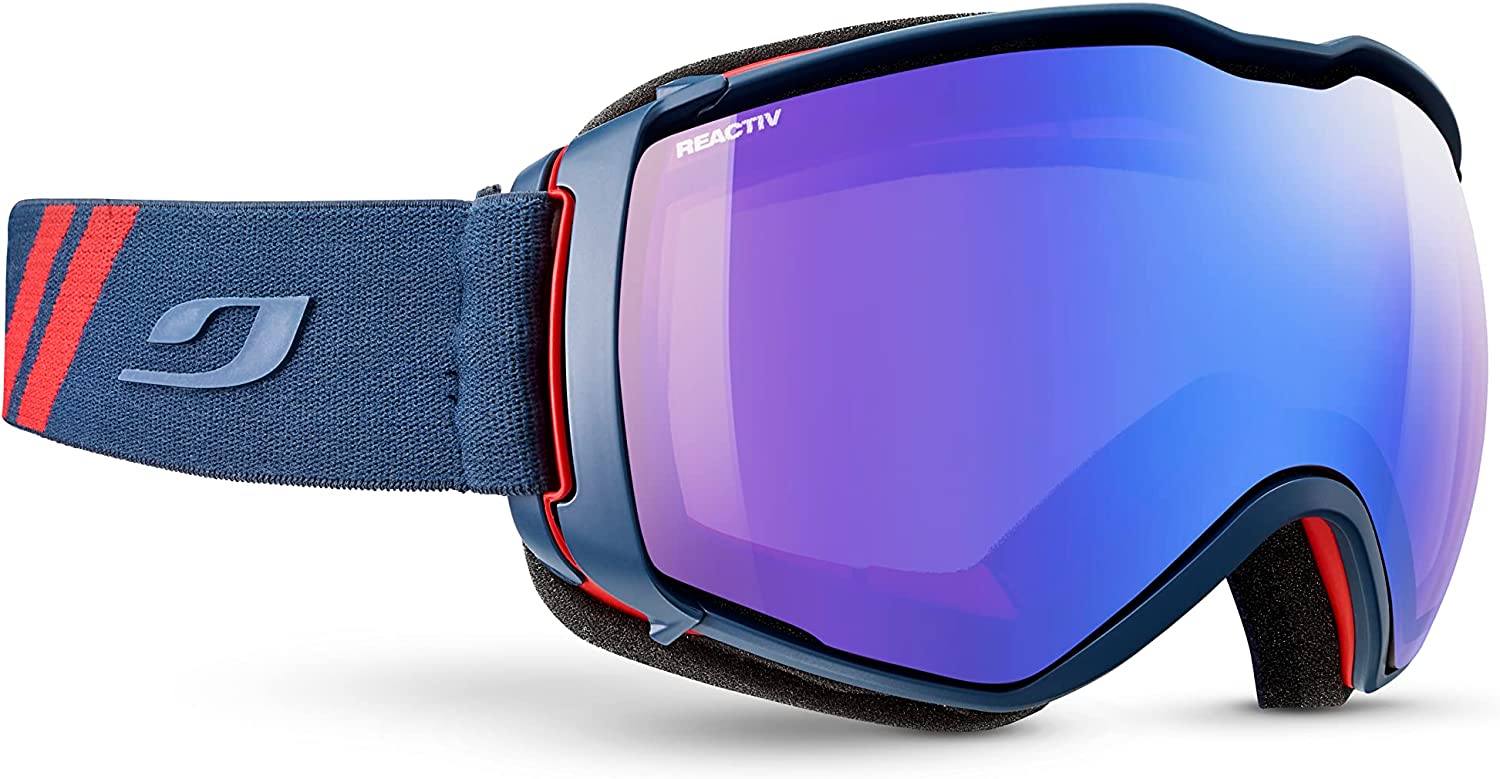 Julbo Aerospace
Color: Black
Material:

Nylon & Cotton
Best Of The Rest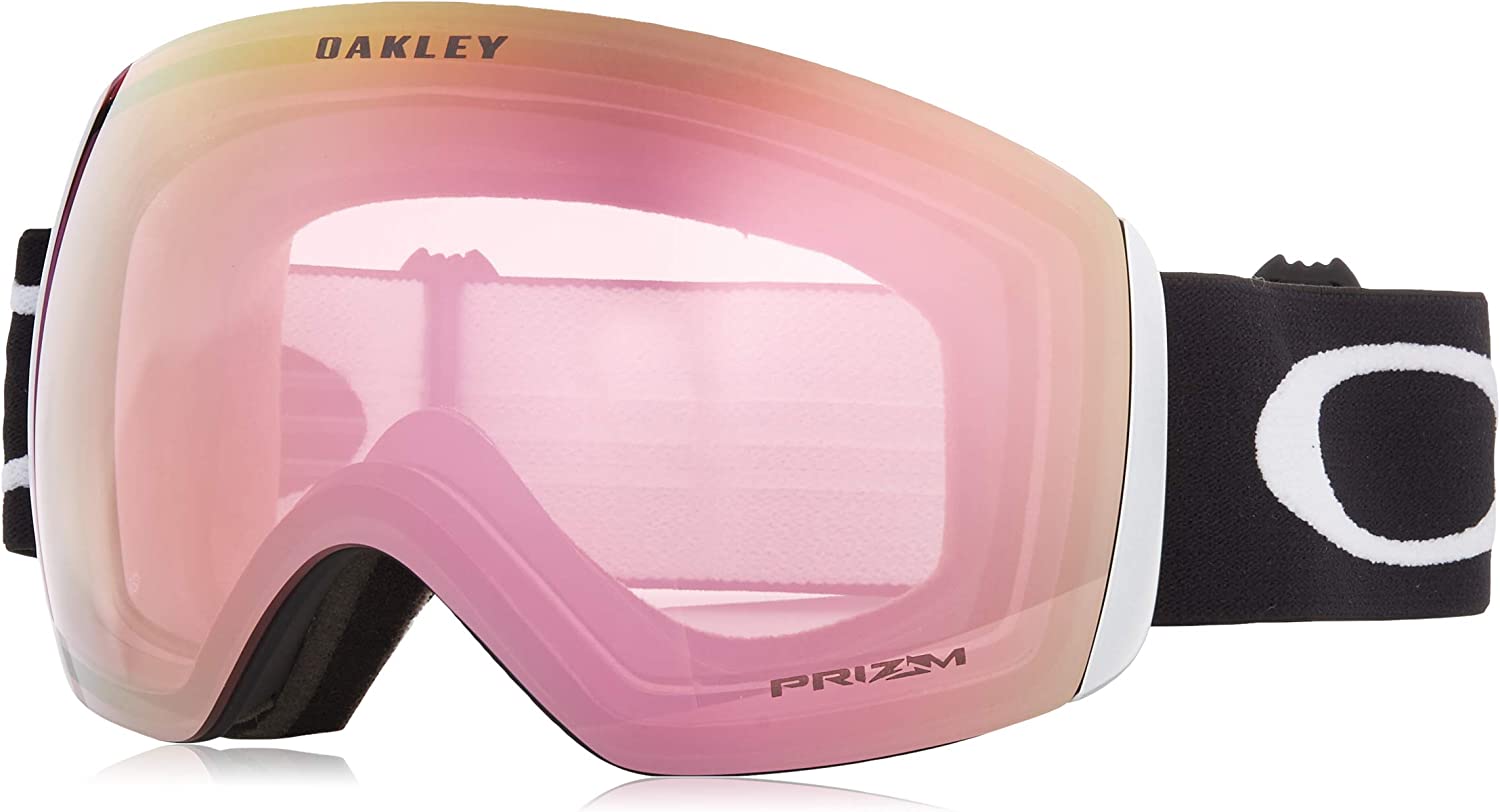 Oakley Flight Deck
Color: Matte Black
Material: Plastic
The Best Snowmobile Goggles
It's time to get on to the list. Each of the goggles below has been broken down into three sections. Their main feature, a few specifications, and their pros and cons.
You'll want to pay attention to all three of these sections if you aim to get the right snowmobile goggles for your region.
Keep in mind that some goggles prioritized comfort while others opted for visual clarity. What you need most should guide you to the right pair.

The best snowmobile goggles on our list earned their spot due to knocking it out of the park when it came to all major goggle categories. The Klim Oculus goggles have a great universal fit that can accommodate people of all sizes.
Included with your purchase, is a carrying case in which you can place your goggles and any extra lenses. I always enjoy it when products come with extra accommodations, so this is a big plus in my book.
The lenses can be interchanged, and each lens has an ultra-wide reach. Enhancing your peripheral vision to the outer limits.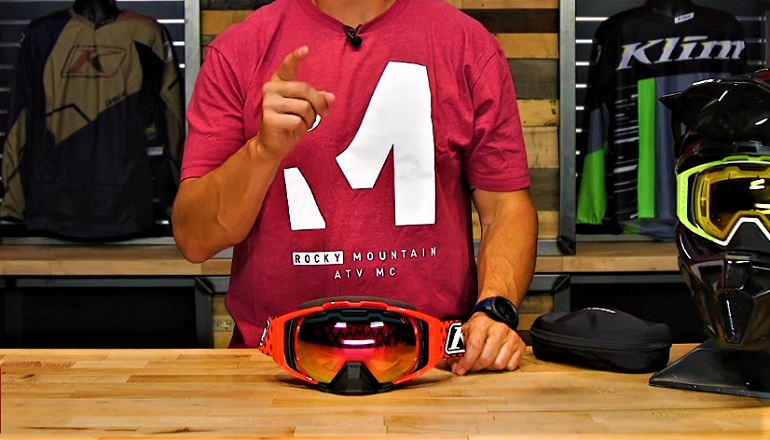 Features
Frame Structure: Silicone
Goggle Face Size: One size fits all
Best Feature: Comes with a bag for goggles and lenses
Warranty: Not available
Interchangeable Lens: Yes
Lens: Two, high and low light dual layer lens
Pros
You don't just get the goggles with your purchase but also a bag and double lenses.
Has enhanced peripheral vision that leaves no blind spots.
The inner lens is made to prevent fogging and moisture build-up.
Cons
I think this could have benefited from more sizing options.

KLIM Oculus Goggle
The price of "KLIM Oculus Goggle " varies, so check the latest price at

Comfort is important. If you are going to be wearing something for extended periods of time, it's best to wear something that feels right. Despite their name, the Sinister x6 ignite goggles blew me away with their key feature.
The 509 Sinister X6 goggles are heated. You would think that heated goggles fog up, but thanks to the build of the Ignites, this is not an issue. To turn on the central heating and keep your face nice and cozy, you only need to press a single button.
Should anything go wrong, this heated goggle offer a one-year warranty. All bases are covered with the Ignites.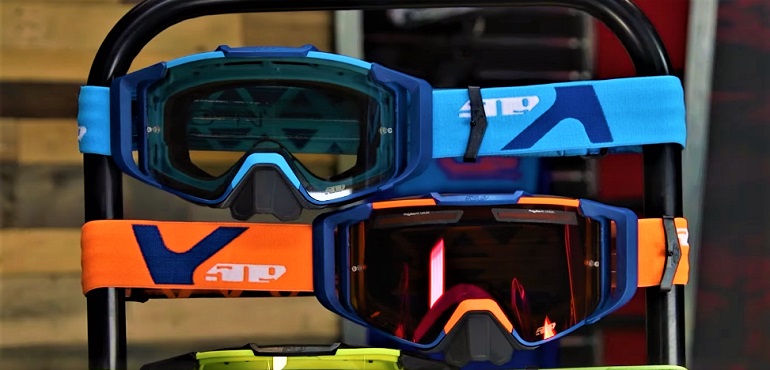 Features
Frame Structure: Sinister X6 ignite custom frame
Goggle Face Size: One size fits all
Best Feature: Single-button ignition
Warranty: One-year
Interchangeable Lens: No
Lens: Ignite heated lens
Pros
Has a battery pack that lasts four to five hours long before needing to be recharged.
The lens system has different heated lens modes for you to choose from.
These heated goggles are turned on and off with a simple button press.
Cons
Would have liked the ability to swap out the lenses, but I understand that the heating system would not allow this.

509 Sinister X6 Ignite Goggle
The price of "509 Sinister X6 Ignite Goggle" varies, so check the latest price at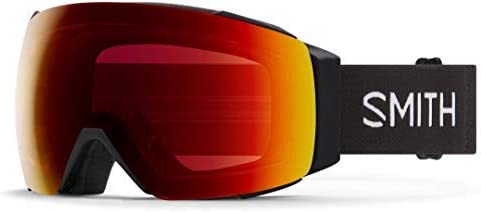 I've written about the Smith I/O Mags before. They are top-of-the-line goggles that are performance oriented. What does this mean? Simply put, everything about them was made to up your game.
From the magnetic lens system that easily clicks in your replacement lenses to the ChromaPop lenses that are built-in. Each feature is meant to enhance every moment. Even the silicone strap that you use to secure these goggles onto your head is quality.
It's got a wide fit, compatible with any snowmobile helmet you own. To top it all off, the outermost lens is high-impact resistant.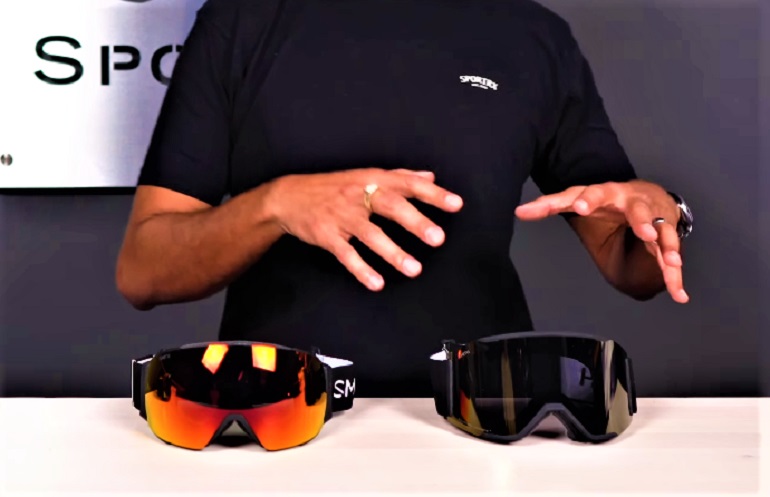 Features
Frame Structure: Magnetic, rimless, 3-layer DriWix face foam
Goggle Face Size: Medium fit
Best Feature: Wide, silicone-backed strap
Warranty: Lifetime
Interchangeable Lens: Yes
Lens: ChromaPop lenses
Pros
You can count on a complete anti-fog coating that works hard to maintain optical clarity.
Interchangeable lenses that are fast to swap in and out of the goggle frame.
The outer lens is a Carbonic lens that has high impact resistance.
Cons
I couldn't find much to complain about. Solid build quality.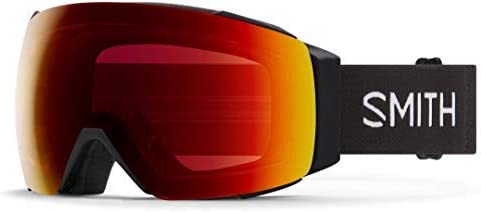 Smith I/O MAG Snow Goggle
The price of "Smith I/O MAG Snow Goggle" varies, so check the latest price at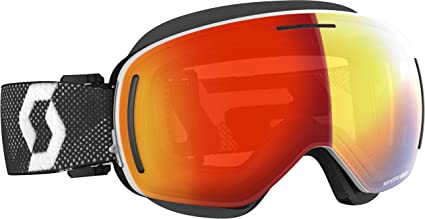 Frameless goggles give you the largest field of view. Sure, without an extended frame, the amount of protection that your lenses have is reduced, but the benefits outweigh the odds.
A reduced overall weight won't tire out your head or neck. The field of view allows you to spot things that most others would miss. Lastly, anti-fogging measures are a whole lot more effective and easier to implement.
What about the lens itself?
The lens on offer here is an Enhancer Red Chrome, it makes everything pop. Nothing but pure quality across the board and intelligent design to boot.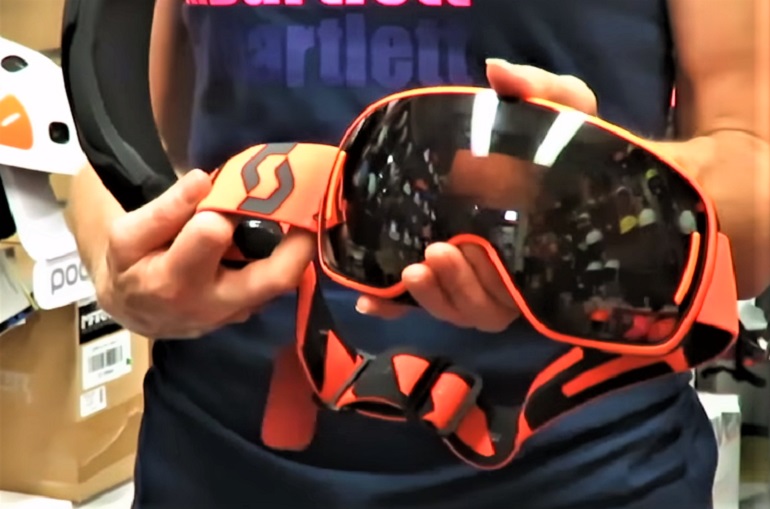 Features
Frame Structure: Silicone
Goggle Face Size: Full fit
Best Feature: Sleek frameless design
Warranty: Not available
Interchangeable Lens: Yes
Lens: Enhancer Red Chrome lens
Pros
The lens system is managed by a mechanical slider on the side.
The anti-fog technology used to coat the lenses is top-of-the-line.
Has a massive visual field of view that is made for tough weather conditions.
Cons
Mechanical sliders are easier to break than other systems for interchangeable lenses.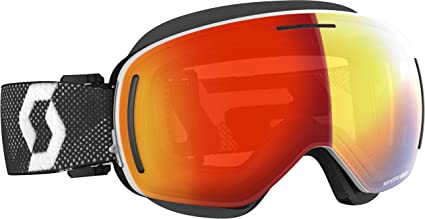 Scott LCG Snocross Snowmobile Goggles
The price of "Scott LCG Snocross Snowmobile Goggles " varies, so check the latest price at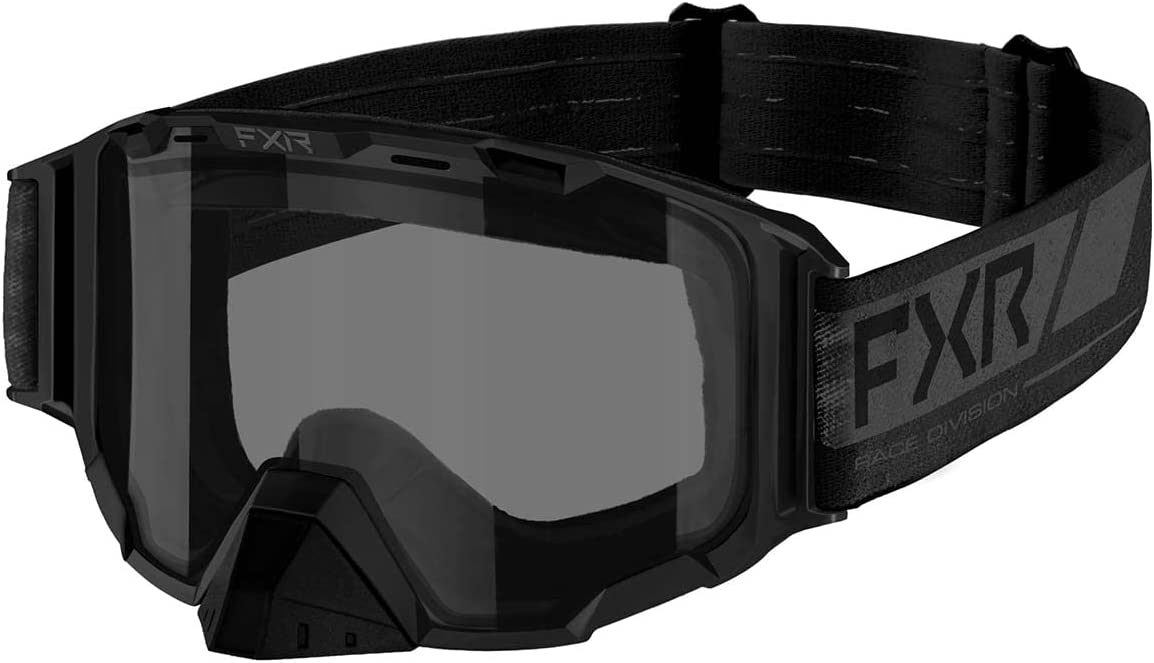 There's always got to be a budget option. That's my ethos when doing these write-ups, but not just any low-priced gear is up to the task. Quality still matters. As does dependability.
That's why I opted to include the FXR Mavericks. With a full polycarbonate frame build, durability is not a question. With three layers of foam padding to keep the polycarbonate from rubbing into your face, comfort is not a question.
The best part is, that despite this being a budget option, attention was still paid to detail. The anti-fog lens gives you full UV-ray protection. Simply too sweet!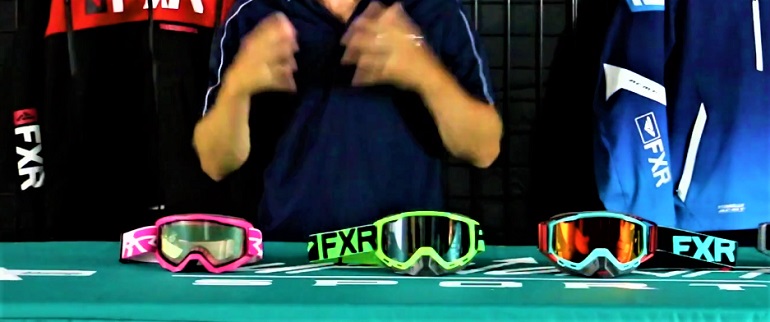 Features
Frame Structure: Polycarbonate
Goggle Face Size: Medium fit
Best Feature: Triple-layer foam padding
Warranty: Three years
Interchangeable Lens: Not available
Lens: Protects against harmful UV rays
Pros
Has a fantastic build quality that is available at a low price.
The three layers of foam padding for the face prevent any hard red lines after extended usage.
Has a curved anti-fog lens that provides you with excellent depth perception.
Cons
The strap isn't the best for securing the anti-fog goggles on your face.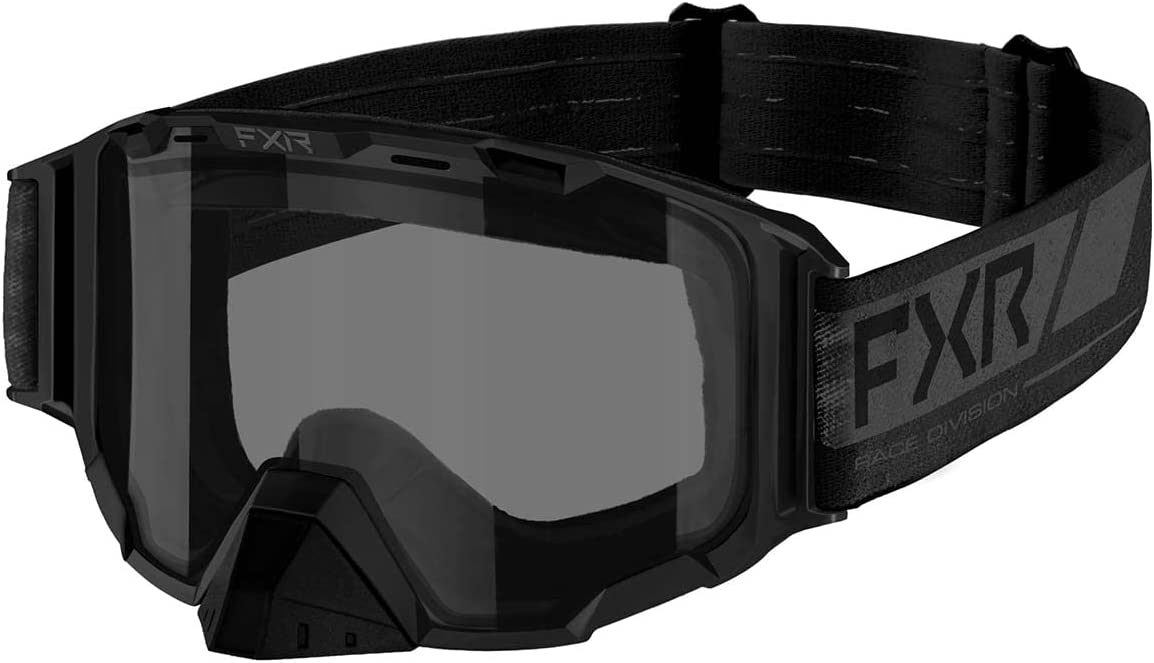 FXR Maverick Goggle
The price of "FXR Maverick Goggle " varies, so check the latest price at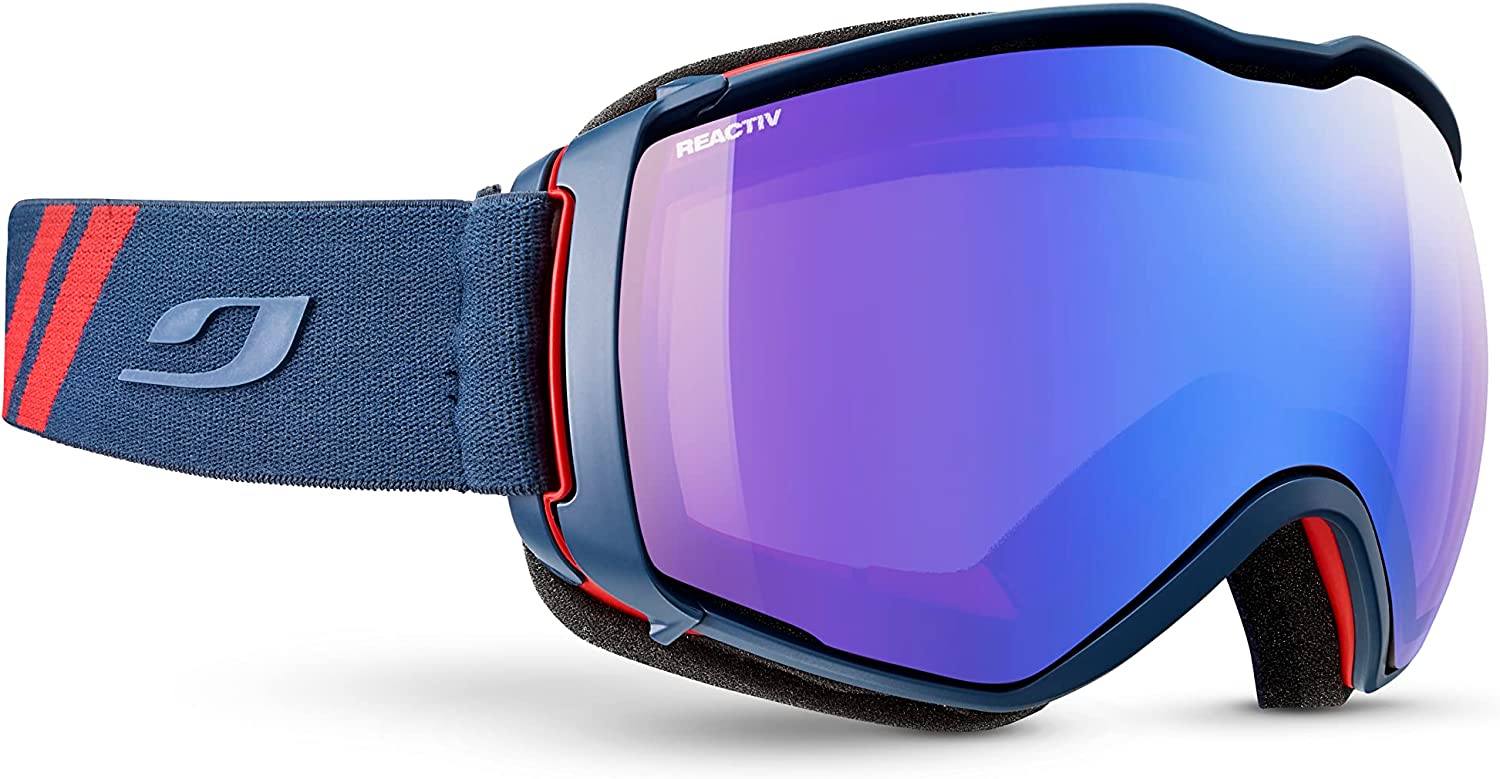 It's not often that a product pushes the established norms and then trounces them in the way that the Aerospace goggles did. The frame and outer frame of these goggles aren't made from one uniform material.
Rather, a unique concoction was cooked up. One that gave these goggles everything they needed to perform and last in any conditions. For comfort, two layers were caked on top of one another. Backed by a one-year warranty and secured into place by an adjustable silicone strap.
As for the fog, don't worry. The SuperFlow system ushers in the fresh air and escorts any moisture out the back door.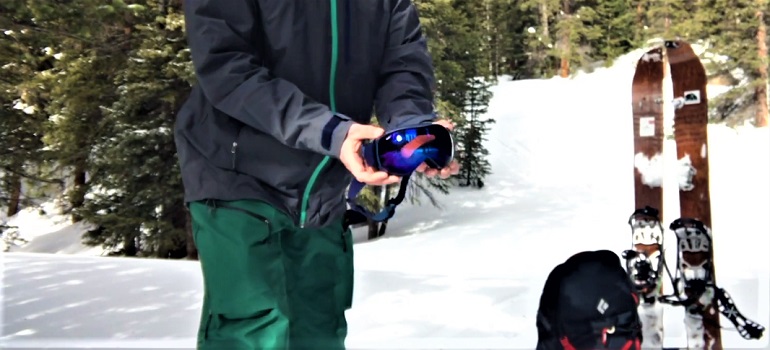 Features
Frame Structure: Cotton, nylon, and wool
Goggle Face Size: Medium fit
Best Feature: Dual foam layers
Warranty: One year
Interchangeable Lens: Yes
Lens: Polarized lenses and Reactive lenses
Pros
Benefit from the SuperFlow system that increases airflow by adjusting the placement of the lens.
The adjustable silicone strap has been fully integrated into the goggle soft frame.
Comes with an offset strap that allows these snow goggles to be compatible with larger helmets.
Cons
Not many color options to choose from.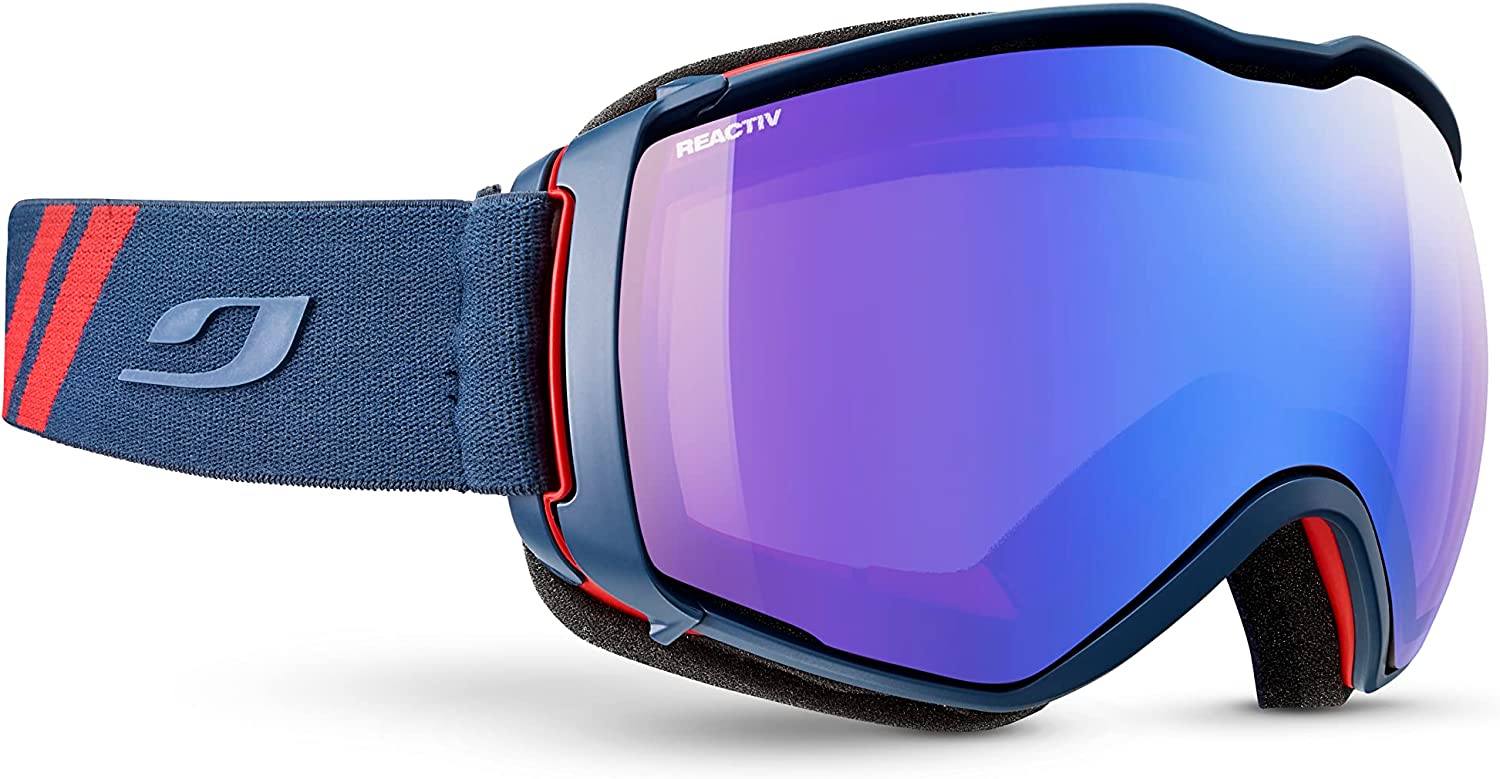 Julbo Aerospace Snow Goggle
The price of "Julbo Aerospace Snow Goggle " varies, so check the latest price at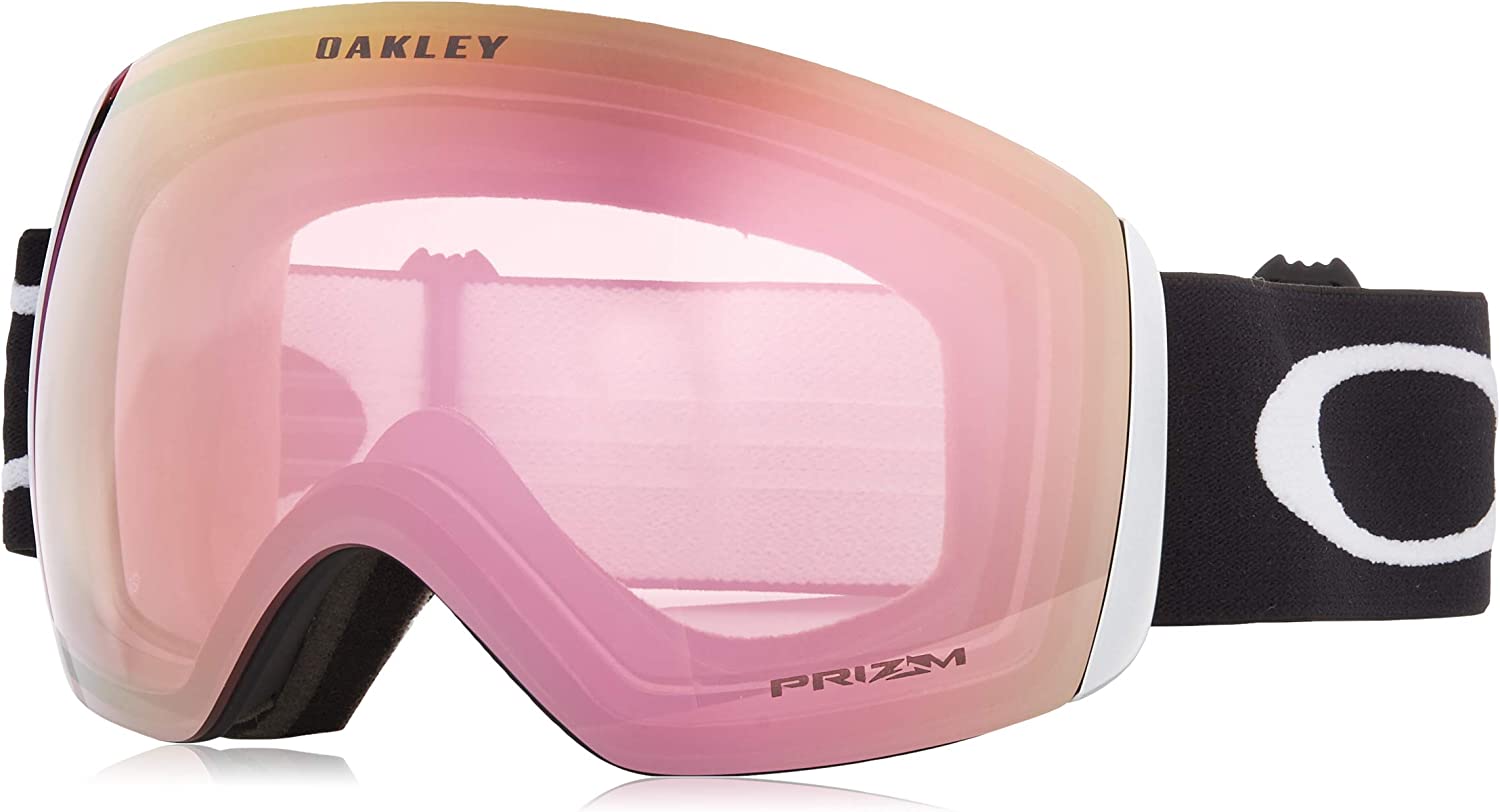 Our last pick of the bunch is an Oakley special that has the impressive Prizm lenses as its main ocular treat. Fitted into their design is a sub-frame lens attachment. The reason for this being included is so you can quickly swap out any damaged lenses.
Besides fighting off the chomping cold, these goggles offer UV light protection and a low-profile frame. This low-profile frame makes it easier to fit these goggles into whatever helmet you may have.
Nylon and elasticized fabric offer a two-hit combo of durability and flexibility without having to compromise on comfort. Great goggles at a great price.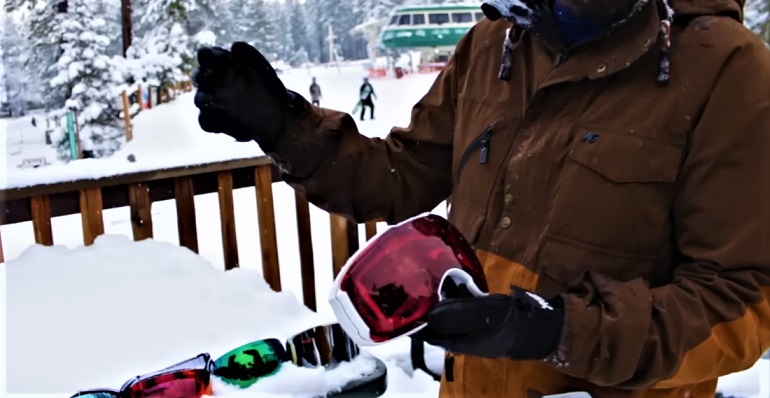 Features
Frame Structure: Hard plastic
Goggle Face Size: Medium-small
Best Feature: Solid build with many materials
Warranty: Not available
Interchangeable Lens: Yes
Lens: Prizm lenses
Pros
This snowmobile goggle incorporates several great materials into its structure. Including nylon and elasticized fabric.
Has a sub-frame lens attachment for rapid swapping.
Has one hundred percent UV light protection and a low profile frame.
Cons
Only two color options to choose from.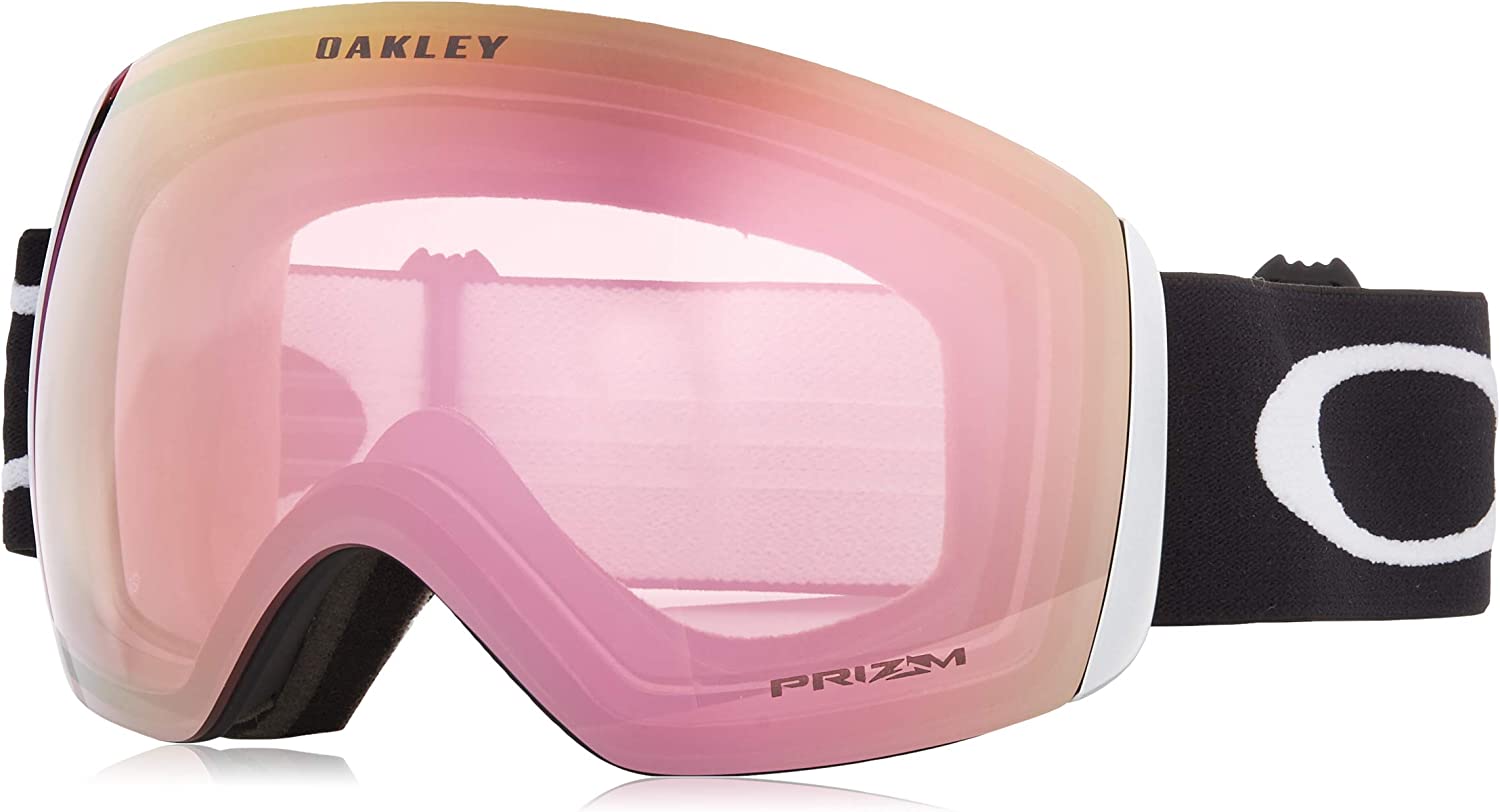 Oakley Flight Deck Prizm
The price of "Oakley Flight Deck Prizm " varies, so check the latest price at
How to Spot Quality Snowmobile Goggles
The market is flooded with all kinds of goggles, each one claiming to be among the best snowmobile goggles. But how can you separate the fakers from the real deals? Furthermore, how should one be grading the quality of snowmobile goggles?
That's what this section is for. Below, we will run down all the qualities that the best snowmobile goggles have. It'll make apparent why the snow goggles on our list earned their spot.
Remember, that certain features are best suited to specific terrain and weather conditions. Where you ride is just as important as anything else when it comes to choosing among the top-rated snowmobile goggles.
The Size of Your Goggles
The size of your goggles determines how well they sit on your head and how comfortable they are as you drive around. However, this isn't the only thing to consider when picking out a size for your snowmobile goggles.
The size of a snowmobile goggle directly affects the size of the lens that it incorporates. Modern goggles are focused on universal helmet compatibility, and as a result, you may get a limited field of view.
For the best field of view, consider getting the Scott LCG Snocross snowmobile goggles. Their frameless design lets the manufacturer stick the biggest lens possible into them.
Anti-fog and Anti-scratch Coating
Of course, whether you get a pair of budget goggles like the FXR Mavericks or something more high-end like the Julbo Aerospace, you are going to want them to last.
As far as durability goes, when it comes to snowmobiling goggles, a scratch-resistant coating is a must in harsh weather conditions.
Anti-scratch coating increases the resilience of your lenses, whether they are photochromatic lenses or spherical lenses. The thing is, even if you are a careful individual, the extremely cold temperatures will wear down the durability of your goggles.
You'll need an anti-fog coating to keep your view crystal clear and an anti-scratch coating to prevent any damage to your lenses.
Uv Protection and Polarization
As the "snow" in snowmobiling suggests, this is an activity that takes place in cold weather. Usually, the sky is clouded, and there is only gray as far as your eyes can see. However, just because you can't see the Sun, doesn't mean that it isn't there.
Its rays are still piercing through the sky and directly onto our faces. This effect is further compounded when heading out on bright sunny days. As we all know, prolonged exposure to the sun can cause damage to your skin.
The kind of UV ray protection that snowmobile goggles like the Oakley Flight Deck Prizm offer are vital for your skin's health.
Goggle Lenses
I'd say this is the most important feature of snowmobile goggles. You've got to get a lens that is not only compatible with whatever conditions you are driving around in but also lenses that have protective anti-fog coatings applied to them.
Different lenses will also display colors differently, and your field of view will also vary. As will the amount of peripheral vision at your disposal. Oh yeah, your goggle's lenses account for a lot.
Certain lenses will dim your environment, while others will apply a vibrant filter onto the world in changing light conditions. Whichever one highlights the details you deem important are the right ones for you.
Goggle Build Materials
This category refers to everything else that makes up your goggles. We've already discussed lenses, size, protection, and coating. Besides the goggle strap, which we will go over soon, everything else is included here.
For example foam padding, when it comes to comfort, is everything. Certain snowmobile goggles like the FXR Maverick goggles have three layers of foam padding separating your face from the hard polycarbonate frame structure.
The system used to swap your lenses out, if your goggles of choice can do that, is also important. The Smith Optics goggles have got an exceptional one in place. It makes replacing your lenses a cinch.
Adjustable Strap
The last thing to consider is the strap of your goggles. Can it be adjusted and if so, by how much? Certain straps can change position, while others are elastic and can accommodate all head sizes.
Furthermore, there are even some goggles that allow you to swap out the strap altogether. A general rule of thumb is that a silicone strap is quality enough for most people. Silicone is comfortable and rigid enough to not snap or fall apart.
Keep in mind the effect that low temperatures can have on certain materials. Any straps made from materials that are not consistent in all temperatures will eventually snap.
FAQs
Do You Need Goggles for Snowmobiling?
Absolutely, without them, your eyes will begin to water and tear up as you drive. If the cold or the reflection of the sun's rays off the snow don't blind you, some debris that you drive over just might.
Goggles with anti-fog coating and the best optical clarity provide maximum vision to an avid snowmobile rider during night riding too.
Don't take shortcuts on your safety, get a pair of snowmobile goggles.
How Do You Keep Goggles from Fogging While Snowmobiling?
Well, you'll definitely want a pair of goggles that has an anti-fog coating and a fog-resistant lens. Goggles with a proper ventilation system are also a huge plus. As for what you can do on your end.
Get goggles with anti-fog lenses that don't fit loose on you and make sure that they are compatible with the alignment of the vents on your helmet.
My Final Thoughts
The gear you need while snowmobiling is something that needs your attention to make the experience more enjoyable.
The best snowmobile goggles are the ones that address the specific conditions that you will be driving through. I'd say that you should first prioritize your clear vision and any anti-fog coating features that'll reduce the amount of fog that can build up on the lens.
Then you should worry about fit and finally comfort. Fortunately for you, every single one of the goggles on our list has some form of anti-fog technology. However, pay attention to the special extras that each one offers. That is where you will find the right goggles for you.