A big FYI: Even snowmobiling needs an outfit perfect enough to keep you warm and comfortable. And no, you can't 'throw together' things from your wardrobe.
Snowmobiling is a great way to experience winter and have an unforgettable time. But spending long hours in a colder environment can make or break your day.
The best clothing to ensure that you stay warm snowmobiling is by dressing properly for the conditions. A snowmobiling outfit should have the ability to trap the heat in and be water-resistant. It may include helmets, inner and outer waterproof and insulated layers, goggles, and other protective equipment.
So, for those who are ready to experience the adventure of an exhilarating, fun snowmobiling trip, read on.
How To Stay Warm During Snowmobiling?
The key to warmth, as you use your snowmobile, is quite simple. All you have to do is eat well and wear even better.
Let me elaborate on that:
Eating the Right Foods – How Does That Help?
Eating complex carbohydrates before heading out on the snow will help maintain energy levels. They keep your core temperature at its optimal level throughout the day.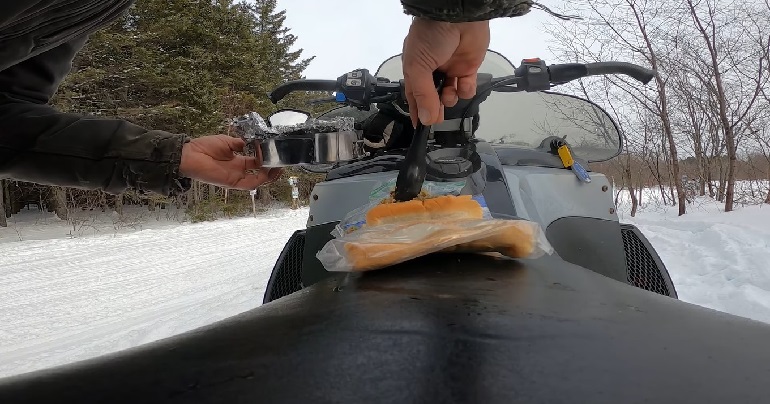 Also, try packing high-energy snacks such as chocolate bars and dried fruits for quick pick-me-ups if you feel tired or cold. Basically, you can munch easily on your sled without getting too distracted for a hit.
Lastly, drinking lots of water is essential. It not only keeps your body hydrated but also helps to regulate your body temperature. Drinking water also staves off fatigue when engaging in strenuous activities like snowmobiling.
And it is always best to drink plenty of water, so that should be easy.

Wearing the Right Snowmobile Gear
Know that adding outfits on top of each other is easy but not convenient. It provides extra warmth, but you must be mindful of choosing the right gear for snowmobiles.
Among other things, the snowmobiling gear consists of the best snowmobile suit (mono suit). The snowmobile suit is made of a material called Gore-Tex. The snowmobile pants and waterproof insulated jacket warmth and are waterproof. The ultimate wind chill protection!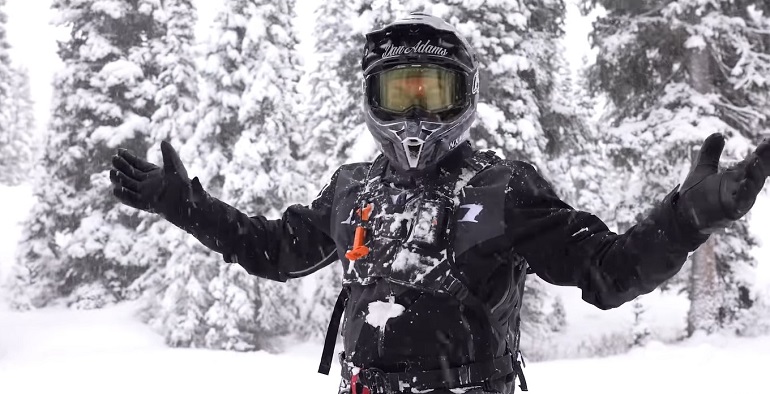 Moreover, it includes an insulated pair of gloves and a waterproof best modular helmet. For UV protection against the sun, goggles or sunglasses are the best safeguards; of course, this article adds a flair of style too.
There is a huge variety of snowmobile suits and gear you can choose from:
What To Wear Snowmobiling?
The answer is a bit on the nose, but what to wear for snowmobile riding is wearing snowmobile clothes. Just check the boxes of the following list of your snowmobile apparel, and you'll be good to go!

Snowmobile Clothing Tip 1: Dress in Layers
To break it down, you should have a first, middle, and outer layer. Now, they can be more than one, but it all depends on your comfort in carrying that much gear on you.
The first layer is always the base layer, on which you wear the safety gear. This layer is essential because it sticks straight to your skin and is moisture-wicking. I always end up using fleece.
The second layer is the middle insulating layer. It is in between the base and the outer layer. It helps to retain heat and keeps you warm for the entirety of your snowmobile suits.
In the end, you cover yourself up with waterproof outer layers. You can repel water with waterproof best snowmobile jackets, use rubber gloves so they don't absorb moisture, and use a helmet to prevent flying debris. Then style them out with snowmobiling boots, and you have the best clothing for snowmobile.
Once you are packed in your layers, you can avoid all the frostbite. And we all know that is the fun adventure you're really waiting for in the snow trail of the backcountry.

Here's a short video you can see to understand the layers.
Snowmobile Clothing Tip 2: Always Start With a Base Layer
Polyester, polypropylene, or merino wool is a wicking layer of thermal apparel. Long underwear is also made from such synthetic blends. These fabrics, unlike cotton, are breathable, moisture-wicking, and designed to protect your body in cold temperatures.
You should wear tight feet warmer, thick turtle necks, or a onesie dress that can protect you from moisture and trap heat.

Now follow that with a thin fleece sweater or hoodie. Whatever you decide to add, make sure it is neither too loose nor so tight. You don't want to be stiff on your ride. And you can easily adjust to the varying weather of the snow trails.
The long underwear and synthetic blends worn by riders don't get wet in the snow and provide the best attire for their snow trips, whether it is snowmobiling, snowboarding, or skiing.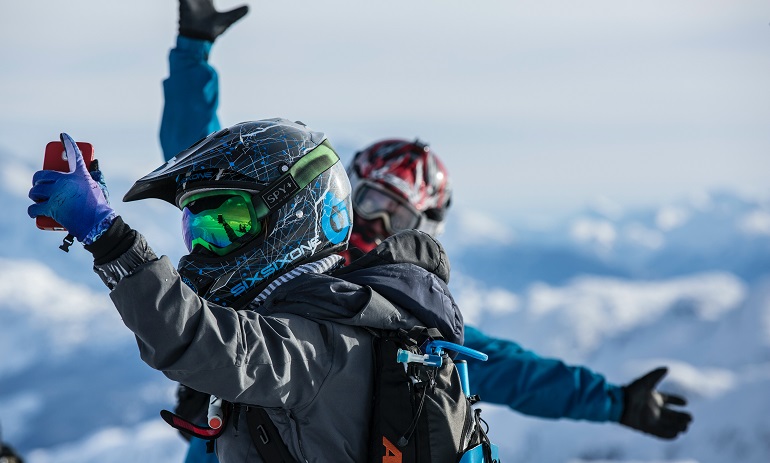 Socks made of nylon, polyester, or synthetic fleece are a common choice. You should stick to that material for socks when you ride your snowmobile. Usually, snowmobile riders avoid cotton material for socks. Instead, they prefer to wear tight silk.
These socks are magic at keeping the feet warm, and when paired with an extra pair on top, all cold eventually fades away.
Snowmobile Clothing Tip 2: Always Start With a Base Layer
These range from the jacket or parka to the helmet, face masks, goggles, gloves, and boots.
Wearing a good pair of polyester, silk, nylon pants, or insulated ski pants work amazingly against the snow and wind. They protect the lower part of the body and carry you throughout the varying weather.

The outer layer is the final apparel for a person's course snowmobile ride in the backcountry. The snowmobile suits are incomplete without the outer layers. The warmer the outer layer, the better the ride.
Snowmobile Clothing Tip 4: Wear Warm Gripping Gloves
In the winter traction for snowmobiling, the best protection to keep your hands warm is gripping the best snowmobile gloves. You can use fleece mittens too, but that might not give you the exact grip as insulated gloves will.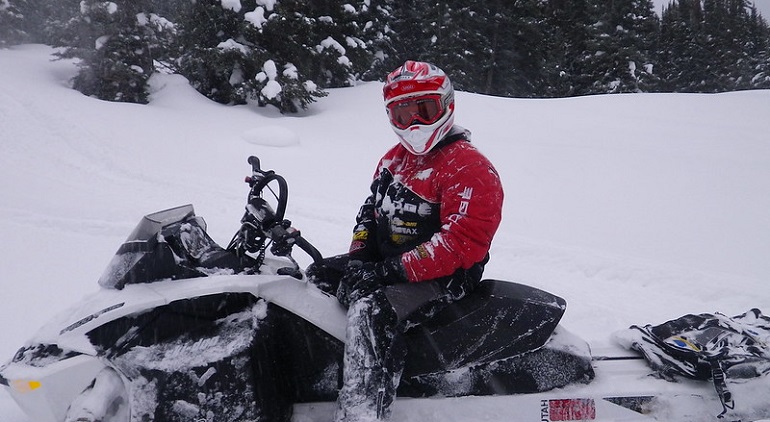 If you want the whole control of the snowmobiling throttle, then retract the warmth of your cold hands and wear waterproof gloves. Keep your hands warm, and gain the upper and warmer hand in the cold.

Snowmobile Clothing Tip 5: Wear a Full Synthetic Facemask/Balaclava, Goggles/Sunglasses
For eye protection, snowmobiling is best suited with snowmobile goggles. Goggles protect your eyes better from wind chills and anything that can be damaging. These goggles are worn to safeguard the eyes and give a clear view of the track while on the snowmobile ride.
You also need a face shield during your snowmobile ride. The debris, the harsh wind, and the splash of icicles can hit a person's face if it isn't protected.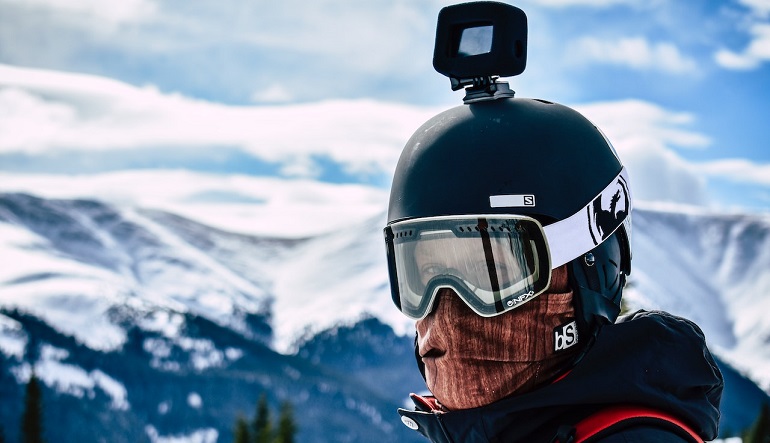 So, you should wear a balaclava, or a full waterproof face mask, as a face shield. It covers your whole face and keeps it warm.
Make sure you avoid cotton fabric for a full facemask because that will be a cold mistake. Literally!
Snowmobile Clothing Tip 6: Helmets – Included With Every Rental
Shield your head by wearing the new snowmobile helmet and keep its warmth against the winter. There are two kinds of helmets you can wear during your snowmobiling adventure: a full-face helmet and an open-face helmet.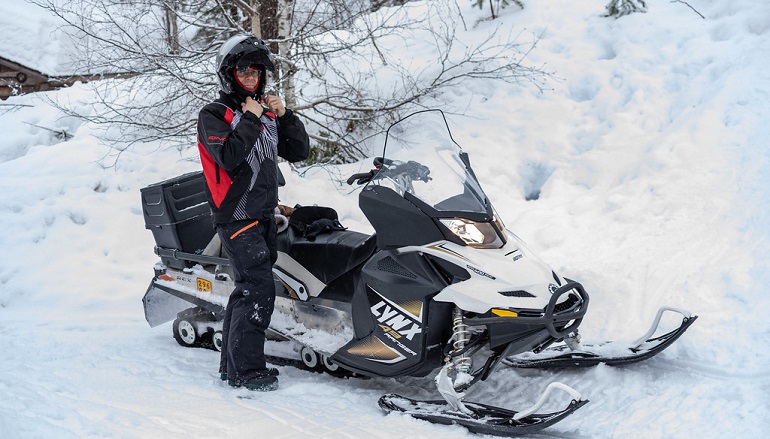 Full-face helmets will give you the edge of not wearing extra gear for your eyes, while open-face helmets are exactly the opposite. Wear any helmet to keep your head warm and safe.
Snowmobile Clothing Tip 7: Keep Your Feet Warm – Wear Warm Socks
First and foremost, no cotton socks. That is bad news, and it will give you a cold foot even before you start the snowmobile ride.

Next, add layers to your socks. Fleece socks are quite common and can be paired with any fabric without being a burden.
Snowmobile Clothing Tip 8: Waterproof Snowmobile Boots
The specific snowmobile boots keep you warm even in the harshest cold conditions. It is best if these boots are tight and lined with faux furs around the ankles. Even when made with rubber, these boots help in trapping the heat and keeping your feet dry.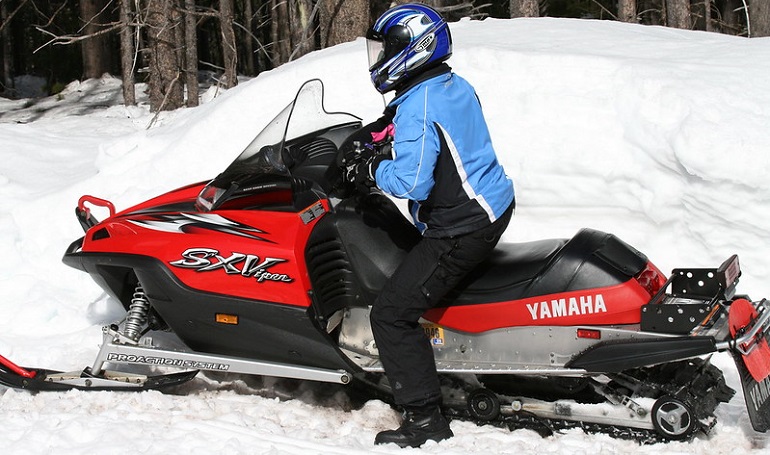 Disclaimer: Avoid Cotton
No matter what, do not think cotton is your friend in the snow. It is not! Cotton tends to absorb moisture and does the opposite of keeping a person warm.
Final Thoughts
Finally, if you want to level up from skiing to snowmobiling, you must keep yourself warm. The snowmobile outfit that you choose to wear can make or break your whole experience.

Dress appropriately, keeping the tips mentioned above in mind the next time you're about to hit the slopes!
Have fun!