Like Hannah Montana said… "mix it all together, and you know that it's the best of both worlds."
That just about explains what happens when you incorporate the sport of paddle boarding with practicing yoga. Soothing and therapeutic in many different ways, people tend to believe that sup yoga is a lot harder than a normal yoga session. But that is not the case.
Practicing yoga on a paddleboard is more efficient than doing it on a yoga mat on plain land. Any paddleboard will suffice, whether it is an inflatable, hard, or surf type.
The only things worth keeping in mind when buying a sup paddle board for yoga are the comfortability of the deck cushion, the board's width, and how much flat surface area it provides.
Read on to learn more about stand-up paddle board yoga and how to select the best one for yourself.
Most Spacious
Bluefin Aura Fit
MATERIAL: NYLON
SPORT TYPE: SUP PADLLING
Best Stability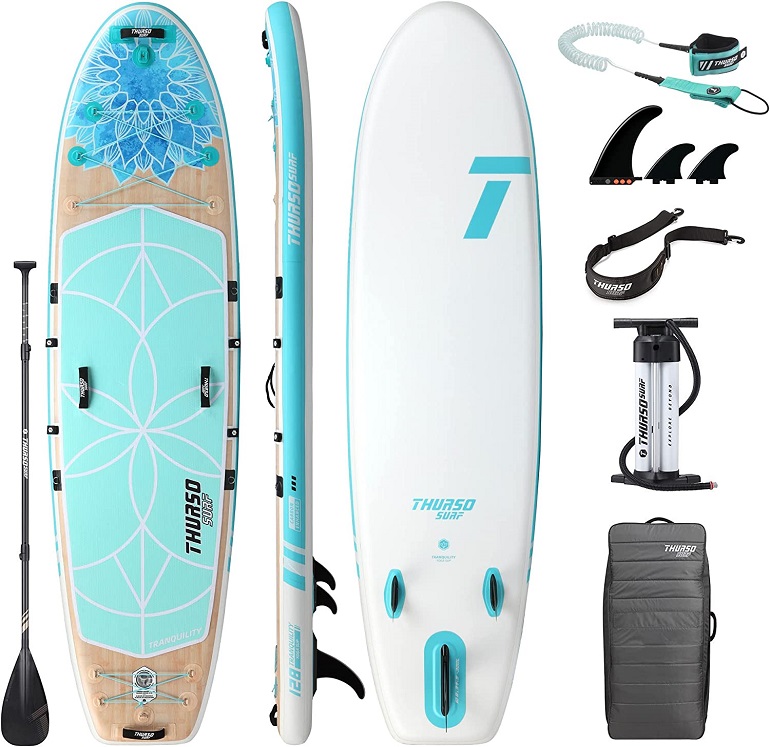 Thurso Surf 10′8″10′8″ Utility
MATERIAL: FIBER GLASS
SPORT TYPE: SUP PADLLING
Best Lightweight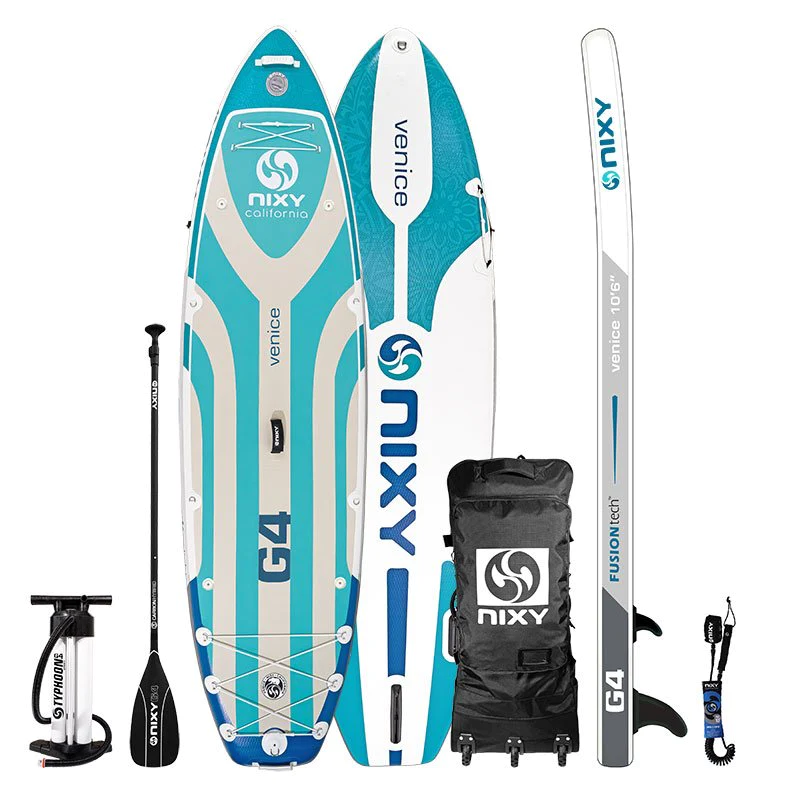 Nixy Venice 10'6
MATERIAL: PVC
SPORT TYPE: SUP PADLLING
Most Customizable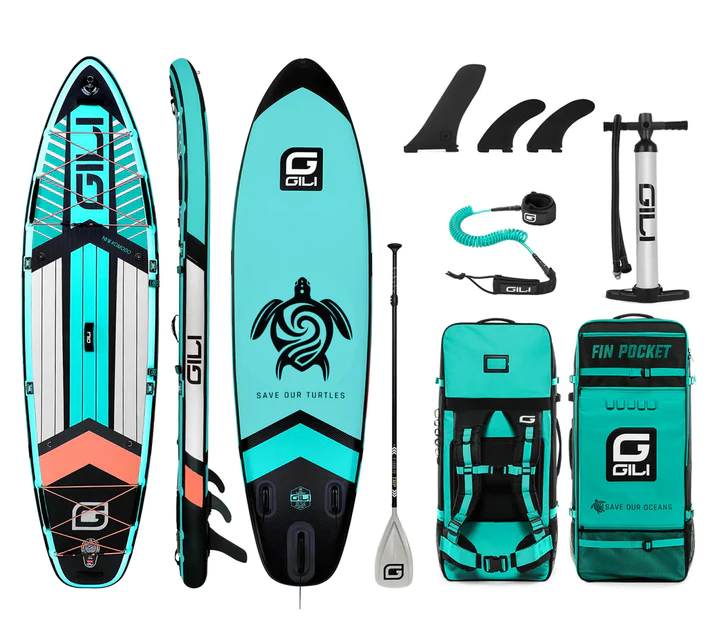 GILI 10′6″ Komodo
MATERIAL: FIBER GLASS
SPORT TYPE: SUP PADLLING
Best Experience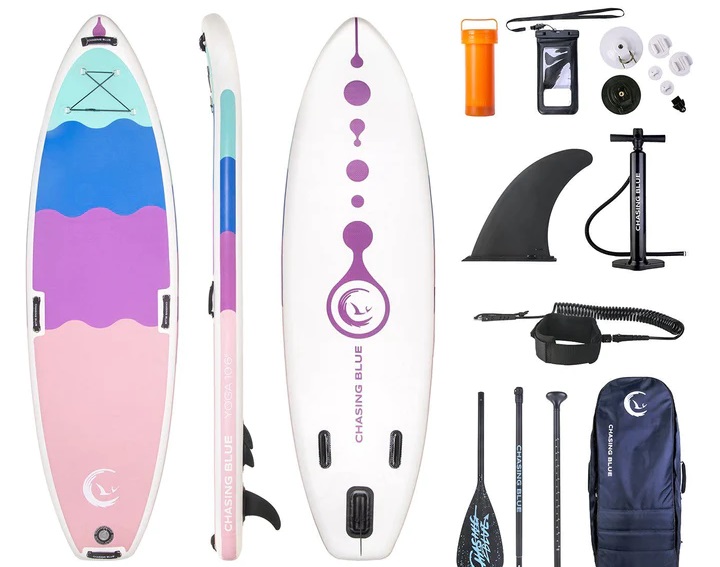 Outdoor Master X Chasing Blue Synergy
MATERIAL: PVC
SPORT TYPE: SUP PADLLING
Best Affordable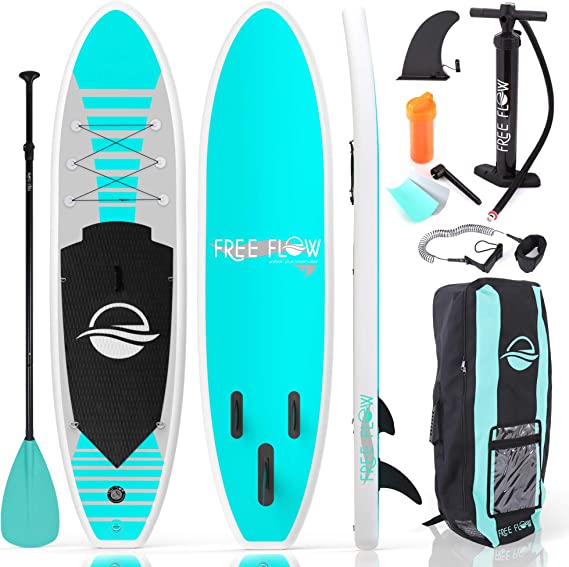 SereneLife Inflatable Paddle Board
MATERIAL: DOUBLE PVC
SPORT TYPE: SURFING
Great Attention to Details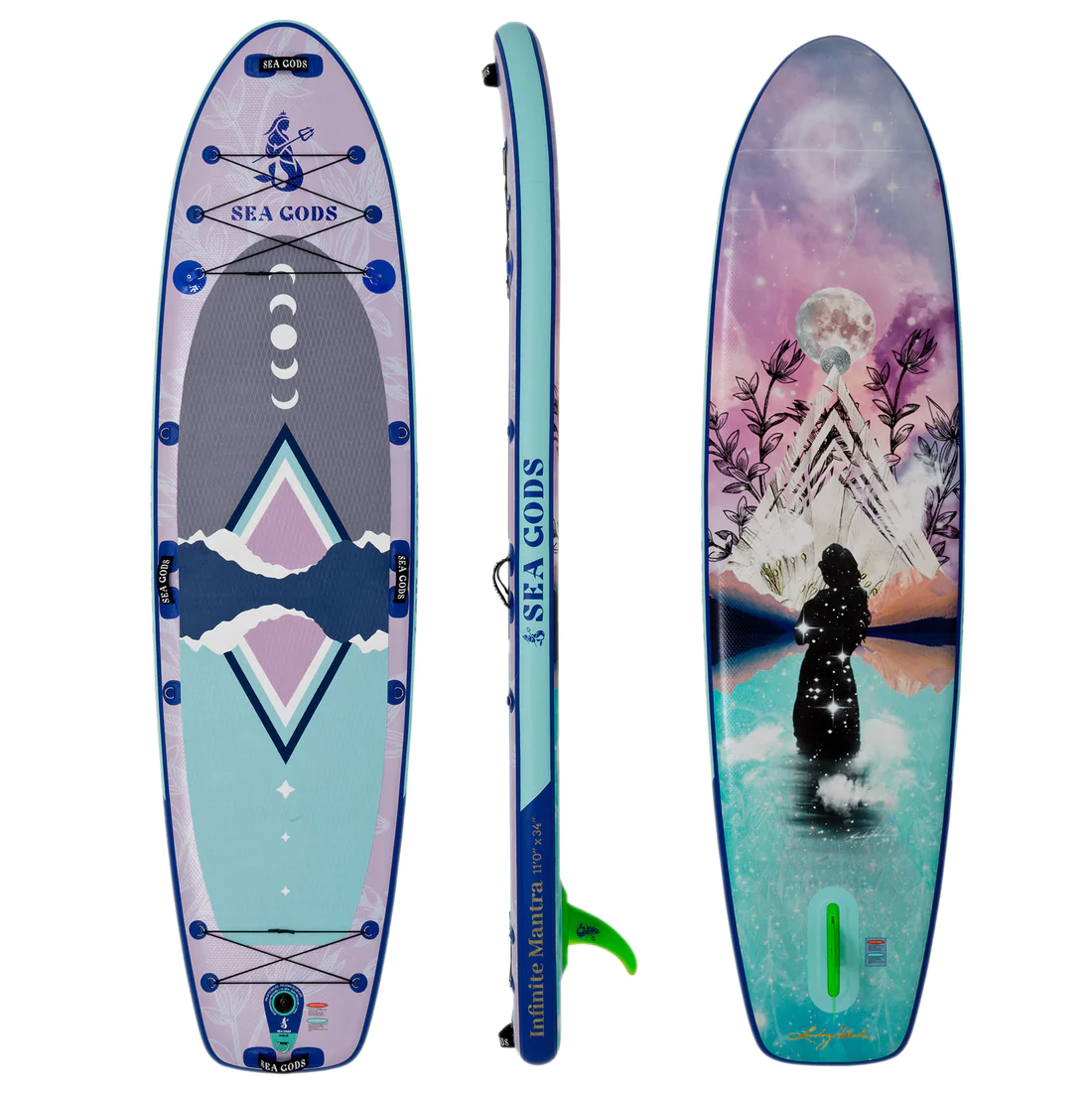 Sea Gods Infinite Mantra
MATERIAL: PVC
SPORT TYPE: PADDLE BOARD
Best Weight Capacity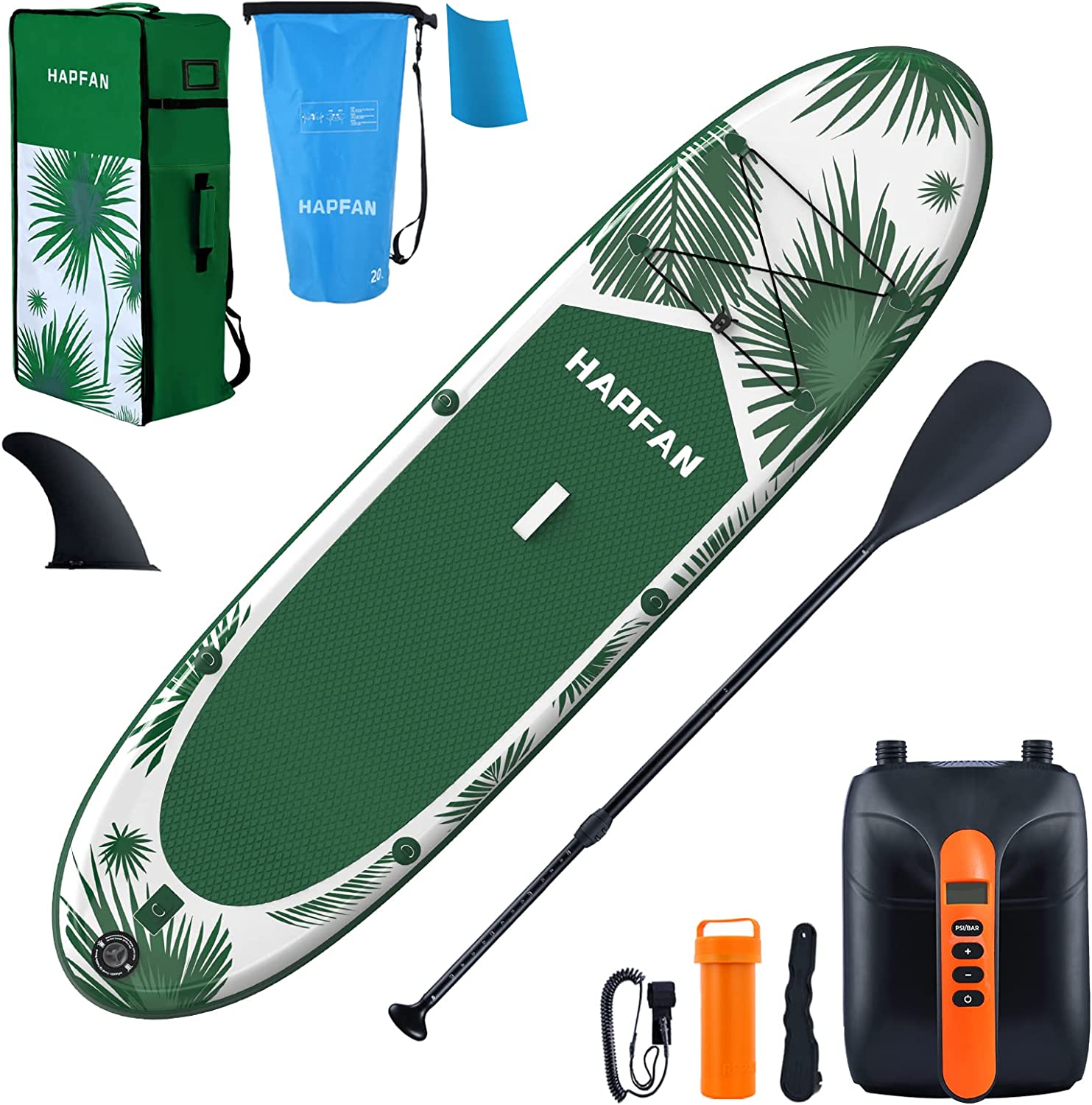 HAPFAN Inflatable Stand-Up
MATERIAL: PVC
SPORT TYPE: WIND SURFFING
For Fitness Freaks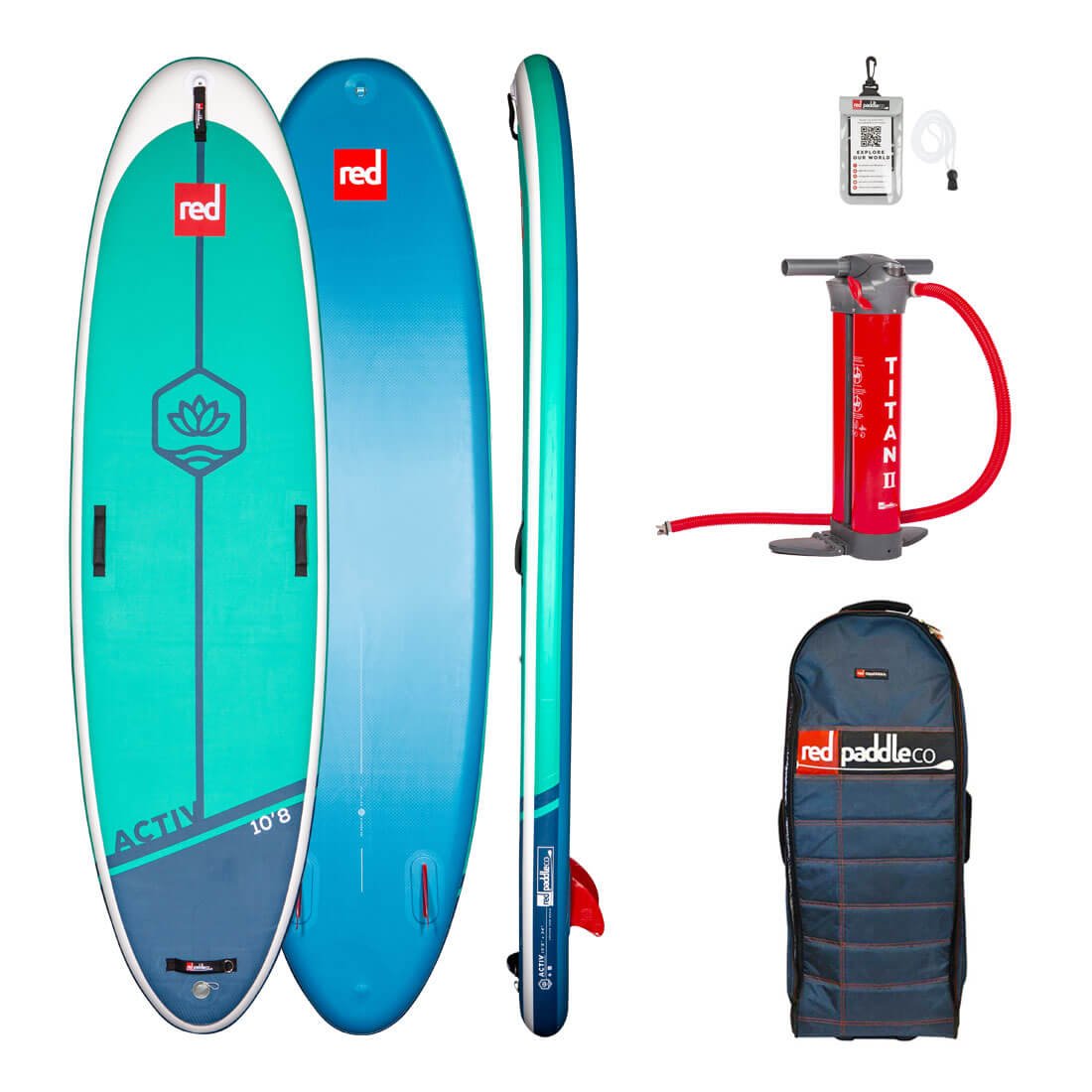 Red Paddle Co. Activ MSL
MATERIAL:military-grade PVC
SPORT TYPE: PADDLE BOARD
Our 9 Best Yoga Paddle Boards
Have a look at our top picks of the best paddle boards for yoga for a peaceful, serene, and fulfilling experience.
The determining factor about the Bluefin Aura Fit is just how spacious and large it is to accommodate you, 10'8 inches in length and 36 inches wide; some users have commented on this being the factor that breaks Bluefin's reputation in half.
However, this SUP yoga has multiple other advantages, like the 350-pound total weight capacity that allows yogis to bring along a pet or a buddy to upgrade their yoga experience. In addition, there are 4 carry handles distributed evenly on top of the board, some on the nose and tail and others on the sides.
The multiple carry handles are a definite win in the ballpark as they eliminate the need for a center handle which is known to be very annoying and irksome during intense yoga sessions.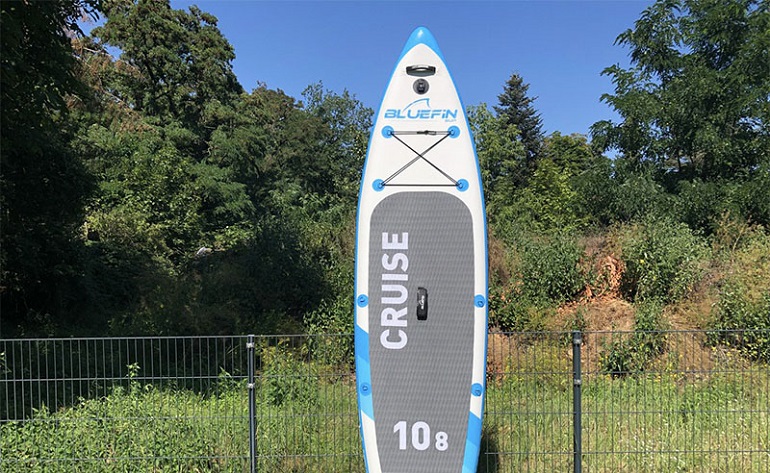 There is also a removable front cargo space near the nose of the board that is perfect for storing your extra gear and equipment. Thus maximizing the function of the traction pad completely.
Accessories Included
This large sup yoga comes with a spacious backpack, 3 snap-lock fins, a coiled leash, a dual action hand pump, and lastly, a 3-piece fiberglass paddle.
Pros
The removable bungees situated at the front of the Bluefin Aura Fit in the cargo area are highly useful to free up enough space for you to stretch and get into the most challenging sup yoga poses while enjoying all the free space.
Moreover, the Croco-diamond deck pad pattern helps in great stability and grip with its accurately placed ridges and lines. And, no center handle!
Cons
It has been noted by multiple users that this sup yoga paddleboard is quite heavy in comparison to other yoga boards.
Not just that, but because it is very wide as well, its overall impression is bulky, heavy, and difficult to maneuver.
Bluefin Aura Fit
The Price of "Bluefin Aura Fit" varies, so check the latest price at
Constructed purely with the notion of increased stability, the Thurso Tranquility board measures 10'8 inches in length and 34 inches in width. It has a wide deal with a perfectly rounded nose that truly aids in cutting water and flowing smoothly on the surface.
The manufacturers specifically tailored the specifications of this model to make it a dedicated sup yoga board; hence the usual annoying feature of a center handle is blissfully unavailable.
It is the high-quality carbon fiber rails that make this inflatable paddleboard feel like a hard SUP, all while having a 350-pound weight capacity.
Another iSUP that can be used for yoga and slow, relaxed cruising is the Lidl paddle board that you might want to take a look at.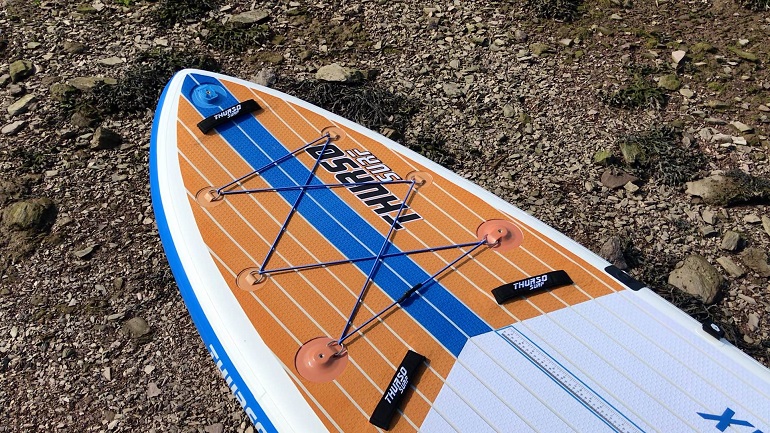 Accessories Included
This board comes with a triple action pump, a carbon hybrid paddle, a leash, a shoulder strap, and a functional wheeled backpack. Each accessory is manufactured and included in the whole package with utmost care and precision in order to tailor the finest experience to the rider.
Pros
The carbon rails built into the board are a wonderful feature that increases stability and rigidity while allowing the rider to bring out their best performance.
Not to mention the included carbon paddle will always steal the spotlight alongside the fact that there is no center handle.
Moreover, the holder for paddles and 12 D-rings are just the cherries on top when it comes to added features.
Cons
Some have commented on the fact that this board is a tad bit too heavy, weighing 29 lbs.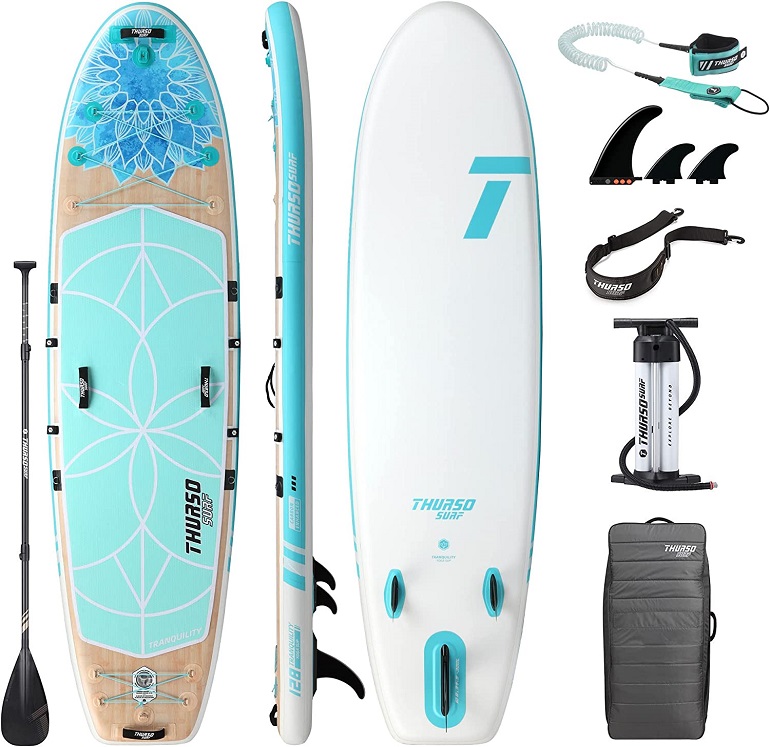 Thurso Surf 10′8″10′8″ Utility
The Price of "Thurso Surf 10′8″10′8″ Utility" varies, so check the latest price at
Having the body of a sporty board with the stability of the best sup yoga board, the Nixy Venice has a 34″ wide full-length deck pad and a 10'6 length. It is lightweight, comfortable, and convenient as it only weighs 23 lbs while sustaining 350 lbs of weight capacity. Do you know what that means?
That means you can easily grab a friend or a pet to accompany you on your long water cruises without worrying about any instability or sagging on the board. Also, the full-length EVA deck cushion speaks of comfort and ease that will truly transform your SUP yoga experience.
This board boasts the best paddle board features, like removable cargo spaces at the front and back that helps you pack as much gear as you need without compromising on available deck space.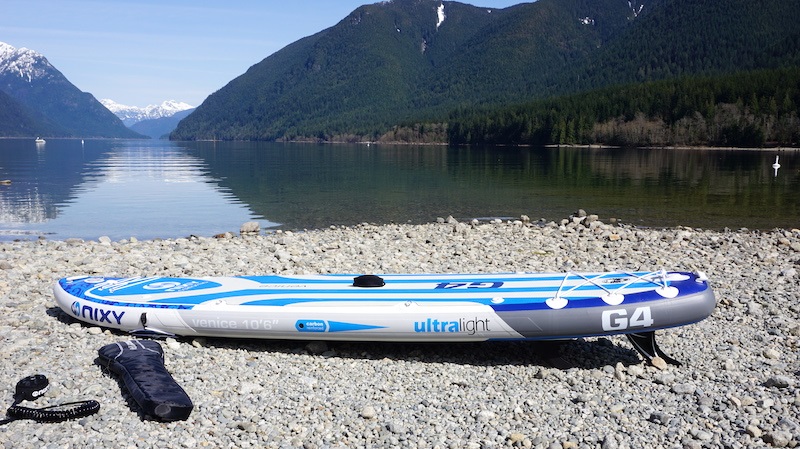 When looking at added features, it has 3 handles on the tail, nose, and center paired with 4 action mounts and 4 additional D-rings to add the most comfortable kayak seat or other such add-ons. (You can check out the comparison between paddle board vs. kayak to see which is better suited for you).
Accessories Included
When purchasing the Nixy board, the package comes with a three-wheel backpack, an entire kit for repair, 3 tool-free screw-in fins, a 10-foot coiled leash, a triple action hand pump with double chambers, and a spectacular three-piece carbon fiber hybrid paddle.
Pros
Space is non-compromisable when it comes to a paddle board for a yoga session. This board's winning advantage is the removable bungee cargo areas made to free up your sup yoga space.
The nearly full-length deck pad paired with the inbuilt carbon side rails specifies an entirely comfortable and extremely stable riding experience.
Lastly, the extra d-rings are just marvelous and open up a sea (pun intended) of opportunities for you.
Cons
It has been noted that this model is comparatively more pricey than other sup yoga paddleboards.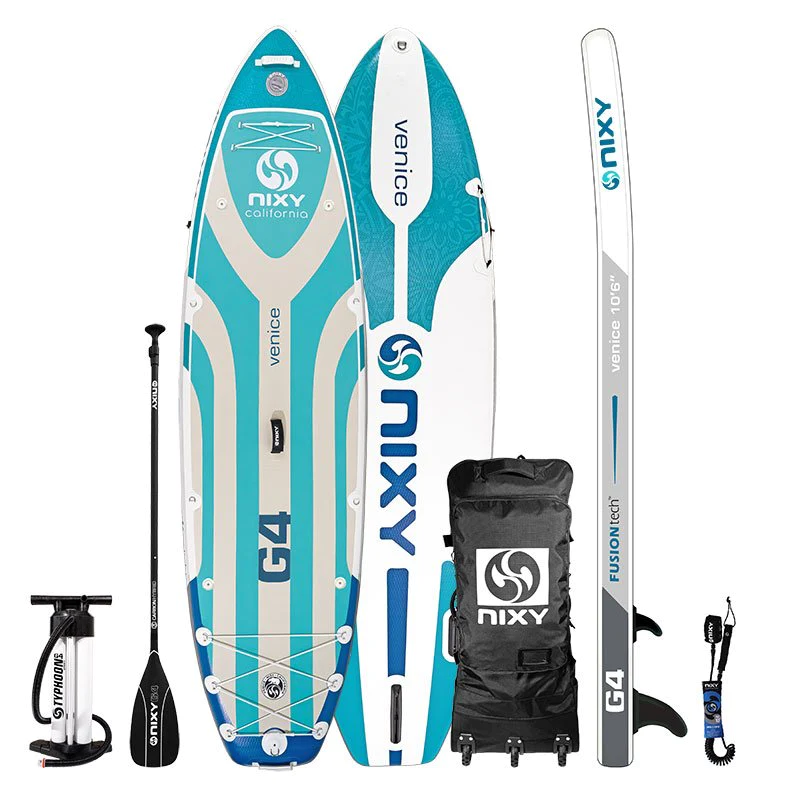 Nixy Venice 10'6
The Price of "Nixy Venice 10'6" varies, so check the latest price at
Like its fellow boat on this list, "the Komodo" is 10'6 long and 33" wide with a 340lb weight capacity and a body that weighs around 20 lbs only.
However, there's a winning feature that doesn't exist with the others, and that's a snap-lock fin set-up that increases stability and customizability for you. The large deck pad is spacious and groovy and has 3 action mounts and 4 D-rings.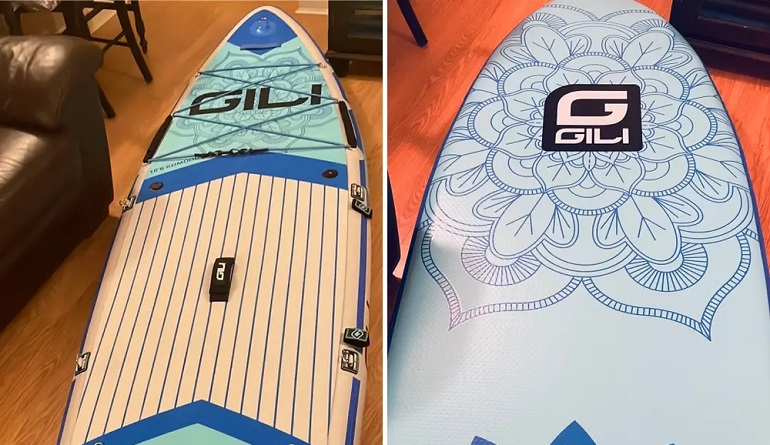 Accessories Included
It comes with a travel backpack, fiberglass paddle, hand pump, 8′ leash, and 3 removable fins.
Pros
This board comes with a full-length comfortable, grooved pad that allows you to stretch out, a multitude of D-rings for gear/kayak seat attachments, and a velcro paddle holder to get your paddle out of the way during your flow.
It weighs 21 pounds and is easy to carry around.
The best part is that you donate to an ocean charity every time you buy a Gili SUP.
Cons
The center handle could get in the way during yoga transitions. While it may not be an issue for yogis but, at some point, you'll need to upgrade to a carbon paddle.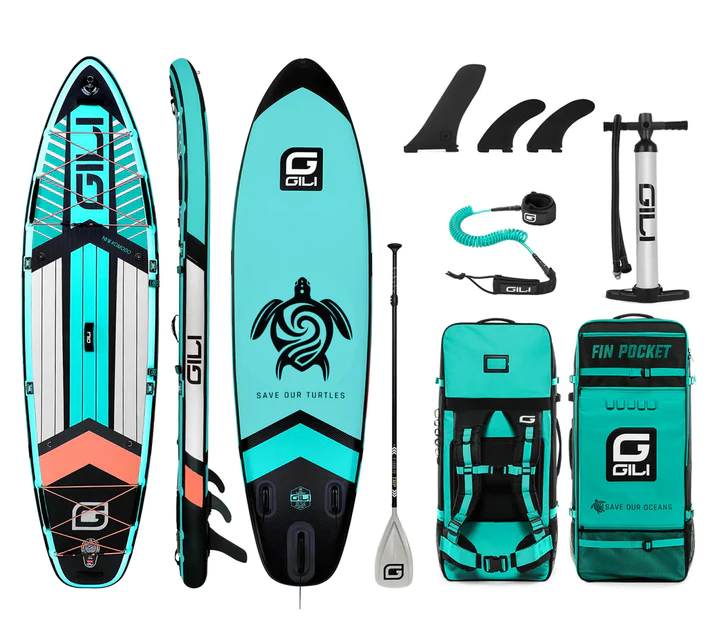 GILI 10′6″ Komodo
The Price of "GILI 10′6″ Komodo" varies, so check the latest price at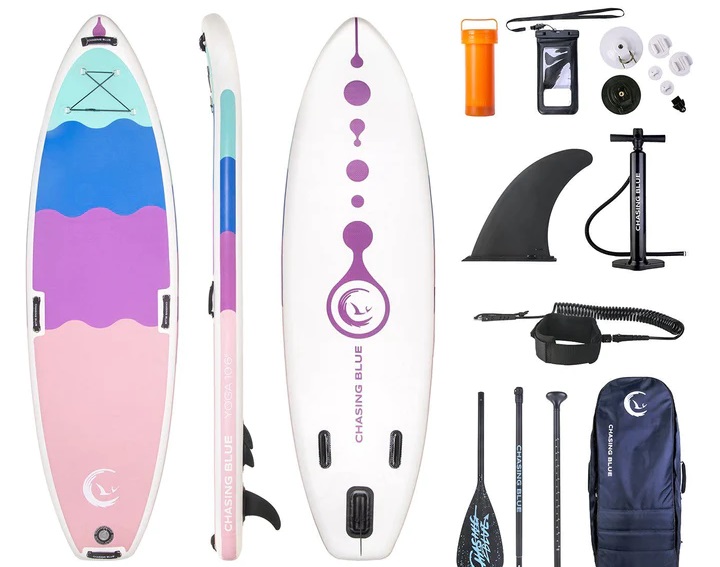 Stable platform with high weight capacity and a lightweight body, the Synergy is obviously a dedicated yoga board tailored to deliver the finest experience to whoever takes the reins on it. It measures 35 inches in width and 10'6 in length, with 4 handles around its circumference that help carries it.
You won't get any D-rings or action mounts with this model, but there are optional stick-on mounts that come with the full package upon purchase.
Accessories Included
You get a 10" center fin, a dual action pump with a single chamber, a 3-piece aluminum paddle, a spacious insulated bag, a waterproof phone case, and a coiled ankle leash.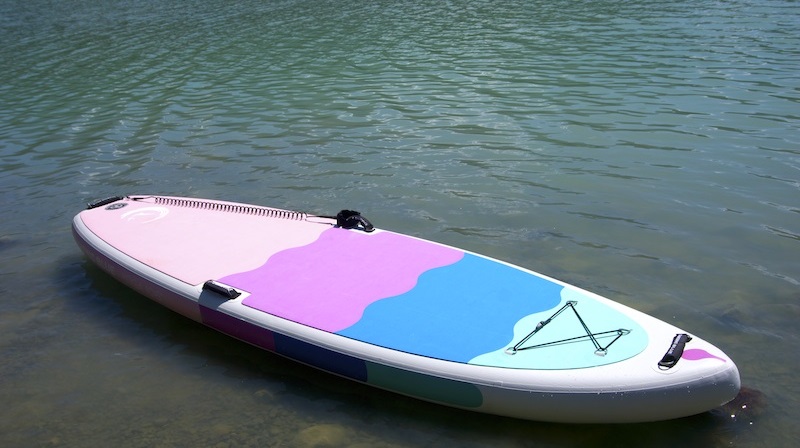 Pros
The full-length EVA deck pad delivers the same experience as that of a yoga mat and guarantees no slips or tugs on the skin.
The front cargo area can be removed to make as much space for you on the deck to stretch and contort.
Cons
The included accessories will require to be upgraded by the user with time, and the board lacks a rear cargo area.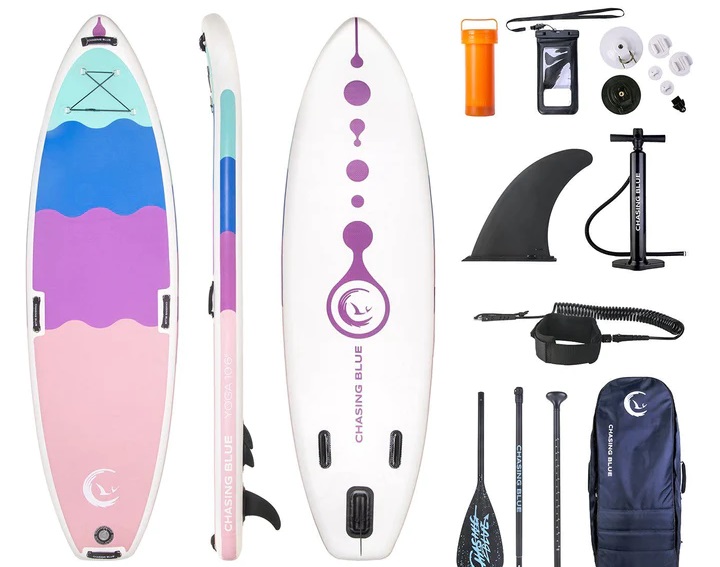 Outdoor Master X Chasing Blue Synergy
The Price of "Outdoor Master X Chasing Blue Synergy" varies, so check the latest price at
The SereneLife board, suitable for yogis of all ages and skill levels, is 10 feet in length and 32 inches in width. What it lacks in width, it makes up for it with comfort and traction on the deck pad that is designed with an anti-slip feature.
It is designed with three fins at the hull of the board to accelerate and ease steering as you switch from position to position. The maximum weight limit on this board is only 275 lbs, so make sure you don't carry extra gear, and if you're bringing a human or animal buddy, adjust accordingly.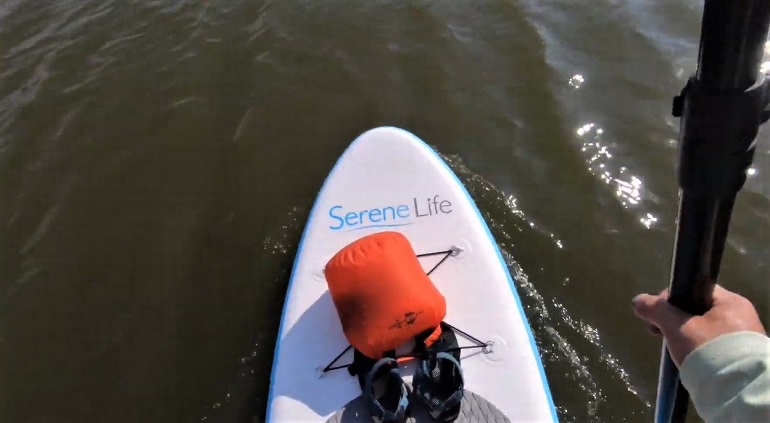 This board is an affordable and safe pick for those who have only recently started paddleboarding and don't know the specifics of the sport. It is a fairly lightweight board, weighing barely 20 lbs, and can be easily deflated and inflated for easy portability.
Accessories Included
The board comes with a carry bag, an aluminum paddle, and a pump paired with a useful ankle cuff to keep newbie yogis from worrying about losing their balance or their board if they fall.
Pros
The 3 bottom panel fins truly change the steering experience by a mile without the rider investing too much effort.
This board is foldable and easily fits inside its storage bag.
The soft non-slip deck top paired with the safety leash instills confidence and assurity in the rider that they are in good hands.
Cons
The choice of including a manual pump in the package has been disproved by some, as they pointed out an electric one would be more seamless and useful. But then again, an electric pump wouldn't be feasible at this price.
Furthermore, users are free to upgrade their pump if a manual one doesn't do it for them.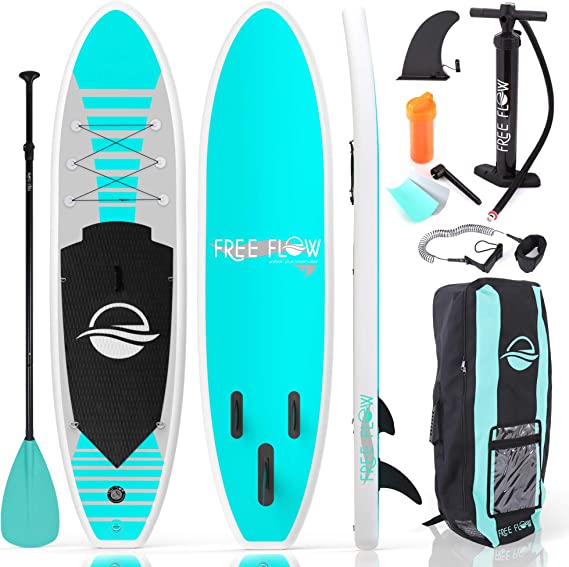 SereneLife Inflatable Paddle Board
The Price of "SereneLife Inflatable Paddle Board" varies, so check the latest price at
This is one of the most stable yoga paddleboards; everything about it, from the dimensions to the package deal, is tailored to perfection. The Sea Gods yoga paddle board measures 11 feet long and 34 inches wide but only weighs 21 lbs. However, it can accommodate up to 350 lbs in weight capacity.
It is swift and speedy in performance with its single fin setup allowing you to focus purely on your Shavasana without worrying about if you're going too slow, too fast, or missing the views.
The deck bed is almost full length with a Croco diamond grippy surface that facilitates you to get into the most complicated positions without fretting about taking a tumble into the water or running out of space.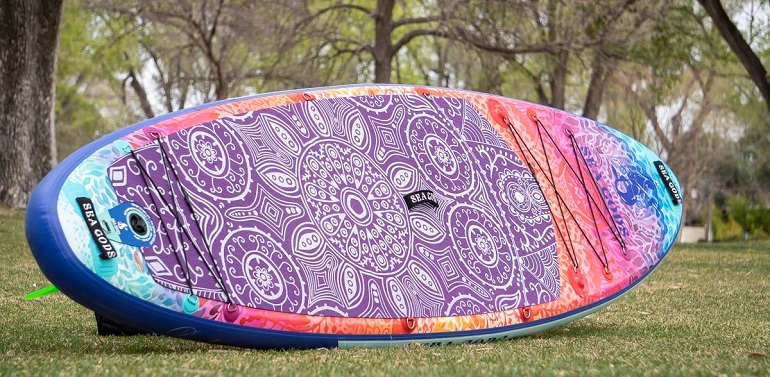 You have front and back cargo areas for maximum storage, as well as spare D-rings if you ever choose to switch up your board and add a kayak seat. The company cleverly chose to add 4 carry handles across the board's sides, tail, and nose to ease its transportability and omit the requirement for a center strap.
Accessories Included
A center fin, a carry strap, a three-piece carbon fiber paddle, a single chamber head pump, a wheeled backpack, and a repair kit pretty much summarise what comes with the board and precisely what you need for all your yoga ventures.
Pros
The lightweight feature of this board, alongside the EVA deck pad with maximum traction and comfort, has earned it a lot of approval from customers.
Many have reported that it feels like they are practically doing yoga in the air. The absence of a center handle is always something to enjoy.
The carbon paddle and fin system that comes with the board upon purchase allows users to customize their board design without extra splurging. Not to mention this product has a lifetime warranty on it.
Cons
This is a practically perfect piece of equipment for yoga enthusiasts, except that some have commented that an electric pump would be more useful.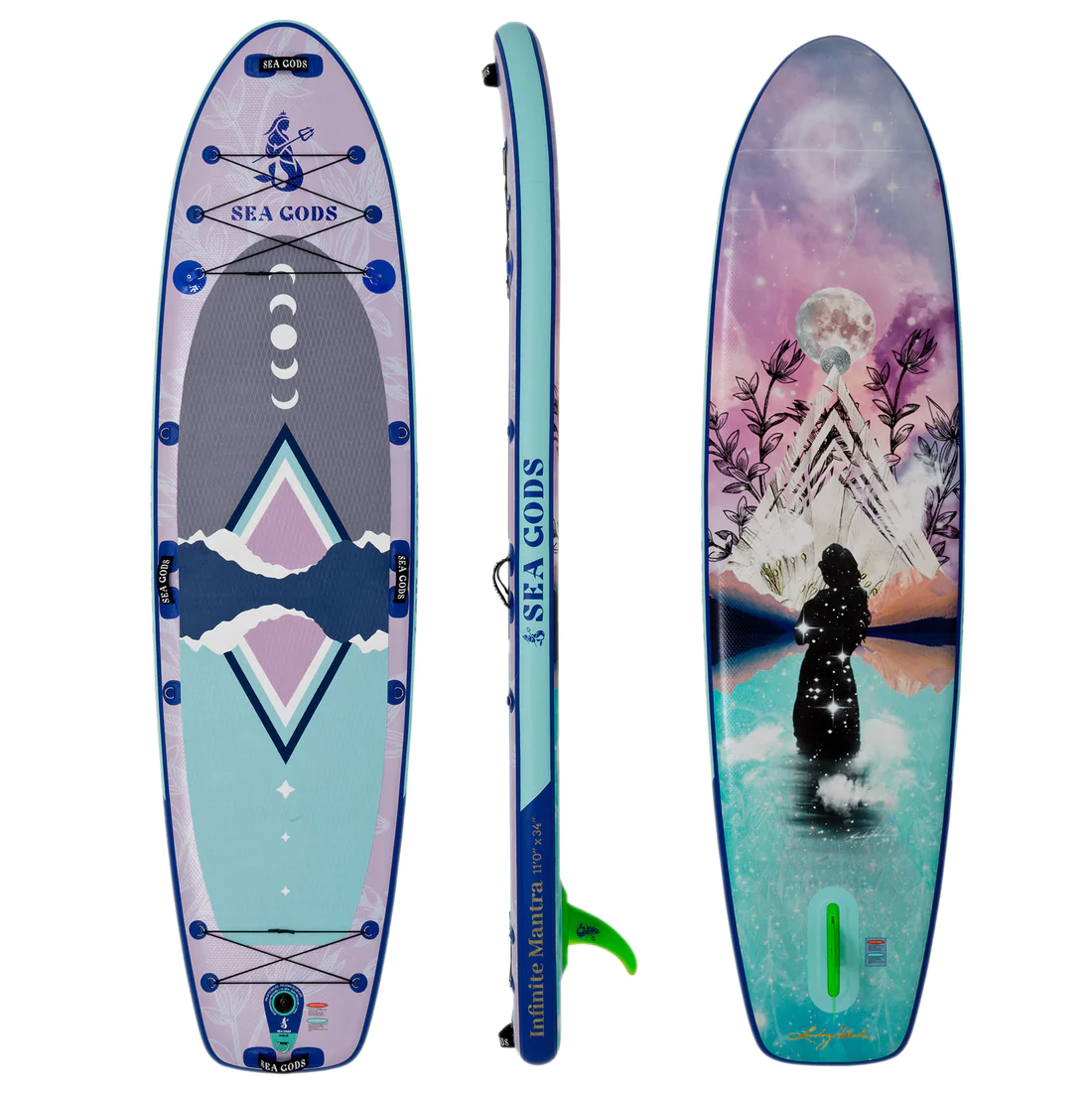 Sea Gods Infinite Mantra
The Price of "Sea Gods Infinite Mantra" varies, so check the latest price at
Longer than other models, this inflatable sup paddleboard measures 11 feet in length but only 32 inches in width.
As much as some users would say that it is not stable enough to accommodate a Yogi constantly switching positions due to its lack of width, the thickness and length of the board are actually what comes into play over here.
The board also has a high capacity of almost 350 lb that can easily accommodate two persons. Moreover, the anti-slip deck pad is perfect when keeping in mind that the board is slightly less wide than others.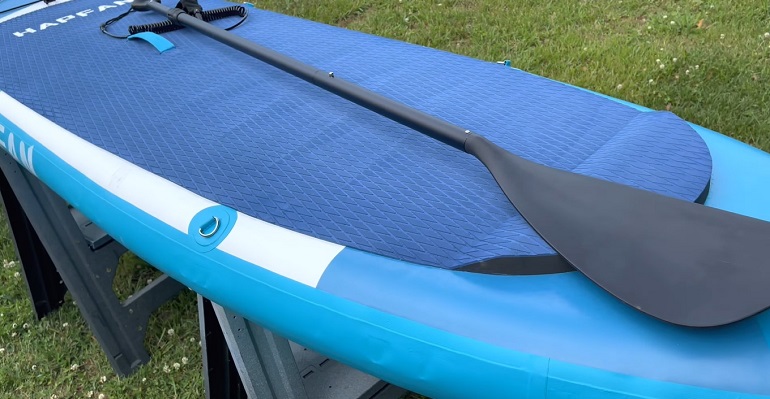 So if you have any fears of falling overboard, then push them right out of your head because the deck is both very grippy and comfortable.
Accessories Included
It comes with a backpack for packing it up, a detachable fin, a paddle boarding dry bag, and an electric air pump that eases up the whole process of inflating the board. No more huffing and puffing on the hand pump before you hit the waters.
The elastic safety leash and adjustable paddle are also included in the package.
Pros
This board is surprisingly lightweight, with a maximum capacity of 350 lbs.
The removable fin is convenient, highly recommended, and useful when paired with the front bungee and reinforced handle.
You also get 5 d-rings and a high-pressure air pump that works with electricity.
Cons
You can barely find any downsides to this wonderful model apart from the fact that some users voiced their disapproval towards the decreased width of the deck pad.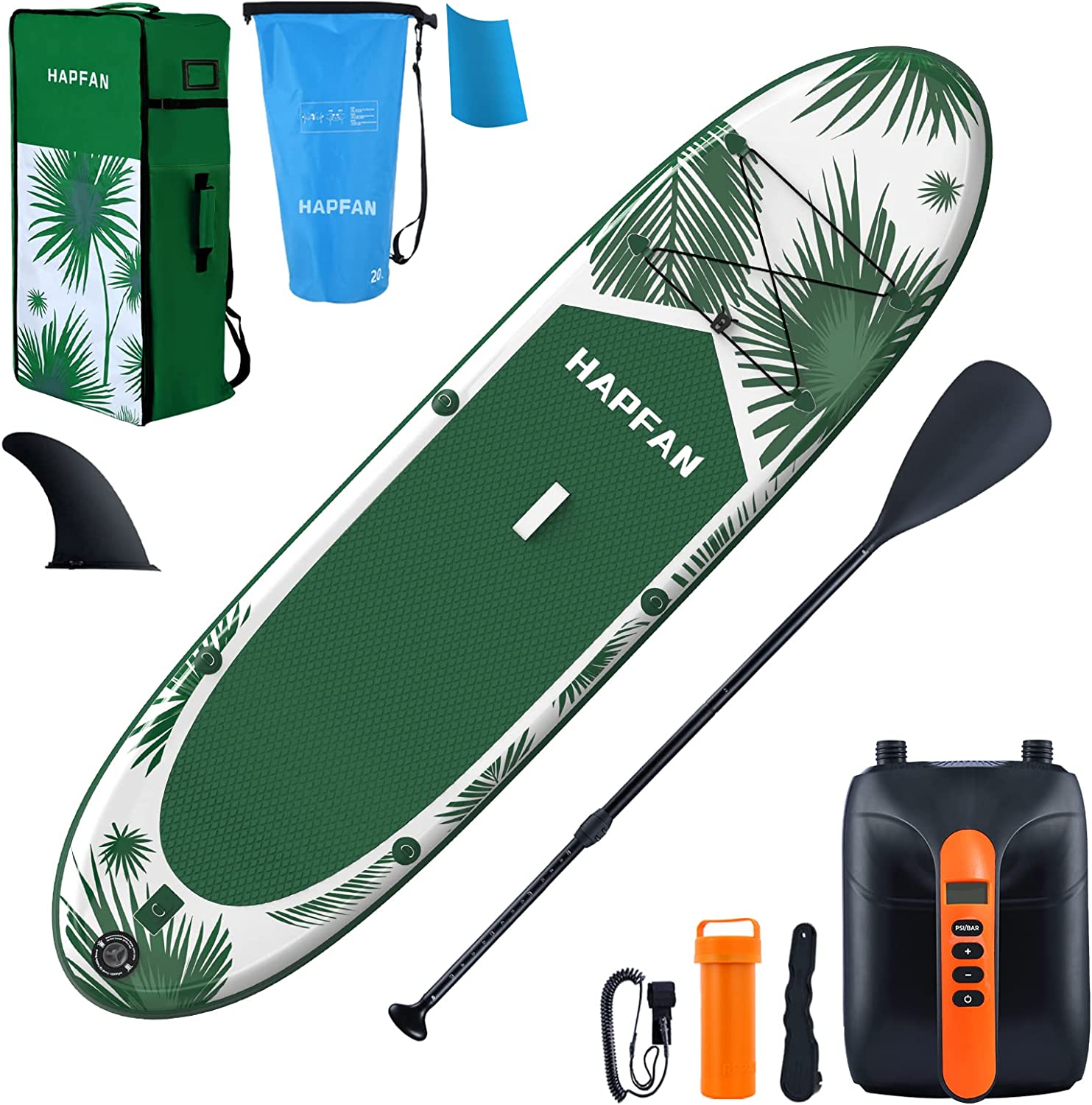 HAPFAN Inflatable Stand-Up
The Price of "HAPFAN Inflatable Stand-Up" varies, so check the latest price at
At the last spot, we have the Red Paddle Co Activ, which is not just any regular paddle board. It's the ultimate fusion of stability, versatility, and durability that will take your yoga practice to new heights.
At 10'8" x 34" with 5.9" thickness, this board offers a generous amount of space for you to move around and perform all your favorite poses with ease. Its extra width and thickness make it stable enough to handle pilates, yoga, or any fitness routine.
Whether you are practicing in calm waters or the occasional waves, this inflatable sup paddle board will keep you balanced and grounded.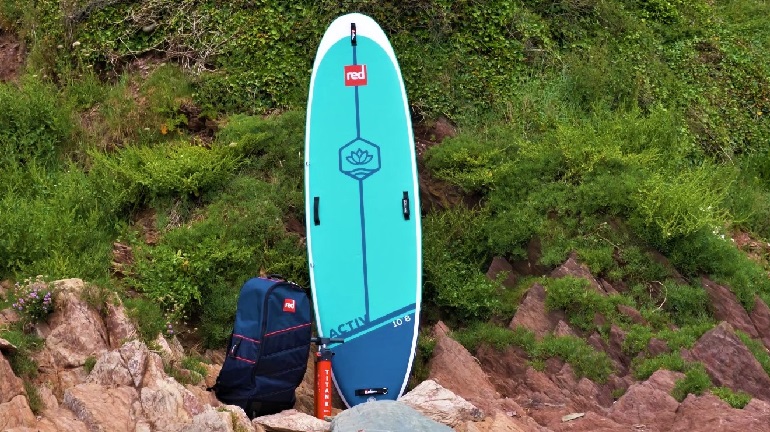 This great yoga board is not just stable, it's also built to last. Made with military-grade PVC material, this board is incredibly durable and can withstand the elements. It's also incredibly lightweight, making it easy to transport and store.
But what really sets this board apart is its attention to detail. It's designed with a premium quality, full-length deck pad that provides excellent grip and comfort, allowing you to focus on your yoga session without any distractions. It also features multiple D-rings, allowing you to carry all your essentials with you, from water bottles to yoga mats.
Accessories Included
This sup yoga comes fully equipped with an amazing wheeled backpack, a repair kit, a cell phone case, and the efficient Red Paddle Co Titan 2 pump, allowing you to inflate the board in no time.
This means you can spend more time enjoying your paddle board experience rather than dealing with the hassle of inflating it.
Pros
With features like an integrated carry handle, bungee storage area, and removable fins, the Activ is designed specifically to be easy and convenient to use.
The Titan 2 Pump by Red Paddle Co is a game changer in the world of SUP pumps. Its innovative double chamber design slashes the time and effort needed to inflate your board by half.
It is suitable for all kinds of paddlers, from beginners to experts.
Cons
The included paddle is relatively basic and may not be as high-quality or durable as some other options.
While the Activ is a great all-around paddleboard, it may not be the best choice for paddlers who prioritize speed and agility over stability.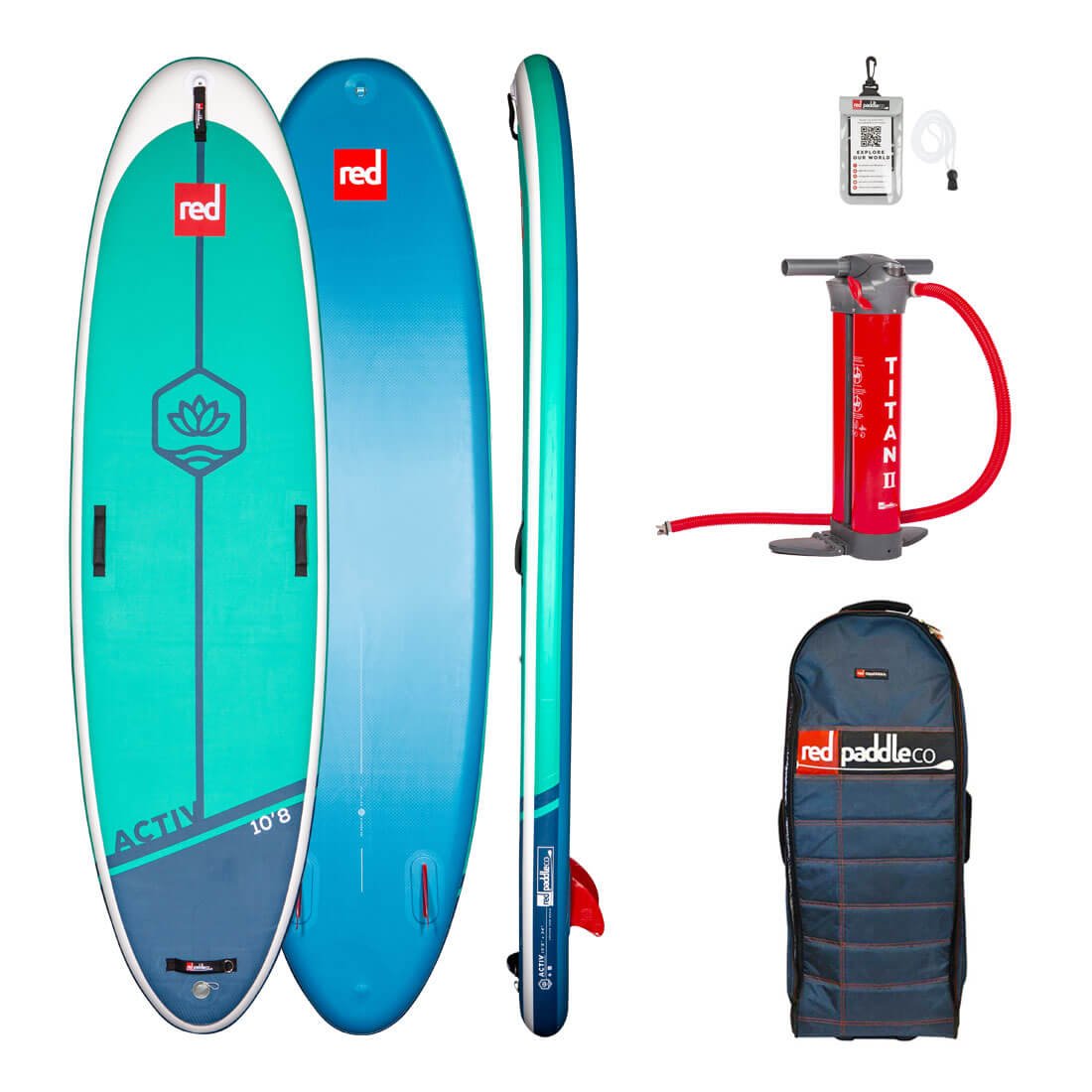 Red Paddle Co. Activ MSL
The Price of "Red Paddle Co. Activ MSL" varies, so check the latest price at
Some Useful Paddle Board Yoga Tips
Looking to take your yoga practice to the next level? Take it to the water with paddle board yoga! While it may seem challenging at first, practicing yoga on a paddleboard can provide a unique and rewarding experience.
Here are some useful tips to help you get started and make the most out of your paddleboard yoga practice.
Choose the right board: Look for a board with a wide deck pad and stable base to ensure that you have a solid foundation for practicing yoga.
Warm up before starting: Take a few minutes to warm up your body before starting the practice, as it will help prevent injuries.
Wear appropriate clothing: Choose comfortable and breathable clothes that allow for a full range of motion.
Choose the right location: Practice in a calm and peaceful location, free from distractions and disturbances.
Use an anchor: Using an anchor or tying your board to a stationary object can help keep it in place and prevent it from drifting away.
Stay hydrated: It's important to stay hydrated while practicing yoga on a paddle board, so be sure to bring plenty of water with you.
Start with simple poses: Begin with simple poses that are easy to balance and progress to more challenging poses as you gain experience and confidence.
Focus on your breath: Focus on your breath to help maintain balance and stability and to stay present in the moment.
Practice mindfulness: Paddleboard yoga is not just a physical practice but a mental one as well. Use a calming and serene environment to practice mindfulness and meditation.
Inflatable Yoga Board or Hard Yoga Board
There are two main types of yoga paddleboards – inflatable and hard. While both offer a unique and challenging yoga experience, there are some fundamental differences between the two.
An inflatable paddleboard for yoga is typically made from durable PVC material and can be inflated and deflated for easy transport and storage. On the other hand, a hard board is made from a rigid material such as fiberglass or epoxy and is more durable but less portable than the inflatable version.
Benefits of Using an Inflatable Yoga Board
Both types of boards offer an unstable surface that challenges your balance and engages your core muscles, but the inflatable version is softer and provides more cushioning, making it a good option for beginners or those with joint issues.
Here are some other benefits of using an inflatable:
Portability: Inflatables are lightweight and easy to transport, making them ideal for travel or outdoor use.
Easy Storage: They can be deflated and stored in a small space, making them ideal for those who have limited storage space at home.
Wider Shape: Inflatables are designed to be super stable, with a wide base and a non-slip surface, which makes them great for newbies and those who are not very confident in the water.
Low-Impact: Yoga on an inflatable is a low-impact workout that can help to improve balance, flexibility, and core strength without putting stress on joints.
Adaptability: Inflatables can be used in a variety of settings, including on the water, on the beach, or even in a swimming pool.
Fun: Yoga on an inflatable board is a fun and unique way to practice yoga and can add an exciting element to your practice.
Benefits of Using a Hard Yoga Board
The hard yoga board, while more challenging, is better suited for experienced yoga practitioners who want to push themselves to the next level. Here are some benefits of using a hard yoga board:
Performance: Due to their rigid construction, hard boards offer better performance in terms of speed, agility, and overall responsiveness compared to inflatable yoga boards.
Versatility: Hard boards can be used not only for yoga but also for surfing, paddling, and other water sports, making them a versatile investment for water enthusiasts.
Stability: Hard boards provide more stability than inflatables due to their high-quality construction, which makes them ideal for advanced yoga poses and more challenging water conditions.
Durability: Hard boards are generally more durable and long-lasting than inflatables, as they are made of solid materials like fiberglass or carbon fiber, which can withstand heavy use and impacts without getting damaged.
Maintenance: Hard boards require less maintenance than inflatable boards, as can be cleaned with water and a soft cloth. They are less prone to punctures and leaks and can be easily repaired if damaged.
Aesthetics: Hard boards come in a variety of designs and color options, which makes them more aesthetically pleasing than inflatable boards, which usually have a plain, uniform appearance.
Yoga Paddle Board Buying Guide
People today are concerned about their physical and spiritual well-being more than ever. Paddleboarding itself is a strenuous activity, and the number of calories burned paddle boarding is surprising. No wonder it's popular as a great form of workout. Double it up with yoga, and it's a win-win game!
Let's cut through the difficult jargon to find out what essential factors make up the best yoga paddle board for a flawless experience.
Paddling Ease/Performance
Although not much paddling is done while you are holding yoga poses, the paddling ability of the board is useful in ensuring a smooth and seamless experience on the water. If you are traveling long distances on your yoga board, then the classic best fit would be a tapered 34-inch wide board.
Tapered boards have hulls that aren't as much in contact with the water body, thus reducing the amount of friction. This allows for way faster paddling adventures that require the least amount of effort from the paddler.
However, tapered paddleboards are not the best type of stable board for yoga. But it's a sacrifice worth making if you are planning to travel long distances.
Stability
It is a commonly known fact among paddleboarders that the stability of a yoga board is directly proportional to its words. However, you may not have known that the thickness of your paddle board also greatly impacts how stable it is.
When buying paddleboards for yoga, people usually opt for ones that go up to 36 inches in width but paying closer attention to the thickness of the board is crucial.
Yoga boards measuring 6 inches in thickness are quite unstable regardless of the fact that they are 36 inches wide.
However, even if yoga paddleboards are only 34 inches in width and 5 inches thick, they will provide more stability than a 36-inch wide and 6-inch thick paddleboard. That's because 5-inch thick paddle boards balance lower on the water than 6-inch thick yoga boards.
Not just that, but compared to a 6-inch thick one, a 5-inch thick paddle board will prove to be easier to climb back onto if you do take a tumble into the water. Also, it is easier to casually cruise and paddle on a 5-inch board when you are not busy doing your yoga session on it.
On the other hand, the length of yoga paddleboards doesn't impact the board's stability that much. The recommended lengths to go for is around 10 to 11 feet.

However, no matter what, do not allow your board to go under 10 feet in length, as that would make it difficult to execute certain yoga practice poses. Therefore the longer the boat, the more comfort and space you will have to freely move and stretch.
Durability/Construction weight
No one wants to splurge on something that barely lasts through one season. The best yoga SUPs have high construction quality, allowing them to survive through considerable wear and tear.
Durable construction is essential in the sense that if you are investing in a piece of sports equipment, it should give you your money's worth.
Generally speaking, if you opt for an inflatable board, ensure that its heavy-duty construction comprises double or triple-layer PVC construction. On the other hand, if you're choosing a hard board, look for a fiberglass paddle board or one with a resin-sealed foam core.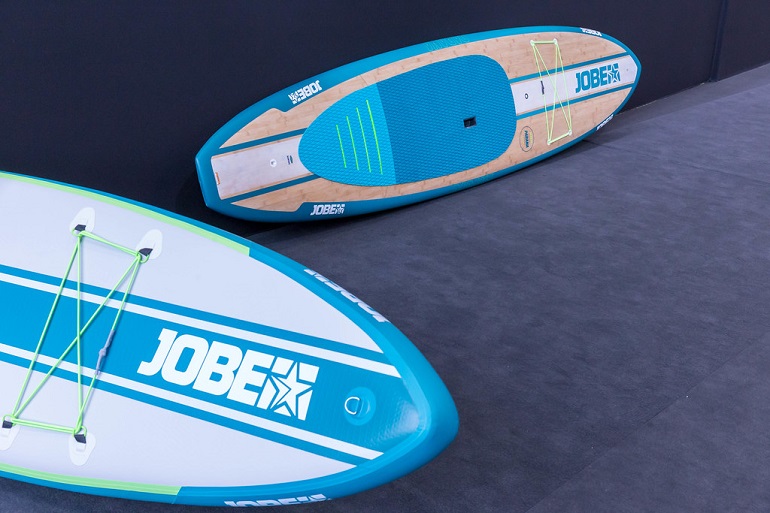 However, keep in mind that a board's construction directly impacts its weight. So a triple-layered inflatable board will generally be heavier than a double-layered one. Likewise, hardboard SUPs that utilize wooden sandwiching are a lot heavier than fiberglass options.
Therefore, when choosing paddleboards for yoga, remember the weight and precisely how much lugging around you are prepared to do.
Features
The most important thing about paddleboards for yoga is the features they have to offer. Each feature has its relevance and importance in your yoga session, and the more features the stand-up paddle board has, the easier it will be to practice yoga.
Deck Pad
A deck pad is the first and most important feature you should pay close attention to. Also commonly referred to as a traction pad, it is strong rubber padding on top of the board to allow you more stability and comfort while practicing yoga.
A full-length pad is not recommended on a yoga SUP as there is never a possibility that your body will touch the very end of the board while doing different yoga standing positions.
That is why experts recommend that the traction pad covers 3/4 of the deck space. The remaining space on the paddle board is made to accommodate the bungee system where you will place your equipment, such as water bottles and other items.
The feel of your anti-slip deck pad should resemble that of a floating yoga mat. A soft nonslip deck pad will not leave marks on your skin and ensures that you don't feel any hardness on your joints or bones from the softened deck.
A Center Handle
An ideal board that delivers the best yoga experience shouldn't have any jutting-out things that could cause discomfort for you when lying down on the yoga paddleboard. However, if you must have a center handle, make sure it has the feature of folding into the board to maintain a flat, uniform deck space.
A carry strap with a removable cover is perfect as it will protect your hands while you carry it (specifically important with paddleboards). And when you're ready to use the board, simply tuck in the built-in paddle holder.
D Rings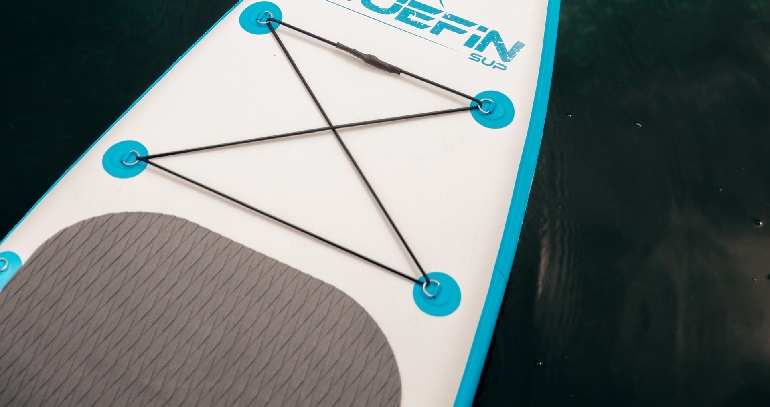 The more d rings you have on your yoga sup board, the better! Hell, if you can buy extra d rings as an added benefit…do it! These d-rings are used to fasten and strap your equipment down to the yoga sup board with the help of the bungee system. Moreover, extra d rings are also highly recommended for many paddle boards to anchor them while you harness your chakras in the sea.
Accessories
Right next to the importance of features in the best paddle boards, accessories are just as amazing and crucial. The best paddle boards would not be able to allow you to practice yoga with inner peace unless you have all the accessories you need.
Remember never to begin your water yoga routine unless you have the following accessories with you.
Dry bag
This is for your keys, valuables, essentials, and emergency supplies.
Personal Flotation Device
In accordance with the area you are in and their legal requirements, pack a PFD
Hand Pump & Backpack
These are of key importance if you are working with inflatable boards. The experts advise that an electric pump and a wheeled backpack are the best choices to go for.
Adjustable Paddle
An adjustable carbon paddle is the best pick to opt for.
Ankle Leash
Not just a safety leash but also to keep you feeling confident and in control on the board, you can't skip this one.
FAQs
What Should I Wear to SUP Yoga?
Comfort should be the priority. Surf and yoga leggings are highly recommended, as they allow you to move freely with comfort and ease. The only other factors you should pay heed to are the weather and water temperature.
Colder days in the water call for a winter wetsuit, but it is known to be a bulky option and somewhat restrictive. Swimming wetsuits are your other alternative clothing options, but they lack durability.
What Paddle Board Yoga Proportions Are Ideal for Yoga?
As mentioned before, the recommended paddle board length size for your yoga board is 10 to 11 feet. However, this is no hard and fast rule as, essentially, paddleboards for yoga should be in proportion to the rider.
Therefore it is advised that yogis should select paddle boards for yoga that are 2 feet taller than them. On the other hand, the width of the board should generally be 34-36 inches and the thickness up to 6 inches.
What's the Difference Between an Inflatable Paddleboard and a Hard Board?
The difference between inflatable and hard boards is that inflatable ones are known to have a higher capacity, more portability, and a manageable price tag.
The lightest paddle board options are inflatable ones and are also relatively more resistant to damage. Not to mention it's very easy to store and transport them.
Hard boards are faster, do not require as many accessories to function perfectly, and are a lot easier to repair with the proper repair kit. These SUP boards also boast a more rigid feel and firm-wide deck pad which enhances any yoga experience. However, they are susceptible to losing balance on bumpy waters.
Final Thought
Consider the necessary aspects when purchasing a SUP board for yoga, such as its stability, deck pad comfortability, capacity, and additional accessories.
At the end of the day, the most suitable yoga board for you is the one you feel most comfortable with when assuming different yoga positions.