When it comes to performance, nothing can beat the line of premium Blackfin inflatable paddle boards.
Does nothing excite you more than a sturdy board with superb stability? Do you fancy puncture-free rides? Roger that! Allow me to present you the Shalom Harlow of Blackfin SUP Models – Blackfin Model X.
This extremely stable board understands your needs and wants like no other. It supports you in water instead of throwing you to crocs ever so often. This paddle boarding King knows how to maintain balance in choppy waters and steer clear in whitewater.
The blackfin sup board also excels in keeping your gear stored safely on it. That is why it also offers a waterproof cell phone holder that is spacious enough to encase a mammoth-sized phone (in case Apple plans to produce one).
So, without further ado, let's dive into the article and explore what else lays in store for us!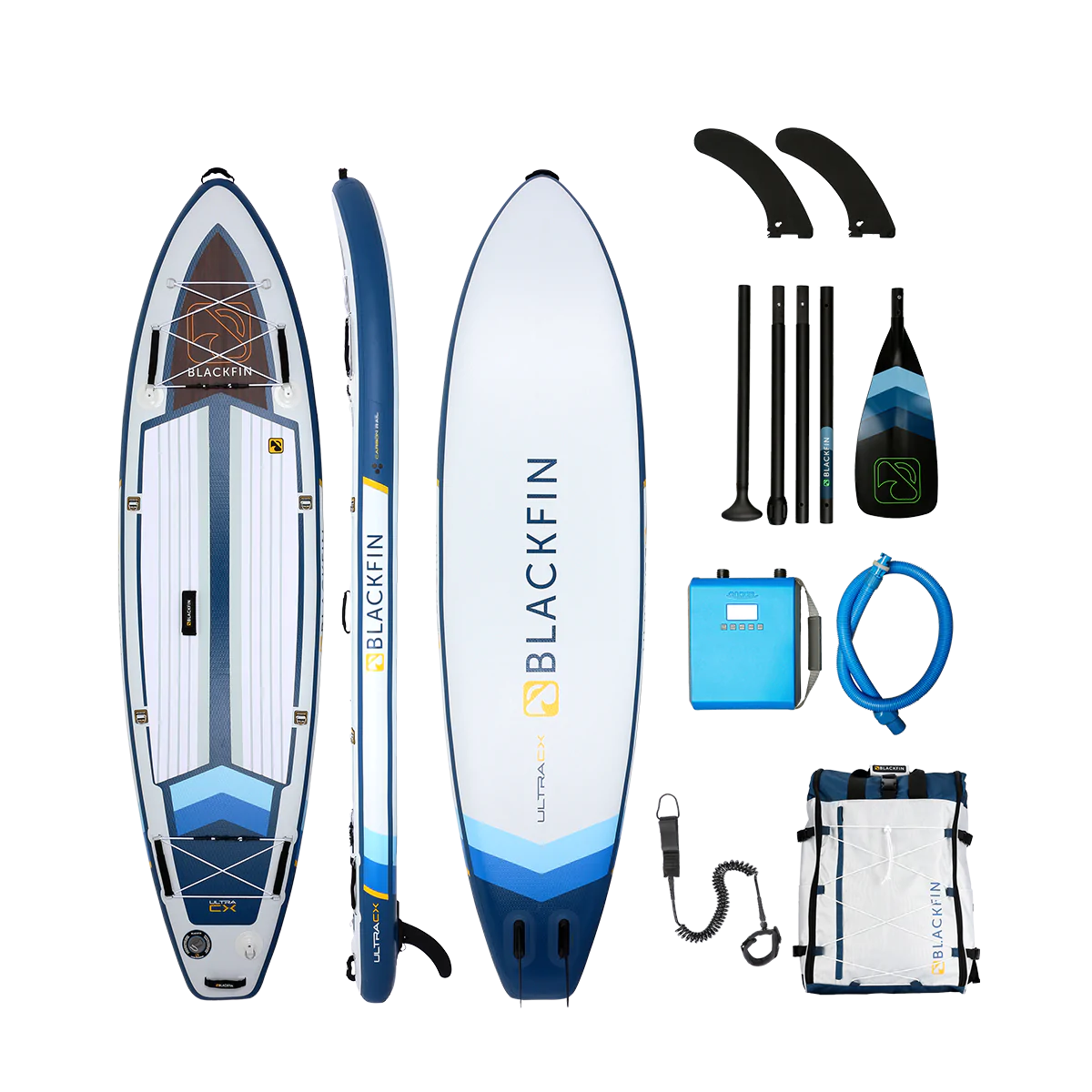 Blackfin Model X
The Price of "Blackfin Model X" varies, so check the latest price at
Blackfin Model X: Spec Sheet
Refer to the specification sheet below to explore what goes into the making of the Model X Blackfin paddle board.
| | |
| --- | --- |
| Category | All-around, infatable |
| Shape | All-around |
| Length | 10'6″ |
| Thickness | 6″ |
| Listed Board Weight | 27 pound |
| Max Weight Capacity | 450 pound |
| Recommended PSI | 14-18PSI |
| Fins | Nylon,removable |
| Paddle Type | full carbon shaft+ nylon blade |
| Material | PVC carbon fiber reinforced rails |
| Price Range | Meedium high |
| List Price | $1049.99 |
| Warranty | 3 yrs |
| Return Period | 90 days |
In-Depth Review of the Blackfin Model X (Features, Accessories, and Versatility)
Now that we are done with a bird's-eye view, let's dig deeper to discover some terrific qualities hidden in its soul, that you have been searching for.
Speed Test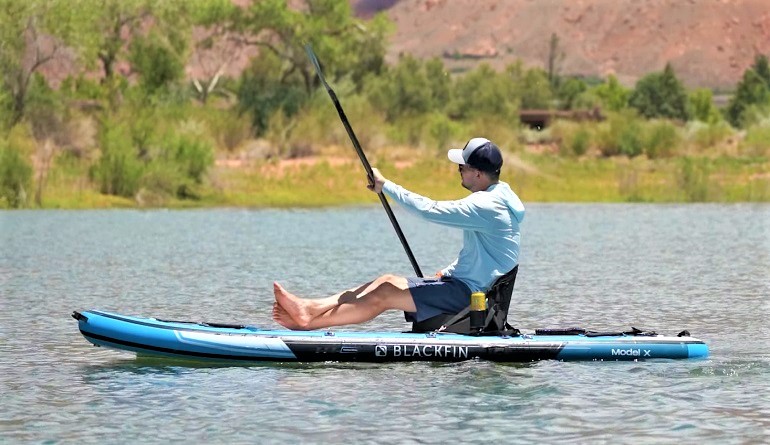 To summarize it for you, the speed factor of the Blackfin Model X is not that bad. You know, the wider the deck, the more stable it would be, but that stability comes at a cost also. So what's the catch? The speed.
That is exactly why the racing and touring sup paddle boards are quite narrow, pointed, and long. Do you wonder why these boards possess a sharp-edge-cut design? The answer is that such a shape forges speed. The paddle board built with this design can easily cut through the waves and make its way more efficiently.
In clear words, narrow width means minimum resistance, while broad width translates into more resistance. So, if you ever plan to race on a deck, always prefer boards with pointed profiles.
Although the Blackfin X paddleboard isn't meant to be used as a racing deck because it doesn't swank the terrific speed required for the purpose, it can take you to many destinations from flat water to the beaches.
Not just that, one can also manage to paddle board in white waters if one develops a certain set of skills. Being an all-around paddle board, this deck also allows the rider to perform tricks and quick maneuvers. It is one quite responsive paddleboard.
Construction and Durability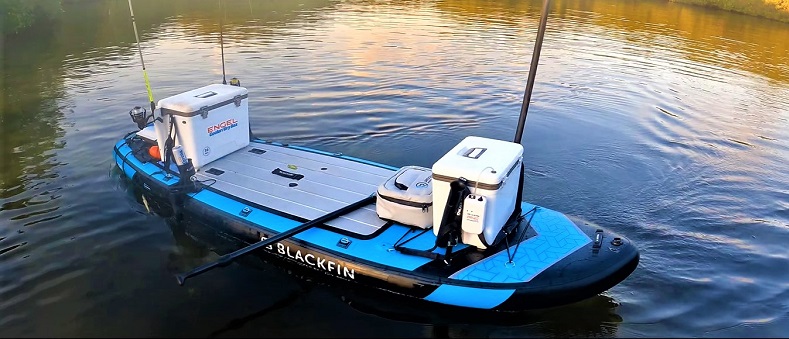 One can feel the strategy used by the company in the making of a Blackfin iRocker SUP – strong and advanced construction packed in a lightweight body. Don't we all desire feather-like sturdy boards?
The Blackfin Model X is manufactured using a high-density 6 inches drop stitch material woven core that is further attached to a fabric layer all around it.
In addition to that, there are presently three layers of stern PVC attached to each other and a carbon side rail. Just so you know, these exceptional features are the X-factors of this product. And this is exactly what makes it a solid board.
Let's be curious and dive deeper into the particulars of it. The main attraction of the paddleboard is its triple-layer composite construction that comprises three adhered layers of PVC.
These layers are glued to each other in a specific hierarchy. You will find the first and third layers in solid PVC, while the second layer is mesh PVC that is sandwiched between the two.
The middle mesh layer is where the magic happens. This particular layer significantly cuts down the weight of the paddle board to 20% but still boasts strength as that of the Quad layer boards.
Besides that, the seams are then finished using a PVC layer followed by another carbon layer and another PVC layer as well. Isn't it dripping strength?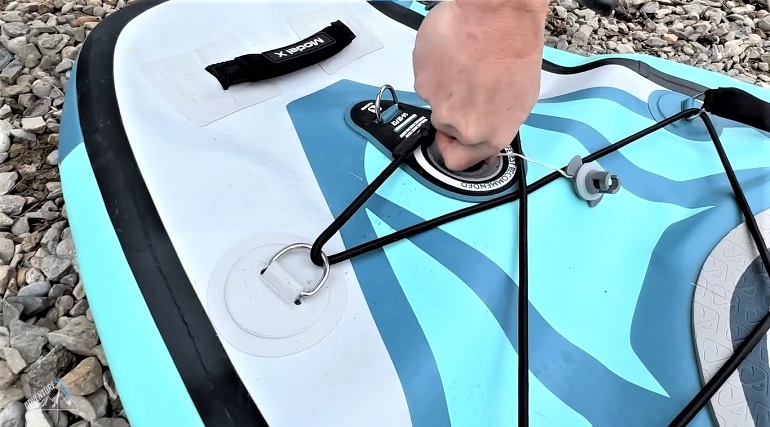 This carbon rail gives a much-needed boost to its overall performance and durability by preventing it from getting stretched when weight is applied. The carbon fiber used is not hardened by the epoxy resin so it permits easy deflation and transportation.
Now let's enlighten you on its deck construction. The deck pad advocates comfort as well as a quality performance by using EVA foam that has deep cuts engraved into it to make the liquid run off it fast.
The Blackfin Model X also features the impeccable tri-fin navigation system that you have been waiting for, it includes three fins (a 2×4" side fin and a 1×9" middle fin). Each fin is armored with a spare flip-lock to facilitate you in repairing.
It all depends on you how you want to progress as you can always make decisions according to your destination and the requirement.
You can utilize all three fins at a time for maximum stability and tracking or ignore the side fins for a while and use the large center fin for eagle speed. Not just this, you can even swap for the optional 4.6" river fin
Stability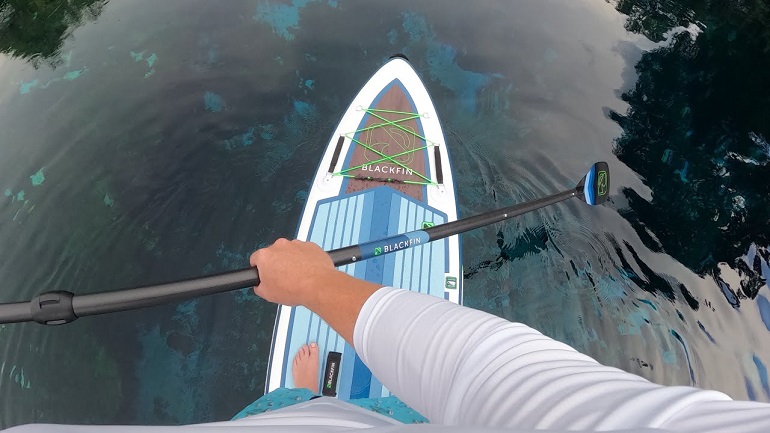 Width might not be the only factor that matters in the question of stability, but it is one of the most important factors.
The extra wide 35 inches width is ideal for a rider who is after a stable deck. One can make it work in various conditions from flat waters to choppy conditions which is why this well built board is rated at 100.
The activities you can get involved in while using this deck are yoga, whitewater river riding, fishing, and Flatwater paddling, all made possible due to its wide waist. One can also use it for touring if they have developed certain skills.
Besides the width, the volume and shape also matter a lot. A gently-curved profile like Blackfin's medium-wide tail of 12 inches, the 8.5 inches nose, and the 13.1 rocker also promise stability and better flotation.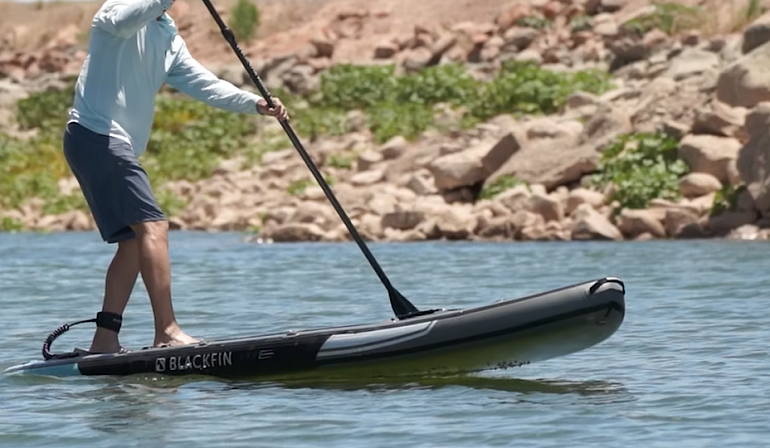 This rigid and stiff board also provides a sturdy platform to stand on without much swaying. Also, the contact between your feet and the board comes naturally.
The sturdy construction can easily tackle heavyweight and immense pressure without balancing the rider. That is exactly why professionals and intermediate paddlers declare it an ideal board for beginners also.
Tracking
Let's get straight to the fact that the Blackfin Model X goes straight like an arrow when it comes to traction. However, you cannot expect it to track as well as any touring board. Why?
Because it is an all-around paddle board and not a deck made for any specific activities. So, in clear words, it does not track like a narrow and longer board like the Blackfin Model XL.
However, all the features like the triple fin system work in your favor while you try to track in any direction. Hence, you won't feel any kind of pull in any direction but good steering only. But there is one thing you need to give attention to, and that is the width of the board.
A wide board of 35 inches like the Blackfin Model X sometimes gives the rider a hard time tracking. How? With a wider waist, the rider finds it difficult to keep the paddle straight and vertical.
Paddling in this situation often results in their paddle touching the side rails ever so often, which can immensely affect their tracking. So, shorter riders are recommended to look for other models like iRocker all-around 11 or Model V. However, taller paddlers won't feel the need to buy any other board.
Glide Test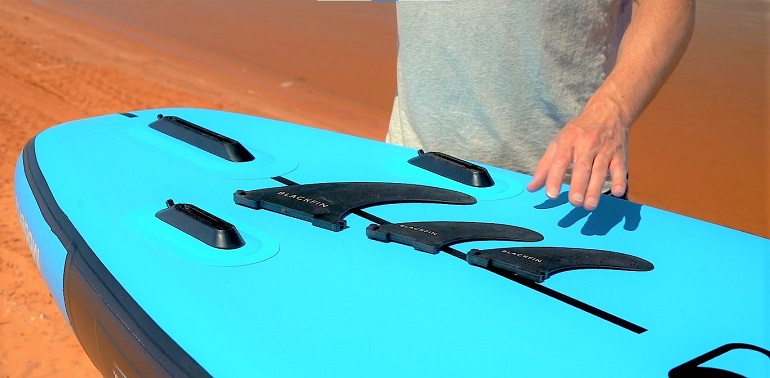 Although the board swanks some nice glide, it doesn't make it the one for racing. The paddle board touches the top charts for stability and glide, but its shape restricts its tendency to ace races. In case you were looking for a racing board, it isn't the one.
But one can say, it is not a flimsy puffy paddle board but a brawny iSUP that delivers what is expected of it- a decent glide on water.
The construction of the board from dual PVC layer to high-density drop stitch construction all works in your favor and allows you to get the feel of a solid base underneath your feet. And that sturdy platform will not let you down in the waters.
Maneuverability
Long story short, the maneuverability is decent enough for an all-around board. Even with that width, the board is easy to maneuver and glide.
But if you are looking for a watercraft that can make you touch the sky while surfing, it might not be the right pick. I mean, an all-around deck isn't meant to specialize in one thing after all. Right?
While the wide width assists in maintaining balance, it also restricts your ability to maneuver in the water. For surfing, a narrower and pointed-nose paddle board performs better.
Even though the Blackfin Model X lacks the kick pad, it still makes pivoting, turn initiations, and cross-stepping up and down very easy which also permits advanced paddlers to carve turns.
Board Stiffness
With all that 007 construction from PVC layers to a highly functional traction pad, the board speaks high performance only. Especially the side carbon rails result in that extra stiffness.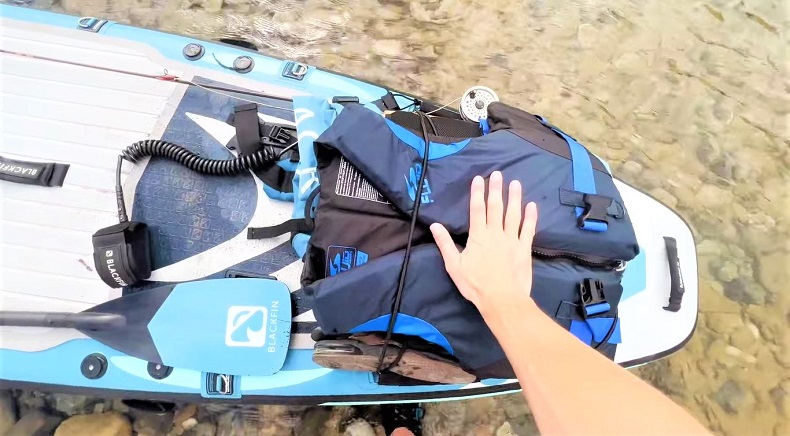 However, there is a debate going on whether the side rails are practical for an inflatable board or not. According to most industry experts, the carbon rails are unnecessary as according to them, it only adds to the overall weight of it. But that surely is not the case with the Blackfin Model X board.
From several tests and customer reviews, we come to a decision that carbon side rails don't subtract anything but rather add to the overall performance of a paddle board.
That is exactly why you will find this deck firmer than any iRocker board (without carbon fiber rails). Also, this is the very reason why the Blackfin is tested as one of the most rigid decks out there.
Yes, you are right! This Blackfin inflatable paddle board is wider in competition with iRocker all-around boards. But there sure is one deck that has given tough competition to the Blackfin Model X, and that is none other than the Model V 32 inches wide board that stands even stiffer.
Weight Capacity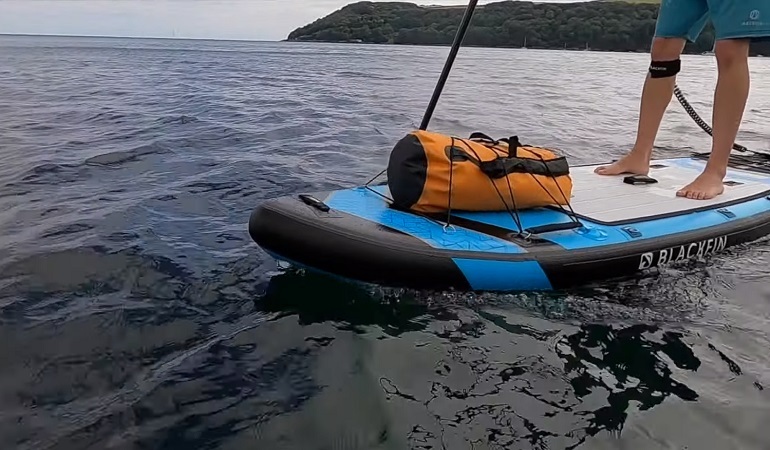 A carrying capacity of two adults at a time? Bravo! If you desire ideal performance but also maximum weight capacity, you will definitely love this Blackfin model. Blackfin boards excel at higher weight capacity after all.
Just so you know, the suitable load can be a distributed weight of 250 to 280 pounds. You know, a good balance is required.
When it comes to Blackfin iSUP, weight distribution is an important factor you need to consider. If you happen to reach 450 pounds without even distribution of weight, you will notice the speed slowing down slightly.
If you are looking for a paddle board that can easily handle an adult, a teenager, and some extra gear also, the Model X is an ideal option. If you are after even more enhanced carrying capacity, Blackfin Model XL will do.
Features and Accessories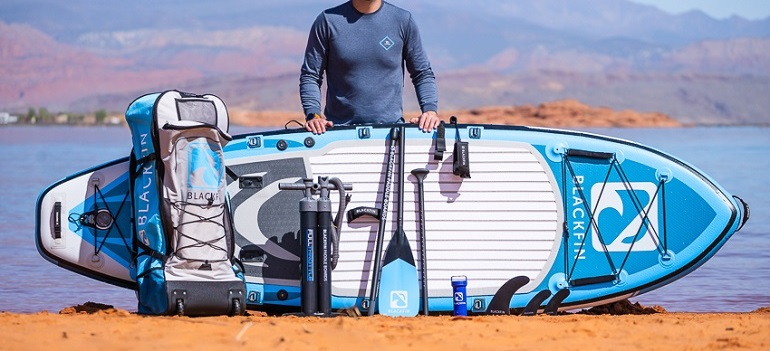 The Blackfin Model is one terrific model that can handle multiple activities, courtesy of its various versatile features. And all these high-quality features promise nothing but superior functionality. Let's discuss some prominent features that customers have been praising it for.
Don't we love packing extra stuff for our tours? Even if we try hard to cut down on unnecessary things, we end up carrying at least two such accessories that have got nothing to do with our venture. Well, Blackfin wins at knowing the needs and wants of its customers hence excels at delivering them.
For extra storage, the paddle board provides two storage areas: one at the front and one at the rear. Not to mention the provision of durable bungee cords for the front and four tiny D-rings for the back storage. Moreover, the safety handles attached at both ends also assist in easy hauling.
The next admirable feature is its traction pad. The impeccably designed deck is not only aesthetically pleasing but also very dense to perform its functions fully well. You know, such a dense pad with potential grip is always a plus.
Lastly, the full-throttle pump gives your deck the boost it needs. This pump is easy to use with three different stages for you to follow. the initial stage requires you to maximize air volume and let your paddle board puff up to a few PSI.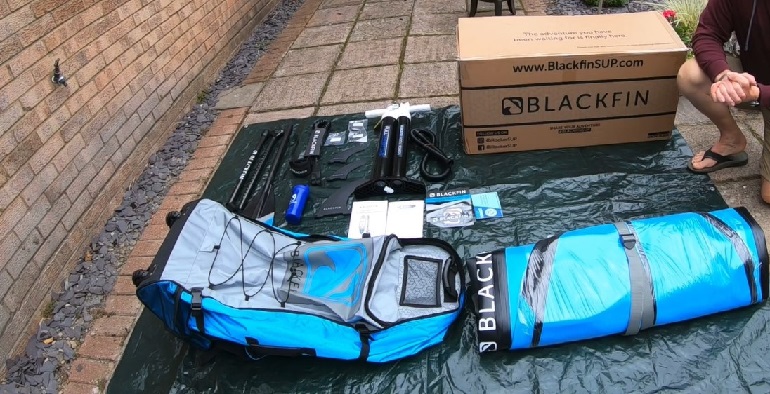 The next stage pushes air into it while using both chambers. The very last stage reduces the volume and leaves your board inflates up to 15 PSI in a snap.
The inflation is further made easier by the leakproof valve. It dramatically boosts the speed of the inflation process and saves you the hassle every time you try to pump iSUP.
Besides all these shiny features, Blackfin is armored with the below-mentioned accessories also:
10′ coil leash
8 multi-use action mounts
Dual chamber triple action pump
20 D-ring attachments for blackfin kayak seat and other matters
Wheeled SUP backpack
Paddle: 3-piece carbon fiber shaft, nylon blade
Let's look into some optional accessories that you can buy along with the inflatable SUP board. these accessories highly complement the gear and enhance its functionality to a higher level:
Fishing racks
Waterproof mobile holder
Iver fin system
Push pole/Sand spear mount
Soft cooler
Anchor
Cup holder
fishing rack mounts
Kayak seat cushion
Kayak bundle
Paddle
Do you know what is the x-factor of Blackfin X? Its construction. If we look into the construction of its paddle, it has a stern rubber grip and a 72 to 86 inches long handle that can be divided into 3 separate pieces.
The shaft is made of matte carbon fiber and a user-friendly blade made of nylon. What's the thinking behind using a nylon blade? It impressively cuts down the overall weight of the paddle. Moreover, there are rubber edges implanted in all the sharp corners of the blade to resist damage.
This blade also features a scoop at the end to cup water during paddle stroke and stimulate speed. However, when you are paddling randomly, the overall shape provides a seamless experience of happy paddling.
As mentioned earlier, the carbon shaft paddle is made out of carbon fiber which also reduces weight without compromising its strength of it.
In addition to this, the shaft also swanks a good amount of flex, thus, rendering it an ergonomically made paddle. Since we are talking ergonomics, allow me to mention the palm-grip handle that exudes comfort.
Lastly, the availability of the pin lock for shaft connection permits easy orientation. It helps the paddler in steering in the right direction. There is also present a cell foam section in the handle section of the kayak paddle to stop water from entering it.
Pump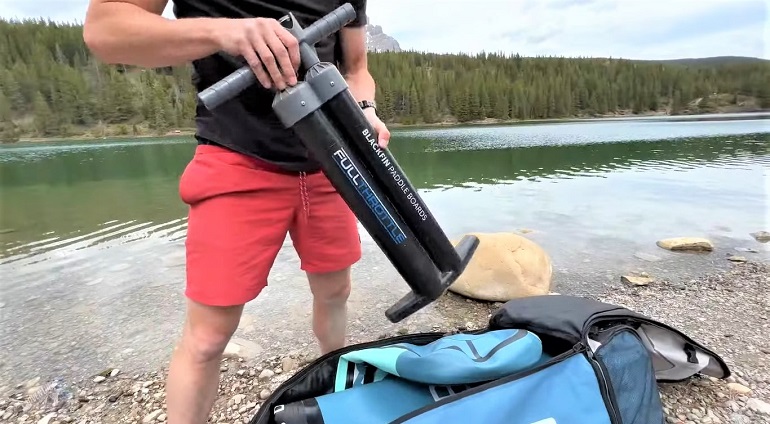 With the help of the new 25 inches dual chamber triple action pump, you can inflate your board in a snap and get going. It provides you with three modes for inflation which you can switch according to your taste and inflate the deck in 5 to 8 minutes. Three of these efficient modes are:
Max Capacity: quickly and fully inflate the model x
Medium Pressure: switch to this mode if it gets difficult with the first mode
Max Pressure: optimal air pressure (14 to 15 PSI)
Although it is a manual pump, the twin champer profile makes it very easier in comparison to average hand pumps. Do you wonder how? The good news is that the hose has been upgraded to a thicker and more flexible version.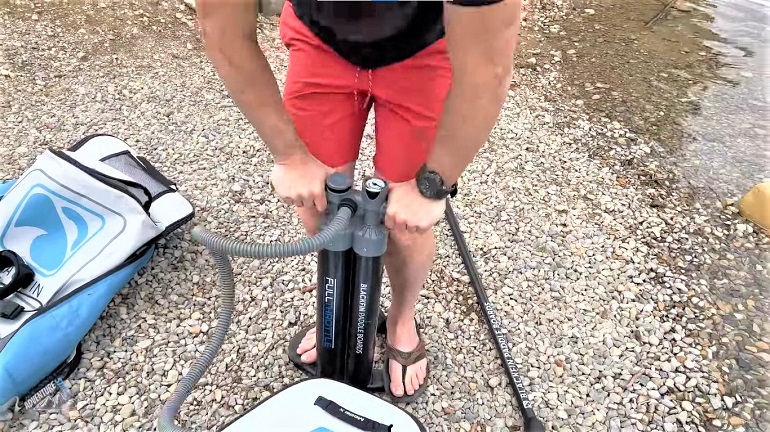 The inflation process can take up to 15 minutes, while deflation will cost you 3 to 10 minutes. As far as other accessories are concerned, the pump comes along with a tiny netted bag but the pump can also fit in the main backpack.
Furthermore, a pressure gauge is also included in the kit. It is attached at the top of the pump and informs you about the air pressure inside. If you find the air pressure not enough for the ride, you need to get it to its optimal level i.e. 14 to 18 PSI. The maximum pressure you can achieve is 23 PSI.
Quality
Blackfin board only talks about quality. Hence, sits at the top of the quality assessment charts. This extremely tough giant iSUP utilizes four military-grade PVC Quad layer construction and drop stitch material to ensure puncture-free rides.
The punctures are further avoided by its carbon side rails. These rails allow the paddler to paddle in the water on whatever obstacle it might have to face, like rocks. That's true! It is one of the toughest SUPs you will ever come across. It is not only durable but also functional and very aesthetically pleasing.
Backpack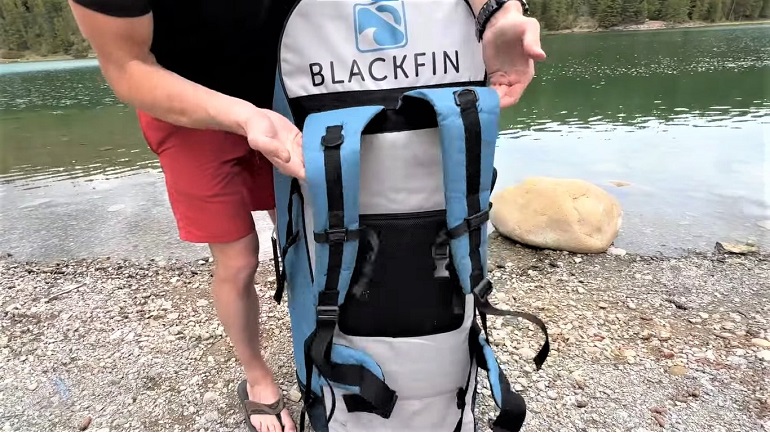 With terrific padding, the Blackfin backpack gives your accessories a warm welcome. The travel roller backpack is spacious enough to swallow all your necessary accessories. What we like the most are its padded straps that make carrying easy and don't put stress on your shoulder area even if you carry it for long hours.
Besides a padded structure, the backpack also flaunts its extra straps for customizability. Not just that, all those extra pockets are also waiting for you to fill them up. Let's get into the details and find out how much it has in store for you:
Bag Dimension: 10 x 16 x 21 (inch)
Weight: 3.84 pounds
Bungee front straps
Two mesh side pockets
Two small side zipper pockets
Side handles
Carry handles
Gigantic front compartment
Rolling wheels
Warranty and Customer Support
Blackfin Model X offers two years warranty that covers all the workmanship and material. This praiseworthy customer support beefs up the confidence of the user even more.
Besides three years warranty, the paddle board also allows you a testing period of 90 days. Within this period, you are required to inspect and return it if it does not seem fitting. I mean, what could be more convenient than 90 day no questions asked guarantee? Nothing.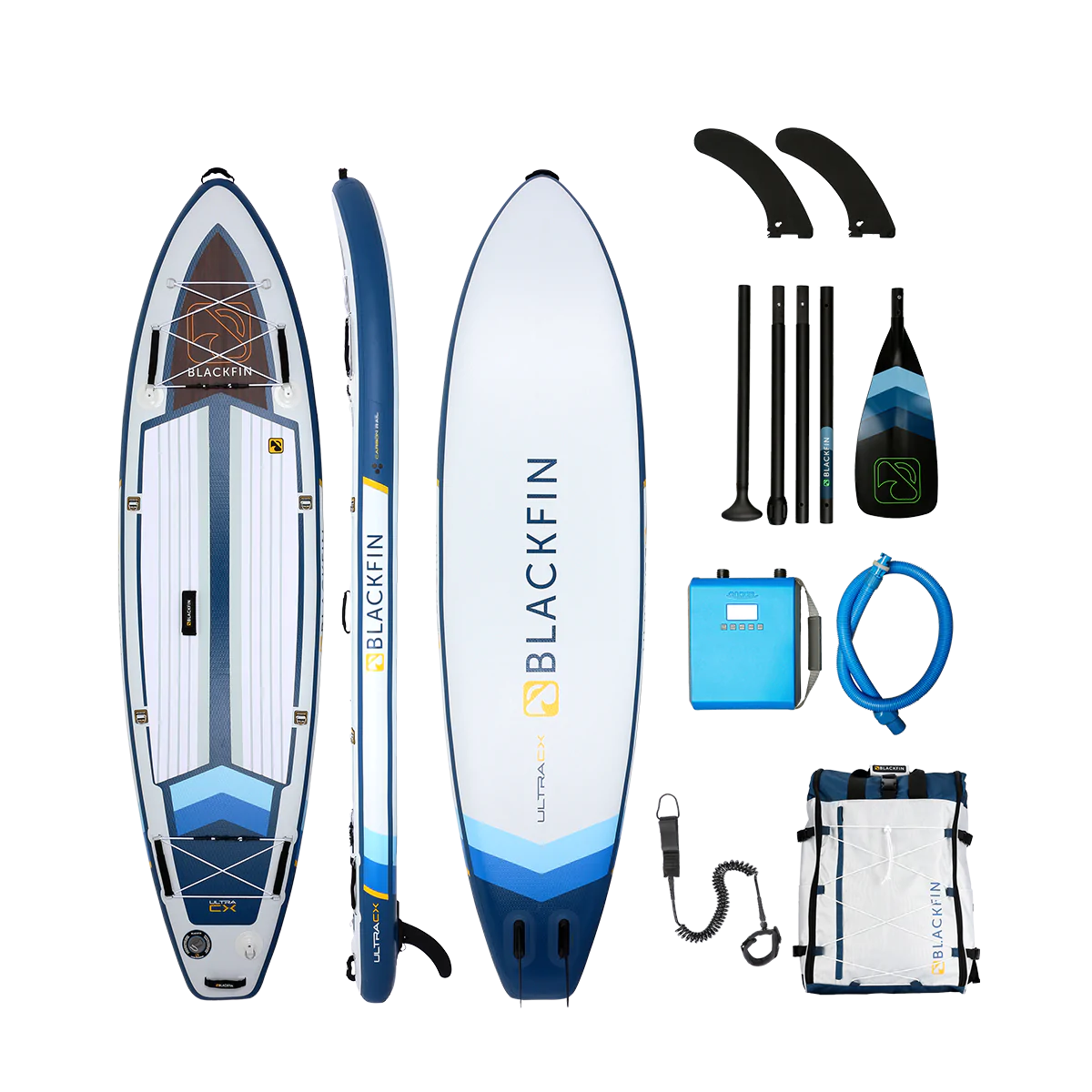 Blackfin Model X
The Price of "Blackfin Model X" varies, so check the latest price at
Blackfin Model X SUP FAQs
Is the Blackfin Model X SUP a Good Board for Paddling With Kids and Dogs?
Hell yes! It is an angel in disguise, especially for parents and pet owners. In this article, I have mentioned the availability of safety handles near storage areas, which is one extremely convenient feature.
As far as pets are concerned, the traction pad doesn't even bother to notice such tiny paws with nails. It is durable enough to stand the weight of a human along with his/her best friend.
Is the Blackfin Model X SUP Worth It?
The Blackfin Model X paddle board is a deck packed with features, value, and high performance. On top of useful accessories and an upgraded profile is its three years warranty that all customers root for. Owning a blackfin X means non-stop learning and peace of mind.
What Type of Care and Maintenance Is Required for the Blackfin Model X?
The X inflatable SUP also demands the basic process of cleaning, drying, and proper storage area. It is advised to always rinse the paddle board after paddling, especially after paddling in saltwater.
Secondly, it is not recommended to place the deck under the hot sun for a long period as it can cause the inside air to expand and rip seams. Also, the sunlight can damage the material of the board to a great extent.
One can use 303 Aerospace protectant on the triple-layer composite PVC, plastic, and rubber areas of the board while paddling for added protection. However, the traction pad should be left alone as it can get slippery by the protectant greasy layer.
Blackfin Model X Review Summary
Blackfin Model X with its superior performance, epic versatility, mighty construction, and extremely good quality not only permits you numerous exhilarating rides but also stays with you for years and years. What's the proof? The PVC and carbon rails. Don't you want a friend like that?
It is amazingly stable and versatile and you can perform any activity on it. That is why it is named an all-around SUP. However, if you are looking for something specifically designed for touring, surfing, or racing, this might not be the right board for you but rather a dedicated touring board or racing board will work for you.