When thinking about equipment for cross-country skiing, the mind immediately goes to the skis and the boots but rarely the gloves.
More than any other style of skiing, cross-country ski gloves are an important piece of kit.
Cross-country skiing requires a lot of work with your hands as you power yourself via poles across the snow.
Ensuring you have the best gloves for the job will make sure you have a productive day. Nobody wants cold hands in the extreme temperature of the mountain trails.
Best Overall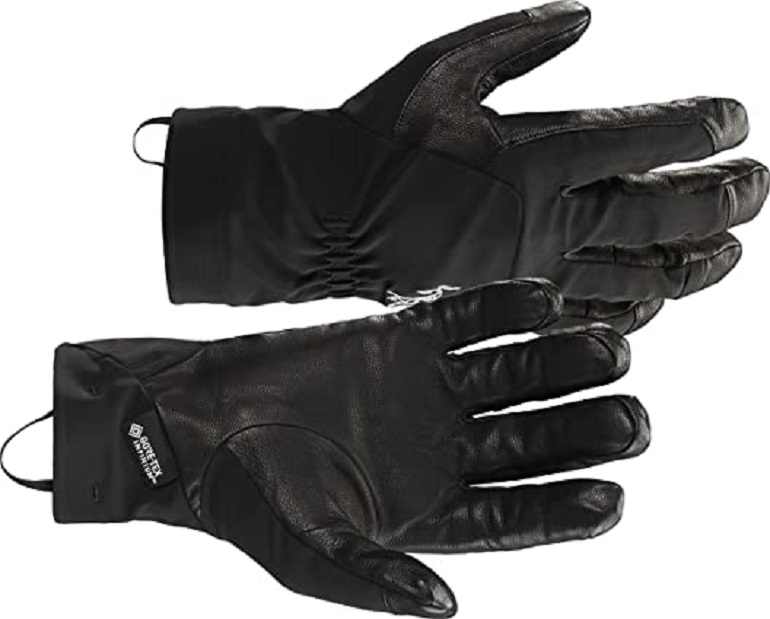 Arc'teryx Venta AR Gloves
Product Type: Synthetic Fiber
Special Feature: Lightly insulated
Best Heavy- duty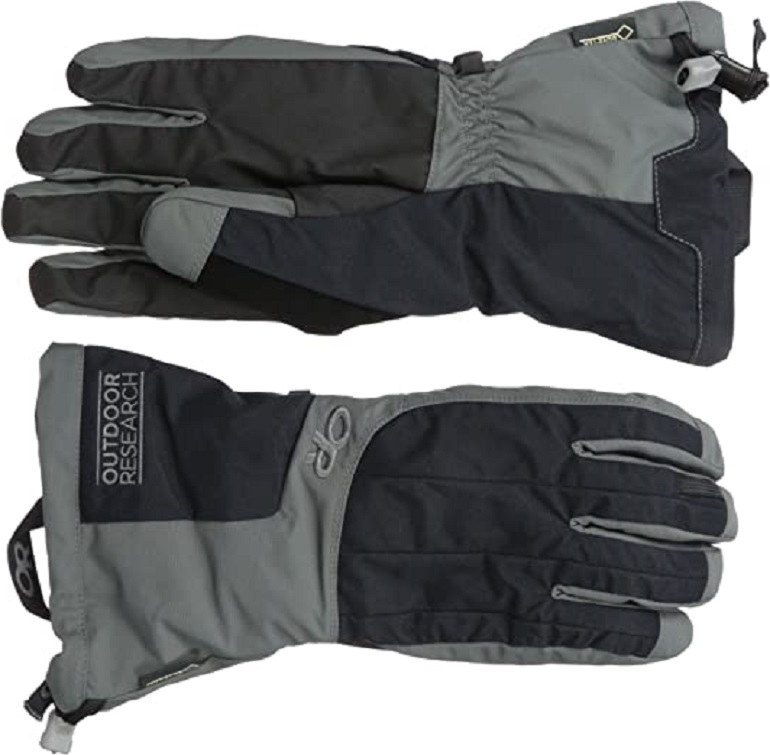 Outdoor Research Arete
Product Type:100% Nylon
Special Feature: Waterproof

Best Stylish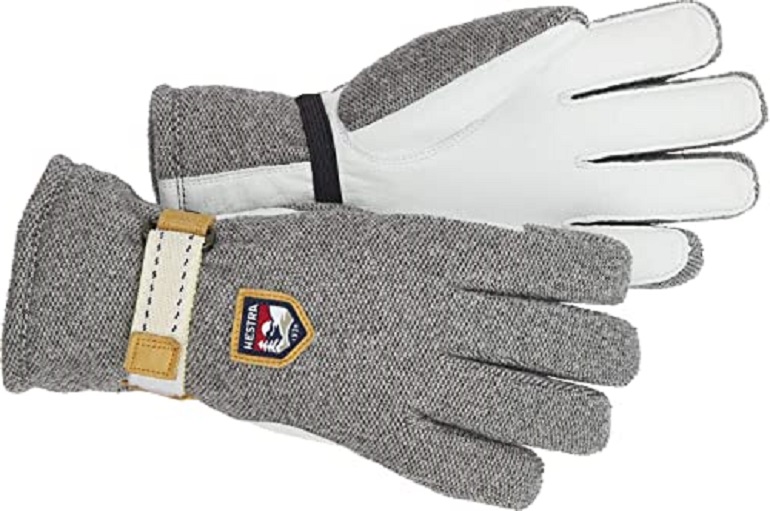 Hestra Windstopper Tour
Product Type: leather palm
Special Feature: Pullstrap closure

Best Lightweight
Swix Star Xc 2.0
Product Type: 100% Polyester
Special Feature: Machine Washable 


Premium Choice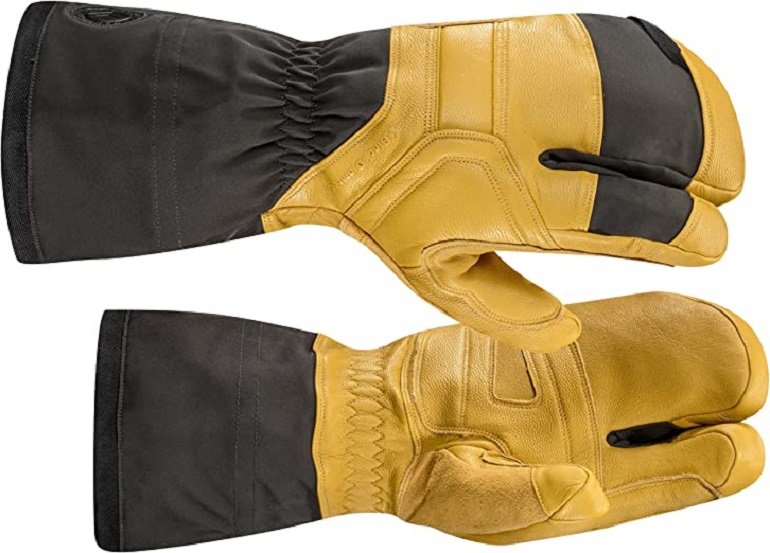 Black Diamond Guide Gloves
Product Type: 100% Polyester & Nylon
Special Feature: Breathable 


Best Flexible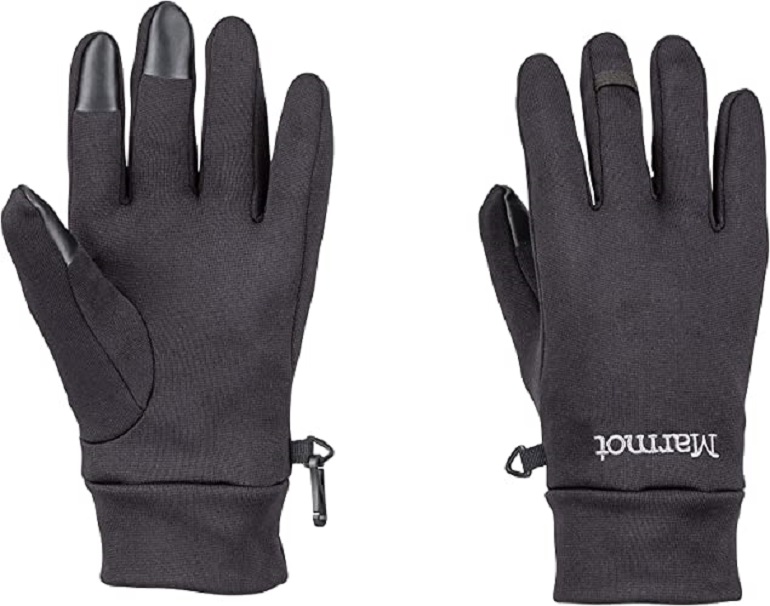 Marmot Power Stretch
Product Type: Polyester & Elastane
Special Feature: Touchscreen Compatible


Best Versatile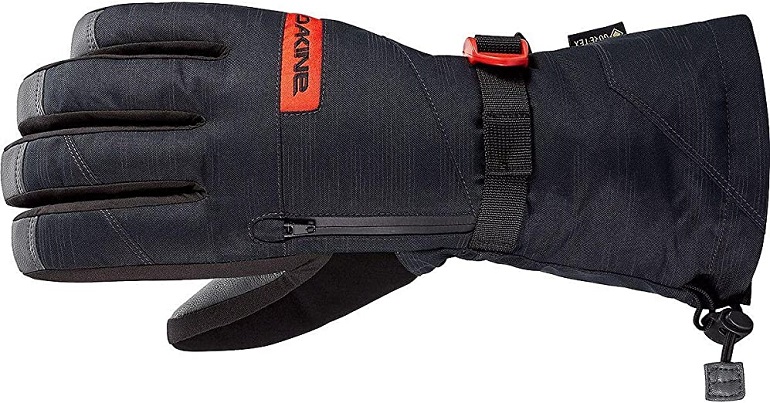 Dakine Titan Insulated
Product Type: 100% Polyester
Special Feature: Cuff Closure
Best Cross-country Ski Gloves – Top 7 Picks
The best heated ski gloves can provide extra warmth, waterproof protection will keep your hands dry and lightweight materials will provide the dexterity you need.
These are just some of the elements to take into consideration when looking to buy your cross-country ski gloves.
I've taken the time to try out a number of the best cross-country ski gloves to find out which ones provide the high-quality materials needed to be considered the best gloves.
Each has its own attributes suited to different skiing styles. Read on to decide which glove works for you.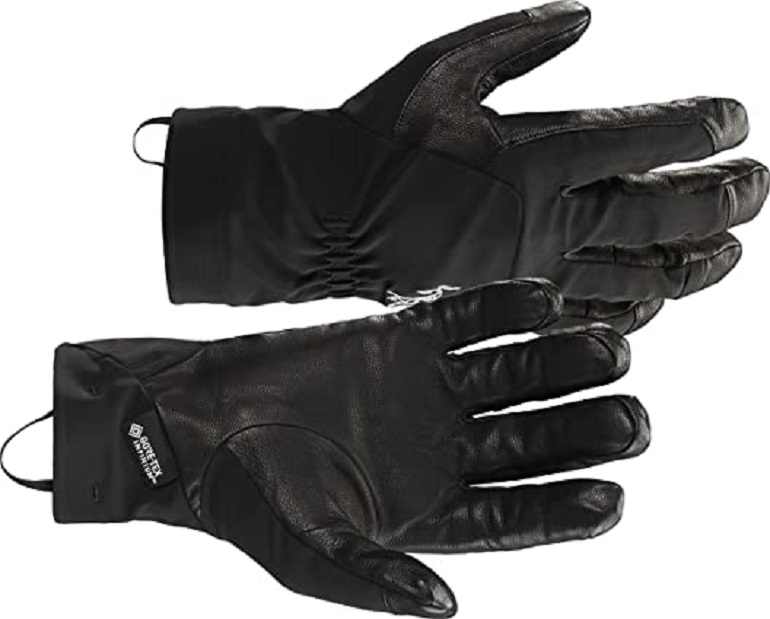 Here we have a lightweight glove made for skiing, snowshoeing, and other light use such as simple day-to-day wear.
Arc'teryx Venta has opted for a breathable gore-tex membrane combined with a goatskin fabric with only light insulation inside.
These gloves are great for anyone looking for something that won't be cumbersome on the hand. They are designed for maximum dexterity, they have slight reinforcement across the fingers which will lend some much-appreciated support to holding poles.
Leather palms have been included to improve grip in icy conditions. This premium material also provides waterproofing to a certain degree across the fingers and palms.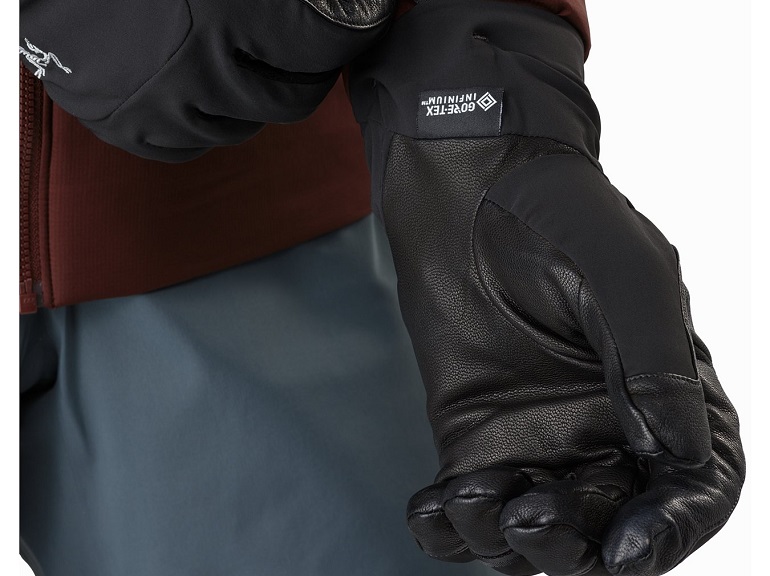 Summary
The Arc'Teryx Venta gloves are lightweight, made of high-quality materials, and allow for a lot of dexterity. This does come at a cost, though.
They are not the warmest gloves on the market and don't provide a lot of protection, reinforcement, or grip.
They are perfect for the cross-country skier perhaps looking for something a little more versatile. They are gloves made for someone who may want them for more than just cross-country skiing.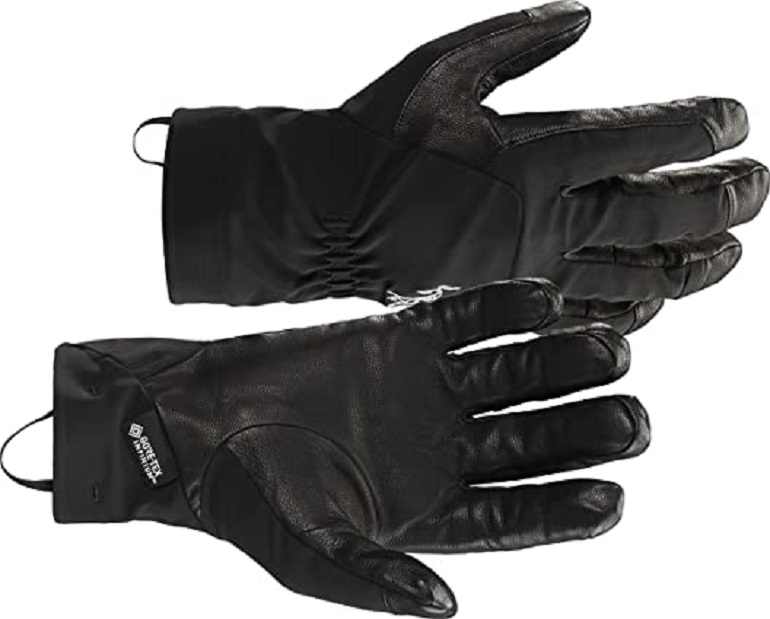 Arc'teryx Venta AR Gloves
The price of " Arc'teryx Venta AR Gloves" varies, so check the latest price at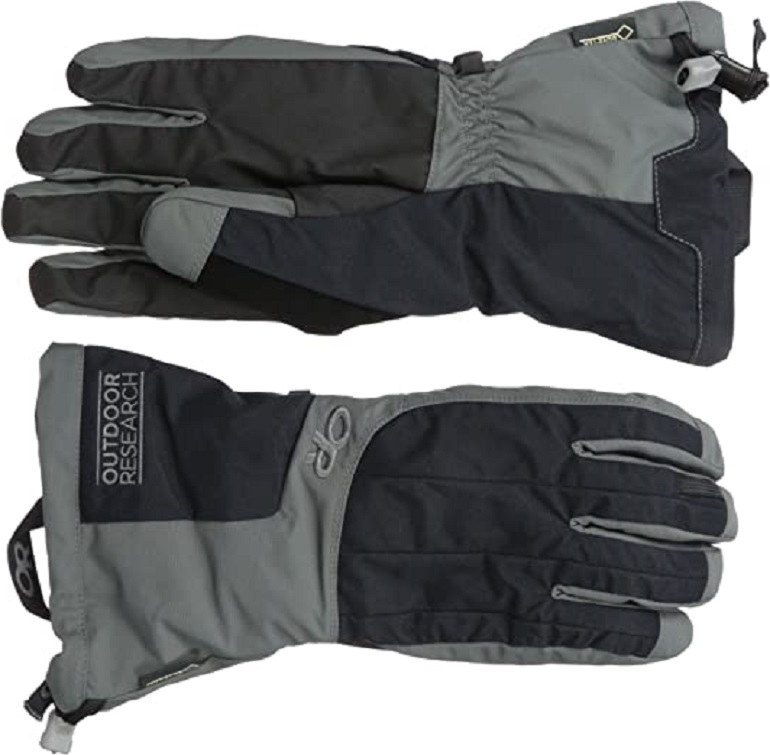 These gloves are a much more heavy-duty option than the previous models. They feature removable liners, waterproof material, and a bulky durable design.
The solid build packs in a lot of warmth and are good to about -6c, and are able to keep your hands dry in wet weather.
The Outdoor Research features grippy palms for extra purchase on your cross-country ski poles providing you the performance you need whilst in the backcountry.
Nobody wants their hands to be slipping around when trying to push through a patch of deep snow.
If these gloves get too warm, say at the end of a day when you're sitting having your congratulatory drink in a bar, you can take off the top layer and just use the synthetic insulation liners.
This allows you to drop the big bulky gloves whilst still keeping your hands protected from the elements.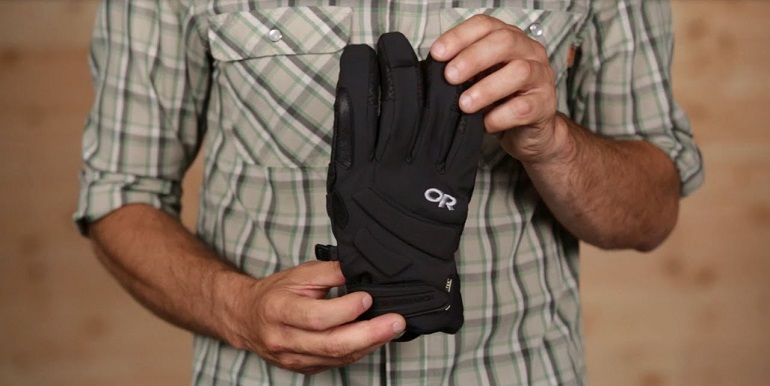 Summary
Although these gloves are bulky, they still have a reasonable amount of dexterity. The ability to remove the liners to simply wear a lightweight glove means that they can be worn in many different situations.
They are not necessarily the most suited to only cross-country skiing but they won't let you down if these are the ones you choose.
They don't feature specific performance attributes that you would expect to see from specially designed cross-country ski gloves but they will certainly do the job.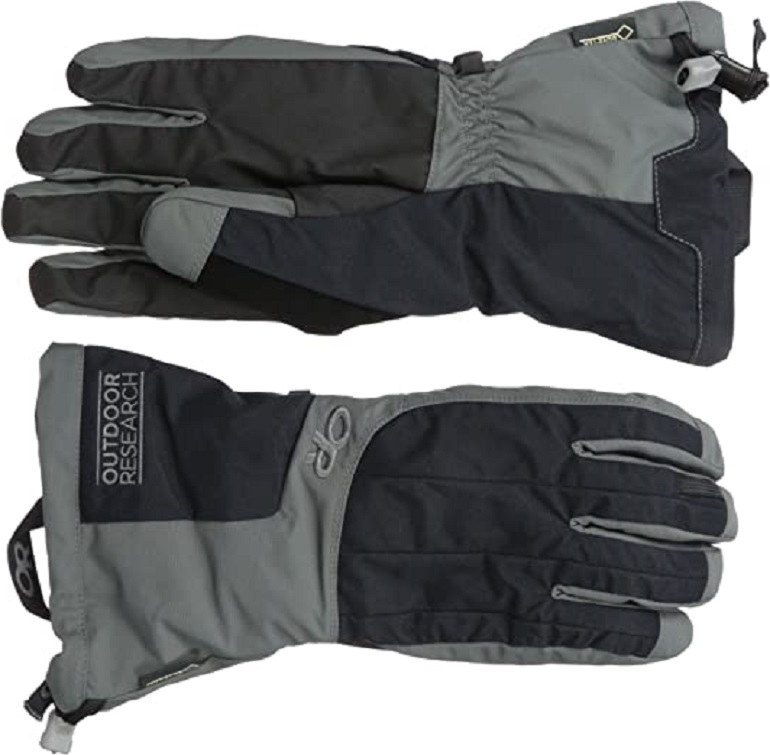 Outdoor Research Arete
The price of "Outdoor Research Arete" varies, so check the latest price at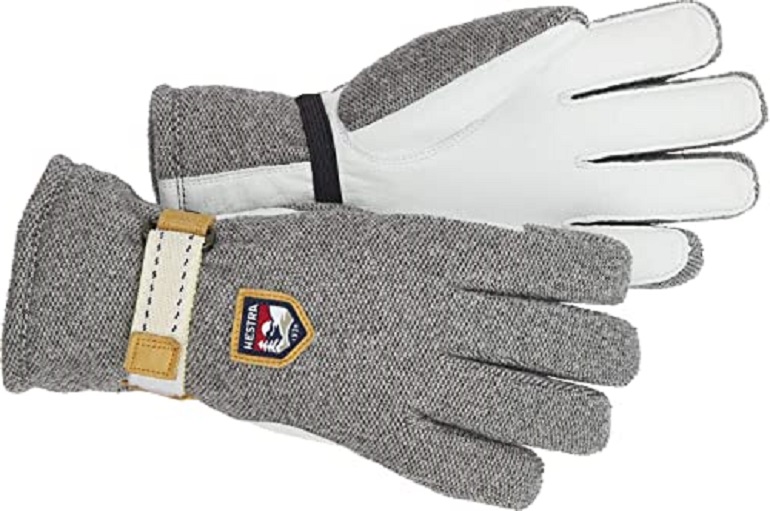 The Hestra Windstopper gloves are the first ones we have looked at that are specifically designed for cross-country skiing. This pair of gloves have been made with the trials and demands of cold-weather sports in mind.
Hestra has opted for real leather for the palms. This is soft, durable, and grippy providing comfortable yet waterproof protection. The impregnated goat leather palm combined with the melange fleece provides warm and breathable gloves.
The gloves are lightweight for maximum dexterity. The windproof qualities of the materials used ensure that dexterity doesn't come at the cost of cold hands. You won't end up with numb fingertips when skiing in cold windy conditions.
Summary
These gloves are a good choice for anyone looking for a piece of clothing that is both fashionable and is able to protect against the harsher conditions found in the backcountry. These look good and perform well with high-quality fabric.
Because these have been designed with sports in mind they have ensured they are breathable so that even when working up a sweat your hands don't suffer.
These come in a variety of colors so you can choose the colors that work with your outfit.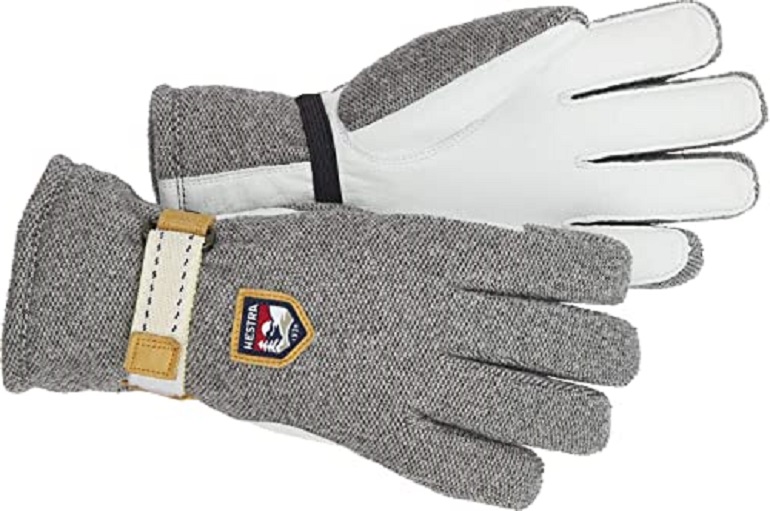 Hestra Windstopper Tour
The price of "Hestra Windstopper Tour " varies, so check the latest price at
The Swix Star are the most lightweight style of cross-country ski gloves we have looked at. They have done away with any extra bulky features in favor of dexterity and a pair of gloves that feel as close to the skin as possible.
These gloves are not waterproof and have very light windproof elements. They are not designed to withstand extreme cold weather elements or keep your hands warm in day-to-day wearing.
They are geared directly towards performance sports when your hands will be producing their own warmth.
Fitted neoprene acrylic creates the perfect fit around the wrist, stopping snow and wind from getting into the gloves. Lycra has been used in the Swix star to fit tightly around the hands and fingertips for an insulated feel.
Summary
Missing both waterproofing and much in the way of windproof insulation, this pair of gloves is for the cross-country skier who is looking for gloves specifically for the sport. They are not particularly durable, so for daily wear, they won't hold out.
They will keep your hands cool during high-energy sports, but your hands may end up wet.
This won't be too much of a problem whilst doing cross-country skiing in fresh dry snow but will start to matter in the wetter snow.
Swix Star Xc 2.0
The price of "Swix Star Xc 2.0" varies, so check the latest price at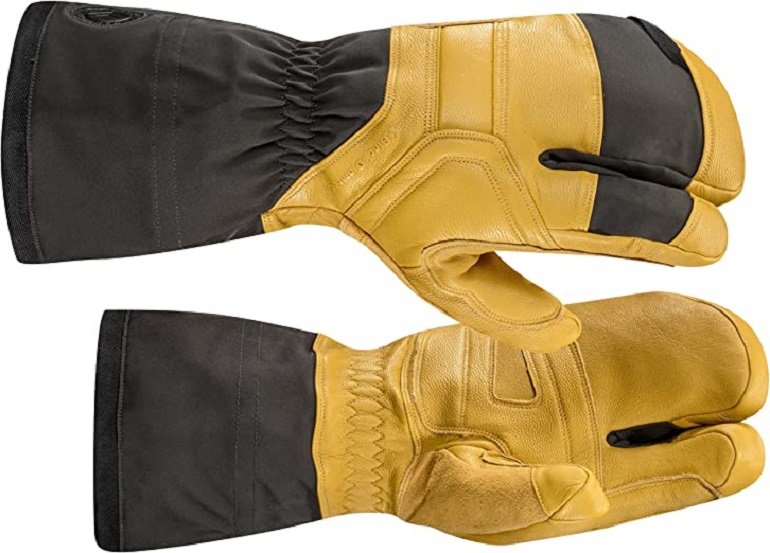 These Black Diamond gloves are a solid choice for anyone looking for unparalleled warmth, insulation, durability, and moisture-free hands.
These are serious pieces of gear that also happen to cost a serious amount of money. These stand out among the rest as high-quality gloves.
You really do get bang for your buck with these gloves. They are very well-insulated with Primaloft insulation at the highest level ensuring up to 96% of warmth even when wet.
This Primaloft insulation liner is removable so you can dry the moisture out of them after a day on the trails.
Soft, goat leather palms are mixed with a suede leather palm patch to keep your grip flawless. Leather has great durability over many miles and hard-wearing punishment. These gloves will keep up with you as long as you can ride.
Windproof, waterproof, and breathable Goretex has been used for the outers providing more durability on the parts that need it most. This is a bit of gear that will do you proud ride after ride.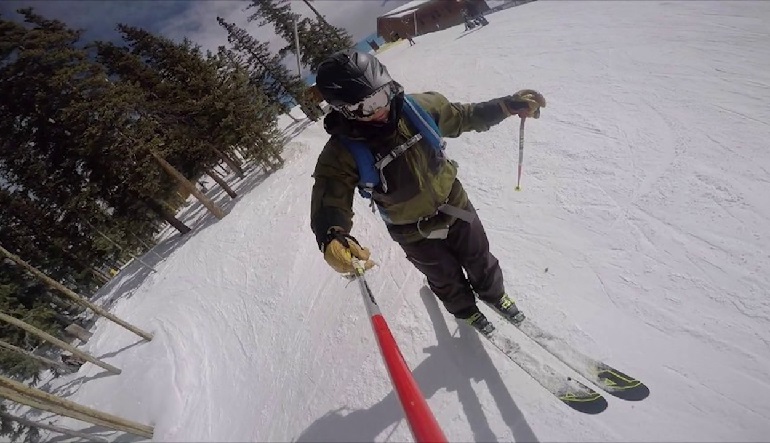 Summary
If you want your hands to be warm, insulated, and comfortable then throw these bad boys into your shopping trolly.
They are packed with features and not many other gloves compare, but for the price that's what you expect. These are some of the best gloves for all round warmth and waterproofing.
These are on the bigger side, especially compared to some of the other cross-country ski gloves we have looked at. They will have a lot of weight but for the hardcore cross-country skiing days, they've got you covered.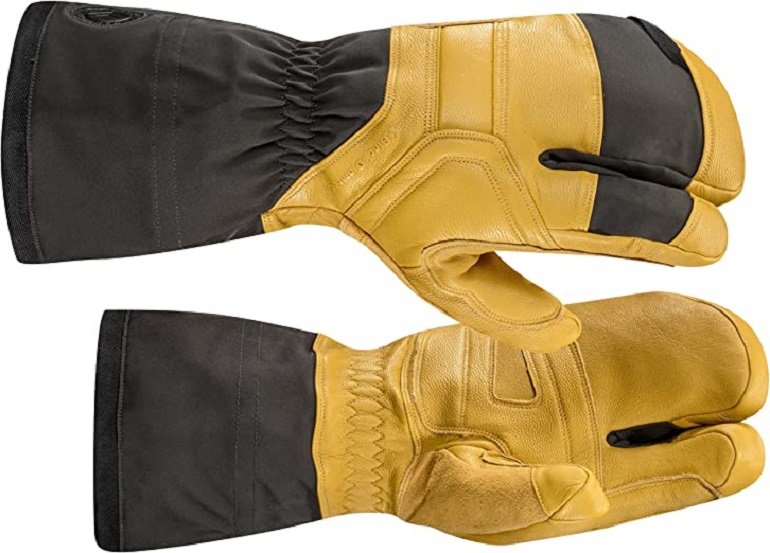 Black Diamond Guide Gloves
The price of "Black Diamond Guide Gloves" varies, so check the latest price at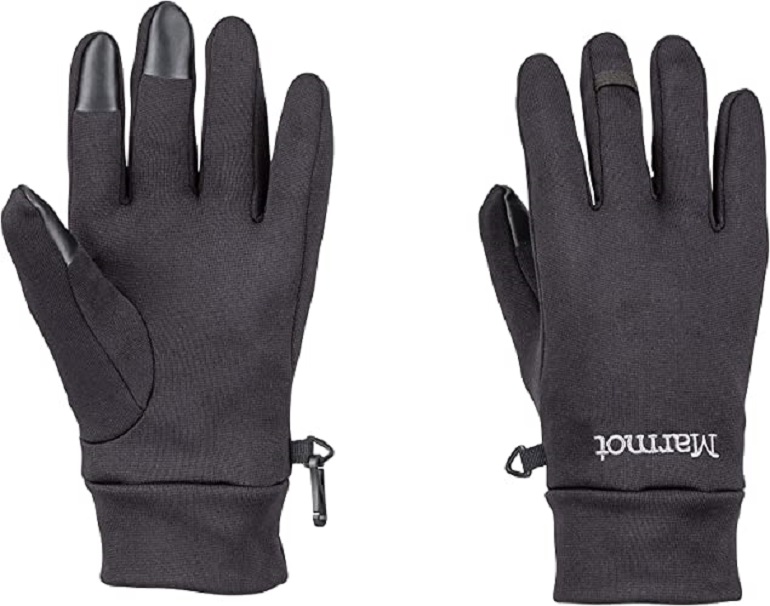 The Marmot Power Stretch is made for maximum flexibility, a super lightweight feel, and the ability to use your phone during your days out. Unlike the previous leather-clad insulated gloves from Black Diamond, these are as lightweight as gloves come.
They feature moisture-wicking and some level of waterproofing but they have little in the way of insulation or protection. The thin, flexible material will fit nicely to your hands but won't do a lot for keeping your hands warm in the cold air.
These gloves will fit amazingly close to your hands and will provide a skin-close feel against a ski pole for the most 'bare hands' experience with cross-country ski gloves available.
The thin material also allows you to continue to use your phone while out and about meaning you can check your trail map, change your playlist or shoot that great shot.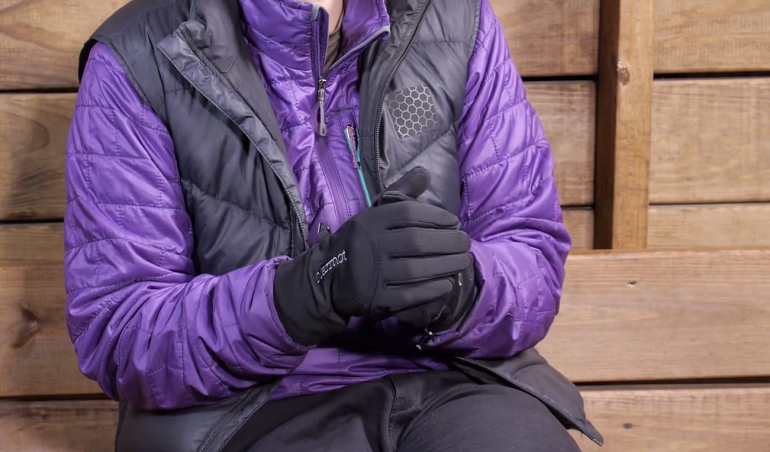 Summary
Don't expect to have the warmest hands on the trail with these skin-tight gloves, you can expect to have the lightest though.
If you are going out in warmer weather and prefer to have a glove that feels as close to wearing nothing as possible then grab a pair of these.
Being able to use your phone out and about is one of the features that none of the other previously reviewed cross-country gloves can provide. The lack of insulating materials is offset by the convenience of staying connected.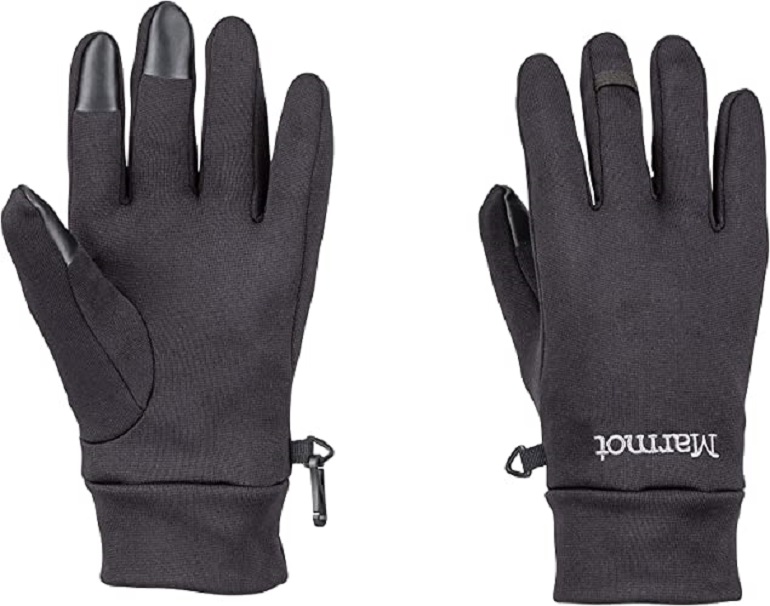 Marmot Power Stretch
The price of "Marmot Power Stretch" varies, so check the latest price at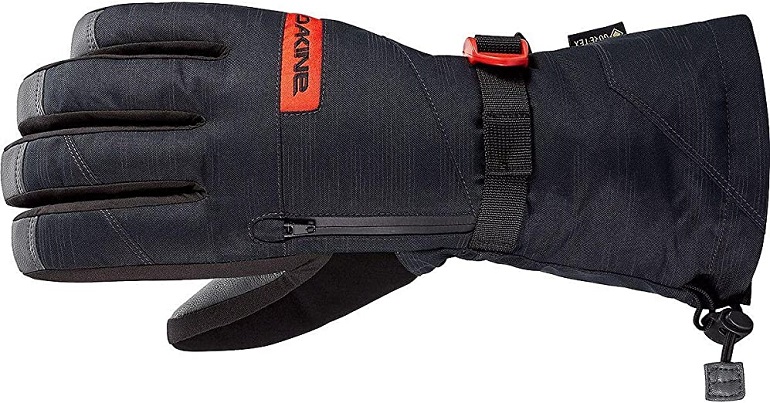 The Dakine Titans are a feature-rich glove that provides high levels of warmth, touch screen fingers, waterproof outer and inner, and a number of other very nice-to-have extras. They give you everything you may want in a glove in one rather big package.
The extras are a good focal point for what sets these apart from the rest of the market. The first to mention is the zip pocket on the back of the hand. This is a snug little section to keep a heat pack, ski pass, or even a tiny little map.
This neat bit of gear also features cuff closure to wrap your hands in nice and tight and keep that snow away from the inside of the glove. Warm air is trapped inside the glove and keeps the heat locked in.
These gloves feature a rubber palm rather than the usual leather we have seen on many other gloves in this article. It is a hard-wearing and grippy material that won't fall apart in a hurry and has the added bonus of being waterproof.
Summary
These are feature-rich pieces of gear that will take care of you no matter where you are in the snow.
They are big, but they will take care of your hands in the cold and will be with you for years due to their durability and good design.
Perhaps a little heavy for the regular rider but for heavy cross-country skiing in cold, difficult conditions these have you covered.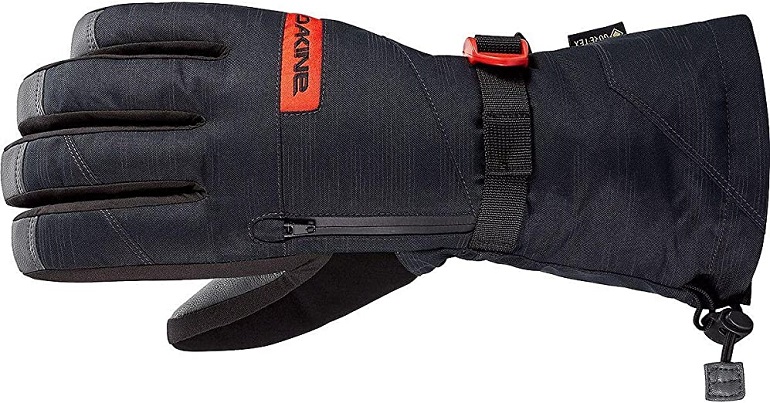 Dakine Titan Insulated
The price of "Dakine Titan Insulated " varies, so check the latest price at
A Guide to Buying Your Cross-Country Skiing Gloves
Research is key when buying any new piece of equipment, and it's essential to know what you're looking out for when doing that research.

In the Cross country skiing glove category, there are a few key elements that make all the difference. I have taken the time to break them down for you here so you can make your decision with knowledge.
Waterproofing
This is such an important element with anything you may be wearing when out in the snow. Whatever you're doing, due to the heat of your body, the snow on and around you will melt.

If your glove isn't waterproof, you're going to end up with wet, frozen hands. This isn't just detrimental to the flexibility of your hands but can become dangerous in extreme conditions.

You don't want to lose a finger to frostbite, there aren't many four-finger gloves out there! Those looking for cross-country skis for beginners, it is recommended to find a great glove too in order to enjoy their riding experience to the max!
Ventilation
As with any sport, keeping your body cool is always important. Overheating can lead to dehydration and undue fatigue.

With your gloves, you should keep an eye out for vents and breathability. These features will keep your fingers from getting sweaty and will lead to a much more pleasurable day without hot, damp hands.
Durability
If you go out looking to buy high-quality gear, you're going to want to know it will last as long as possible.

Cross-country skiing can be very taxing on a pair of gloves. The constant friction caused by pushing yourself along with poles will rub on the surfaces and joints of the material used.
Keep an eye out for hardier fabrics such as leather and rubber, they will last longer, and you will get the most out of your money.
Frequently Asked Questions
What Types of Gloves Are Best For Skiing?
This is something that can only be decided by the individual. If you are someone who likes to spend a day in a park and likes to have all the flexibility you can get, and perhaps some ability to use your phone to shoot some footage, then the slim, lightweight, phone gloves are the best choice.
For a skier who is going to brave the elements and delve deep into the wilderness in extreme temperatures, the thicker and heavier variety of gloves is the obvious choice. Finding the perfect blend of warmth and flexibility is the key to finding the medium all-rounder.
What Are The Warmest Gloves For Cross-Country Skiing?
Warm gloves are a must-have for cross-country. Nobody wants freezing fingers, they will inhibit your movement and make you miserable.
The best gloves are the thickest. You want to look for some with thick linings made of things like sheep wool and waterproof fabrics.

You can also opt for gloves that have pockets for heat packs. On the coldest of days, a heat pack crammed next to your hand is like a little slice of heaven.
Conclusion
Depending on the day you plan to have and what you want from your gloves, change what you should be going for.

We have some great all-rounder gloves, made for the daily shop in the snow and the casual cross-country skier. We also have a few super heavy-duty gloves that you could probably trek up Everest with.
If I were looking to buy a pair of gloves, I would spend high and get something I know will keep me going for years.

I love my hands being dry and warm, so sacrificing some movement in my hands and maybe having something heavier is always a payoff I'm willing to make.