I go through ski gloves almost as fast as I go through ski socks. Maybe it's the way I ride, I like to do a lot of grabs and hand drags, or maybe it's simply the nature of skiing.
I hate nothing more than having cold fingers while I ski, it messes with my ski pole grip, makes me uncomfortable, and can spoil a good day on the mountain.
This is why having the best ski gloves and mittens is so important to me. I often spend a lot of time trawling through the shops and reading reviews to make sure I have the warmest ski gloves on the market.
They have to be durable, dexterous gloves that provide waterproofing and still give my hands the ability to breathe.
Top Pick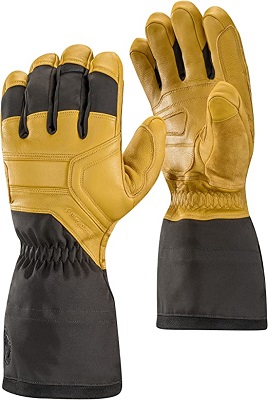 Black Diamond Guide Gloves
Size: X-Small
Material: Synthetic

Premium Choice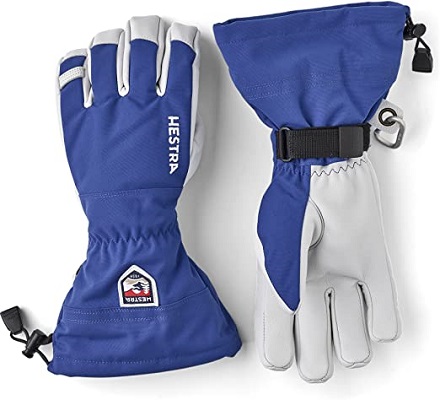 Hestra Army Leather Heli Ski Gloves
Size: Medium
Material: Polyester

Finger-free Lifestyle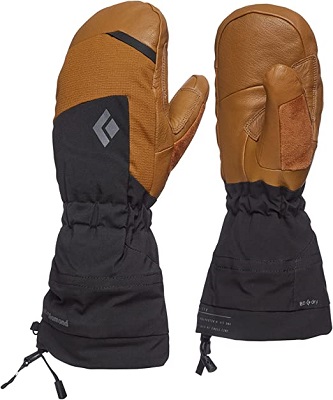 Black Diamond Mercury Mittens
Size: Small
Material: Synthetic

Built-in Heated option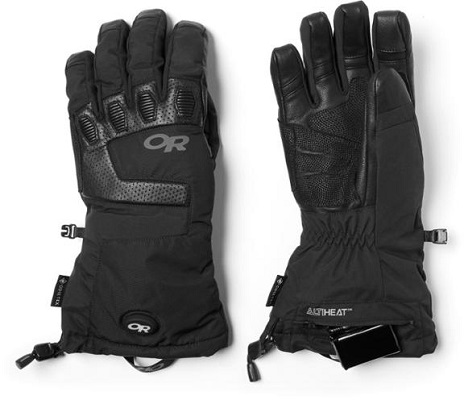 Outdoor Research Heated Sensor Gloves
Size: Medium
Material: Nylon Fabric

Great Value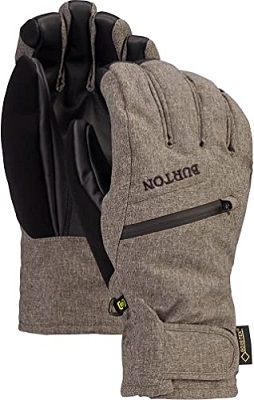 Burton Gore-Tex Glove
Size: Medium
Material: Synthetic Palm



Eco-friendly option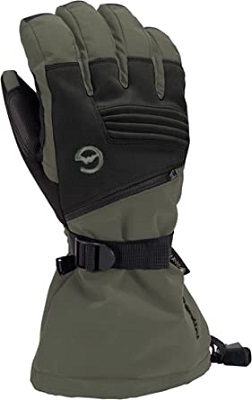 Gordini Storm GORE-TEX Gloves
Size: Small
Material: Leather


Three-finger option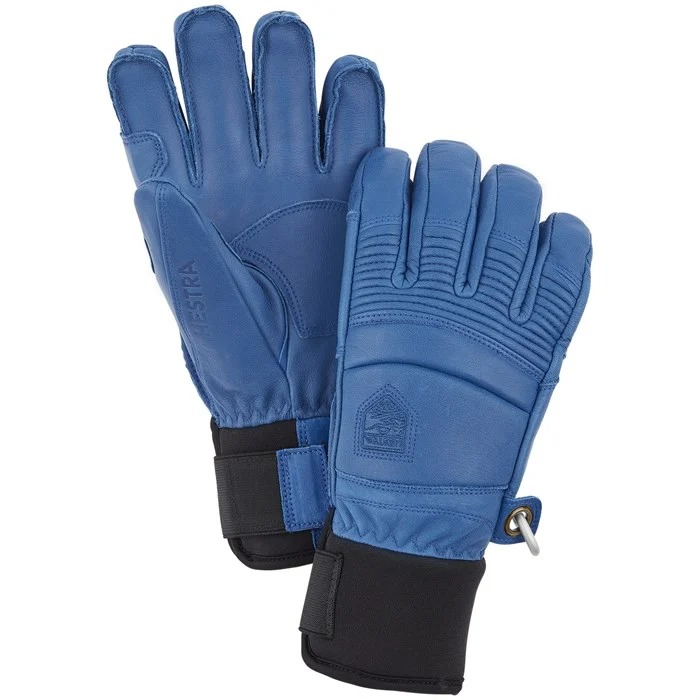 Hestra Leather Fall Line Gloves
Size: Large
Material: Polyester Fleece
The Coziest ones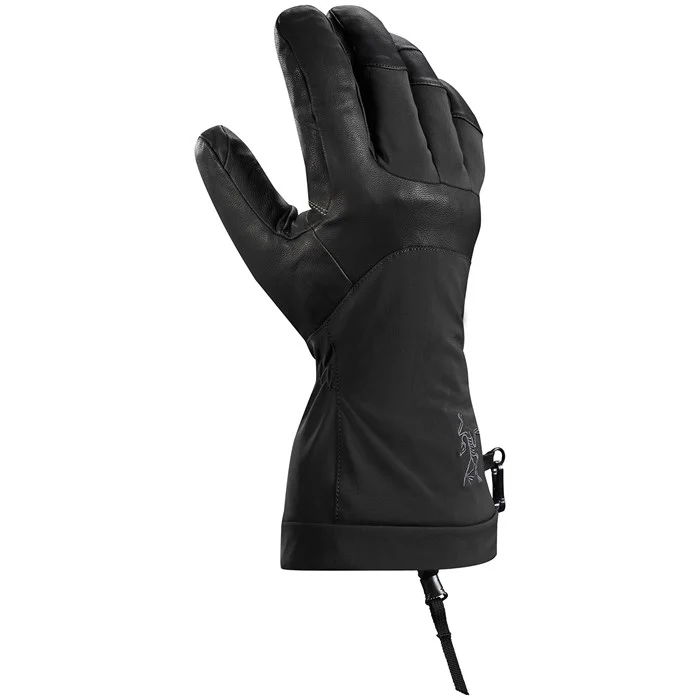 Arc'teryx Fission SV
Size: Medium
Material: Nylon, Leather

Super Versatile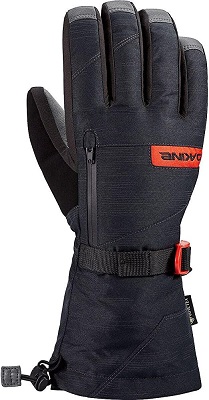 Dakine Titan GORE-TEX Gloves
Size: Large
Material: GORE-TEX, Polyester

Chic and Trendy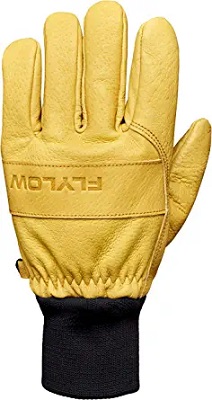 Flylow Ridge Gloves
Size: Large
Material: Nylon, Leather

Best Ski Gloves – Top 10 Picks
Every ski glove is different, but so is every rider and their needs. This list will range from expensive gloves to more affordable gloves. What matters is what pair of gloves work for you.
When choosing ski gloves and mittens, it's important to know what you're looking at. This list should help clear it up a bit.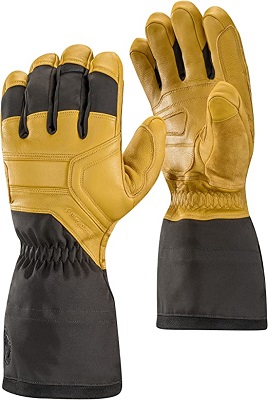 These are a pair of gloves we return to time and time again. They have been previously reviewed in our best cross-country skiing review, but for a good reason.
The Black diamond guide glove is a formidable piece of kit for any rider who wants warm gloves, durable materials, complete protection from the elements, and great value for money.
The insulation of these gloves implements both boiled wool liners and synthetic insulation to provide unparalleled warmth and comfort.
The Primaloft insulation provides a warm and water-resistant lining that keeps your hands dry throughout the day. Primaloft gold traps the heat of the hand, making the gloves incredibly thermo-efficient.
These are bulky gloves, but the black diamond gloves are some of the best ski gloves on the market. They will last you a long time and are completely waterproof, guaranteed to keep your hands warm all day.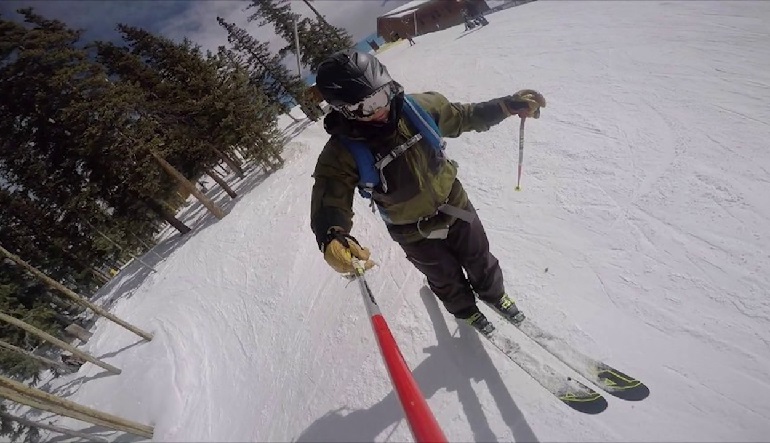 Summary
If you're looking for hard-wearing gloves that will keep your hands warm and dry all the way through the day, you can't go wrong with a Black Diamond Guide glove.
They are top-of-the-range across most gloves reviewed and are made of quality materials.
They don't offer the most dexterity, but this is the payoff for having so much protection against the elements.
If you are happy to spend the money, you will get a lot of time and wear from these. You won't be let down.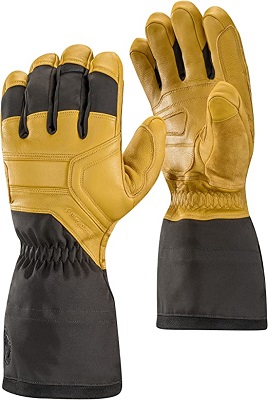 Black Diamond Guide Gloves
The price of "Black Diamond Guide Gloves" varies, so check the latest price at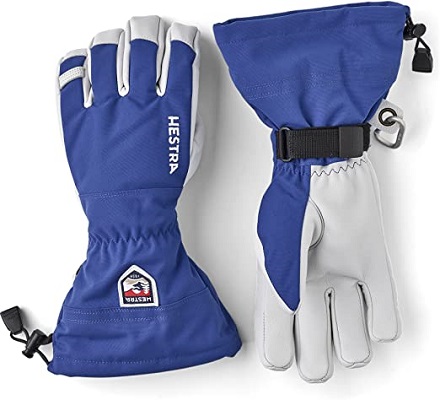 Hestra Army Leather Heli gloves were designed with Hestra army leather, originally used on military equipment.
This is a mark of a hard-wearing and trusted material that you can bank on to keep your hands dry, warm, and taken care of. The goat leather palm is designed with endurance and protection in mind.
Along with the goat leather palm, the backhand is made with a waterproof, windproof, but still breathable synthetic material. Having a breathable glove becomes very important when out and about for a whole day. Sweaty hands quickly become very unpleasant.
These gloves feature a velcro wrist cinch to keep even the lightest of powder from infiltrating your gloves. The Hestra Heli Ski gloves do also have a removable liner, so even if your synthetic liner does get wet, you can take it out and dry it after your day is done.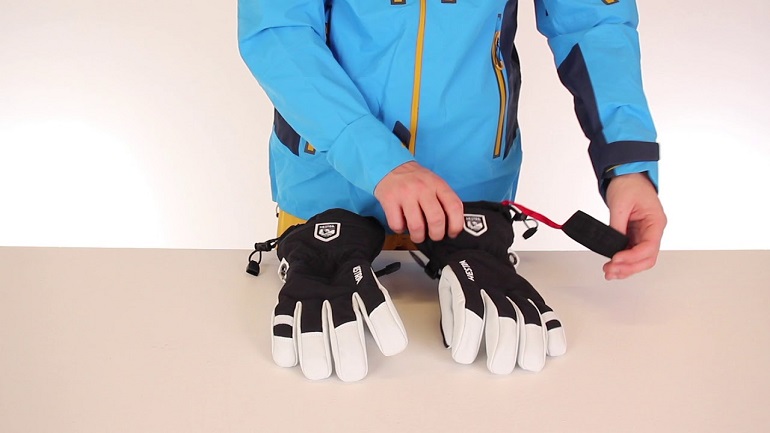 Summary
The army leather Heli used for the palm of this glove requires care and attention. If treated properly, with the correct grease and leather conditioner, they will last longer than your new ski boots and take care of you back.
These are great waterproof gloves with a slightly heavy profile, but for your money, you will get a lot of value.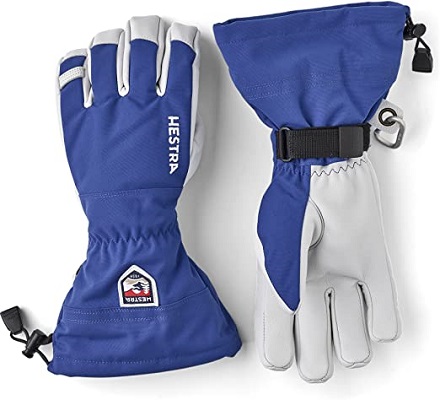 Hestra Army Leather Heli Ski Gloves
The price of "Hestra Army Leather Heli Ski Gloves" varies, so check the latest price at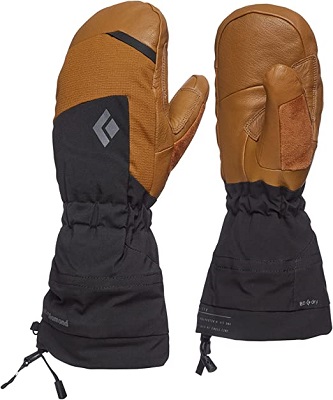 Over the years, I have actually moved much more toward mittens over gloves. I prefer how they hold my fingers together, grip my poles or skis, and actually prefer the way they look.
The Black diamond mercury mitts are a top-of-the-range option for anyone to make a move to the finger-free lifestyle.
These Black diamond mercury mitt pack all the warmth and protection you could want. They utilize a goat leather palm, Primaloft gold lining, removable liners, and nice long gauntlet cuffs to keep snow out. They may not have all the features of other mitts, but they do what they have very well.
Goatskin leather is both soft and durable, it is commonly used on the best ski gloves and mittens. The palm allows for good dexterity and won't let your hands slip around. Looking out for goat leather is always a mark of the best gloves.
The Primaloft gold insulation is some of the best on the market. It keeps your hands super warm even when it gets wet. It will stop you from having cold hands even if you fill the removable liner with snow and water.
Primaloft gold is one of the finest materials for a ski liner glove.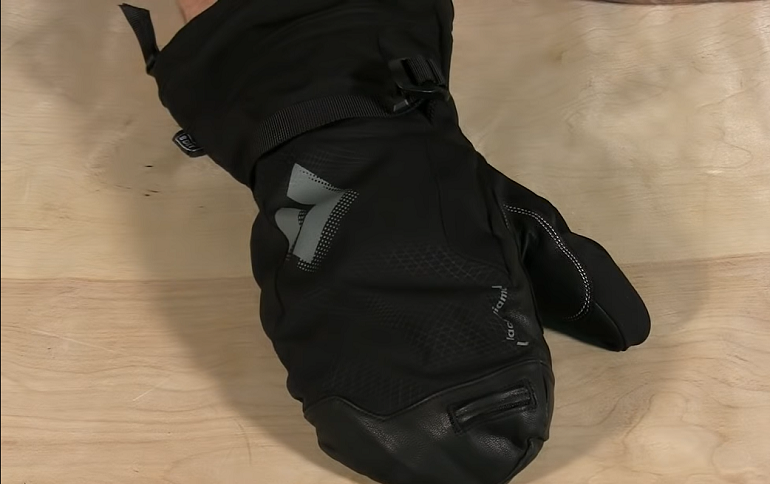 Summary
Ski gloves have the benefit of having movement in the fingers, but I find between gloves and mittens, mittens are the way forward.
The way my fingers are kept together stops me from getting cold hands. Whether I am resort skiing or backcountry skiing, they keep my hands dry and warm.
They aren't for everyone and are definitely dependent on taste, but I don't find the lack of finger movement to be too much of a detriment.
As far as these go up against the rest of the ski glove market, they rank highly. The Black Diamond brand has ensured that the water-resistant liner combined with the PFC-free water-resistant shell has made a great pair of winter gloves.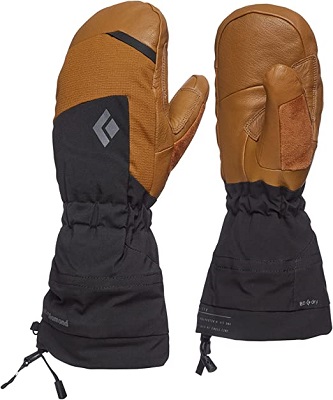 Black Diamond Mercury Mittens
The price of "Black Diamond Mercury Mittens" varies, so check the latest price at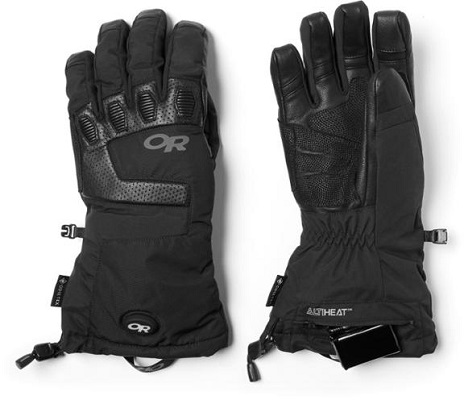 Outdoor Research has chosen another goat leather palm for their Lucent gloves. They feature a Gore-Tex insert that keeps the hand dry and breathable.
A wrist cinch keeps snow and water from getting inside the gloves and making the synthetic insulation cold. All of these are nice to have, but don't explain why these Outdoor Research are so far away from being a cheap pair of gloves.
What sets this pair of Outdoor Research gloves apart from the rest and justifies the premium price is the fact that these gloves have adjustable heating elements powered by lithium-ion batteries.
Most ski gloves don't come with inbuilt heat packs, but these top heated ski gloves are equipped to keep your hands warm.
Outdoor Research heated gloves with the built-in heating element have obvious benefits. The adjustable warmth means you won't ever have cold hands again and you can dry your gloves on the go.
If you are backcountry skiing in the coldest weather, the batteries will keep your gloves toasty. Lithium-ion batteries do struggle in the intense cold, but you can always keep spare batteries in your winter ski jacket.
Apart from the heated glove element, the Outdoor Research gloves also feature good waterproofing with EndureLoft synthetic lining and a Gore-Tex insert. They make up a high-quality glove across the board and maybe the best-heated glove on the market.
Summary
These heated gloves from Outdoor Research shine through the rest of the gloves with their in-built hand warmers.
The ability to keep your synthetic insulation dry and warm may make them the warmest glove I have reviewed. Of course, the goat leather and reinforced outer shell make these ski gloves a great choice.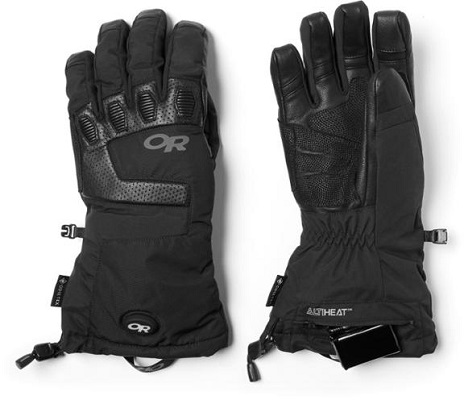 Outdoor Research Lucent Heated Sensor Gloves
The price of "Outdoor Research Lucent Heated Sensor Gloves" varies, so check the latest price at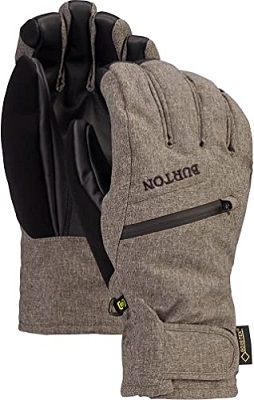 This is a company synonymous with good quality and are the favorite ski gloves of many mountain aficionados. The Burton gore-tex gloves are a low price, so you are getting great value for the price of a budget ski glove.
They are not going to be the warmest or driest gloves on the market, but they are great for a day in the park or a casual ride to the apres-ski bar.
These gore tex ski gloves use a few features that make a glove that is fun, light, and versatile. They have opted for Screen Grab removable liners and Screen Grab Synthetic leather palm.
This not only provides durability and waterproofing but also allows you to use your phone or any touchscreen device. Great for shooting that winter sports footage to make everyone jealous back home.
These waterproof ski gloves are made for maximum flexibility, they use thinner material on the membrane and lining than other gloves and mittens to make sure you have the most grip on your best ski poles.
The thin gore-tex nylon shell is breathable, flexible, and quick drying, so doesn't sacrifice much for the sake of dexterity.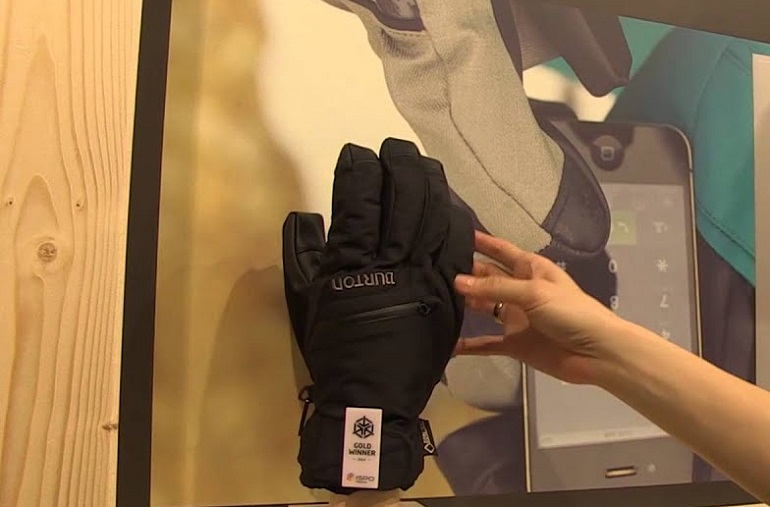 Summary
These may not be the most heavy-duty, or warmest in the ski resort, but they will provide you with an adequate amount of protection while tearing up the mountain and hitting the park.
Good flexibility and the ability to use your gadgets while out and about will always be good selling points for me, I like to be able to change my playlists, shoot some pictures, and call my friends on the go.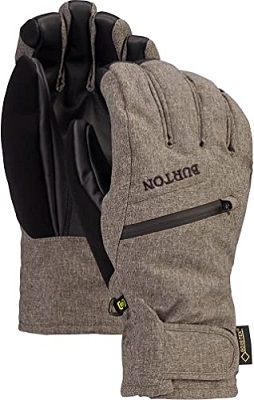 Burton Gore-Tex Glove
The price of "Burton Gore-Tex Glove" varies, so check the latest price at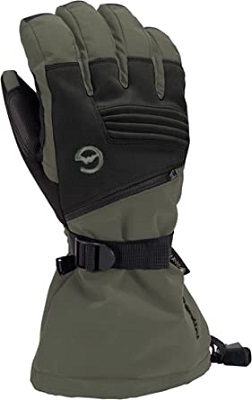 Gordini, rather than choosing leather ski gloves, has chosen to use a synthetic but very durable and eco-friendly material they have called Clutch.
This replacement for the leather glove claims to have better durability, better grip on your ski pole, and use much less water and chemicals in production.
Leather gloves are usually a favorite amongst skiers, but more environmentally friendly and vegan alternatives are becoming very popular.
Apart from being green gloves, they also feature a waterproof membrane, Gore-Tex waterproofing, and a synthetic fill that will keep your fingers warm.
These aren't the heaviest-duty gloves on the market, but they will provide you with the warmth you need when out and about on a casual day.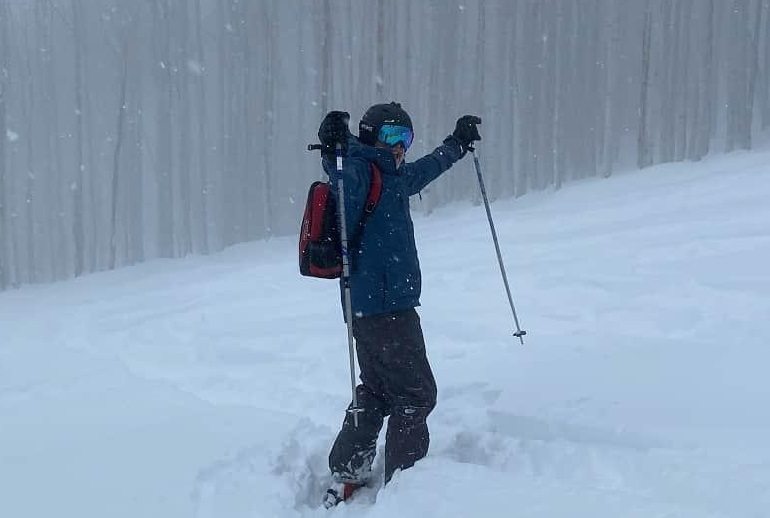 Summary
The big selling point of these gloves, apart from their rather cool design, is their vegan, eco-friendly construction.
Gordini has chosen a green alternative to the usual goat leather option. They have still opted for high-quality fabrics to keep the gloves warm such as the Gore-Tex membrane and breathable linings.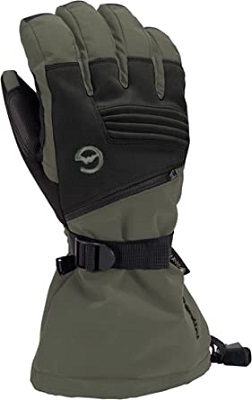 Gordini Storm GORE-TEX Gloves
The price of "Gordini Storm GORE-TEX Gloves" varies, so check the latest price at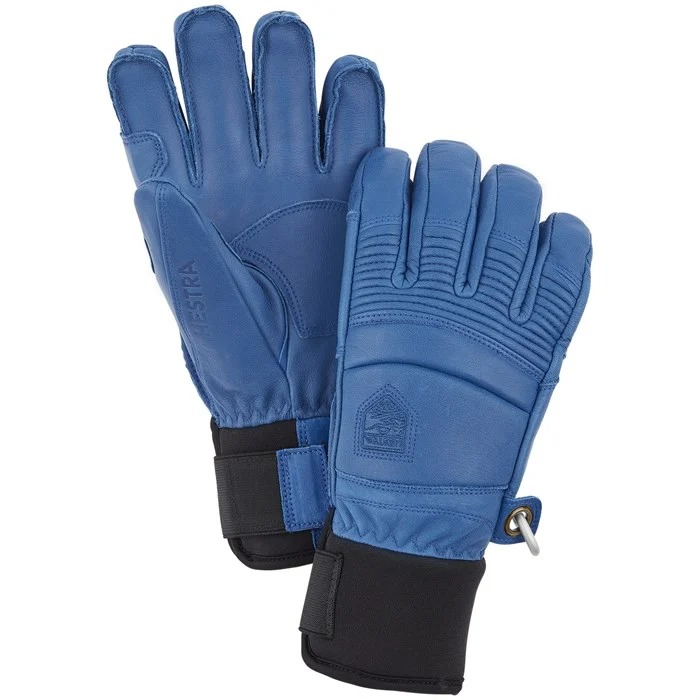 The Hestra Fall line gloves are the first three-finger gloves we have seen in this article. I personally find the three-finger gloves very easy to use. I can still enjoy all the benefits of a regular glove, with dexterity in my index finger.
I am also able to make most of the comfort granted by my favorite, the mitten. The Hestra Fall Line has made the best of both worlds possible with these lightweight cowhide gloves.
They are a thin pair of gloves, choosing dexterity in the three-finger design over warmth. Cowhide provides a supple and grippy outer shell that will last for years if taken care of properly.
These polyester liner gloves don't provide a lot of warmth to the hands in the deep cold, but with an extra thinner liner glove under them, they may be able to withstand the worse weather. Good leather can last a lifetime.
Summary
These gloves are not suited to the most extreme conditions, but for casual wear, they are perfect.
You could wear them to the shops, whilst going about your daily duties in the cold, and for some warmer weather skiing. As the name suggests, these are the Fall Line of the Hestra range.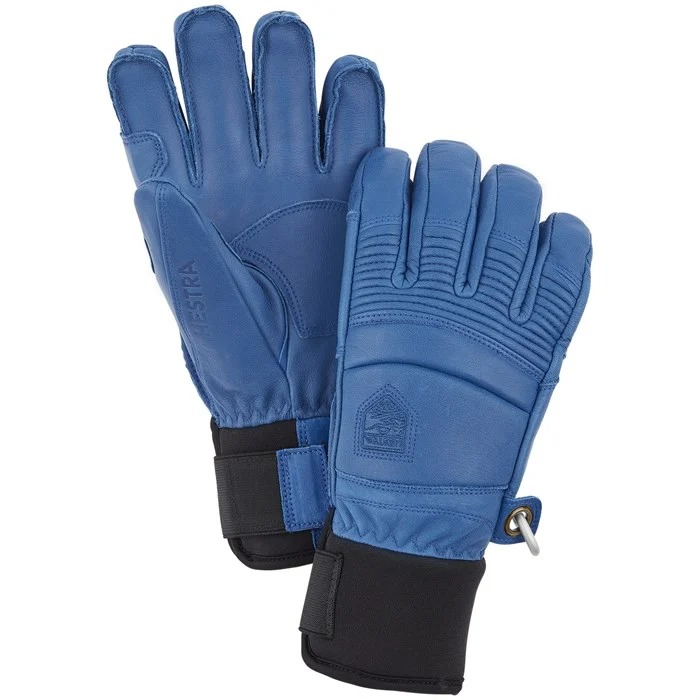 Hestra Leather Fall Line Gloves
The price of "Hestra Leather Fall Line Gloves" varies, so check the latest price at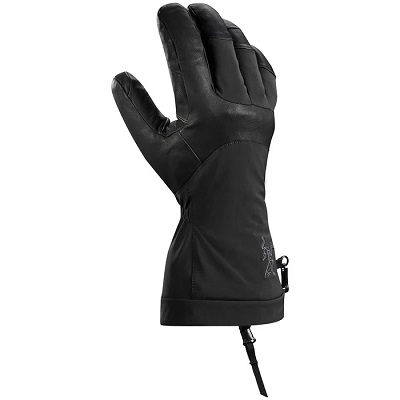 If you're looking for some of the coziest gloves on the market, then take a look at this offering from Arc'teryx. They advertise them as the warmest in their range, utilizing all the technology they can throw at it to keep your fingers warm and toasty.
A Fortius 1 material combines with Gore-Tex to make an insert that is both waterproof and breathable. The liner is a melding of both gold and silver PrimaLoft with Octa loft.
This provides breathable, incredibly warm, and close-to-the-skin insulation. The lining has moisture-wicking properties and keeps it easy to take the gloves off and on.
Arc'teryx has chosen to use a dual-layer goatskin leather shell for the outer providing a final layer of heat retention and waterproofing.
This should dispel any final doubt you had about your hands being incredibly warm inside these mitts. The goat leather shell is supple yet durable in even the harshest conditions.
Summary
For those freezing cold days when you know your fingertips will end up numb, these gloves have got your back. Say goodbye to wet and cold hands as you pull on more layers of protection than anyone has ever seen.
Arc'teryx is proud of these gloves, and you can see why. They aren't lightweight, and they don't have the best dexterity, but if you're worried about the cold then these are the ones for you.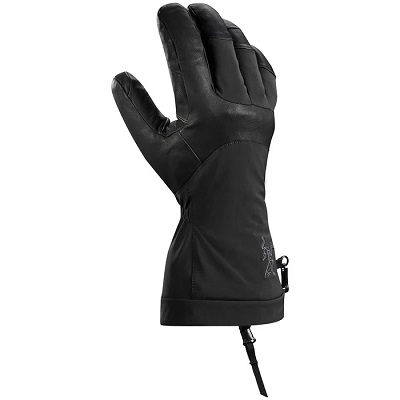 Arc'teryx Fission SV
The price of "Arc'teryx Fission SV" varies, so check the latest price at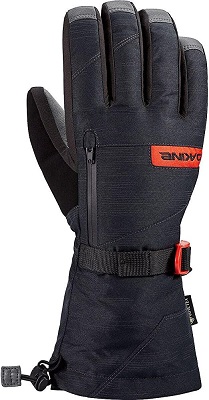 Gore-Tex lines these gloves, as is so often the case. When you see Gore-Tex on a glove, you know you will be buying premium.
In addition to the liner, these gloves from Dakine feature a removable leash for connection to your jacket sleeve, a pocket on the back for heat packs, and a removable liner that has touchscreen technology.
The addition of a pocket on the back of the glove allows you to store things for quick and easy access. A lot of people like to use this pocket for keeping a heat pack in.
This means, when the weather is so cold that even these thick gloves start to struggle, you can pop in a heat pack and keep them extra toasty.
These Dakine gloves also feature something that, over my year's skiing, I have come to really value. The gross but wonderfully practical nose wipe. Dakine likes to include this soft, almost suede-type material on the thumbs of their gloves.
It makes for the perfect nose wipe when the cold makes it runny. I know it sounds gross but honestly, once you've tried it, you never go back.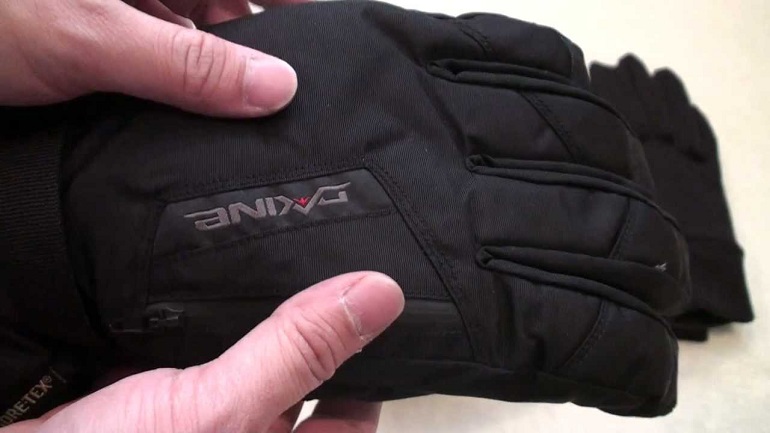 Summary
As gloves go, these are quite down the middle on all specs. They have some nice features, such as the touch screen liner, hand pocket, and nose wipe, but they don't shine in any aspect.
They are quite chunky and have opted for basic materials, even if Gore-Tex is one of them. They will keep you dry and warm, but they don't excel anywhere, good for the average wearer.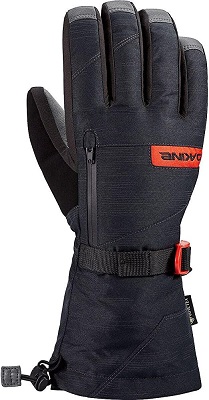 Dakine Titan GORE-TEX Gloves
The price of "Dakine Titan GORE-TEX Gloves" varies, so check the latest price at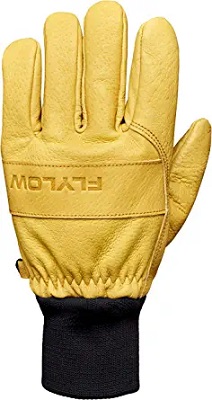 These gloves, first and foremost, look great. Pop these on with your already carefully chosen ski outfit, and you'll stand out.
The yellow pigskin leather gives these a slightly industrial look whilst still holding a shape and design that makes them look cool. Apart from that, though, they aren't the greatest gloves for colder temperatures.
These are no doubt on the budget side of the scale. They are maybe more suited to the skier who wants more than just to use the gloves on the mountain.
The light synthetic fill and thin materials won't do too much to keep the cold away but will give you a lot of movement and leave your hands feeling light and free.
Triple-baked pigskin made up the surface of these gloves, which is supple, waterproof, and very durable. It isn't very vegan, but it is comfortable and won't let you down for years.
They would be great for gardening and good for some light skiing. These are the best budget ski glove for someone looking for an all-rounder.
Summary
Synthetic down insulation keeps the inners warm and dry, whilst a pigskin outer keeps them dry and protected. They look great but certainly won't provide you with the extreme weather protection of a lot of the other reviewed products.
They have not opted for the ever-popular Gore-Tex or the extremely hard-wearing Hestra army leather, but this doesn't make them a right off. These gloves will be practical across the board for some cold weather outdoor repairs or a pop to the shops.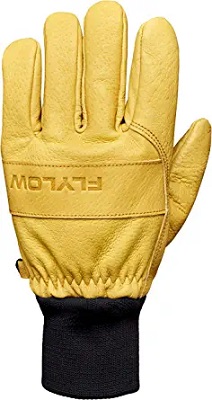 Flylow Ridge Gloves
The price of "Flylow Ridge Gloves" varies, so check the latest price at
Buying Guide: What to Look for While Buying the Best Ski Glove
When choosing the best glove for you, it is important to consider what it is you want from them. Big and thick will make sure you have the warmest gloves but will limit movement and can be quite heavy.
Thinner, synthetic gloves will allow you all the dexterity you need but may sacrifice in some areas and leave you with cold fingers.
I usually look for something with a thick waterproof liner; I find these to be the warmer gloves. If I can find a ski glove made with a leather palm and a removable liner I know I have found a reliable glove that will work for me.
I have run through a few of the best ski gloves and put together some ski glove reviews. I've used my extensive knowledge and years of putting gloves through savage treatment. Take a look below to perhaps find the next ski gloves for you.
When doing your own market research and delving into the thousands of available gloves, it is best to go in knowing what to look out for. There are so many technologies and terms used by companies it can become confusing to know exactly what to look for.
I will break down some of the most important aspects so that you too can make an informed decision.
Dexterity And Phone Compatibility
Being able to move your hands in the gloves is always a benefit. The chunkier gloves will almost always sacrifice this for warmth. There aren't many that will allow full-finger movement and still provide thick insulation.
My favorite type of handwear is the mitten; this gives the least amount of movement but, I feel, keeps my fingers the coziest.
Often with gloves like these, they feature a much thinner and more dexterous liner than can be removed. You can have your gloves or mittens hanging from a sleeve connection and quickly use your hands in a protected but slightly less warm liner.
Phone compatibility is something that is becoming more and more prevalent in modern gloves.
It is incredibly helpful, especially when using your phone for your sick mountain playlists, shooting park footage for jealous friends back home, or just calling to see where you lost everyone on the mountain.
Many of the heavier gloves feature touchscreen liners, and a number of the thinner gloves simply have touchscreen finger material.
Waterproof Ski Gloves
For me, this isn't something I would ever compromise on. In the past, I have used cheaper or old gloves that haven't had waterproofing, or the waterproofing has worn off. This makes for a very miserable day.
Within minutes, wet hands become incredibly unpleasant and eventually start to hurt and lose mobility. This is dangerous and makes things like holding poles, adjusting boots, and zipping and unzipping almost impossible.
Wet gloves become heavy and cold quickly, which is why I won't ever compromise on waterproofing. Keep an eye out for primarily good waterproof shells. We have reviewed a number of gloves with thick and triple-seamed outer shells. Ensuring the seams are secure is essential.
Second is the liner; a lot of these gloves have implemented technologies into their designs that stop snow from getting into the glove, and if it does get in, stays dry. The liners are able to get wet and yet stay warm by keeping the body's natural warmth and expelling moisture.
Durability
As I stated at the beginning of this article, I have been through more gloves than heated socks for skiing. I burn through them far too fast, but this is because I use my hands a lot when I'm skiing. Poles, tricks, falling on my face, and general wear and tear put a strain on the seams and pads and wear them away.
Once a glove has a hole in it, it is useless. Wind and wetness get into the lining and make the whole experience horrible. This is why I always take care to buy something durable.
Thick materials like the Hestra army leather guarantee a long life and durable wear. The Hestra army leather has been tried and tested in many harsh conditions and will withstand the pressures of mountain life.
There are many other very durable materials in use though, leather is a very popular choice in gloves.
Durability always comes at a cost. You will have to pay a premium to get gloves that will last you years, but I always say buy expensive ones rather than cheap ten times. Good gloves are an investment that both your hands and your wallet will thank you for in the long run.
Materials
Gore-Tex and goat leather have both been heavily featured in a lot of the gloves reviewed. They are both popular and reliable materials. They aren't cheap to produce, but they provide high levels of protection and long-lasting reliability compared to something cheaper such as a nylon shell.
Nylon shell gloves aren't necessarily always a bad choice. They require a lot less maintenance and are often a lot lighter, but their durability usually suffers, making them a bad choice for the skier looking to put their gloves to the test in extreme conditions.
A lot of liners feature fantastic technology that can keep your hands dry and warm even in the most adverse conditions.
Even when a liner has been filled with snow. Both the Primaloft and the boiled goats' wool linings have the ability to become wet and yet still hold the warmth of your hands. These are great materials to keep an eye out for. If You are planning for ski trip then you need to know what to bring on a ski trip.
FAQ's
What Are the Warmest Ski Gloves?
Of the gloves reviewed, the award goes to the Outdoor Research Lucent gloves. Not only are they thick, and lined with all the best technology, but the heating element in them really pushes them over the edge. Even in the coldest conditions, cranking up the temperature control will dispel any biting chills in your fingers.
In general, best-heated gloves like these are the secret to guaranteed toasty hands in all conditions. You will have to pay a premium, and maybe invest in a few extra batteries, and they are always chunky, but this is the price you pay for having hands that feel like they're tucked into a warm duvet.
Are Ski Gloves Waterproof?
Not all ski gloves are entirely waterproof. The keyword to look out for is water resistant. This does not mean waterproof, it means they can withstand some water but not all. Be aware of this and shop carefully, I have already stressed the importance of keeping your digits dry in the cold.
Conclusion
Mittens for me are number one. I sacrifice dexterity for warmth, and I'm happy with it. Suffering from cold, numb hands isn't something I am ever interested in, so I will take the hit and lose my finger movement.
The gloves I opt for are usually heavier and with a removable five-finger lining. When I need it, I can whip my fingers out of their gloves, let the shells hang on my wrist clips, and do what I need to do with some protection and the dexterity of a thin liner.
As I stated before, you can buy cheaper, but you will find yourself buying a new pair of gloves every season. I have worn gloves in the past that haven't even made it to the end of the week. This is a lesson you learn quickly and at the expense of your own comfort. Keep your eye out for an affordable glove that implements all the best elements.
If you want to get your money's worth and your gloves to last longer, wash ski gloves the right way!
Everyone's needs are different, though; my suggestion would be to get out there, maybe pop into your local shop and give a whole bunch a try. See what works for you, but whatever you do, make sure they're waterproof!