Digital nomads heading for Bangkok, here's what you need to know.
Thailand's extravagant capital city, Bangkok, is fast becoming a hive of activity of Asia's digital nomad community and an unmissable part of travellers' Thailand adventures.
And why not?! The city has something for everyone:
For one, Bangkok's outdoor adventure activities are through the roof. Hiking, MTB, flow riding, and wakeboarding at some of Asia's best cable parks — to name a few.
Street art covers the walls in the harder-to-reach parts of the city, and artisan cafes spring up faster than you can count. By night, the street markets pulse with crowds of visitors coming to peruse the stalls, while downtown the deep house and techno thumps through the thick walls of the clubs.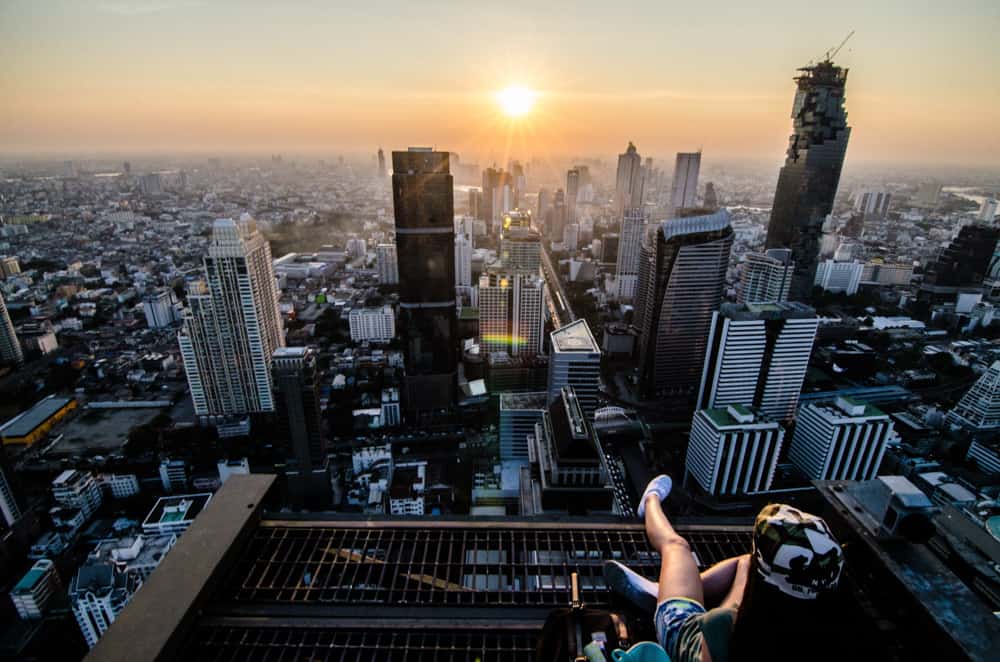 But Bangkok's not all smoothie bars and sweaty night clubs:
Interest from the government to encourage the growth of SMEs means the city's start-up scene is really beginning to thrive. Add that to a smattering of brand new coworking spaces, reasonable cost of living, and drool-worthy local food and it's easy to see why Bangkok's digital nomad scene is growing faster than ever.
This post will walk you through all the must-knows for any digital nomad heading to Bangkok; coworking spaces, internet speeds, how to find long term housing, where to do your grocery shopping, and how to get around are all covered.
Let's jump in:
Disclosure: This page may contain affiliate links. It means that at no additional cost to you, we earn a commission on the sale of certain products. We only recommend products that we trust and/or use ourselves.
Working & Coworking Spaces in Bangkok
There's no shortage of facilities for digital nomads in Bangkok. No matter what kind of workspace you need — perfectly silent and professional, or something a little more creative- there's a coworking space or a cafe that'll have your name on it.
As far as Bangkok's coworking scene goes, there's more and more spaces opening up with every passing month. Of the established spaces in the city so far, our nomad community recommends Hubba in Watthana district, The Hive (which has 2 locations, Thonglor and Prakanong, you can try them for free on Tuesdays), and E88, near Sukhumvit Road.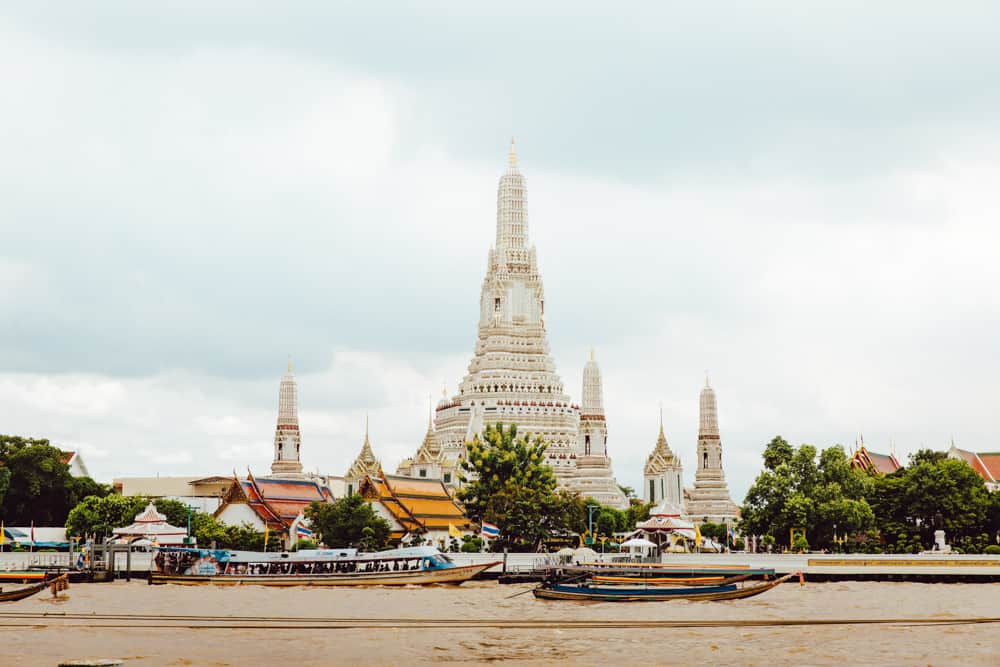 The above coworking spaces all have hot desks, private meeting rooms, Skype areas, printing, and coffee facilities.
Expect to pay around 200 baht for a day pass.
As far as cafes go, most places in Bangkok are fairly welcoming to digital nomads. Wifi is generally offered gratis as long as you buy something off the menu. The tricky part is finding a place with free wifi and plugs (bonus points for good tables and no annoying music).
Our nomad community recommends Tomntoms coffee shop chain. You get 3 hours free wifi with every coffee ordered; plus they have their own homemade pretzels!
Internet in Bangkok
Internet in Bangkok is pretty good all-round.
Several districts in Bangkok are fitted with fiber optics. However, there are still many downtown areas that suffer from slower speeds due to older lines.
Virtually every one of the city's hotels, guesthouses, serviced apartments, cafes, and restaurants offer free wifi for their customers (of varying speeds and reliability, sadly).
That said, if you need fast and reliable, look no further than the quickly growing selection of Bangkok's coworking spaces that we just mentioned. These dedicated spots offer lightning speed connections (100 Mbps download easy) and tons of other digital nomad facilities.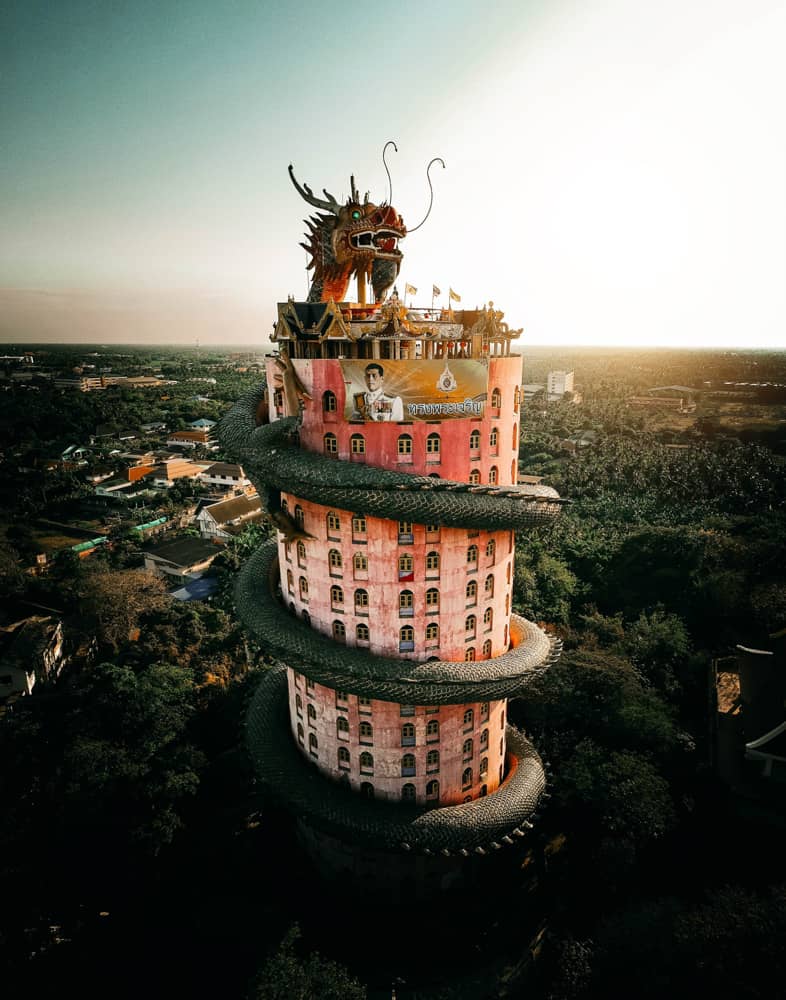 Buying a SIM Card in Bangkok
SIM cards are quite cheap and can be bought, well… basically everywhere.
If you're staying short term (i.e. less than 2 weeks or so) you're best off picking up a tourist SIM at the airport. You can get packages with 10 GB of high speed 4G + unlimited 3G for around $35. Those staying longer term may want to consider a local prepaid SIM.
4G internet in Thailand averages 9 Mb/s as measured by a recent (November 2017) state of mobile networks in Thailand (see report). It is in line with the Asia-Pacific region average of 9.69 Mb/s.
The top 3 mobile providers of internet in Thailand are Truemove, AIS and Dtac. See a full guide on Thailand's SIM card options here.
Where to stay in Bangkok
Cheap local style home stays, family friendly guest houses and hotels, quirky and social hostels, luxurious resorts, and private apartments… You name it, Bangkok has it.
Short term nomads in Bangkok who are looking for a good deal should know that many places in the city offer weekly rates. There are scads of local style guesthouses and budget friendly hotels that'll offer you a discount if you're staying for more than a couple of nights.
If you're only sticking around the city for a short amount of time, you might want to check out this 5-day itinerary for Bangkok to help you map out how to best spend any of your remaining free time.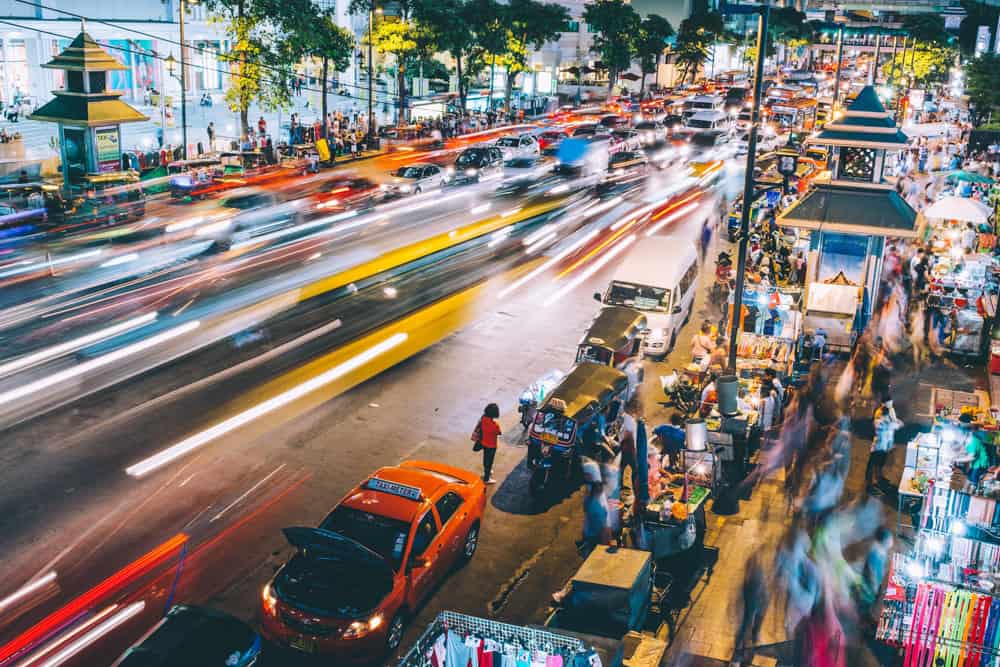 When it comes to longer term rentals, you have a few options:
Airbnb has tons of listings in Bangkok, but it's often the slightly more expensive way to go.
That said, you're paying for convenience. It's a good idea to book a place for your first few nights, then head for a coworking space and chat to a few Bangkok digital nomads about their digs and how much they pay.
As for long term rentals and apartments:
Local landlords tend to give 3, 6, or 12 months leases (the longer the lease the better value). There are also a couple of incredibly handy Facebook groups that deal with sublets and house swaps in Bangkok, such as this one, as well as specialized platforms for long term rentals: merooms.co, and nomadrental.com.
A basic, local style studio with wifi and kitchen access might cost you as little as $250/month. Meanwhile, a comfortable serviced apartment in a central area (with wifi, a kitchen, and cleaning services) would be closer to $550.
For a more detailed look at the city's most convenient areas to stay in (and the accommodation options therein) check out this guide on where to stay in Bangkok.
Where to shop and eat in Bangkok
Food in Bangkok is awesome (especially if you like your spicy stuff).
Seriously, the street food in Bangkok is like nowhere else- steaming coconut curries, spicy soups with lemongrass and ginger, noodles flamed fried with fresh herbs and greens… Damn it's good- and plenty of options for the veggies among us, too. Price-wise, expect to pay upwards of $1.50-3 for a basic Thai meal.
Market trawling is one of the best things to do in Bangkok, hands down. You can dig up crazy bargains on clothes, funky knick-knacks, and of course…. food! Local farmer's markets are easy to come by and offer the cheapest place to get your fresh produce, meats, eggs, and other household staples.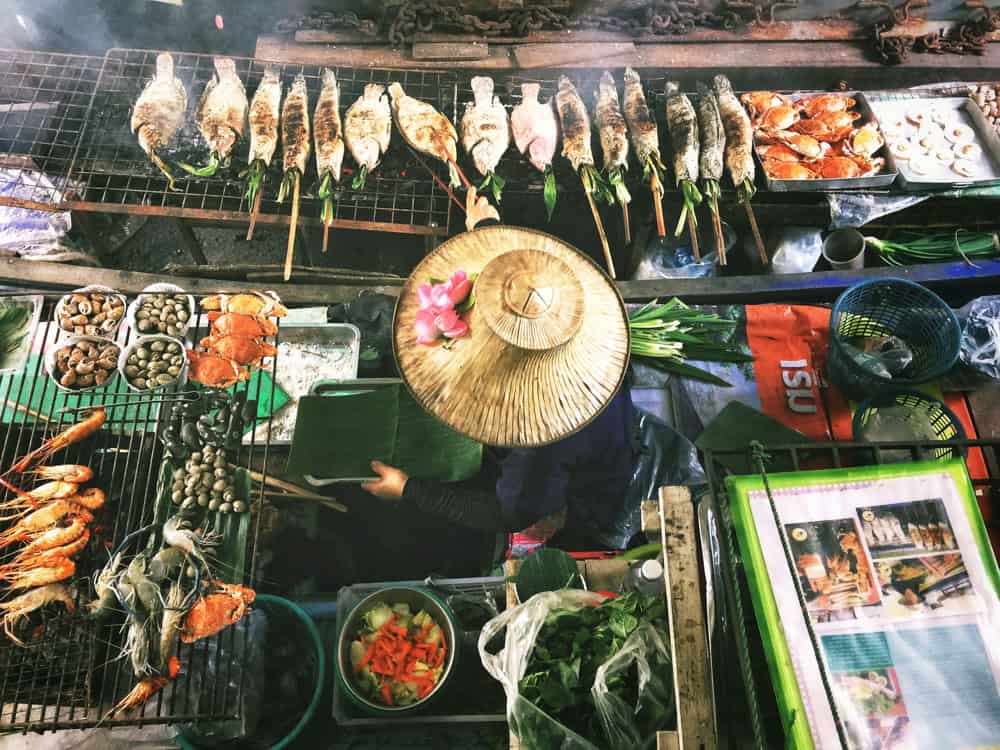 Virtually every street in Bangkok will have at least one (if not 2 or 3) convenience stores, be it 7-Eleven, Circle K, or Family Mart. These little shops have all the essentials: beer, snacks, basic Thai meals, coffee, household items, and toiletries. If you need to do a bigger shop, the local supermarkets have everything from Asian staples to a selection of imported products.
However, if you've got a hankering for a jar of pesto and a block of cheddar cheese, you'll need to head off for one of the imported supermarkets like Tops, Villa Market, Gourmet Market, or Delishop.
But it ain't all food that Bangkok is good for. Spend literally 5 minutes in the city and you'll see that Bangkok is heaven for high street shopping. If you're keen to do a bit of retail therapy, make sure you check out this super informative Bangkok Tour Guide detailing where to shop, eat, stay, and more.
How to get to Bangkok
Bangkok has 2 international airports: Don Mueang (DMK) and Suvarnabhumi (BKK).
DMK is where the budget airlines fly in and out of, and BKK is the one you can expect to fly to if you're traveling from Europe, America, or Asia on one of the better airlines. The two airports are well connected by a free shuttle bus service.
How to get around Bangkok
A scooter/motorbike is the most flexible way of getting around Bangkok, and it's also the most economical choice in the long run.
Second hand bikes can be picked up for around $450 (tax on vehicles in Thailand is quite high compared with other Asian countries, so this price is significantly higher than, say, Vietnam or Cambodia). At least gas is cheap as chips.
If you're looking to get somewhere quick and hassle-free, Grab and Uber offer a convenient way to get around Bangkok (they're cheaper and way more convenient than a normal taxi). That said, if you're up for navigating the public transport system, the whole city is quite well connected by the MRT and BTS Skytrain.
To find the best public transport to or from Bangkok, use this search form from 12go.asia – the most efficient and user-friendly public transportation booking platform for Thailand that we've ever come across.
---
Still have questions about life as a digital nomad in Bangkok? Reckon we've missed an amazing coworking space? Drop us a comment down below and we'll do our best to give you a satisfying answer 🙂