If you're only out for a day or you're riding a whole season, you will usually want to hit every feature the mountain has to offer.
The K2 Maysis is a medium stiff boot designed for all-mountain riders looking for something that will hold up, whether you're tearing up a park or shredding fresh corduroy.
These are K2's best-ever selling best men's snowboard boots, and for a good reason, they excel across the board and are guaranteed to give you what you need for all riding styles.
The double boa system will keep you locked down and secure, whilst the Harshmellow sole keeps your riding feeling soft and forgiving on your feet.
Quick Overview of K2 Maysis
Below we've got for you a general specifications chart. Telling you what you need to know in as few words as possible.

Looking at these specs, we can see a very middle-of-the-park boot suited to the intermediate and up rider looking for a daily rider.
Quick lacing makes them a great get-up-and-go choice for straight-out-of-the-chalet riding and quick on-the-fly adjustments.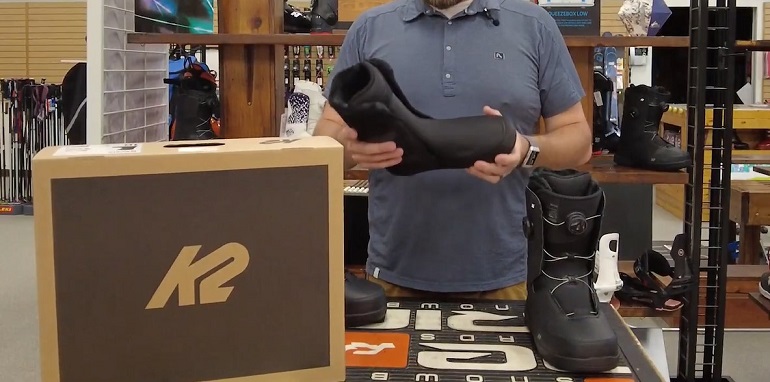 Who Should be Rocking Them?
These K2 Maysis snowboard boots are for the all-terrain rider, someone who wants to chase their friends down a black slope to the park and then finish the day off with some off-piste powder. These boots are a real jack-of-all-trades choice.
Although these boots are some of the best-selling in the world, they're not necessarily for every rider out there. You need to know your turns and tweaks before you step into these.
Their stiff flex rating means they have responsiveness that is less forgiving to mistakes. If you are an intermediate to advanced rider, though, this boa boot will suit you well.
The K2 Maysis lend themselves well to the all-day rider. The 3D molded EVA footbed holds your feet comfortably over a whole day offering support through some serious punishment.
Boa lacing allows a quick release of tension for some relief while riding lifts or waiting to drop into parks. The system means you are able to quickly retighten with just the twist of double boa dials and be back on your board in minutes.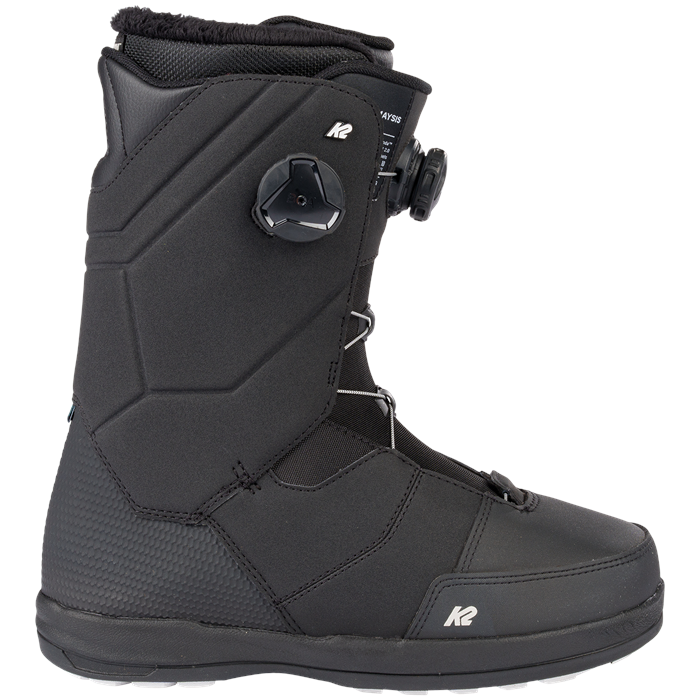 K2 Maysis Snowboard Boots
The price of "K2 Maysis Snowboard Boots " varies, so check the latest price at
Tearing the K2 Maysis Down Layer by Layer
Let's break these boots down to the fundamentals to discover why they're such popular boots for many riders. Here's my K2 Maysis review.
Fit & Durability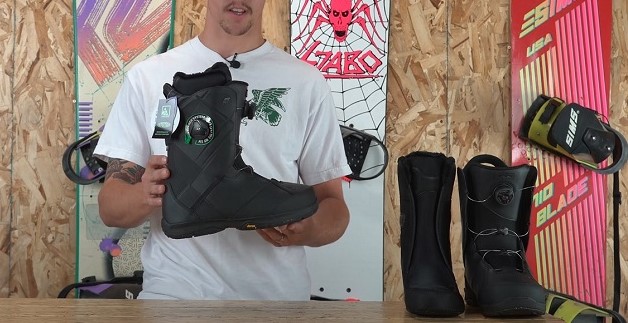 Boot size ranges from 5 to 15, these boots feature K2's own intuition control liner that is designed to mold to fit both wide and narrow feet. No matter the arch or width of your feet, these heat-molded liners will accommodate you.
It's always a great idea to break in your snowboard boot before hitting the slopes. If your boots fit perfectly, you're bound to rock a high-performance ride every time!
K2 has implemented an abrasion-resistant premium rubber outsole to the outer shell of the boots to prolong the life over hours of riding. This means you won't be wearing the boots thin with repeated knee bend movements.
Performance
These K2 Maysis boots perform beautifully over a whole day of riding, whatever your riding style, they have the stiffness you need to really get the high-speed turns in down the well-worn pistes.
Often other boots tend to become quite punishing over a day of riding, especially ones that feel so secure around the heel, but these don't leave you aching. The ankle flex is forgiving enough to ride hard and not be in pain but still maintain control.
You're able to lock your foot down into the heel of the boot with the boa-lacing system. This gives a lot of control to really push your back edge down into the snow whilst still having a good bit of wiggle in your toes.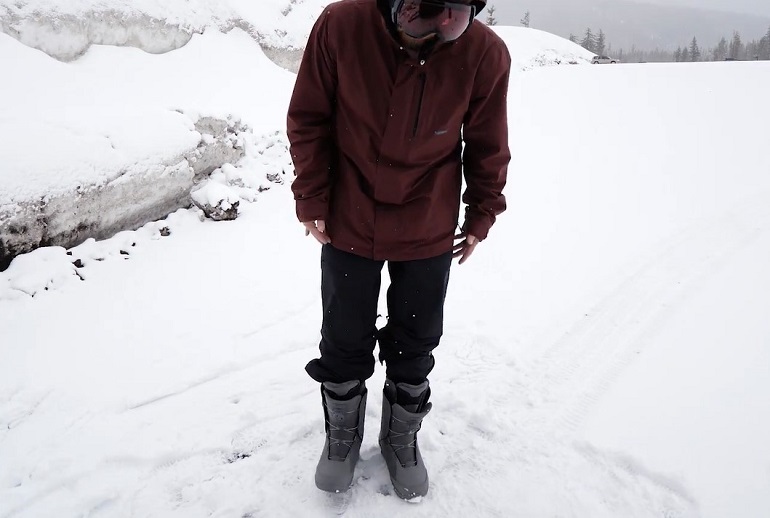 Liner
K2 Maysis uses its own Intuition liner foam for this snowboard boot. This heat moldable liner fits exactly your specifications from shin to toe and provides ankle flex when needed.
With an individually molded inner like this, you can be sure of the warmth, snowproof, and responsiveness of a premium liner. Your foot will feel like it is secured right into the boot and will translate all your careful movements directly to the snow.
Keeping your feet warm on the mountain is essential, you're not going to be doing much with numb, cold feet. This inner makes a perfect fit to keep the cold at bay.
The liner tightness distributes the pressure points across the whole boot and creates an internal warmth that makes you happy you got your boots heat molded.
Boa H4 Coiler System
Boa systems have their good points, their really good points, but also their downfalls. Boa lacing can have a habit of giving unfocussed tension or cutting off blood to certain parts of the foot resulting in numb toes.
These K2's don't have this problem and instead have nailed a lot of the best points without falling prey to the bad.
The H4 system spreads tension out across the whole boot with the front twist and then really puts an end-to-heel lift with the side crank. Neither feels like they are strangling the foot, instead giving a snug and secure heel hold across all the parts that really need it.
These outer boa twists can be operated with gloves for a quick and easy solution to on-the-move tension control. The newer design does away with trailing laces by tucking the excess cable away into the crank itself.
Sole
The innersoles of these wide boots really shine over the day of riding the slopes. As mentioned previously, the Harshmellow midsoles take a huge strain away from the vibrations and shock of the day's ride.
Aching feet are a thing of the past as the midsole works alongside the lightweight EVA to dampen the stresses of a ride.
As important as the comfort of a snowboard boot on the slope is, the security of a boot off a slope can't be overlooked. There is nothing worse than styling your way down a slope, looking great, stepping out of your bindings, and slipping on your butt because you have zero grip.
Thankfully, with the K2 Maysis, there is a good solution. These Grips patent soles ensure that whether you're trekking across icy slopes or beer-soaked apres-ski bar floors, you will be as sure-footed as a mountain goat.
Heel Lift
Anyone who is even the least bit competent at snowboarding knows exactly how important it is to have your heel locked down into the boot. Any kind of lift results in unresponsive movements and sluggish turns.
Nobody wants to be eating a face full of snow because their equipment lets them down. Thankfully, with the K2 Maysis boa system, this isn't an issue.
The articulating cuff and outer boa located on the side of the snowboard boot focus exclusively on pulling your heel down into the foam of the liner. This results in responsive foot control, heel hold, and precise, clean turns.
Shock Absorption
K2 Maysis has put some serious thought into making sure your feet don't feel like they've been smashed by a piste basher at the end of the day.
Harshmellow soles combined with the EVA foam nestle your foot in a comfortable yet supportive cushion that takes away a lot of the stresses of the mountain.
Coming down off kickers, popping around on slopes, and the rattle and shake of regular riding are all but a distant memory.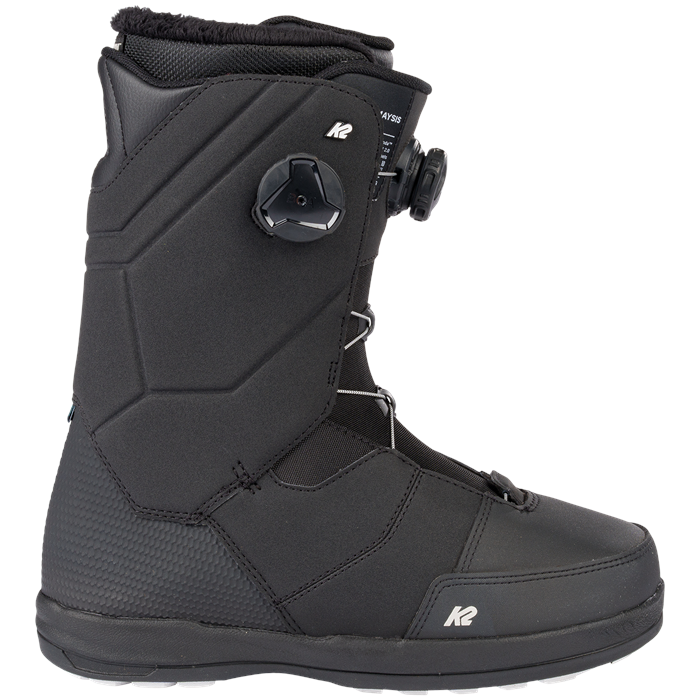 K2 Maysis Snowboard Boots
The price of "K2 Maysis Snowboard Boots " varies, so check the latest price at
Reduced Footprint
Any rider who doesn't take care of the environment is only sabotaging themselves. Without a healthy environment, the snow we all love so much is nothing but slush. It makes sense for the snowboarding gear we use to support a healthy and renewable attitude.
K2 hasn't gone out of its way to ensure these boots are the most eco-friendly on the planet. Rubbers and plastics have been used in construction, if this is a priority, there are many other companies implementing new renewable materials.
How Does it Score?
This pair of boots score well overall, and it is easy to see why they're a favorite, not only of the K2 brand but also of the boot industry as a whole.

Of course, there could be improvements, perhaps implementing a lace system or a velcro shin grip could have helped with the adjustability, but as a popular boot, they are certainly not bottom of anyone's list.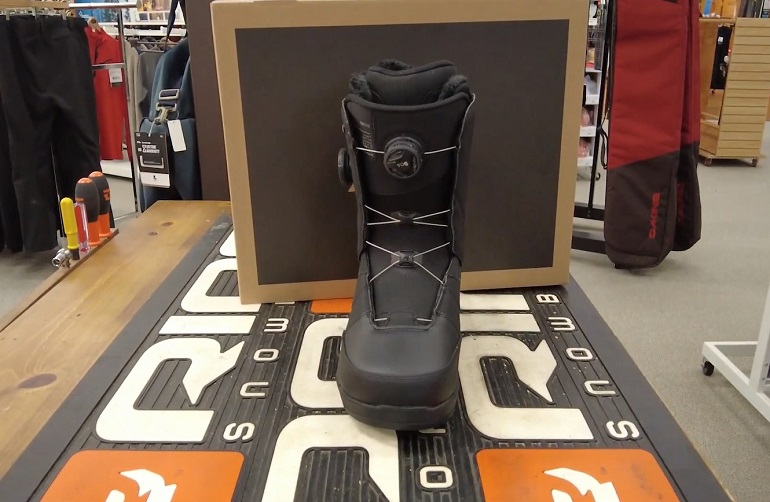 What do I Think of These Snowboard Boots?
These boots are a solid choice for the daily all-mountain shredder. They won't let you down across the whole mountain. These are reasonably-priced boots that fall in line with the average price range in this category.
A dedicated heel-locking boa system will keep your turns super sharp, and the soft, supportive sole will make sure you don't suffer for a whole day of hitting the mountain.
Picking these boots up as a complete beginner may be a bit of a mistake, not that you won't learn quickly, but more that you will be punished for your mistakes.
The high responsiveness from the stiffer boot and solid heel lock will translate into a quick and agile board. These are much more geared toward the rider who has a good number of sessions under their belt and is comfortable all over the mountain.