My friend, if you want to ride more than just petty hours, you better build a healthy connection between your bindings and your boots.
Also, stop treating your feet like it has no value. As in this sport, your feet are the most crucial body part translating your every movement into snowboarding.
Hence, treating it like dirt will only give you sore feet. I'm sure you don't fancy going back home on all fours. Do you?
Now that you have bought essential snowboarding gear and your new best snowboard boots, you must be wondering if you need to break in? If yes, how to do so?
Every pair is manufactured differently. Its construction largely depends on its features, model, and parent brand. These together will determine the level of breaking in required before you hit the snow.
In this article, I will explain if you need to break in or not. Also, how to properly break in your new boots.
How to Break in Snowboard Boots?
First thing first, you don't want spare space in your boots as it compromises your ability to control. You will be flexing and twisting your board while turning, a poor relation between bindings and boots can put a damper on it.
However, equally important is the snugness factor of your boots. It should not be too tight to cause soreness or too free as to dangle inside your lightweight snowboard bindings.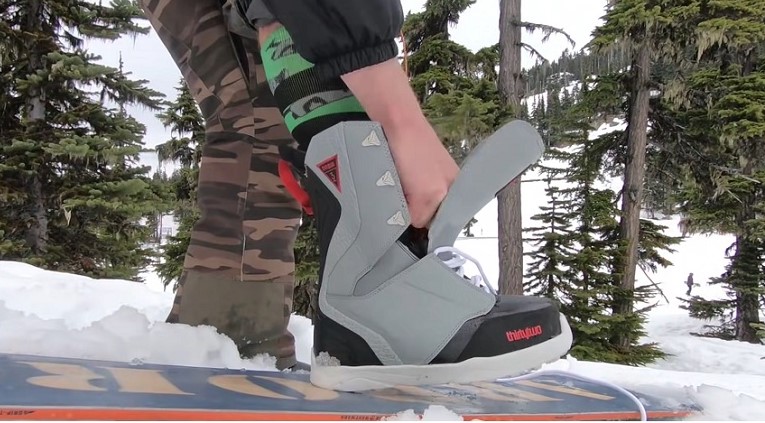 Okay, let's first look at what is meant by breaking into boots. If you have sized well while buying new snowboard boots for beginner or intermediate rider, you will notice that your new pair fits snugly or feels a bit tight. It means, they will prove comfortable for a very short time as they need to expand first to allow a comfy ride.
Expanding process of the boots for proper fit is what we call the break-in period of snowboard boots.
Sometimes you need not do anything except snowboarding to make it fit you well, but sometimes it stays harder. That stiffness can be tackled in various ways. To do so, you can adopt any of the methods given below:
Riding
Machine heat molding
Molding in the house
Why do You need to Break in Snowboard Boots?
As all snowboard and ski boots tend to expand about half a size to whatever size depending on their manufacturing and model, you should be opting for boots that fit you tightly, but not too much.
Good quality snowboard boot feature heat molded liners inside them. In fact, thankfully, most snowboard boots possess this particular quality. However, some cheaper brands don't offer this.
Remember! we are talking about the inner lining of the boots, not the outer shell. The shell can break down over a longer period, while on the flip side, the liner can mold to the shape of your feet quickly. So, put your focus on the liner for quick results.
Now, I'll assume your newly bought pair has heat mold-liners. There are three ways you can mold them according to your feet.
Wear Your Boots in the House
The easiest way to get broken-in boots is simply wearing them in your house. Yes! What you are required to do, is wear a pair of thin socks, then your boots, and walk for several hours. Do your chores, run your errands and accomplish your to-do list while wearing your new pair.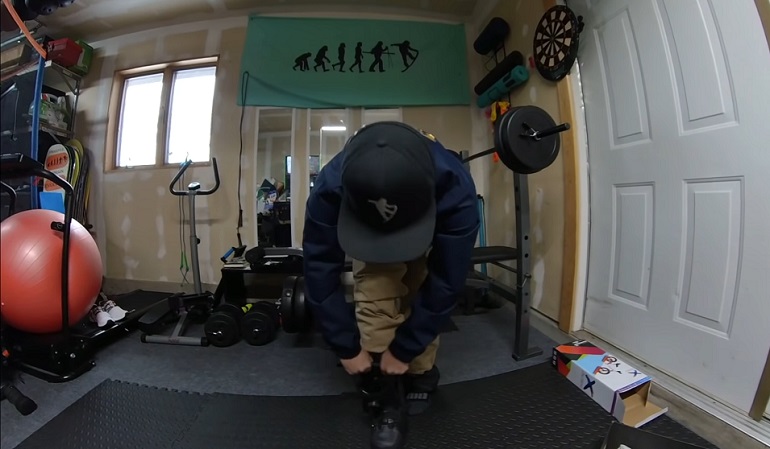 However, if you don't plan to wear your boots on the slopes in the next few days, you are recommended to wear them every day for a better part of your day. This walking adjustment activity will definitely let the boots break in. But if that doesn't work and you are running out of time, you better strap in and get ready for a ride.
Riding
You can also ride with the boots on for a couple of days and get the desired results. Some can break in quickly on your first or second day of skiing or snowboarding, while some can cost you two to three days. However, some will feel good just right out of the packing.
Usually, high-quality stiff boots with quality liners tend to take longer as compared to comparatively soft flexing boots or low-quality snowboard boots. However, you can easily break them in by riding them.
Before you go out for a ride, wear the right socks and proper gear. If you are confused about what you should buy, read our extensive guide on essential snowboard gear and enlighten yourself.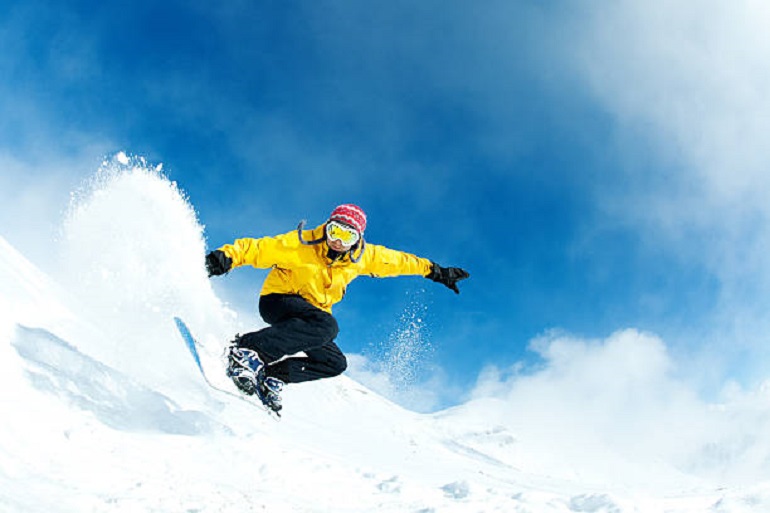 Since most of the breaking-in happens to get done properly on the mountain, it becomes necessary for you to wear thin socks with exceptional qualities of keeping the wearers' feet warm.
Remember! Friction is the enemy of your feet here. When it comes to breaking in the boots, especially when you are skiing or snowboarding, there is going to be a hell of a lot of friction to irritate you. So, the best way to cope with it is to reduce the amount of material in your boots. This way, you will keep the moisture out and face less friction.
Wearing only one pair of snowboard socks will prevent you from getting raw feet and poor blood circulation. It will also decrease the chances of getting blisters by keeping the moisture out while providing enough warmth.
Remember! Riding the boots is a natural molding process that applies to snowboard boots with or without heat moldable liners. But the next method I'm about to explain doesn't apply to snowboard boots without inner liners.
Heat Molds Can Help
Now, you don't need to rush to the ski shop to get your footwear heat molded right after you bought them. You can, but it is not necessary. Ideally, one should give them at least a few days on the terrains before deciding on anything, especially if they have zero relevant experience.
I mean, they might not need heat mold, and the emotional human may end up buying a new pair because the previous one dangles in the air. So, better try it first, and after giving it a few days or a week, if it doesn't still break in, then contact the ski shop for machine molding.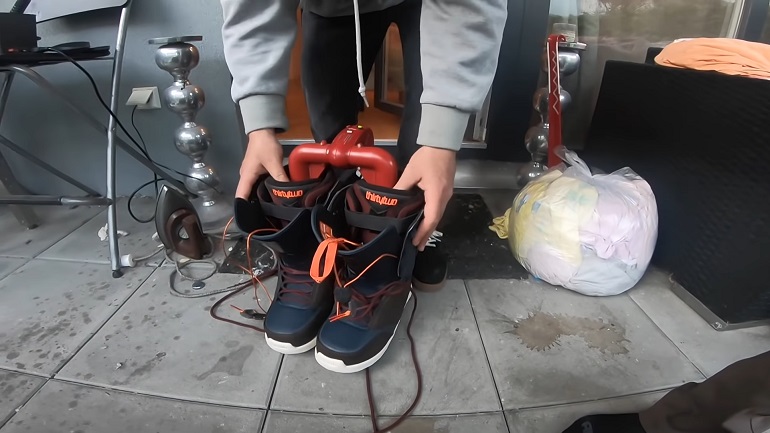 Machine molding is a process of molding or contouring the liner according to your feet. The process includes heating up of liner with its footbed removed, and then you put your feet in your boots with the footbed placed back into it. You are expected to stand in them for about 15 minutes to put pressure on them.
Just so you know, the boots may still demand breaking them in a little, even after the heat mold. To fix it for better fit, strap in the boots and hit the snow for a day or two.
What to Do If My Snowboard Boots Are Too Big?
If you have mistakenly bought the wrong size boots and wondering what to do next, I am here to educate you on how to fix this issue. But before we get into it, I recommend you to find out the right size of snowboard to avoid buying another wrong pair next time.
So, the solution I propose is using one of these two:
Add-on Tongue
As the name suggests, it resembles the footbed of your shoe and rests on it like a tongue. The added add-on tongue is made to fit the shin and the existing tongue of the boot. It functions to firmly lock your heels in the boots' heel pockets and also reduce instep and cuff volume.
An add-on tongue keeps your feet from floating in the shoes. This way, it minimizes the risk of trauma and secures the feet well.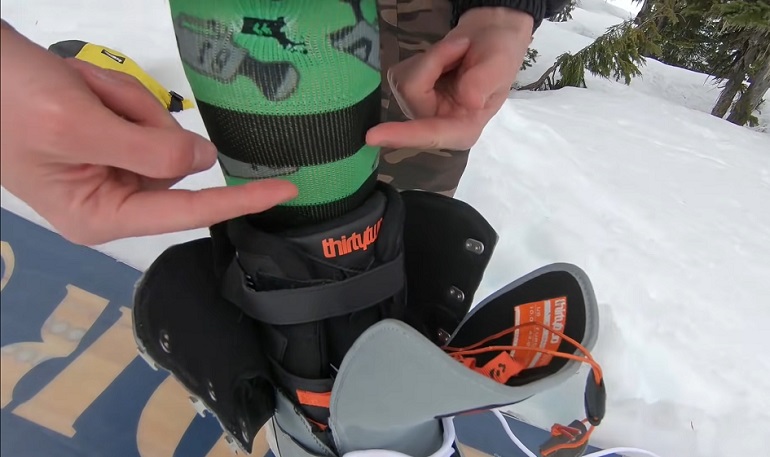 Booster Strap
For a super secure fit, opting for a booster strap will do. It is a kind of elastic power strap that helps to keep the inner liner of the boot close to the shin. In response to this, the power transmission improves whenever you move your heel and toe.
One can also use an aftermarket insole if your pair is missing it. It can help boost your comfort level with heel stabilization and power transmission.
How to Maintain Snowboard Boots Properly
With power comes responsibilities. Your boots demand attention, especially when you are using them actively on snow. If you fail to do the needful, it might cost you a new pair after every season. So, keep your boots taken care of by following the steps given below.
Dry your snowboard boots after every use. You can use a best ski boot dryer specially made for this purpose or a hair dryer on low settings to prevent melting down any part of the boot. You can also leave them to dry overnight with their inner parts removed. The warmth, in return, will evaporate the water and moisture off the boots.
Prevent your boots from smelling bad. To fix it, put dryer sheets into each shoe after drying it.
And finally, proper cleaning makes them durable. It prolongs the life cycle of the boots, so try to maintain its outside with the same enthusiasm as the inner side.
FAQs
How Long Does It Take to Break in Snowboard Boots?
Typically it takes about one to two weeks of riding to get your boots broken in if you don't have them molded at a shop. Which makes about 10 days of riding on the mountain until the boots feel comfortable.
How Many Rides Does It Take to Break in Snowboard Boots?
You might need about three to four rides, but it can change as it highly depends upon the brand, the model, and the construction.
How Should Snowboard Boots Fit?
Your snowboard boots should fit you snugly instead of hindering blood circulation and causing pain, which means they shouldn't fit too tight but fairly tight.
As you now know, they need several days of riding to form to their actual size and pack out, try opting for a moderately tight pair.
Conclusion
Believe me, when I say, blindly following the path that worked for someone else might get you in trouble. Instead of spending extra bucks every season, play wisely. If you are looking for a new pair, you might want to take a look at the Vans snowboard boots.
Get the right gear, learn how to snowboard, take good care of your snowboard gear, and enjoy exhilarating rides.