Kitesurfing in Ireland is wild.
Introduction by Grace Austin, editor of Extreme Nomads; main article by Ugne Kaskelyte

Perched on the westerly fringes of Europe, Ireland's windswept, wave-battered coastline is a place of legend and lore. 

It's a paradise — a cold water paradise — that promises to satisfy everything a kitesurfer craves, as long as they're prepared to don a thick AF wetsuit and brave the elements.

From the craggy coast of County Kerry to the sprawling beaches of Waterford, kitesurfing can theoretically be done along most parts of the Irish coastline; it's just about finding the sweet spot where the wind direction works and the entrance to the water doesn't make it feel as though your entire life is flashing before your eyes.

For this article, we are so excited to have reached out to a member of the Extreme Nomads community, Ugne Kaskelyte, who's been kitesurfing in Ireland her whole life. We had the pleasure of meeting Ugne at the 10th anniversary of Battle for the Lake, a fantastic kitesurfing event on Achill Island (more on that spot — and why you better have it on your Irish kitesurfing bucket list — below). 

Down to earth and humble as she is, her article doesn't lay claim to the fact that her father, Ramunas Kaskelis, is one of the originals; the founder of Kite Sport Centre in Cork. He's the man to know if you're looking for kitesurfing experiences in Cork, be it for lessons, gear rental, or just some company out on the water.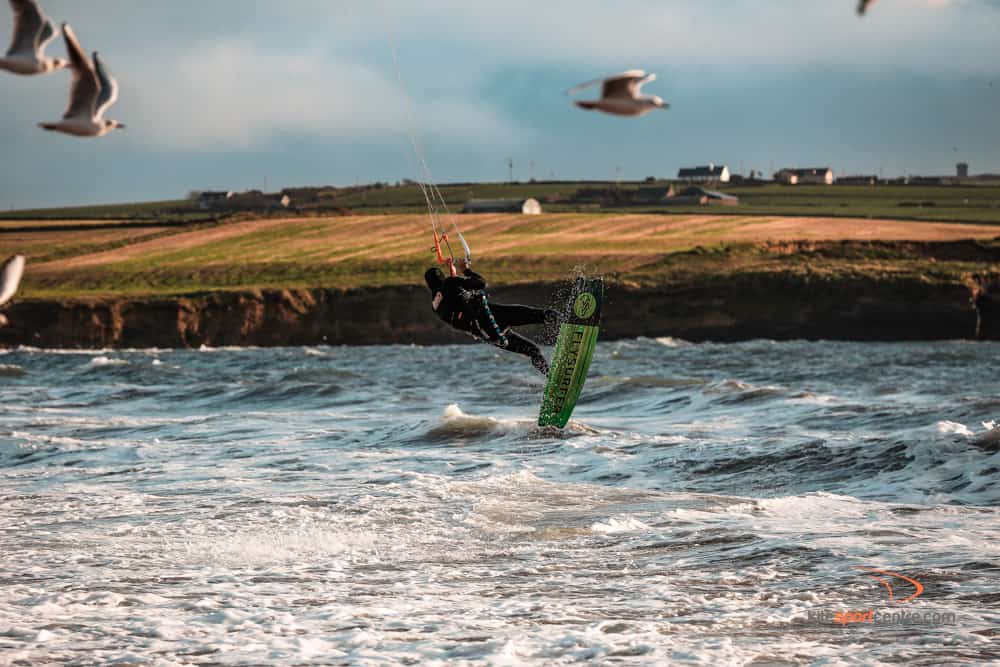 Now, for those of you looking to learn all there is to know about kitesurfing in Ireland, settle in for Ugne's guide to exploring the Emerald Isle by kite:

When is the best season for kitesurfing in Ireland?
Ireland is windy all year round. 

Being slap bang in the Atlantic gives us an advantage in that we receive wind from the ocean and any trade winds that pass by. Granted, wintertime brings much stronger wind; but during the summer months, you can still expect to kite 4 times a week. 
But one thing to note is:


If Ireland experiences a heatwave (temperatures somewhere over 26 degrees Celsius) the wind does tend to die down drastically. But again, it's Ireland… heatwaves are rare.

If you're thinking of travelling to Ireland with your kite gear, the country's coastline is yours for the taking. Just be prepared to bring a few extra bits of gear if you're planning on coming between October – March because it's majorly chilly. 

If road tripping around the island, dedicate around 2 weeks to get a full sense of the Wild Atlantic Way and experience the rest of what Ireland has to offer, other than kiting. 

Conditions for kitesurfing in Ireland 
Ireland is wild and raw and it sure keeps every kiter on their toes. But we really have to gear up if we want a good experience kitesurfing in Ireland. The wind temperature can range from bearable to seriously cold throughout the year, so make sure you have a wetsuit with a minimum thickness of 3mm all year round (you'll want closer to 5 or 6mm in the winter — plus booties, gloves, and a hood).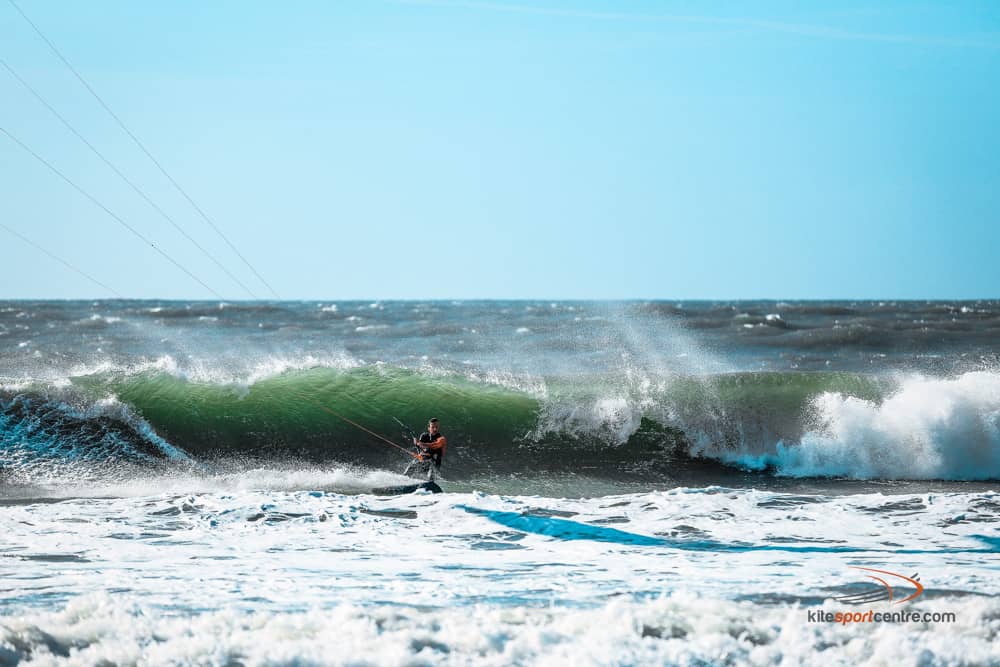 Water temperature in Ireland doesn't change that much but for sure have booties, gloves and a hood in the wintertime. 


The stronger the wind, the gustier it usually is — and you can pretty much expect strong wind year-round. Anything over 25 knots is going to give you a serious boost if you're not prepared; so we really recommend leaving the 35 knot days to the pros. Irish storms can be fun and exhilarating — but safety takes priority. 

Waves in Ireland can get mega big, especially during storms. You can get barrelled, do massive carves, or get the boost of your life riding Irish waves. Even in lighter wind, Irish waters can be extremely choppy, so expect to get a good leg workout. 

One amazing thing — and something I never thought to expect in Ireland — is that you can find some really nice flat water gems around the country (some might even call them *lagoons*) but again, there's not many of them. Keep your eye on the tides at specific spots; lagoons are most likely to creep up when the tides are high.
Where to stay and how to get around 
If you're planning to go kitesurfing in Ireland, you will definitely need to rent a car to get around. Kite spots, in particular, are found off the beaten track — far away from public transport routes — and you'll want to have the ability to hunt down the best place.
We highly recommend renting a car with Auto Europe who offers car rentals in Ireland for super cheaps (like as little as €3 per day — they actually guarantee the lowest prices of any car rental company in the country).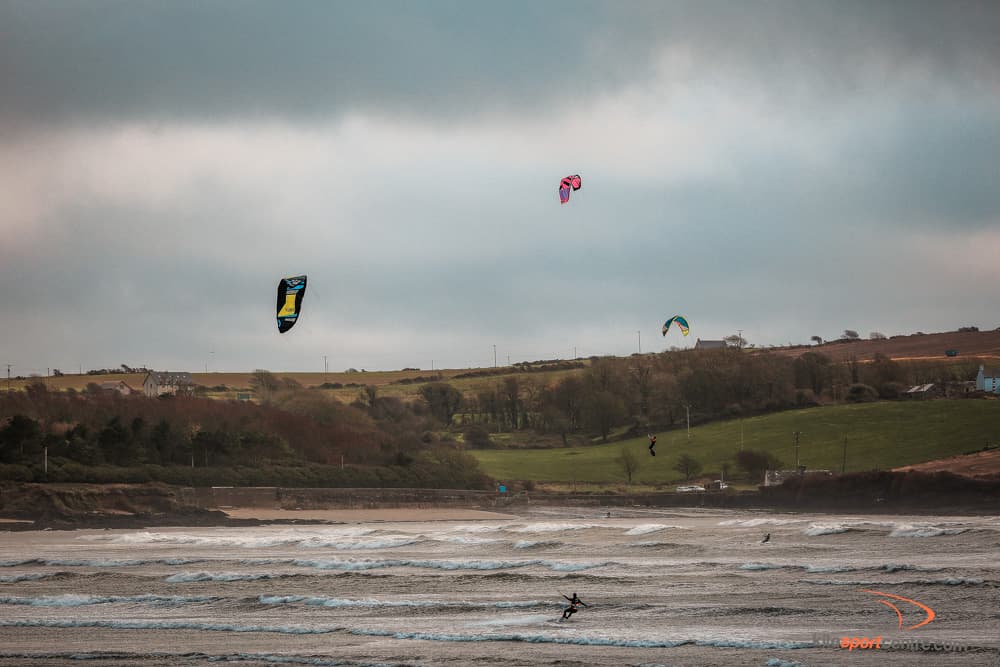 For accommodation, Airbnb is a great option as it gives you more freedom to stay close to the spot and can make your trip feel a bit more like home. However, if you fancy a touch more hospitality for your trip, hit up the local BnBs and you'll definitely be taken care of. Editor's note: we'll give specific accommodation recommendations under each spot heading.
The best spots for kitesurfing in Ireland

Let's face it:

Ireland is awesome. And one of the reasons it's won our hearts is because you can kitesurf pretty much any county surrounding the island — wind direction permitting. 

It's insane to think of how many possible places there are for kitesurfing in Ireland — and so many still undiscovered. 

But be warned:

Knowledge and experience in kitesurfing are crucial if you want to take on Ireland's kite spots — and this is especially true when it comes to picking a good kite spot to set up and ride at. Before you set up, make yourself aware of all potential obstacles like mountains and cliffs — particularly if you're dealing with strong wind or a changing wind direction which can happen regularly. 


Keep an eye on the forecast, study the spot, and go with a friend.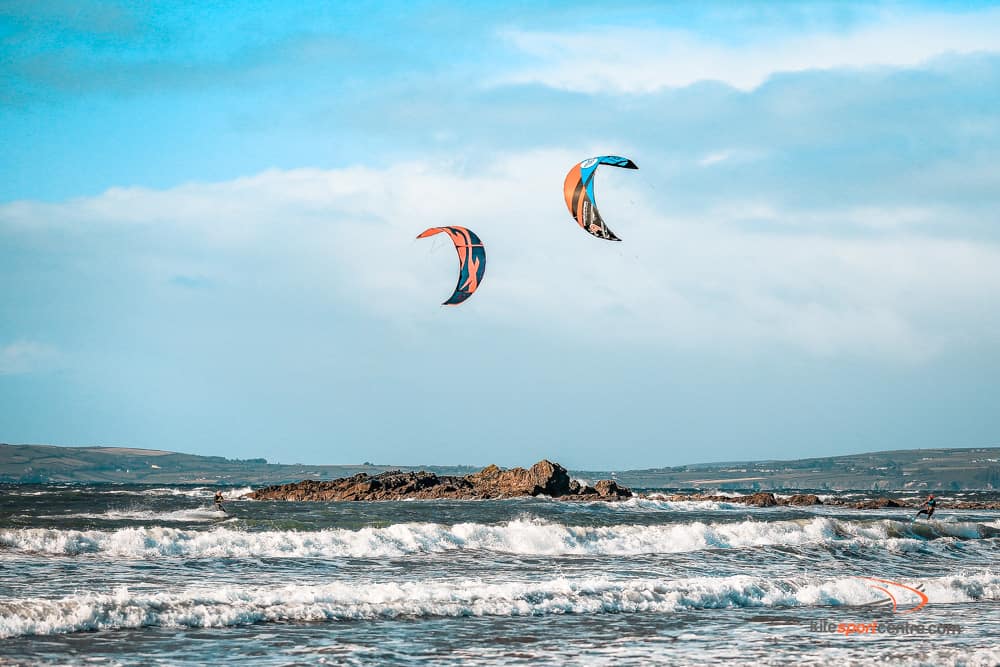 Now, let's get to the good stuff. Here are some of the most popular spots for kitesurfing in Ireland:
Garrylucas Beach, Cork
This is by far the most popular kitesurfing beach in Cork thanks to its location being so close to the famous town of Kinsale. In fact, it's one of the most used spots throughout the year with 80% of wind arriving on its shores.  

Perfect to kite on Ireland's typical S/W wind direction, Garrylucas is a massive open beach with nice kickers when the big waves are on. The spot is perfect for beginners, foilers, and everyone in between. 

Editor's note: get in touch with Kite Sports Centre for lessons and gear rental at Garrylucas Beach!

Where to stay: The nearby town of Kinsale is fairly big and has tons of accommodation options. However, you can also choose to stay closer to the spot, with the Old Head and Garretstown being a prime location. Check out Kinsale Coastal Cottages, located <4km from the kite beach.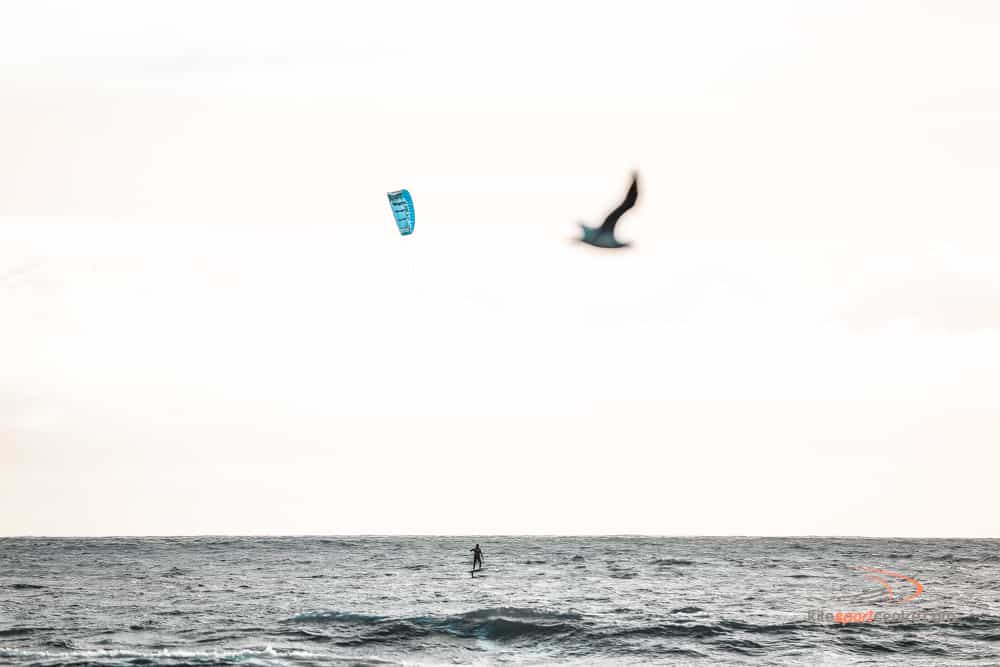 Ballynamona Beach, Cork 
Just 20 minutes from the city, this east cork gem is a brilliant spot for beginners and intermediates because of the shallow waters and the lagoon that creeps up at high tide. The spot works best in all easterly direction winds, especially in the summer.

Where to stay: Stay right in Cork City for maximum craic and to get a taste of what life in the Rebel County is really like — we love the homely rooms at the Crawford Guest House. You could also choose to stay just a few minutes' drive from Ballynamona Beach with Garryvoe Hotel, whose clean chic rooms are great value (and come with a sea view).
---
If you're interested in visiting Cork, you might also like:
30+ Adventurous Things to do in Cork City + County

50 Outdoorsy Things to do in West Cork
---
Tramore Beach, Waterford
Tramore is the go-to place if you're planning on taking your kite gear to Waterford. The beaches are quite open, making it accessible and safe for all levels of kitesurfers. Tramore Beach also happens to be the home spot of Irish pro kiter Sean Murphy, who regularly sings its praises, so you can be pretty confident that this is an epic place to ride. 

Tramore Beach works best in all southerly wind directions. For other directions, you can go to the other side of the sand dunes at high tide when the lagoon comes up. We recommend contacting NCDkiteboarding if you need equipment or lessons here. 

Where to stay: Snag your own place at the Beach Haven Studios just 10 minutes' walk from the kite spot.
Duncannon, Wexford  
This spot works best on westerly and southerly wind directions. With a long sandy beach and awesome surrounding views, Duncannon takes the biscuit for kite spots in Wexford. Hit up Hooked Kiteboarding if you need lessons, rentals, or just a kite buddy for this spot. 

Where to stay: Seashells BnB overlooks Duncannon Beach and offers free breakfast for every guest.
Lady's Island, Wexford
This is one of the best Irish kiteboarding spots if you're looking for a lagoon or butter flat conditions to learn or progress some freestyle tricks. It works well in most wind directions, but the absolute best time to hit it is when the southerlies blow — jackpot. 

Where to stay: Stay right at the kite spot with Sandawana BnB, which gets great reviews.
Castlegregory, Kerry
This legendary kitesurfing spot in County Kerry has gained international recognition for its massive swells and world-class wave riding. It works best during W/NW winds. Being in Kerry, in general, is quite special so when the wind kicks in, kitesurfing here is the equivalent of finding the pot of gold at the end of the rainbow. 


Where to stay: Check out Stradbally Holiday Homes — not only do they get rave reviews but the gorgeous property, complete with garden and BBQ area, is an ideal place to kick back after a day spent in the saltwater.
Brandon Bay, Kerry
This spot has it all really; big waves to flat water and a huge beach to top it off. The only thing to note here is that the wind can be tricky because of the surrounding hills, so only go out if you're experienced and totally up to speed with the spot's hazards. 

As the bay is 17km long, you can almost always find a suitable place to launch from regardless of wind direction — so take your pick and go wherever you see kites already in the water. 

Where to stay: Mount Brandon Cottage is just a 5-minute drive from the beach and offers cosy, affordable rooms.
Belmullet, Mayo
Working best on an SW wind direction, this County Mayo spot is superb. Powerful kickers promise big air days galore, but you better be up for braving the cold, as you'll really feel it here. 


Where to stay: Two popular lodgings are Chez Nous and the Talbot Hotel, both of which are within a couple minutes' drive of the kite spot.
Achill Island, Mayo
Yep, this is the big daddy of kite spots in Ireland. Achill Island has a reputation for having amazing wind all year round, with the added bonus of glorious scenery. It's also the home of an annual kiting event hosted by Pure Magic Watersports, Battle for the Lake. 

Achill Island draws professional kitesurfers and people from literally everywhere for some good hearty Irish craic and some super (cold) kite sessions. Choose between the lake or one of the gorgeous beaches for a true raw Irish kiting experience.
Check out the edit that Jim, Extreme Nomads' main man, did for Stance Magazine on Achill Island for the 2019 rendition of Battle for the Lake.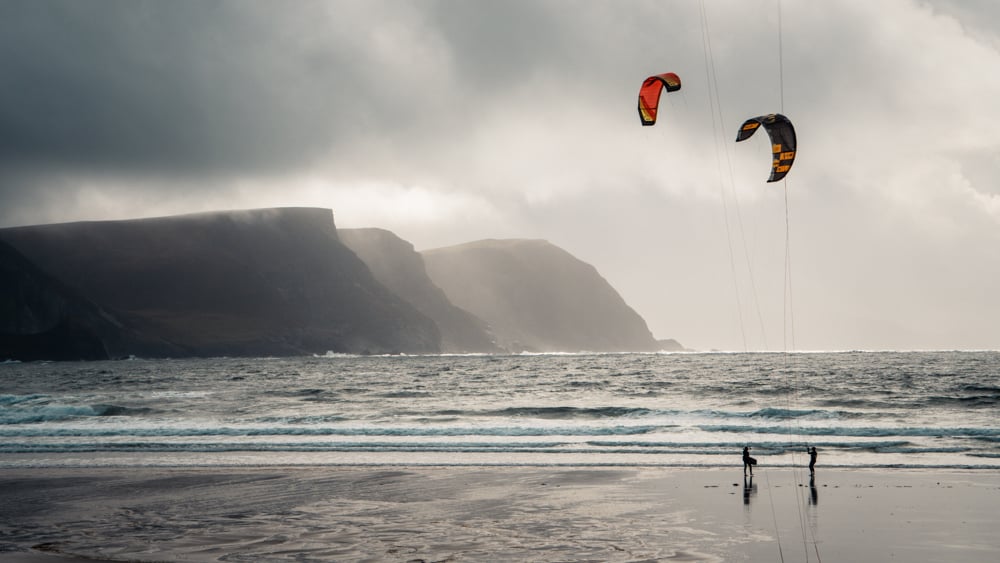 Where to stay: The Pure Magic Lodge is the place for kitesurfers heading to Achill Island. If they're full or closed for the off-season, you can also nab a budget-friendly hostel stay at The Valley Lodge or more up-market rooms in Silevemore House.

Psst: if you like the sound of this spot, you can read up everything there is to know about this magical place in our complete adventure travel guide to Achill Island.
Dollymount, Dublin
Dollymount is a great flat-water spot in Dublin for all riders. It works really well in all southerly directions and W/NW. Dollymount offers 3km of spacious beach for you and Dublin's other kiters to share the stoke — and it's only 15 minutes from the city centre and Dublin airport, so now you have no excuse not to go kitesurfing in Ireland. 

Where to stay: The nearby Clontarf Castle Hotel offers fairly priced bougie rooms in a renovated 12th Century castle. Those on a budget could try Avoca Lodge which is just 5 minutes from Dollymount Strand.
Poolbeg, Dublin
In addition to Dollymount, Poolbeg is another great spot in Dublin — but be warned that it's slightly more difficult to get to. It's got a reputation for only being suitable for intermediate and advanced riders — and for good reason — but if you have the experience, it's a great place to get in a kite session. Poolbeg works well for south and west wind directions. 

Where to stay: Ranelagh, Rathmines, and Sandymount are all good spots to stay nearby — but Poolbeg is easily reachable from most parts of the city. Check out Jacob's Inn Hostel for cheap and cheerful hostel rooms, or somewhere more upmarket like The Schoolhouse Hotel, whose boutique rooms in a renovated 19th Century school are quirky as anything.
---
Got a question about kitesurfing in Ireland? Drop a comment below — or join our free Extreme Nomads Facebook group and pitch your question to the community.