The most adventurous things to do in Ireland, according to travel bloggers.
This post will take you scaling the tallest peaks in the land, wakeboarding in our capital city, kayaking amongst hundreds of tiny islands, coasteering on the country's most northerly limits, dangling above a ginormous crevice on a spindly rope bridge, and getting up close and personal with some very unusual wildlife.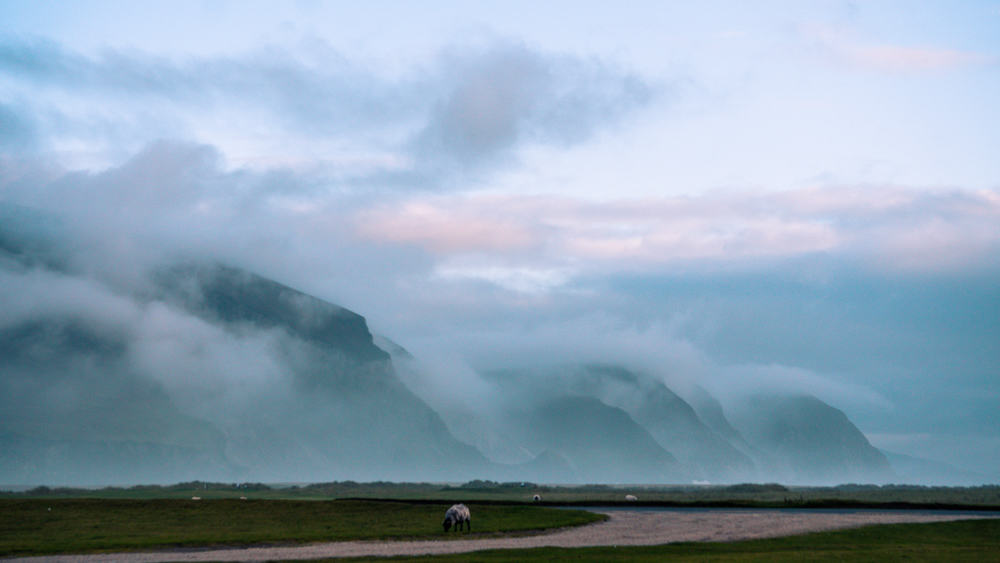 Oh yeah, we tapped the hive for this one.
With the help of the travel blogging community, we've  created a veritable smorgasbord of outdoor adventures in Ireland for your reading pleasure; from kiteboarding and surfing the country's freezing waters to hiking and biking the most mind-bending trails.

Phew, this is about to get kinda wild.

In order to give you a super comprehensive Ireland adventure bucket list, we've included entries for both the Republic of Ireland and Northern Ireland. So like, let's just keep our fingers crossed that Brexit doesn't faff everything up TOO much, 'kay thanks guys.

Without further ado, here's the travel communities selection of the coolest, most adventurous, outdoorsy things to do in Ireland:

This page may contain affiliate links. It means that at no additional cost to you, we earn a commission on the sale of certain products. We only recommend products that we trust and/or use ourselves.
The most epic outdoorsy things to do in Ireland, according to travel experts
---
Kitesurfing on Achill Island, Co. Mayo
Recommended by Grace & Jim of Extreme Nomads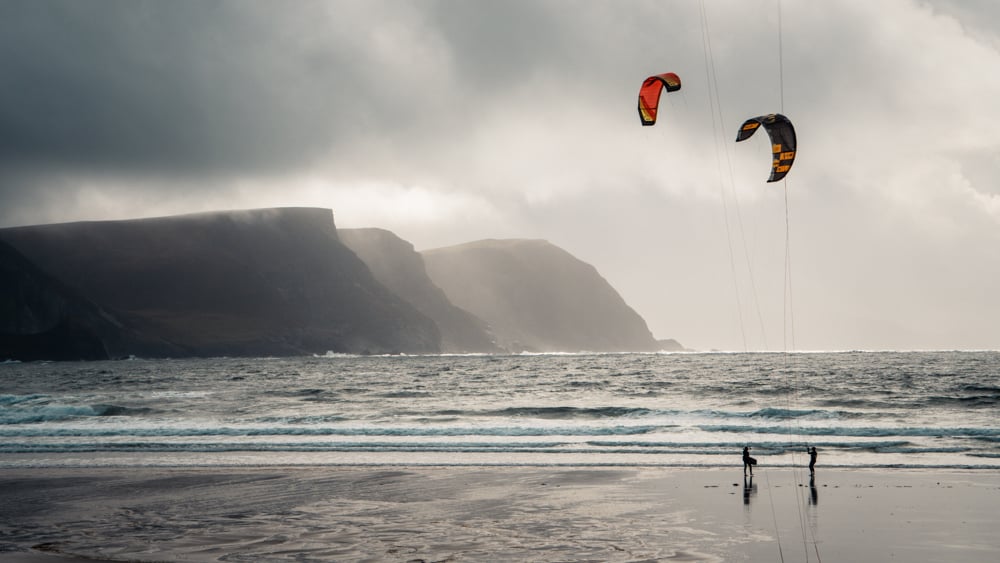 Though Ireland's frigid waters might seem daunting to some, the country is a kitesurfing paradise for those willing to brave the cold. The windswept shores of Achill Island offer some of the best kiteboarding conditions in the whole country, making it by FAR one of the most epic things to do in Ireland.

Visitors can choose between the flat waters of Keel Lake or the wave-battered beach just opposite. Pure Magic Watersports runs a kitesurfing centre up here, where they facilitate beginner and advanced lessons as well as gear rental (they also have a super cosy lodge bar, and restaurant to base yourself at whilst there).

If you've never tried kitesurfing before but you're keen to experience some of Ireland's outdoor adventure offerings, this has your name all over it (and if you're an experienced kiter, trust us when we say this is one spot you'll definitely want to ride at). 'Scenic' doesn't even begin to cover the beauty of the place. 
Find out where else you can kitesurf on the Emerald Isle in our complete guide to kitesurfing in Ireland.
Mountain biking on the Ballyhoura MTB trails, Co. Cork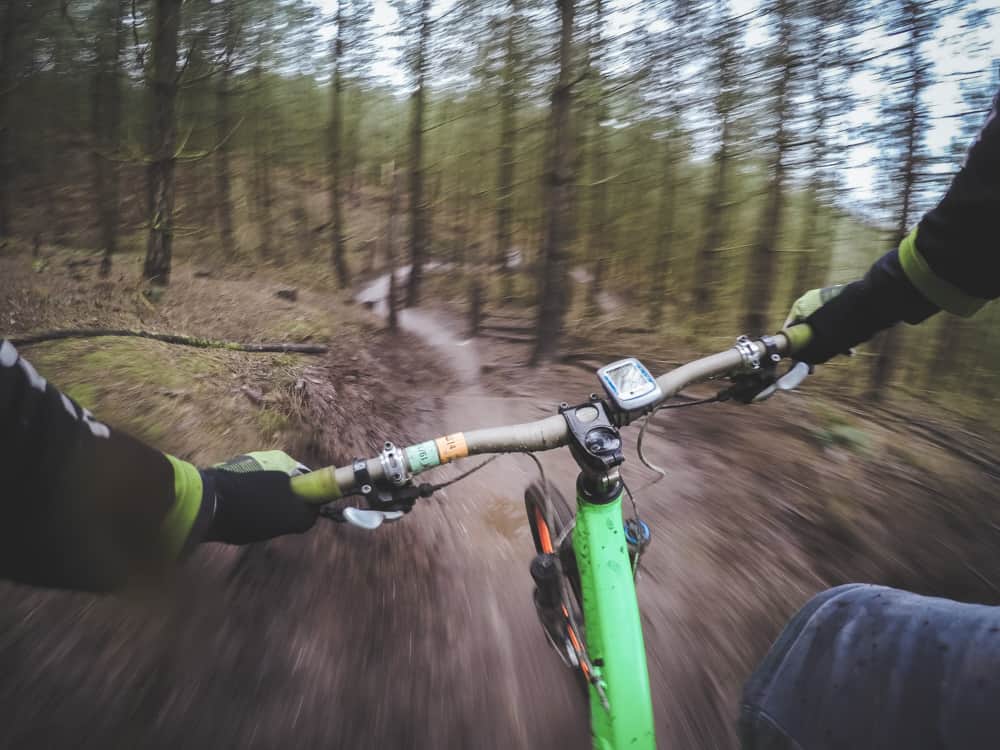 For lovers of two-wheeled adventures, Ballyhoura is Ireland's holy grail. The place is home to the biggest network of dedicated mountain biking trails in the entire country, with a solid mix of single tracks, hills, boardwalks, and tricky technical rock gardens.

No need to go lugging your own gear over, either; you can rent your bikes from the local crew at Ballyhoura Trail Riders. Once you're all geared up, take your pick between the beginner-friendly Greenwood Loop which is just 6km, or the ultra tough 50km Castlepook Loop.

Psst: if you're going to be in the area, check out our complete local's guide to the best things to do in Cork City + county!
Surfing at Inchydoney Beach, Co. Cork
If you've been following along with Extreme Nomads for a while, you'll know that we have a MAJOR crush on the Irish surfing scene. Like yeah, the water may be baltic — but the waves are incredible. 

Inchydoney is one of West Cork's most beautiful, sprawling strands; and when the swell kicks in, it's home to glorious, peeling waves. According to TripAdvisor, it's also Ireland's top-rated beach!

Inchydoney Surf School are the guys to know here; they've been running their centre for more than 15 years and are super experienced in coaching all levels of surfers. Hit them up for beginner lessons, advanced training, and board rentals. They're also conveniently located just 200 metres from the stunning Inchydoney Lodge & Spa (which is the ultimate place to stay — or get a massage — when you're keen to splurge on a treat!).
Hiking to Murder Hole Beach, Co. Donegal
Recommended by Elaine & David of Your Ireland Vacation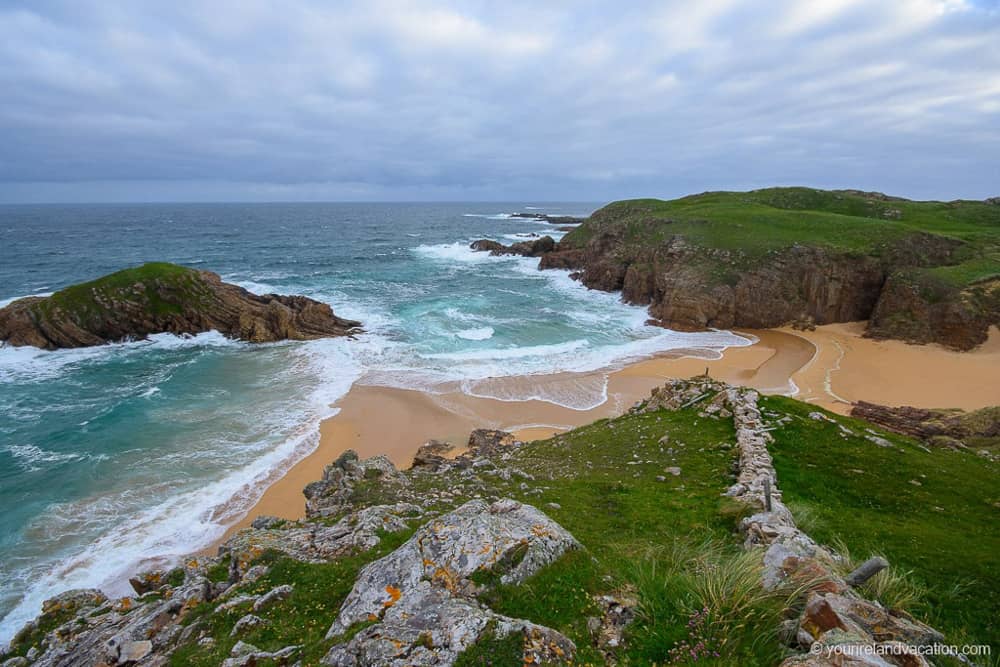 Officially known as Boyeeghter Bay, Murder Hole Beach is one of the most rugged and beautiful beaches located on the Wild Atlantic Way in Co. Donegal. 

The challenge of accessing the beach makes a visit even more special. You'll need to hike across local farmland (avoiding the friendly cows and occasional bull) to access Murder Hole. The farmer that owns the land kindly lets the public hike across the fields to the beach. It's a short hike from the main road to the dunes by the sea that hides this incredible beach.
Due to its secluded location, it's likely you'll have the beach to yourself when you visit. If you visit Murder Hole early in the morning, you could be treated to a truly epic sunrise.
While it's not exactly known where the name Murder Hole comes from, it's likely due to the treacherous seas that pound the coastline. Despite its beauty, swimming is definitely not advised here as the rip tides and currents are incredibly strong.
Coasteering on the North Coast
Recommended by Luke of The Coastal Campaign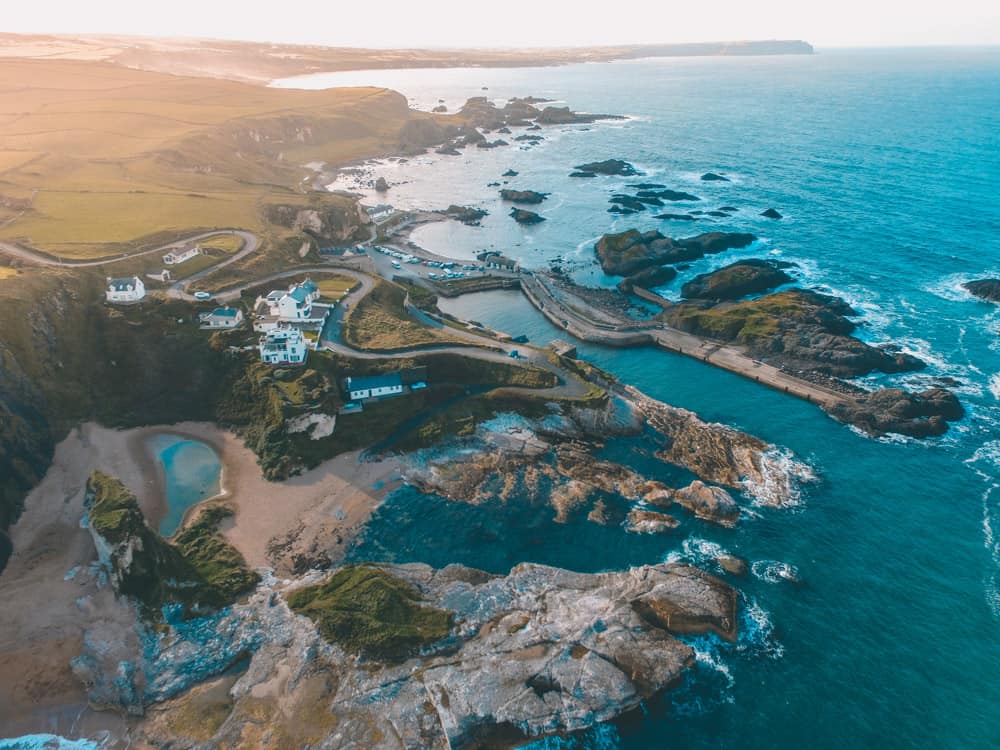 When you think of things to do in Ireland, swimming around in the Atlantic Ocean may not be what springs to mind. But I must say that coasteering on the North Coast of Ireland is one of the most exciting adventure activities in the whole country. Climbing, cliff jumping and swimming your way along the rugged green coastline of Northern Ireland is an incredible experience.

You'll need to struggle into a thick wetsuit and wetsuit boots to keep you warm, but once the adrenaline starts flowing you won't even feel the cold. It's so much fun jumping and flipping off the rocks into the water and finding hidden gems along the coast. Make a point of exploring Ballintoy Harbour, which has lots of small islands just off the shore. 

To get the most out of your experience, go for a tour with Matt at Causeway Coasteering. He's a local boy with insane knowledge of the coastline, who will show you some amazing off-the-beaten path places while ensuring you have a great days' craic. Next time you are in Ireland, make sure you explore from the water.
Cable wakeboarding in Dublin
Recommended by Kylie of Between England and Iowa

An adventurous thing to do right in the heart of Dublin is to go wakeboarding. Wakedock Cable Park is located at Grand Canal Dock. Visitors only need to take a swimsuit and a towel; wetsuits, helmets, life jackets and boards can be rented as part of the package price.  

Cable wakeboarding is great, even for beginners; it's a little like snowboarding but on water!  The cable system makes it easier to stand up on the board, compared to how it would be if you were being towed behind a boat.

Time slots last around an hour, with up to 4 people in the slot. Individuals get around 15 minutes each in the water, which may not sound like much time but it can be pretty tiring — especially for first timers! 

If wakeboarding is a little too extreme, Surfdock operates in the same area offering kayak and stand up paddle board rentals, as well as SUP yoga sessions.
Climbing Carrauntoohil — Ireland's highest peak, Co. Kerry
Recommended by Kathi of Watch Me See

It can't get any more adventurous than climbing the roof of Ireland and hiking to the top of the country's highest mountain, Carrauntoohil. From the summit, you can enjoy uninterrupted views of the hills and lakes around you. It's an invigorating hike that includes crossing rivers, walking along mountain lakes, and lots of sheep

This hike takes around five to six hours and is a challenging day out for experienced mountaineers. You won't require any specific equipment apart from good hiking boots, a map and good waterproofs; and the trail is fairly easy to follow. However, weather conditions can change rapidly and the route includes a slippery scramble up a steep gully called Devil's Ladder.  

Killarney is the perfect home base for this hike. The local Black Sheep Hostel is a welcoming, eco-friendly hostel with small dorms and lots of communal space, including a lovely garden — a perfect to retreat to after a day in the mountains.
Scuba diving the Skellig Islands, Co. Kerry
The south west of Ireland is wild and exposed with a large number of small offshore rocks, islands and coves — which lends itself to diving. Granted, this couldn't be further from the warm resort diving in tropical regions of the world; you'll need a dry suit and be used to diving in less than favourable conditions. 
However, once you reach the dive site (which can be an adventure in itself!) the underwater conditions are perfect. The water is crystal clear and the life below the surface is spectacular. From corals living on every surface to large anglerfish and dog sharks, every dive is completely different.
There are a number of places you can dive in Cork and Kerry with the most popular being around Kenmare and the Dingle Peninsula. Boats operate from these two areas and will take you out to the Magharee Islands, Blasket Islands and the UNESCO world heritage site of Skellig Michael.  One of the best dive centres is Waterworld, who operate out of Castlegregory on the north coast of the Dingle Peninsula.
Bray to Greystones cliff walk, Co. Wicklow
Recommended by Katie of Just Chasing Sunsets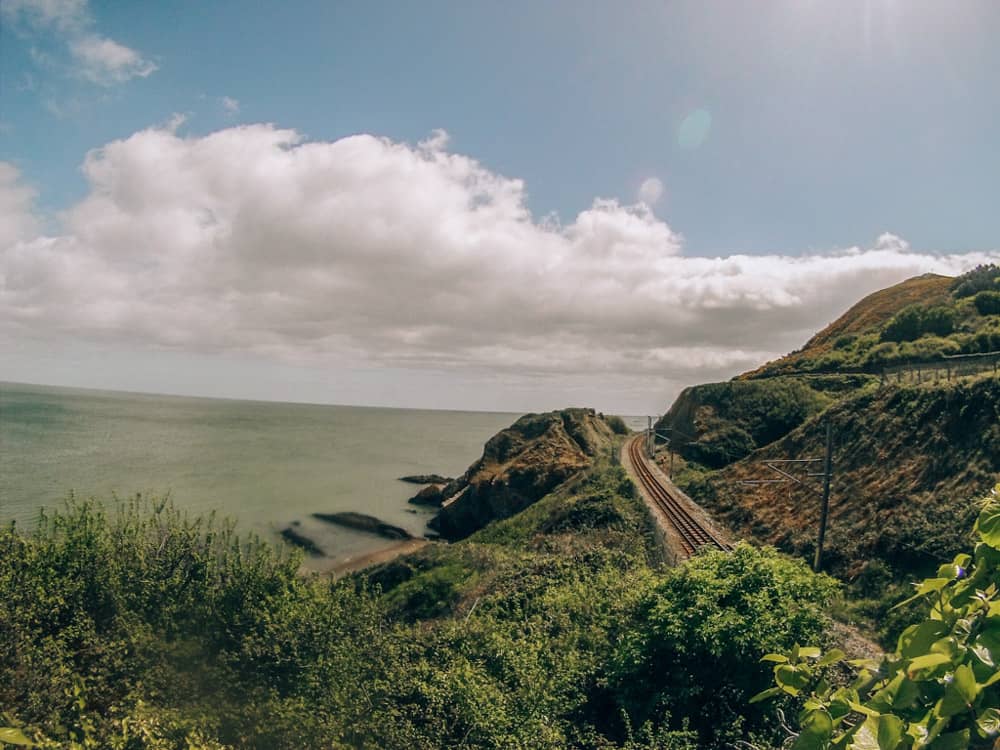 Ireland is filled with stunning landscapes just a short train ride away from Dublin. If you need a bit of fresh air and dramatic scenery, then simply ride the DART train 45 minutes South to Bray for the Bray to Greystones cliff walk. If anything, it's perhaps slightly overshadowed by the Howth cliff walk (more on that next!), which means it's less trafficked by tourists and has a lovely local vibe. 

When you hop off the DART in Bray, it's a great idea to grab lunch at Platform Pizza Bar, where you can enjoy delicious and unique pies with a coastal view. Once you're full, walk along the promenade towards the start of the cliff walk.

The walk, which is 7km in one direction, is fairly easy and should take approximately two to three hours to complete – depending on the number of photo opportunities and snack breaks you take.

You'll have two options for this walk. You can make the hike up to Bray Head to get a birds-eye view of the Wicklow Mountains, Bray, and the sea, or you can walk along the coastal path. Plus there's always that sneakily fun third option – do both!
Howth Coastal Walk
Recommended by Lerato of Life from a Bag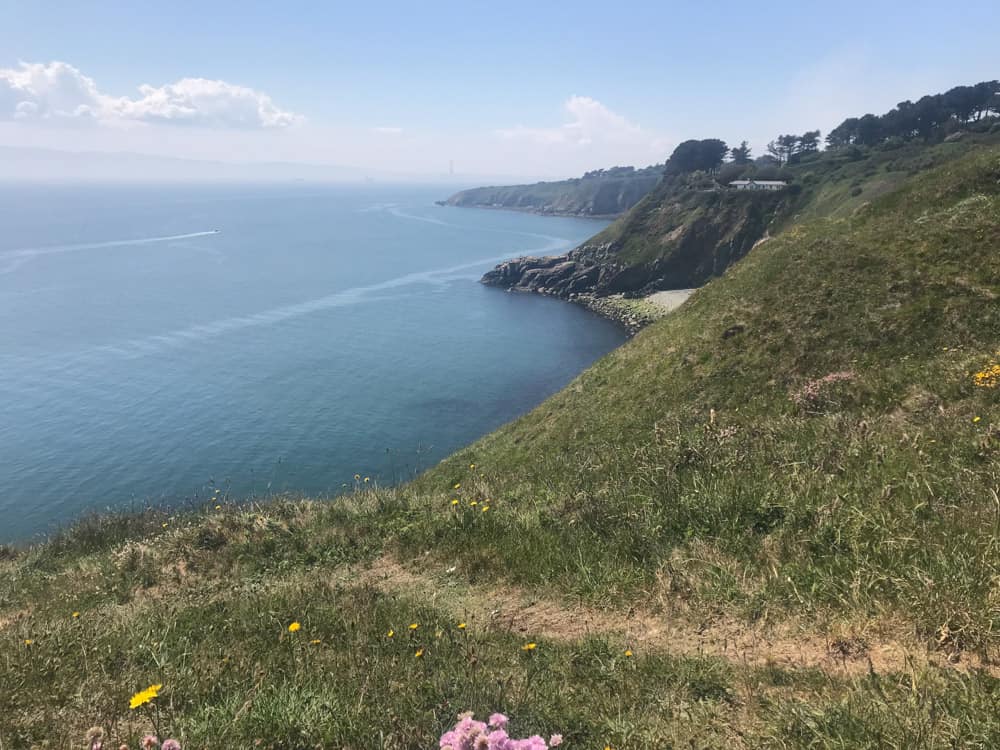 For magnificent views of Ireland's Eye and Dublin Bay, go on a hike in the fishing village of Howth!
Located just 13km from Dublin city centre, Howth Head is one of the best coastal walks in Ireland. It's reachable by ferry from Dún Laoghaire, Dublin Bus (31 A) and DART train. 
With four paths suitable for all ages, the Cliff Path Loop (6km) is the most popular and takes about 2 hours – you'll enjoy stunning scenery,  beautiful wild flowers, caves and hidden beaches.
After you hike, have fish and chips at one of the famous waterfront restaurants and grab a Guinness before heading back to the city centre.
Hawk walk at Ashford Castle, Co. Mayo
Recommended by Carole of Berkeley and Beyond

One of the most exciting things to do in Ireland is to head for the impressive Ashford Castle in Cong — located about 30 miles north of Galway — and sign up for a Hawk Walk.

Begin the adventure in the morning at Ireland's School of Falconry, where you'll meet with a caretaker and learned a bit about hawks in general. You'll then begin a short walk through a dense and lovely wooded forest on the property, put on a heavy leather glove, and experience a hawk flying to your arm and landing. What a thrill!

One of the resident hawks, Inca, was the first Peruvian Harris hawk ever to be in Ireland.  At the centre, you may also encounter amber-eyed Dingle, a female Eurasian eagle owl — the largest species of owl in the world. This experience is exceptional and belongs on every bucket list. 
Hiking to Torc Waterfall in Killarney National Park, Co. Kerry
Recommended by Gina of One Day in a City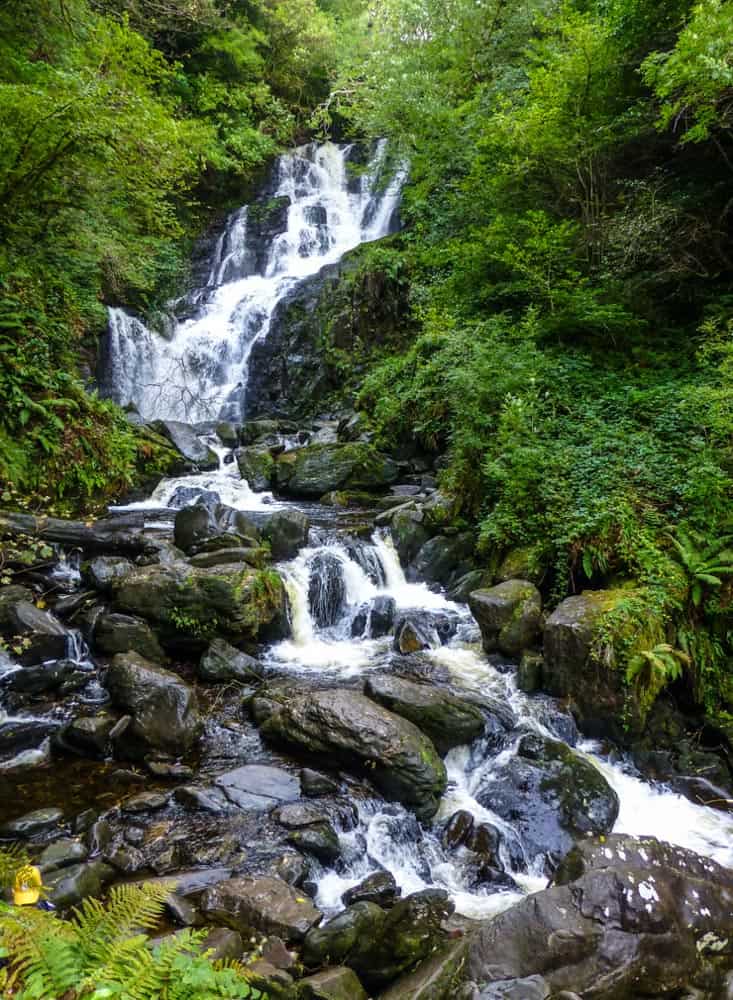 When you're on the west coast, visiting Killarney National Park is one of the ultimate things to do in Ireland. While there, don't miss hiking from the historic Muckross House to Torc Waterfall. 

Enjoy the expansive grassy grounds of the estate and then make your way by peaceful lake views as you journey onto the trail that will take you through a scenic valley and into the woods. Within those woods is Torc Waterfall, a powerful rush of water that cascades through the green brush of the forest in a series of picture-worthy waterfalls. 

The hike from Muckross House to Torc Waterfall and back will take you roughly two hours. Treat any sore muscles with a relaxing dip in the spa thermal pool at Muckross Park Hotel and Spa, an unforgettable place to stay in Killarney that is right down the street from Muckross House. 
Hiking in the Wicklow Mountains, Co. Wicklow
Recommended by Lora of Explore with Lora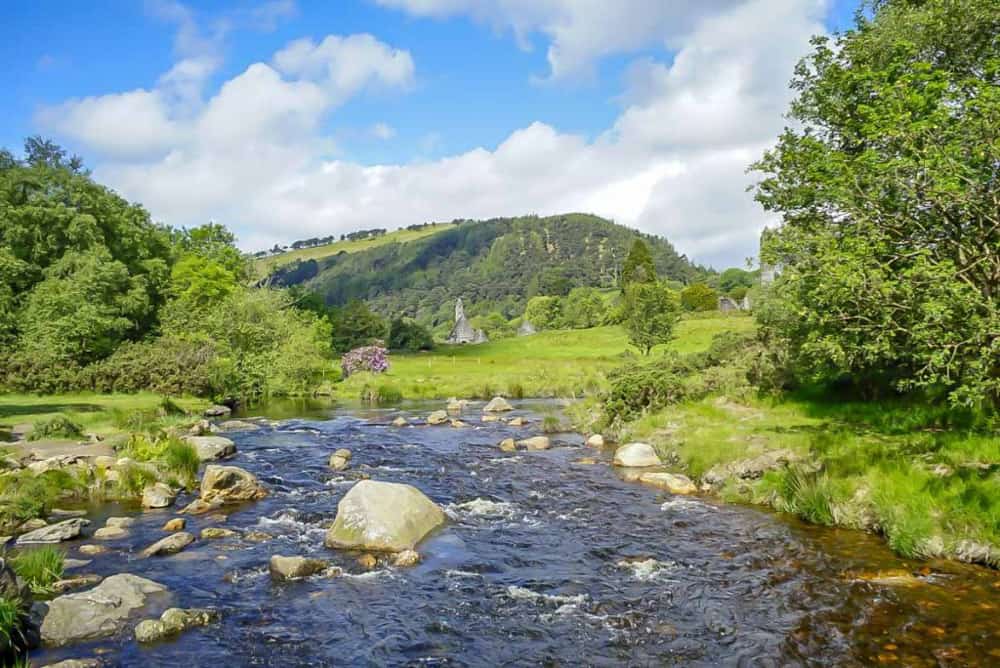 Wicklow Mountain National Park is one of the most beautiful places to go hiking in Ireland. It's a great day trip from Dublin, as the park is less than an hour away from the capital city. Of course, you can spend more than a day and camp there for a few nights. This will allow you to access more of the hiking trails within the park. 

Dotted with rolling hills, dense woodland, and green forests, Wicklow National Park is full of beauty. One of the most stunning hikes is the Spinc & Wicklow Way. Spanning 11km in a circular path, this challenging hike takes you through some of Wicklow's best landscapes, including a visit to a waterfall. There are also many nature walks in the park, which are perfect for families or those short on time.
Climb the Stairway to Heaven, Co. Fermanagh
Recommended by Laura of Live Adventure Travel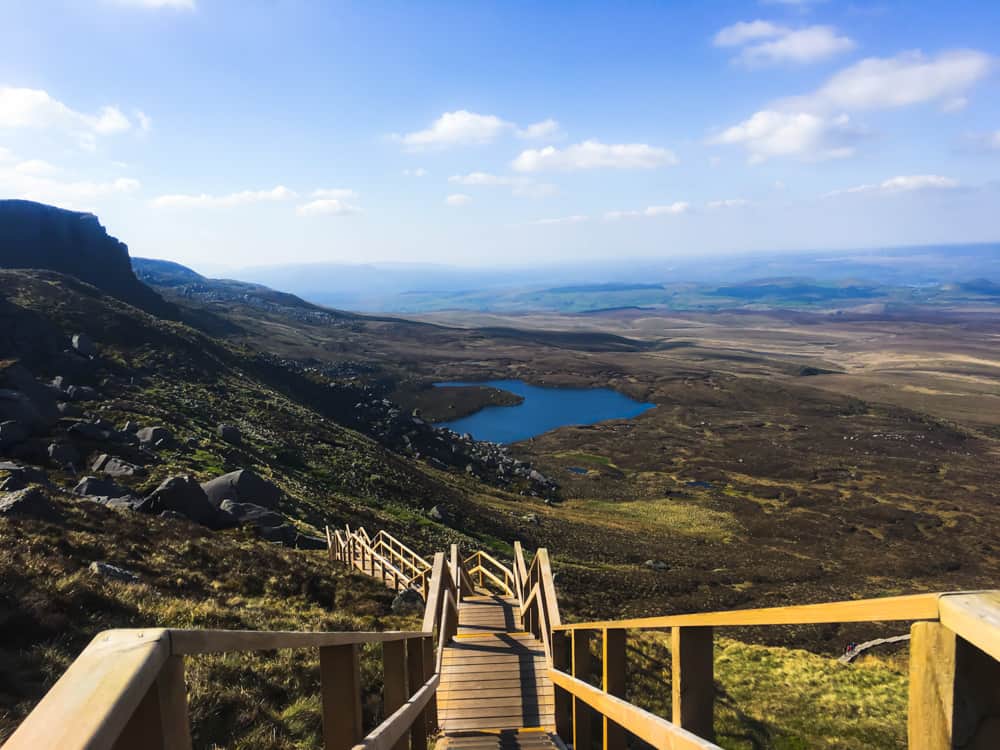 Cuilcagh Mountain, otherwise known as Ireland's Stairway to Heaven, is possibly one of the most beautiful trails in Ireland. It's the ideal hiking location for adventure lovers and outdoor enthusiasts. 

The hiking trail is located in County Fermanagh and is home to a rare blanket bog. The trail became famous back in 2017 when a boardwalk was built to protect the bog from walkers. The boardwalk consists of 450 steps that gear up towards the sky. Ultimately giving the trail it's famous nickname, 'the stairway to heaven'. The summit of Cuilcagh Mountain presents walkers with an outstanding view of Fermanagh, the boardwalk, and Lake Atana. 

It takes a total of 4 hours to complete the walk, which is suitable for those with a moderate to advanced hiking ability. Once the walk is complete, visitors can continue their adventure by taking a tour of the nearby Marble Arch Caves.
Kayaking in Westport, Co. Mayo
Recommended by Alexa of 52 Perfect Days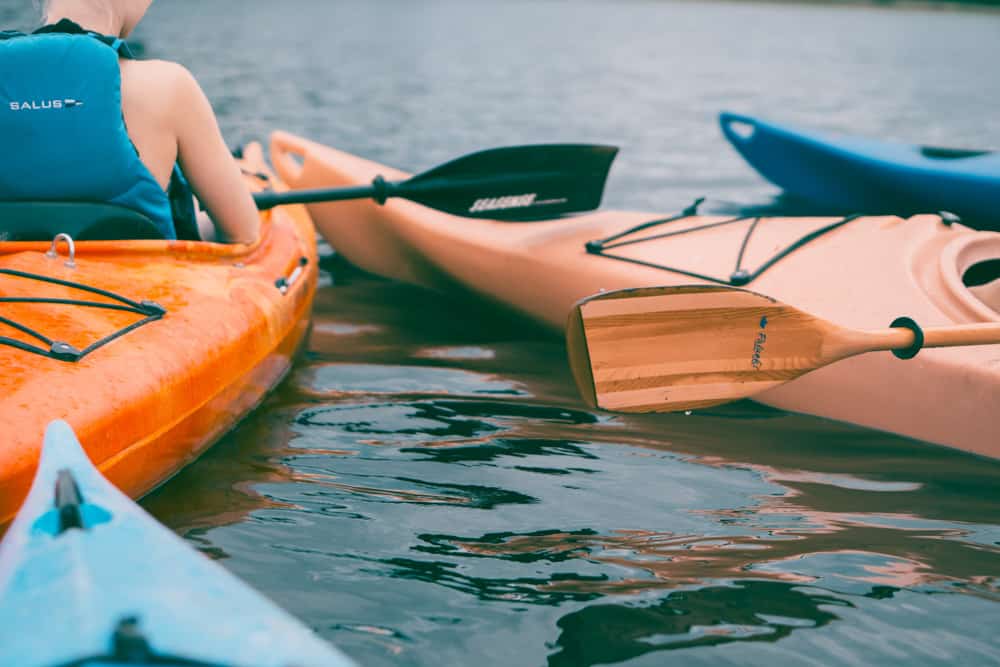 Westport is a perfect town to explore the outdoor beauty of Ireland. Sea kayaking and paddling among the 365 islands of Clew Bay is one of the most popular outdoor activities. With the breathtaking backdrop of Croagh Patrick, there isn't a more peaceful way to spend a few hours in Westport. 
If you want to get a bit closer to Croagh Patrick, Ireland's holiest mountain, consider hiking up. It's renowned for its Patrician Pilgrimage in honor of Saint Patrick, Ireland's patron saint (it was at the summit of the mountain that Saint Patrick fasted for forty days in 441 AD). The summit of this hike also offers tremendous panoramic views of the County Mayo landscape. The hike is just under half a mile and on average takes about 2 hours to climb up and one and a half hours to descend.
This is just a few of the great outdoor adventures you can have in Westport. Finish your day with a bit of craic and a pint at Matt Molloy's. 
Carrick-a-Rede Rope Bridge, Co. Antrim
Recommended by Danielle of Live in 10 Countries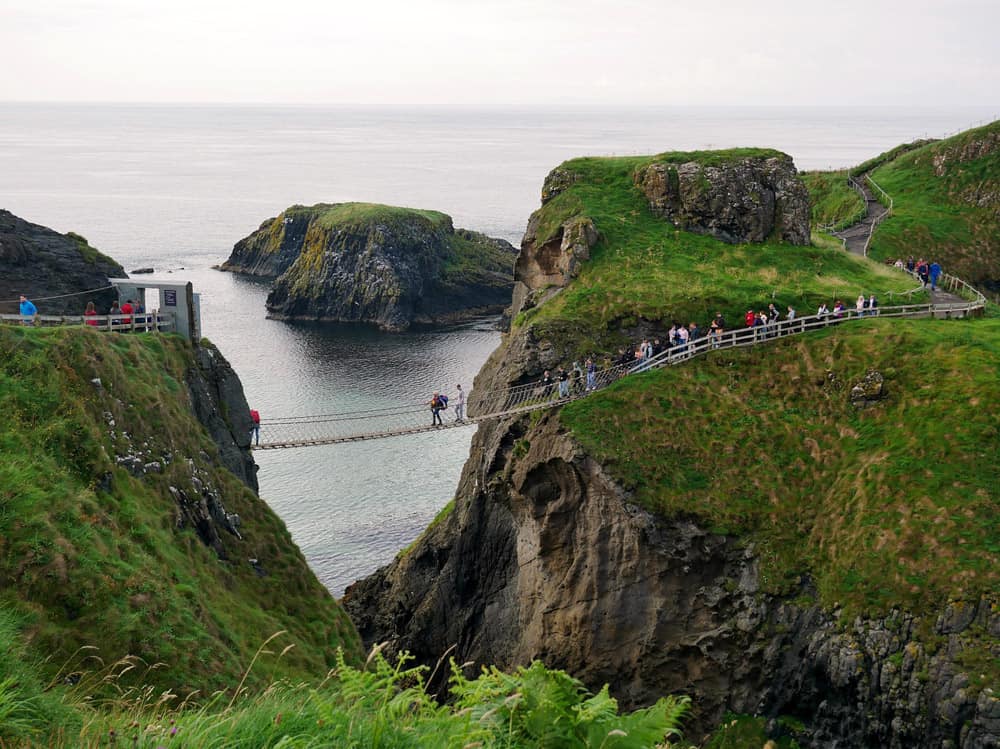 Carrick-a-Rede Rope Bridge is the ultimate way to test your head for heights — and is the perfect addition to a 3 day trip around Northern Ireland. Run by the National Trust, it sits on the north east coastline, not too far from Derry. 

You park around a mile from the spot and walk across lush green hills until the bridge inches into view — and that's when the adrenaline kicks in.

It was built by fishermen and stretches a surprisingly long distance — plus it looks a bit flimsy, at least to the untrained eye. It joins the mainland with a remote island and as you walk across it shakes and sways in strong ocean winds. 

The views are breathtaking; pounding waves beneath you, fronted with velvety grass and bright flowers. It's a total head rush, and a must for your Ireland adventure bucket list.

Support the National Trust with your entrance fee and also, if driving from Belfast, be sure to get a delicious breakfast at the Coffee House on Stewartstown Road which is locally run and excellent. 
Scaling the Mourne Mountains, Co. Down
Recommended by Allan of It's Sometimes Sunny in Bangor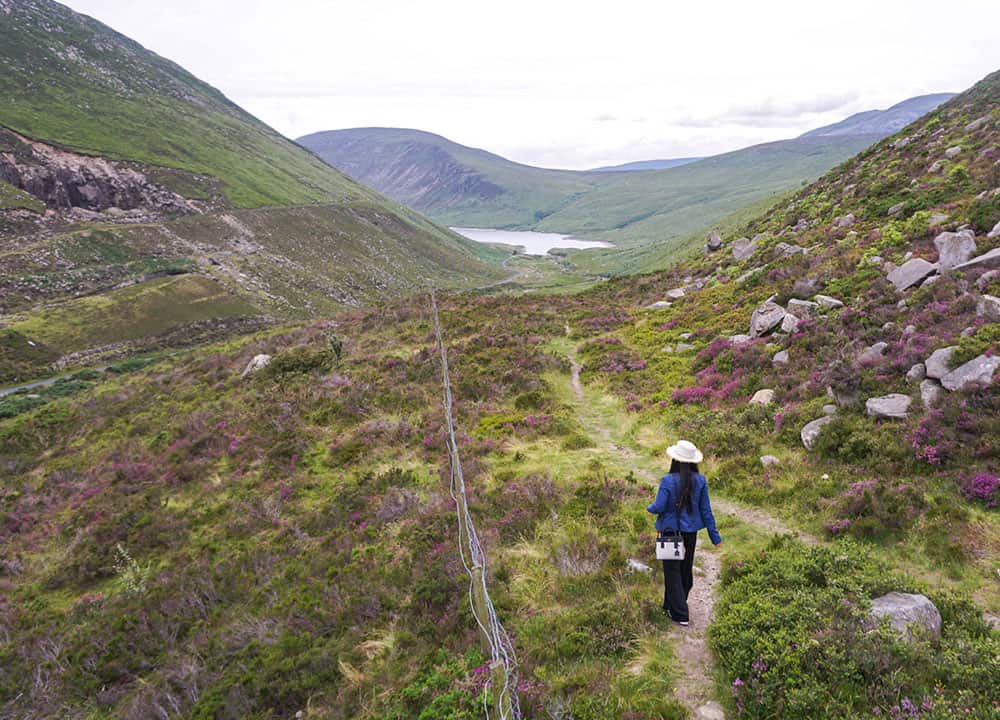 The Mourne Mountains are a sprawling granite mountain range in the south-east of Northern Ireland (Co. Down) and are home to many of Northern Ireland's highest peaks. Though the region is lesser-explored by international tourists, it's well worth the visit.

The most obvious route to the mountains would be from the seaside town of Newcastle (where you can stay at the highly recommended hotel, The Donard) which is a bit like the Gateway to the Mournes. There you'll find a trekking path connecting straight from the town centre to the tallest peak in all of Northern Ireland, Slieve Donard.
But for those driving, or those who are savvy with public transport, there are always alternative entries to the Mournes — including a trek from neighbouring Tollymore Forest park (Trassey Road) to the Hare's Gap. 

Then there's the most scenic hike from the Silent Valley to the reservoir at Ben Crom (pictured). Although, no matter which trek you choose, you're guaranteed some fantastic mountain scenery sights, and sounds along the way.
Final words on the most adventurous things to do in Ireland
As this list has hopefully demonstrated, Ireland is an outdoor adventurer's DREAM in so many ways. Though this list of adventurous things to do in Ireland is far from exhaustive (because let's face it, some of the best things to do are the ones nobody in the online world knows about — local's secrets, and all that!) we hope it serves to inspire your own Irish adventures.