The Medewi surfing scene is dreamy.
There's no better antidote to the overcrowded lineups of Kuta and hectic streets of Canggu than Medewi. Just 2 and a half hours ride up the coast, the town is all mellow vibes, stunning scenery, and surf. Damn good surf.
On the back of a recommendation from a local friend, we road tripped up to Medewi from Canggu during our action-fuelled 10 days in Bali. While there, we scored the best waves we'd found on the island all week and levelled up our surfing skills in a big way.

We left enamoured with the place.

Don't let the required drive along the (rather ominously nicknamed) Highway of Death deter you; the sweltering road laden with lorries belies a palm-fringed beach, peaceful village, and a long left-hand wave that'd give any goofy goosebumps.

We thoroughly enjoyed our time surfing in Medewi, and we think you will too.

Here's what you need to know to plan your own Medewi surfing trip:

What to expect from a Medewi surfing trip
If you're looking to leave behind the craze of Bali's southern hotspots, Medewi will be right up your street. After a week in Canggu, Jim and I were growing weary from the heavy traffic and fast-paced days.

Medewi acted as a literal breath of fresh air.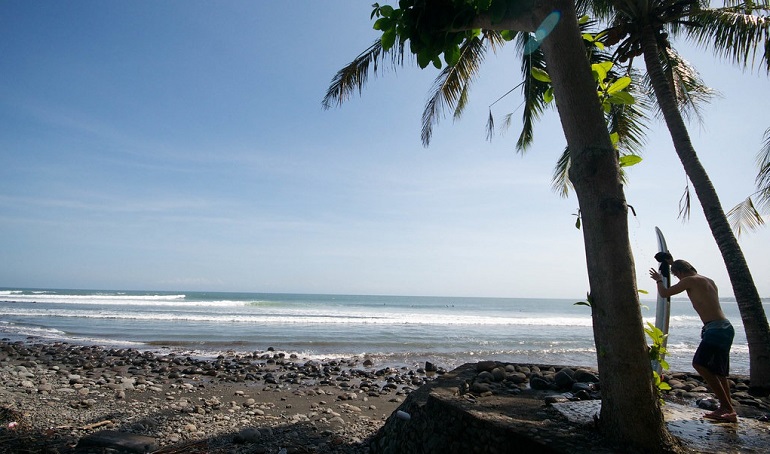 The town, which sits about 10 minutes' drive from the surf beach, is small and undeveloped. Warungs and mom n' pop shops line the main road, with snaking side streets forking off towards the beach. The selection of restaurants isn't enormous, but what is there is good, cheap, and authentic.

This part of Bali is primarily Muslim; as such, there are quite a few mosques around the town. The atmospheric echoes of the call to prayer rings through the streets multiple times a day, often emanating from several mosques at once.

A visit to Medewi makes for a refreshing change, and a wonderful opportunity to get to know a different side to true Balinese culture. Expect long, surf-filled days and early, laidback nights (apart from a few cold Bintans at home, partying isn't really a thing).
Medewi surfing season
The 'main' Medewi surfing season runs between April-October, peaking between July-September. During this time, Medewi's waves are at their biggest and swell/wind direction rarely falters. The weather is also awesome during these months; as this constitutes Bali's dry season, rain and grey skies are pretty unusual.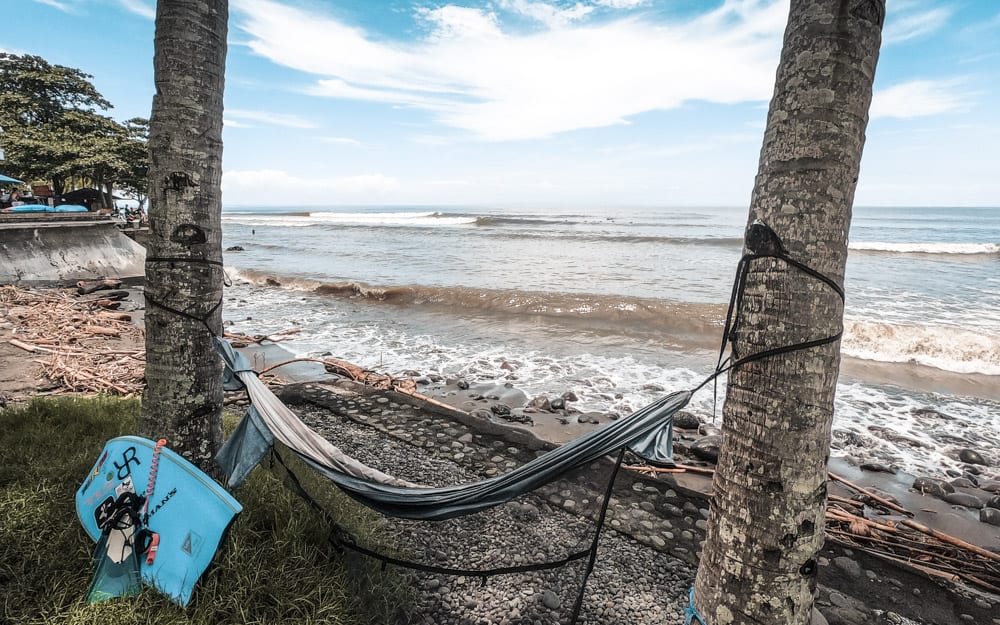 That said, Medewi's swell is phenomenally consistent — to the tune of 98% consistency throughout the entire year. As such, you can surf here all year round.

We visited Medewi at the end of January (smack dab in the middle of the off-season) and were treated to glorious rides on clean, green, 2-3 meter waves. The only downside was that the afternoon brought huge downpours of rain, calling an end to the surfing (fortunately the timing coincided with low tide, when Medewi's main break is unsurfable anyway).
The Medewi surfing spot
Beyond a dense grove of coconut palms, black sand slopes towards the water's edge — though much of the sand is covered in large, dark coloured boulders. Low tide reveals that those boulders extend from the shore for a good 100 meters, while at high tide, they're mostly covered.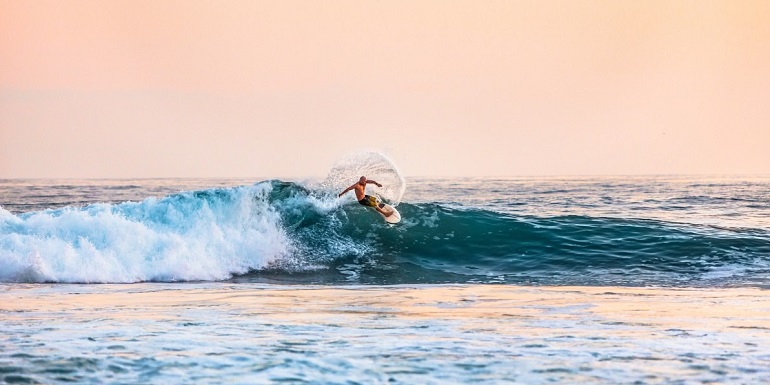 Even so, some of the rocks are coated in sharp shells and sea urchins are common; we definitely recommend renting or buying some quality reef booties to wear here. I cut up the bottom of my feet pretty nicely on our first day here and seriously regretted not wearing any! Don't be like me.

There are two breaks at Medewi Beach (otherwise known as Pantai Medewi); the bigger, outside point break and a beach break — both breaking to the left. Best surfed at mid-high tide, the ride is long — like, really long. If you get on at the very beginning, you can ride for a good minute back to shore.

The wave isn't overly fast or steep making it fun and forgiving, even for beginners — which we were when we visited. Although if you do fancy seeking out a challenge, steep and fast does exist at Medewi Beach if you know which part of the wave to look for.

We're told that the lineup can get crowded during the peak season, but when we visited in the off-peak season it was totally manageable. Yeah sure, there were a lot of people out there, but the length of the wave makes it easy to find your own spot without the fear of accidentally dropping in on anyone else.

The spot works best on a S/SW swell and N/NE wind. We were pleasantly surprised when we arrived in Medewi, having left the choppy, blown out waves of Canggu behind us (as it was January, the wind was cross-onshore and the waves were powerful, fast, and dumpy). In contrast, there was little to no wind in Medewi and the waves were glossy and clean. Worlds apart! We'd definitely recommend checking it out if the conditions aren't great in the south.

You can also surf at the rivermouth just south of Medewi Beach. Breaking both left and right, the wave can serve as a viable alternative when the point break at Medewi Beach is having an off day.
Medewi surfing tips for beginners
Be aware of the tides. We made a total rookie mistake of heading out first when the tides were moving high to low, and we got absolutely pummelled by steep sets of messy waves. Spot the novices *smh*.

Thankfully, we were staying at a sweet little place (Medewi Beach Inn) run by a local surfer who was incredibly generous with his advice and time. He told us everything we needed to know, like the best time of day to go out, where to get on the wave, where to paddle out, and where to go if the spot isn't working.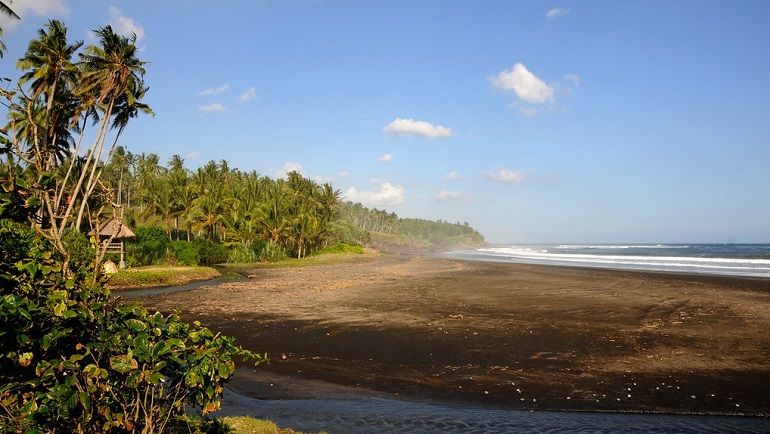 He also put us in touch with his friend Mado who owns Mado's Surf Shop, a little board shack on the road leading down to the beach. We paid Mado to take us out for a guided session — Best. Choice. Ever.

Initially, we had wanted to head out on our own (we had just finished a week-long intensive surf camp in Canggu with Surf WG and were a tad overzealous about our newfound independence). However, getting washing machined over those bigass boulders on day 1 made me a little nervous, so we decided to go with the instructor the next day.

Mado was awesome; he totally understood that we wanted to be a bit more independent in the water so instead of giving us a full-on lesson, he just watched out for us, gave us some advice when needed, and hung out near us in the lineup. We highly recommend seeking him out if you're a novice and new to the spot!
Surf camps in Medewi
We love a good surf camp. From the social aspect to the learning opportunity, but especially because it's a super easy way of organising your board rental, accommodation, and spot guidance in one. Had we not just finished a week-long surf camp in Canggu, we definitely would have done one in Medewi (next time, for sure).

During our initial search for Bali's best surf camps, we came across a few amazing looking ones in Medewi that we think you'll love:

Where to rent your boards + more
Board rentals are easy to come by; just take a walk down Jl. Pantai Medewi and you'll see a handful of surf hostels, board repair shops, and surf shacks where you can find inexpensive rentals. Expect to pay $5-10 USD per day for a board and leash. We rented ours from Mado's Surf Shop, which we found through our guesthouse (see below).
Where to stay on your Medewi surfing trip
There are several guesthouses and hotels along Jalan Pantai Medewi, which is right at the surf spot. Stay at one of these and you can literally walk to the waves in under 2 minutes (we could even see the swell building from our room in Medewi Beach Inn, where we had a cosy clean room with aircon for about $30/night).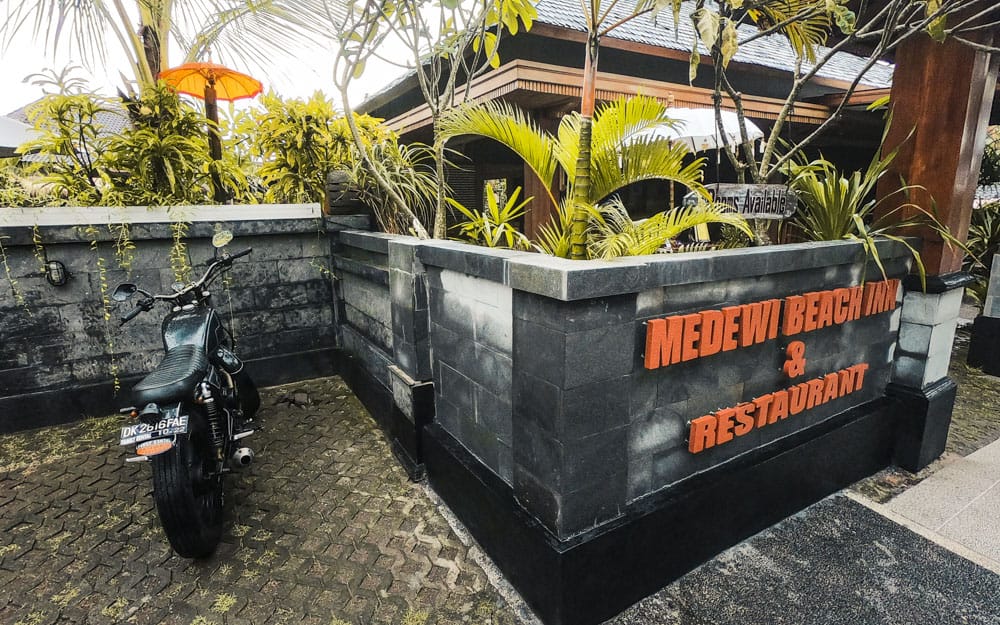 We had initially tried to book a room at Pink Barrel Bali on a friend's recommendation, but they were totally booked out for the month. Their popularity says it all really; the place looks absolutely gorgeous and we'll be sure to book a room well in advance for the next time we visit.

Check the availability and prices for all hotels in Medewi now.
Getting to Medewi
Medewi isn't the quickest spot to get to, but it's not really difficult either.

It's about 90km from Ngurah Rai International Airport (Denpasar) to Medewi, which would take you roughly 3 hours by car, traffic allowing.

It's worth noting, though, that the roads between Denpasar, Kuta, Seminyak, and Canggu are quite congested and often gridlocked. If you hit a jam, you could easily double the amount of time it takes to get you there.

You can reach Medewi by public bus (cheap but slow), taxi (convenient but costly), or by renting a motorbike/scooter locally (cheap and convenient).

For those of you wanting to take a taxi, locals prefer and appreciate for you to book with a Balinese/Indonesian taxi company like Bluebird or GoJek, to help support the local economy. Uber and Grab operate on the island but, as the low-key aggressive signs along the road will also tell you, travellers are discouraged from making use of them.

In our experience, taxi drivers at the airport can be extremely forceful (though they were all quite polite, the sheer amount of people approaching us offering taxi services was overwhelming and WAY more over-the-top than any place we've ever travelled to). On top of that, even pre-booked taxi app driver will often try to negotiate a higher price than what's quoted on the app. For these reasons, we definitely recommend asking your hotel to arrange an airport pickup for you in advance, so that you're guaranteed a fair price and less stress.

For those looking to travel by bike, as we did, you can easily find rental scooters and motorbikes in every major town in Bali.

We rented a custom 150cc motorbike in Canggu for 150,000 Rupiah/day (approximately $10) and had a whale of a time driving along the coast to Medewi — taking the back roads wherever possible, driving slowly, and enjoying the spectacular landscape of rice fields, jungle-topped hills, and glimpses of the sea. A total adventure, one that only added to our overall enjoyment of our Medewi surfing trip.
---
Have a question about planning a Medewi surfing trip? Leave a comment below, or pitch it to the community of extreme nomads in our FREE Facebook group, and we'll dole out some advice (and maybe also some cat memes).