Looking for a 10 day Bali itinerary that features the island's wilder side?
And when we say wilder, we mean a little more palm trees and coconuts and a little less tequila slammers and topless dancers. Just FYI.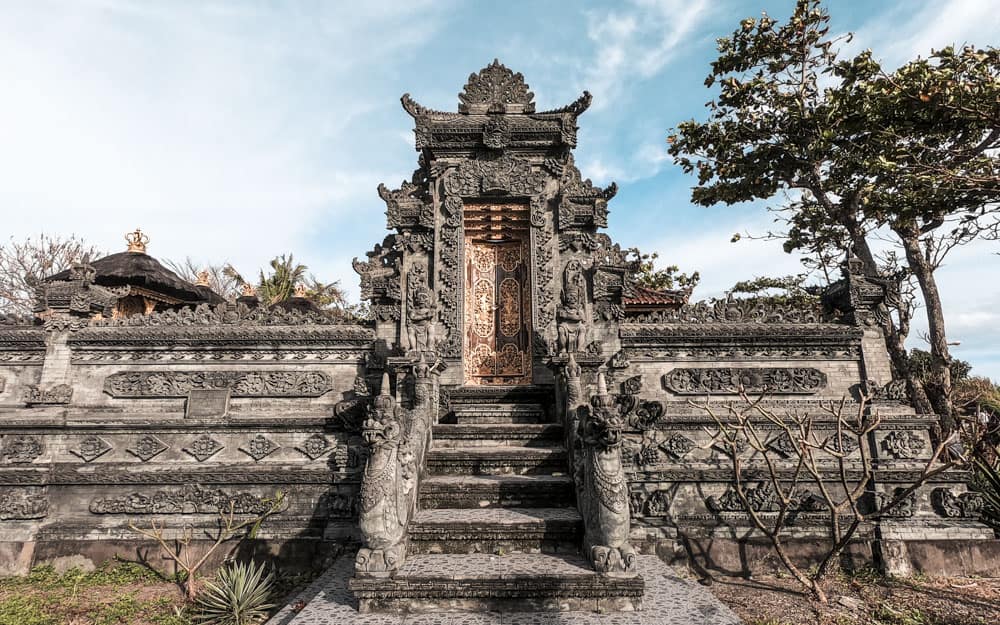 NEWSFLASH:
Bali is the stuff of an outdoor adventurer's dreams.
From diving at the vibrant reefs to surfing those perfect Indo waves, hiking volcanoes to biking the hairraising jungle trails, the island is bursting at the seams with wild activities.
So when we scoped out a couple of seriously discounted flights to Bali, there was a resounding HELL YAAASSSSS!! from me and Jim.
We spent a sweet stretch of days on the island, packing in the all the outdoor adventures and adrenaline sports that we could. The slightly outrageous 10 day Bali itinerary that you're about to sink your teeth into is a product of our mad-as-fook time there.
Minus the part where Jim got slapped by a one-handed monkey.
Actually, never mind, that part gets included too. Because how could I not tell you guys that story?!
But for now:
We'll include all the info you need about where to go to experience the coolest outdoor adrenaline activities that Bali has to offer, as well as additional things to do in each area, accommodation tips, and more.
We've also stuck in an entire section of alternatives for the 10 day Bali itinerary that we've curated, so you'll have inspiration to create the best schedule possible for your specific interests.
But before we tuck into the main event, let's go through a few important tidbits of info about your upcoming trip to Bali:
Who's this 10 day Bali itinerary for?
In a nutshell:
This itinerary is geared towards adventure travelers looking to get their fill of Bali's outdoors and adrenaline fuelled offerings.
While there are practically a zillion adventurous things to do in Bali, this itinerary is the one we followed on our first trip when we were looking to tick a couple must-dos off the ol' bucket list.
Now, it's worth saying that what suited us at the time might not end up being the ideal case for you:
For example, Jim and I made the trip to Bali this time specifically to improve our surfing skills, so this 10 day Bali itinerary is pretty surf-heavy — as you'll see in a minute.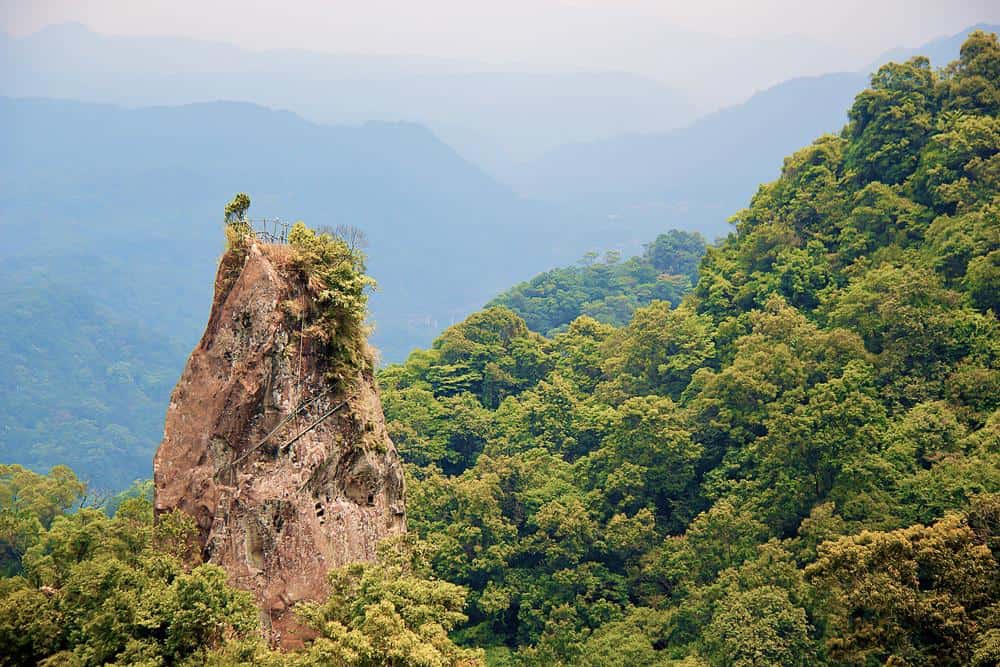 On top of that, we're slow travelers and we generally don't like to move around every single day. In that respect, we lingered in places for a couple days at a time where we could (moving around every single day REALLY wears us down).
Now, if you're pushed to see more places within your 10 days, you'll want to keep an eye on our 'alternatives for your 10 day Bali itinerary' section at the end, where you can find all the additional spots which we reckon are 200% adventure worthy- but that we didn't make it to this time around.
So take it all with a pinch of salt and use our 10 day Bali itinerary as inspiration and a rough guide for creating your own.
What are the most adventurous things to do in Bali?
Faaaaaack, where to start?!
The awesome thing about Bali is that there are truckloads of adventurous things to do there, like hiking volcanoes, surfing magical left handers, trekking along the rice terraces and to hidden waterfalls, paragliding over the countryside, diving at coral reefs, motocross, and downhill mountain biking.
Renting a scooter in Bali is quite an adventure in itself — and is honestly a must-do if you're keen to get out there and explore the island to its fullest.
The 10 day Bali itinerary you're about to get stuck into is going to go through all of them. And more. Because we're good like that.
Here we go:
Your completely awesome (and INSANELY adventurous) 10 day Bali itinerary
Days 1-3 Surfing in Canggu
For us, Canggu was always going to be the first stop of our trip since we had been invited to stay and surf with the awesome crew at Surf WG Camp (more on them in just a sec!), which is a super chill little place located in a quiet part of Canggu's suburbs, Berawa.
Not only is Canggu home to some of the best surf in Asia and some of the island's most epic sunrises, but the quirky lil' town is hand-down one of the top places to visit in Bali, too.
If you aren't a seasoned surfer, 3 days is just the right amount of time for you to complete a beginner's surfing course- which is exactly what we did (if you're keen to know more about it, check out our monster review of 19 different surf camps in Bali, including the one that we stayed at!).
On the other hand, if you are an experienced surfer, 3 days in Canggu will still be an ideal amount of time to allow you to explore and get familiar with all the breaks in the local area.
Things to do in Canggu
Our daily schedule involved breakfast at the camp followed by 2 surf sessions- one early morning and one in the afternoon- which saw the camp's instructors drive us in their dedicated van to wherever the best waves were at the time/day.
Berawa was our 'home' spot, which has a sand bottom beginner-friendly beach break and slow breaking waves- perfect if you're hoping to build up your surfing skills during your 10 days in Bali.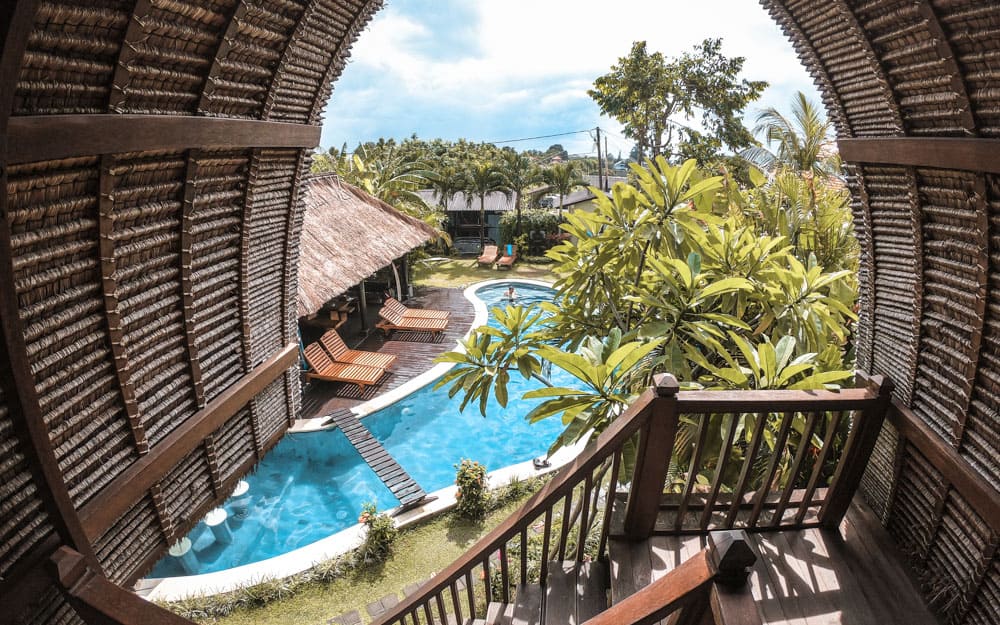 This schedule also gives enough time to head out and do some solo exploration in between your sessions and in the evenings- which we had totally free everyday.
There's so many interesting things to do in Canggu (psssst: full article on that coming up real soon!) so our spare time was filled up with activities like exploring the black sand beaches, checking out the seriously good surfers down at Echo Beach, hitting Canggu's skate bowls, visiting the local markets (Samadi Market on Sundays is well worth a visit!), and scouring the local shops (thrift shops! Board shapers! Zero waste shops! BIKINIS EVERYWHERE!!!).
If you're the sorta person who likes to have some guidance when it comes to visiting a new place, check out this boho inspired tour of Canggu, which is totally customisable and promises to include all of the local highlights.
Where to stay in Canggu
If, like us, you're there to surf, there's a huge amount of surf camps offering their own accommodation and surfing packages. We thoroughly recommend the camp we stayed with, Surf WG Bali Surf Camp.
Their accommodation is simple but very sweet, their gardens are incredible, there's a private pool, an on-site kitchen with awesome homemade food, and most importantly- they offer great value packages with daily surf sessions and trips.
Now, if you prefer the privacy of your own pad, Canggu is also full of beautiful private villas which can be rented out either room by room or as the full monty.
For our extra nights outside of the camp, we rented the stunning Villa Ivy which is complete with 3 bedrooms, a spacious kitchen, an insanely well cared for tropical garden, and a pool.
Tips for your time in Canggu
We loved our time in Canggu- and if you're looking to experience that eclectic hippy vibe and buzzing social scene that Bali's famous for, Canggu is the place to do it.
But we gotta admit:
The traffic and amount of people became a little hectic for us after a few days, which is why we made plans to set off on a road trip through the countryside very shortly after (info on that coming up below!).
Day 4 – Wakeboarding in Denpasar and snorkelling in Uluwatu
Our first mini trip within our trip (is that what they call… tripception?) was to Bali Wake Park; one of Southeast Asia's biggest and best cable parks– and one that Jim was all but losing his shit to try out.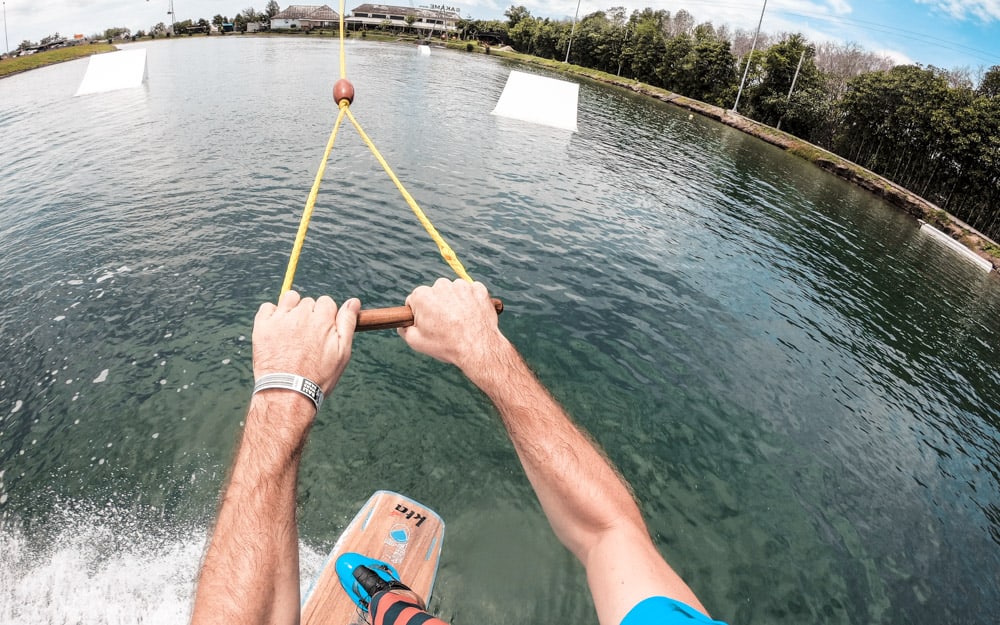 Setting off from Canggu in the morning by scooter will have you down to the wake park in 45 minutes or so, depending on traffic (it took us a wee bit longer since we had to make a stop off en-route at the Thai consulate for my visa application).
Bali Wake Park is located on the airport road, so you do have to navigate a slightly hectic highway for a couple of minutes (be prepared for this if you're driving yourself!). But once you're there, everything else is a breeze.
The park is a full sized anti clockwise cable complete with an impressive array of both German made and locally crafted obstacles. They've got wakeboards, kneeboards, waterskis, and monoskis available to borrow for free when you purchase a pass.
Passes are sold for 1 hour, 2 hours, daily, weekly, monthly, and annually (at $25 for the first hour, it's definitely pricier than most of Asia's cable parks- but the quality of the course makes up for it).
You'll also have the option to grab a pass for the kid-friendly aqua park or the infinity pool, and there's a full restaurant and bar operating on site.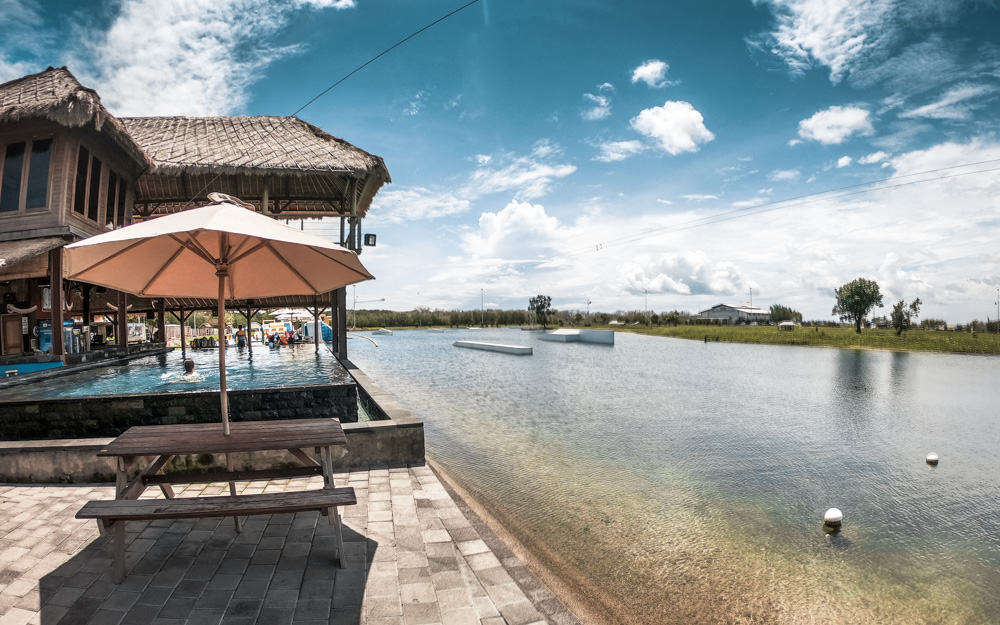 Things to do near Bali Wake Park
One great thing about the cable park here is that it only takes 15 minutes to hit Sanur, Kuta, or Nusa Dua, three mega popular tourist stop-offs that might already be on your list.
The easterly facing beaches like Sanur and Nusa Dua are pretty different to the ones you'll be used to in Canggu (since the west of Bali is volcanic, the beaches there are composed of coarse black sand, whereas the eastern facing beaches have soft yellow sand and blue water) and strolling along the beach can make for a nice chill come-down after the intensity of your wake sesh.
We decided we were most keen to get on the road to Uluwatu, since we'd heard that there's an awesome place to have a drink up on the cliffs overlooking the surf spot.
And since we were only 40 minutes away from Bali's most southerly hub, we didn't need much convincing to get back on the bike and head down.
Things to do in Uluwatu
Uluwatu has a pretty different vibe to the congested streets and packed cafes of Canggu. Everything is spread out down there, with miles of hilly roads winding through the jungle, interrupted here and there with a warung or a handful of surf shops- all of which eventually lead to the ocean.
One thing we would have loved to have done in Uluwatu- had the wind been in our favour- was to go for a tandem paragliding ride over those crazy cliffs. How cool would that be to see the island from a bird's perspective?! If flying is your bag, check out the awesome selection of paragliding experiences in Uluwatu with our partners. We've also got a whole section on paragliding coming up below!
Uluwatu Temple is a must-see down these parts; it's perched dramatically on the edge of the cliffside, and is included in the list of Bali's sad kahyangan (the island's 6 holiest Hindu temples) which are said to bring spiritual balance to the island.
Nearby, you can dip in the beautiful clear water at Suluban Beach. The little beach is only reachable by trekking down a long set of stairs and passing underneath a cave, where you'll then find a small sand and coral covered cove which is sheltered from the wind and waves.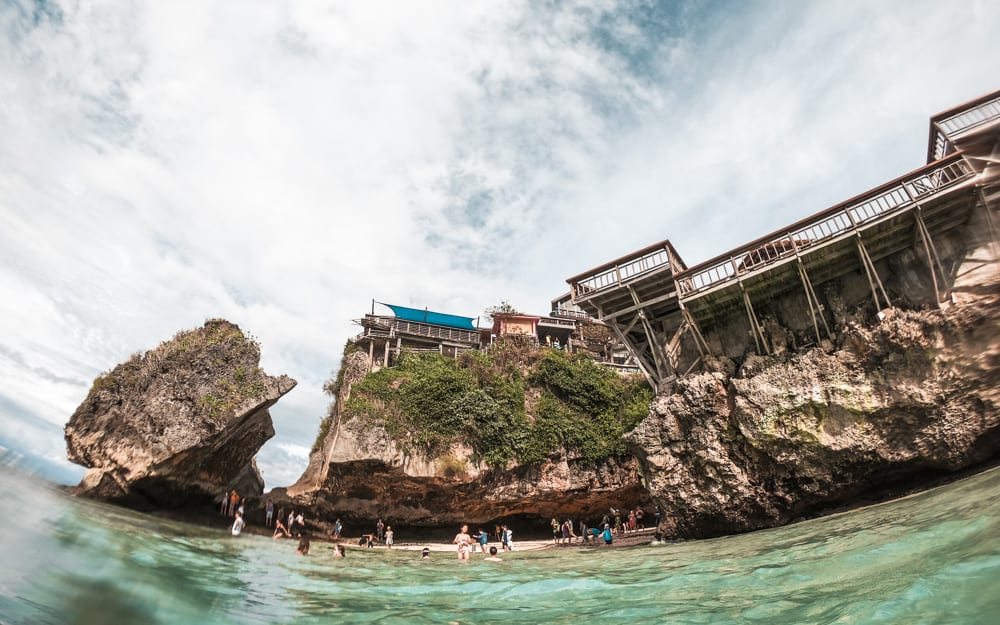 We took a dip in the tide pools and swam near the edges of the reef; there were a few clever people who'd brought their own snorkelling mask with them (they must have anyway, because we didn't see anywhere to rent them) and judging from the clarity of the water and the close proximity of the reef, this should be a nice place to snorkel.
Where to stay in Uluwatu
During our visit, we actually made the call to drive back up to Canggu that same evening- but if we had the choice to do it all over again, we would have stayed in Uluwatu for the night and driven back up the next day.
While we were down there, we spotted a bunch of beautiful surf style guest houses, like Padang Padang Breeze, and boutique hotels with the most incredible views, like De Sapphire Cliff Villa by Danapati or- if you're looking for real luxury- the outrageously cool Suarga Padang Padang.
Tips for your day trip to Sanur and Uluwatu
Downloading offline maps in your Google Maps app is an absolute life saver! We used it for each and every leg of our journey, including the trip through the mad windy roads between Denpasar and Uluwatu- and back to Canggu.
If you're in need of some more details about Uluwatu, check out this detailed guide for awesome tips and ideas for your stay.
Day 5 – Surf trip to Kuta
Once we touched back down at our temporary base at Surf WG in Canggu (where we had left all of our stuff while we went for our jaunt to the southeast of the island) we were keen to get back on the surfboards.
Since Canggu was looking a little windy, our guides decided to plan a day trip down to Kuta, where they were confident there'd be better conditions.
Having heard stories about Kuta (loud, super touristy, and the epicenter of lout-like behaviour) we hadn't intended to spend much (read: any) time there.
But when we arrived on Kuta Beach at 7.30am, we were pleasantly surprised:
Apparently, hitting the popular beach in the early morning means you'll totally beat the crowds- we were the only ones surfing on our part of the beach when we arrived! And with a safe sandy bottom and soft, easy rollers, Kuta's early morning surf offerings proved to be worth getting up for.
Things to do in Kuta & tips for visiting
We chose to limit our Kuta experience to the beach, so surfing and slurping coconuts were are main priority. But Kuta itself is a hive of tourist activity, so if you're keen to do some haggling at the market stalls or to duck into some craft shops, there's plenty of opportunity throughout the town.
My honest advice though?
There are nicer places to shop (Ubud) and eat (Canggu) and quieter, less crowded places to hang out (like, anywhere else in Bali. Literally.) so after our surf session we decided to hit the road and make our way back to Canggu, where we were set to prepare for the next highly anticipated leg of our journey:
The road trip!
Maybe it's because we've been living in the middle of nowhere in Thailand for the past 18 months, or maybe it's because we're just goddamn antisocial, but after 5 days of schlepping around Bali's busy south, Jim and I were SO ready to get on a motorbike and drive far, far away.
Preferably in beautiful nature.
And also preferably still somewhere that sells cold bottles of Bintang.
Day 6-7 Beginning of road trip: Surfing in Medewi
Now, Canggu is an awesome place to start your road trip, since there are sooo many cool bike shops renting out everything from off road enduro KLXs to custom motorcycles.
After comparing prices, rental policies, and availability, we chose a custom 150cc motorbike and agreed on a three day rental, which we got for 150,000 Rupiah/day (about $10; a pretty good price, we reckon).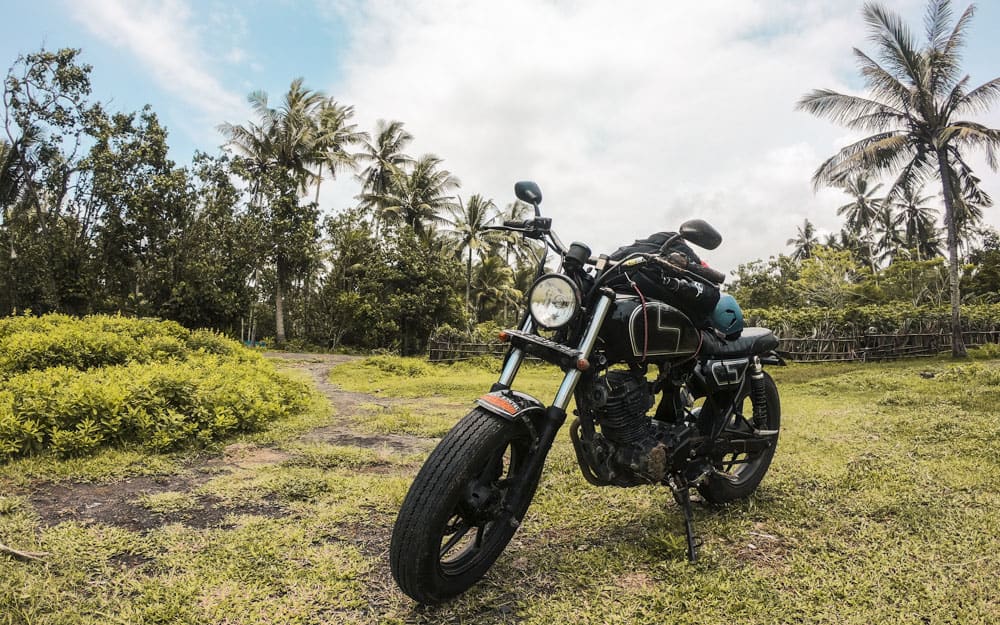 Starting and finishing your road trip at the same point will also allow you to leave behind some of your things and save you from bundling everything you brought onto your motorbike! In our case, Jim was able to store his wakeboard in Canggu, which was a lifesaver.
For our first port of call, we picked Medewi; a small fishing town on Bali's west coast which is known to be the home of a phenomenal surfing community and one of the longest lefts on the entire island. YASSSS!
Set off from Canggu around 7am and you can be in Medewi by 9, easily.
Driving through the back roads will take you a lot longer, but brings a whole other level of adventure to the journey- think river crossings, rice terraces, and tiny authentic villages. That said, the main road is actually pretty beautiful itself; traffic is minimal, the scenery is great, and the road quality is fairly good all the way.
(We may have had a minor 'crash' driving through some of the muddier parts of Bali's backcountry, which might have involved a broken wing mirror and Jim's phone taking a magnificent dive in the rice field's waters. Maybe. Not pointing any fingers here. But if you're going to use your phone to navigate, make sure it's safely locked in…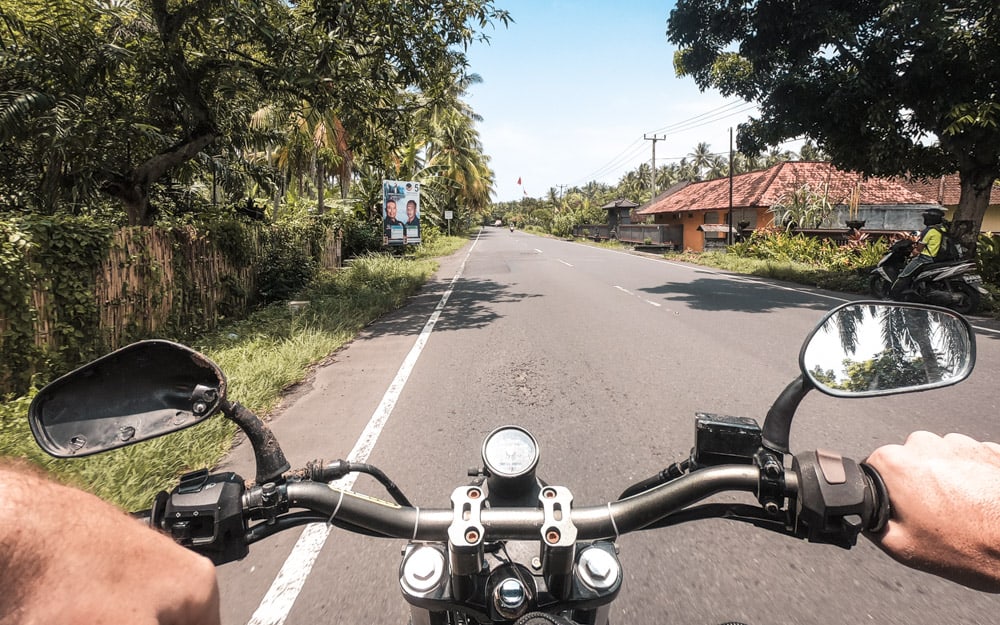 Things to do in Medewi
Medewi. Is. Perfection.
At least, that's the feeling we left with having stayed there just two short days.
It's peaceful and beautiful; the food is cheap, the beer is cold, the people are friendly, and the surf was the best we'd seen in Bali so far.
All things considered, I'd easily put Medewi at the top of our 'places in Bali we could actually see ourselves staying in long term' list. Yeah, it's not such a catchy one, so I tend to keep that list to myself (along with my list of 'clever things I'll say to Russell Brand when we inevitably become friends in real life').
Punch 'pantai Medewi' into Google Maps and you'll be taken straight to Medewi Beach, where- Mama Nature allowing- you'll find bangin' sets of clean waves, colourful fishing boats parked up on the sand, and a couple of local warungs to fulfil your nasi goreng fixation.
Surfboard rentals are easy to come by at the spot; we rented from a tiny locally run place called Mado's Surf Shop, and Mado himself joined us for a session as our local spot guide (which we highly recommend if you're not an experienced surfer, since there are a lot of rocks underwater and it really pays to know your way around).
Post surf session, there isn't much around town in the way of a social scene; no big bars or clubs around here (which was perfect for the mindset we were in at the time).
So instead:
Stroll along the beach and explore the endless fields of palm trees; then catch the sun setting over the ocean. Grab yourself a wholesome dinner at one of the local restaurants and kick back with a couple cold 'uns.
You've got a big day tomorrow, y'know.
Where to stay in Medewi
We had a peachy time staying at Medewi Beach Inn, which is perfectly located right at the surf spot.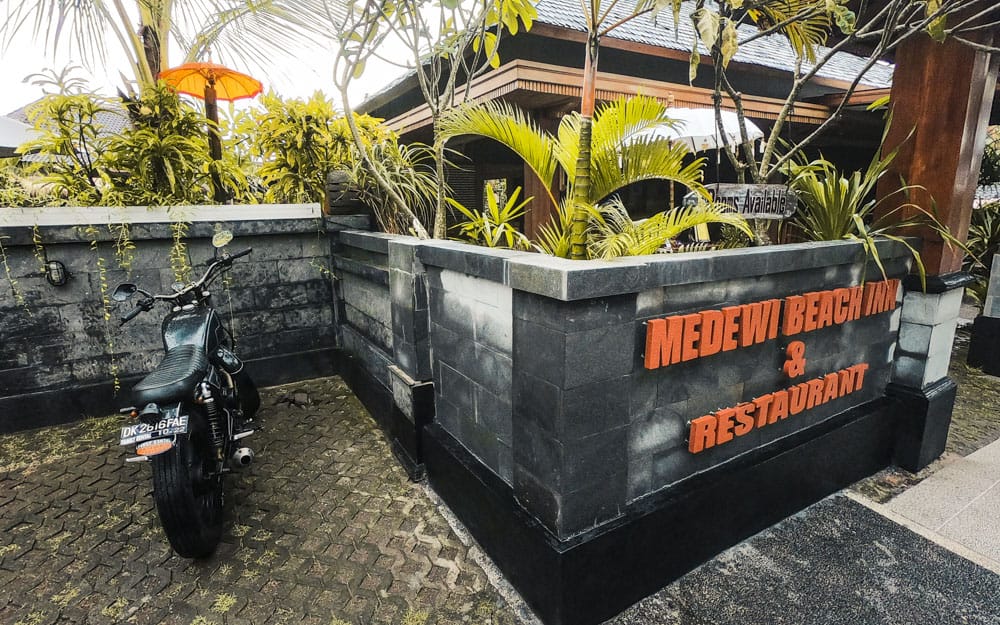 Private rooms with an en suite bathroom were clean, comfy, and affordable, and also gave us access to the swimming pool in their private garden downstairs. The owner, Edi, is a surfer too, and was keen to pass on local spot info (he even kindly invited us to join him for a session at his favourite right hander down the road).
Alternatively:
Our friends who regularly visit Medewi sing endless praises for local homestay Pink Barrel, which is located right around the corner from the spot and features beautiful bungalows with a private pool overlooking the rice terraces. Sadly, they were totally booked out for the entire month when we inquired with them- but we'd definitely look into staying here next time.
Day 8-9 Hiking/trekking in Ubud
Once you've maxed out your saltwater sessions in Medewi, it's time to hit the road once again and explore Ubud, Bali's creative, spiritual, and wellness center.
As for the drive:
The main road from Medewi to Ubud is great quality and will get you from A to B in about two hours. We massively enjoyed this stretch of road, as we got to first pass by a gorgeous stretch of the wave battered west coast, followed by a dip inland where the landscape changes so dramatically, you feel like you might have been transported to a totally different island (think rice terraces and real deal jungle).
Things to do in Ubud
While many a tourist heads to Ubud to work on their yoga practice, Ubud's also got plenty in the way of adventure and outdoorsy activities (and when you're done Indiana Jonesing, you can always double back and treat yourself to an insanely good massage at Ubud Wellness Spa, like we did).
Here's a few places to keep in mind:
The Campuhan Ridge Walk is a great place to start (which we would have done, had I not sliced up my feet on the rocks in Medewi and refused to walk anywhere except towards food and/or beers. Don't be like me, people, wear booties when surfing near rocks!).
You can access the start of the trek on the outskirts of Ubud's center, where you'll pass by the crazy elaborate Pura Gunung Lebah temple and start your mellow hike up to the ridge, where you'll be able to follow a small dirt path along the top of the hills and enjoy some sweet views of the surrounding countryside. Or so I've heard. Once again: thanks for nothing, rocks!
If you're digging the mini-treks, you've also got the famous Tegalalang Rice Terraces just 20 minutes outside of Ubud, which (although pretty damn touristy) are superbly beautiful.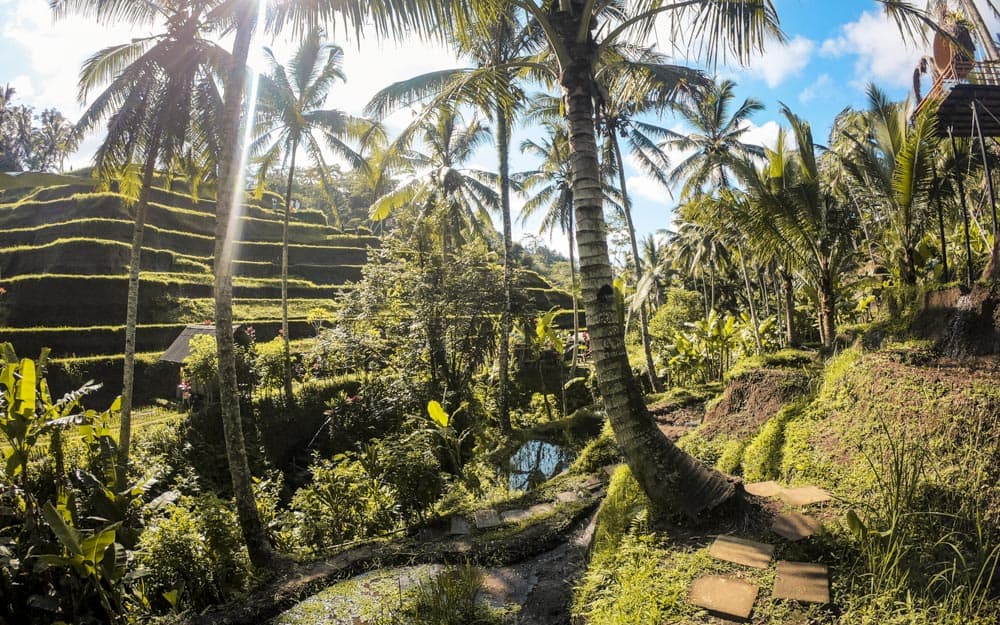 You'll pay just 10,000 IDR (<$1) for an entry ticket and you'll be free to wander around the trails of the farmlands. Except for, y'know, some trails, which you need to pay a compulsory donation to access. Apparently. Even though I'm pretty sure 'compulsory' and 'donation' are supposed to be mutually exclusive.
And of course:
I wasn't going to let Jim drive us out of Ubud without visiting the Sacred Monkey Forest, which we did- and thoroughly enjoyed- including the part where Jim got 'almost slapped' ("it doesn't count if he didn't land it!" -Jim, when he got slapped) by a monkey WITH ONE GODDAMN HAND who was politely told that he could not ransack our bags.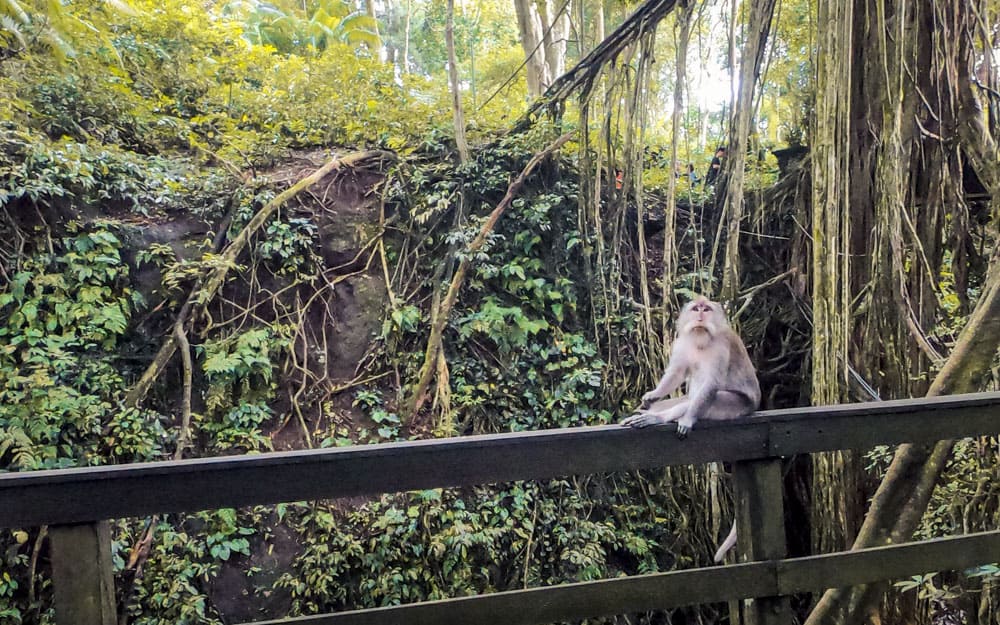 Did it make our trip to the monkey forest all the better? Definitely. Does it contribute to Jim's stubborn insistence that he didn't actually get slapped? Most probably.
Where to stay in Ubud
Ubud is full of beautiful hotels, from luxury resorts to authentic home stays. We were on the lookout for somewhere cosy and cute (and with a good price tag, obvs), and we managed to snag the last room in the sweetest little guesthouse, Maple House.
At a bargain price, we had a private room with an enormous bed, access to their stunning swimming pool overlooking the rice fields and garden, and complimentary breakfast in the morning.
Oh and the massage place just down the road doesn't look like much of outside, but it is absolutely incredible. And with a really interesting, well traveled local at the reception if you're up for a chat while waiting your turn.
Tips for visiting Ubud
We love the informative guide written by Travarela about must-do things in Ubud for first time visitors.
Day 10 – Return to Canggu and depart for the airport
Final day of the road trip means heading back to your starting point to return your bike, and enjoy one final wind down before making your way to the airport (or ferry, if you're heading somewhere nearby like Lombok).
This is the housekeeping part, where you drop back the bike, pick up any bags you may have stored during your road trip, and organise a car back to the airport (which you can do through your accommodation, by yourself using an app like GoJek or Uber, or through our partners at 12go.asia).
Alternatives for your 10 day Bali itinerary
If you aren't gelling with a stop-off we've included in the 10 day Bali itinerary above (or if you're still on the hunt for more of the island's epic adventure offerings) here's some alternatives we'd recommend including in your own trip:
Diving
Bali and its outlying islands are home to some world-class diving sites, including the mega chill town on the eastern coast, Amed, and the Gili Islands which are just a short boat ride away.
That said, there are countless incredible dive sites all over Bali- so to limit yourself to just one or two places would be a shame. We have our eye on the incredible wreck dive in Tulamben Bay on Bali's northeast coast (check out pictures and read about the experience here).
If you've never done a dive before and you're ready to get started, we thoroughly recommend looking into a beginner's course somewhere with easy conditions. You can choose to take it slow with something like this Blue Lagoon beginner's dive experience, which isn't a full on PADI Cert and therefore requires much less time and money.
But if you're ready to go whole hog, Bali is also a fantastic place to get PADI certified, what with the abundance of awesome courses like this 3-day open water course at the Coral Triangle.
Volcano hiking
Trekking up Bali's volcanoes is a must-do in many adventure traveler's books. Mount Batur, in the northeast of the island, is currently the one that most people choose to hike (since its neighbour, Mount Angung, has a habit of doing that erupting thing that volcanoes sometimes do. Go figure).
The most popular activity of all is the epic Mount Batur sunrise hike which sees you scaling the volcanic face and arriving at the summit to catch the first rays of the day peeking up over the clouds.
You can combine your sunrise hike with overnight camping and picnics, a visit to the nearby hot springs, or a full-on jeep safari. There are a zillion awesome ways to experience Mount Batur that we want to try- seriously. Every. Single. One.
Cycling through the rice paddies
Doesn't get more quintessential Bali than this:
Two-wheeled exploring is sometimes best done without the roar of a motorbike engine in your ears- and this is especially true of Bali's peaceful rice fields.
Whether you set off on an organised cycling tour which promises to take you to all the very best spots, or if you choose to simply rent a bike yourself and take off for some solo exploration, the island's verdant rice terraces are the place to do it.
It's possible to join cycling tours (or sign up for private cycling experiences) all over the island, but we'd be particularly keen on checking out the Jatiluwih bike tour which takes you- not just around the rice terraces- but through the bamboo forest, jungle, and spiritual temple grounds.
Downhill mountain biking
For those that like the idea of two wheels but feel like ramping up the adrenaline factor, Bali's burgeoning downhill mountain biking scene will be right up your street. Head to the man made trails at Bali Bike Park in Pancasari, or sign up for a downhill MTB sightseeing experience which takes you riding down the volcanic slopes of Kintamani and eventually through Ubud's rice terraces and craft villages.
Kitesurfing
If you plan to head to Bali between May and September, you might be in luck to score some of the island's elusive wind and get out there for some kitesurfing action. Now truth be told, Bali is far from being Indo's windiest island- in fact you'll only get about a 60% chance of wind even in the peak kitesurfing season (and it typically only blows about 12-16 knots) but statistics aside, we've heard great reports from friends who spent time kitesurfing in Canggu, Sanur, and Nusa Dua alike.
Sanur is where you'll find 2 of Bali's main kitesurfing centers, Rip Curl School of Surf and the nearby Bali Kitesurfing club.
Pssst: fancy reading more about kitesurfing in Bali? Let us know in the comments!
Paragliding
Last but not least- and the adrenaline activity to trump them all- you can take to the skies with a tandem paragliding ride, with launches available in several locations across the island (check out these tandem paragliding experiences in Nusa Dua and in our favourite southerly town, Uluwatu).
For anyone looking to take things a step further, you can also book yourself in for your very own beginner's paragliding course, which would see you based in Uluwatu as you learn the essentials of piloting; or a complete PL-1 paragliding course on the beautiful Bukit Peninsula, which would see you earn your full PL-1 license before you leave the island.
When's the best time to visit Bali?
Bali is Asia's original digital nomad hub, long favoured not just by nomads, but by backpackers, surfers, and honeymooners for its low cost of living, tropical weather, beautiful beaches, and chilled out way of life. So whatever you interpret as the 'best' time to visit Bali will depend on what you prioritise in your travels and lifestyle. Is it beating the crowds? Scoring cheaper deals? Perfect weather?
The island's dry season, which runs between May and September, is widely considered the best time to visit Bali. During this time, weather is typically at its best with virtually no rain and sunny days all round.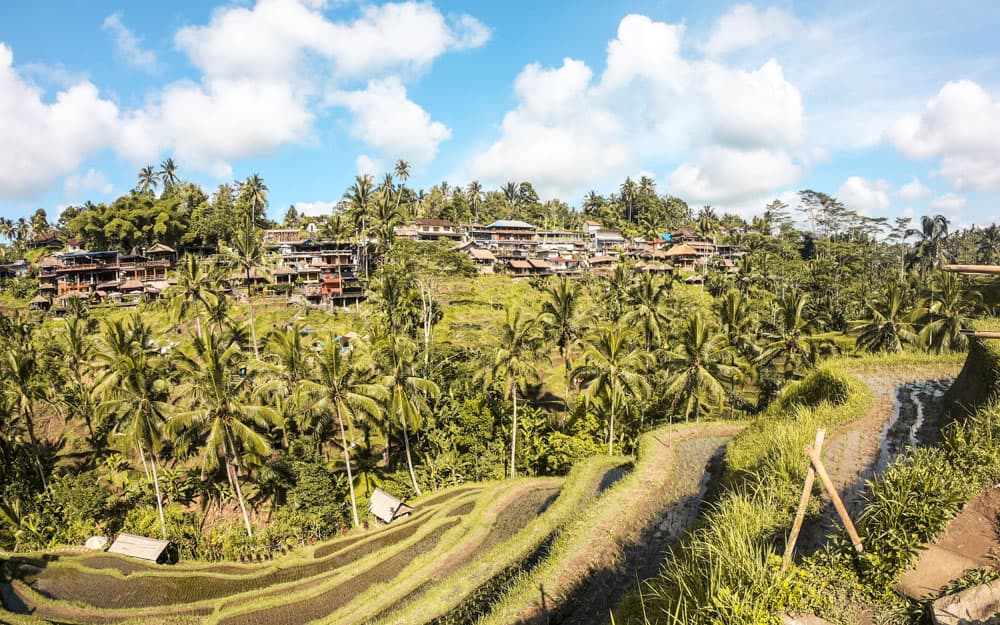 Now, our good friend Shane (hi Shane!) is a long term Bali resident and tells us that dry season basically equates to 'high season' for most Aussie travelers, since these months constitute winter down undah.
But that's not to say that the opposite months equate to a 'low season' for Bali's tourism, oh no siree bob. During the northern hemisphere's winter, the island fills with people looking to escape the frosty temps in their home countries. So basically, it's always high season in Bali. Always.
Here's the deal:
Bali's rainy season runs between October and April, a time which some travelers tend to avoid since they're hoping to score reliable sunny weather every day. That said, rainy season isn't like, 6 months of downpour- you'll still have plenty of sunny days mixed in with the rain (plus the regular showers tend to bring the temperature down a wee bit, which is nice).
Even, though there's still a lot of tourists around, rainy season can be a good time to visit if you're hoping to catch some discounted deals on accommodation or flights. For our trip in February, we managed to snag return flights for nearly half the normal price!
Getting around Bali during your 10 day trip
Here's the thing about Bali:
It's actually pretty big.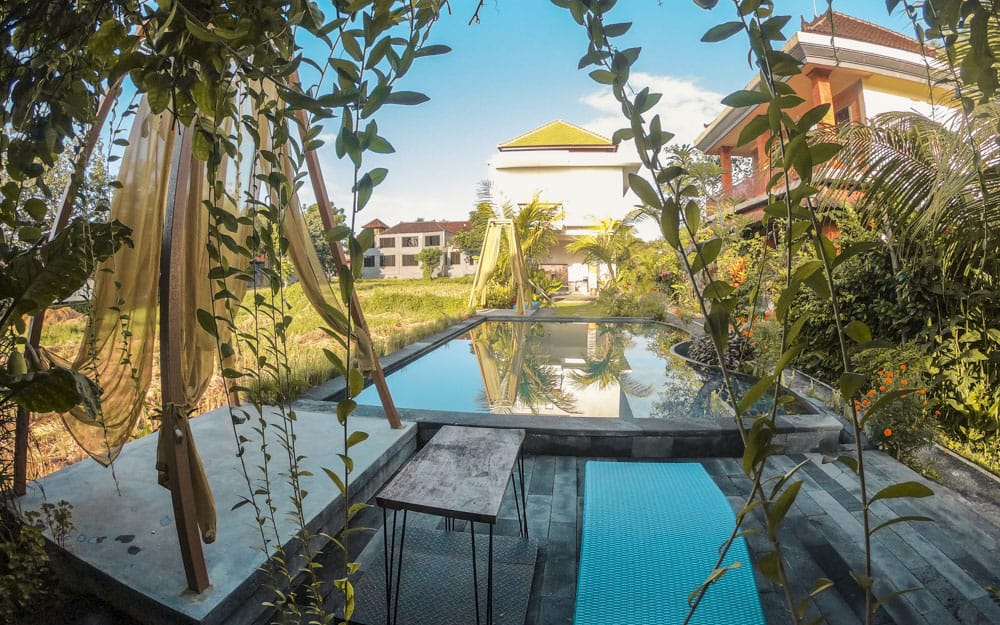 Here's the other thing about Bali:
There was never any real central planning when it came to the infrastructure and road systems around the island, and when you factor in the tourism explosion that it has experienced over the past 10-15 years, the state of the roads make traveling even short-ish distances kinda time consuming.
The road from Denpasar Airport in the far south to Canggu, for example, is just 20 kilometers; but you can expect that trip to take an hour easy thanks to the traffic jams and teeny weeny roads with, like, 500 people trying to get down them at any given time. Thanks for nothing, skinny roads.
Inevitably, you'll want to take a taxi from the airport when you arrive. The surf camp we were staying with organised for their driver to pick us up from the airport in Denpasar when we arrived at an unholy hour of the morning (thank you surf camp, thank you mister driver!) and took us straight to our cosy little room overlooking the rice fields.
Bliss!
Also, we were super grateful to have a driver organised, since it meant we could skip past the crazed flock of taxi drivers hounding travelers coming out of the arrivals gate.
Our suggestion?
Book yourself a driver in advance, or ask your accommodation to do it for you. We paid the equivalent of about $17 USD for the service and it was worth every single penny.
From there on out, the easiest, cheapest, and most convenient way for you to get around Bali during your stay is to rent a scooter/motorbike (since public transport isn't really a thing there). This should cost $4-5 per day for a basic scooter (more if you fancy going for a 150cc motorcycle or enduro bike, which are all available to rent locally) and means that you'll have maximum control of your schedule and freedom to explore wherever and whenever you want.
Now, in terms of driving in Bali:
It can be intimidating if you're not confident on a scooter. If you're not feeling it, you can always play it safe and take taxis everywhere- which is relatively affordable. Note that some locals feel strongly about supporting Bali's own taxi companies (such as Bluebird Taxi) since app-based taxi services like Go-Jek, Grab, and Uber are killing the competition. That said, the choice is yours to make (and the app-based taxis are super cheap and convenient).