Interested in hiking the Portuguese Camino? Adventure writer Anna-Lena shares her tips & experience.
I felt powerless and stuck in my job. I knew I had to change something because I didn't want to continue like that. I wanted to achieve more and I knew I could do better. But I didn't know where and how to start.
It was obvious that I needed a break. I knew I preferred to be outside, active and doing something for my health at the same time. I had heard about the famous pilgrimage walk in Europe a million times before; so I figured, why not start with that? And that's exactly what my partner and I ended up doing.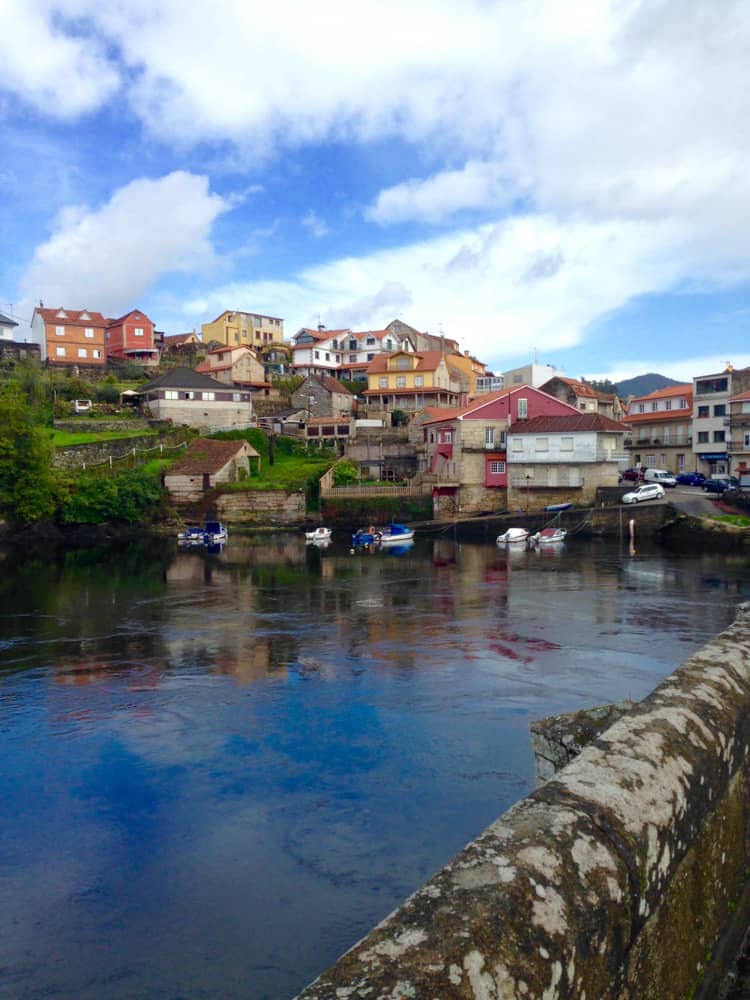 Flashforward:
One year later, I'm sitting here writing this article about our epic hike on the Camino Portugues.
Since doing it in April 2018, lots of people have asked me tons of questions about our experiences, and while I enjoyed answering them all and equipping them with valuable tips, some questions have been repeated over and over. So I thought: why not have an interview with myself?
So, below you'll find all of the insights about our journey on the Camino Portuguese (including a packing list, tips for choosing a route, and things to know before you go).
First, some general information about the route we chose:

Choosing a route for the Portuguese Camino
Some stats (for all the number fans!)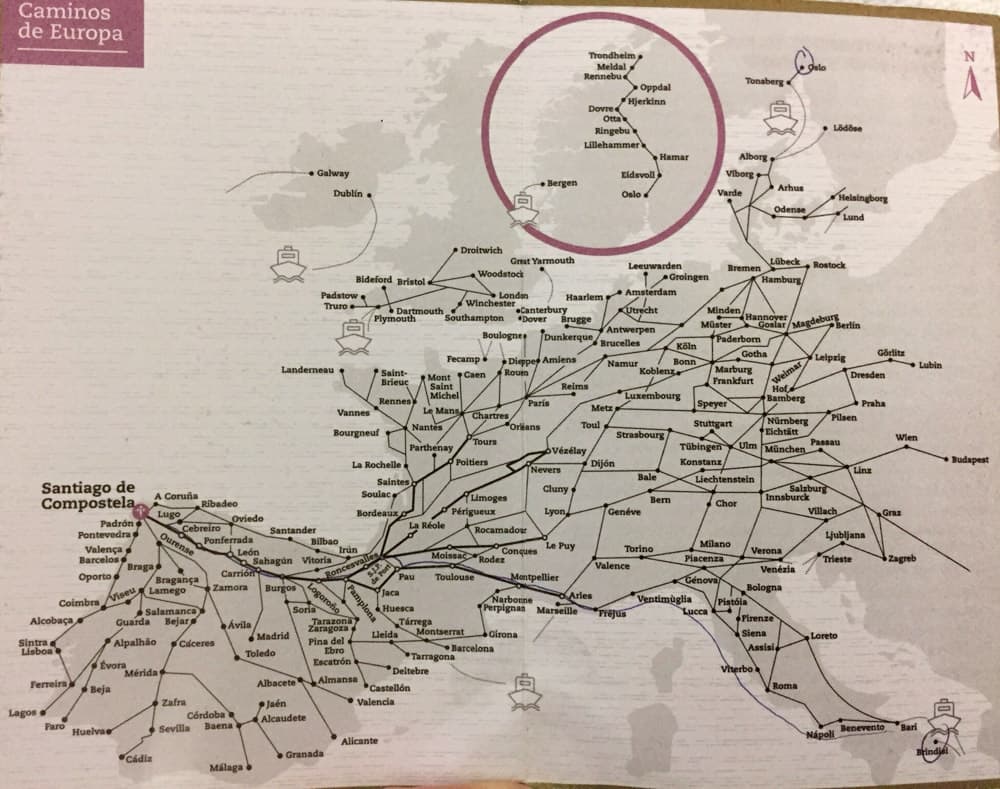 Did you know that there are thousands of different pilgrim routes within Europe?
In Spain alone, there are eight main treks which join in Santiago de Compostela: Camino de Madrid, Camino del Norte, Camino de Finisterre, Camino Portugues, Camino Ingles, Camino Primitivo, Via de la Plata, and of course the most famous one called Camino Frances.
I was amazed by the large number of options. You can even start your thru-hiking in Oslo (Norway) and Brindisi (Italy) walking across Europe to get to Santiago de Compostela. That would take you quite a few months!
We knew that the pilgrim trails were getting more and more popular year by year. In 2018, 327,378 pilgrims were welcomed in the pilgrim office in Santiago de Compostela. That's a big number! Thus, we decided to go during low season at the beginning of April.
But the question still remained: what route to take? A few requirements helped us to decide on one:
We had only two weeks of time to do it
We wanted the starting/ending points to be somewhere that's easy to reach by public transportation
We were prepared to hike a max. of 20-35 km per day.
Camino Portugues fit the bill.
We decided to start in Porto (Portugal) and take the coastal route to Valenca right before the Spanish border.
This trail along the coast officially opened in 2017. It was very new and we figured that not too many people knew about it–yet. This trek also has a rather flat elevation profile, with just some minor steep parts. It was perfect for us, as this was our first long-distance hike and we wanted to test our gear and capabilities first.
In Valenca, still Spain, both the coastal and central route will come together following the same trek until Santiago de Compostela.
We had planned to hike 260 km in 14 days. But in the end, we made it in 11 days.
Hiking the Portuguese Camino: An interview with myself
How did you prepare for the Portuguese Camino?
Well, we had booked our flight two weeks before we planned to hit the road. Now, you can imagine how much time we had to prepare (hint: not very much).
We ordered a guidebook (in German– English version linked below!) on Amazon with all the relevant information: tour description, accommodations with contact details and addresses and emergency numbers (here's the closest English version of the guidebook).
There was also just enough time to go for a 20 km hike in our home town in the Black Forest Highlands (South Germany) before we set off.
I have to say that both of us are quite athletic. Our hobbies are skiing, mountain biking and other alpine sports. We both are naturally in good physical condition, as we grew up with all these outdoor activities and we participated in team sports for a long time. However, we are definitely not professional athletes, rather recreational sport enthusiasts.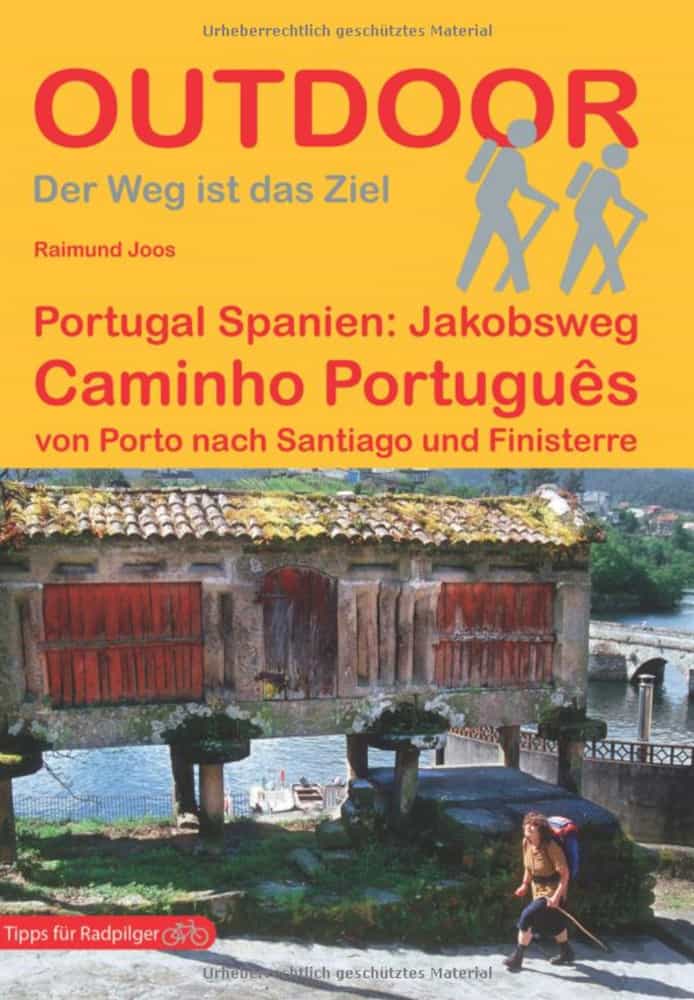 What did you pack for an ultra light rucksack?
That was actually one of the trickier parts (we repacked our luggage a couple of times before finally setting off!)
Here is our packing list:
Backpack: 25-30L hiking rucksack
Shoes: Flip-flops, sneakers, hiking/light trekking boots
Trousers: Jeans, hiking pants, shorts, leggings/pyjama/sport trousers
T-shirts: 2 dry fit sport shirts, 1 normal
Pullover: 2 dry fit long sleeves, 1 hoodie
Jackets: Rain jacket, light down jacket, rain poncho
Toiletries: Soap bar, toothbrush & paste
Other: Microfibre towel, reusable drinking bottle, sunscreen, blister pads, foot cream that prevents blisters, pocketknife, tissues/loo roll, silk sleeping bag, sunglasses, rain protection for backpack, hat, tubular bandana, mobile phone, diary
Cards & documents: Credit card for free international payments & withdrawals, travel insurance, guide book, pilgrim booklet
How does it work to be a pilgrim on the Portuguese Camino?
I recommend to get a pilgrim booklet. You can either order it online or get it wherever you start. We bought ours at the Cathedral of Porto (pssst: pay attention to the opening hours!).
With the pilgrim booklet, you collect stamps from your accommodation and all the places you visit. As long as you have one, you can benefit from all the pilgrim offerings:
Cheap accommodation: Pilgrim hostels/albergues (6-10 € during low season) in shared dormitory, with shared bathroom, very rustic
Pilgrim menu: Approx. 10 € for a 3-course meal
Receive the pilgrim certificate at the pilgrim office in Santiago de Compostela: Only if you have walked the last 100 km – that's why you have the stamps with the dates as a document of evidence.
While walking, follow the yellow shell and arrow signs. You will find them on every possible object: floor, stones, houses, bridges, walls etc. It is really easy! We never went the wrong way. It only gets tricky when you reach bigger cities. Either follow the other pilgrims, use your GPS device or ask the locals.
Fun fact: After a couple of days on the Portuguese Camino, we found out that the rays of the shell showed us in which direction to go (straight, right or left).
The locals are very friendly. Don't be surprised if people give you fruits and vegetables for free–or invite you over. It happened to us twice! An old lady ran out of her house when she saw us to give us apples and mandarins that she grew in her garden.
And do not forget to greet your fellow pilgrims in the right language depending on which country you are in: "Bom camino!" (portuguese) and "Buen camino" (Spanish).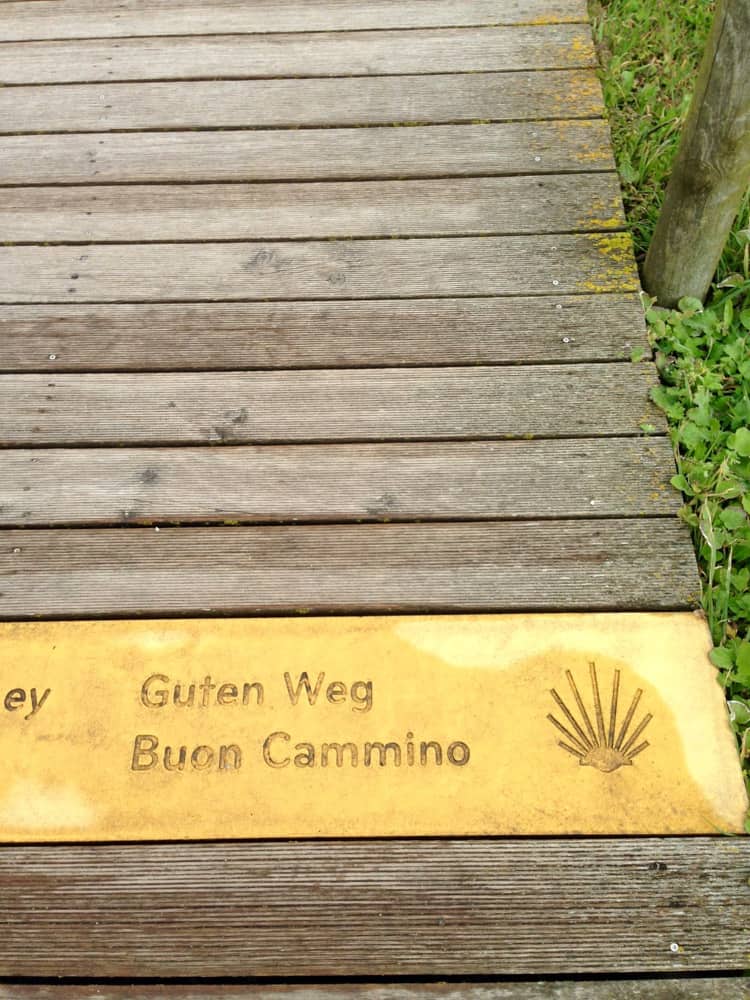 Did you face any challenges during your hike?
Every day! Let's just say, being bored wasn't a thing.
The physical pain was bothering me. I had five blisters in total. Three on one foot and two on the other. I tried to shift my weight on the less painful foot and ended up limping for a few days (which was a mistake, because the tendon in my ankle got sore). Additionally, my shoulder hurt from carrying the backpack. It wasn't heavy at all but I was simply not used to it.
According to the locals and the news, we also experienced one of the wettest springs in 50 years. The rain came down in sheets a couple of times for a few hours at least. We celebrated every day that we didn't get wet to the bone.
We also stayed in some great–and some less great–accommodations. After a long day of hiking, you just want to have a clean room, a comfy bed and delicious food to recharge your batteries, right?! Well, that was not always a given for us (once, we ended up in a room for smokers, so we slept in our whole hiking gear).
But despite facing all these challenges, I never wasted one thought on giving up.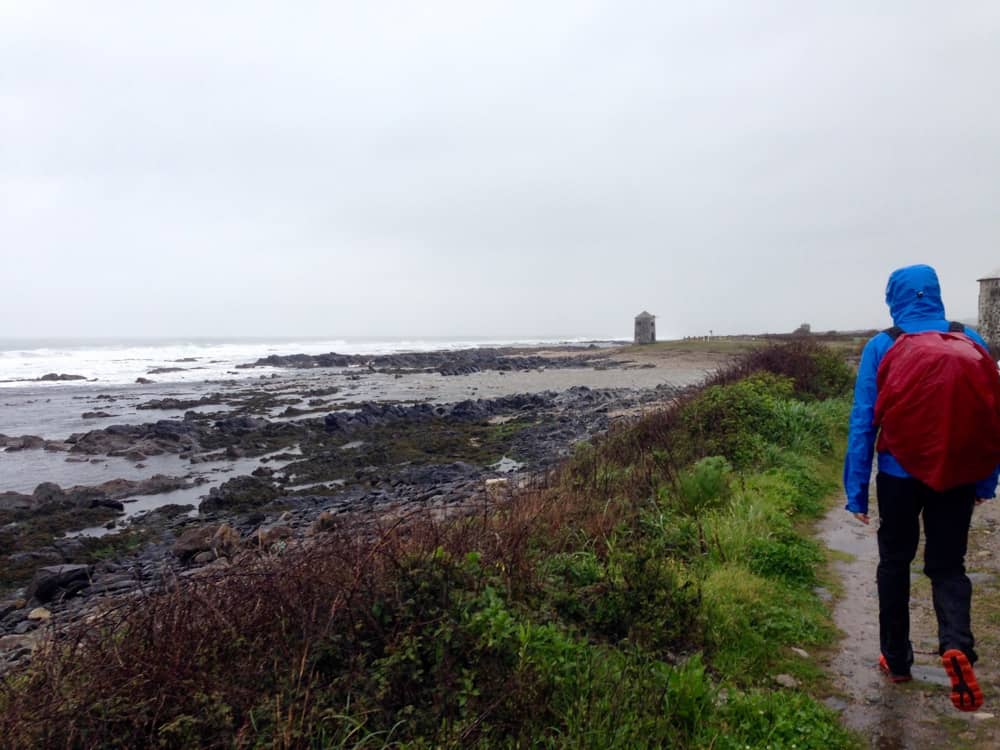 What were your best moments hiking the Portuguese Camino?
There were lots of great moments — and the overall experience was very special. Having just one goal for the day, which was to reach the next destination and keep your head in the game, was very liberating.
I also enjoyed being outside the whole day; breathing fresh air and falling pleasantly exhausted into bed at night. Other great moments were with interesting people we met hearing about their stories why they walked the camino.
Then there were these friendly encounters with locals like the old lady, buying our food from farmer's markets and seeing all these beautiful small villages and landscapes.
Lastly, I was very grateful to share this experience as a couple.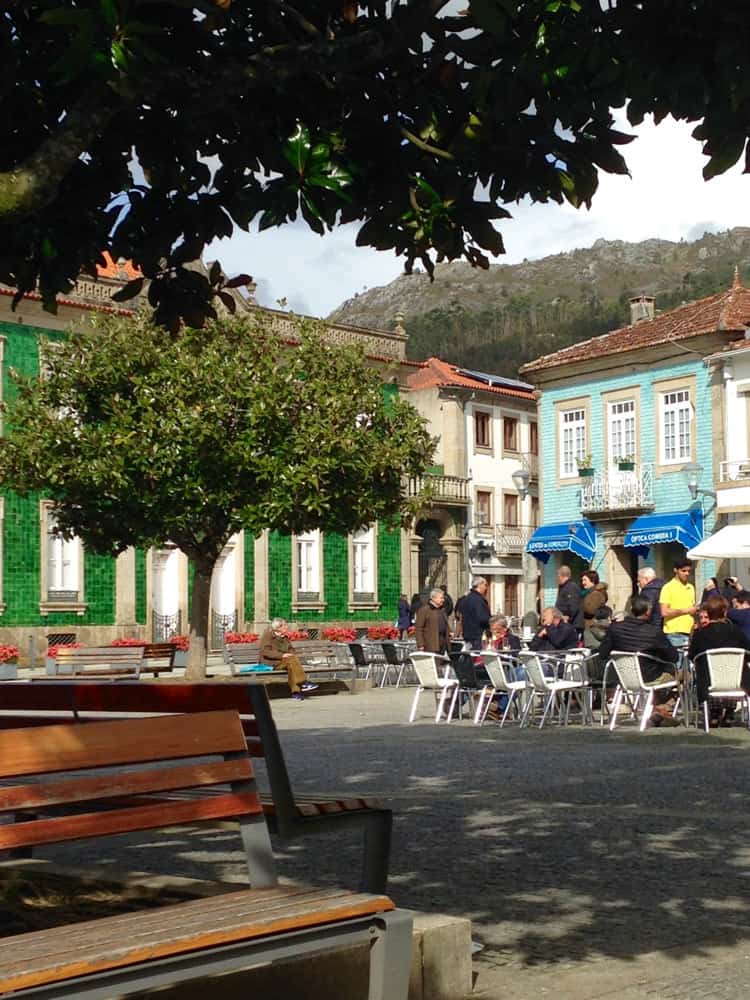 How was it doing the Camino Portuguese as a couple?
It was really nice to have someone you could rely on. On my worst day in terms of my blisters, my partner carried some of my luggage which helped me a lot.
It was also great to have a second opinion on different decisions and I loved sharing our thoughts, ideas and everything else that was on our mind with each other.
There were also days where we walked separately. It was fine for both of us because we knew that we were ok as a couple. We accepted that the other person still wants to do his/her own thing and we communicated well which is why it worked out perfectly.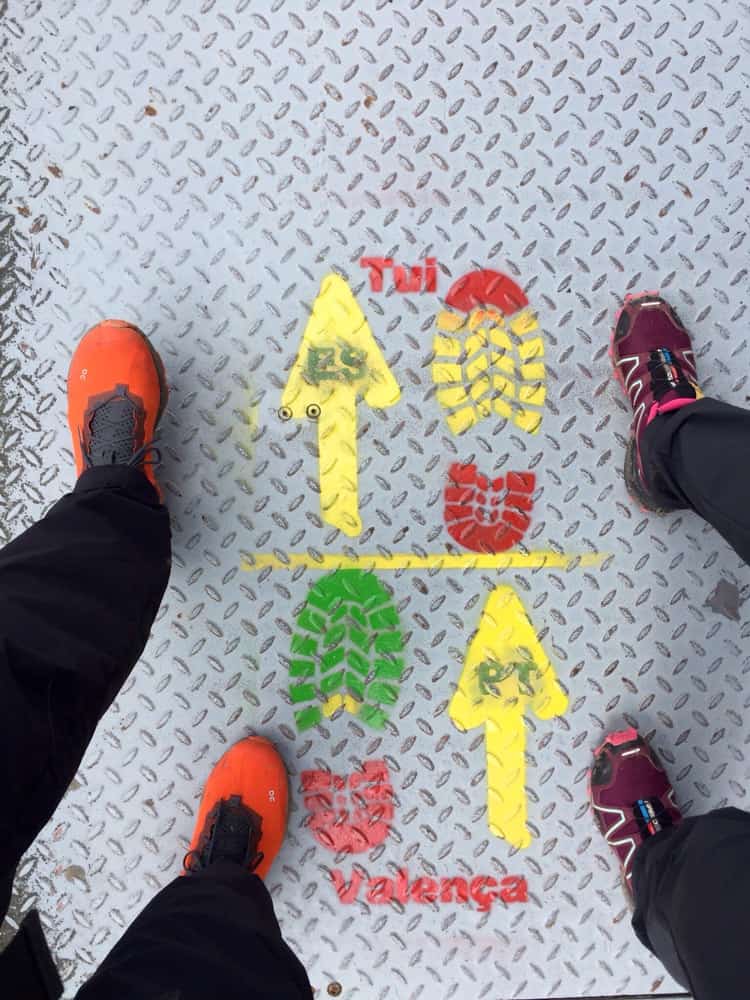 Any takeaways?
A quote from Albert Einstein puts it in a nutshell:
"We cannot solve our problems with the same thinking we used when we created them."
I needed to step back from work to regain my great mojo and laser focus. Suddenly, I knew what my next steps would be. This was really an 'aha' experience for me.
As soon as I came home, I rebranded by freelance business "words of motion" and focused on the outdoor, sports and adventure travel industry because these are my passions. It was obvious but I had just forgotten about it over the years due to the hustle and bustle of life. And I started to paint again, as I missed working creatively with my hands and designing tangible things.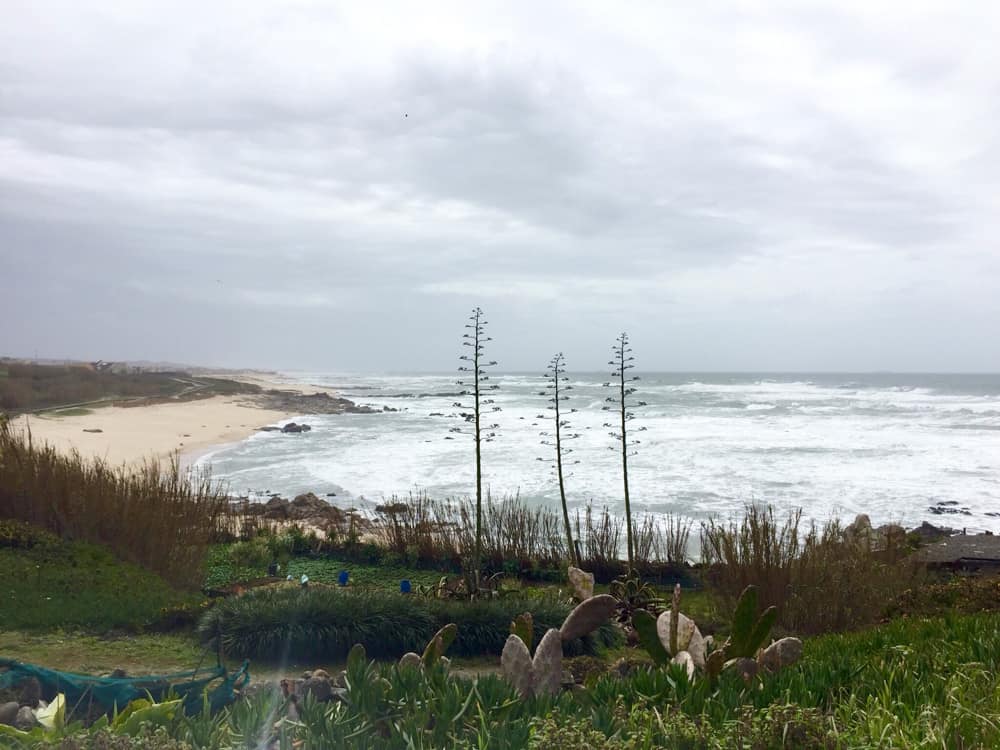 What would you do differently compared to last time?
Definitely choosing other shoes and getting a larger rain poncho!
What would be your trail name and why?
I recently read this article in the Outdoors magazine about the lessons learned of thru-hikers on the Pacific Crest Trail. They all had these amazing trail names that revealed something about their personality. So I gave myself a trail name as well. Mine is rather funny.
I am Hammie (aka a female hamster cutie) because I always had snacks in my backpack as an emergency food reserve. Anytime someone needed a biscuit or nuts, I had something to offer. Ta-dah! Like the magician who pulls rabbits out of his hat. My partner is still joking about this.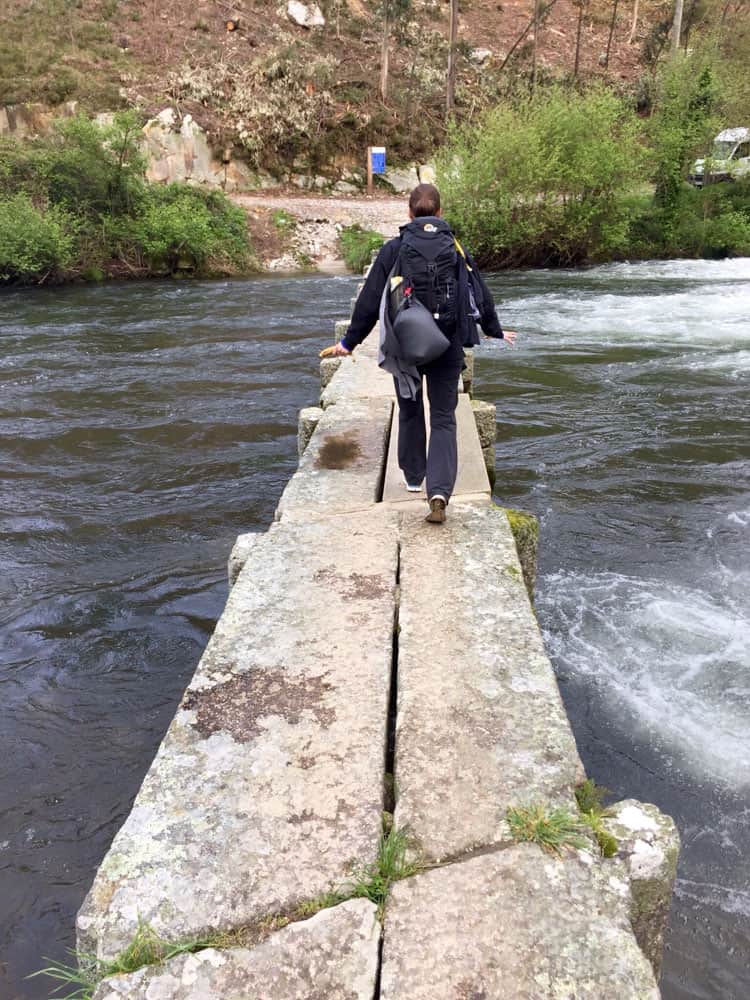 What will be your next big adventure?
The whole trip was so much fun and so refreshing that we are thinking about crossing the Alps or hiking one of the famous long-distance walks in the US, maybe the Pacific Crest Trail. Obviously, that requires more training and preparation time, but I like new challenges.

I hope you enjoyed reading this piece of content. If you have any questions about the Camino Portuguese, please reach out to me. Otherwise, I would be happy to read about your comments below.

Thanks to the Extreme Nomads team who gave me the chance to share my story with you. I really appreciate all the great work you do! Keep thriving!

Cheers,
Anna-Lena (words of motion)