Skiing is about feeling free, experiencing the snow dancing around you, and embracing all the different sensations you might have while skiing. You and the adrenaline in your blood are the focus of the situation.
Skiing consistently inspires reflection and perspective in me; therefore, I can say with certainty that for me, it is a complete experience!
However, because of the complexity of the sport, you shouldn't feel uneasy while you're down the slope, which is why your bibs should be warm and, let's not forget, waterproof.
I will give you my best picks for bibs in this article because I am aware of how diverse the market is and how challenging it may be to select the ideal bibs. Still, there are a few things you should look for when trying to find the perfect bibs, but we will talk about this later on.
Let's lace up our skis and get going!
Most Popular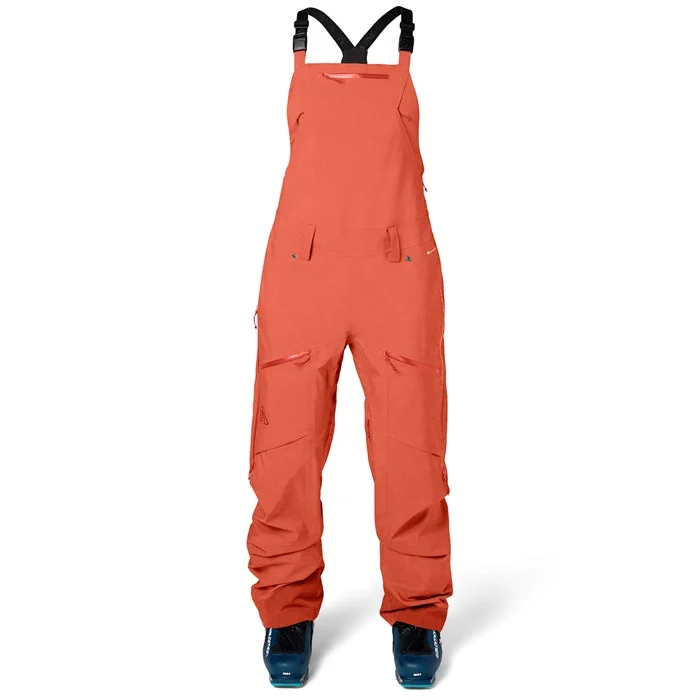 Flylow Foxy Bib
Weight:

 

764 g
Shell:

 

Recycled Tactic 3L stretch fabric
Insulation:

 

No
Pockets:

 

5
Budget Friendly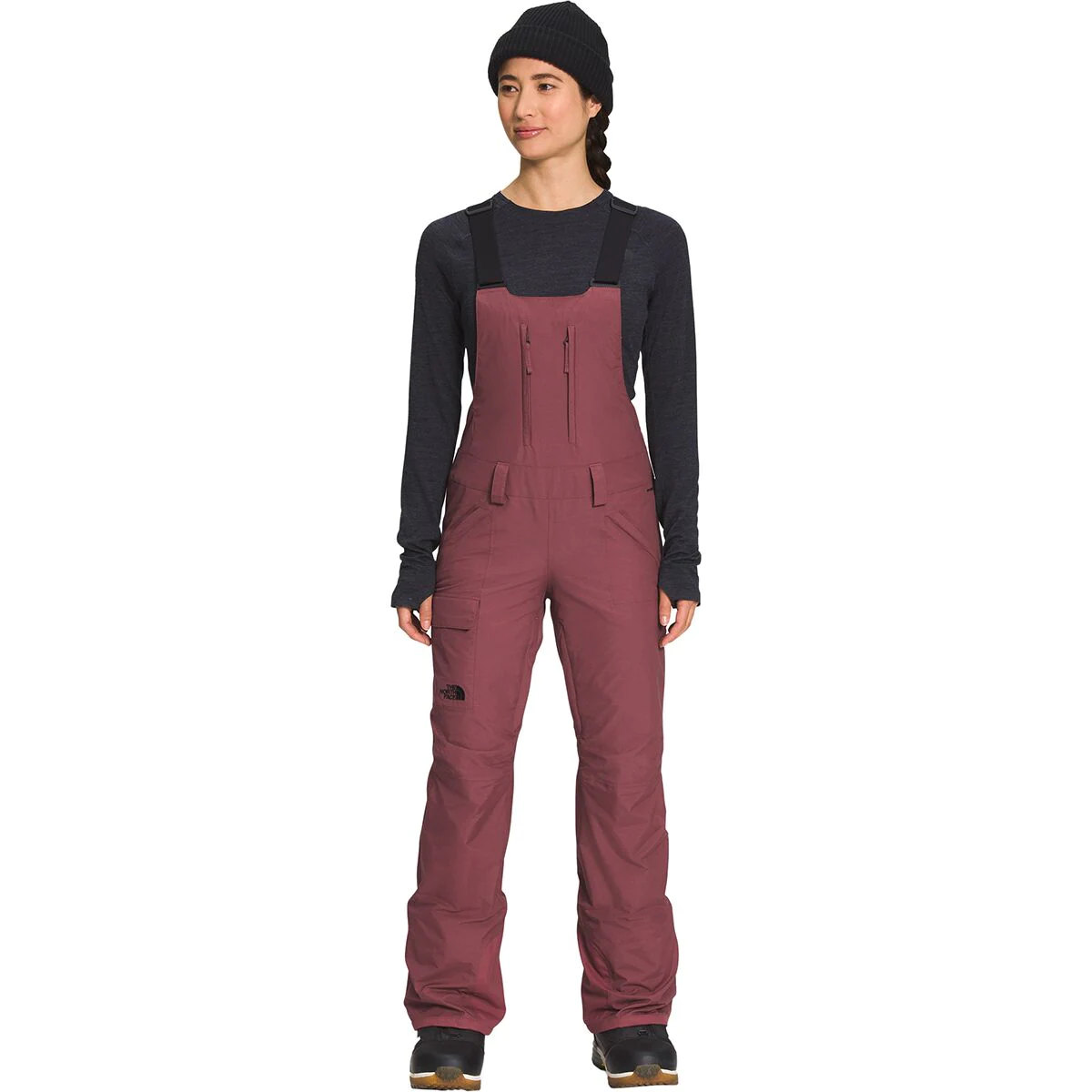 North Face Freedom Bibs
Weight:

 

710 g
Material:

 

Nylon
Insulation:

 

No
Pockets:

 

5
Best for All Conditions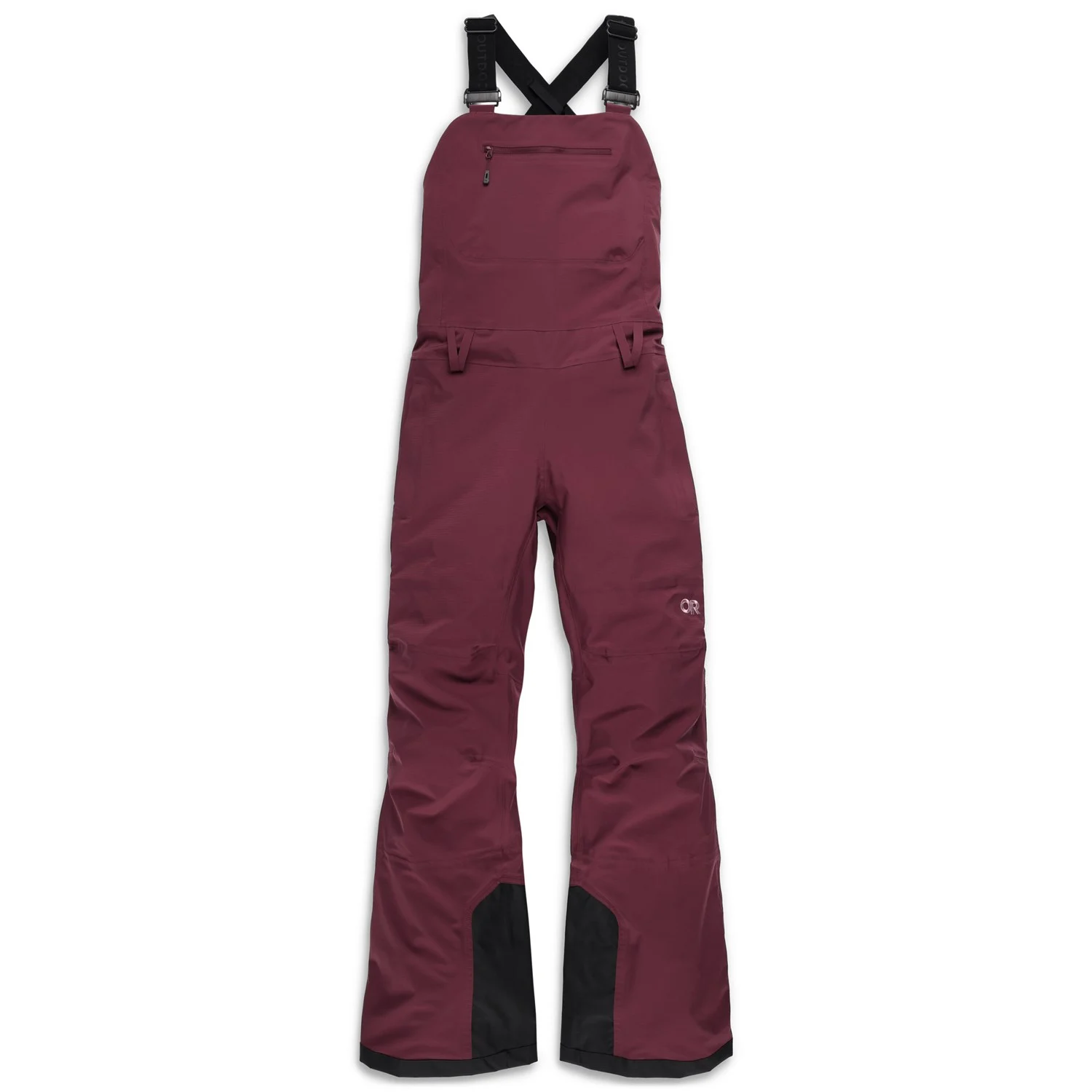 Outdoor Research Carbide Bib
Weight:

 

618 g
Material:

 

420D 100% Nylon
Insulation:

 

No
Pockets:

 

3
Heavy Duty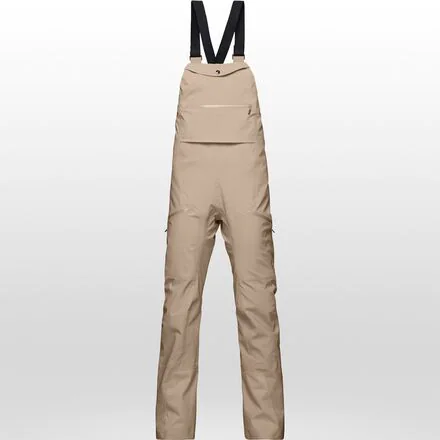 Norrona Tamok GORE-TEX Pro Bib
Weight:

 

658 g
Shell: GORE-TEX® PRO fabric
Insulation:

 

No
Pockets:

 

6
Best for Tough Conditions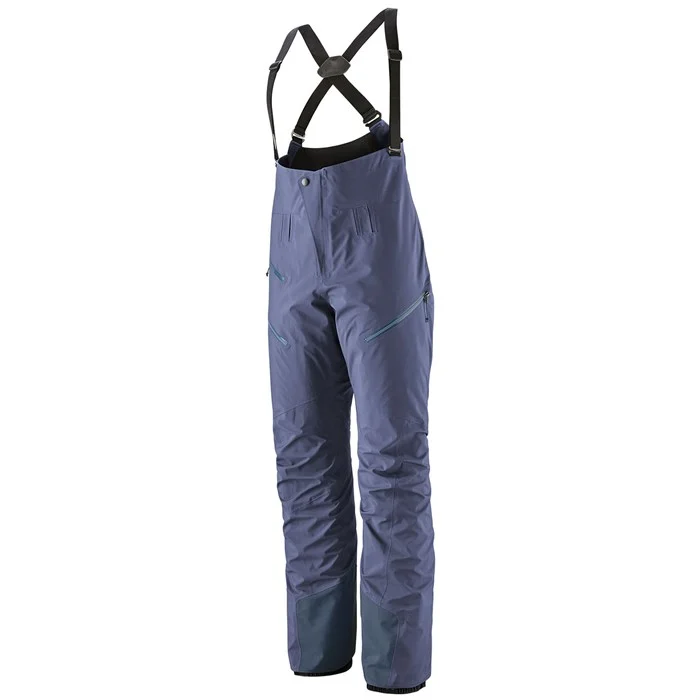 Patagonia PowSlayer Bibs
Weight:

 

564 g
Shell:Nylon Plain-Weave Fabric
Insulation:

 

No
Pockets:

 

3
Looks Fashionable!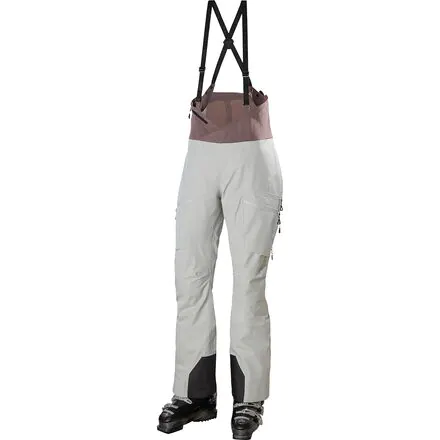 Helly Hansen Odin Mountain Infinity
Weight:

 

500 g
Material:

Polyamide 3L
Insulation:

 

No
Pockets:

 

4
All Functions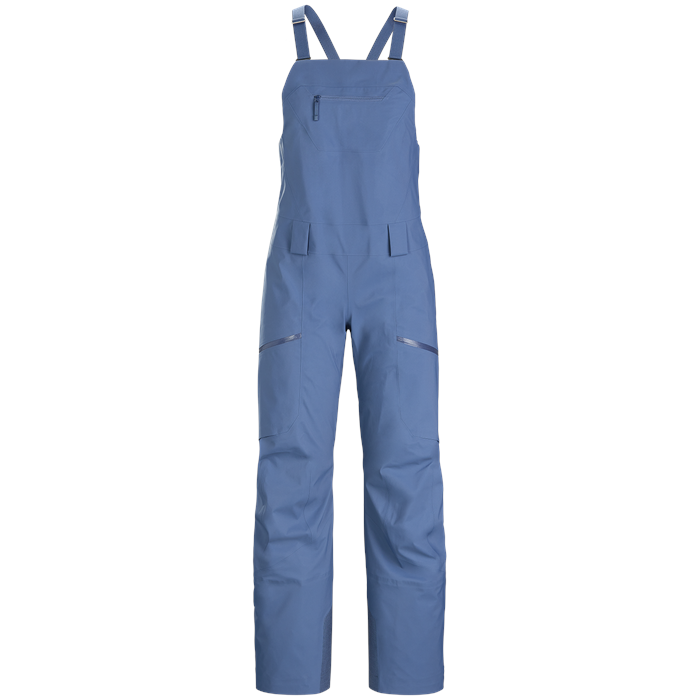 Arc'teryx Sentinel Bib
Weight:

 

560 g
Material:

 

N70p 3L GORE-TEX
Insulation:

 

No
Pockets:

 

3
High Breathability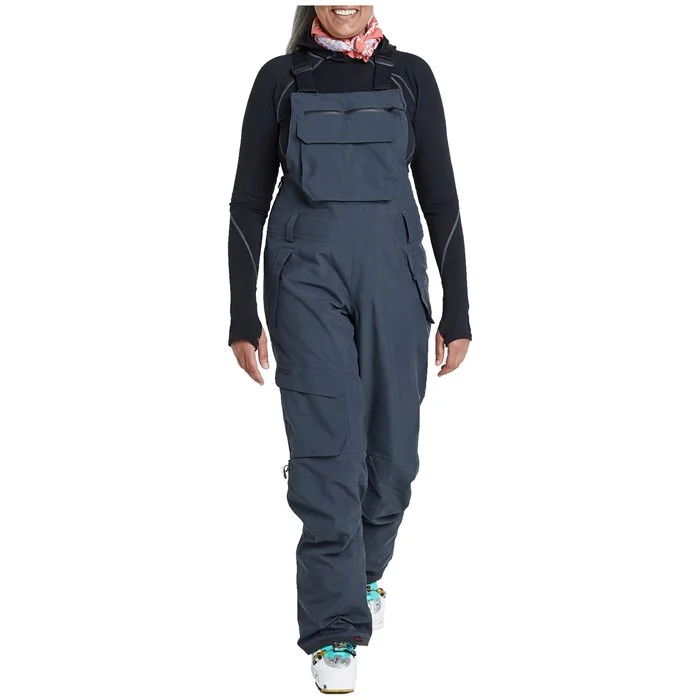 Trew Gear Astoria Bibs
Weight:

 

794 g
Material:

 

100% Nylon 2 Layer
Insulation:

 

No
Pockets:

 

4
Something Futuristic!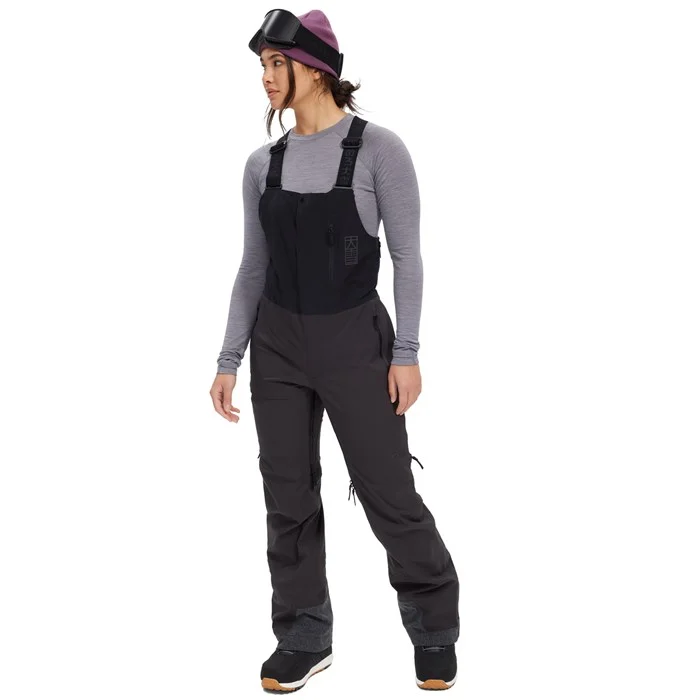 Oyuki Nimi YamaPro 3L Bibs
Material:

 

Premium Japanese 3L
Insulation:

 

No
Pockets:

 

3
Seams:

 

Fully Taped
Best Ski Bibs for Women – Top 9 picks
When everyone is focused on ski jackets, it can be challenging to select the best ski bibs to keep all that warm air contained while descending the mountain. Don't worry, though; this is why I'm writing this. I want to assist you so that your high-intensity life on the slopes can be cozy and comfortable.
The best women's ski bibs have clear advantages because they close the gap between your coat's hem and waistband, which commonly permits snow to seep into your base layers and ruin your day. Because nobody wants a minor annoyance, like cold snow hitting warm skin, to ruin their day on the slopes.
Once you experience the comfort and freedom of a high-quality ski bib, I'm confident you'll never go back to regular ski pant. These top women's ski bibs have a number of advantages, including easy layering, numerous zippered pockets, better coverage for days when it snows, and clever rear access.
I think I've teased you enough, so let's move on to my top 9 picks for the best ski bibs for women.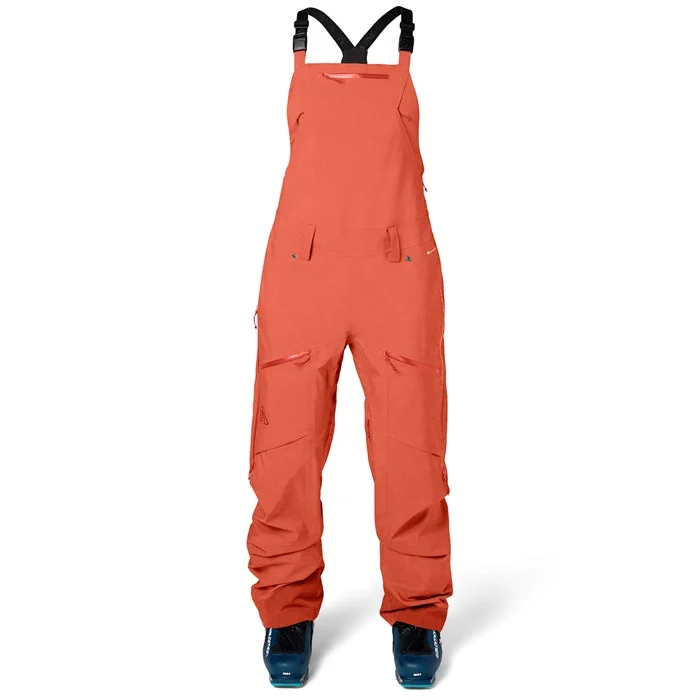 This is the best possible beginning, in my opinion. One of the most popular ski bibs for women is the Flylow Foxy Bib, which you have undoubtedly seen on the slopes at least once. The popularity of these ski bibs can be attributed to a number of factors, which I will outline for you.
I can even dare to say that the Flylow Foxy Bib is the OG when it comes to this ski gear. And while ripping in them, you will experience this for yourself, so you don't have to trust me 100%. You ought to have enough faith in me to at least give them a shot.
Even if you have really high standards, this bib will not let you down with intelligently positioned compartments like the kangaroo pocket, a drop seat for convenient rest in the backcountry, and a range of color possibilities.
With leg vents on both the inside and outside of the legs, this bib also boasts one of the most effective ventilation systems for quickly dissipating heat.
You will see that the majority of the reviews for this bib are positive if you look at them. However, some women are unhappy with the sizing chart.
Personally, I don't think this is such a big inconvenience since you already know that sizing charts vary from brand to brand when you purchase a pair of jeans for yourself.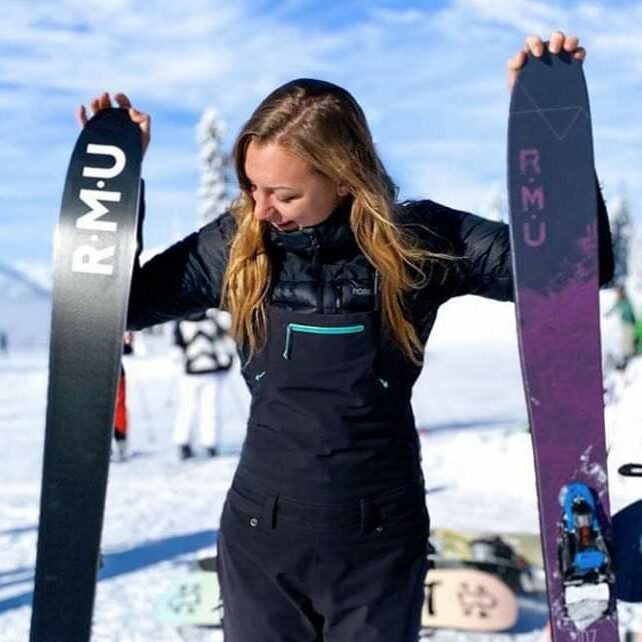 Features:
Weight: 764 g
Shell: Recycled Tactic 3L stretch fabric
Insulation: No
Pockets: 5
Seams: Fully sealed
Zippers: YKK waterproof
Cuffs: 500-denier CORDURA nylon
Waterproof: 20,000mm/20,000g waterproof/breathable plus DWR treatment for water repellency
Climate: Dry to very wet coastal winter weather
Pros
Great ventilation system
A lot of pockets with easy access
Strong cuff liners
Cons
The exterior materials can quickly absorb water.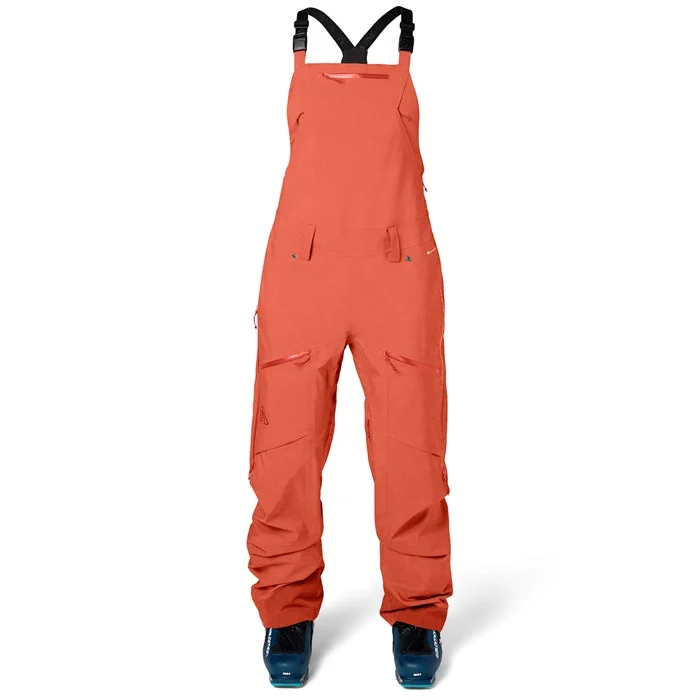 Flylow Foxy Bib
The price of "Flylow Foxy Bib" varies, so check the latest price at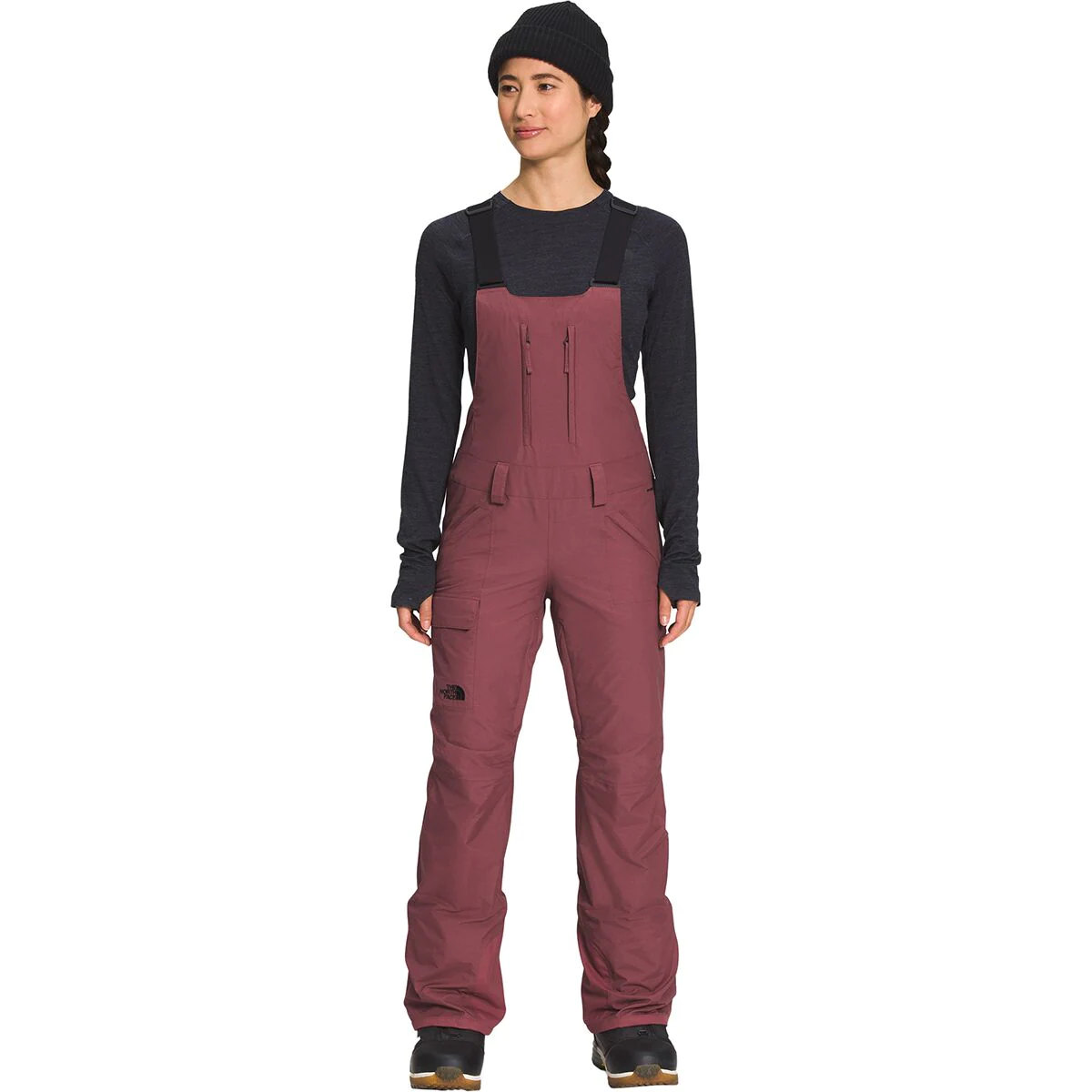 Okay, let's be honest: not everyone has $400 lying around to spend on bibs. However, this does not imply that those on tighter budgets shouldn't feel at ease skiing. And for this reason, my second choice would be The North Face Freedom Bibs, which costs well under $200.
The North Face Freedom is one of the most well-liked trousers on the slopes and a wonderful option for those on a tight budget, who still want a sturdy, 2-layer design that successfully protects against snow and wind with belt loops adjustability.
There are certain drawbacks, considering that this is a less expensive choice. The fit is quite standard; the fabric doesn't have any built-in stretch, and the pants are very baggy around the thighs and lower legs.
The cheap waterproofing technology also makes it simple to overheat, and the zipped vents that are placed along the inner thigh add extra thickness, and are not that effective. The pockets are also positioned strangely and are really small.
However, the Freedom bibs are a tried-and-true option with an unexpectedly extended lifespan.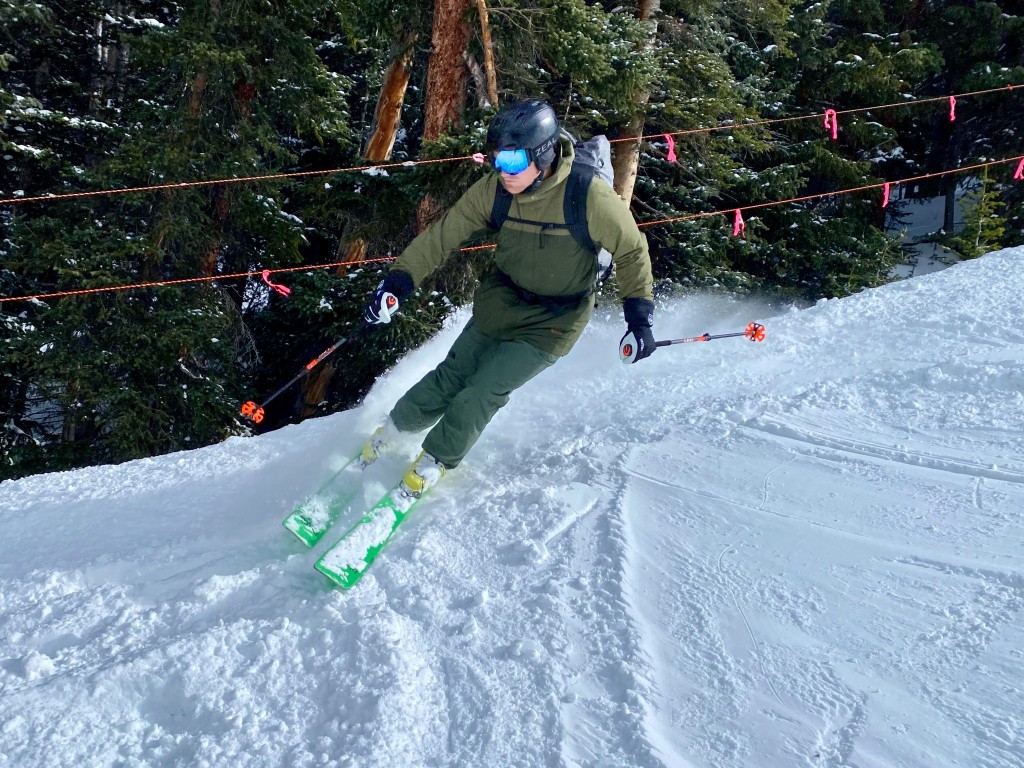 Features:
Weight: 710 g
Material: Nylon, Recycled Nylon, Recycled Polyester
Insulation: No
Pockets: 5
Seams: Fully taped
Construction Type: 2 Layer
Waterproof: 2-layer DryVent waterproof breathable fabric
Climate: Dry to not very wet conditions
Pros
Really affordable price
2-layer design
Great look with vibrant colors
Durable
Cons
Baggy
The pockets are small
The ventilation system is not that effective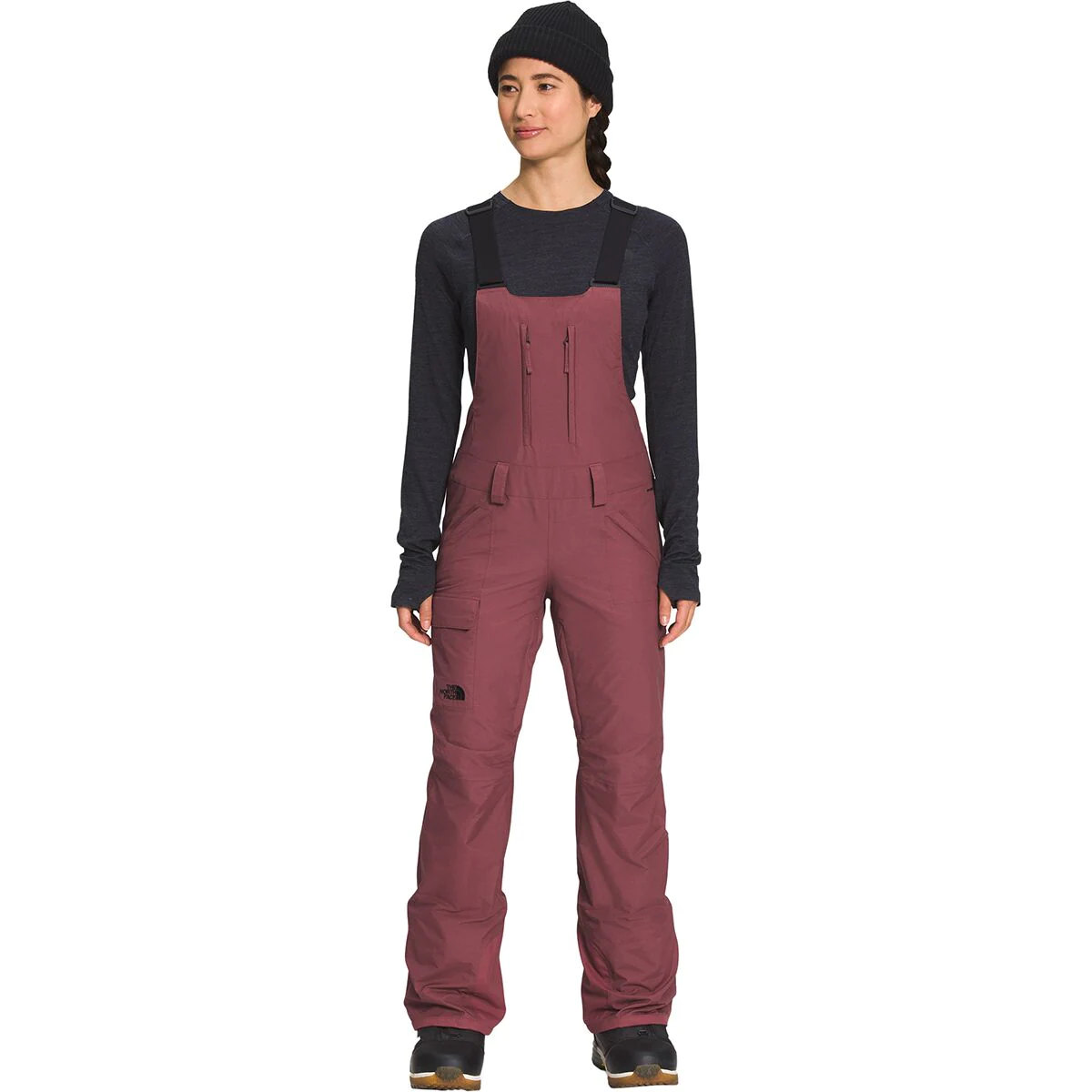 North Face Freedom Bibs
The price of "North Face Freedom Bibs" varies, so check the latest price at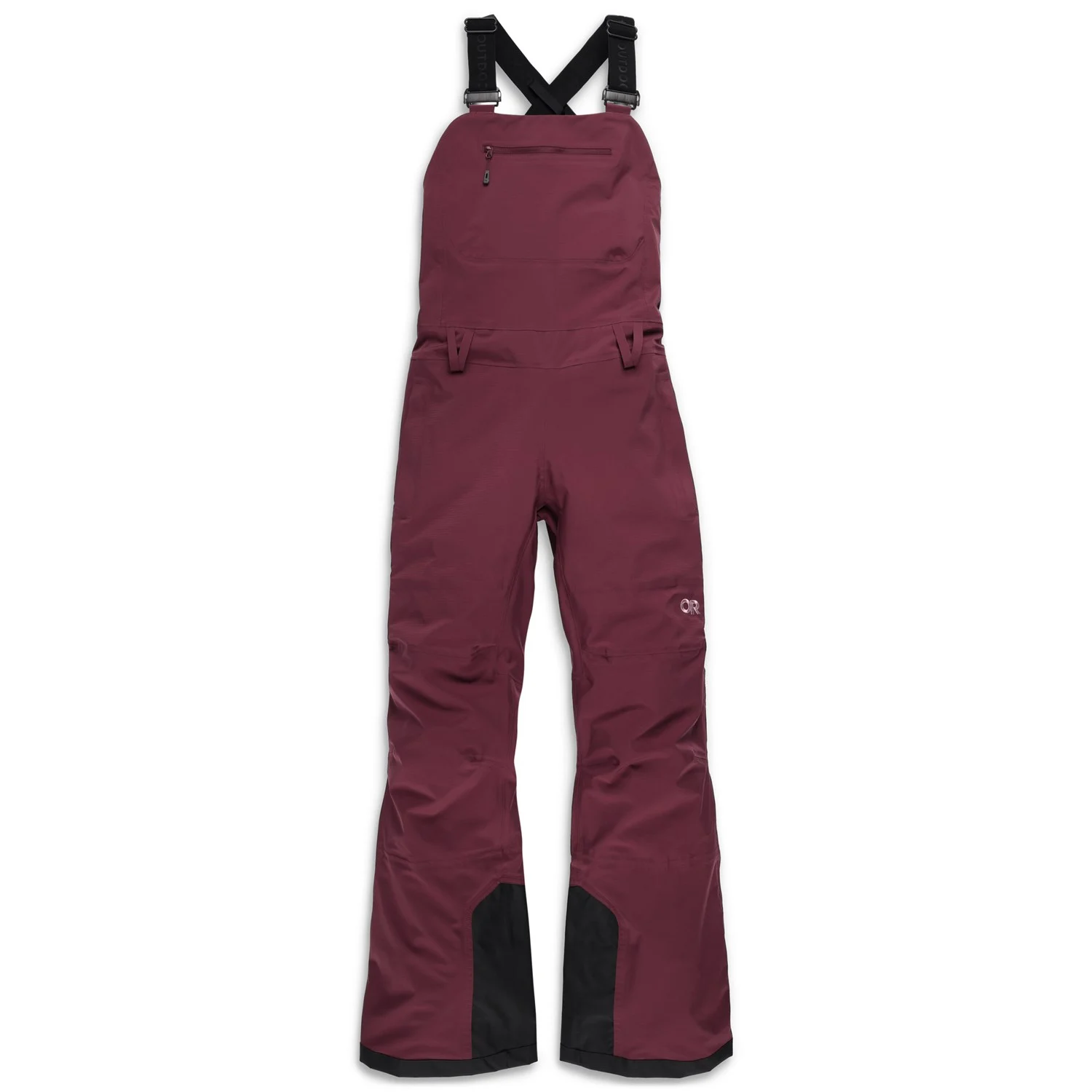 Let's stick with inexpensive bibs because they are a blessing. Because there are so many options available, we can even find high-quality equipment at reasonable prices, like the Outdoor Research Carbide Bibs, which costs about $300.
Not as inexpensive as the Nothface Face Freedom, but still decent, don't you think?
The hardshell of the Carbide is made of Pertex Shield, a material that is nearly as waterproof and breathable as the more well-known Gore-Tex while maintaining a cheaper price.
Although it is frustrating, that there are no waterproof zippers, yet they are protected by strong storm flaps.
On the other hand, the shell fabric feels soft against the skin and is less crinkly and stiff than Gore-Tex or other heavy-duty proprietary hard shells.
The long exterior zippered leg vents on the Carbide Bib are highly useful for boosting ventilation and releasing warm air from the interior of the pants.
In actuality, the majority of ventilation is achieved through breathable shell materials that provide airflow through the fabric itself, while the zipped vents open the pants to the outside environment.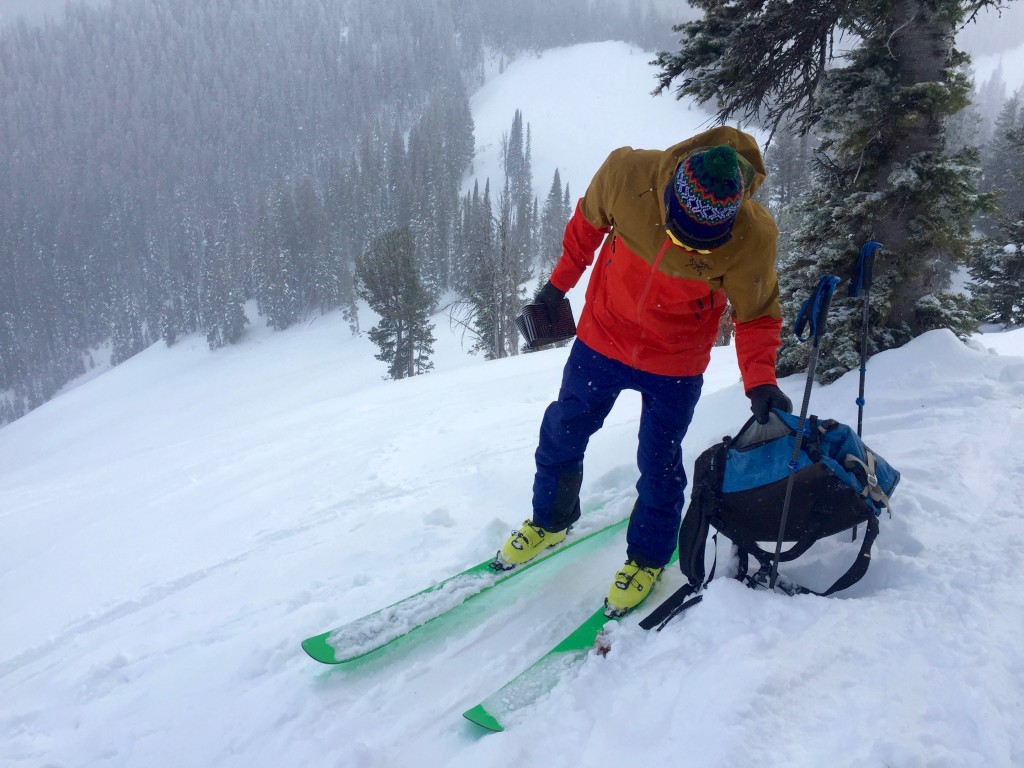 Features
Weight: 618 g
Material: 420D 100% Nylon Oxford Scuff Guards
Insulation: No
Pockets: 3
Seams: Fully taped
Construction type: 3 Layers
Waterproof: Pertex Shield
Climate: Wet weather and freezing conditions
Pros
Lightweight
Waterproof
Breathable
Cons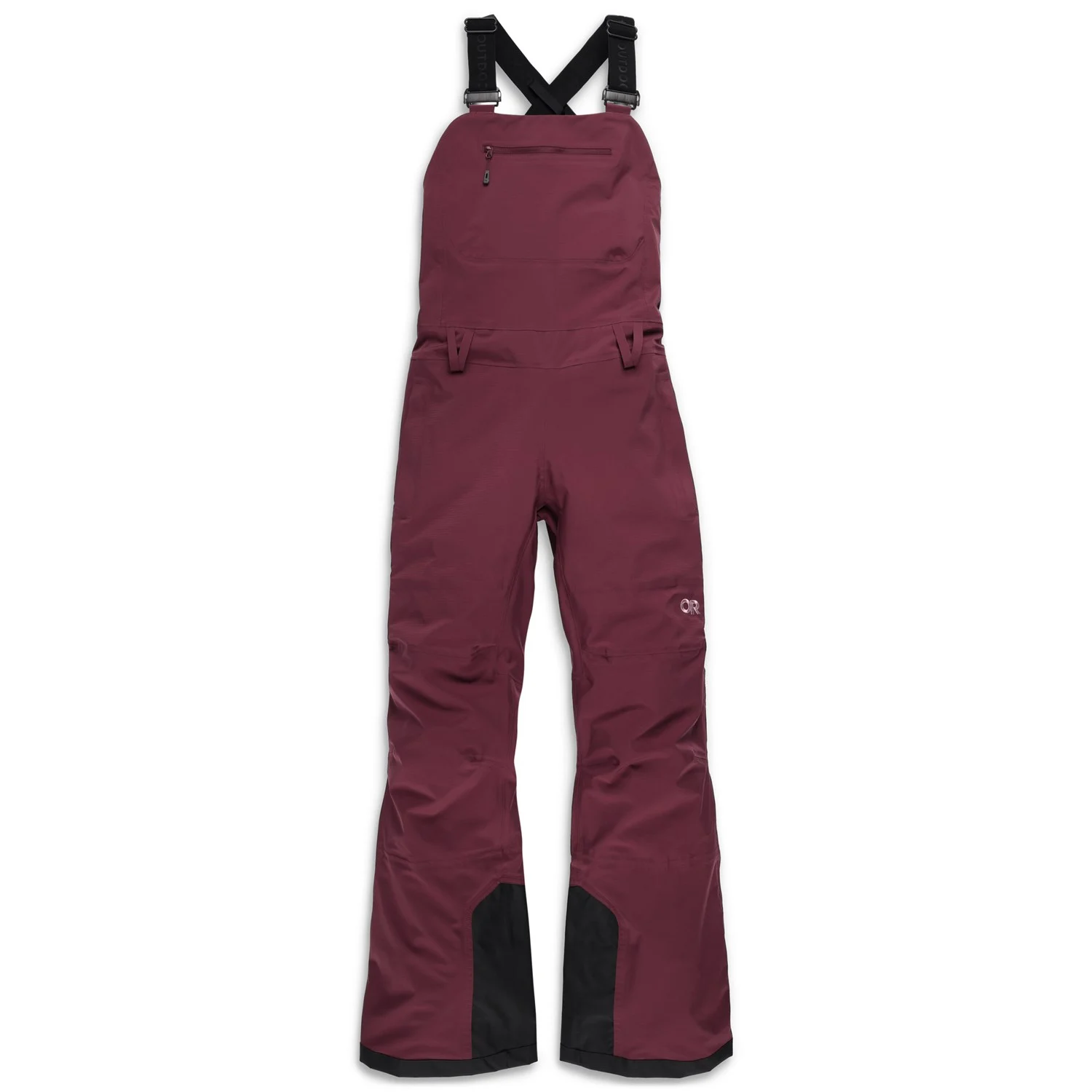 Outdoor Research Carbide Bib
The price of "Outdoor Research Carbide Bib" varies, so check the latest price at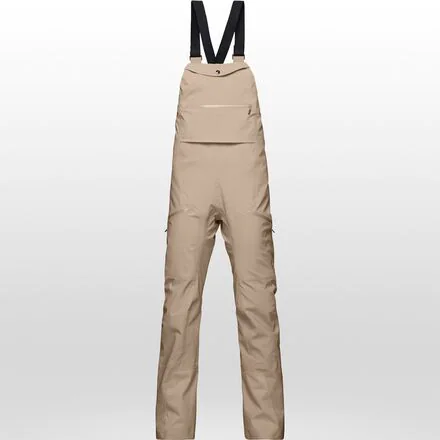 The Norrona Tamok Gore-Tex Pro Women's Bibs are the brand's toughest waterproof ski bibs for women who are out giving their best on the slopes.
These protective, robust bibs are designed for backcountry powder runs, days spent carving down groomers, hut to hut, and – let's not forget the importance of relaxing times – having fun in the snow.
Heavy-duty protection is provided with a 3-layer, 200D GORE-TEX PRO fabric with great durability, good breathability, and long-lasting waterproofness.
The bottom leg of the pants is strengthened with 200D Vectran fabric to protect them from edges. The bib front contains a 4-way stretch panel in the rear and two pockets, one of which includes two interior compartments.
There is more: roomy zippered two thigh pockets and a key pocket are located on the legs.
The lower leg features gaiters, but there are also snap modifications to the cuffs to accommodate various footwear, while the mesh-lined zipper vents allow you to let loose.
With a snug fit and articulated knees for skinning your way up and down, these are your tough winter adventure best ski pants, no doubt about it.
Features:
Weight: 658 g
Shell: 3-layer 200D GORE-TEX® PRO fabric, + 50% recycled synthetic fibers
Insulation: No
Pockets: 6
Seams: Taped seams with thin GORE-TEX® 13 mm tape
Zippers: Napoleon Horizontal YKK® water-resistant zippered chest pocket with interior organizer
Cuffs: 200D Vectran™ reinforcement
Waterproof: 28,000mm waterproof, RET less than 13 breathable
Climate: Dry to very wet coastal winters
Pros
Waterproof
Extremely breathable
Versatile
Cons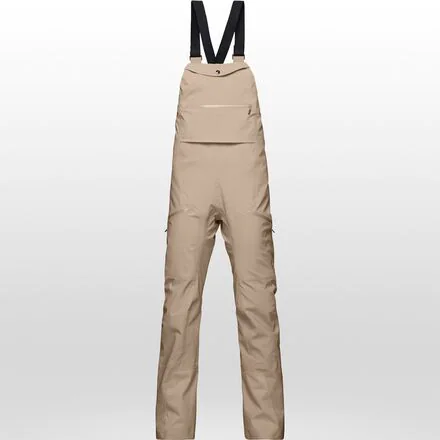 Norrona Tamok GORE-TEX Pro Bib
The price of "Norrona Tamok GORE-TEX Pro Bib" varies, so check the latest price at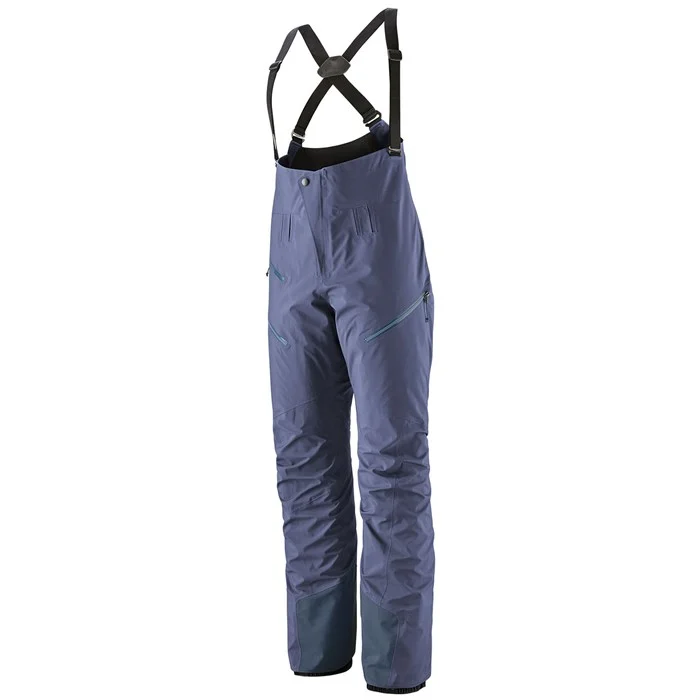 With the best material and features, the Patagonia Powslayer Bib Pants will combat both heavy rain and thick wet snow. Due to its smooth and incredibly breathable micro-grid backing, GORE-TEX® Pro is the best waterproof/breathable fabric to date.
When combined with a cut that promotes movement, such as the PowSlayer's, it creates the ideal combination for venting, breathing, and remaining comfortable in both options of backcountry skiing and resort skiing on the trail.
The Patagonia Powslayer Bib Pants have a drop seat, boot gaiters, and a thoughtfully designed thigh pocket set, making them one of the most deadly pieces of technical clothing available.
In fact, it is all in the name: Pow and Slayer.
To sum up, the women's Patagonia Powslayer Bib Pant is a lightweight, breathable, and protective alternative made for backcountry use. The plentiful storage capacity, adaptability, and functionality offer a premium alternative – at a premium price, like $600 premium.
However, despite the really high price, this is a wonderful option for people who require bib pants that can withstand wear and tear and offer plenty of protection, despite the fact that the straps cannot be totally removed.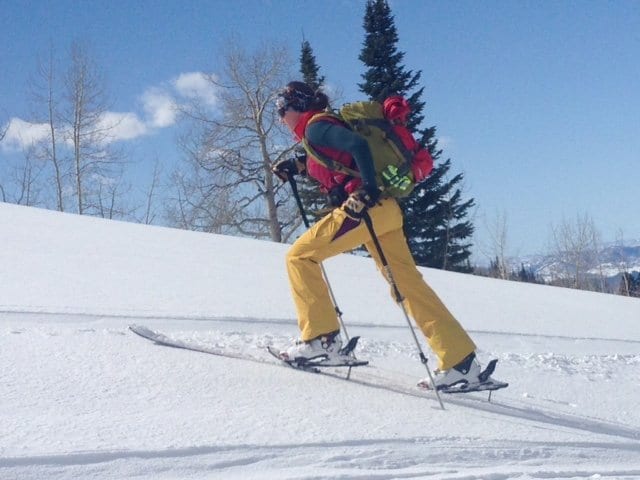 Features:
Weight: 564 g
Shell: 3-Layer 4.3-oz 80-Denier 100% Recycled Nylon Plain-Weave Fabric
Insulation: No
Pockets: 3
Seams: Fully Taped
Breathability (g): 25000
Waterproof: 28,000mm waterproof
Climate: Dry to very wet coastal winters
Pros
Provides durability and weather protection while performing well in challenging and wet conditions
The high back offers protection and deflects precipitation
Oversized enough for multiple layers to be worn underneath
Very breathable
Both water and wind resistance are excellent
Lightweight
Cons
There is no insulation provided, so in some circumstances, it might not provide enough warmth.
Quite expensive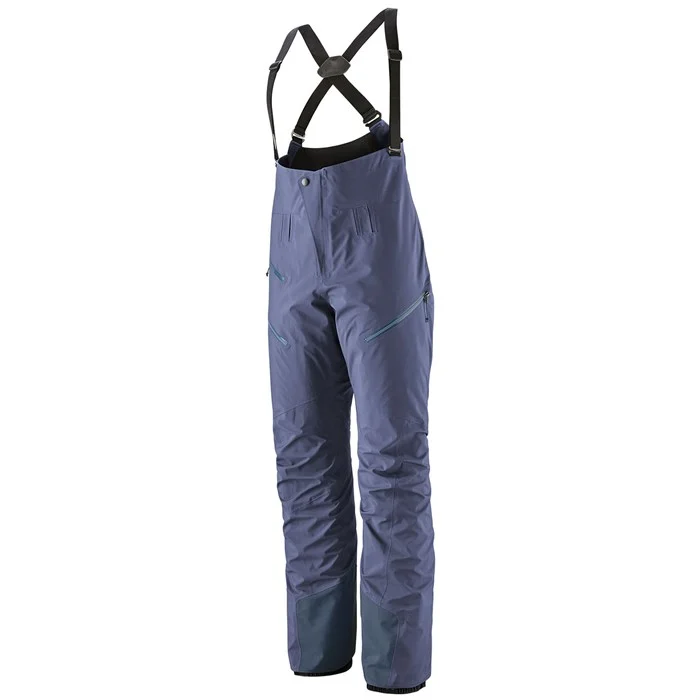 Patagonia PowSlayer Bibs
The price of "Patagonia PowSlayer Bibs" varies, so check the latest price at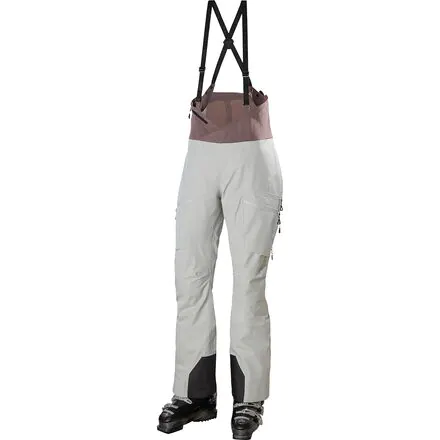 Try the mythological vibe provided by Odin Mountain Infinity bibs to feel wonderful about yourself – just like a goddess!
The Helly Hansen Odin Mountain Infinity Bibs are equipped for activities, such as ski touring, extended journeys, and outings where you need a lot of flexibility and storm-ready protection.
For everlasting protection that's also eco-friendly, its 3 Layer shell fabric is fitted with a HELLY TECH Professional water and windproof membrane.
The Odin bibs come with roomy pockets with a beacon hook, adjustable suspenders, snow gaiters, and a RECCO Advanced Rescue system. Additionally, drop-seat ventilation zippers allow for quick and comfortable treks into the trees.
Helly Hansen's most advanced and ethical waterproof/breathable technology to date is LIFA Infinity Pro.
LIFA Infinity Pro is a ground-breaking technology that satisfies the exceptional waterproofness and breathability of Helly Tech Professional construction by fusing the LIFA Infinity membrane with 100% LIFA hydrophobic face fabric.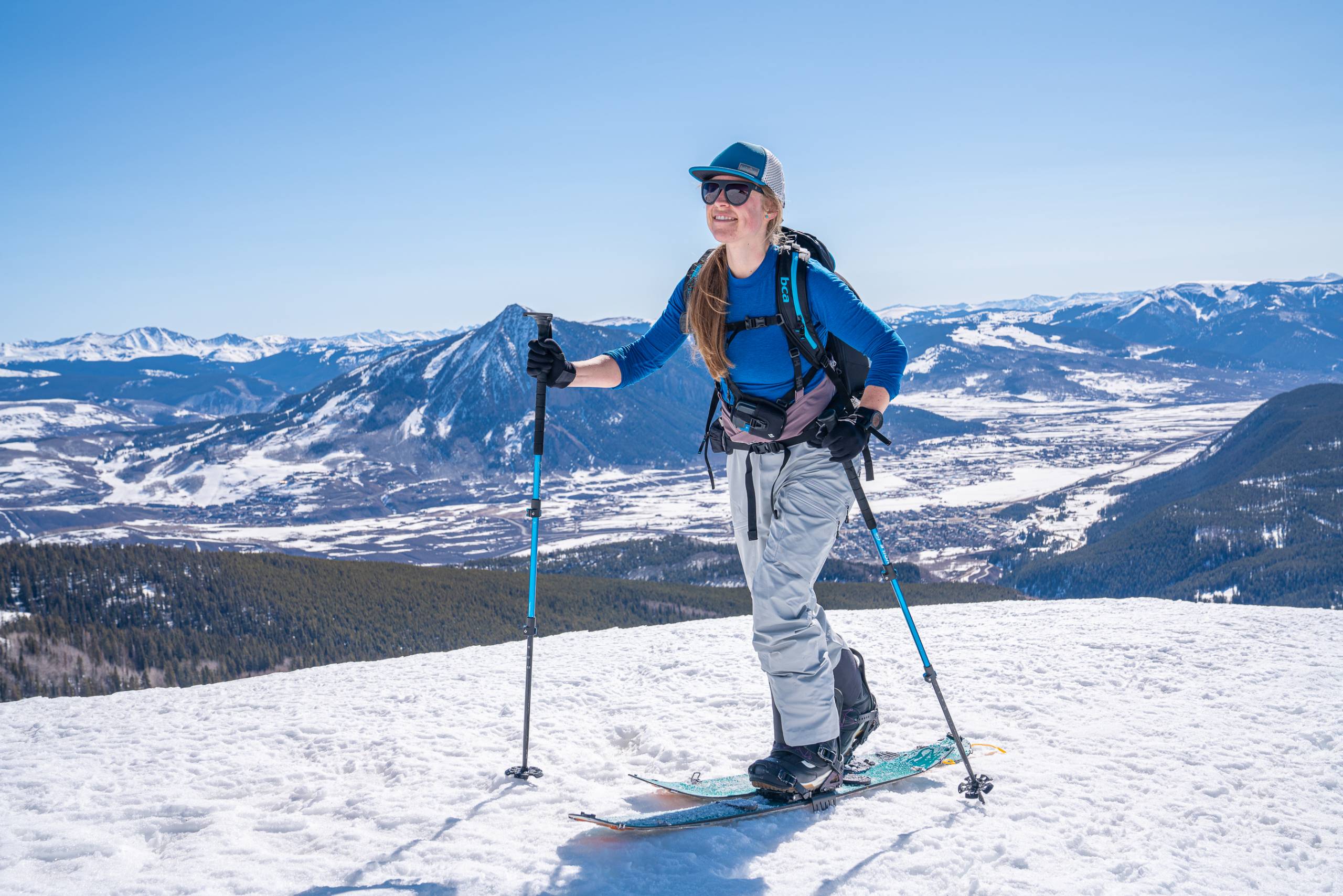 Features:
Weight: 500 g
Material: Polyamide, Polypropylene, 3 Layer
Insulation: No
Pockets: 4
Seams: Fully Taped
Breathability (g): 20.000
Waterproof: 20,000mm waterproof
Climate: Dry to very wet coastal winters
Pros
Great breathability
Waterproof materials
Lightweight
Cons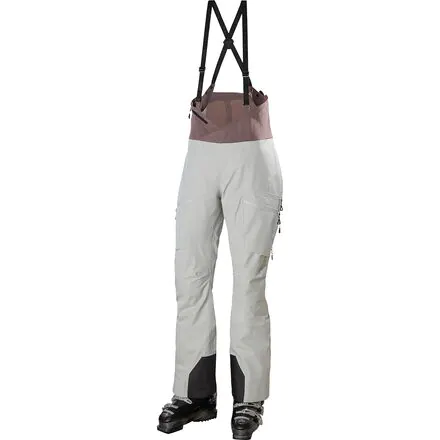 Helly Hansen Odin Mountain Infinity Bib
The price of "Helly Hansen Odin Mountain Infinity Bib" varies, so check the latest price at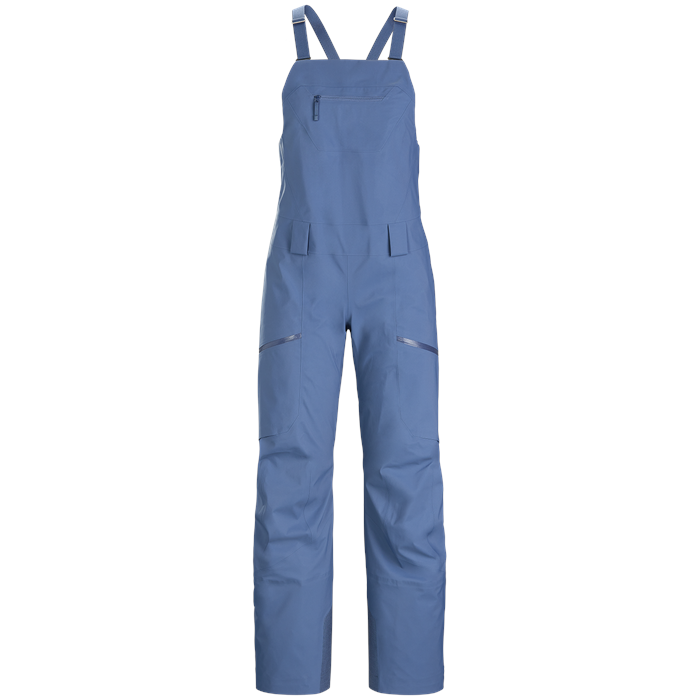 The storm-proof GORE-TEX fabric used in the Arc'teryx Sentinel Bib is windproof, besides the waterproof characteristics.
This gear is prepared for wet groomer laps or deep days thanks to the complete front bib that has a dump pocket for essentials like ski gloves, gummy worms, and extra goggle lenses.
The TouringCuff keeps snow out, and vents allow you to breathe while on the skin track.
And because a reflector with RECCO is offered, you can feel safer when exploring the side country with your avy gear and company. As a matter of fact, it would be odd if it weren't since the bibs cost about $650.
The Sentinel Bib is comfortable, elegant, and long-lasting in addition to its many technological advantages. However, The North Face Freedom will be a better option for you if you primarily shred the resort.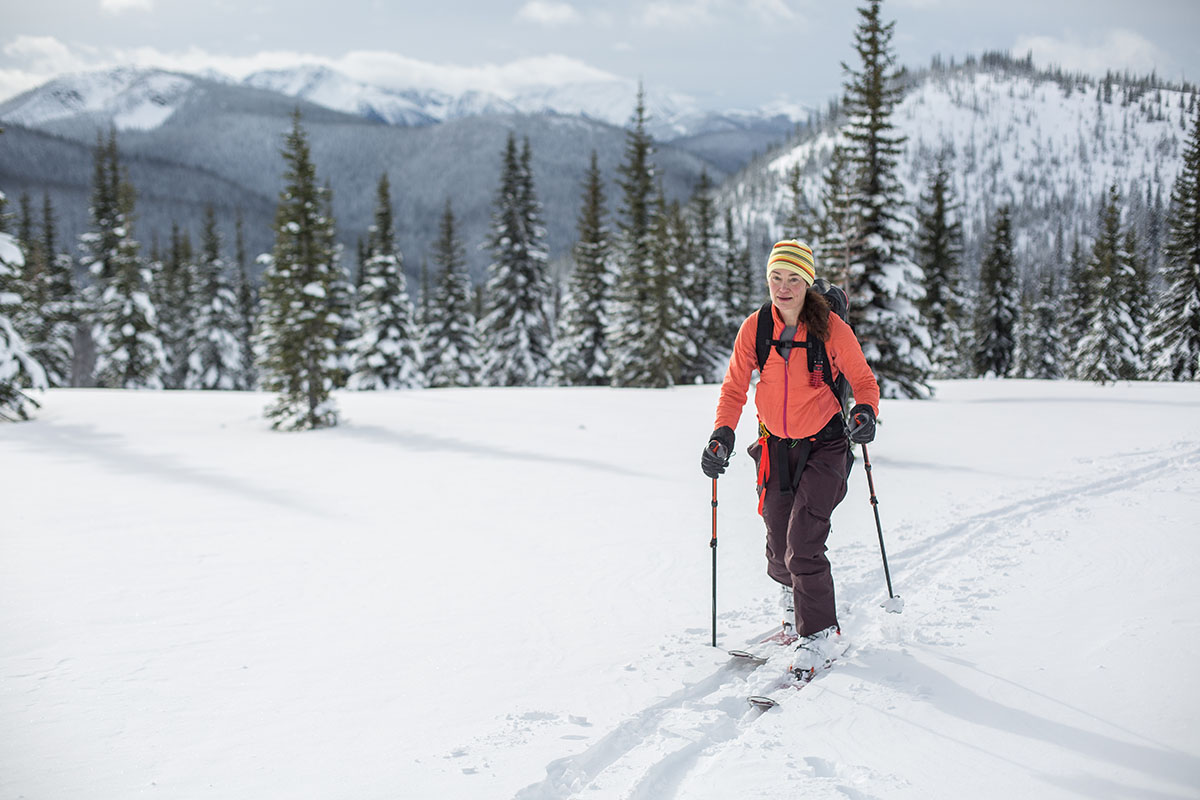 Features:
Weight: 560 g
Material: N70p 3L GORE-TEX – bluesign Approved Material
Insulation: No
Pockets: 3
Seams: Fully Taped
Zippers: WaterTight inner thigh vents zippers with zipper garage
Climate: Dry to very wet coastal winters
Pros
Highly waterproof
Great ventilation
Versatile
Cons
Not ideal for resort use.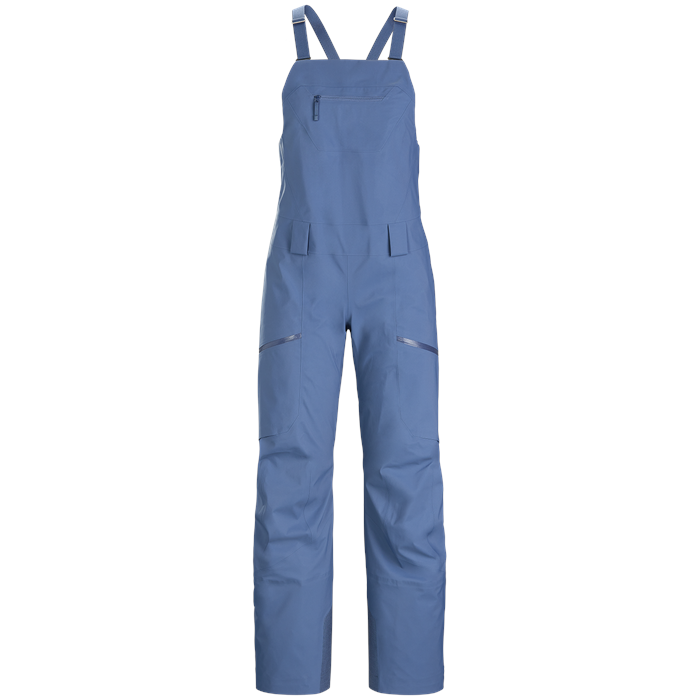 Arc'teryx Sentinel Bib
The price of "Arc'teryx Sentinel Bib" varies, so check the latest price at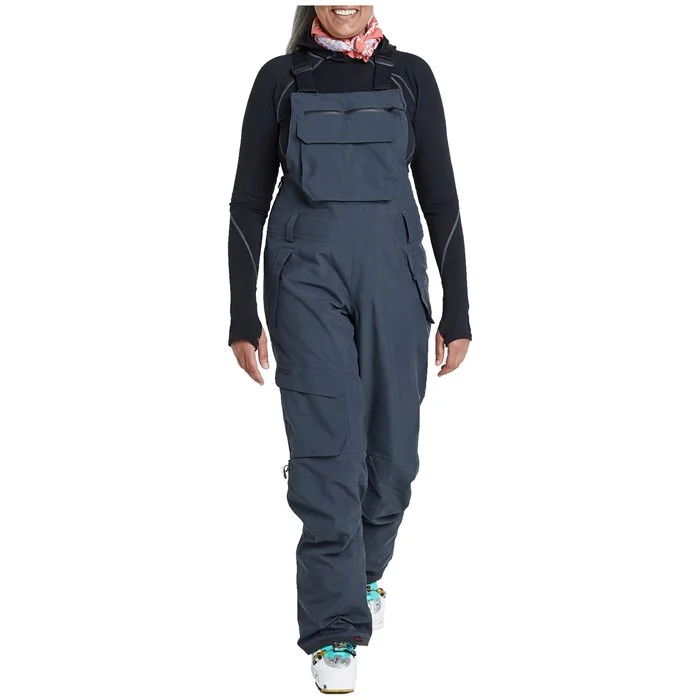 The Trew Gear Astoria Bibs are of the highest caliber and offer dependable performance and tough durability.
The reasonably priced Trew Gear Astoria Bibs offer 20K waterproofing, 15K breathability, and Super Fabric on the hems, so you're covered on the slopes.
Given the $300 price tag, this equipment actually seems like a breath of fresh air following the expensive bibs. And with all the features and high quality, it can be your best choice, especially if you don't want to spend a lot of money on a pair of bibs.
Let's just say that The Astoria Bib has rapidly become a huge favorite for a lot of ladies, and for a legitimate reason: once you step into these beauties, you won't want to take them off because of the soft, comfortable fabrics and a relaxed fit that look and feel fantastic.
You will seem incredibly stylish when tearing down the slopes thanks to the kangaroo pocket that gives these bibs an urban appearance.
Features:
Weight: 794 g
Material: 100% Nylon 2 Layer
Insulation: No
Pockets: 4
Seams: Fully Seam
Breathability (g): 15.000
Waterproof: 20,000mm waterproof
Climate: Dry to very wet coastal winters
Pros
Affordable
Waterproof
High breathability
Cons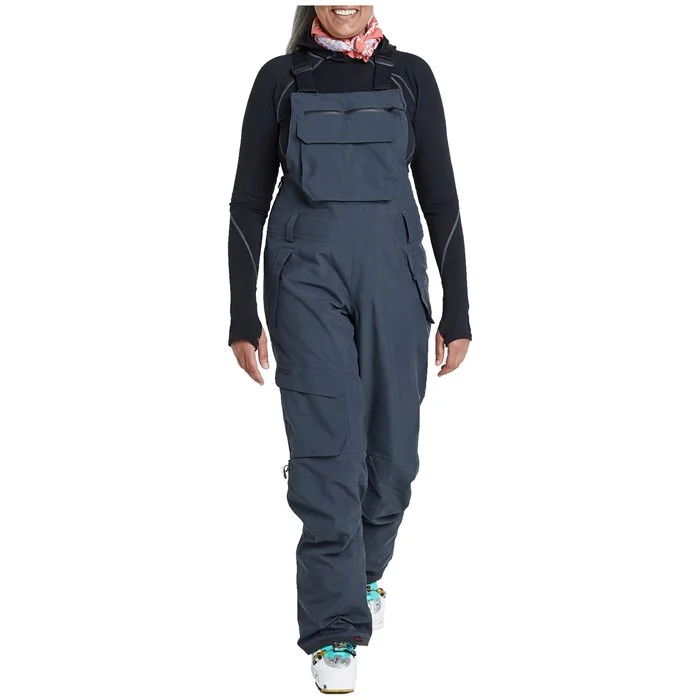 Trew Gear Astoria Bibs
The price of "Trew Gear Astoria Bibs" varies, so check the latest price at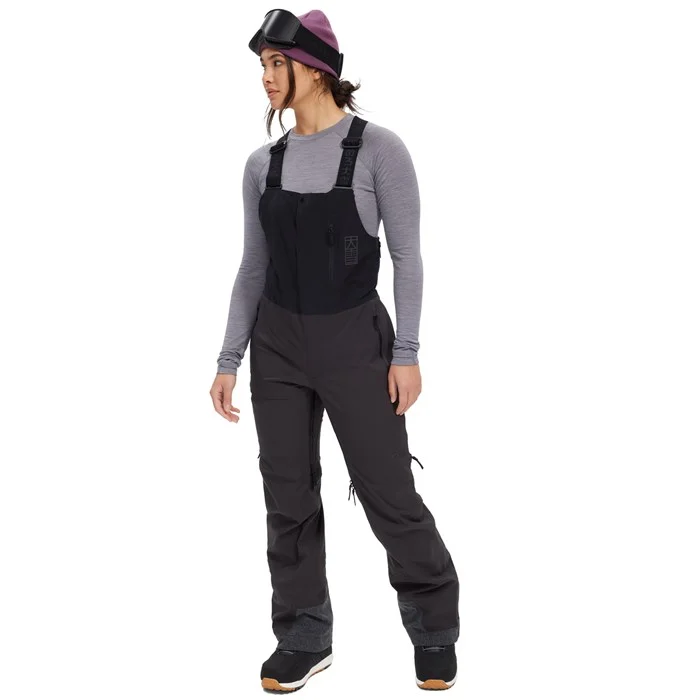 The Oyuki Nimi YamaPro 3L Bibs are the last but certainly not the least. These bibs are built for movement and have a stretchy upper panel.
They also include YamaPro Always Dry technology, which ensures comfort no matter the weather, including in the zippered hip and right thigh pockets.
This last piece of gear presented was designed to live out its life in a pow town that is waist-deep and sturdy.
It's also crucial to note that these bibs have inner leg vents, which make them incredibly breathable and ensure that you always feel comfortable.
If you want strong and comfortable pants, even though the price is somewhat high—you will have to pay roughly $500 for a pair of bibs—this may be an excellent option.
Features:
Material: Premium Japanese Technical Materials, 3 Layer
Insulation: No
Pockets: 3
Seams: Fully Taped
Breathability (g): 25.000
Waterproof: 20,000mm waterproof
Climate: Dry to very wet coastal winters
Pros
Waterproof
Breathable
Premium materials
Versatile
Cons
Expensive
65 Warning to California Consumers regarding some chemicals used when it comes to materials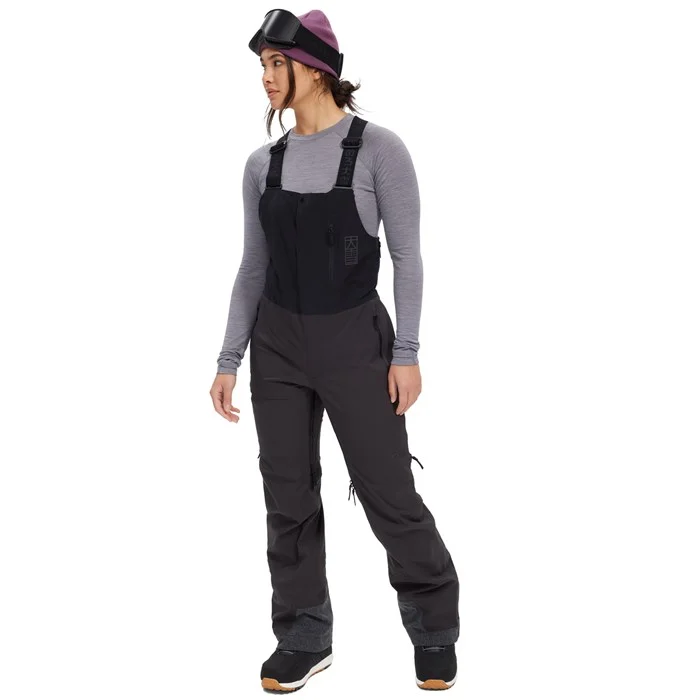 Oyuki Nimi YamaPro 3L Bibs
The price of "Oyuki Nimi YamaPro 3L Bibs" varies, so check the latest price at
Buying Guide for Best Ski Bibs
Even if you've begun your search from this article, it is obvious that there are many solutions available in a range of pricing points.
Yes, it's crucial to pay attention to the pricing and to avoid spending more than $500 on a pair of bibs, particularly if you've never been skiing before and are unsure of the specific gear you need.
Aside from the cost, there are a number of other considerations that can assist you in selecting the best bibs available, ones that will last over time given the prices at which these items are sold.
In actuality, there are numerous aspects to consider, including durability, materials, ventilation, warmth, breathability, and waterproofness.
A set of ski bibs is an intricate piece of gear. It's not just a regular pair of jeans; it needs to withstand challenging conditions and provide you with the utmost comfort so you can focus on having a fantastic time.
With all sincerity, you cannot enjoy yourself on the slopes when the icy snow touches your warm skin or while you are shivering.
But let's start from the very beginning. In the paragraphs that follow, I will describe to you the features that you need to be aware of.
Fit and Comfort
Before selecting a pair of bibs for your ski trips, the first consideration you should make is one of fit and comfort, because you want to be as comfortable as possible while performing your thing. Adjustable waistband and suspenders provide support and comfortable fit.
Since they should primarily cover your ski boots or snow boots, the best women's ski pants should typically be longer than your typical day-to-day trousers or jeans. In fact, you should go for a length that is around 4-5 inches longer than your typical length that reach your ski boots.
Waterproofness
Ski bibs focus on weather protection, so superior water resistance is a requirement. When choosing your next or first ski bibs, look for a rigid hardshell bib with a Gore-Tex membrane for the best waterproofing; Gore-Tex is the industry leader in superior moisture protection.
Manufacturer-owned laminates, such as Trew Gear's PNW, which is nonetheless waterproof but typically less breathable or durable than Gore-Tex, are used in mid-range and entry-level bibs.
For hard chargers, it's also crucial to use seam taping and a durable water-repellent (DWR) covering to prevent moisture from penetrating.
Style & Fabrics
Ski bibs are made of hardshell fabric because of their waterproofing protection. However, it's important to note the differences between different hardshell materials, namely between rigid hardshell and hardshell with some mechanical stretch.
Furthermore, there are 3 Layer fabrics and 2 Layer fabrics. The majority of high-end ski bibs have a three-layer design, which combines an outer shell, a waterproof and breathable membrane, and an interior liner.
This design promotes ventilation and next-to-skin comfort and is less bulky than a 2-layer one, which calls for a separate, hanging mesh liner along the interior.
Your choice of fabric will depend on the terrain you'll be skiing on and how much movement you require.
Warmth
While there are insulated pants on the market, most ski bibs are uninsulated. This occurs as a result of the substantial warmth that bibs, by virtue of their core coverage and draft protection, inherently offer.
Backcountry skiers, who value breathability and normally avoid insulated designs, generally opt for bibs instead of ski pants.
Due to its affordability and capacity to provide insulation even when wet, synthetic fill is used in a significant number of insulated ski bibs. The range of warmth provided isn't particularly wide, and most bibs contain between 40 and 60 grams of fill.
The amount that is best for you might depend on the weather where you are, how aggressive or casual you like to ski, and whether you tend to run hot or cold.
Ventilation
If you are a resort rider, the majority of conventional 2-layer fabrics will provide enough breathability, and you may always choose a bib with sizable zipped inner and outer thigh vents to let out some excess heat.
Breathability, however, becomes a crucial factor if you go into the sidecountry or if you are a backcountry enthusiast. The ideal ventilators for waterproof bibs are lightweight, elastic, three-layer constructions.
Still, ski pants have a greater degree of ventilation than bibs do.
Durability
As a ski enthusiast, you likely already know that ski bibs endure a lot of abuse. The fabric denier (D), which measures the thickness of the threads used for the shell material, is the most popular method of assessing the durability of ski bibs.
For experienced skiers looking for a quiver-of-one alternative, substantial models like the Flylow Foxy (100D) and Arc'teryx Sentinel (70D) are durable and terrific choices.
It's important to note that most bibs have a reinforced patch on the inside of the cuff for added ski-edge security.
Frequently Asked Questions
How Should a Ski Bib Fit?
Ski bibs aren't made to fit exactly like a pair of fitted pants. In order to allow for plenty of movement, you'll actually want them to have a little bit of room at the waist, chest, and knees. Additionally, they must be 4-5 inches longer than your usual length.
Are Bibs Better for Skiing?
Bibs have three key advantages over conventional snow pants. They provide far better weather protection, have enormous storage capacity, and are much more comfortable. And, as you already know, these are important characteristics that you should take into account.
What Do You Wear With a Ski Bib?
A base layer is what you put on underneath your ski bibs. Modern base layers are manufactured from high-quality synthetic or natural fabrics that keep you dry and warm. In general, ski pants or bibs shouldn't be worn next to the skin because they will get cold and damp.
Final Word
Let's avoid making our time on the slopes challenging. And in order to prevent this from happening, we need to have a comprehensive set of equipment that will keep us warm and ultimately enable us to go down the hill freely and without any restrictions.
The necessary gear includes ski bibs. However, as was said before, paying attention to specific aspects is crucial when selecting a pair of bibs.
You could have some trouble finding the perfect pair of bibs because the market is so vast, but the options I've given above might be helpful.
Additionally, the price points of the bib pairs of my selected range, make it feasible to choose a set that meets your budget.
If you're a newbie, I advise choosing high-quality bibs that don't cost more than 200 euros.
Spending a lot of money right away is not advised. To increase your presence on the slopes, you must first acquire knowledge of what skiing requires and what equipment is necessary.
To avoid overwhelming your learning curve, you should take things slowly. Take it easy; an expensive pair of bibs won't try to escape from you. Yes, you can choose a more expensive pair if you have that money laying around, but even the bibs that are cheaper can be pretty good for what you need.
The higher-class pairs, on the other hand, will be with you for a very long time from now on the slopes, in your adrenaline-filled experiences; therefore, I advise you to choose them if you are already a ripper.