You'll Want to Walk a Mile in These
You can't go at it alone. The mountain, the slopes, the snow, and even your very own skis will fight you. You need backup, and that's where we come in. Below you'll find the best ski boots for the 2023 season.
These boots have got the form, function, and game-changing performance that'll let you unleash the ski beast within.
They say you don't know someone until you've walked a mile in their shoes. Well, I say that you won't know your own potential until you ski a mile in the boots listed below.
But that won't be enough, once you've tried your best, you'll never want to go back.
Best For Wide Fit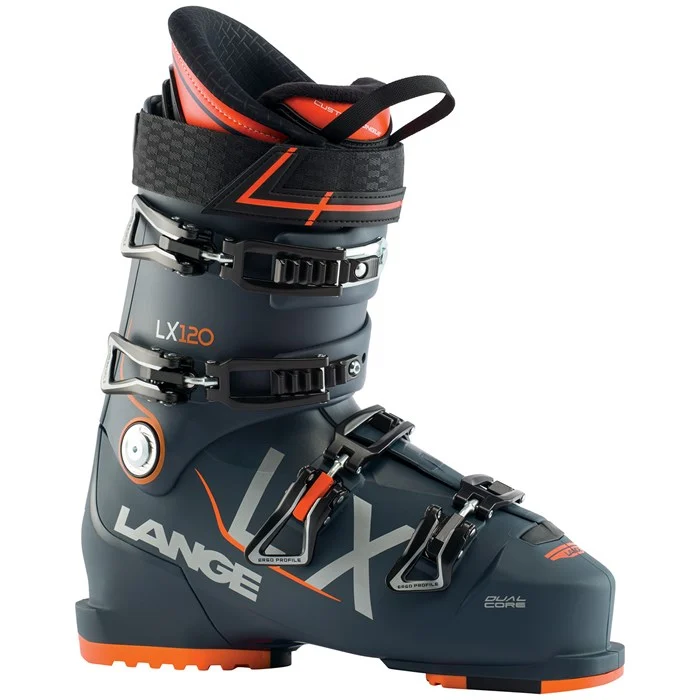 Lange LX 120 Ski Boot
BINDING COMPATIBILITY:ALPINE (ISO 5355)
CLOSURE TYPE:BUCKLES
Best Downhill Performance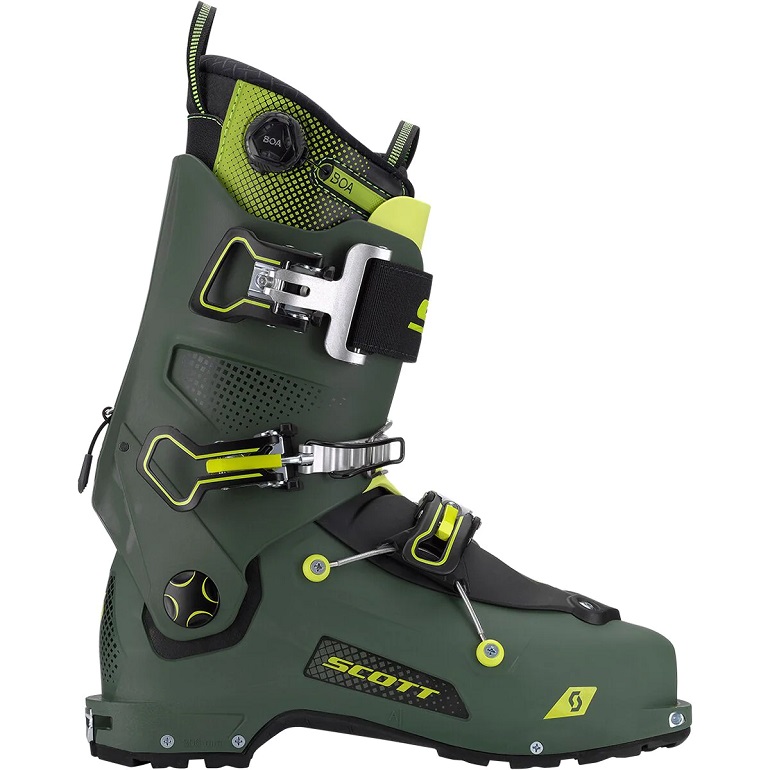 Scott Freeguide Carbon
BINDING COMPATIBILITY:TECH, AT
CLOSURE TYPE:BUCKLES
Most Comfortable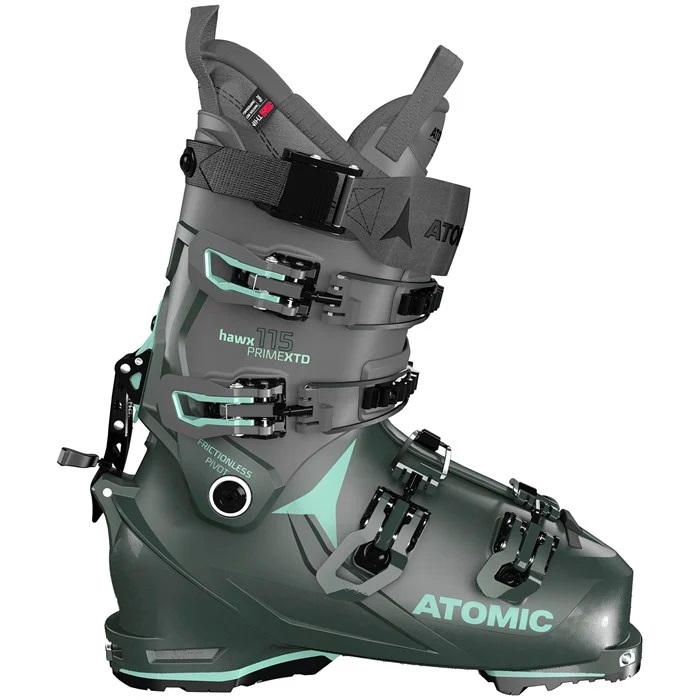 Atomic Hawx Prime
BINDING COMPATIBILITY:AT (ISO 9523)
CLOSURE TYPE:BUCKLES
Best Quality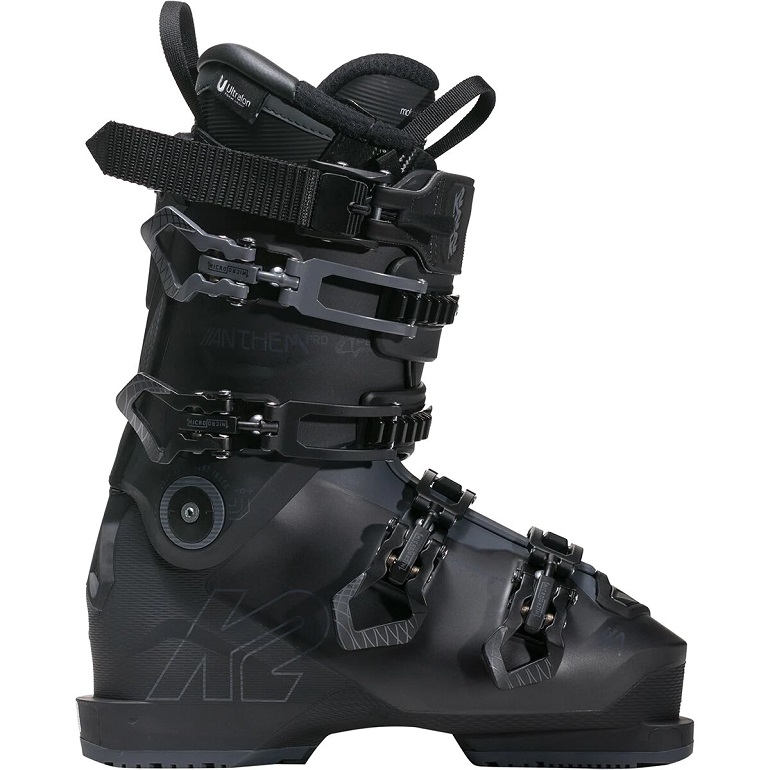 K2 Anthem Pro
BINDING COMPATIBILITY:ALPINE

 

CLOSURE TYPE:BUCKLES
Best Budget Option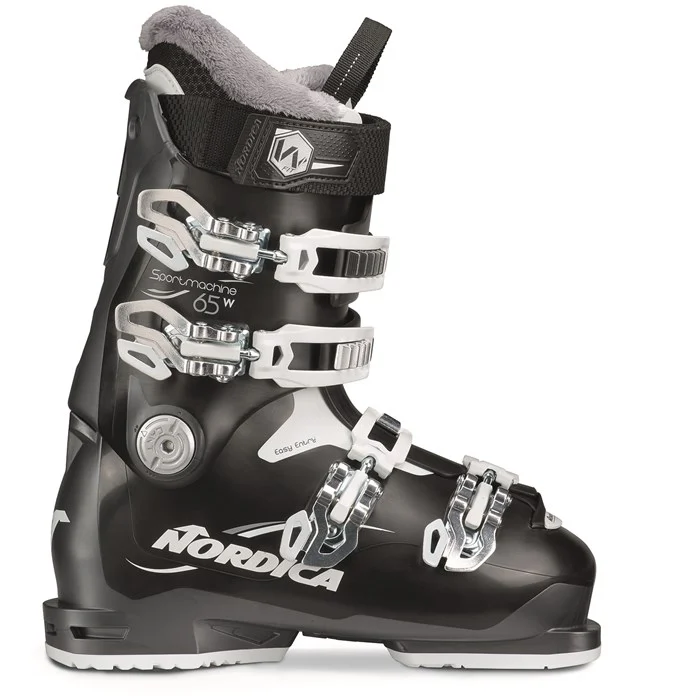 Nordica Sportmachine 65
BINDING COMPATIBILITY:ALPINE DIN (ISO 5355)
CLOSURE TYPE:BUCKLES
Best Dual Purpose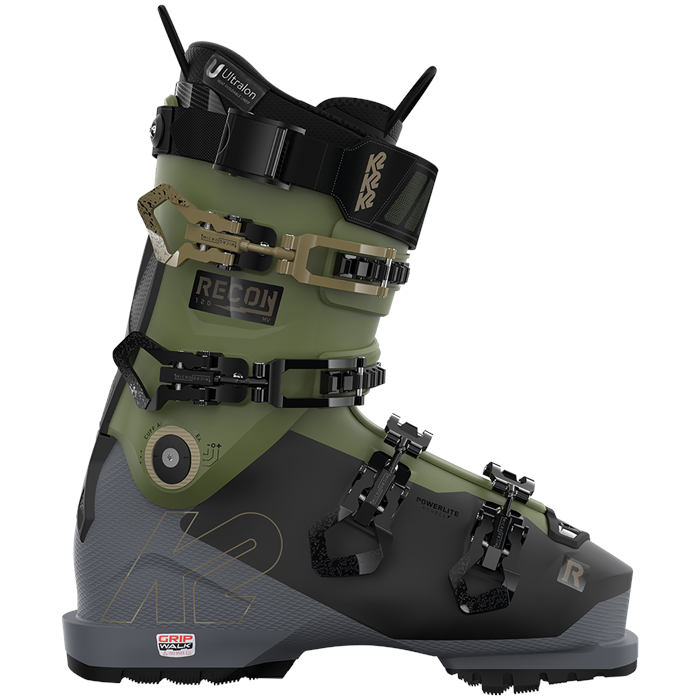 K2 Recon 120
BINDING COMPATIBILITY:GRIPWALK (ISO 23223)
CLOSURE TYPE:BUCKLE
Best Power Transfer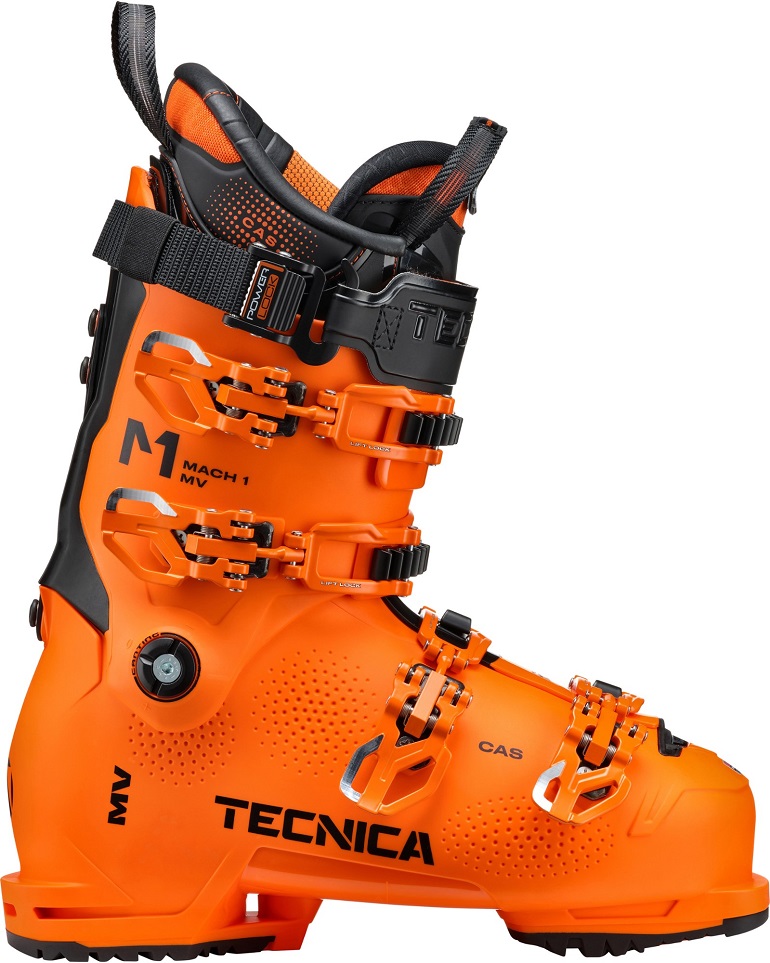 Tecnica Mach1 MV 130
BINDING COMPATIBILITY:ALPINE
CLOSURE TYPE:BUCKLES
Best Looking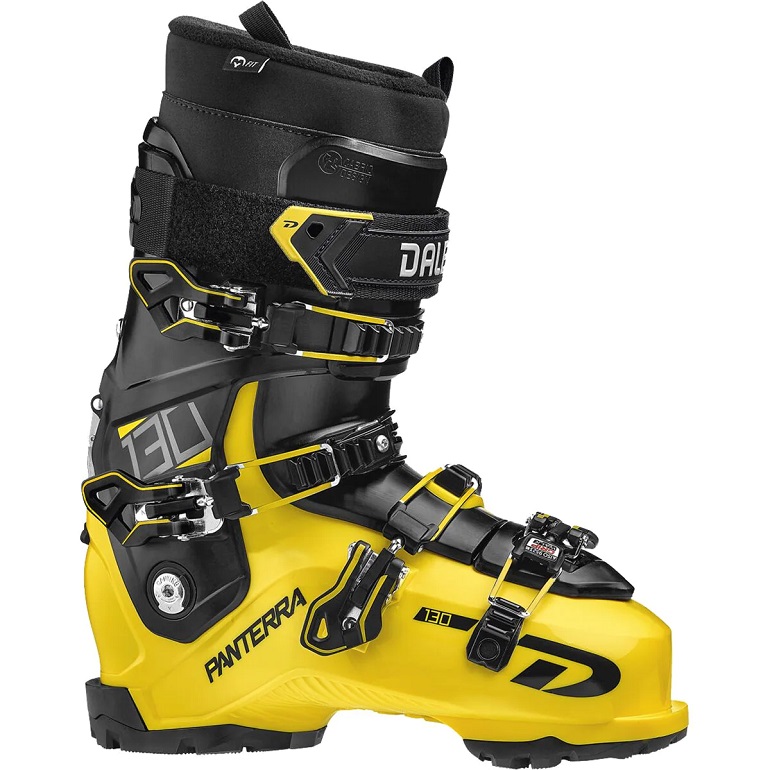 Dalbello Panterra 130 ID GW
BINDING COMPATIBILITY: ALPINE
CLOSURE TYPE: BUCKLE
Best Hybrid Boot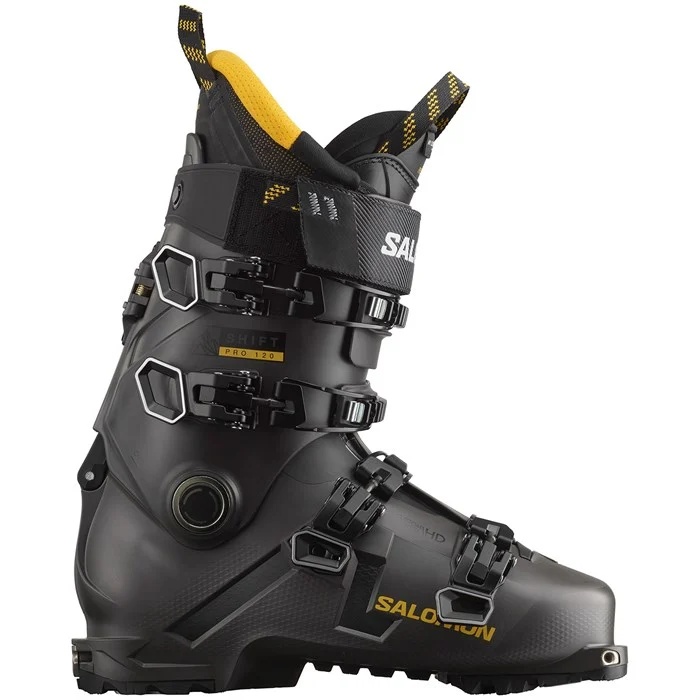 Salomon Shift Pro
BINDING COMPATIBILITY:AT (ISO 9523)
CLOSURE TYPE:BUCKLES
Great All Around Fit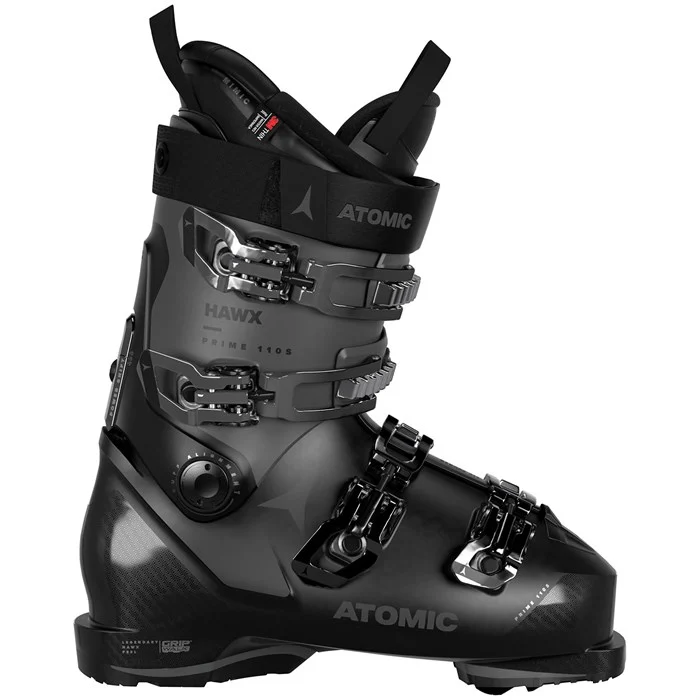 Atomic Hawx Prime 110 S GW
BINDING COMPATIBILITY:GRIPWALK (ISO 9523)
CLOSURE TYPE:BUCKLES
Comfortable Fit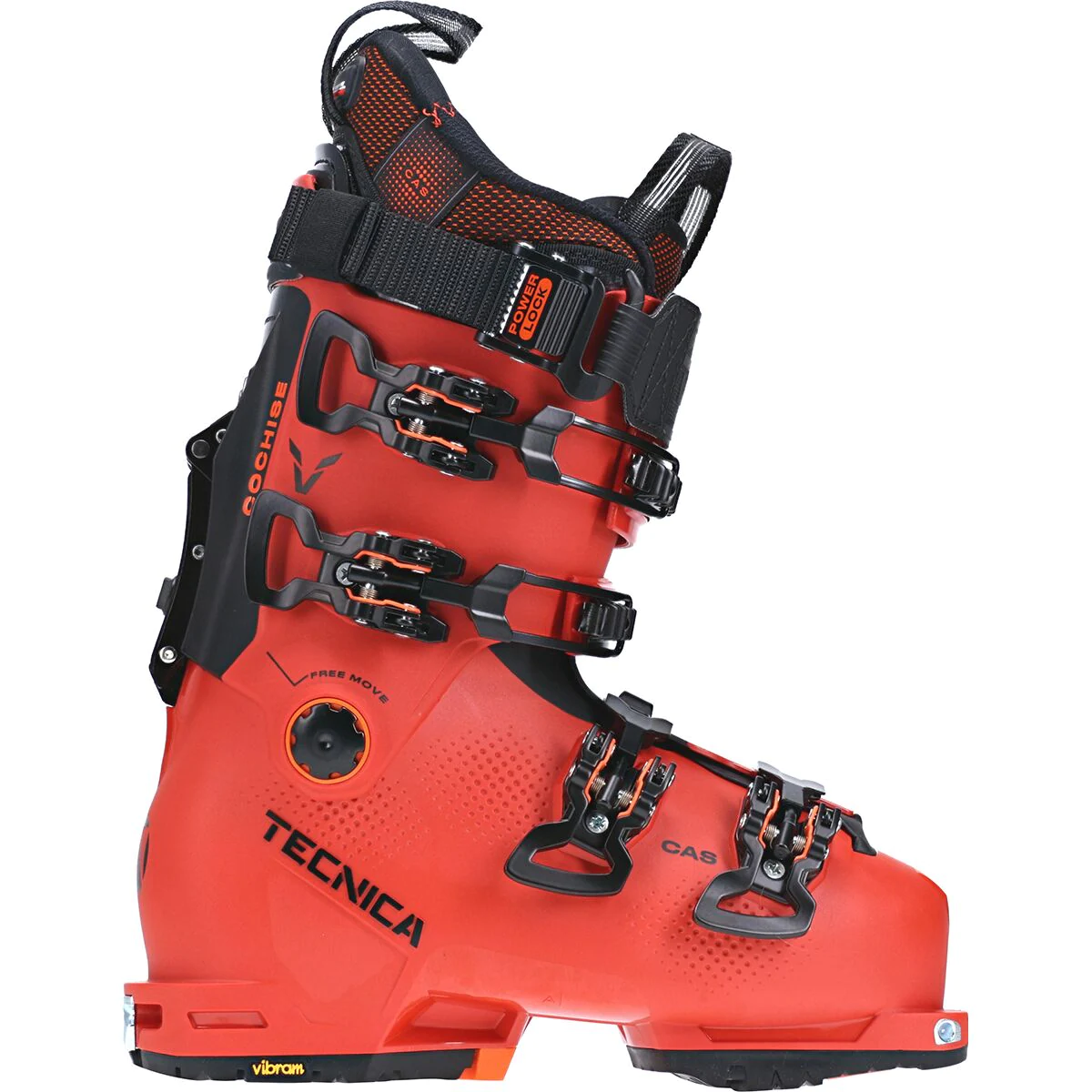 Tecnica Cochise 130
Binding Compatibility: alpine touring
Closure Type: power strap
Controllable Fit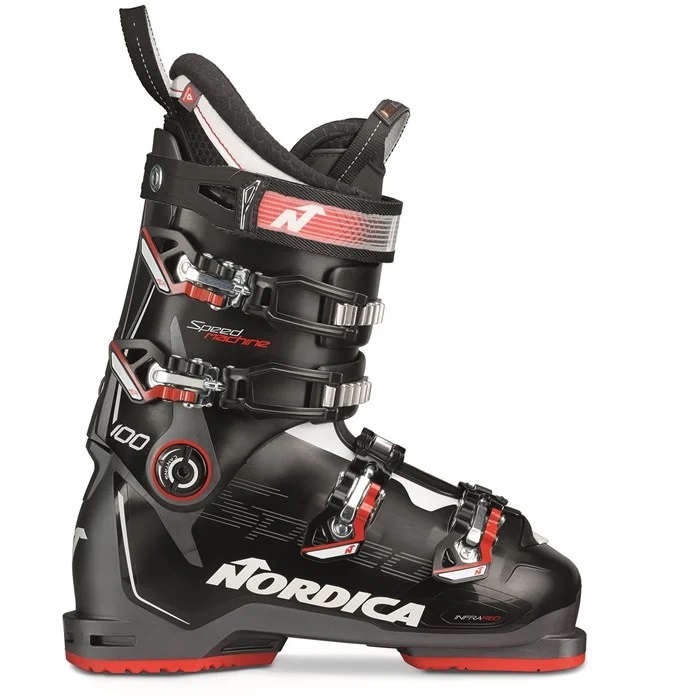 Nordica Speedmachine Boots
Binding Compatibility: alpine
Closure Type: tongue
High Durability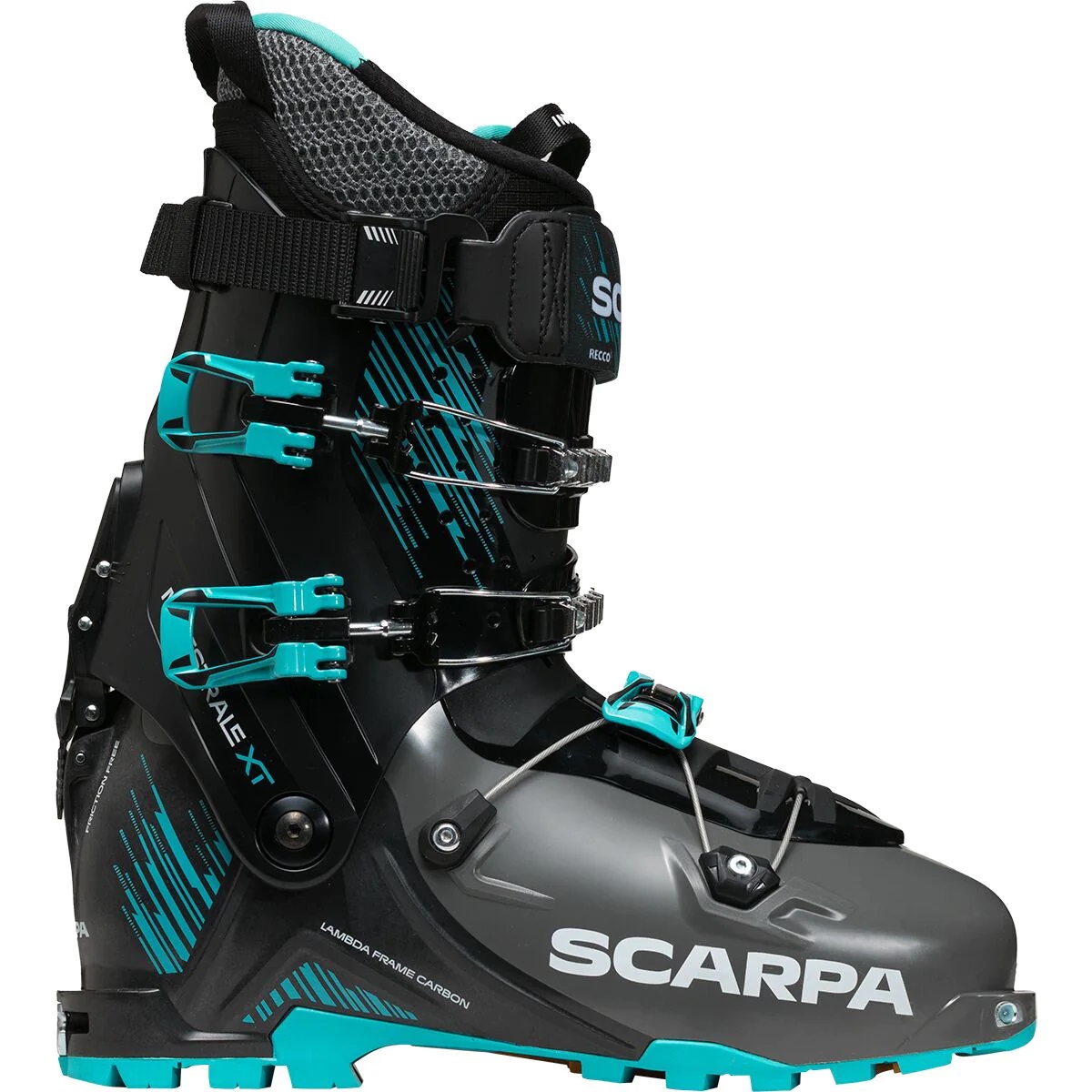 Scarpa Maestrale XT
Binding Compatibility: alpine touring
Closure Type: power strap

 
Best Ski Boots of 2023 – top 13 Picks
There is a lot more to alpine boots than one might realize. The fit, flex, range of motion, and feeling of each alpine ski boot are different, and finding the finest ski boot for you is about as easy as finding gas that isn't overpriced.
That's why this list of the best alpine ski boots came into being. To provide you with a great lineup of choices that won't make your head spin.
Remember that the right choice is in the details. You'll want alpine boots that suit your level of activity and style of skiing. The right pair of boots allow you to engage in walk mode and ski mode at your leisure.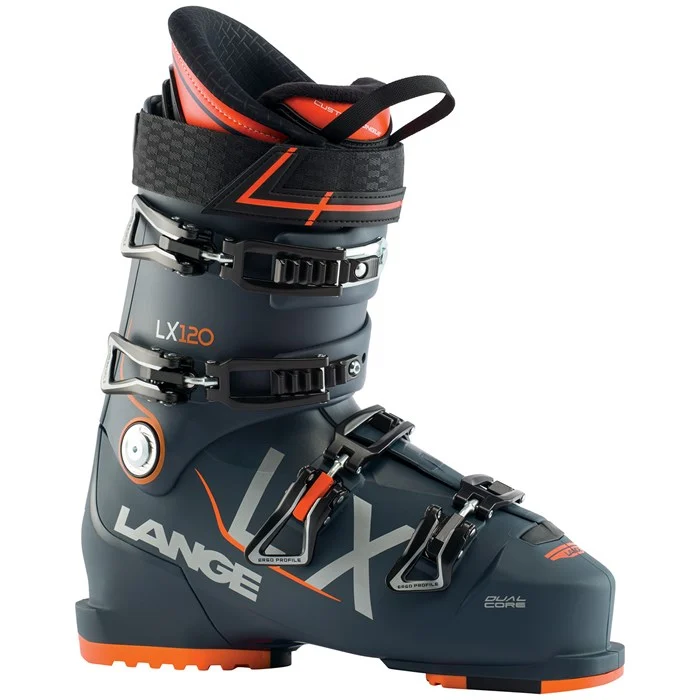 The LX 120 boots eschew the need for a boot fitter thanks to their wonderful wide fit. I myself have slim feet, but I can imagine the pain that my fat-footed ski compatriots had to go through when picking out the right downhill boots for themselves.
No more!
The wide fit of these boots accommodates riders of all sizes. Its overall structure has been constructed with targeted injections of plastics that range in flexibility and stiffness. The spine of your boot, the heel, and the lower shell have the harder plastic.
Retaining the stiffness needed to create impact zones within these areas. These impact zones are meant to help you exert force and shove off into higher speeds and maneuvers.
The rest of your feet and lower leg areas are injected with softer plastics that serve to create comfort zones. As the name would suggest, these zones are more flexible and are there to support the comfort of the wearer.
The LX 120 has a great wide fit that fits all kinds of riders with an excellent meld of different plastic types for all-day comfort and power transfer.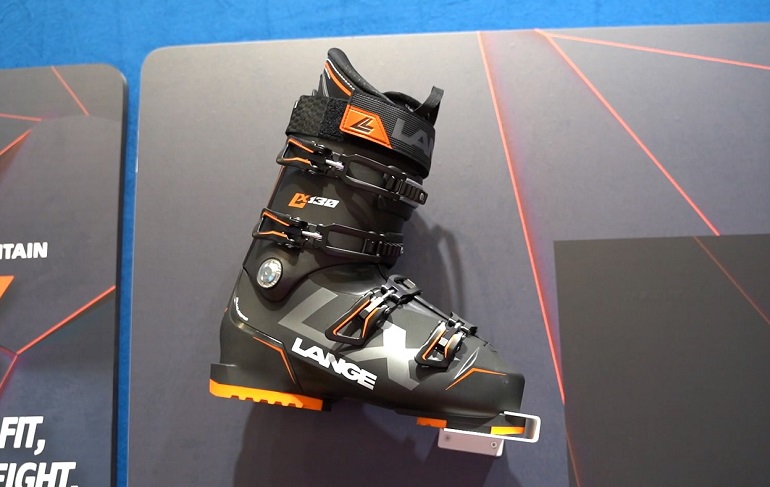 Features
Liner Type: Semi-custom
Flex Score: 120
Rider Level: Advanced to expert skiers
Fit: Comfort, forgiving boot fit
Boot width: 102 mm
Warranty: One year
Pros
The micro aluminum buckles have a sturdy and resilient hold.
Built-in natural stance increases balance.
Thermo-liner that is high in density and responsiveness.
Cons
No tech fittings included.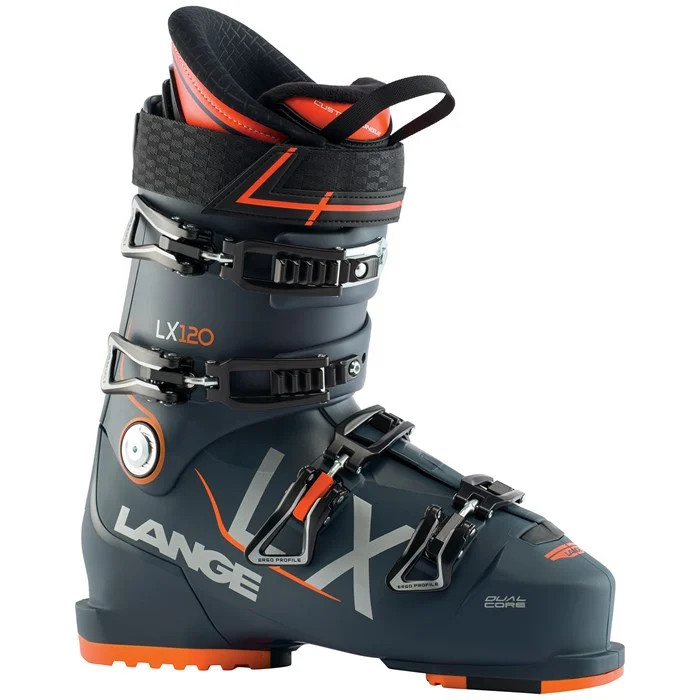 Lange LX 120 Ski Boots
The price of "Lange LX 120 Ski Boots" varies, so check the latest price at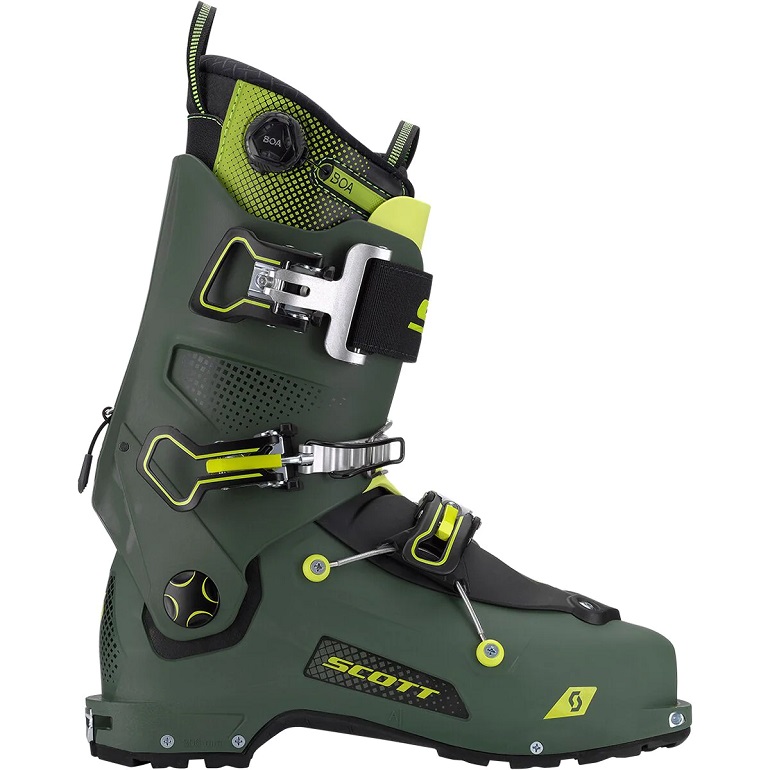 Snowboarders aren't the only ones that like to bomb downhill. Skiing also has its fair share of daredevils and lunatics.
That is why the Scott Freeguide Carbons were made. These downhill ski boots leave nothing at the gates, and the Boa dial secures and closes the liner. No slip-ups here!
The backcountry needs stiff boots that can handle the fury and brimstone that free-riders like to engage in. With a flex score of one hundred and thirty, I'd say this ski boot is stiff enough to weather the storm.
Scorching downhill is fun, but eventually, you've got to make your way back up the hill. With the Carbons, it's simple, simply engage the walk mode and be on your way. The walk mode maintains a sixty-degree cuff rotation for a greater range of motion.
Making those hikes ever so easier are the soles fitted into each boot.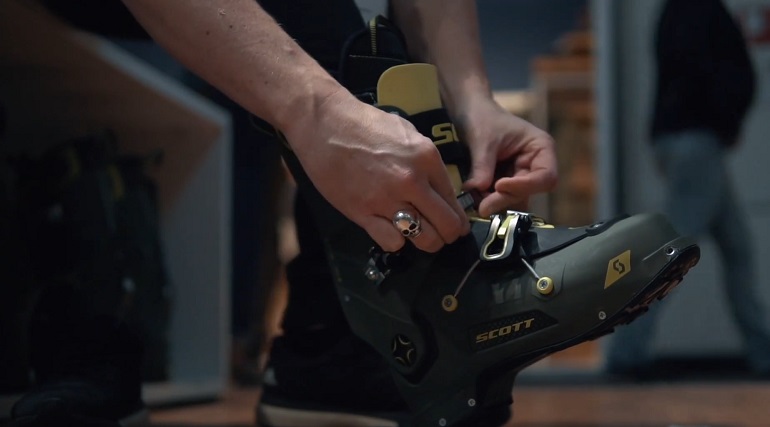 The Skywalk rubber sole stays true to its name. Giving you a cushioned feel and great stance support. There is more to be had here, but the bottom line is that these lightweight touring boots were made for walking… and skiing, of course.
Features
Liner Type: Thermo-moldable liner
Flex Score: 130
Rider Level: Expert skiers
Fit: Relaxed fit
Boot width: 101 mm
Warranty: Limited two year
Pros
Despite its very high flex score, the fit was surprisingly comfortable.
High-quality sole makes for a great walking experience.
Sixty-degree cuff rotation.
Cons
Only two buckles are available per boot.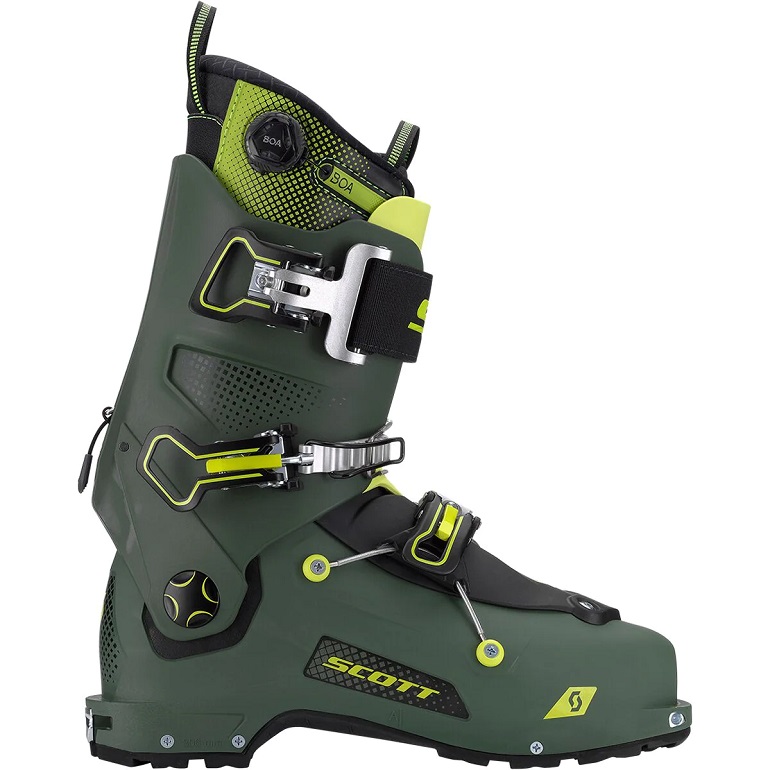 Scott Freeguide Carbon
The price of " Scott Freeguide Carbon" varies, so check the latest price at
Comfort. Our previous entry, the Scott Freeguide Carbons, knew a thing or two about rider comfort, but they can't hold a candle to the Atomic Hawx Prime.
The Hawx Prime has a slim profile that does its best not to bog you down with unnecessary weight and clutter. This translates to a smooth ride, one in which you don't feel encumbered by your boots.
Leading the comfort charge is a memory fit that molds the shell, cuff, and liner to fit the natural contours of your feet. All of this magic is completed within minutes of putting them on.
Thanks to the additive, Memolink, the plastics used to make the previously mentioned parts are able to stretch to fit your needs.
Not to be left behind, the cuffs of these boots have a spoiler on their back. This spoiler can be removed if you want more volume as you ride, or it can be left in for added comfort.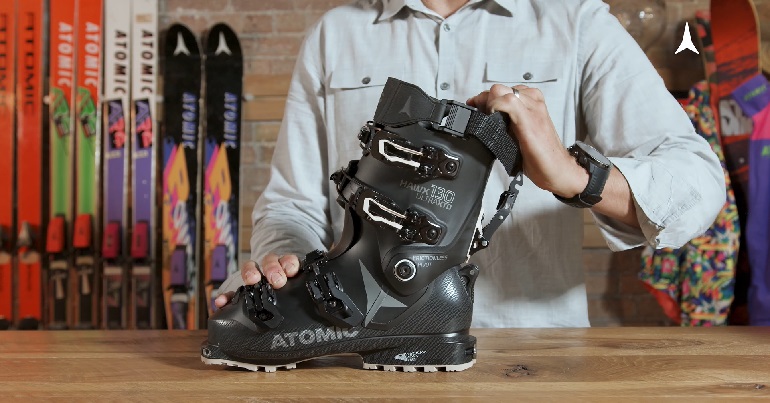 The Prime isn't just comfortable, it's ready-made for you to tweak to your liking.
Features
Liner Type: Semi-custom
Flex Score: 130
Rider Level: Experts only
Fit: Memory fit
Boot width: 100 mm
Warranty: Two years
Pros
Slim profile wastes no materials or space.
The memory fit gets the right feel for your foot.
Great forward lean stance built-in.
Cons
The price is a bit high, but currently, it's on sale.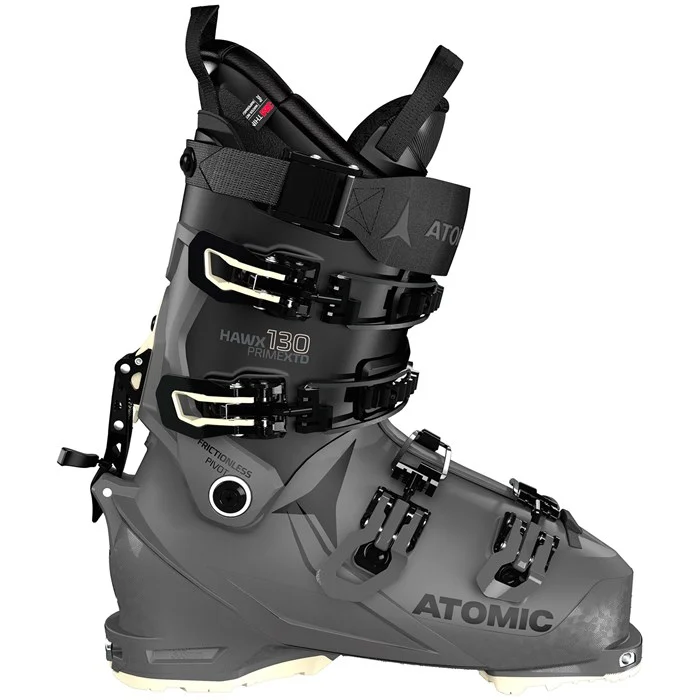 Atomic Hawx Prime XTD 130 Tech GW
The price of "Atomic Hawx Prime XTD 130 Tech GW " varies, so check the latest price at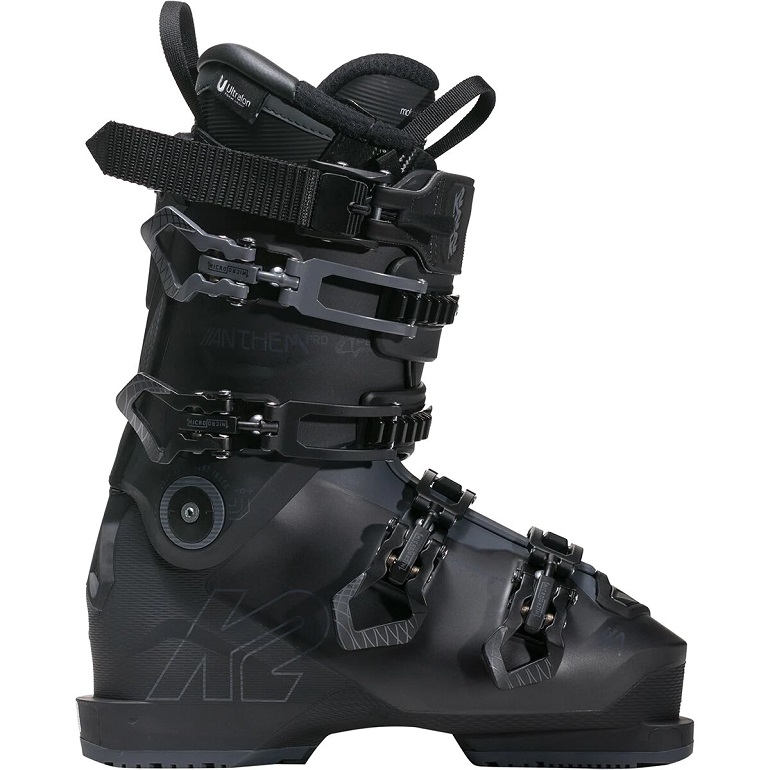 Finally, a women's option enters the charts. The K2 Anthem get a lot right and their overall design was ahead of any of the other alpine boots and touring boots that I stacked up against them.
Chief among its many design highlights are the shell and liner mold of the boot. They both mold themselves to fit your overall foot shape. This essentially turns every pair of K2 Anthems into a custom fit.
The inside of the boot is suited for those with narrow feet. The downside here is that any lady with a wider foot will feel a much tighter fit. Precision was the reason for the narrow inner fit.
With a flex score of 120, you won't find many stiffer options. As a result, this is the all-mountain ski boot that can take on backcountry skiing if needed. Your downhill performance will also experience a major boost thanks to the Powerfuse Spyne of the Anthems.
K2 left nothing to chance. Designing an all-mountain boot that takes no prisoners.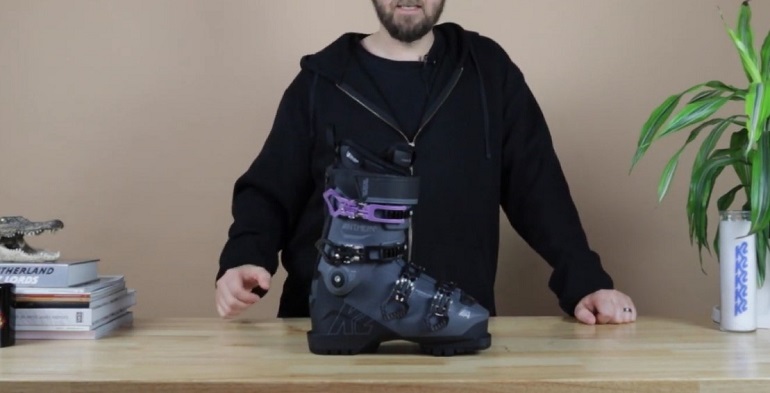 Features
Liner Type: Powerfit thermal liner
Flex Score: 120
Rider Level: Expert
Fit: Narrow fit
Boot width: 98 mm
Warranty: One year
Pros
The shell and liner mold themselves to fit the overall shape of your foot.
You won't find a stiffer boot for women. (When it comes to the K2 brand).
The narrow fit is made for precision.
Cons
Women with wider feet won't fit as comfortably into this all-mountain boot, not until it is broken in. But you can look out for wide feet ski boot to find your perfect pair.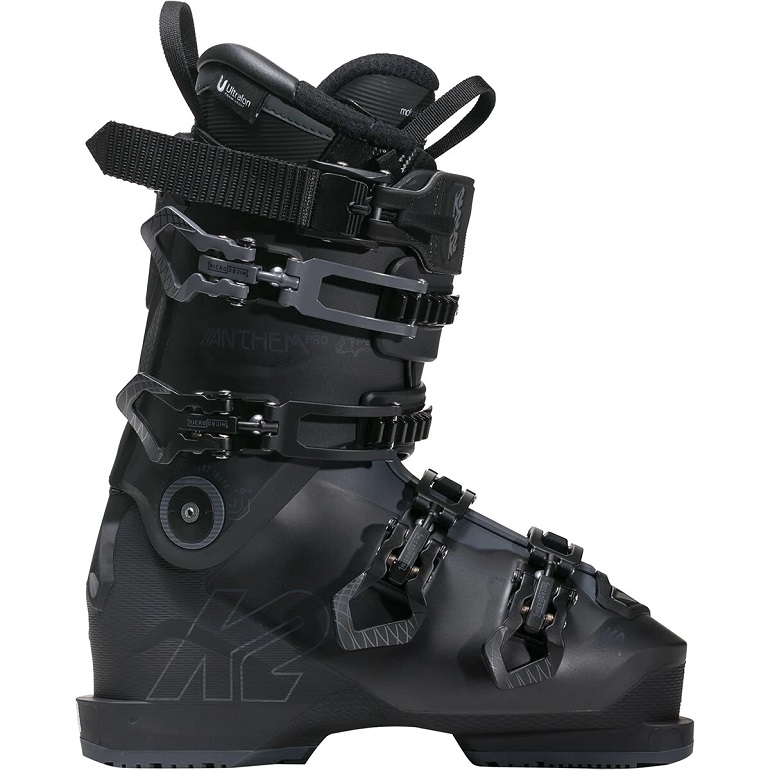 K2 Anthem Pro
The price of " K2 Anthem Pro" varies, so check the latest price at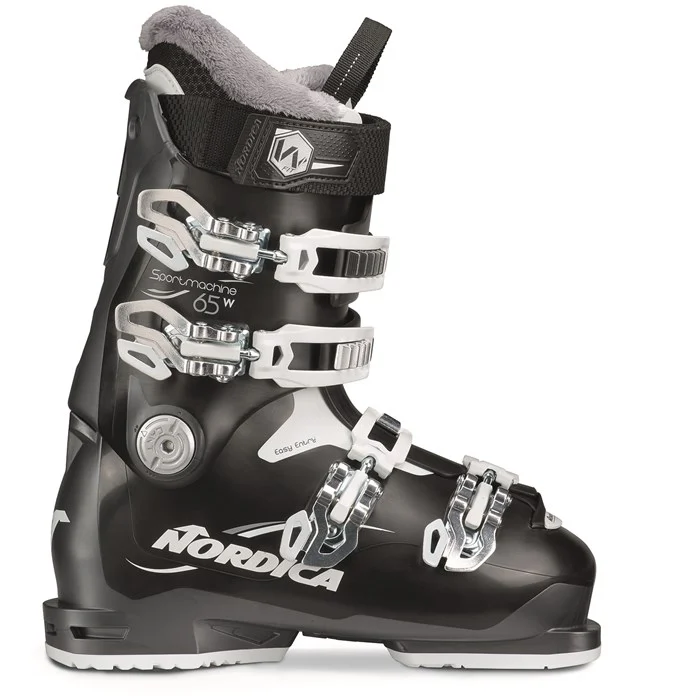 Considering what is on offer, these boots are an absolute steal at their current price. The best part is that thanks to their lower flex score, any skier of any level or ski style can get a great ride out of these boots.
Nordica set out to create this women's specific model that makes your entire riding experience a breeze. The softer flex score is great for a forgiving ride, but that's not all. Oftentimes, getting into and out of your gear can be annoying. Too many straps and buckles to contend with.
The Sportmachine has an easy entry instep to remedy this issue. This soft plastic flap can easily bend, allowing you to quickly get into and out of your boots.
The flap is connected to the outer shell and cuff of the ski boot. Both the outer shell and cuff have seen a massive 25% weight reduction because of the Nordica-exclusive polypropylene formula used to make the aforementioned parts.
This weight reduction reduces rider fatigue as the day goes on. It's nice to see premium boots that were made for comfort and ease of use rather than blindly focusing on performance.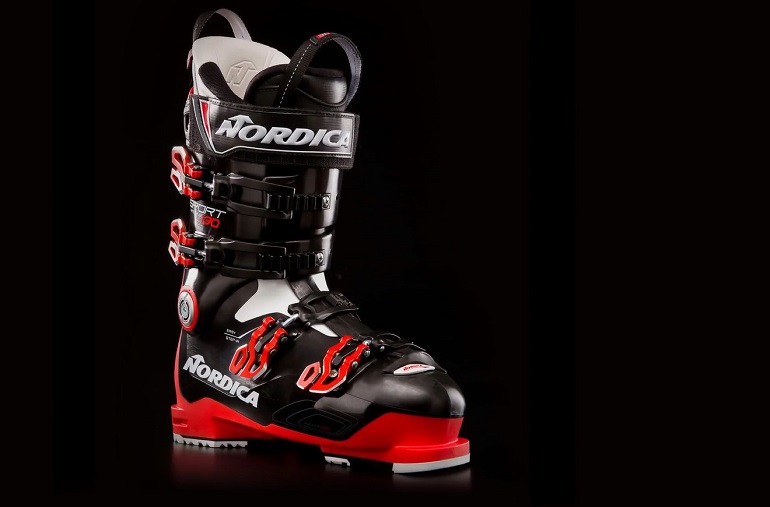 Features
Liner Type: Basic
Flex Score: 65
Rider Level: Beginner to intermediate
Fit: Medium wide last
Boot width: 102 mm
Warranty: One year
Pros
The medium-wide fit is perfect for riders that have wider feet.
The softer progressive flex makes it a great option for those just starting out.
Great price for the quality.
Cons
The wide fit may not be suitable for all foot shapes.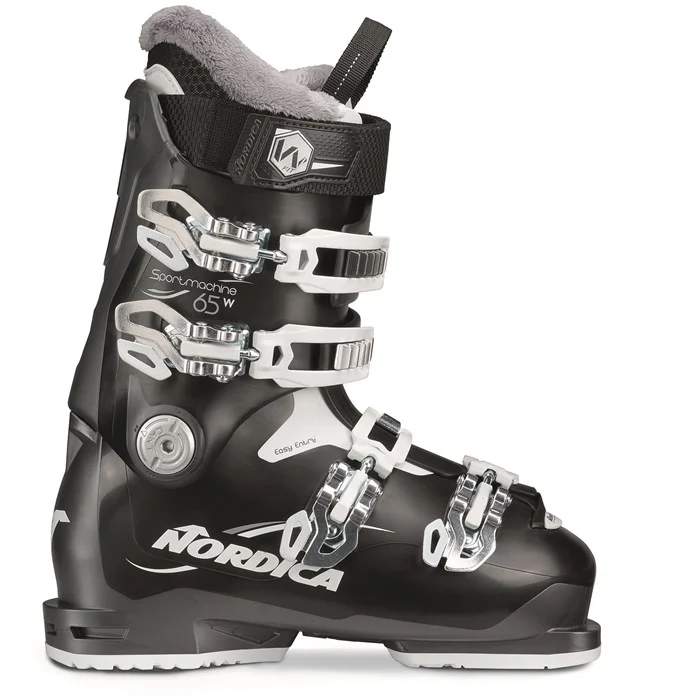 Nordica Sportmachine 65
The price of "Nordica Sportmachine 65 " varies, so check the latest price at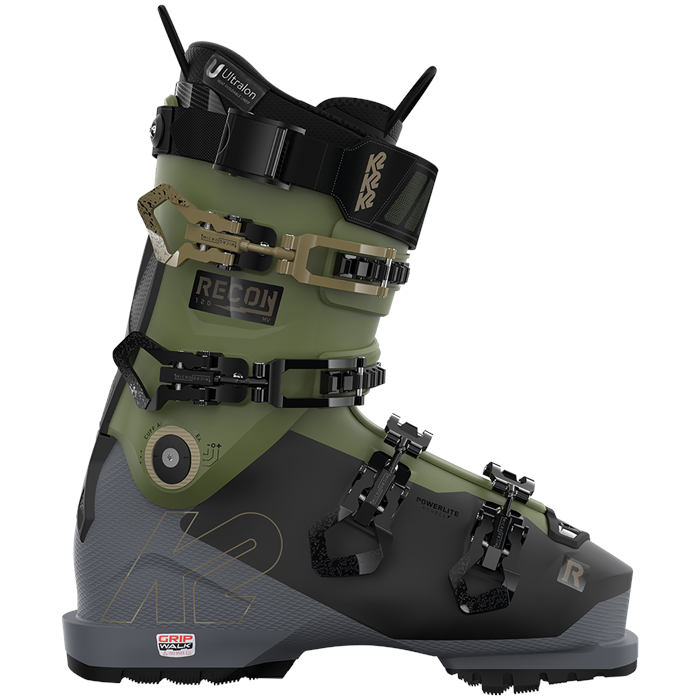 Heat moldable liners, it seems that every boot from here to Zurich has them. Which one then, is the cream of the crop? The answer is the K2 Recon 120s. These boots were made to live within the two worlds of comfort and performance.
The 100mm space within the boot is a tight fit, and on top of that, the structure and support of a high flex score are also present. This is all great from a performance frame of view, but you'd think that skiing in these would feel traumatic.
This is not the case.
The Ultralon heat moldable foams fitted into the liner of these boots create a high-density collar that has a dual purpose of increasing rider comfort and performance. This foam couples with the Powerlite shell.
The Powerlite shell was created from walls of varying thicknesses and plastics. This lowered the overall weight of the boot while increasing its responsiveness. Perfect dual-minded design.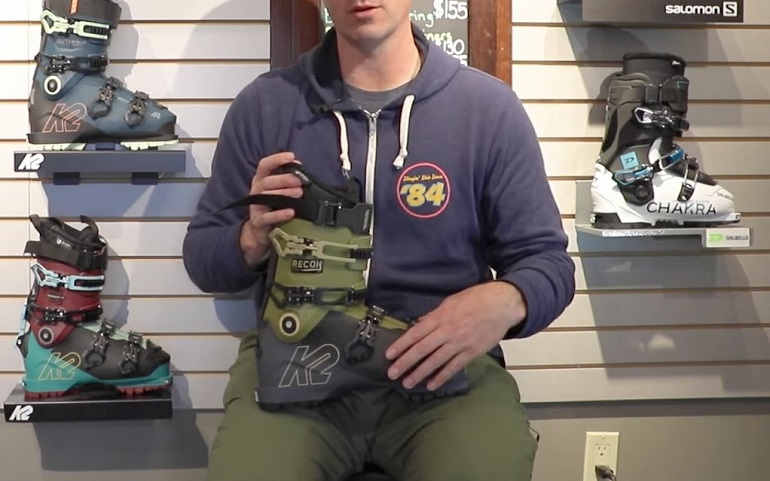 Features
Liner Type: Custom
Flex Score: 120
Rider Level: Advanced to Expert
Fit: Average
Boot width: 100 mm
Warranty: One year
Pros
Great middle-of-the-road fit.
Both the shell and cuff are heat moldable.
Gripwalk outsoles for improved comfort and hold.
Cons
Available in only one style.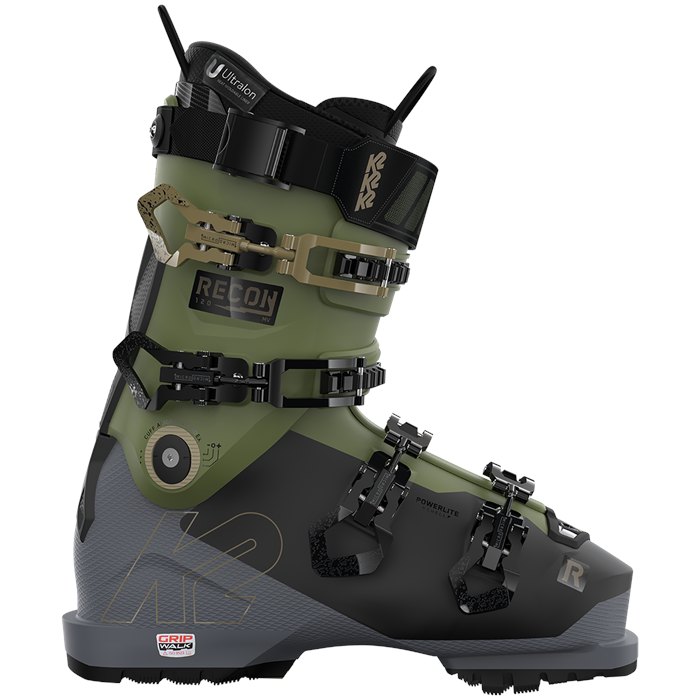 K2 Recon 120
The price of "K2 Recon 120" varies, so check the latest price at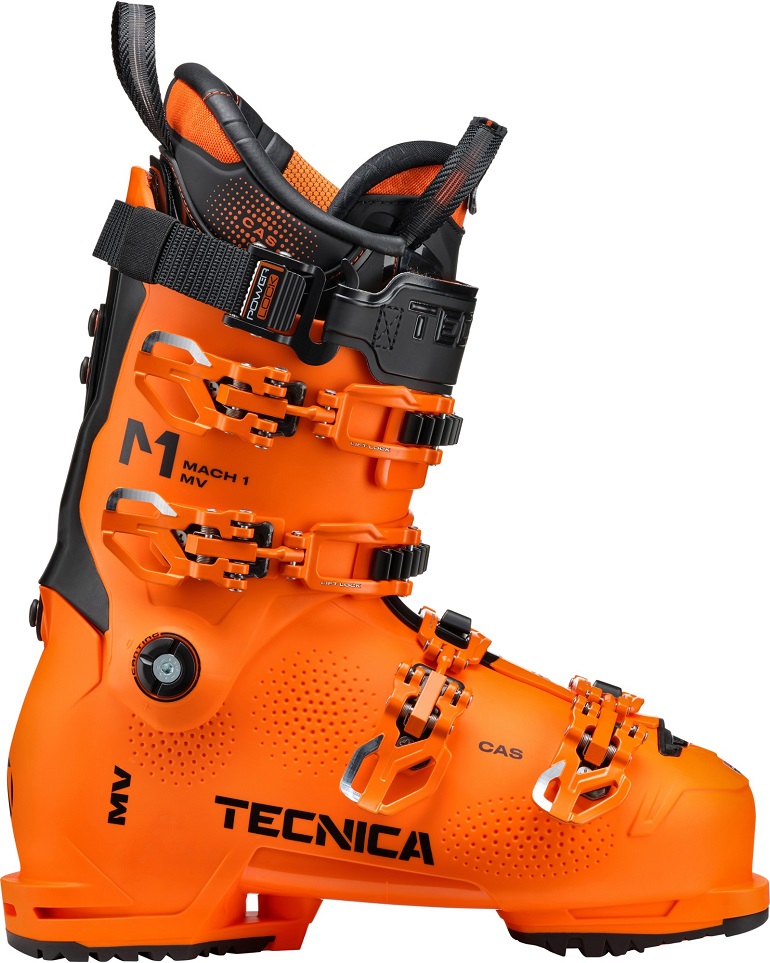 The Technica Mach1 MV has got a killer name and even more murderous power transfer. If you've been on the hunt for quick edge-to-edge transitions, then you've found your target. Set your sixshooter and take aim, this will be the kill of the year.
The Mach1 MV has got a stiff flex score that makes it optimal for expert skiers. But the one thing that experts crave the most is consistency. They consistently want to improve and consistently want to be the best.
A consistent skier needs consistent gear. That's where the Mach1 MV comes in. These boots have a flex score that stays consistent and efficient for an experienced skier even as the temperatures drop.
But how is this done?
T-Drive technology helps to regulate the flex adjustment of the boot as you ride. This tech also improves your control as you begin your descent and reduces shell deformation. Due to these performance characteristics, these boots aren't a one-trick pony, they are a one-trick master.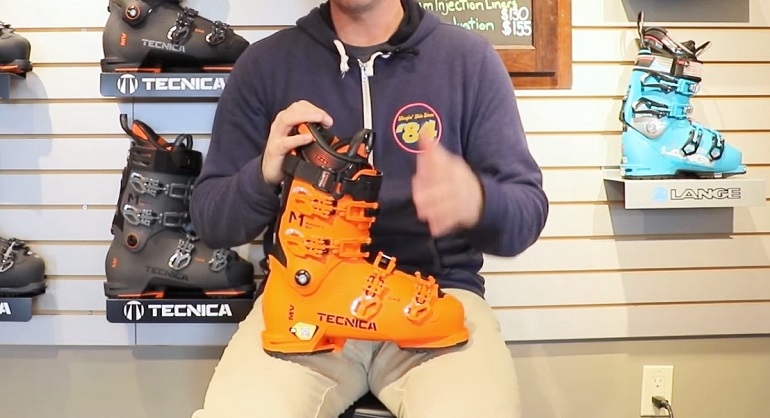 Features
Liner Type: Ultra fit
Flex Score: 130
Rider Level: Advanced and higher
Fit: Medium volume
Boot width: 100 mm
Warranty: N/A
Pros
Mach1 MV boot flex is consistent, even in colder temperatures.
Reduced surface tension thanks to dimples on the outer shell.
Fast edge-to-edge transitions thanks to a more flexible exterior.
Cons
No walk mode for ski mountaineering.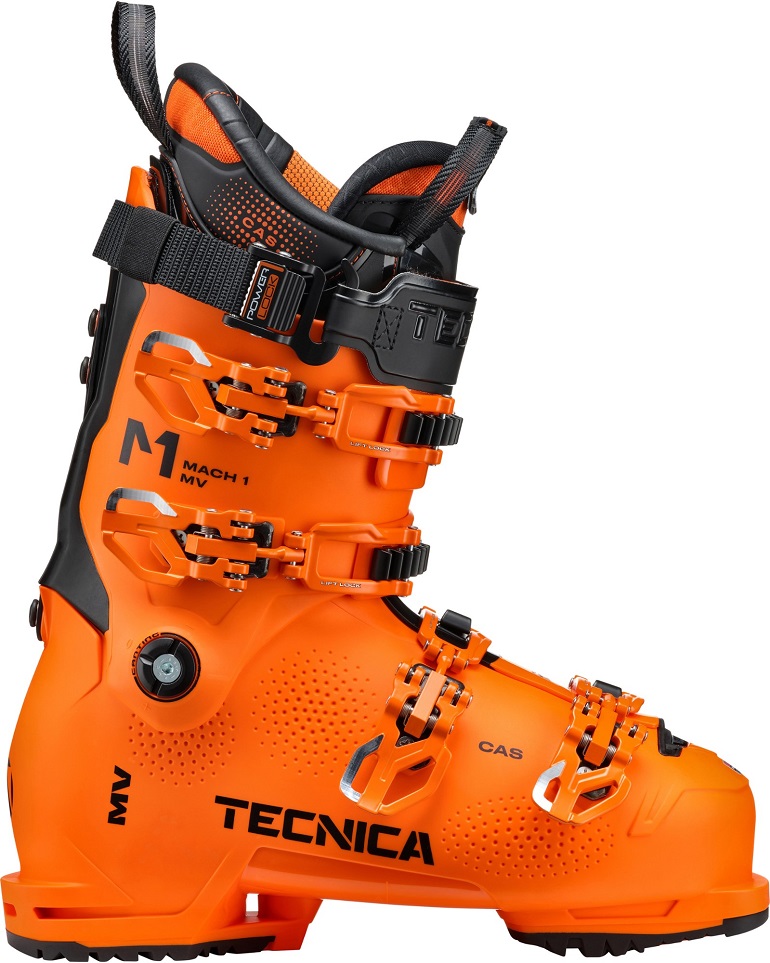 Tecnica Mach1 MV 130
The price of "Tecnica Mach1 MV 130" varies, so check the latest price at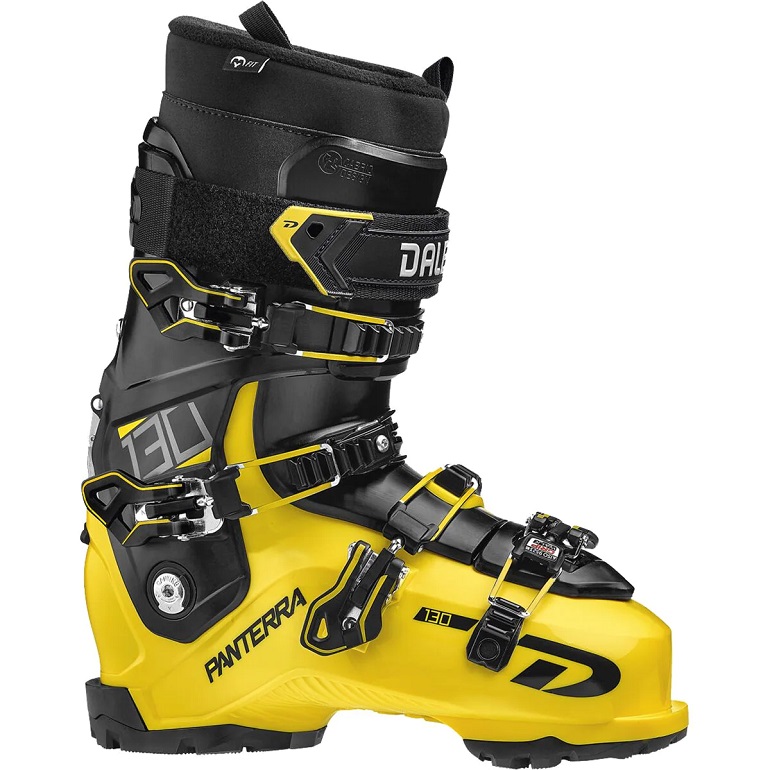 Style counts and the Dalbello Panterra knows this! The wonderful blend of black and yellow on the outer shell creates an eye-popping visual. Its beauty is only further enhanced by its form.
With four micro-adjustable buckles, you can adjust your fit as you ride around. No problems, no tools required, just your quick fingers.
The Gripwalk sole installed in each race boot improves traction and grip. Whether you ski or walk, you are going to feel a noticeable improvement. The Panterra make you look good because they make you feel good.
One last thing to note, larger riders can rejoice because these boots were designed for the big fellas. Hence the high flex score.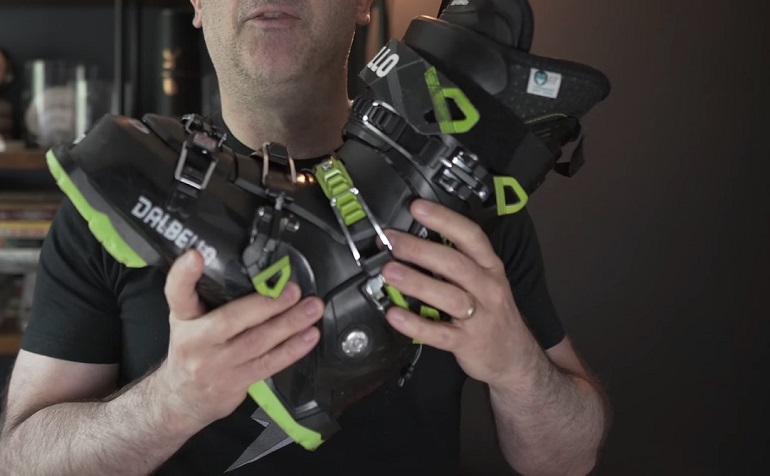 Features
Liner Type: Heat moldable liner
Flex Score: 130
Rider Level: Expert
Fit: Comfortable fit
Boot width: 102-100 mm
Warranty: Two years
Pros
An expert-level boot that still focuses on rider comfort.
Gripwalk sole with rocker profile.
Micro-adjustable buckles allow you to adjust your fit on the fly.
Cons
Best used by larger riders.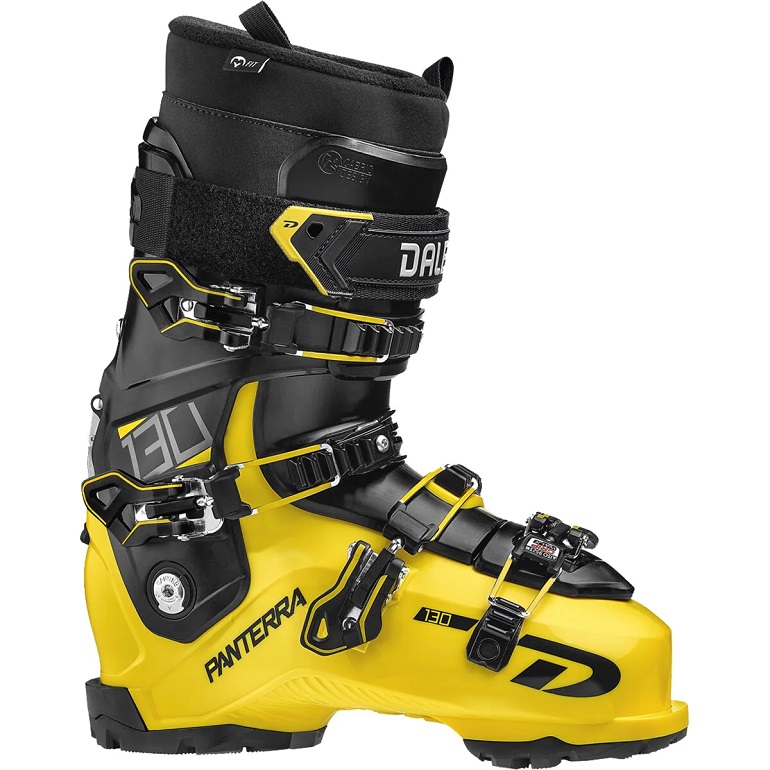 Dalbello Panterra 130 ID GW
The price of "Dalbello Panterra 130 ID GW" varies, so check the latest price at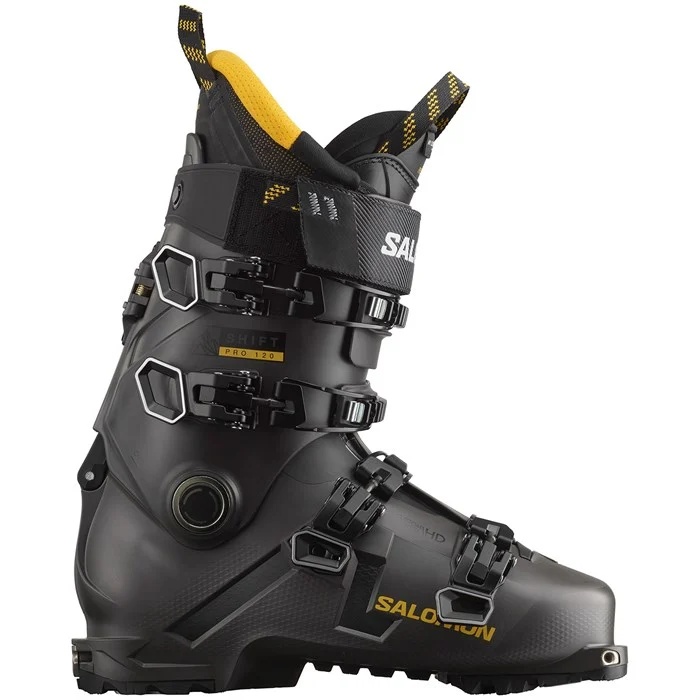 The best hybrid boots are those that, by default, can engage in two different activities. Without the need for lengthy adjustments. This is what won me over about the Shift Pros. Each of the buckles on either boot cuff has two additional hooks.
These hooks increase your range of motion. Perfect for hiking.
There are also velcro power straps that can be quickly adjusted to tighten your lightweight touring boot should you feel the need. Partnered with all these features are improvements made to the boot liners.
No longer will you feel the seams of the liners annoyingly brushing up against your toes. The new seamless liners are a small detail that goes a long way in improving your comfort and performance.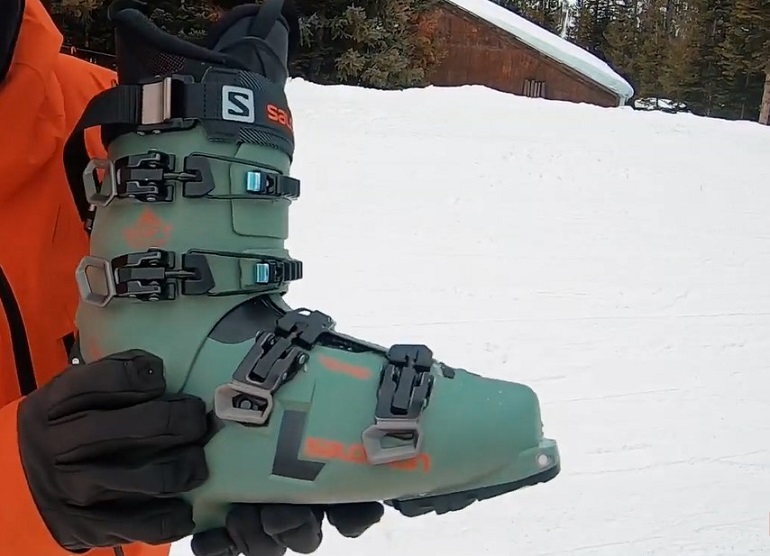 Features
Liner Type: Custom
Flex Score: 120
Rider Level: Advanced to expert skiers
Fit: Average Fit
Boot width: 100 mm
Warranty: Two years
Pros
Custom heat-molded outer shell.
Great hiking boot thanks to the two hooks on the buckles of both cuffs.
Velcro power strap for easy adjustment of fit.
Cons
A great hybrid boot that is priced accordingly.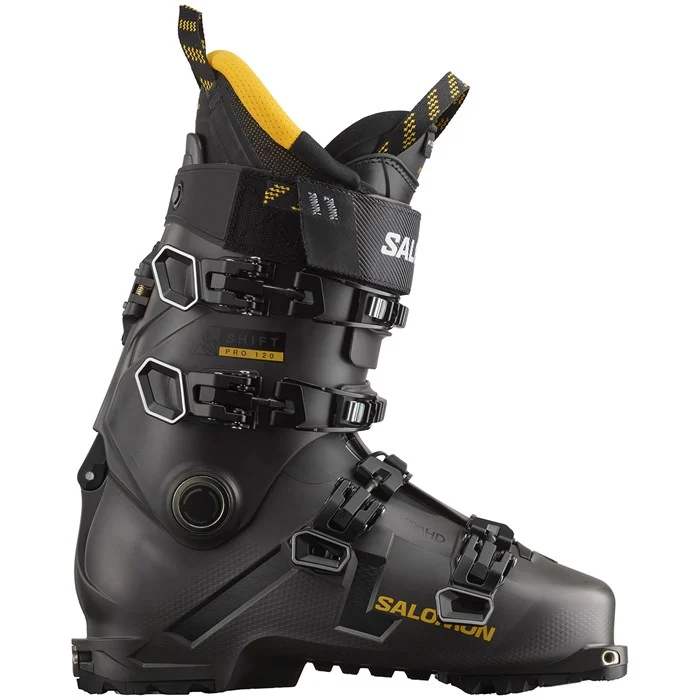 Salomon Shift Pro
The price of "Salomon Shift Pro" varies, so check the latest price at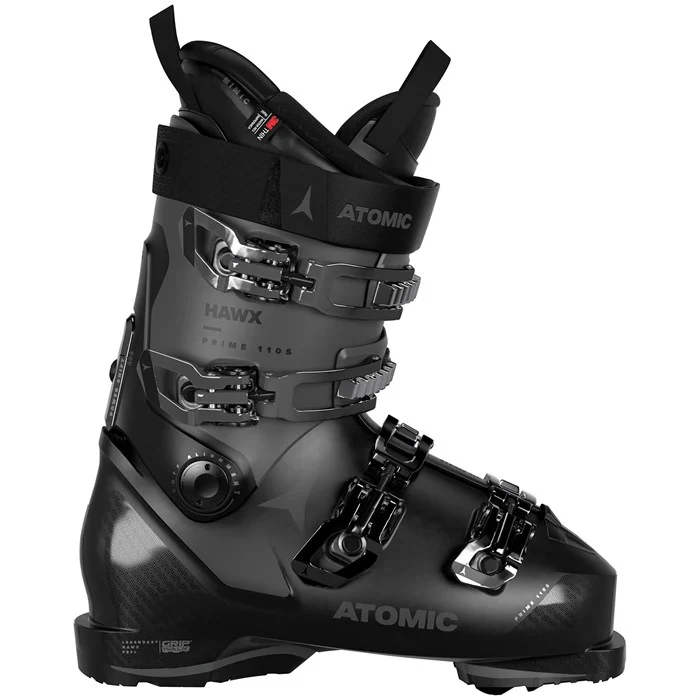 Encase you were looking for a solid all-around option that gets the fundamentals down, the Prime 110S has made its arrival. These memory foam, dual-sided cuff alignable ski boots come with a medium flex, perfect for riders that are looking to transition to experts.
The boot's liner has 3M Thinsulate Insulation that obviously keeps your feet warm but surprisingly is responsive enough to not overheat them.
Supporting this warm liner is a reinforced backbone that gives your lower legs the strength needed for power skiing. This support also improves energy transmission, which results in improved edge grip in high-speed turns.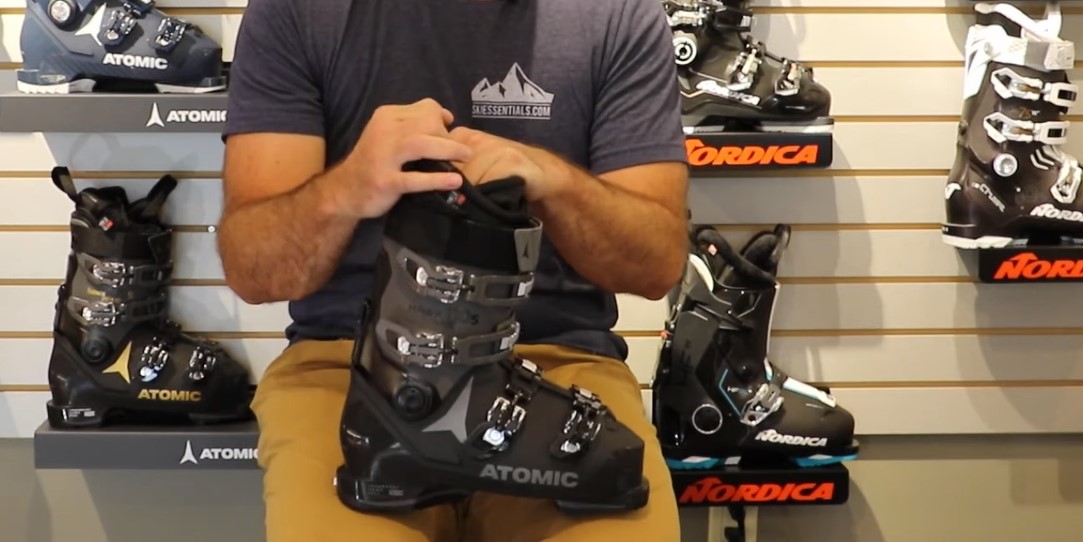 The Prime 110s were the best all-arounders that I could find because they were designed to be a multi-purpose solution to many of the common problems that plague other competing boots.
Features
Liner Type: Semi-custom
Flex Score: 110
Rider Level: Intermediate skiers
Fit: All-around
Boot width: 100 mm
Warranty: Two years
Pros
The fit of this boot is suited for all kinds of sizes and shapes.
Great middle flex that doesn't close out large swaths of riders.
Two years of warranty.
Cons
Downhill boot shell exterior feels flimsy in certain places.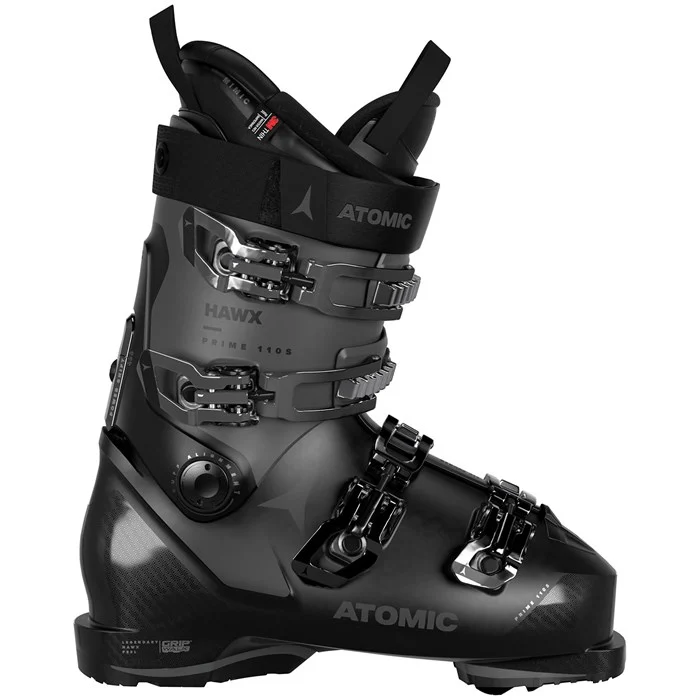 Atomic Hawx Prime 110 S GW
The price of " Atomic Hawx Prime 110 S GW" varies, so check the latest price at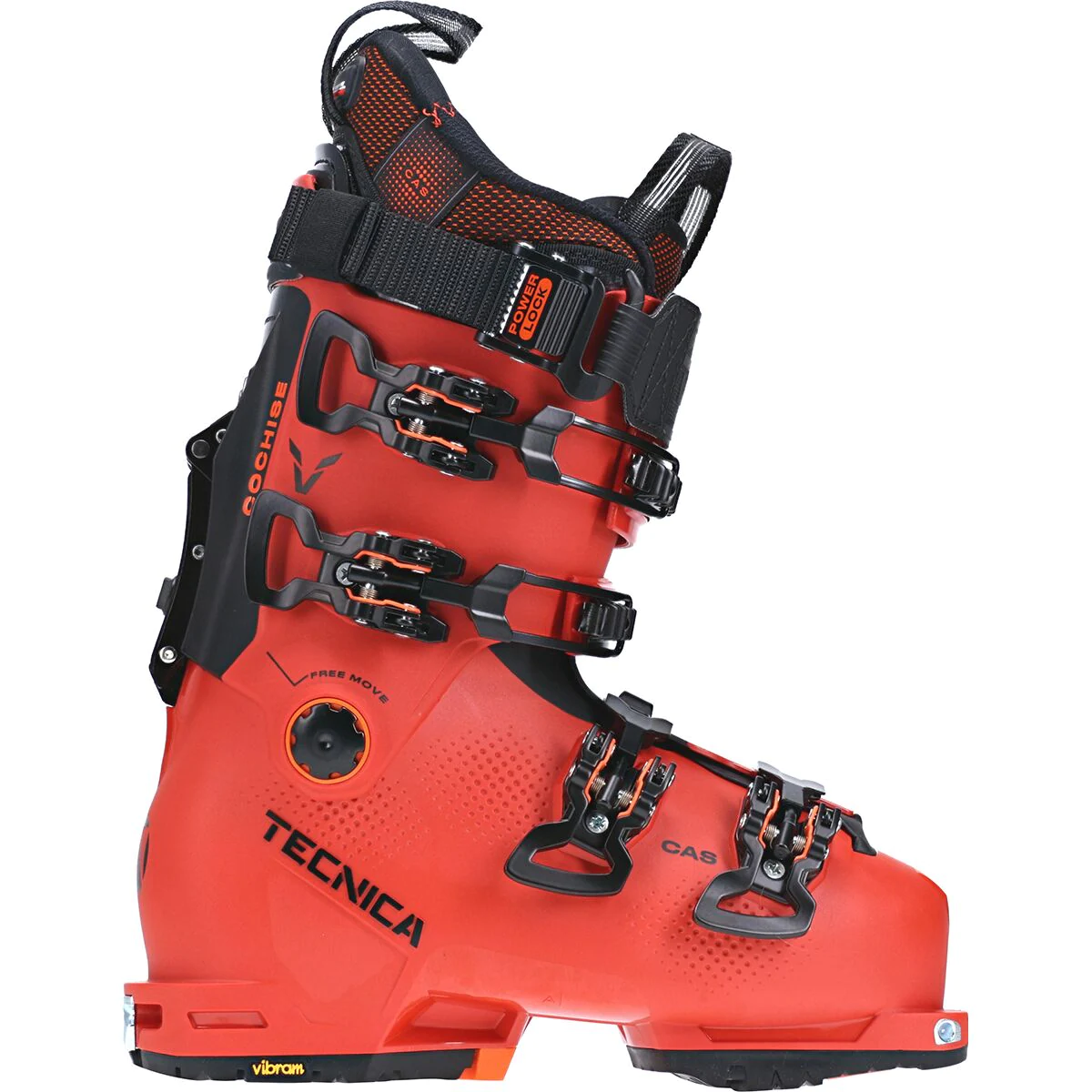 The ergonomic CAS (Custom Adaptive Shape) construction of Tecnica Cochise is its trademark design that guarantees a perfect fit to all foot shapes when it comes to all experienced and heavy riders.
You can't go wrong with one of these stiffest boots if you're looking for ultimate control, efficient energy transfer, and easy maneuverability to shred all kinds of slopes.
These alpine ski boots offer a new upgraded T-ride lever walk mode for acing downhill performance, but they also shine when it comes to up-hill performance and climbing.
The feature of the Full Lock mechanism gives a super powerful grip while skiing around and more natural movement when you need the walk mode after skipping the lift lines.
However, it is difficult to turn the locking mechanism with gloved hands. They also come in a women's boot version and two more flexes, 110 and 120, for less fierce skiers.
I've worn these alpine touring boots for casual outings in moderate snow, but a lot in freeride adventures too. Even with track race skis, I experienced a feeling of precision and stability that I never expected. Just amazing!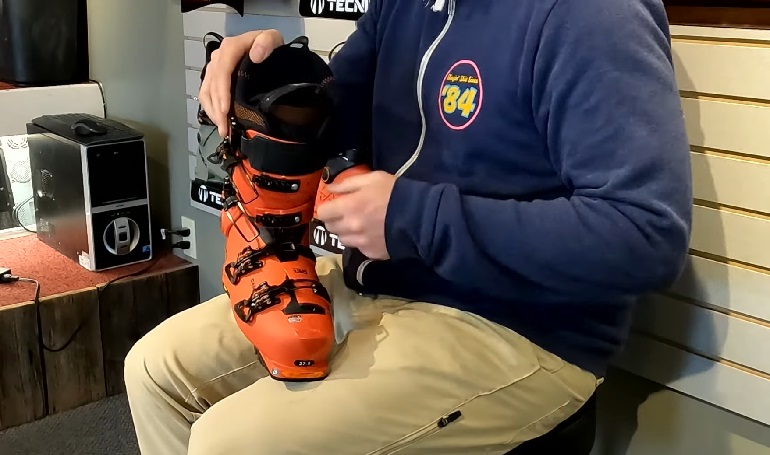 Like most ski boots, these lightweight boots are ideal for a good hike as well!
Features
Liner Type: Thermo-moldable
Flex Score: 130
Rider Level: Advanced and expert skiers
Fit: Customized fit
Boot width: 99 mm
Warranty: One year
Pros
The progressive flex is suitable for advanced and expert skiers
Lightweight but powerful and can be used as a resort boot.
These alpine boots boast a highly secure latch for backcountry skiing.
Cons
Priced around $800, these might seem like an expensive option to most skiers. But these boots are worth every penny!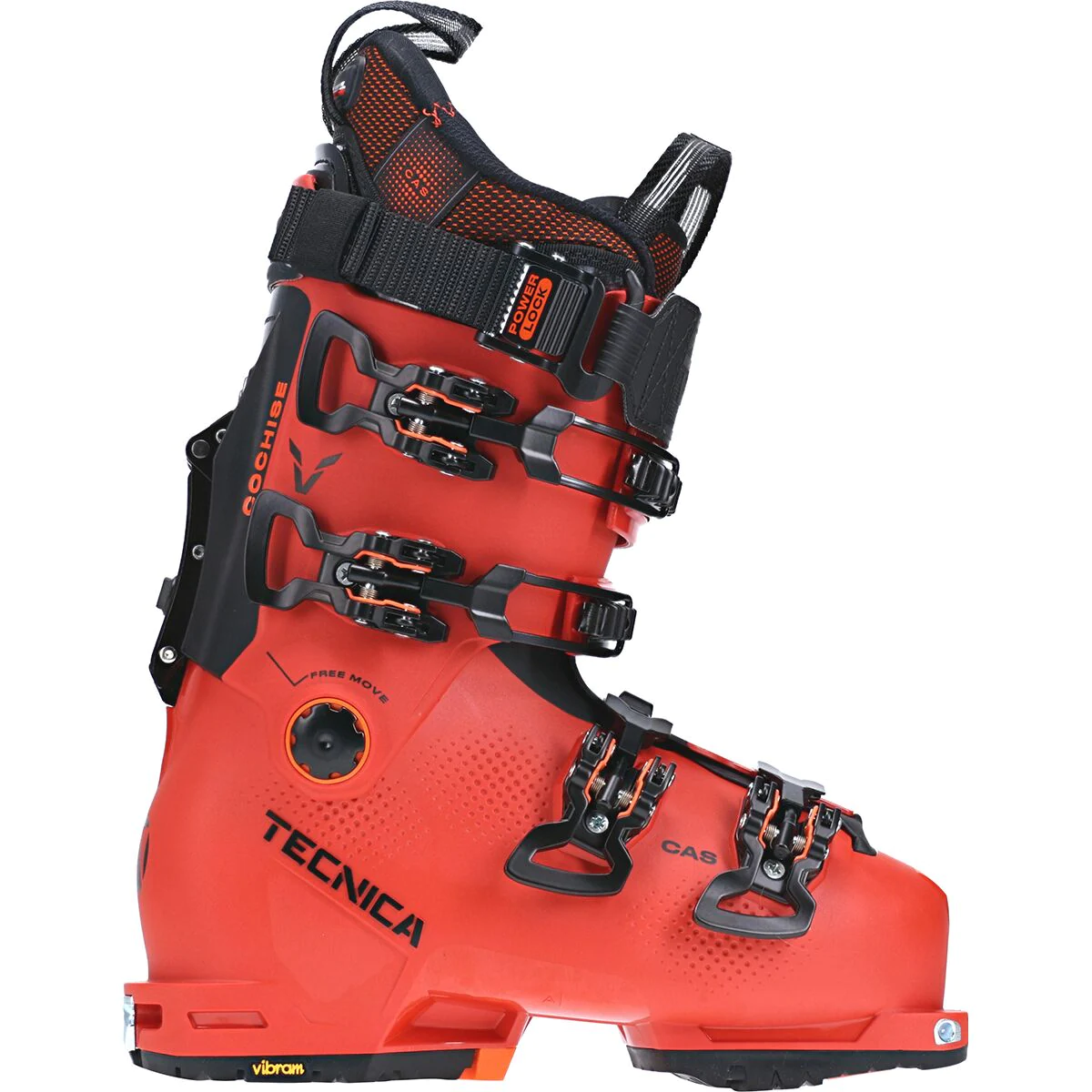 Tecnica Cochise 130
The price of " Tecnica Cochise 130″ varies, so check the latest price at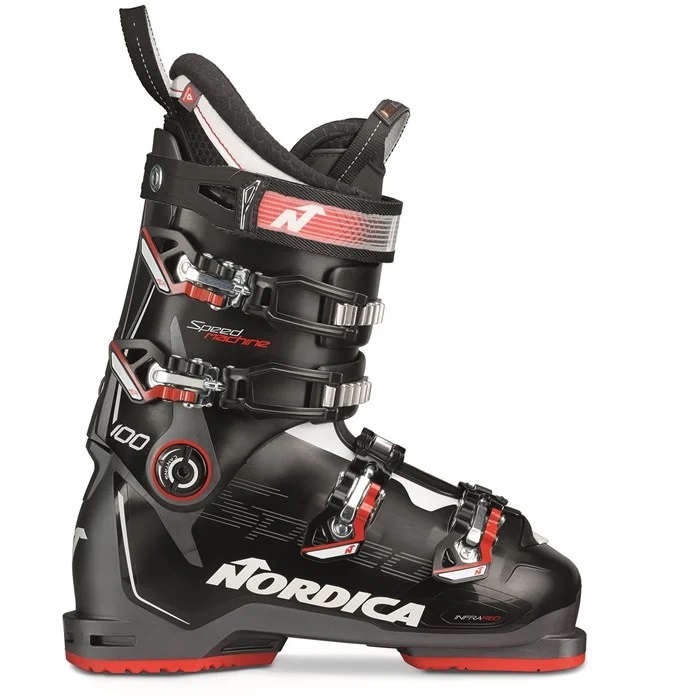 Nordica speed machine 100 is a downhill boot suitable for many slopes. The best thing about it is the level of comfort it provides.
Using the Tri-Fit technology gives a whole new meaning to customization when it comes to the fit of these downhill ski boots.
It comes with Infrared Shell Customization Heating Element and Custom Cork Liner System, which keeps your foot from slipping. It is comfortable, plushy, and warm!
Nordica Speedmachine is not long-lasting and will become accustomed to wear and tear with time, but it is equipped with a weather shield to keep moisture from seeping in. What it lacks in some features, it makes up in terms of price. You should learn about how long do ski boots last before buying a pair for you.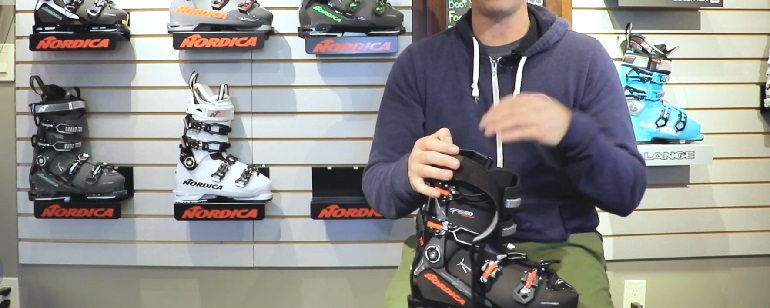 Nordica Speedmachine is not a high-performance boot as compared to other high-end options. But having features that provide you with comfort and protection after long hours makes the purchase worth it!
Features
Liner Type: Semi-custom fit
Flex Score: 100
Rider Level: Intermediate to advanced skiers
Fit: Trulycustomizable
Boot width: 100 mm
Warranty: 2 years
Pros
These resort speed demon boots are affordable.
These boots offer a customized fit.
Heating element to keep your feet warm when the temperature falls
Weather-protected construction.

Cons
There were a few instances that showed they were less durable.
These alpine boots are not very lightweight.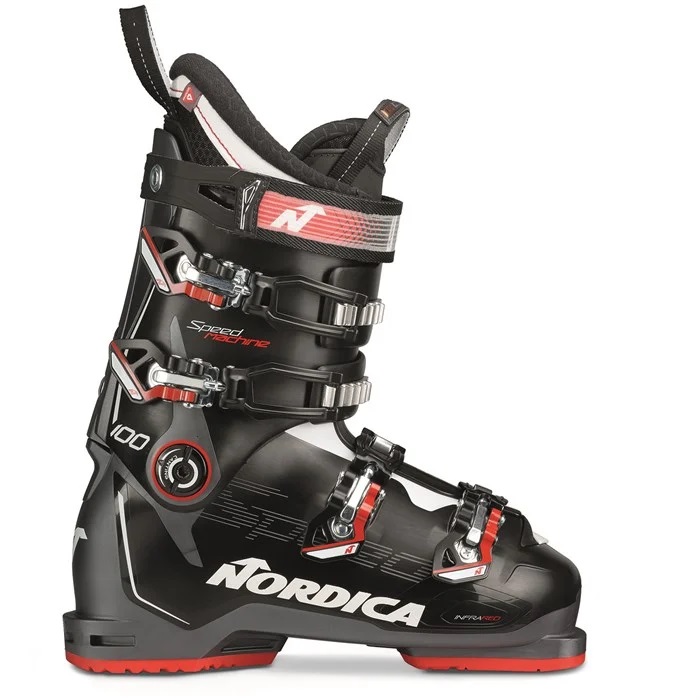 Nordica Speedmachine 100 Ski Boots
The price of " Nordica Speedmachine 100 Ski Boots" varies, so check the latest price at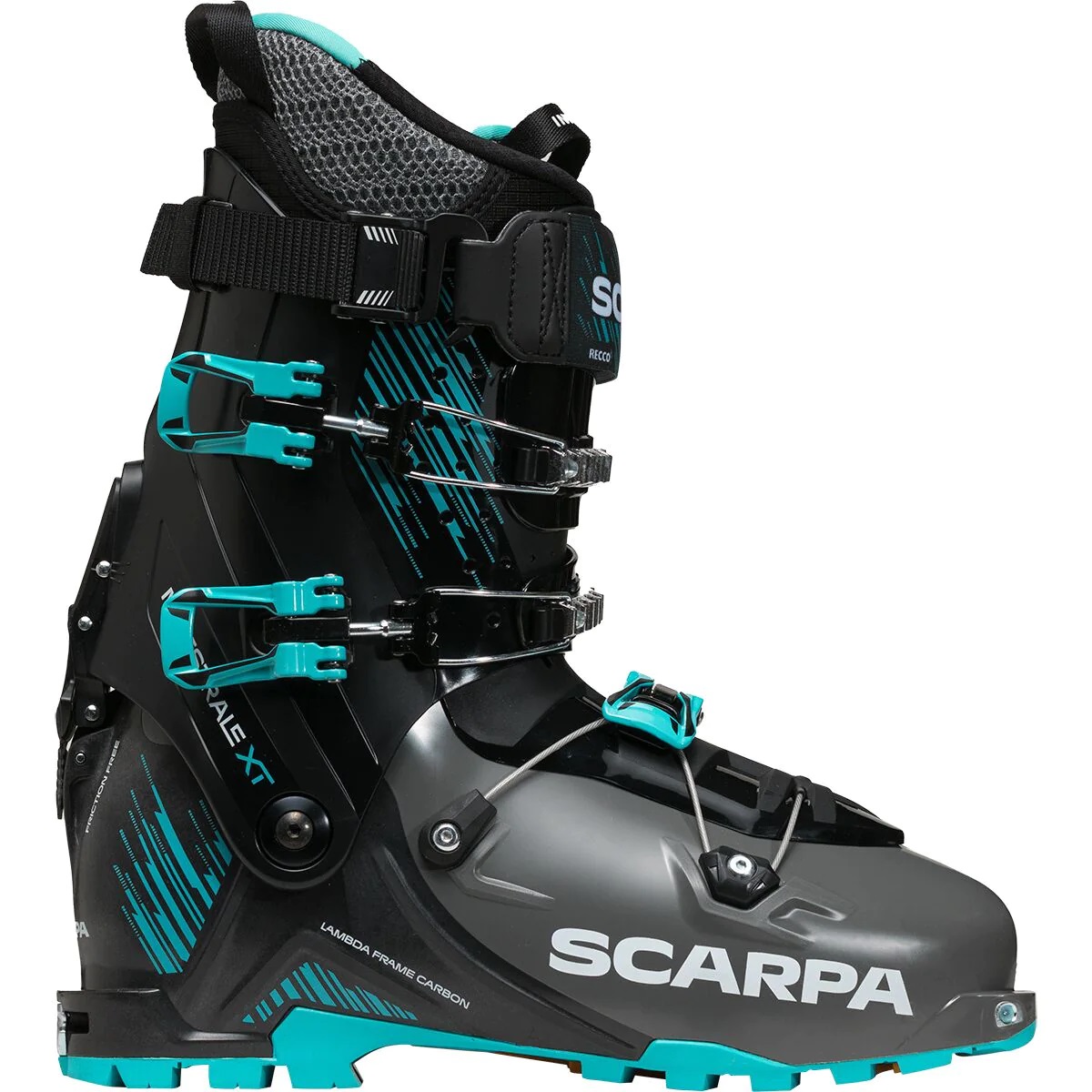 Scarpa Maestrale XT Ski Boot provides a good balance between downhill and uphill skiing performance. It is suitable for hard-charging and advanced downhill riders.
The boot falls into the heavy-weight category with a weight of 3 lbs 6.5 oz. It comes with an Intuition model liner which is of high quality. It has a preferred "power strap" that is a selection of three broad, elastic, heavy-duty buckles.
Talking about the fit and comfort, we find it highly comfortable, and the liner mentioned above is sturdy enough to hold its shape. These boots are as warm as any other boots for skiing due to the great liner and thick plastic.
It is exceptionally durable in intense weather conditions, and the strap doesn't ice up like in velcro versions. All the buckles and latches are metallic and full-sized.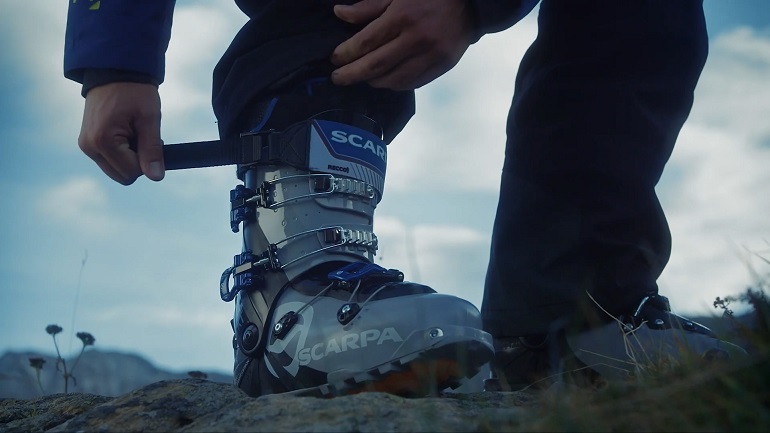 However, the buckle across the instep has been removed in this version which had additional advantages regarding fit and transitions.
Features
Liner Type: Fully moldable Intuition liner
Flex Score: 130
Rider Level: Advanced to expert skiers
Boot width: 101 mm
Buckles: 3 buckles (+power strap)
Warranty: 1 year
Pros
It is weather-resistant.
Provides a good downhill as well as uphill performance.
Highly durable and sturdy.
Cons
It is a little on the heavy side.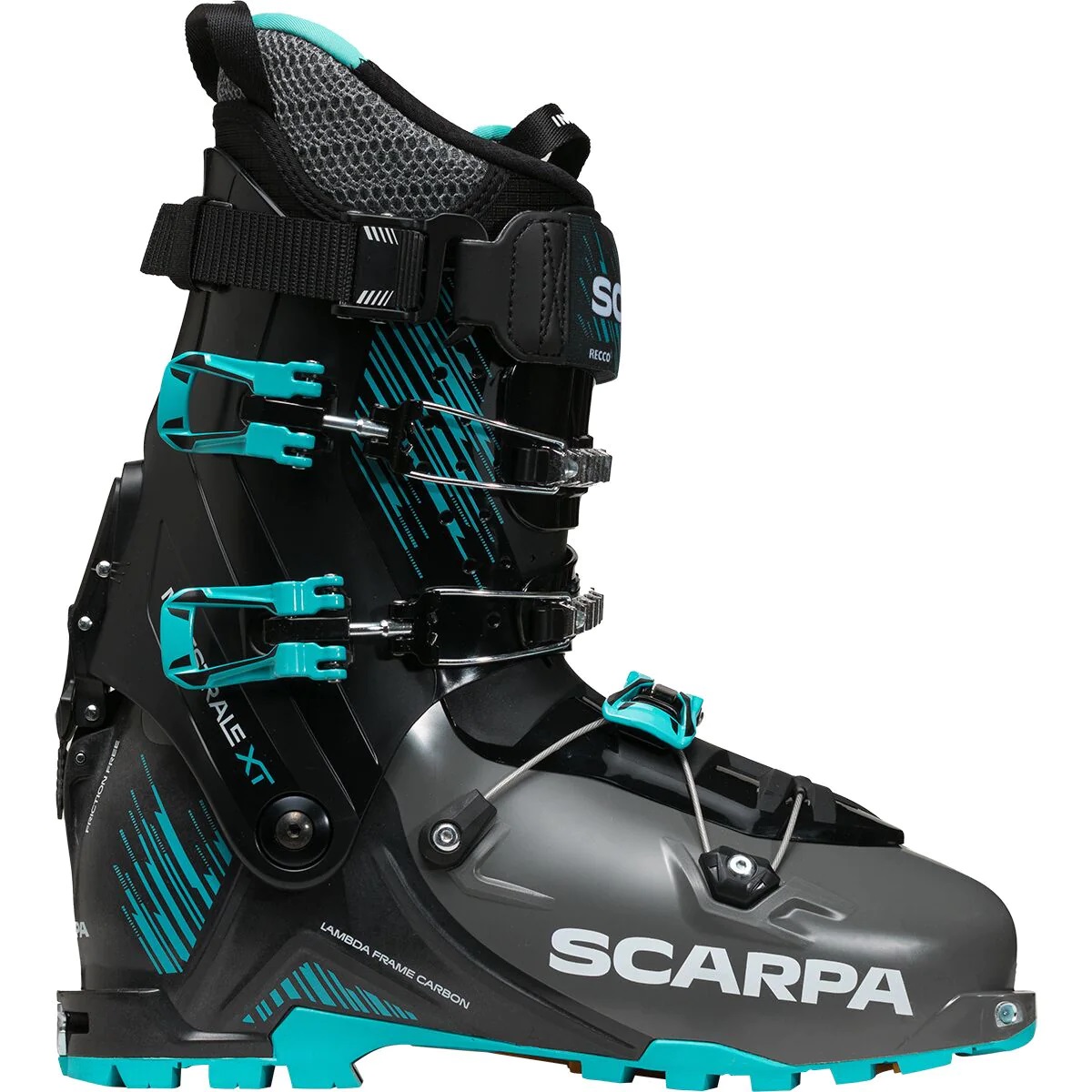 Scarpa Maestrale XT Alpine Touring Boot
The price of " Scarpa Touring Boot" varies, so check the latest price at
Our Trusty Buyer's Guide: How to Choose the Right Ski Boots
You know that every boot listed above is quality, but how do you go about choosing just one? This is the section that should make it easier for you to decide. I'll be explaining the key areas that you must consider if you are to pick out new boots that won't disappoint you.
Keep in mind that for many of these categories, the situation isn't black and white. You don't have bad and then good options. Sometimes what you should seek out per boot specification is entirely dependent on your ability level, style of riding, and preferred feel.
What Makes a Boot
The materials that a ski boot is made of will determine its overall quality. The K2 Anthem boots are top quality because their manufacturer didn't skimp on their design.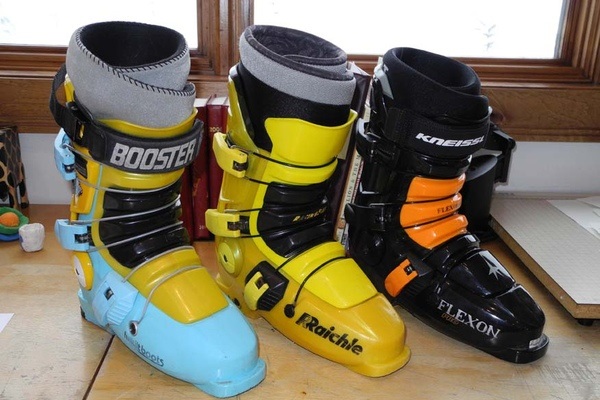 These women's ski boots have a Powerlite shell and a Powerfit Pro liner that is thermo-moldable. This means that the areas of your foot that are used the most as you ski, will receive the most cushion and support.
An intelligent design like the one above will always make for a quality boot, but even budget options like the Nordica Sportmachine have proper materials incorporated into their structure.
The lightweight design of their shell quickly becomes a necessity the more days you spend long hours at the slopes.
Ski boots with straps and buckles that are easy to secure and won't fall apart on you are also a must. Build quality doesn't just mean comfort, your safety is also entirely dependent on the materials that your alpine ski boots are made from.
A Boot's Flex and Your Performance
Any piece of snow gear, either for skiing or snowboarding, is going to have a flex level. Well, aside from snow jackets and pants, that is. The flex score of your equipment tells you how flexible or rigid the gear will feel as you ride around in it.
Typically, a flex score is determined using a scale between one and ten, but this is where the ski boot differs. The flex score of a ski boot is determined using a scale from sixty to one hundred and forty.
While a flex rating can be indicative of one's ability level, this isn't always the case. Depending on your riding style, you may prefer one flex rating over another.
For example, freestyle riding benefits from a low flex score. Sometimes, it's a matter of preference.
Beginner skiers will want a ski boot that has a low flex score, anything from sixty to ninety. These lower scores make for a more comfortable boot and, therefore, a more comfortable ride.
Intermediate skiers and expert skiers will want higher flex scores because these ski boots are more responsive. They don't have a lot of cushion to them, and as a result, they can interpret your movements with lightning-fast efficiency and speed.
Getting the Size Right
One thing to keep in mind is that all ski boots in the ski boot size chart are typically measured in centimeters. This is a unisex way of going about things, that strays from both sizes that dominate everyday wear.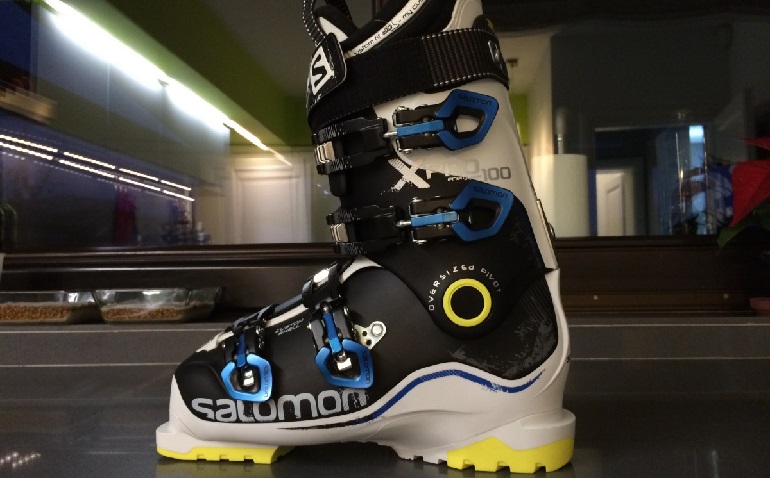 The length of your foot in centimeters will be your ski boot size. Although, nothing beats in-person sizing. This isn't always possible, that's why knowing that ski boot sizes are written in centimeters will be vital when it's time to order online.
How should the right boot size feel? Snug, at least at first. The thing is that the inside of ski boots is made from foam and will mold to fit your foot shape over time. With this expectation that you will have to break them in, it's best to get a snug-fitting boot.
This is because a snug-fitting boot will accurately take the shape of your foot. A ski boot that is loose won't be able to conform to your needs as well.
The best way to ensure that you are getting the correct amount of snugness is to measure your foot in centimeters and then get a ski boot that is a couple of centimeters below this number.
Don't worry about a slightly tight fit because you will be breaking them in any way. As long as your toes aren't squished together, you'll be fine. If your feet are wider than normal, then you should also check out ski boots for wide feet.
It's All in the Lining
The lining of your ski boots is made out of foam (the type of foam differs per specific boot).
This foam is what over time, will mold to fit the structure of your foot shape. Remember that breaking-in I told you about in the previous section? This is the part that's responsible for that.
The liner is also responsible for all the good feelings that many ski boots offer to us. The comfort, the support, and the warmth. It's like a lover except that your liner won't break your heart.
Moving on, the type of ski boot you choose will determine the amount of foam in the lining. Everyone wants comfortable ski boots, but advanced skiers may want to seek out aggressive boot to fit their style of riding.
Aggressive skiers benefit more from having less foam lining because their ski boots will hold better when pulling off intense maneuvers. Novices and skiers that aren't looking to leave it all behind on the mountain will want more foam lining because they'll enjoy the comfortable ride.
Ultimately, the less foam lining your boots have, the more you can count on them when carving up a storm.
The Soles of Your Boot
A boot-sole will come in two different styles. Any ski boots that use the first and oldest style of soles are named ISO-5355 models. This name is more than a marketing nightmare. It also represents soles that are flat and fitted to your size.
They aren't the most comfortable soles to walk around in. With an ISO-5355 sole model, you'll never feel as if you can get a good grip on the ground below you. It's a constant struggle to stay upright when not skiing.
Your other choice is Gripwalk soles. Gripwalk soles are shaped to fit the natural contours of your foot. This improves your balance and makes it much easier to walk around. The hold underneath these boots is also improved.
These soles sound great, but you'll have to pay the price for them because they'll mostly be found on high-performance boots. Performance isn't the only thing that's high about these kinds of boots, the price is just as elevated.
There is one last thing to keep in mind about the higher-end soles. Skiing boots with these kinds of soles may not be compatible with your ski bindings. Check for compatibility, and then you should be good to go. You should also need to check the best ski insoles for your boots.
The Weight of Your Boot
The heavier and stiffer the boot, the more suitable it is for downhill skiing, while a lighter and more flexible boot is better suited for uphill skiing.
Ski boots are chunky and oversized. Nearly 80% of all boots for skiing weigh between 1.5 to 2.5 kgs or 3 to 5 lbs. When compared with other footwear, these boots are pretty heavy. You will realize it if you try to walk in them with your skis off.
Different models have different weights. Usually, the smaller ones weigh less as compared to larger ones. The materials used in ski boots, such as high-quality plastic to increase their stiffness, make them heavy. If leather is used, it will add to the weight.
For a regular alpine ski boot, you need not worry much about the weight. Instead, focus more on fit and stiffness. But if you are a backcountry skier, weight can be an essential factor. You will want to choose a touring boot that is lightweight for that long uphill ascends.
Staying Comfortable
Your comfort matters when it comes to buying a ski boot. It also depends on whether you prefer performance over comfort or vice versa.
Your ski boot should keep you toasty warm, super comfy, and really dry while protecting your feet from prolonged exposure to cold or snow and sharp steel edges.
For a boot to be comfortable, your toes should touch the front of the shell and the liner while standing upright with your legs straight. And when you flex and bend your knees, your toes should move back from the front of the shell.
Your boot should fit you snugly, so your foot doesn't have much room to move. But your feet should not feel cramped, nor should you feel any hot spots. You shouldn't be able to lift your heel out of the heel pocket.
While buying your ski boots, remember to buy the ones that are as snug as possible, as they will get bigger and looser with wear.
Better Performance
If you are a premium skier and can't compromise on performance along with your comfort, you would want to go for the performance fit while choosing your ski boot.
For performance fit, your foot should touch the front shell of the boot and the liner while you stand straight, and when you flex and bend, your foot should only barely touch the front shell of the shoe.
The boots that provide better performance tend to be stiffer than the others as they give better power transmission and react how you want them to. As the stiffness increases, even the slightest movements of your feet will be transferred to your ski.
Ski socks also have a significant effect on the performance and fit of your boots. Thicker socks will trap moisture around the foot and reduce blood circulation, while thin socks will give better sensitivity and help keep your feet dry.
Keeping You Warm
Staying warm in those plummeting temperatures is an essential requirement.
When looking for ski boots, go with the ones that fit you tightly but are also comfortable, so they don't limit blood circulation leading to cold feet. Make sure you go for thinner socks made of wool or nylon, as they will allow your feet to breathe compared to thicker ones. If you are still cold, add a second layer of thin socks.
If you are someone who gets cold more often, you can also invest in toe warmers, boot covers, or heated socks. Compression socks are great for keeping your feet warm as they massage your leg, increasing the blood flow and, in turn, warmth.
Also, ensure to air out your boot while on a break to let warm air circulate inside your boot. Always wear a clean pair of socks, and don't forget to dry your boot with the best ski boot dryer each night and make sure there is no standing water in the shells. For additional comfort, you can also use the best ski boot heaters to get cozy feet!
My Final Thoughts
It is vital that you get this right. The ski boots that you choose won't just affect how you ride but your entire ski trip as a whole. Think about it, you won't just be skiing in them, you will also be walking and hiking around the resort. Being able to walk is the major difference when we talk about ski boots vs snowboard boots.
As such, be sure to maximize your comfort level. You can add to that by learning how to buckle ski boots the right way. Specialty boots that have foam that'll mold to fit the contours of your feet are a must. The right soles that support your natural gait and stance are also a good idea.
The best high-performance boot is the one that makes you feel like a powerhouse.