Falling and The Answer To It
Do you spend a lot of time on the ground, flopping onto the snow? Getting up, riding for a few precious minutes, before you inevitably end up covered in powder again?
It hurts. You know it does!
Maybe not the first time around because of the adrenaline, but those impacts accumulate, and over time, bumps are nurtured into bruises. You search for a reprieve, wearing more layers of pants than you should. Perhaps you try and land on a new side, one that isn't splotched with multi-colored welts.
None of it works. In time, you are wondering if you are tough enough to snowboard.
The truth is, this has nothing to do with your physical fortitude. It's about having the right protective gear. Something with EVA foam padding and elastic fabric. Something that can absorb shock and prevent injuries without weighing you down.
The answer? Padded impact shorts for snowboarding.
Best Overall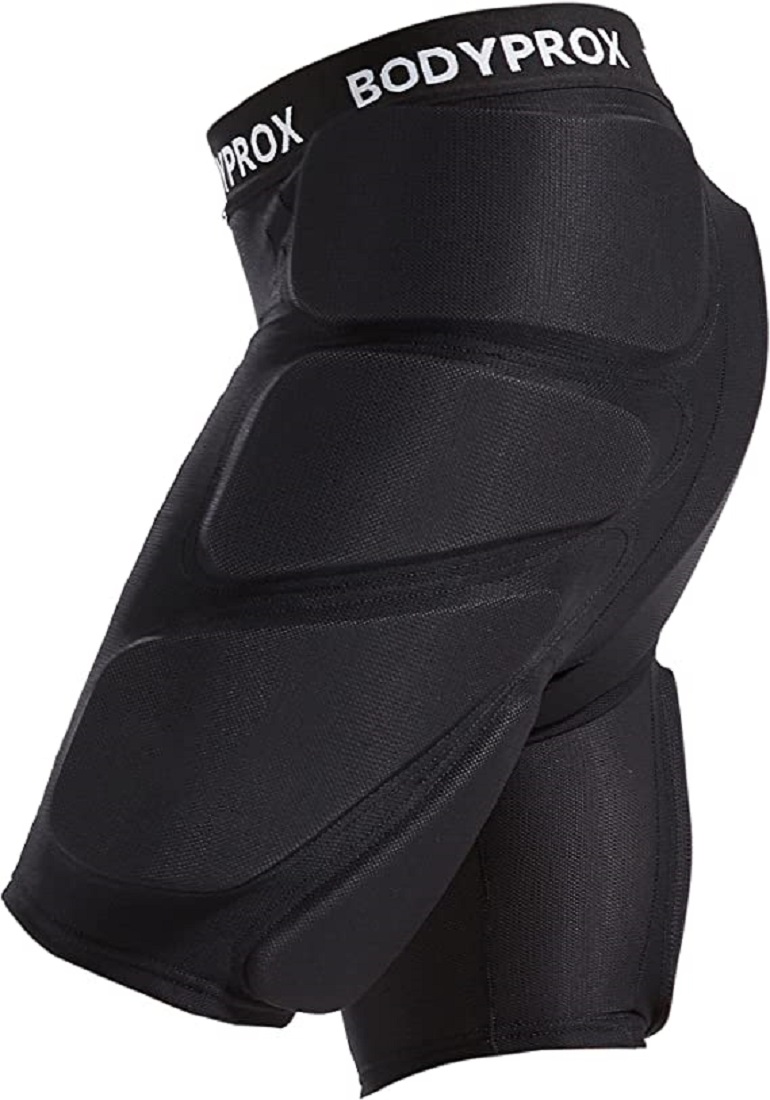 Bodyprox Protective Padded Shorts
size:All sizes available
febric:nylon,spandax,rubber
Best Looking Impact Shorts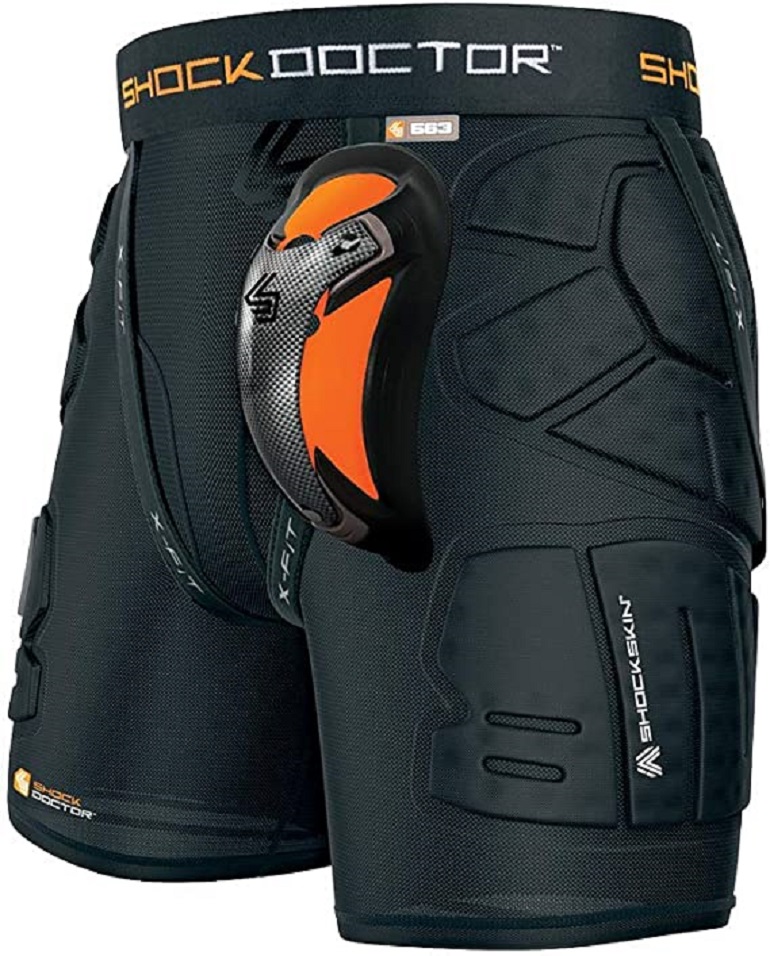 Shock Doctor Impact Short
size:all sizes available
febric:SBR,polyster,nylon
Best Women's Overall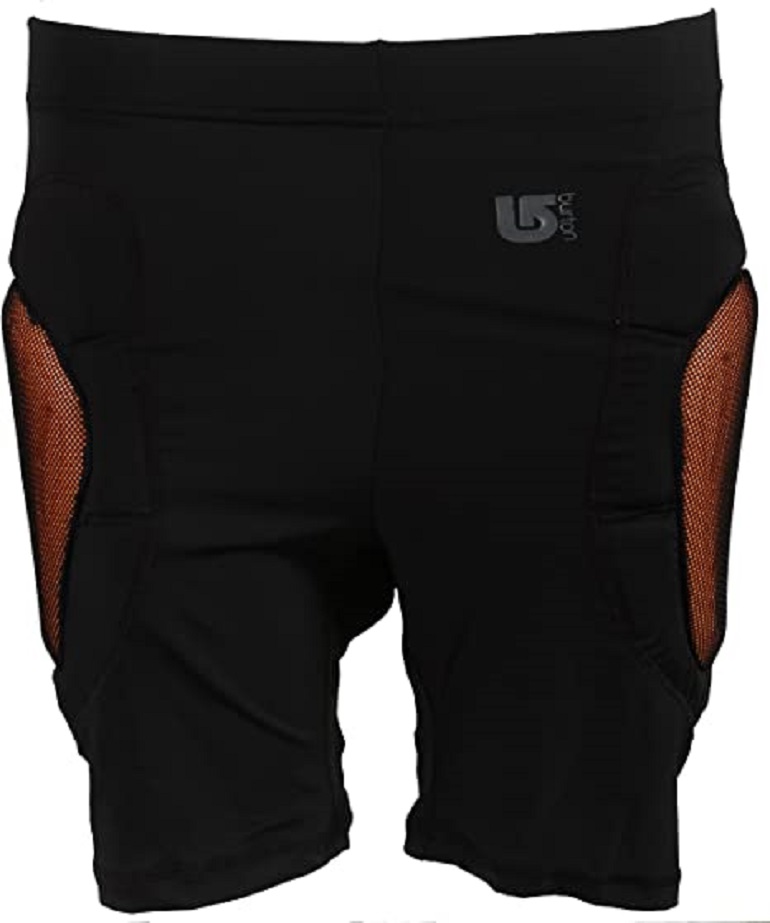 BURTON Total Impact Short
size:all sizes available
febric:polyster,nylon
Most Convenient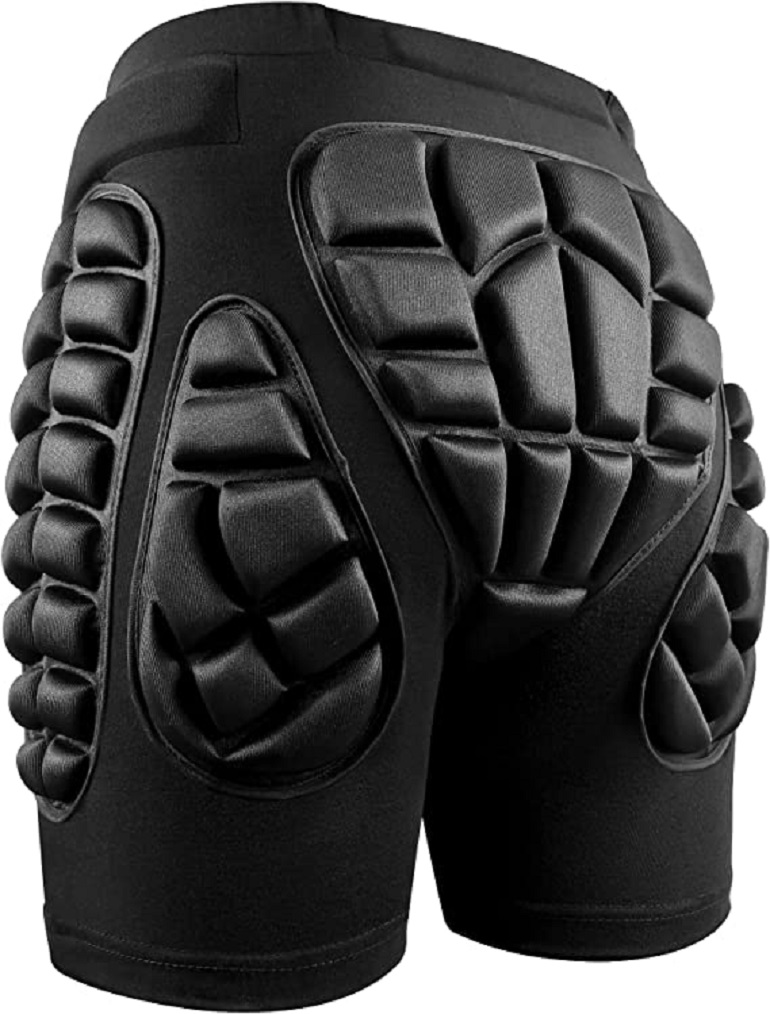 Soared 3D Protection Hip
size:all sizes available
febric:Lycra cotton,eva,spandax
Heavy-Duty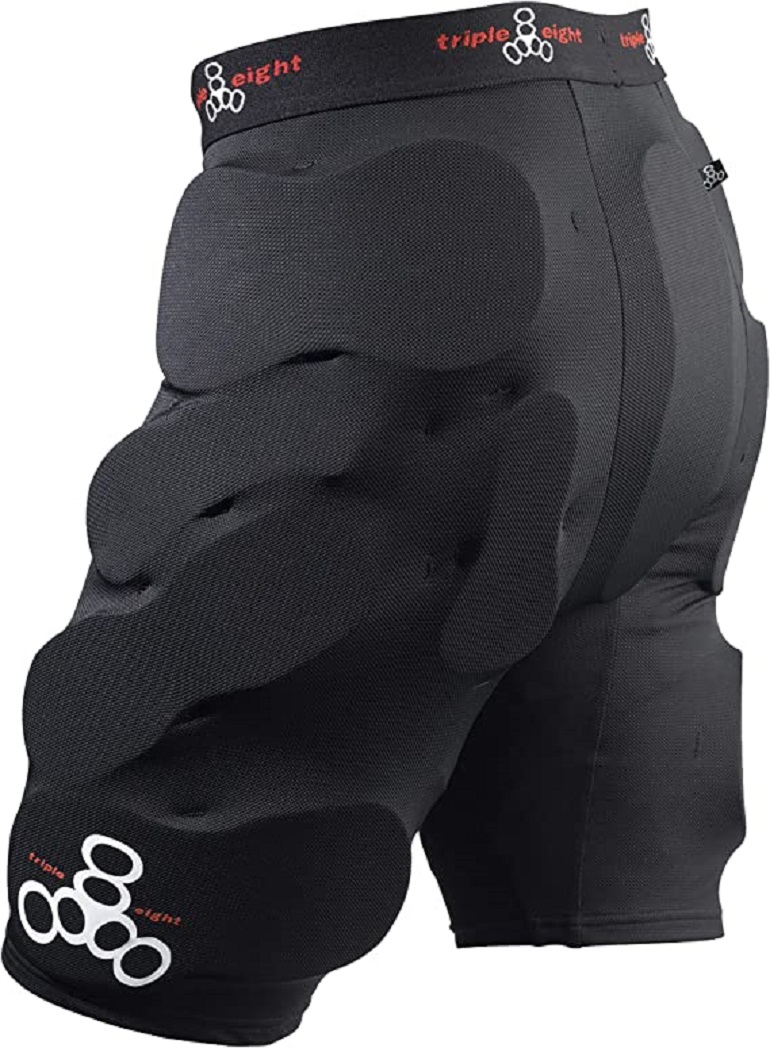 Triple Eight Padded Shorts
size:all sizes available
febric:EVA
Most Affordable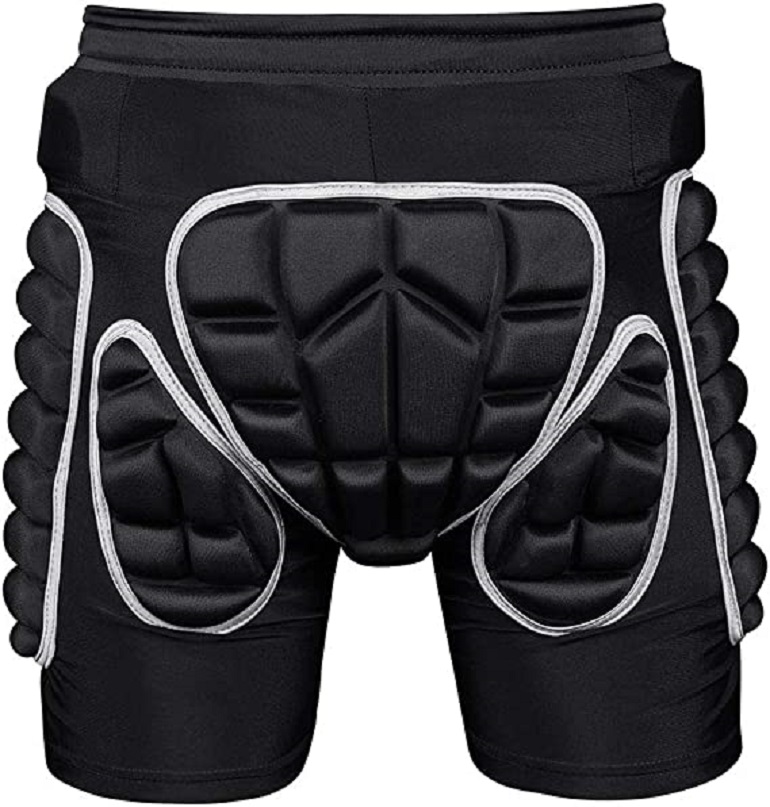 Protection Hip 3D Padded Shorts
size:X-Small
febric:Polyester
Safest Bet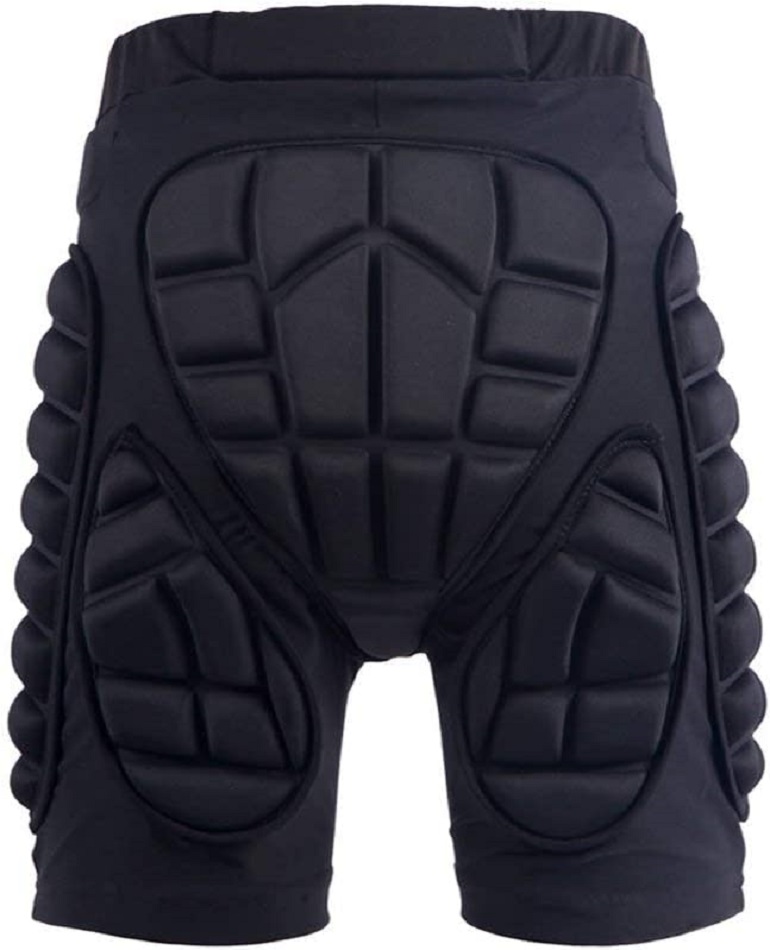 GOHINSTAR Protective Padded Shorts
size:Medium
febric:EVA Foam,febric
Best Snowboard Padded Shorts – Top 7 Picks
What's there to a pair of padded snowboard shorts?
More than you would think. It's not just about the foam padding within the protective shorts but also how much padding is included, what kind of padding, and finally, in what areas is the padding located?
Many will discard the option of wearing padded shorts under their snow pants. Perhaps it's because they don't want to feel bulky, or they believe that the extra layer is unnecessary.
In reality, most impact shorts for snowboarding have exceptional comfort and protect vital areas, such as your hip and tailbone. From the full protection provided by the Bodyprox Protective Shorts to the much sleeker design of the Burton Total Impact Shorts.
Cast these misconceptions aside and get that premium comfort that your backside deserves with your very own protective shorts for snowboarding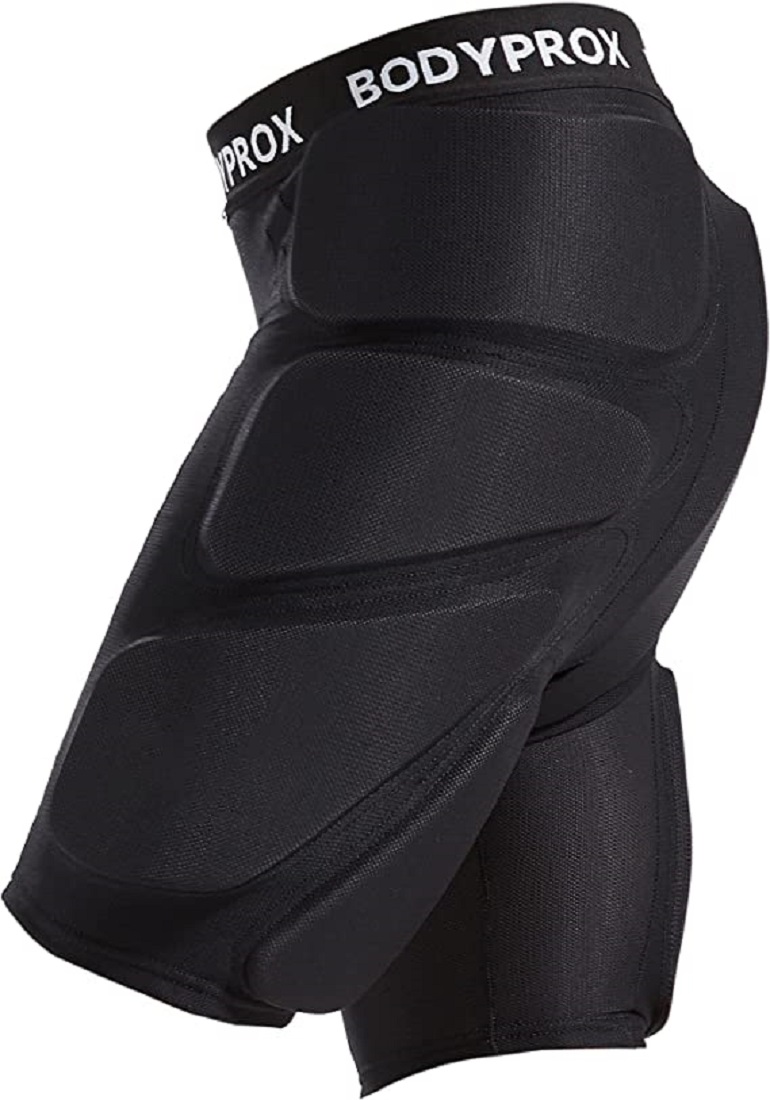 When you get the amount of protection that the Bodyprox protective padded shorts give you at an insanely low price, you've got to pull the trigger.
See for yourself, click the link above or stay here and allow me to explain how these impact shorts let you engage in intense outdoor activity without fear of damaging your vulnerable hip bones.
Thick pads, TOP-NOTCH protection
EVA foam padding is bolted to every inch of either side of these padded shorts. Your tailbone is also protected by a thick wedge of high-quality foam. Why is EVA foam regarded so highly?
Eva foam has the ability to be compressed (like when impacted, for example) and still bounce back. It doesn't sink in, collapsing within itself upon the first blow. This foam is built to last and perform, even when used in freezingly low temperatures.
It doesn't matter what situation you find yourself in. This protective gear may not be the best-looking protective padded shorts, but they are the best impact shorts for snowboarding that you'll currently find.
Breath-in
Any areas that aren't protected by padding have been covered by vent mesh panels. Highly breathable material that won't have your upper thighs and midsection heating up and creating moisture.
The spandex and protective foam in these impact shorts give you stability whilst flexible. Great for wearing under your snow pants or as a solitary outer layer.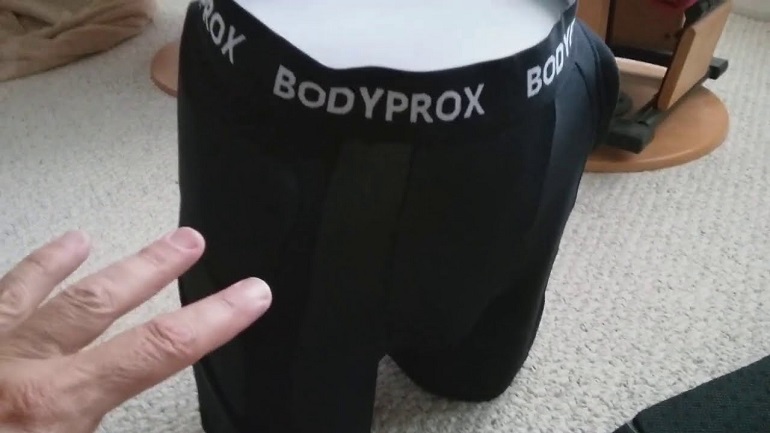 Features
Fabric: Nylon and spandex
Padding: EVA foam
Fit: Stretch, comfortable fit
Storage Packing Bag Included: No
Protective Cup Included: No
Pros
Stretchy spandex is used throughout for a flexible fit.
Durable Nylon construction.
Fantastic and affordable price.
Cons
Although they are the best impact shorts, some may dislike the thickness of the protective padding.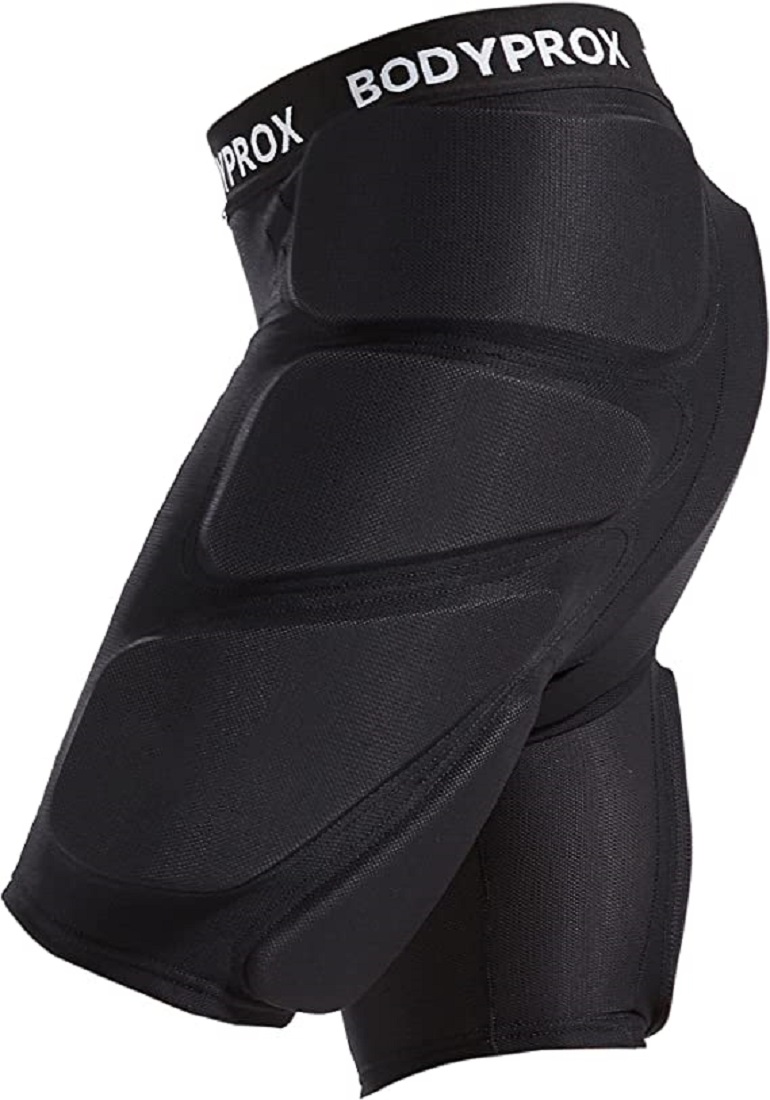 Bodyprox Protective Padded Shorts
The price of "Bodyprox Protective Padded Shorts varies, so check the latest price at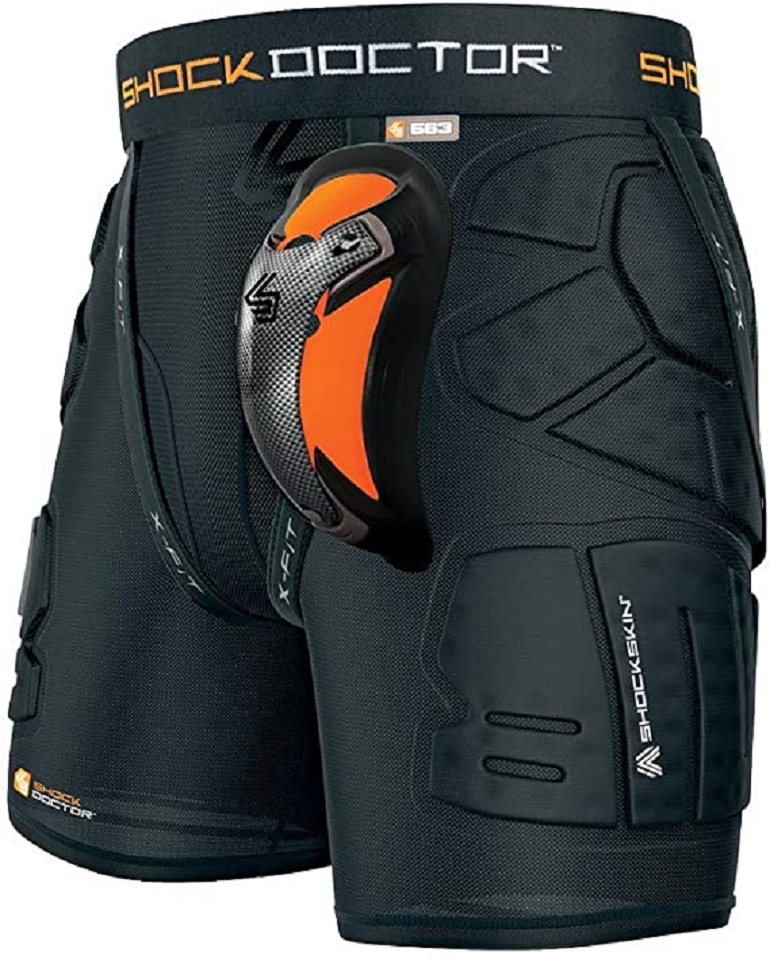 While having your own bodyprox protective shorts seems like a great idea, that bulky design is a tough hill to get over. Don't fear because the Shock Doctors have created padded shorts that look great and offer you maximum protection.
Design, Fit, and confidence
These are the kind of padded shorts that Batman would wear. They wouldn't look out of place among his other protective gear. Despite the foam padding of these shorts giving you great protection, what's surprising is their overall weight.
The Shock Doctor Impacts are lightweight shorts. They don't wear you down by trying to offer you all-in-one protection. Ultimately just bloating their design all in the name of appearing to be a safer pair of impact shorts than the others.
This makes them great for not just snowboarding down a mountain but riding a mountain bike through the hills. They've got a relaxed fit that is designed to accommodate the carbon flex cup that comes with them.
You know, for protecting the family jewels.
The breathable fabric of these padded shorts has four-way stretch capabilities. They won't constrain you, but they do have your back.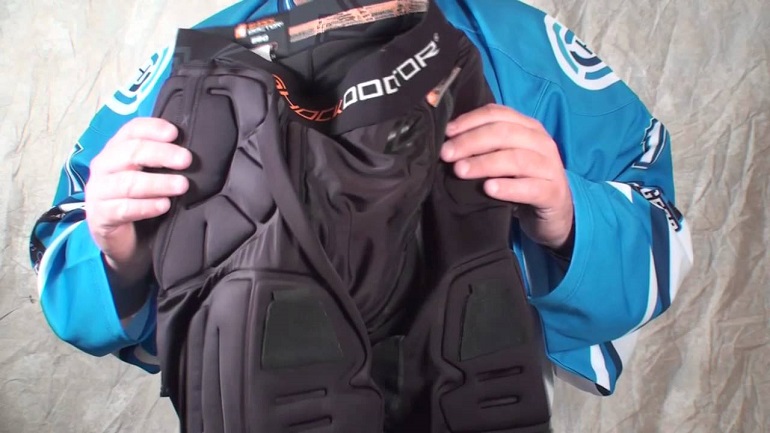 Features
Fabric: Four-way stretch
Padding: Shock Skin padding
Fit: Relaxed
Storage Packing Bag Included: No
Protective Cup Included: Yes, Ultra Carbon Flex Cup
Pros
An Ultra Carbon Flex Cup is included with the purchase.
The fit accommodates the cup without being overly tight.
High-quality padding for maximum comfort and good protection.
Cons
The cup may not fit as well as you would like. Usually bigger than needed.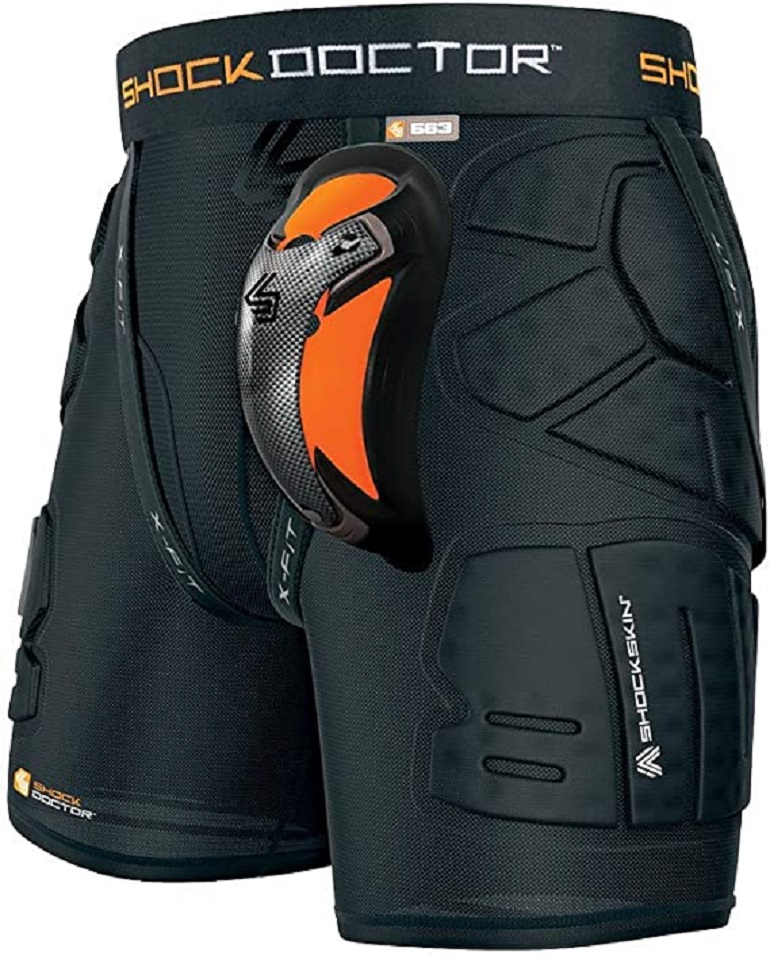 Shock Doctor Impact Short
The price of "Shock Doctor Impact Short " varies, so check the latest price at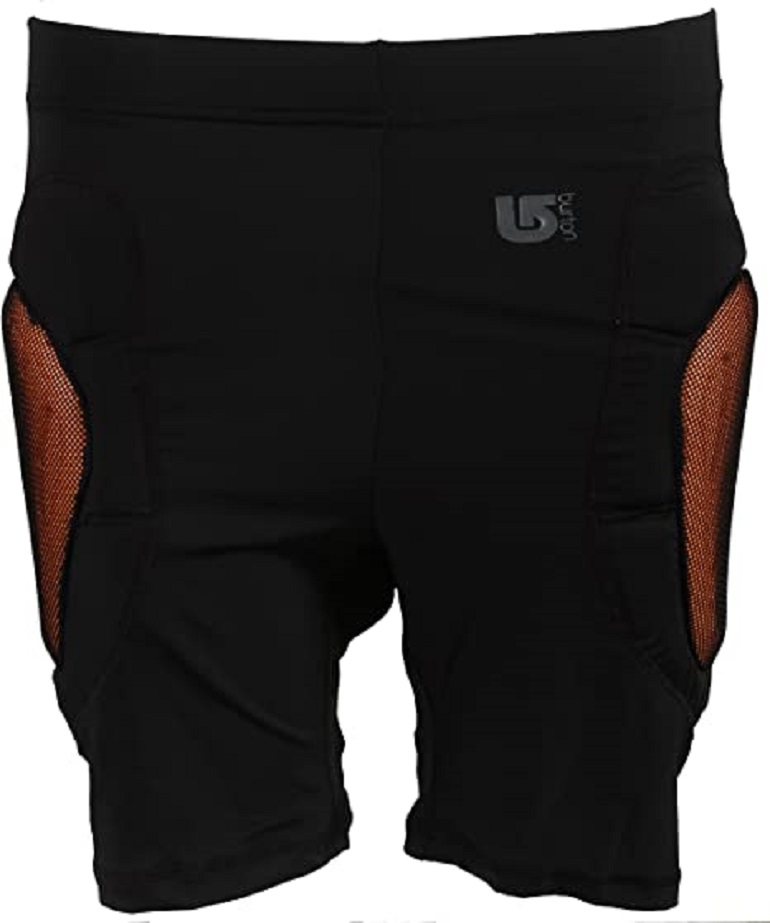 The Burton total impact shorts have extra protection and a wicking moisture fabric. They work hand in hand for a comfortable fit that does its primary job of protecting your tush well enough. However, there is one thing to consider.
Cats in the print
Our number one pick, the BodyProx, is a pair of shorts that could be worn as a solitary outer layer. In my opinion, you'll want to wear these padded shorts (the Burtons) under your snowboard pants.
These padded shorts are skin tight, and any fabric that was deemed surplus to requirements was quickly cut out. It's a good thing that an elastic waistband was included in order to avoid chafing.
What you get is a leopard print (yes, leopard print) design that is tight as can be. Not the best winter sports aesthetic.
Make no mistake, these padded shorts have got G-Form padding (proprietary) that was ergonomically designed. Burton made sure that not only were you protected but that you could comfortably move around as well.
Features
Fabric: DryRide Ultrawick fabric
Padding: G-Form
Fit: Skin tight
Storage Packing Bag Included: No
Protective Cup Included: No
Pros
Great elastic fabric that is comfortable.
Extra protection is given to key areas.
Elastic waistband.
Cons:
Leopard print design is not for everyone.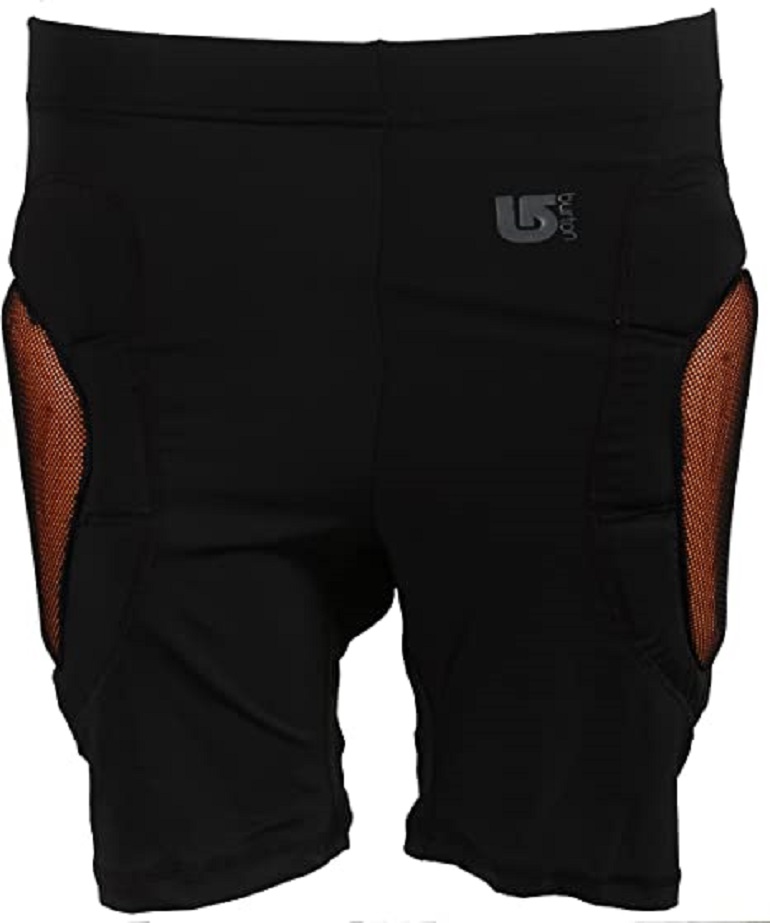 BURTON Total Impact Short
The price of "BURTON Total Impact Short " varies, so check the latest price at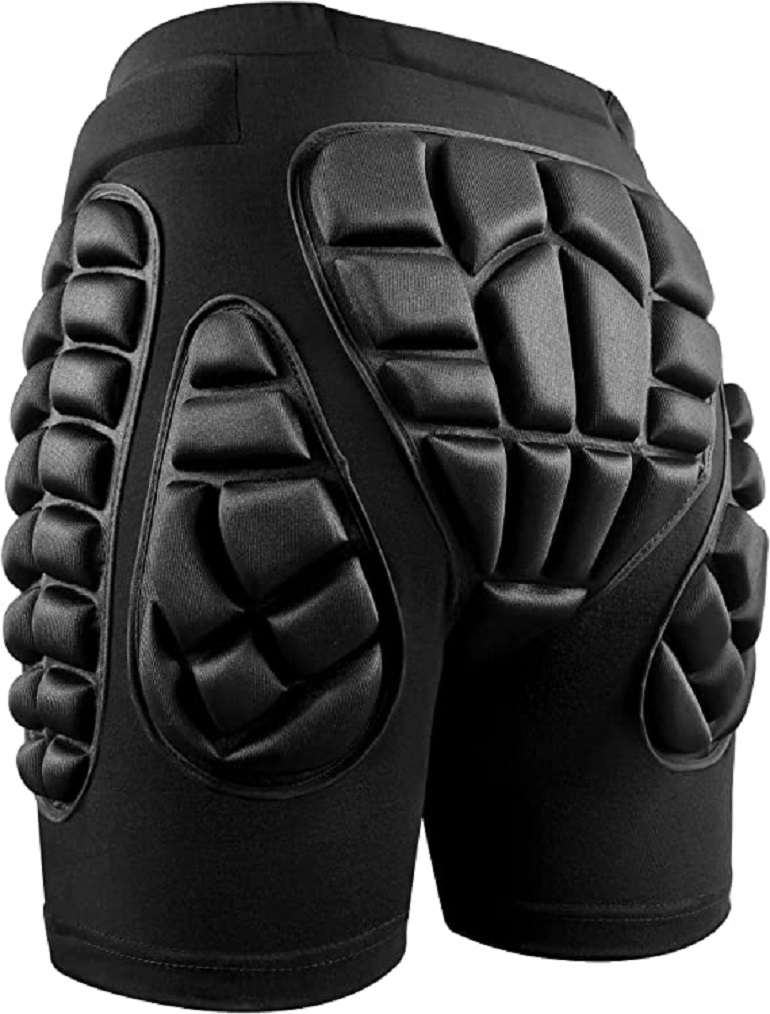 Convenience is something that many snowboarding padded shorts forgo in way of protection. It's not a bad idea, after all, that is the primary reason why we wear impact shorts as an extra layer in the first place.
But these impact shorts (Soared 3D protection impact shorts) combine features across various areas to give you both protection and ease of use.
Comes with a bag and an adjustable waist
The title says it all, the Soared impact shorts come with an easy storage packing bag. You've got your own specialized bag to haul these around in. Encase you don't feel like wearing them throughout your entire day.
But you'd probably do well to keep them on because they are made from 60% Lycra cotton and spandex. All the comfort and warmth of cotton with the stretch of spandex. For padding, 1.5cm thick EVA padding protects your lumbar, crotch, butt, and thighs.
And to top off this great pair of impact shorts, an adjustable waist with cushion padding hugs your hips.
Made for throwing yourself at all winter sports without remorse.
Features
Fabric: Lycra cotton and spandex
Padding: EVA foam
Fit: Snug fit
Storage Packing Bag Included: Yes
Protective Cup Included: Yes
Pros
Comes with an easy storage packing bag.
Can be used for a variety of indoor and outdoor sports.
Breathable material is used throughout the structure.
Cons
Could have benefited from more foam padding.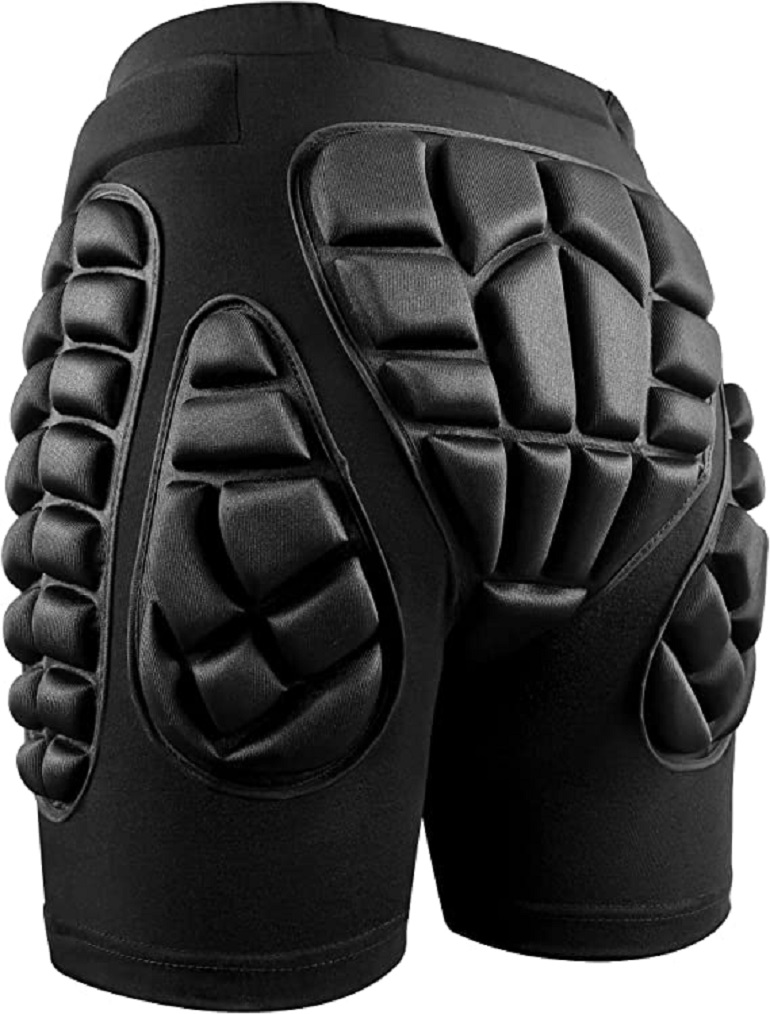 Soared 3D Protection Hip
The price of "Soared 3D Protection Hip " varies, so check the latest price at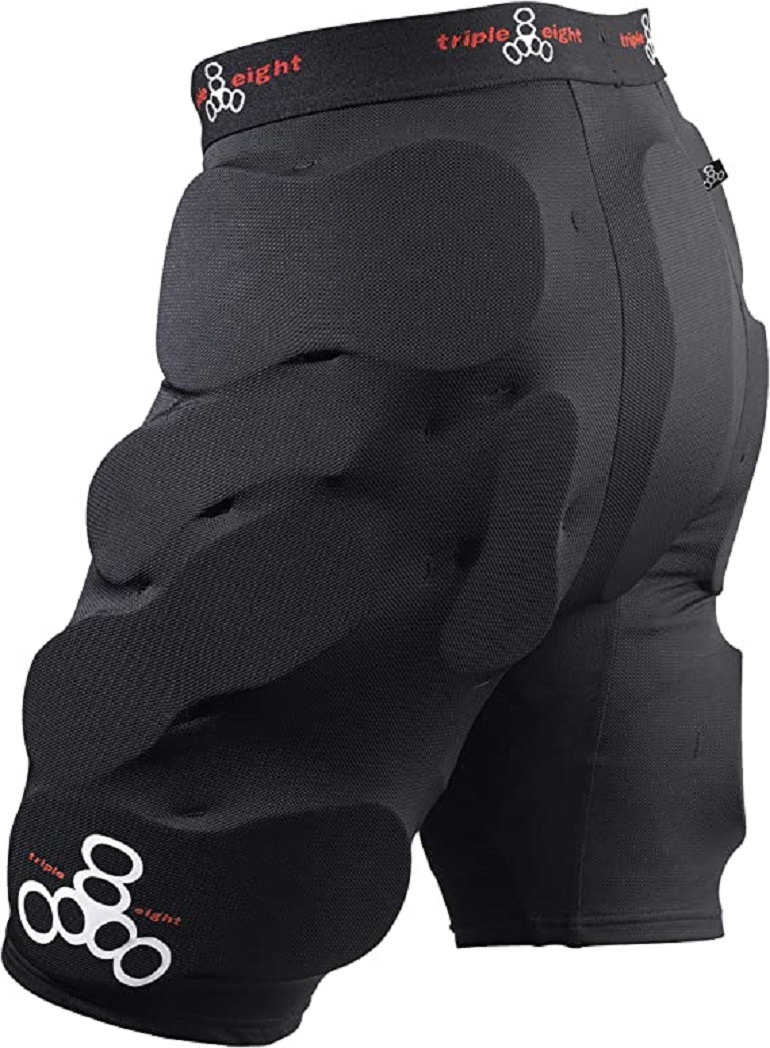 These impact shorts aren't just for wearing under your snowboard pants. They can also be used as outerwear for roller sports such as skateboarding and roller skating. Such is their length. Extending from your waist to just above the knees. You should also need to know what to wear while snowboarding.
Everything in between those two points is loaded with 10mm thick EVA padding. Fall and drag yourself through the ground or snow as much as you want. You won't feel much of it anyway.
Rugged and Hidden armor
Despite their length and padding portions, these Triple Eight Impact shorts were made to be worn under your clothes. They fit pretty close to your skin, and so with the right baggy pants, no one will even notice that you have them on.
The form fit and mesh materials (Lycra mesh) used for the exterior make these impact shorts mobile and breathable.
Nothing worse than wearing several layers that have no breathability to them. Might as well stick yourself in a microwave.
Great length, great protection, and one of the best impact shorts on this list.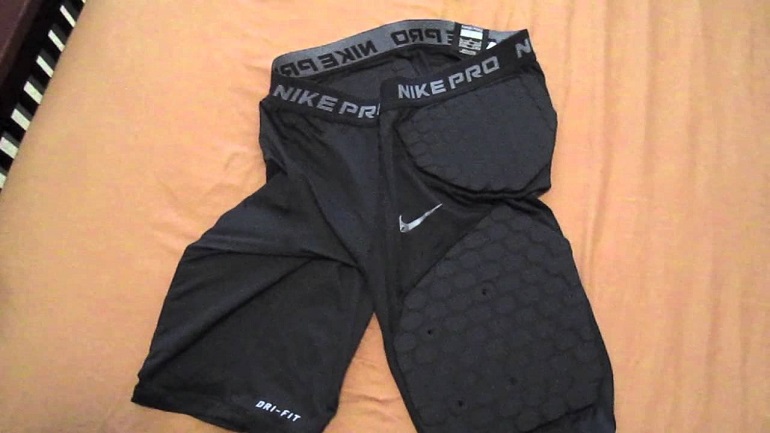 Features
Fabric: Lycra mesh
Padding: EVA padding
Fit: Form-fitting
Storage Packing Bag Included: No
Protective Cup Included: No
Pros
Longer length for more protection.
Made to fit under clothing discretely.
Ample amount of hip pads.
Cons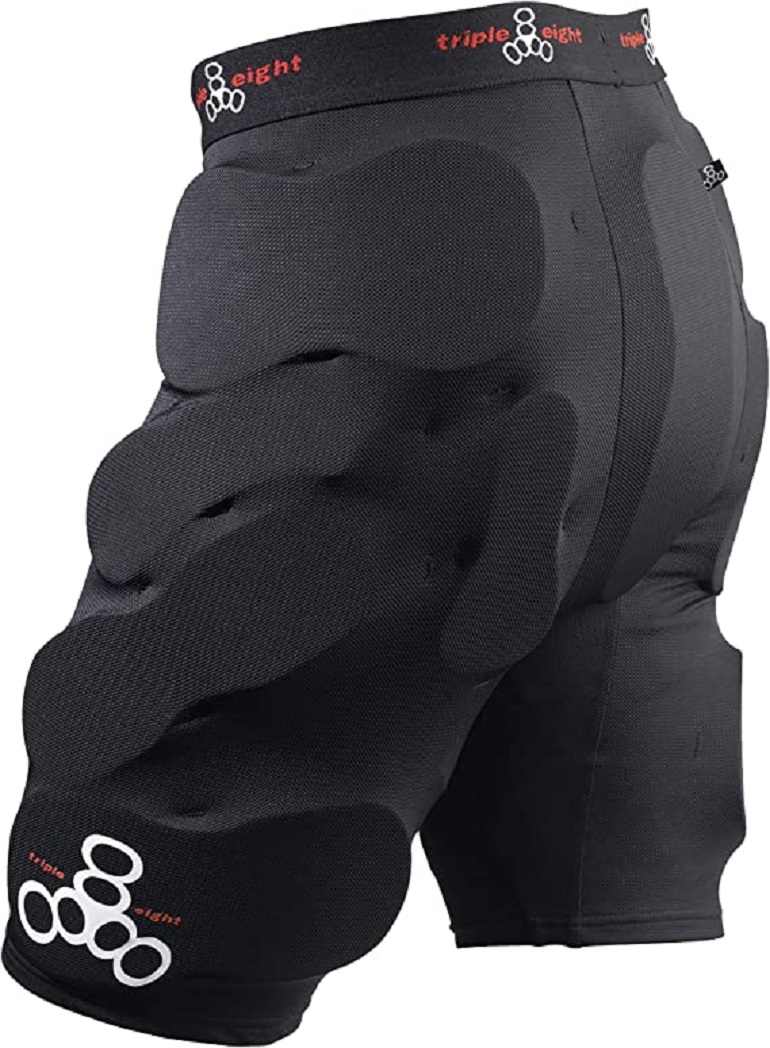 Triple Eight Padded Shorts
The price of "Triple Eight Padded Shorts" varies, so check the latest price at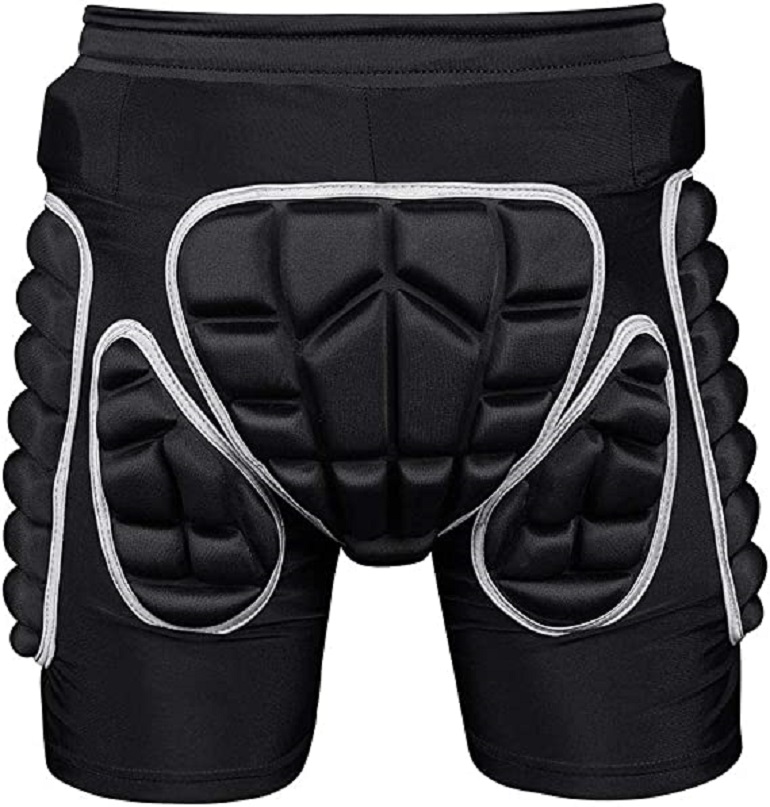 You won't find a better price. This is it, the lowest price that can possibly be obtained, at least for quality impact shorts. The stand-out design feature for the Kyyou impact shorts has to be its flexibility and waist design.
A lace runs through the inside of the shorts. Tighten them with a simple pull and secure them with a simple knot. Doesn't get easier than that, but Kuyou didn't stop there. Velcro is also incorporated into the waist for a greater range of adjustment possibilities.
Resist the hits
Alright, we've got multiple EVA pads that protect the areas we need to safeguard. Namely, your hips, thighs, and backside. So, what's different here from any of the other impact shorts on the list?
Two things, one is the heat insulation qualities of the rest of the shorts. When snowboarding in some particularly harsh weather or temperatures, heat insulation is a must.
Second, is that these shorts were designed to fit the natural curves of your body. Placing pads in the appropriate dips. This reduces contact with the area of impact and the area that is impacting.
Now that is targeted design.
Features
Fabric: Mesh fabric
Padding: Lightweight EVA padding
Fit: Perfect fit for body's curves
Storage Packing Bag Included: No
Protective Cup Included: No
Pros
EVA padding that is 1.6cm thick.
Awesome waist with velcro and elastic design.
Keep your skin cool thanks to the mesh exterior.
Cons
No padding for the crotch area.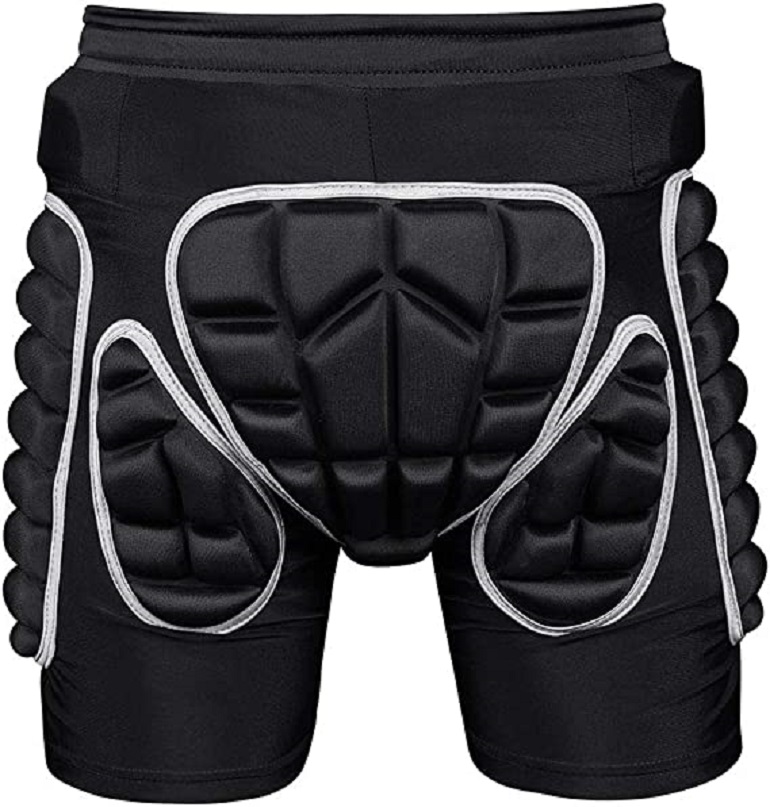 Protection Hip 3D Padded Shorts
The price of "Protection Hip 3D Padded Shorts " varies, so check the latest price at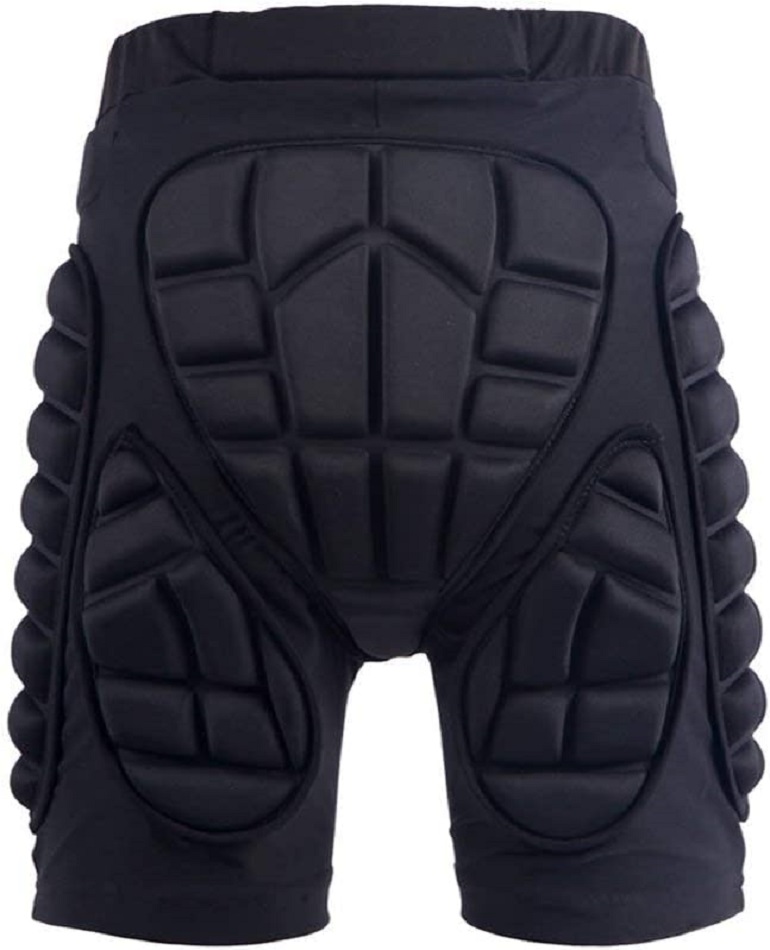 All of the options on our list either let you wear them underneath your snow pants or as solitary outerwear (not in the snow but when mountain biking, for example). These shorts from Gohinstar are the first that can also be comfortably worn on top of your pants.
They've got solid EVA padding in all the areas we have discussed before: hips, thighs, and tailbone. What sets these apart from all the rest is the materials used for their construction as well as their overall feel.
Polyester and silk-like feel
The Gohinstars are a very comfortable pair of shorts. They feel silky, almost like basketball shorts, so you won't chaff or sweat profusely if your body is prone to overheating.
The fabric itself was made from cotton, polyester, and a mesh vent strap. That means you've got the comfort and warmth from the cotton. With the quick drying properties of polyester. Mixed with the breathability of the mesh straps.
A very solid build with a lifetime warranty for replacement and a 30-days no-hassle return policy.
The safest bet on the list.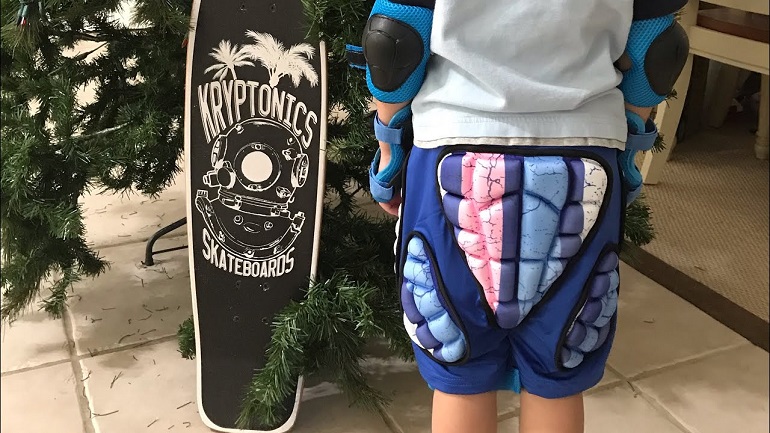 Features
Fabric: Quick Dry fabric
Padding: EVA padding
Fit: Form-fitting
Storage Packing Bag Included: No
Protective Cup Included: No
Pros
Polyester and mesh combine to give you a quick-drying fabric with breathability.
Can be worn on the exterior of pants.
Cons
The pink lining around the padding may put off some.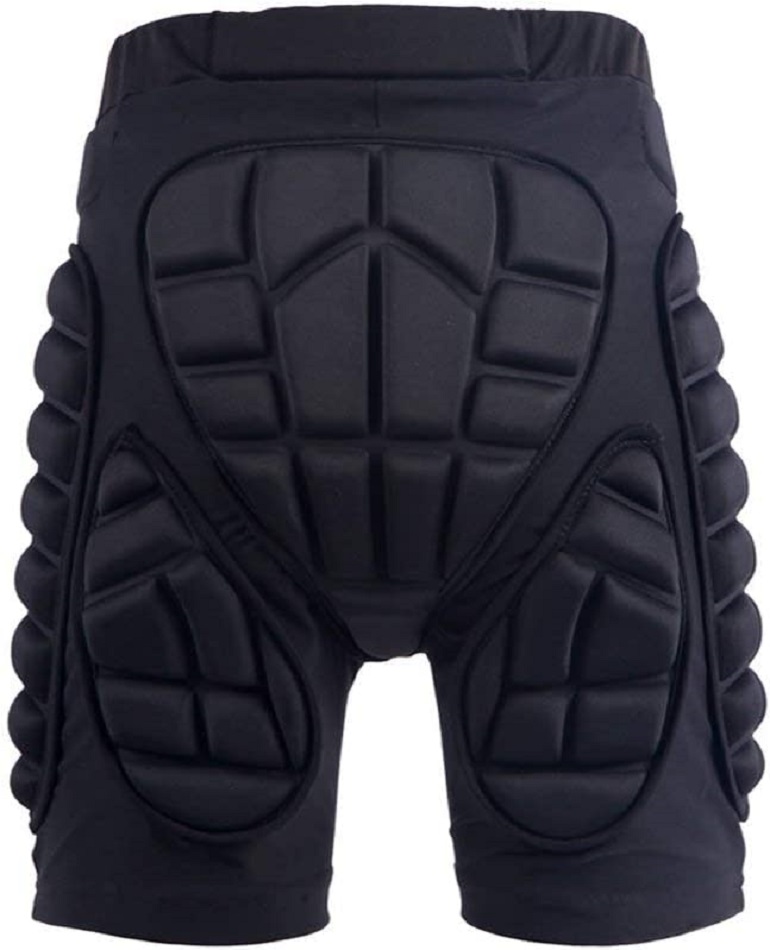 GOHINSTAR Protective Padded Shorts
The price of "GOHINSTAR Protective Padded Shorts" varies, so check the latest price at
Best Snowboard Padded Shorts: Where they Excel
Take away the fancy names and laundry list of features. Remove the brands and acclaim, what do you have left? That's what this section is about, breaking down the key areas where the best impact shorts must shine.
Use each section to figure out what qualities you want. Some shorts are better than others in certain areas, areas that you might consider essential to your top snowboarding gear and style.
How Much Protection Is Offered
Take into account your riding style. On what side of your body do you most often fall? What area of your body is the most banged up? Did you ever have a serious injury on a hip or leg? The answer to these questions will tell you what areas need the most protection.
Buy the impact shorts that offer the most security to your most vulnerable areas. You'll also want shorts that provide ample protection to your tailbone as it's one of the more injury-prone parts of your body.
There are shorts that come in a flexible multi-layer design with customizable pad thickness that allow you to adjust the padding in the areas where you need them the most!
How Well Do They Fit
You want your padded shorts to fit snugly. A tight fit is necessary because you'll be wearing these under your snow pants. If they are loose or saggy then you won't feel right when snowboarding.
Baggy shorts won't be able to blunt the force of the impact as effectively as tight-fitting shorts. Get them tight and snug, to save yourself from bruising.
Process Used During Construction
You don't want shorts that were shoddily made. Pay close attention to the seams of the shorts. If they had a poor manufacturing process, then this is the area that will tear first. Next, you'll want to check on how well the padding stays in place.
Lower-quality shorts will have padding that moves around in place. Riding in shorts of this make is like begging for disaster to strike. The last area in which quality can be determined is the waistband.
Higher-quality shorts have waistbands that won't chaff your skin. They are also comfortable to boot.
Materials Used
Materials matter. Nylon is durable and doesn't feel coarse on your skin. Polyester is quick to dry and durable as well. EVA foam padding is lightweight and soft, but it can tank the hits with no problems.
If your shorts incorporate any of the above materials or similar materials in their design, then you've got a winning pair of padded shorts.
Certain shorts won't have polyester in their build because they can be used for other sports, and perhaps being water resistant isn't as much of a priority in the other sports it's designed for.
Their Level of Warmth
Padded shorts can keep you warm but this isn't always their intended purpose. First and foremost is the protection of your hips, thighs, and tailbone. But yes, the extra layer definitely keeps your tush and legs warm.
They also keep your butt and legs dry because the snow and water have to work themselves through another layer to get to you. And if your shorts are made from polyester, then there is no chance of you feeling the splash.
How Comfortable are They
Foam padding is soft, it provides very comfortable cushion support to your backside when you sit down. But it's not just about the amount of padding that your shorts have. How well this padding is dispersed and where it is located also has an effect on your comfort level.
You won't feel so great if the padding is concentrated in one area alone. This will give you a lopsided feel that you won't be able to grow accustomed to. Most shorts circumnavigate this issue by either placing padding in the center of the backside or having one giant block of foam padding covering the entire butt area.
Padding aside, make sure that the waistband of your shorts doesn't unnecessarily dig into your skin. You don't want to have painful chaffing at the end of your long day out at the slopes.
You want a tight fit but upon first putting on your shorts, take into account how the waistband feels. If from the get-go you already are feeling strange, then it's only going to get worse.
FAQs
Are Padded Shorts Good for Snowboarding?
Absolutely!
The snow is not as soft as it looks and even the most experienced snowboarders fall. And boy, do they fall hard. Whether you are freeriding at top speed or flipping into the air, trying to land right side up, padded shorts safeguard your legs from bruising.
They also help keep you warm and mitigate the damage from more serious falls. It's foolish to ride without padded shorts underneath your snow pants.
Do Impact Shorts Help You Improve at Snowboarding?
In my opinion, impact shorts help you improve at snowboarding. Albeit in an indirect way.
If you aren't afraid to fall or land on your side because you know that your padded shorts will protect you then you are more likely to focus solely on riding. Not on protecting yourself.
When you know that your hips and tailbone are protected, thanks to the padding in your shorts, you might be more willing to experiment and freestyle. In short, peace of mind leads to confident riding.
How Do I Protect My Tailbone During Snowboarding?
First and foremost, wear padded shorts. Select one of the shorts listed above, we've got some incredible budget options, such as the Bodyprox Protective Padded Shorts and the Protection Hip 3D Padded Shorts.
They have got ample protection not just for your tailbone but also for your hips and thighs.
With the right shorts, it's all just a matter of knowing how to land on your side instead of your backside.
My Final Thoughts
Do yourself a favor and wear impact shorts. They've got the protection to save you from some very nasty hits. Do you know how hard it is to sleep with bruises decorating the sides of your legs?
It's painful but easily avoidable.
Some of the impact shorts on our list can be worn as solitary items. That means you can head out with them as your shorts and nothing more. Of course, you won't want to do this when snowboarding, but if you like to skateboard or hike, then this is a viable option.
Comfort and protection that can be used across a variety of sports, not just snowboarding. What's not to love?