If you think you can make your way through snow without being properly dressed? Suit yourself. Because I'll get a chance to show an Oscar-winning performance of a disinterested bystander when you'd fall victim to the snow. Kidding, I'll take photos and be on my way. Nobody is free these days.
Snowboarding or skiing can prove a great nuisance if you are unprepared for it. Now it is in your hands to decide whether you want to tell successful stories or serve as a cautionary tale to others. If your plans align with the latter, I think you'll go far, very far, to be honest.
For budget-oriented people, the good news is, that half of the essential accessories can be found just in your wardrobe. Don't believe it? Don't you own a puffer jacket? I'm sure you do.
Read on to find out the necessary accessories for a playful snowboard ride or a skiing trip on the hills. If you don't know the difference, it'll be a good idea to get yourself acquainted with snowboarding vs. skiing and expand your knowledge.
What To Wear for Your First Time Snowboarding?
Failing to plan is planning to fail. Your first snowboarding experience can either boost your confidence or transform you into Nimo – nowhere to be found anywhere near snow.
Making time to educate yourself and making yourself ready will guarantee you will come back again and again with upgraded versions of snowboards and beginner snowboard bindings. So, plan your trip according to your vision.
Here I have made a checklist of basics to keep you ready for the winter weather of snowy terrains. The important accessories are further discussed in detail in the article. Take a look and evaluate yourself, if you are truly ready to hit the snow or not.
Checklist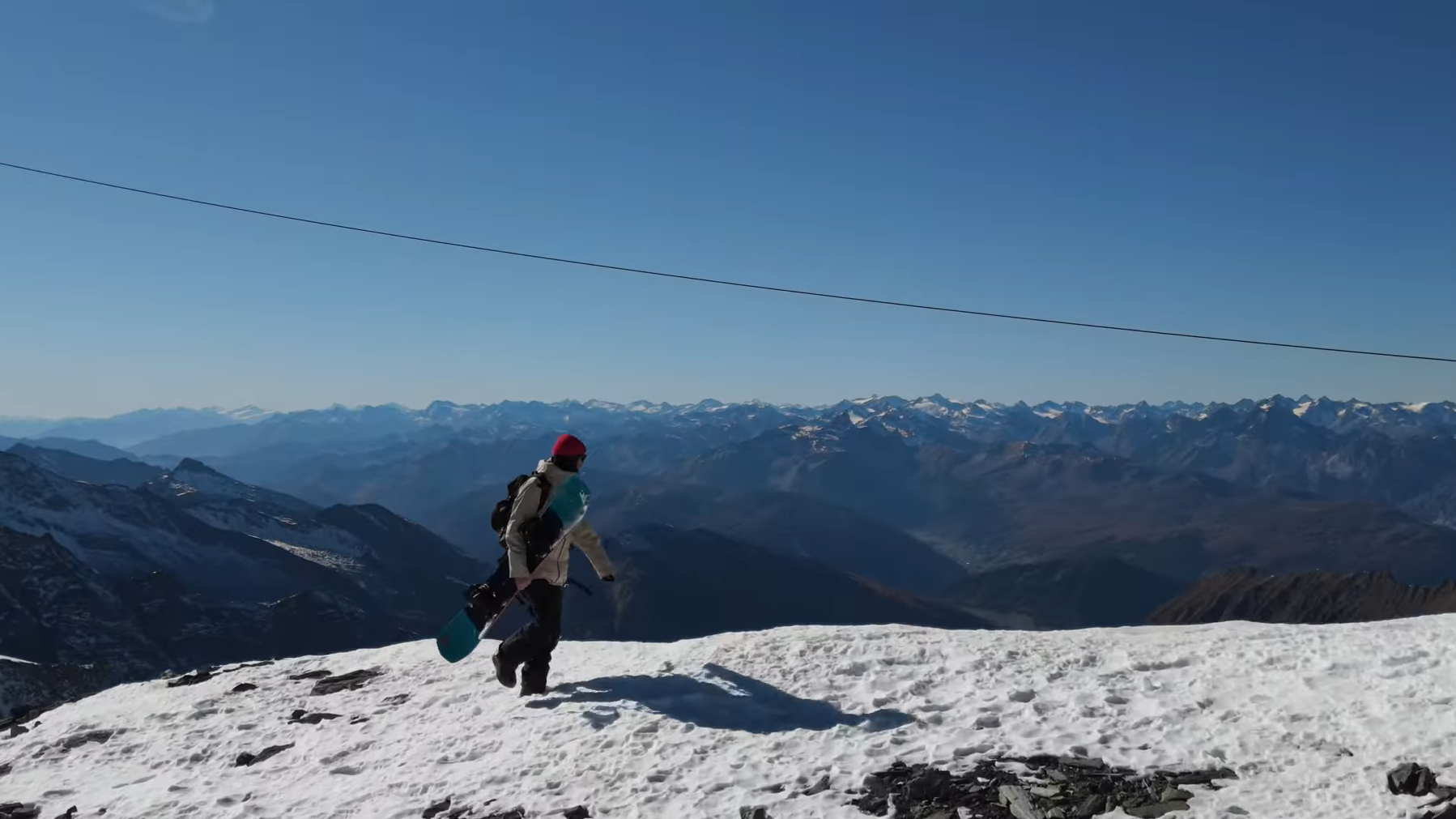 How to Layer Clothing for Skiing & Snowboarding
Wearing fewer layers can make no defense against the cold, while wearing multiple layers can make you sweat, as the body temperature rises from engaging in sports or exercises, hormones shift or heat.
To balance the internal body temperature and release heat, the body sweats can lead to moisture build-up in your clothes. Sounds like a 'no more sports' to you?
No worries! There's a middle ground – functional clothing, that follows the moisture management route. Something that is moisture-wicking and can dry very fast.
If you are going skiing or snowboarding out in the mountains without a proper defense system against the cold weather, don't mind when I say that you'll come back getting a sore throat, and sounding like a whale giving birth to a T-rex. No, I was not kidding!
You can easily decide your layers if you understand the concept of layers in the first place. The layering system in clothing is a way to layer or stack clothes together to ensure the comfort of the wearer.
Layered clothing could be used to keep you warm for outdoor pursuits like snowboarding or to keep you cool, like when firefighters wear firefighter uniforms in warm weather conditions.
One can easily add more layers or shed extra layers if the weather changes, which is mostly the case in the mountains. Let's see what stands necessary for optimal warmth. The best way to keep yourself from catching a cold is to do layering in three sections.
Base Layer: For moisture wicking
Mid Layer: For insulation
Outer Layer: To shield against snow/rain or wind
Now let's discuss each layer individually, its importance, and its functions.
Base Layer
Your base layer should rest close to your body. Since the base layer touches the wearer's skin, it should be made odor resistant and hold good wicking properties to wick the sweat off your skin.
Your base layers should include a pair of good-quality long ski or snowboard socks and warmers instead of regular cotton socks. A long-sleeve thermal top and leggings. Since wool, bamboo fibers, and polyester or nylon blend are a go-to for moisture-wicking fabrics, one can use clothing items manufactured in such fabrics.
Not to mention, cotton is also a good absorbent of moisture but do not make the mistake of using it as a base layer, as it fails at wicking and stays wet for longer periods, thus leaving you cold and uncomfortable.
Always opt for moisture-wicking long underwear, bodysuits, thermal tops, and leggings.
Mid Layer
The middle layer is an insulating layer that has to keep the wearer warm enough to fight snowy terrains that is why it is mostly made of wool. It is an item of clothing that goes in the middle of your body-hugging base layer and your water-repellent outer shell/layer.
This layer should boast exceptional insulation qualities as its job includes wicking and keeping your body heat trapped close to your body.
The most common material used for mid-layers is fleece, wool, or polyester merino wool for synthetic insulation. One can use any insulated winter jacket like a fleece jacket or puffy jacket like gilets, down jackets, or insulating vests.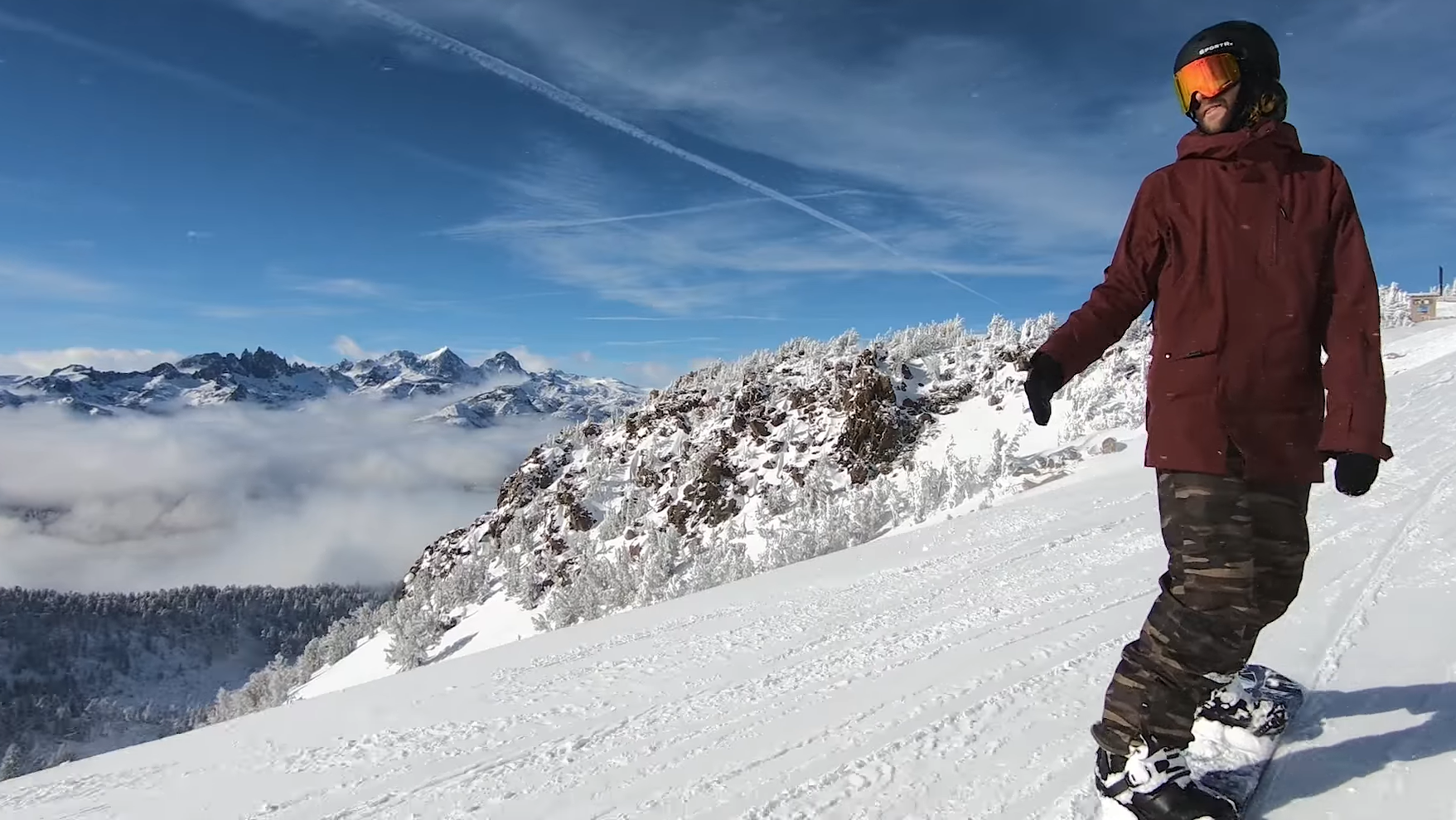 Outer Layer
The outer layer or shell is there to keep you from subjecting yourself to snow, rain, or icy blasts of winds. At the same time, the shell should also be able to wick the inner layers.
This layer should also be padded to provide extra warmth. Gore-Tex is a famous fabric, embraced by many as a top choice for snowboard pants, women's ski pants, snowboard jackets, ski jacket, snow skirt, and other ski and snowboard clothing.
Besides being a very protective outer shell, this layer should also be able to stand against wear and tear. Look for waterproof salopettes, a waterproof lightweight jacket with long jacket sleeves, and water-resistant mittens or gloves to wear skiing and snowboarding.
So, permit yourself the luxury of owning some functional clothes and don't get too much winter in winter.
Do You Wear Underwear Under Your Ski & Snowboard Base Layers?
It is a matter of personal choice. If you feel comfortable wearing underwear underneath the base layers, it is fine. However, if such an idea irritates you, it is also okay. To conclude, there is no rule against or in favor of wearing it.
Although if you do wear it, as your underwears are also skin-hugging articles, they should also incorporate qualities of your base layers that I discussed before. So, always look for moisture-wicking long underwear, and avoid using cotton ones.
Tips For What To Wear Snowboarding
Agreeing to whatever they say is not a good decision. Be smart and be informed. Here I have written some quick tips and tricks for you to save you the trouble of getting demotivated on your first snowboarding journey. Choosing the right budget snowboard with the right snowboard brand is the perfect combination of snowboarding.
A good mentor empowers a person to see a possible future. I know, without me, you would have been lost. It's okay, no more pictures please, just try to follow the instructions.
check out this article if you want to know snowboarding helmets with audio.
Dress For Your Level Of Exertion
When you dress to ski or snowboard, start with a good base, and then do layering according to your needs, as building up layers depends on the conditions and the level of your activity.
However, the three main things your snowboard clothing or ski outfit needs to deal with are moisture, cold, and wind, coming from both outside and inside. From the outside, in the form of rain and chilly winds, while from the inside, in the form of sweat, heat, or perspiration one can say.
So, I suggest you go with excess layers instead of less. Weather is nobody's friend, though. This way, you can always resort to removing extra layers or adding additional layers to stay warm.
As I mentioned earlier, one should decide on layers based on their level of engagement, more movement means more energy consumption. And arduous physical activity means more sweating, so you may prefer dressing a bit cool.
Get The Basics In Snowboarding Attire
To be in love at frost sight, you need to pay extra attention to your base layer clothing items. Otherwise, my homie, you might end up saying a lot of things you don't mean in winter if you know what I mean!
Anyway, if you are a beginner, try investing in the basics, such as thick ski and snowboard socks and thermal underwear. Your base layer is the most important layer, so if you spend your dollars on the right base layer items and stay dry, it will save your day.
Dry Feet Are Warm Feet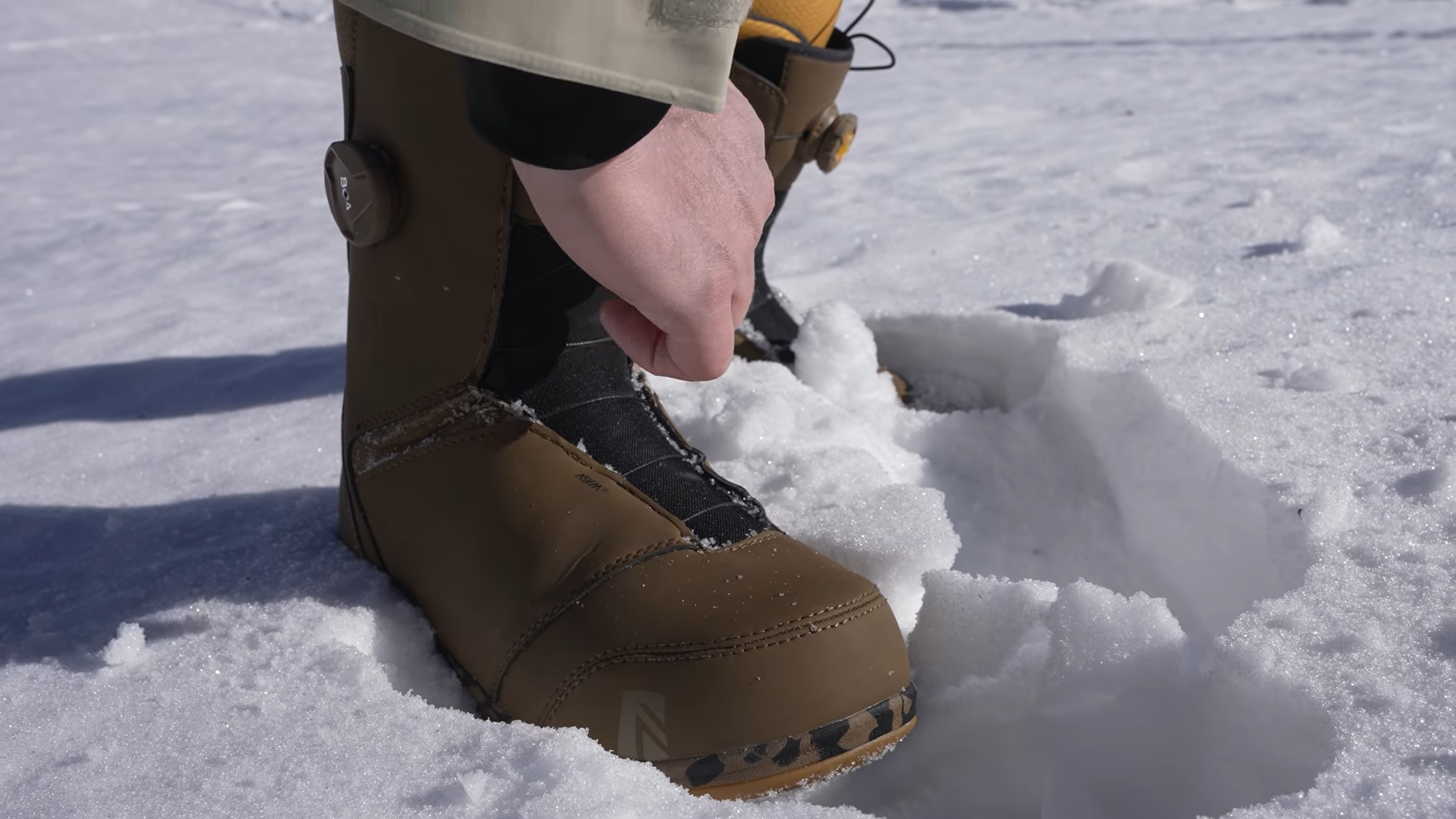 To nail your snowboarding experience, keep your ski socks or snowboard socks you own safe and dry like a baby. It means, keeping it as dry as possible, or else it will irritate you just like a baby in a wet diaper.
One more thing, try to don your thick socks at the very end of the dressing-up process i.e. just before putting on your snowboard boots or ski boots. Besides just your socks, always dry your boots, goggles, and gloves. Keep them in a dry place and never in a damp cold place.
Accessories for Skiing and Snowboarding
I have discussed below the essentials to save your hide, let's see what makes suitable right snowboarding gear to wear skiing or snowboarding.
Gloves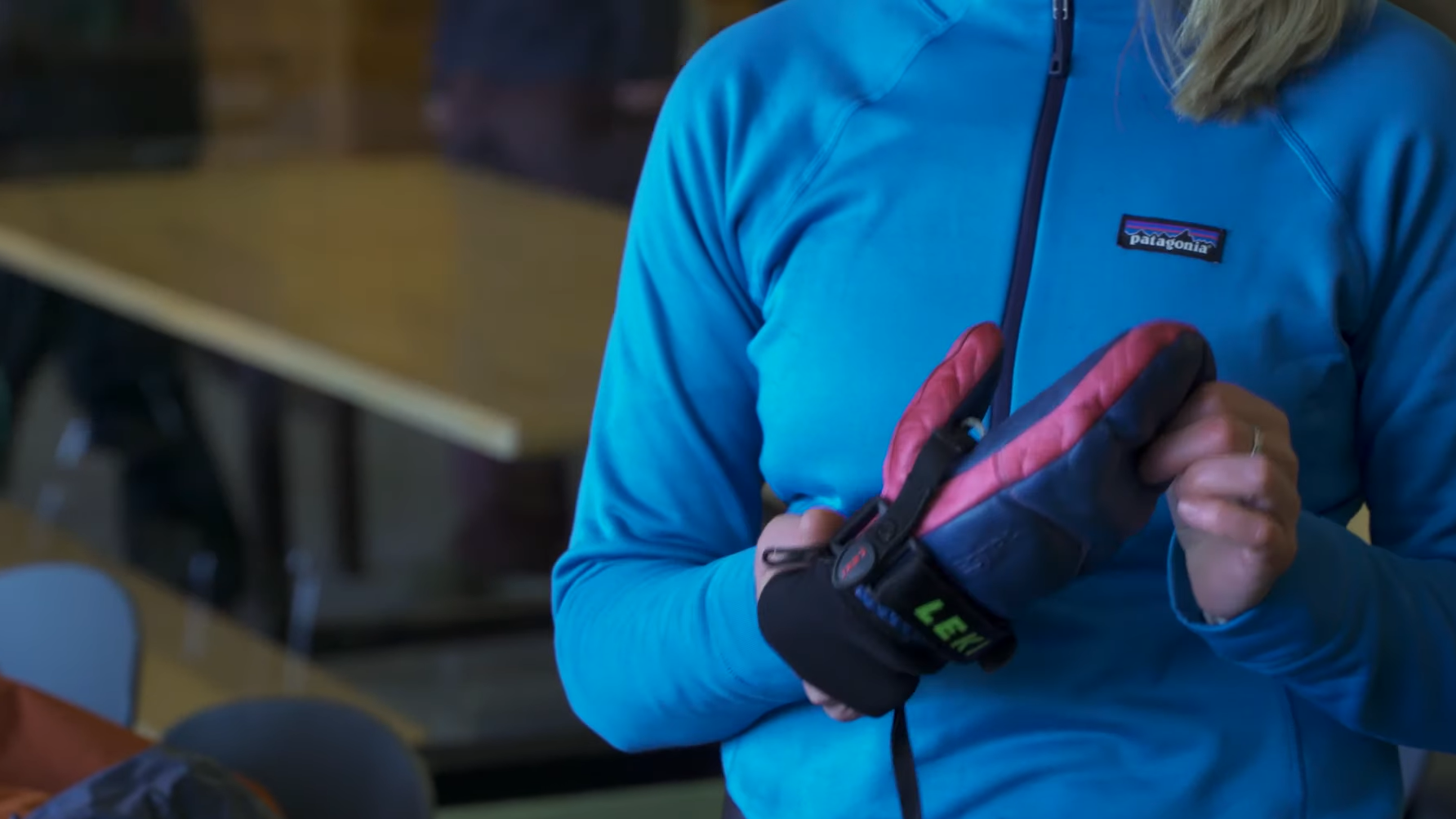 You can either wear gloves, mittens, or a hybrid style. Choosing between snowboard gloves and mittens is like choosing between a girlfriend and a wife, no doubt the wife wins, and you have to guess why. It is all about tradeoffs.
Gloves offer more maneuverability and superior dexterity but less warmth. On the flip side, snowboarding mittens offer the most warmth but the least dexterity.
While a hybrid style gives you the best of both worlds, as it has some fingers combined into a mitt. One can also add warmth to mittens by using a liner glove and removing a mitten whenever one feels like doing it. This way you get the warmth of mittens, as well as the dexterity of the gloves.
Besides design, whether you use gloves or mittens, make sure they are waterproof. Thirdly, you have two options for gloves – long cuff and short cuff. Gloves with long cuffs can go over your jacket sleeves, restricting any airflow. While the short cuff can go under the jacket sleeves. Looking for the best ski gloves, especially for women then check out our article.
Goggles
First thing first, if you are not a park rider, consider wearing your goggles over the helmet and not under. Secondly, the typical looking over glasses pose to look alluring won't work here, but grandpa's pushed-up frame will do, even if it looks like they are riding high.
It means, fit with your reflective snowboard goggles is an important factor. Make sure you have optimal fit, and there are no gaps between your goggles and snowboard helmets (another important accessory) for better protection, and that your helmet doesn't push the goggles down either.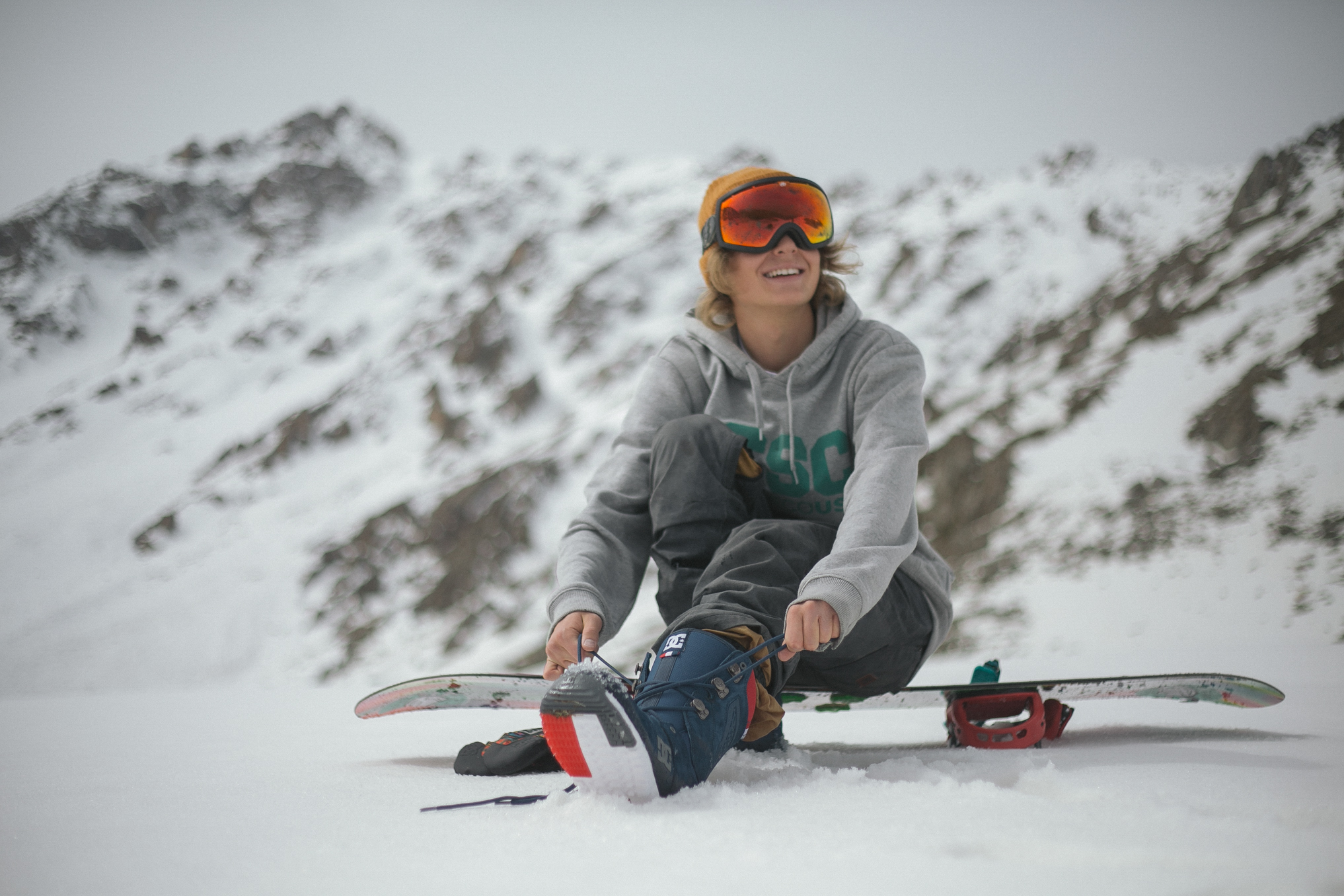 Socks
Snowboard-specific socks or heated socks must be taller than your boots and must not be too thick, as thick socks can make your feet colder if they make your snowboard boots tight and hinder blood circulation.
Always opt for wool or synthetic socks and avoid wearing cotton-made socks. Cotton socks take forever to dry out no doubt it will cost you your fun.
Handwarmers and footwarmers
If the weather takes a turn and you also start turning into a snowman, these essentials will prove your best friends. Hand warmers and foot warmers get chemically activated when removed from the sealed pouch.
They can provide you with much-needed warmth for hours, even when your gloves and socks have gotten wet and cold.
Conclusion
If you are a newbie, it's important that you focus on fun and learning rather than how uncomfortable the weather is and how cold you feel. Divided attention will get you nowhere.
Conditions in the mountains are unpredictable, and one needs to be prepared for it, or else face the wrath of icy winds and brutal snow storms. In this article, I have tried to fill you in on the essential snowboard accessories to wear. So prepare yourself wisely and deal with whatever is coming your way.