The newest beach resort in Phan Rang, Vietnam, is not to be missed.
The just-planted palm trees were already bowing over as 30 knots of wind swept over My Hoa. A few kites were already flying out past the reef, where 2 meter waves were barreling in towards the sheltered lagoon. Back on land, I settled in to have a natter with Ty Dawson, one of the managers at Sorrento Beach Club, Vietnam.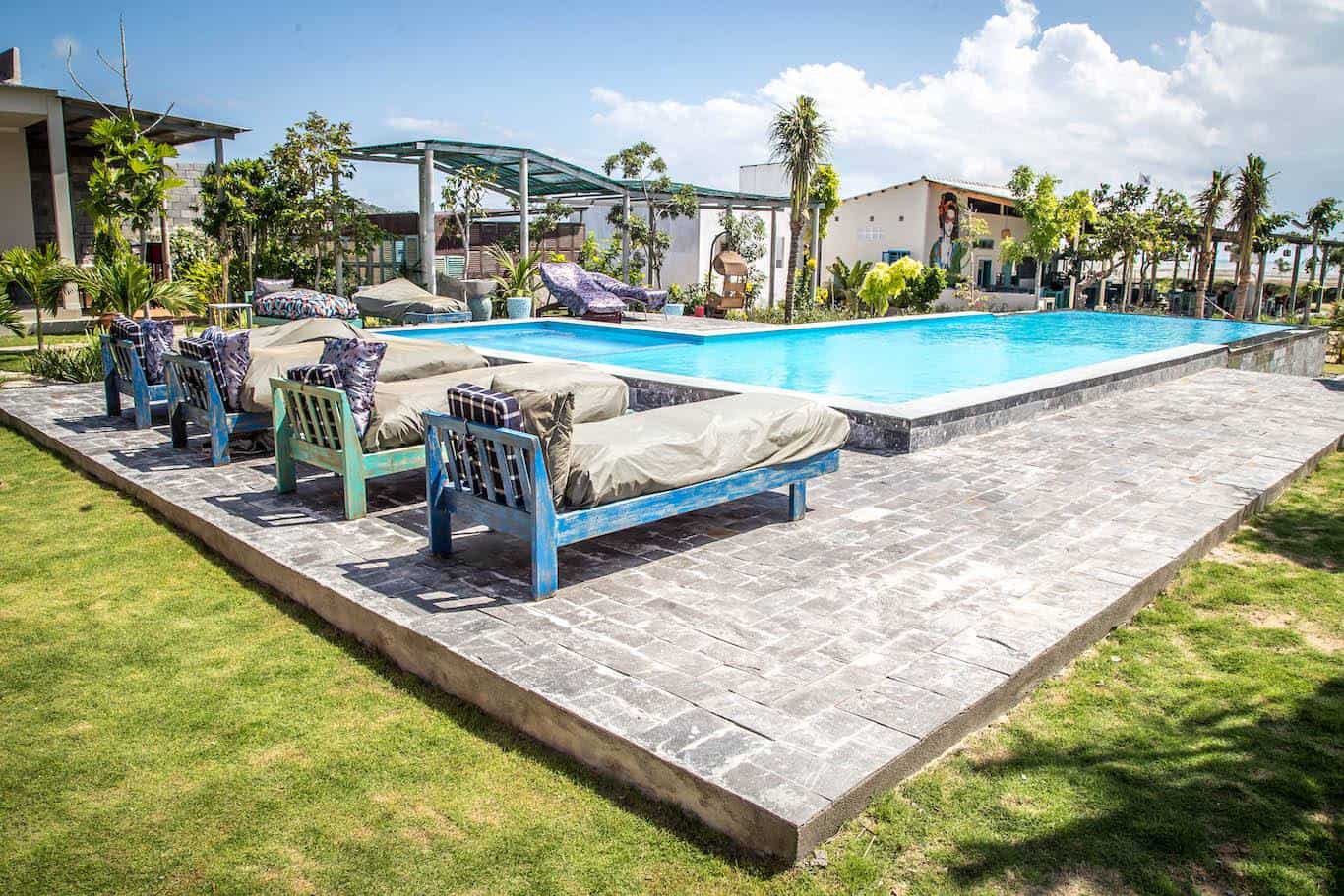 This page may contain affiliate links. It means that at no additional cost to you, we earn a commission on the sale of certain products. We only recommend products that we trust and/or use ourselves.
Sorrento is the latest addition to the Phan Rang kitesurfing scene- offering not only kiteboarding club facilities, but also an intimate resort with 12 chalets, restaurant and bar services, and a chilled social setting.
"We were happy to get involved" says Ty, "For the last few years we've been trying to get everyone up here, because we've always believed in Phan Rang and its potential. That's really why we ended up at Sorrento".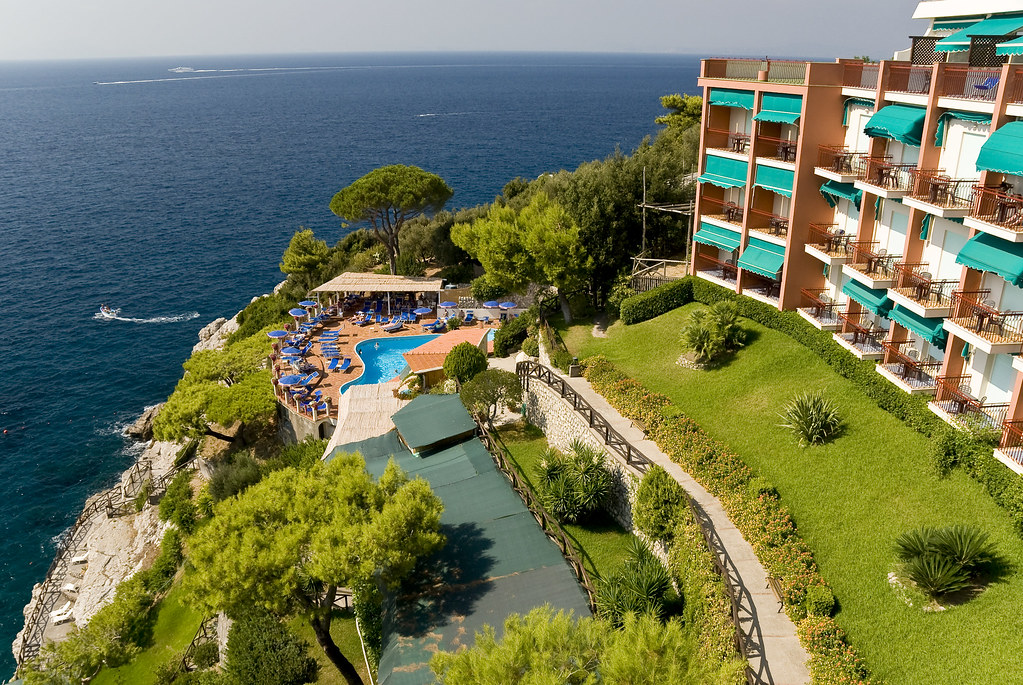 FYI: For anyone interested to know more about what Phan Rang has to offer, head over to our complete adventure travel guide to Phan Rang, Vietnam.
Things to know about Sorrento Beach Club, Vietnam
For all intents and purposes, the Sorrento of southern Italy is pretty unlike Phan Rang (less pasta, more goats) but the beach club's quirky Mediterranean style could easily trick you into thinking you've been transported out of rural Vietnam.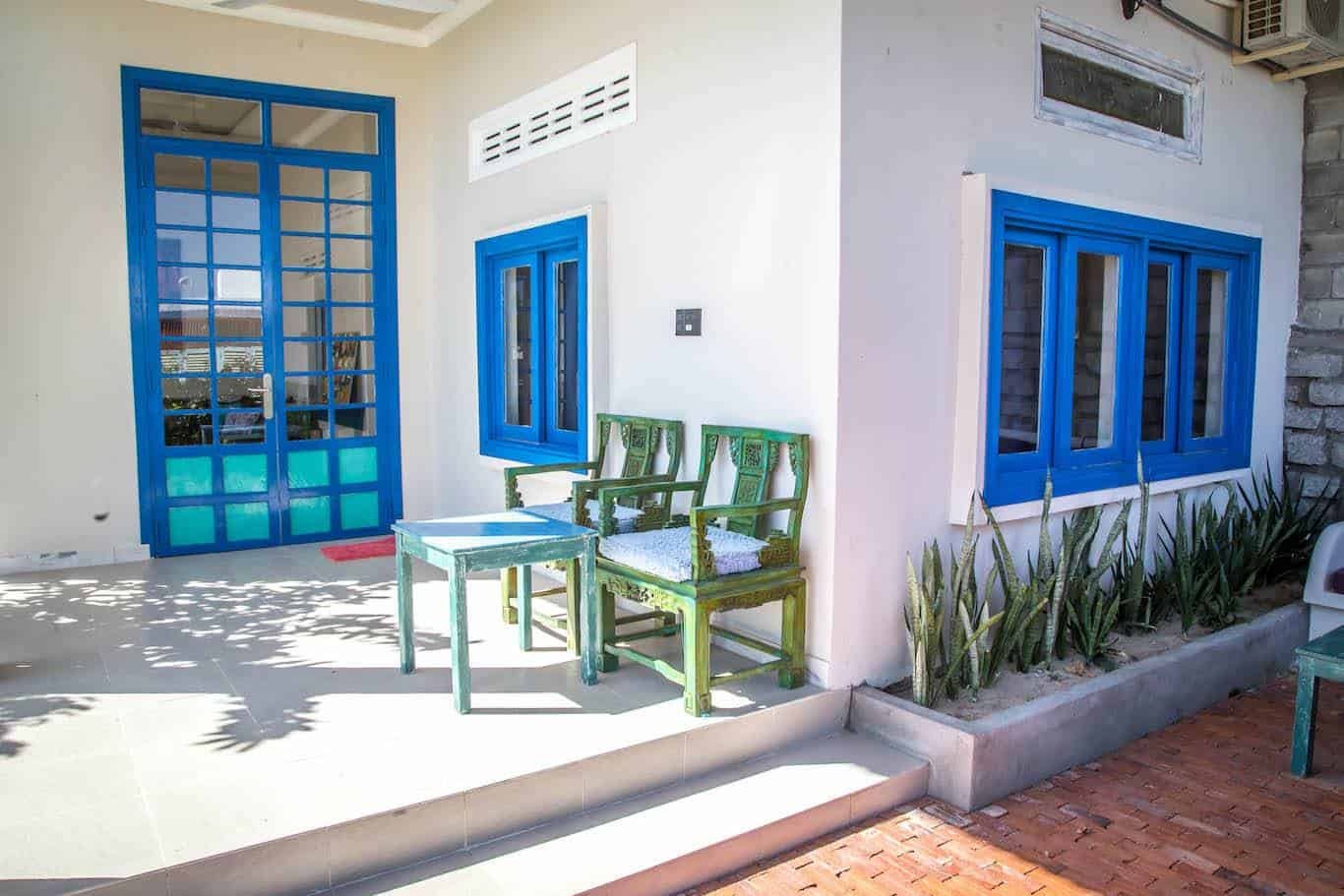 "The place is inspired by a little bit of everything and everywhere they [owners Kim and Andrew] have been" said Ty, "but… 'sorento' with one R means 'a person of great awesomeness'. Seriously, look it up" he grins.
Sorrento Beach Club, Vietnam, is so far made up of 12 private chalets, a swimming pool, a kiteboarding center, and an enormous open-air restaurant with a fully equipped kitchen and floor-to-ceiling bar.
But that's just the beginning, according to Ty:
"The place is 7,000 square meters now, but it's going to be 10 soon enough. We're building more chalets, too" he says.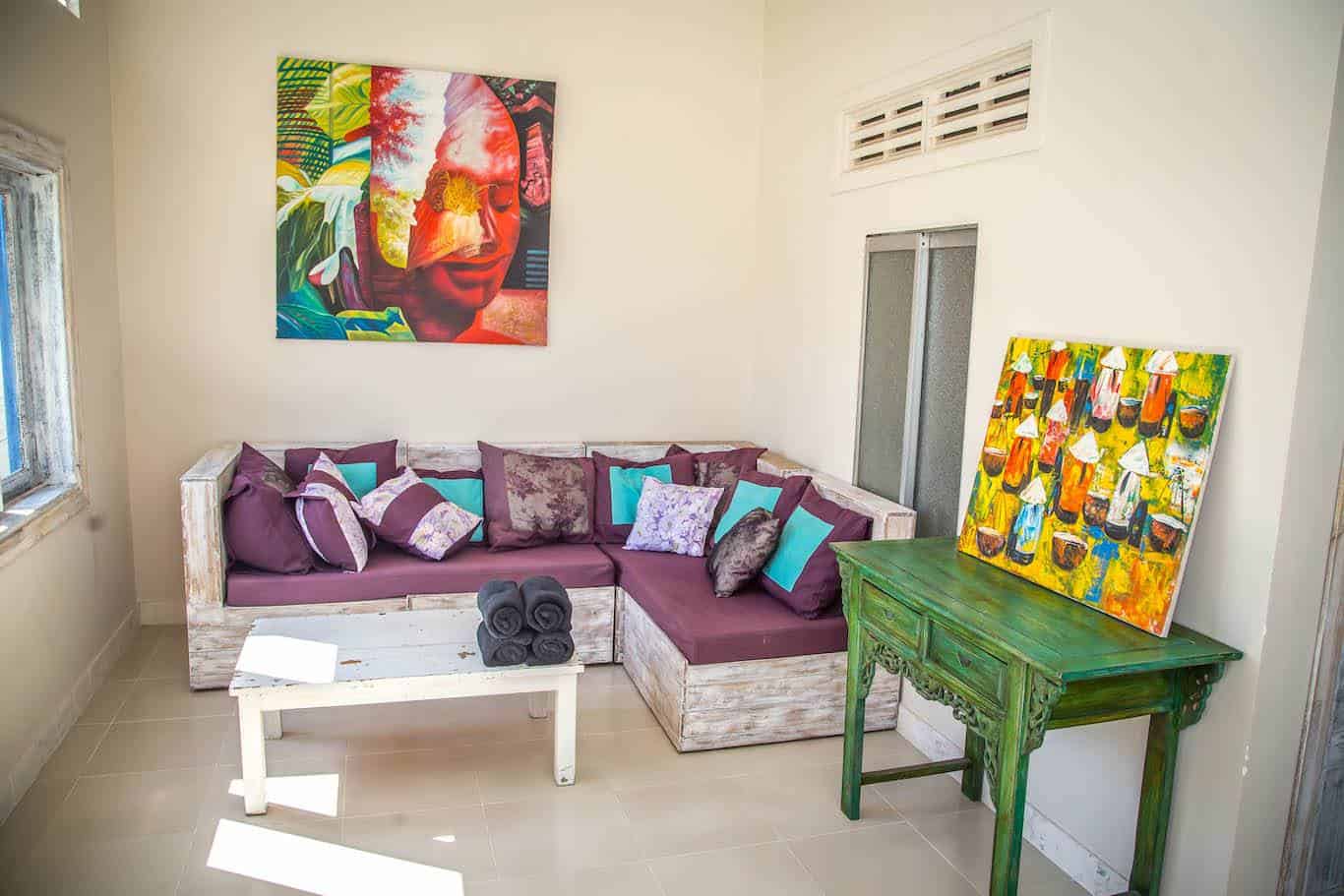 Looking around at the sprawling gardens, it's hard to imagine the manpower (and vision) it must've taken to transform it from a dusty patch of land to the tropical oasis that it is now.
Psst: if you want to check prices AND see even more pictures of Sorrento Beach Club- including inside the gorgeous rooms of the chalet- check out their listing on booking.com
Social responsibility
The buildings at Sorrento Beach Club have been constructed in part with locally sourced recycled materials.
If you order a drink at the bar you can be pretty sure it'll be served with a bamboo straw.
Vietnam's mangrove restoration program coordinators have even selected the beachfront outside of Sorrento as nursery grounds for a new plantation.
"There used to be huge mangrove plantations all around here," says Ty, "but everything got wiped out a while back. Now the project is to rehabilitate and replant new seeds. We've got 30 square meters of new mangroves out front now".
Should you stay at Sorrento Beach Club, Vietnam?
If you're looking for a resort in Phan Rang, know that Sorrento Beach Club is an absolute haven for travellers who value a mix of comfort, quirkiness, good food, and time in nature.
Kiteboarders can opt to stay on-site in one of the beachfront bungalows that directly overlook the kitesurfing lagoon. There's tons of space on the grassy lawn to pump up and pack down your kites too, which makes for a welcome alternative to the coral strewn beach outside.
The kite center is stocked with brand new DSD kites- a brand which may be unfamiliar to those who haven't spent much time kitesurfing in the Philippines (DSD hails from Kingfisher, where strong wind comes as standard). "DSD is set up for the full-on Phan Rang conditions. The Cabrinhas fell apart on us last season!" says Ty.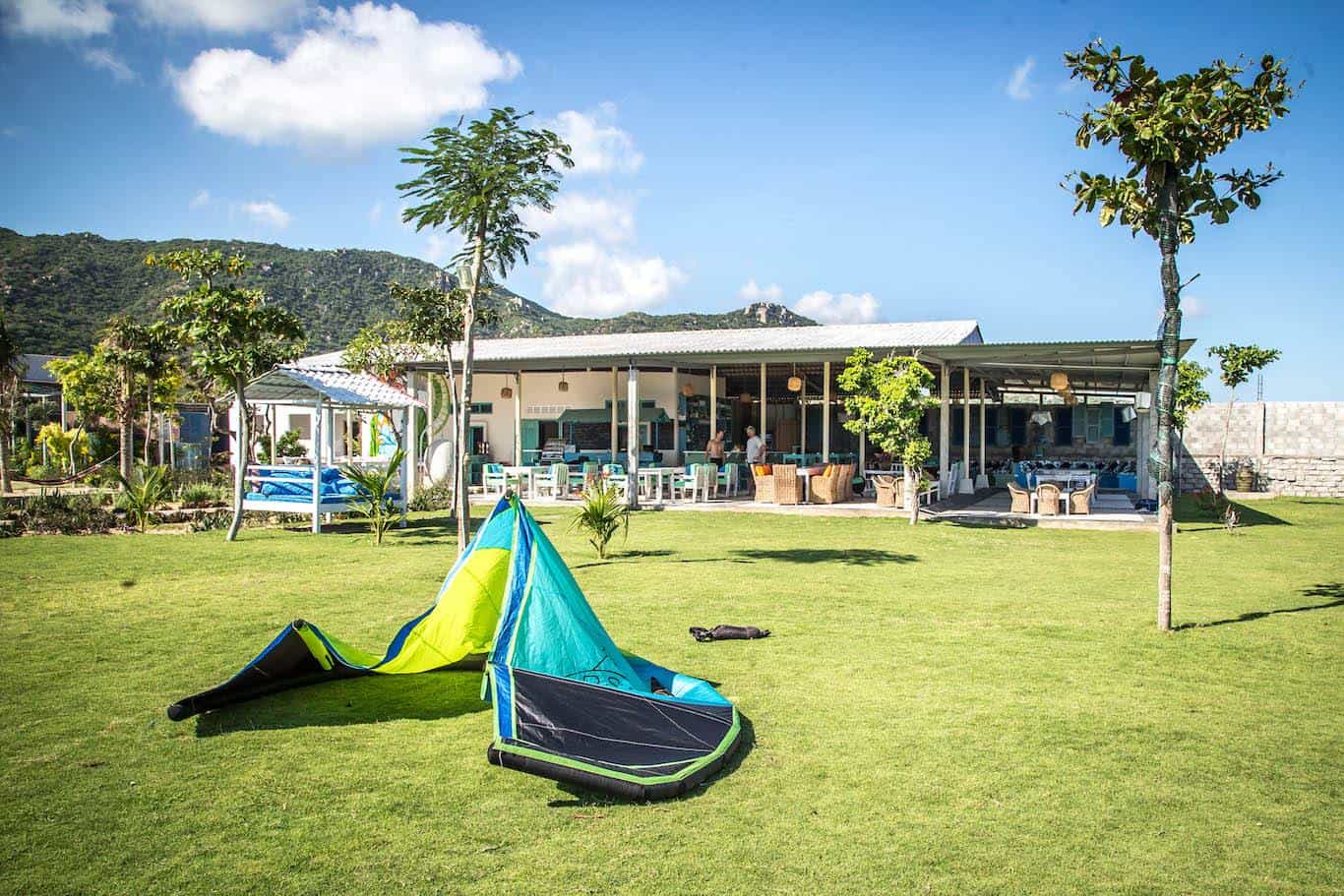 Since the wind blows practically round the clock during the season in Phan Rang, staying right here on the outskirts of the lagoon means that kiters can truly maximise their session time.
But you don't have to be a kitesurfer to enjoy the chilled beach vibes here:
For families and groups of friends, Sorrento Beach Club serves as the perfect base for those hoping to score a relaxed, offbeat holiday in a unique destination. Close to mountains and sea, it makes for a real home-away-from-home while you get out there and explore your natural surroundings.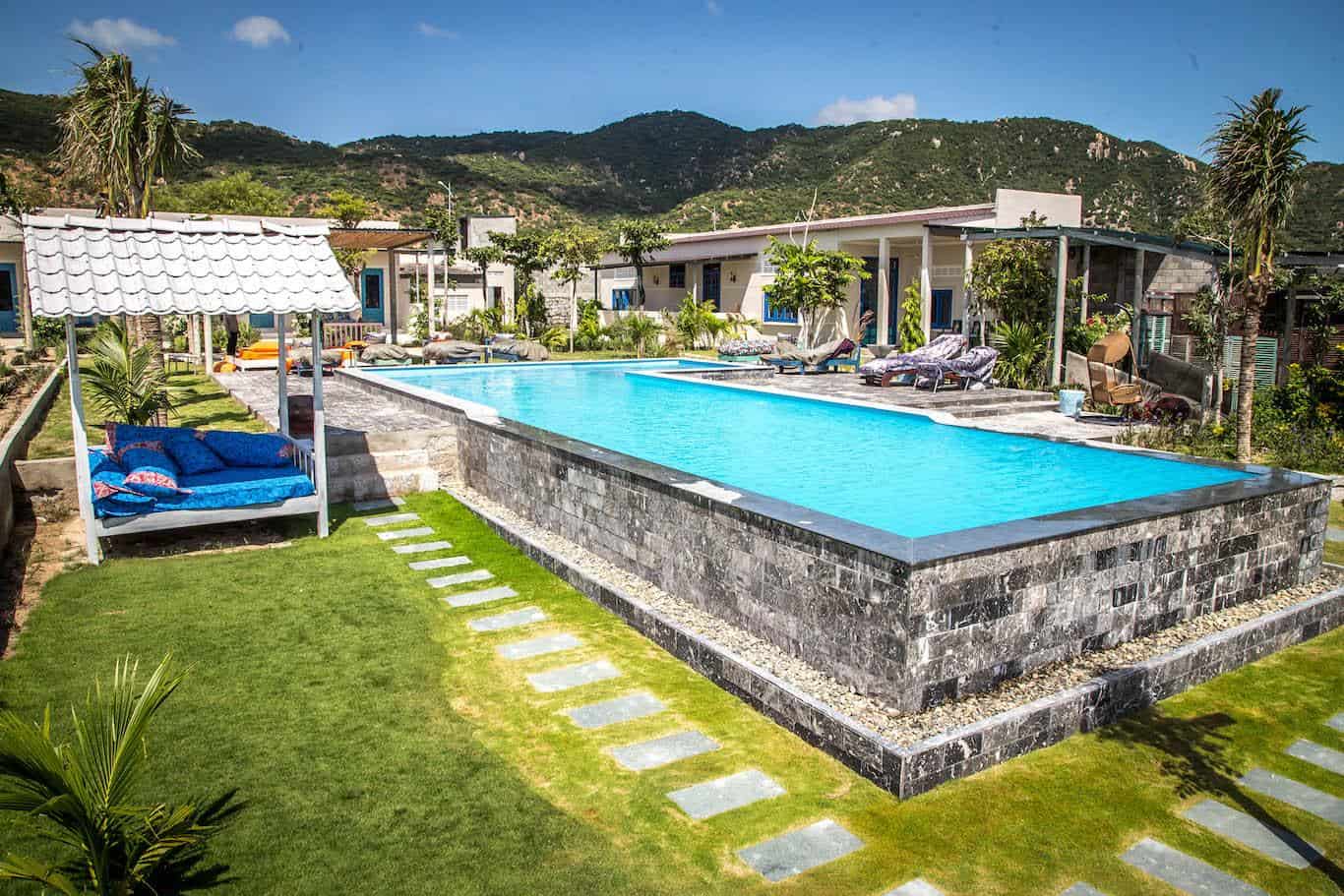 Plus, with the club's communal atmosphere, open gardens, and not to mention the energetic pair of puppies zipping around, it's the sort of place kids will enjoy just as much as their parents.
What's the future looking like in Phan Rang, Vietnam?
Between all of the beach clubs that now call My Hoa Lagoon their home- Sorrento included- there's almost 60 rooms up for grabs for kiteboarders and travellers heading this way, "but that could easily double in the next few years" Ty reckons.
---
Got a question? Join our exclusive Extreme Nomads Facebook group and pitch your ideas to a community of experienced travellers!