Strong wind, flat water and awesome waves? That's what Phan Rang kitesurfing is all about.
It just ain't everyday that you find a kiteboarding spot that ticks the boxes for freestyle riders, wave addicts, and total beginners- but dang, if there's any spot we know of that fits the bill, it's Phan Rang.
Which is why it still sits top of our list of epic places to kitesurf in Vietnam.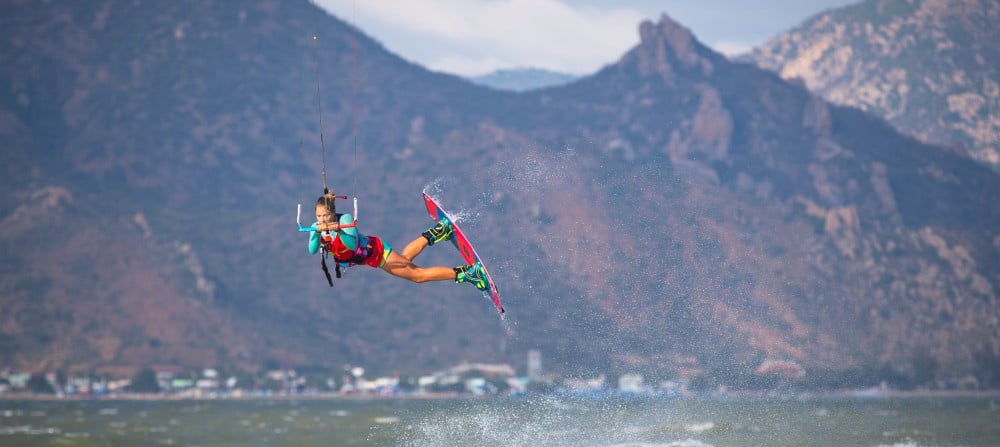 Located just an hour from Cam Ranh International Airport, Phan Rang sits on a windswept patch of Vietnam's south central coastline- just 3 hours north of the country's traditional kitesurfing capital, Mui Ne.
And in case you didn't get the news:
Phan Rang is now well on its way to becoming one of the premier spots for kitesurfing in Asia in its own right.
Yup- we said it. And with so many amazing kiteboarding destinations around this crazy continent, we're well aware that these are big boots to fill.
But what with Phan Rang's insanely reliable (and strong, did we mention the strong part?!) wind, flat water lagoon, countless reef breaks, and burgeoning kitesurfing community, we reckon this spot is set to continue growing in a seriously big way over the coming years.
So with that in yer hat:
This guide is going to take you through all the things you should know about the Phan Rang kitesurfing scene, from the most epic spots to catch the wind to practical info about the season, conditions, and local kitesurfing schools.
For those of you interested to know more about Phan Rang's lifestyle, accommodation options, and alternative things to do, head over to our complete adventure travel guide to Phan Rang, Vietnam.
Alrighty guys, settle in with a cold 'un and prepare to up your Phan Rang kitesurfing knowledge:
---
Disclosure: This page contains affiliate links to hotel booking platforms, meaning that at no additional cost to you, we may earn a commission of final bookings. Of course, we only suggest places that we trust and know you'll enjoy.
When is the Phan Rang kitesurfing season?
The main Phan Rang kitesurfing season runs from November-April, peaking between December and March. The exact beginning and end of the season differs somewhat year on year; occasionally the wind will kick in as early as the first weeks of October- but this isn't 200% reliable.
It's also possible to kitesurf in Phan Rang during the off peak summer months, but the main spot switches off at this time since the wind direction changes completely, so you'll need to look into one of Phan Rang's alternative kiteboarding spots (we'll talk more about that in just a sec).
What to expect from the Phan Rang kitesurfing conditions
During the main Phan Rang kitesurfing season, you can count on a minimum of 25 knots of clean wind blowing pretty much day and night. In fact, it's actually quite common for the wind to blow 30+ knots during the peak season- sometimes reaching in excess of 40.
No joke, guys- the wind in Phan Rang is strong AF. But don't just take my word for it; check out the Windguru readings for My Hoa Lagoon.
Average kite sizes during the season are 5 and 7 meters, with some riders even choosing to use 4.5 meter kites or smaller. In fairness, you could probably go out there some days holding a plastic Family Mart bag over your head and still be able to get something goin'.
Like, if there was ever a time to tell you about how my tiny friend was zipping around Phan Rang's waters on a frickin' 2 METER KITE last season, this would probably be it (no joke, lads).
As for the water conditions, Phan Rang offers a mixed bag. At the main spot, My Hoa Lagoon, you'll find flat shallow water inside the reef and big barrelling waves outside. Of course, this isn't the only spot for kiteboarding in Phan Rang- oh no siree- so below we'll dish out some more details about the other spots to note- and exactly what kind of conditions you'll find there.
Phan Rang kitesurfing spots
Psst: before you head off on your Phan Rang kiteboarding adventure, make sure that you're properly kitted out with a high quality kiteboard travel bag (see our handy review article on kite travel bags for recommendations).
My Hoa Lagoon
My Hoa Lagoon is the main spot for kitesurfing in Phan Rang. It's located 20-odd kilometers outside of Phan Rang City, and is now becoming its own little mini-village in its own right.
During the northeast monsoon (i.e. the high season for kiteboarding here) Phan Rang's characteristically strong wind blows cross/onshore over My Hoa Lagoon.
The lagoon is protected by an outer reef which sits about 700 meters offshore. Inside the lagoon, you'll find shallow, butter flat water with just the tiniest baby bit of wind chop- making it a pretty good place for beginners to learn how to kite (more tips for beginners coming below!).
The only thing is that the water can be like, really shallow at times- so if the tide is looking a little low or you happen to end up away from the deepest areas, check yo'self before you wreck yo'self! Or, y'know, your kite.
At the back of the lagoon, waves break left and right of the reef sending clean, powerful barrels rolling in towards the shore. Yay for all you surfboard riders– the waves at the back of My Hoa measure in anywhere from 1-4 meters depending on the swell and wind strength.
Now, a wee word of caution:
My Hoa Lagoon is heavily affected by the tides and when it's at its worst, the water recedes beyond the reef entirely, making it impossible to kite inside the lagoon. Sometimes it's only for a matter of hours- but sometimes it's days at a time.
During these periods of low tide, it is still possible to kitesurf outside the lagoon in the open sea, but you'll need to walk the 6-700 meters out there to even reach the water (and thanks to the evil sharp bits of broken coral that tend to burrow down in the sand, booties are necessary if you're going to try this!).
Before setting off on your Phan Rang kitesurfing adventure, we highly recommend that you check with the local schools to find out details of the tides during your visit.
Ninh Chu Bay
During the low season (May-October) the reliable northeast monsoon wind switches off and gives way to the southwest monsoon. Typically, the best place to kitesurf in Phan Rang during these months is at the crescent shaped Ninh Chu Bay which, sitting 15 km southwest of My Hoa, is well-positioned to make the most of both the spring and summer winds.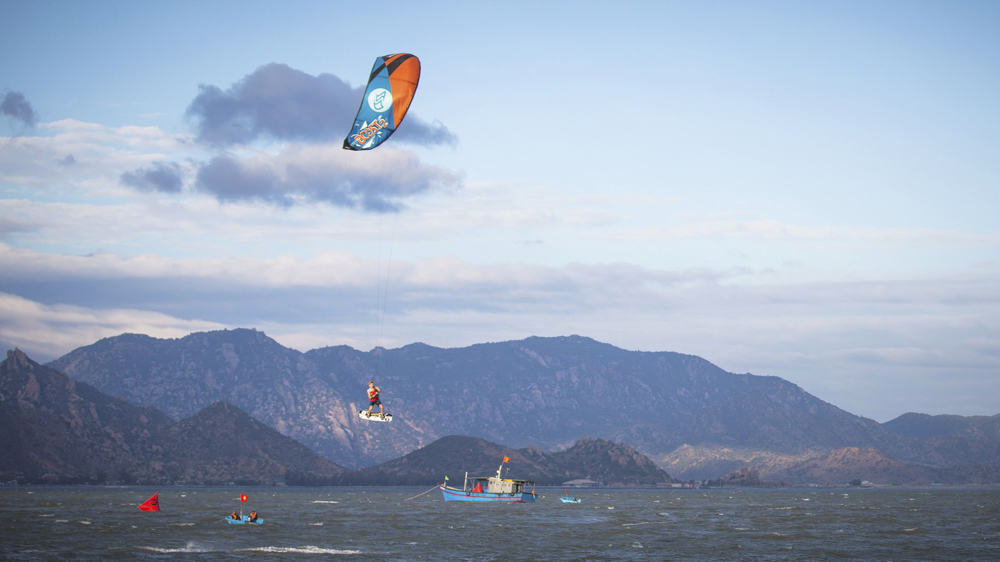 In February 2016, Ninh Chu Bay played host to a supermassive competition held by the Kiteboard Tour Asia, which saw nearly 100 competitors take to the water for an epic week of freestyle and racing fun.
It must be said, though, February was a little early in the Ninh Chu season and the wind direction was playing shifty buggers with us for the whole week. The beauty of Ninh Chu Bay though, is that even if the wind direction isn't quite right, you just need to move your base a couple kilometers down the road in order to score better conditions.
Ninh Chu Bay boasts a big stretch of sandy beach with shallow water at the front, getting deeper after the first 100 meters or so. Water is pretty calm inside the bay, with some nice little kickers here and there to pop off of.
Tip: while this used to be the home of Ninh Chu Bay Beach Club's own kite center, the club was sold off a while back and is being redeveloped. You're best off bringing your own kite gear if you want to have a session here these days, or alternatively by organising a day trip through one of the kite stations at My Hoa.
Elsewhere along the coastline…
At the end of the day, Phan Rang is home to a seriously long coastline- and thanks to its orientation and general lack of structures along the shore, a lot of it is kiteable.
If you're a confident independent kiter (in that you can safely assess a new spot in terms of wind, water conditions, and potential hazards) then that sweet-as coastline is yours to explore.
After all, Phan Rang was 'discovered' by a couple of salty souls who took off on an adventure from Mui Ne to see what they'd find further up the coast.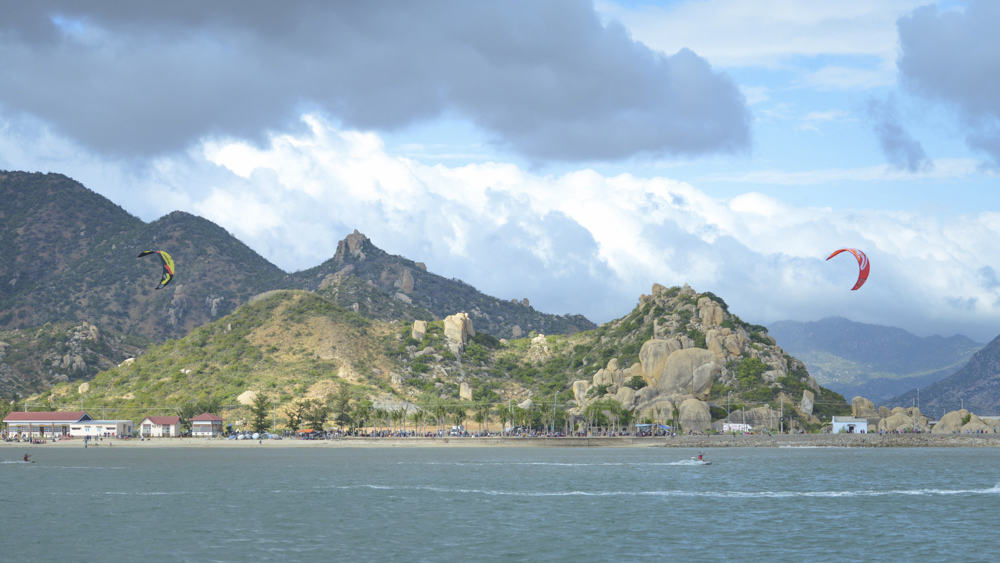 Members of Phan Rang's local kitesurfing community have a whole host of different spots in their arsenal, with special locations for wave riding, downwinders, freestyle, and more. But if you wanna find out exactly where these places are, you're definitely going to have to buy a couple of beers for the right people!
In the meantime, there's nothing stopping you from setting off on your motorbike with your board rack loaded up; who knows what kind of spots you'll find for yourself.
Are the Phan Rang kitesurfing conditions suitable for beginners?
With its super reliable wind and flat, shallow lagoon, Phan Rang's kitesurfing conditions make easy work of learning to kiteboard.
And while the uber-strong wind conditions might seem a little intimidating, it can actually work in a beginner kiter's favour. Ty Dawson, one of the managers at Sorrento Beach Club, put it perfectly:
"I was a little worried at first about what it might be like to teach beginners in 30-40 knot winds" says Ty, "but now, I love it. It's so satisfying to teach new kiters here; the strong wind and flat water mean that you'll have students up and riding in 8-10 hours on the regular. It's just amazing to be able to share a session with your student before you send them home. The conditions here are really perfect."
Phan Rang kitesurfing schools
There are currently 4 kitesurfing schools operating at My Hoa, each of them offering their own unique services, community, and vibe.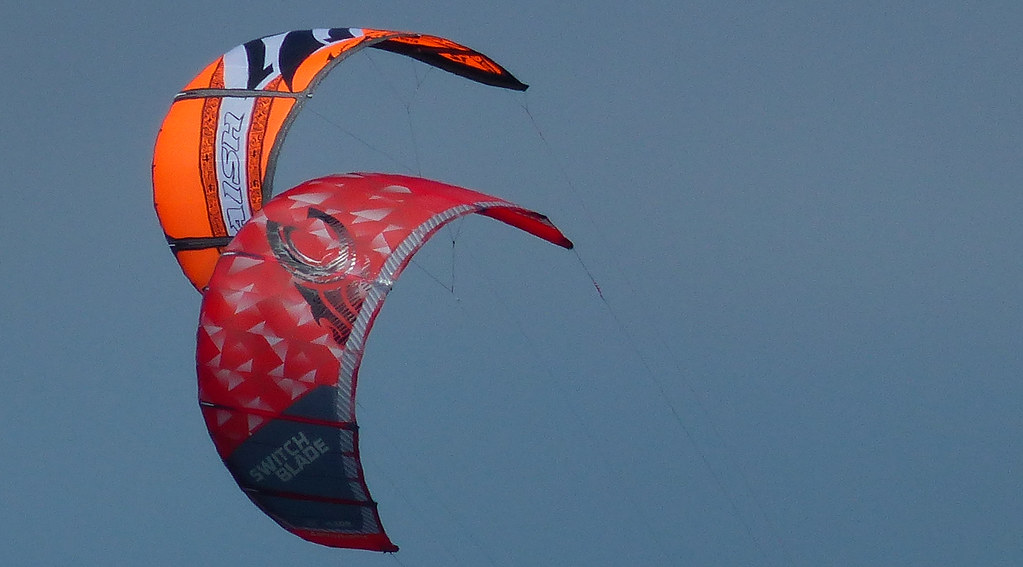 We're personally friends with members and owners of each of the schools, and can honestly say that every one of them has something special to offer. In that sense, it's not so simple to put a finger on which school is "the best", so if you're in question about where to base yourself during your time in Phan Rang, take a sec to learn about what makes each of the schools different- and make your decision from there:
Vietnam Surf Camp
Founded by the Rip Curl Vietnam team, the Vietnam Surf Camp set up shop late in 2017 and offers lessons and equipment rentals. Apart from kitesurfing, they're also super accomplished windsurfers and spend more of their free time scoping out Phan Rang's surf offerings. If you're keen for some multi-sport action, Vietnam Surf Camp might be the one for you.
Aaaaaand they also have their very own hand built "glamping" teepee tents available for rent right on the beachfront outside the lagoon- pretty cool, right?!
Phi's Kite School
The first school to set up on My Hoa Lagoon, this family run kite center is headed up by local kitesurfer Phi. Himself and his team pretty much pioneered the development of the kite scene at My Hoa Lagoon, so you can be confident that the guys behind the counter here really know their shit.
Phi's offers lessons, rental of Cabrinha kitesurfing equipment, and storage, as well as budget-friendly dorms and cosy private rooms right on the beachfront.
Phan Rang Kite Center
Having joined the Phan Rang kitesurfing community in 2017, the center now provides lessons, storage, and equipment rental. As of this season, owner Son and his team have also started to offer their very own accommodation on site; both dorms and private rooms.
Sorrento Beach Club
The newest addition to the collection of kitesurfing schools in Phan Rang, Sorrento Beach Club opened its doors in September 2018 and features grassy gardens, Mediterranean-style beachside chalets, a pool, and a humongous restaurant headed up by our favourite international chef in Phan Rang, Rachel.
Psst: check out pictures and details in our full review of Sorrento!