Wondering about hiking in Ireland? Here's your one-stop guide to making the most of the Emerald Isle's trails.
Even as a local, there's still roughly a BAJILLION hiking trails in Ireland I've yet to explore — and if that doesn't excite the crap out of you I don't know what will.
We're kidding (kind of). But on a serious note:
The country is literally covered in hills and mountains, with a solid mix of countryside, farmland, cliffs, and coastal scenery to boot. Some of the hikes are well established and marked with trailheads; others are well and truly off-grid.
It's really no wonder hiking is one of the most popular adventures on travellers' Irish bucket lists.
Let this article take you through everything you need to know about hiking in Ireland, including the best time to plan hiking trips in Ireland, what to expect from the weather, what to pack, and of course a selection of some of the best hikes and walks around the country.
We'll bring you a wide choice of hiking trails, from the chilled-out walking variety to the most epic endurance hikes in the land. Of course this list is far from exhaustive, but it should act as a good baseline for you to start planning your own Irish hiking trip (and point you in the direction of other resources that can help you do so).
Pssst: it comes highly recommended that you top off any of the below mentioned hikes with a stodgy pub lunch and a creamy pint of Murphy's (yeah, we're Murphy's drinkers in this household — h'up Cork!).
Settle in folks, here we go:

Where is the best hiking in Ireland?
If you're wondering where you can hike in Ireland, the answer is: EVERYWHERE! In truth, there's insanely beautiful, challenging, and unique hiking to be done all over Ireland, no matter if you're looking for a quick day trip from Dublin or a week-long adventure deep in the countryside.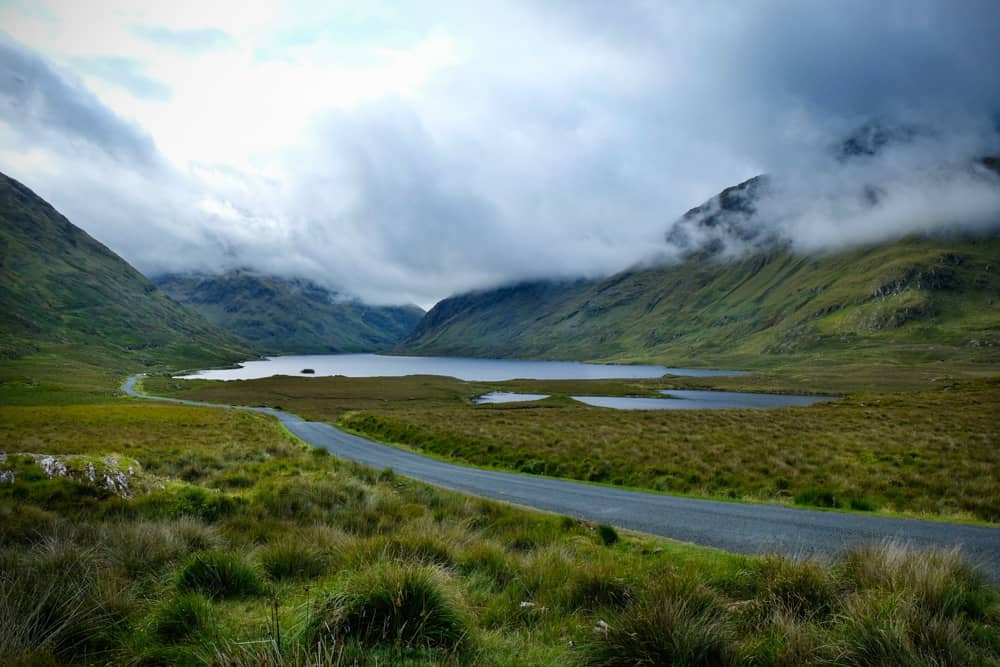 If we're talking in terms of Ireland's most renowned trails, you could consider the best hiking in Ireland to be in the Wicklow Mountains on the east coast, the iconic peaks of Carrauntoohil, or perhaps along the Causeway Coast in Northern Ireland (note: for the sake of bringing you a well-rounded article, we're including info about some of the northern hikes as well as that of the Republic).
In order to show you the extent of that claim, we're going to give you as diverse a summary of the best hikes in Ireland as we can.
What to expect from the weather
Prepare for the worst, hope for the best — that's honestly all the reassurance I can give you when it comes to the Irish weather. Locals will jokingly tell you about the "multiple seasons of the day" that we experience here… but it's actually no friggin' joke!
The weather can change from stone-splitting sunshine to pissing rain in the blink of an eye — and radical temperature changes are standard practice as well.
Below we'll go into some practical advice about what you should wear on your Irish hiking adventure; but before we go into all that, let's first get a better idea of what to expect from the Irish climate on a month to month basis:
What's the best time of year for hiking in Ireland?
In general, you can say that May-September are usually the best months for planning a hiking trip to Ireland, since these are the months with the longest sunlight hours (~17 hours of sunlight in June! You can check Ireland's sunrise and sunset times here, if you're interested). 
But be warned: just because it's summer doesn't mean you'll be spared from the rain, wind, or chilly temperatures. Or yenno… you might get a month of blissful sunshine. Who even knows.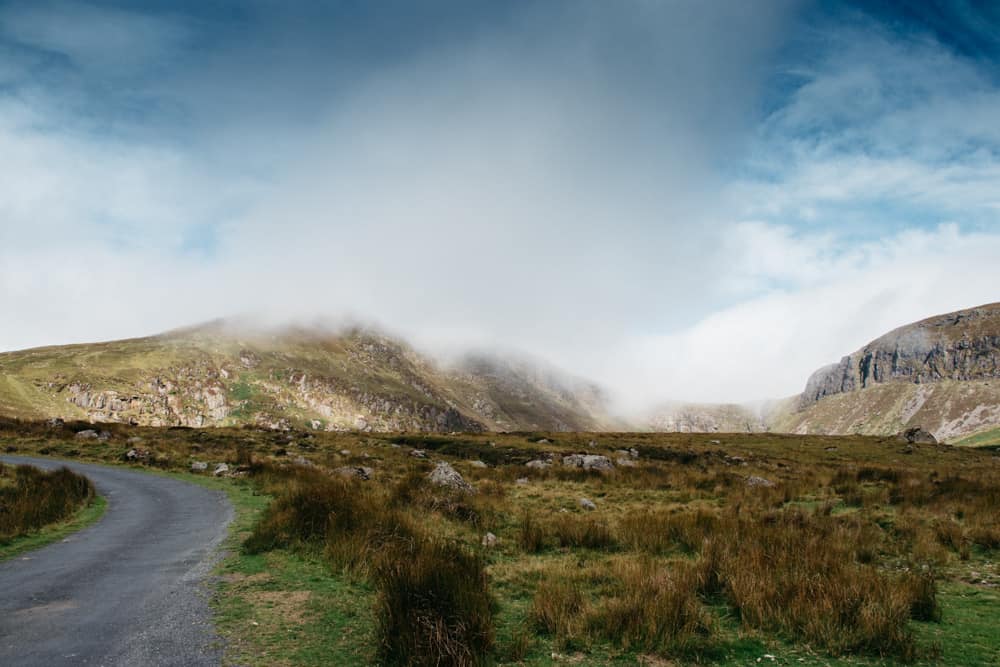 Then there's the winter months, which don't necessarily have to be void of hiking, but it must be said that the low light levels, near constant rain, and baltic temperatures that are typical of our October-February months is less than ideal for planning a hiking trip around.
Does that sound bleak? It's actually not — because Ireland is one of the most special, beautiful countries in the world, rain or shine; and a hiking trip to Ireland is bound to blow your mind (even if you end up a bit soggy at the end of the day).
But to help you stay toasty and dry during your Ireland hiking adventure, we've prepared a quick packing list with our favourite essentials:
Essential packing list for hiking in Ireland
Ever heard of Murphy's law? We can only assume he's the same guy who invented the stout, which probably explains a lot…
What can go wrong, will go wrong.
And as dismal as that may sound, it's probably the best attitude to take when it comes to packing for your Ireland hiking trip. Pack for sunshine, rain, warmth, and cold — but do it smart, so that you don't end up with a 75 kilo rucksack. Nobody wants that!
We recommend packing:

Layerable clothing, because layers are your friend here. (t-shirts, fleece, sweaters…)
A bombproof rain jacket — like the North Face Venture jacket for men and women.
Good quality waterproof hiking boots (Jim loves his Timberlands and ladies, you can't go wrong with a pair of high traction Columbia boots)
A light hiking daypack to carry essentials (love this one from Teton which comes with a built-in hydration bladder)
A stainless steel water bottle (say no to plastic, yo!)
Chunky knit socks (to keep your tootsies warm and spare yourself some blisters)
A circular headband (especially useful for long haired folk; the wind will send your hair doing all kinds'a crazy stuff!)
Camera
Smartphone with GPS
Eco-friendly sunscreen (no kidding, if the sun comes out and you're up on the mountain all day you're gonna get scorched).
Optional: a collapsible hiking pole (helpful if you're planning to go to some of the lesser-visited areas with hard-to-see trails).
Best walks & hikes in Ireland: Our (growing!) selection
Sheep's Head Way, Co. Cork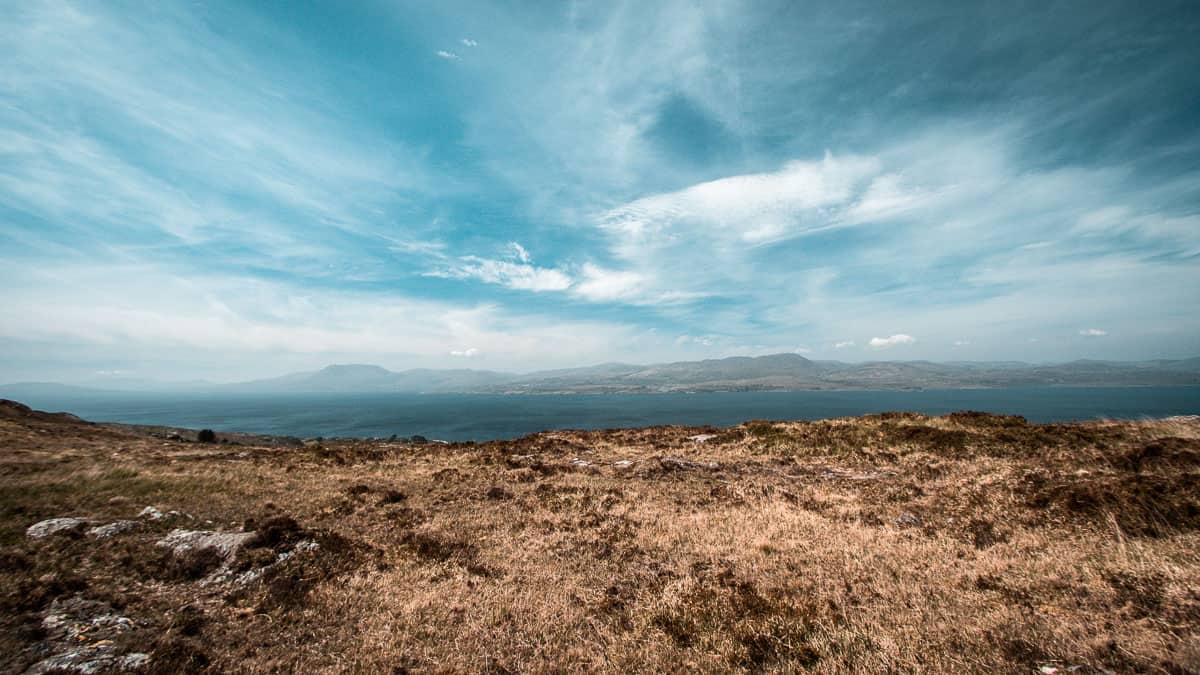 Located along Cork's Sheep's Head Peninsula — one of the country's most southwesterly points — this hike is one of Ireland's most beautiful coastal walks (full disclosure, this is where I grew up and hiking has always been one of my favourite things to do outdoor in West Cork, so I may be biased!).
But bias aside, the hike takes you from the start of the peninsula (near the Westlodge Hotel, which is a handy place to stay if you're thinking of doing the hike yourself) all the way along the top of the hills towards Kilcrohane — with insane views of Bantry Bay and the Beara Peninsula on your right and the valley stretching to Dunmanus Bay on your left.
The Sheep's Head Way combines various trails and routes (200 km in total!) which might see you stop off in the little village of Durrus for a spot of pub lunch or the local's favourite Tin Pub in Ahakista for a pint in the beer garden. 
Although the highest peak is only 300 meters above sea level, the aggregate ascent for the whole Sheep's Head hike is well over 2,000 meters. Take your pick between routes leading to ancient stone circles, standing stones, heather-covered hills, traditional churches, and even to whale-spotting lookouts.
If this sounds right up your street, this extensive Wild Atlantic Way walking guide book could do wonders to help you plan your trip in more detail, since it covers all the best coastal walks along Ireland's rugged west coast over 168 pages.
Gougane Barra, Co. Cork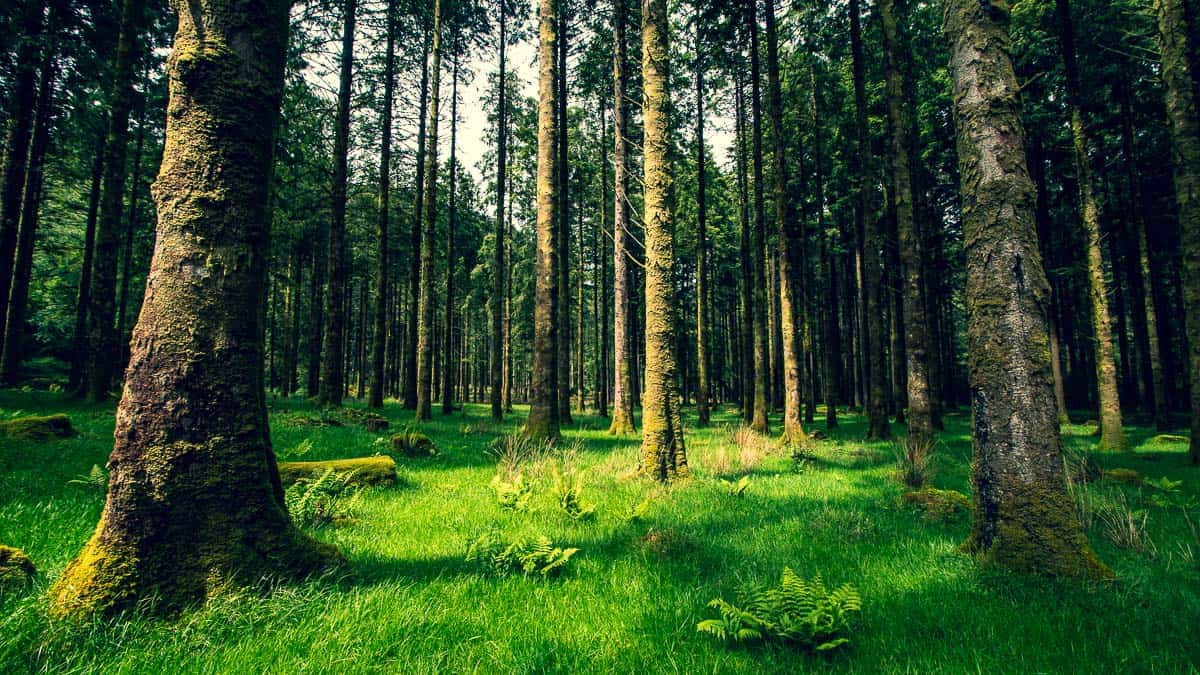 The Shehy Mountains are a craggy range of peaks that separate County Kerry from the westerly borders of County Cork. Nestled against its foothills on the outskirts of Ballingeary — a small village and one of Ireland's last remaining gaeltacht regions — is Gougane Barra.
A place famed for its iconic church and rich religious history, Gougane Barra is also home to one of Cork's most magical national parks. Gougane Barra Forest Park is all towering pines, spruce, and larch trees. It's nature walks, waterfalls, and misty mountain landscapes. It's hiking trails — six of them, to be precise.
The easiest of the trails consist of nature walks and 30 minute jaunts through the forest at 0 elevation. The more challenging hikes take you trekking through the hills to ~130 feet elevation for a 2.5 kilometre loop. The views along the way are worth the effort, to say the least.
It also happens that Cork's River Lee originates right here in these hills, as little more than a trickling stream. Walk along its length and watch the gurgling creeks evolve into gushing rivers as it moves through the mountains.
Combine your Gougane Barra hike with a visit to the gorgeous little monastery that lies before the entrance to the forest park. Learn the history of Saint Finbarr, soak in the utter tranquility of the surrounding lake, and don't forget to stop into Cronin's Bar for a creamy pint of Murphy's.
For those of you who end up truly swept away by Gougane Barra's magic, you can stay the night right on the shores of the lake in the Gougane Barra Hotel — a family run business whose location is the only thing that exceeds the fabulous hospitality and satisfying home cooked grub.
The Causeway Coast, Co. Antrim
Recommended by Els from My Feet are Meant to Roam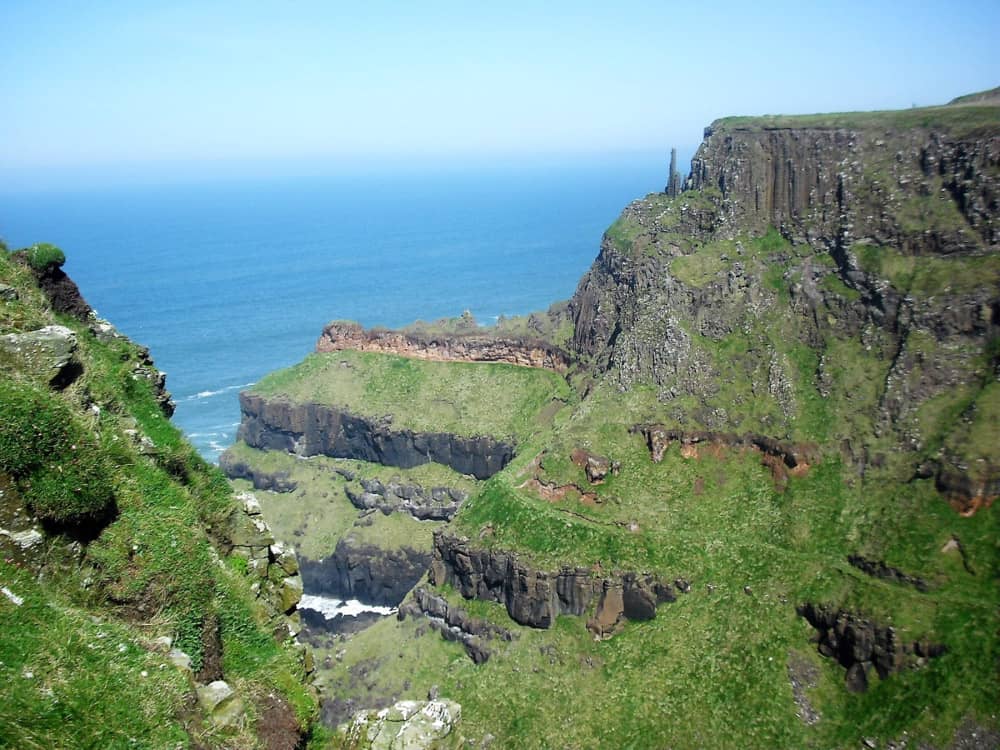 The Causeway Coast Way is a 33 mile (53 km) linear walk along the north coast of Northern Ireland. It stretches between the towns of Ballycastle and Portstewart, but the most interesting part, which can be walked in a day, lies in between the two main must-sees of Northern Ireland: the Giant's Causeway and the Carrick-a-Rede-Rope Bridge.
During summer weekends, these two attractions can be teeming with crowds, but you'll be hard- pressed to encounter anybody else on the walk in between! 
All the better for you:
The landscape you're about to encounter is made to be enjoyed in silence and with utter respect for nature. You'll be walking along cliff edges, pass some of the most stunning beaches in Ireland and be rewarded with the ruins of Dunluce and Dunseverick Castle. Make sure you stop for a well-deserved coffee and cake at charming Ballintoy Harbour.
Pssst: you can find out more about Northern Ireland's best walks and hikes in this 160-page paperback entitled 'Northern Ireland: A Walking Guide'.
If you are looking to walk a part of the stunning Irish coast without the crowds, then this walk is for you! The walk is well-indicated and fairly easy, you mainly walk on grassy cliff paths where cattle and sheep are commonplace. Just be careful around Whitepark Bay; if the tide is high, you might be in for a scramble on the large rocks. 
I'd recommend to walk from Ballycastle to Portstewart, rather than the other way around. The first section is partly along the main road and less inspiring than the rest of the walk. Always save the best for last, right?
Check prices and availability for the stunning Maghernahar House B&B which is just a quick 10 minute drive from Ballycastle!
Carrauntoohil, Co. Kerry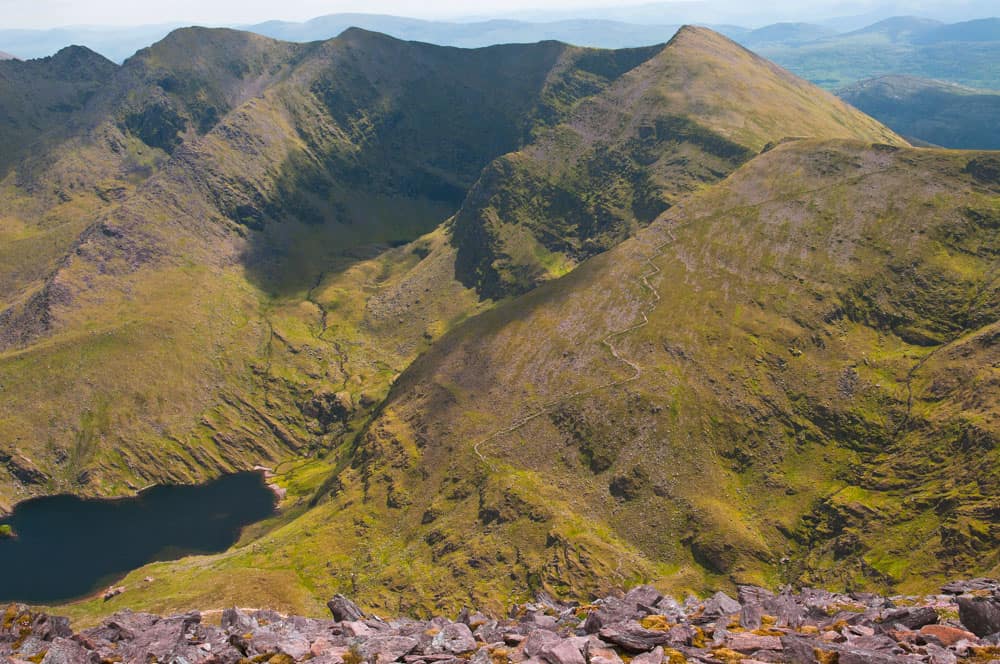 [Editor's note: For those wondering what the hardest mountain to climb in Ireland is, it might just be Carrauntoohil!]
It's human nature that we always want to climb the highest peak, isn't it? Which is why during our visit, we were keen to climb Carrauntoohil – the highest mountain in Ireland. At 1,038 miles above sea level, Carrauntoohil provides fantastic views all around the MacGillycudd's range and County Kerry.
I know what you're thinking; 1,038 masl isn't very high, so it'll be easy to conquer, right? Not at all! The highest peak in Ireland has a reputation of being moody with ever-changing weather conditions, so don't take it lightly and prepare for your hike well. It's a full day trip — it took us about 7 hours (including many breaks) to complete the hike.
The best place to start the hike is Cronin's Yard, just outside of Killarney (about an hour and a half's drive from Cork). From there you can ascend to the top via Devil's Ladder and descent via Brother O'Shea Path – making it a circular hike. 
Both trails provide different experiences and views. Devil's Ladder has a reputation of being more difficult than Brother O'Shea Gully but we actually found the latter to be more tricky to navigate. The difficulty of Devil's Ladder lays in the fact that it's steep and the path is very eroded, requiring special care — especially when wet.
Personally, I would recommend climbing Carrauntoohil on a dry and clear day to enjoy the views and to ensure you are safe on a path and can easily navigate your route.
Treat yourself to a stay in the incredible Killarney Park Hotel after your Carrauntoohil hike, or snag yourself a budget-friendly room in the welcoming, homely Rockfield House B&B nearby!
Cong Nature Trail, Co. Mayo
Recommended by Brianna from Curious Travel Bug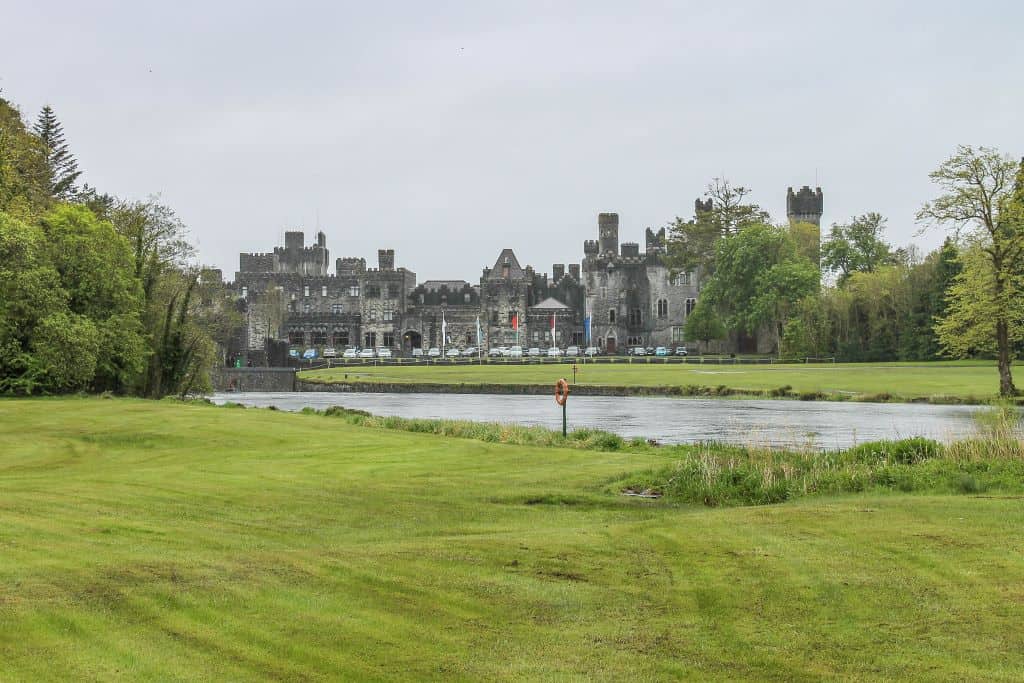 Cong Forest is located near the famous Ashford Castle. The village of Cong makes for a great stop if you're touring around Connemara or looking for a day trip from Galway. 
What I loved about the Cong Forest hike was that I got to explore some of Ireland's forest; with most of the island cleared of trees, it was nice to experience a hike in the woods. I also loved that I could combine this hike with a glimpse of an Irish castle.
The shortest hike here is the Pigeon Hole Loop which takes about 45 minutes. There are also longer trails that wind their way through the forest. Starting from the church parking lot, the hike starts off at the Cong Abbey ruins. You then cross a footbridge passing by the Monks Fishing House and enter the forest.
One of the unique things about Cong Forest is that it has many small caves, including Pigeon Hole Cave and Priest's Cave. You can even descend into Pigeon Hole Cave using the stone steps that lead to the bottom. The Teach Aille cave was apparently used for food storage by monks as it keeps a cool temperature year round due to the river running below it.
Cong Forest is full of huge beautiful trees, including California redwoods that were planted over 140 years ago by Lord Ardulan. The loop takes you back to the bridge where you can then take a moment to admire Ashford Castle. 
Psst: you can actually STAY in Ashford Castle! Check out the insane interiors. No worries if you can't swing that kind budget though, there are plenty of affordable B&Bs nearby, like The Lodge at Ashford Castle which comes with exceptional ratings.
Slieve League, Co. Donegal
Recommended by Kathleen from Dream Wander Repeat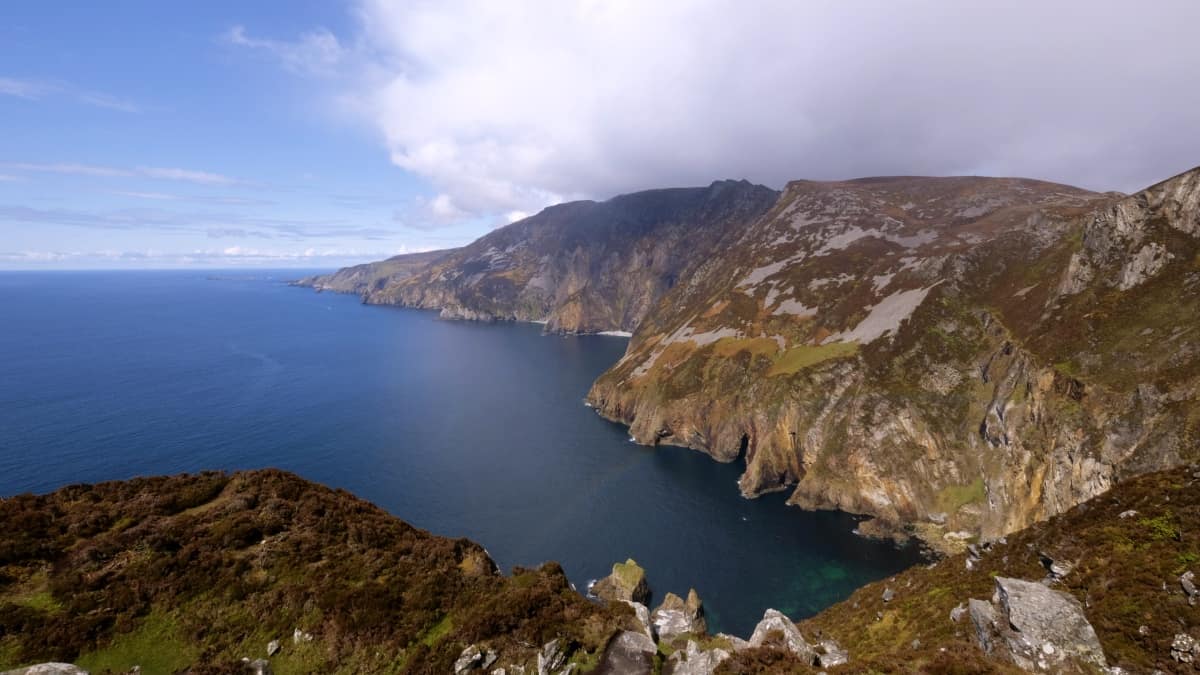 Located in south-west Donegal County, the Slieve League mountain is off the beaten track, meaning amazing views and great hikes without the crowds. The cliffs of Slieve League are some of the highest sea cliffs in Europe, and at 596 metres high, are almost three times higher than the more famous Cliffs of Moher.
The cliffs provide great hiking opportunities for all energy levels. Starting at the car park at Bunglass Viewpoint, you can just hike up the trail of rough cut stone steps for some great views and perfect photo vantage points. From here, the trail continues along the cliffs. 
The Pilgrim's Path is an alternate route from the village of Teelin to viewpoints on the west of the mountain covering 2.8 kilometres one way, around 90 minutes hiking.
Pssst: You can stay right at the foot of Slieve League in the beautiful Lios na Siog Bed & Breakfast!
Be prepared for all four seasons in one day, as the weather can turn pretty quickly; and if you are attempting more than a short stroll from the car park, the warning signs say that the trails should only be attempted by suitably equipped and experienced walkers. 
A bonus tip if you're only after a short hike:
When you arrive in the car park at the Information Centre, open the gate and keep driving to the end of the road; if it's not a busy day you'll be able to park closer to the cliffs – just be sure to close the gate after yourself to keep the resident sheep in.
You can find out more about hiking Slieve League (and 50+ other iconic Irish hikes) in this 224 page paperback, 'Ireland's Best Walks: A Walking Guide'.
Killarney National Park, Co. Kerry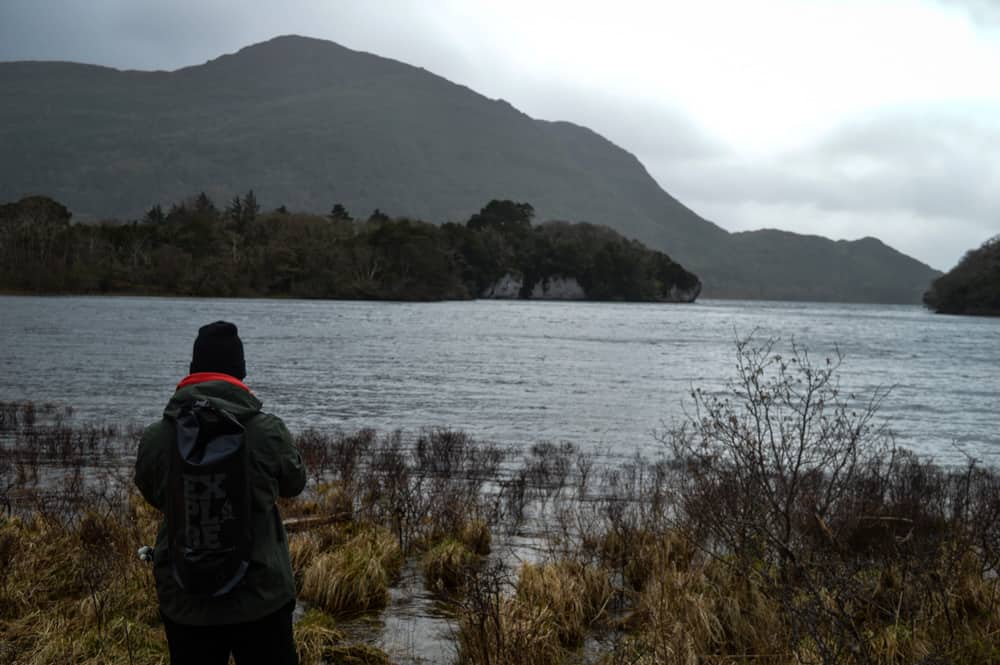 If you're looking for a wonderful hike and a great addition to any southern Ireland itinerary, make sure to head over to Killarney National Park. The park is a part of the Ring of Kerry and includes 25,000 acres of beauty. Most of the trails are paved, making the hiking a little less rigorous but still very scenic. 
If you start at Muckross House, you can pick to either head towards Torc Falls or the Muckross Abbey. If you have time, I highly recommend both. On these trails, you'll be passed by horse drawn carriages, walk along stunning lakes, and see every shade of green imaginable! 
Pssst: Spoil yourself with a night's stay in the incredible Muckross House, right near the trailhead for some of Killarney National Park's hikes.
If you're looking for more rugged beauty, I also recommend hiking the Gap of Dunloe. Stunning mountains line each side of the gap making the views absolutely gorgeous. I recommend starting and finishing this hike at Kate Kearney's cottage.
Finally, if you're looking for a longer hike, I recommend Old Kenmare Road. The trail is part of the Kerry Way, a long-distance walking route that circles Iveragh Peninsula. Keep in mind that this hike is not a loop so you will have to turn back, so remember this when considering how far out you want to hike.
You can read more on the trails around Killarney National Park in this detailed walking guide for the Dingle, Iveagh, and Beara Peninsulas — with hand drawn maps and photographs included.
Glendalough, Co. Wicklow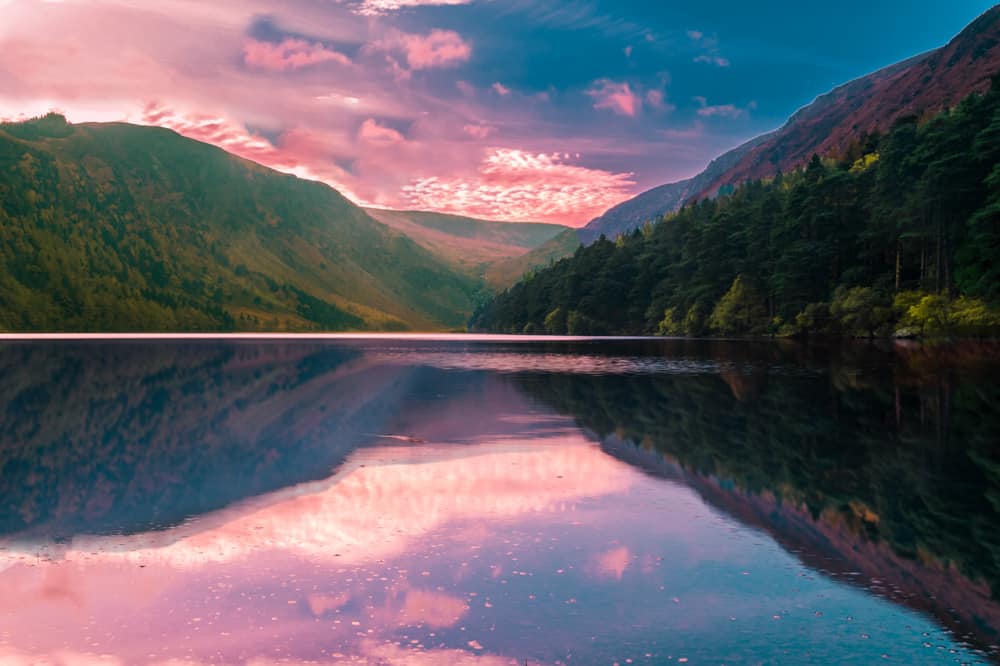 Home to two mountain lakes, one of Ireland's most significant monastic sites, and what just might be the most unreal scenery you'll find on the east coast of Ireland, Glendalough is a hike you don't want to miss during your time here. It's a glacial valley which was settled back in Medieval times, and today Mama Nature has been left to do her thing there — woodlands, wildflowers, and walking trails galore — as well as a gorgeous monastic site.
Pssst: thanks to its close location to the capital, Glendalough has some of the best hiking near Dublin and makes for an epic day trip!
At this point you might be thinking to yourself, 'okay, all well and good to go on a day trip to the mountains… but how long is the Glendalough walk? Will I really make it back to my digs in Dublin in time?'.
The cool thing is that the mountains and valleys of Glendalough have dozens of hiking and walking trails — some super chilled and easily completed in an hour or two, and some much more challenging and only suited to those who are ready to commit some serious hours (or days) to complete them. 
Some of the highlights include a 5 km loop walk to Glendalough's Upper Lake (this is definitely one of the more accessible trails to take as there are toilets and tourist facilities along the way) and the hike along the Avondale River, a 12 km trail with amazing views of the Wicklow Mountains.
For those after an epic endurance hike, you'd do well to look at the Wicklow Way, which covers a whopping 130 km worth of trails between Dublin's Marlay park and Clonegal, County Wicklow and peaks at 630 meters above sea level.

---
Still have questions about hiking in Ireland? Drop us a comment down below (or in our FREE Facebook group, where we answer all questions) and we'll be happy to advise.