It's that moment again – or maybe it's the first time you're experiencing it: buying a women's ski jacket. Has the ski season started yet?
I am hard to satisfy when it comes to gear and clothing, but I know what I want, so it's easier to follow those elements and pick a product that ticks all the boxes.
Other women are different; maybe some wish to try the jacket on or go for a specific color. The snow skirt may not be at all important to a woman, but it is the most important for another woman.
What about waterproofness, breathability, and ventilation? That ski pass pocket or those extra-long sleeves with adjustable cuffs? We've got a lot of things to go through, apart from size. That includes an adjustable hood, too.
Does it always come down to the price? It shouldn't. In my opinion, it's all about quality. Remember that Norwegian saying—'There is no bad weather, only bad clothes!'?
Friendly ski jacket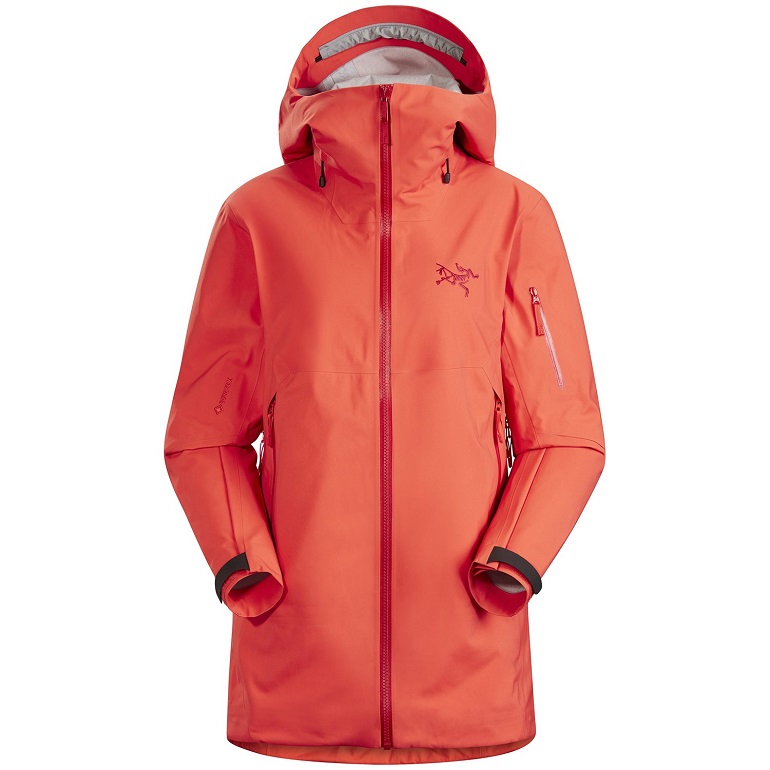 Arc'teryx Sentinel AR JACKET
Length:

Hip-length

Material:

GORE-TEX, Nylon
Premium Choice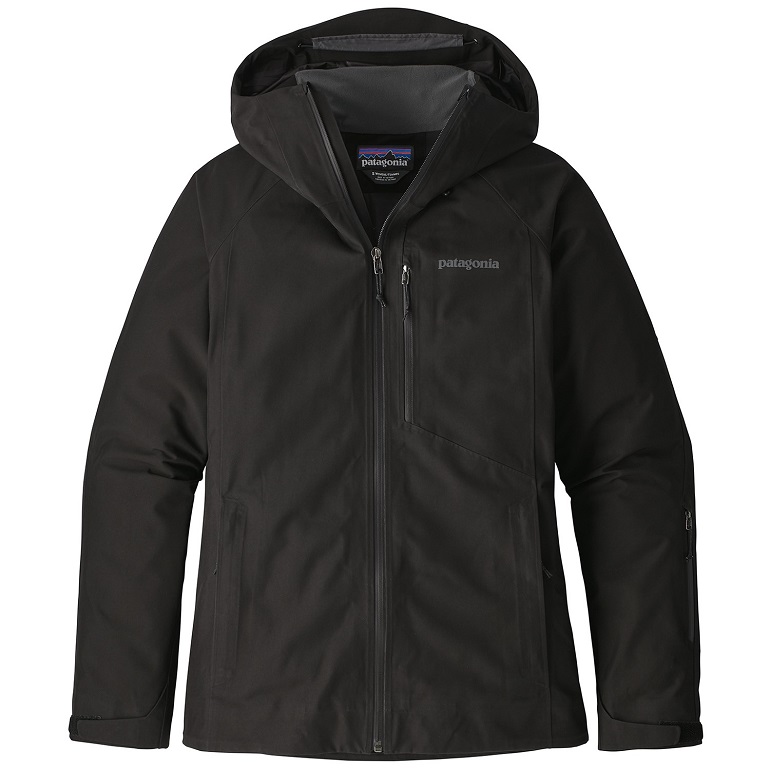 Patagonia Powder Bowl Jacket
Length:

Hip-length

Material:

GORE-TEX, Nylon
Lightweight ski jacket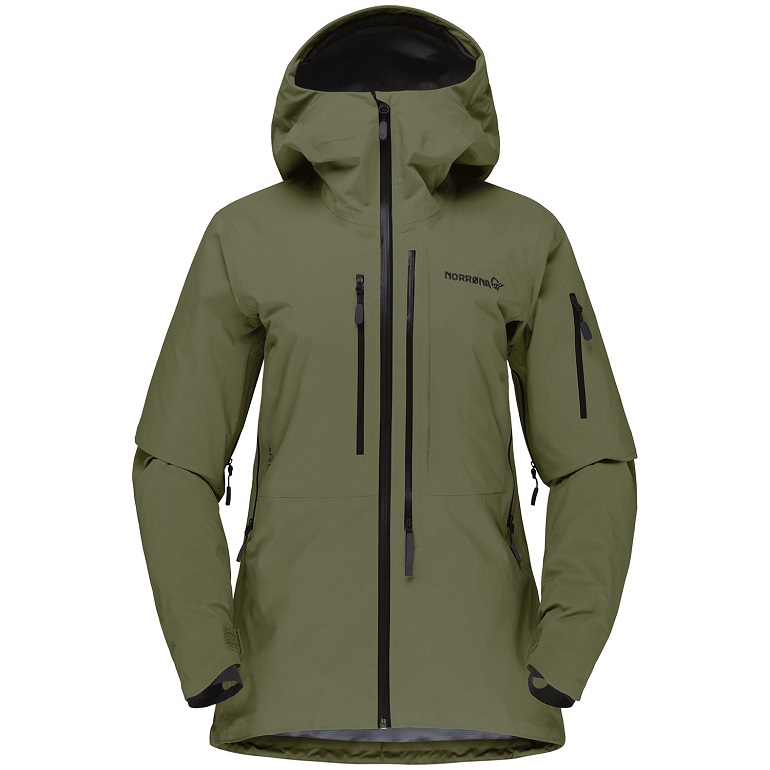 Norrona Lofoten gore-tex jacket
Length:

Hip-length

Material:

GORE-TEX, Nylon
The Cool ski jacket
Arc'teryx Incendia Jacket
Length:

Thigh-length

Material:

GORE-TEX, Nylon
Best Backcountry ski jacket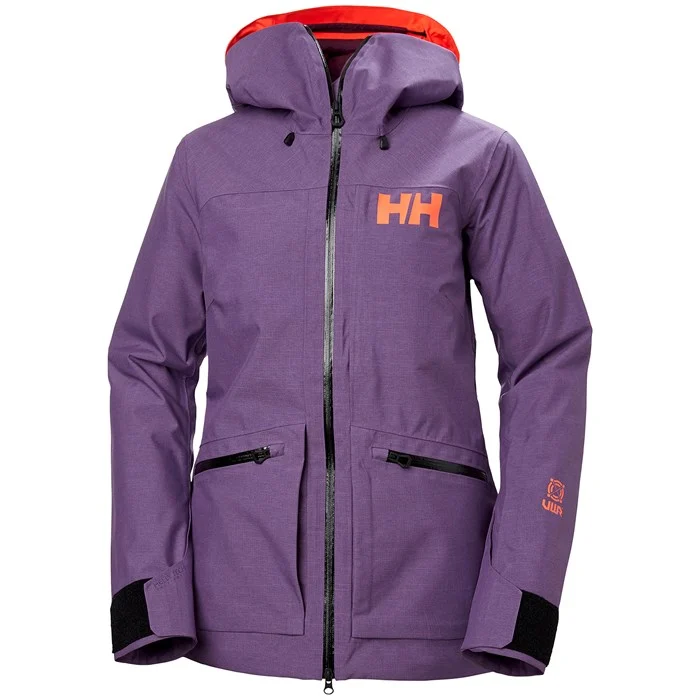 Helly Hansen Powderqueen 3.0 Jacket
Length:

Hip-length

Material:

Polyamide, Polyester
Basic ski jacket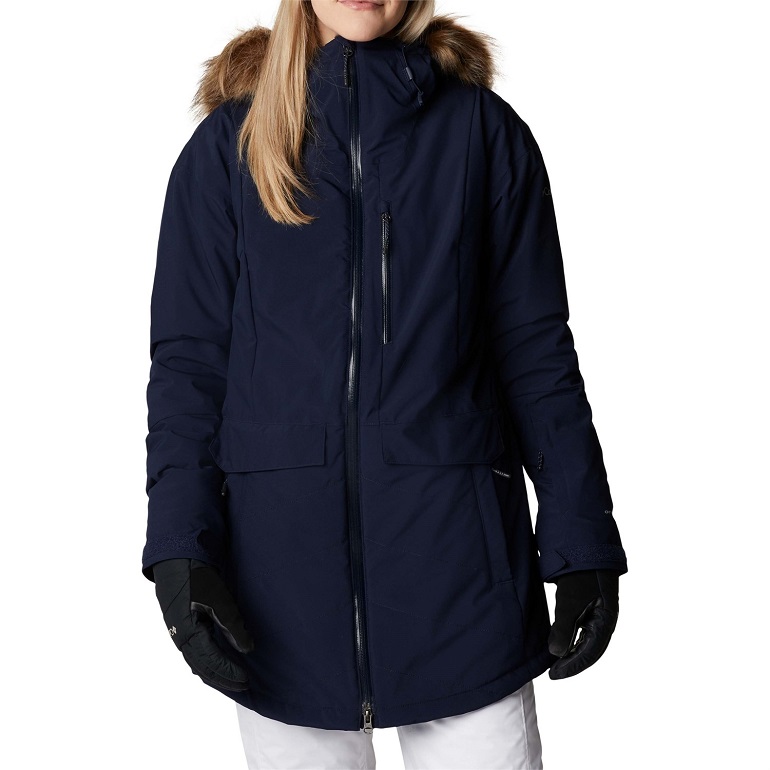 Columbia Women Mount Bindo Jacket
Length:

Hip-length

Material:

Polyester, Recycled Polyester
Stylish ski jacket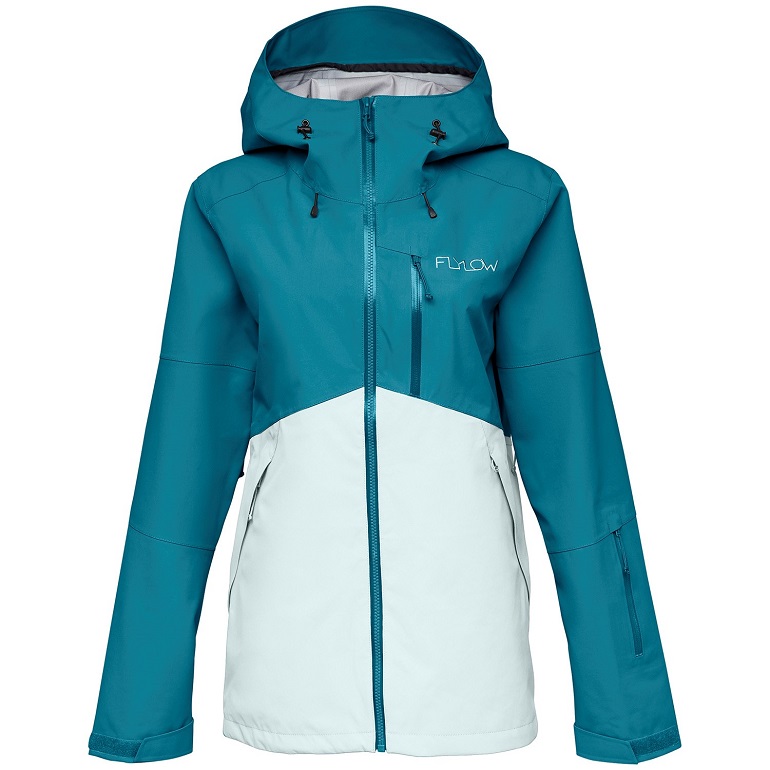 Flylow Billie Coat
Length:

Hip-length

Material:

Polyester
Affordable ski jacket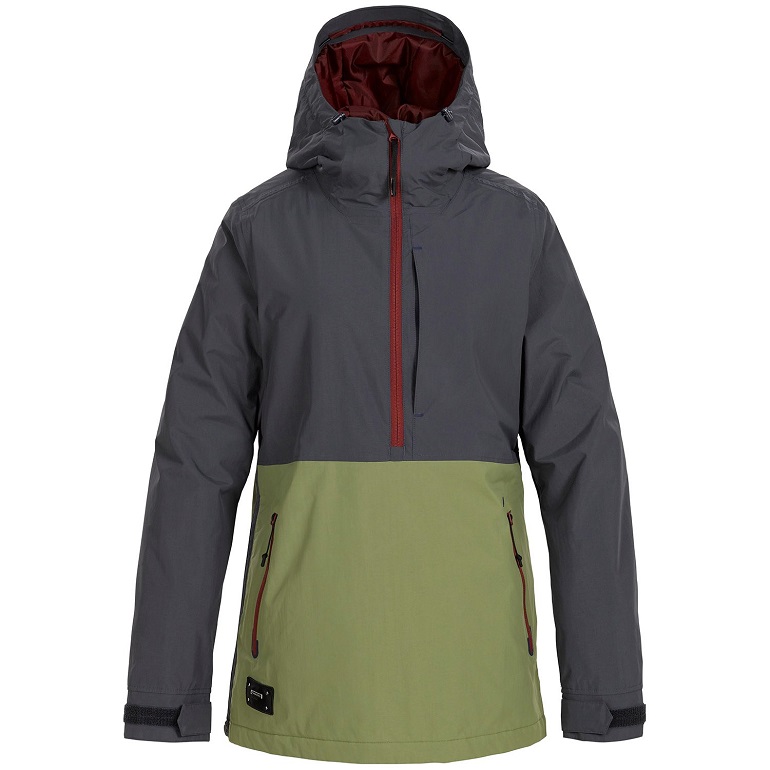 Armada Castine Anorak Jacket
Length:

Hip-length

Material:

Polyester, Recycled Polyester
Best Ski Jackets for Women – Top 7 Picks
There are many jackets out there: some are adequate for snowboarding and splitboarding, too, but in this article, we'll look at ski-specific jackets.
All the above elements (and more!) should be considered before buying the best women's ski jacket. Here are the mini-reviews for some of the best ski jackets in the market.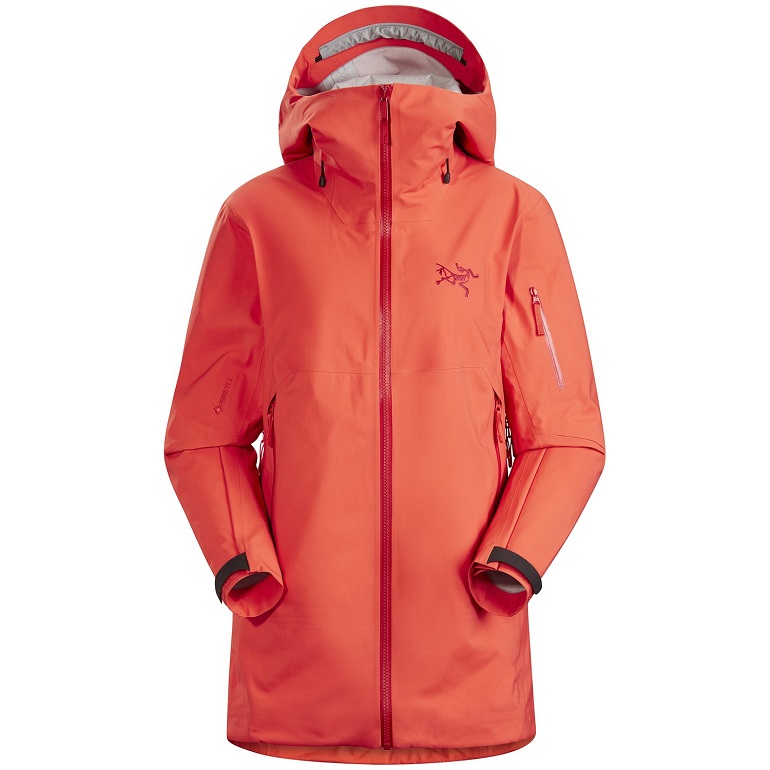 The GORE-TEX 3L membrane will keep you dry and comfy on the slopes, with a 28000 mm waterproof rating and a 20000 g breathability.
It isn't an insulated jacket, but it is fully taped, which will also contribute to your good spirit on the slopes, to the waterproofness of the jacket, and to its breathability. The WaterTight™ pit zippers will also keep you from hyperventilating on harder ski days.
If pow days are ahead, you need not worry. There are large cuffs that fit over ski gloves, and the jacket comes equipped with a snow skirt with a stretch panel and gripper elastic.
During cold days, the ski helmet-compatible StormHood™ is designed for full weather protection.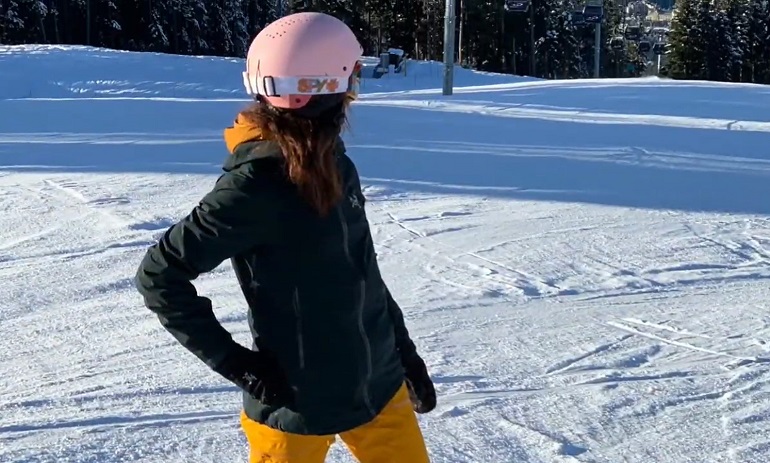 The jacket is a regular fit and has many pockets. There are two hand pockets with zippers, an inside pocket with a zip, an inside mesh pocket, and a sleeve pocket with a zip (perfect for your pass!). What's missing? A chest pocket!
Downsides? It seems not to be suited for short girls – the sizing is weird. Plus, the color selection isn't that great.
High price tag aside, you will wear this jacket for many seasons, and it is great as a regular jacket, too!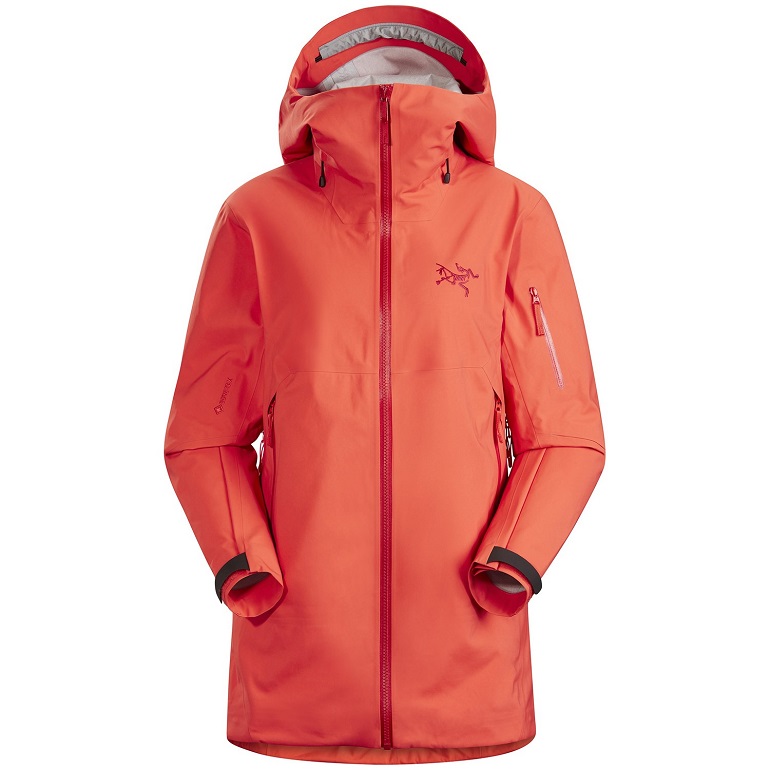 Arc'teryx Sentinel AR JACKET
The price of "Arc'teryx Sentinel AR JACKET" varies, so check the latest price at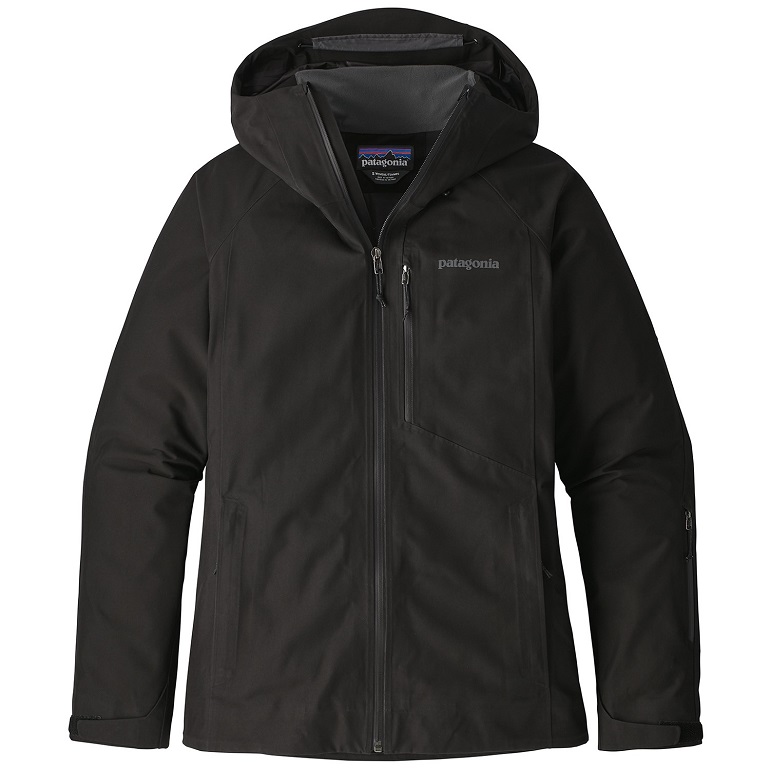 The GORE-TEX membrane of the jacket provides a waterproof rating of 28000 mm and breathability of 20000 g. A good start for a day of resort riding or backcountry skiing!
It isn't an insulated jacket, but it is fully taped, adding comfort and warmth to your rides. Moreover, there are pit zips to balance your body temperature if more effort is needed on a specific day. The hood is helmet-compatible.
There are four pockets— a secure media pocket, an inside zippered pocket, a forearm pocket (your ski pass could go there), and an inside drop-in pocket.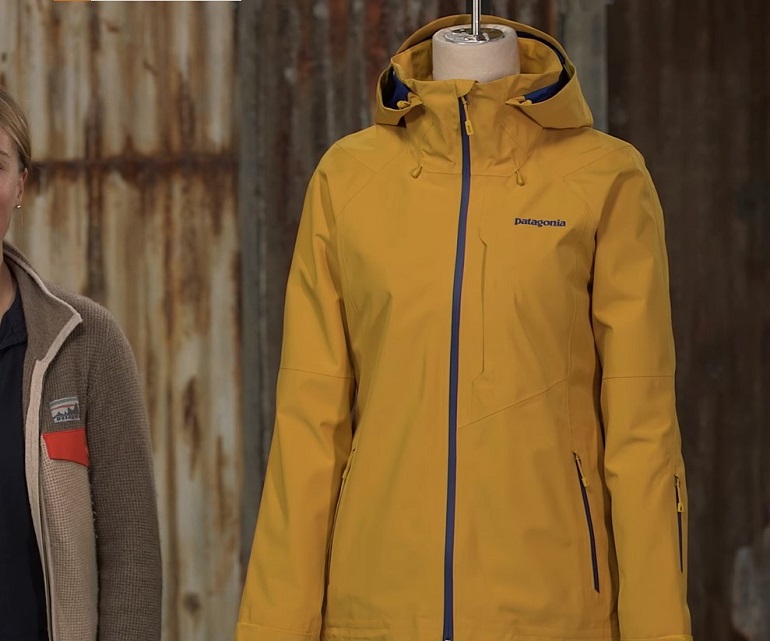 The jacket is a regular fit, and it has a snow skirt and snow cuffs, which are especially good on powder days. The powder skirt is adjustable, and the jacket connects to all Patagonia ski pants.
On the downside, the sleeves are too long; it seems like it could be a men's jacket, not a women's ski jacket. Will the more petite ladies enjoy it?
To me, owning a Patagonia jacket is an extraordinary investment, as it is a very versatile jacket. I would dare to ride anywhere, in all conditions, wearing it.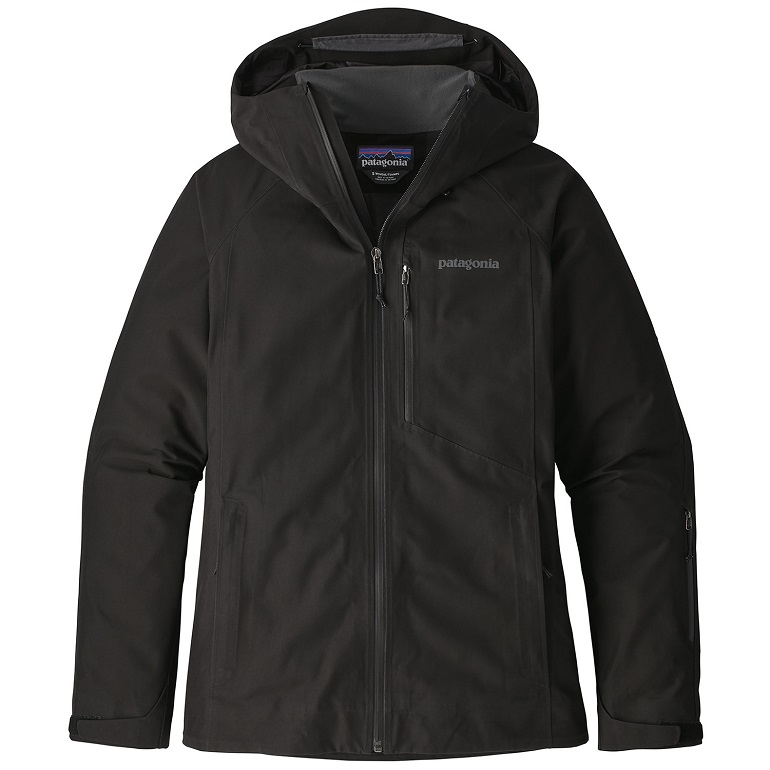 Patagonia Powder Bowl Jacket
The price of "Patagonia Powder Bowl Jacket" varies, so check the latest price at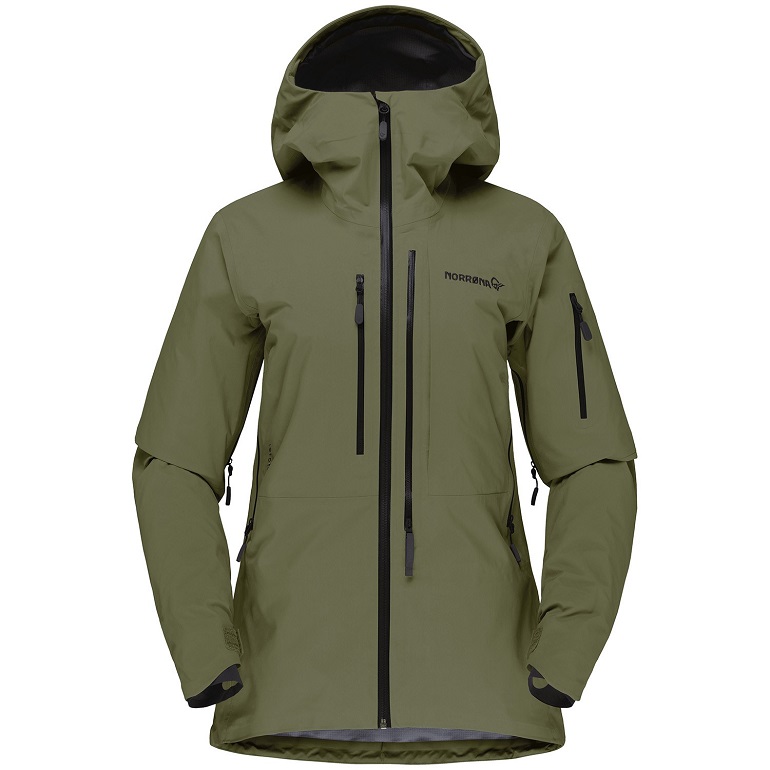 Who doesn't like a light jacket? This one's a regular fit. Norrøna's lightest and most breathable freeride shell is optimal for backcountry skiers!
Thanks to the 3L Gore-Tex fabric (waterproof rating 28000 mm, breathability 20000 g), underarm ventilation, and fully-taped seams, it is a very technical non insulated jacket.
Add to all these a removable snow skirt and asymmetric snow cuffs to keep powder outside and a helmet-compatible hood to keep warmth inside, and you'll be sold.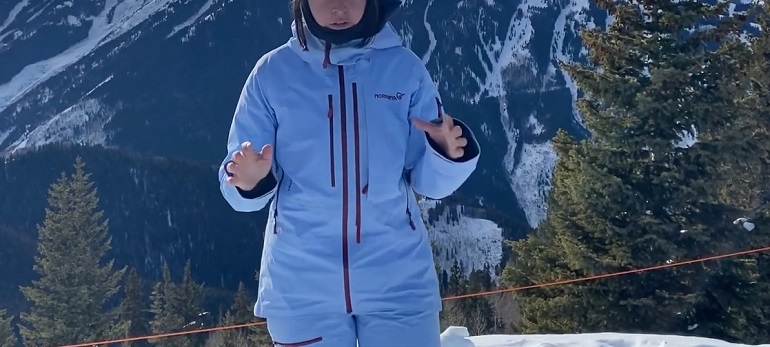 It is a regular fit. You can carry your ski goggles or sunglasses in an inside pocket. You'll find one much-needed chest pocket and a keycard and radio pocket on the overarm.
Would you buy it? There are things to ponder over – like the price and the 5-year (only) warranty, but the scales will ultimately tilt in the jacket's favor.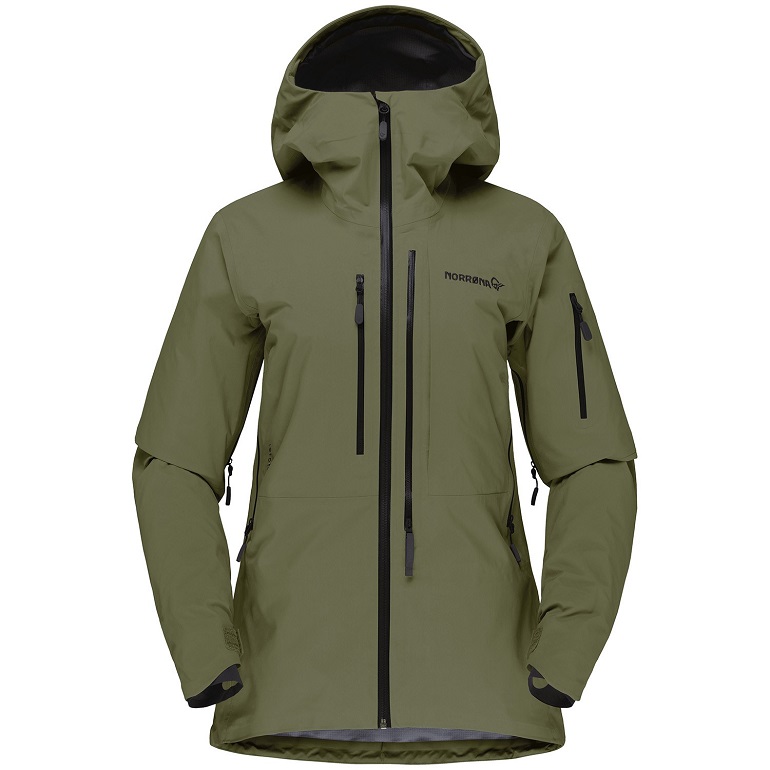 Norrona Lofoten gore-tex jacket
The price of "Norrona Lofoten gore-tex jacket" varies, so check the latest price at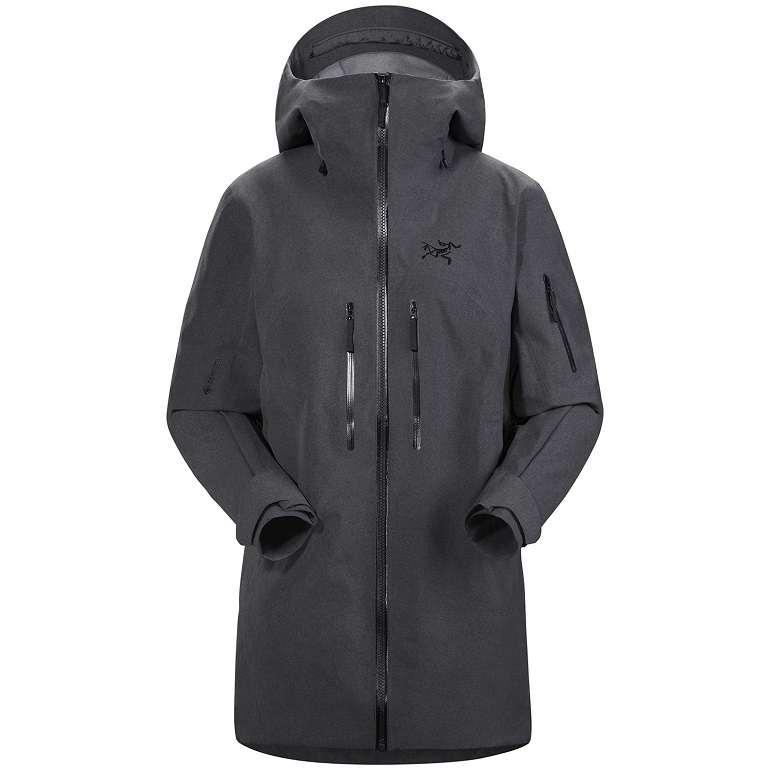 Fully taped and insulated, this jacket is suited for rainy and wet skiing. The GORE-TEX 3L membrane (waterproof rating: 28000 mm; breathability: 20000 g) and the DWR finish fabric help fight moisture and cold, offering excellent weather protection.
So do the snow skirt and the helmet-compatible StormHood™, as well as the pit zippers.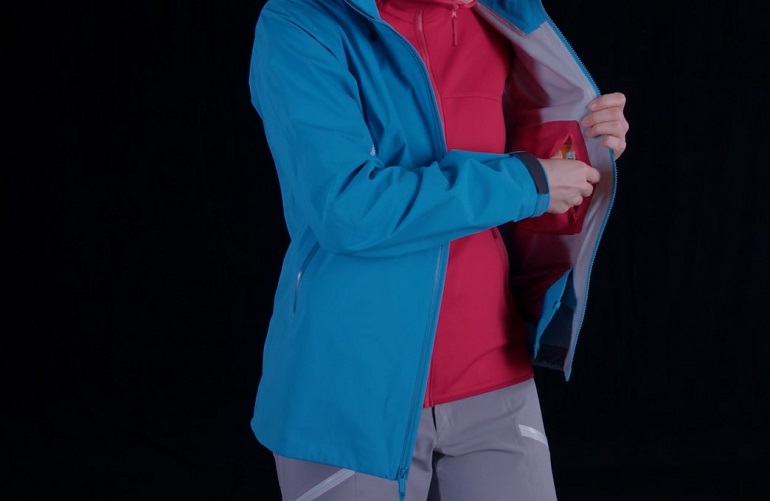 The jacket is a regular fit, with zippered hand pockets, a zippered pocket on the left upper arm (for the pass!), one internal mesh pocket, and one internal zippered pocket. So, we've got many treated zippers but no chest pockets.
Some voices claim that you don't feel warm enough in this jacket for the price paid. You'll have to do your homework and decide, right?
You can also checkout ski jackets for kids to help your little one stay safe and warm.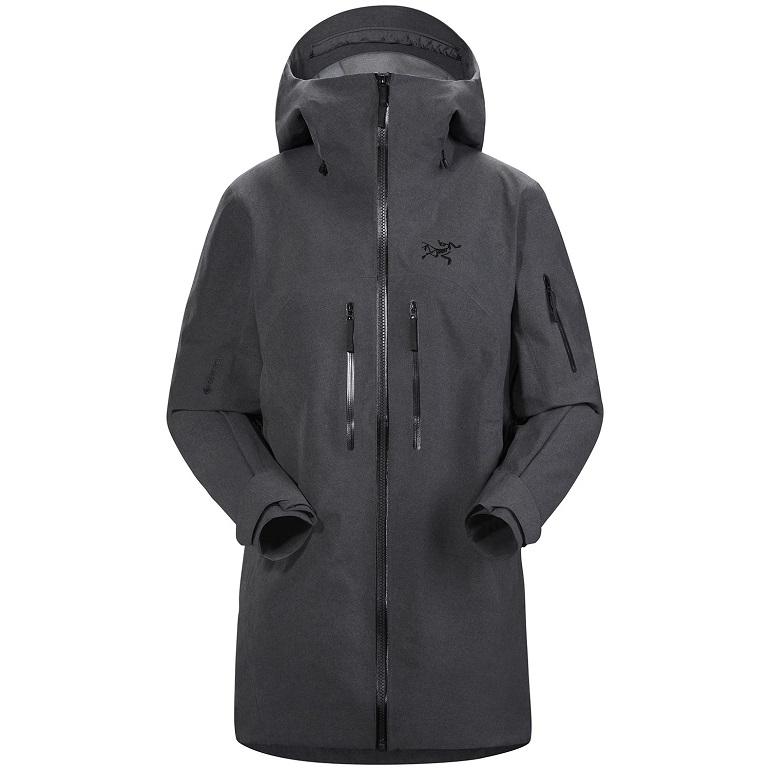 Arc'teryx Incendia Jacket
The price of "Arc'teryx Incendia Jacket" varies, so check the latest price at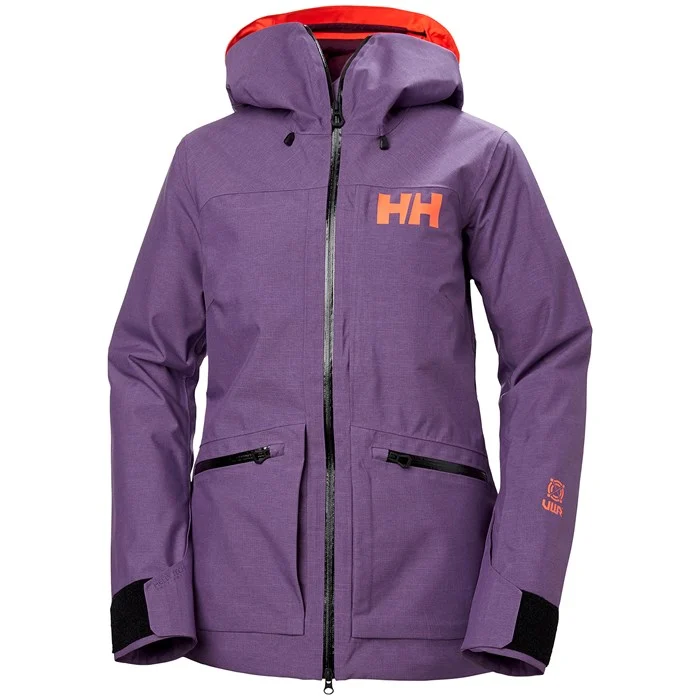 A regular fit, designed to get you ready for backcountry skiing, this jacket is practically fully waterproof, at 36000 mm waterproof rating. It is fully taped and has synthetic insulation.
More features that support off-piste adventures? The snow skirt, the underarm ventilation zippers, and a hood that's compatible with the ski helmet.
What about pockets? There is one pass pocket for resort skiing, there are dual hand-warming pockets, and internal pockets for goggles and media.
One of the best features of the jacket? The Life Pocket technology – it will stay three times warmer than a regular pocket, which is fantastic for backcountry skiers!
It may have issues with the zippers, the sleeves may be too long, and the jacket may get dirty fast, but I'm sold on the pocket that extends the battery life of your electronics.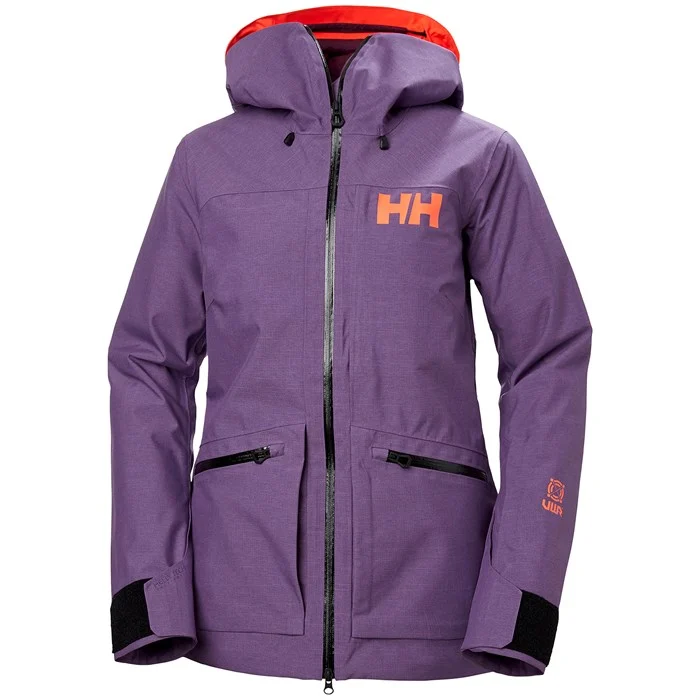 Helly Hansen Powderqueen 3.0 Jacket
The price of "Helly Hansen Powderqueen 3.0 Jacket" varies, so check the latest price at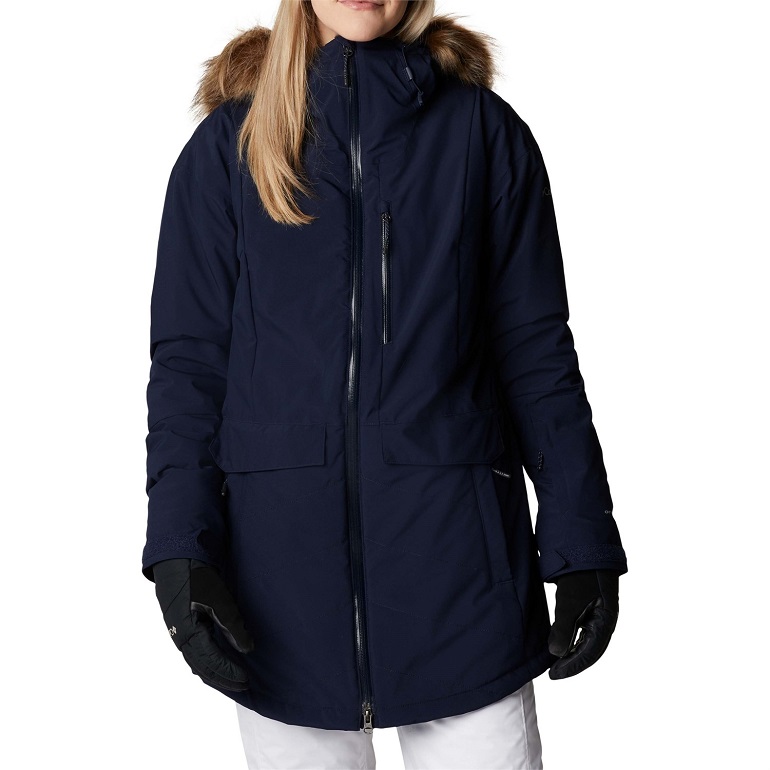 This jacket is quite basic and suited for riders who love simple things. Omni-Tech™ makes it waterproof and breathable.
Further contributing to good venting and an overall good experience on the slopes, it comes with underarm ventilation. The snow skirt with grippers and the adjustable sleeve cuffs keep snow away and the rider dry.
The 'critically taped' aspect is a tricky one because you'd expect to get a fully-taped jacket, thus complete protection on a day on the slopes, for the price that you pay.
The jacket is an Active Fit and has a helmet-compatible hood. It is also an insulated ski jacket.
The pockets also recommend it for sporty rides – it has a pass pocket, a goggle pocket, and a media pocket, plus large front pockets.
However, some riders claim that this jacket has some weird sizes. It seems too small for some women who regularly wear a certain size and too large for others. Moreover, it doesn't seem to keep riders as warm as advertised.
Will you research more or trust your gut and buy it?
Columbia Women Mount Bindo Jacket
The price of " Columbia Women Mount Bindo Jacket" varies, so check the latest price at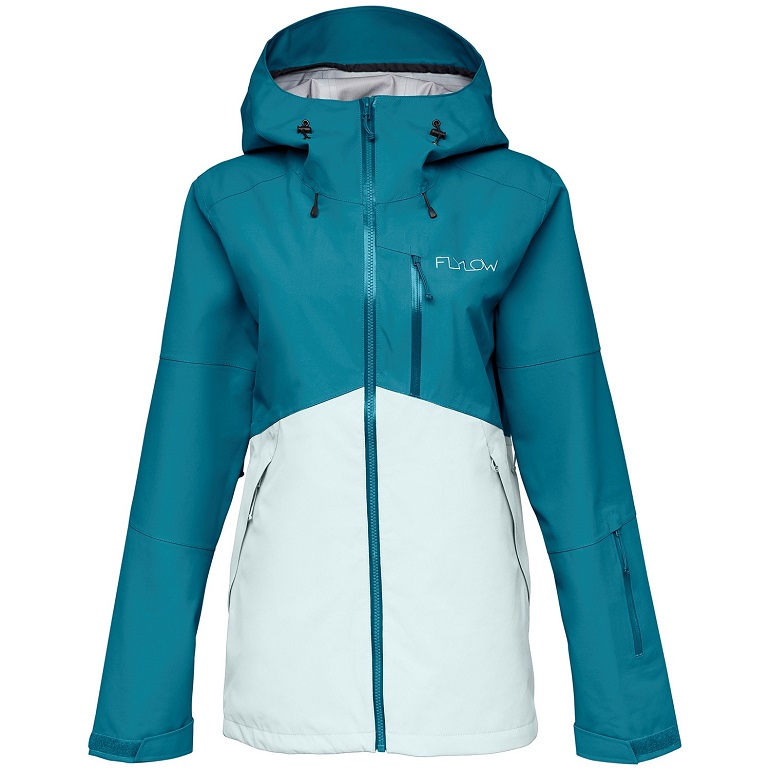 Style comes with a higher price tag (aah! the colors! sigh). The waterproof rating of the jacket – 20000 mm – and its breathability – 20000 g – recommend it for long days of riding, especially because it is fully taped.
We are dealing with OmniBloq DWR, a coating that keeps your gear drier three times longer than the industry-standard DWR, requiring less frequent reapplications.
It isn't insulated, but it has a removable snow skirt – which allows you to use the jacket while riding a bike or hiking and keeps snow away from your skin if you happen to fall – and no-bulk cuffs – which don't let snow enter your sleeves.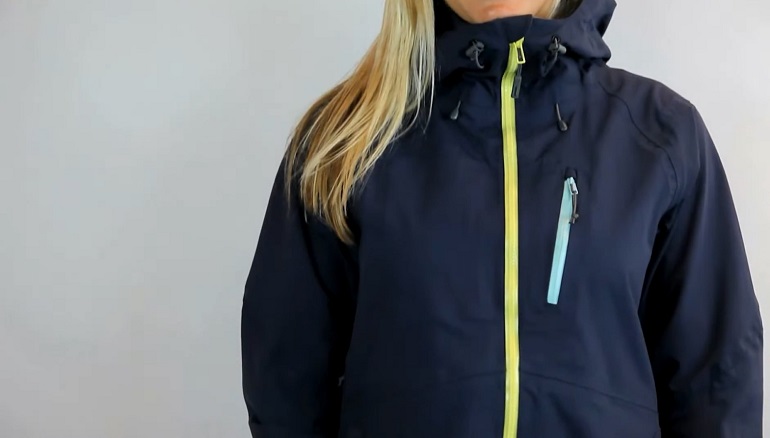 Another aspect that keeps you warm during your chairlift rides? The helmet-compatible hood. The underarm vents also help to keep you dry throughout the day.
This regular-fit jacket is a joy for all those who love pockets! Why? Because there are plenty: two hand pockets, one chest pocket, one pass pocket on the lower sleeve, and three inside pockets.
Can anything go wrong with this jacket? There is inconsistent sizing; apparently, the sizes have decreased compared to older models.
Is it time to see if the jacket really fits you?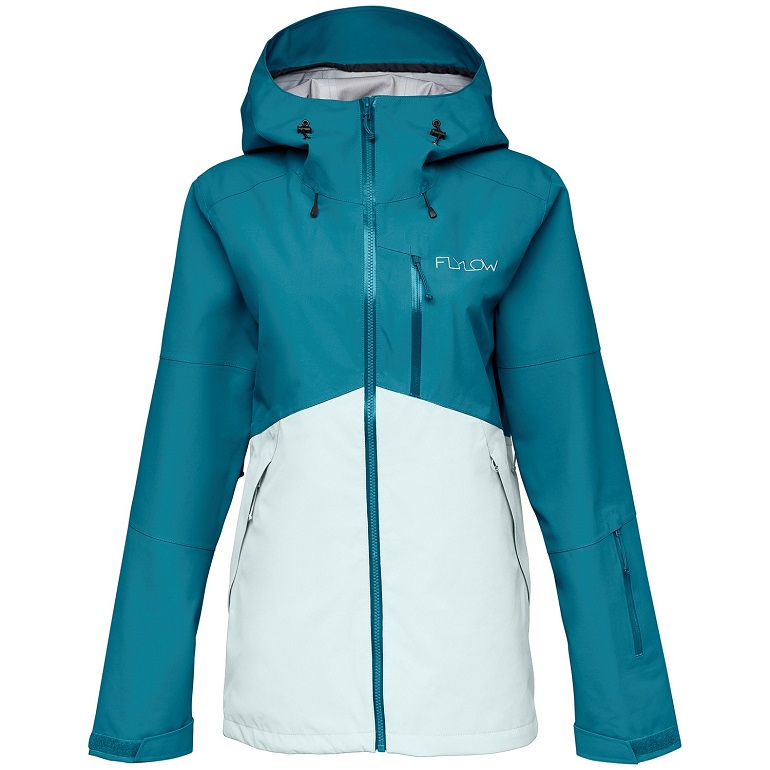 Flylow Billie Coat
The price of "Flylow Billie Coat" varies, so check the latest price at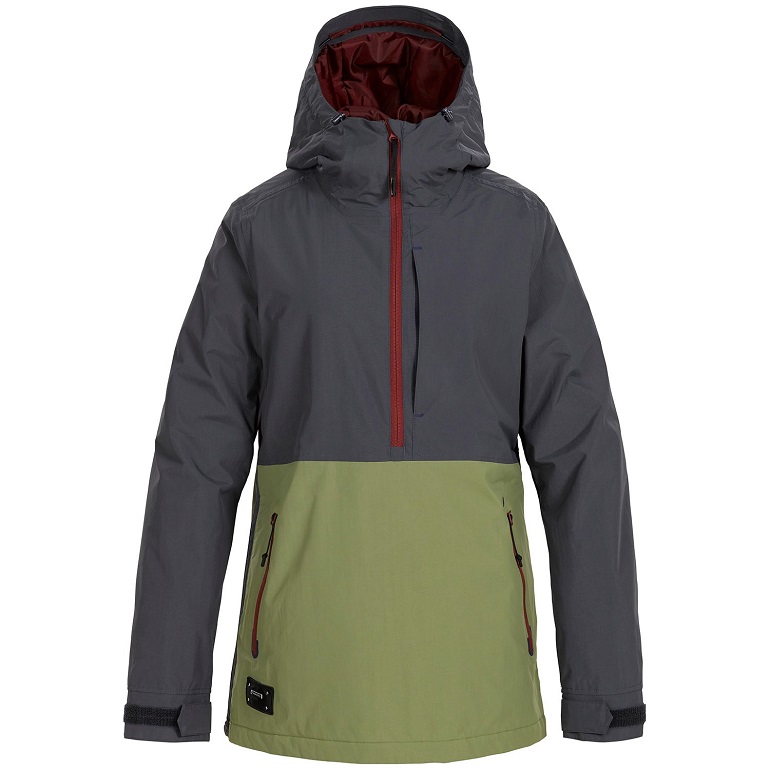 The first aspect that you'll notice about this jacket is the fact that it's affordable and… different. It looks like a quarter-zip pullover and keeps in the heat thanks to its 60 grams of insulation.
The face fabric is, of course, DWR treated, and it has, overall, a waterproof rating of 10000 mm and breathability of 10000 g. (It's the lower limit, but it's enough to keep you warm and dry.)
We are dealing with a fully-taped jacket, which keeps water and snow outside but helps remove perspiration, too. The pit vents also contribute to this end.
It is a standard fit, and it has an adjustable snow skirt and cuffs, which prevent snow from building up around your waist and wrists.
It has plenty of pockets – there are an interior mesh pocket and an external-access music pocket with a headphone port, and then there are microfleece hand warmer pockets. Media and functionality-wise, they are perfect!
Even the colors in which this jacket comes are very attractive – and there is also a helmet-compatible hood. In my view, there are very few downsides. The only one I can think of is that the jacket is more suited for those looking for freeride snowboard jackets than ski jackets. Will you hold this against it?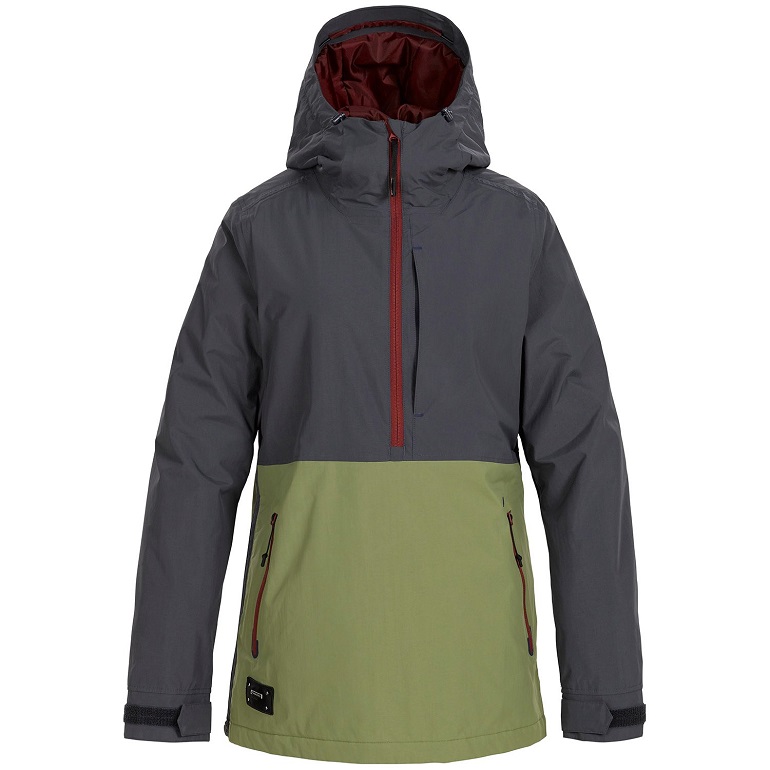 Armada Castine Anorak Jacket
The price of "Armada Castine Anorak Jacket" varies, so check the latest price at
Buyer's Guide: How to Choose a Women's Ski Jacket?
Micro-adventures, I've read, are at risk because most of us work too much and have no time left to enjoy nature or the sport that we love.
If we look at things from this perspective, it is worth investing in quality gear (even if it costs more) that is going to keep you protected even in the most extreme conditions and help you complete your snow day.
It may be harder if it's your first time choosing and deciding. If it is at least the second time when you are buying a women's ski jacket, you may know, in broad lines, what you are looking for in terms of essential ski features.
I hope the following ski-specific features will be helpful and considered when purchasing the jacket of your dreams. In the end, it also depends on your skiing style.
P.S. You will probably wear/choose an outer jacket, called a 'shell', while wearing an insulated layer, which can be a merino blouse or a fleece jacket. We'll 'dissect' them below, as we've already assessed the women's ski jackets of 2022.
Waterproofness
This is the most important feature, in my opinion, because it keeps snow and rain out (yes, it can also rain, not only at the beginning and end of the season but also when the slopes are hit by warm air!).
Don't compare these features with the features of rain jackets.
I'd go for anything above 10000 mm in terms of waterproofness, but, of course, for extreme conditions, 16000 mm is the threshold.
How are the tests performed? By placing a square tube over the fabric and then determining how high (we're talking millimeters here), one should suspend a column of water over it before the tested ski jackets start to leak.
Another aspect to consider is the pressure that a ski backpack can exert onto the jacket and could force moisture into gear with a low waterproof rating. Choose wisely!
Face fabric (the outer layer) is usually made of polyester and nylon, and then there is also a laminated membrane made of Teflon or polyurethane.
The face fabric is supposed to look stylish but is not waterproof. Consequently, it is treated with a DWR (Durable Water Repellent) solution, so it doesn't soak up water. The membrane is ultimately the one that keeps liquid out while eliminating vapors.
DWR treatment wears off after a while. It can be refreshed by cleaning the gear, reapplying DWR, or both. DWR sprays should be applied to a garment after washing and a thorough rinse and should be heat activated using a medium dryer or iron before use.
Another question arises. What does seam sealing do? It covers the tiny holes punched by the needle in the sewing process, so they don't leak. Sometimes seams are bonded together using glue or heat, but they are regularly first sewn and then taped.
'Fully taped' will mean that all seams are taped, while 'critically taped' will stand for gear where only high-exposure areas, e.g. the neck, the shoulders, and the chest, will be taped.
You'll want a jacket that's seam-sealed versus one that is not, as this, too, contributes to waterproofness and breathability. Quality waterproof zippers are important, too, and will work best for you if they have a DWR coating applied.
Insulated vs Non-insulated
Hardshell ski jackets are the outer layer of the jacket – they repel water, offer wind protection, and provide breathability but they are not insulated jackets.
Most ski jackets come in 3-in-1 styles and are designed to combine the outer shell (membrane included, of course!) with an insulating layer. The latter zips in and out of the shell, so you can adapt to your skiing day's conditions.
Yes, your ski jacket should feel light but a softshell jacket – a stretchy, soft, and water-resistant garment – is only recommended for mild conditions on the slopes. They tend to provide less water and wind resistance compared to hardshells.
Two-layer vs Three-layer
Of course, it depends on the weather, the time of the year, and the location of your ski run, but you can choose between a two-layer jacket and a three-layer jacket.
A two-layer jacket includes a shell fabric and a waterproof membrane, with a polyester lining between you and the membrane layer.
On the other hand, in a three-layer jacket, the polyester lining is substituted for a lightweight polyester scrim, bonded to the backside of the membrane. This creates more breathability and more comfortable rides.
The downside? Technical ski gear means higher manufacturing costs and an overall higher price to be paid by the end customer.
A 2L jacket will look and feel like a puffy jacket, as the lining is detached, while a 3L jacket will feel more 'streamlined'. There are also 2.5L versions, which have a raised pattern screened on the inside, to keep it off the skier's skin.
Breathability
We've seen above that 3L jackets are more breathable. Of course, not all skiing activities – or even snowboarding ones! – require a high level of breathability.
Ski touring and splitboarding are two of the niches where athletes do need more breathable gear, especially as the time spent outdoors increases (compared to downhill skiing), so the rider is more prone to changing winter weather conditions.
In most cases of regular piste runs, a breathability rating between 5000 and 8000 grams will do. For average effort, look for jackets with a 10000 to 15000 grams breathability rating, while regular ski tourers should look for garments with breathability in the 20000 plus range.
Ventilation
Again, off-piste skiing will make you overheat faster. Here comes help! Pit zips and chest vents will help. Consider buying a women's ski jacket that comes equipped with these features if hard skiing activity is on your mind.
They will allow you to cool down a bit without unzipping the front of your jacket.
Fit & sizing
What do you feel most comfortable wearing underneath your ski jacket? Do you like many layers, or will a merino blouse suffice?
Where are you heading on a specific day? How does the weather look like?
Moreover, it ultimately depends on your style, your body, and your general feel. Splitboarders and snowboarders may love baggier jackets and pants but skiers tend to keep them just fit.
Extra-long Sleeves And/Or Snow Cuffs
Long sleeves will keep snow away from your sleeves. So will snow cuffs – stretchy inner cuffs that hook over your thumb. They will not only prevent snow from building in but also stop your sleeves from riding up your arms.
Snow Skirt
It's also called a 'powder skirt'. In my opinion, not only snowboarders can benefit from this feature, but skiers, too. Waterproofness and breathability aside, the powder skirt is the feature that's most important in my view.
Why? Because it allowed me to spend more time on the slope… and it was not a singular case. No rider is invincible; we also fall at times, and this useful extension of the jacket prevents snow from getting too close to our skin, especially on powder days.
Usually, the upper part of the skirt is sewn into the internal waist of the jacket, with the elastic lower part falling free. There are detachable powder skirts, too, allowing you to do some winter hiking or bike more comfortably during late fall or early spring.
Lift Pass Pocket (and other pockets)
Practicality is one of the things that has always drawn me to all aspects of life. Going through the pass readers in no time is a thing that is especially prized on hectic days.
Some of these pockets sewn onto the jackets' sleeves come equipped with a detachable goggle wipe. Great, huh?
On the other hand, classic resorts have their charm, too. In the end, all that matters is the feeling that you enjoy while riding.
…but while we're still dealing with pockets, I'd like to mention some more useful pockets. Goggle pockets are especially nice to store these away when you're not using them. There are also handwarmer pockets, which save your hands from freezing because the riding temperatures are not always above zero.
Inside phone pockets are useful, especially in the case of extreme rainfall
What about the Hood and the Snow Pants?
The jacket should be hood-compatible and snow pant-compatible. While ski jackets are expected to snap into ski pants, the hoods are designed to fit over ski helmets.
Beyond comfort, these aspects contribute to keeping the skier warm. Even if you're not wearing a hood while skiing (because it affects your peripheral vision), you may want to put it on during those cold chairlift rides.
Also, make sure that your hood has drawstrings, which allow you to tighten the jacket collar independently. It also helps if the jacket has a high collar, to protect your chin, lips, and top of the nose from the wind during the cold weather encountered on the piste.
Have You Made up Your Mind about the Best Women's Ski Jackets?
After going through the best women's ski jackets and dissecting their features, here come the questions, to help you sum everything up.
Where will you use it? For resort skiing, over longer days off-piste but with a quick access to a lodge, or will you be ski touring in the backcountry as a regular activity?
How long are your snow days? Just a few runs in the mornings or the afternoons in your local resort or dawn-to-dusk trekking and skiing?
Long periods outside mean long periods exposed to the elements. You'll need a ski jacket that protects you from rain and snow while letting vapors (perspiration) escape from the inside. This is ultimately what a good active jacket does. It should provide extra warmth, too.
Prices may rise with more elaborate layering, but your comfort throughout the day is worth it. You shouldn't feel that you are wearing a jacket. It should feel like a part of you, and you should be able to focus on your activities, and not on the fact that you feel wet and cold.
GORE-TEX is one of the most known technologies working to maintain a very high degree of waterproofness while staying very breathable thanks to the millions of microscopic pores that let body heat out while preventing liquid water from entering.
GORE-TEX materials come in grades but the basic functioning principle is very simple: the GORE-TEX membrane is laminated to high-performance nylon and polyester face fabrics.
There are many other technologies focusing on waterproofness and breathability. Some of them maintain their features even after many washings (another element to bear in mind when you're about to purchase a new ski jacket). You should study them to see if they might work for you before choosing to buy a specific jacket.
Is it fully taped? Does the jacket come with extra pockets that you can use for goggles or gloves/mittens? A tissue comes in handy on the slopes (given that large temperature differences are possible and your nose might start dripping) and you'll need a small pocket for that, too.
Does it have an inside pocket for your phone or your action camera? What about a lift pass pocket? Are there any chest pockets?
Does the jacket have a powder skirt? Is it a removable powder skirt? What about the hood and the pants? Is the jacket compatible with them? Are the jacket sleeves long enough to prevent snow from reaching you and are snow cuffs also available? Does it have pit zips? …so many questions.
The most important one ultimately is (well, it's not the powder skirt one… sigh)—
Do/Would you feel comfortable riding in it? If so, it's yours. Your second skin. And the best ski jacket you'll ever find.
Wrapping It Up…
Weather in the mountains can change fast, we all know it, and I say it all the time. Why ruin your days by wearing inadequate backcountry jackets? After all, you've probably tied many things together just to be able to escape into the wild.
To me, waterproofness is of utmost importance. That combined feeling of wet + cold is not a pleasant one. All that you're craving at that point is a hot shower. So, a waterproof jacket is a must.
It helps to be able to open pit zips to balance your body's temperature and moisture. Then again, it also helps if you've got no snow in your snow pants, up your sleeves, or down your neck (powder skirts, snow cuffs, and helmet-compatible hoods will help to this end).
Enough of me though, hope this article helps you to hunt down the perfect jacket for this skiing season!
If we are talking about practical aspects, a lift pass pocket on one of your arms (typically the left one) will make you fly through the pass readers.