Overview
A 14-foot race paddle board, the Bluefin 14 Sprint is a handful in every sense of the word. The Bluefin company is famed for its inflatable touring board models with features encompassing all one could want for their trips.
However, the Sprint 14 is specifically tailored for advanced paddlers interested in a jolly challenge on how well they can navigate a board this sizable.
In comparison to other race boards in the market, this paddle board provides stellar tipping stability. That is probably why someone with my paddling experience could navigate and master the art of controlling this boat in little time.
And I wouldn't say I'm part of the beginner paddlers team, nor one of those advanced experts. If you're somewhere in the middle, like me, you can easily master this stand-up paddle board.
Bluefin SUP Sprint 14: Specifications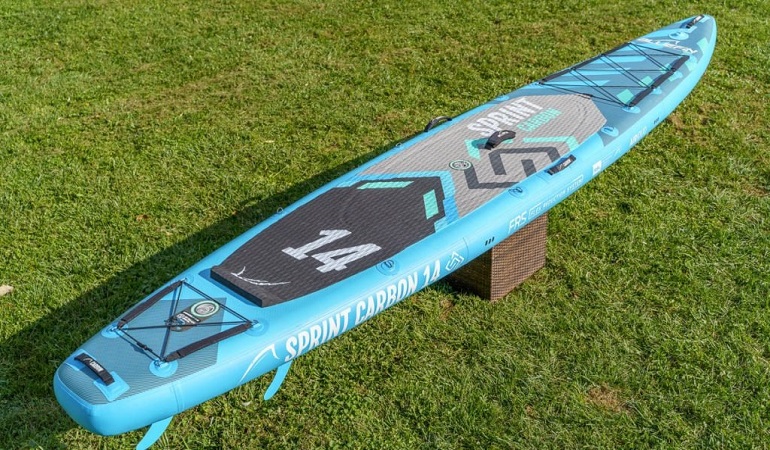 Board Type – Inflatable Paddle Board
Required Skill – Advanced
Price Range – Moderately high priced
Bag size – 38 x 14.5 x 11.8 inches
Best Used For – Racing
Max. Paddler Weight – 420 lbs (190 kg)
Dimensions of Paddle Board – L(14′) x W(30″) x T(6″)
Weight of Paddle Board – 28 lbs
Accessories Included with Paddle Board – repair kit, fiberglass paddle, instruction manual, dual action pump, removable fins x3, and trolley backpack.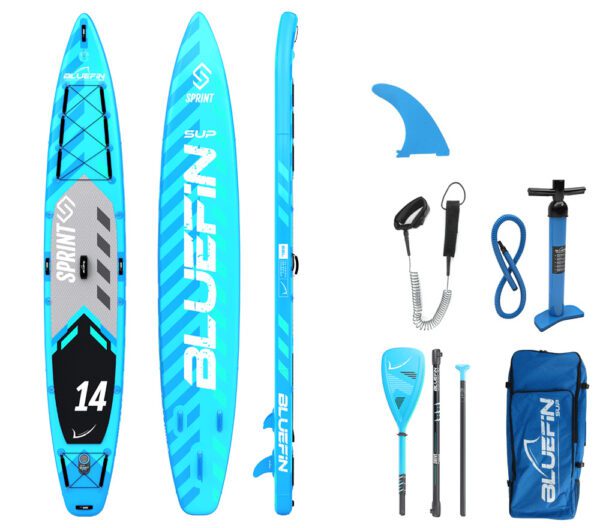 Bluefin SUP Sprint 14
The Price of "Bluefin SUP Sprint 14" varies, so check the latest price at
Features of the Bluefin SUP Sprint 14
Gear Storage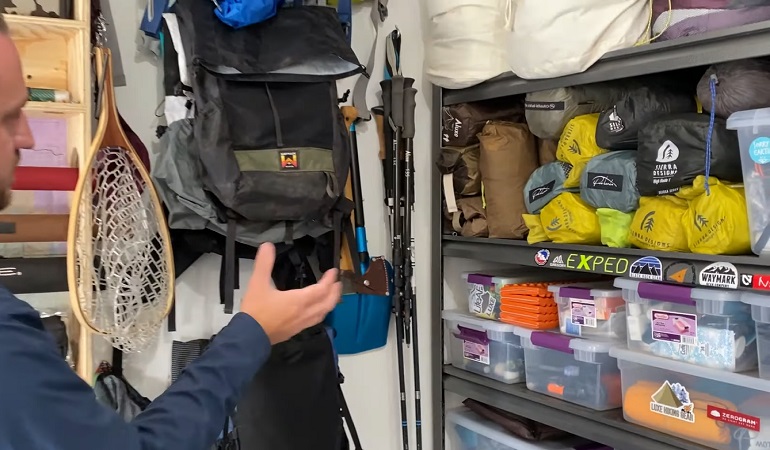 This is one of my favorite things about the Bluefin Sprint Carbon paddle board!
I found there was no scarcity in storage capacity with the Sprint Carbon as it housed two bungee sets at the back and front of the paddle board. Situated between D rings, the bungee sets are spacious and large, allowing plenty of room for water bottles, food, and as much camping gear as I needed for a 5-day camping trip.
Not just that, but I sometimes take one of my buddies along when paddling long distances, this provides enough room to accommodate their stuff too. And speaking of D rings, there are a bunch of additional kayak seat D rings to help in customizing a kayak seat onto the rigid board.
If not an extra kayak seat, then you could use the additional kayak seat D rings for storing extra paddle board gear you may need.
Construction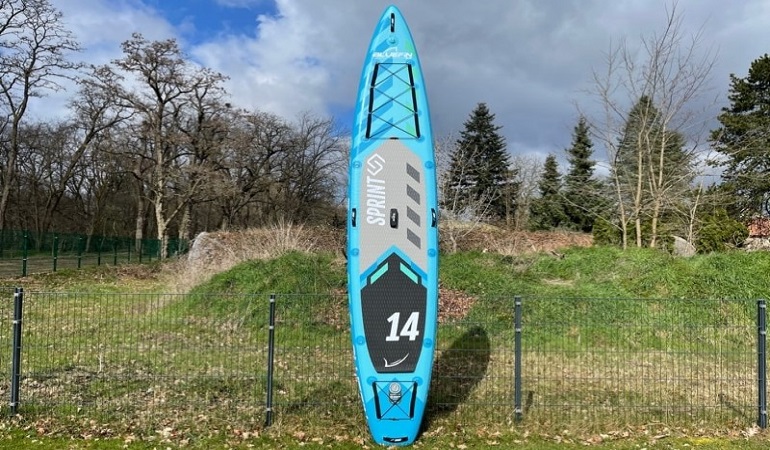 One of the most interesting things I like to discuss with my new friends is the stellar and precise drop-stitch construction of the Sprint Carbon. It is common knowledge that bluefin boards are always constructed with care and deliberation… but this one's special!
Firstly, it features a double chamber design that plays a big role in providing added stability, rigidity to the board, and overall safety when dealing with choppy waters. The dual chamber system measures 16 cm in thickness with an extra carbon layer.
Bluefin's Carbon Series also stands out with its high-quality materials with UV-resistant coating and exclusive carbon rails, offering unmatched rigidity and durability in the industry.
This extra reinforcement helps in upping the rigidity of the board. This is probably why everyone I know refers to my paddle board as "the inflatable hardboard." Not just that, but the extra carbon layer plays an integral role in keeping the board shape flat on water when riding and not curling upwards.
Secondly, this board features two small side fins paired with one large center fin. But, it is interesting how the company designed the fins where the center fin utilizes a US fin box system, whereas the other two fins feature the Bluefin Smart lock fin system.
This is a unique combination only seen in a countable number of other boards of iRocker or Thurso Surf. And best of all, every fin on the Bluefin 14 Sprint Carbon paddle board is removable, so you can customize that in whatever way you like
Grip Deck
Paired with the sizable length of the Bluefin 14 Sprint Carbon, the Croco Diamond Deck Pad is a big help in assisting in rider stability. Regardless of whether you are sitting or standing, the deck pad feels super comfortable to be on.
When testing out the grip of this deck pad, I went full out and tried tripping, falling, and stumbling (the usual and perfectly normal parts of a good paddling experience). But my feet seemed like they were planted deep into the roots of this board.
And to top it all off, the back of the deck pad has a kick pad for making those sharp turns in tight corners or when you realize too late that you need to make a turn.
Carry Handles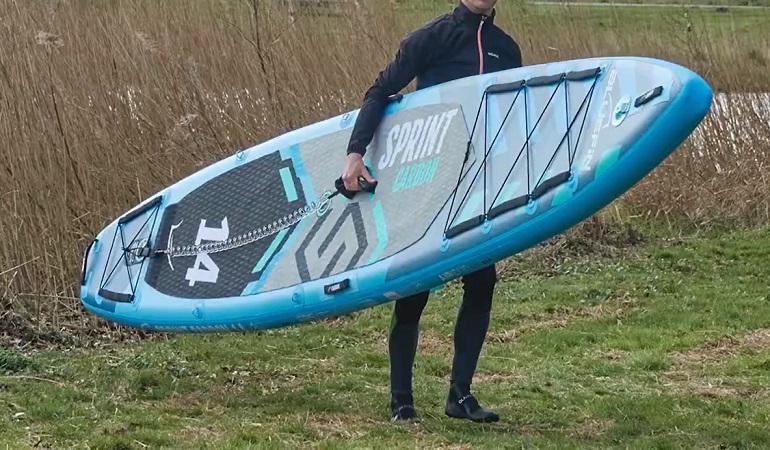 Of course, the company decided on five carry handles for this big bad boy! Any number lesser than that wouldn't be enough, honestly… it's a big board!
The center handle situated in the middle of the board is when you think you can lift the board all on your own. And the two additional carry handles on either end of the board are for when you realize you can't transport it around on your own and call a friend or decide just to drag it along. Yea, that's basically what happened to me!
The last two handles are located on either halfway edge of the sup board, and those are the best ones to use if you and your friend are lifting it up. All of the handles rest comfortably in my hand and are lightly padded to ease the tension of the board's weight on the hands.
An added feature about the center handle, though, is it doubles up as a paddle holder if you open up the velcro and fix your fiberglass or carbon fiber paddle in it. Cool, huh?
Fin System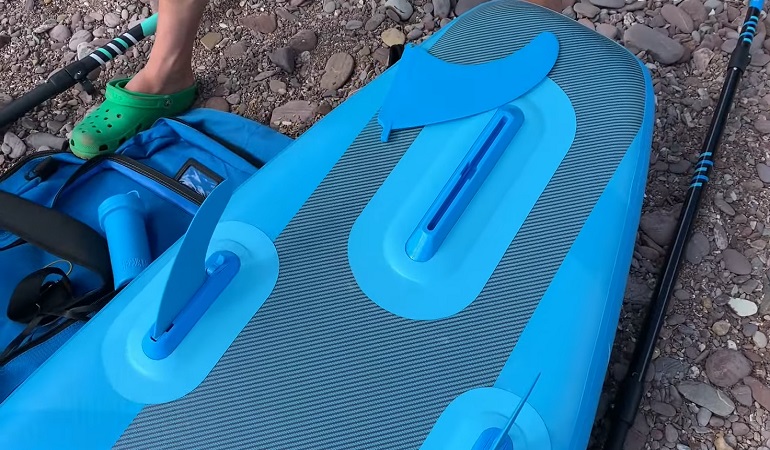 For an upgraded ride experience with little to no hassle, the Bluefin 14 Sprint Carbon paddle boards have three fins you can attach. The center 8″ fin fastens to the board's bottom and requires no fittings or loose screws.
The smart lock fin system that the company (thankfully) installed with the board makes the whole process a lot easier than you can think.
Besides the center fin, there are two smaller side fins that also attach and come off with great ease.
Backpack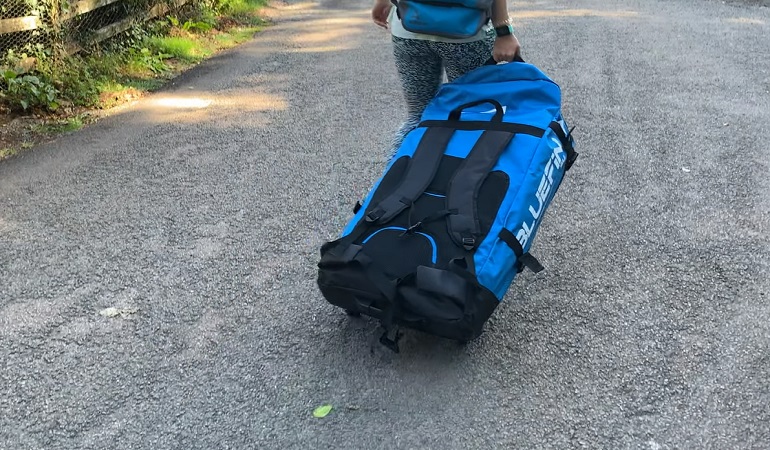 It is amazing to see brands like Bluefin tailor everything in the package with such precision and care. If there's one thing I absolutely despise about certain brands (which will not be named, 'cause I don't want the smoke) is their inability to make sure everything matches in quality and service.
With big paddle boards, it is imperative to have equally spacious and functional backpacks. The included travel backpack of the Bluefin 14 Sprint Carbon accommodates up to 110 liters of space with a huge external pocket and a mesh side pocket.
The big pocket is spacious enough to accommodate the repair kit, the side fins, and the additional gear you need to pack.
The lateral compression straps paired with the padded back and waist belt, it doesn't feel like a chore to carry this bag even when it's full to bursting. There are internal straps to keep the rolled-up Bluefin 14 Sprint Carbon SUP in place in case of any tumultuous activity that could misplace a thing or two inside the backpack.
Lastly, the haul handles on the side and top of the backpack are for easy hand carrying.
Examining the Bluefin SUP Sprint 14
Performance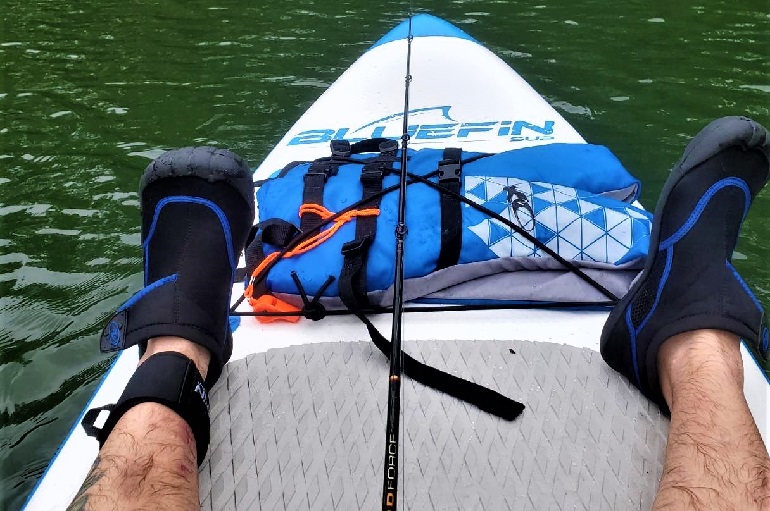 I would easily say the finest board features on the 14 Sprint Carbon are its stability and tracking. On my first run with it on flat water (and mind you, I was fairly out of practice), the premium board qualities worked their charm instantly. It glided like an oiled baby seal on an icy lake. That's awfully specific… but you get the picture, right?
Its higher speeds are also notable as it is faster than most other boards that I have tried my hand on. However, that is not to say that you will be raising ahead of all other paddlers. But when you get into the motion and gain momentum with a consistent paddleboarding rhythm… just watch yourself really go.
Another really efficient feature of the Bluefin 14 Sprint is that its gliding performance is quite energy-saving. Once the board really starts to go and falls into a steady speed and motion, you exert a lot less effort and execute lesser paddling strokes to maintain that velocity.
Tracking
Any paddler can easily tell you that regardless of how efficient and amazing their board is, paddling into stiff and strong winds is never easy. It is a challenge, but the Bluefin 14 Sprint does its fair share of work to keep you on track.
As I have outlined before, the board is super rigid, and the extra carbon layer used in its construction provides wonderful support in keeping the board flat on the water.
Its narrow nose that curves a little is great when braving the winds head-on however, with the board turned sideways, it can get a little challenging to rotate it back into the wind.
Stability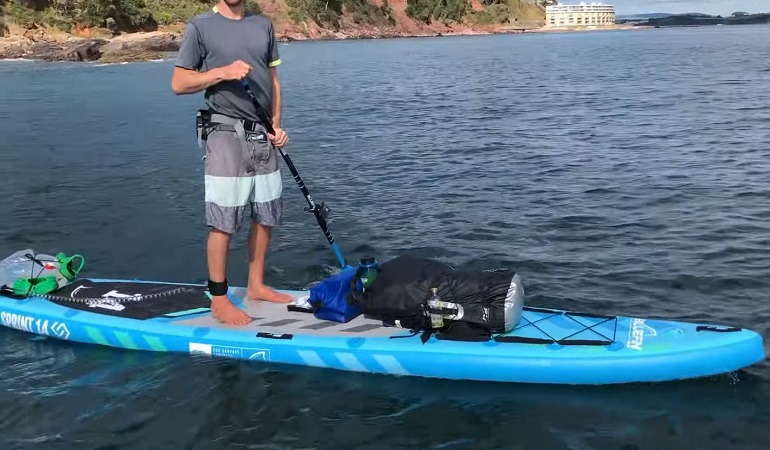 A majority of all-rounder paddle boards boast of their broadness and sizable width. Since it is primarily the width that directly impacts how stable the board is, it is both strange and a shocker; the Bluefin 14 Sprint measures only 30 inches wide.
Nevertheless, it is a true surprise to see just how stable it can be regardless of what the water conditions are. During my first initial runs on this board, I ran into some choppy waters and swelling water but could not note any noticeable difference in its overall performance when surveying its stability.
Rigidity
The Bluefin 14 Sprint monster piece (masterpiece) surprises everyone with its astounding rigidity. Although it is recommended to inflate the board up to a level of 15 PSI, I have always gone beyond that minimum range. It's only when you go beyond 15 that you can truly enjoy and experience the strength and stiffness of the board.
Keep this in mind if you are setting off towards some choppy water conditions, as the extra inflation will help in maintaining the board's performance without making you feel any of the conditions.
Turning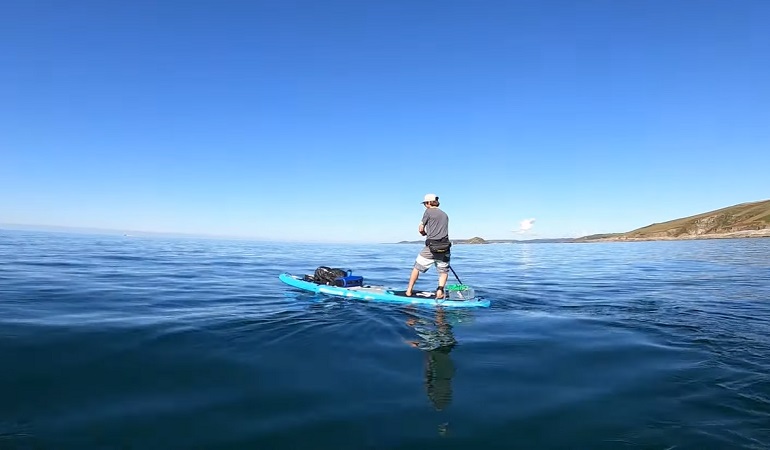 When it comes to turning, that is where the 14 Sprint lacks a bit. It is designed and manufactured to make fast and seamless straight lines, but the same wonderful performance can't be said for its turning abilities.
Yes, its deck pad has a designated kick pad, but majorly due to its sizable length, turns aren't executed as effortlessly as everything else with this board feels. Although its turning circle is pretty good, it majorly matters on how much weight you can leverage at the back.
Heavier paddlers will have no trouble with this little task, but for someone of moderate body weight ratio, it truly takes a lot of energy to propel all of my weight into my back foot.
Ease of Use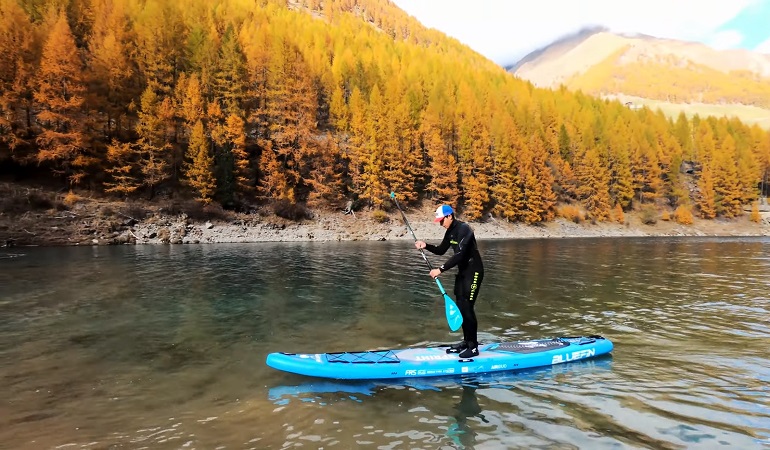 When talking about inflating this paddleboard, it takes about 10 minutes to get it up to the recommended 17 PSI. The double action bump that comes with the package features a gauge that shows you the speed of your progress.
When I convert the valve to double action, it gets harder to work the pump but is a lot more effective in this way. It is probably because, with the double action function on, the pumped air goes in both the upward phase and downward phase direction. Therefore it is a task to work it in this mode, but the end result is all worth it.
On the other hand, the repair kit that comes with the whole package is super efficient in making little fixes and adjustments when you need to. No manual or instructions needed!
Versatility
Versatility comes easily with shorter and more practical paddle boards. But the Bluefin 14 Sprint is not the best versatile option for you out there. Yes, it provides a stellar riding experience, and it is very rewarding to enjoy the remarkable specifications on this touring board.
When speaking of versatility, I look at factors such as its shape, size, weight, ease of transport… etc. And in those departments, this paddleboard might not feel well.
However, when looking at its functions from the lens of how it can accommodate an additional paddler and its huge amount of storage space… the Bluefin 14 Sprint wins!
The board offers ample storage space under the bungee cords, providing convenient options to carry essentials like a tent and extra clothing for a weekend adventure on the water.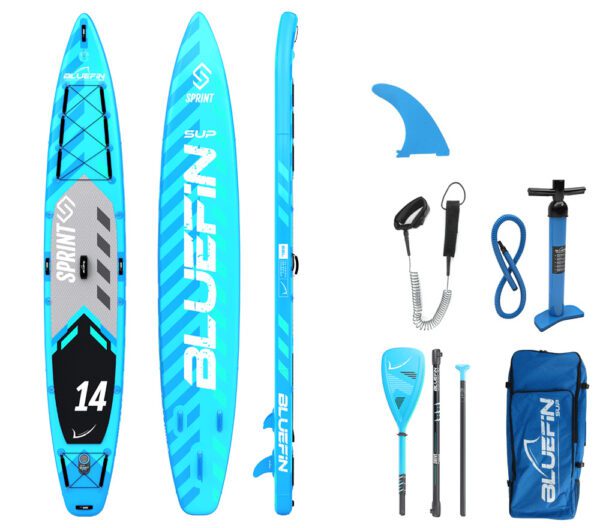 Bluefin SUP Sprint 14
The Price of "Bluefin SUP Sprint 14" varies, so check the latest price at
The Bluefin SUP Sprint 14's feature that I like the most
Of course, the feature that wins my heart every time is the weight capacity on this board. An ideal stand-up paddle board would generally tolerate the rider's weight and all the gear needed for the trip. However, the Bluefin 14 Sprint goes above and beyond that, as it not only handles the weight of two adults but also whatever extra gear they need to pack as well.
This specific feature came in handy when scheduling camping trips with friends, as we did not have to pack two boards. This one multifunction 2-person paddle board was enough, and paddle boarding on it proved to be enjoyable and interesting with a partner.
I have to mention that with two people standing on the touring board, it feels a bit awkward and tough to navigate.
So I'd recommend that if one person chooses to stand, the other should be kneeling. The board balances well, then. Although the board is plenty rigid, stiff, and stable, every board has its limit! Additionally, with extra paddle power from the other rider, the more speed you gain, the more thrilling it is to race on the Bluefin 14 Sprint.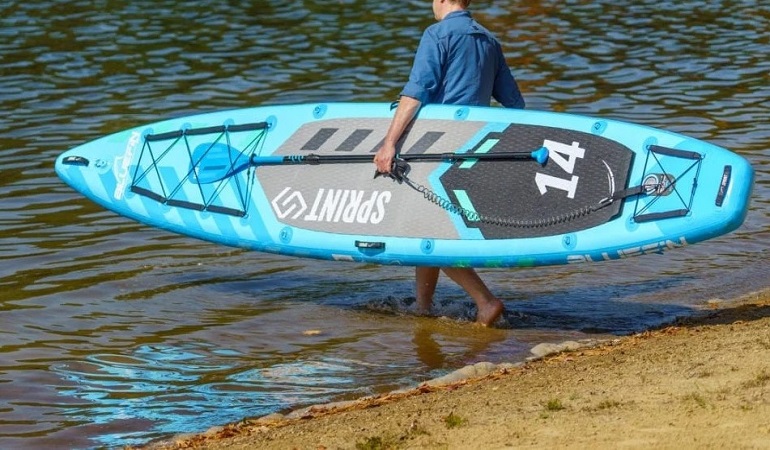 What I Do Not Really Like about the Bluefin Sup Sprint 14's
As much as the Bluefin 14 Sprint gave me some of the best rides in my life, it sure knows how to make you work for it! The weight of the Bluefin 14 Sprint SUP at 28 lbs can be considered relatively lightweight when putting into consideration the length and specifications of this wonderful touring board.
However, I personally found it tiring and a chore to transport it when fully inflated. Where I have to transport it over a short distance on easy terrain… that's easy. It's during camping trips when the grounds can get tricky and the distance stretches out a bit that it gets cumbersome to move it around.
But then again, bigger and taller-bodied people would have no issue transporting it.
Conclusion
Where it concerns serious adult paddlers who are looking to give their paddleboarding skills a little nudge up the ranks, the Bluefin 14 Sprint race sups truly question how much stuff you're willing to do to upgrade your skills.
I found it refreshing and eventful to take a break from my touring board and experience what it's like to ride on a 14-foot board at high speeds. And lemme tell y'all… it's a complete package worth every dime and second, spent on it.