Get your own pair of the latest (and quite possibly the greatest) floating sunglasses to hit the market.
Let's start this review with a nugget of reality:
Here at Extreme Nomads, we're damn serious about our watershades.
Last year, we searched high and low for the ultimate pair of watersports sunglasses for all the high impact sports (like kiteboarding and windsurfing) that we do; and even though we love what we found, we were still left wanting for a pair of polarized sunglasses that float for our mellower salt water sessions.
And so the search continued.
What we didn't know at the time, was that our favourite watershades brand (more on them below!) already had plans in the pipeline to develop something a bit more low key, less high impact oriented and more need-that-stuff-to-float, and that's how they came up with the FLO, a pair of high end, high buoyancy polarized sunglasses for fishing, kayaking, suping, sailing and all these laid back water activities, ideal when the sun starts to set and you're ready to crack your first beers.

You can pick between 2 different frames colors, black and yellow, (no, not now Wiz!) and quite a few different lens options, polarized or not, with Zeiss equipping the higher priced models. That gives us a fairly wide price range going from 81$ to 207$, so there's one for every budget.
Why do we promote this product? Because we genuinely love LiP's sunglasses and especially the team behind the brand, kitesurfing / paragliding buddies whom we've known for 10 years as they've been sponsoring the Kiteboard Tour Asia. So naturally we became partners, and this page contains affiliate links. It means that if you make a purchase through one of those links, we'll receive a commission at no extra cost to you.
We managed to get our hands on a pair before their official release (YAASSSSS!!!) and put them to the test…. The extreme nomads test. Because that's a thing now, you guys.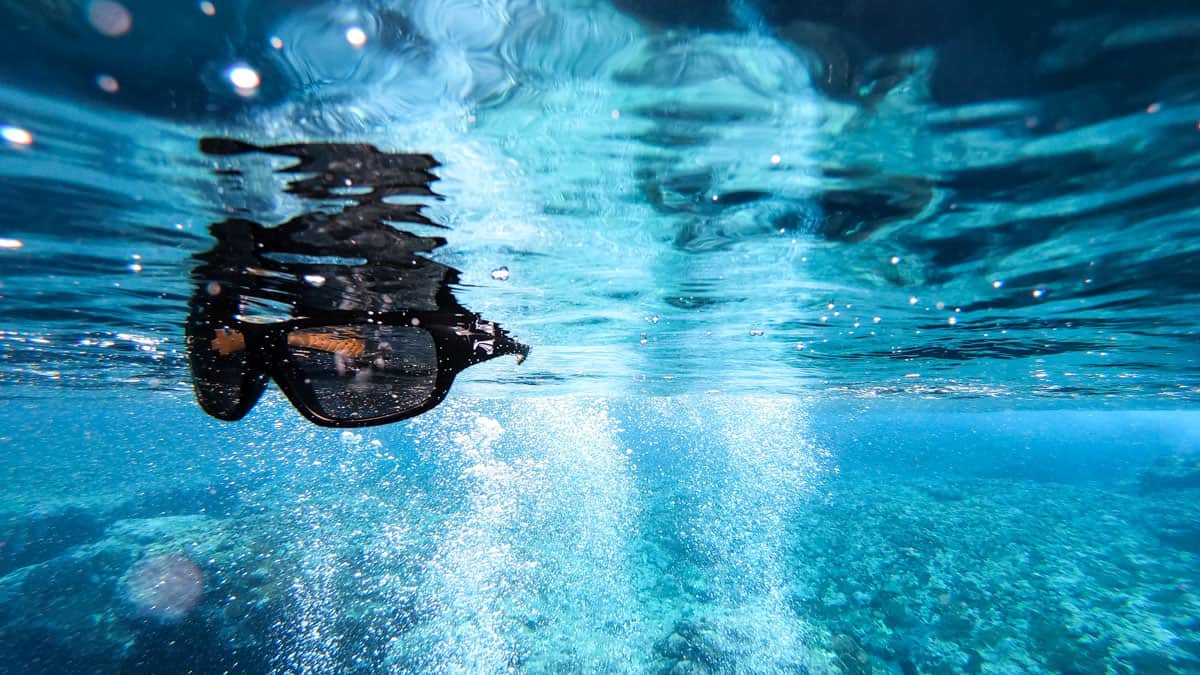 So here it is- a detailed review of the newest and dare we say, maybe even the best floating sunglasses on the market right now. We've also included some extra guidance at the end of the article to help you better decide if these are the right sunglasses for your specific needs.
Without further ado, *drumroll*….. Here's what you need to know about the FLO watershades by LiP Sunglasses:
The low-down on LiP
If you're a regular reader, you'll know that us lot at Extreme Nomads are pretty bonkers about LiP.
They're a Taiwan-based brand who started off by taking an honest-to-Betsy bash at creating an indestructible pair of watersports sunglasses (which they did. Twice). They've since branched out with a slick AF urban collection, which we're also shamelessly in love with (just take a glance at our review of their insanely high quality sunglasses with Zeiss lenses to see why).
The company is a kooky collective of extreme sports lovers and do-ers, from paragliders to kiteboarders and virtually everything in between.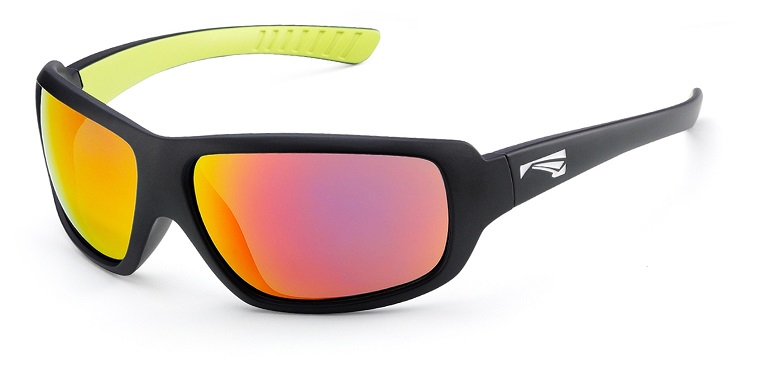 FLO Watershades
The price of "FLO Watershades" varies, so check the latest price at
In short:
They ain't just your average joe designers. They ain't just sales slingers. They know their shit when it comes to action sports and they fully understand what's needed from a pair of shades for use on the water- and their newest model of floating sunglasses pretty much says it all.
Our review of LiP's floating sunglasses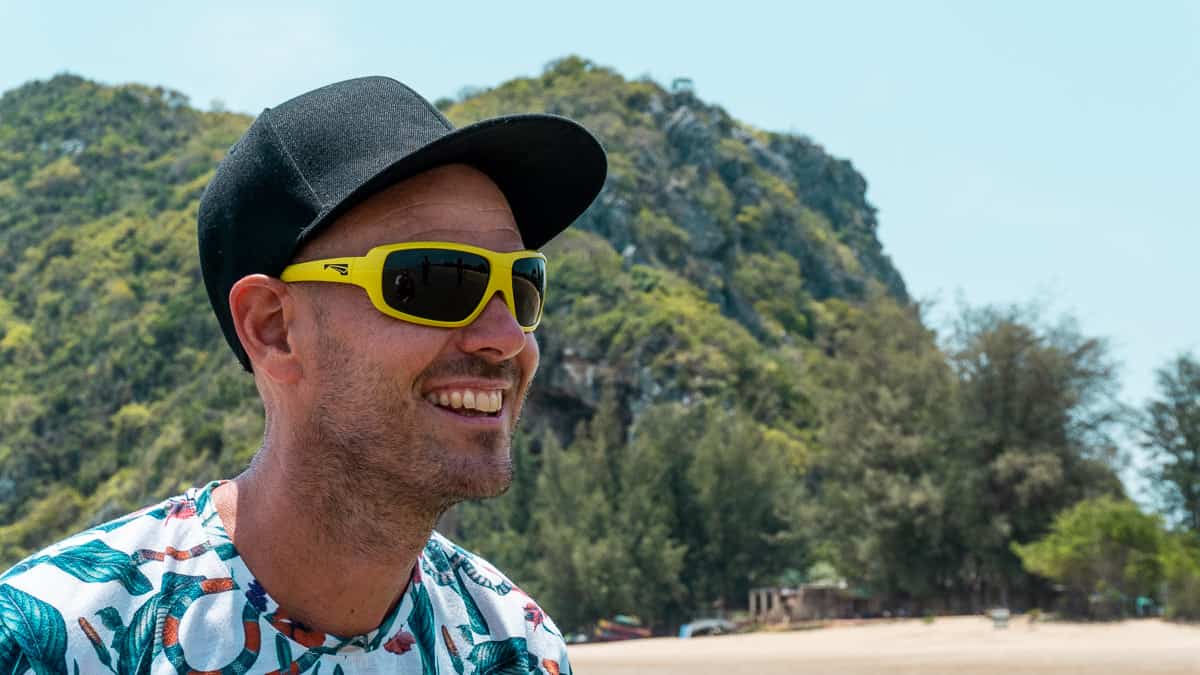 The concept
The FLO is a multipurpose watershade for sailors, kayakers, paddlers, and anglers (or essentially anyone doing any kind of low impact watersport). The designers created these babies to be as functional, versatile, and reliable as possible- so they're a solid choice if you're the sort of person who dabbles in a bunch of different water activities.
Psst: the FLO sunglasses are also totally unisex! We've passed them round to loads of our guy and girl friends to test, and the consensus is that they look pretty rad on everyone.

The specs
By grace of its newly developed FLOT8 technology, the FLO's will float on the surface of the water after a crash, wipeout, or accidental drop overboard.

When we tested them out, we found that the tips of the arms are the most buoyant part of the sunglasses, so that's the part that you'll see best when they're in the water. The lens side is a little heavier, and so you'll find that some models will float slightly unevenly (particularly the models with Zeiss lenses, as they're a wee bit heavier) albeit effectively.

To make it even easier to spot them in the water, the inside of the arms is bright yellow, which does a great job of increasing their visibility if you find yourself needing to rescue them from afar.

Now, if you've ever found yourself half blinded on the water by spray and droplets on your sunglasses, this next point will be a biggy for you:
The lenses have both hydrophobic and oleophobic coatings, which basically means that you'll still be able to see perfectly clearly even if you splash a whole lot of salt water over your shades.
AND- wait for it…
Those special coatings cover both the outside and the inside of the lenses- which, funnily enough, the majority of floating sunglasses don't actually have.
Seems like it should be a given, right? I mean, obviously, if you've got water splashing everywhere, you're bound to get some on the inside of the glasses at some stage too, right?
But the reality is, the floating sunglasses made by a lot of other brands don't have hydrophobic or oleophobic coatings on the inside of the lenses, meaning basically they won't perform better than any random pair of everyday shades.
As Father Ted once said…. "Down with that sort of thing!"
The FLO's immediately push themselves to the front of the pack just on that point alone.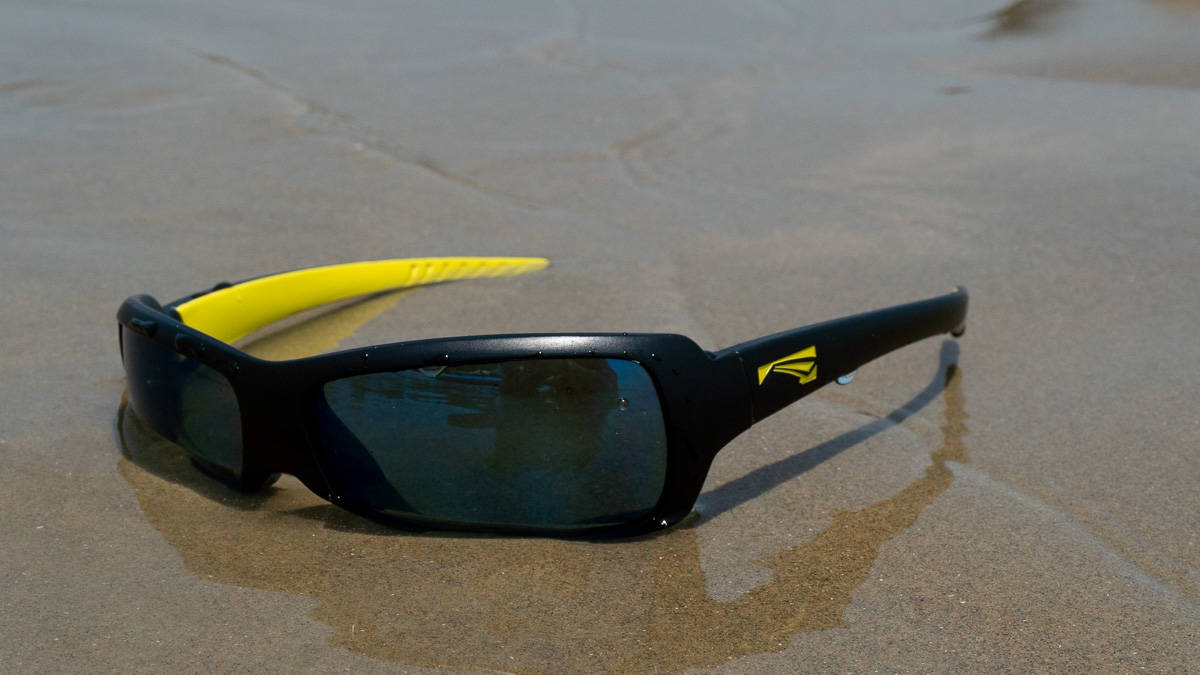 As for their durability, they're second to none:

The GRILAMID® TR90 frames are so heavy duty that they're basically indestructible, which is awesome if you're me, and you normally end up breaking every nice thing you own.
Not only are the T90's built for spreading impact, but the lenses are officially classified as 'shatterproof' by LiP, so you can rest assured that your eyes will stay safe and protected even if you were to accidentally meet with a swinging yacht boom or unfriendly paddler.
The other massive upside is that the T90 frames are super lightweight, which makes them really comfortable to wear for (even for long periods of time, which is a big thing if you sometimes get pains in the side of your head from wearing bad-fitting sunglasses).

Lastly, we love the crazy peripheral view that you get wearing these shades. Not only does it kinda feel like you're wearing the sunglasses version of a surround sound system (does that metaphor make sense to anyone besides me?!), but their 8 base curve radius lenses are also super duper good at catching stray UV rays that other sunglasses might let slip.

The options
LiP's floating sunglasses are available with polarized lenses or just classic UV ones. We recommend polarized sunglasses for any maritime activity as they will highly attenuate unwanted glare and reflections from the sea, but also retain colors and contrast even facing the sun. Same goes with the snow in winter, quality polarized sunglasses are part of the basics for the outdoors.

You can also take your pick between frame/lens colour, too (see their website for more details on colours and lens options).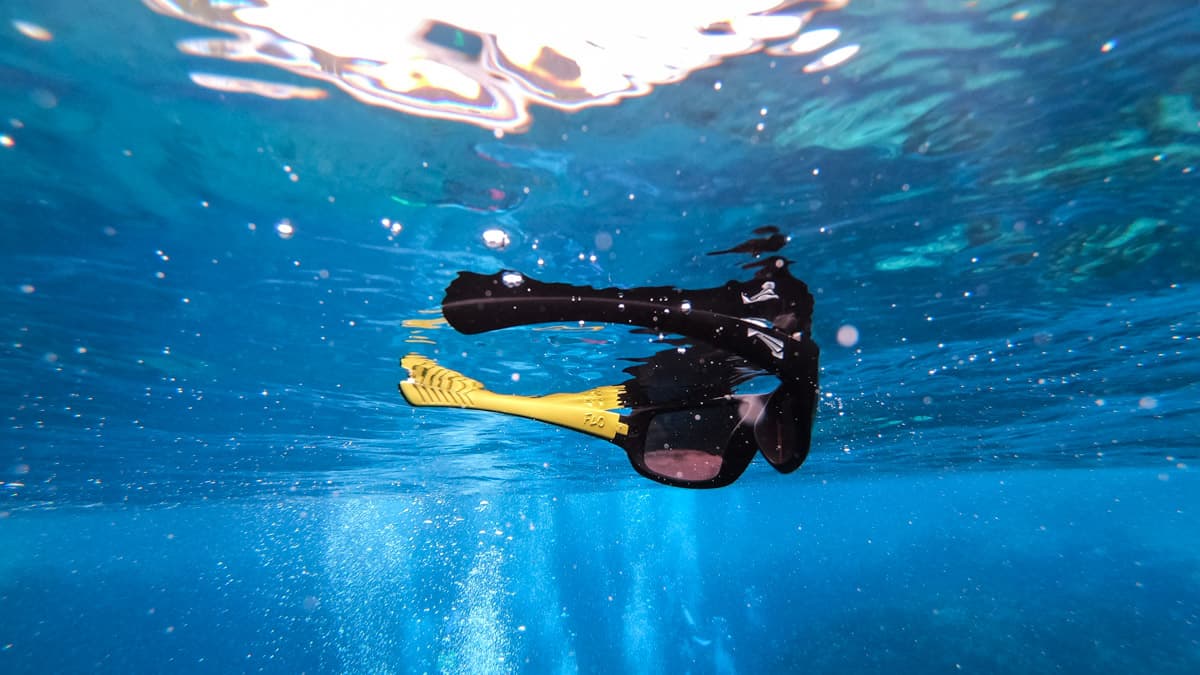 Pros
Polarized and non polarized versions
Decentered injected Polycarbonate and Nylon lenses (crazy high quality, won't peel since they've been injected- not coated)
Super wide peripheral vision
Comfortable (even when worn for long periods)
100% UVA/UVB protection
Hydrophobic and oleophobic coating
Seriously durable T90 frames
Versatile design; can be worn on/off the water and still look cool
Bright yellow interior for extra visibility
Good value for money
Cons
Not as suitable for high impact watersports
Doesn't come with a retainer system
Think you're ready to order yourself a pair of FLO's? They're available on LiP's web shop; check 'em out (and see what colours they have) now!
FAQs
Why choose floating sunglasses?
Not all watersports sunglasses need to float, as LiP's signature Typhoon model proves (TL;DR version: if they can't fall off your head, they don't need to float). But when you're doing low-impact activities that don't require a full-on retainer system, often a regular pair of sunglasses will do the trick; and in that case, it's always good to have the comfort of knowing that your shades won't sink down to the murky depths if they happen to jump off your head.

Floating sunglasses are versatile enough to use for a range of water activities; they're comfortable to wear without a retainer, and are easy to retrieve if they fall off.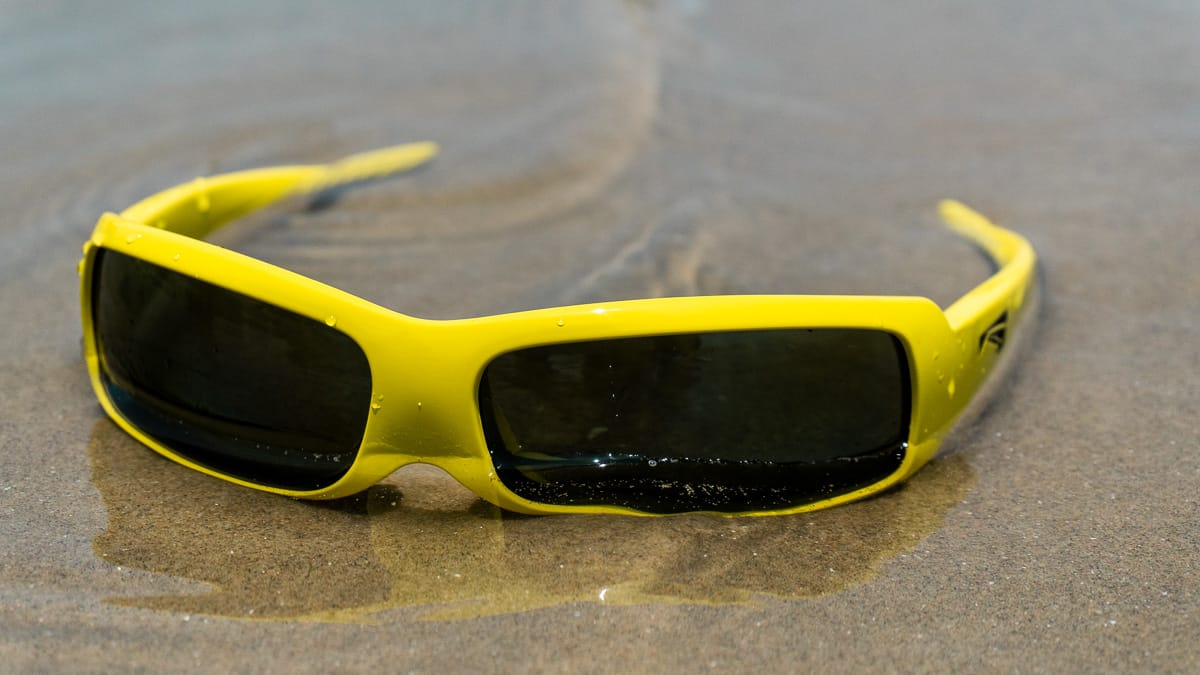 Are floating sunglasses right for me?
This largely depends on what activities you plan on doing. Since these particular floating sunglasses don't have a retainer leash system, they're not really suitable for high impact/high speed sports like kitesurfing, surfing, or wakeboarding. But if you're more geared towards low-impact sports like sailing, paddling, or kayaking, the FLO's are perfect for you.

Do I need polarized floating sunglasses?
For those of you that don't know, polarized glasses filter out extra glare that you find around highly reflective surfaces– like water. While some people have particular reasons for not wanting polarized glasses, personally I think it's a must for those of us who spend lots of hours on the water.
Wearing floating polarized sunglasses is super beneficial when it comes to reducing eye strain, which makes your overall experience on the water a lot more comfortable.

But that said, polarized sunglasses also have their drawbacks (such as making it near impossible to see what's on an LCD screen, for example).
Wrapping it up
We're big fans of the FLO model of polarized floating sunglasses by LiP for a couple of simple- but very important- reasons:
They're durable, comfortable, and built to last. There's no planned obsolescence with these bad boys; and you bet your left one that you won't be replacing them in a hurry.
Considering their versatility, we wholeheartedly recommend them for fishing, sailing, kayaking, and SUPing; but moreover, we also totally stand behind them as an everyday off-the-water pair of shades as well.
Best of all, LiP have a stellar customer service set up, so if you do find yourself in need of their help or guidance, you can absolutely trust that they'll have your back. Scout's honour! Just kidding, I was never in scouts.
If you've liked it, share it!