Little hands get cold fingers quickly. Cold fingers equal sad kids, and sad kids don't make for a great day on the slopes.
If you make sure your little one's fingers are kept nice and toasty, you'll make life easier for everyone. You need to guarantee you have the best kids' ski gloves and mittens, so your younger kids don't suffer.
When shopping for kids' ski gloves, it's important to keep an eye out for a few key features that ensure you're buying high-quality products. Cheap gloves won't last the rigorous wear and tear that can be expected from kids' winter gloves.
If you want something that will do a good job, make sure you get a pair that are made of waterproof materials, have decent thermal liners, and fit your child's hands.
Of course, with the best winter gloves for kids, you want them to be fun colors and exciting for your little guys as well.
Top Pick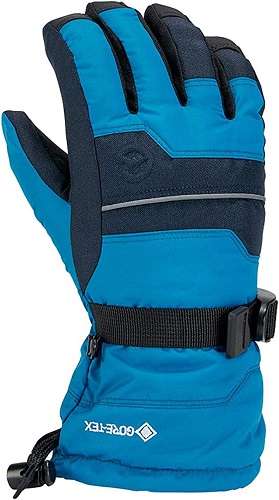 Gordini Junior GORE-TEX Gloves
Size: Large
Material: Polyester
Best Premium Choice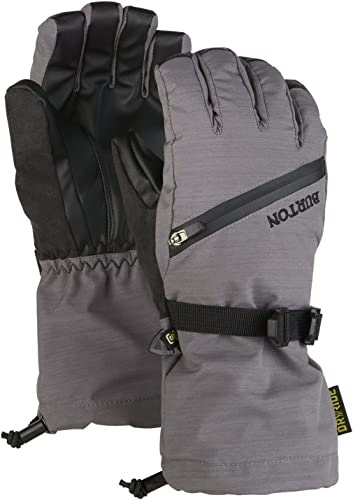 Burton Kids Vent
Size: large
Material: Polyurethane
Cute & Functional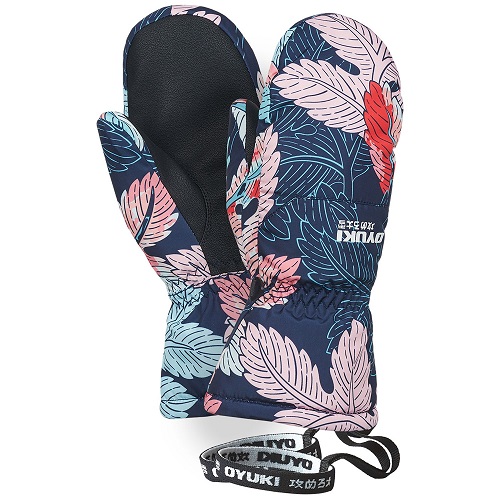 Oyuki Chotto Mittens
Size: small
Material: Polyurethane

Super Versatile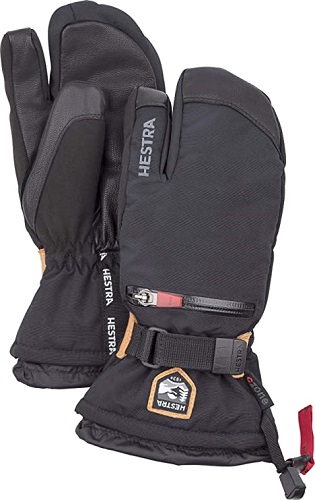 Hestra All Mountain CZone
Size: small
Material:  leather & Polyester


Durable & Warm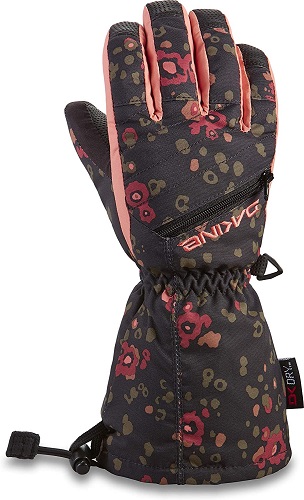 Dakine Tracker
Size: large
Material: Polyurethane  


Best Military- Grade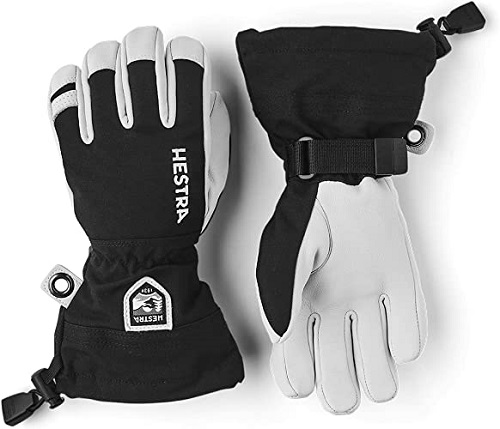 Kid's Heli Ski Jr Gloves by Hestra
Size: small
Material: HESTRA Triton fabric

Do- It- All Option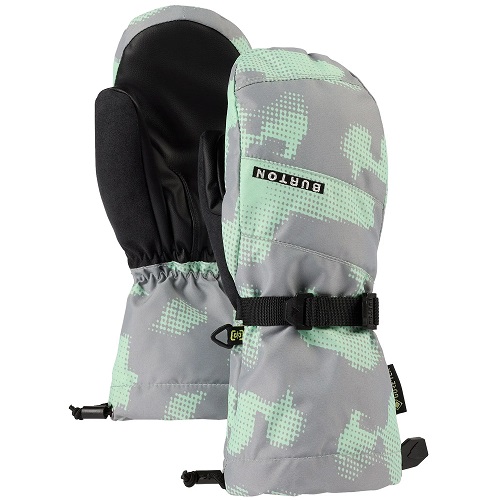 Burton GORE-TEX Mittens
Size: LARGE
Material: GORE-TEX



Taking A Look At Some of The Top Ski Gloves For Kids
Kids' gloves and mittens come in all shapes, colors, and sizes, so it can be a little overwhelming when you start shopping around.
Of course, your young one can tell you what colors they want, but they lack the experience to really know what they need. You know what you like in a glove, but does that translate to a good pair for kids?
I've perused the market for some of the best kids' ski gloves and mittens for you to take a look at. The list should cater from toddler winter gloves to winter baby gloves all the way up to older kids' snowboard gloves. Let's find your kid's next pair.
For the growing kid, these gloves are all the protection they could need on the mountain. They are made of durable and reliable materials, they look great and will hold your kids' hands in synthetic insulation for waterproof kids gloves you can rely on.
This is a glove you know will keep their fingers warm and dry throughout the day. They have been equipped with a kid's GoreTex glove membrane insert between the liner and the snow. They provide the ultimate waterproof gloves experience.
Gore-Tex is an industry favorite in snow gear, it is incredibly durable, very breathable, and waterproof to the max.
It will often be found on the best kids' ski gloves on the market, but usually comes with a price. It is usually worth paying. Gore-Tex is a tried and tested product.
Synthetic insulation lines the inside of the snowboard gloves to keep your kids' hands warm even in the most biting conditions.
The Megaloft lining keeps your kids' hands dry with its wicking capabilities. The synthetic materials are designed to keep warmth in and wet hands at bay.
Summary
The Gore-Tex membrane is super waterproof, provides a good grip, and stays breathable in all sorts of adverse conditions.
This pairs well with their synthetic liners to provide a warm and waterproof glove that will guarantee an excellent day out on the mountain.
The gloves have a cool look and are suited to the older child due to their size.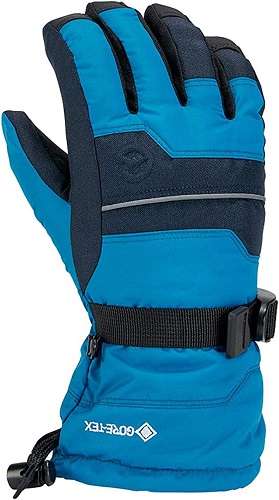 Gordini Junior GORE-TEX Gloves
The Price of "Gordini Junior GORE-TEX Gloves " varies, so check the latest price at
Burton has produced a kids' glove that has all the features you could want. They come in a wide variety of eye-catching colors and are suitable for several seasons.
Burton produces some of the kids gloves and mittens, and you can guarantee quality and that their little hands will stay warm.
For a pair of affordable gloves that will be suitable for a whole season, these are the best gloves for the job. They feature both a pocket for a hand warmer and vents (hence the name) for dumping hot air on warmer days.
The pocket for the small heat pack doubles as a vent creating a versatile kids' ski glove that will suit any weather.
The membrane is made of amazingly durable two-layer fabric that is guaranteed to be kid-proof. It provides a waterproof and breathable layer that keeps hands dry and free from clammy sweat.
The outer membrane features touchscreen capabilities, so your little one can keep up with their socials, even on the slopes. From a kid's standpoint, this is an essential feature.
Summary
These are lightweight but amazing gloves. They will keep fingers warm when it's needed and be able to vent the excess heat when it all gets a bit too much.
You can ensure you keep the extreme cold at bay with a heat pack whilst also knowing they're keeping snow away with dual-layer materials.
They have some of the best key features you would want to see on a boys' ski glove.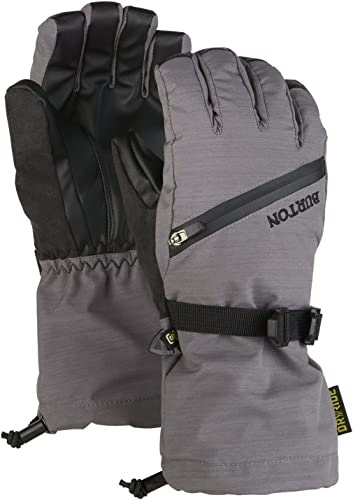 Burton Kids Vent
The Price of "Burton Kids Vent" varies, so check the latest price at
Chotto may mean small in Japanese, but these kids' winter mittens provide big winter protection. Deciding to go with mittens for kids is always a great choice.
They provide lots of coverage to keep kid's hands warm, and kids' mittens also provide an advantage in dexterity. It is easier to grip small objects and ski poles in kids' ski mittens.
These cute little waterproof mittens feature an over-the-cuff design that keeps snow from riding up into your kids' clothes. This cuff helps keep snow from getting into your kids' coat sleeves even when they fall over.
This is helped by the drawstring closure, further ensuring they keep snow out as well as the warm gloves and mittens.
The absolute best mittens should always feature some kind of wrist strap to keep them from falling off your kids' hands. The Chotto ski mittens have writs loops that will keep them attached all day.
You don't need to worry about them taking them off and losing them anymore. You could have the warmest ski mittens, but if your kid drops them off the ski lift, you may as well have none.
Mittens for kids need to be waterproof and windproof whilst staying breathable. These kid mittens are built with a microporous polyurethane membrane that is durable and will withstand a day in the snow.
Summary
Keep your children's hands nice and warm with these kids' waterproof mittens. They are the best kids' mittens for the little ones who like to take them off and leave them places.
The wrist strap creates an easier way to keep an eye on where they decide to put them.
When kids wear mittens, you know their hands are as warm as they can be, and they can also enjoy the added dexterity and grip provided by the shape.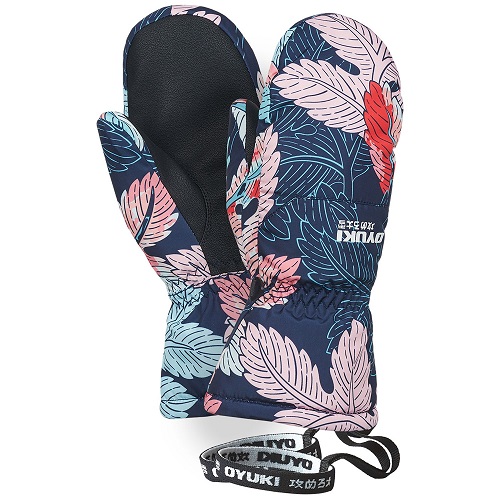 Oyuki Chotto Mittens
The Price of "Oyuki Chotto Mittens" varies, so check the latest price at
Hestra has made some hardcore gloves for kids who are going to be out in some pretty extreme temperatures. These are a pair of waterproof winter gloves that can stand up to whatever the mountain (or your child) throws at them.
These waterproof gloves also feature a pocket on the back of the hand that can be used for hand warmers on the nastiest of days. It could also double up as a pocket for a ski pass when it isn't needed for extra warmth.
Keeping your kids' lift pass in their snow gloves saves the hassle of worrying if they have lost it.
The three-finger design of these windproof gloves gives the best of the key features of kids' mittens and the best kids' gloves.
The three fingers together keep your kids' fingers warmer whilst the free index finger enables them to grip with finger and thumb with ease.
Hestra All-Mountain's are a pair of thick gloves designed to be windproof and waterproof.
They are some of the warmest gloves, featuring a goat leather palm, durable membrane materials, and a thick insulating liner. They are definitely designed for the colder, windier days out.
Kids' waterproof gloves are no good if snow is able to get inside them, it'll melt against the heat of the hand and fill the gloves with water.
Hestra has guaranteed they stay snow-free with a velcro closure wrist strap and elastic closure snow lock around the cuffs.
Summary
If you're planning a cold, windy day on the slopes, then these may be the best kids' gloves for you. These are not thin gloves, but they do have the added dexterity of being able to pinch.
They combine the warmth of the best winter mittens across three fingers and the movement of gloves. They will be super warm half mittens with a heat pack in.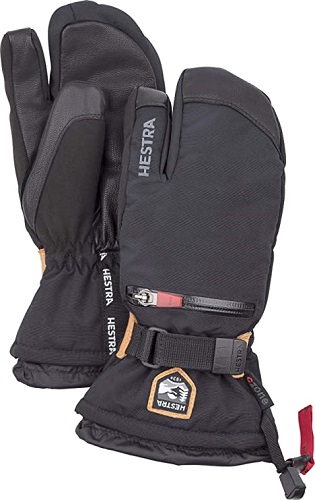 Hestra All Mountain CZone
The Price of "Hestra All Mountain CZone" varies, so check the latest price at
Childrens waterproof gloves need to do two things well: they need to keep their hands dry and warm. The Dakine Tracker gloves do these exceptionally.
Dakine is a company known for its quality snowboard gloves and mittens, and they don't drop the ball on these, providing some of the best waterproof gloves on the market.
A long cuff is a great feature to have on kids' gloves, it keeps the warmth of their hands in and snow out. Keeping snow and wind away from getting up the sleeves of your little ones is a great way to ensure that you are keeping your child's hands warm.
The Dakine Trackers have opted for a full gauntlet design, much longer than anything else we have seen today.
Your kid's gloves need to be durable and put up with all the adventures they plan to go on, climbing trees, throwing snow, and sliding along on their faces all put some serious pressure on the palms and seams of kids gloves.
These have been built with hard-wearing reinforced palms for just this reason.
Summary
Gloves for kids need to be able to resist the elements, keep the snow out, and withstand the punishment of an active kids' lifestyle. That is what these are purpose-built for.
The rugged design fully embraces the hand and wrist and can take a beating. This is how waterproof gloves should be built. Your kid will grow out of these before they fall apart.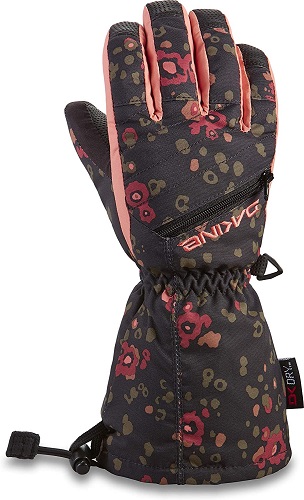 Dakine Tracker
The Price of "Dakine Tracker" varies, so check the latest price at
Hestra has simply scaled down their best-selling adult Heli gloves to kids sizes. If you've ever worn a pair you know that they're of the best quality.
They're comfortable, warm, durable, flexible, and incredibly water resistant. They'll help your kids' hands stay warm in all weather.
Goat leather helps these kids' gloves stay water-resistant, and the snow lock gauntlets have a wrist closure to keep snow and powder from getting in.
Nothing helps your kids' hands stay warm like being dry inside the liners. The snow lock gauntlet is designed for kids' wrists and can close nice and tight.
These are unisex, so can be used as boys' or girls' gloves. Most kids' gloves are unisex and can be worn by either. The only deciding factor usually is what color your kid wants to wear. These are very neutrally colored and won't look odd on whoever wants to wear them.
These are not cheap gloves by any means, they will set you back a few bucks. But these will be some of the best girl gloves, or boys if you like, for your money. They will ensure your kids' fingers stay warm throughout the whole day.
Summary
Get yourself and your kids a pair of these military-grade, leather gloves. Guarantee your kids stay warm in any weather with some bulky, but exceedingly resistant snow gear.
Sometimes it's best to splash out and know that you have a bit of kit that will last season after season in whatever conditions you decide to put it through.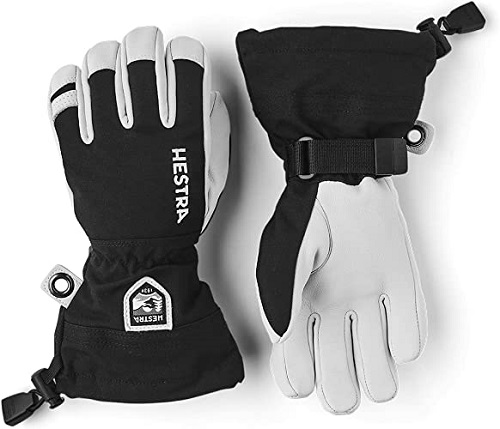 Kid's Heli Ski Jr Gloves by Hestra
The Price of "Kid's Heli Ski Jr Gloves by Hestra" varies, so check the latest price at
If you're on the lookout for the best waterproof mittens, then look no further than the Gore-Tex mittens for kids brought to you by the well-loved Burton brand.
These are some of the warmest kids mittens for kids on the market and are built with the renowned Gore-Tex material, so you know they're built to last.
Mittens for kids need to be waterproof, windproof, and playproof. The Gore-Tex membrane of these kids' ski mittens ensures they tick all the boxes.
It is super lightweight, breathable, and waterproof, even under the worst conditions. It makes for some of the warmest mittens available.
Thermacore insulation is used inside the mittens linings to push them above and beyond other mittens in terms of comfort and warmth.
They wick away heat, robbing moisture and locking in the natural body heat of your children's hands.
Mittens for kids can often restrict movement due to the nature of the limiting internal lining. Burton has addressed this issue by creating an internal glove inside the mittens that ergonomically fits your kids' hands, improving grip and comfort through a day of skiing.
Summary
Burton has created the do-it-all Gore-Tex mittens that are able to provide every feature you could want on your child's mittens.
They have heat pack/vents pockets, a wrist leash, amazing insulation, and reliable Gort-Tex material.
You can get your kid some of the best mittens stores sell for a great price and rest assured they're riding in comfort.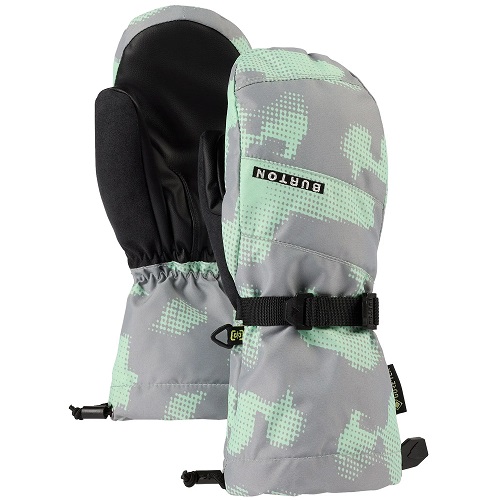 Burton GORE-TEX Mittens
The Price of "Burton GORE-TEX Mittens" varies, so check the latest price at
How to Choose The Right Kids Gloves
Your kids might think they know what they want from their gloves, but bright colors and fancy logos don't always make for the best kids' mittens or gloves.
You are going to want to look for something that will do all the jobs your own gloves do but in a child-friendly way.
It can be a bit daunting trying to wade through all those different brands and terms, but I can help you thin the herd with a few pointers to look out for.
Warmth
First and foremost is warmth. There is no point in getting a pair of gloves or mittens if they don't fulfill their primary role. You have to look for something that is windproof and lined with something good.
Wool and synthetic materials are great to look out for because they are naturally waterproof and can wick away moisture.
The best kids' gloves and mittens will keep the natural heat of the body locked into the glove whilst still letting the skin breathe. Try to stay as far from cotton as possible as it is terrible at retaining heat and very prone to absorbing water.
Water Resistance
Not all waterproofing is created equal. Make sure to look at just how resistant the mittens are.
Children like to get their hands involved in the snow when on the mountain either by being sat down or playing in it, this requires a lot of water-resistant coating. You will need to look for a higher level than you are used to on adult gear.
Comfort
Kids get cranky when they aren't comfy, so make sure you are getting something that doesn't restrict movement or cramp too much, especially if buying toddler gloves or baby snow mittens. They will struggle to tell you what's wrong.
The best toddler mittens and baby mittens will be flexible, lightweight, and still do their job at keeping little fingers from freezing.
Value
There is no point spending all your money on the best toddler winter gloves when they're going to have almost grown out of them by the end of the trip.
Make sure you get a pair that can provide all the protection they need but doesn't cost an arm and a leg. Cheap baby mittens and waterproof toddler mittens can be found if you do a bit of research.
Save your money, at least until they stop growing so darn fast. Also, learn properly how to wash ski gloves to increase their lifespan.
A Few Little Thoughts on Little Hands
When all my friends started having kids, I was worried I was losing all my ski buddies. I was secretly a little selfish about their time.
It turns out that if you're a shredder, you're always a shredder, and as soon as they were able to strap their little ones into bindings they had them flying down the slopes. Your child must need to carry the best kid's ski helmet with him for safety purposes.
Keep Shredding
Just because you have a little one, doesn't mean the mountain fun has to end. I've seen kids throwing 180s before they could even walk.
Due to these flexible moves, it's important to get them only waterproof baby mittens for protection from external elements. Also, get them kids ski goggles for added safety on the slopes.
Mitten flexibility is essential for even the most basic kids' gloves as they will need to be able to grab things whilst out on the slopes; snowballs, and ski poles alike. As well as this, it is important to make sure they are super durable.
Materials like Gore-Tex and a leather palm make for a great glove that will stand up to abuse whilst keeping snow out and body heat in.
Toddler snow gloves come in all kinds of enticing designs that children can get on board with. The bright colors also make it a breeze to spot them when they inevitably fall and lose them, or they get thrown off. Rainbow colors are your friend as well as theirs.
So if you're about to teach your kids to ski or if they are already into the sport, get one of the above gloves for them.
Stay warm! Hope you have fun at the slopes all day long!