Poles are one of the key factors that set us skiers apart from snowboarders. With these two simple pieces of ski gear, we can do things snowboarders can only dream of.
Cat-tracks? No problem – just push yourself along with your skis.
Need to make the trek from one chairlift to the next? No need to take off your skis – just skate along and leave snowboarders in the dust (or powder).
Need to make a turn on a dime while navigating moguls? Just use your poles. The list goes on, and there are many other uses for your ski poles.
They might be relatively simple – but your poles can help you push yourself to that next level of achievement.
With all these benefits in mind, it makes sense to choose only the best ski poles you get your mitts on.
And if you're searching for ski poles you can depend on, you've come to the right place.
Top Pick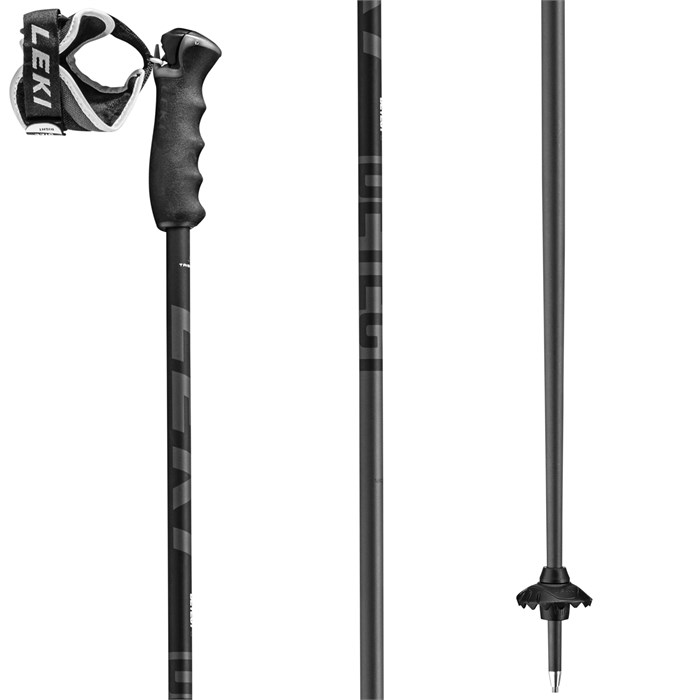 LEKI Detect S Ski Pole
Material:

Aluminum

Basket Type:

Powder
Best Customization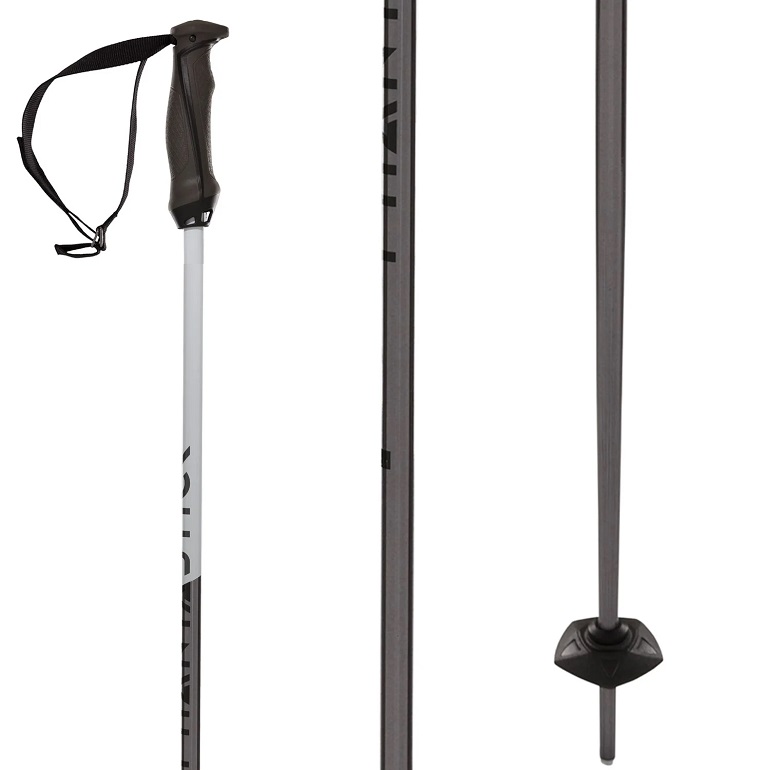 Volkl Phantastick ski poles
Material:

Aluminum

Basket Type:

Powder, Standard
Best Style Statement
Black Crows Furtis ski poles
Material:

Composite

Basket Type:

Powder
Great Color Options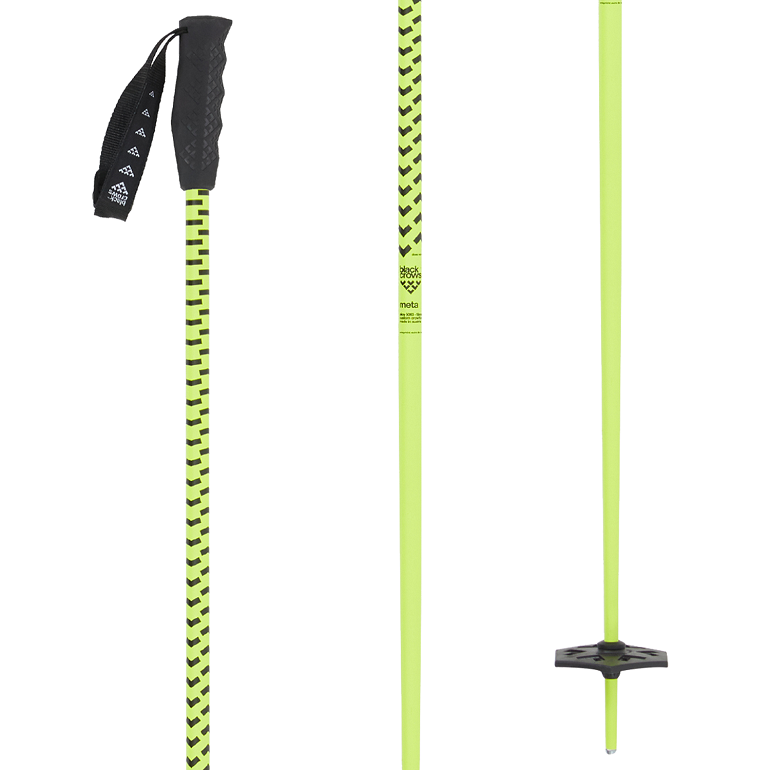 Black Crows Meta ski poles
Material:

Aluminum

Basket Type:

Powder
Insanely Strong

Goode G-Carbon ski poles
Material:

composite

Basket Type:

POWDER
Eco-friendly Option

Grass Sticks Original Bamboo ski poles
Material:

steel

Basket Type:Standard
Most Versatile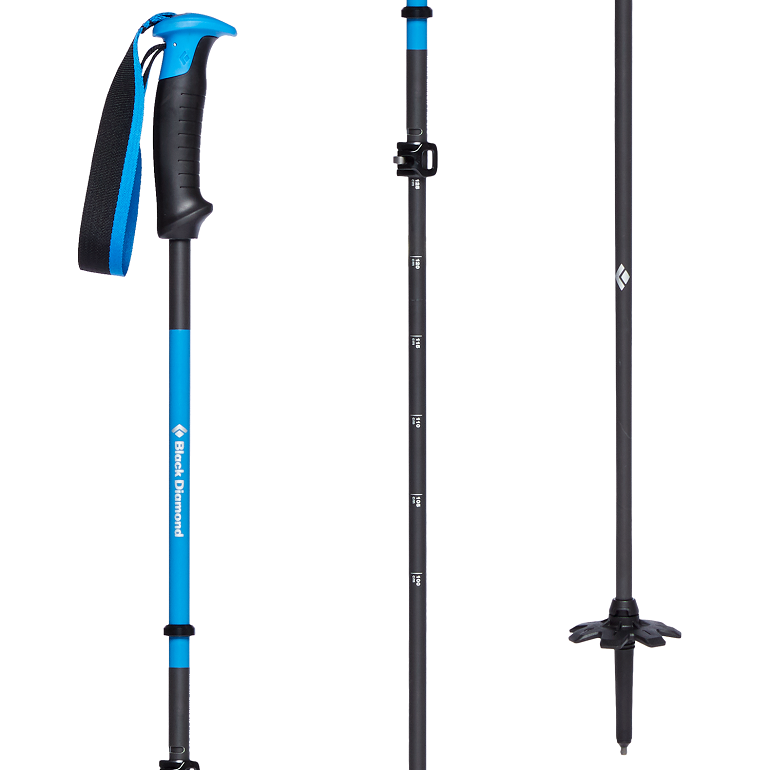 Black Diamond Razor Carbon Pro
Material:

Aluminum, Carbon

Basket Type:

Standard
Most Affoardable

Black Diamond Traverse ski poles
Material:

Aluminum

Basket Type:

Powder
The Best Ski Poles of 2023 You Can Get Your Mitts On
Enough rambling!
It's time to dive into the best ski poles you can get your mitts on: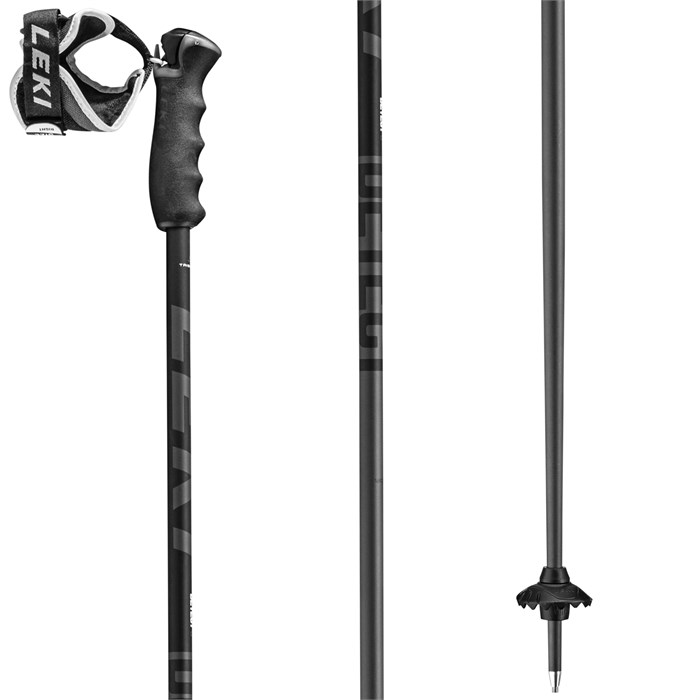 The LEKI Detect S Ski Pole is a solid, versatile option that won't break the bank.
One thing I absolutely loved about these poles was their interchangeable baskets. You have two options:
The Cobra Basket, which is perfect for groomed runs
And…
The Big Mountain Basket, which you can swap for those glorious powder days.
This level of customization is something you definitely don't see every day, and it means that the Detect S pole is an all-round dependable choice no matter what the mountain throws at you.
These aren't your average, run-of-the-mill aluminum poles, either. High-grade aluminum means that you can enjoy a lightweight yet sturdy and dependable design.
I took these bad boys on some serious adventures, and I never once felt like they were going to quit on me. At one point, I even smashed into a tree.
I totally thought the impact was going to bend at least one of my poles, but they held up just fine.
That being said, they also didn't feel too still. There was just enough flex to hit that sweet spot, and I definitely felt like they could handle at least three or four seasons – maybe even a lifetime.
One thing I had a little trouble with was the Trigger S Frame Strap. If you fall, expect these straps to automatically disconnect. While some skiers love this feature, others might prefer to keep hold of their poles after bailing.
Just know that you might end up chasing your poles halfway down the mountain. Maybe not the best choice for beginners.
Top Features
High-grade aluminum
Trigger S and Trigger 3D compatible
Interchangeable baskets
Carbide tip
Pros
High-strength aluminum for lightweight durability
Swap out your baskets for powder or groomed runs
Solid, mid-range price point won't break the bank
Cons
Some might not like the detachable straps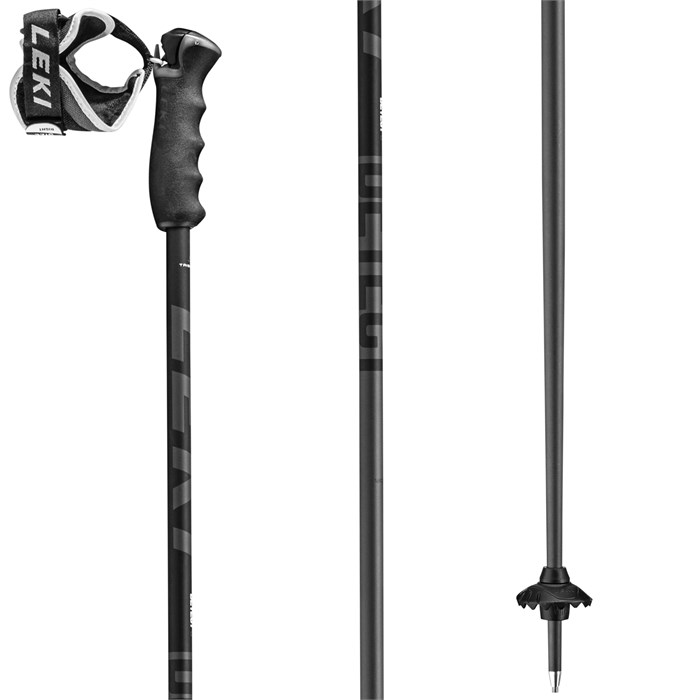 LEKI Detect S Ski Pole
The price of "LEKI Detect S Ski Pole " varies, so check the latest price at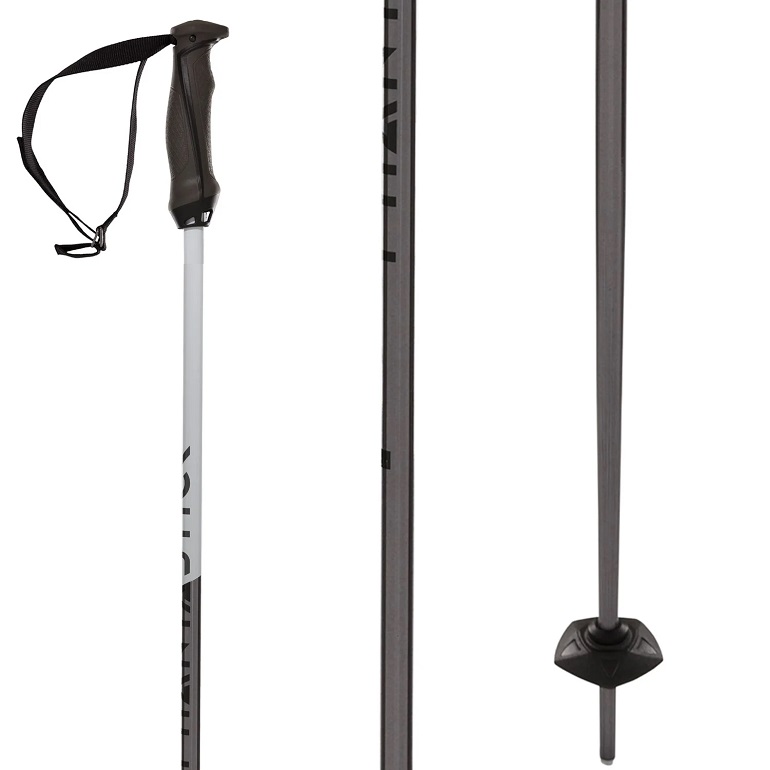 Völkl is a brand that needs no introduction among experienced skiers, and its aptly-named "Phantastick" poles are just that – fantastic.
With an affordable, mid-range price point, these poles give you everything you could ever want – whether you're a beginner, an expert, or somewhere in between.
If you're the type of skier who loves to rip it up in the park or halfpipe, be aware:
These poles come in super short lengths – as low as 90 centimeters. This is perfect for nailing those complex tricks and grabs.
Take a look at all the best park skiers today, and you'll see that shorter poles are all the rage.
Why?
Because shorter poles are easy to maneuver. It definitely makes a difference when you're getting fat air and trying to move your poles around as you twist or flip. Poles that are too long are just way too cumbersome, and they can be a little limiting in the park or the halfpipe.
Having been designed (at least in part) for park riding, these poles are also super durable and can handle a pretty hard impact against a rail or a box with no issues. Expect them to last at least a few seasons for sure.
Of course, you can also opt for normal-sized Phantasick poles if you prefer to stick to the groomed runs.
Or why not swap out the powder baskets for a backcountry adventure?
These poles give you the reliability of a prestigious brand name with plenty of customization options and long-term reliability.
Grabbing this aluminum pole for the winter ahead is a no-brainer.
Top Features
Shorter lengths available for park and pipe skiers
High-quality aluminum
Laser-textured grip
Interchangeable baskets
Steel crown tip
Pros
Pretty affordable
Shorter length options for better park performance
Brand-name reliability
Cons
Not as feature-rich as some of the other options on this list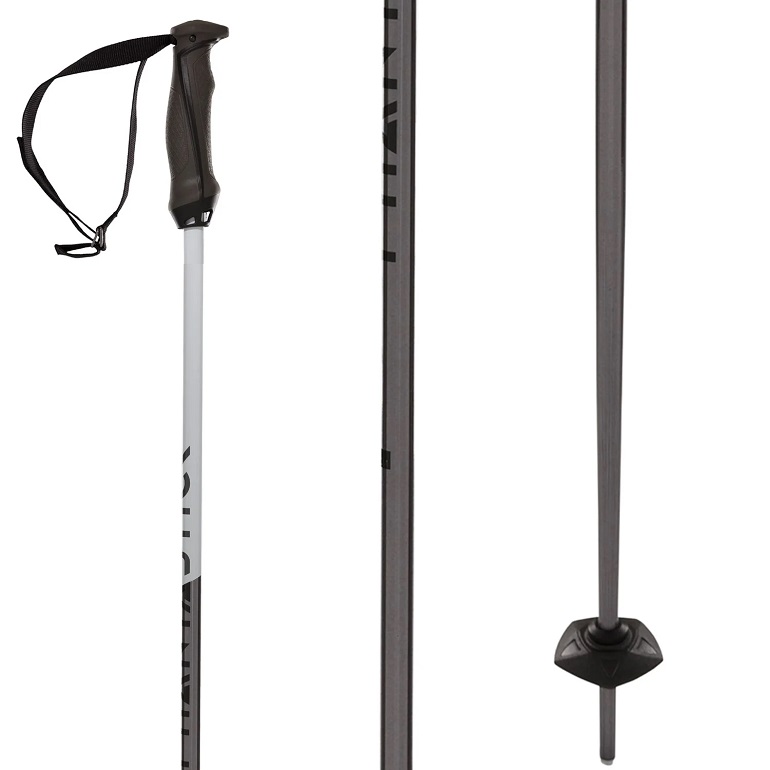 Volkl Phantastick ski poles
The price of "Volkl Phantastick ski poles" varies, so check the latest price at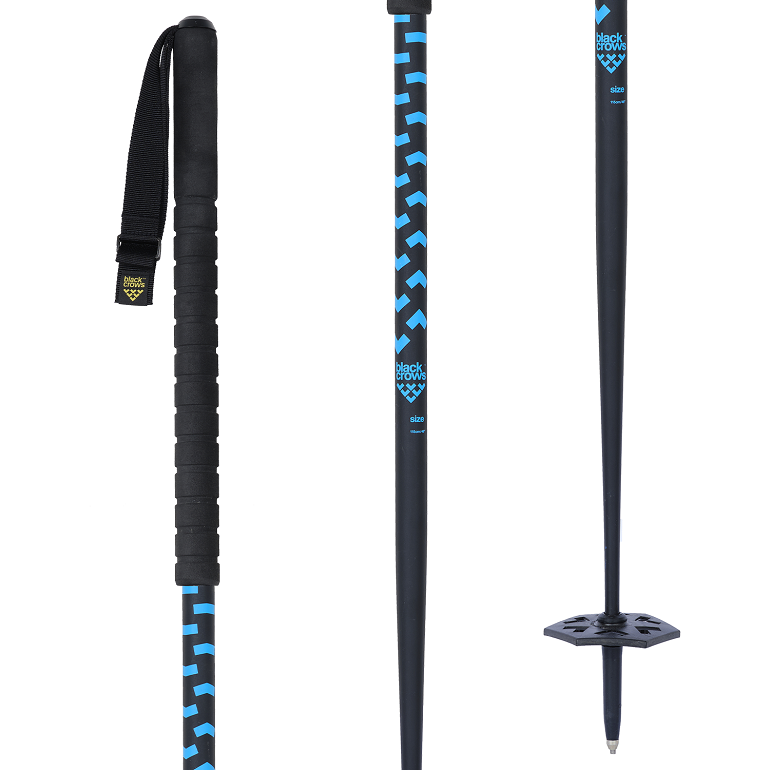 The Furtis ski poles from Black Crows make an undeniable statement, and hard not to appreciate these eye-catching ski accessories.
I personally love the minimal design, including the understated, extended grips for plenty of versatility. You can hold your poles any way you like, giving you the option for shorter lengths for park riding or backcountry skiing.
This is a big deal in the world of backcountry skiing.
If you're trying to traverse up a ridge sideways, it's way more comfortable to use backcountry ski poles if one is slightly longer than the other. This lets you put one pole further down the slope, while the other sits at a higher position on the ridge.
It sounds like a minor detail – but believe me:
It makes a world of difference – and it gets you up the mountain much more quickly.
The Furtis ski poles win major style points for their black and blue pattern – but what really sets them apart is their advanced, composite construction.
These are some of the lightest, most durable skis you can get your mitts on today – and they offer plenty of performance with excellent flex.
A high-quality tungsten-carbide tip is the icing on the cake, proving that these poles are state-of-the-art.
Now for the bad news:
These babies will cost you well over $150 – and they're only worth it if you're a serious, advanced skier.
In addition, it looks like they only come with powder baskets – giving you fewer options when you hit the mountain.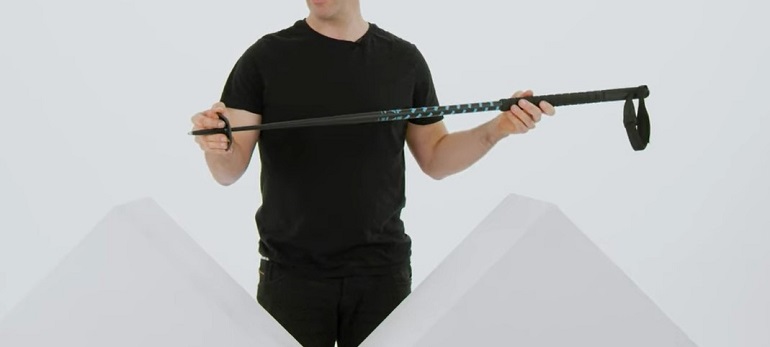 Top Features
Composite construction
Extended grip
Powder basket
Tungsten carbide tip
Pros
Extended grips give you plenty of options
Wins major style points – setting you apart from the crowd
High-quality composite construction for reliability, lightweight design, and performance
Cons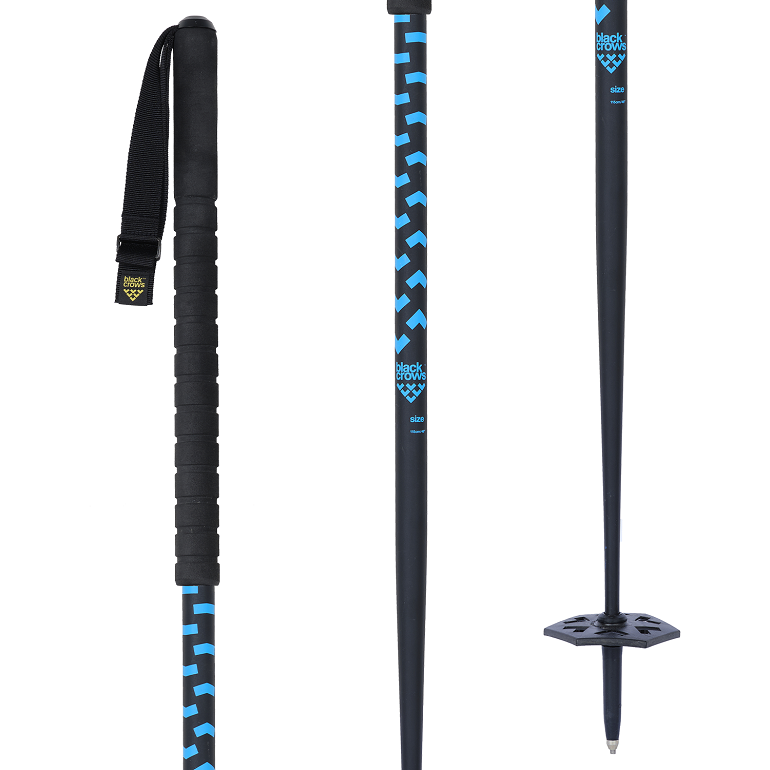 Black Crows Furtis ski poles
The price of "Black Crows Furtis ski poles" varies, so check the latest price at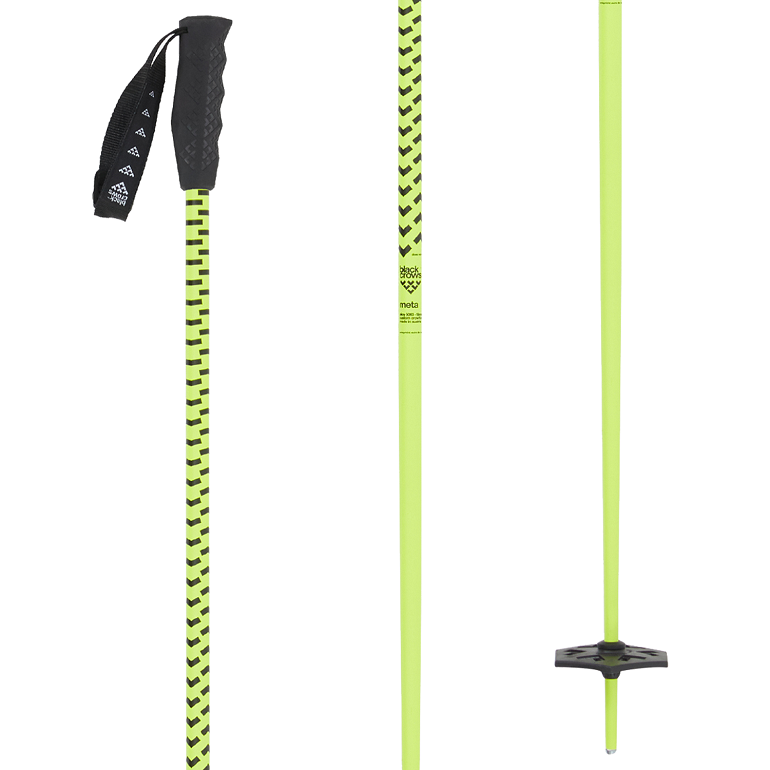 Black Crows is known for making stylish ski poles, and you don't need to spend an arm and a leg to add a splash of color to your ski gear.
The Meta ski poles are much more affordable compared to the Furtis poles, and they offer a wide range of color options.
If you've been searching for a pair of poles that perfectly match your outfit, you'll find plenty of choices here,
I personally loved the yellow and black option because it reminded me of that yellow and black tape they put around crime scenes! These poles are definitely eye-catching, and improving visibility is never a bad thing on the mountain.
After all, you never know when you might get stuck or lost, and waving these bright poles around might just be the thing that saves you.
All of these bright, neon colorways really help you make a statement on the mountain.
But the Meta poles aren't just about making a fashion statement – they also back up their flashy nature with plenty of performance under the hood.
I really enjoyed the adjustable ski pole straps, allowing me to experience a perfect fit around my mitts. The ergonomic grip also featured finger molds that felt really satisfying to hold.
Powder baskets and steel tips combine for a solid aluminum pole that gives you everything you could ever need on the mountain – all for a very affordable price point.
Honestly, I felt that the Meta poles really nailed the basics – which is all you really need for a solid, fun day on the mountain. If you're like me and you don't really care a whole lot about bells and whistles, the Meta poles will definitely serve you well.
With all that said, some might not like the bright, colorful, and youthful colors – but that's just personal taste.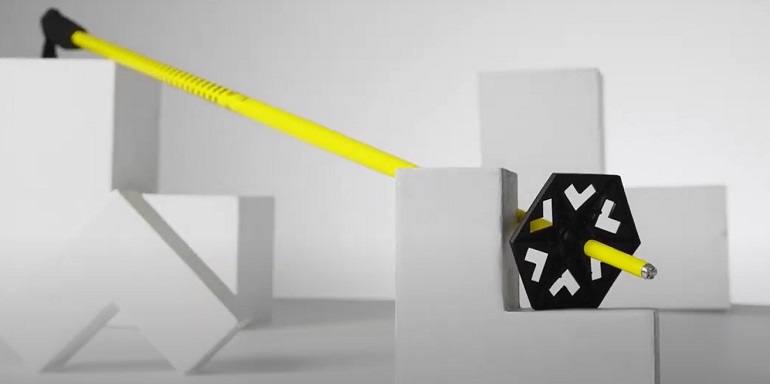 Top Features
Sturdy 5083 aluminum
Powder baskets
Plenty of amazing color choices
Steel tips
Pros
Eye-catching style is never a bad thing
Durable enough to stand the test of time
Adjustable pole straps give you a perfect fit
Won't break the bank
Cons
Some might find the colors a little too youthful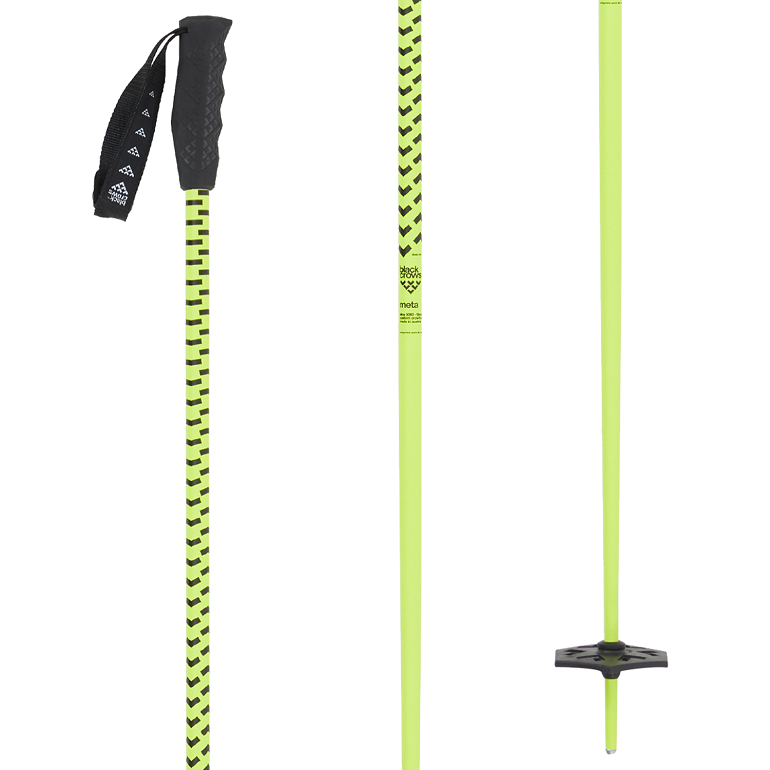 Black Crows Meta ski poles
The price of "Black Crows Meta ski poles " varies, so check the latest price at

The G-Carbon poles are the first carbon variants to appear on our list, and they bring all the lightweight durability you've come to expect from such an advanced material.
Carbon poles have long been considered the "gold standard" when it comes to skiing, and these bad boys are 6 times stronger than typical alloy poles – while cutting down on 30% of the weight to boot.
It sounds unbelievable – until you try them for yourself. Carbon poles really do feel incredible on the mountain – weighing barely anything but giving you strong, stiff properties that won't let you down.
If you're trying to reduce your arm swing weight, carbon poles are definitely the way to go. I also loved the fact that these poles don't vibrate at all, which just makes them more comfortable and enjoyable to use.
I thought the rumors were nonsense… but yes, carbon poles really are warmer to the touch. Sounds crazy, I know – but it's true.
You should also know that carbon poles can be excellent for skiers of all levels. If you're an expert who loves hard chargings, you're going to fall in love with the shock absorption here.
And if you're just starting out, the lightweight properties of these poles are going to make your days on the mountain much less strenuous and demanding.
It's a win-win scenario!
Another key feature here is the pencil shaft, which ensures a consistent diameter from top to bottom. It sounds like a minor detail, but these poles really felt incredible in my hands.
Add ergonomic grips and Inter-Loc straps to the equation, and you have a pair of poles that feel balanced, reliable, and insanely strong.
The best part is that these poles aren't really that expensive – and they're cheaper than some of the composite poles we've mentioned so far.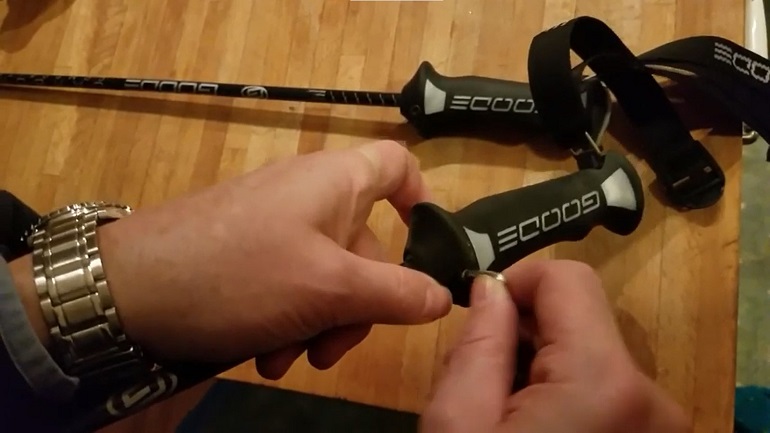 Top Features
Pure carbon composite
Extremely lightweight
Pencil shaft
Ergonomic grips
Inter-Loc straps
Pros
Lightweight, balanced structure for a truly satisfying feel
Carbon fiber material gives you serious, long-lasting reliability and quality
Ergonomic grips are extremely comfortable
Cons

Goode G-Carbon ski poles
The price of "Goode G-Carbon ski poles" varies, so check the latest price at

If you really want to stand out from the crowd, reach for a pair of Grass Sticks.
Yes – these poles are made from real bamboo.
Traditionally, bamboo poles were nothing more than a fun novelty – but these poles are the real deal and can provide solid performance on par with aluminum, composite, and carbon variants.
Here's the thing about bamboo:
It has the same tensile strength as steel and compressive strength greater than concrete.
Personally, I found them to be just as lightweight as alloy poles while providing solid balance and decent durability.
One time, I bailed seriously hard and felt one of my poles bend to an insane degree. But somehow, it just snapped right back to its original position with no cracks or anything.
You also have to give Grass Sticks props for style points, and these bamboo poles are a real conversation starter in the chairlift lineup.
Another big plus is that these poles are very eco-friendly, and bamboo is a much more sustainable material compared to plastic or carbon.
This is definitely something that matters to me personally, and Grass Sticks really tick all my boxes in terms of ethical standards.
First off, they're made in Colorado – which means the workers who built these poles were paid a solid wage with access to decent workers' rights.
Secondly, the eco-friendly material means that you're doing your part to save the planet. Throw in some decent performance and unique properties, and you really can't go wrong with Bamboo as a pole material.
The only real downside is the price tag of $110, as they're a little expensive for what they are.
Top Features
Fun and eye-catching
Bamboo is a legitimately amazing material
Carbide tips
Environmentally-friendly
Made in Colorado
2-year warranty
Pros
Sustainable material lowers your carbon footprint
Stylish enough to start conversations in the lift line up
Surprisingly durable and lightweight
Cons
Some of my friends report cracks after a few weeks
A little expensive – even carbon poles can be cheaper

Grass Sticks Original Bamboo ski poles
The price of "Grass Sticks Original Bamboo ski poles" varies, so check the latest price at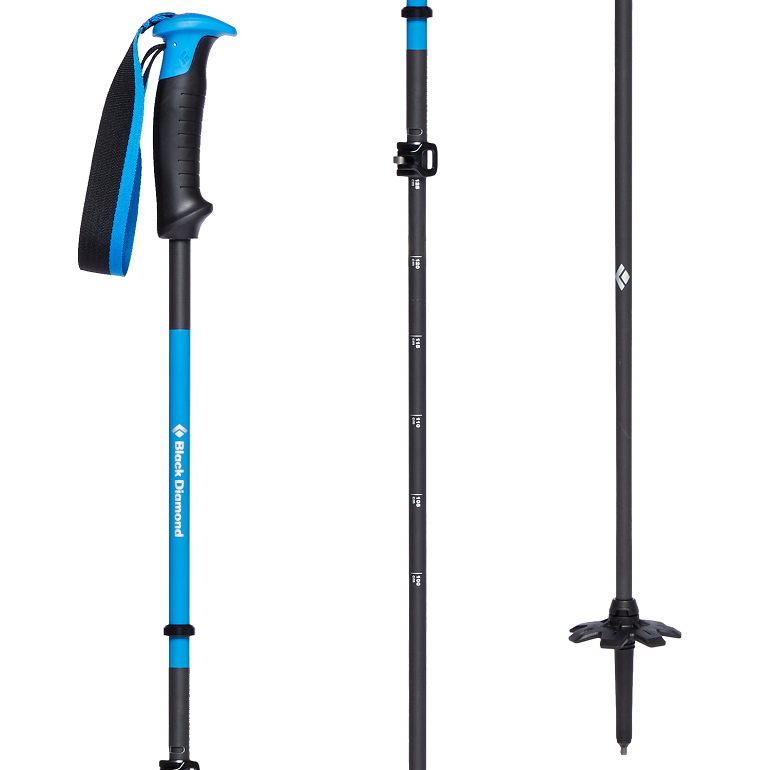 If you want a pair of carbon fiber poles that do just about anything, you might want to consider the Razor Carbon from Black Diamond.
These poles feature carbon fiber lowers with aluminum uppers, giving you the best of both worlds and a seriously lightweight feel.
But what really sets these poles apart is their adjustability. With Black Diamond's improved FlickLock Pro system, you can extend or shorten your poles with a reliable stainless steel clamp.
It's easily one of the best adjustable systems I've ever seen, and you can switch it up depending on whether you're hitting backcountry sections or groomed runs.
I never had trouble flicking the FlickLock Pro, and adjusting my pole length took just seconds.
A lot of other adjustable poles out there force you to disassemble them piece by piece, store them away in your backpack, and then dig all the pieces out again when you want to lengthen them.
The FlickLock Pro system allows you to customize pole length without the hassle of removing your skis, which is a major plus in my books.
However, this level of versatility will cost you – and these lightest poles are some of the most expensive on this entire list.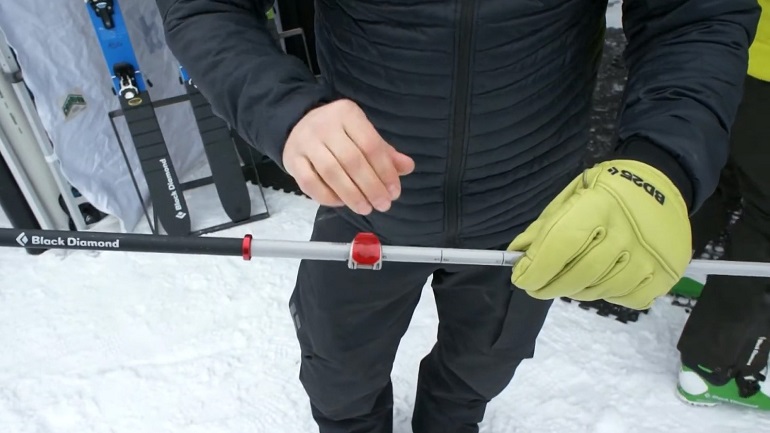 Top Features
Adjustable ski pole
Carbon fiber poles with aluminum uppers
SwitchRelease breakaway strap
Pros
Adjustable for backcountry versatility
Carbon fiber for lightweight durability
Cons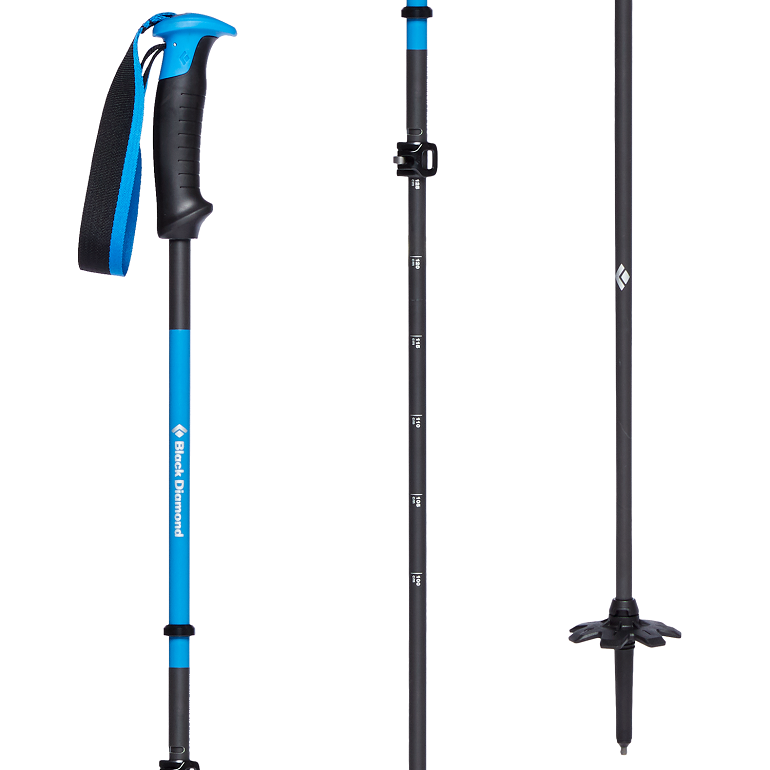 Black Diamond Razor Carbon Pro
The price of "Black Diamond Razor Carbon Pro" varies, so check the latest price at

If you're looking for a more affordable version of the Razor Carbon Pro with the same basic benefits, Black Diamond's Traverse poles are a solid choice.
While they don't feature any carbon fiber, they do have the same basic FlickLock system that lets you adjust your pole length on the fly.
While this isn't the "Pro FlickLock" system we mentioned with the other Black Diamond skis on this list, it still serves its purpose and is much quicker than disassembling your poles piece by piece.
Honestly, I would probably choose these over the more expensive option due to the lower price point.
It's a real bargain – and possibly the best value for adjustable poles on this entire list. It's really encouraging to see that adjustable ski poles don't necessarily need to cost a crazy amount of money.
With extended grips and powder baskets, these features make the Traverse an all-around winner if you're looking for an aluminum backcountry ski pole that won't break the bank.
The only real issue here is that the baskets can be a little tricky to swap out.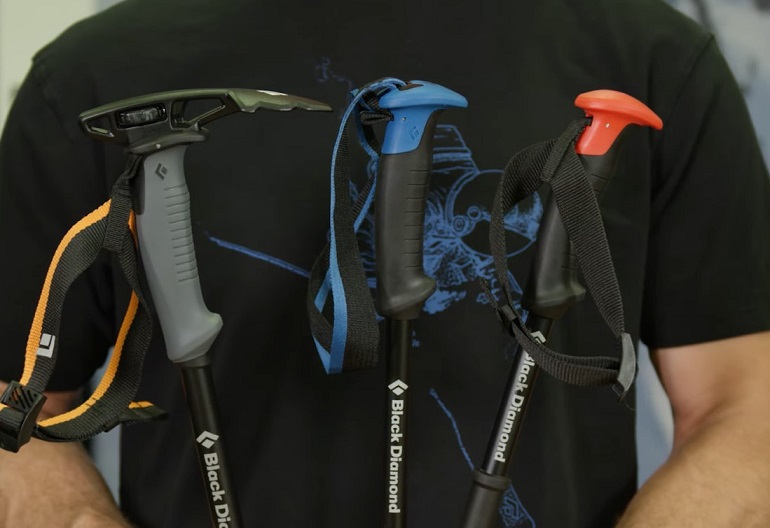 Top Features
Adjustable FlickLock system
Extended grips
Powder basket
Pros
Adjustable length and extended grip make for a perfect backcountry pole
More affordable than other backcountry poles on the market
Cons
Basket assembly can be a little fiddly.

Black Diamond Traverse ski poles
The price of "Black Diamond Traverse ski poles" varies, so check the latest price at
Why Bother with a Ski Pole?
If you're new to the sport, you might be wondering why you should even bother with a ski pole.
After all, what's the point?
From an outside perspective, it might seem like the best skiers on the mountain aren't really using their poles a whole lot.
Maybe you've seen these skiers tucking their poles under their armpits while speeding past at 100 miles per hour.
It's true that if you've been sticking to the green runs, you probably won't see skiers using their poles much.
It's only when you start to get into seriously challenging terrain that you see why these poles might be handy. When skiing steep terrain or mogul skis, poles allow you to keep your balance and make much sharper turns.
Plant your poles into the deep snow and you'll immediately have a solid point of reference around which to turn your skis.
In short, they give you more control.
And of course, there's the added benefit of being able to push yourself along if it gets too flat.
While this might seem like a bit of a meaningless luxury, no one likes to take off their skis and walk.
When snowboarders encounter flat areas, they may need to unstrap one or two legs before walking. On the other hand, you can use your poles to push yourself along flat areas or even up hills as a skier.
Buying Guide
Now that your brain is properly overloaded with all the options we've just mentioned, it's time to narrow down the choices a little.
If you're trying to figure out which ski poles are best for your unique needs, there are a number of factors to consider, including:
Ski Pole Length
Perhaps the most important factor to consider is the length of the pole. If your ski poles are too short, you're going to be hunched over. Bad posture is terrible for your skiing, and you'll struggle to plant and turn correctly.
On the other hand, ski poles that are too long can pose just as many issues. Flip your ski poles upside down and grab the area below the basket. If your elbow forms a 90-degree angle, it means you've found a ski pole that fits.
That being said, you might need to choose longer or shorter poles based on your unique needs.
If you spend a lot of time in the park or the halfpipe, you'll want to reach for shorter poles. Shorter poles also help when riding backcountry and powder.
If you're riding groomed, on-mountain trails, stick to the 90-degree rule and you'll be fine. The same goes for skiers who hit a lot of moguls. Racers are an entirely different breed, and they need their own special kind of race poles. Being a skier, you must have to know how to ski mogul better on mountains.
Ski Pole Weight
Weight is another important factor to consider, and the logic here is pretty straightforward: Lightweight poles are more comfortable to hold – especially after many hours on the mountain.
However, you often need to sacrifice durability and strength in order to enjoy a pair of lightweight poles. Of course, this all depends on the type of material used to create your ski poles. Which leads us to our next point…
Ski Pole Materials
Ski poles are mostly made from three types of materials: Aluminum, carbon, and composite.
Composites might be "cheap" because they're made from a mixture of plastic and metal, but they're actually the best-performing option for hard snow and backcountry skiing due to their shock-absorbing capabilities.
On the other side of the equation, carbon poles are expensive because of the rarity of their material. Despite being lighter and more flexible than aluminum, carbon poles are also stronger and longer-lasting.
Finally, aluminum poles represent the most affordable option with solid strength and durability to boot. if you need a detailed comprehensive guide on why ski poles are bent then check out our article
Grip
Although the grip of your ski pole might seem like a minor detail, you do need to consider this factor before you grab your pair. Some ski pole grips are specially designed for mitts, while others are designed for new ski gloves.
Some grips are molded to fit with each finger, while others have smooth, flat surfaces that favor mitts.
These small details might be more important than you think – especially if you plan to pull off plenty of tricks in the park with your new ski poles.
Straps
Again, straps might seem minor – but there's a surprising amount of options here. Loop straps represent the "tried-and-true" option, and skiers have been relying on them for decades.
Newer straps offer features like click-locks and quick-release systems. Whatever option you choose, straps keep you from losing your skis after a bad fall.
Baskets
Last but not least, we have baskets. The basket is the circular "stopper" that sits right above the tip of each ski pole. Without baskets, your ski poles would go too deep into the snow – and you wouldn't get much traction.
Small baskets are common for downhill poles, as your poles won't sink too deep in these conditions. On the other hand, powder skiers reach for poles with larger baskets, giving them more surface area to prevent sinkage.
I know, I know…
It's a lot to think about!
Just do your best to keep these factors in the back of your mind, and you can choose the best ski poles for your unique requirements.
Are Adjustable Ski Poles Worth It?
An adjustable pole design may be worth your time and money – but only under specific circumstances.
Backcountry skiers love adjustable poles because they allow for easy ascents without losing performance for the downhill section.
Another bonus is the fact that you can use adjustable poles for both hiking and skiing.
Splitboarders also like this adjustable design because they can pack their poles away into their backpacks when they reach the top of the hill.
That being said, this added feature probably isn't worth it if you're planning to stay mostly on groomed runs.
Do You Really Need Ski Poles?
Okay, so the obvious answer to this question is:
Yes, you need ski poles. But here's the thing:
Ski instructors usually don't introduce ski poles into the equation until their students have reached a certain ability level.
I remember when I first learned to ski as an 8-year-old (I think), and I was absolutely ripping it up without poles. In fact, I seem to remember being a little disappointed when they told me I had to carry these stupid sticks around.
What I'm trying to say is that if you're just starting out, you might not need ski poles for a while.
And another thing:
Ski instructors might actually take your poles away if they feel you're relying on them too much. For example, they might make you ski for an afternoon without poles to make you focus on using your hips and your legs to turn and control your movement.
All of this means that if you're a beginner, you might want to just grab a pair of ski poles from the rental shop. I'm not sure about other mountains, but I know that Grouse in British Columbia basically just hands them out to anyone who needs them – free of charge.
When you actually reach an ability level where you're relying on poles, you can splurge on some fancy new poles.
FAQ
Why Do I Need Ski Poles?
Who says that you do? Why not just bomb it down the mountain with no poles. Of course, you might have a little trouble with moguls, cat-tracks… and pretty much anything else that requires control and skill. That being said, you'll be fine with no poles for your first couple of ski lessons.
Which Ski Poles Are Best for Beginners?
If you're just starting out, grab a pair of affordable, durable aluminum alpine skis. Follow the 90-degree rule and make sure you buy the right ski pole size. Don't worry about spending too much money, as there's a pretty good chance you'll lose your poles on the ski lift or after a bad fall. Yes, this has happened to me.
What's the Difference Between Backcountry and Resort Ski Poles?
The main difference between backcountry and resort ski poles is the basket design. Backcountry variants have wider baskets, providing greater surface area to prevent the poles from sinking far into the snow.
Resort ski poles may also lack other features seen in their backcountry counterparts, such as adjustable/telescopic lengths and longer grips.
Get Your Mitts on a New Pair of Ski Poles Today
If you want to upgrade your gear, getting a new set of ski poles is a solid start.
Ski poles are cheaper than a pair of new skis, and they can seriously boost your performance on the mountain.
Some might say that a pair of expensive poles will do more for your ego than your skiing ability.
Maybe they're right!
Either way, the best way to feel like a pro is to get yourself some professional gear.
And when you feel like a pro, you start acting like a pro.
Follow our buying guide, grab yourself the best pair of poles for your unique needs, and prepare for an incredible winter!