Avoid The Worst
You take your child out for a day of fun in the snow. But in all the excitement you lose track of them for just a second. The location doesn't matter, it's difficult to locate anything amongst all the snow.
This is when the panic sets in.
On another day, you see your kid picking up speed as they grow accustomed to their skis. As their velocity increases, so does their instability. They wobble and then smack into the snow. Taking a hard hit on the way down.
This is when the panic sets in.
But it doesn't have to be this way. With the POCito Obex Spin helmet and its reflector, you'd be able to spot your child from a mile away. Those heavy hits wouldn't be an issue with the Giro Crue MIPS ski helmet.
There's more than one option to keep your child safe and the fun going.
Best Overall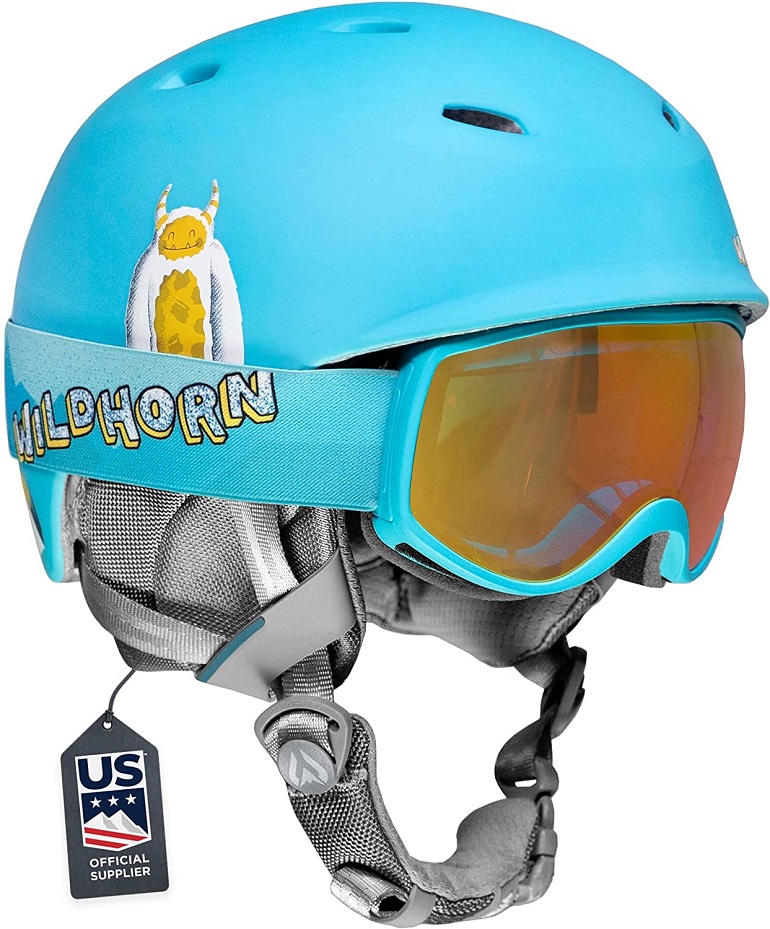 Wildhorn Spire Ski Helmet Kids
Brand: WildHorn Outfitter
Age Range: Youth
Several Color Options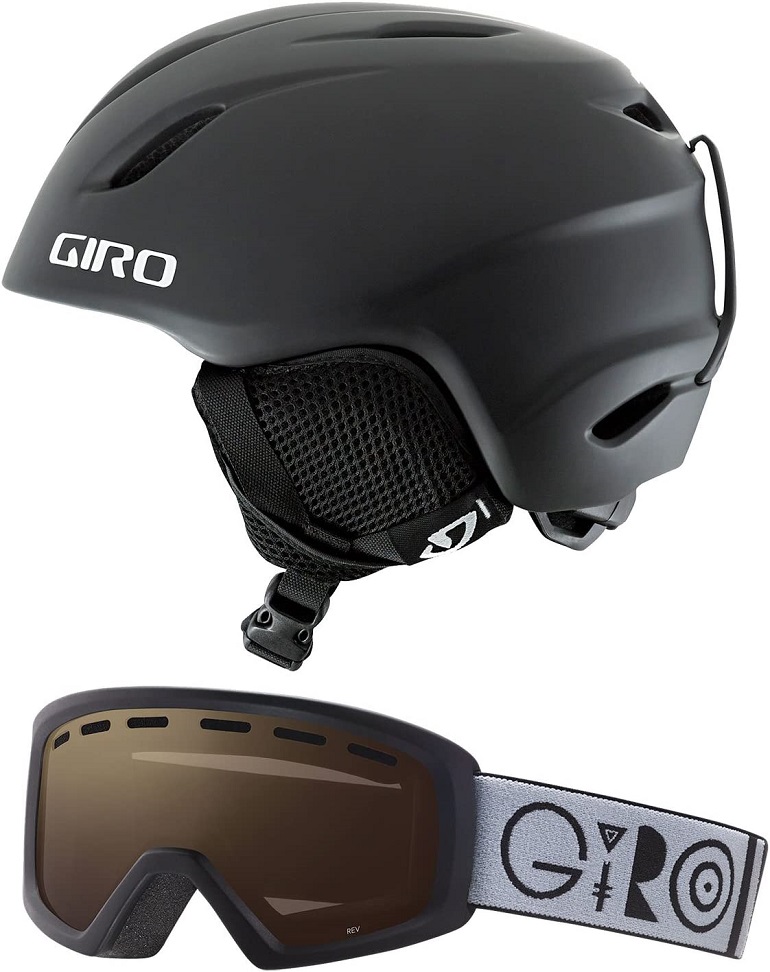 Giro Launch Combo pack Snow Ski Helmet
Brand: Giro
Age Range: Kid
Best Ventilation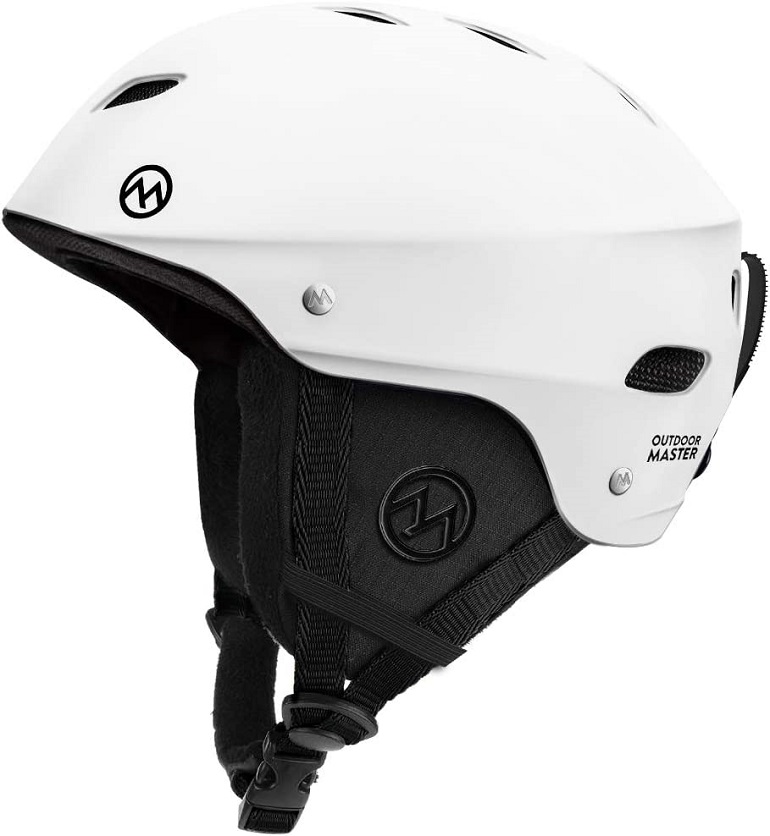 OutdoorMaster Kelvin Ski Helmet
Brand: Outdoor Master
Age Range: Youth
Heavy Duty Protection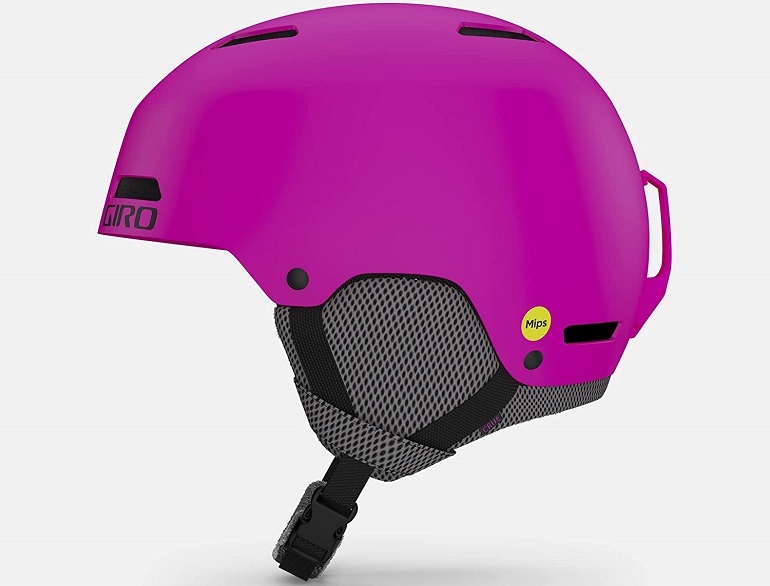 Giro Crue MIPS Kids Ski Helmet
Brand: Giro
Age Range: Toddler
Highest Adjustability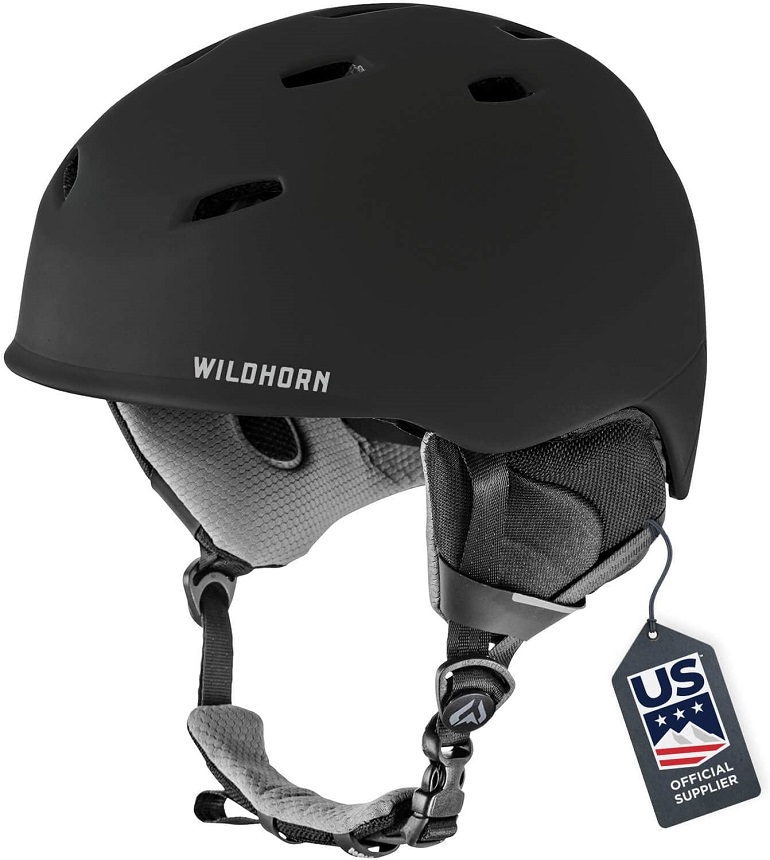 Wildhorn Drift Snowboard & Ski Helmet
Brand: WildHorn Outfitter
Age Range: Youth

Best Budget Helmet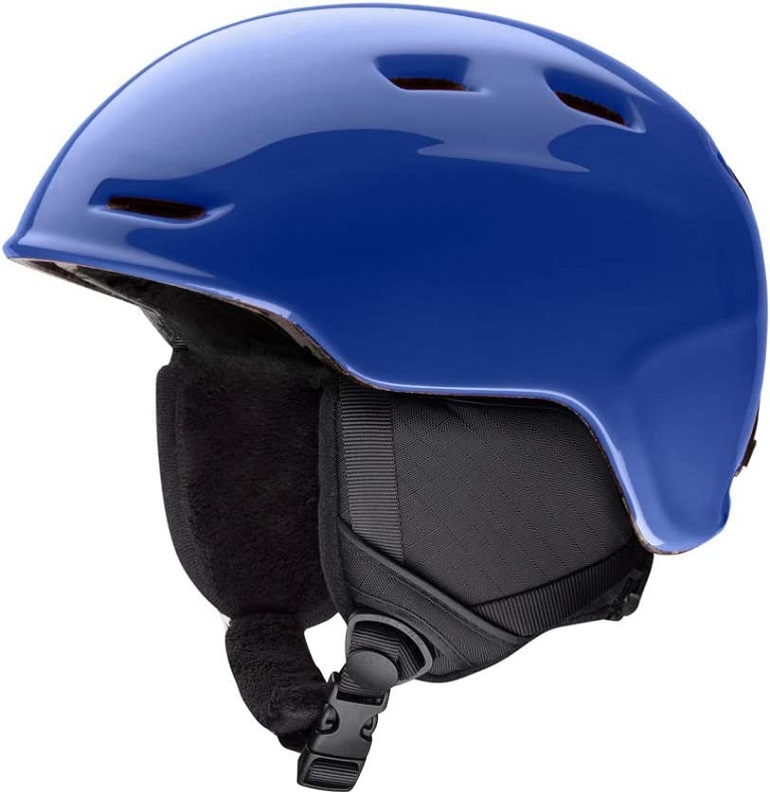 Smith Zoom Jr ski helmet
Brand: Smith
Age Range: Adult
Solid All Arounder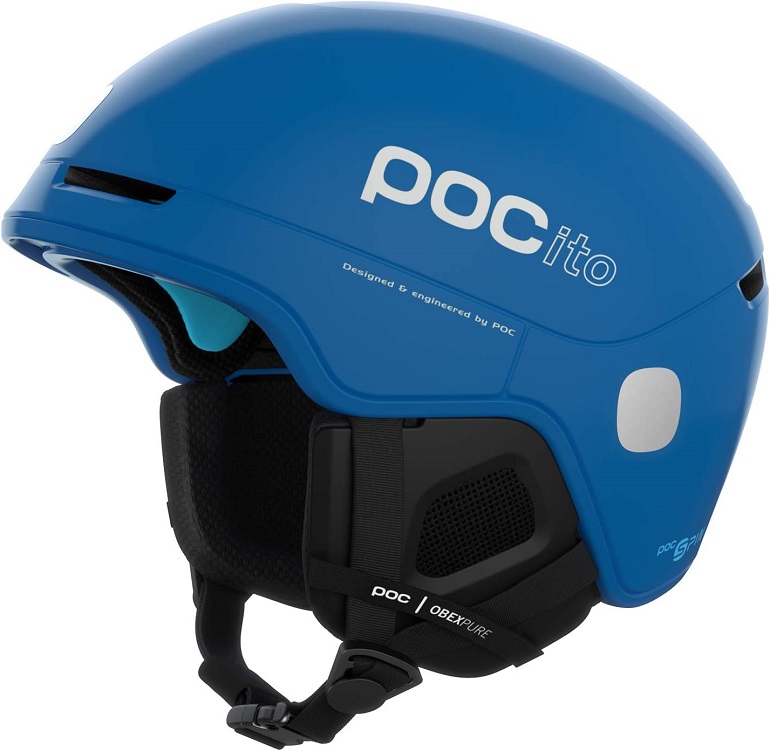 POC, POCito Obex Spin kids ski helmet
Brand: POC
Age Range: Kid
Best Ski Helmets for Kids – Top 7 Picks
Skiing is a lot of fun but with all good things, there must be precautions. The difficult part is in finding helmets for kids that kids actually like. Oftentimes, the younger we are, the more rebellious and attracted to the danger we are.
Despite this, I am confident that you will find what you are looking for down below. Our selection of kids' ski helmets all excel in the big three features. Safety, comfort, and style.
There are options for design tastes of all kinds and all ages. From the POCito Obex Spin helmet, which can be worn by children as young as three, to the awesome-looking Wildhorn Spire Ski Helmet.
There is a lot on offer here, and some even come with extra bonuses like the best kids ski goggles included with your purchase.
There is a lot on offer here and some even come with extra bonuses like goggles included with your purchase.
Your child's head has never been as protected and stylish as with the options we have presented for you here.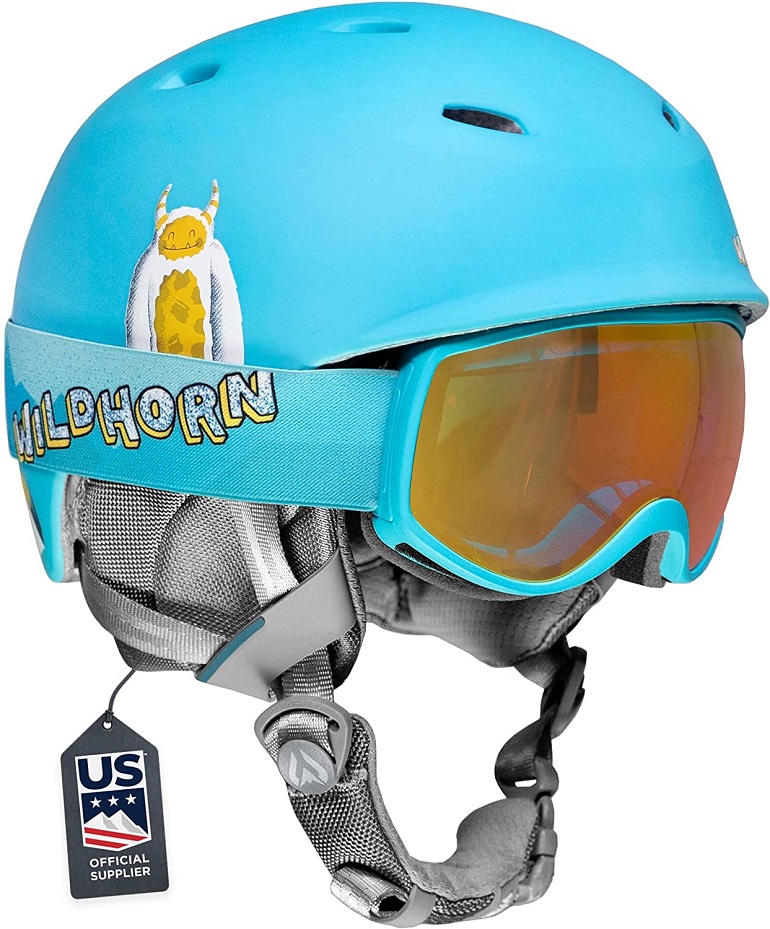 Starting us off is the Spire Ski helmet for kids brought to you by Wildhorn. Wildhorn understands that children need to be won over with bright and flashy designs. That's why each Spire ski helmet available has a unique and playful animal design.
The best part is, that it's not overdone. The creature designs are kept to a minimum and only adorn the sides of the helmet. But what about its safety features? Let's find out!
Safe, Secure, and Generous
For an outer shell, the Spire has a polycarbonate material that is infused with an EPS foam liner. You've got the strong and stable protection that a head requires but a foam liner that'll make sure it feels great to put on.
The Spire is also the lightest helmet on this list. Not even reaching a full pound of weight. This means your child won't be tired out or feel encumbered as they attempt to ski.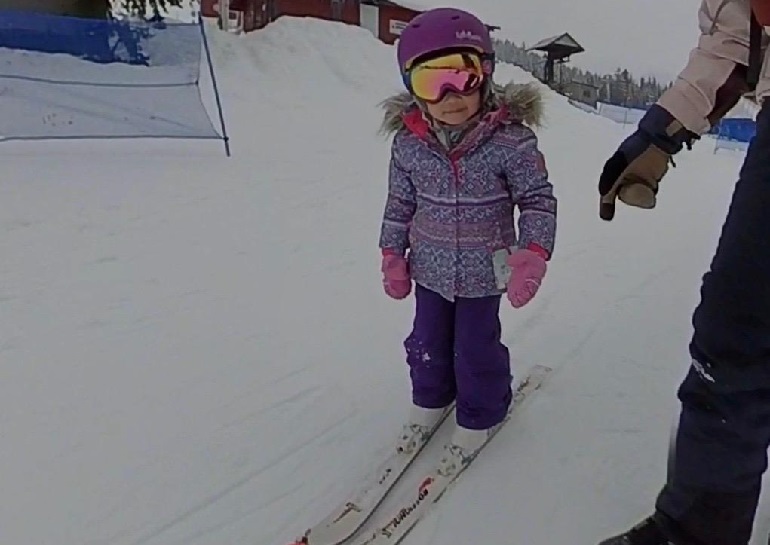 Most would feel discouraged by lighter helmets for kids because they feel as if the heavier options pack on more protection. But this isn't always the case. Advancements in protective gear have brought us the possibility of lightweight but durable materials.
Your kid also won't have to worry about annoying moisture building up under their helmet. There are integrated ventilation channels that have the cold air rush through the front. This draft of fresh air ushers out the hot air through the back.
And out of the kindness of their heart (and the hope for a sale), Wildhorn will even include free goggles with your purchase. Premium goggles with 100% UV light protection. Sounds good to me.
Features:
Outer Shell Material: PC shell with infused liner
Weight: 0.71 Pounds
Style: Several colors and graphics are available
Ventilation System: Built-in ventilation channels
Comes With Goggles: Yes, Premium goggles
Pros:
Comes with goggles that have an anti-fog coating and 100% UV light protection.
The helmet is ASTM certified and passes all safety regulatory requirements.
A lightweight helmet, that is 25% lighter than competitors.
Cons:
Ventilation channels can't be adjusted.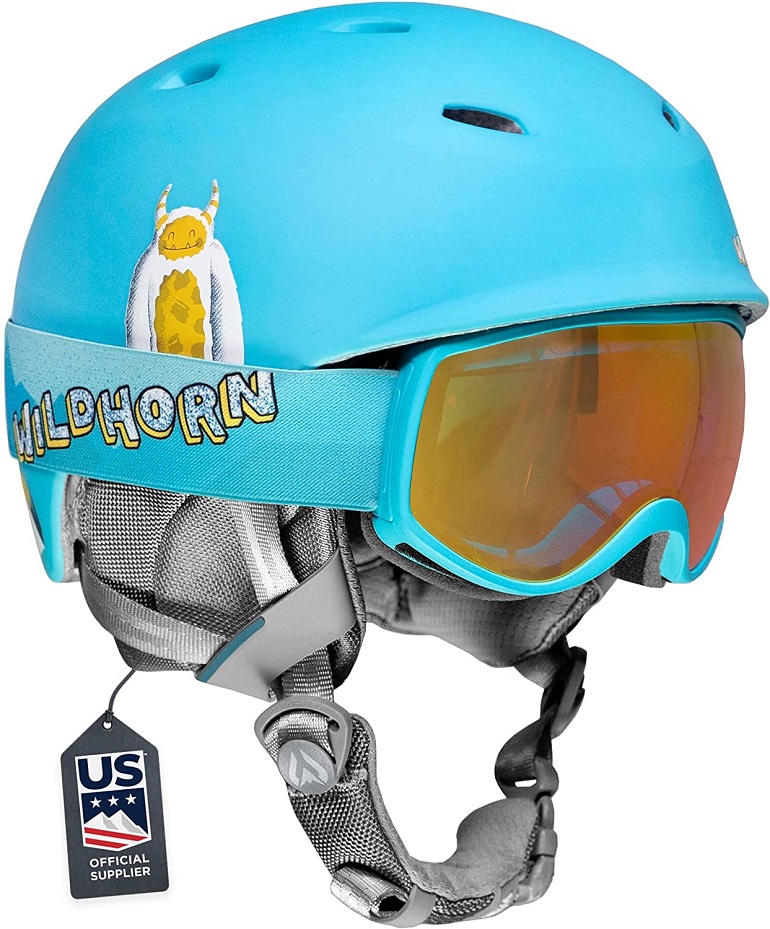 Wildhorn Spire Ski Helmet Kids
The price of "Wildhorn Spire Ski Helmet Kids" varies, so check the latest price at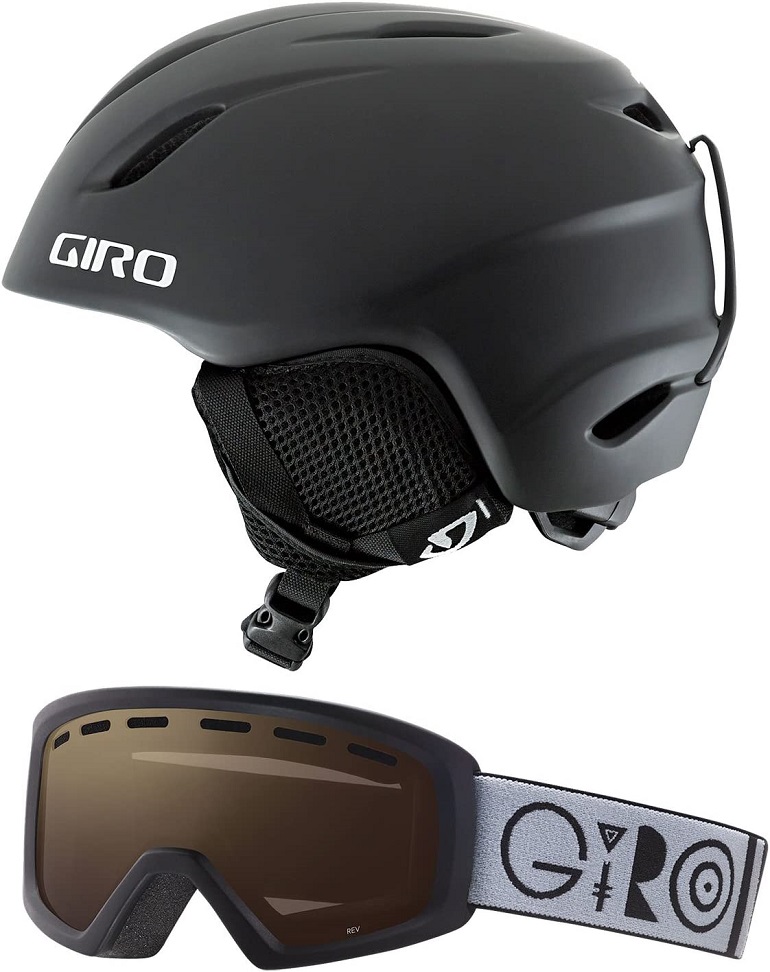 Do you have a picky kid? That's a trick question because all children are picky. We know how they are, constantly scanning through all options never being able to settle on just one.
The folks over at Giro know this as well and it's why they decided to provide us with the most color and design options for ski helmets that I've ever seen.
Tons of Protection and Style
There have got to be more than twenty different variations of this Giro helmet available. The craziest part is that each helmet design option comes with its own set of goggles. Completely coordinated because the design of the goggles matches that of the helmet.
The outer shell has got EPS foam protection that lines its entire interior. This amount of padding has resulted in a very heavy helmet. One that weighs more than two pounds but if you had any doubts about security, that should do away with them.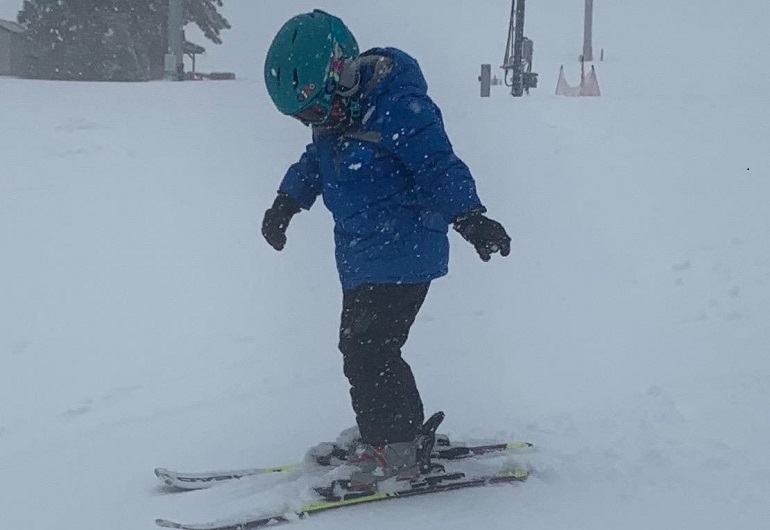 Getting back to the goggles included with the purchase, they are dual-lens goggles that feature two layers of face foam. An anti-fog coating is frosted across both sides of the lenses.
Rounding it off are soft and pillowy ear pads that avoid any painful chaffing that is all too common with those that love to be out in the cold. As for the fit of the ski helmet, the adjustable dial fit system lets younger kids adjust their fit by up to six centimeters.
I'd say that as far as ski helmets for kids go, this one is an instant buy. Even the snow ski goggles included are worthy of a purchase.
Features:
Outer Shell Material: Hard Shell construction with EPS foam liner
Weight: 2.4 pounds
Style: Can choose from several dozen colors and graphics
Ventilation System: Super cool vents
Comes With Goggles: Yes, Giro Chico toddler goggles
Pros:
Great overall construction with a foam liner.
A wealth of color options and designs to choose from.
Quality ventilation system.
Cons:
Weighs a bit more than other options.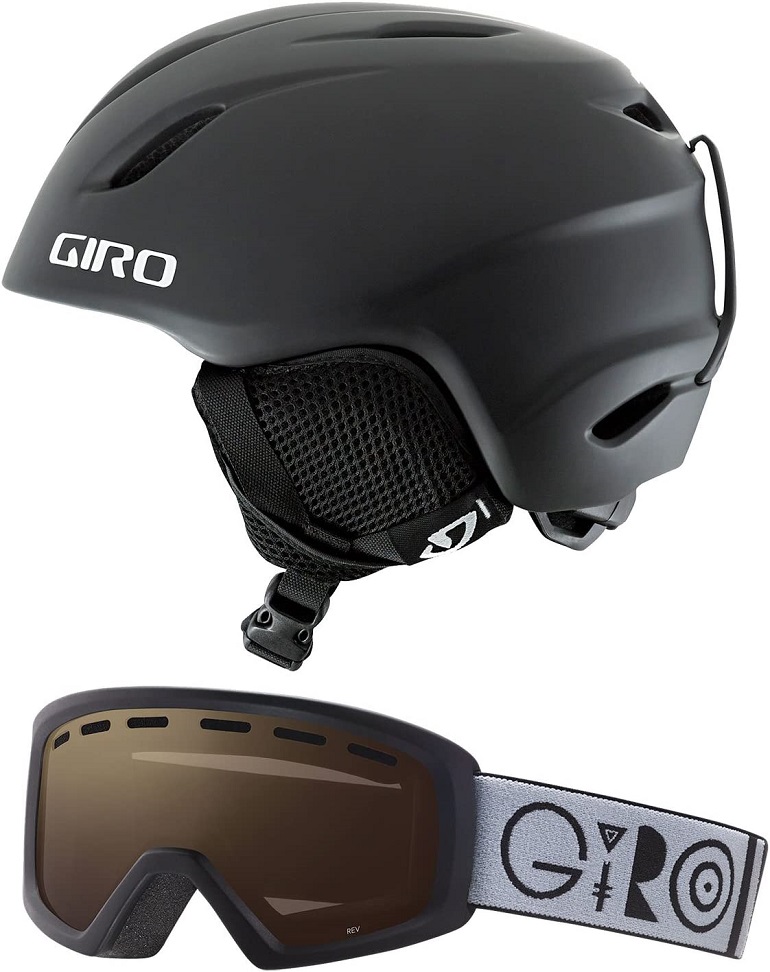 Giro Launch Combo pack Snow Ski Helmet
The price of "Giro Launch Combo pack Snow Ski Helmet" varies, so check the latest price at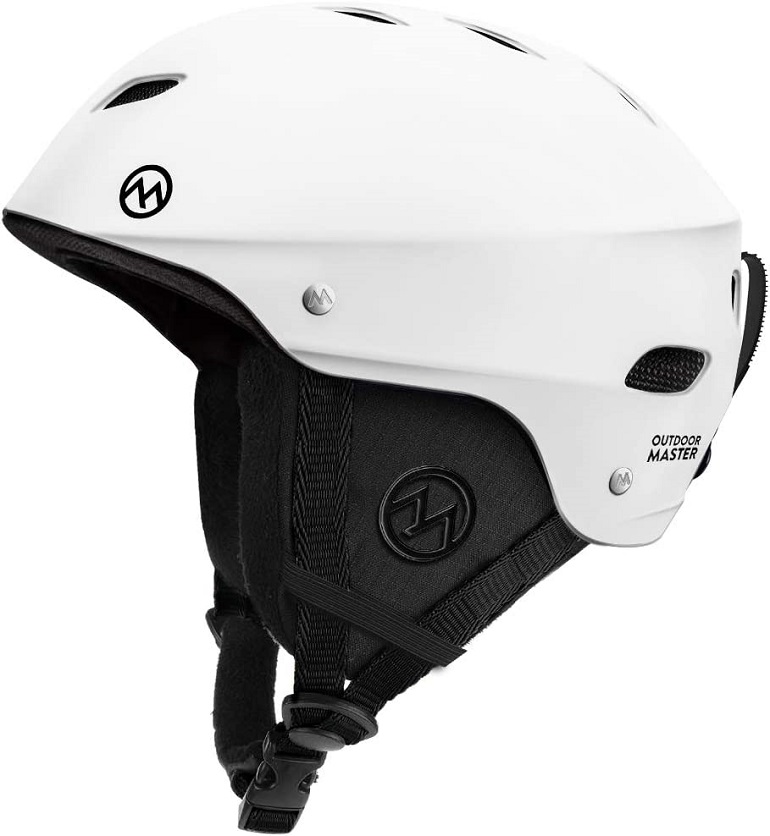 OutdoorMaster isn't just a corporate name, it's also a testament to the experts that designed this kids ski helmet.
While this heavily reinforced helmet may not come with goggles included, it brings the protection and lightweight comfort necessary to be considered among the best.
But the area it excels in the most is in the ventilation department. Due to its breathability, I'd consider this to be one of the most comfortable kids' ski helmets on the list.
Let It All Out
There are fourteen vents that dot the landscape of this ski helmet. Each vent is strategically placed to let as much fresh air rush in as possible. This is why there are no side vents visible on the exterior of the ski helmet.
Most helmets would have placed unnecessary and ineffective vents throughout the outer shell in an effort to look more comfortable. But this ski helmet (snowboard helmet) was designed to be effective, not flashy.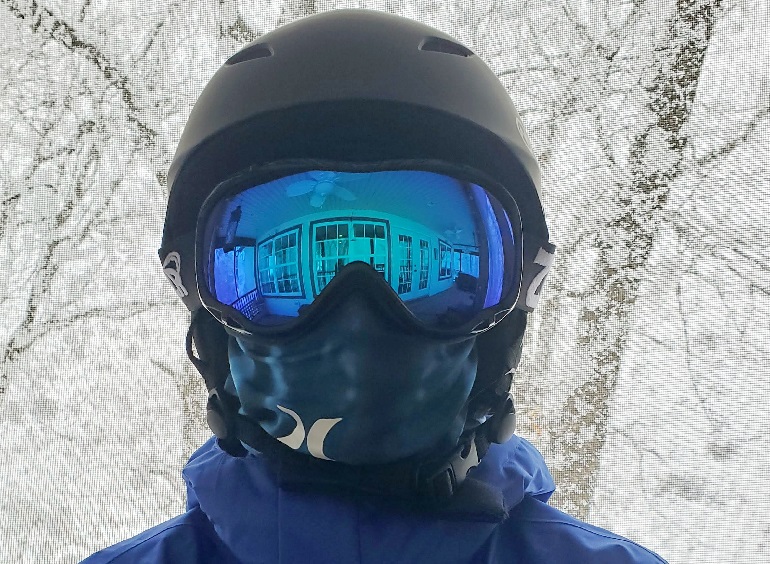 Complimenting the extraordinary ventilation system is a reinforced ABS shell and an EPS core solely included for increased shock absorption. The ABS shell is the most common shell type in the world but that is only because of its reliability and quality.
The removable ear pads were also a nice feature to include on top of all the other great stuff here.
OutdoorMaster simply took everything that worked and fit it into a contender for a best kids ski helmet.
Features:
Outer Shell Material: Acrylonitrile Butadiene Styrene
Weight: One pound
Style: More than a dozen color options
Ventilation System: 14 vents spread throughout
Comes With Goggles: No
Pros:
A good amount of vents for solid breathability.
Very lightweight design.
Reinforced shell and core for protecting against heavy hits.
Cons:
Does not come with goggles.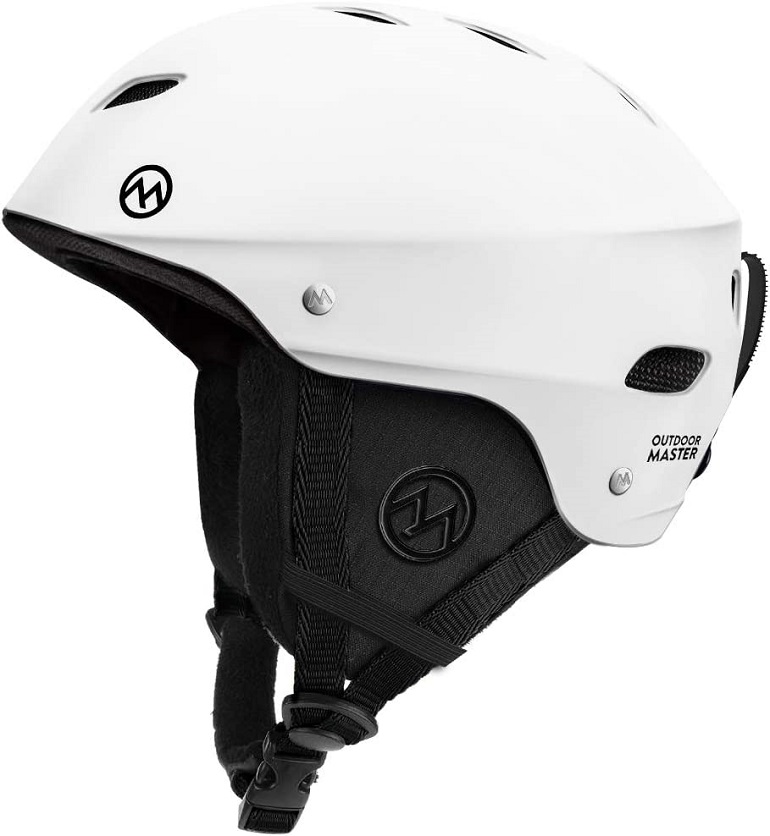 OutdoorMaster Kelvin Ski Helmet
The price of "OutdoorMaster Kelvin Ski Helmet" varies, so check the latest price at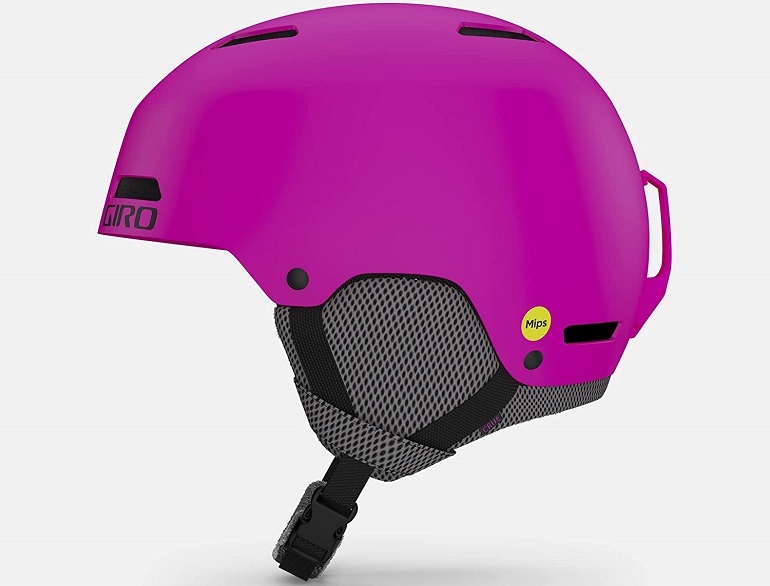 Multi-directional impact protection. This is the kind of protection that you see on most of the best ski helmet for adults. It's much more difficult to find the good stuff on kids ski helmets because kids aren't as likely to engage in the kind of stunts that older riders do.
Still, if you have younger kids that are particularly gifted skiers or daredevils, then the heavy-duty protection brought to you by this best kids ski helmet is what you need.
(And if your kids are like me: clumsy and prone to heavy falls, then please buy them this helmet.)
Reinforced and Built to Tank
This ski helmet weighs and you've no doubt guessed that this is due to the amount of protection on hand. As rugged and durable as the hard shell is, this outer shell is attached to a foam liner. EPS foam to be exact.
EPS foam has closed-cell insulation. It's not just there for your own comfort or protection. The warmth it provides is another one of its stand-out features. This material is rigid and it won't give way. A testament to its quality.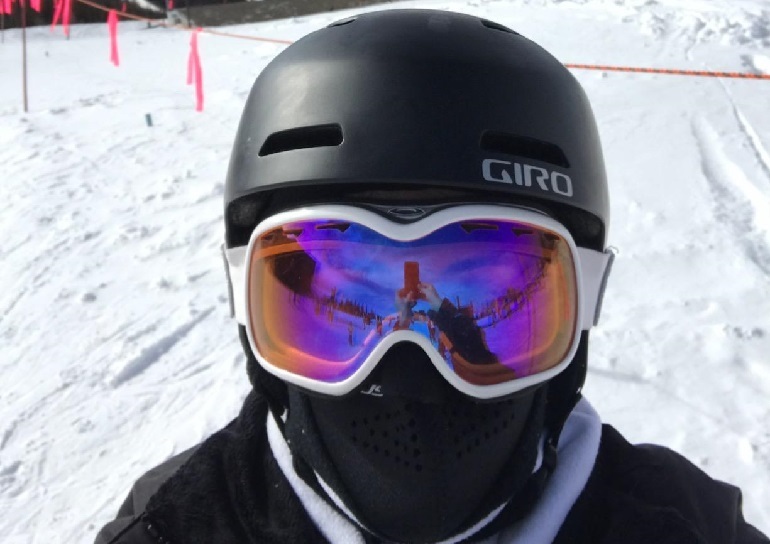 Cooling this heavy-duty helmet is a small number of vents that are stacked. Giro made sure to align the frontmost vents with your goggles. This is a subtle bit of design excellence because it keeps your goggles fog free.
For me, it really feels as if no expense was spared in the attention to detail and materials used. Most ski and snowboard helmets would kill for the same amount of quality and care that the Giro Crue Mips received.
Features:
Outer Shell Material: Has multi-directional impact protection
Weight: 2.15 Pounds
Style: Several brilliant matte color options
Ventilation System: A stacked vent at the helmet's front aligns with the goggles.
Comes With Goggles: No
Pros:
Bright and colorful design.
Solid impact protection from all angles, mips technology.
The fit can be self-adjusted.
Cons:
The design could have benefited from more vents.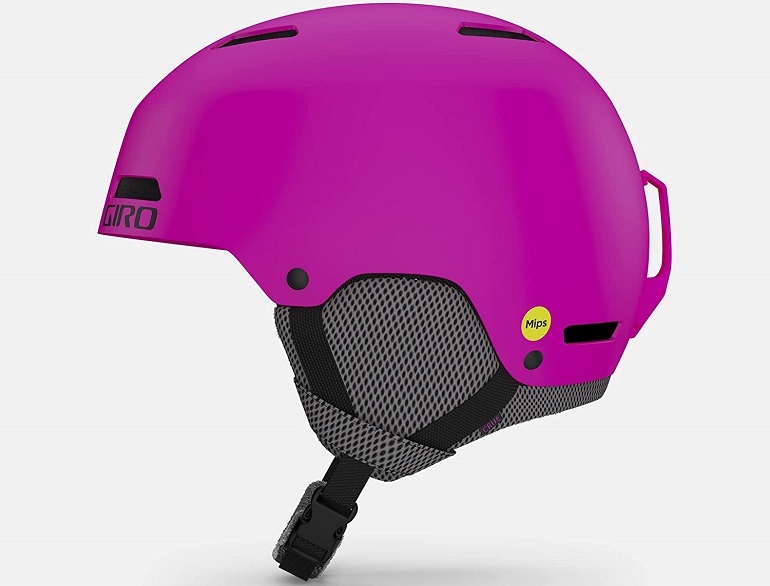 Giro Crue MIPS Kids Ski Helmet
The price of "Giro Crue MIPS Kids Ski Helmet" varies, so check the latest price at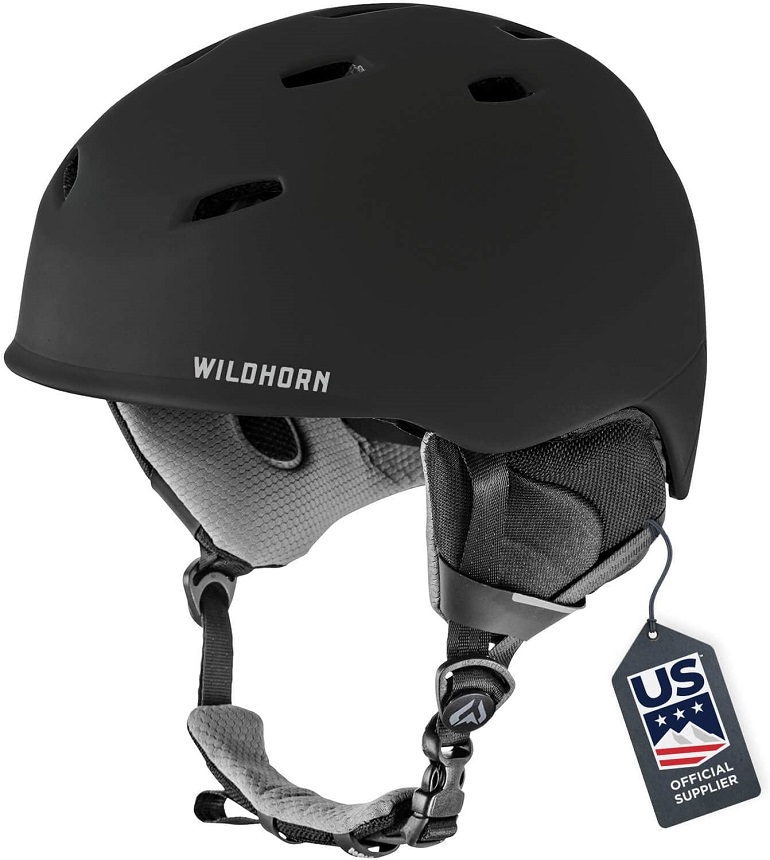 Not content with taking the number one spot, Wildhorn brought us another instant classic in the best kids' ski helmet department.
But whereas the Spire reached its top position thanks to its featherweight design (and ski goggles), the Drift snowboard helmet took a different route to the top. Sure, that top-notch protection is still there but now it's partnered with a ton of adjustable features.
Tweak to Your Liking
Before I begin breaking down the Drift ski helmet let me dispel any doubts that you may have in regard to its quality. The four-time Olympian Ashley Caldwell (who is also a world-champion freestyle aerialist) swears by this helmet.
The Pros (in any discipline) know what they like. They are a particular bunch. So it should come as no surprise that the Drift helmet allows you to tweak it to your liking. If the ear flaps are getting in the way of your rhythm then simply remove them.
It doesn't end there.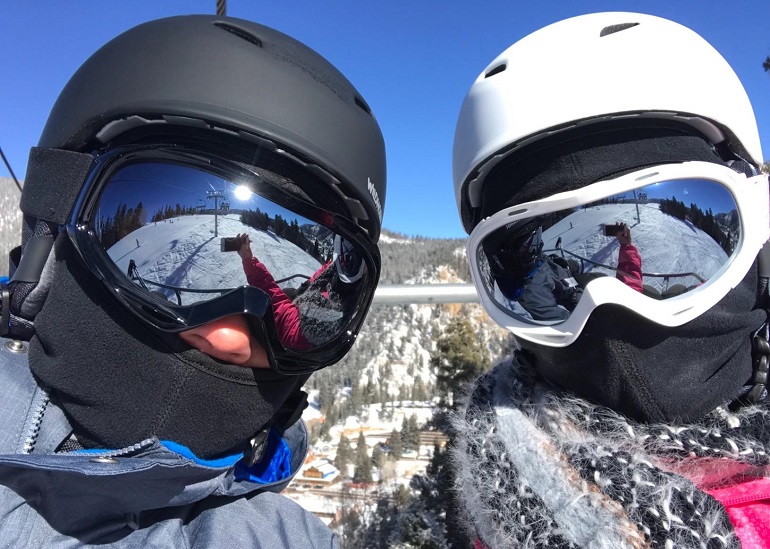 The vents can be fully adjusted as well. With a simple slide of your fingers, you can cool off your noggin. Feeling the chill? Then slide those vents closed so that you can retain your precious body heat.
But there is still more.
This helmet has an adjustable dial-fit system. Make all the micro-adjustments that you can think of in search of that perfect fit.
It may seem like a lot for a child's head but this is the kid ski helmet that you want if you desire to train the little skiers in your household properly.
The Drift helmet comes out on top whether you are comparing it to other snowboard helmets or ski helmets. As far as ski gear for snow sports goes, this is the champion maker.
Features:
Outer Shell Material: Polycarbonate
Weight: One Pound
Style: A few plain color versions
Ventilation System: Fully adjustable vents
Comes With Goggles: No
Pros:
An incredible amount of adjustability: ear pads, vents, fit system.
Very lightweight design and frame.
Used by the best ski Olympians.
Cons:
May struggle with removing ear flaps.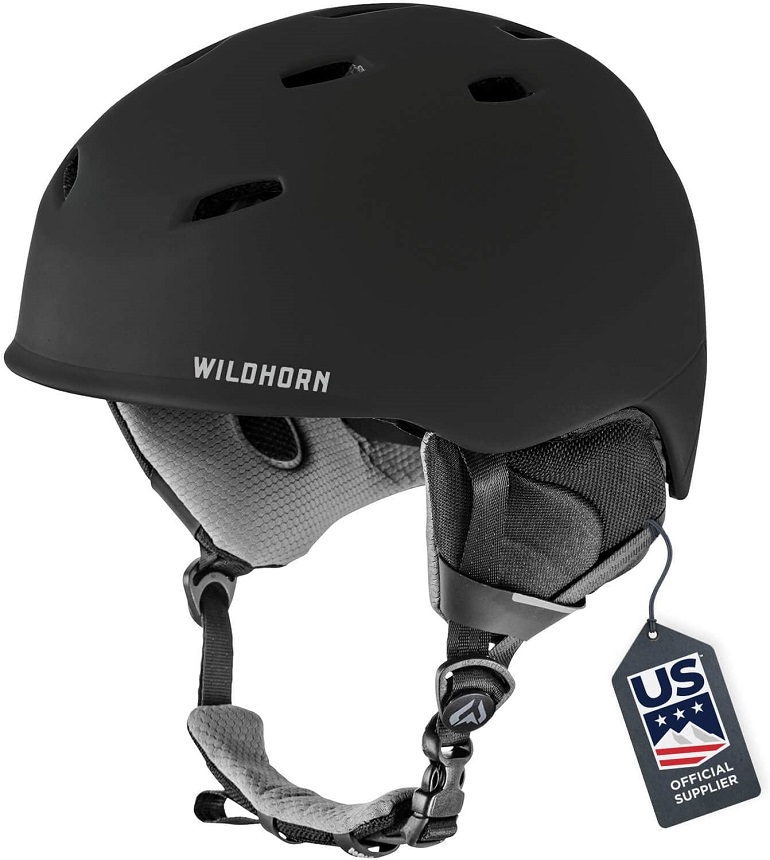 Wildhorn Drift Snowboard & Ski Helmet
The price of "Wildhorn Drift Snowboard & Ski Helmet" varies, so check the latest price at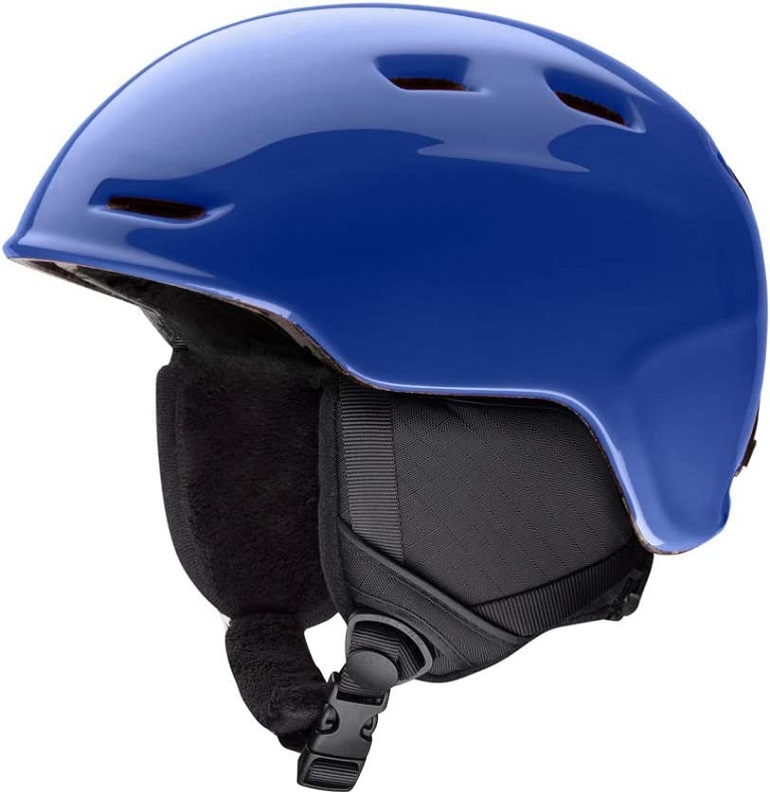 Top gear commands top prices but sometimes our budgets aren't exactly in the "top" category. This is even more true for those that have children (which I am assuming you do). What then?
The answer is simple. Get the Smith Zoom Jr and receive the same amount of protection and quality that you would from the more expensive options, at half the price.
A Great Build at a Great Price
For the price of a few gallons of gas (wow gas is expensive right now), you can fit your child's head with a hard outer shell that has been dressed with a fleece liner. This fleece liner retains heat well and prevents the fresh air rushing in from the vents, from creating an uncomfortable chill.
This is especially important because the vents are non-adjustable. What you see is what you get and there is nothing changing that.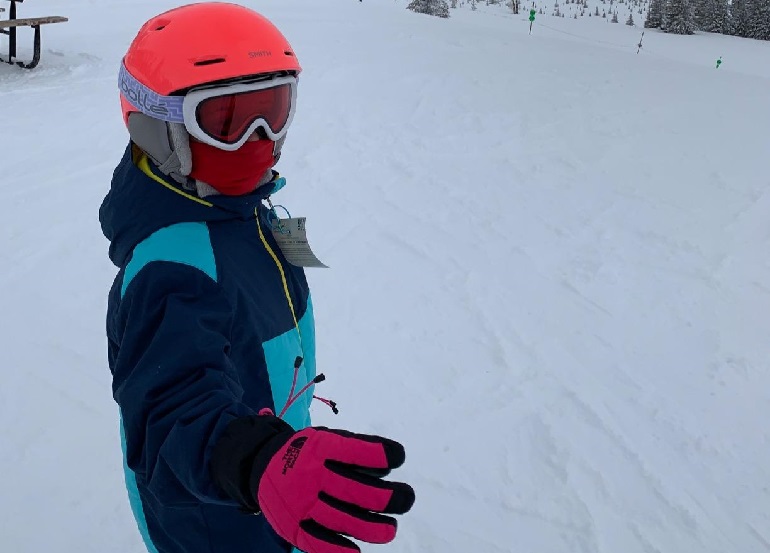 What can be adjusted is the fit of the helmet on your child's head. This is possible using the same dial system that has made an appearance in the other best kids' ski helmets.
It shouldn't take long for your child to find what works best for them. Perhaps the lack of adjustable features is for the better. They won't be distracted by their ski gear and can focus more on what counts.
Features:
Outer Shell Material: Hard outer shell with fleece liner
Weight: 1.6 pounds
Style: Very few plain color options
Ventilation System: Vents that are non-adjustable
Comes With Goggles: No
Pros:
A great helmet that is priced fairly. Perfect for small budgets.
The solid air flow reduces moisture build-up.
The interior fleece liner is soft and comfortable.
Cons:
Not as much protection as other helmets but still great for most falls.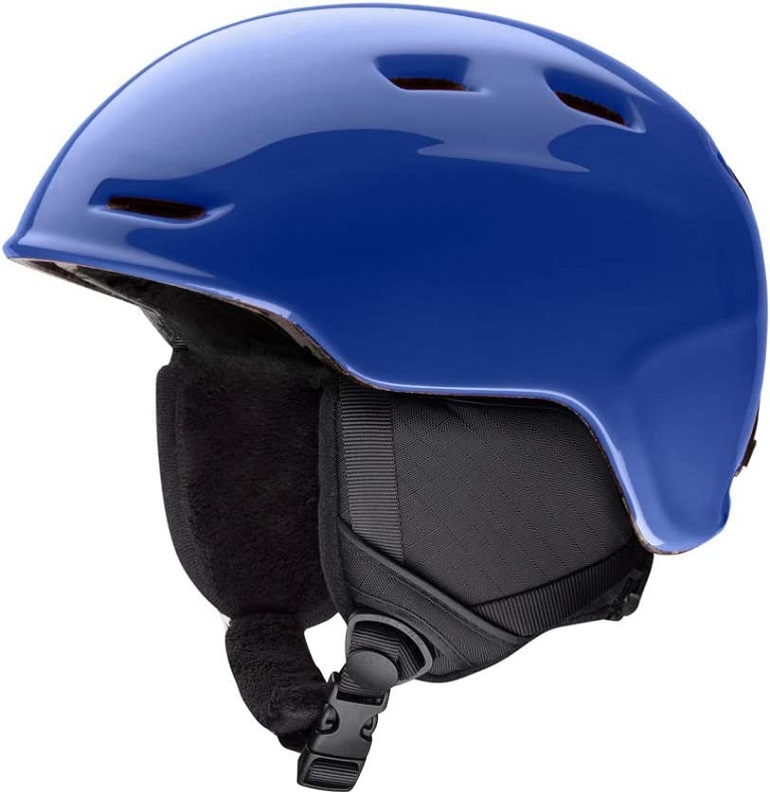 Smith Zoom Jr ski helmet
The price of "Smith Zoom Jr ski helmet" varies, so check the latest price at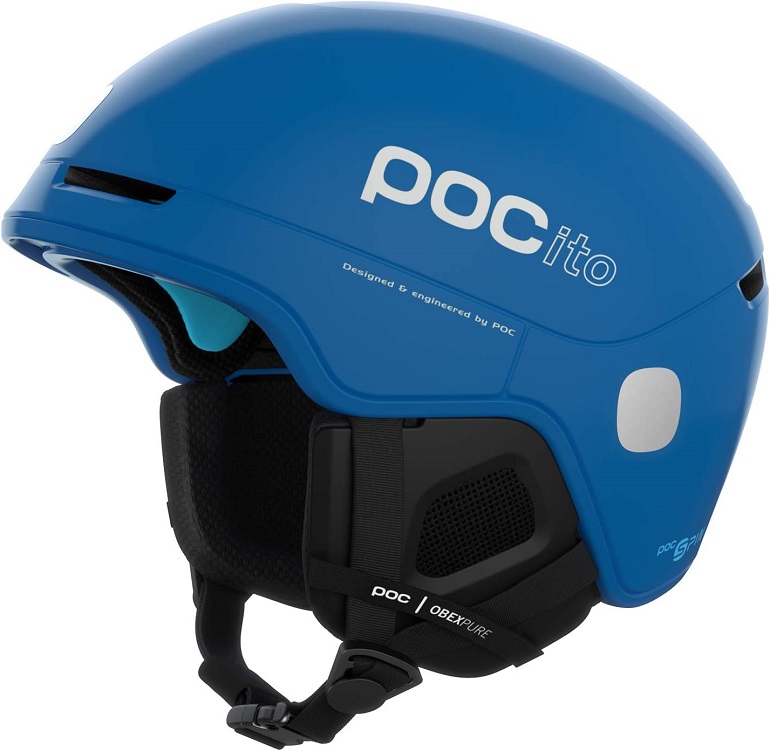 I had to include the Obex Spin because it is the best middle-of-the-road option that you will find. When it comes to kids' ski helmets that is. Kids' helmets often time tend to focus all of their energy on one feature or another.
What you end up getting is something that is world-class in one area but not as great in all the other features that count. The Obex Spin made sure that it got the fundamentals right.
Can't Go Wrong with It
With only three different color options to choose from, right away it is made apparent that style is not the most important issue for the Obex Spin. But that is not the only reason for this dearth of color options.
Each variation has a RECCO reflector attached to its outer shell. A RECCO reflector is a small electronic transponder that activates when an avalanche occurs. This signal makes it easy to locate the wearer of the ski gear with the RECCO reflector on it.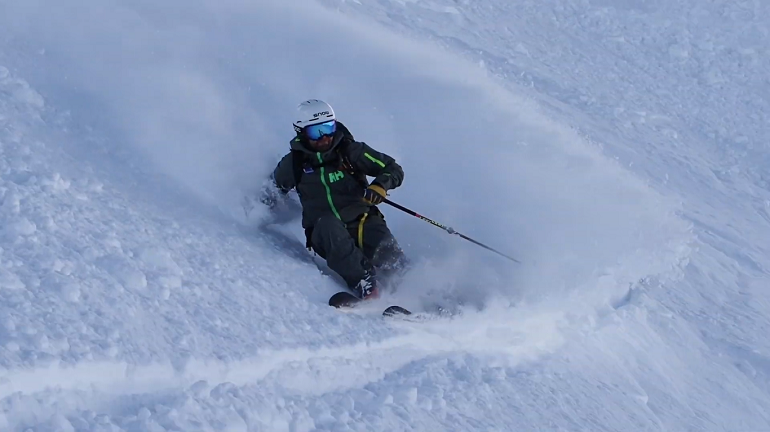 This alone is worthy of a purchase. With this RECCO reflector, lives can be saved. Your child's life.
There is a fixed goggle clip that secures your eyewear in place and chimney vents that air out the heat. Preventing moisture and sweat from accumulating.
Finishing it off is a tough exterior shell that's got a layer of shear padding on the inside.
Features:
Outer Shell Material: Hard outer shell with padding
Weight: 1.71 pounds
Style: Only three color options
Ventilation System: Two vents in the front and back
Comes With Goggles: No
Pros:
The goggle clip is fixed for extra security.
The reflective colors make the helmet easy to spot at a distance.
Can be worn by children as young as three.
Cons:
Bland overall design but has great protection and safety features.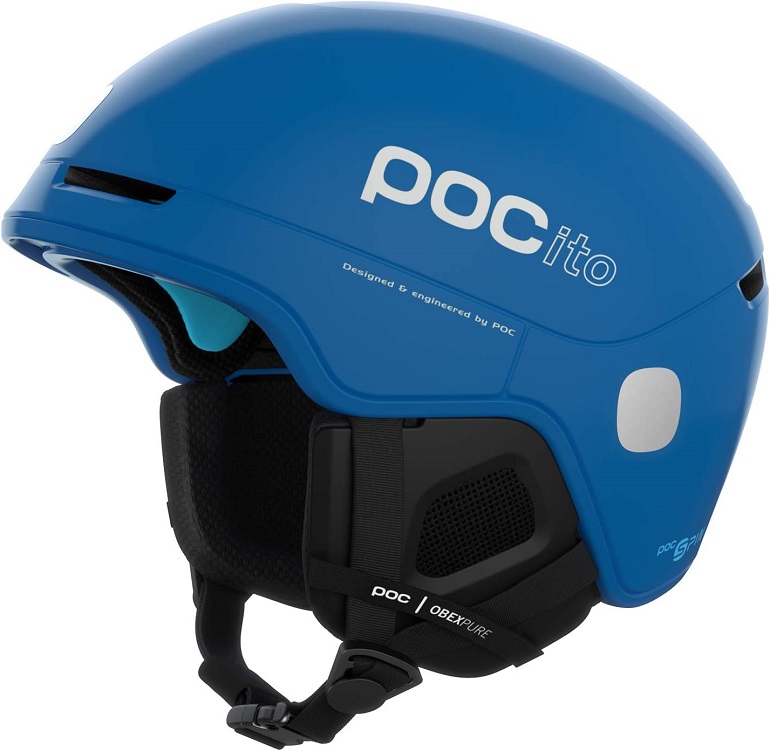 POC, POCito Obex Spin kids ski helmet
The price of "POC, POCito Obex Spin kids ski helmet" varies, so check the latest price at
The Main Areas Your Kids' Ski Helmet Should Excel At
The Size and Fit of a Ski Helmet
It doesn't matter how much protection is packed into a helmet, if it's not your size then it's not the right helmet for you. This is because the safety features of a helmet are designed for heads that fit into them perfectly.
Helmets lose their effectiveness if the size of the rider and the helmet itself don't align, so it's important to measure for ski helmets properly. Although, many helmets do come with an adjustable dial. This dial can be used to tweak the fit of a helmet.
If you are concerned about getting a helmet that is the right size for your child then head on over to our FAQ section. There, I teach you how to properly measure your child's head.
Safety Level and Features
The safety level of a helmet can be determined by the material used for the outer shell. This is your first line of defense and so you'll want something with either a polycarbonate shell or an equivalent material.
Beneath that, you'll find other safety features such as removable liners and ear pads. Being able to remove these parts prevents you or your child from overheating.
Vents located at the front of the helmet, to prevent foggy goggles, are also something to look out for. It is incredibly dangerous to ski with foggy goggles.
How Comfortable Will Your Child Be?
In the previous section, I mentioned the ventilation system of your helmet of choice and how it pertains to your child's safety. But vents are also important for comfort.
A helmet with adjustable vents, like the Wildhorn Drift Snowboard & Ski Helmet wildhorn drift snowboard & ski helmet, lets you decide how much air you want rushing into your helmet. Perfect for those that either heat up or get cold easily.
Other features that affect your comfort level are the material used for the inner lining and the ear pads. A fleece inner lining is comfortable and warm and removable ear pads are great for those with sensitive ears.
What Styles Are Available?
The last key area to keep an eye out for is style. Style refers to two different matters. One is the overall shape of the helmet and the other is the look of the helmet.
Children love bright designs and almost every single helmet listed above has a wealth of color and graphic variations. As for the helmet shape, most ski helmets come in either a half-shell, full-shell, or full-face design.
The half-shell design is the most popular because it is typically the most comfortable. Which makes it great for children.
FAQs
How Do I Get the Right Ski Helmet Size for My Child's Head?
This is a simple process. Use a tape measure to get the circumference of your child's head above the eyebrows. The reason why you want to place the measuring tape above the eyebrows is that this area of our heads is the widest.
This ensures that whatever helmet you get won't be too big or small for them.
How Long Do Ski Helmets Last?
Unless you or your child is consistently tanking heavy hits with their helmet, then you should look to replace your helmet every five years. This applies to both a toddler ski helmet and an adult helmet.
But again, it is important to keep in mind that every hit that your kid's ski helmet takes reduces the integrity and durability of your child's helmet. This is true of other helmets as well (for example, a skateboard helmet).
Do Ski Helmets Protect from Concussions?
The answer is a partial yes. While even the best ski helmet can't prevent concussions, the protection that the best kids' ski helmets give you is unmatched.
With the help of a helmet, a serious and life-changing (or even life-ending) injury can be reduced to a minor concussion. That is one great deal and a deal that anyone with any sense would not pass up on.
My Final Thoughts
Protecting ourselves should always be the first thing on our minds. Especially when engaging in the intense winter sports that have found a home in our hearts. Protecting our children should be even more important.
When picking out a helmet for your child consider not just the amount of protection on offer but also their comfort level. If you want your children to love skiing as much as you do then you've got to make sure that they have a great time.
The best way to do that is to ensure that they are comfortable. Remember that the bright and flashy designs aren't just for your child's enjoyment but also for their safety. It's much easier to spot a bright orange dinosaur in the snow than it is a plain white helmet.
Do what's right for your child and take the time to pick out a quality helmet for them, from the list above.