Spending time on the water with my boys is one of my favorite ways to spend a warm day. Nowadays, our paddle boarding trips are all about fun, but this wasn't always the case.
It took a lot of trial and error with different boards to find the ones that my boys could use best.
It wasn't an easy thing to do, but by trying out different types of children's SUPs, I learned a lot about what children like, what parents need, and which boards work out best for everyone.
Read on to find my top picks for the best paddle boards for children.
Best Overall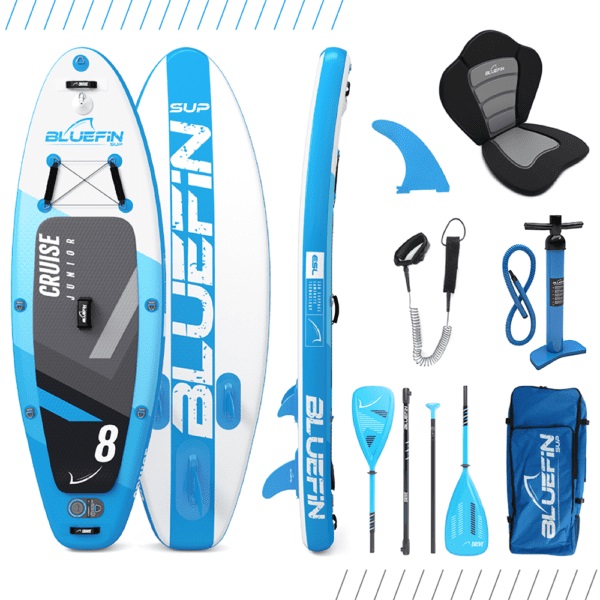 Bluefin Cruiser 8'
Material: Nylon

Item Weight: 38 Pounds
Cute Bright Colors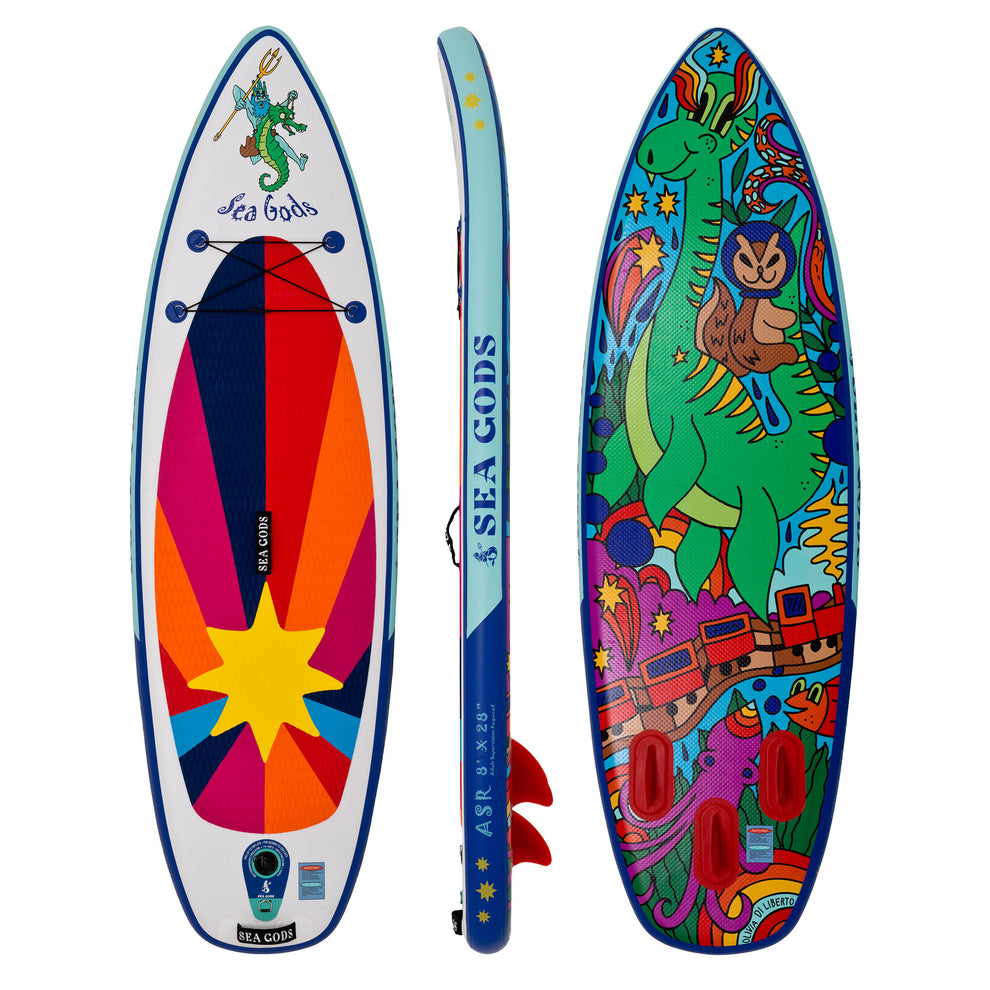 Sea Gods ASR
Material: PVC

Item Weight: 17 Pounds
Super Stable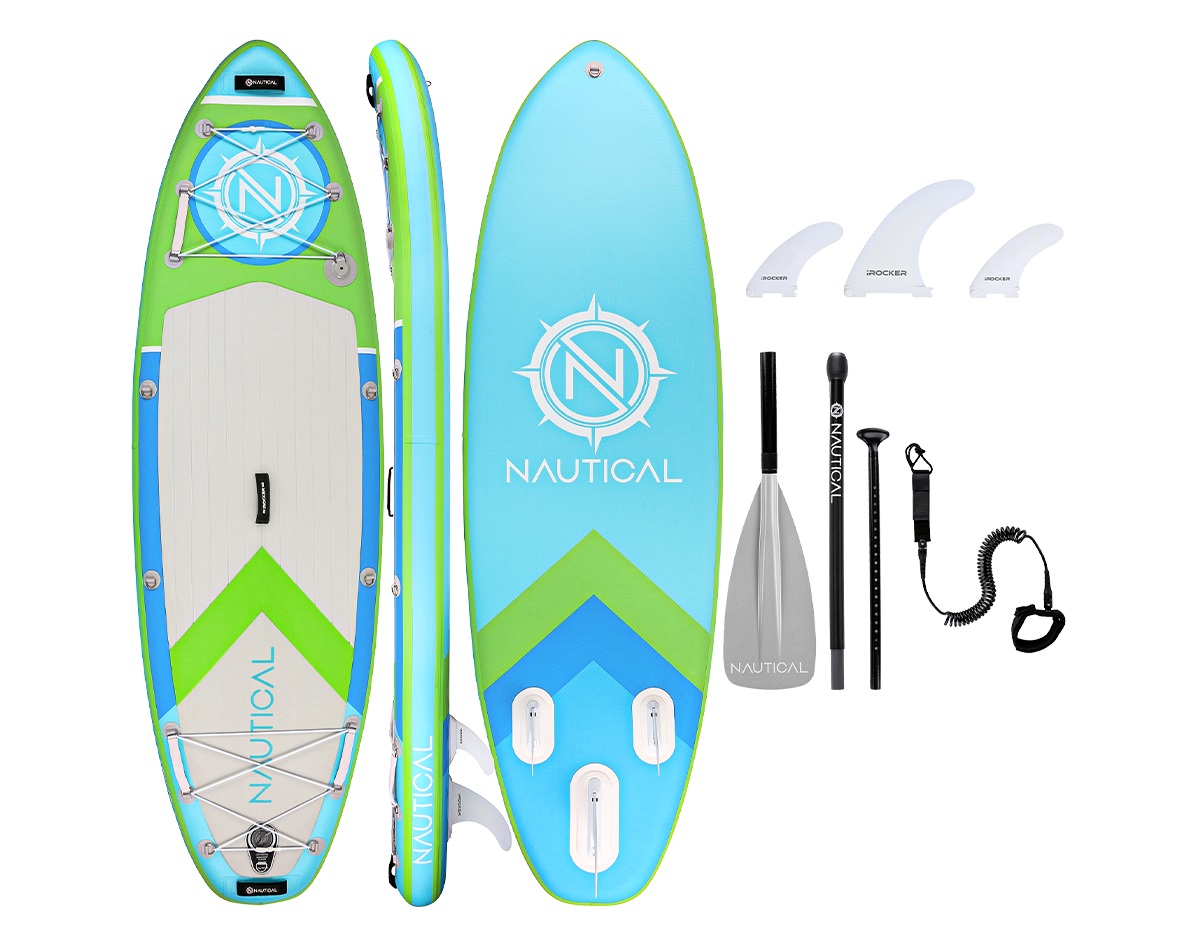 Nautical Kids 9'
Material: PVC

Item Weight: 17 Pounds
Ultra Lightweight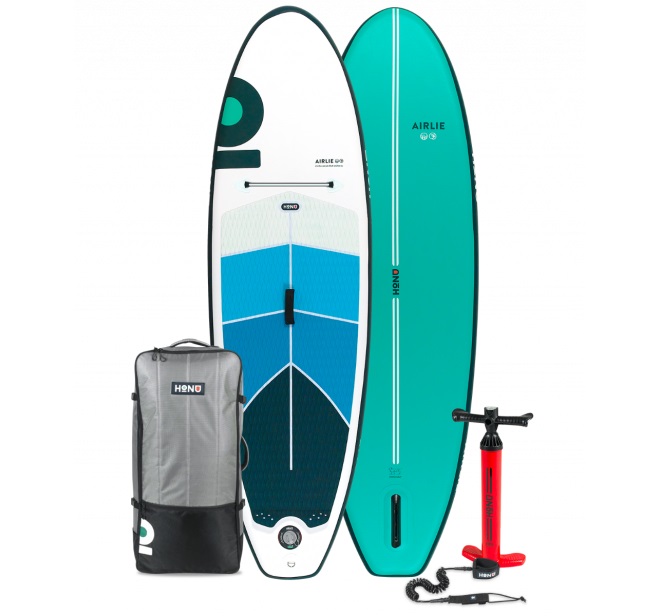 Honu Airlie 8'6
Material:  X-Woven & Fused dropstich

Item Weight: 11.9 pounds
Strong Build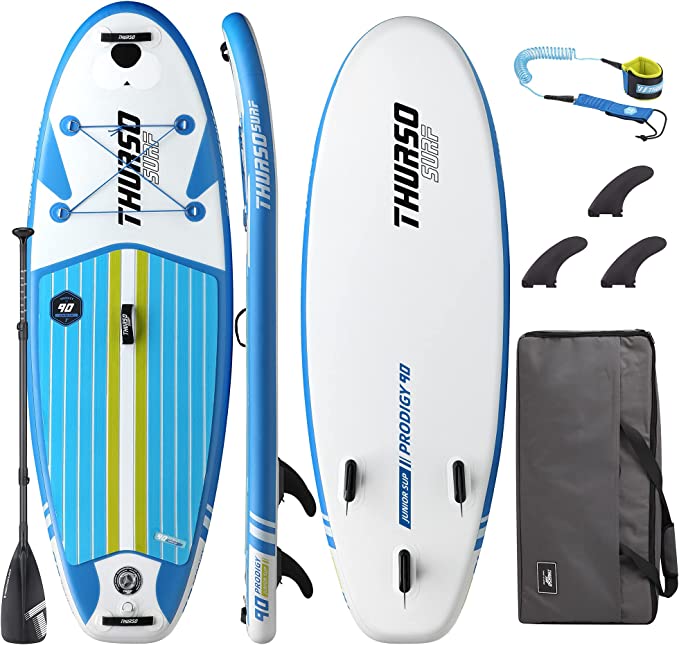 Thurso Surf 7'6''
Material: Aluminum, Fiberglass
Item Weight: 12.54 Pounds
Great Weight Capacity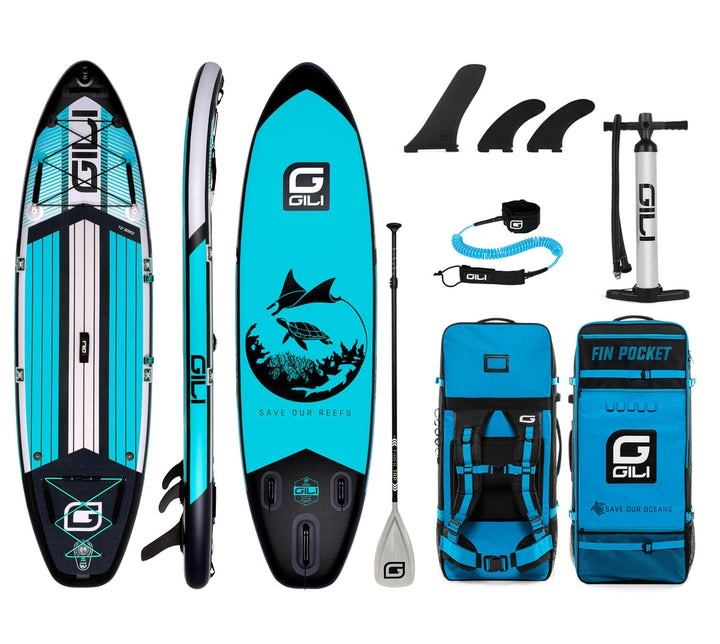 Gilli Sports Mako 10'
Material: Polyvinyl Chloride

Item Weight: 19 Pounds
Compact Design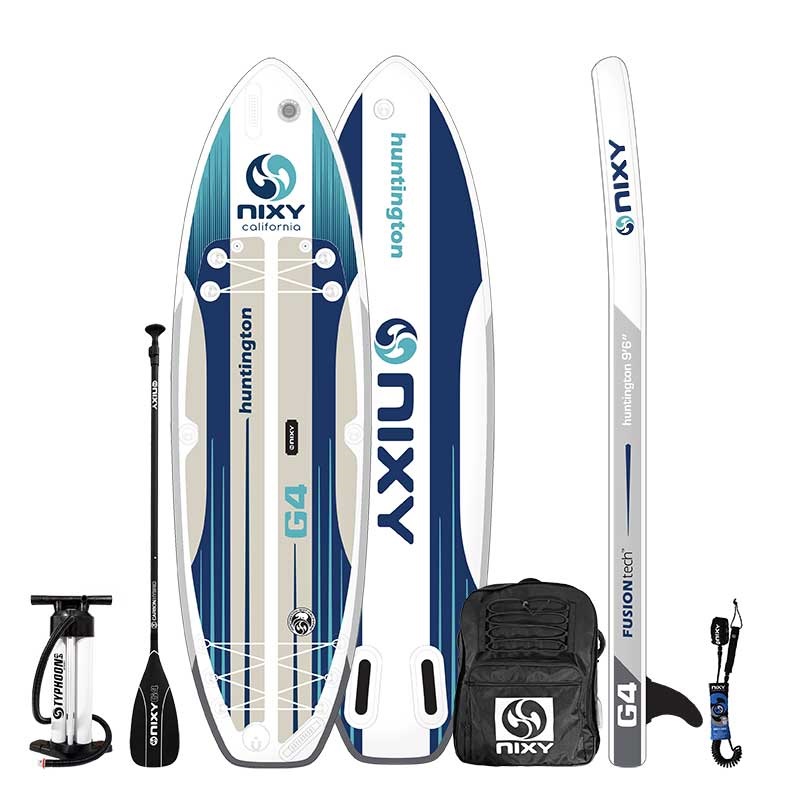 Nixy Huntington
Material: PVC

Item Weight: 16.97 Pounds
Sleek & Appealing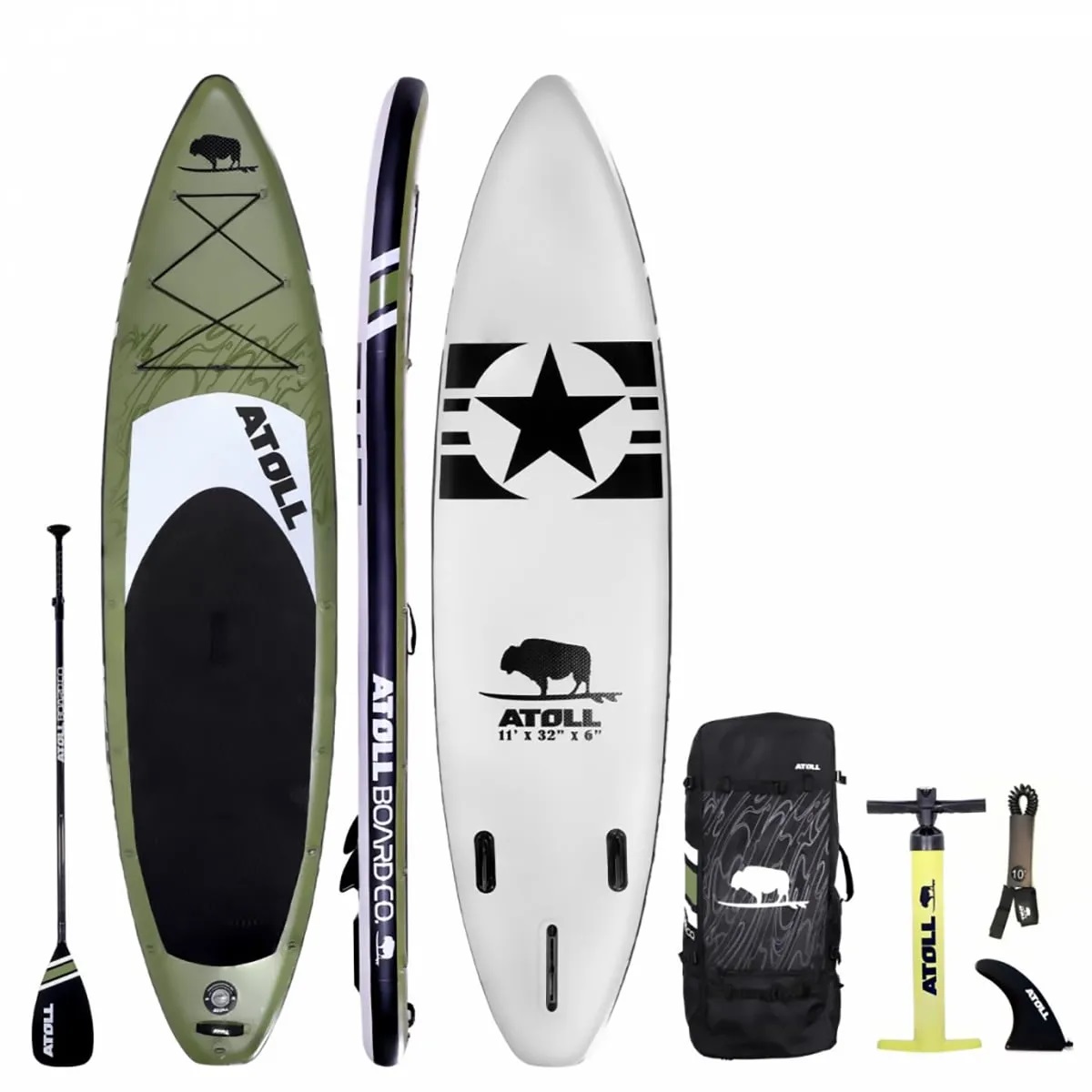 Atoll 9' Kids
Material: Polyvinyl Chloride

Item Weight: 19 Pounds
Minimalist Layout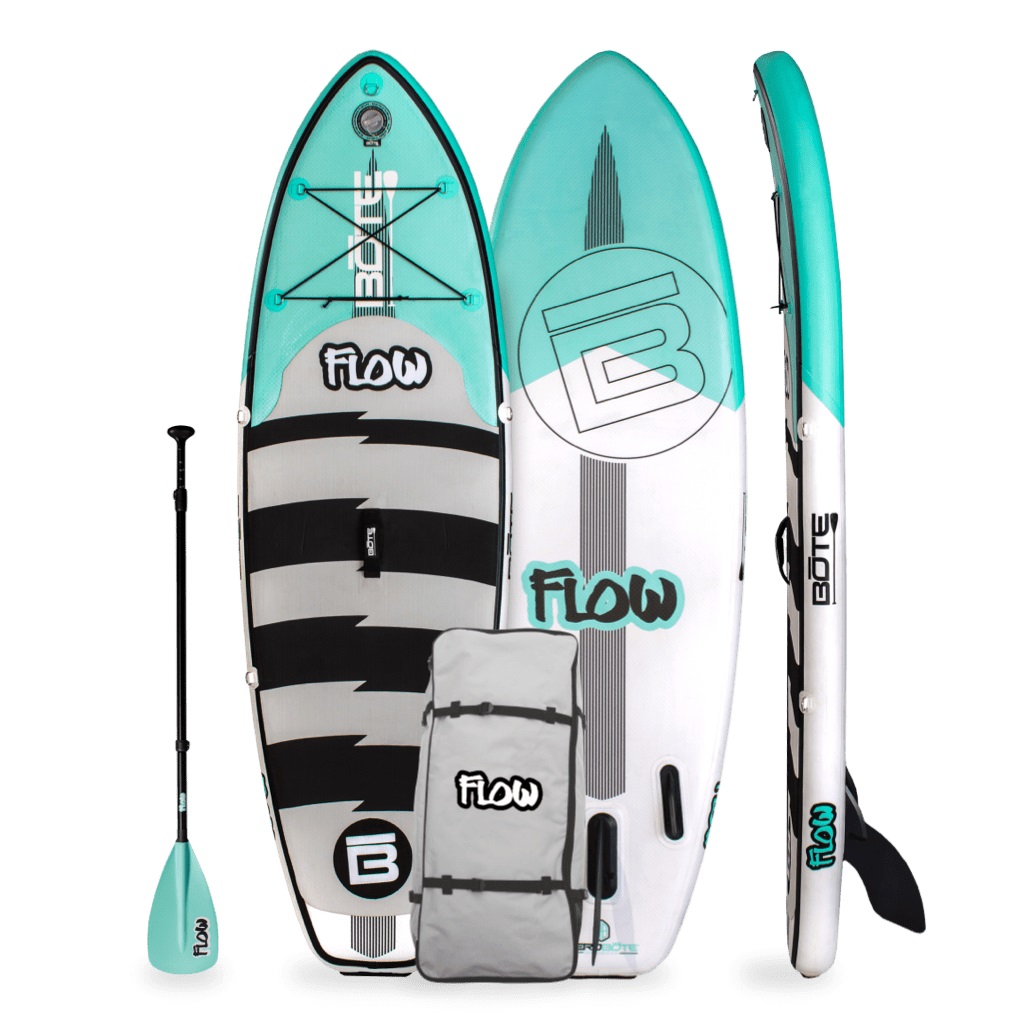 BOTE Flow Aero
Material: Polyvinyl Chloride

Item Weight: 19 Pounds
Versatile Pick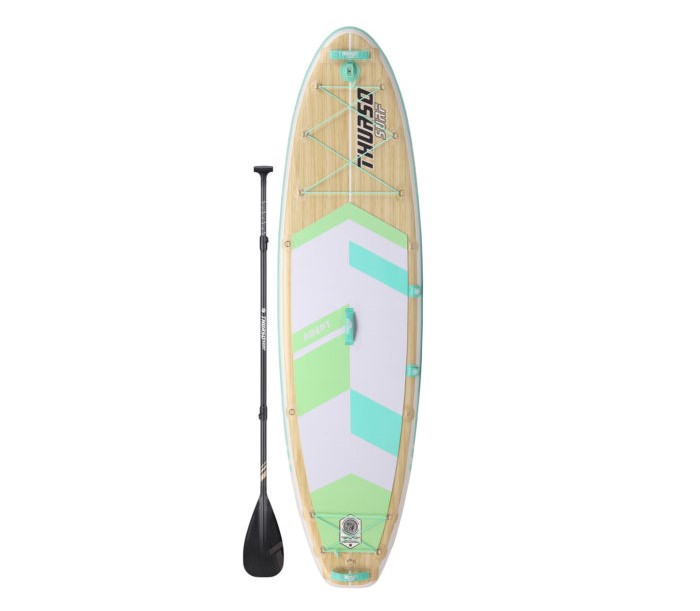 Thurso Adept
Material: Polyester

Item Weight: 38 Pounds
Best Kids SUPs
If you took a look at my garage, you might think of me to be a SUP hoarder. While I don't think my family's addiction is that bad, we do have a ton of different types of paddle boards.
My kids have their own and also use our adult boards. My boys have their favorites, and so do I, but these are some of the top choices I would recommend for anyone shopping for a child's SUP.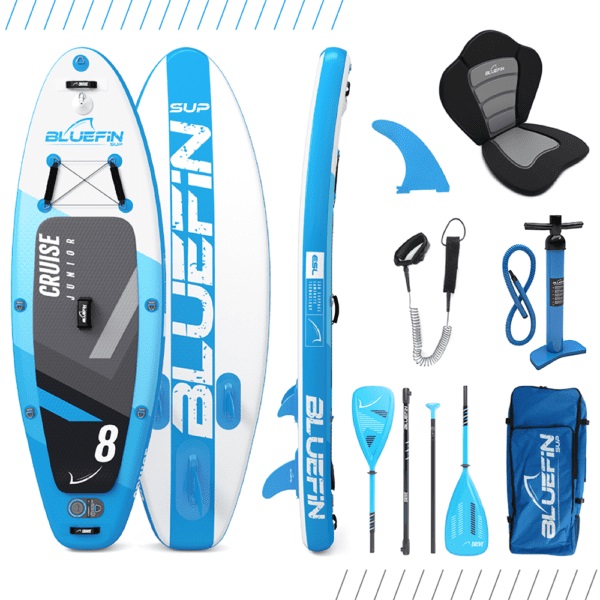 This is an obvious top contender for young kids and first-timers. My family has the adult version and the kids board, and both are packed full of features. I like it because it folds right up into a backpack, and it's not heavy, so my son can carry it on his own.
I also really like that it came with its own double pump, so it doesn't take very long to inflate it. Even young kids should be able to do it without any problems. I have to admit that I have used this inflatable paddle board a few times myself.
It might be made as a kids paddle board, but it's a good size for anyone who may be on the shorter side (like me). For something so light and small, I didn't expect it to be so tough and strong.
Even though some other inflatable paddle boards get snagged or rip easily, this one can handle some rough play. It's great because we all know how hard younger paddlers can be on things.
Now that my kids have learned to get their own paddle board fully inflated, they can put it in the water within minutes.
It has very good stability, so little feet can stick to it with no problems, and I don't have to worry about my adventurous kids falling off. Now jumping off is another story since they love swimming as much as they do paddle boarding.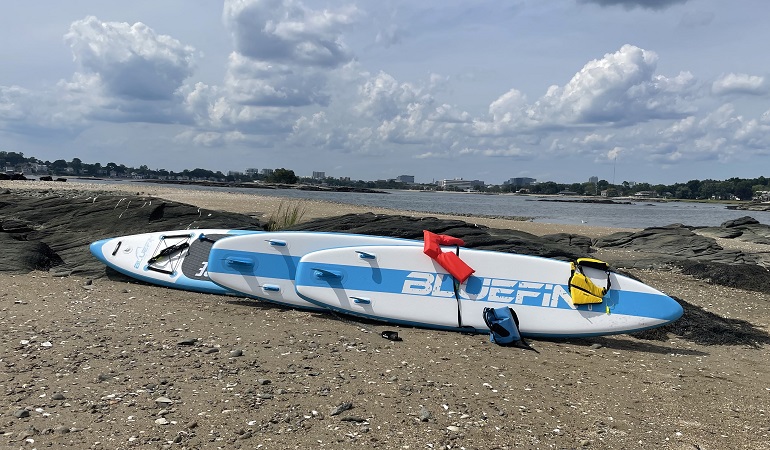 While we have mostly used this paddle board for short trips on calm water, I'd have no problem taking it for longer trips. Since it comes with a comfy inflatable kayak seat, smaller children can even sit down and takes breaks when they need it.
I've found it easy to carry with the help of the connected straps after it's been inflated. There's also a paddle that's included and can break apart to make it easier to store or carry. Of course, everything fits in the backpack too, which is my favorite way to lug it around.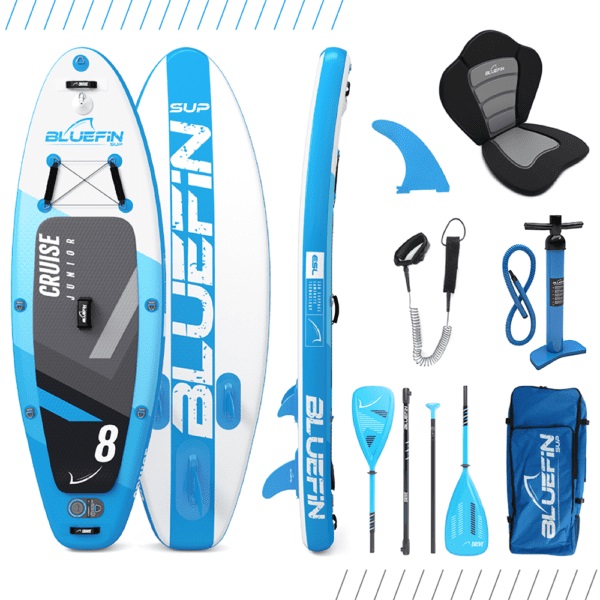 Bluefin Cruiser 8' Junior iSUP
The Price of "Bluefin Cruiser 8' Junior iSUP" varies, so check the latest price at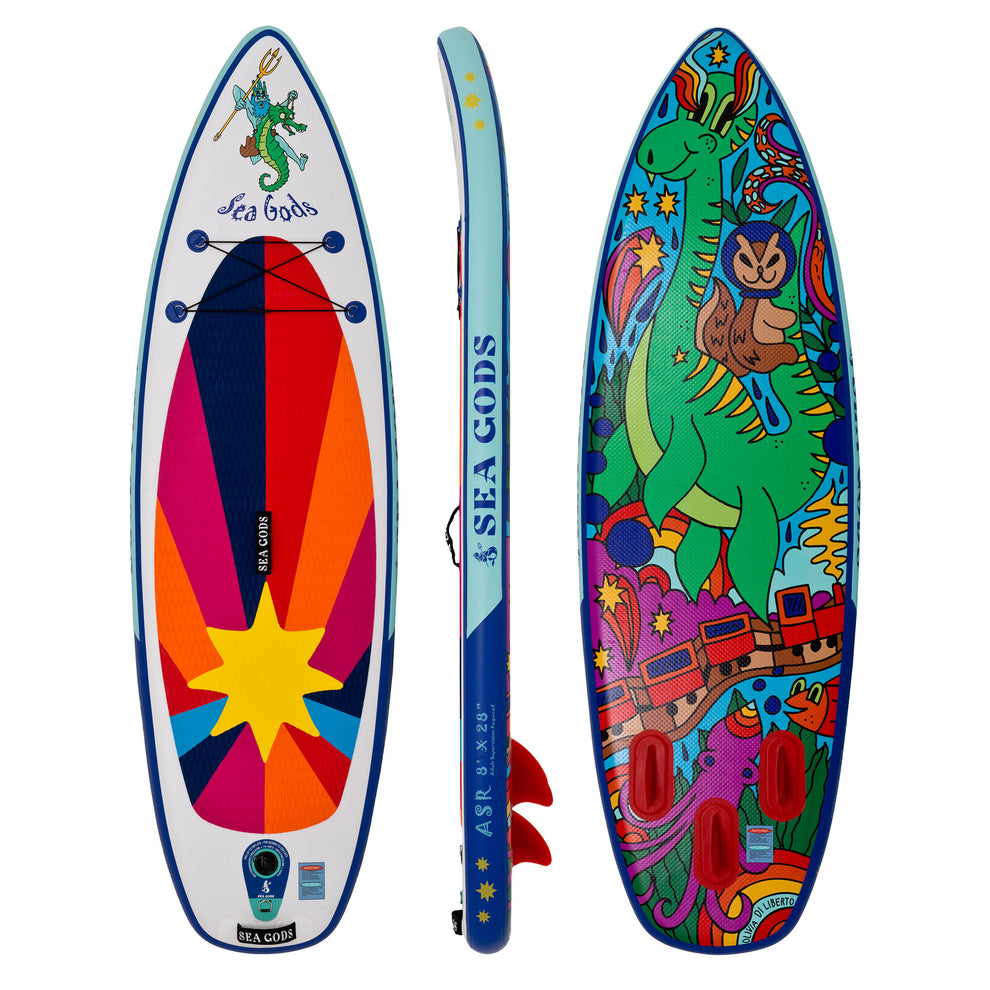 I can't help but love all the colors on this kids paddle board. While the bright colors are for sure pretty and fun for kids, they also make it easy to keep track of younger kids with their stand-up paddle board on the water.
Even better, the artwork is designed by Disney artist Miles Vassos.
We keep this board in our garage for when my nephews come over and want to paddle around with my boys. They are only 4 and 6, so they are a little nervous on the water.
They do really well with this paddle board, and it makes sense for them to use it rather than an adult board.
With the rubber fins, included kids-sized paddle, and a nifty pump that comes with it doesn't take long to get junior paddlers standing up and gliding through the water. While it's not very heavy, it is a durable board with a fairly high weight capacity of 120 pounds.
If your little one is like mine and has to bring a bunch of toys or gear with them, there are some nice stretchy bungee cords on the front of the kids paddle board to hold all that.
It's a lot lighter than hard paddle boards, so that means kids can carry it just fine. There are also metal hooks on the front and back of the paddle board so you can tie it off to keep it from floating away.
I love that the paddle comes with it and breaks down into three pieces. I can shove it right inside the Wheelie Hiking Backpack carry bag with the paddleboard and even the pump. While the bag holds a lot, it's not bulky or too heavy for a young paddler to carry.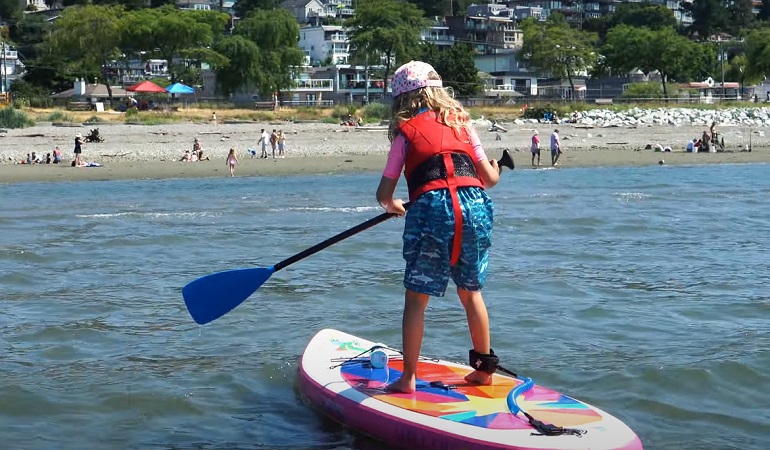 My nephews have only used it on flat water in our neighborhood pond and always close to the bank, but it could hold up in rugged waterways. Since it's made with dual-layer PVC construction, it shouldn't be easy to rip it.
My kids are happy with it, and it holds up to them jumping off and on it and even wrestling around on it in the pool, and those trust heat molded seams don't burst or split. It seems more durable than most adult boards.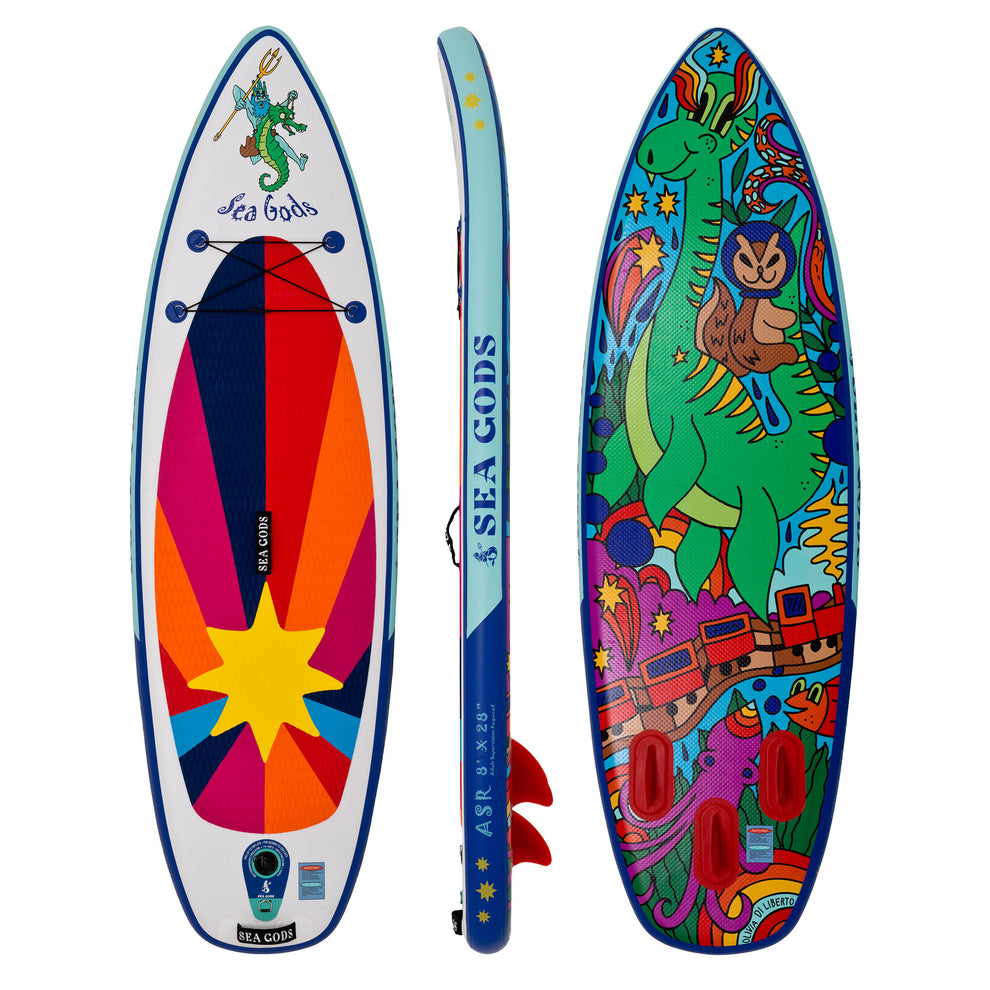 Sea Gods ASR
The Price of "Sea Gods ASR" varies, so check the latest price at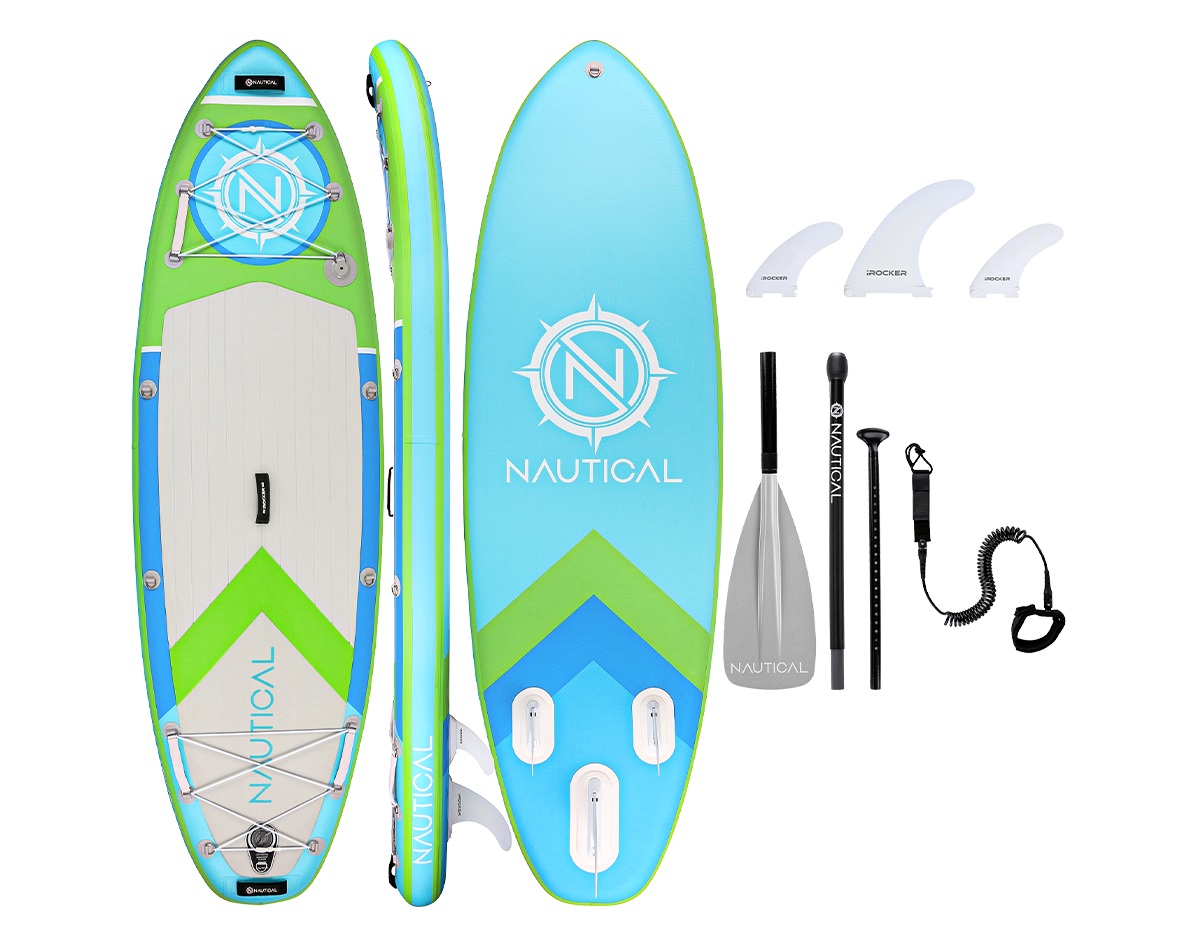 Young paddlers and beginners need excellent stability in order to learn to trust their own abilities and balance when paddle boarding. Kids boards aren't always as stable as an adult paddle board, but I tried this one out and really liked it.
My older son has been using this board since he was around five years old. He started off with a kayak, but when he saw me and my husband with our paddle boards, of course, he wanted one too.
Paddle boards for kids are generally cheaper than an adult-sized board, and this one is just under $300. We had no problem getting one for our kiddo, and he has used it for several years. My younger son has his own, but sometimes he grabs this one instead.
Both my kids like stand-up paddle boards that come in cool colors, and the blue and greens on this children's paddle board are bright and fun. I like that it has a removable center fin and two extra fins that are detachable too.
When I need to roll it up and put it in the compact backpack, I can just pop off the fins to make it easier. We all love that it has two bungee storage areas that my kiddos use to stash their fishing gear and anything else they take with them.
I like to keep their paddle boarding life jackets in there when they aren't paddling. When we go paddle boarding as a family, we all have to carry our own things, so it's important that any kids boards we take can be carried by them.
Since the nautical kids paddle board isn't that heavy, my kids pack it everywhere we go. Younger kids can even haul it around because the bag it comes in has an option for wheels. Now, I'm not sure how far those wheels will get ya in the woods, but it's a handy feature, no less.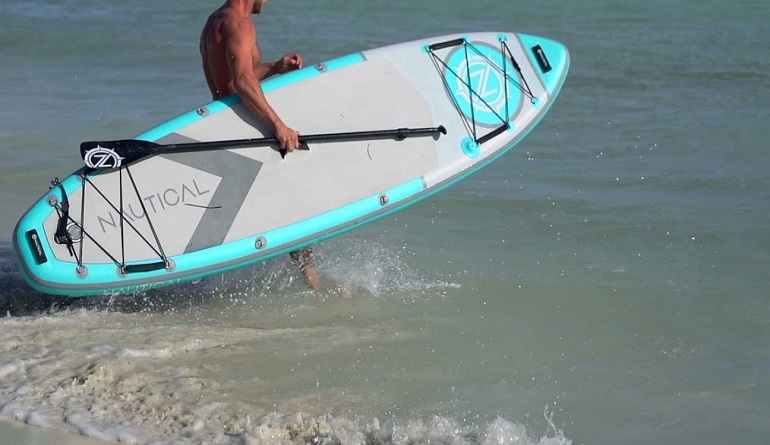 While it's not a heavy board to carry, it does have a pretty heavyweight limit, and even though it's designed specifically for smaller children, I don't see why young adults couldn't use it as well.
My teenage son uses it along with other boards and says it's not much different than his adult paddle boards. My younger son uses the nautical kids board the most often and has always done good with it.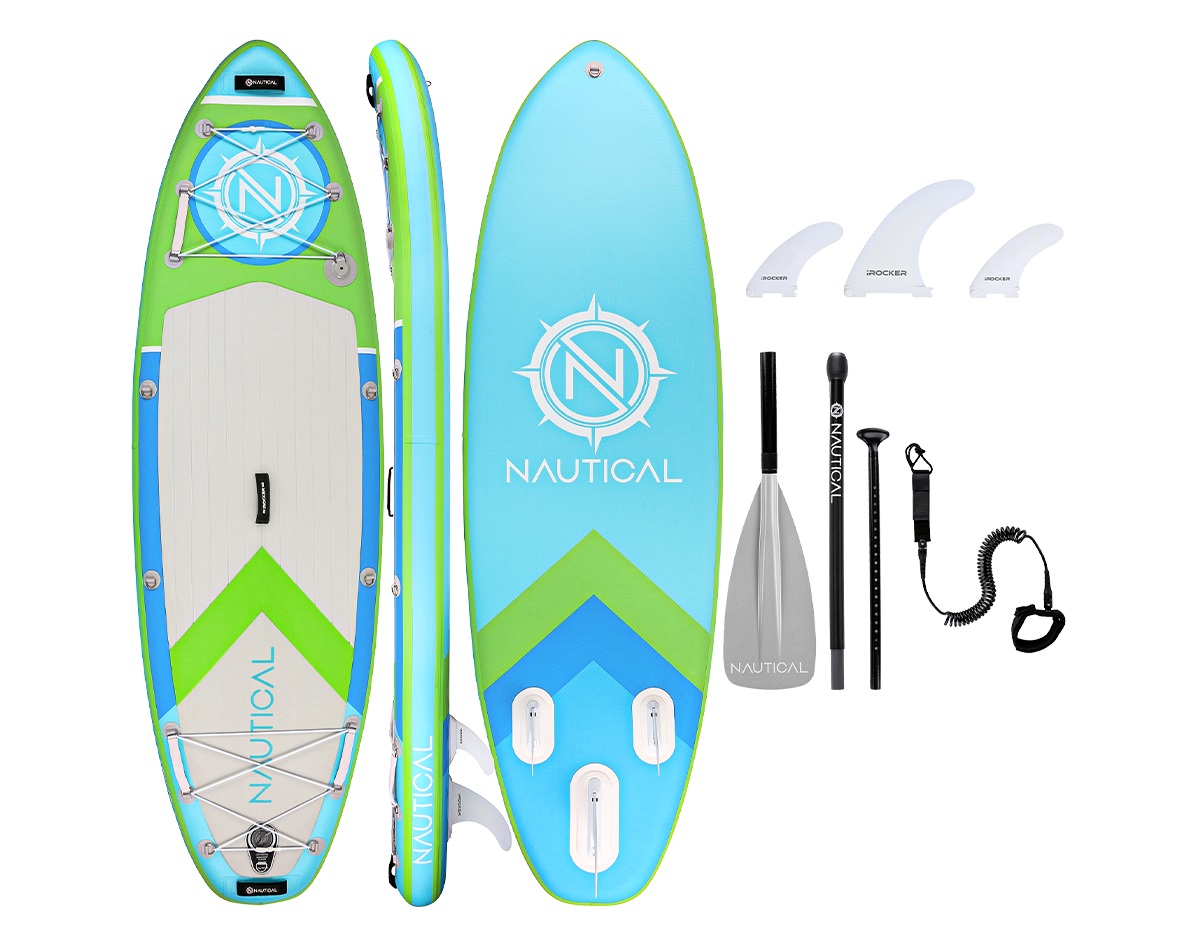 Nautical Kids 9' iSUP
The Price of "Nautical Kids 9' iSUP" varies, so check the latest price at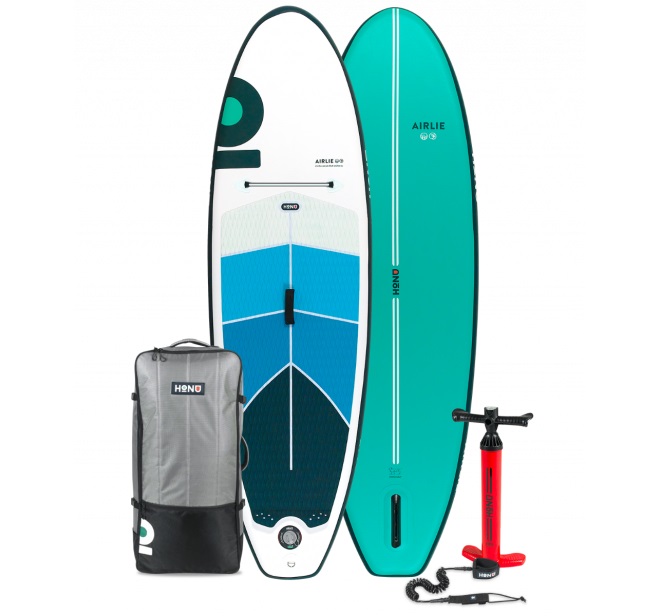 In my experience, one of the most important things to look at when you are buying a kid paddle board is how proportionate it is to the size of your kiddo.
A kids board should be easy for them to control, and if it's too long or happens to be the size of an adult stand-up paddle board, it won't work out.
While my kids have been using an inflatable board since they were toddlers, I get that not all kids are that confident or experienced on the water.
Still, I think this is a nice option for younger children that are just learning and even a good board for kids that are older.
Lighter boards like this are easy to paddle and carry. When my kids were first learning to stand up paddle board, we didn't let them go too far from the bank or us. That means their kids paddle boards were always getting bumped up against rocks and sticks sticking out from the banks.
This one surprised me because it has the ability to handle all of this and my kids' romping and jumping off it. Of course, it's best suited for flat water, which is really what your kids should be started out on first anyways.
However, don't think that just because it's a lightweight board for kids doesn't mean it doesn't have high-quality construction. It's a stable board, and it could probably handle a few small wakes without causing your kiddo to lose balance.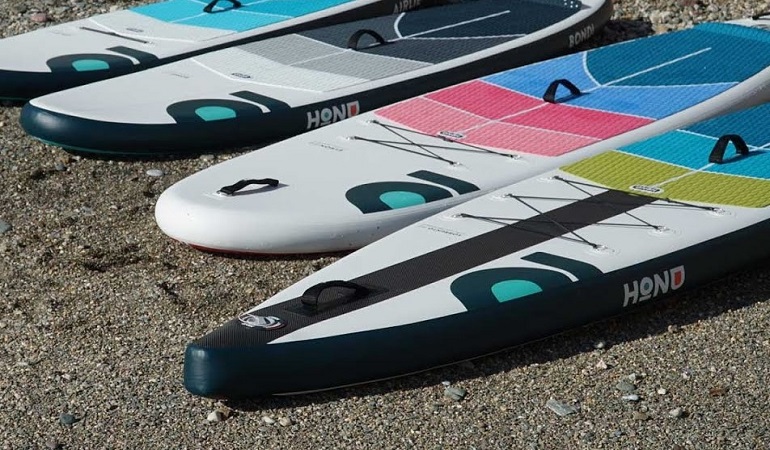 Thanks to the fused drop-stitch material, the deck pad stays secure, so little feet don't slip, and there's not much risk of puncturing it.
My kids inflate it fast, and they roll it back down when they are done and pack it up themselves. It's a great paddle board to train your children with, and it lets the whole family have fun on the water together.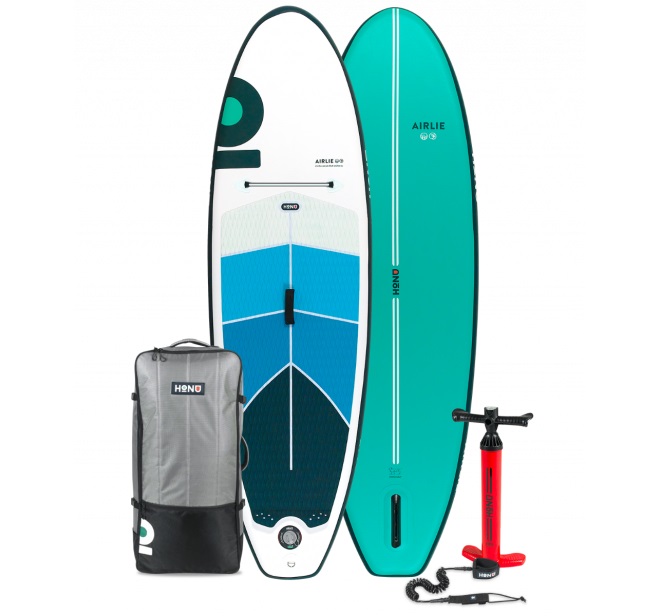 Honu Airlie 8'6
The Price of "Honu Airlie 8'6" varies, so check the latest price at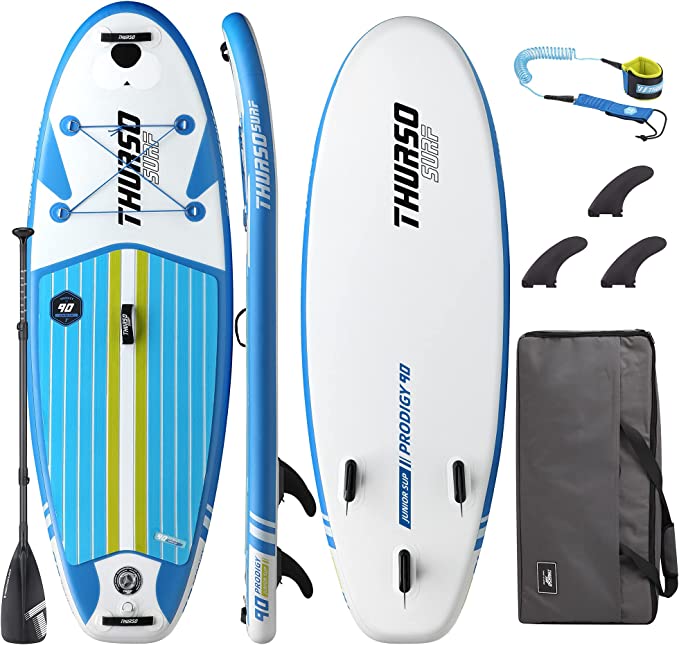 If you want to get your little paddler a kids paddle board that is built with the same quality construction as adult boards, this is a good choice.
It has a brightly colored deck pad that kids love, and it's also comfortable, so there's no need to worry about blisters.
It also comes with a carbon hybrid paddle that can break down into three pieces and adjusts to meet the child's age or size. Removable fins also come with this kids SUP and lock into place when installed.
The weight capacity for this kayak is very low, at just 80 pounds. That means it's best for little junior paddlers, and most kids will outgrow it pretty fast. This also makes it a kid-specific iSUP, so no chance of hopping on the back and teaching your little one the basics.
As far as inflatable paddleboards go for kids, they're durable and sturdy. It comes with a manual pump, a leash to strap to their wrists, and a backpack that makes it easy to carry and store when it's not being used.
These are all high-quality paddleboard accessories that come standard with most kids paddleboards.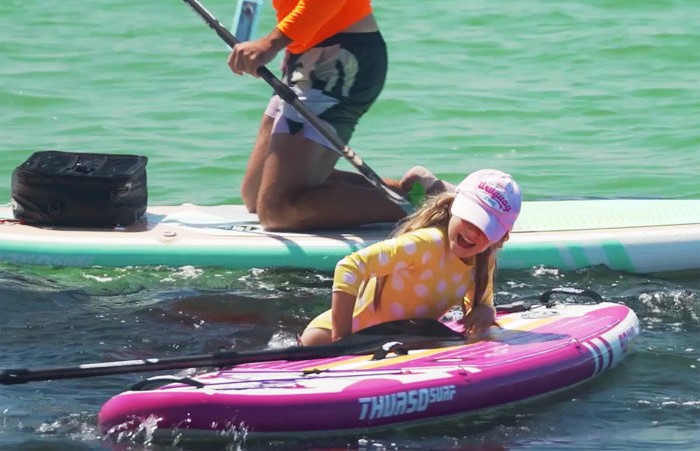 We don't own this particular kids paddleboard, but my kids did get to use one while we were on vacation. Granted, it was only in the pool, and they were both over the weight limit, but they still had fun with it.
It seemed just as durable and sturdy as any other SUP board, and since it was owned by a resort, I imagine a lot of kids have used it, and it's been able to hold up. But I think it's probably best to leave it for a young paddler that meets the weight capacity.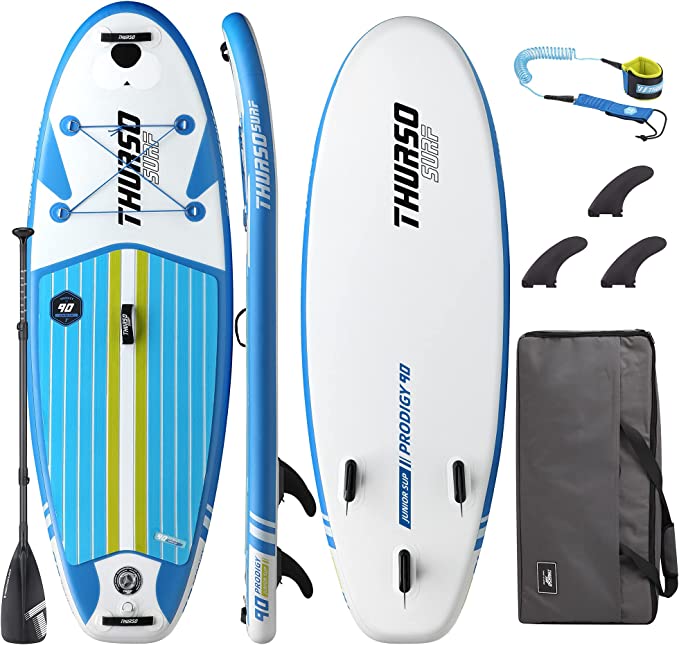 Thurso Surf 7'6'' Prodigy Junior SUP
The Price of "Thurso Surf 7'6'' Prodigy Junior SUP" varies, so check the latest price at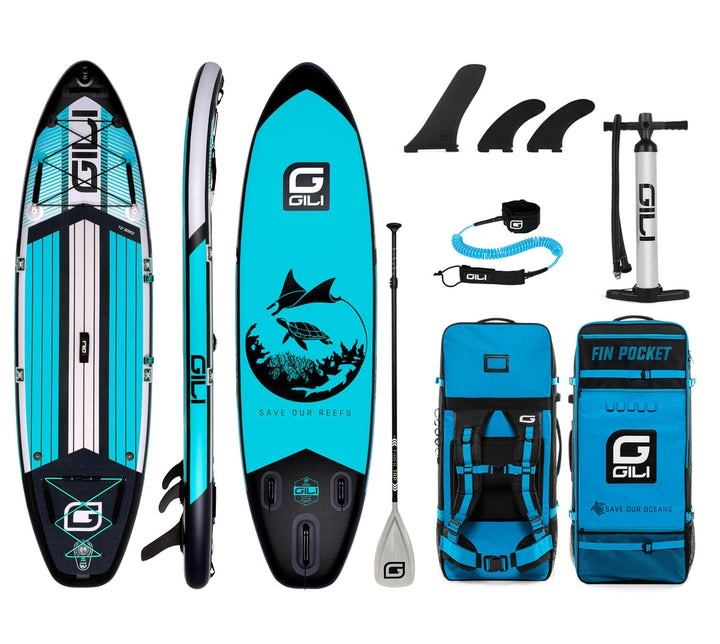 When you think of kids paddle boards, you probably think of something shorter than a standard inflatable SUP, and this is the case with most children's boards. However, this one is approved for anyone up to 5′ 10".
That means it's more suitable for older kids or kids that exceed the weight capacity of smaller kids paddleboards.
This is the board my kiddos used to transition from a paddle board for kids and adult boards, and sometimes my teenage son still pulls this one out of the garage when he goes off with friends or on one of his scout trips.
Our board is fairly old and has seen better days, but I'm pleased by how long it has lasted. This is probably because of the dual-layer fusion technology.
I also like that it's big enough for any of us to use but also easy enough for my younger son to control and paddle
I'd be lying if I said the bag isn't one of my favorite things about the SUP board. Since it inflates easily, this also means it deflates just as fast and is meant to be packed away in a bag for transportation.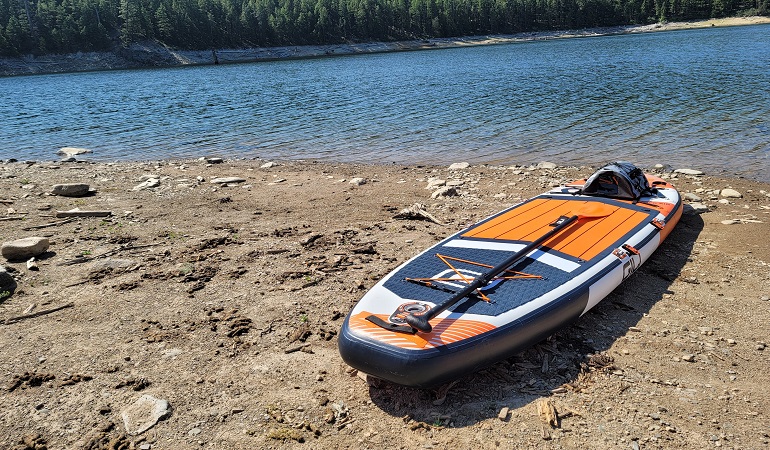 It's really more than just a carrying bag for your board. It has loads of pockets to carry your fins and even your pump. It's a little bigger than a regular board bag, but it's still lightweight and easy to carry for me and the kids.
I think it's one of the best kid paddleboards to allow younger paddlers to grow and learn how to navigate the water and a paddle board.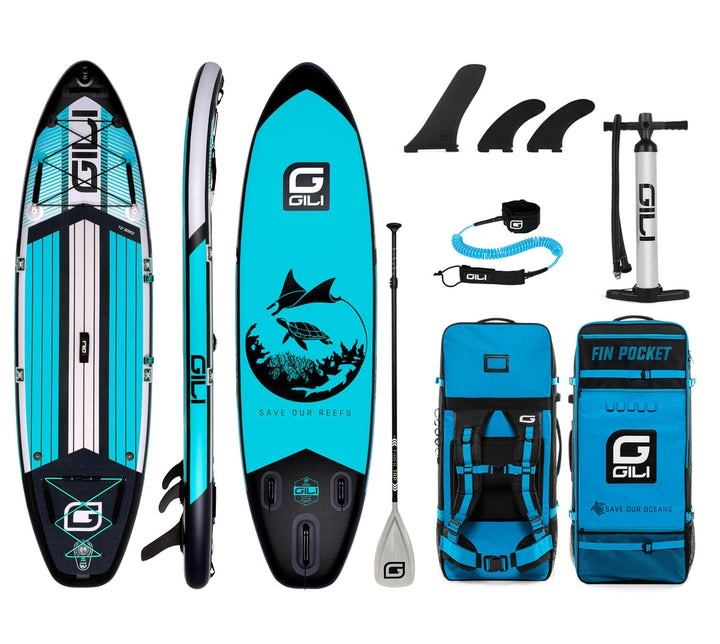 Gilli Sports Mako 10' iSUP
The Price of "Gilli Sports Mako 10' iSUP" varies, so check the latest price at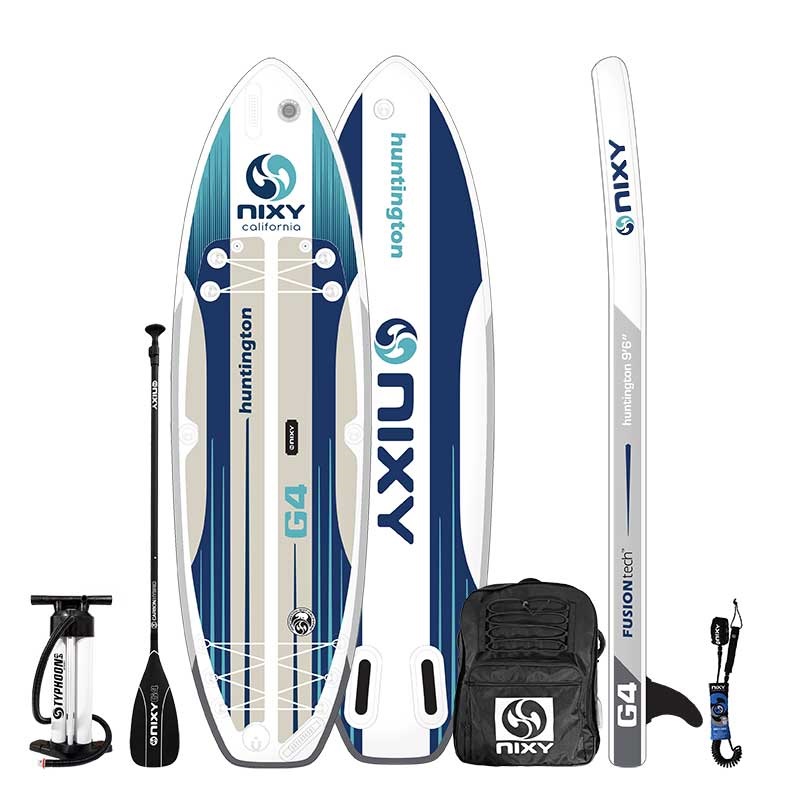 Kids usually do better with compact paddle boards simply because they can carry them around. This one isn't convenient only when the SUP board is in the bag, it's also when it's inflated. I can see how it would be great for young paddlers, but it's also big enough for older kids to use.
In fact, it has an adult design, and the deck pad where kids stand is large enough for taller teens or adults. It comes with all the usual accessories, a hand pump, a leash, and a paddle that adjusts and breaks down into four pieces. It even has a repair kit in the bag.
Let's take a minute to look a the bag. It's compact with padded straps, and let me tell you, they are super comfortable. The board itself has double bungee cords for securing things, just like a hard board might have.
The fins also pop off and on without needing any tools, and they can be packed in the bag with the board when it's deflated.
My family rented these boards in Myrtle Beach to cross an inlet to a sand bar, and they were great on the small waves. My husband is tall, but he managed to handle the board just fine too. It was nice to find boards that fit everyone.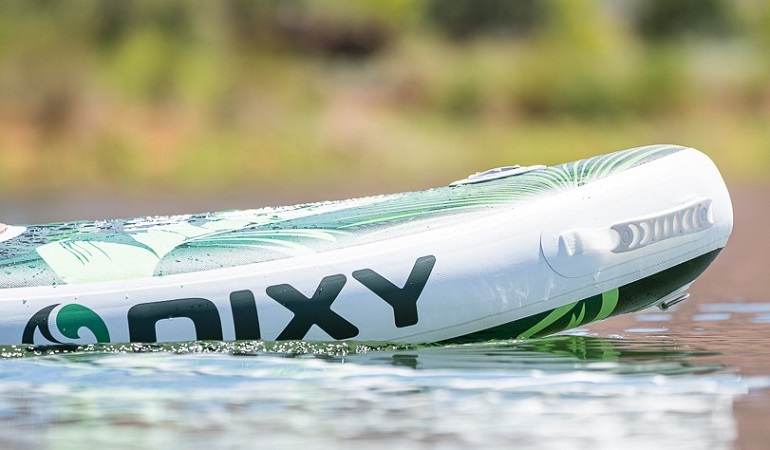 We were all able to pack them up and carry them with no problems, and all agreed that they were quality SUPs that felt stable and strong.
I don't think my husband would choose to buy one just because he's taller and exceeds the recommended weight capacity, but this seems like the bed paddle board for a family to share or to be used between siblings.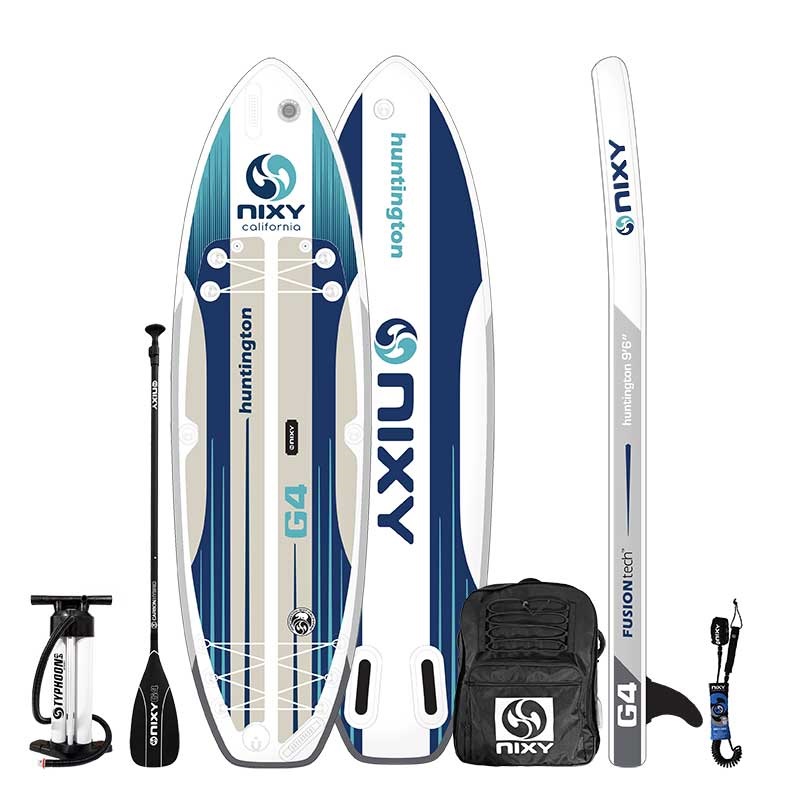 Nixy Huntington Compact
The Price of "Nixy Huntington Compact" varies, so check the latest price at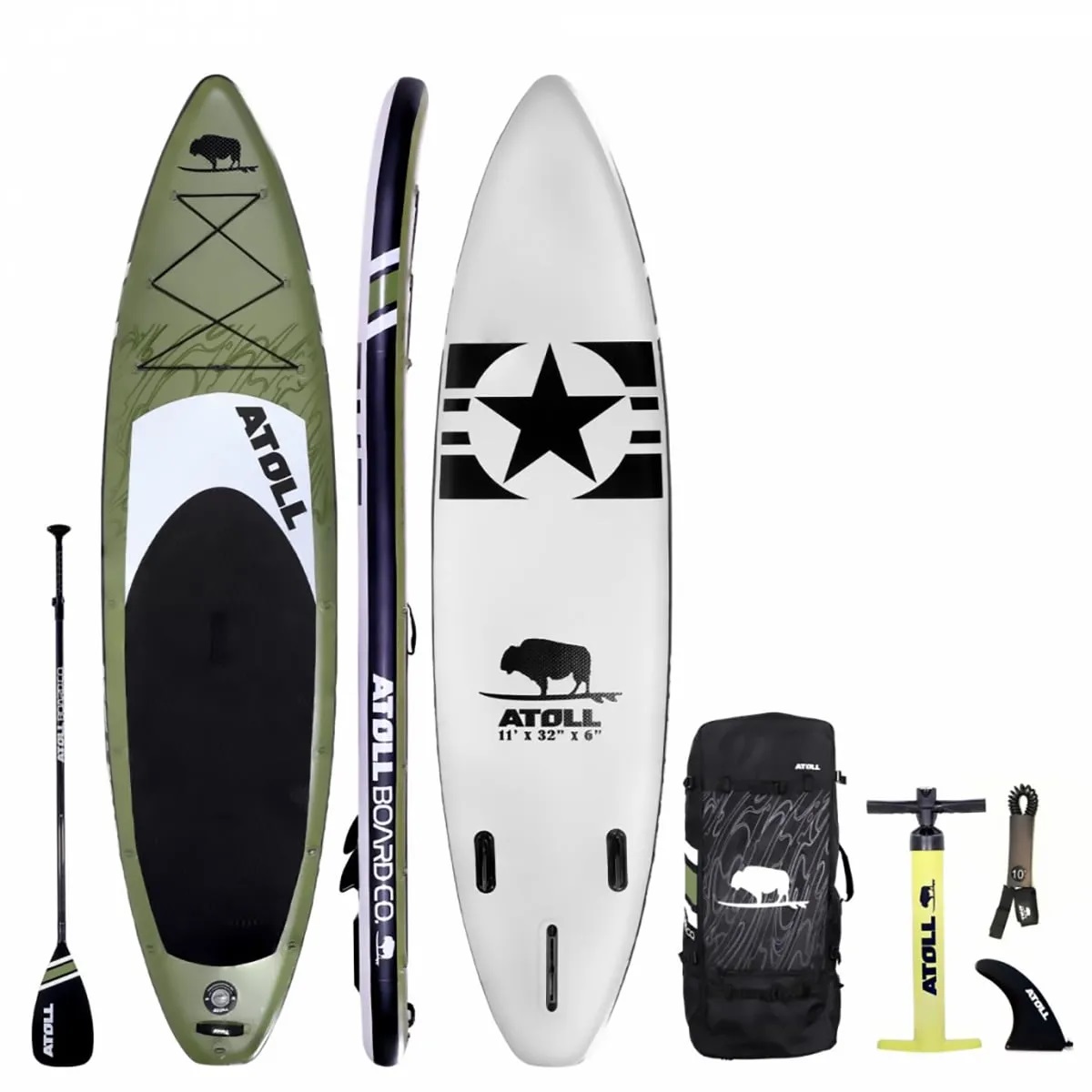 I love all the different colors you can get this board in. The deck pad also has a unique slip-resistant material that is soft and safe for little feet and big feet alike. It comes with a hand pump and a removable fin.
It has a universal fin box, so if you aren't happy with the fin that comes with it or want something that's a different size, you can use something that's aftermarket.
It all fits in the included bag, which is actually slimmer than others like it. It comes with a D-ring kit that is reinforced and a carbon fiberglass paddle that matches the color of the SUP board.
The small dimensions make this the perfect choice for kids of all ages, but taller teenagers may need something a little longer. The weight capacity is rather high at 315 pounds, but the manufacturer says it has been rated at up to 500 pounds.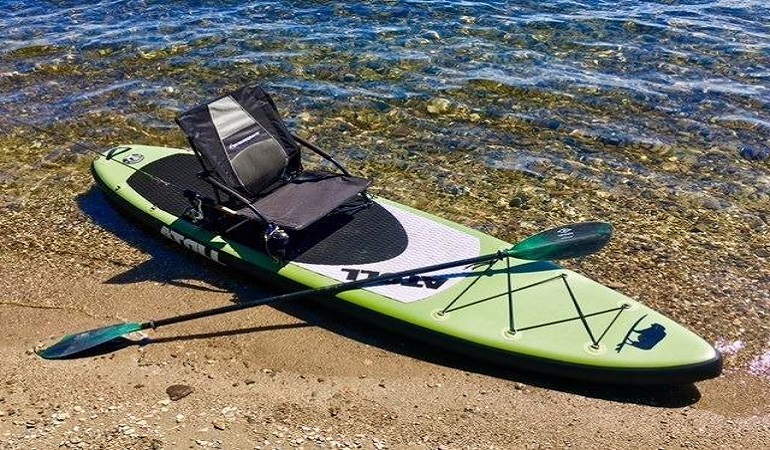 Many parents feel better about turning their little ones out on the water if they can spend some time on the paddleboard with them first. The higher weight limit means you can easily do that.
It does well on calm water and even water that has some wakes. A more advanced paddler could probably take it on rougher waters too, because it is super maneuverable and easy to paddle.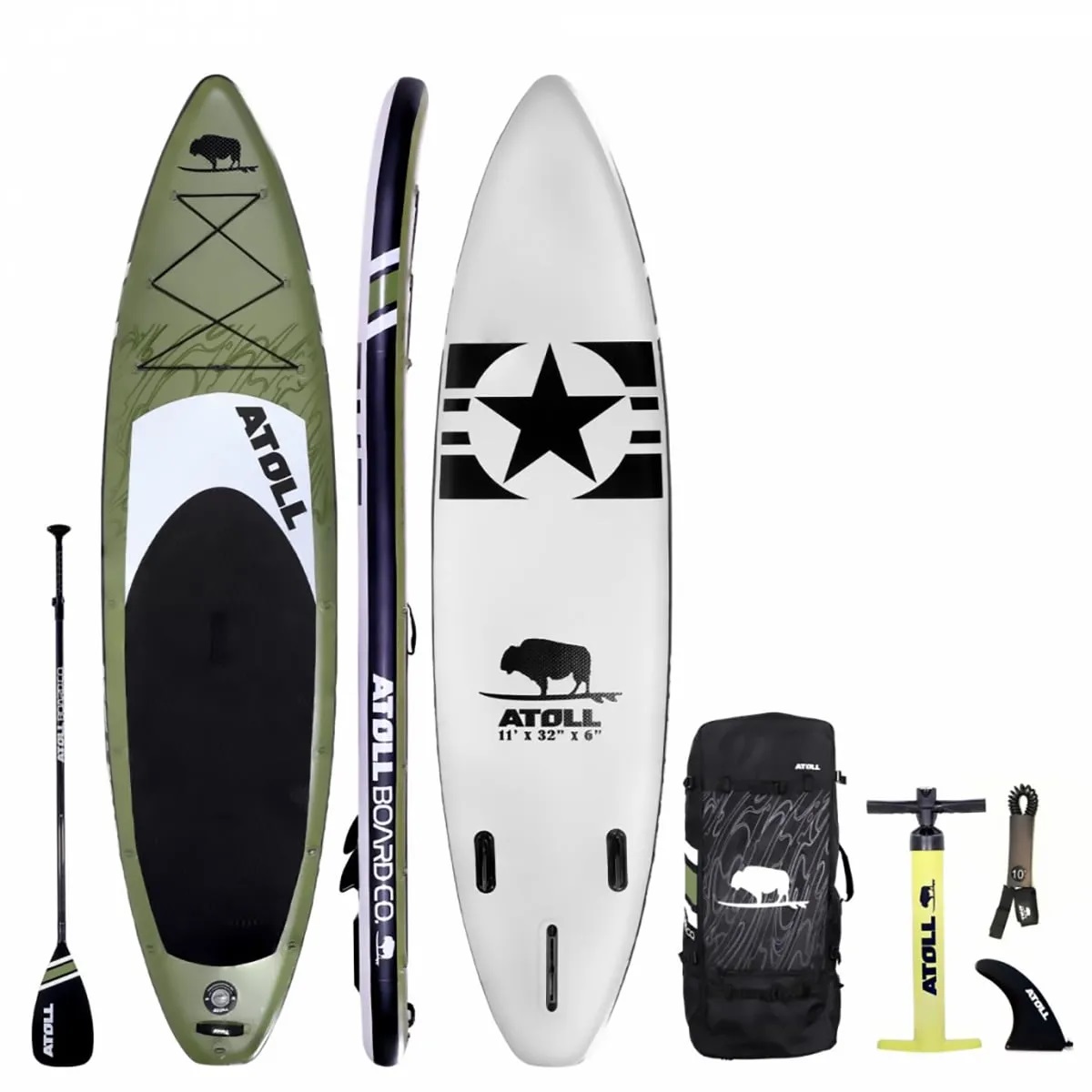 Atoll 9' Kids Paddle Board
The Price of "Atoll 9' Kids Paddle Board" varies, so check the latest price at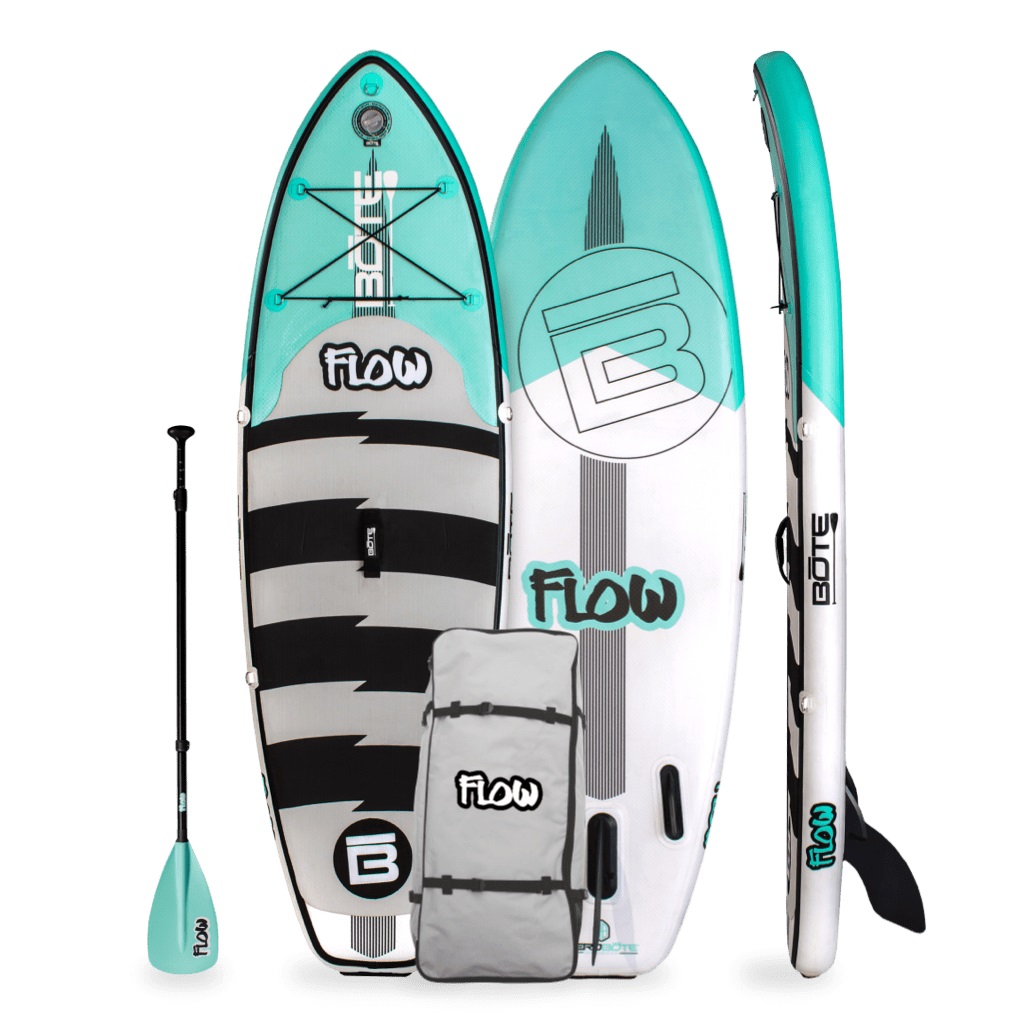 The minimalist design of this paddle board is what makes it a good choice for entry-level paddlers. It's a shorter paddle at only 8 feet long, so it's best for smaller children. It's built well and surprisingly stable for a short board.
Still, little kids that are are not confident in the water may not find it as stable as they would like. I always let my boys keep theirs close to the bank so they felt safer and wouldn't have to worry as much about wakes to wind.
There's a center fin that can be removed or replaced, and it comes with a repair kit and a hand pump, so it's nice to know you have everything you need when you take it out. The paddle breaks down into three pieces and can be adjusted.
My son likes the striped design and said it reminds him of a cool skateboard. I liked that it was easy to inflate and deflate, and my kids could get it in and out of the water without needing my help.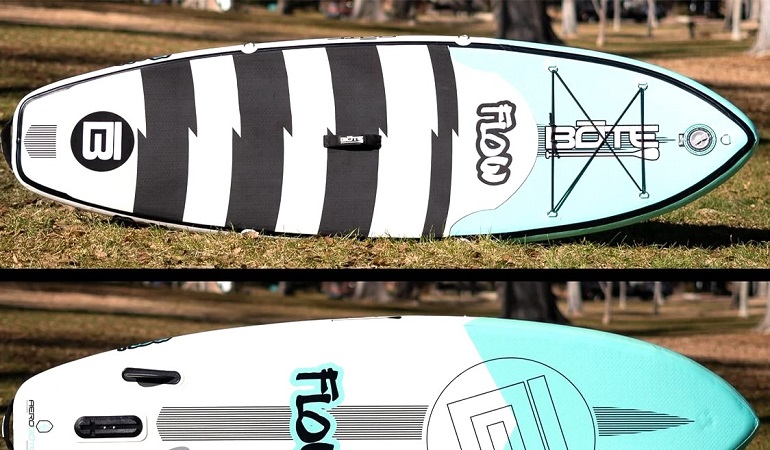 My kids have mostly outgrown ours, but my youngest will occasionally inflate this in the pool to play on. We also let my nephews borrow it when they go fishing or camping, and they love it.
I'd suggest it as a first-time kayak for any kid under 100 pounds, but anyone tall or heavier will likely need something longer and with a larger weight capacity.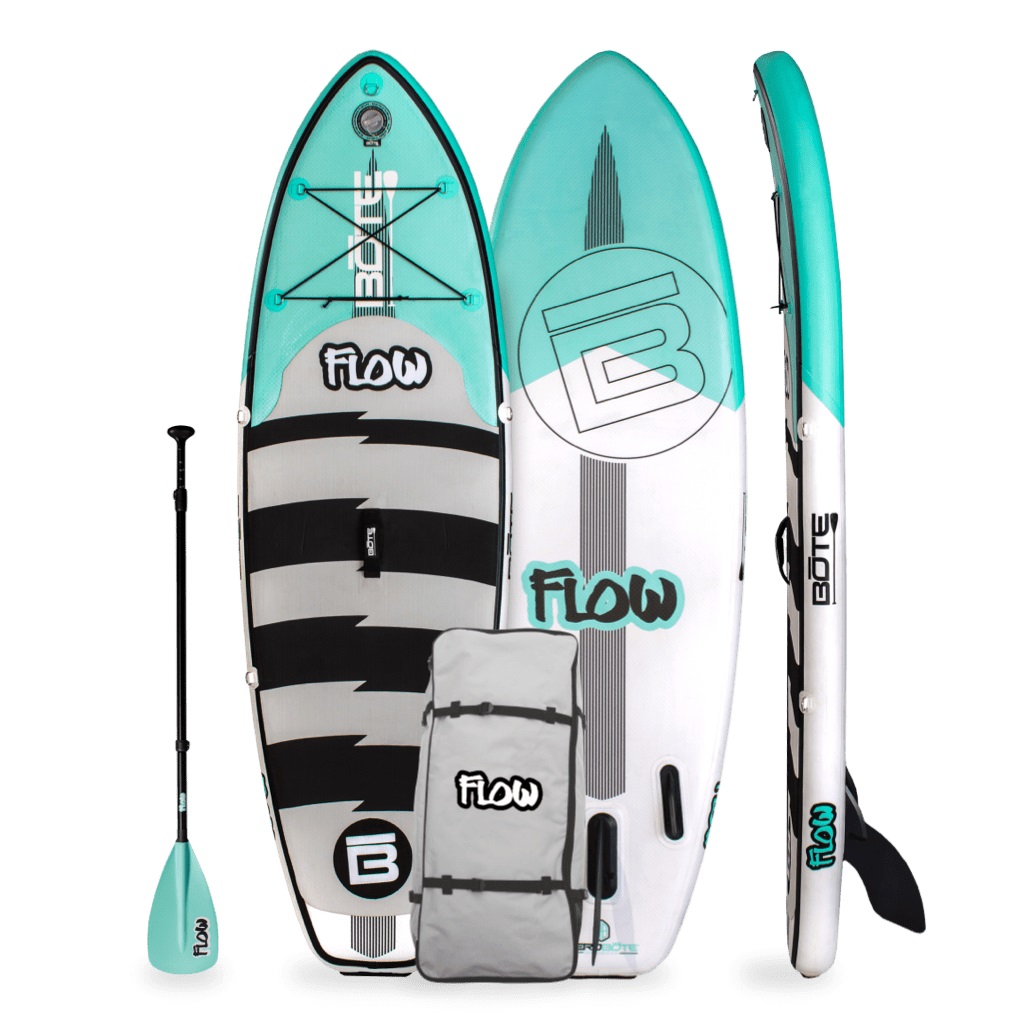 BOTE Flow Aero
The Price of "BOTE Flow Aero" varies, so check the latest price at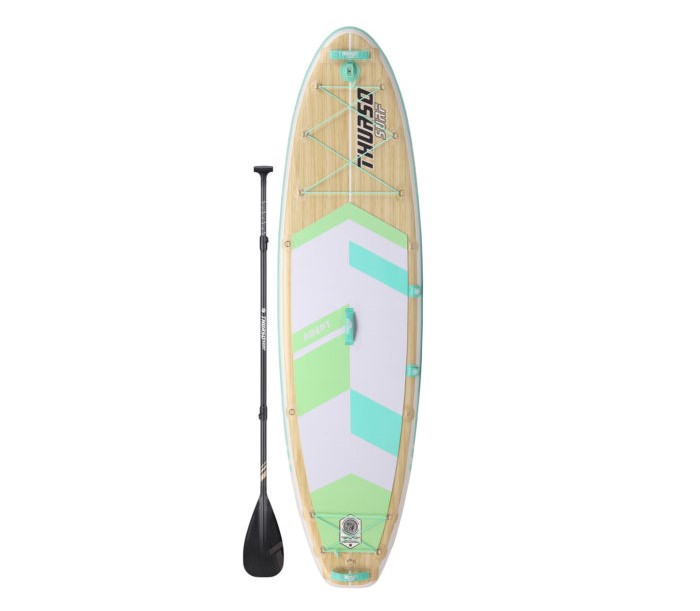 This one may be aimed at teens, but the great tracking, 10-foot length, and weight limit make it just as good for adults. I'm short at 5′ 3′, and I prefer a shorter paddle board because it's easier for me to maneuver it around.
I really love the natural wood and mint colors of this board and that it has a camera mount. I love to take photos and videos of my family when we are having fun together, so I can just strap my Go Pro right to it and don't have to worry about taking my phone or another camera.
This is my favorite paddleboard we have, but I rarely get to use it because my teenage son also loves it, mostly for the camera mount.
I feel really comfortable on it and find it sturdy and soft on my feet. I don't really wear shoes when I'm on my board, so it's important for me that the deck be soft.
I used the paddle that comes with it, and it was a nice size for me. My son is much taller, and he uses a different paddle that is slightly longer. The included paddle can be adjusted though.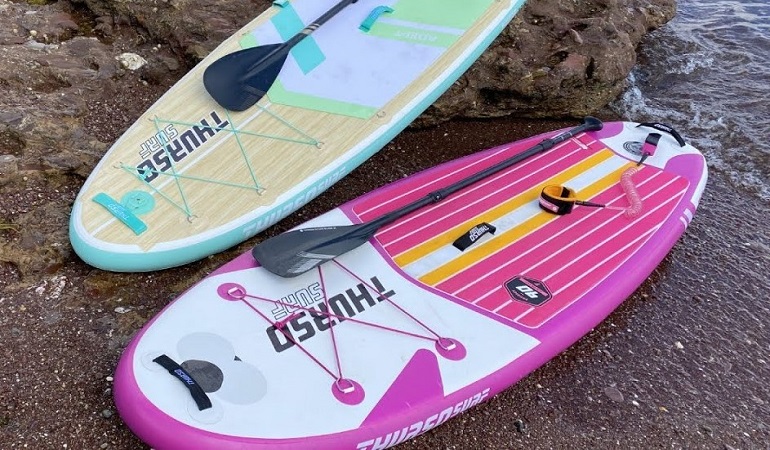 I've taken this all over the place, from lakes to rivers, and it's always done fine on different types of water and even in bad weather.
It fits in the roller bag that comes with it really well, and there's also extra room for some smaller items if you want to bring them.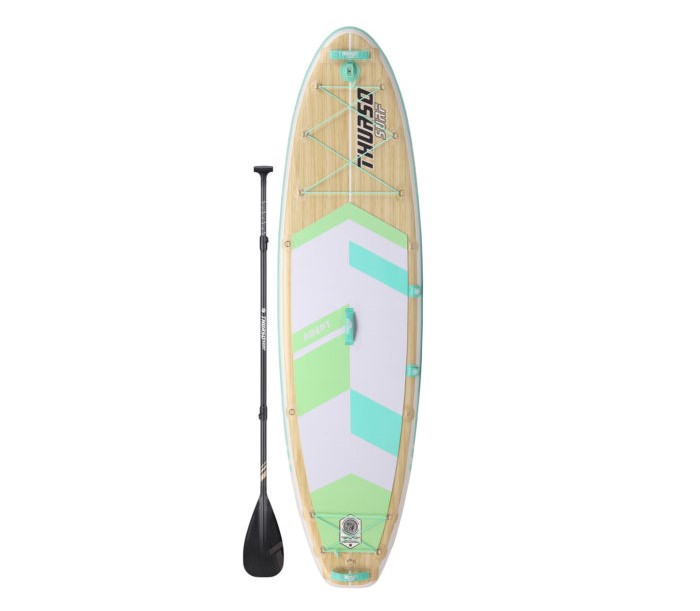 Thurso Adept
The Price of "Thurso Adept" varies, so check the latest price at
Buying Guide for Selecting a Children's SUP
My kids will literally turn anything into a boat or board, so most of the time, they are happy with whatever board we grab for them that day. We are lucky enough to have built up a nice collection of different types though.
If you are ready to get your kiddo a paddleboard for the first time, there are some things to look for that will help you pick the right one.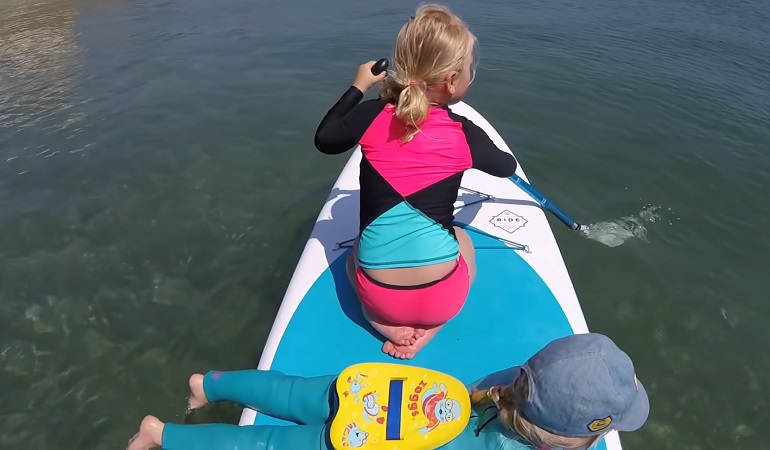 Appearance
I'd be lying if I said I didn't care about the appearance of a SUP, and I know that it probably matters more to kids than adults.
I've always picked out bright-colored SUPs for my boys because I know they like those colors, it's easy to identify them when we are at the beach or a busy waterway, and most importantly, I can easily see them even if the conditions aren't the best.
You should be able to find children's SUPs in many colors or find some that are more neutral as well. Some even have kiddie artwork.
Stability
Stability is in my opinion, one of the most important things to look at when you are picking out a SUP for your little one. You want to know your kid is safe on the water and won't fall in or fall off and get hurt.
Knowing the SUP is stable will give you some peace of mind and help your child find the experience more fun. While most manufacturers of kids' SUPs make stability a top feature, it can be hard to tell if one is as stable as you need without trying it.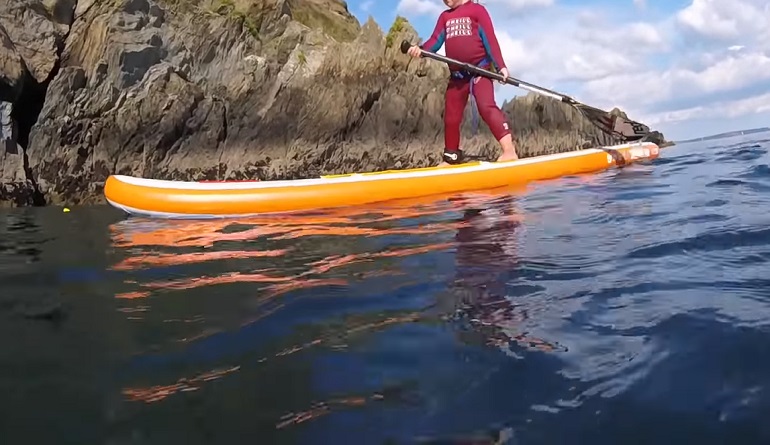 Always check the specifications on the website of the SUP manufacturer to learn about the stability ratings. In my experience, paddle boards that are wider are usually the most stable.
Weight
One of my main reasons for letting my boys have their own paddle boards was so they could help carry them. In our family, you carry your own boards and gear to the water.
Obviously, I never expected my young children to carry bags that were very heavy, but since most of the SUPs we have owned have been lightweight, they have always been able to haul them on their own.
I suggest you check the weight of the board when it's inflated and when it's rolled up and put in its carrying bag.
That way, you can be sure your kid can handle it, and you won't get stuck carrying it yourself. You should be able to find SUPs for kids that weigh between 17 and 25 pounds.
Fine Setup
I think most of us would agree that the best thing about SUPs that are inflatable is that they can be set up easily and quickly.
This is really important if you are like me and have anxious kids that just can't get in the water fast enough. A child's SUP shouldn't be hard to inflate or deflate, and it should be easy to put into its carrying pack.
Deck Pad
Kids won't stay long on a paddle board that isn't comfortable. The deck pad is one of the areas that their feet will touch, and it has got to be comfortable.
My kids don't wear shoes when they paddle, and they notice when a deck pad is rough or soft, and they have complained a lot about the ones they don't like.
A deck pad should also be slip-proof and safe, but there are many materials that can create a grippy texture and still feel good on the feet.
Durability
One thing about my kids, they get the most out of their paddle boards, and they could both be durability testers. They are not easy on their boards, and I really don't expect them to be. They like to jump off and on them, swim around them, play with them in the pool, and even pull each other around on them.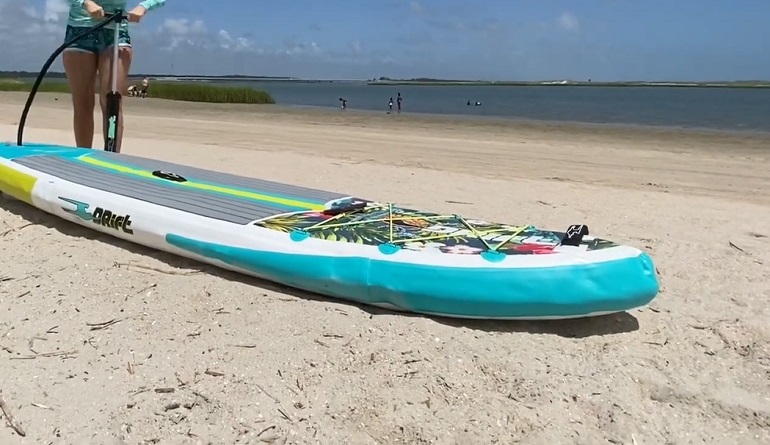 Hey, the whole point is to let them have fun, right? Still, I don't want to keep buying paddle boards that don't hold up to their destructive ways, so durability is something I pay close attention to.
I like to know that the seams are heat sealed so I don't have to worry about them popping, and I prefer boards that are double layered. I've watched my kids paddle right through and over a submerged tree and gritted my teeth, waiting for a board to bust.
Luckily the ones we have are durable and have actually lasted us a long time.
Affordability
I realize that you usually get what you pay for, and the cheapest choice isn't always the best. When it comes to kids and paddle boards, you don't want to spend too much.
If you splurge on a board for your kid and they outgrow it or get too rough on it, it won't be worth the money. But still, you want to make sure you are paying for a board that will last and has the features you need. It's good to find something in the medium price range.
Overall Performance
Your kids will have different performance expectations about their board than you will. Think about all the things they like to do with their board or how they will use it the most, and keep those in mind when considering the overall performance.
If you are looking for certain features, don't be afraid to be picky. If your kid is just starting out, you may just want something basic, but if your family goes paddling a lot and you want your kids to keep up, choose something more advanced.
FAQs
What Age Can You Start Paddle Boarding?
My oldest son got his first paddle board when he was 5 years old, and my youngest got his when he was 4. Both of them were natural and did fine with them under my supervision, of course.
As long as a child can stand up on the board, paddle, and keep their balance, they are old enough to try it. I'd suggest waiting until you know your child is comfortable on the board before you let them paddle it on their own.
Until then, you might try sharing the board with them and paddling behind them.
What Makes a Paddleboard Good for a Kid?
I've found that a good kids paddle board needs to be sturdy and durable. It also doesn't hurt for it to be colorful because kids will be more drawn to it, and you will be able to spot them on the water easier.
I find it really helpful if you can inflate and deflate them fast so kids can do it on their own. It's also a must for me that the board has a leash that my kid can wear to make sure they don't get separated from the board.
What Size Paddle Board Does an 8-year-old Need?
The size of the board you choose should be more about a child's height and weight and not just age. An average-sized 8-year-old could easily maneuver a paddle board between 7 and 9 feet.
If you own a paddleboard or if you have access to borrow someone's, you could let your kid try out different sizes to see how they do.
Not every kid needs a child's paddleboard, and some are able to use adult ones. If your kid is comfortable on an adult board, you won't have to worry about them outgrowing a small one.
A Dedicated Children's Sup or an Adult Sup That Works for Kids?
When you go to get a paddle board for your child, you might wonder if you should get one dedicated just for kids or an adult version. There are benefits to both, and it really depends on how well your child can paddle board.
Benefits of a Dedicated Children's Sup
The biggest benefit of a dedicated children's SUP is that it's designed specifically for children and has features that are tailored to meet their needs. Some of those benefits include,
Lightweight and easy to carry
Easier to maneuver
Affordable
Safer
Come with kids' accessories
More colorful and easy to see
Benefits of an Adult Sup That Works for Kids
Children can also use adult SUPs, and many do just fine with them instead of one dedicated to kids. Some of the benefits of allowing a child to use an adult SUP include,
Being able to share boards with family members
No need to buy a replacement as the child grows
More space for accessories
More advanced features
Better versatility for different water conditions
Large sizes can be more stable
Tips For Helping Your Kid Make The Most Out Of Their Paddling Experience
If you want to instill a love of paddling in your kid, you need to make sure every experience they have with it is fun. That may sound easy, but as a mom of two boys, I'm here to tell you that's not always the case. However, these tips might help you make the most out of your trips.
Do It Together
Your child is much more likely to enjoy paddle boarding if you do it with them. Spending time paddling with your kids won't just give you more memories, it will also help you learn more about their paddling skills and have the chance to teach them.
Be Patient
Let your child take their time getting used to the water and the paddle board. Understand that your kid may take some time to get used to their paddle board. If you put a lot of pressure on them to learn too fast, they won't want to go again.
Take Breaks
Paddling is strenuous for kids so take plenty of breaks to rest their little arms. You can even take snacks and drinks to enjoy together during the breaks. Also, be sure not to paddle for too long, as your child may tire quickly.
Get The Right Board
Your kid will find paddling more fun and easier if they have the right board. They will also be more likely to enjoy it if they have their own board with the features and shape they like. Let them help you pick out the right board for them.
Stay Safe
Always make safety your first priority so the experience stays positive and your child doesn't develop a fear of paddling. Take the time to teach your child about proper safety methods before you ever let them take their board on the water.
Final Thought
With the right child's paddle board, you can make amazing memories on the water like I do with my family. While it can take a little effort on your part to find out which paddle board is the better option for your kid, don't be intimidated by the process.
Just take your time, compare the different options, and be sure to include your child in the selection so they won't be disappointed with whatever board you get.
Keep my top picks in mind and let them inspire you to try out some of them, or look for other SUPs with similar features and benefits for your little paddler.