Paddle boarding has taken the water by storm. Paddlers up and down the country have grabbed themselves a board and taken to the new sport.
It is a wonderfully accessible and very versatile pastime that can be enjoyed by young or old, beginners or advanced paddlers. I love paddle boarding and take mine out to the ocean often.
I love the ability to use my board as a means of transport. I have a longer board with a pointed nose that is absolutely ideal for loading up with cargo and enjoying long days, even multiple days, paddling.
Paddle boards are extremely stable compared to a lot of other craft, such as surfboards or kayaks. Their broad surface area and fins work with the rider to keep you upright. This allows you to bring along multiple passengers, extra luggage, and paddle with confidence.
Paddle boards come in both solid board and inflatable designs. We will be looking at the latter today. They have a number of distinct advantages over their solid counterpart and are by far the more popular choice for riders.
Best Overall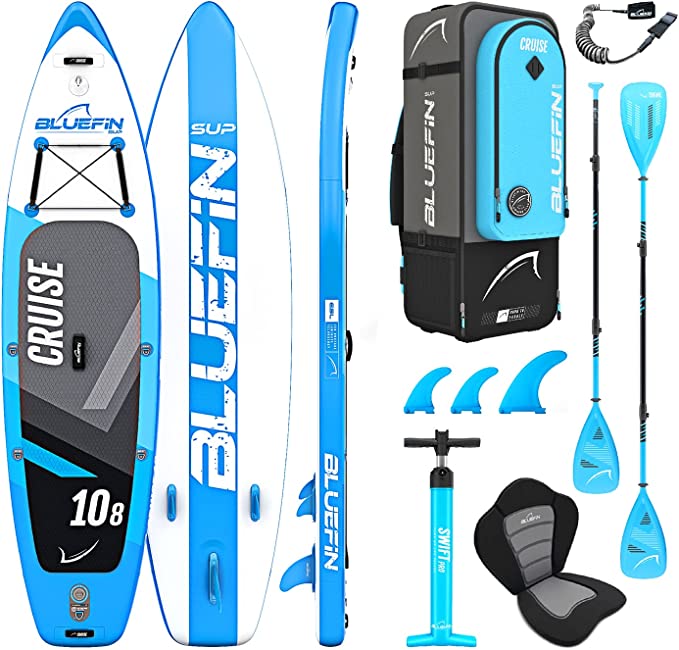 BlueFin Cruise
Material: Nylon
Item Weight: 38 pounds
Premium Choice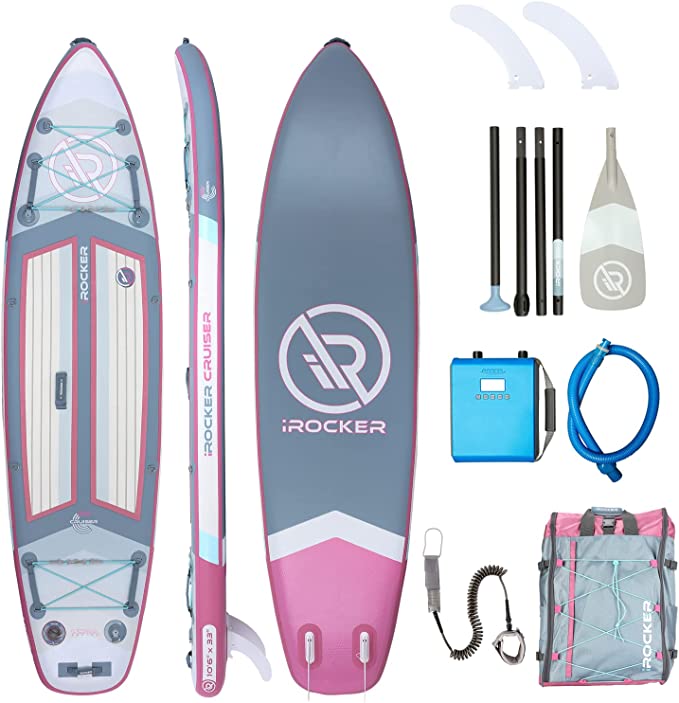 CRUISER ULTRA™
Material: PVC
Item Weight: 33.3 pounds
Best Value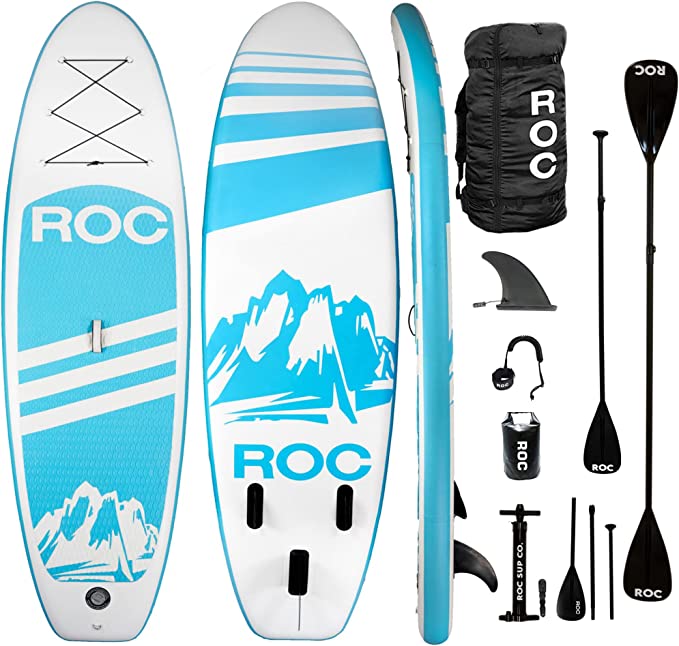 ROC Inflatable Stand-Up
Material:Quad Core PVC
Item Weight: 17.5 pounds
Ultra Lightweight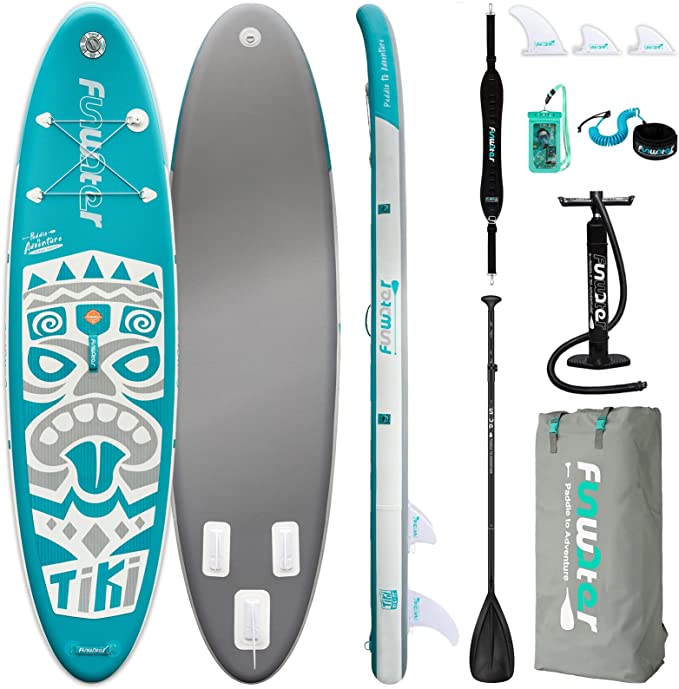 FunWater Stand-up
Material: Pvc
Item Weight: 28 pounds
Maximum Capacity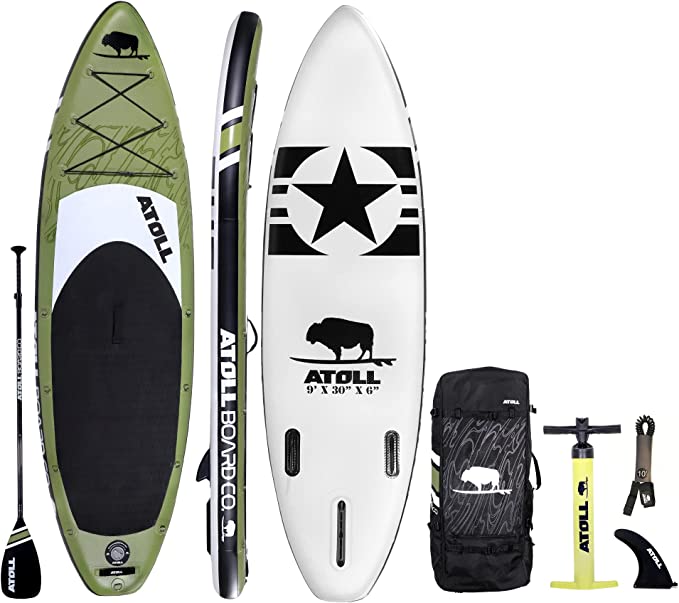 Atoll Stand-Up
Material: Polyvinyl Chloride
Item Weight: 19 pounds
Great Performance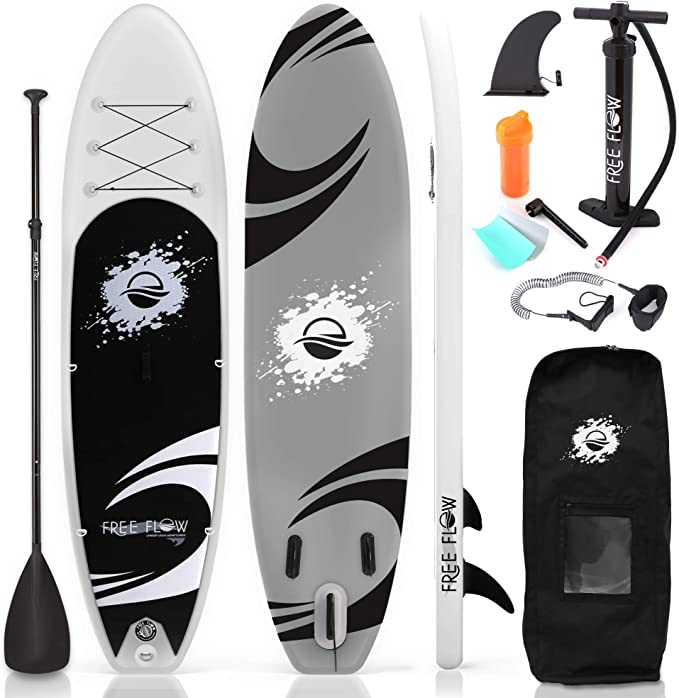 SereneLife Stand-Up
Material: Fiberglass, Elasticized-Fabric
Item Weight: 13.9 pounds
Super Versatile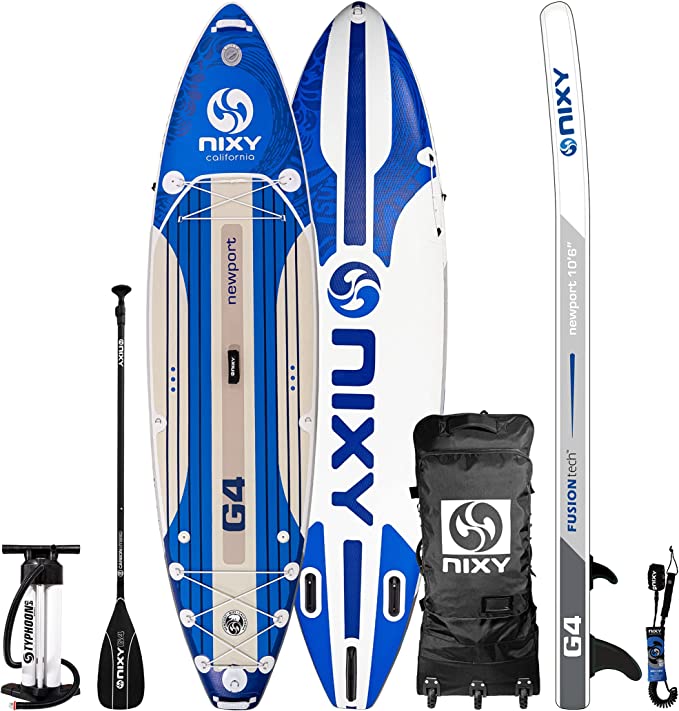 Nixy Stand-Up
Material: Polyester
Item Weight: 23 pounds
Best Splurge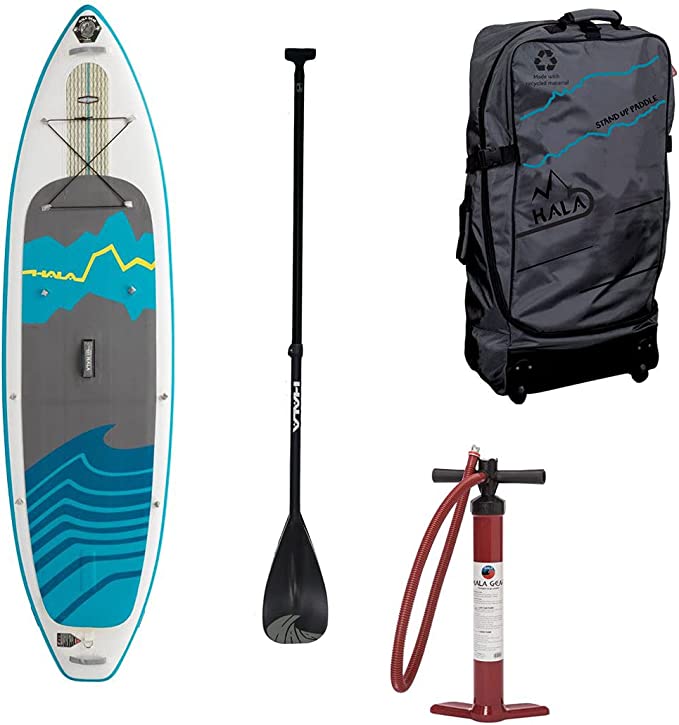 Hala Carbon
Material: Ethylene Vinyl Acetate
Item Weight: 25 pounds
Super Spacious
ISLE Explorer
Material: Polyvinyl Chloride
Item Weight: 24 pounds
True Head Turner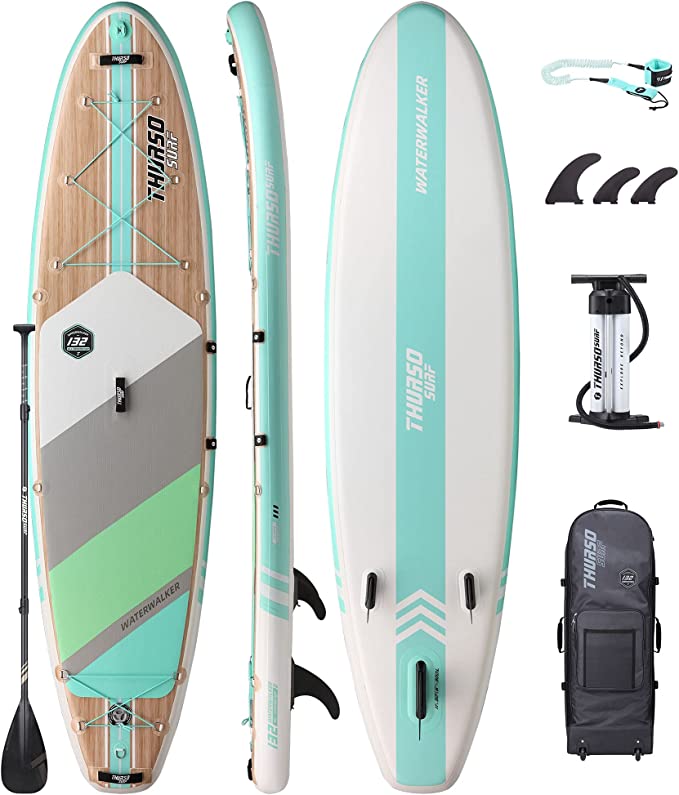 Waterwalker 132
Material: Aluminum, Fiberglass
Item Weight: 26 pounds
Extra Long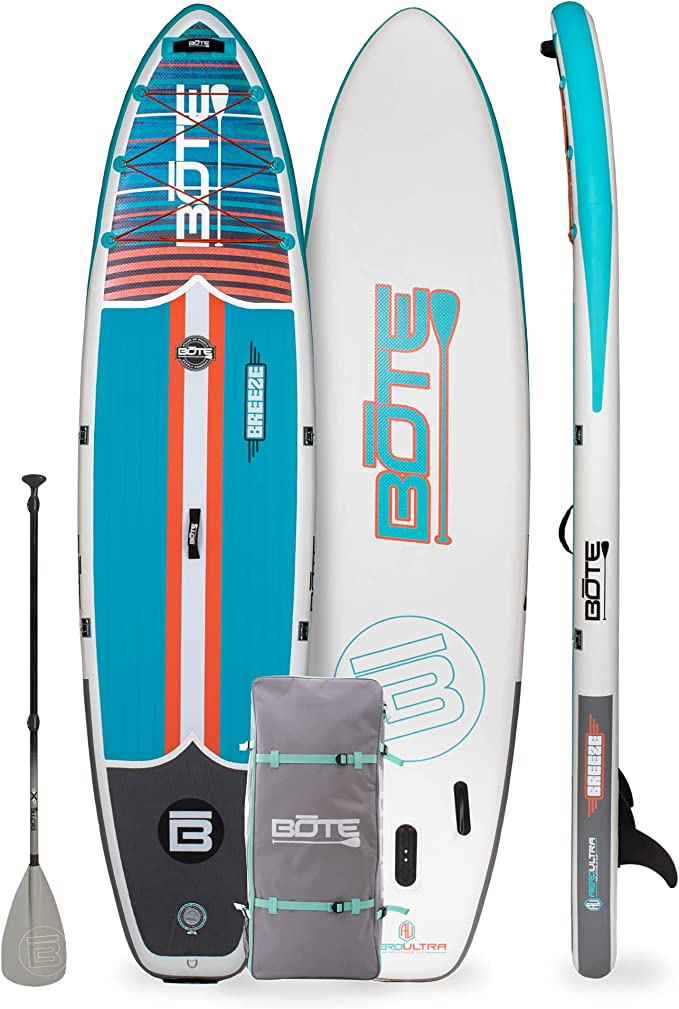 Bote Breeze Aero
Material: Ethylene Vinyl Acetate
Item Weight: 20 pounds
Super Speedster

Red Paddle Co Voyager+ MSL
Material: Ethylene Vinyl Acetate
Item Weight: 242 pounds
12 Best Inflatable Paddle Boards
Inflatable boards are light, amazingly easy to pack down and transport, and have a remarkable weight capacity. They are the ideal choice for anyone, like me, who has limited access to transport, and not that much storage space.
They can be so easily packed down into their carrying bag, and stashed in a cupboard until next time. Knowing how to store your board will help it last longer and save on space.
A good inflatable paddle board will come with all the extras you could want. A lightweight but strong paddle, plenty of D-Rings for storage, pumps, and repair kits should be what you expect as standard. Added extras I love to see are things like a kayak conversion kit, electric pump, or even a carbon paddle.
When you buy your next paddle board, you want to make sure you're getting something suited to you. They're not all the same and you don't want to end up with something designed for advanced paddlers when you're only just starting out.
I would try and find a solid all-around board that has all the board features you need. This list should have something for everyone.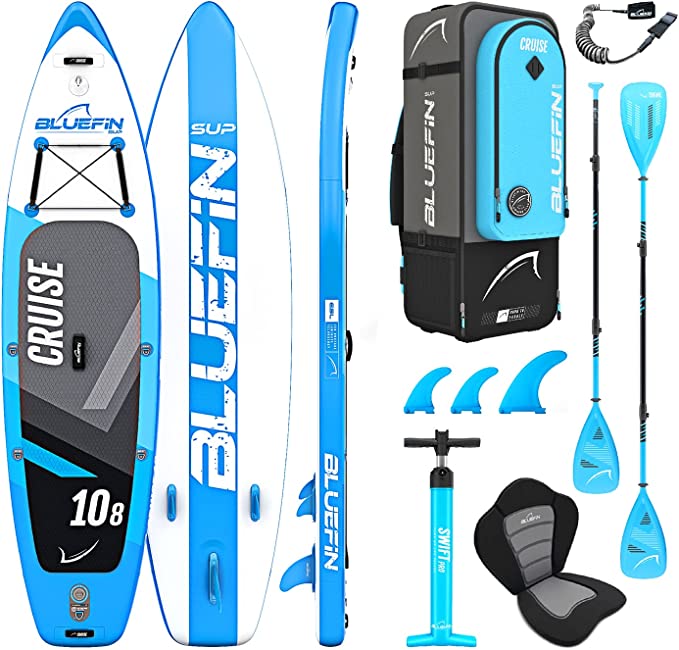 I have started off the list with a great choice for the shorter rider. The board is designed with riders under six feet in mind.
It will still provide a great ride for anyone who decides to hop on board and still has the weight capacity to hold them. It is very beginner friendly and will be easily moved around in the water.
The 10'8″ size of this paddle board makes it a bit shorter than some of the others we will be looking at in this review. This makes it more suitable for a shorter and lighter rider.
It doesn't leave an awful lot of room for luggage either. It does feature some attachment points and bungee webbing, but don't expect to be taking your camping gear. It would be excellent as a surfing paddle board.
For an excellent price point, you get a whole lot of included accessories. This paddle board comes with a comfortable kayak seat, carbon hybrid paddle, removable fins, dual action pump, action mounts, and a great carrying bag. It really is the complete package!
The addition of the kayak seat really makes this inflatable stand-up paddle board stand out from the other boards. Being able to convert your paddle board into a sit-down craft with some quick adjustments is a great feature.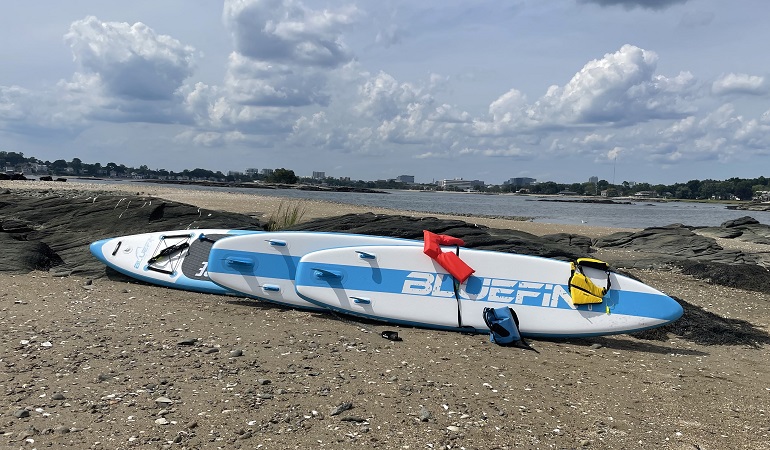 The deck pad has a nice couple of features that you don't see on many other all-around boards. A raised kick pad at the back, just behind where the paddler would be standing, creates a platform to really dial in your turns. Front and rear handles also adorn the top of the paddle board for ease of transport.
With the board inflated it will comfortably hold 150 kg. This is enough for two small paddlers or a bit of extra luggage. You could even bring your pet along. There are inflatable stand-up paddle boards out there with higher carrying capacity, but for a beginner or a child, this size is perfect. You can check out the detailed Bluefin Cruise review for further information.
Features
Length – 1o'8″
Width – 32″
Thickness – 6″
Construction material – Cross thread drop-stitch construction
Max Weight -33olbs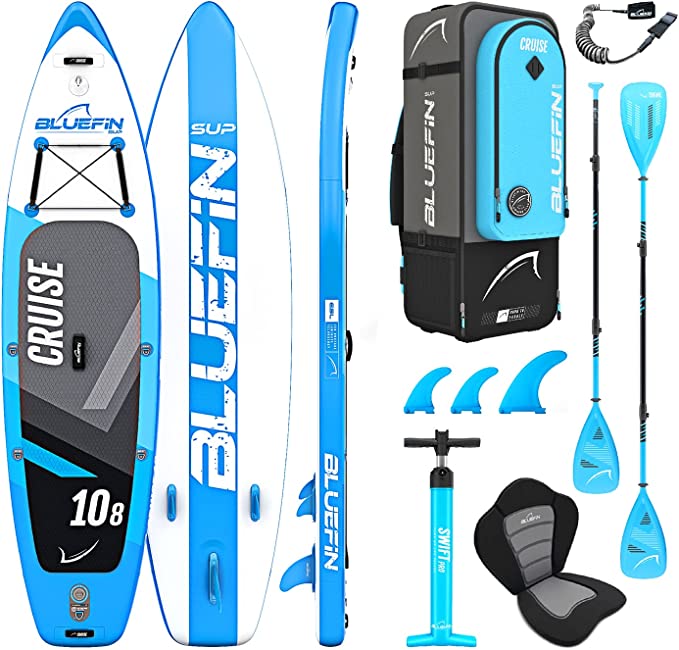 BlueFin Cruise 10'8 All-Around Inflatable SUP
The Price of "BlueFin Cruise 10'8 All-Around Inflatable SUP" varies, so check the latest price at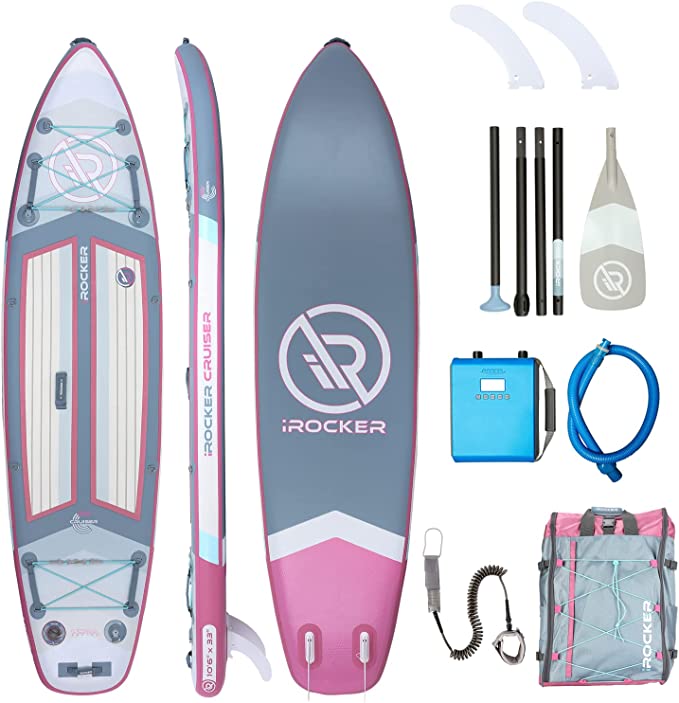 iRocker is known in the industry for producing great boards using high-quality materials. The iRocker Cruiser is no different. This is a pricier board compared to a few of the others we have looked at but it is a performance-oriented board that can carry two and is perfectly suited to beginners.
The iRocker Cruiser has an extra wide base. This provides perhaps the most stable board we will look at today. The wide design helps with balance, and leaves more room for carrying, but does have an effect on speed.
I like my paddle boards a little slimmer than this, speed and ease of paddling long distances are important for me. This will move slower and require more effort.
I think this inflatable SUP looks amazing. The color scheme is really eye-catching with some cool patterns across the inflatable board deck. If you're going to spend a bit of cash on a swanky board you want to stand out.
The pack contains most of what you would expect from the best inflatable SUP. This also comes with a few extras I think are really neat too: the inclusion of an electric pump and a full carbon fiber paddle.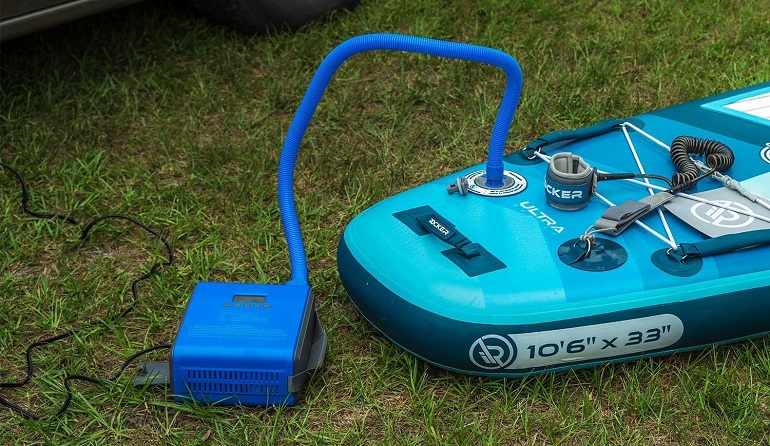 The electric pump saves you the effort of having to inflate your SUP board yourself. You will have more energy for paddling. The high-quality materials used in the paddle make it extremely lightweight, further reducing the effort needed to move.
Features
Length – 1o'6″
Width – 33″
Thickness – 6″
Construction material – Cross thread drop-stitch construction
Max Weight -30olbs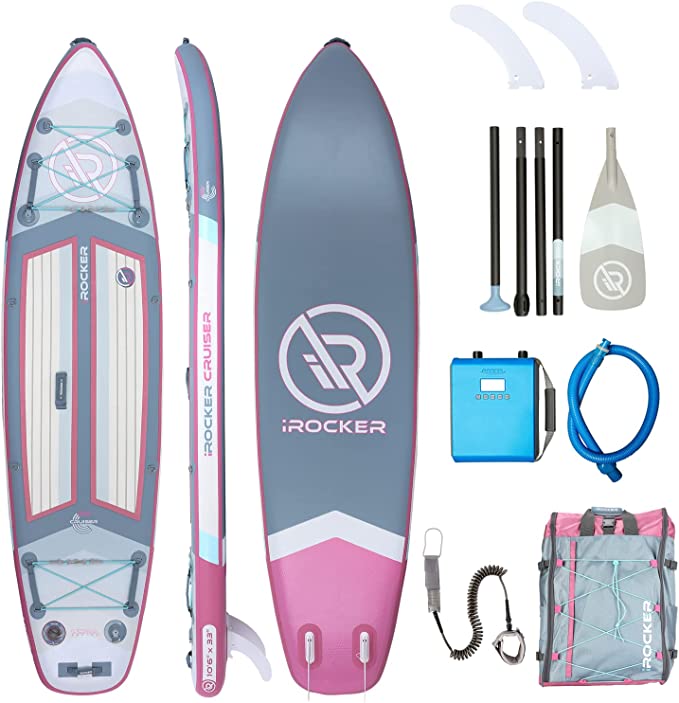 CRUISER ULTRA™ Inflatable Paddle Board
The Price of "CRUISER ULTRA™ Inflatable Paddle Board" varies, so check the latest price at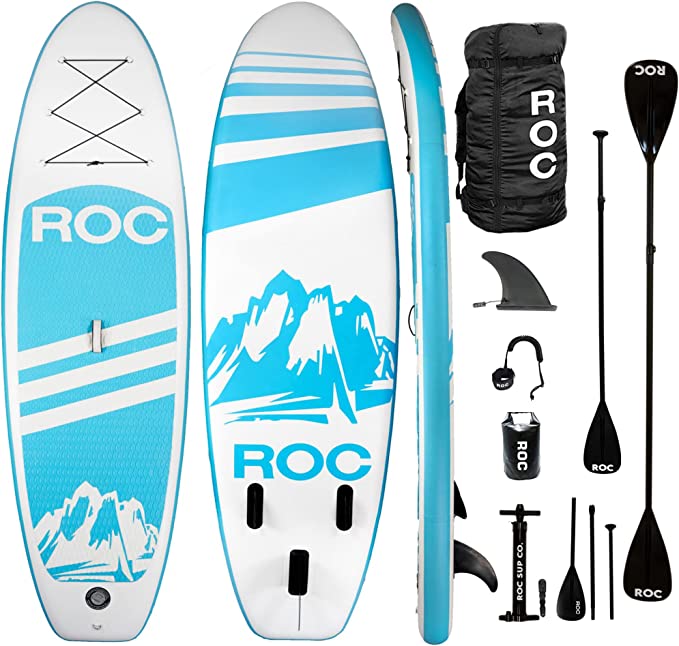 You can get your hands on a budget board that will still serve you very well on the water. There is no need to break the bank when you invest in an inflatable SUP. This one, despite the price, still comes with a plethora of features and extras you'll absolutely love.
A short length and wide deck make for a very stable board perfect for beginners. We know that stability is paramount in paddle boards for beginners. The non-slip deck pad and triple-fin only further the sense of balance. If you're just getting out there onto the water this would be the perfect board for you.
Quad-core PVC construction provides a remarkably durable build quality. The high-quality construction is finished off with a triple-layer wall and reinforced drop-stitch interior.
I find a lot of SUP activities can be quite taxing on the surfaces of a deck, so knowing you have the durability to last is always great.
The overall value of this cheap all-around inflatable SUP is furthered by the great set of gear you get along with it. A nice big carrying bag is filled with loads of goodies. You can expect to find an ankle leash, removable center fin, manual pump, and an oar. This also contains a few other paddle board kit too.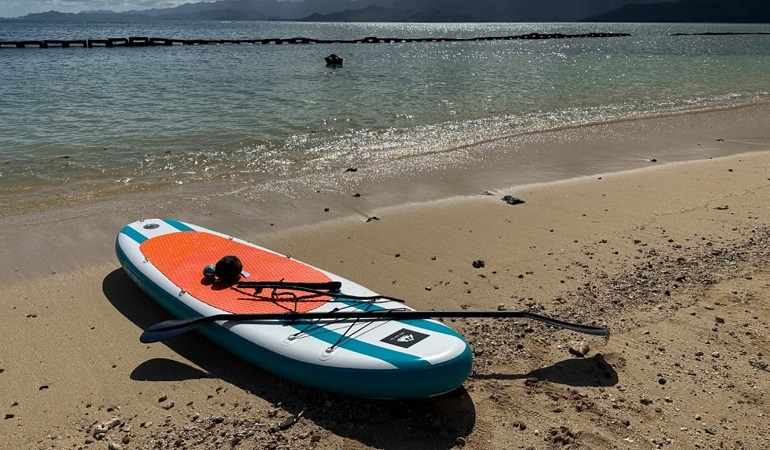 You will also get a paddle board dry bag that you can throw your valuables into and stash under the mesh at the front of the inflatable SUP. Along with the dry bag comes a convertible kayak paddle. You can get yourself an extra kayak seat and ride your inflatable SUP sat down.
Another iSUP option worth looking into can be the Lidl paddle board if you're heading out for a slow, relaxing day.
Features
Length – 1o'
Width – 32″
Thickness – 6″
Construction material – Quad Layer PVC
Max Weight -35olbs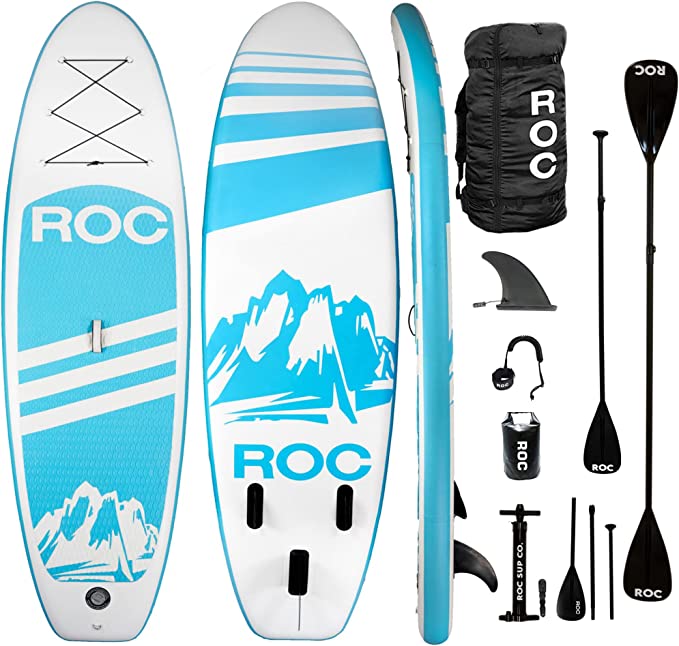 ROC Inflatable Stand-Up Paddleboard Pack
The Price of "ROC Inflatable Stand-Up Paddleboard Pack" varies, so check the latest price at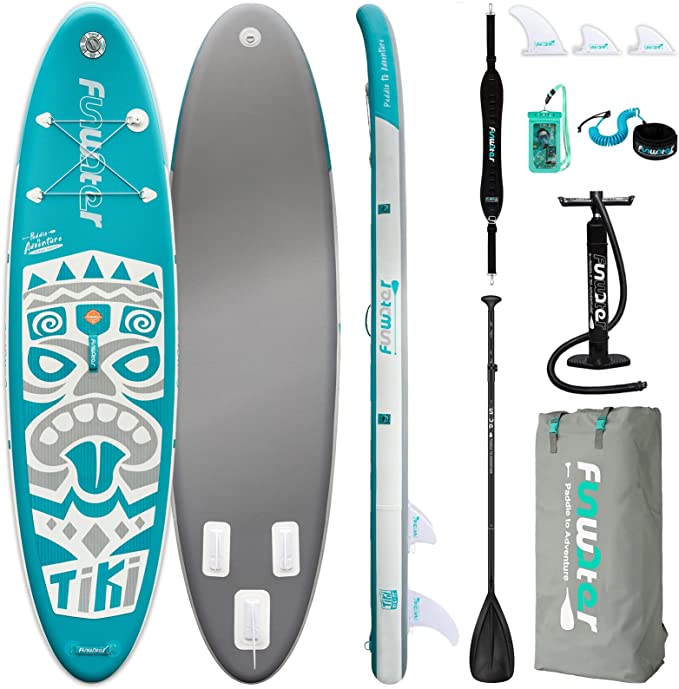 I can really appreciate an inflatable board that manages to keep its weight low. The reason I enjoy the pastime so much is because of the ability to transport my lightweight board anywhere I want.
The versatility of being able to pack up and trek to those remote water spots puts it above kayaking for those situations. FunWater has developed a SUP with a decent length but still may be the lightest paddle board seen today.
Weighing at only 19 lbs, this all-around board can easily be transported by anyone. You won't struggle to get it from A to B in its handy carrying bag. If you want to pump and then carry it, it has a shoulder strap so you can carry inflated.
The budget inflatable paddleboard construction is made up of dual-layer PVC. This is a tried and tested material that keeps costs low but still provides excellent protection against damage. The drop stitch within the stand-up paddle board's body will hold its shape even when fully inflated.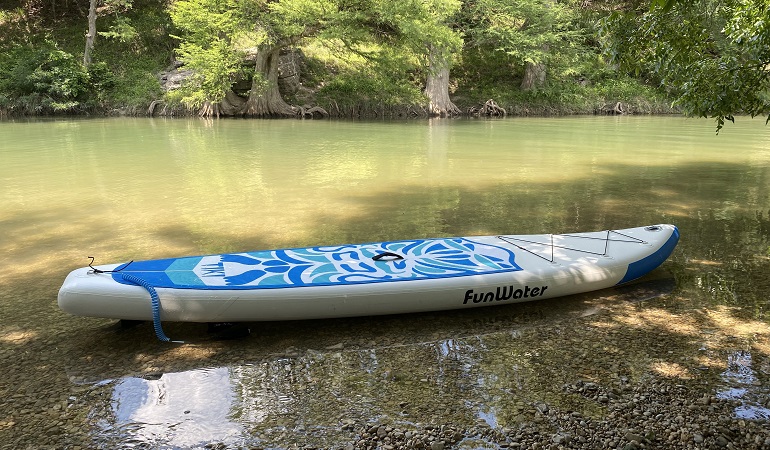 The package comes with everything I would like to see in an inflatable SUP board package at this price.
A dual-action pump and repair kit come alongside the aluminum paddle. Aluminum paddles are a great choice in that price range, they're light and durable enough. Carbon fiber is always another choice if you want to upgrade.
Features
Length – 1o'6″
Width – 33″
Thickness – 6″
Construction material – Dual Layer PVC
Max Weight -33olbs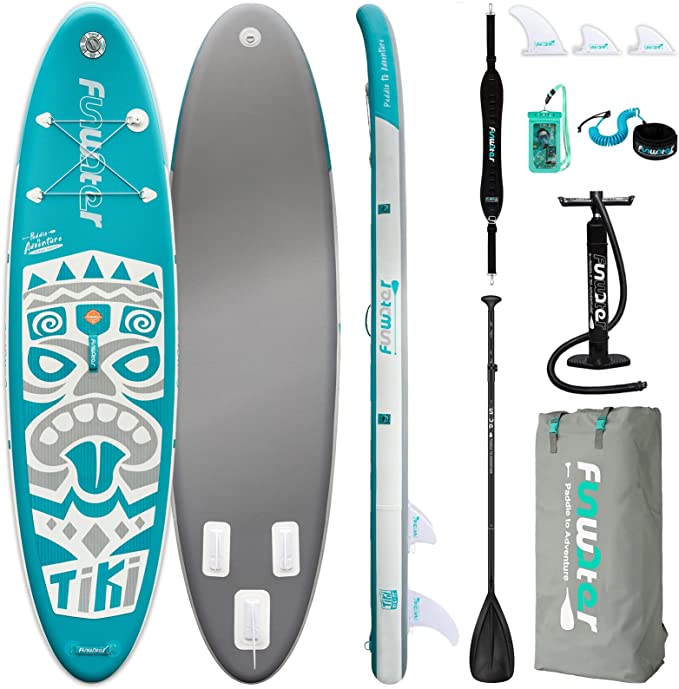 FunWater Stand-up Paddle Board
The Price of "FunWater Stand-up Paddle Board" varies, so check the latest price at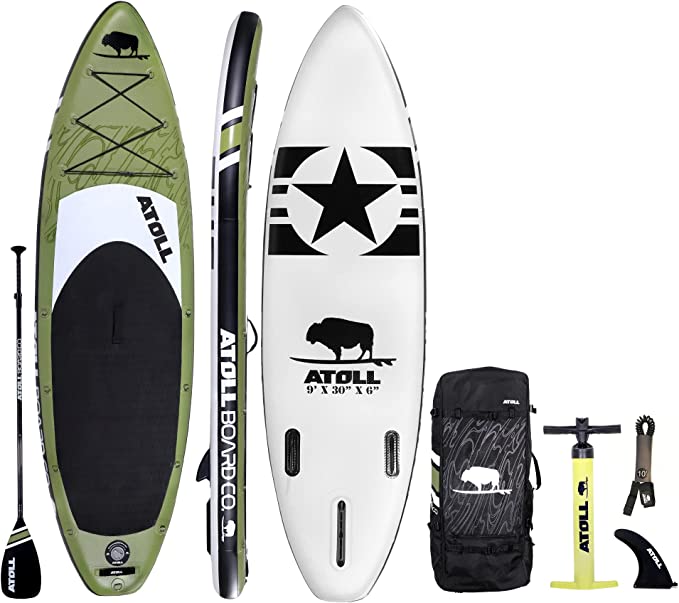 Riders with a bit of extra weight need something that can handle the pressure. If you're wanting to use your SUP as a touring board, you will probably need a deck that has the weight capacity to match. This is where I think Atoll takes the award.
The board performs much better than other boards under such a heavy load. Their tester concluded that it boasts a high weight capacity of 700 lbs. This is due to its extra-long length compared to the others and the excellent materials used in its construction.
D-Rings line the sides of the paddle board allowing for quite a lot of customization. With the D-Rings, you will be able to attach all sorts of extras.
If you want to bring things like rod holders, fish finders, or some extra luggage tie-downs, the D-Rings will facilitate. The max capacity won't struggle with all the mounts you need.
The whole 11′ paddle board fits nicely into a compact backpack. Not only does the paddle board fit in this carrying bag, but also the pump, fins, and adjustable paddle. All snuggly fitted into a lightweight package to carry to your nearest, or even more remote, body of water.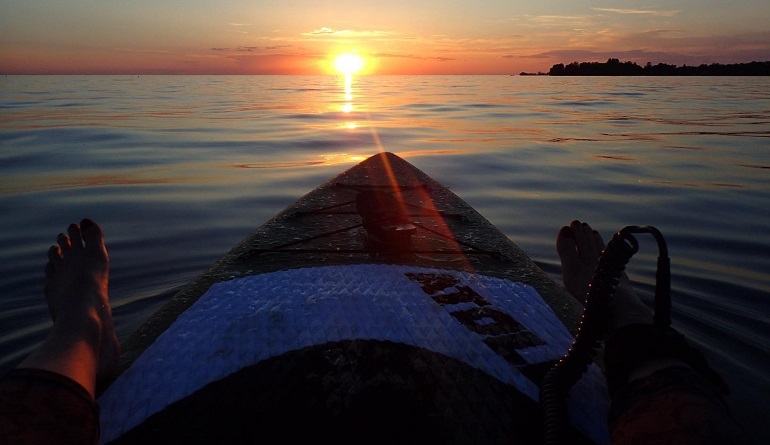 Due to the long and relatively slim nature of this paddle board, I would recommend it for the intermediate to advanced paddler. It will take a little extra know how to properly maneuver it on the water. If you're new to paddle boarding, just make sure you go out with a life jacket on.
Features
Length – 11′
Width – 32″
Thickness – 6″
Construction material – Dual Layer PVC
Max Weight -33olbs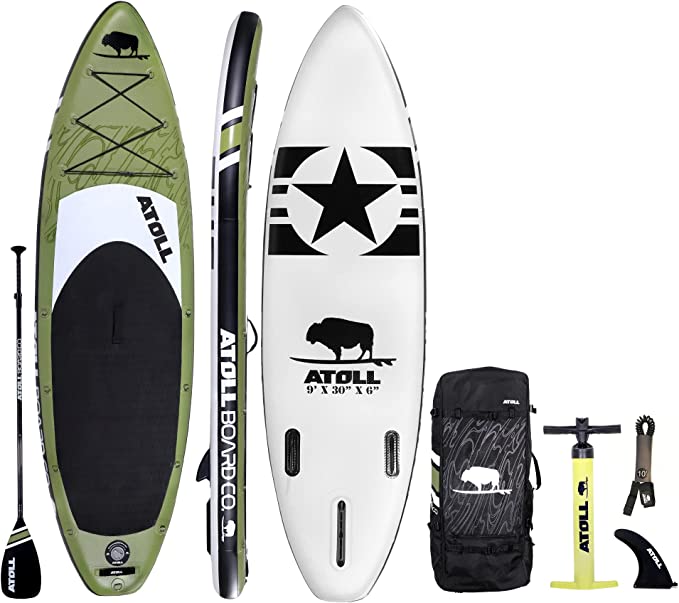 Atoll Stand-Up Paddle Board
The Price of "Atoll Stand-Up Paddle Board" varies, so check the latest price at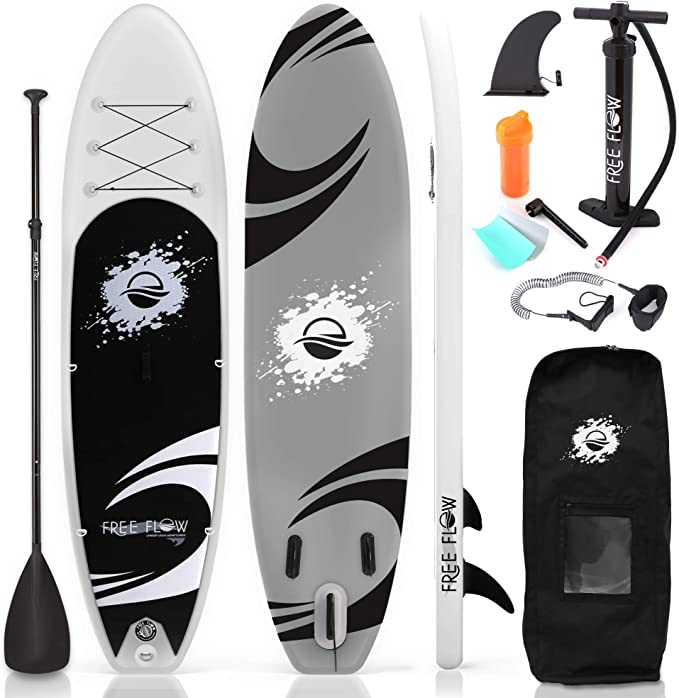 Beginners and experienced paddlers alike can jump onto a Serenlife paddle board and have a great day out. They haven't done anything too crazy with their designs but the advanced construction, and high-quality materials make for an excellent inflatable board.
I'm pretty confident you will find it extremely difficult to tip or fall off this paddle board.
SereneLife has put a lot of time and research into creating a lightweight paddle board that boasts great stability on flat water and even some chop. It will have good performance in lots of paddling conditions.
I like the good tracking provided by the triple fins along the bottom. They will keep you skimming along the water along with the best touring boards. The fins keep you in a straight line with every push, ensuring an efficient glide.
The full-length deck pad is equipped with padding. The padding is there to soften the blow when you eventually take a tumble.
I don't care how good you are, even the professional and intermediate paddler will take a tumble sometimes. The punishment you're willing to put your body through is an important consideration.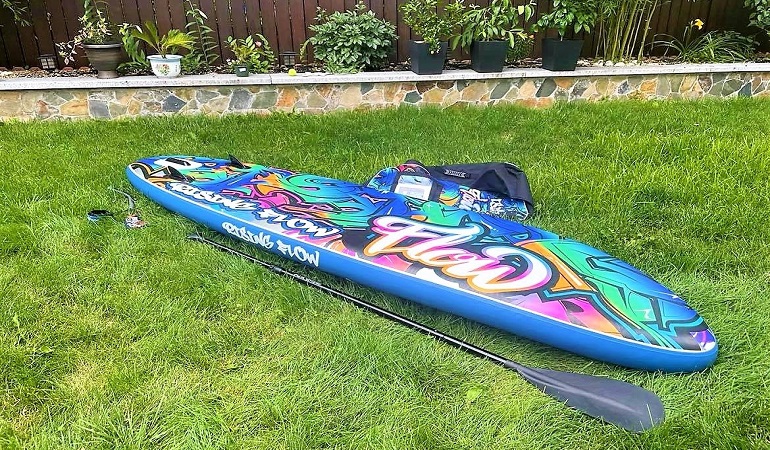 The weight limit on this incredibly lightweight paddle board is worth thinking about. Despite the length, it has a very low carry capacity. This makes it great for single days out when you don't need extras. On the plus side, the low weight does make it a very easy carrying bag to get around.
Features
Length – 10'6″
Width – 32″
Thickness – 6″
Construction material – Reinforced PVC
Max Weight -285lbs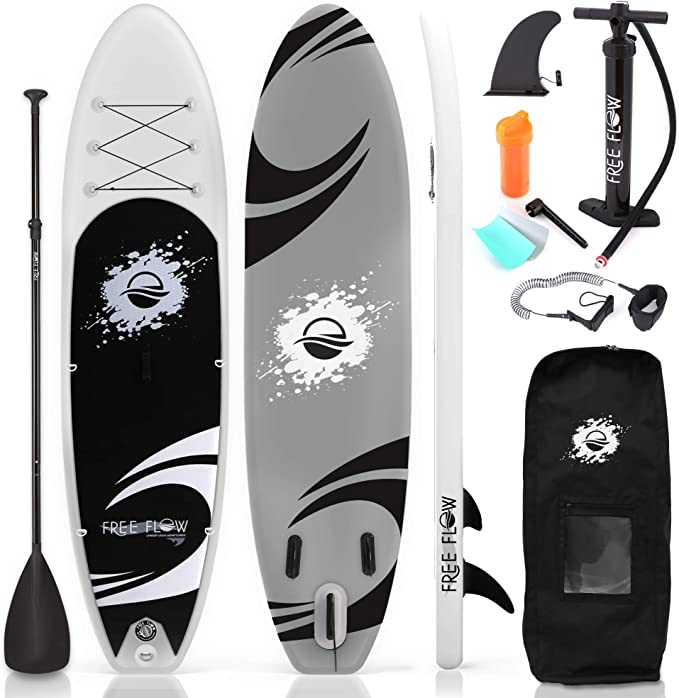 SereneLife Stand-Up Paddle Board
The Price of "SereneLife Stand-Up Paddle Board" varies, so check the latest price at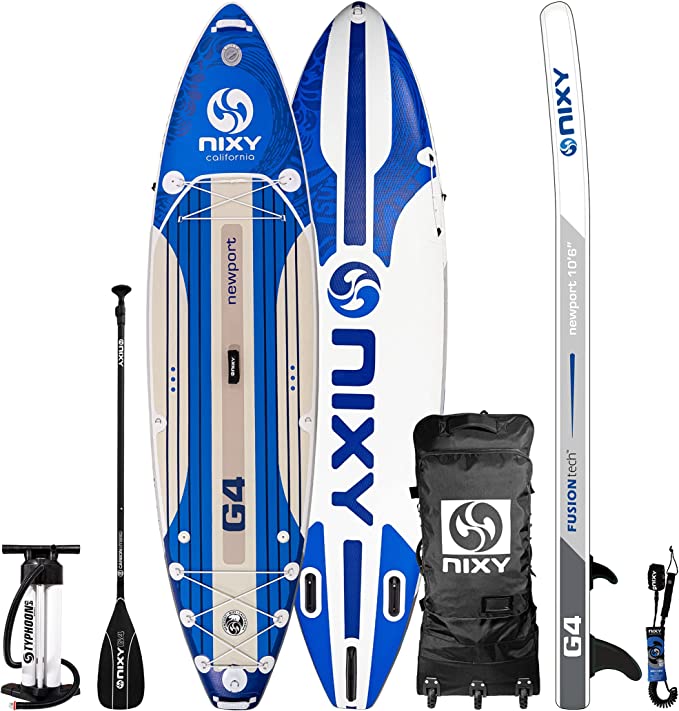 If you have the cash to splash then take a look at the inflatable stand-up paddle board from Nixy. It isn't the cheapest of the inflatable SUPs we've seen today but you get a lot for your money. This is one of my personal favorites simply due to its attention to detail and versatility.
At only 21 lbs, the Nixy Newport packs some seriously durable material into a super lightweight board.
Something I really like about this model is the carbon fiber rails that run down either side of the reinforced PVC. They just help the all-around sup boards shape stay absolutely rigid, and protect the integrity where you'll need it most.
The inflatable SUP boards deck comes with a wealth of features that I think you'll really appreciate. This is the only board with a paddle holder at the front. This will become essential if you are using your inflatable SUP for something like fishing, where your hands won't be free to hold your kayak paddle.
Fishing is further facilitated by the amazing amount of mounts. A total of five mounts allow for rod holders, fish finders, cup holders, and many other things to be clipped on. Paddleboarding was never so versatile.
The inflatable stand-up paddle board also comes with bungee straps across the front and rear of the deck. You can secure your luggage down all the way across the deck. You can use your paddle board for long trips out with camping gear and a cooler.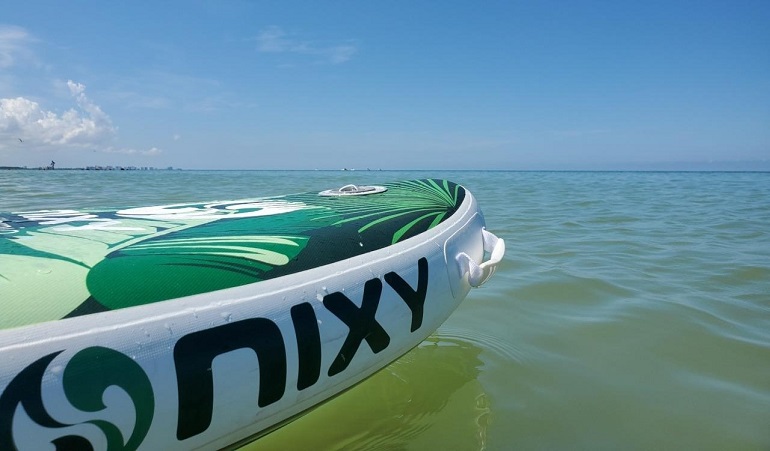 The whole kit fits into an oversized bag with four roller wheels on the bottom. You can fit everything into this rolling backpack, including a paddle, manual pump, and of course, the inflatable SUP. I think the carrying bag probably has space for a lot more too.
Features
Length – 10'6″
Width – 33″
Thickness – 6″
Construction material – Dual Layer Drop Stitch PVC Body and Carbon Fiber side rails
Max Weight -300lbs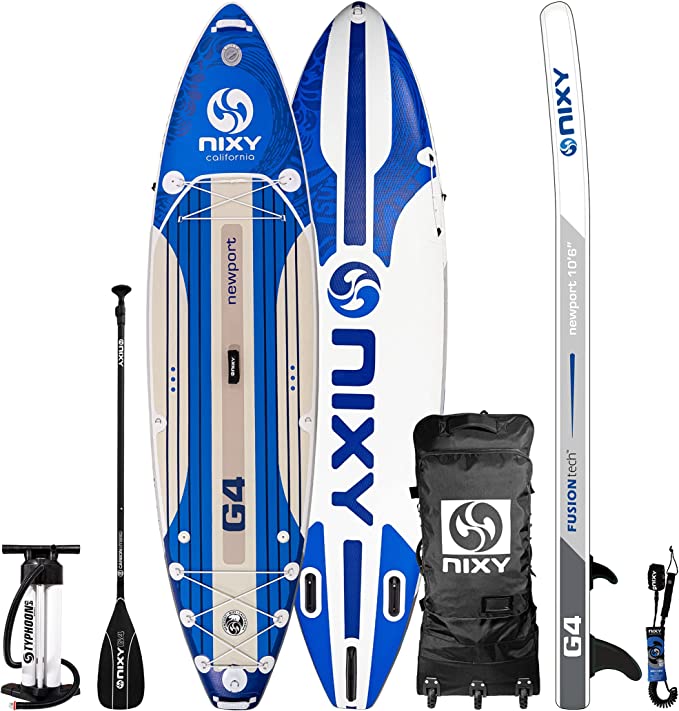 Nixy Stand-Up Paddle Board
The Price of "Nixy Stand-Up Paddle Board" varies, so check the latest price at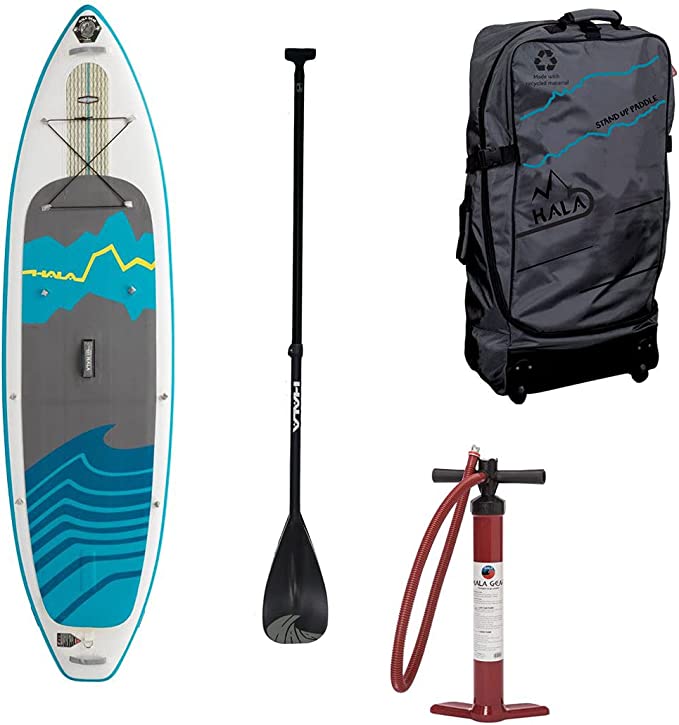 For the best inflatable board for paddlers who are looking to take their game to the next level, you could do a lot worse than the Hala Carbon. It is a very maneuverable board due to its exceptional design and is just at home on flat water as chop and wake.
This isn't a cheap inflatable stand-up paddle board but it will last you a lifetime and take you on many a wonderful journey. It is one of the better inflatable SUPs on our list, but I would suggest this for intermediate paddlers and up, simply because of the cost of investment.
So what makes this inflatable stand-up paddle board stand out from the rest, I hear you ask? Well, it begins with the grade-A construction throughout.
Carbon woven drop-stitch and carbon stringer technology run the whole length of the inflatable SUP providing unmatched rigidity that would match a stiff board.
The deck has a diamond-grooved 4mm grip across the surface, and like the first paddle board we reviewed, it has a raised stomp pad just behind the paddle position. These combine to facilitate some very efficient paddling. You can use the grip and stomp pad to really move the Hala around under your body.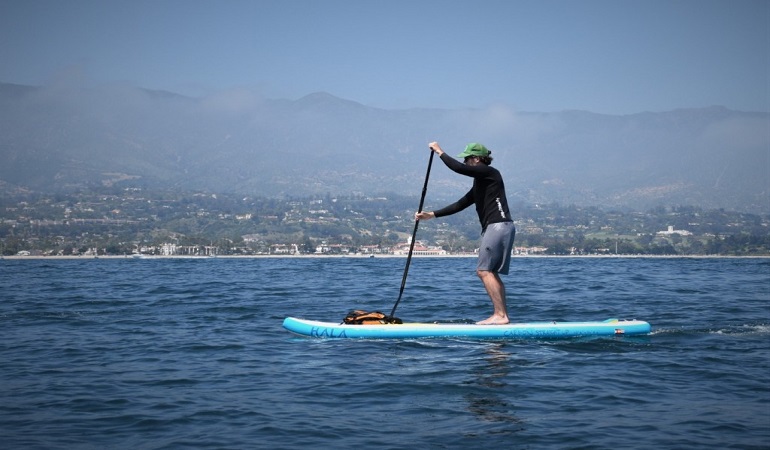 The inflatable stand-up paddle board also comes with some nice extras. We see these come with most of the other boards, but these are of a higher quality.
A paddle comes in the pack, it is made of carbon fiber. This provides unmatched strength and weightlessness. Once you have tried carbon fiber, you'll struggle to go back. High-quality removable fins are also included.
Features
Length – 10'6″
Width – 32″
Thickness – 6″
Construction material – Carbon Woven Dropstitch Construction with Welded Seams and Carbon Stringer Technology
Max Weight – 275lbs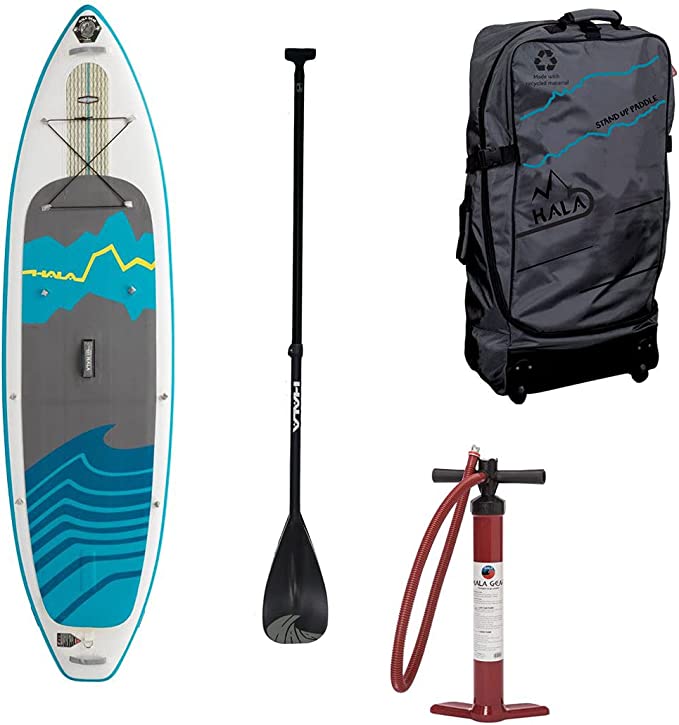 Hala Carbon Straight Up
The Price of "Hala Carbon Straight Up" varies, so check the latest price at
Taller riders need a longer inflatable SUP and the Isle Explorer is there for that purpose. The extra-long deck is perfect for transporting lots of cargo, a few small children, or even another passenger. The rugged design and big surface make this one a great choice for touring.
This inflatable SUP has more volume than a lot of the other paddle boards we have reviewed today. It allows for a lot more carrying capacity for when you want to have longer trips out.
The front and back bungee straps are ideal for securing down camping equipment, coolers, and other similarly heavy items. You won't be left wanting for more space.
The center fin on the ISLE Explorer is especially long. This creates a lot of smooth tracking ability, even in rougher waters. The center fin will keep you moving forward in a casual glide.
Tracking on a paddle board this size is very important. The added length can become hard to manage in any kind of moving water, but the long fin of the Explorer should keep you on track.
D-Rings line the whole surface of the paddle board. This allows for some extra versatility in what you use your inflatable SUP for. The D-Rings are great for adding a seat, so you can sit down and use your board as a kayak. They can also help secure your personal flotation device or other cargo.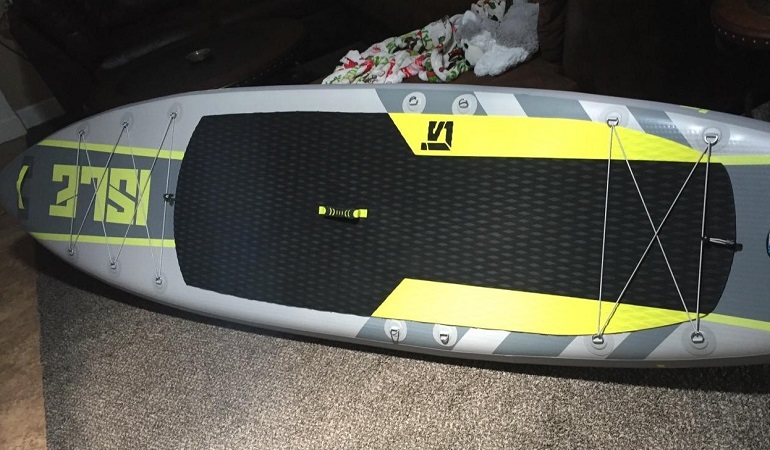 You can unpack from the handy carrying bag in about ten minutes and be on your way in no time. The bag contains everything you could want including a paddle, repair set, pump, and ankle leash.
Features
Length – 11'6″
Width – 34″
Thickness – 6″
Construction material – Military-Grade PVC
Max Weight – 300lbs
ISLE Explorer Inflatable Stand-Up Paddle Board
The Price of "ISLE Explorer Inflatable Stand-Up Paddle Board" varies, so check the latest price at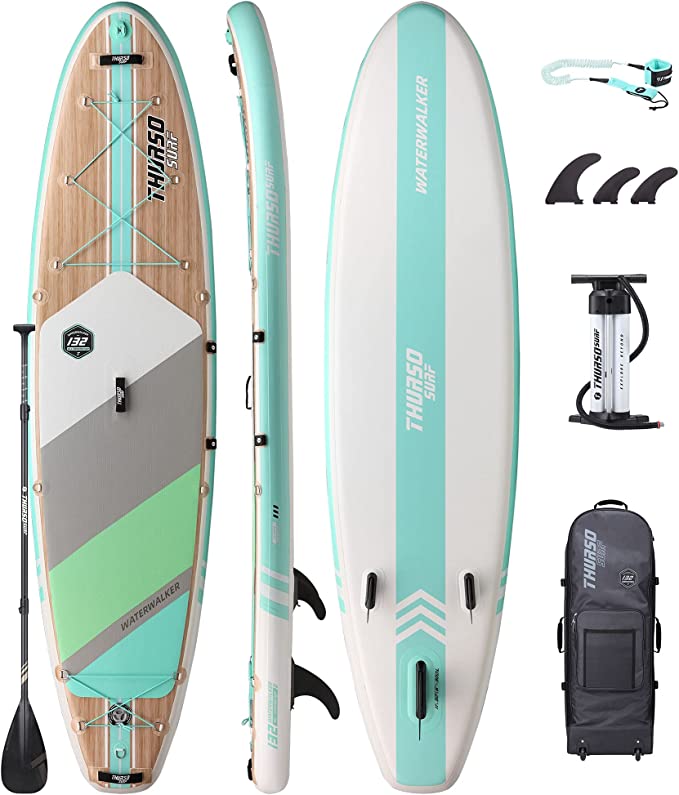 There is no denying that this is a great-looking board. It has gone for a traditional wood panel design across its large surface and will be sure to turn heads no matter what body of water you're on.
Not the cheapest, but not the most expensive either. This is a great choice for anyone who has found their feet and wants to get to the next level.
WaterWalker advertises this as an inflatable SUP made for taking big trips with lots of cargo. They have facilitated this with a few extra inches compared to a lot of boards, and some brilliant bungee options.
The front and rear of the surface are webbed with bungee tie-downs that could hold a wealth of stuff. Whether you want to go camping, need to transport groceries, or are planning a fishing trip, this SUP can handle it.
The introduction of double-layer construction and carbon fiber rails again sees a build that will last the test of time. You won't have to worry about your Thurso Surf Waterwalker losing its shape over time, or the bumps and scrapes that come with paddling piercing the sides.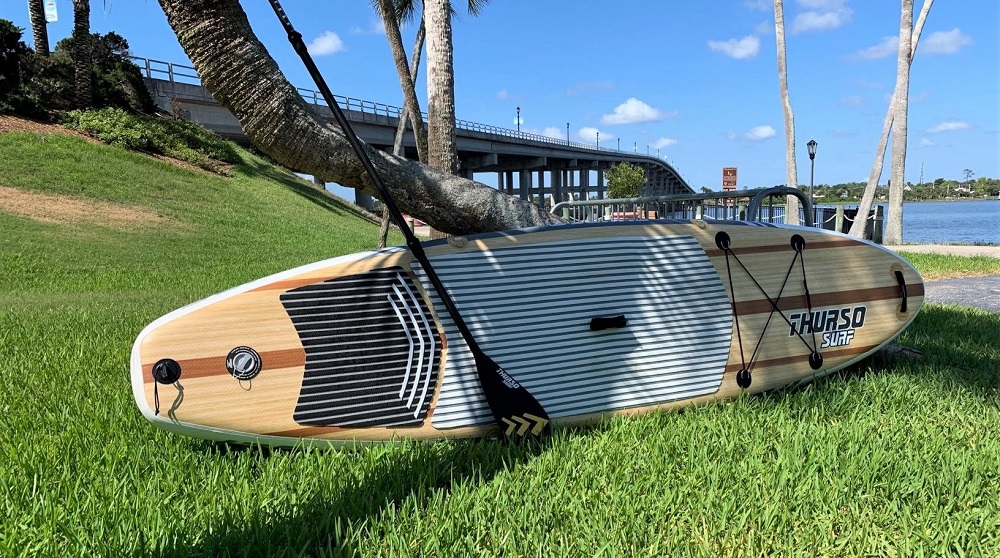 The pack comes with a dual chamber pump, hybrid carbon paddle, long leash, and fins. All this fits in a large carrying bag that has wheels and very comfortable, adjustable backpack straps. I think you'll find transporting this large stand-up paddle board a lot easier than you think.
Features
Length – 11′
Width – 32″
Thickness – 6″
Construction material – Double Layer PVC And Carbon Rails
Max Weight – 330lbs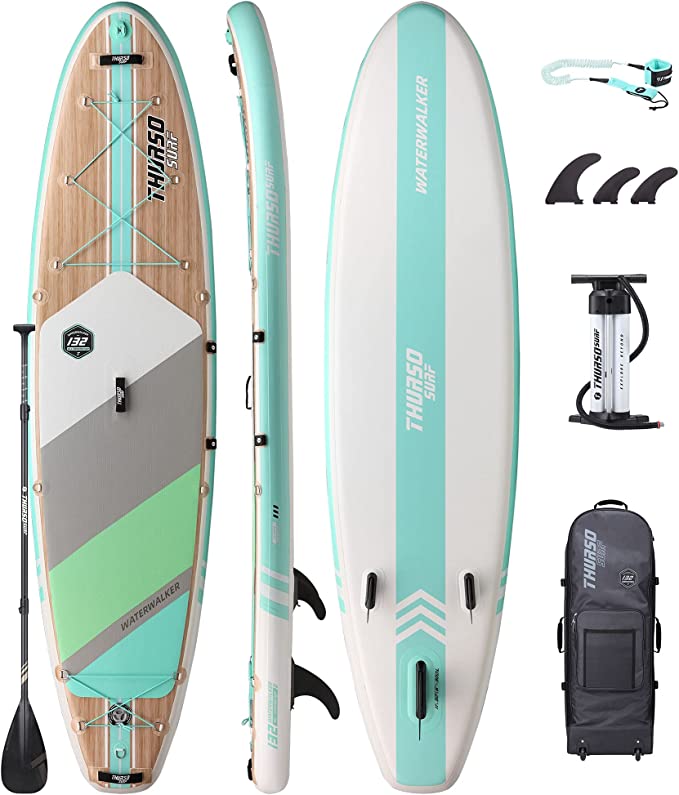 Waterwalker 132 All-around SUP
The Price of "Waterwalker 132 All-around SUP" varies, so check the latest price at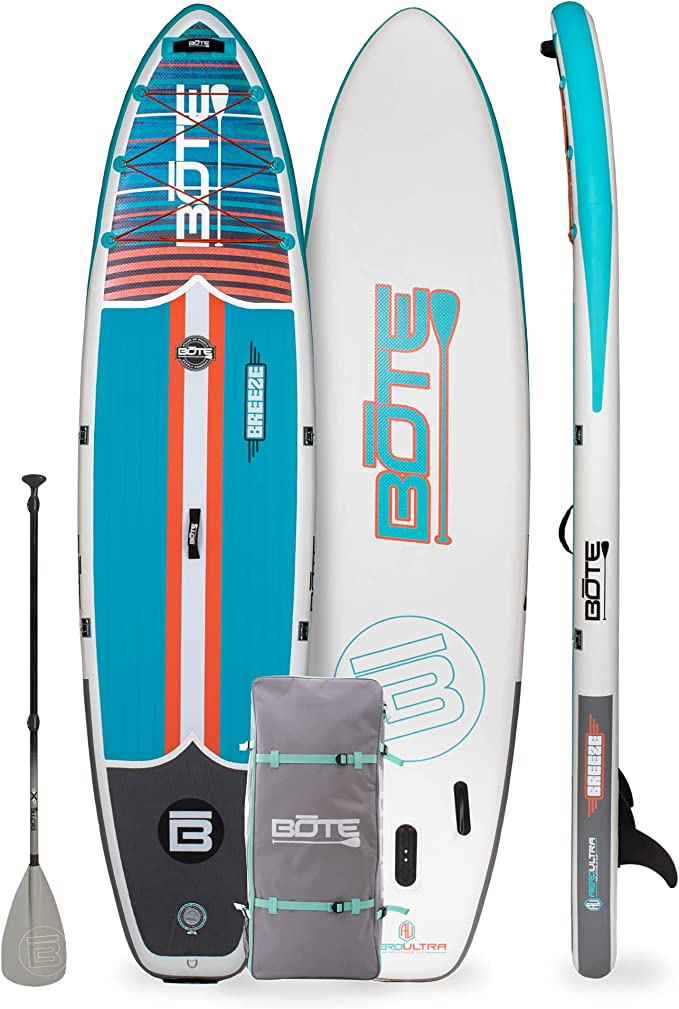 Bote make great paddle boards, they have plenty of years of experience making SUPs and it shows. Smooth designs, lightweight technology, and all the extras you will love make up their boards. Spending a little more money pays off with Bote.
If you want a stand-up paddle board with a little extra length, the Bote Breeze Aero is a great choice. The long, 11'6″ deck won't struggle to carry you, passengers, and a pile of cargo. This is facilitated by the wide bungees across the front plus a couple of other innovative carrying methods.
On the surface of the paddle board is a magnetic clip specifically made for Bote's own cup. You can bring one of their thermos mugs along with you on your next trip, attach it to the magnet, and now worry about it flying off.
They also have a large cooler system that is compatible with the board. This cooler is a round, sturdy, reliable bit of gear that can also double as a seat with its top padding.
Despite its size, the Breeze is actually remarkably light. It fits its whole mass into a surprising 20 lbs, so you won't struggle to get it around. This makes it a great fit for everyone. I always appreciate a stand-up paddle board that won't break my back. That makes for a comfortable carrying bag.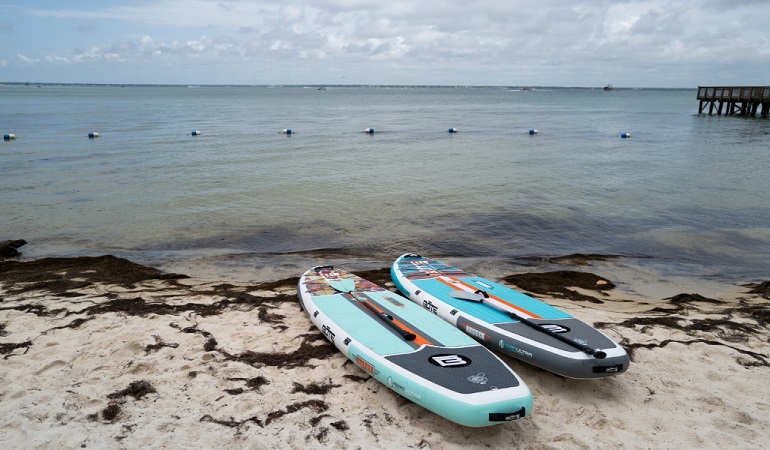 I love the shape of the Bote Breeze Aero, it's an obvious show of their expertise. The gently rounded side walls are finished with a gently angular nose. This helps cut through the water without giving up too much stability.
Further stability and cruising capability are added with the rocker on the front. This will make riding over any kind of rough water an absolute dream.
Features.
Length – 11'6″
Width – 33″
Thickness – 6″
Construction material – Inflatable AeroULTRA Technology
Max Weight – 315lbs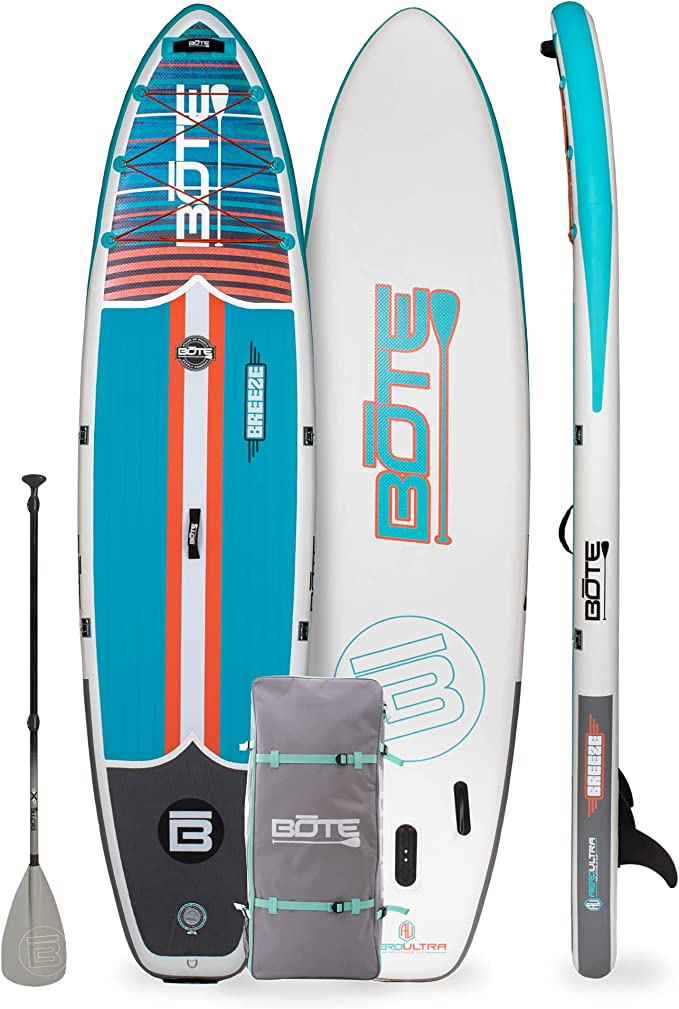 Bote Breeze Aero
The Price of "Bote Breeze Aero" varies, so check the latest price at

Red Paddle Co is a well-known name in the industry and for good reason. It's always nice to end on a board that makes real waves (get it?). Red Paddle Co has brought a stand-up paddle board to the market that cuts through the rest and can turn heads.
It isn't a deck made for the inexperienced, but if you have your sea legs, you will love the benefits of the massive board.
What you will immediately notice about this Red Paddle Co stand-up paddle board is the dimension. We haven't seen anything this long or slim in the article yet, and it stands out because of it.
The long and thin board is made for intermediate and up riders, it'll have a lot less stability than most other SUPs, but will be an absolute beast when it comes to speed and ease of paddling.
A V-hull and twin box fins keep the long SUP tracking wonderfully straight even with a heavy load and compromised water conditions. The Red Paddle Co twin fins are designed to force the water between them. This maintains a very stable feeling board and requires a lot fewer strokes to keep driving laser straight.
Red Paddle Co has left your luggage loading up to you. They have equipped a few bungee straps across the front in a side-to-side design, but apart from that it is up to you.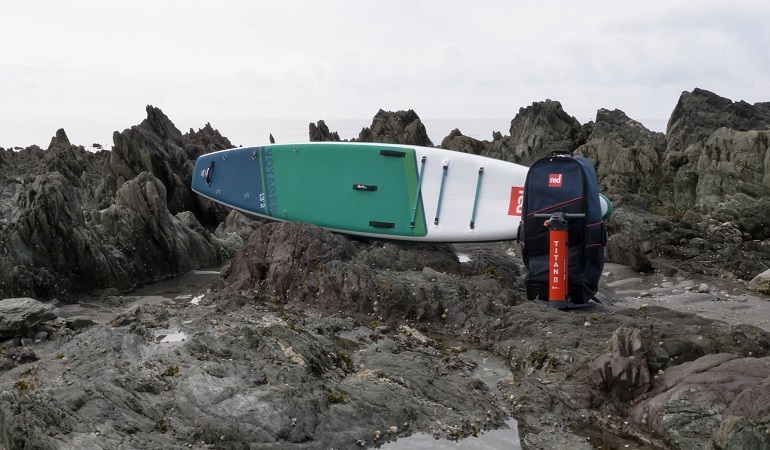 I like the placements of the D-Rings, it allows me to choose how and what I load onto the massive deck. Red Paddle Co understands the need for customizability.
If you want a SUP that is suited to long trips out, minimal paddle effort, and the space to carry days' worth of gear, then Red Paddle Co has got you covered. As long as you have the skill they have the paddle board. This all fits into its convenient carrying bag for easy trips out.
Features
Length – 13'2″
Width – 30″
Thickness – 6″
Construction material – Exclusive MSL material
Max Weight – 243lbs

Red Paddle Co Voyager+ MSL
The Price of "Red Paddle Co Voyager+ MSL" varies, so check the latest price at
What Are the General Inflatable Paddle Board Rules on the Water?
There are a few rules that should be followed by all paddle boarders for their own safety and that of the people around them.
Make Sure You Are Allowed To Paddle – It seems simple, but make sure you are actually allowed to be in the water you plan to go on. Some harbors and lakes prefer you not to be there due to traffic, or disturbing the wildlife.Always be aware of swimmers too, hitting someone in the water can be incredibly dangerous.If you are on a solid or inflatable board less than 11'5″ you must stay within 300m of the shore. A hardboard longer than this can venture out to 3km but must have the necessary safety equipment.
Know Your Priorities – In the ocean give way to whoever has the least maneuverability. In rivers, give way to the larger vessel, and when it comes to two paddle boards, give way to the right. It's all pretty simple, but it could save you a lot of embarrassment, or pain!
Wear Your Safety Gear – Alife jacket, ankle tether, and even a whistle are all pieces of safety equipment that could save your life, and if you're planning to go right out into the water, may be required by law.
A Buying Guide For The Best Inflatable Paddle Board
I have listed a lot of SUPs today, they come in all shapes and sizes. Knowing what you want before you start shopping will save you a lot of time and googling.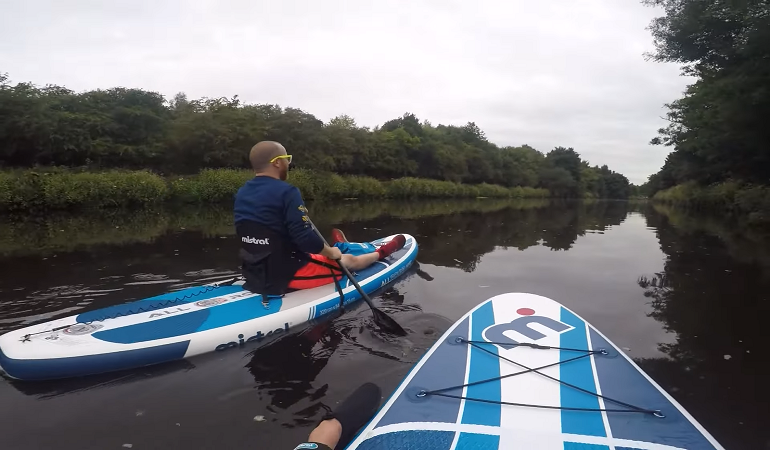 Everyone's requirements are different. Maybe you want something you can surf, or maybe you want something you can take on fishing trips with your dog on board.
Take a look at my buying guide and get out there shopping like a pro.
Take Size into Account for Mobility and Stability
In general, wider boards give more stability. They miss out on a lot of the benefits of being streamlined, but you'll find standing up on them much easier. A shorter and wider board is best for beginners.
If you're already up and about feeling confident, go for something long and thin like the Red Paddle Co SUP. You will have excellent maneuverability, and easily hit fast speeds, but you will feel the lack of stability.
Portability is Everything
Inflatable SUPs have a long list of benefits, but for most, portability is right at the top. Make sure you get a paddle board that doesn't weigh too much for you to carry and packs away into a comfortable bag.
There is a whole variety of bags out there, you need to choose the one that's right for you. Some come with wheels so you can roll them around. These have their benefits, but on sand and gravel, they become a little redundant.
The best thing to go for is a bag that doesn't weigh too much and has comfortable shoulder straps.
In general, the bigger the paddle board, the heavier it is going to be. This isn't always the case. A lot of the cheaper boards are made from PVC, which although it is durable, weighs a lot more than some of the much more high-tech materials used by the premium SUPs.
Efficiency & Versatility
Something I love about paddle boarding is the versatility of the big wide open deck. They don't need to be simply used for paddling on gentle water, they can be used for all sorts of activities. If you want to get a little adventurous, make sure you get a board that does what you need.
Kayaking
If you want to get out there and give kayaking a try, paddle boarding may just be perfect for you. A lot of the models we looked at today can come with a really easily attached seat.
It just clips to the D-Rings and you're ready to go. Make sure you have a kayak paddle conversion kit, and you have everything you need.
Surfing
You can surf on some paddle boards. You need to make sure they are rigid and the right shape. They are usually shorter and much more agile. You can surf any paddleboard with a bit of practice, but if you want one for this exact sport, it's better to find the best surf paddleboard.
Fishing
This is a fantastic pastime for your SUP. They come with all the space you could ever want right there on the deck. You can load up coolers, gear, and rods you need in the rigging.
For a good fishing board, make sure you have plenty of surface area and the ability to connect your rods and your paddle to the deck. You're going to have your hands full landing those fish.
Tracking
Tracking comes down to a few factors. The most important is the shape of the deck. A narrow nose and tail will provide the easiest tracking. It will help you cut through water and wake without drifting at all.
If you need something to ride straight, look for thin and streamlined. The issue with this is the sacrifice for stability.
The second element to tracking is the fins beneath the paddle board. Every brand has its own style and finding the one that works for you is all down to personal preference.
The most common style is the three-fin system. This employs one larger fin in the center and two smaller fins on either side. You will feel the benefits of the larger center fin when paddling.
In some cases, you can end up with two fins, and in one or two models, you can have up to five. You will feel the extra agility with the two-fin system but also notice more drift. The five-fin system will give a lot more drag but ultimate tracking.
Durability
You don't want to be buying a new paddleboard every season. Make sure you buy a bit of equipment that can cope with the work you're going to put it through.
In general, if you pay a bit more, you are more likely to get better quality durability. There are a few things to look for that can almost guarantee a long board life.
Multi-layer PVC is always a great place to start. The thicker it is, the longer it will last. Carbon fiber in any part of the construction is nice to see. It is a lightweight but incredibly strong fiber.
It is often seen in the rails of the board. The rails are usually the bit you will bump and scrape the most so they need the extra reinforcement.
Durability goes beyond just the paddle board. Make sure you get a paddle that can stand the test of time. You don't want to be stuck out in the water without a paddle. Getting back using only your hands will be a nightmare.
Carbon fiber, again, is the best of the best. It is incredibly resilient and light. You will usually find that you get an aluminum paddle with most packs, these are still fantastic and weigh very little but they won't last quite as long.
Ease of Transport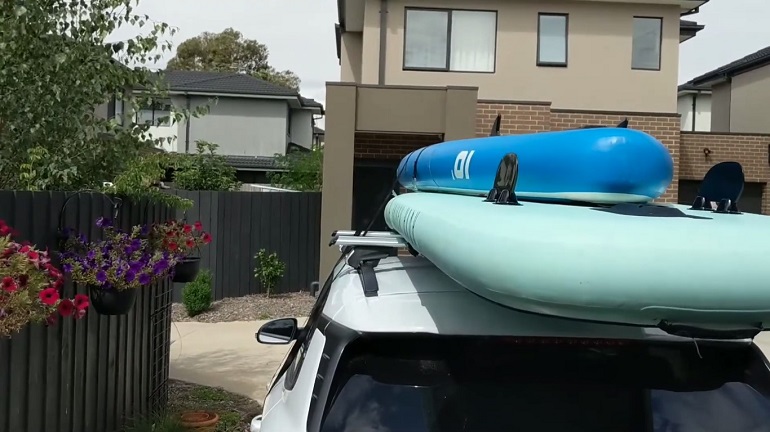 As I mentioned before, inflatable stand-up paddle boards need to be easy to transport It is one of the biggest benefits of the sport. Get yourself one with a comfortable backpack that packs away quickly and easily.
A good amount of the models we have looked at today have the ability to not only fit the board in the bag, but also the fins, paddle, and dual chamber pump. This is what you want, the hands-free lifestyle is everything.
Features and Accessories
Paddle boards come with so many extras it can begin to boggle the mind. The large and versatile deck lends itself to a lot of modifications. I would suggest getting comfortable on your board before you start getting all the upgrades though.
I like a few accessories with my paddle board, I find they just improve my quality of life whilst out and about. Number one for me is a camera mount on the front of my deck. Capturing the sunset over the ocean is something I can show off to my friends on my socials after a day out.
A cooler is always a great idea if you're planning to go out on a longer trip. You don't want to be getting hungry and thirsty, that can get dangerous.
I load mine up with a bit of ice, some nice cold drinks, and a bit of lunch. You can even use the cooler as a seat in some cases to give your legs a rest.
Take a look at some of the accessories you can get for your paddle board. They can pretty much cater to any need and make your day out just that little bit easier and more enjoyable.
A Few Frequently Asked Questions
The world of stand-up paddle boarding can be confusing, so I will answer a few of the more common questions to save you the hassle later.
What Should I Wear on A Stand-Up Paddle Board?
First things first is a floatation device. I don't care how good you think you are, if you fall off far out and lose your board, you're going to have to able to float. Beyond that, it's up to you.
If you decide to go out in swimwear just remember how much more the effects of UV rays are in the water. So my advice is a floatation jacket and some sun-screen.
Is It Hard to Stand up on a Paddle Board?
I'm not going to lie and say it's easy as pie, but in comparison to all the water sports out there, it's very easy to pick up. Just make sure you get yourself a paddle board that is suitable to your skill level and start out on some water that is nice and calm.
It's better to find a suitable beginner board. I can guarantee you'll be standing up and paddling in no time at all.
Take your time and make sure you go out with a friend. You will fall a few times, but you will get the hang of it soon enough. If you can, go with someone who has done it before already. Practice makes perfect.
Before You Sail Into The Sunset
Paddleboarding is a fantastic way to get exercise and enjoy your local, or not-so-local, waterways. It can be done solo, with a friend, or with your pet. Yes, now there are options available on the market that allow you to take your dog paddle boarding with you. Just make sure you do it safely.
If you are low on budget, you can get your hands on the best budget inflatable paddle board available on the market and not miss out on the fun. Also, remember to take into account what size paddleboard you need as per your height and weight. Another good beginner option is the Body Glove Performer 11 paddle board.
As confident as you feel on your paddle board, the unexpected can always happen. Just make sure if you go alone, people know when to expect to see you back and you have a light whistle and jacket on.
Also, make sure you take care of the environment you're paddling in. There are a lot of paddle boards that are made from environmentally caring materials. If you're out on the water, make sure you take all your trash home with you and clean up after your camping trips.
Mostly though, just have fun!