On the resort and the hill, style is everything, after warmth and safety, obviously! Your ski pants are a fantastic way to not only stay comfortable on the mountain but also make a statement.
The best ski pants offer weather protection, pockets, insulation, and a super comfortable fit.
What we're going to be looking at today are commonly referred to as men's ski bibs. They are a pair of men's ski pants with a front chest panel and a pair of suspenders combined. They offer more protection than your usual pair of snow pants and a few other optional extras to boot.
The bibs offer weather protection, multiple pockets across the whole garment, removable suspenders, thigh vents, and breathable designs. They are supposed to be able to keep you dry and warm, but not too warm.
You want them to be a great fit and made of high-quality material. But, honestly, most importantly, you want them to look fly as hell. No point in being super warm if you look like the Michelin Man.
Top Pick

Flylow Baker
Length:

Regular

Material:

Polyester
Back to Basics

The North Face Freedom
Length:

Regular

Material:

Nylon, Polyester
Premium Choice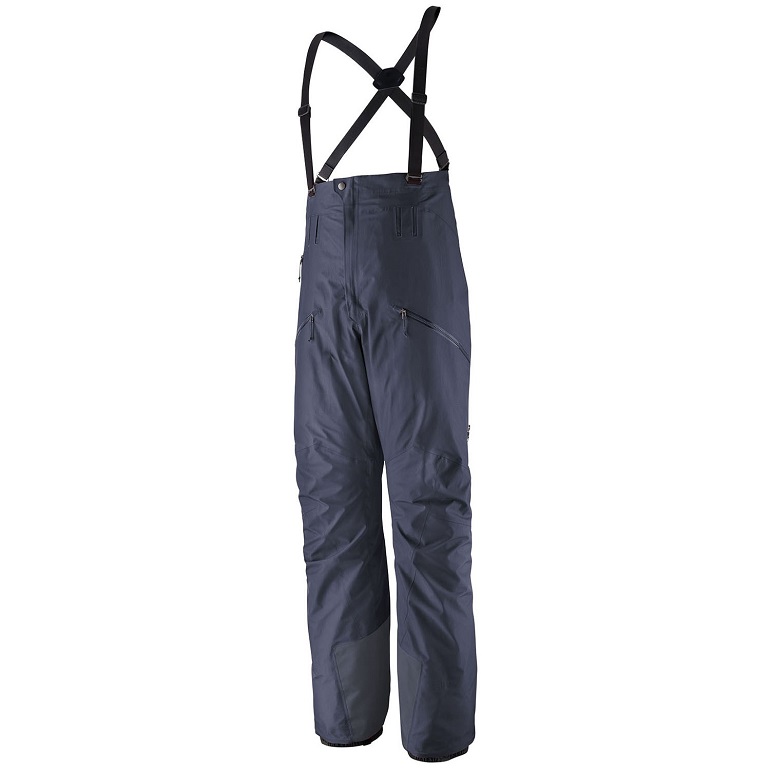 Patagonia PowSlayer Bibs
Length:

Regular

Material:

GORE-TEX, Nylon
Best Protection

Helly Hansen SOGN
Length:

Regular

Material:

Polyamide
Best Value

Arc'teryx Beta SV Bib Men's
Length:

Regular

Material:

GORE-TEX
No-nonsense Design

Outdoor Research Hemispheres Bibs
Length:

Regular

Material:

Elastane, Nylon, Polyester
Light & Comfy

Patagonia SnowDrifter
Length:

Regular

Material:

Nylon, Polyester
Functionality & Style

Helly Hansen Ridge Infinity Shell Bibs
Length:

Regular

Material:

Recycled Polyester
A Look at 8 of The Best Mens Ski Bibs
When shopping around for your next pair of ski pants, the sheer amount on offer can become, quite frankly, overwhelming.
I have made the choices a little easier by listing and dissecting some of my favorites for the upcoming season.
The selection covers a wide range, from the super stylish, to the cheap and cheerful. There should be something for everyone.

The Flylow Baker bibs have made a name for themselves as the kings of durability. They're a favorite of backcountry skiers due to their rugged, and yet very versatile builds.
Chances are if you've been out and about on a resort, skiing, you will have seen someone in one of these Baker bibs.
For starters, these are not the cheapest pair of ski pants you will ever buy, but at the same time, they're by far not the most expensive. You could certainly put your money in worse places.
The Baker ski pants are known for being long-lasting, advertising a water-resistant coating that will last at least 20 washes. For someone like me, that means about ten years, for the more hygienic rider, that can still mean a good few seasons.
Despite the Surface Layer-3 Hardshell bib build, these are still remarkably lightweight and breathable. The hard-working outer layer construction means you can stay warm and dry with the 150 dernier oxford weave without feeling bogged down by bulky materials.
They are suitable for both resort and backcountry but, due to their warmth, probably better for the resort. You don't want to be overheating during a long trek.
You will never be left wanting for pockets with the Flylow bib, they have a few more pockets than most snow pants managing to squeeze a total of eight throughout the whole bib.
You should be able to keep just about everything you need on you the whole day with the sheer amount of storage space.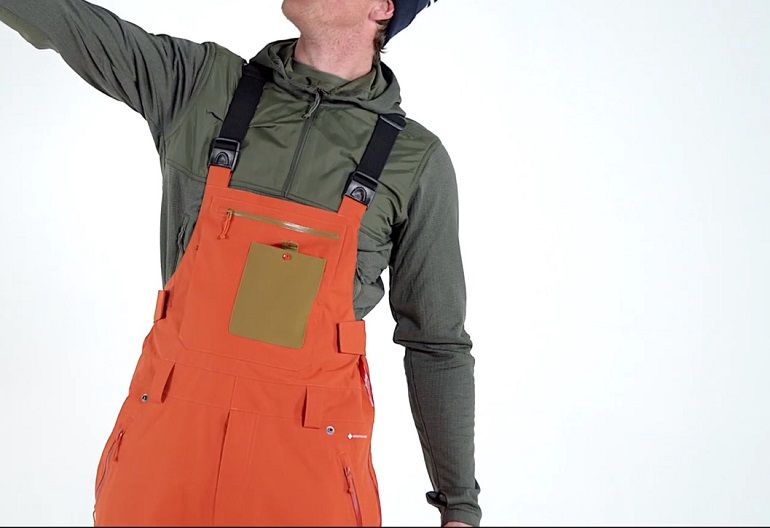 Summary
These are the hard-working men's ski pants you will be able to rely on for years and years. They are waterproof, cuffed at the ankles, feature waterproof taped seams, and will last you a long time.
They're not the lightest on the market by any means, nor the cheapest, but they are considered one of the best bibs for a reason.
You can get yourself a great bit of ski gear that won't let you down and has more pockets than you will ever need.

Flylow Baker
The price of "Flylow Baker" varies, so check the latest price at

North face is recognized as a premium ski brand both on the mountain and off. They are specialists in outdoor wear and have put years of research into making sure their gear is the best it can be.
The North Face Freedom Bibs are no exception to this rule. They have kept it simple with the North Face Freedom using a high chest design and all the protection you should need from the harsh elements of the hill.
North Face has added everything you need from your usual high-quality ski pants. Articulated knees allow for a full range of motion, whilst the adjustable suspenders make sure you are able to have the perfect fit every time.
Adjustable waist straps mean you can have a nice snug fit to cut down on loose flappy material whilst riding around. With the size of most bibs, the loose fabric can be an issue.
These don't have a lot of features and only opt for a double-layer construction which doesn't offer a lot of insulation, if any. They don't have a wide range of pockets, but they do have a waterproof zip-up, thigh pocket.
They simply offer protection from the snow. They have even stripped back on the option of waterproofing, so wet chairlift rides may be an issue if the weather is a bit wet.
What they do offer is boot gaiters to keep deep snow and powder out of your clothes and good windproofing. The thigh vents can help you keep cool on warm spring days, and the high design will keep your body covered under and over whatever you're wearing.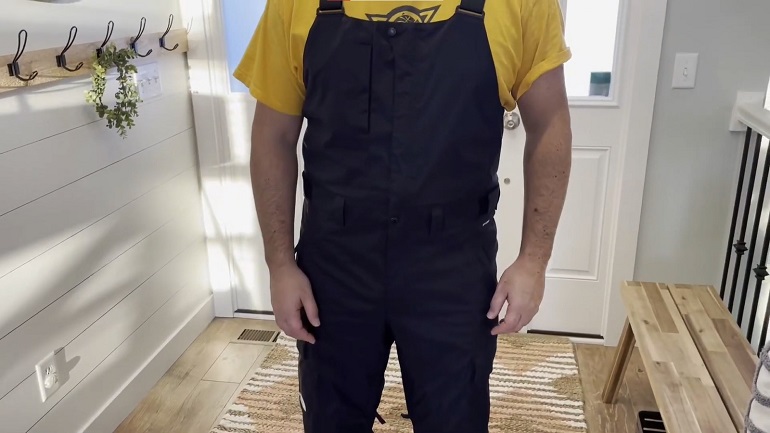 Summary
These are budget ski bibs that do the basics. Despite the fact they are definitely on the cheap side, you are still buying a top-quality bib. The North Face label doesn't put its name on something they aren't proud of, and the little amount these offer is still of the best quality.
They don't have waterproofing, and they are only a dual-layer construction, but the freedom bibs will keep you riding in the warmth and offer some protection from the elements.
If you're just looking for some men's ski bibs that can be worn out and about for some light use in favorable conditions, save your cash and grab a pair of these.

The North Face Freedom
The price of "The North Face Freedom" varies, so check the latest price at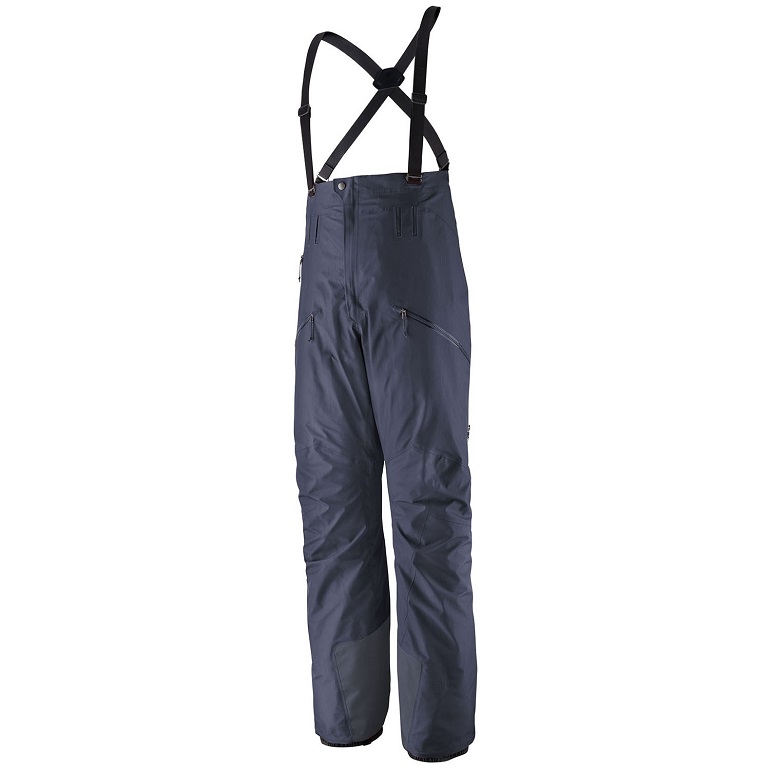 For a premium price, you can get your hands on some premium ski wear. The Patagonia Powslayers is the most expensive men's ski bibs we will look at today, but they are guaranteed to do their job as well as you could hope. Serious materials allow for serious riding through all conditions.
The Patagonia men's ski bibs are made with Gore-Tex fabrics both in the membrane and on the lining. Gore-Tex is by far one of the most breathable and waterproof materials on the market.
It does usually come at a price though. It isn't cheap to produce and will always bump up the price of any piece of gear.
The membrane of these men's ski bibs is designed with maximum waterproofing and breathable functionality in mind. The Gore-Tex fabric boasts an incredibly high waterproof rating of 2800 and a breathability rating to match at 2500.
The inner layer of Gore-Tex is designed with the same features in mind but has also taken into consideration layering for different conditions.
A low-density, high-dernier, micro backing provides durability whilst pulling the bib over other clothes but also comfortable layering due to its lightweight design. This allows you to choose how you layer up for the day, perhaps wearing a warm pair of extra trousers underneath or much less for the warm spring skiing days.
The Powderslayer ski pants are a stretchy pair made to fit all shapes. They have waterproof zippers on the thigh pockets and on the single hip pocket. The bib has specific compatibility with Patagonia ski jackets and has a Recco avalanche beacon built into the construction.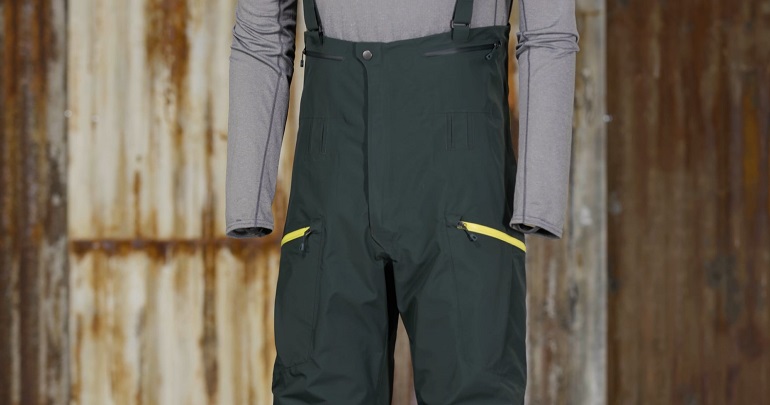 Summary
These insulated ski pants will keep you covered whatever the day throws at you. Leg vents can dump excess heat at a moment's notice, and the three-layer construction will keep you warm and dry.
No matter your skiing style, you'll be in good hands. Along with all the other extras, these are some of the most expensive but still one of the top bibs on the market.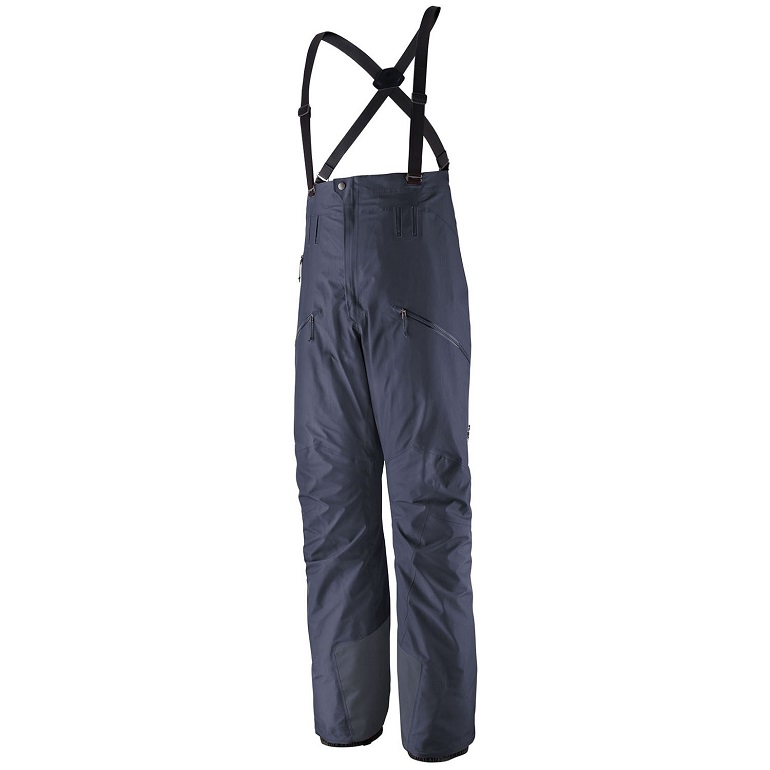 Patagonia PowSlayer Bibs
The price of "Patagonia PowSlayer Bibs" varies, so check the latest price at

If you're planning a day backcountry skiing in the deep powder snow, you'll want something that has your back the whole day. You want a pair of insulated pants that can keep up with you all the way down the ski hill.
Helly Hansen has developed their own technology to provide a range of waterproof bibs that can keep you cool, dry, and wind-free even in stormy weather.
Rather than opting for the more common but very expensive Gore-Tex. Helly Hansen has created their own materials for its bibs.
The Helly Tech Professional fabric boasts an impressive 2000 rating for water resistance and a 2000 rating for breathability. They may not be numbers relatively as high as those claimed by the PowderSlayer bibs, but this is still a level of performance that will not let you down.
You can adjust the belt loops and suspenders exactly the way you want to make these bibs work for you; you can wear them for a good few years and over many different sizes of layers depending on the season.
The ski bib doesn't come with a chest pocket, but the two large thigh cargo pockets and beacon pockets do come with ykk waterproof zips.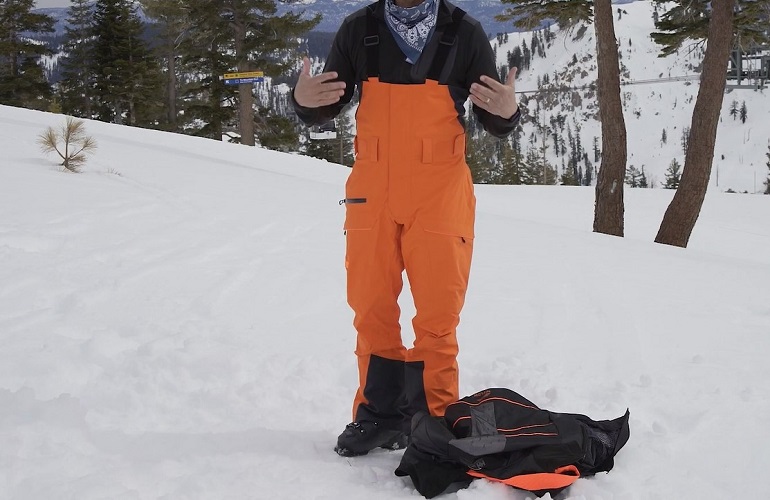 Summary
You will be kept warm and dry on both resort and backcountry ski touring with these excellent insulated pants.
The boot gaiters and Helly Hansen-designed breathable yet waterproof fabric provides a ski bib that will stand up to whatever weather you throw at it. Adequate ventilation is available with the thigh vents built in.
The addition of a beacon pocket is a nice feature to see, especially if you are planning some serious backcountry skiing.

Helly Hansen SOGN
The price of "Helly Hansen SOGN" varies, so check the latest price at

For a reasonable price, you can own a pair of high-quality men's ski bibs designed with industry-leading Gore-Tex.
Some of the top bibs are made with this highly waterproof and breathable fabric which guarantees you won't be left wet and cold at the end of the day. Arc'teryx has brought a range of insulated bibs to the market that can hold their own with the big boys.
Of course, the Gore-Tex layer construction is always something that needs to make note of. Without talking too long about something mentioned in a previous review, I'll just say it is well worth the money.
You're in good hands and can rely on this bib to keep you dry and provide a breathable feel without adding too much weight.
The Arc'teryx Beta has a number of other features that actually set them apart from its competitors.
Of particular note is the Kerprotec kick patches designed to keep the fabric around the base of the ski pant from tearing whilst wearing crampons or on ski edges. Anyone who has owned a bib before knows how quickly they can wear down and tear.
Due to the low design of this snow bib, there isn't a chest pocket, but the thigh pockets do feature a waterproof two-way zip to keep snow from getting to your valuables.
These two-way zips also feature on the drop seat design. This drop seat allows for quick access when nature calls, something that is very handy for both men and women, especially in the backcountry.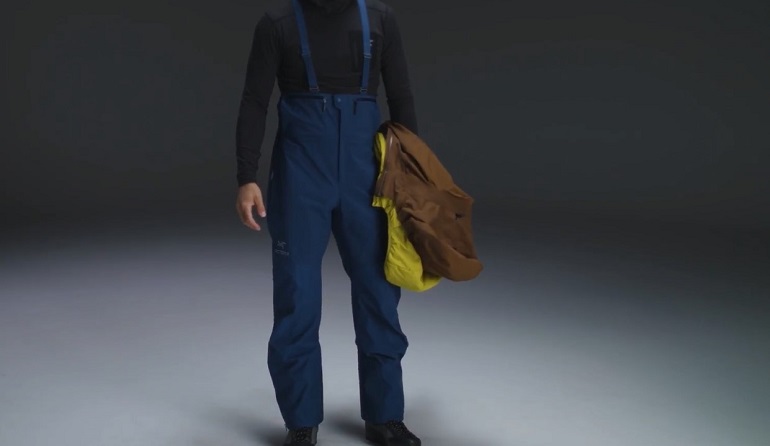 Summary
For a lightweight, waterproof bib that is suitable for backcountry and resort skiing, you needn't look much further than these. They have all the benefits of the Gore-Tex synthetic insulation and a few nice added extras to boot.
They may not be the cheapest on the market, but you won't feel let down by all they have to offer. The Beta SV are insulated bibs that are designed with quality and usability in mind.

Arc'teryx Beta SV Bib Men's
The price of "Arc'teryx Beta SV Bib Men's" varies, so check the latest price at

Outdoor Research has developed a low-cut range of touring bibs that will be suitable for backcountry and resort skiing.
The three-layer construction has opted to do away with any synthetic insulation and instead leaves space and design for layering up yourself. Stretchy fabrics make up the face, while Gore-Tex provides protection against the elements.
The Outdoor Research bib keeps its weight down by stripping back the insulation but layering up the Gore-Tex. The lightweight fabric provides all the waterproofing and breathability you could need without being over cumbersome.
The bib stays super flexible with a stretchy back and gusset panels along with stretchy internal cuffed gators. All this makes for very yielding, hardworking men's ski bibs.
The ventilation sits just below the thigh pocket, running along the fully sealed seams of the bib's leg. The thigh also features an avalanche beacon pocket for when you're out tearing up the more dangerous backcountry.
Despite the low profile of this bib, it still has a chest pocket to keep the things you need close to your hand.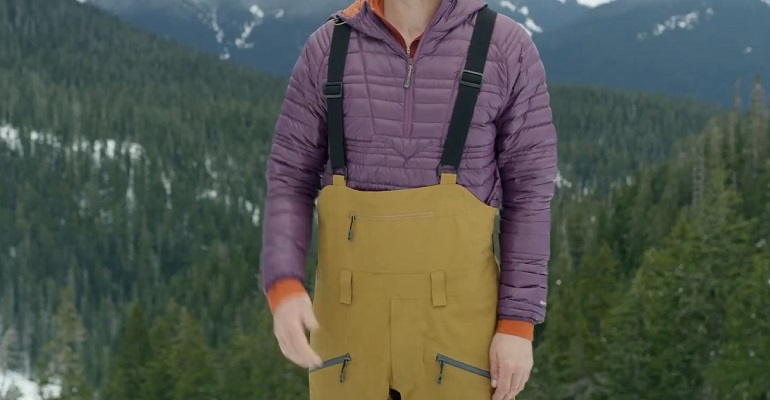 Summary
Outdoor Research has made men's ski bibs with a maximum range of motion and minimum weight in mind. The high-end Gore-Tex makes for a low-weight, high-protection design that will stand up to any weather and still allow your skin to breathe.
This triple-layer construction comes at a price, but one that is always worth it. Outdoor Research has stripped down its more heavy-duty designs to the essentials for no-nonsense, hard-working bibs.

Outdoor Research Hemispheres Bibs
The price of "Outdoor Research Hemispheres Bibs" varies, so check the latest price at

These are Patagonia's lightweight, breathable backcountry bibs made for when you need something that will keep you dry and warm even in the worst conditions.
The soft and stretchy fabric is built with the backcountry in mind using their own patented materials for protection and comfort all through the day.
This tall bib comes with a minimal set of extras but does what it needs to do well. It sits very tall on the body to keep the snow at bay and uses reinforced cuffs on both the ankles and wrists to give that extra level of locking out.
The lack of insulation and fit lend themselves to customization depending on the day, allowing you to layer up as you see fit rather than relying on the bibs to do all the work.
These bibs have chosen a drop seat design which not only allows for convenient relief but also provides, via two-way zippers, some great ventilation at the back. This makes trekking through deep backcountry just that little bit easier as you're able to dump heat effectively.
Patagonia has implemented its own H2No technology for the membrane. It is designed to keep the weight down while still providing ultimate waterproofing and breathable riding no matter what the weather throws at you.
The H2No technology is tried and tested across Patagonia's wide range of gear and is a favorite of many riders.
Summary
For something lightweight, durable, and simple these are the bibs for you. They are made to withstand hard days out, whatever the weather.
The basic design is made with comfort, maneuverability, and temperature in mind, so you know you'll always be riding in the best conditions.
Nobody wants to be let down by their gear, and Patagonia has ensured that these won't.

Patagonia SnowDrifter
The price of "Patagonia SnowDrifter" varies, so check the latest price at

These are made for the days when you know you're going to be out in the harshest conditions. The Helly Tech waterproofing will have you stay dry no matter what the day decides to throw at you, you can rest assured the hard-wearing design won't give up.
This is a two-layer construction offering less insulation but much much more in defense against driving snow, wet weather, and blasting wind.
The partially recycled fabric guards against all weather. It is the same fabric used in the previous Helly Hansen bibs and has been proven to provide excellent weatherproofing across the board.
The bib has no end of zippered pockets leaving space for everything you may need. One of the pockets has a beacon tether so you can keep the best avalanche beacon to hand whilst tearing up the more dangerous areas of the mountain.
Summary
This is a bib that will match you blow for blow in the harshest conditions. It is by far, not the cheapest we have looked at today, but as far as style and functionality go, it's right up there.
You can stand out on the mountain whilst knowing you're wearing a bit of kit that is worth every penny you have spent.

Helly Hansen Ridge Infinity Shell Bibs
The price of "Helly Hansen Ridge Infinity Shell Bibs" varies, so check the latest price at
A Buyers Guide on The Best Mens Ski Bibs of 2023-2024
Knowing what you're looking at whilst shopping for a new pair of bibs can be a little daunting at first. I can help you break down the terminology and let you know what to keep an eye out for.
Fit And Comfort
Bibs come in three different standard fits; relaxed fit, slim fit, and regular fit. A slim fit is great for the warmer season when you don't need a base layer underneath. They reduce the weight and amount of extra fabric and can help with speed and comfort.
Regular and relaxed lend themselves to layering up and having a greater range of motion; this comes at the cost of weight though.
Choosing the right fit for you will greatly affect the comfort of your ride. I personally prefer a much more relaxed fit simply for the added space of loose-fitting clothes and being able to throw on a jumper and extra insulated pants underneath.
Ventilation
Getting ventilation right is super important for having a full, busy day out on the hill that doesn't leave you horrible and sweaty. Keep an eye out for vents around the pants.
They are often positioned on the outer and inner thigh but can also be on the drop seat. As long as there is some, you should be okay, but a day without it is not going to be a nice one.
Insulation
A bibs insulation is not the most important aspect, interestingly enough. A lot of the higher-end models choose not to have any at all.
As long as your bibs are waterproof and sufficiently windproof, it is often preferable to be able to choose your own insulation, such as a lightweight ski jacket, jumper, or long johns.
The issue with having insulation built into the ski pants is the inability to remove it if the weather gets too warm or you have a high-exertion day. Of course, it is wonderful in the cold weather, but as it heats up, it will quickly become an issue.
If you know you're only going out in the cold, then insulated is great, but your legs will quickly heat up in anything else.
Price
I think it goes without saying that usually you pay for quality but this doesn't always have to be the case. A bit of research and clever timing can save you a lot of money.
Things like Gore-Tex will always bump up the price, but companies like Patagonia have their own rival fabrics that cost a lot less and still do a great job.
Also, a tip from me, buy your stuff in the off-season, it's always cheaper.
Features
Getting all the bells and whistles is nice, but not always necessary. Some models will throw a million different features in but won't actually do any of them well. It is more important to make sure the basics have been covered and done well before you start looking for extra pockets, gadgets, and zippers.
Final Thoughts
Bibs are a great way to accessorize your look and an even better way to stay super snug and comfy on the slopes.
Make sure you get yourself something that can keep up with you, your style, and the day you want to have.
Don't buy more than you need, and most importantly, make sure you look extra cool! Choose your pick and head over to your preferred ski resort.