Riding powder has got to be the closest you can get to riding a hoverboard in real life. And I'm not talking about those so-called "hoverboards" that are anchored to the ground by two massive wheels.
There is nothing to shackle you in place here. Just a symphony being written with deep snow and powder.
This is elegance! Gliding through a mountain layered in fresh white gold on a powder snowboard. A white wave rises behind you with each turn and carve. It's not snowboarding, it's powder surfing, and it feels good.
But powder riding requires a specialized tool. You've got to use a powder snowboard because they've got the shape and form required to keep you afloat and outta the deep snow.
All Elite Board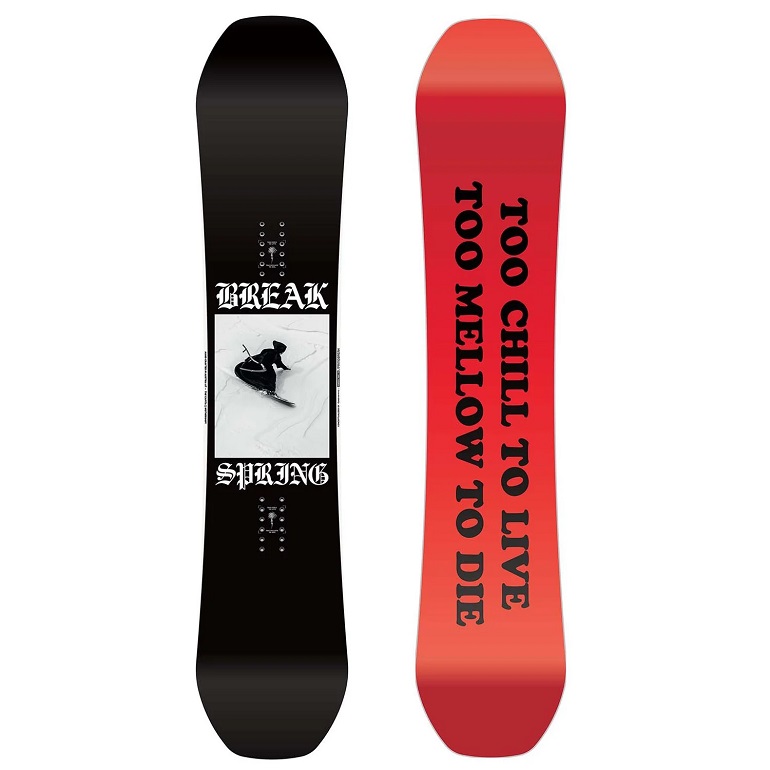 CAPiTA Spring Break Powder Twin
Ability Level:Intermediate-Advanced
SIZE:153cm
POW Through Powder!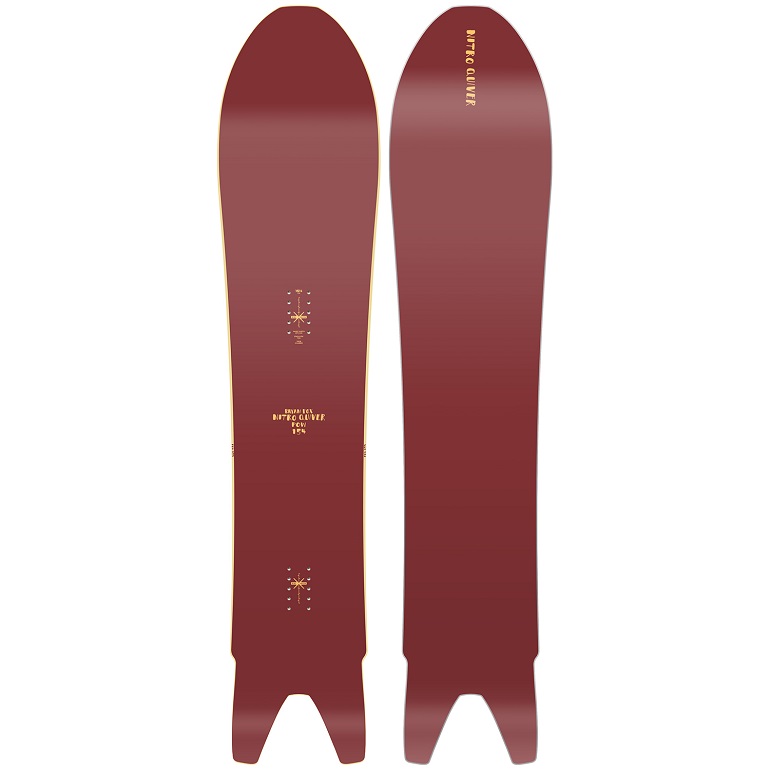 Nitro The Quiver POW
Ability Level:Advanced-Expert
SIZE:154cm
Great Name, Greater Design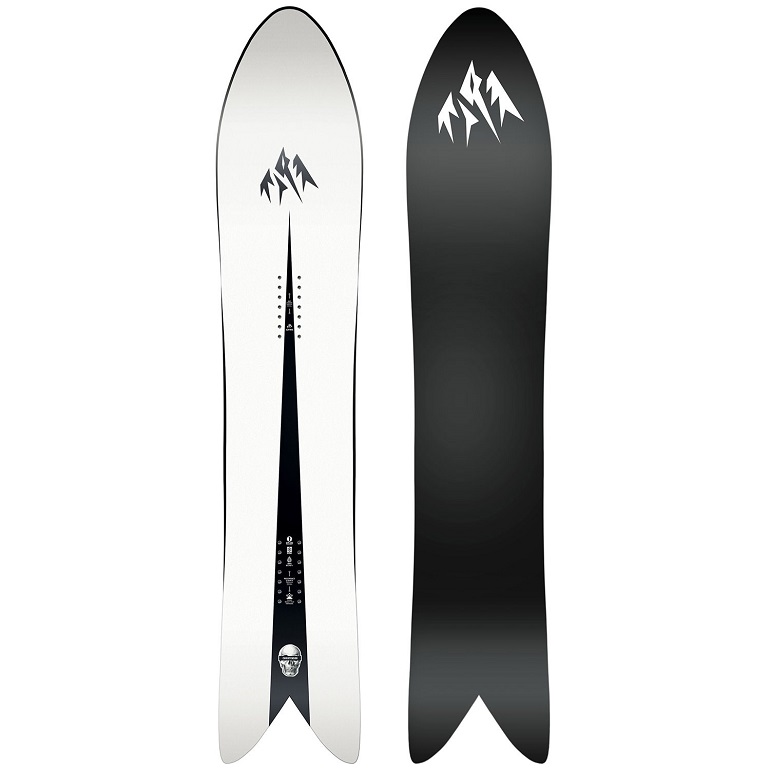 Jones Storm Wolf
Ability Level:Advanced-Expert
SIZE:154cm
Hello? It's Jones Again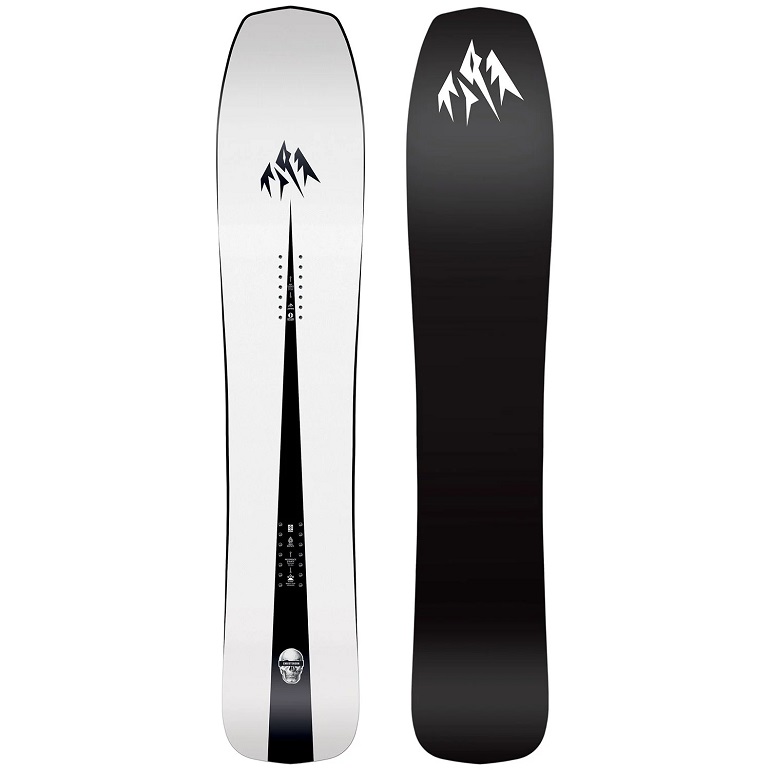 Jones Mind Expander
Ability Level:Intermediate-Advanced
SIZE:142cm
Squash The Deep Snow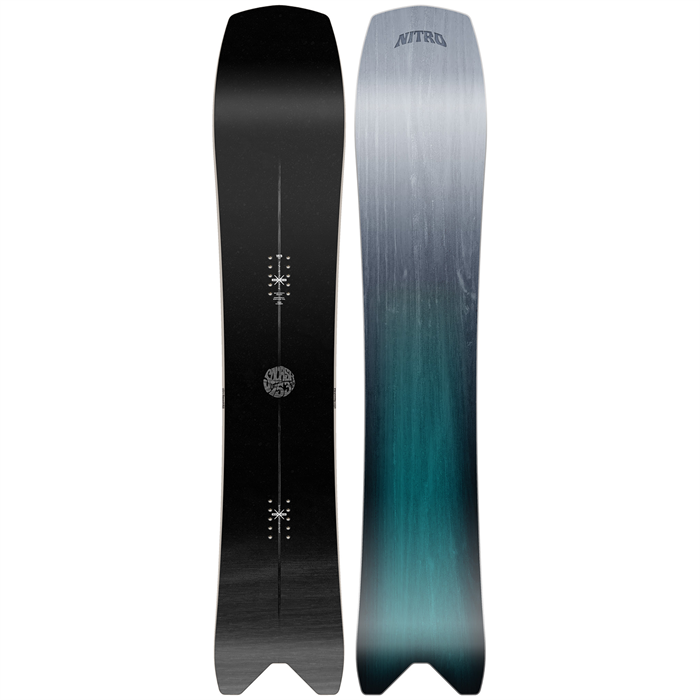 Nitro Squash Snowboard
Ability Level:Intermediate-Advanced
SIZE:153cm
Best For Budget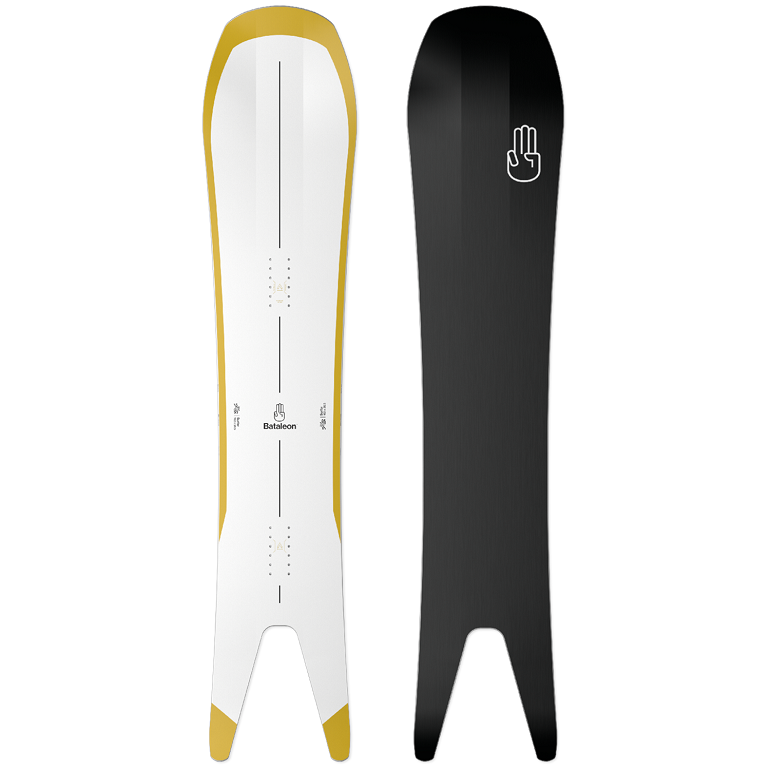 Bataleon Surfer Snowboard
Ability Level:Advanced-Expert
SIZE:149cm
With Trippy Graphics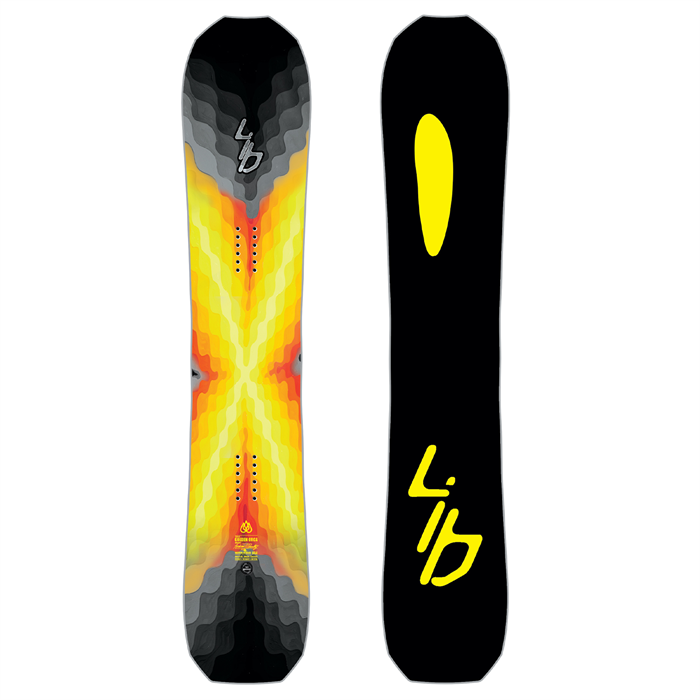 Lib Tech T.Rice Golden Orca Snowboard
Ability Level:Advanced-Expert
SIZE:150cm
Lost In Thought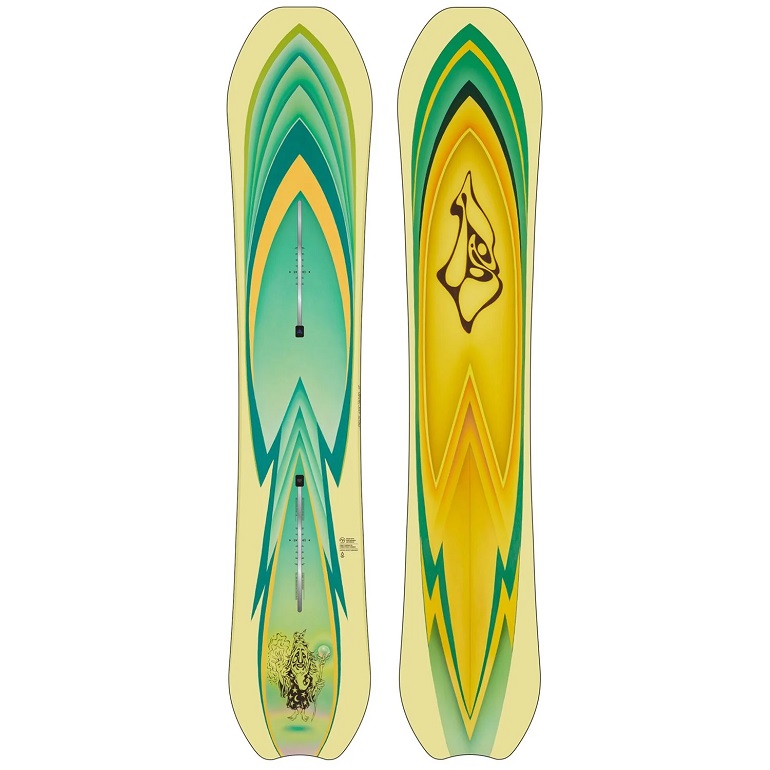 Burton Deep Thinker Snowboard
Ability Level:Advanced-Expert
SIZE:154cm
Fit For Floating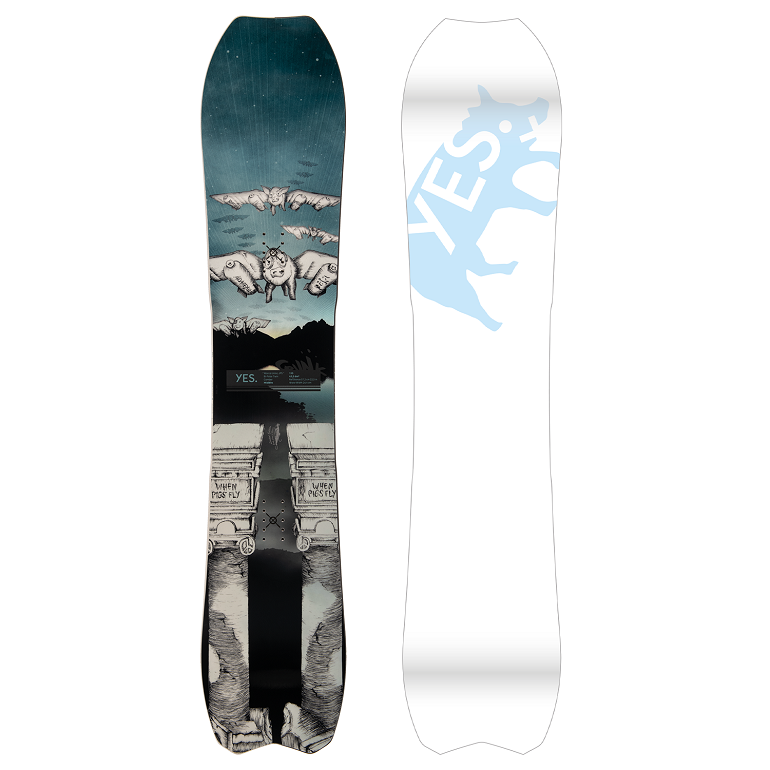 Yes. Warca UnInc JPS Snowboard 
Ability Level:Advanced-Expert
SIZE:148cm
SnoPhobic Topsheet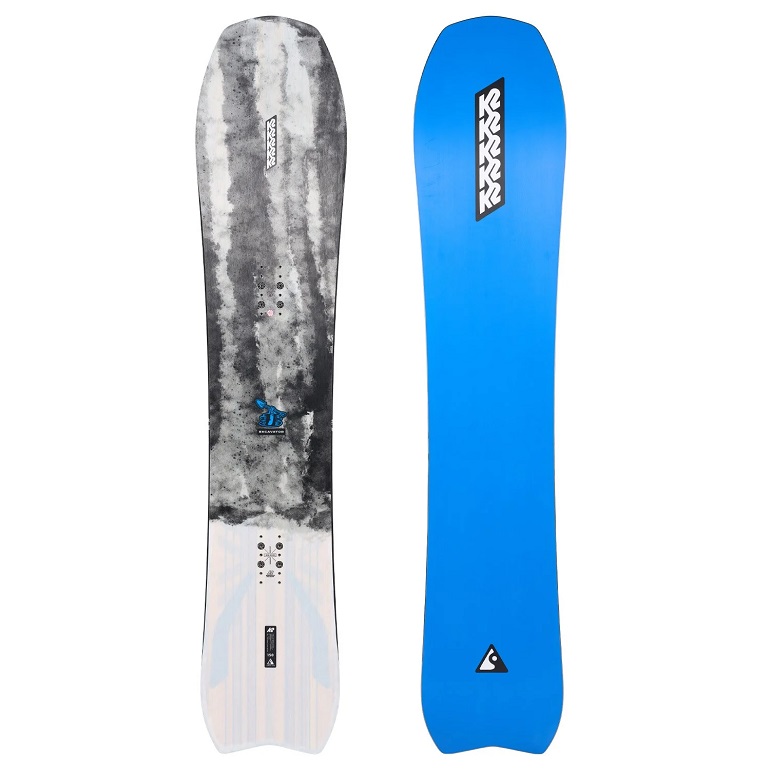 K2 Excavator Snowboard
Ability Level:Intermediate-Advanced
SIZE:142cm
10 Best Powder Snowboards
Try riding on deep powder with the wrong board, and the only music being made out there will be the sound of a face plant followed by the cries of a grown man. (Well, at least that's how it usually goes for me.)
Every option here on our list brings something distinctive for every unique rider out there!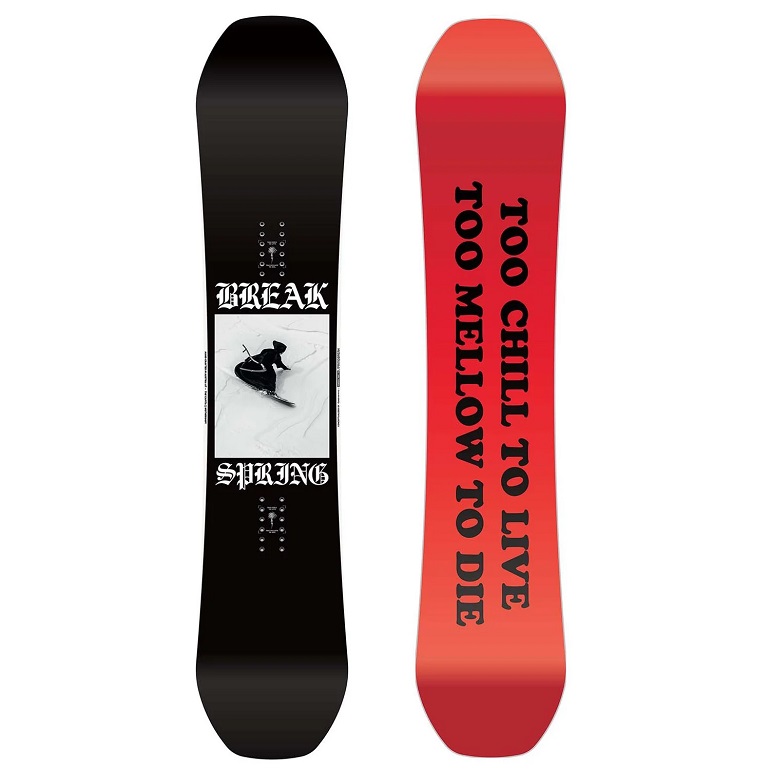 Those with a keen eye for detail will notice that the traditional powder board look is absent here. The nose and tail are identical! This is hearsay! It could be that, or it could be evolution.
This is a powder snowboard with a true twin shape, and that's why it tops this list of powder snowboards. The rocker profile is a Surf Camber Twin Profile with camber through the inserts for that extra pop that is necessary if you are going to be riding powder.
The nose and tail arc gently upward but at a low angle, still giving you the maximum amount of float possible while ensuring that control is still part of the equation.
With a medium flex rating of 5, you can look forward to having the bend required for some stunning sets while providing enough of a forgiving ride to not leave your feet and legs without adequate support.
This is how you ride switch through deep snowy conditions, with the Spring Break Powder Twin.
Features
Super light core (FSC Certified P2 – Oh! Fancy!) that handles the heavy hits and pops you right back up into the air.
Stainless steel 2 x 4 inserts.
For intermediate to advanced riders looking to glide over the deep stuff.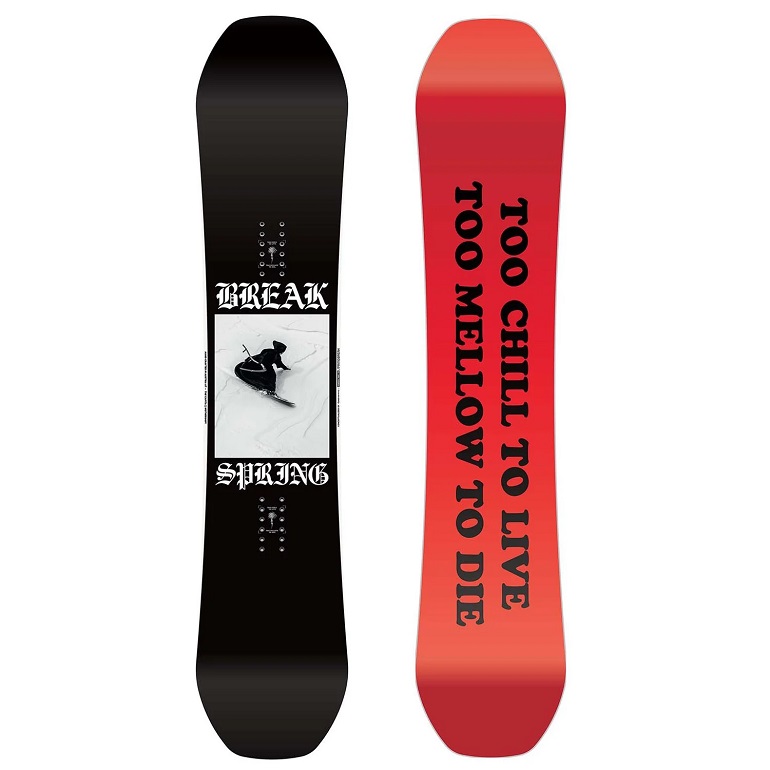 CAPiTA Spring Break Powder Twin
The price of "CAPiTA Spring Break Powder Twin" varies, so check the latest price at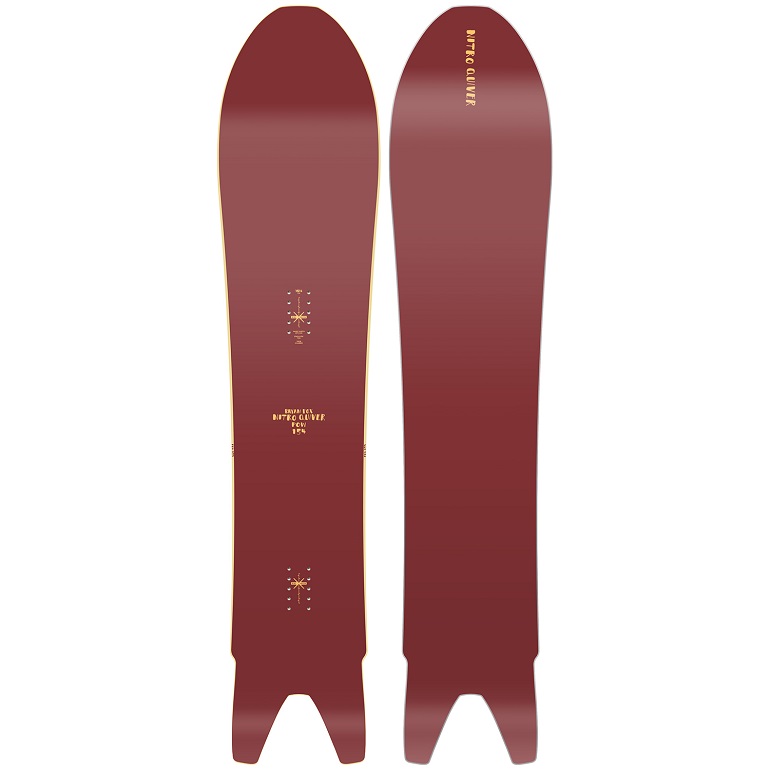 Your velvet dream with traditional camber underfoot and a lovely directional shape has arrived.
We all know that the pop and power received from a camber profile are fantastic and downright necessary to make quick work of deep powder. So I won't dwell on it for too long.
But we must get into the lovely tapered directional shape of this powder board. This can be a common shape for powder-specific boards, but I'll never tire of looking at it.
The way the tail diverts into two points reminds me of a jet plane, and the float that powder boards can give you makes me feel like I'm riding one as well.
A progressive sidecut lines the board with a larger radius in the front and a tighter one in the back. What this gives us is the ability to accelerate from a turn, powerful riding that extends to the poplar wood core flowing out to the nose and tail.
This is one slick ride, a wider board specifically designed to give you a surf-like experience and fantastic turn initiation for getting through tight trees.
Ahh trees, nature's stop signs!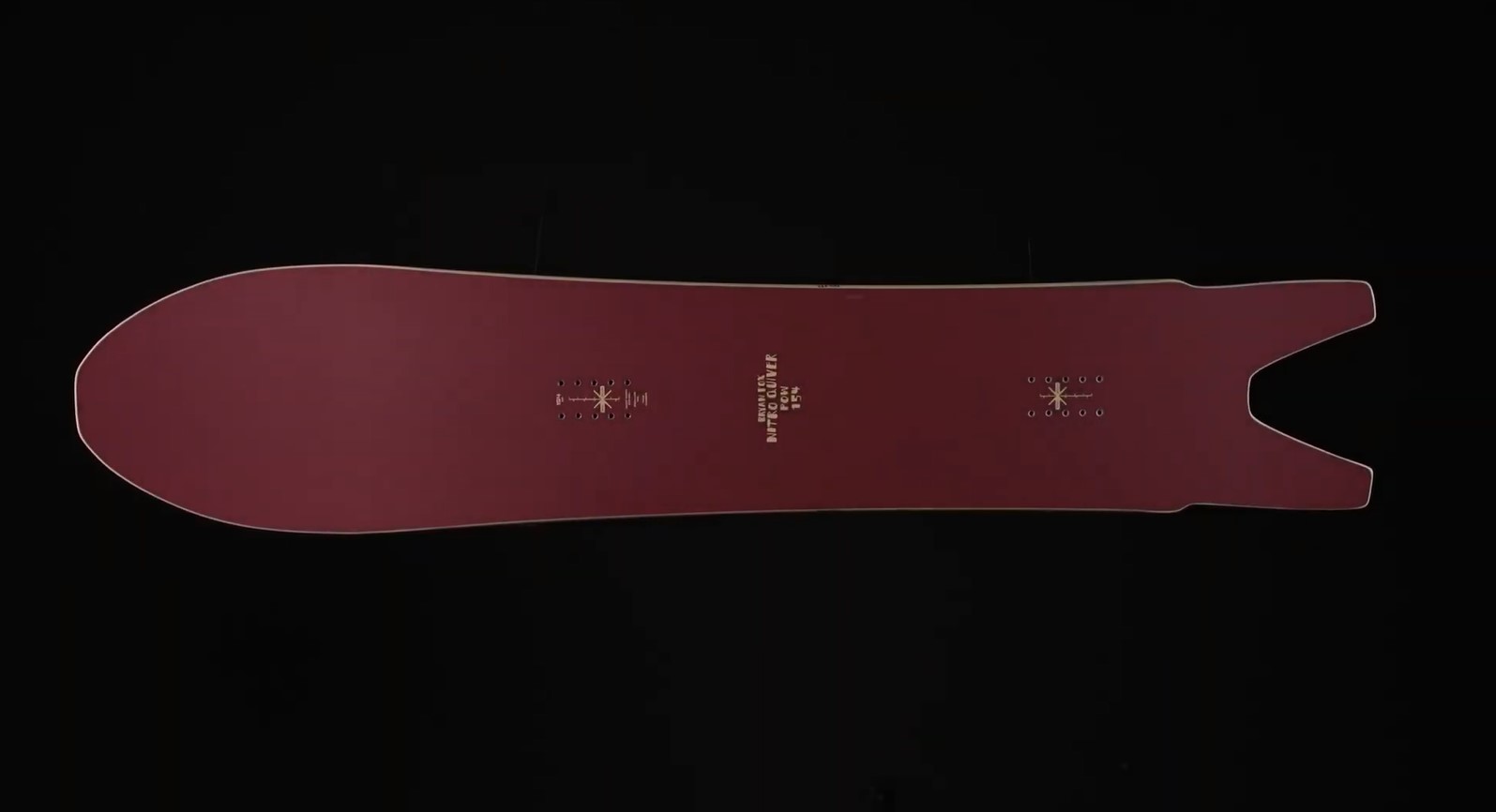 Features
The progressive sidecut makes for a catch-free ride.
Traditional standard camber profile.
A directional tapered shape that makes for a surfy and speedy ride.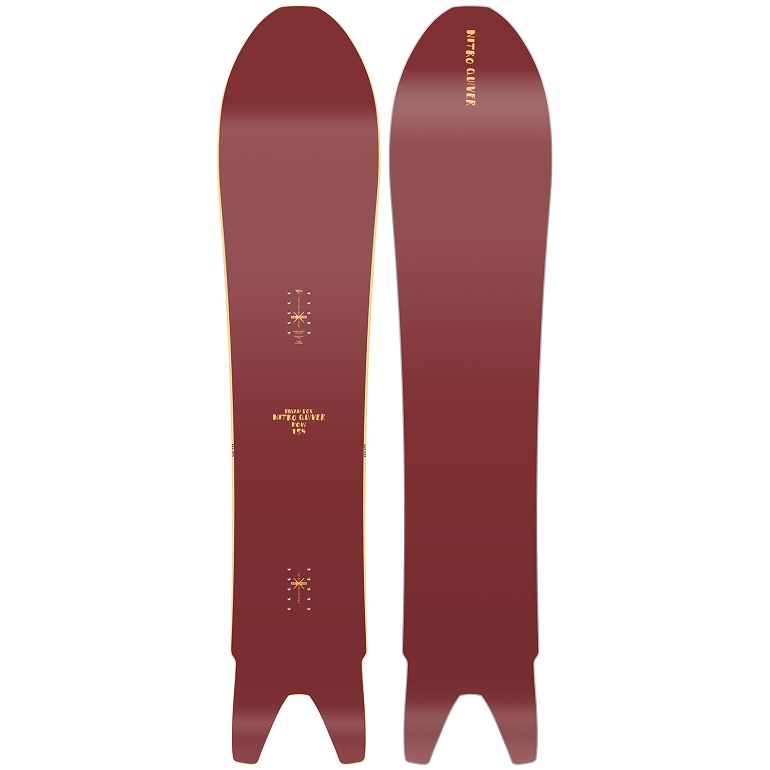 Nitro The Quiver POW
The price of "Nitro The Quiver POW" varies, so check the latest price at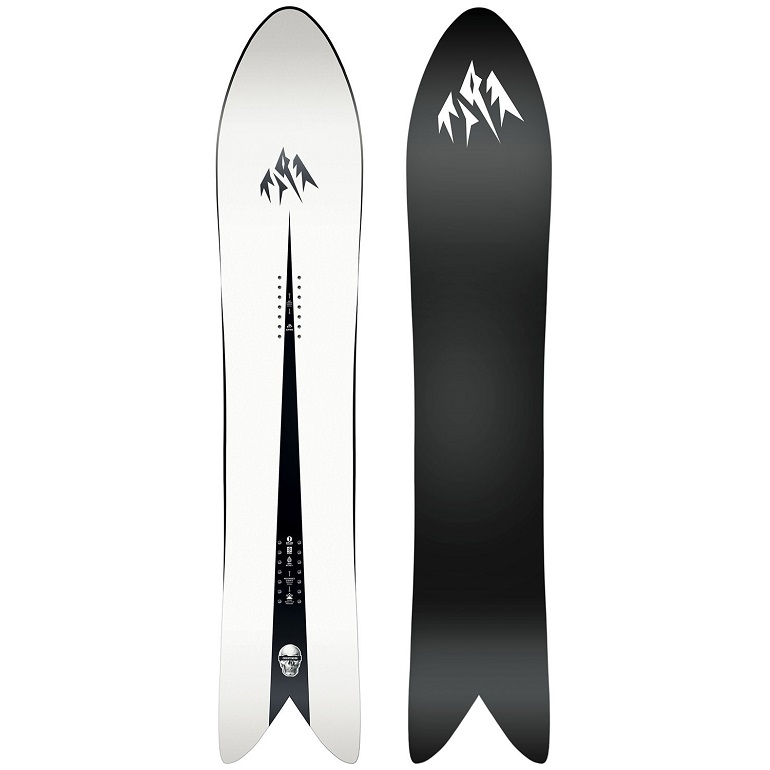 This directional powder snowboard guides you out of a slow and lackluster ride with its big upturned nose and excellent tail split. A surf-inspired shape that has had key minute changes made to its design.
The stance inserts have been moved upwards by 20mm. A small change that should provide its rider with a more centered stance. Of course, a centered stance leads to better edge control.
As you pull into those intense and lengthy turns, a combination of the surf rocker profile and the traction tech edges will maintain your board on the snow, nice and stable.
The Jones storm wolf snowboard also has that great Forever Flex that comes with any board made by Jones and company. What this means is that the board has been broken in using specialized machinery, stabilizing the flex and rocker profile.
A fine tune finish to a fine board!
Again, like most powder snowboards, you can count on it having a shape that is directional, but the flex rating here is an 8 out of 10. Do be sure to keep this in mind. It's a board for the advanced rider.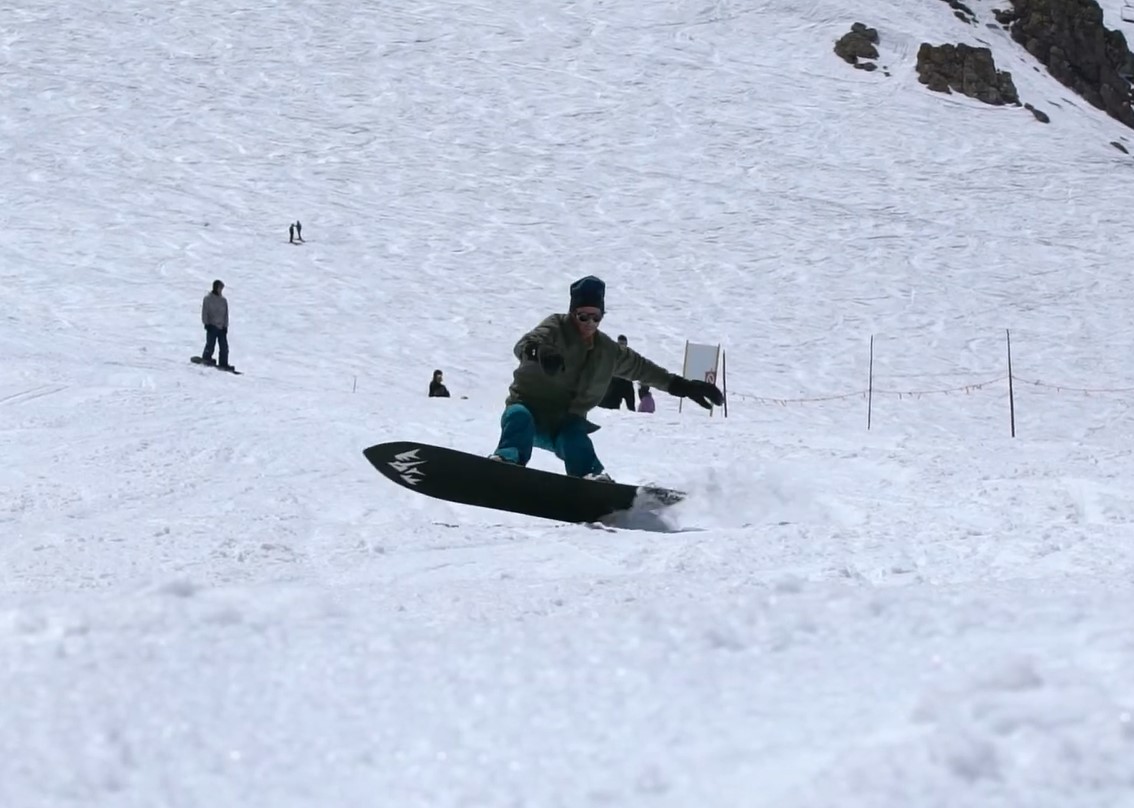 Features
A bamboo core with all the resilience and strength that comes with it.
Warranty of three years.
For freeriding and freestyling through fresh snow.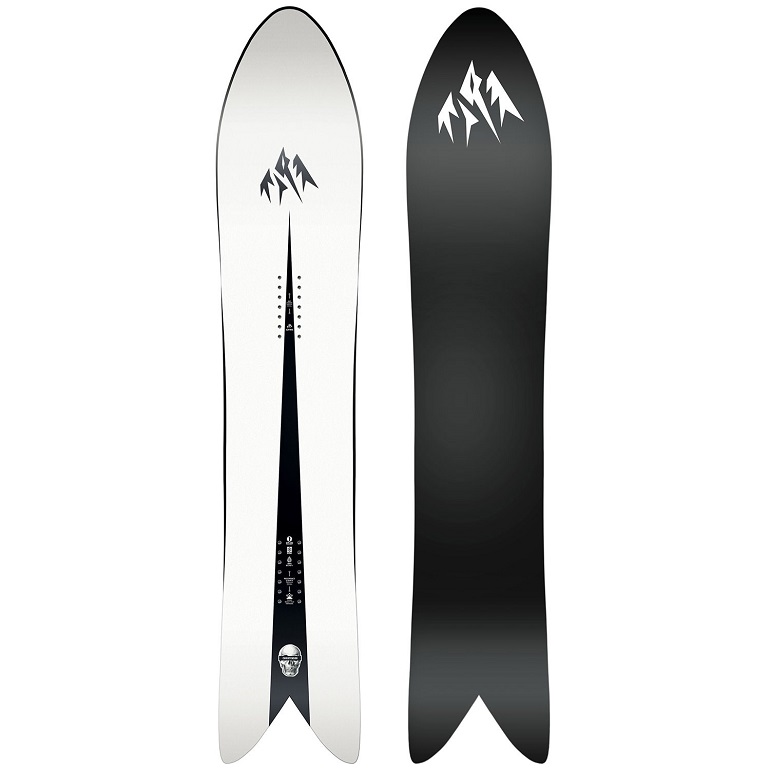 Jones Storm Wolf
The price of "Jones Storm Wolf " varies, so check the latest price at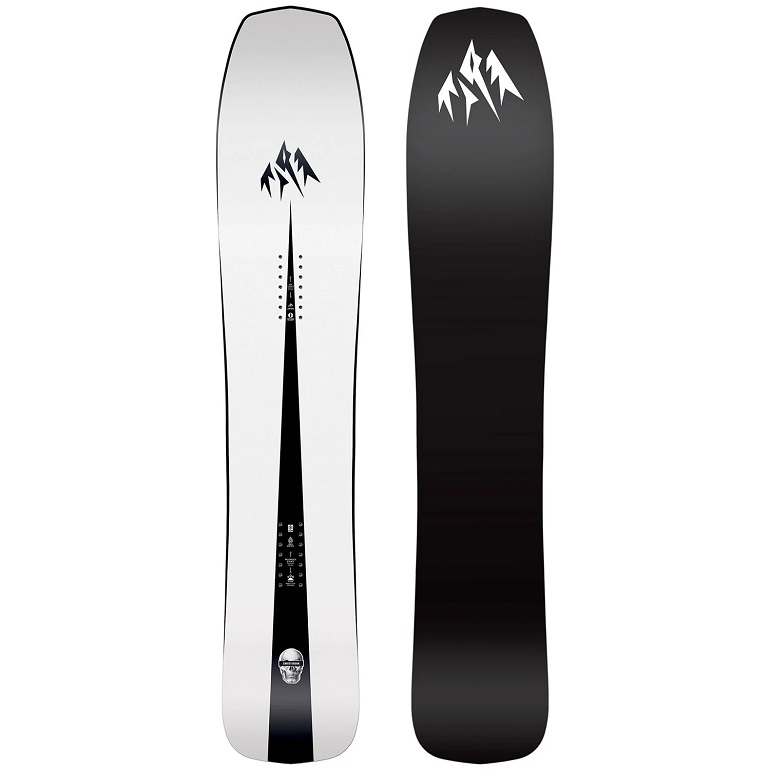 Another Jones board, another mention of that specialized machinery that breaks in your board by simulating intense riding through the deepest snow. Forever Flex, are you as tired of hearing about it as I am?
Don't worry, there is plenty of new here to be discussed. Could I interest you in some directional flex that will make your board's nose "floaty" and provide its tail with a stiffer flex for great turn initiation?
Perhaps a 3D contour base with a 7mm spoon bevel in the nose and another serving of a 7mm spoon bevel for the tail?
For dessert, how about a sidecut with a radius that gradually increases as it nears the contact points of the board?
Whatever you are craving, this board can serve up for you on any given powder day. The right board for those seeking out a medium flex serving for the intermediate to advanced rider.
There are few powder snowboards that come with as many small but impactful design adjustments as this board right here.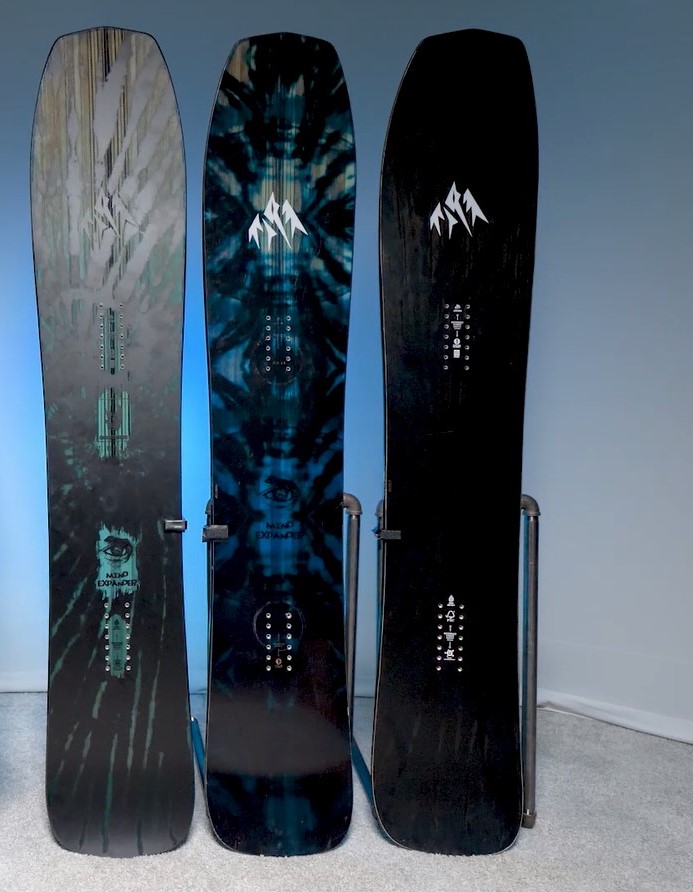 Features
Warranty of 3 years and with the following mounting pattern: 2 x 4
Improved edge grip due to multiple contact points adorning the board.
Factory applied wax, WEND natural wax, *Whispers: That's the good stuff.*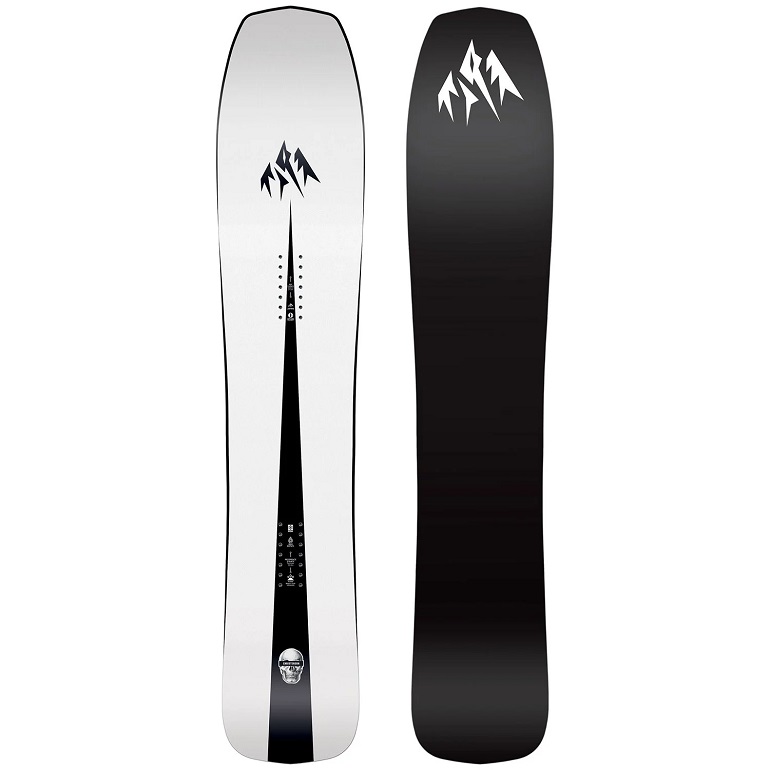 Jones Mind Expander
The price of "Jones Mind Expander" varies, so check the latest price at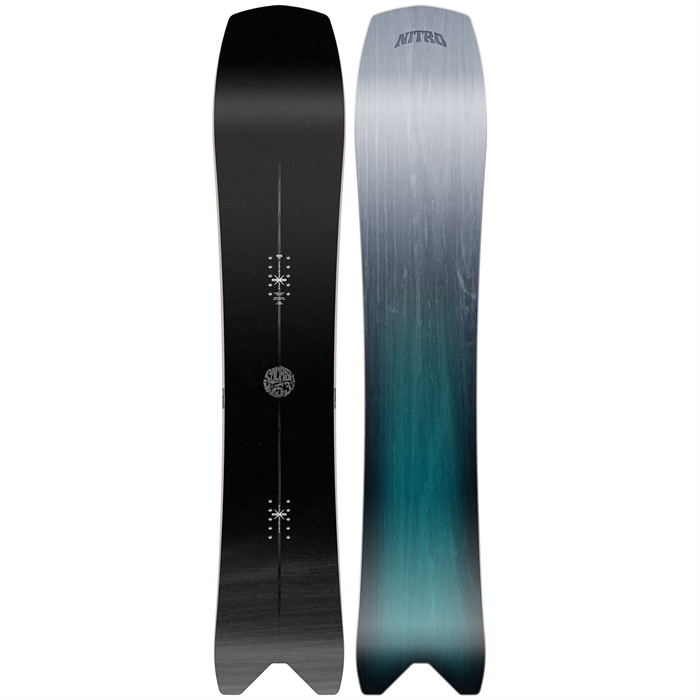 All the features that make powder snowboards unique and fun to ride are present and accounted for in this board.
From the tapered shape of the tail (and the wide nose upfront to go with it) to a camber section running throughout the entire board, making it pop, pop just like you want it.
But some new features have managed to sneak their way onto this powder board. A Sintered Speed Formula HD Base, what a name, makes use of a new base material compound that has higher abrasion resistance and increased wax absorption.
The greater the wax retention of your powder board, the faster you'll travel across the deep snow, but you needn't worry because the aforementioned wide nose will give you that insane float that the best powder snowboards are known for.
The medium stiff flex of the board may be a little hard to get used to for riders that have been pampered by freestyle snowboards, (I'm not judging, just saying), but that is why this all-mountain snowboard is recommended to intermediate riders.
If you need to know how to wax a snowboard without iron check out our article with a complete detailed guide.
Features
Great for freeriding and all-mountain excursions.
Comes with a warranty of 2 years.
A true camber profile with support and pop.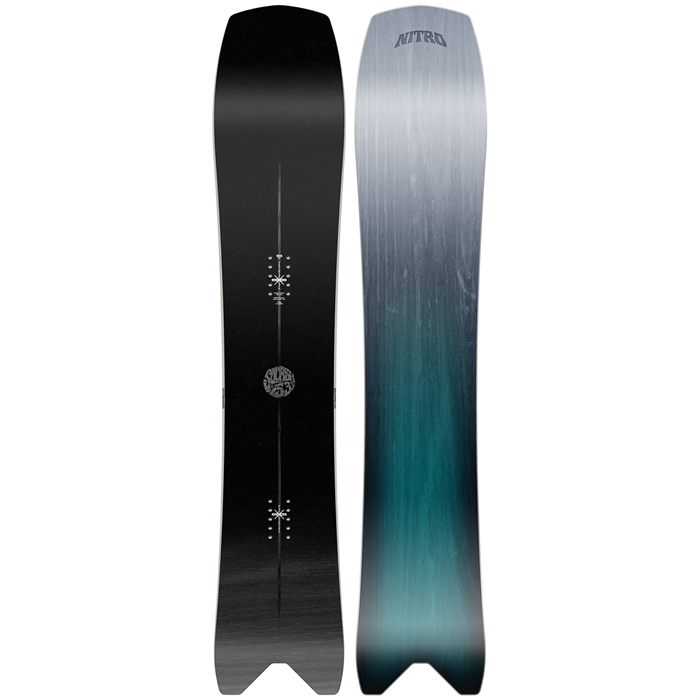 Nitro Squash Snowboard
The price of "Nitro Squash Snowboard" varies, so check the latest price at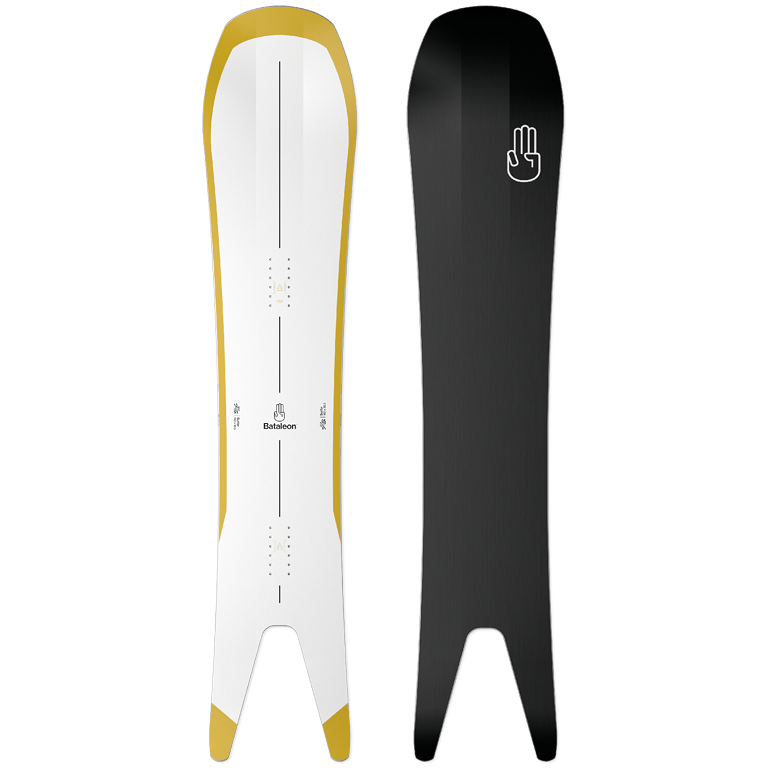 This Bataleon powder board has got the best overall design and look than any of the other best powder boards mentioned here. It's also got a price tag like an onion, so big it makes you want to cry.
For budget snowboard options, check out our list of best beginner snowboards.
Still, let us gawk for a moment at that oversized nose. Gawking. And then let's turn our attention to that super setback stance. Any further back and your back foot would be riding the literal snow and not the board!
Talk about fresh tracks.
It's got a slightly softer flex rating that pairs well with the ultra-light core that is constructed from paulownia wood and poplar.
A 70/30 split between the two materials. The core has had an AirRide additive (whatever that is) that dampens vibrations even when traveling at higher speeds.
The triple base technology of this board has a positive camber profile that extends from one tip to the next, and the side base has lifted points of contact that lift further up as they approach the widest points of the tip and tail.
I could go on and on. This is not just one maneuverable board but the one board that I personally consider the best powder snowboard.
Features
Flex rating of 4.
2 x 4 insert pattern.
A warranty of two years.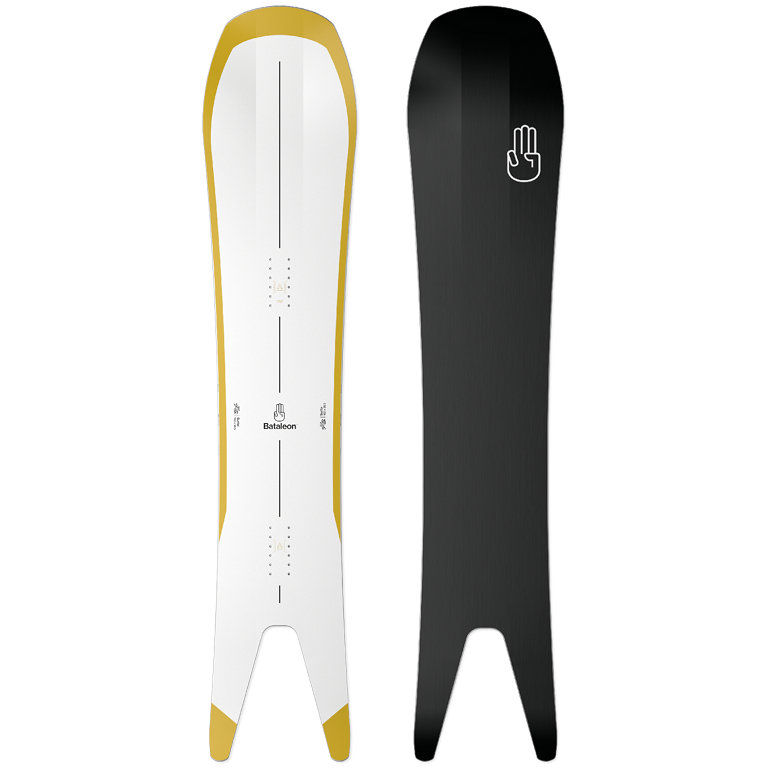 Bataleon Surfer Snowboard
The price of "Bataleon Surfer Snowboard" varies, so check the latest price at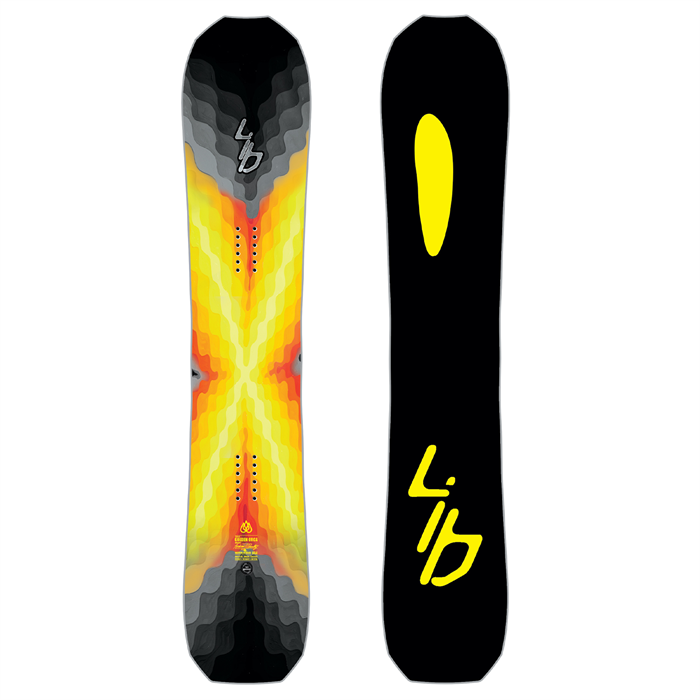 With great graphics comes great responsibility. Wise words that were spoken by an even wiser man, if I do say so myself.
The Golden Orca is the best powder snowboard that Lib Tech has to offer. And it looks good too.
A mashup of two great boards (the regular Orca and the T.Rice Pro) with some improvements of its own. A bit more centered than the two aforementioned boards and a modified tail design that's all its own, join forces to grant you the ability to ride switch.
At the top of this list, the Capita Spring Break also allowed you to switch your stance, and that was one of the key reasons why it ranked so highly. So why didn't this board rank higher?
The price point.
Spring Break offers more for less, and that has to be kept in mind when deciding what board rules them all. But this board does have an awesome banana rocker that has extra pressure applied to the tip and tail for pop and precision.
This rocker also makes for great edge hold when carving through harder snow and ice.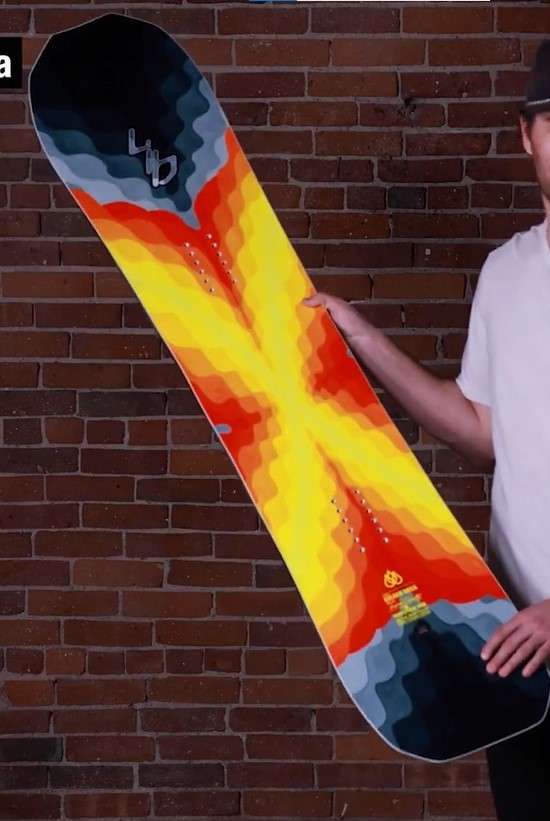 Features
One-year warranty with 2 x 4 mounting pattern.
For advanced-expert riders.
Fantastic edge hold.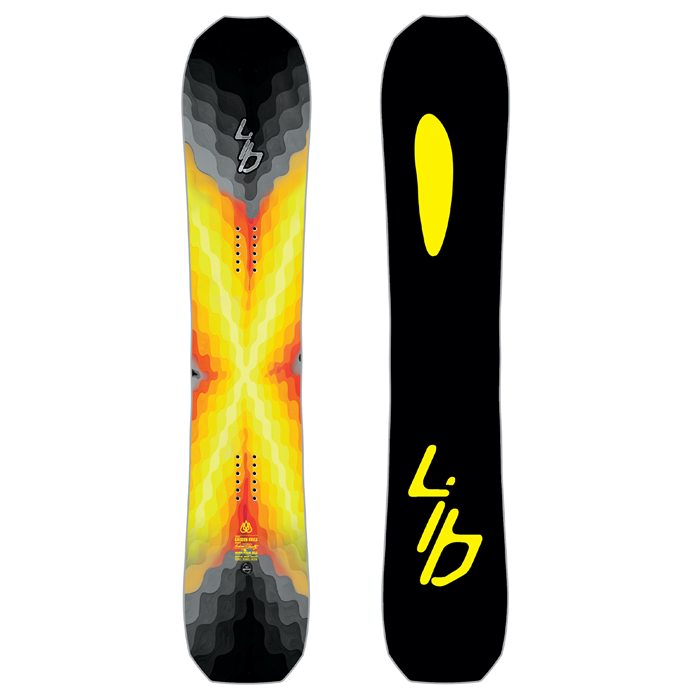 Lib Tech T.Rice Golden Orca Snowboard
The price of "Lib Tech T.Rice Golden Orca Snowboard" varies, so check the latest price at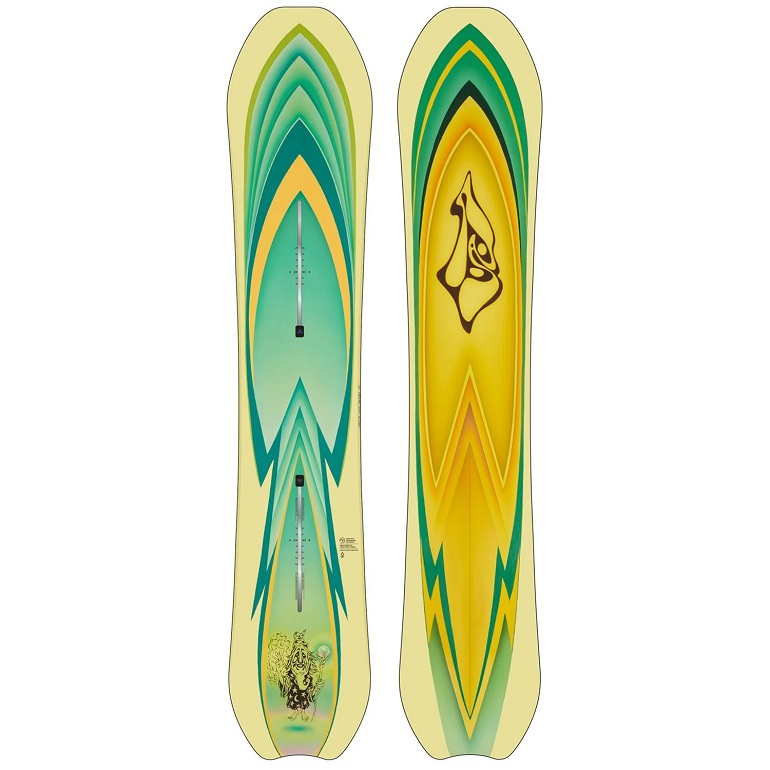 Burton thinks differently in everything even while making burton bindings. It's why the channel mounting system that comes with this board even exists. You get to set up any stance width that you want before heading out and breezing through deep pow.
This isn't a typical board, but then again, that can be said about most Burton boards.
This board has an entry rocker that lifts the nose up and out of harm's way. Your stability is maintained by the camber underneath your front foot and your back foot. A great pairing that makes it possible to comfortably ride through a range of conditions, soft snow or deeper snow.
The Deep thinker has a classic directional shape, fit with a longer nose and smaller tail. All without losing the flow, power, and float that the powder requires. Swing weight is also reduced by the tapered thickness of both ends of this Burton product.
A Squeezebox profile has been added to the core, which is sure to improve performance thanks to the balance of thicker and thinner core sections. It's a waltz of varied thickness taking place beneath your feet.
Features
Frostbite edges extend outward from the sidewall.
The world-class channel mounting system is here, and we are grateful for it.
Stiff flex rating with a 3-year warranty.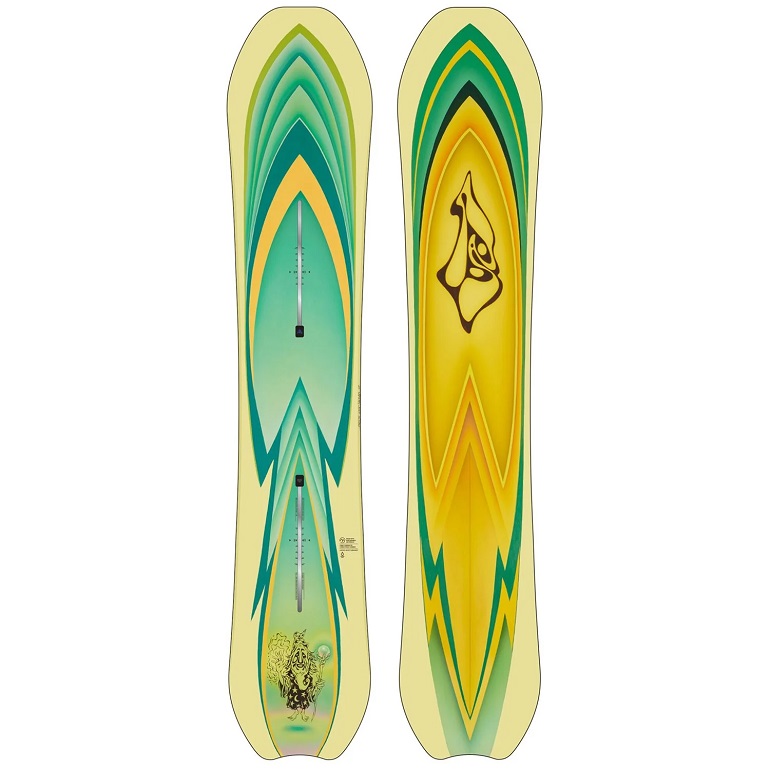 Burton Deep Thinker Snowboard
The price of "Burton Deep Thinker Snowboard" varies, so check the latest price at
There is a lot going on with the graphic on this board (lots of pigs), so I'm going to skip right over that and head straight to talking about the wide waist that this board carries with it. A great touch of stability for this smaller board.
Go through our guide on what size snowboard you should get to have a better idea!
The Warca UnInc has a MidBite profile that gives the front of the board a deeper inlay than the rear. This tapered look gives it the speed capabilities of a missile, and at high speeds, it looks like one too.
The core of the Warca is constructed from three different materials, an excellent alchemic mixture that reaps the benefits of all of its key ingredients. The strength and lightweight capabilities of Bamboo, with the durability of Poplar, and the pop of the Paulownia.
A great board that tries something new and pulls it off stunningly.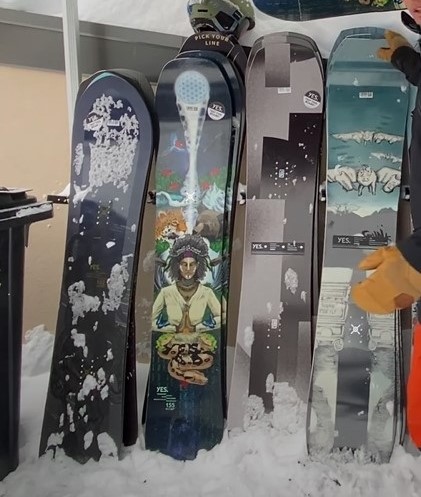 Features
Flex rating of 7.
For more experienced riders looking to ride hard and fast.
A directional twin shape with a limited lifetime warranty.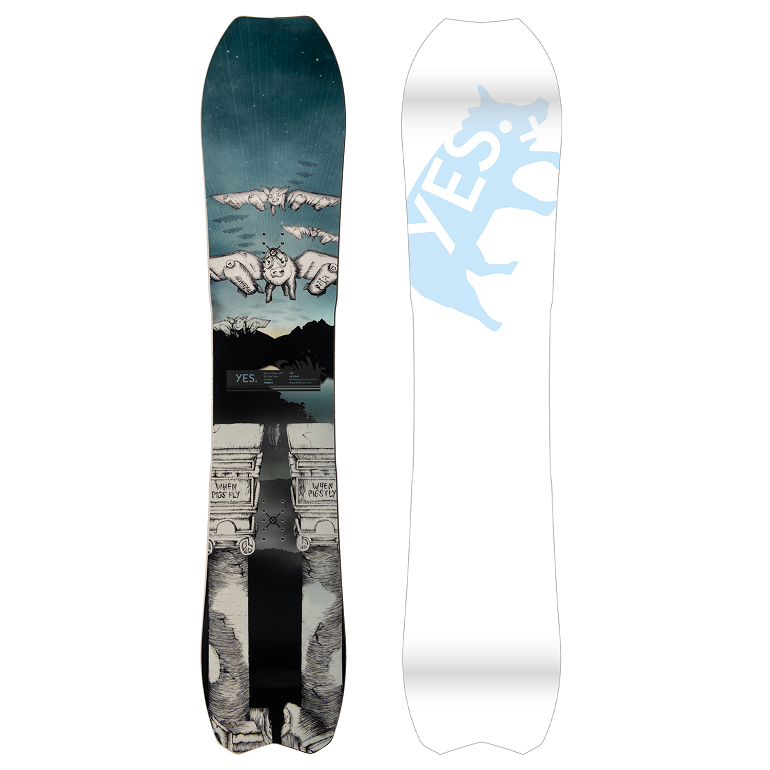 Yes. Warca UnInc JPS Snowboard 
The price of "Yes. Warca UnInc JPS Snowboard " varies, so check the latest price at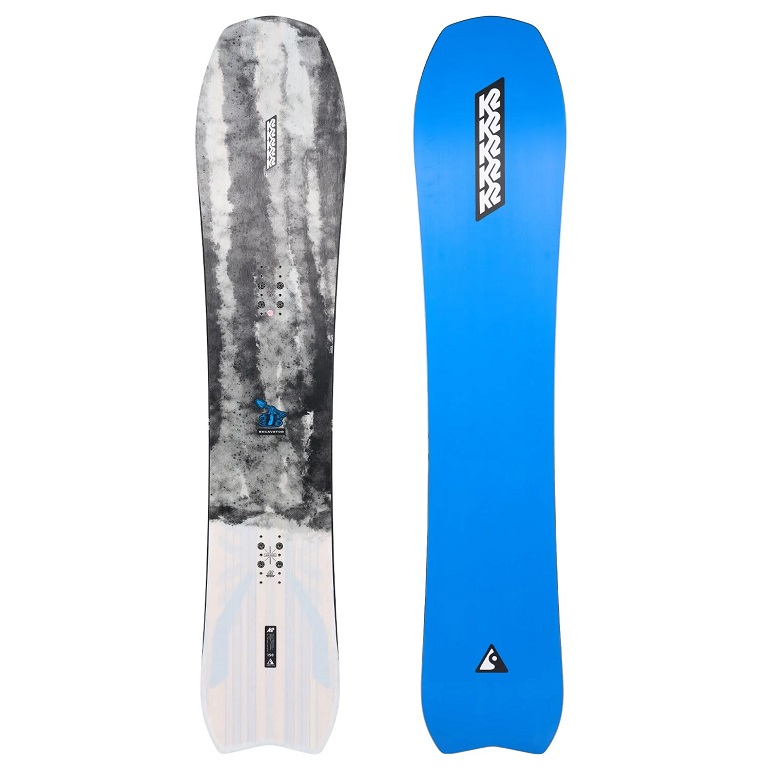 Strap in and set off with this directional camber board that is fit for floating over fresh pow or skating through pinstripes.
A fat nose and tapered tail make up the two key points of this board that give it that lift and control that is necessary to get the job done in these conditions.
With an S1 core that is designed to be damp underfoot but with the strength of an ox, you won't have to worry about lacking support from this bad boy. A special blend of bamboo, aspen, and paulownia makes up the perfect menagerie to ride around on.
Much like the Yes board above, you get improved edge-to-edge response from this powerful trio. Best used for freeriding or for riding on powder and with a 5-year warranty that is built to last much like the board itself.

Features
Supports the 2 x 4 mounting pattern.
Rocker and Camber dual profile.
The top sheet helps eliminate snow build-up.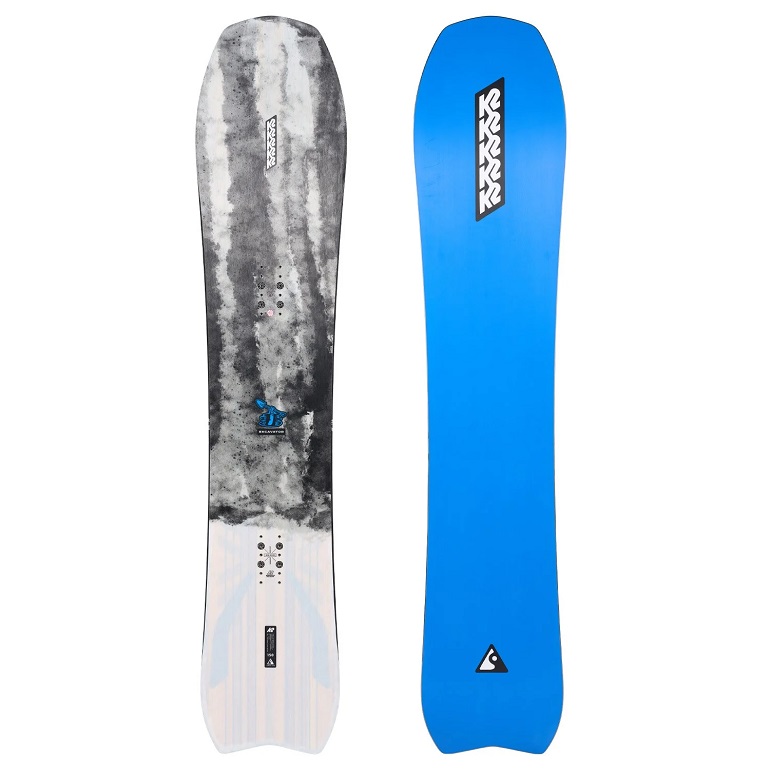 K2 Excavator Snowboard
The price of "K2 Excavator Snowboard " varies, so check the latest price at
My Final Thoughts
Riding through fresh powder is such a satisfying feeling that I hope everyone can experience it at least once. Don't worry about your skill level or falling flat on your back, after all, nothing can be perfect, especially not the first few times you try it.
There are a lot of fantastic top snowboards listed above, and even though my personal favorite, the Bataleon Surfer, has an astronomical price, there are several others that are much more affordable and just as good.
Granted, they won't look as good.
You know you want to ride on powder and rough terrain, but you still have some homework to complete if you want to get this right. Namely, consider what kind of camber or rocker you want for your board.
The shape of the board is also important because it will either allow you to ride the switch or force you to stick to a regular stance. One isn't inherently better than the other it is simply a matter of needs and wants.
It sounds like a lot to think about, but once you are out on that powder, you'll know that it was all worth the trouble!