We're going to serve some truth to you today when it comes to snowboarding.
If you live in Canada, the West Coast, East Coast, or the Midwest, you need to have a freestyle board. Why, do you ask? Because they are super fun, that's why! There will be moments when you just want to cut loose and have a blast without worrying about technique.
These boards aren't just fun; they are made to butter groomers easily, pop off side-hits like a champ, and ride and switch quickly. They are the technologically advanced boards that make you feel like a superhero for the day. You will be just as happy as we were to strap into these bad boys for the day.
The fine lines between a freestyle board and an all-mountain board are starting to blur. It can sometimes be hard to pin down what makes a freestyle board … well … freestyle.
We're here to walk you through the process so that you know what you're purchasing is a board that you will love. There is just something special, a little "Je ne said quoi," that makes a freestyle board genuinely epic.
Best Overall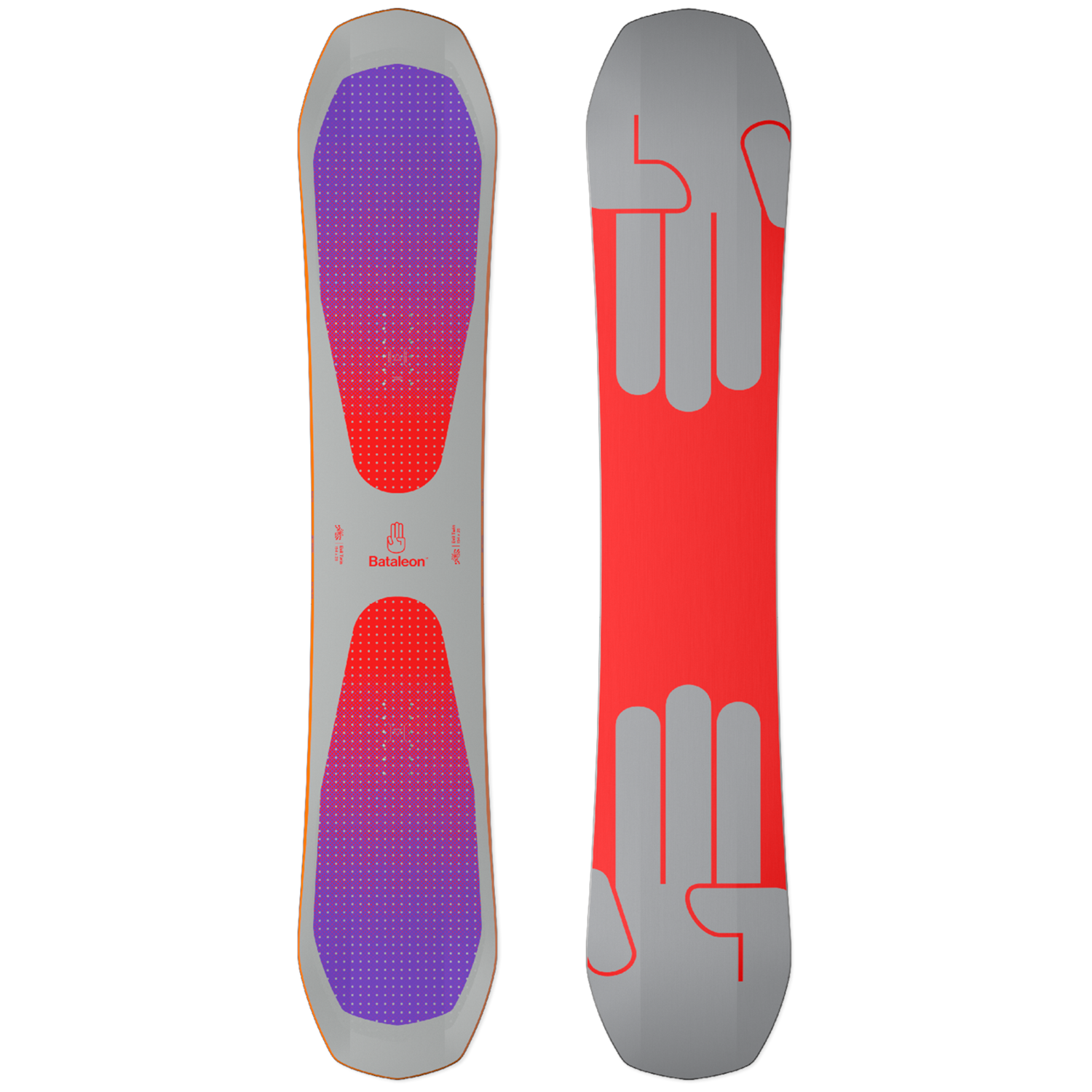 Bataleon Evil Twin
Ability Level:Intermediate-Advanced
Rocker Type:Camber
Super Versatile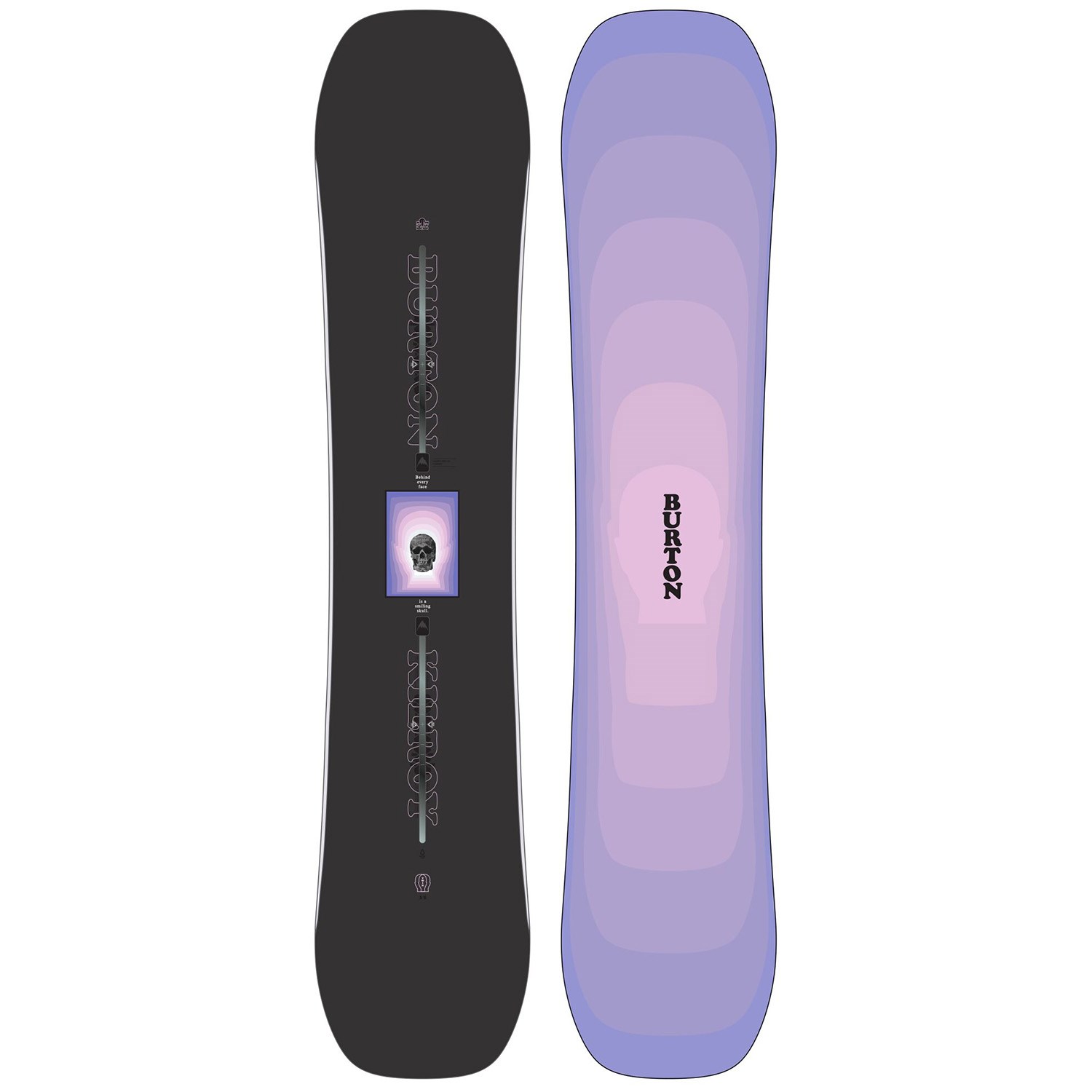 Burton Kilroy Twin
Ability Level:Intermediate-Advanced
Rocker Type:Camber
Professional's Choice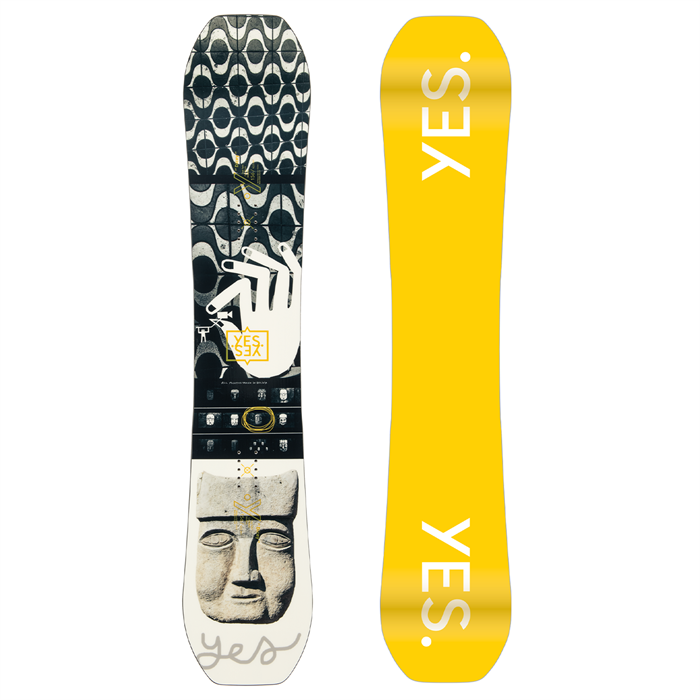 Yes. Dicey Snowboard
Ability Level:Intermediate-Advanced
Rocker Type:Rocker/Camber/Rocker
Super Speedster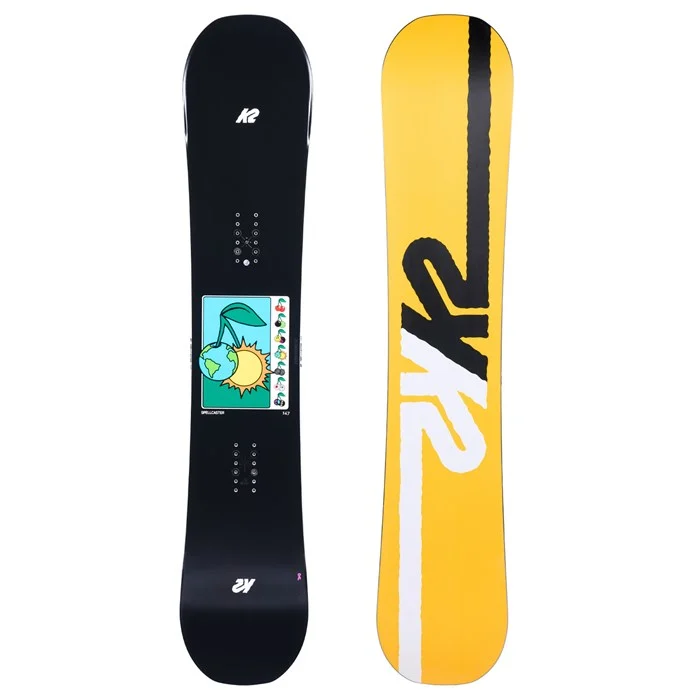 K2 Spellcaster Snowboard
Ability Level: Intermediate-Advanced
Rocker Type: Camber
Great for Beginners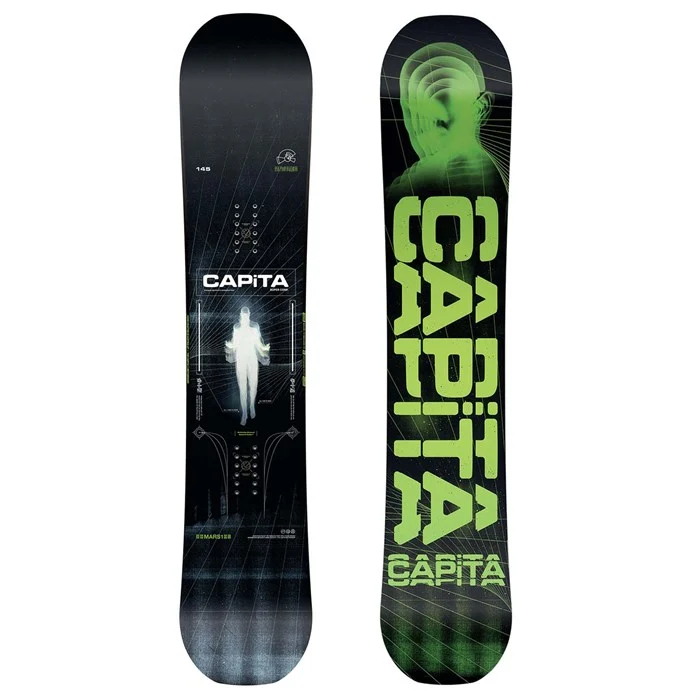 CAPiTA Pathfinder Snowboard
Ability Level: Intermediate-Advanced
Rocker Type: Camber
Supreme Flexibility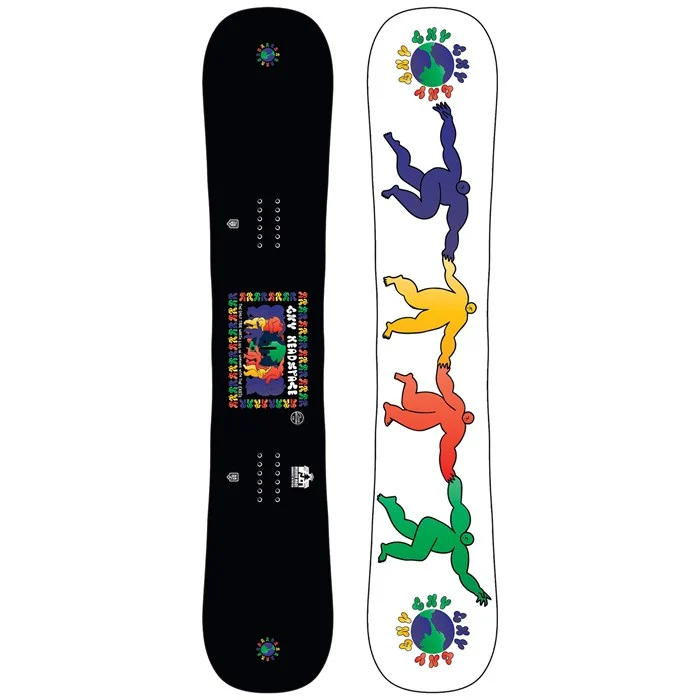 GNU Headspace snowboards
Ability Level: Advanced-Expert
Rocker Type: Rocker/Camber
Ultimate Playfulness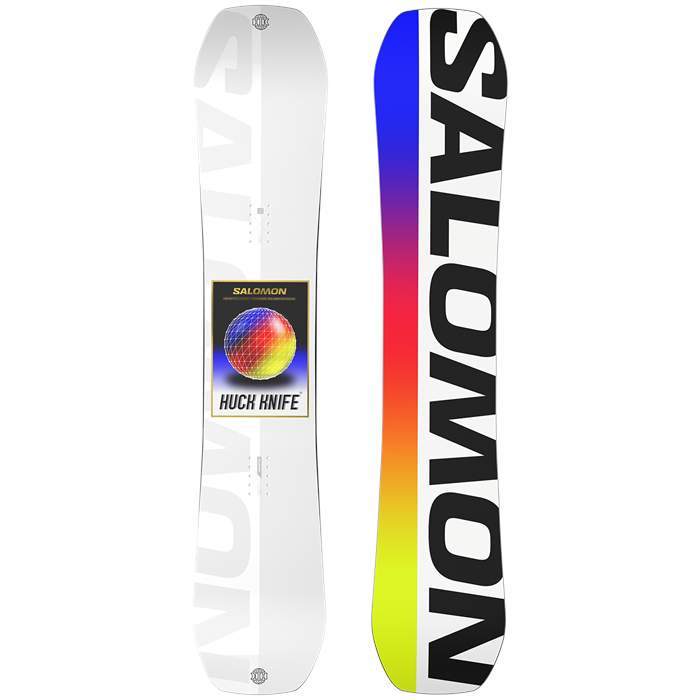 Salomon Huck Knife
Ability Level:

Intermediate-Advanced

Rocker Type: 

Rocker/Camber
Best For Intermediates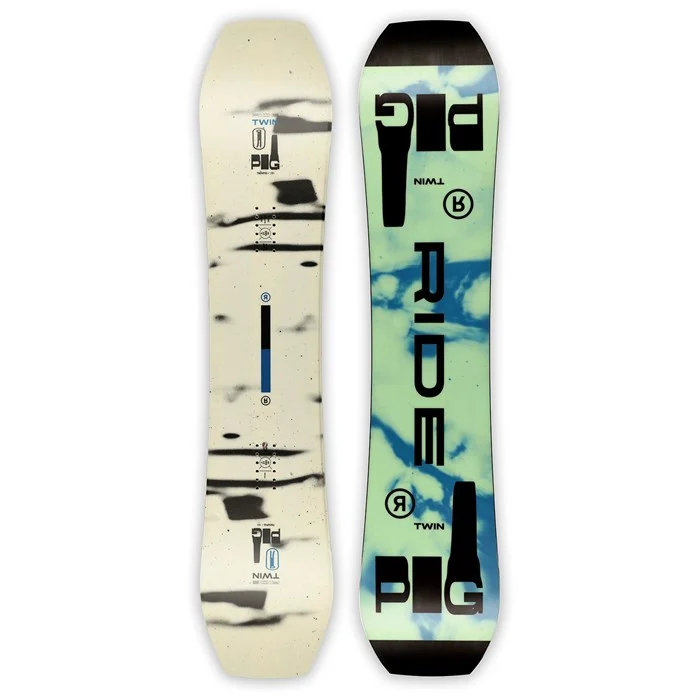 Ride Twinpig Snowboard
Ability Level:

Intermediate-Advanced

Rocker Type: Rocker/Camber
Best Freestyle Snowboards – Top 8 Picks
Freestyle boards are also called park boards, and all the boards on the list have been around for a while. You are going to use boards that snowboarders like us have tried and tested and returned thrilled. That's why we want you to try them too!
Let's dive into the world of freestyle snowboard and relish the unique attributes of our favorite ones:
When a snowboard is called the Evil Twin, you know it must be a badass ride that can take on the whole resort. The best freestyle snowboards are smoother, fast, and light, and that's one of the best features of this true twin snowboard.
Key Features
A full-cambered true twin snowboard with Triple Base Technology with Sidekick.
Uplifting contact points allow ultimate precision but a smoother transition when initiating turns.
Sidekick increases the uplift outside the widest points.
The shape resembled a boat's hull, increasing the float through slush and snow.
The core is light with a blend of Swiss Paulownia and poplar. It's more responsive and stiffer, which gives you a better response.
AirRide tech milled into the tip to tail to dampen vibrations
Pros
One of the best parts of this freestyle snowboard is its versatility. It rides everything well and is considered an all-mountain board.
It's lightweight, so much so that you'll feel like it's not even there. The lightweight feature will offer better spin weight off jumps and side hits. The base and core are built for a smooth and fast riding experience.
Cons
The board will show marks easily because of the matte top sheet. It could be a little stiffer, as it has a softer flex. A little adjustment can make it more stable for bigger jumps.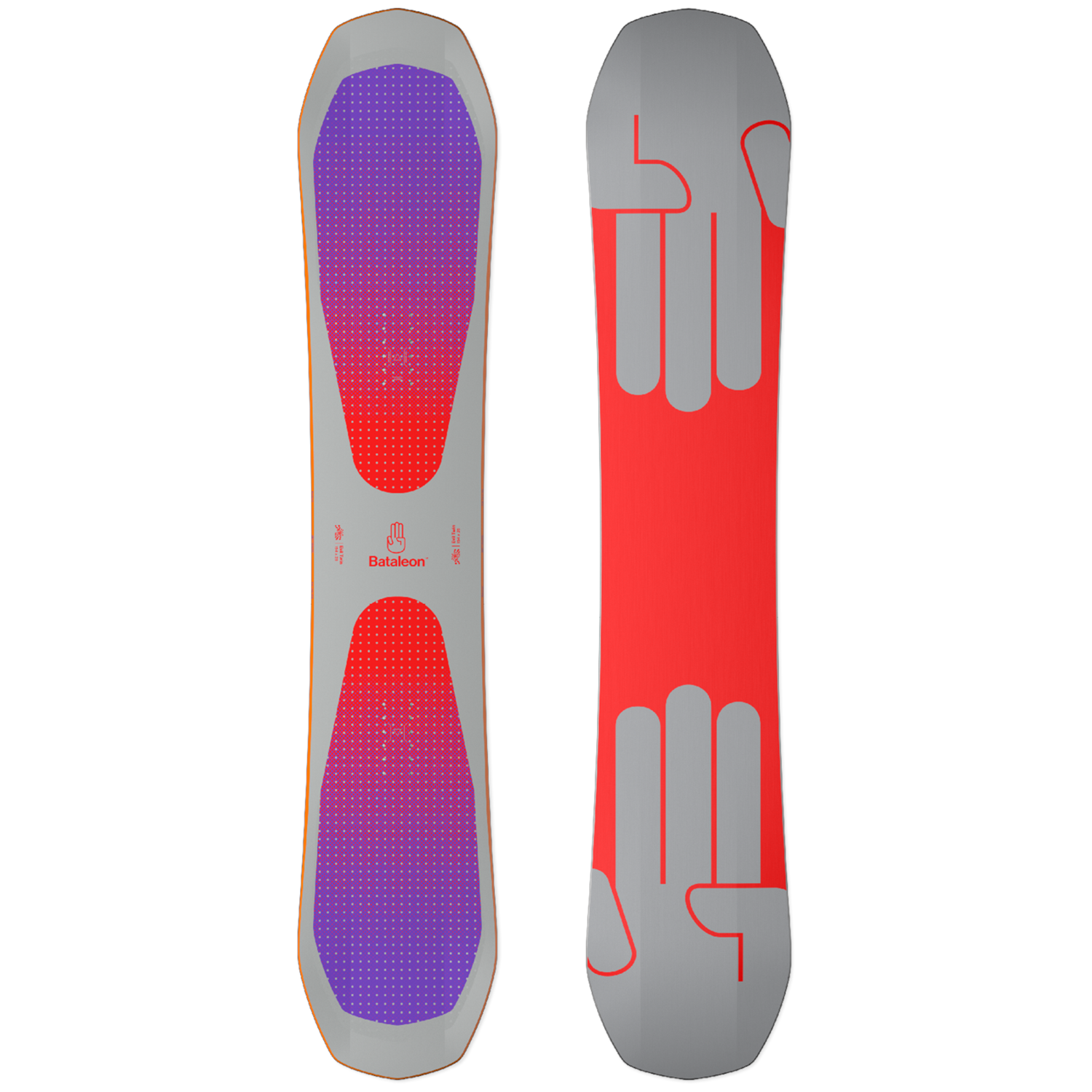 Bataleon Evil Twin
The price of "Bataleon Evil Twin" varies, so check the latest price at
This is an best all-mountain snowboard designed for both intermediate to advanced riders. It has a classic camber that promises precise and sharp turns. It's another versatile tool that will get you started regardless of your skill level.
Key Features
The camber has a grip advantage so that you can distribute weight evenly
The Biax technology provides a versatile flex for the best response possible on any terrain.
The Squeezebox Low construction makes the board thicker at the binding inserts and from tip to tail.
A 4/10 soft flex from tip to tail for a balanced ride
Burton's mounting system makes it quick and easy to change stance and binding angles.
Pros
This board will give you the confidence you need to move from one level to another. It's a stable snowboard that has an excellent carve grip, despite the flexibility.
The supports are stable but still playful. It's characterized by its strength, pop, and speed stability. This snowboard will set you apart from other snowboarders.
Cons
The Kilroy Twin isn't as versatile as some other boards in the Burton line.
It's such an excellent freestyle snowboard that it actually limits it in other terrains. This might not be the board for you if you're an aggressive rider.
Burton Kilroy Twin
The price of "Burton Kilroy Twin" varies, so check the latest price at
It's hard not to say YES to this snowboard. You want this board when things get sketchy on the slopes. It has a "jackpot" board that's a forgiving ride for beginners and intermediate riders. It's an excellent board for those that want to progress their skills quickly.
Key Features
Its terrain capable of freestyle as well as all-mountain.
The flex rating is a six, so it's stiffer rather than soft.
The twin shape has a radial side cut that is predictable and effective.
The binding capability is 2×4 inserts.
The camber between your feet acts as a spring, keeping control points in the ground.
The core is full poplar for tip-to-tail woodcore carving snowboard construction that has a consistent flex and lightweight feel.
Pros
If you are looking for a fantastic freestyle board, we recommend this one to coast all over the mountain. It will allow you to lay into carves on the groomers as it's one of the best twins.
It's not a board that's great for a beginner, but it's also not a demanding board.
Cons
It tends to be one of the more expensive boards at $549.
It's not a powder board, which is one of the only weaknesses of the board.
Yes. Dicey Snowboard
The price of "Yes. Dicey Snowboard" varies, so check the latest price at
This snowboard is called a Spellcaster because it will have you levitating over the slopes as you hit jumps. It's a magical freestyle riding experience that is packed with power. If you're looking for a fast board, then the Spellcaster is the one for you.
Key Features
Carbon Dark Wed with an X-pattern strategically placed underfoot to speed up transitions, increase underfoot strength, and increase control.
Flex rating is a five, so it's in between playful and precise.
It blends both traditional camber and rocker profiles.
Both useful for freestyle and all-mountain terrain.
Pros
For a women's board, this Spellcaster snowboard will have you casting spells over the men on the mountain. Welcome to being a powerhouse on the slopes and allowing you to ollie higher, butter better, and press longer.
Cons
It's not the type of snowboard that will be winning any freeriding awards. But that's probably not why you're buying it in the first place. It suits riders who have already cut their teeth and locked down their skills. Spell yeah!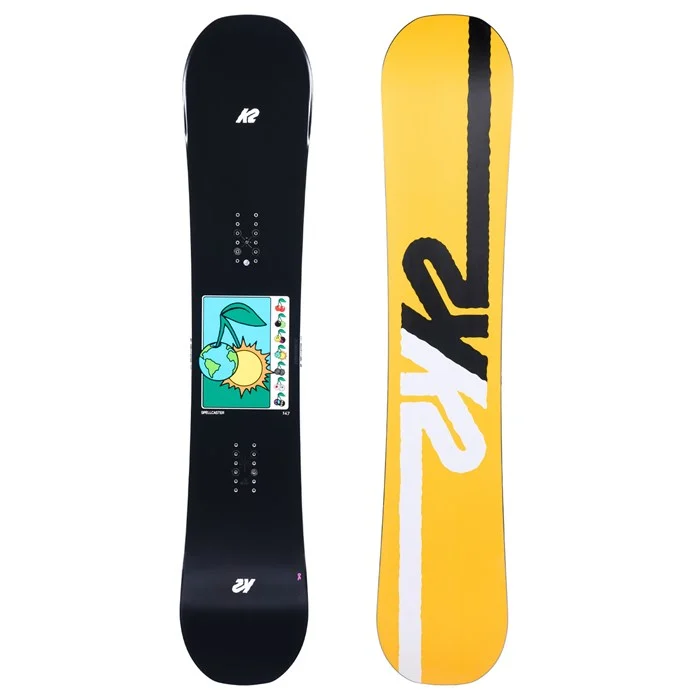 K2 Spellcaster Snowboard
The price of "K2 Spellcaster Snowboard" varies, so check the latest price at
If you're looking for action, this board is intense. This board doesn't have all the frills, it is a bare-bones board. The only thing you'll have on the slopes is you, gravity, and your board, but it will still equal fun. It has a blunted shape that cuts swing weight for aerial maneuvers.
Key Features
FSC Certified Dual Core that is made from lightweight poplar combined with Beech for durability and power.
Superdrive EX base that offers a versatile running base for high abrasion resistance and super smooth glide.
Very dense plastic that protects the core of the snowboard from rocks and water
Multitech Level 4 DeepSpace Silkscreen.
Pros
It's not an expensive board compared to others. It can certainly be an all-mountain board as well as a park board.
The softer flex makes it easy to throw around and plays well with the snow. It lays down a pretty good carve, regardless of how soft it is. It is forgiving regarding skidded turns and would be a great board for a beginner or intermediate rider.
Cons
It will work fine in shallow powder, but anything deeper could be a problem. Turning is great with the board, but it sometimes feels like it could turn too far, like it wants to spin you into switch even when you don't want to. It can get wobbly when you open up to high speeds.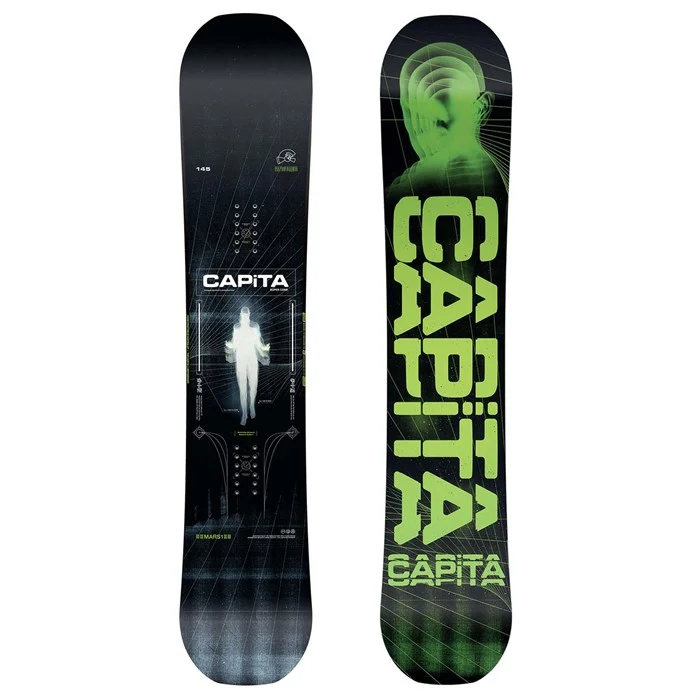 CAPiTA Pathfinder Snowboard
The price of " CAPiTA Pathfinder Snowboard" varies, so check the latest price at
It is a freestyle twin that uses asymmetrical sidecuts to give power to the heels and finesse to the toes. This snowboard will maximize insane energy levels, and you will find a unique delight in carving a groomer. It's a great board to help you push yourself to the next level.
Key Features
An asymmetrical construction, Magne-traction edges, will allow you to carve like crazy.
Jib-focused all-terrain board that boosts progression.
It has a medium flex with tough and fast sidewalls.
Eco Sublimated Sintered Base – Fast, tough, and holds wax.
Pros
This snowboard works in a mixed bag of conditions and was relentless in all freestyle snowboarding situations. You can happily carve the groomers in the morning and go back later for more fun.
This snowboard will allow you to butter for days, job your way through a session easily and launch side hits for weeks. What more do you need?
Cons
The board is more suited for the freestyle over the mountain but not meant for breakneck speed use. This suits intermediate to expert riders who want to step up their freestyle game.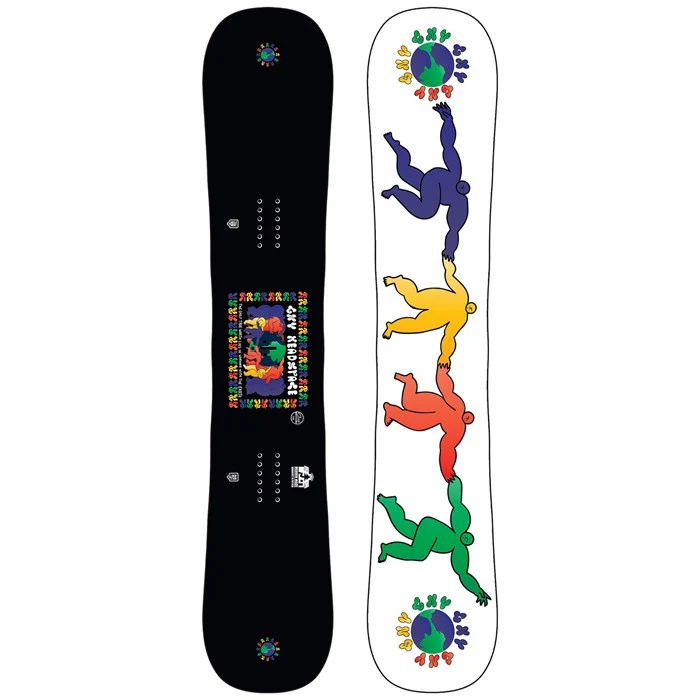 GNU Headspace snowboards
The price of "GNU Headspace snowboards" varies, so check the latest price at
The Salomon huck knife snowboard is the ultimate snowboard for freestyle riding. It has a quad camber and Popster Booster that helps you to excel at take-offs and landings.
There is playfulness and control for riders who want to build up their skills. The huck knife will reward expert riders while nurturing the skills of newbies. It's a great board for both intermediate and expert levels. Salomon is one of the famous snowboard brands that all rider love.
Key Features
Rocker type with quad camber built with different radiuses.
Flex rating of three, so very soft.
It's a true twin shape with a centered binding stance.
EQ Rad Sidecut blended for the perfect balance of fun and agility.
Aspen Select Core with wood strips that are hand selected to ensure lightness and core quality.
Pros
This board is meant to be playful with a medium flex and a quad chamber profile that allows you to lock and pop and progress your skill level. This board is meant for someone that is looking to progress.
If you have already dialed in your skills, you might want to go straight to the Pro version.
Cons
It's a less snappy board and just as stuff as the Huck Knife Pro. After riding both, there isn't much difference between the boards. It's not the best board on the market, but it also doesn't suck.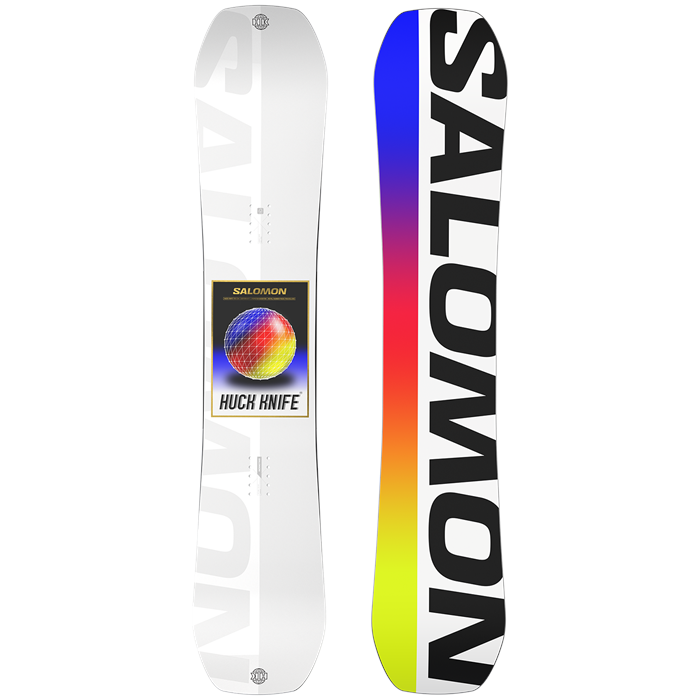 Salomon Huck Knife
The price of " Salomon Huck Knife" varies, so check the latest price at
The Ride Twinpig snowboard is all about getting more than what you want. It's everything you could ever want from the fat, short, directional Warpig, but it's a twin shape. You basically get more than you bargained for.
We love it because it thrashes the mountain and leaves nothing to disappoint. The wide shape of the board makes it spin easily and break all the boundaries, giving everything, you could have wanted from a freestyle board.
Key Features
It's an all-mountain freestyle board.
It has a medium flex of 5.5.
It is a twin standard camber but is more camber than rocker.
Flex provides a mellow response.
Asymmetrical Quadratic Sidecut is a blend of three radii to improve turn initiation.
Performance Core with high strength that provides the perfect balance to the rider.
Pros
It's a freestyle board, but it's unique because its volume shifted (short/wide). It's a power-oriented board best suited for someone riding freestyle over the mountain. It's suited more for an intermediate-level rider.
Cons
The board was stiffer than we expected, much stiffer than what it's promoted as. It's not super forgiving of skidded turns, so it's probably not beginner friendly.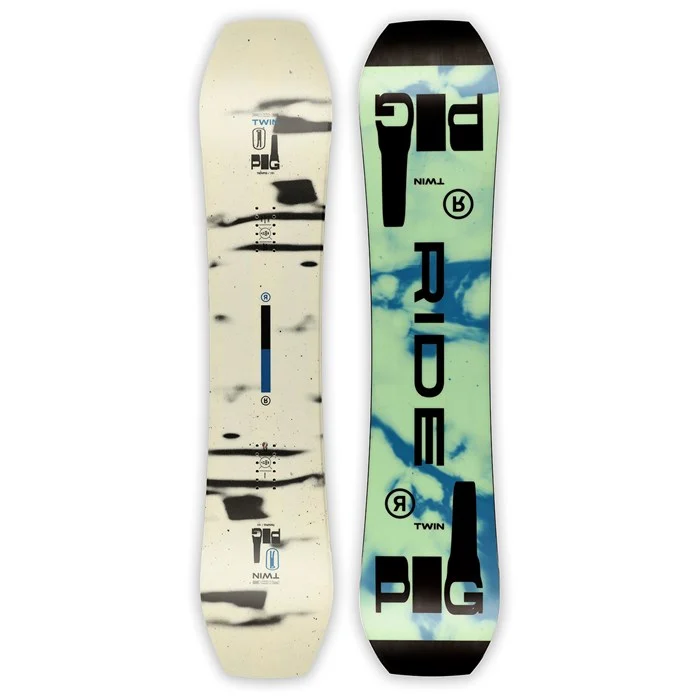 Ride Twinpig Snowboard
The price of "Ride Twinpig Snowboard" varies, so check the latest price at
What To Look For When Buying A Freestyle Snowboards
Despite the tweaks and finishing touches that make a snowboard, there are some things to consider before you decide to splurge your hard-earned cash on a freestyle snowboard.
There are a few considerations to look out for when you start shopping for the best freeride boards. If you're not familiar with what makes up the best freestyle snowboard, we're here to help. Below is everything you need to look for when buying a freestyle snowboard.
if you are perplexed about becoming a freestyle or freeride snowboarder, I am here to solve the equation check out our article.
Profile
The camber profile is a traditional board that pops off, but those of us who've put the hard work into learning different boards also know that the edge catches.
An excellent freestyle deck has to have that sweet balance between sending the rider skywards when it's time to pop and also carving a line up the transition kicker. The contact areas are easy to press on and are relatively forgiving.
There are many great options to choose from, such as hybrid profiles, flat, camrock, or check out the amazing 3D profiles.
Shape
The best part about a freestyle board is the creativity it allows you. The coolest snowboards in this category are typically exclusively twin shapes.
That means the stance, outline, flex, and profile are symmetrical you cut it through the middle. These boards should make you feel completely balanced while in the air.
Base
The base determines the board's price but also its durability, speed, and how easy it is to repair. If you want a cheap base, look for extruded bases but note they aren't as fast.
Keeping them waxed is important and is easier to replace if you catch a loose screw on a box. Sintered bases are much faster and more durable against bumps and knocks, but they are much more expensive snowboard.
Construction
Construction is where we can dig deeper. Wood cores are the most popular styles, I personally love a construction that is lighter, snappier, and harder wood. But many others will lean towards reliable poplar wood.
A freestyle snowboard flex is typically between 1 and 10 on the flex scale. It's important to research whether you want a big booster or a buttery soft jib knife.
Finding a great freestyle snowboard is only half the battle when shopping for a snowboard. Remember that you want well-fitting, responsive, comfortable snowboard bindings or, specifically, park bindings for freestyle riders and boots to go with your board.
Snowboarding clothing will help you complete your look and make you feel ready for the mountain. Don't forget to grab a helmet to protect you while on the slopes.
FAQs
How Can I Travel With a Snowboard?
Airlines typically allow passengers to travel with one snowboard boot bag and one gear bag. Both bags together are considered one checked item.
What Factors Should I Consider When Selecting the Size of a Snowboard?
Your snowboard should be between 85% and 92% of your body height.
The formula is: Your height (in inches) X 2.54 X 0.88 = your recommended board length.
Conclusion
Everyone should have a freestyle board. You should have a board even if you're not necessarily a freestyle person. Trust us; we know what we're talking about.
Freestyle snowboards are light, short, and flexible with twin tips. They are best for playful park riding!
Choosing the best freestyle snowboards is an exciting adventure. The main thing to remember is that it's a board you are comfortable with at your skill level.
If you are interested in any of the boards on the list, click on the link to find purchasing information and enjoy the mountain! You can also learn how to wax a snowboard without iron to keep your board in good shape.