If you are one of those skiers who are always looking for freshly-powdered mountains to ski on, chances are that you are currently on the lookout for an appropriate travel destination for this winter season.
New England offers spectacular resorts when it comes to skiing.
Most of them offer balanced terrains, family-friendly services, and well-groomed ski areas.
The perfect ski resorts in New England for an experienced adventurer would definitely be those that are perched on its tallest mountains!
Our Top Rated New England Ski Resorts
Still confused about picking out a ski resort to head toward this fall season? Here are some of the most gorgeous ski resorts in New England to choose from!
1. Okemo Mountain Resort Ski Resort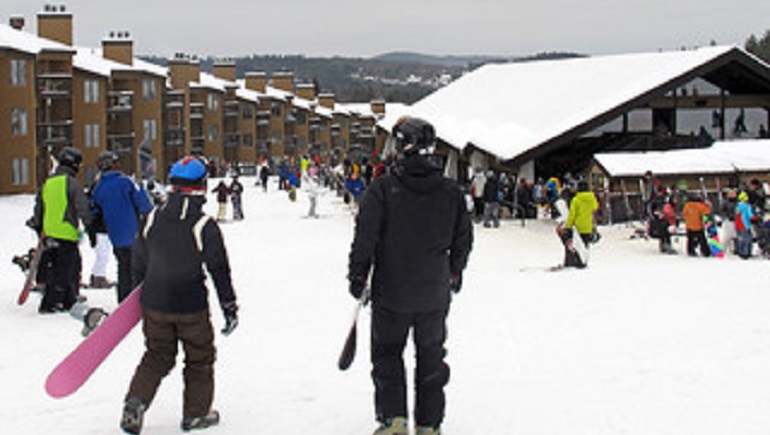 Being the highest peak and the largest ski area in Southern Vermont with 2,200 feet, it is what the dreams of adventurers are made of. Getting here would let you enjoy New England skiing to the fullest!
Pros
Right above the Ludlow is the Okemo Mountain Ski Resort, which receives probably the best snow quality during the peak ski season. For those who love riding lifts after a family skiing activity, the good news is that they are nearby, and getting the lift tickets isn't a problem.
Sachem Ski Lift, Black Ridge Ski Lift, and Sachem Ski Lift are literally within walking distance from the resort.
To avail yourself of the ski season to the fullest, you can visit the fun zone with your kids, check out the Vermont river valley, and choose the cross-country skiing option for yourself.
Also, you won't have to travel a long distance to reach the ski camp. The Ski shuttle is close to the resort, which makes traveling easier!
The top spot of this highest mountain is the favorite part of even the new Englanders who love to visit it over the weekends!
Cons
The terrain parks are not groomed enough for the experts. Being an adventurous skier, I found this place to be lacking in expert terrain. Also, during the peak season, the weekends are super-crowded and the ski area is packed!
The ski areas here are pretty high. If you are an intermediate skier, you can travel all the way to jay peak for easier slopes!
Opening and Closing Dates
This is probably one of the best family ski resorts you can ever visit. This time around, it opens on Nov 19, 2022, and extends its adventure offerings all the way to Apr 17, 2023.
Famous For…
This biggest ski resort in New England offers great choices for food lovers. Tom's Loft Tavern and The Killarney have amazing options on their menu, both are even less than half hour's drive from the resort.
To grab a quick bite, head over to Sweet Surrender Bakery and it won't disappoint you!
Also, this resort offers quite a variety of beginner and groomed terrain. Hence, no matter what skill level you have, this ski resort would be a great pick for you during this fall season!
2. Loon Mountain Resort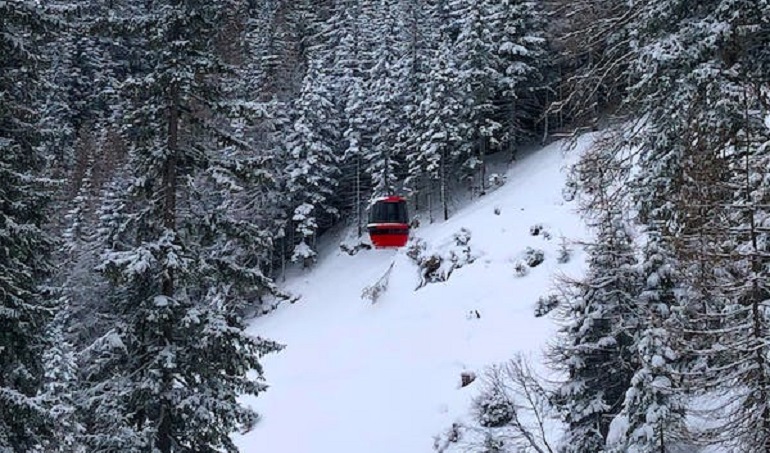 This Condo sits along the Pemi river in New Hampshire and offers great indoor and outdoor adventures. If you want family-friendly services this is the best skiing resort to visit!
Pros
The lodging units are well-constructed and you can even get an entire condo for yourself. The outdoor pool, family restaurants, and extensive ski lessons make this place worth a visit.
The hot tubs, sauna, indoor pools, and fitness center make this place one of the best ski resorts in New England.
The Loon's adventure center will make your trip over the White mountains even more adventurous. Snow Tubing, cross-country skiing, and Gondola Skyride are some great features offered by the resort in New Hampshire.
Cons
The interiors of the resort are not impressive! It needs a make-over to match the superior outer facilities that it offers.
Opening and Closing Dates
The Loon mountain resort initiates its winter activities on Nov 23, 2022, and extends till Apr 16, 2023.
Famous For…
This one is a great ski resort in New Hampshire that will entertain your whole family through various activities and events apres ski. Swift lifts and easy trails on the terrain are enough to impress your kids.
Also, the Franconia Notch State park is merely 20 miles from it so families can visit that easily!
3. Killington Resort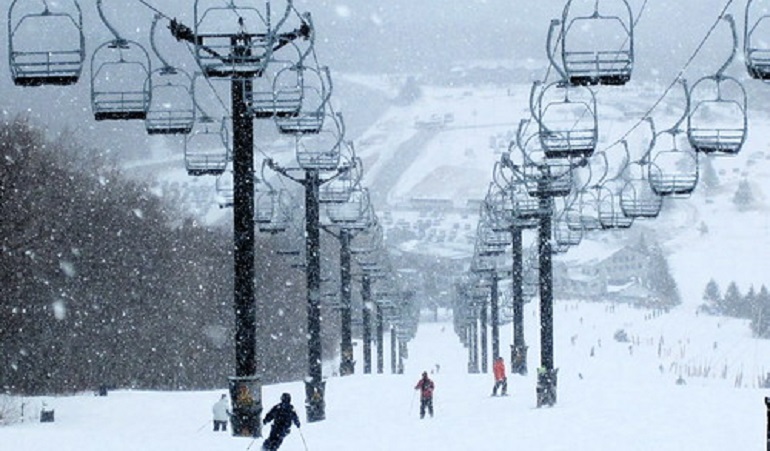 The family rooms and suites offered by the Killington resort have a great view of the mountain. Getting to this place is also pretty easy as Rutland Airport is merely 11 miles away from it.
Pros
This is one of the many resorts in New England that offer free shuttle services to tourists.
What I loved the most about the Killington skiing area in Vermont was the top-notch amenities it offered at the lodging sites. From the outdoor pools to exquisite scenery and from fast lifts to the friendly staff, it has it all!
Being easily accessible, you can visit it for snowboarding and dog sledding as well, if you are a non-skier
Cons
There is no on-site restaurant, causing quite some inconvenience for those who stay in this part of the region. Hence, apres ski, you'll have to travel a bit to fill your empty belly!
Opening and Closing Dates
The Killington Resort kicks start its snow adventures this time around on Thursday, November 17th, and would extend it all the way to May 28, 2023.
Famous For…
You will never get bored at the Killington Resort. There are so many activities that even non-skiers stay entertained the whole time and have easy access to them.
You can have a pampering session while sitting on the heated seats at the spa or spend time at Pico mountain with your folks. 87 miles away from it is Mount Washington and you can ski on its slopes as well!
4. Wachusett Mountain Ski Area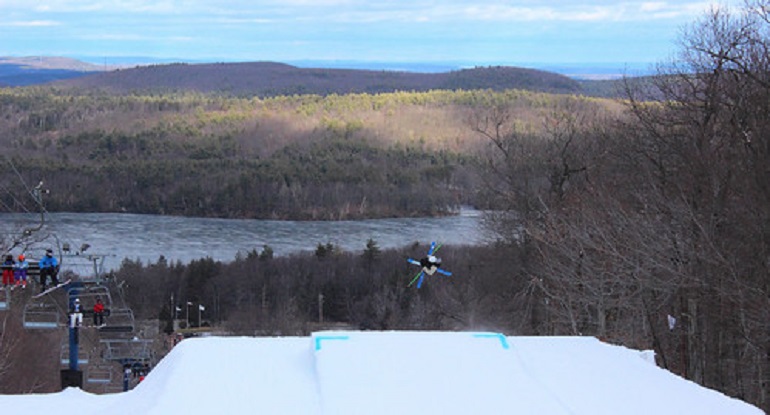 Having some great ski slopes and trails in New England, the Wachusett Mountain Ski Area offers night skiing options to avid adventurers. It's also an easily accessible ski area in New England, having a well-groomed terrain park.
Pros
The well-groomed snow makes it a dream spot for expert skiers. Also, modern lifts including High-Speed Quads give you a great peak of the big mountain.
Moreover, if you have kids and want someone to look after them while you ride the snowboard or stroll through the village, you can avail yourself of the daycare facility!
Cons
If you visit it during the peak season, you may end up slugging in long lines just to buy a single lift ticket. The resort has the potential to get crowded by families pretty fast!
Opening and Closing Dates
The resort announced its opening date to be November 25, 2022, and would close its winter operations on April 03, 2023.
Famous For…
The prime location of Wachusett Mountain Ski Area sets it apart from others! It's close to the Redemption Rock historical site and the Great Wolf Lodge waterpark. Hence, get an epic pass and your family vacation will turn out to be super fun!
5. Jiminy Peak Mountain Resort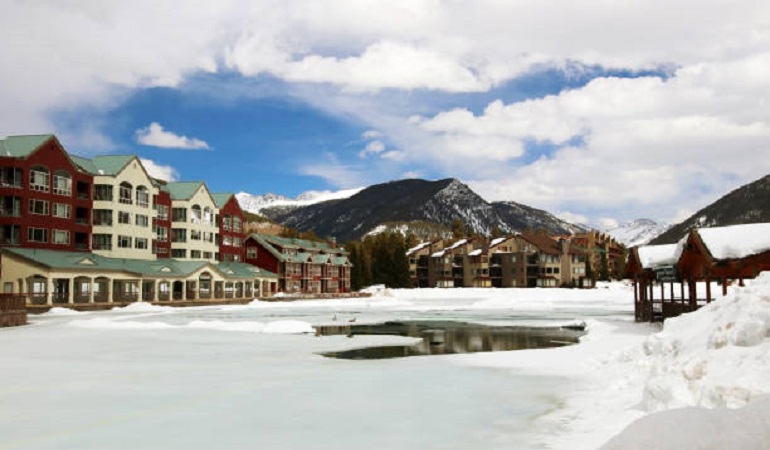 Staying at the Jiminy Peak Mountain Resort means having an extremely comfortable stay and availing yourself of some really amazing amenities while lodging there. The suites provide separate kitchenettes, where you can cook anything of your choice!
Pros
After a long skiing session, you can relax by hopping into the outdoor heated pools or having a relaxing massage at the spa.
Also, if you love shopping, Just Jiminy, an amazing logo shop pretty close to it, lets you buy cute souvenirs while at Mountain Sports by Potter Brothers, you will get to see great winter gear too!
Cons
Foof options are limited and are at a distance from the resort itself. Also, if you want to avoid the crowded lift ticket lines, you would be on the safer side if tickets are purchased online.
Opening and Closing Dates
The resort opens its trails on Nov 25, 2022, and would extend it all the way till Apr 02, 2023.
Famous For…
Located in the rural area of New England, you would be able to witness the real life of the locals if you stay here!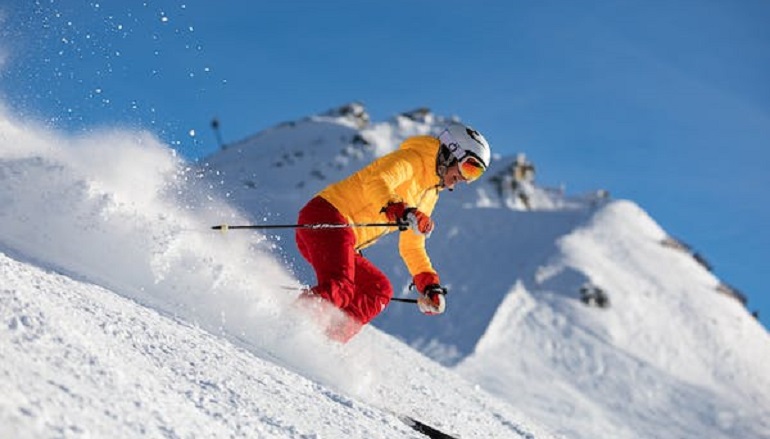 Also, the Williamstown Theatre Festival and Barrington Stage Company are two of the most prominent tourist attractions, and families really love witnessing them! Also, the seated zip line at the Jiminy Peak Adventure Park is worth trying!
Final Thoughts
New England offers amazing resorts from north to south! They are so good that you may end up feeling confused while choosing one.
The dining options are quite good, trails are groomed and you would surely love to stay at lodging facilities close to the towns.
Related Guide: