Burton Step Ons: What Are They?
If you hate fiddling with buckles and straps, constantly falling over onto the snow, and annoying yourself with your equipment, all before riding down your first slope, then your savior has arrived.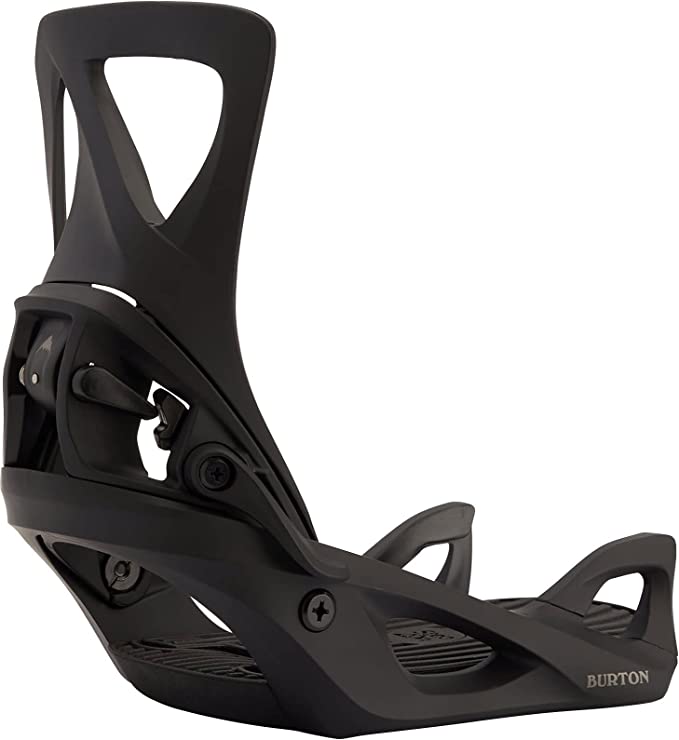 BURTON Step On Snowboard Bindings
The price of "BURTON Step On" varies, so check the latest price at
The Burton Step on snowboard bindings have come to the rescue. Providing you with a sleek step-in system that strap bindings and other traditional bindings can never match.
Despite not being the biggest fan of Burton boots in the past, there is much to be praised about these step-ons. In case you didn't know, step-ons differ from regular bindings because they have an entirely different system for securing your boot.
I'll be going over why these bindings left us quite impressed and any downsides that you should consider before making a final purchase.
What You Gain With Burton Step On Bindings
Have you ever wondered what the benefits of a step on binding really are? You would be forgiven if, upon seeing a step on binding for the first time, you felt unconvinced by its build quality.
I know I was! I just couldn't believe that something without a strap binding system could even stay on when snowboarding, let alone be responsive. But that is where I was wrong. In fact, the step-in system is renowned for how responsive of a binding it really is.
Before we continue, keep in mind that a pair of Burton compatible step on boots is required in order to suit up with these bindings. If you don't already have the required boots, then essentially, you are looking at having to purchase both the boots and bindings.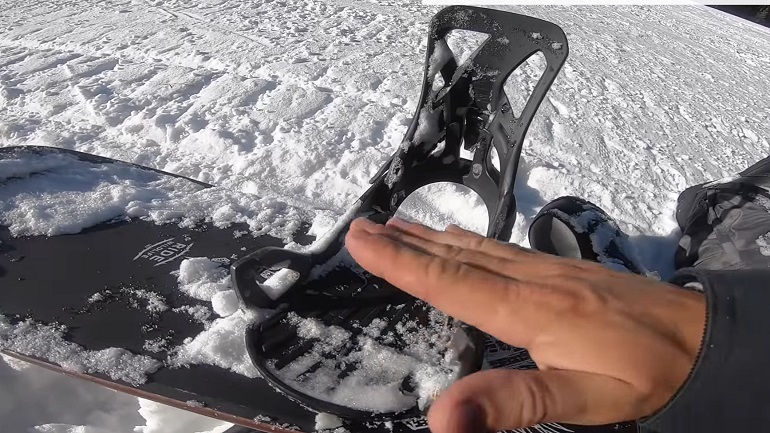 Response
The first main draw of a step on binding is the amount of response that you get. Some of the most responsive bindings I have ever used have been step ons. The reason why this is the case is that the steps ons click onto whatever you are wearing.
This step on system is so secure that they restrict the movement of the boot. This compact fit leaves no room for delay, and so you get a very responsive binding as a result. You are locked in without the hassle of having to make any adjustments.
Super Easy To Equip
The second major benefit that step-ons have is that you won't ever again have to fiddle around with an ankle strap or a toe strap. Straps can bring you a more secure feeling, but it is worth noting that they are incredibly annoying to put on.
Most of the time, novices and even intermediate riders will find themselves sitting down on the cold mountain snow just to put their bindings on. In short, strapping in is a pain.
But all those memories can be forgotten in time with the use of bindings with a stepping-in system. All you need to do is walk up to them and then bring your foot down into them until they clip into place. An easier setup does not exist.
While some of these benefits can be found in any pair of bindings, below you will find what left us smiling about the Burton step-ons in particular.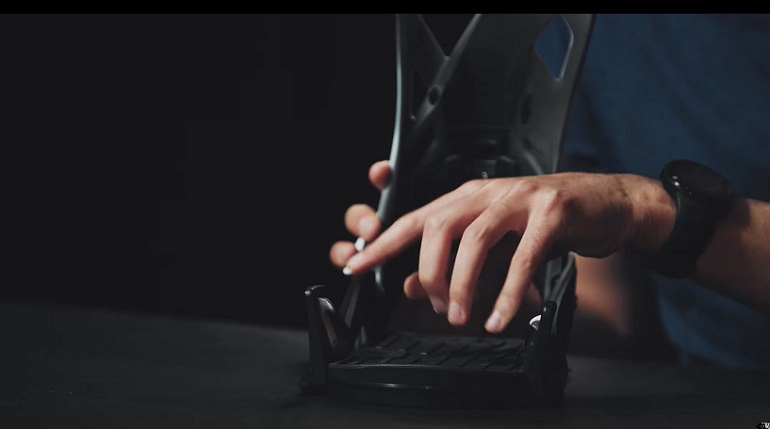 Burton Step On Snowboard Bindings: What Impressed Us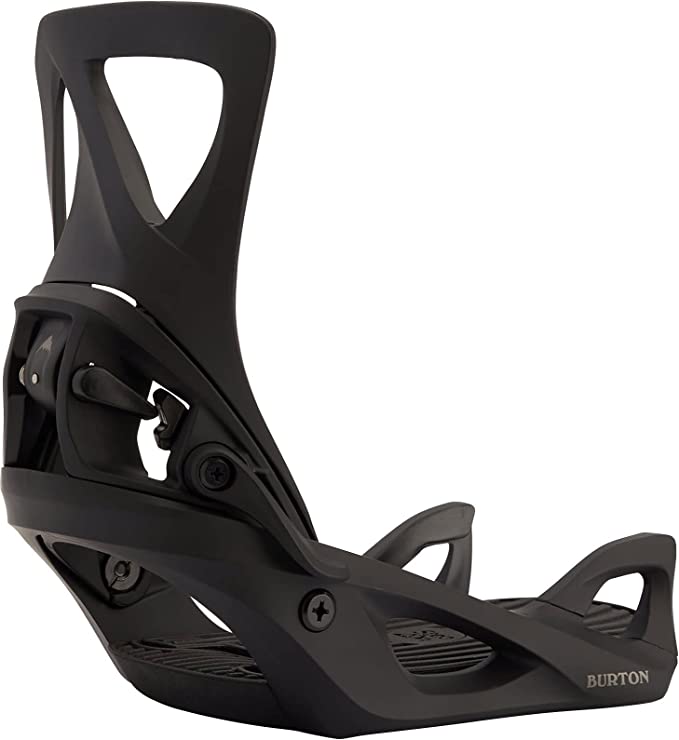 BURTON Step On Snowboard Bindings
The price of "BURTON Step On" varies, so check the latest price at
Upon first equipping the Burton step-ons, I was quite surprised by how lightweight they felt. Some of the lightest bindings I ever wore were those with the conventional strap system. As a result, I had it in my mind that to accommodate for the lack of straps, the extra weight would have to be placed onto the base plate.
I was pleasantly surprised.
This lightweight feel resulted in a turn initiation that is quite spectacular, with each tiny adjustment made with my foot being instantaneous. Riding within these felt like one cohesive unit, as if all of my equipment combined into one singular tool.
You probably have an idea of how fast it is to put on a step on binding, but the same can be said about stepping out of them. There is a quick-release lever on the side that you use to snap out of your bindings, and it only takes a couple of seconds to activate.
All of these qualities give the Burton Step Ons a sleek and efficient feel. If you are considering snowboarding and do not have any real experience with the sport, then it may be difficult to truly appreciate what is being brought to the table with the Burton step-on bindings.
But it has to be said that the entire riding experience within these feels just right. A combination of control and ease of use.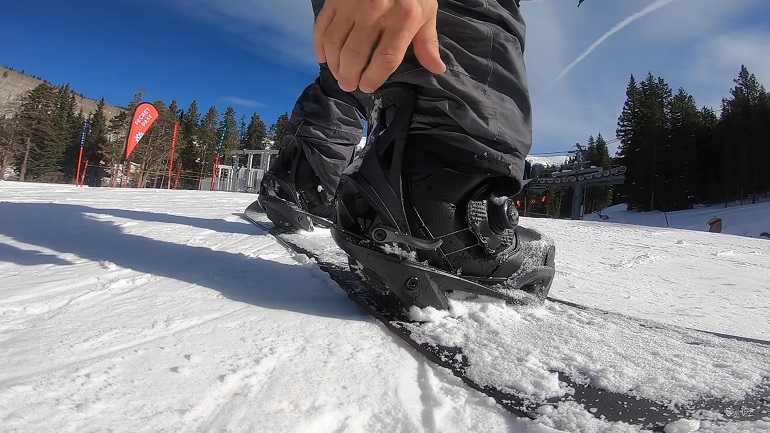 A Breakdown of How These Step-On Bindings Work
It is time to get into the nitty gritty about these top snowboard bindings. Below I will be breaking down exactly what these have to offer and any other pressing details that you need to know.
Even if you are familiar with snowboarding boots and bindings, you'll still want to give this a read-through as step-on equipment can vary significantly in functionality and overall feel.
Highback Flex
The Rudder To Your Engine.The highback and the base plate are made from the same material, carbon/nylon. This gives you the stability required to get into and out of your bindings. The carbon highback helps provide the necessary structure when going at high speeds. Personally, I love having a stiff high back to fall back on. Suffice to say that I was satisfied by this offering.
Base Plate Build
The base plate, like all the best base plates, is composed of a single part. You won't find any joins or bolts within its carbon/nylon structure. The nylon within this hybrid base plate is what you will find in most base plates, so no straying from the course here.EVA cushioning is draped across the entire base plate so slam down that mountain without any worries. Your feet and the material itself are covered in more ways than one, see the warranty section to understand what I mean. For me, the comfort level wasn't out of the ordinary, but this is fine. I wasn't impressed, but more importantly, I wasn't let down either.
Stance Width Adjustability
While these burton snowboard bindings are compatible with the 4 x 4 and 3D mounting systems, if you prefer an infinite number of ways to adjust either foot, then they are best used with boards that have the burton channel mounting system.The level of adjustability that these two pieces of equipment give you when combined is unrivaled. I would say that it is essential to use boards with a channel mounting system because said boards make it easy to tweak your stance width.I found that when you combine the two, so many of the annoying parts of snowboarding are removed and you are left to enjoy the core essentials.
Boot Support
You'll Want The Photons.Thanks to the aforementioned high back, you get a secure locked-in feeling when stepping into these bindings. If you want extra support for the lower parts of your legs, for example, your ankles, then you should pair these bindings up with photon boots.The photon step-ons will not only provide extra support for your ankles, but you won't feel as much of a fold on the boot itself. Other issues that could arise when using boots that are not like the photon step-ons are a back that doesn't move with your boot and flex that extends forward too much.I would say that the Burton photon step-on boots are required if you are interested in getting the most out of these bindings. Those were the boots that I used.
Shock Absorption
Par For The Course. It should come as no surprise that the shock absorption here is of a solid build. Most quality bindings today have some kind of EVA or Thermoform cushion that provides riders with a comfortable experience. And among many things, Burton products are quality products. A plastic plate has been fitted onto the bottom of the bindings, and all the regular benefits that you can expect from bindings, such as the Re: Flex brand, can be found here. My opinion here is the same as the base plate, not exceptional but not a letdown either.
Angles & Support
Experiment FreelyThese bindings have a FLAD system that, with just a few micro-adjustments, can change your forward lean angle. In fact, your entire stance can be customized. As we can see, this is a persistent feature of these bindings, which is interesting because stiff flex equipment is not exactly known for its freedom.
Warranty
Lifetime Anyone? By far, the best part about these bindings is their warranty policy. Like all Burton base plates, the base plate here is backed by a lifetime warranty. That's right, your base plate is protected under warranty for life. What a deal! On the other hand, the high backs are backed by a one-year warranty that activates the day that you purchase them. Take note that Burton straps are also covered with a one-year warranty, but that is not something for you to worry about since these are step-on bindings.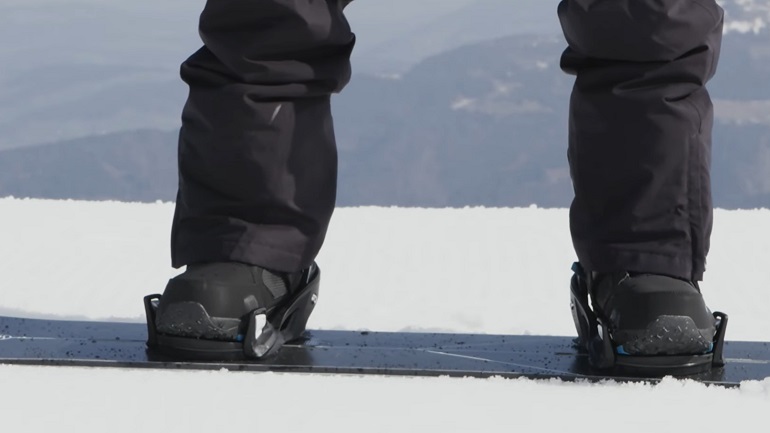 Burton Step On Bindings: Who Do They Work For?
There is a general idea around step-on bindings that states that they are best suited for novices and intermediate riders. But this isn't always the case and especially not with these particular ones.
Once you begin riding with the Burton Step Ons, you quickly realize that they have a flex level that is not conducive for a beginner. As mentioned before, these bindings are stiff, and the greater the stiffness, the more response you get.
The issue here is that a wobbly beginner will not be able to find a consistent balance due to this feature. The only feature that is suited for beginners' snowboard bindings is their quick entry and release.
Aside from that, you should steer clear of these bindings unless you are an experienced rider looking for greater control and to do away with annoying straps altogether.
The only other snowboarders that these bindings are suitable for are those that are older or have some disability that makes the strapping-in process much more tedious and cumbersome.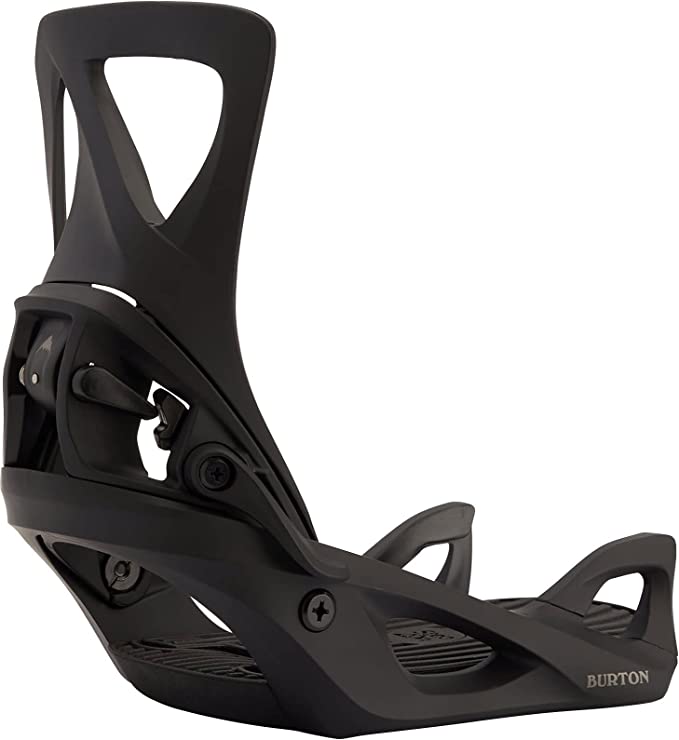 BURTON Step On Snowboard Bindings
The price of "BURTON Step On" varies, so check the latest price at
My Final Thoughts
The bottom line is that I love these bindings. They don't offer an immense amount of new features but rather iterate and improve upon what is already there. I never felt bogged down by their weight or by the number of adjustments that I had to make in order to feel right when wearing them.
I was completely won over by how speed was engraved into every part of this gear. From putting them on to taking them off and their response time.
These findings are not beginner friendly, but if you are no stranger to the mountain and are interested in taking a break from the usual course, then I can not recommend them enough. Step forward and add more control to your riding style with this exceptional piece of equipment.
<div id="mediavine-settings" data-blocklist-all="1″></div>