It Starts With an Idea and Ends With You on a Mountain
The snowy mountain roads are white, and there are no speed limits. You've got your freedom, and Burton snowboard bindings are your vehicle to explore it. They took a long road to get to you, but it was well worth the wait.
They started their journey somewhere in Burlington, Vermont. Within the storied halls of a massive several thousand square foot research and development facility. There, a burton snowboard binding gets thought into life.
(And somewhere in the snowy peaks of California, a mediocre rider (me) fumbles and stumbles down the mountain.)
First designed by a select committee and then manufactured elsewhere, in some factory in a far-off country. From there, the completed snowboard binding is sent to a warehouse. Within the said warehouse, it waits to get discovered and subsequently purchased by you.
You make your choice and they arrive, you strap them in. Adjusting your toe and ankle straps before racing down a mountain paved with snow.
But not every snowboard binding is tailor-made for you, and one false step and you'll find yourself with snowboard bindings that limit rather than release you.
Whether you want the lightweight air frames of the Nitro Team Pro bindings or you crave the control and security of the Union Stratas, your choices are varied.
This is why we have compiled this list of the best burton snowboard bindings currently available. So that you can tell who from what apart and get right into your grove.
Best Overall
Burton Mission
Brand: BURTON
Color: Black
Honorable Mention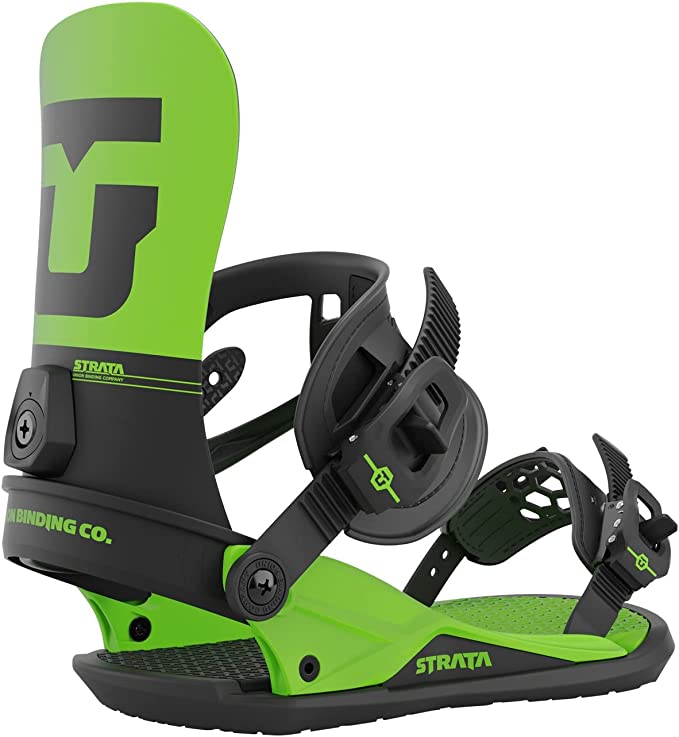 Union Strata
Brand: Union
Color: Acid Green
Ladies Premium Choice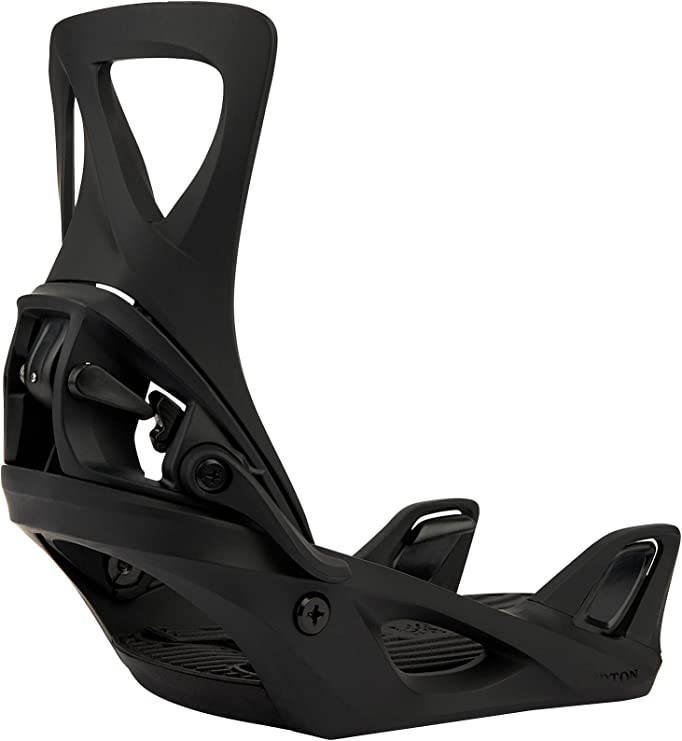 Burton Step On X
Brand: BURTON
Color: Black
Best Functional Design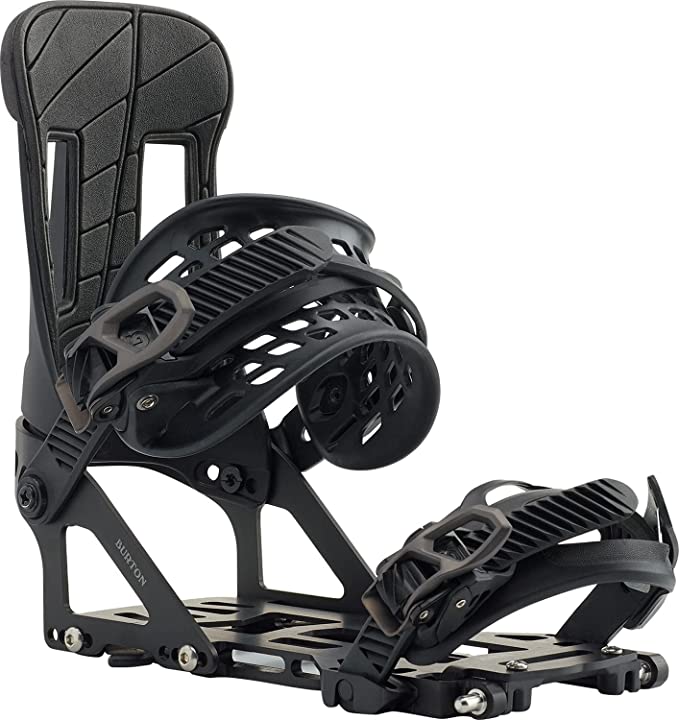 Burton Hitchhiker Bindings
Brand: BURTON
Color: Black
Best Aggressive Response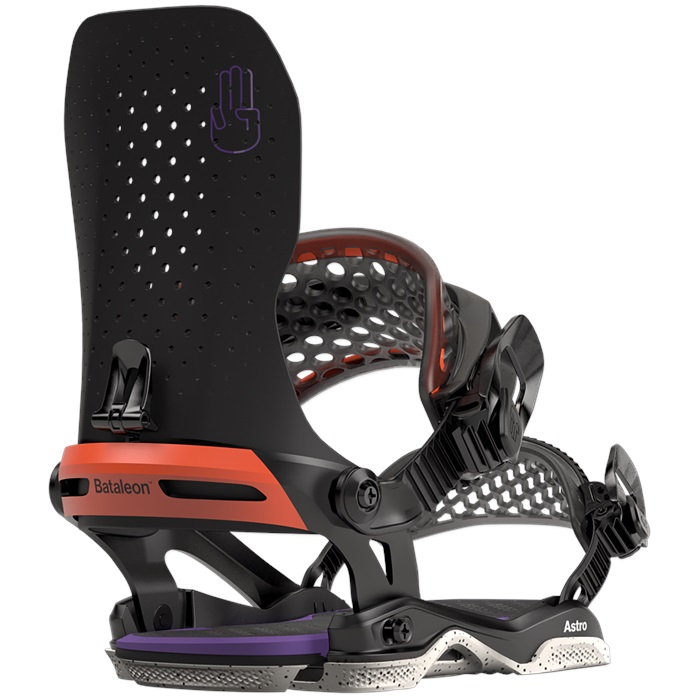 Bataleon Astro Bindings
Brand: Bataleon

Color:

Orange
For Female Challengers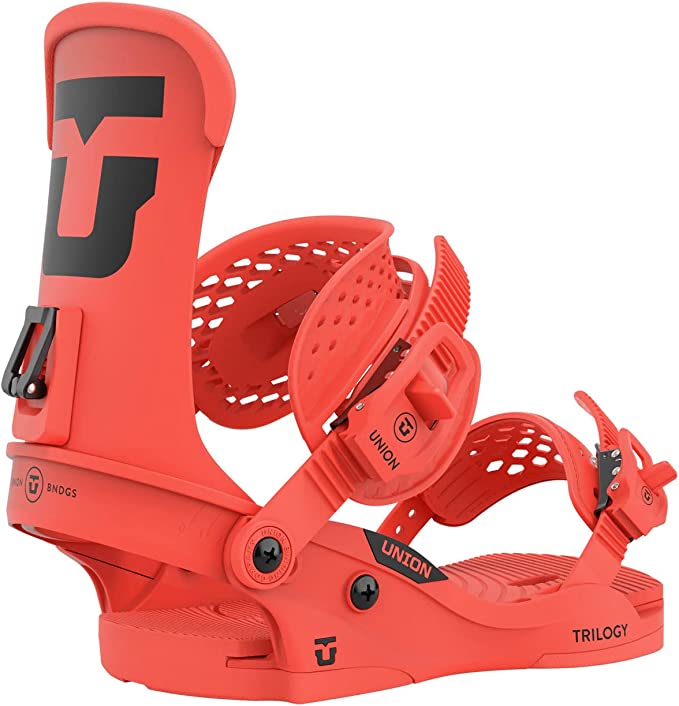 Union Trilogy
Brand: Union
Color: Coral
Expert's Choice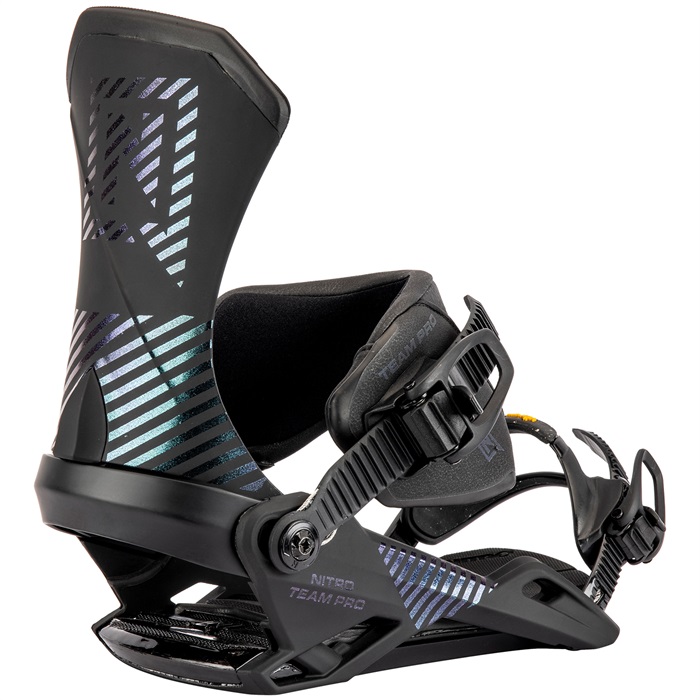 Nitro Team Pro Bindings
Brand: Nitro
Color:
Iridium
Super Versatile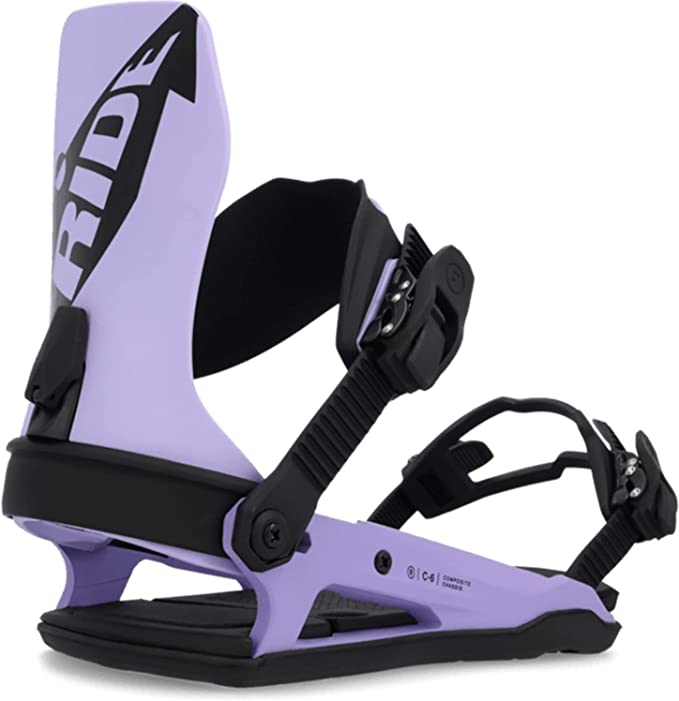 Ride C-6 Bindings
Brand: Ride Store
Color: Digital Violet
Super Comfy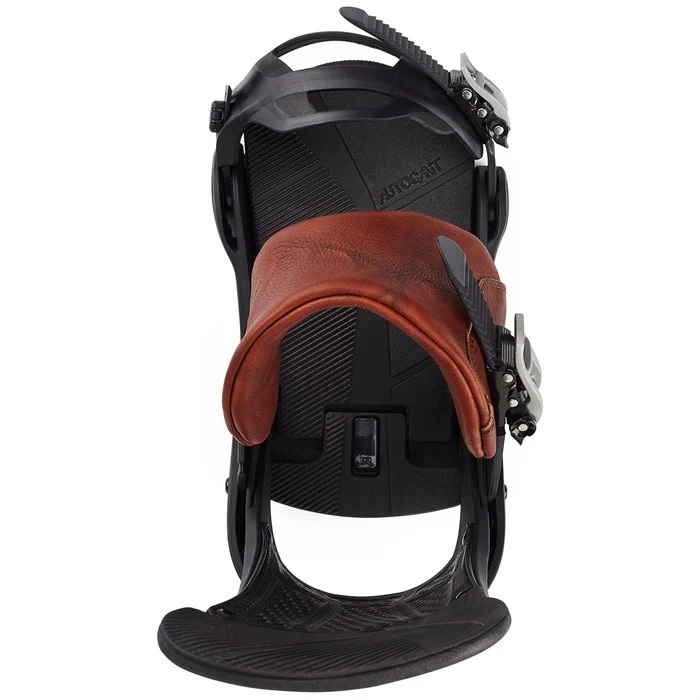 Burton Malavita Bindings
Brand: Burton

Color:

Marbled Leather
Pocket-Friendly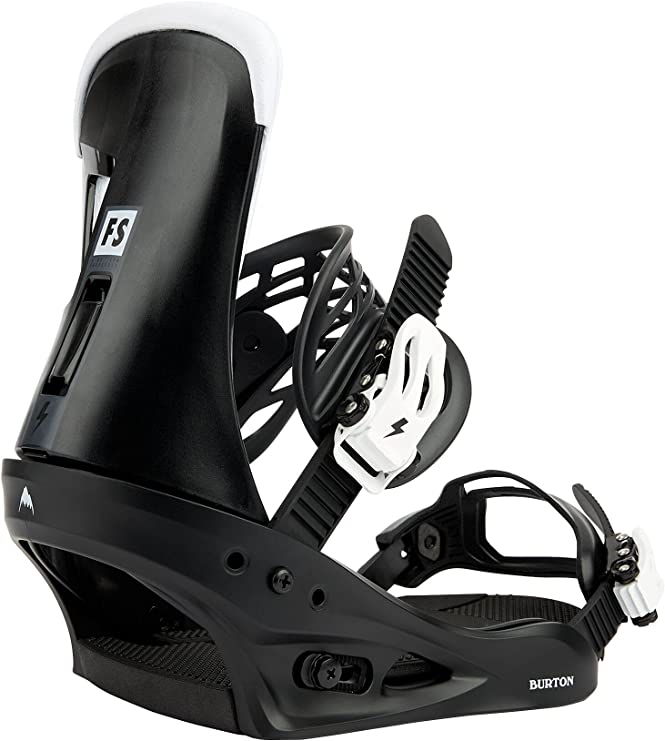 Burton Freestyle
Brand: BURTON
Color: Black
The Grand List Of Best Burton Bindings
Now let's get to know the best of the best.
In the past, I may have had some issues with Burton and some of their design choices. But I've put the time in to better acquaint myself with their products and appreciate the quality and care put into each one of them.
Rest assured that there are no grudges or ill intentions here. These are some great snowboard bindings, and I'm eager to show you why.
The Ones That I Am Not Worthy To Use!
These medium flex bindings are here to get you on the mountain and keep you there for as long as possible. The day will slip away like water between your fingers and the comfort provided by the FullBED cushioning system won't let you feel a thing.
The zero-lean canted highback conforms to the natural shape of your legs. Providing you with the support that your natural stance needs to power you through as many laps as possible. Both the base plate and the high backs are made up of a single component, you can count on the immediate response here.
The best feature of these intermediate advanced bindings is the flex slider that makes strapping into your gear easy and simple. This is a godsend feature, and you'll read why later on in this article. Spoiler alert: Straps are my weakness.
These all-mountain bindings have a stretched hinging zone that gives your heel straps the ability to flex and fully open for you.
This mountain binding is compatible with all major mounting patterns, and re-ground materials have been used throughout the build process. Reducing waste and time needed to get going.
Now that is the efficiency level that I dream of achieving one day.
Features
Lightweight aluminum buckles for reliable ratcheting performance.
High backs with a forward lean angle that give you quicker heel turns.
Select high backs have zero forward lean for a relaxed feel.
Burton Mission
The price of "Burton Mission" varies, so check the latest price at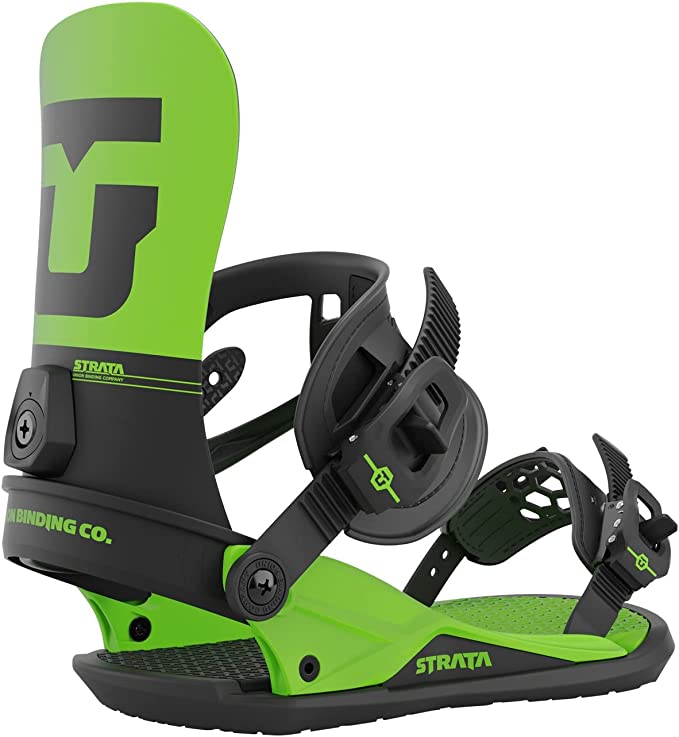 Green, Mean, and Helping You Careen Down The Mountain!
The Union Strata has a beautiful green design that can't be missed among the snowy terrain. Besides this eye-catching display of confidence, you'll get fused Vaporlite bushings. What do they do? At first, I didn't know either, but they give you a durable base that tanks even the hardest rail hits.
Moving on to the Forma ankle straps that create a smooth connection that extends to your Hexgrip toe straps. In conjunction, these two secure your foot without weighing you down.
These snowboard bindings do have a stiff flex of 6.5 so don't go purchasing these for freestyling. Let's talk about the extruded heel cups that are ready-made for optimal heel hold and minimized drag.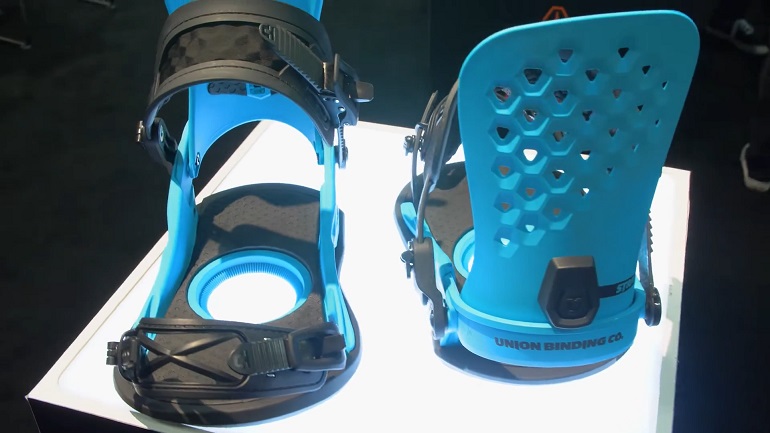 It really feels as if every part of this intermediate-advanced stiff binding has evolved from its predecessors, and I honestly believe that this binding and first place can switch places with no problem.
They are that good and I am still not worthy!
Features
The mounting systems that are supported are 2 x 4 and channel.
Base plate and heel cups have a limited lifetime warranty.
Magnesium buckles that are durable and, at the same time, lightweight.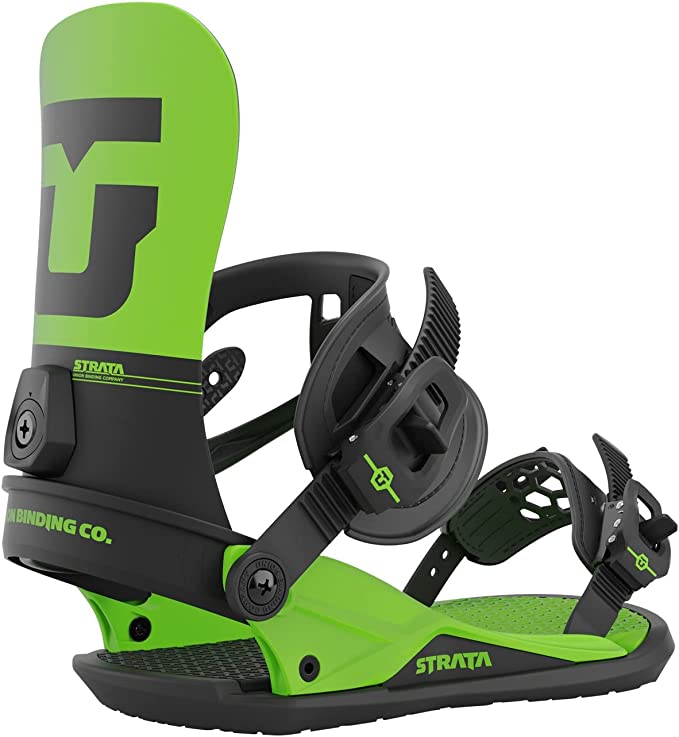 Union Strata
The price of "Union Strata" varies, so check the latest price at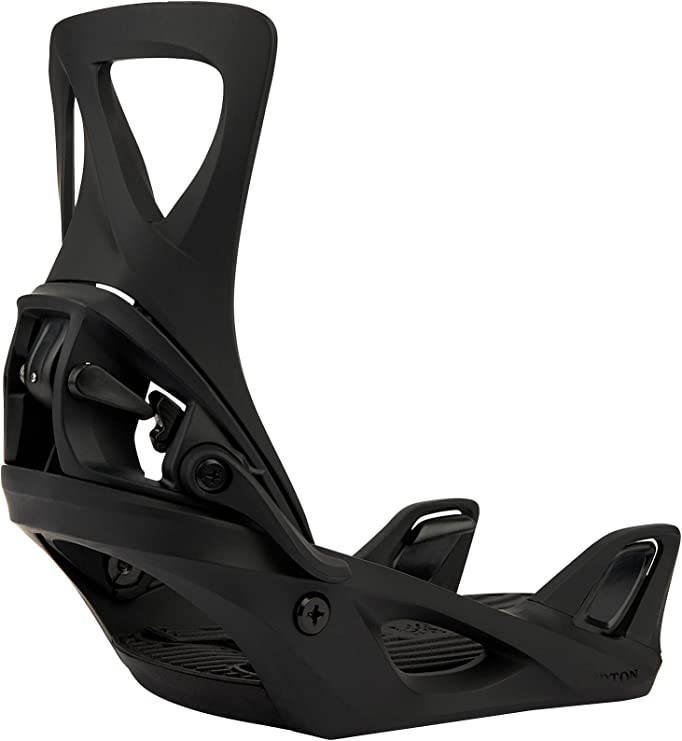 Ladies, Step Into Your New Favorite!
It's a great thing that a pair of women's snowboard bindings have made it this high up on the list. In the past, I have been critical of their pricing and lack of innovation but the Burton Step On X is showing us how it's done!
Burton Step Ons do away with annoying buckles and allow you to get in and get going fast and easy. Step-ons are by far my preferred binding style, you just can't beat that level of convenience.
Other stand-out features of these bindings include being compatible with all four major mounting patterns: 2×4, 4×4, Burton 3D, and Channel. The entire binding is secured with a one-year warranty, but the build quality of Burton products is usually high, so this shouldn't be too much of a problem.
Intermediate riders, beware! These bindings are for more advanced riders and experienced riders. Sorry babes, but please don't step into these medium stiff bindings unless you have got the skill to ride at this level.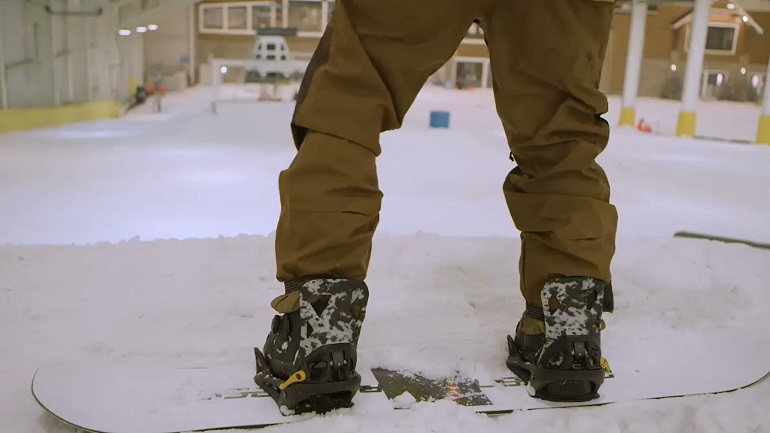 That probably makes you want them more huh? Funny how that works!
Features
A high-performance binding for the advanced rider.
Only compatible with Burton Step On boots.
The high back is made of fifty/fifty carbon fiber with a nylon composite.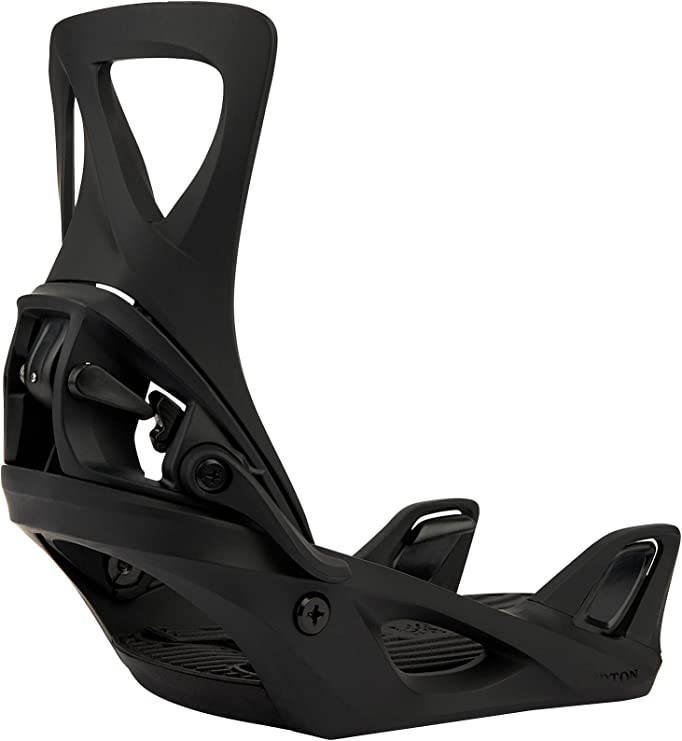 Burton Step On X
The price of "Burton Step On X" varies, so check the latest price at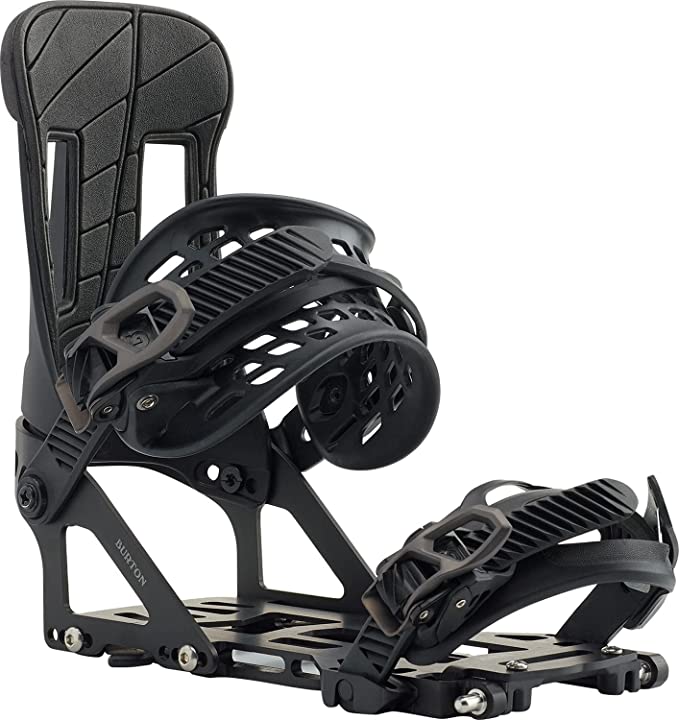 A Masterful Exoskeleton! These bindings have a look that backs up their internal design. Resembling a lightweight yet powerful exoskeleton, the Hitchhiker Splitboard Bindings are robust with an aluminum base plate and a dual position, single wire ramp adjuster.
The ramp adjuster changes its angle on the fly as you ascend the slopes. Your boots are locked down and secured by completely adjustable straps. All of this magic is backed by a single piece high back.
By far, my favorite bindings on this list and among the best snowboard bindings when it comes to functionality and design.
The ankle straps move out of your way, ensuring that you are able to fit in and stay in without any interruptions. These bindings are living, breathing pieces of equipment that I believe every single rider should own and experience.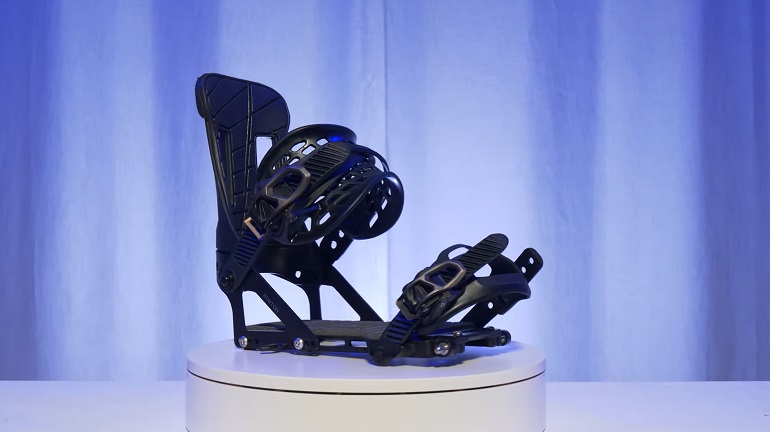 The buckles are insta-click and you won't have to fumble for long with buckles that tire out your frozen fingers. Okay, maybe I am the only one that gets tired from strapping in, but there is still a great benefit to these buckles.
Features
Tool-free forward lean adjustment for the high backs.
The high back is a single component adjustable beauty.
For intermediate-advanced riders. The more experienced the better suited you will be.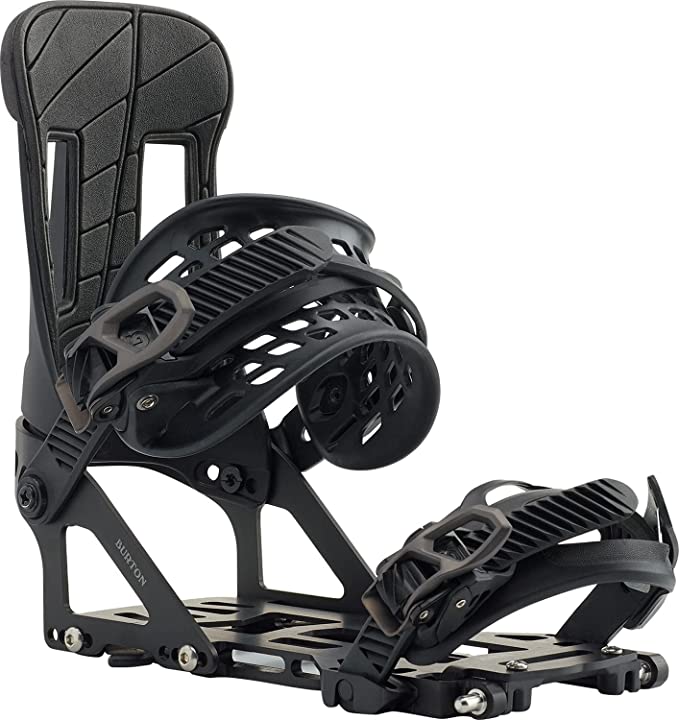 Burton Hitchhiker Splitboard Bindings
The price of "Burton Hitchhiker Splitboard" varies, so check the latest price at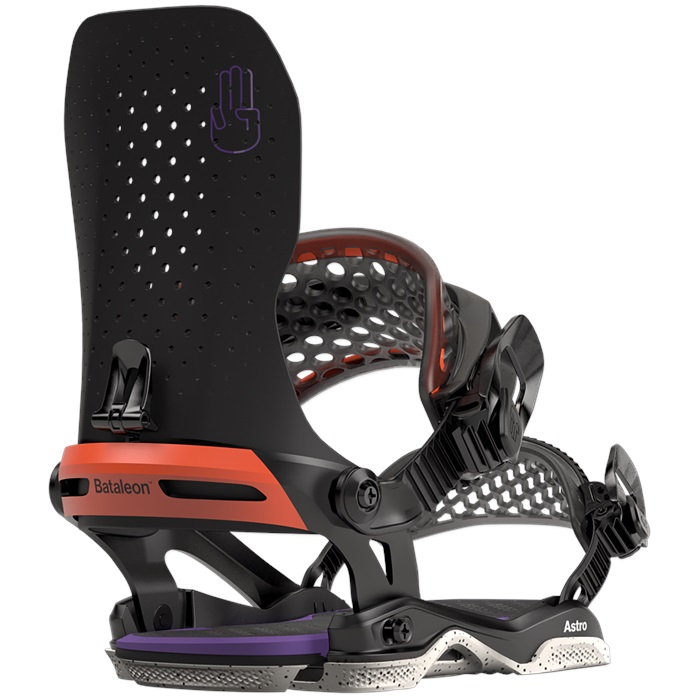 Now With A Built-in Masseuse! Aggressive riders need a solid binding, a reliable binding, that they can use to take out all of their frustrations. That mountain can take some heavy hits, and these medium flex offerings are what is needed to make a dent in them.
The Astro bindings come with a 3D flex technology that minimizes the amount of hard plastic that is actually touching the board. The amount of space between the binding and the board itself is minuscule. You'll be feeling every edge of your ride with these on.
You can take your pick of three different FootPad positions in order to find that perfect fit that your boot craves. There is even a 2-degree angle in the foot pad that helps reduce the strain on your knees when incorporating a wider stance.
As you get older, you'll be glad that you didn't obliterate your joints thanks to the support received from these bindings.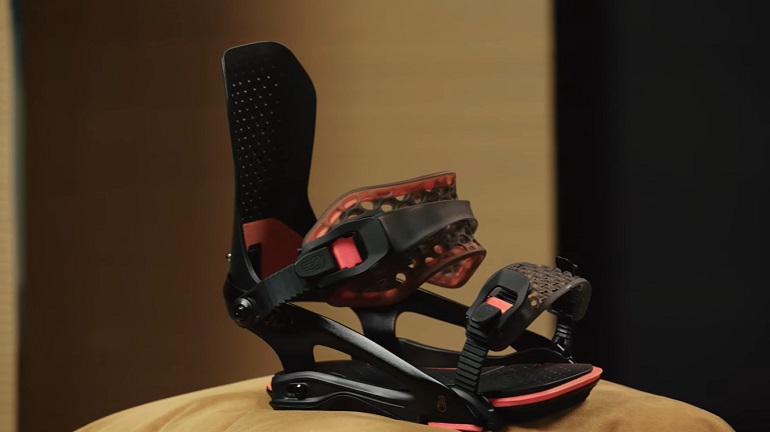 Features
Heel rubber protects the rear end of your boot and keeps it secured in place.
Tool-free adjustments for the high back also make an appearance here.
Straps have a kink ladder (no, not that kind of kink!) that lets you change the feel of your binding.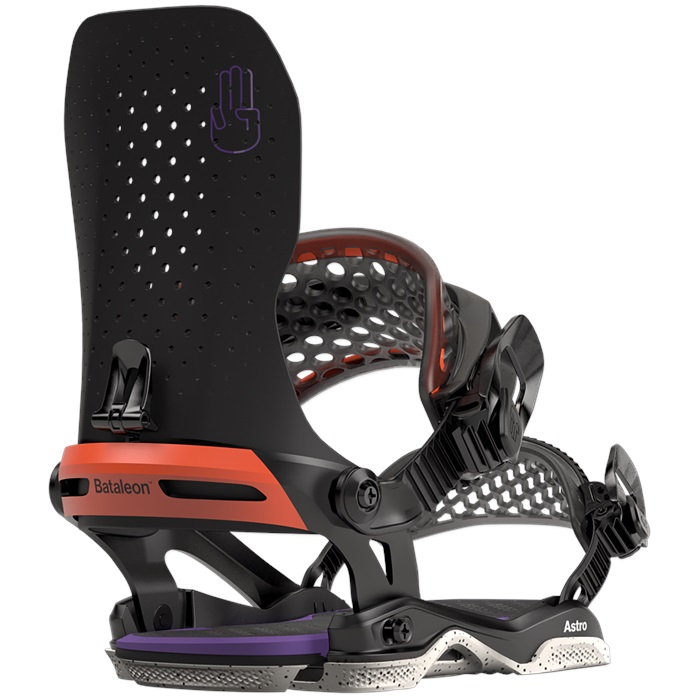 Bataleon Astro Bindings
The price of "Bataleon Astro Bindings" varies, so check the latest price at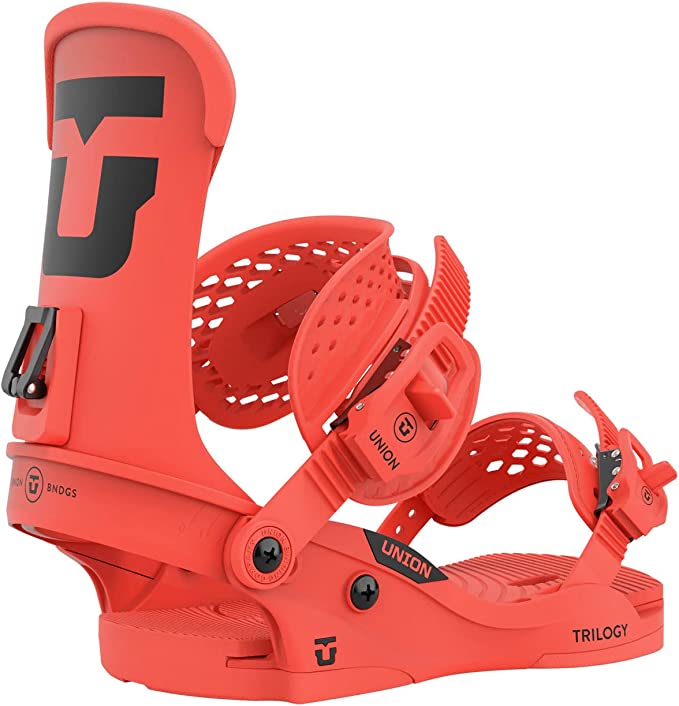 Used By The Best In The World!
Another women's only entrant on the list. This all-mountain binding promises to be there for you no matter what type of riding you decide to engage in. The stand-out feature here is a base plate that just won't quit.
The Stage 4 base plate is extra durable and it is partnered with an ultra-responsive high back. The rest of the binding is adorned with the Exoframe 4.0 ankle straps and the medium stiff flex rating of 7 is enough to let you know that this medium-stiff binding is not for beginners.
The multi-density thermoformed EVA that is a stalwart in the other best all mountain bindings makes another appearance here. Which is never a bad thing because the comfort provided by this EVA is heavenly. Canted footbeds and an aluminum heel hammock guide you into the right position and keep you there.
The Union Trilogy supports all the mounting systems that all of the best snowboard bindings support. Including the 2 x 4, 4 x 4, and the channel mounting systems.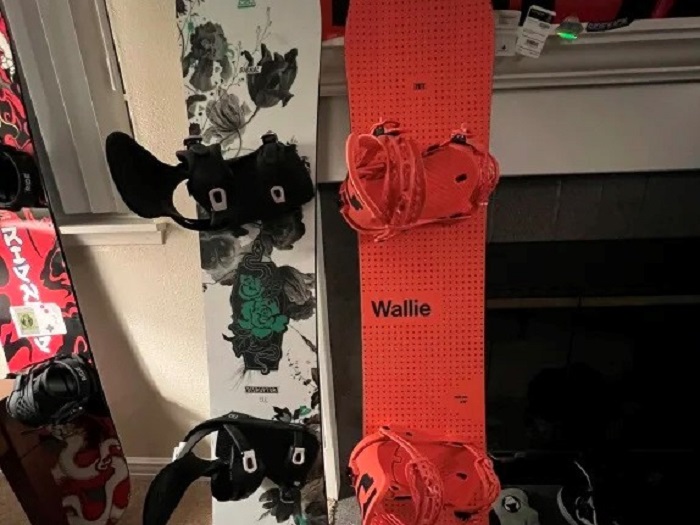 Did I mention that Jamie Anderson uses these? If they are good enough for her, then they are definitely good enough for you!
Side Note: I am still not worthy!
Features
Limited lifetime warranty on the base plate and heel cups.
Strap in style.
Medium flex bindings for the intermediate rider, pair them up with an intermediate board.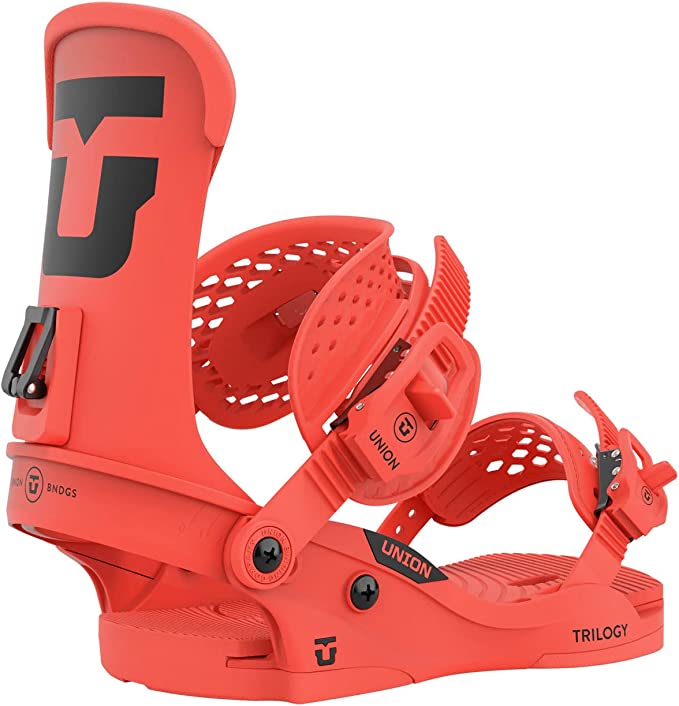 Union Trilogy
The price of "Union Trilogy" varies, so check the latest price at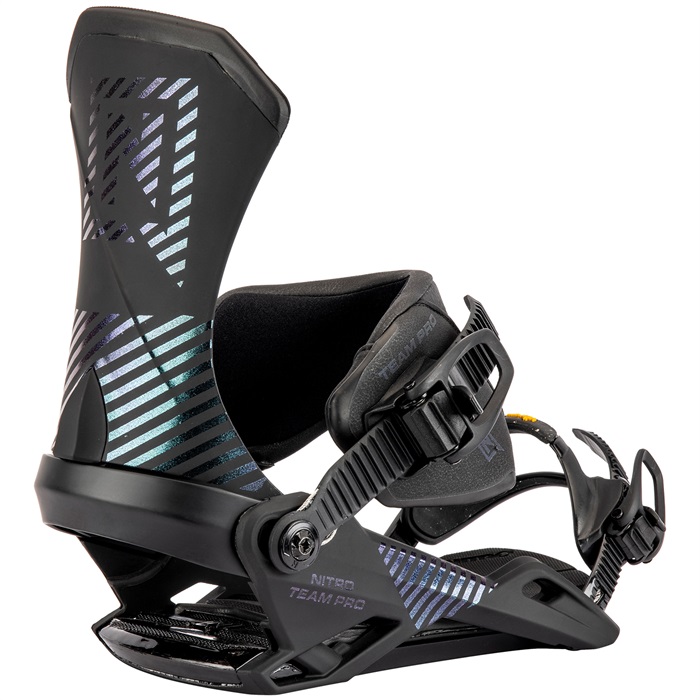 Stealthy Taking The Hits!
I've got a few words for you that will show you why these bindings should be given a second look: Stealth Air Base Frame. Now, that may not mean much to you but the stealth air base frame is known for being light as a feather and as tough as nails. There isn't an impact that can't be contained by its air-dampening technology.
Not only do these bindings save you from some pretty nasty hits but they also save your board. The corners of the base plate have all been rounded, this reduces the amount of friction in the areas where the binding and the board meet.
Snowboards are expensive (well, snowboarding, in general, is expensive) and any board-saving technology is greatly appreciated.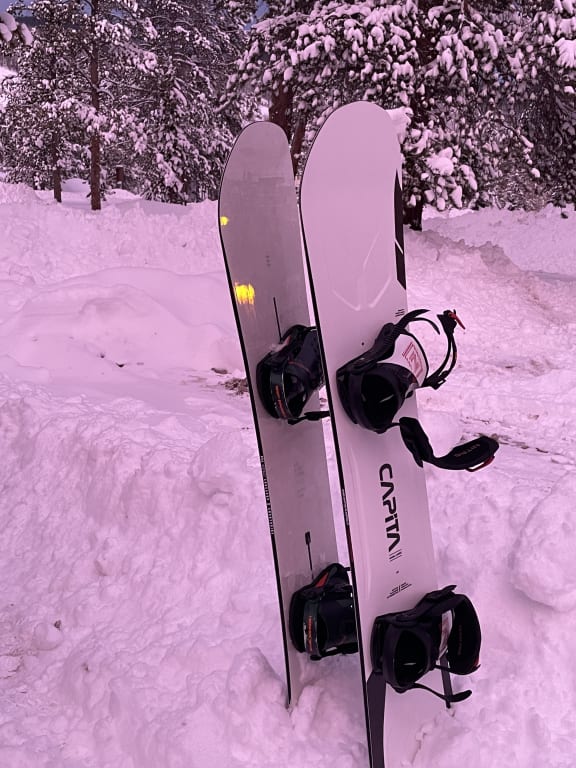 Throw in some easy entry buckles and some speed wheel buckles, and you won't have any problems getting this binding to stay on your boot.
Features
Medium stiff binding that ranks high in durability.
Best all-mountain snowboard saver thanks to those rounded base plate corners.
Only supports the 2 x 4 mounting system.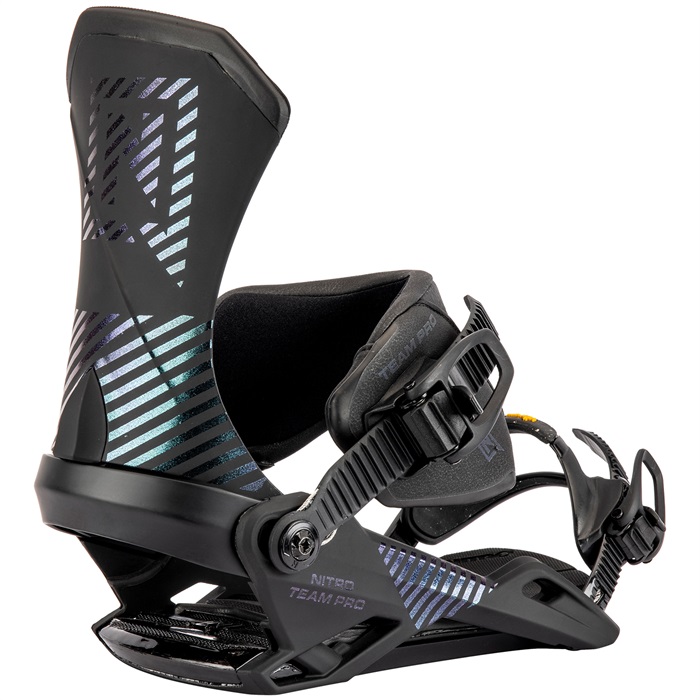 Nitro Team Pro Bindings
The price of "Nitro Team Pro Bindings" varies, so check the latest price at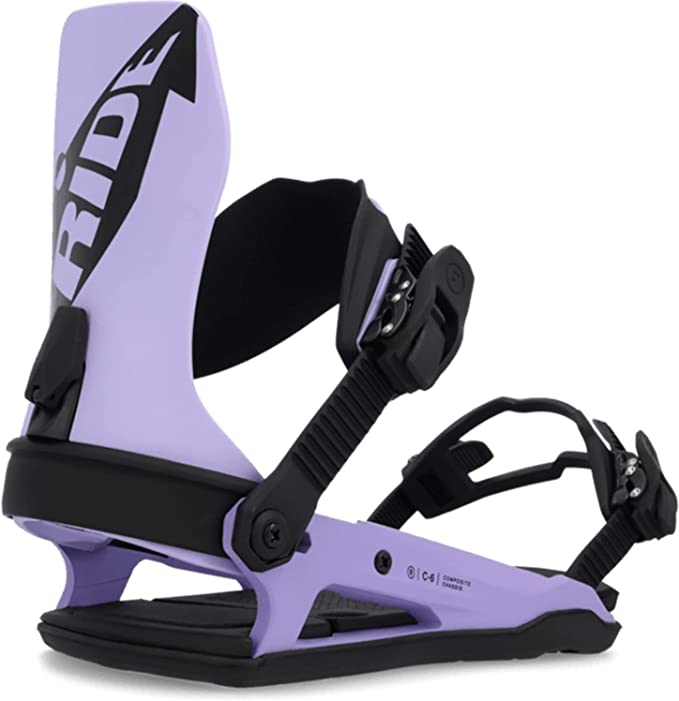 Silence the Haters and the Chatter!
The best snowboard bindings from Burton's list continue with yet another all-mountain bad boy. If you are a rider that keeps their legs too stiff and too straight, then you have no doubt experienced chatter beneath your board. It's annoying, doesn't feel great, and you don't want it around.
The C-6 snowboarding bindings know this which is why the base plate has an EVA base pad that has a layer of vibration-absorbing material that is meant to silence the chatter. What vibration-absorbing material does it have? Who knows but it works and that is all that matters.
Even the high backs, Slimeback High Backs to be exact, are there to absorb the shock and put a lid on those bothersome vibrations. It seems that fluid stability is the name of the game here, as much of an oxymoron as that may be.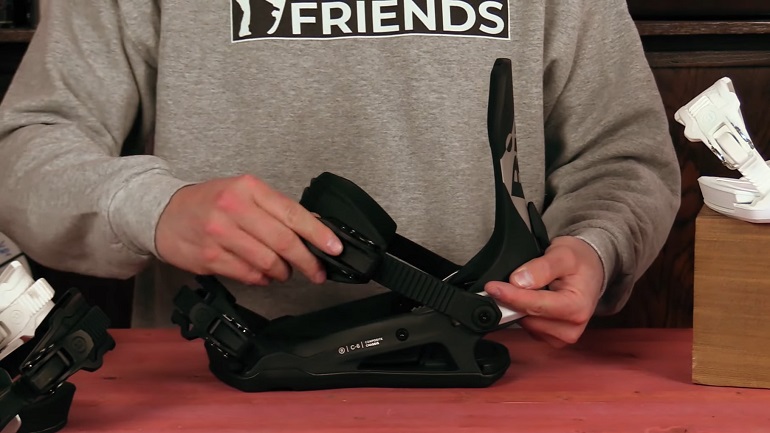 For securing onto your boot you will have to contend with a two-piece ankle strap and a toe strap. Talk about bothersome!
Features
Improved ladder durability and the rachet wag has been eliminated.
Supports the 2 x 4, 4 x 4, and channel mounting systems.
One year warranty across the board, not the best but better than nothing at all.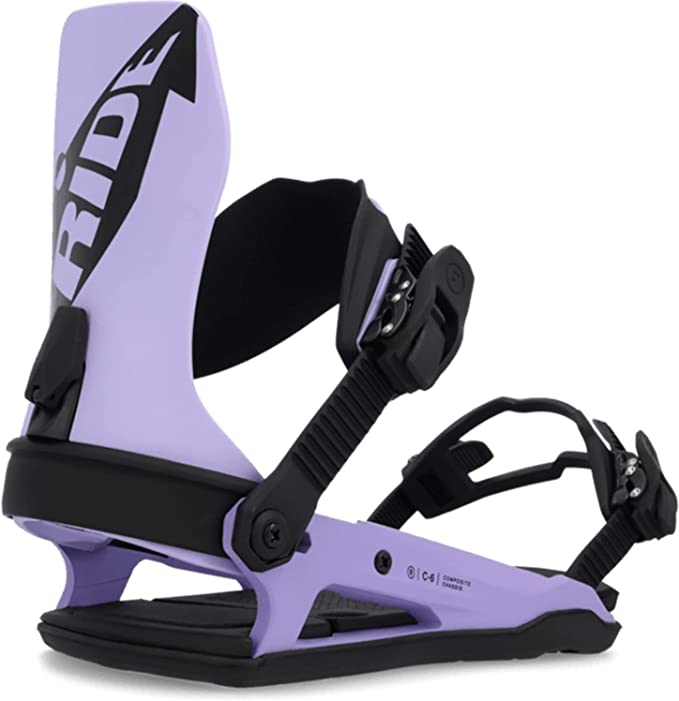 Ride C-6 Bindings
The price of "Ride C-6 Bindings" varies, so check the latest price at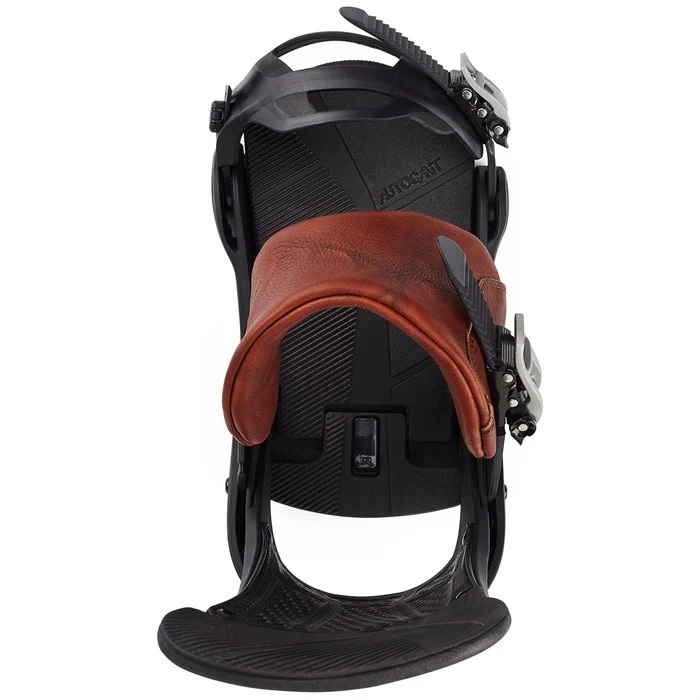 Functional and That is All!
If you wanted a medium flexed offering that you are still able to tweak and modify on demand, then you have come to the right place. Say hello to the Burton Malavitas! Eccentrically designed? No. Moderately priced? Also no. Functional? Absolutely.
I could have sworn that I've sung the praises of B3 gel base plate before but no matter, I'll take every chance that I can get to praise their dual density EVA that helps your boot and foot settle in just right.
Even the widest stance (I'm talking the splits people) won't be able to escape the comfort and support of the gel.
Double-take buckles with insta-click technology are here to save us from a misery-filled morning of fidgeting with straps that were designed to infuriate rather than secure.
Other hallmarks of Burton classics are here, including the canted high backs and re-ground materials being used in the build process.
Check out the detailed review article on Burton Malavita Bindings.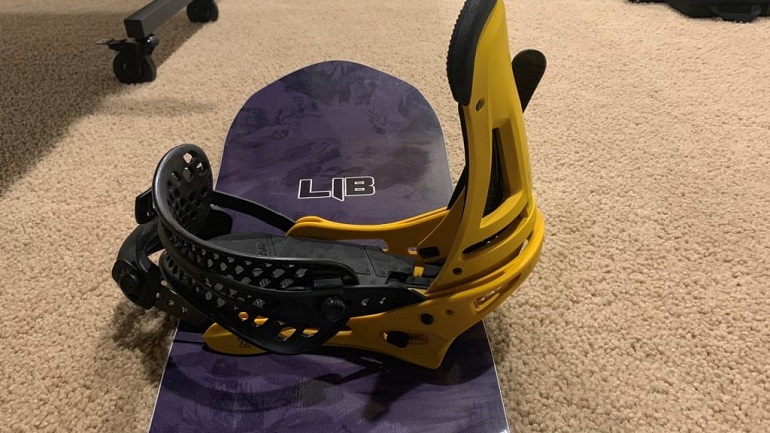 One year of warranty and all major mounting systems are supported. Like I said before, is it exceptional? No, but they are functional bindings that get the job done, and what more could you want?
Features
Medium flex rating with a one-year warranty.
For intermediate-advanced rippers looking to have their needs met adequately.
Comforting and forgiving, the ideal companion.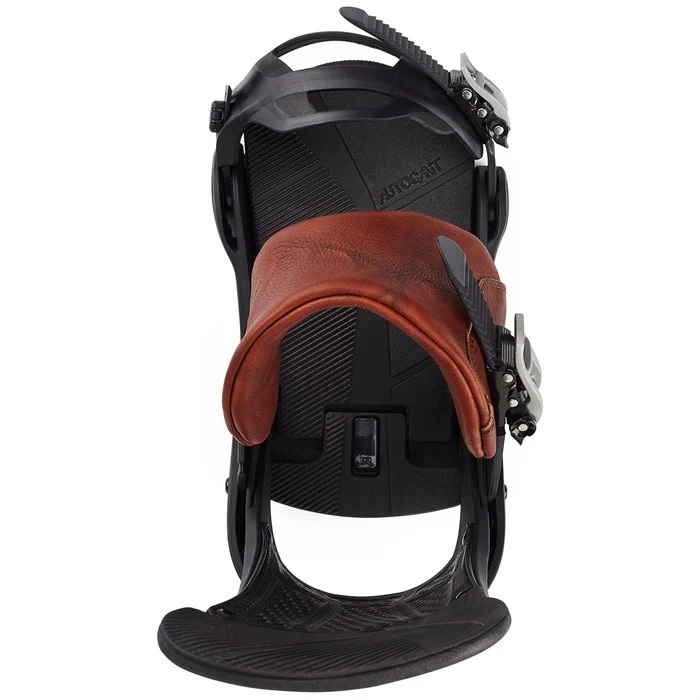 Burton Malavita Bindings
The price of "Burton Malavita Bindings " varies, so check the latest price at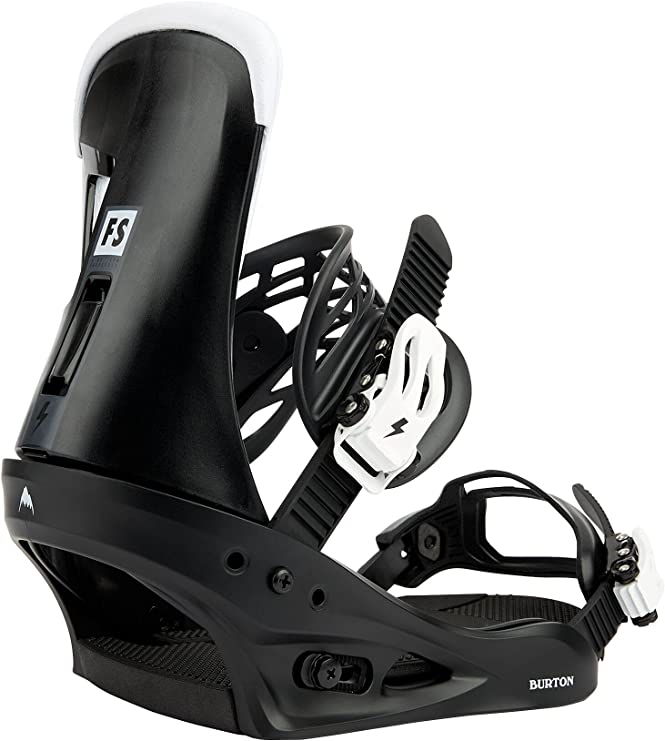 They Cost How Much!? I'll Take Three!
We have finally made it to the last entry on this list and believe me, I am happier than you could be. I've seen enough base plates and buckles to fill a mountain and I never want to see another pair of bindings again.
Fortunately for me, the Burton Freestyle bindings are easy on the eyes and your wallet. With their single component and bombproof base plate that has the great FullBED cushioning system to rest your boots in, you simply can not go wrong with these bindings. Not at that price!
MicroFLAD technology also makes a reappearance here and with it the benefits of heel turns that are quicker the higher the forward lean angle of your high backs.
Its smooth glide buckles are everything the name suggests and while they may not be step-on masterpieces, they've got everything I need to get me fully on board.
These are great beginner binding that is compatible with all four major mounting systems and they have a one-year warranty included.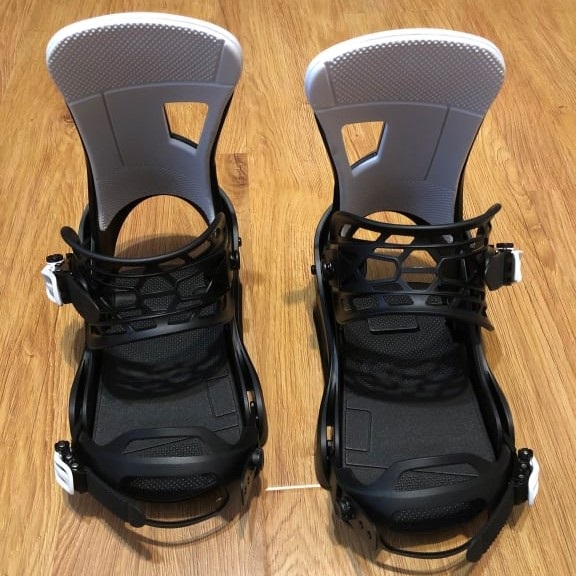 I have to urge you to buy these, they are just too sweet of a deal to pass up!
Features
A price that can't be beaten.
Soft flex rating that is perfect for beginners.
Glue less and stitch less strap components that have been molded into the binding.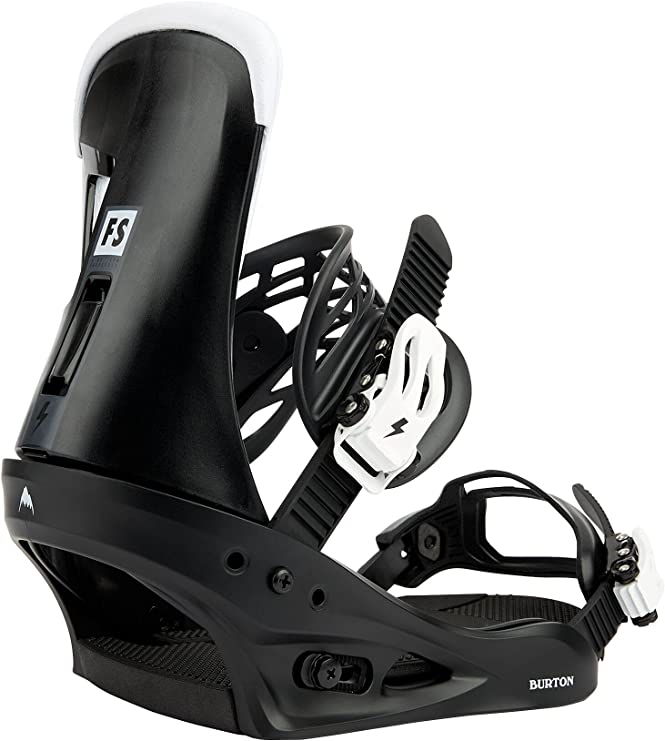 Burton Freestyle Snowboard Bindings
The price of "Burton Freestyle Bindings" varies, so check the latest price at
How To Choose The Best Bindings For You
We've gone through the Burton snowboard bindings armory. Perhaps now you've got some idea as to which pair of snowboard bindings you want to take home.
Well, before you cement your decision, let us talk about what you should be considering when choosing your snowboard bindings. Everyone's got their own taste and the body and build of a pair of snowboard bindings should be looked over meticulously. Though, not in a weird way.
We will explain the importance of a binding's material and construction, its mounting system, and its flex rating.
Build
It Matters What Your Bindings Are Made Of.
The components that make up your Burton snowboard bindings matter. Everything from the base plate to the highback has its own build process and materials.
Baseplate
For example, the Burton Mission bindings have a base plate that is a single component, which is made up of short glass and nylon. This enhances the responsive feel of the bindings.
Other bindings, such as the Union Trilogy, have a base plate that has multi-density thermoformed EVA. This provides not only maximum comfort but comfort that has high durability due to being multi-layered.
Some bindings may prioritize having a low weight and as such will opt for more glass material in their build. This would include bindings that have Duraflex as a primary material in their base plates.
Highbacks, Buckles, and Straps
The Duraflex material from before can also be fitted into the highback for the same low-weight but responsive ends.
Consider not just the step in system but also how you secure the bindings onto your boots. Do the bindings have minimalist straps or magnesium buckles? Where are the pressure points created by the straps located?
You don't want to fiddle around forever with straps that are so poorly designed that strapping in successfully is a workout in and of itself.
Between You and Me
In my early days of snowboarding, I grew so frustrated with my straps and buckles that I was actually sweating by the time I was finally able to ride. That is a humiliation that you'll want to avoid.
Mounting System: How Do They Unite With Your Board?
Most snowboard bindings on this list are either 2 x 4 or channel system mounts. This is for two separate reasons.
2 x 4
For a long time, the 2 x 4 mounting system was the law of the land, some may still consider it so.
It definitely has its advantages over the 4 x 4 system. An all-mountain rider could set up their starting position for the piste and then modify it if they decide to engage in off-piste riding.
You get more options than with the 4 x 4 mounting pattern and as such it is suited to handle any rider and their riding style. Whether you are looking to do some mountain freestyle or all-mountain riding, this mounting pattern has got you covered.
Channel System
This is it, this is what won me over and made me a true believer in the Burton way of doing things. This system has a pair of slots that are reinforced and located in the center line of the board.
Even if your snowboard bindings don't appear to be compatible with this system, you can purchase a part that will bridge over the incompatibility issues. But the best way to fulfill the potential of this system is by using Burton EST bindings.
This magical system allows you to slide your bindings throughout the board and secure them exactly where you want to.
The speed at which you can set up your snowboard bindings and then customize their position to fit your style is leagues faster than the traditional nuts and bolts affairs of the past.
If you are using EST snowboard bindings with this mounting pattern then you will notice that your board is able to flex more naturally due to how the contact points are spread out.
Finally, the weight of this system is less than that of traditional mounting patterns. Allowing you to reach high speeds and maintain said high speeds with greater ease.
Flex
What it is and What That Means For You.
In the world of winter sports, you will never see a more universal concept than that of flex. Flex affects the overall feel of your snowboard bindings. The higher the flex level, the greater stability and control (board control) you will have.
All mountain riders and advanced riders prefer to have an extra boost in responsiveness while sacrificing the leeway that is provided by softer flex levels when committing errors or landings.
Freestyle bindings need that soft flex so that they can have easier landings and tweak their grabs when in the middle of a trick or otherwise.
Personally, I am a man stuck between two worlds. Not good enough to comfortably ride with higher flex-level snowboard bindings but also not good enough to ride with the style of an intermediate freestyle rider. You should also need to know how to mount snowboard bindings properly.
Every time I attempt a flip, I land on the wrong body part, every single time! I think I'll just stick to what I know, a leisurely ride down the mountain.
My Final Thoughts
There is a lot to love about Burton snowboard bindings and Burton in general. Above, you've got a selection of the very best that the company has to offer, and you would do well to purchase any of them, provided that your skill level and riding style are suited for them. You should also check out the compatible burton snowboards with your bindings.
Consider what you want and what materials you feel will provide you with max comfort and ultimate control. Don't get a pair of bindings that'll leave you sweating trying to buckle them in.
Your skill level will mostly affect the flex rating of your snowboard bindings of choice. Everything else will be decided by what you prefer and what your ability needs to be fully unleashed.
Ride down the slopes and rip apart the terrain in mountain snowboard bindings that display your inner beast!