Colorado is the holy grail for all the skiers and snowboarders living in the nearby towns. The location, landscape, weather, and beauty of this state make it popular in the lodging industry.
The winter skiing season in Colorado ski resorts blooms from October and goes strong till mid-March.
 Among Colorado's most popular ski resorts are Breckenridge, Keystone, Crested Butte, Copper, Pagosa springs, Arapahoe basin, Loveland ski area, Wolf creek ski area, Steamboat ski resort, Aspen mountain, and many more.
Many ski resorts are in Denver, Colorado, where Arial access is possible from different destinations. At the same time, road traveling will provide you with significant road trip goals surrounded by nature.
Our Top Picks of the Best Colorado Ski Resorts
Colorado is bestowed with scenic beauty, and the mountain peak is best-suitable for snowboarding. Heavy snowfall is a cherry on top as it extends the season with long-lasting white spreads on the terrains. 
The Colorado ski resorts will not disappoint you as all of these will have some unique features to get your nerves excited. For instance, in Aspen, you can attend an art exhibition, while Breckenridge offers some whiskey tasting so you can have some free drink shots après ski fun. 
The best part is that Colorado resorts are included in the EPIC pass, where you get the seasonal pass valid for different lodges in the region. Thus, you can go for skiing to seek pleasure, polish your skills, or learn from scratch with many other non-skiing fun activities for you and your family. 
Following are the top-notch Colorado ski resort where you can plan your weekend getaway or an adventurous ski trip. 
1. Aspen Snowmass
Operational hours: 10 am – 5 pm
Travel time: 3 hours 30 minutes
Cost: $77-$1100 per day 
Season: November 2022 – April 16, 2023
Aspen Snowmass is not just a name but an actual snow mass because it consists of four mountains, i.e., Snowmass, Aspen, Buttermilk, and Aspen highlands. They form an area of 3000 acres of skiable terrain with multiple ski trails, terrain parks, and tubing areas.
It is said to be a family-oriented resort with several skiing and non-skiing activities for all age and skill groups. This winter park supports the IKON season pass.
The resort is preparing well for hosting the coming season with multiple new additions in infrastructure, buildings, restaurants, etc. They have also upgraded the lift system for smooth functioning and fewer lift lines. The skiers will have ample room to showcase their skiing skills.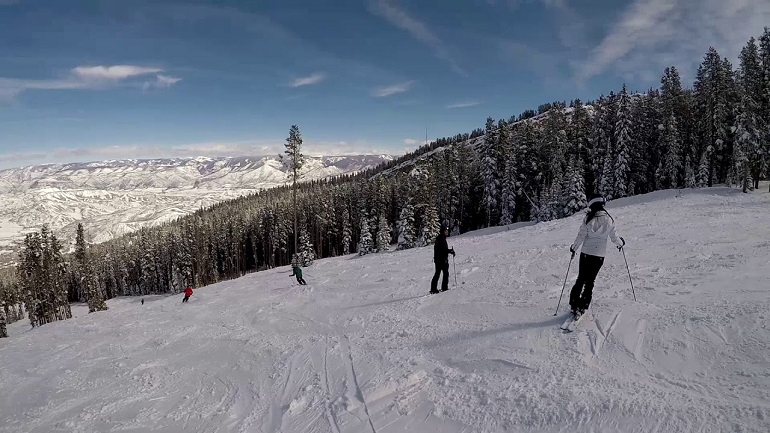 Aspen highland has the best suitable terrains from the four mountains for advanced and Intermediate skiers. Aspen mountain does not cater to newbies due to the lack of any beginner terrain. However, Buttermilk is famous for hosting winter games.
At the same time, Snowmass village is all about vintage feels and traditional village sites lined with local shops and restaurants. You can also enjoy the art exhibits now and then during your staycation at Aspen Snowmass.
Accommodation is quite pricey at Aspen Snowmass due to the high weightage of celebrity properties and popularity. However, if you find it on the edges, you may find some reasonable options. But as a whole, Aspen Snowmass is a fancy, vintage, and expensive resort.
2. Telluride Ski Resort
Operational hours: 8 am – 5 pm 
Travel time: 6 hours (by road) and 1 hour (by air)
Cost: $106-$220 per day
Season: November 2022 – April 2, 2023
Telluride ski resort is safe from artificiality because it is adorned naturally by mountains, slopes, ski terrains, and scenic ski towns. Therefore it is known as the most scenic resort in the USA.
The total area is 2000 acres which comprises high-end slopes and extreme elevations for advanced and expert skiers with a bit of hike to terrain while maintaining a moderate lift ticket price.
The plentiful snowfall in San Juan Mountains makes the white spreads more firm for skiing and snowboarding. Recently, the owners have launched a new lift to deal with the gushing crowd during the season. Historically it is the first new chair lift in the past 14 years. Also, it will reduce the ride time to half. You'll be amazed to know the working of ski lifts and make our traveling much more conveninet.
Another exciting feature is the free gondola, an accessible lift, or rides from the mountain village to the Telluride ski town. You can use this for coming back to your lodging from ski trails or boarding down the terrains.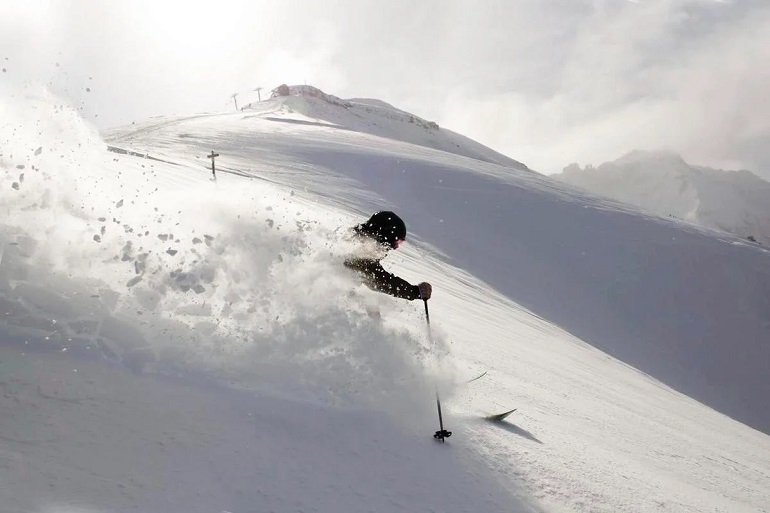 Apart from the non-ski activities and events at the resort, there are multiple dining options, shops, and coffee shops in the local streets for those not much into skiing.
You can easily find some accommodating places and lodges up in the mountains of Telluride or the town. Generally, the prices are high, but during peak times, they can increase further.
However, to find some affordable, pet and family-friendly options, you must look out for in Durango or Montrose.
3. Vail Ski Resort
Operational hours: 9 am – 5 pm 
Travel time: 2 hours 
Cost: $78-$159 per day
Season: November 11, 2022 – April 24, 2023
Vail is among the first names for snowboarding areas in Colorado. Usually, people traveling by air prefer Vail resorts as their first stop because it is nearest to the Denver airport.
The famous seven-back bowls are the main attraction for the skiers, along with the groomed ski area. It is one of the largest ski and winter parks in Colorado, with an area of 5289 acres, having three skiable terrain parks, 31 lifts, and whatnot.
The vast area and extended landscape make this place ideal for noobs and pro skiers. There are designated areas for beginner to intermediate and expert snowboarding so that they can have fun skiing in Colorado.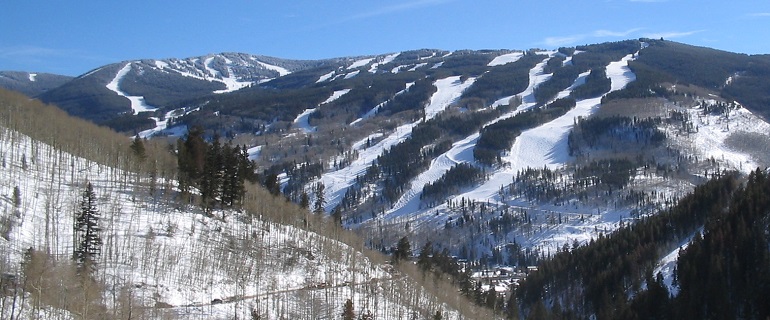 The accommodation capacity is expected to increase with the renovation for the coming ski season. Also, the transportation of the skiers or visitors through lifts will become swift with an advanced six-person chair.
During the ski season, there is a sale on lift tickets at Vail resorts. Apart from this, the EPIC pass is valid for recreational activities at this resort.
When it comes to accommodation, Vail is an expensive town. The main Vail town has some excellent and luxurious options for rentals, lodges, and hotels, but the rates are higher.
However, if you move a little to the eastern parts of the Vail resorts, i.e., Silverthorne, Eagle, Avon, etc., you will find some affordable and moderate prices for dining, shopping, and rental places.
4. Keystone Resort
Operational hours: 9 am – 4 pm 
Travel time: 1 and a half hours
Cost: $113-$225 per day
Season: October 2022 – April 2023
Keystone resort covers three mountains that take you away from the skier's crowd into the wilderness.
Decorum mountain has groomed runs for beginners, while the north peak is for more advanced skiers' runs. It has medium to high lift ticket prices, but the service and activities justify it.
The Keystone resort now has a six people chair lift which increases the number of skiers up on the top. For this season, the upcoming resort's expansion aims to increase 555 acres and have 16 new ski trails.
Cat skiing is an attractive feature of this destination through different bowls easy access. It has Colorado's longest ski day due to the night ski feature. So you can enjoy it for a long time if you plan a staycation. The management accepts the EPIC day and season passes.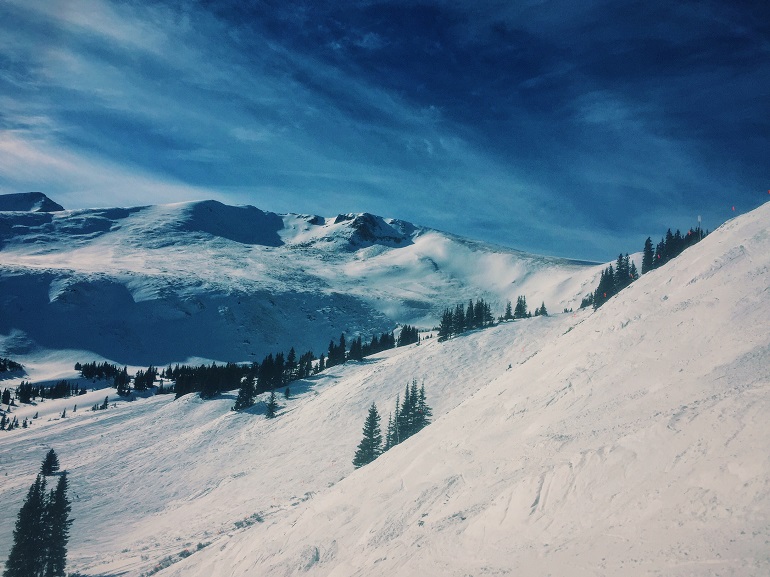 River Run and Lakeside villages offer different dining and shopping options. Parking is accessible here. The village lake is frozen in winter and becomes a skating ring, so you have another amusement during your stay at these places.
5. Breckenridge
Operational hours: 9 am – 4 pm
Travel time: 1 and a half hours
Cost: $80-$150 per day
Season: November 2022 – May 2023
Breckenridge ski resort is the place for ski enthusiasts who want to raise their skill levels. The high altitudes and mountain bowls seem fascinating, but we would not recommend that beginners ski at this level. However, there are color-coded terrains for beginners, intermediate and expert skiers.
This winter destination has the highest chair lift on the peak 8 in northern America. Due to high base elevation and altitudes, this place is ideal for late-season skiing because even in spring, the top of the mountain still has firm snow for skiing. You can also experience mountain-top dining at this resort.
Changes and advancements are always good, especially for businesses. For this reason, Breckenridge resort has made advanced-level changes in its lifts and infrastructure.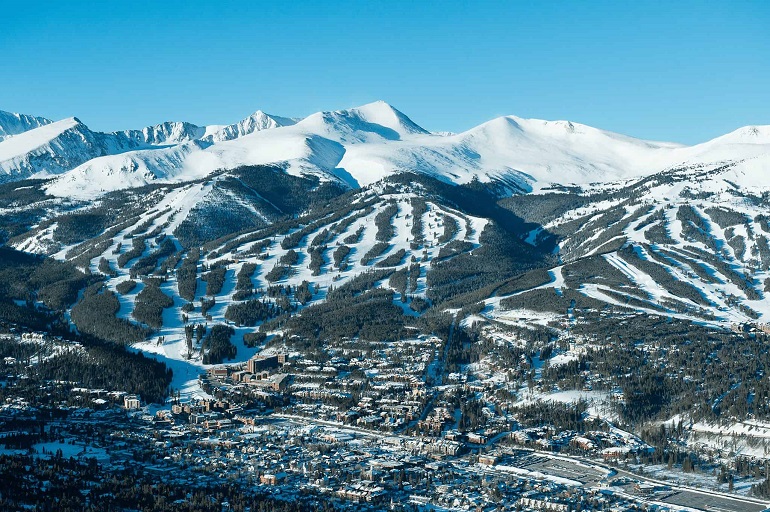 They have installed high-speed quad chair lifts along with super freedom chairs. Also, they have inaugurated children's ski school, child care, and rental services.
Frisco and Silverthorne are affordable options for renting places, dining, and cafes. Breckenridge is a cute and aesthetic town full of relaxing activities and sitting areas. Also, you get inexpensive parking in the village with a gondola service to go up the mountain terrains.
6. Beaver Creek Resort
Operational hours: 9 am – 4 pm 
Travel time: 2 hours 
Cost: $132-$235 per day
Season: November 2022 – April 2023
Vail resort is the parent company of Beaver Creek resort, best known for its hospitality, customer service, and friendly environment. The total area of Beaver creek is 1800 acres, with numerous ski runs for all skill groups, but it is considered best for beginners. This place comes in the average to high-budget resorts list.
The new swift lift recently installed is loved by the tourist as it cuts down the ride time. Apart from this, there are escalators to carry the visitors up to the chairlifts from their town.
Also, the sidewalks are always heated to avoid ice buildup. The central skating spaces are surrounded by the fire pit and open areas for pharmacies, cafes, and gear shops.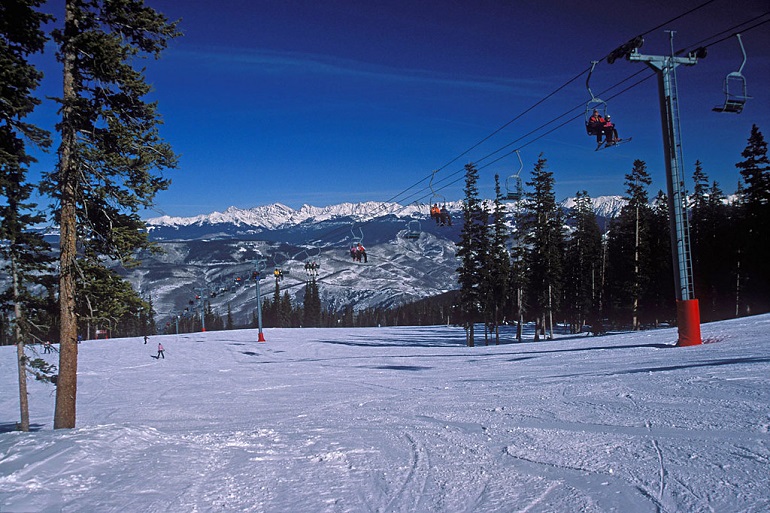 If you are someone with altitude sickness, Beaver Creek resort is best for you as it has the lowest elevation among other ski resorts in the Colorado region. You can use your EPIC pass to enjoy the remarkable services and accommodating staff.
There is a surprise treat for all the skiers while howling up in the snow in the form of hot and tempting freshly baked chocolate chip cookies. So you can satisfy both your tummy and soul.
Beside the busy streets are a pedestrian street and an outdoor seating area in Beaver Creek village where you can sit and have a relaxing coffee. In contrast, Avon town is the most accommodating and affordable place for lodges and rental sites. If you are fond of fancy dining, you must check out Vin 48 restaurant or Blue plate.
7. Purgatory Resort
Operational hours: 9 am – 4 pm
Travel time: 6-7 hours
Cost: $20-$55 per day
Season: November 2022 – April 2023
Purgatory Mountain is also known as Durango mountain resort. The friendly atmosphere, reasonable prices, and amenities make it a family-oriented ski resort.
Mainly the ski terrains at Purgatory resort are for beginner and intermediate skiers. However, the experts can also find some challenging slopes among the skiing trails.
The most attractive feature for parents is that kids under 12 years can ski for free without any blackout dates. The eligible kids get a free season pass, by which they can enjoy skiing and other snow sports of their age for free.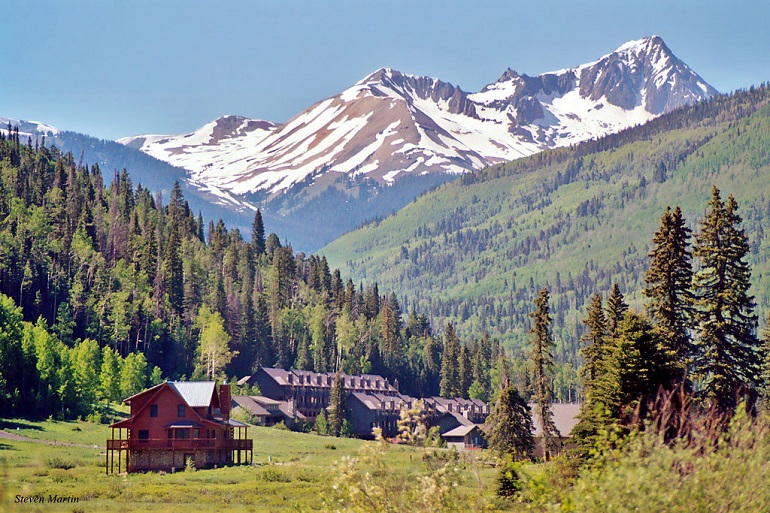 Durango has many historic buildings, comfy hotels, modern restaurants, and ski and souvenir shops. Accommodation places are rare in Purgatory mountain because there is no base town. However, you can stay at Durango mountain, only 20 minutes away from the Purgatory ski resort.
Hence if you are planning a family vacation with kids especially, you should definitely consider this resort. Also, this holiday destination accepts EPIC passes so that you can save some more bucks.
8. Steamboat Ski Resort
Operational hours: 10 am – 4 pm
Travel time: 3 hours 
Cost: $20-$50 per day
Season: November 2022- April 9, 2023
Steamboat resort is around Mount Werner and is famous for the 'Champagne Powder Snow. The base elevation of this mountain is not much high, so the altitude sick people can conveniently visit this resort.
Tree skiing is the main attractive feature of the steamboat, along with being a highly reasonable place with most facilities.
This tourist spot has fabulous eateries for both your body and mind. Hazie's restaurant will serve you delicious food, pastries, and cookies along with the history of the place at the same time. So, you can enjoy tempting meals soon after a skiing session without going back to the town for food options.
The owners are investing their efforts to transform the place from an old school to a new trendy, and innovative place. Along with skiing and snowboarding, they have also included a skating ring. It will increase recreational activities and develop more customers with the proper publicity.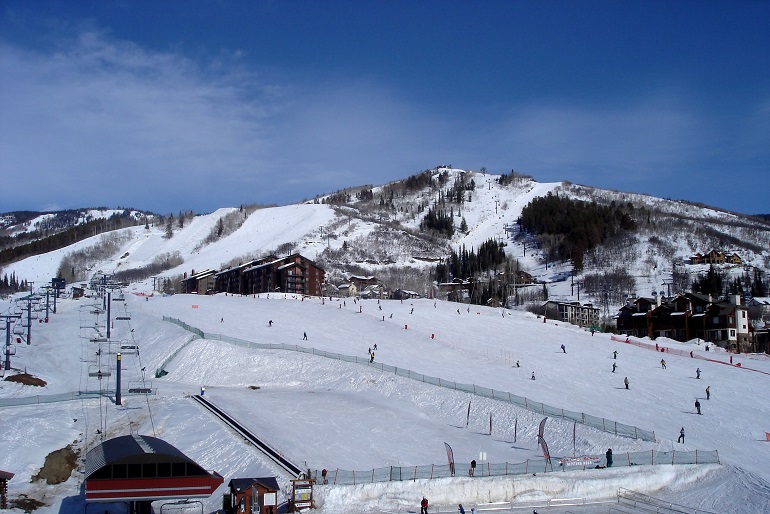 The rental shops are there to rent the ski gear, so you would not need to carry your old and heavy ski gear back home.
You will find cowboy culture and heritage in this area, shops, restaurants, rental places, and even streets. So you will get to experience and learn about a new culture and theme during your trip.
9. Copper Mountain
Operational hours: 9 am – 4 pm
Travel time: 1 and a half hours
Cost: $99-$180 per day
Season: November 2022- April 2023
Copper Mountain has an area of 2465 acres with numerous trails visible enough while driving towards the ski resort. The ski runs are good enough for all the new learners, intermediate and expert skiers. You can use your IKON pass to avail the upcoming offers.
The resort's elevation is high, so there are higher chances of firm snow and winter conditions at the top during the spring season. So you need not be sad at the end of the winter season because you can enjoy the same even in spring.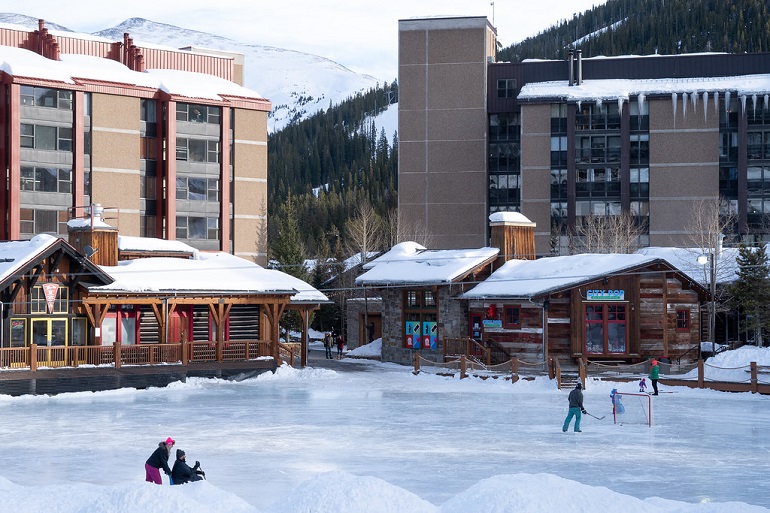 The base town of this area is best suited for families and kids, as there are gourmet shops selling popcorn and candies. In comparison, you can find entertainment and eateries for adults as well.
You can find affordable accommodation in the east, center and west village. Overall the prices are moderate, and it can be a budget and family-friendly trip if you plan wisely.
Conclusion
The extended skiing seasons, tourist attractions, non-skiing activities, lodging options, etc., create a complete package for the visitors. If you need to know how much it costs to go ski you can check out our detailed guide.
Colorado ski areas are fully equipped and serve with dignity, so why delay in getting the season passes to enjoy the fullest?
Enjoy your Christmas or winter holidays in general by planning a ski vacation with the help of these major ski resorts. If you're interested in snowboarding, then worry not as Colorado's best places for snowboarding will truly amaze you with their varied options.
Related Guide