Overview
If you're an outdoors winter lover, you might be familiar with the increasingly popular trend of snowshoeing. While snowshoeing, you simply walk or hike across deep powder snow, and snowshoes are made for the sole purpose of making that job easier.
Choosing the right snowshoe for yourself can be intimidating, especially if you're a beginner at snowshoeing.
The types of snowshoes you get have to do with the snow conditions, what terrain you'll be snowshoeing in, and what feels good when you wear them. Oh, and don't forget optimal feet protection and warmth.
Below, we have broken down how to choose snowshoes for yourself based on several factors, including snowshoe bindings, materials, special features, terrains, and much more. These will make your quest to find the right snowshoes for you easier. Read on to learn more.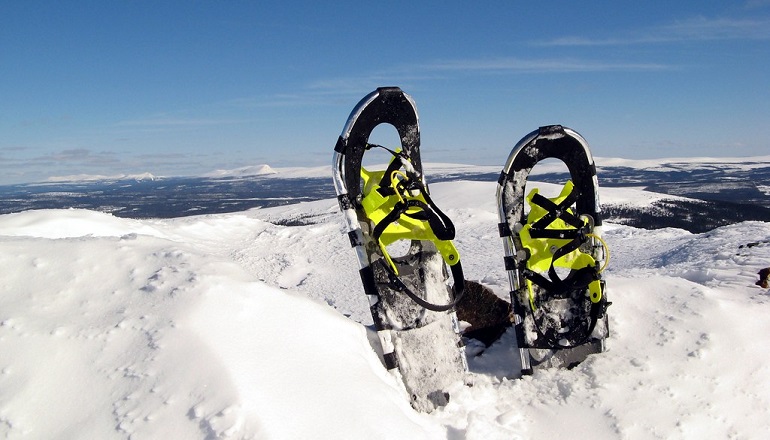 Snowshoe Type by Terrain
Knowing what pair of snowshoes will be perfect for you depends on where exactly you will be trekking. The best snowshoes will differ from terrain to terrain, as they are all built to suit different terrains differently.
These include the following four types of mountainous terrain:
Easy: Flat Terrain
Intermediate: Rolling terrain
Difficult: Steep terrain and mountain terrain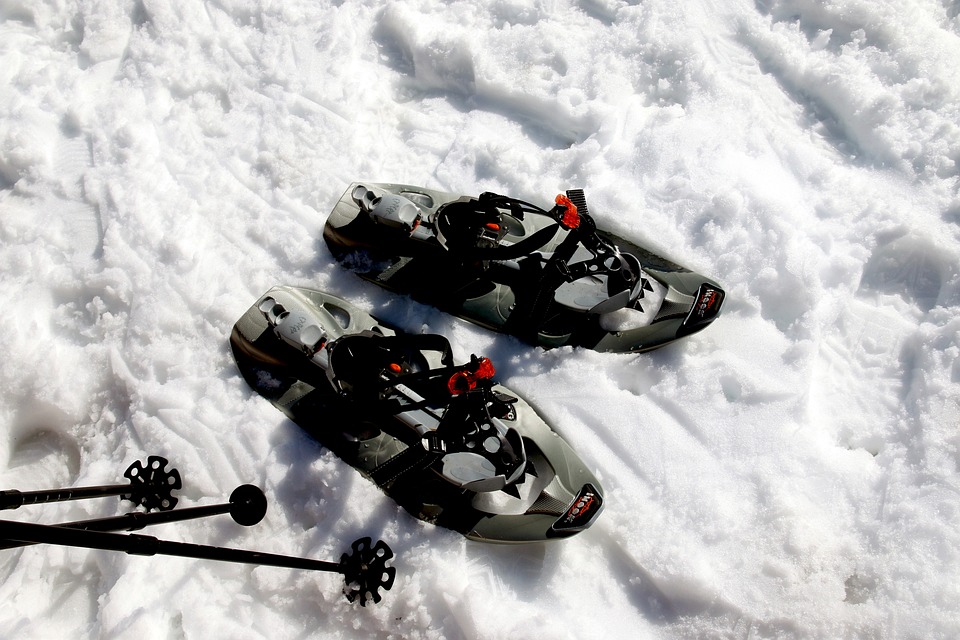 Flat Terrain Snowshoes
Flat terrain snowshoes are designed specifically to give you the ease of walkability on flat land and snow. These are the types of snowshoes you would get if you were just beginning to learn snowshoeing or are an amateur.
The frame on these snowshoes is small, as the traction needed to traverse flat terrains is less.
The best snowshoes for flatter terrains are made of materials that are heavy, like metal, so they will be more affordable too.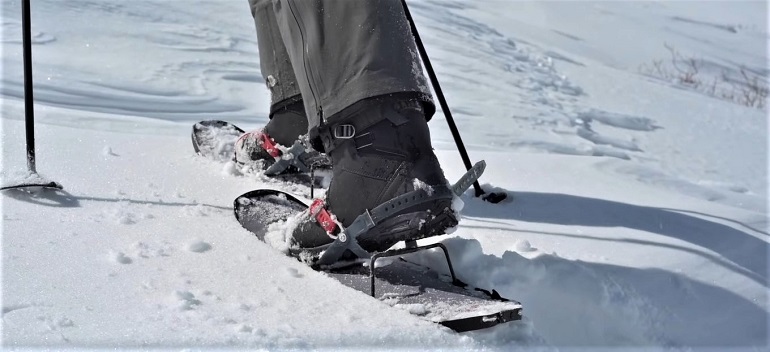 As most beginner snowshoers choose snowshoes for flatter terrains, smaller snowshoes with a smaller surface area work better for this kind of environment.
Something to keep in mind is that snowshoes for flat terrains will have very low traction under your foot and no heel lifts, as the need to grip onto the snow below for stability is less. Thus you cannot use these in another terrain, as you will sink faster.
Rolling Terrain Snowshoes
Rolling terrain snowshoes are intermediate level and are built for steep slopes that are not entirely flat, but decently angled. The snow there will be deep snow, and you will keep a little more of a heel lift and more aggressive crampons to get good snowshoe traction.
You will also need stronger binding systems for a secure fit. However, rolling hills do not have icy terrain, so you will mostly be hiking at a somewhat steep slope. Shoes built for rolling terrains need a slightly bigger surface area to give you more flotation over the snow.
Mountain Terrain Snowshoes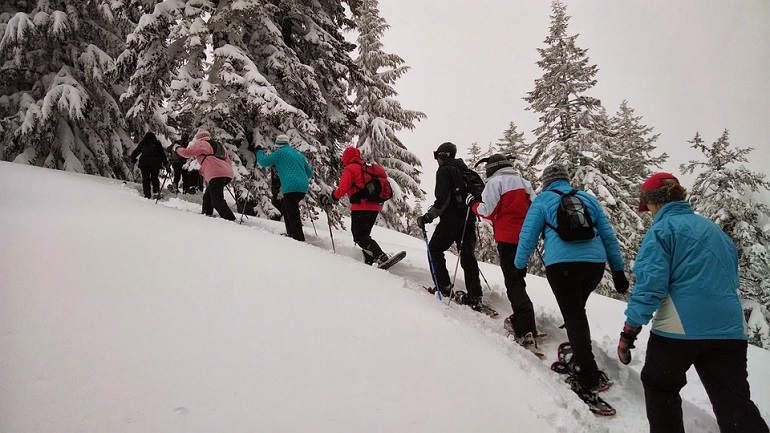 Also known as backcountry terrain, mountain terrain is difficult and exhausting. Mountain terrain snowshoes are built with features particular to dealing with extremely steep terrain and packed snow.
They have very aggressive crampons for equally aggressive traction, to keep you afloat on the snow. Some mountain snowshoes can even handle icy terrain.
These steep slopes can withstand icy conditions, being built with expensive but lightweight and durable materials, like light metal or plastic. The surface area on these is extremely large to distribute your body weight evenly over the fluffy snow.
These snowshoes can have some extremely helpful additional features, like an extension tail that you can attach to the back of your shoe to increase surface area, lots of good quality instep crampons, heel crampons, etc., and good binding systems.
Running Snowshoes
Running snowshoes have become very popular lately, thanks to snowshoeing gaining popularity too. Running shoes are built for jogging over flatter, hard-packed snow, so providing flotation is less of a concern as sinking is unlikely. This is why running snowshoes are used over packed trails.
Snowshoes for running are also smaller in size. Their bindings can be quite easy and relaxed to give appropriate support.
Choose your Snowshoe Size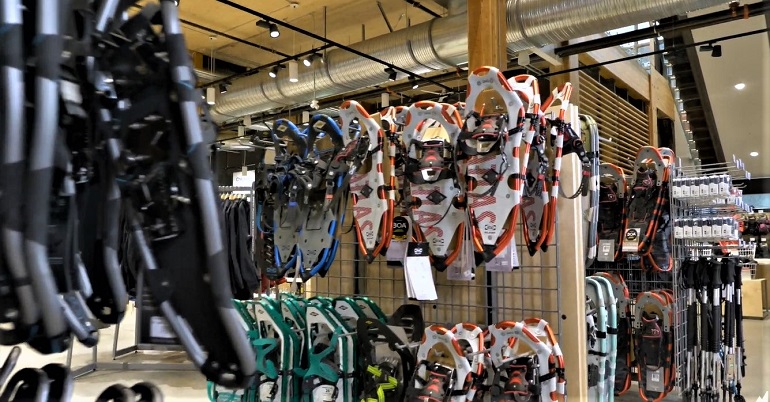 Your perfect snowshoe size depends on your total weight on the snow, including your carried materials in the case of backpacking. Snowshoe sizing is conveniently already mentioned when you go to buy snowshoe models, either online or in-store.
These size ranges specify a "maximum load" that you need to determine what you will have when you will be wearing the pair of snowshoes. Simply, it is a positive correlation: the more your body weight, the more maximum load you will be carrying. Thus, the bigger your snowshoe will be in length.
Manufacturers in the snowshoe market make most snowshoes in different sizes that accommodate a varied weight range. But other snowshoes are built in one size only.
You will also have to check what snow conditions you will be snowshoeing in, as that will determine the bindings, full length of the outer frame, traction, and kind of snowshoe you will need to stay above the snow.
Rule of thumb is to get smaller snowshoes for icy conditions and steep terrain, mid-length snowshoes for wet snow and a packed trail, and long snowshoes for powder.
Understanding Snowshoe Materials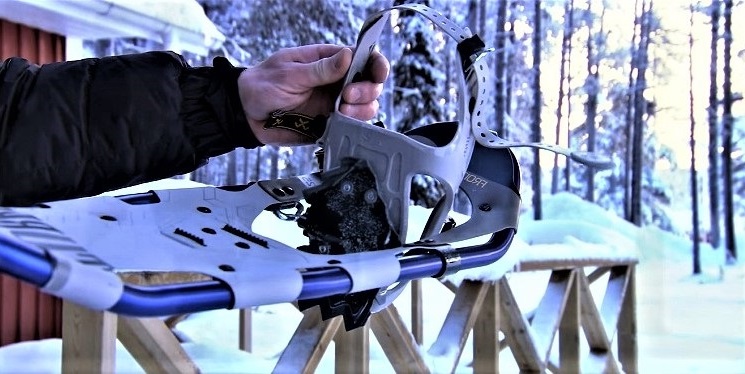 Snowshoes can be built with various materials, depending on the snow conditions you will be traversing for those few hours. The anatomy of a snowshoe features a deck and an outer frame which support each other and allow you floatation over snow. There are three major types of materials.
Snowshoes framed with aluminum are extremely durable and lightweight. They can get a little expensive, but they are sturdy and will last you a good few seasons. The decks on these can be made of rubber, plastic, or polyester.
Composite snowshoes are those that have the same material used to build the deck as well as the frame. Composite snowshoes are good options, but they can get slightly loud while you walk.
Plastic snowshoes are very durable, almost on par with metal snowshoes, but they are less expensive, noisy, and last extremely long.
The traction on these is excellent as toe or instep crampons, and heel crampons can be attached to the bottom platform of molded plastic snowshoes to give the right amount of stability in the snow.
Understanding Snowshoe Bindings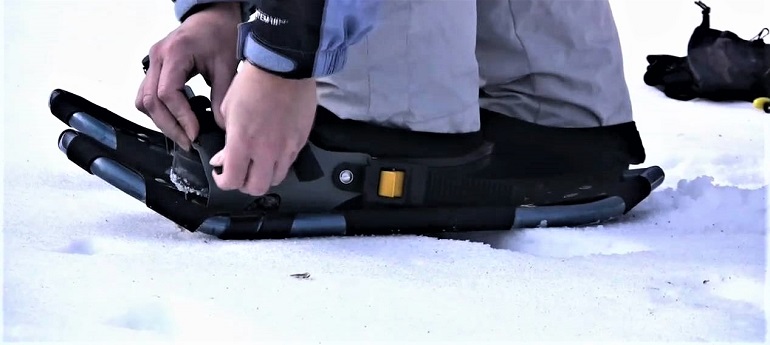 In the anatomy of a snowshoe, the bindings are very important as they play a part in keeping your foot securely attached to the frame of the snowshoe.
The bindings go behind the heel of your foot, the front part of your foot before the toes, and the part of your foot in the front that meets the leg.
A majority of snowshoe bindings are made to accommodate all foot sizes and footwear you may wear to keep your feet warm too. This includes hiking boots, hiking snowshoes, and mountaineering boots.
Some manufacturers also make snowshoes with bindings big enough to fit snowboard boots within, in case snowboarders like to snowshoe as well. Most snowshoes have bindings that attach using a ratcheting motion.
Binding systems should be easy and well-suited to the hiker being able to adjust them with snow gloves on. Finally, there are two types of snowshoe bindings: fixed bindings and rotating bindings.
Choosing Performance Features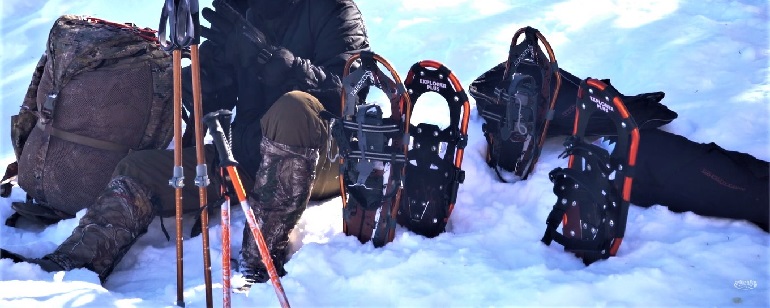 Snowshoes have a variety of additional performance features to help in making every user's experience more personalized, customized, and optimized. These include frames, decking, traction, and a heel lift, among others.
Getting snowshoes with these features can greatly enhance your experience and make the journey easier.
Frames and Decking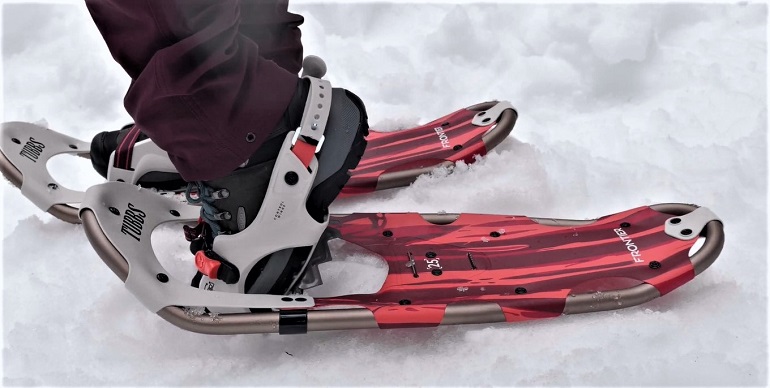 The longer your snowshoe frame, the better floatation it will provide, so big framed snowshoes are suitable for when you're snowshoeing on deep powder snow. It's very important not to sink into that type of fluffy snow and have support, so a long frame and deck will provide that.
Consider the materials of your snowshoe as appropriate for the snow conditions you will be engaging with. Smaller snowshoes with shorter frames will be better for icy conditions and packed snow.
Traction
For good traction, snowshoes have attached three types of crampons that grip the snow as you walk and are metal spikes.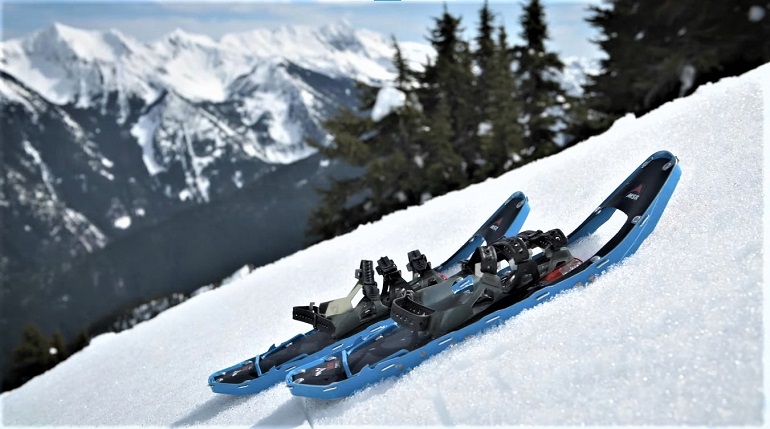 There are three locations where crampons are located: the heel of your foot under the deck, instep or toe crampons under your snowshoe bindings, and crampons along the side of your snowshoe.
Good snowshoes perform well if they have side rails and side traction bars on them. This helps the snowshoer not fall toward the side and hurt themselves. Snowshoes attached with side traction should be the ones you invest in for optimal lateral stability too.
Heel Lift/Climbing Bars
The heel lift or the climbing bar is the best additional feature if you extensively explore uphill snowshoeing.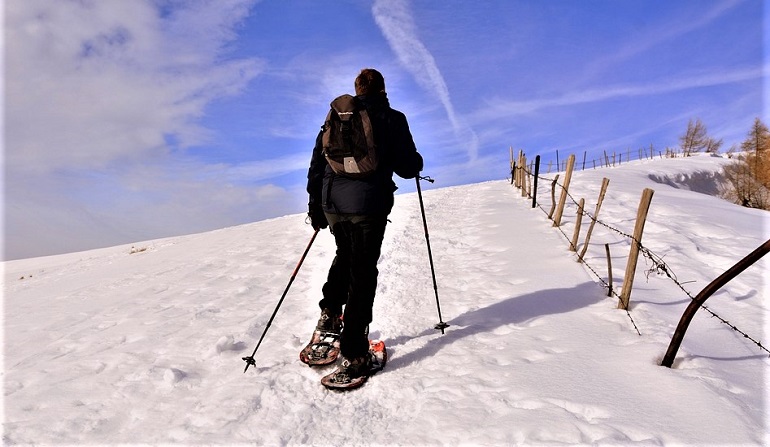 It is even better in extreme powder conditions and steep slopes, where you can get tired very quickly from exerting energy uphill. Thus, heel lifts assist in ascents and give you the extra traction you need.
These, and your trekking poles, are the best aid in making steep terrain a smoother experience, as compared to snowshoes with no heel lift.
Snowshoeing Footwear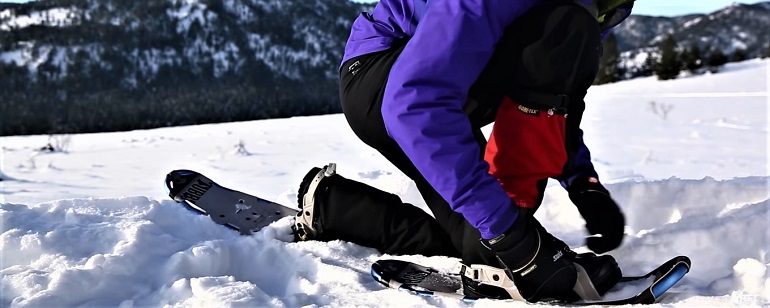 Snowshoe sizing and bindings do not discriminate on the type of footwear you can wear underneath your snowshoe. You can wear any type of footwear you want, from personal and comfortable to keep your foot warm, like warm snowshoeing boots, hiking boots, or mountaineering boots, to big boots for other activities, like snowboard boots.
Shoe sizes can adjust, and you can always find alternative models that stay longer with you during cold seasons.
However, we still recommend wearing waterproof snowboard boots if you can, to minimize wetness and have a comfortable experience. Finally, you can wear warm and fashionable household boots too, but they might allow suffocation while you might need some ventilation to keep your body moving.
Conclusion
If you know the kind of terrains you will be traversing on your snowshoeing journey, then that's half the battle!
If flat, go for big snowshoes with no heel lift and decent traction. But if climbing steep slopes, get a high-heel lift snowshoe with more aggressive crampons.
Understanding how to choose snowshoes can be slightly tricky, but follow our tips and explore the wild snow with ease!
Happy snowshoeing!