Nosso trabalho ao ar livre é o mais legal de Hong Kong.
A impressão que a maioria das pessoas tem de Hong Kong é que é tudo compras, transporte e bancos, mas se afastar das luzes brilhantes de Kowloon e das torres de alta tecnologia da Central e de todo um outro lado de Hong Kong irá se revelar.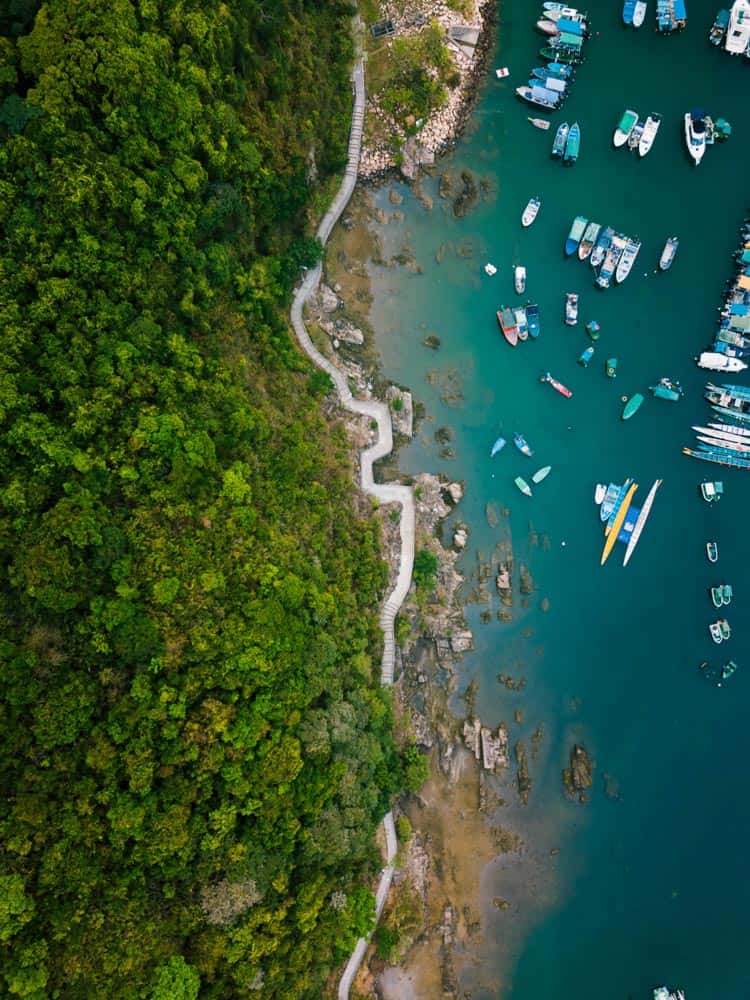 Assim como aquele corte de cabelo que adoramos odiar, Hong Kong é tudo negócios na frente e festa na parte de trás. Tudo o que você precisa fazer é pegar uma balsa de meia hora e de repente você está em um mundo totalmente novo, passeando com os "estilos de vida" na praia, ou escalando o lado de uma montanha com a tripulação local de esportes de aventura.
Hong Kong e suas ilhas periféricas, Lamma e Lantau, são um sonho de aventureiro ao ar livre tornado realidade.
O campo está coberto de trilhas de montanha onde caminhantes e ciclistas locais se dirigem para as vistas panorâmicas e passeios desafiadores, os picos estão salpicados de parapentes que se preparam para se lançar no céu, e as praias estão repletas apenas de almas salgadas aproveitando ao máximo o vento e as ondas.
O melhor de tudo é que isto está acontecendo a um passo da maior e mais ruim metrópole do Oriente.
O centro da cidade é uma cidade cosmopolita com todos os recursos que um nômade digital poderia precisar, desde espaços de coworking com todos os sinos e apitos até eventos de networking com alguns dos mais influentes jogadores do mundo dos negócios.
5 coisas incríveis ao ar livre para fazer em Hong Kong
1. Kitesurfing
Apenas uma curta viagem para longe das movimentadas ruas da cidade em Central, a própria comunidade de kitesurf de Hong Kong está fazendo ondas.
O Kiting é um esporte que cresce rapidamente aqui. Embora existam alguns clubes que existem desde os primeiros dias, é somente nos últimos anos que o kitesurf em Hong Kong começou a se comunicar com os locais em grande escala (embora ainda não tenhamos visto um número significativo de mulheres locais se envolvendo).
Confira este projeto fantástico de nossa velha amiga Hill Siu, uma travessia de kitesurf de Hong Kong para Macau que ela começou para levantar fundos para a limpeza do oceano!
Pssst: a temporada de kiteboarding em Hong Kong vai de setembro a março, atingindo um pico entre novembro e janeiro.
E ouça, nós entendemos:
A estação dos ventos de Hong Kong não é super confiável pelos padrões de ninguém. Portanto, se você precisar de mais vento, confira nossa lista de Os melhores pontos de kitesurf da Ásia para inspiração!
Condições
Hong Kong é uma mancha de vento leve, portanto a maioria das pessoas tremem 12, 14 e 17m; embora em dias de monção você precisará de um tamanho menor.
No local principal do kitesurf, o Shui Hau, a água é plana, com exceção de uma pequena costeleta de vento. O local do kitesurf Shui Hau é fortemente afetado pelas marés, e embora seja possível praticar kiteboard aqui durante a maré baixa, você terá que caminhar bastante longe do local de lançamento para chegar à água.
A água é bastante turva na cor, mas limpa da mesma forma.
A temperatura da água permanece bastante confortável o ano todo, com uma média de 26-30 graus no verão e 15-25 graus no inverno. Normalmente não será necessário um fato de mergulho quando se pratica kitesurf em Hong Kong, embora em dias frios de monção de inverno, você provavelmente vai querer um colete de mangas compridas para proteger do frio do vento.
A praia no ponto principal, Shui Hai, está coberta de pequenas pedras afiadas e pode representar uma ameaça aos papagaios infláveis. Há uma área gramada próxima, que é um lugar mais seguro para se instalar e pousar. Particularmente na maré baixa, você vai querer usar botas quando estiver praticando kitesurf aqui.
Melhores locais para o kitesurf em Hong Kong
Praia Shui Hau
Localizado na costa sul da ilha de Lantau, Shui Hau é o principal centro de kiteboarding de Hong Kong de setembro a março (pico de novembro a janeiro) quando os ventos leste-nordeste sopram; embora na realidade, Shui Hau funciona melhor na direção leste, já que a área da praia é ladeada por grandes montanhas de cada lado (se a direção mudar no meio da sessão não é incomum ver pipas caírem do céu em massa).
O Shui Hau tem água rasa, rasa e vento lateral a terra, com velocidades médias que medem em 10-20 nós. No entanto, é fortemente afetado pelas marés, o que significa que você pode estar para um pouco de caminhada para chegar à água, e há algumas conchas afiadas e rochas sob os pés (botas recomendadas).
Shui Hau é a casa do Escola de Kiteboarding de Hong Kongjuntamente com uma série de outros clubes locais.
Sai Kung
Quando os ventos do norte começam a soprar, os kitesurfistas de Hong Kong se dirigem ao Sai Kung nos Novos Territórios; um lugar conhecido por sua pesca, trilhas para caminhadas e parques rurais. Kiting no Sai Kung não é para os fracos de coração, no entanto, como os ventos são geralmente bastante rajados e ao largo da costa.
Praia de Pui O
A monção de verão de Hong Kong traz consigo ventos de sudeste, o que transforma a praia de Pui O (Lantau) no mais moderno playground de kitesurf de Hong Kong. Pui O tem areia macia e limpa e ondas ondulantes suaves. Também costumava ser a casa do Maverick's, um dos melhores clubes de praia de HK, mas infelizmente fecharam suas portas no ano passado (*mega sob*).
Cheung Sha
Ocasionalmente, durante a monção de verão, você também pode se divertir na vizinha Praia Cheung Sha, outra bela mancha de areia macia que às vezes tem ondas pequenas e agradáveis.
[Relacionado: se você está pensando em fazer alguma viagem de kite para Hong Kong, certifique-se de se preparar lendo nossa mais nova revisão de bolsas de kiteboard para viagens!
2. Wakeboarding
Enquanto não há atualmente um parque de cabos em Hong Kong (Wake Park HK fechou há alguns anos e ainda não reabriu; embora tenhamos visto CORE Hong Kong abrir um sistema de duas torres durante o verão de 2017, mas nenhuma notícia ainda sobre se eles estarão de volta), o wakeboard de barco em Hong Kong acontece em alguns pontos:
Stanley Beach, ilha de Hong Kong
Sai Kung, Novos Territórios
Se você está esperando chegar a alguma ação de wakeboarding em Hong Kong, você faria bem em entrar em contato com pessoas como Centro HK AquaBound ou Wakeboard de Hong Kong.
Pssst: se a falta de parques de cabos em Hong Kong te faz franzir a testa, nunca temas! Há um monte de fantásticos parques de cabos na Ásia que estão a apenas um curto vôo de distância.
3. SUPing (ou seja, embarque em pé)
O surfe é pequeno e o vento é leve, o que pode não agradar aos surfistas e aos kits de hardcore, mas faz com que o SUPing seja ideal. Na verdade, Hong Kong recebe uma quantidade admirável de eventos e competições de SUP graças à contribuição de clubes locais como o Hong Kong Stand Up Paddle Boarding Association.
As aventuras de remo em Hong Kong são incríveis porque oferecem uma mistura sólida de condições fluviais calmas, que o vêem flutuando além de vilarejos tradicionais e campos tranqüilos; remos de mar aberto em ondas suaves e costeletas de vento de bebê; e passeios em ondas pequenas nos pontos de surf de Hong Kong.
Quando se trata da questão de onde à SUP em Hong Kong, o mundo - como dizem - é a sua ostra:
A paisagem campestre de Hong Kong, a miríade de rios e a extensa linha costeira pontilhada de ilhas oferecem toneladas de lugares perfeitos para tirar um SUP e explorar da água.
Desafie-se com um surf suave nas praias do sul de Lantau ou Shek O's Big Wave Bay, ou entre na água com um remo de rio gelado; seja qual for seu estilo de SUP, você encontrará muitos SUPers com a mesma mente pronta para resolver o seu problema com aluguel de pranchas e conselhos.
Nosso lugar favorito de SUP em toda Hong Kong pode ser encontrado na costa oeste da Ilha Lantau em uma pequena vila tradicional, Tai O. A vila fica às margens do rio Tai O, que é ladeada de ambos os lados por casas coloridas empoleiradas em cima de palafitas de aparência precária. Remando pelo rio, passando pelas casas e para o riacho adjacente, você terá uma vista deslumbrante das imponentes montanhas ocidentais de Lantau, que geralmente estão envoltas em uma espécie de névoa do outro mundo.
Sabe o que faria um dia fantástico?! Combinando sua excursão SUP com este passeio épico pelos lugares mais legais (e mais culturais) de Lantaucomo a famosa estátua de Buda e a aldeia Tai O!
Quando estiver pronto para alguma ação de remada, entre em contato com um dos seguintes clubes para alugar:
Centro de Esportes Aquáticos HiwindloverStanley Beach (Ilha de Hong Kong)
SUP Yoga Stanley Beach (Ilha de Hong Kong)
Grupo Treasure Island, Pui O (Lantau)
Long Coast SeasportsCheung Sha (Lantau)
Clube Esportivo Blue SkySai Kung (Novos Territórios)
4. Caminhadas
Não é segredo que a Ásia Oriental é um verdadeiro paraíso para os caminhantes (basta conferir nosso guia de aventura para Taiwan para ver do que estamos falando!). Mas entre os parques nacionais de Hong Kong, picos imponentes, e trilhas bem percorridas, consideramos que é este cantinho do continente que merece levar ouro.
Além do cenário de gobsmacking e da infinita variedade de caminhos a escolher, o melhor das trilhas de caminhada de Hong Kong é que elas são extremamente fáceis de acessar, não importa onde você esteja na cidade, graças ao fantástico sistema de transporte público.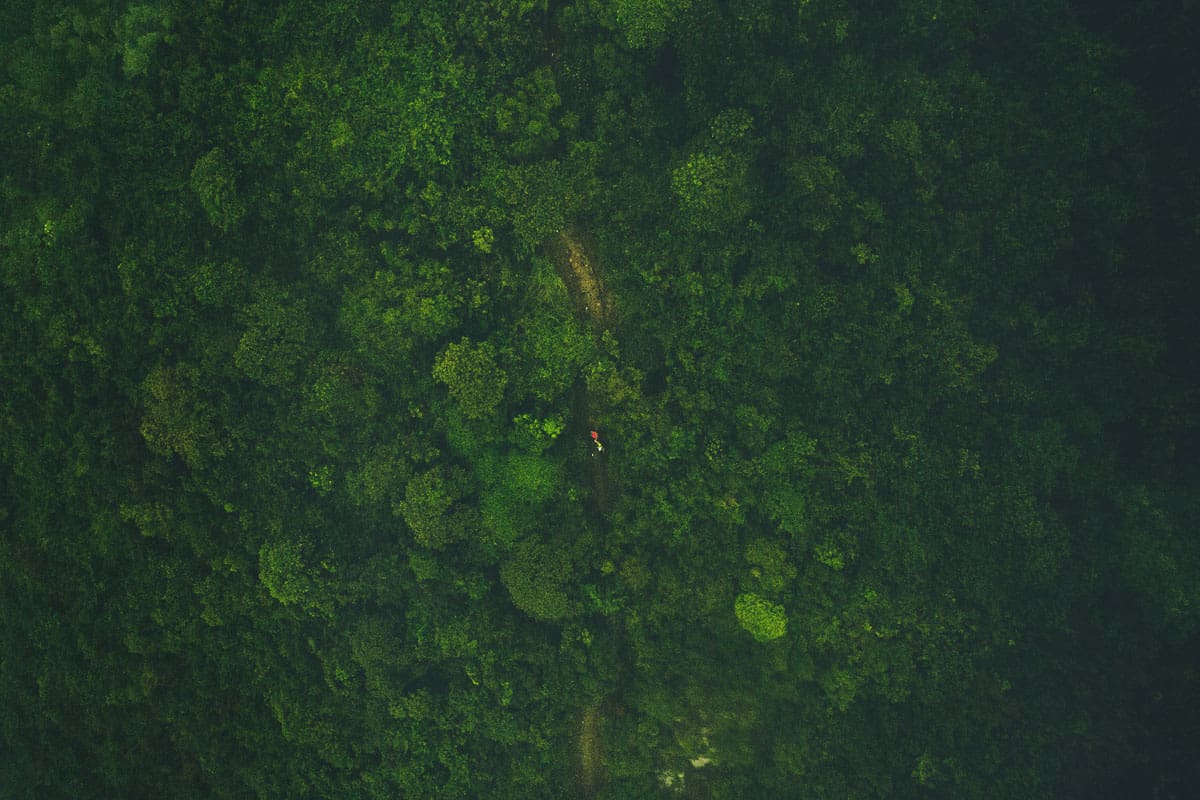 Hiking can be done here all year round, but in terms of optimum temperature and weather, the best months are from November to March.
And when it comes to onde to hike in Hong Kong:
There are 4 main groups of hiking trails , each of which is divided into smaller stages offering shorter individual hikes.
The Hong Kong Trail
Stretching from Victoria Peak to Big Wave Bay, this 50 kilometer trail is a popular one thanks to its diverse terrain, well-marked paths, and stunning natural scenery.
The trail is divided into 8 stages, the most famous of which is the iconic Dragon's Back Ridge– which earned itself the title of World's Best Urban Hike. The 8.5 km ridge hike brings trekkers to the 284 meter high peak overlooking Shek O Country Park and the dramatic coastline below.
The Lantau Trail
This 70 km long trail begins and ends on Lantau Island's easterly harbour, Mui Wo. There are 12 stages within the larger trail, each of which are clearly marked every 500 meters. The trail's tallest point, Lantau Peak, measures in at a staggering 934 meters.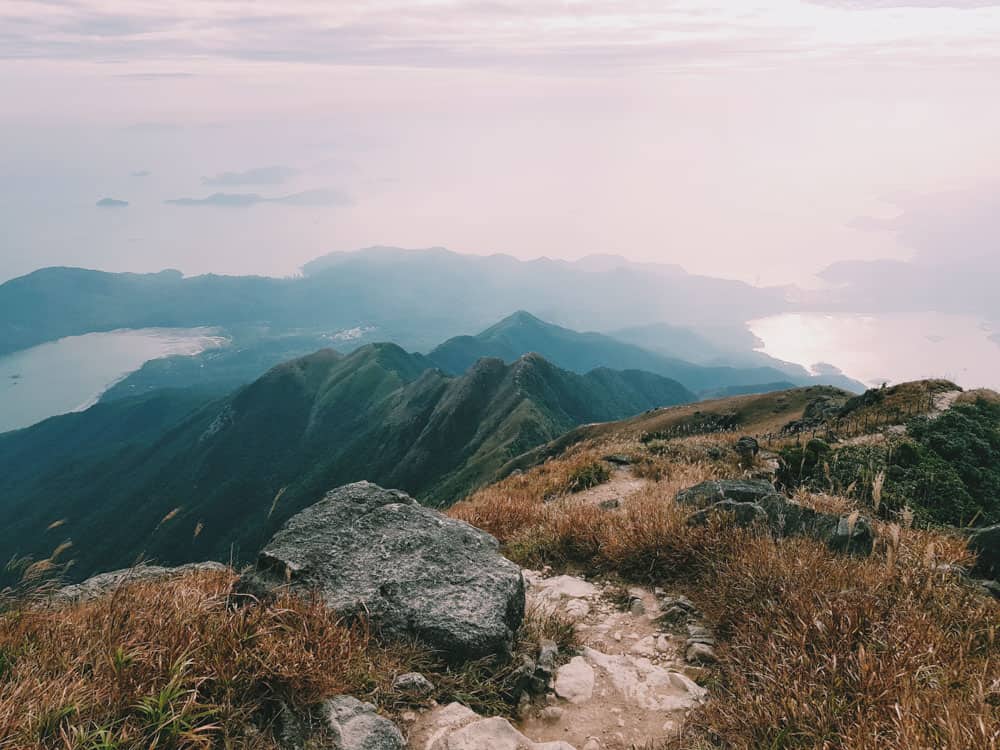 Depending which stage of the trail you set off one, you may find yourself trekking through dense forest, peeking out at the azure coastline below, coming face-to-face with the iconic Tian Tan Buddha, or wandering around the misty paths in Tai O- the island's traditional fishing village on stilts.
The MacLehose Trail
Spanning all the way from Hong Kong Island's Sai Kung Peninsula in the east to Tuen Mun in the west, the MacLehose Trail is 100 kilometers long from start to finish.
The trail winds through the wild eastern country park, along towering peaks with sprawling views of Kowloon's reservoirs, past a dormant volcano, and looks over countless coves, cliffs, and miles of coastline.
The MacLehose Trail also includes a hike up Hong Kong's highest peak- Tai Mo Shan (957 meters). At certain points along this trail, you can actually make out mainland China in the distance.
The Wilson Trail
While it may not be the longest or the highest of hikes, the Wilson Trail might just have the most character of all. The 78 km trail runs through a total of eight country parks between the south of Hong Kong Island to the northeast of the New Territories.
The trail contains 10 stages, one of which passes through Victoria Harbour (and therefore is super easy to access via MTR). Stages 6, 7, and 8 of the trail are filled with wild monkeys (don't feed them, however tempted you may be; them monkeys be gangster.)
For further reading on Hong Kong's hiking trails, check out the Discover Hong Kong Hiking Guide.
4. Ciclismo e Mountain Biking
Whether you're into throwing yourself down a mountain at breakneck speed or exploring the sloping roads of Hong Kong's islands, this is the ideal place for a two-wheeled adventure.
Existem zillions of cycling and mountain biking trails in Hong Kong for downhill, enduro, and cross-country. Considering the diversity of Hong Kong's terrain, there'll be something for every level of cyclist, from experienced die-hard downhillers to total mountain bike novices.
Between all the different off-road and on-road trails, you can ride year round in Hong Kong. That said, it's a good idea to avoid planning a mountain biking trip to Hong Kong during the peak rainy season (April-June).
One of the greatest things about Hong Kong is the number of country parks that protect the land here (many of which are strewn with awesome MTB trails). However, if you want to ride these trails you first need to be granted a permit from the Agriculture, Fisheries and Conservation Department.
There are a total of nine designated MTB trails in Hong Kong (which measure up to 113 km of trail overall), as well as a free-for-all mountain biking site in Wan Tsai where all trails are open for riding.
Off-road, you've got the likes of Tai Mo San, Tai Lam Country Park, Chi Ma Wan Peninsula, Sai Kung West Country Park, Lamma Island, and Shek O.
On-road, you're best off heading to Plover Cove, South Lantau, Tai Po and Tsuen Wan.
If all of this is sounding pretty tasty, you'd better get in touch with one of the following clubs– and they'll be able to put you on the right track (oooohhh, snap):
Hong Kong Mountain Bike Association
Action Asia Events (big time MTB event organisers in HK).
5. Parapente
Paragliding is growing in popularity in Hong Kong; thanks to the light winds and high mountain peaks, it's the chosen home-away-from-home for many members of the flying nomad community.
If you're an experienced paraglider, keep reading for an overview of the local conditions and spots! And if you're just an adventure-seeking traveler looking to get high in Hongkers (not que kinda high, though, stay with me here) then get in touch with the contacts we've listed below and inquire about their tandem flight schedule.
Here's what you need to know about paragliding in Hong Kong:
Most of the approved paragliding spots in Hong Kong cater for easterly winds, but between all of the spots it's possible to fly in virtually every wind direction throughout the year.
The majority of sites offer reasonable landing options, although there are some that are far more challenging and are only suitable for highly experienced pilots.
It's important to note that Hong Kong's airspace is closely monitored, and there are strict height restrictions and flying site limitations in place that must be adhered to at all times.
There are 8 places approved for paragliding in Hong Kong:
Pat Sin Leng, Tai Po
Long Ke Wan, Sai Kung East
Pak Tam Au, Sai Kung North
Ma On Shan Country Park
Sai Wan, Sai Kung East
Shek O, Hong Kong Island
South Lantau Country Park
Kau Lung Hang Shan, Tai Po
O Hong Kong Paragliding Association offer tandem flights, pilot instruction, and support for those who already have their flying skills in the bag. Check out their website for the latest updates on the best times and sites to fly at.
Guia de viagem de Hong Kong - FAQs e informações obrigatórias!
Onde ficar em Hong Kong
Sheesh- where to start?! Well, basing yourself near whatever point of interest you're most keen on experiencing is a good place to start.
So that means:
Lantau for hikers or kitesurfers
Central for party go-ers and shopping
Lamma for beach activities and quirky adventures
Okay, okay, but that still doesn't narrow down exactly WHERE to stay in any of those places, does it?!
Well here's the deal:
When I stayed in Hong Kong, I was there long term so I was renting a house. As far as short term visits go, I'd always advise starting with the latest listings for good value accommodation in Hong Kong on HotelsCombined, which is the platform I prefer to use since it aggregates all the major booking sites to offer the most (and best value) properties.
As for non-hotel accommodation options, it's a little tricky:
You see, Hong Kong's housing rental system isn't set up to support short to medium term stays, so if you're planning to spend <1 month here, your best options are either Airbnb, hostels, or couchsurfing.
Couchsurfing is a good way to start off in the city- especially since it's free; and what with the 30,000 registered hosts in HK, you're sure to find somewhere to lay your head for a few nights.
Airbnb prices start around $30-50/night for a basic small space (you can squeeze that to $800/month if you negotiate a longer term stay), but double that budget and you'll find yourself a cushy private studio with fast wifi.
Hostels can be found for as little as $12/night, but don't get your hopes up for that price- and definitely don't expect reliable wifi. Push your budget to $30/night and you'll have yourself a nice selection of the city's top notch hostels offering awesome wifi, good locations, and impeccable cleanliness (some even have dedicated workspaces, which means you could save money on coworking).
If you're looking for a backpacker (and bank account) friendly option, check out the recommendations in this budget itinerary for Hong Kong.
For nomads looking to stay for the medium to long term, apartment or house rentals are for you. The thing is, most rental contracts in Hong Kong look for a two year lease e require a hefty enough security deposit, which isn't the most nomad-friendly arrangement.
Prices in the outlying islands and New Territories hover around $1,200 US/month (you'll be hard pushed to find much for under a grand), while rentals in Central and Kowloon are normally double that.
---
Como chegar a Hong Kong
Hong Kong International Airport is one of the busiest airport hubs in Asia and operates thousands of flight routes across the world every day. It's one of those handy nomad locations where you'll quite likely be able to find direct flights to your next destination- depending on where that is, of course.
Como se locomover em Hong Kong
The best way to get around Hong Kong is on the public transport system. Like most big world cities, Hong Kong has its own pre-loadable public transport card (which covers most services); that's the Octopus card.
For maximum convenience, we recommend you buy your Octopus card online in advance so that you're ready to rock as soon as you touch down on Hong Kong soil. This one from Klook even comes with preloaded credit and discount codes!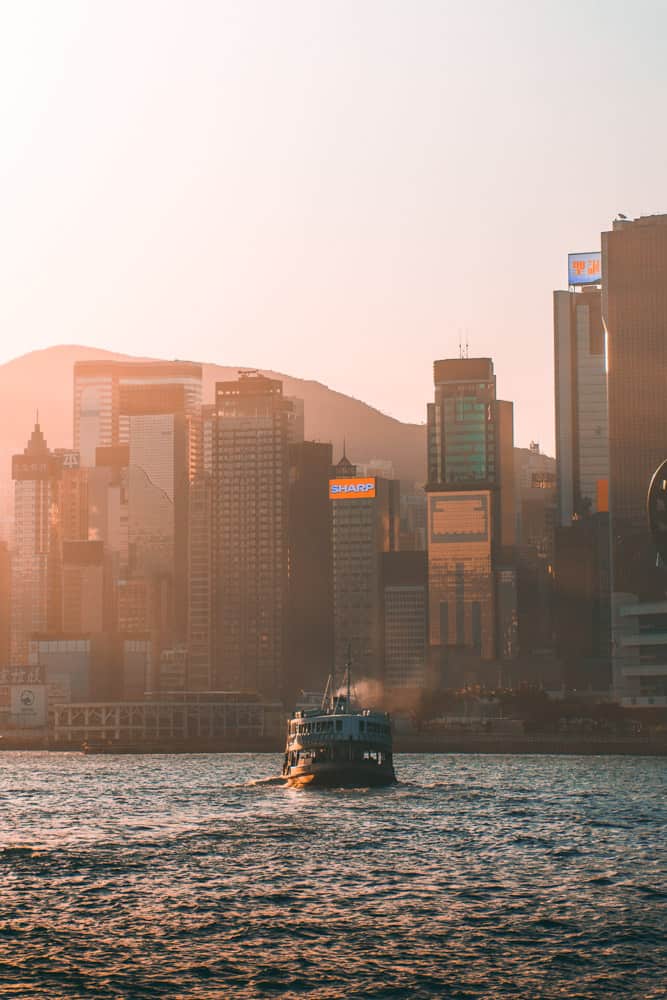 All of the islands are connected by a super efficient (and very affordable) ferry system.
Then there's Hong Kong's MTR system, which is immaculately clean, easy to use, affordable, and always on time. It connects Hong Kong Island with Lantau, the New Territories, and the airport (psst: save some cash and hassle by buying your airport train pass in advance! Or if you plan to do a whole bunch of MTR travel while you're in Hong Kong, grab an unlimited 72 hour pass for a special price).
Cheaper still are the local buses, which operate all over the city and outlying islands- even in the most remote parts of the rural countryside. Bus stops are easily spotted along the roadside every few km with timetables available online and at the stops (although these "timetables" are often more like rough suggestions).
Taxis are readily available everywhere and are surprisingly cheap for such an expensive country. The downside is that they are segregated by district and are not allowed to carry passengers outside their district boundaries- so if you need to go from, say Lantau to Central, you will first need to change at a taxi rank in Tung Chung. That being said, Uber works in Hong Kong and isn't affected by these rules.
If you plan on spending lots of time in the more remote islands and feel having your own vehicle would be best, you can always rent a car (if you're willing to fork out the dosh, that is) and legally drive on an international license as long as you are residing in Hong Kong for a period less than 12 months.
Espaços de Trabalho e Coworking em Hong Kong
Inevitably, this is gonna be an important one for all you digital nomad types. Here's what you need to know about coworking in Hong Kong:
Space is limited in Hong Kong, and because of that, space is expensive.
So, you'll have oodles of choice when it comes to coworking spaces (though they are concentrated in the main city areas and fall away the further you go into the outlying regions).
Buuuuut:
On the downside, coworking spaces in Hong Kong are expensive when you compare them to anywhere else in Asia (or anywhere else in the world, for that matter). Normal prices hover around $35 USD/day. Many won't even offer day passes and will require a monthly membership.
On the upside, cafes and coffee shops are aware of this situation, and for that reason they are normally very welcoming to digital nomads looking to set up base for a day or half day (normally- but not always. We have heard a couple of stories of cafes refusing to allow customers on their wifi, etc).
The two biggest coffee shop chains in HK- Starbucks and Pacific Coffee- could actually pass for semi-coworking spaces with the amount of large work tables, available plugs, and free & fast wifi. The only negative of working from these places is that after half an hour you'll be automatically logged out of your wifi session (you then need to manually log back in).
Then you have the smaller independent coffee shops, which almost always offer free wifi, but don't necessarily have specific work-friendly locations or power plugs. The upside, however, is that these places usually have a way more chilled atmosphere, and the wifi won't require re-logins.
Additionally, most Hong Kong libraries (and some embassy education centers on Hong Kong Island) also offer work spaces.
Coworking spaces in Hong Kong that we recommend: Paperclip, Naked Hub, WeWork, Wynd, The Hive, Ooosh
Lantau Island doesn't have any dedicated coworking spaces yet, but there are a handful of digital nomad-friendly cafes that have fast reliable internet, plugs, and best of all- beach views.
Cafes and digital nomad working places in Lantau that we recommend: China Bear, Mavericks, Long Island
Lamma Island opened its first coworking space, Fa Fa House, in 2017. They have fast internet, dedicated workspaces, awesome fresh food on the menu, and a beautiful plant-filled rooftop which is the perfect place for taking breaks from the screen.
We also recommend trying out Bookworm Cafe, which is one of the coolest spots on Lamma Island and is very work-friendly.
Internet em Hong Kong
The internet in Hong Kong is fast- super fast.
And the best thing is: it's everywhere. Existem free government provided hotspots all over the country (more than 2,000 to date), which you can hook into as soon as you hop off the plane.
Wifi speeds in Hong Kong are pretty phenomenal, with the average download speed measuring in at 153 Mbps and average upload at 146 Mbps.
As for mobile internet in Hong Kong:
SIM cards are readily available and offer strong 4G network coverage throughout the entire country. For nomads planning a short term visit in Hong Kong, we recommend these handy unlimited 3G/4G SIM cards which you can pick up at the airport when you arrive. They're valid for 8 days- perfect for those quick city drop-ins!
As for long term visitors:
Prepaid SIMs can be bought in convenience stores like 7-Eleven and Circle-K and don't require any registration. Contract SIMs, on the other hand, require a Hong Kong ID card to be presented at the time of purchase and usually need you to sign off on a minimum of a year's contract.
That being said, there's a black market for everything, and if it's contract SIMs you want, head for the oh-so-iconic-but-also-quite-dodgy ChungKing Mansions, and it is contract SIMs you shall get. Read more about Hong Kong's SIM card options and mobile internet providers in Hong Kong aqui.
---
Mercados e Alimentos em Hong Kong
You can find wet markets throughout the city, and these are by far the cheapest and most environmentally-friendly places to buy your fresh produce.
International supermarket chains like Marks & Spencer, Taste, City Super, and Oliver's the Delicatessen stock premium imported goods at a higher price, while Hong Kong's own supermarket chains like ParknShop and Wellcome stock all the basics (both Western and Asian) as well as fresh produce.
However even grocery shopping can end up being a pricey affair in Honkers, so if you're looking to keep costs to a minimum better head for the budget supermarkets like U Select, Prizemart, and 759 Store.
Home cooked meals are few and far between for many Hong Kongers because of the country's huge eating out culture. The plus side? You can find virtually any type of cuisine you can think of in Hong Kong. A basic local style meal starts at $6-7 USD, while a good one will cost around $25-38 USD (comparable prices for Western style meals). If you want to eat posh, be prepared to spend big bucks.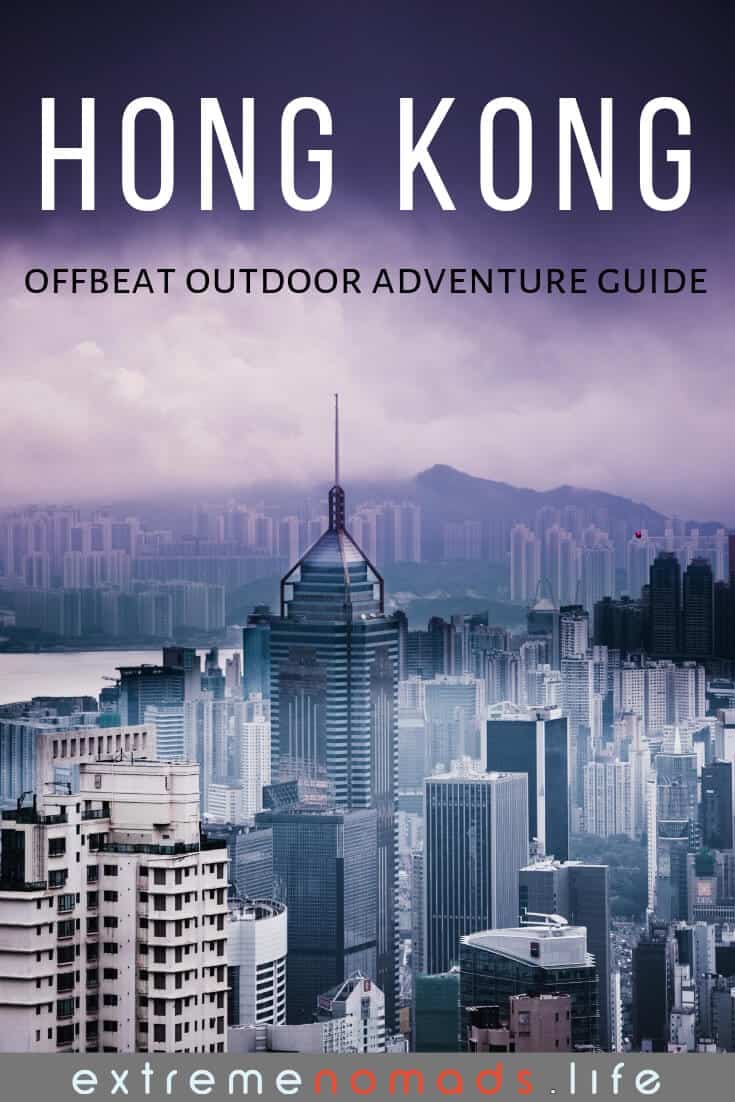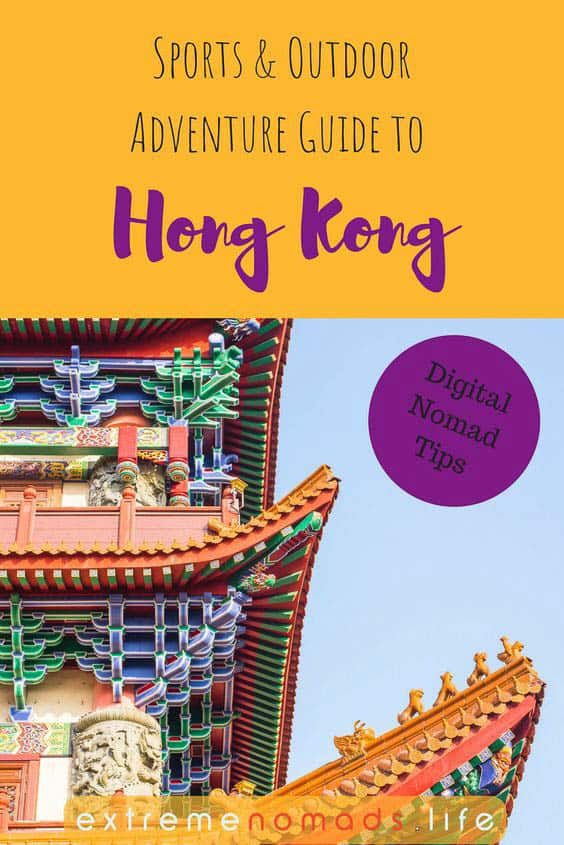 Foto da capa: Florian Wehde
Contributors: Neil Godbold, Kimberly Beebe