Wondering what to do in Taiwan? Travel writer and Taiwan-based expat Nick Kembel reveals the best adventure activities.
The subtropical island nation that I call home, Taiwan, is increasingly on the radar for travelers in Asia.
If you haven't been yet, you've probably at least heard: this small island country has got some of Asia's friendliest people, best street food, most efficient transportation, and tallest mountains.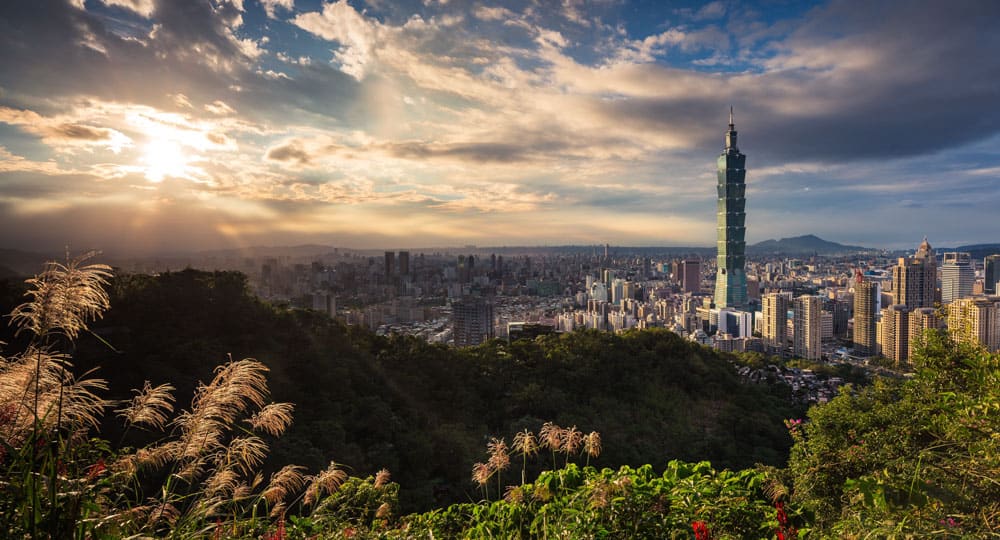 In the 10 years since I first moved to Taiwan, the country has begun to attract a new type of traveler: those seeking extreme sports and adventure activities.
To be honest, I've never considered myself an adventure traveler (I'm the kind of person who spends three hours doing an easy hike that should take one hour because I keep stopping to photograph freaky bugs).
But over the years in Taiwan I've somehow managed to complete more than half the activities on this list, often at the behest of thrill-seeking friends who are far braver than me.
You might also like:
One thing that my preferred adventure activities have in common is that they all involve water.
Coming from a very cold city in Canada, I'm the guy who is still wearing a T-shirt and shorts when everyone else is in full winter gear in Taiwan. And for every season except winter, I'm that guy who is perpetually sweaty.
Jumping into some water is the perfect solution, and often the only thing preventing me from picking up and moving to Siberia every time Taiwan's brutally hot and humid summer hits. I'm basically like a with legs once you get me into water.
You'll notice that just about all my suggestions below are either around Taipei or on the east coast of Taiwan, so adventure-seekers will want to plan their Taiwan trip accordingly.
So here are my suggestions for the 10 best adventure activities to do in Taiwan.
For those I haven't done myself, I've at least stood on the side wimpishly watching others do them, and all the photos are my own (except one creative commons photo; 3 points if you can guess which one it is in the comments!) And if this article isn't enough to convince you to add Taiwan to your bucket list, then see my list of unmissable things to do in Taiwan for another 50 reasons!
---

What to do in Taiwan: 10 adventurous activities
1. Rock Climbing
I'm starting with rock climbing, because you can do it right within the Taipei City limits! Even though nearly 70% of Taiwan is covered with mountains, there are surprisingly few places in the country for rock climbing.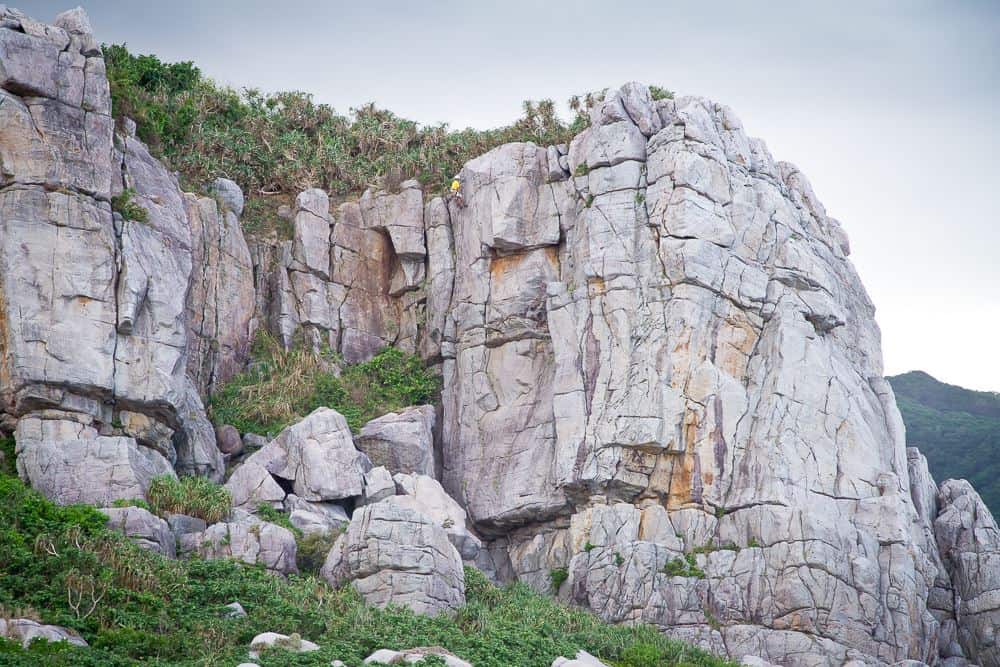 Taipei in fact sits in a basin surrounded by mountains and dormant volcanoes. In the same area as the popular Beitou Hot Spring village, there is a rock climbing spot called Rehai Cliff. It's not very spot; in fact, few Taipei residents even know about it. I only found out about it a few months ago when I was (not so adventurously) stewing myself in a hot spring at Beitou, and somebody pointed out a little path of rock on the mountain opposite us with climbers going up. It's not recommended to go alone, but Shawa Canyoning offers guided trips.
The best rock climbing spot in all of Taiwan is Longdong (or "dragon cave") on the northeast coast. Longdong features a beautiful two-kilometer stretch of cliffs facing the Pacific Ocean, suitable for a full range of abilities. Be aware that some of the bolts on the cliff face can be eroded from the sea salt in the wind, so extra precaution is necessary. You can find guided rock climbing tours by doing a quick search on google.
There is a whole book dedicated to rock climbing at Longdong. You can reach Longdong in 90 minutes from Taipei Main Station on bus 1811. Longdong is also one of the best places in Taiwan to go cliff diving (see #2).
2. Cliff diving
Do you love jumping from insane heights into water? I sure do, though I must admit that as I get older the acrophobia is sure kicking in. Still, I couldn't say no to a jump off the awesome cliff on a rocky island just off the coast at Longdong, in the same area as the rock climbing I discussed above.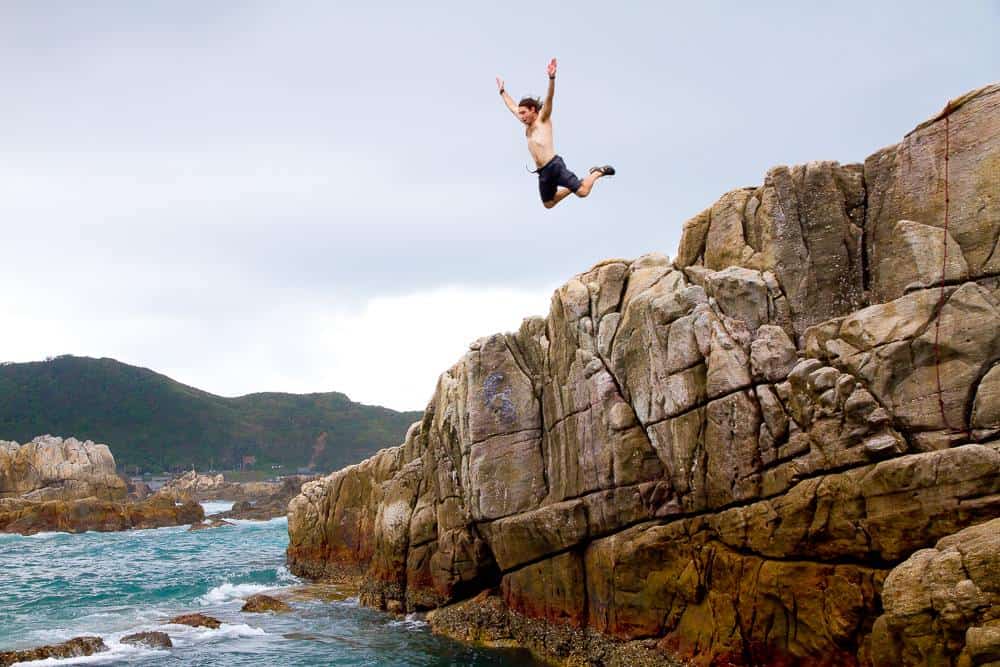 Again, extra caution is needed here. To reach the rocky island, you have to jump into ocean water that can be fairly choppy and then swim a couple dozen meters. On top of that, the rocks can be pretty jagged here, so wearing some kind of shoes you can get wet are ideal for climbing up there.
Besides Longdong, most river tracing routes (see #3) in Taiwan include one or more spots where you can jump in from various heights.
You might also like:
3. River Tracing
River trekking, usually called river tracing in Taiwan, is Asia's answer to canyoning. The activity has become quite popular in recent years in Japan, Hong Kong, and Taiwan. Basically it involves walking up (or floating down) a river, stopping at various spots to jump into pools of water, slide down rockslides, and so on.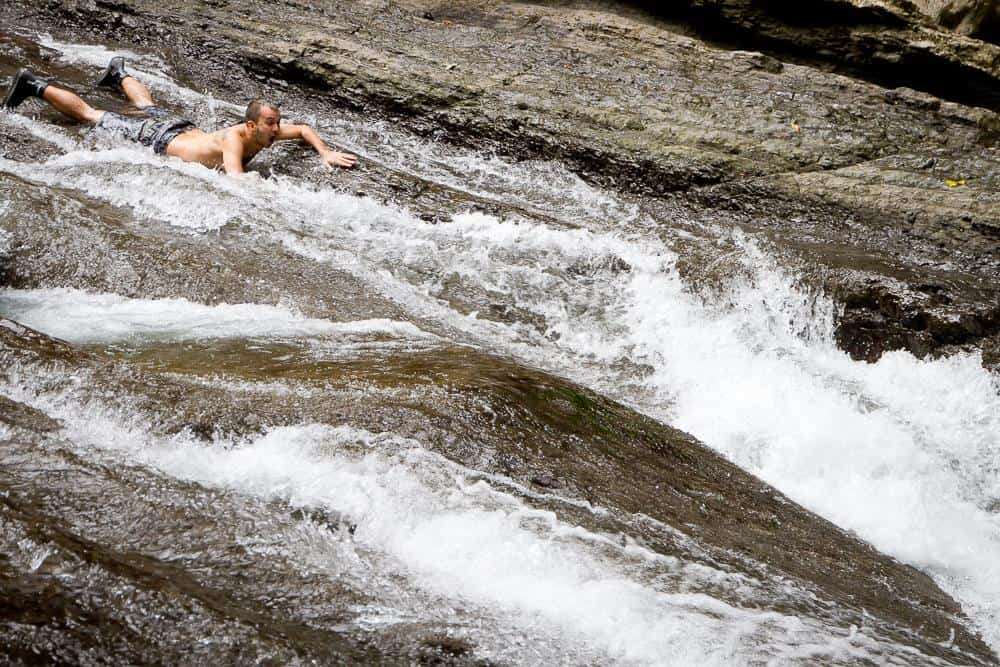 River trekking routes in Taiwan range from leisurely affairs that can be done alone (without a guide, that is, never totally alone) to intense, often dangerous routes that are best with a guide, full equipment, and lots of experience.
At the very least, you must pick up a pair of river tracing boots, which have felt bottoms that prevent you from slipping while scampering over rocks. A life jacket and helmet are also recommended and any guided river tracing venture will make you use them.
River tracing is hands down my favorite summertime activity in Taiwan, especially when the heat is at its most intense. It even beats going to the beach for me, because you get the beauty and sounds of the mountains and forest, along with the pleasure of being submerged in the cool water.
The most accessible river treks from Taipei are Jiajiuliao Stream in Wulai, south of the city, and in Yangminshan National Park. Further afield, there are numerous options in Yilan and Hualien counties.
Probably the most renowned river trace in Taiwan is the Golden Grotto in Hualien. I did this insane river trace with a few friends five years ago, and it was probably the most "adventurous" (read: terrifying) yet simultaneously breathtaking experience I've ever had in Taiwan.
The 6-7-hour return trek begins in the aboriginal village of Sanzhan, located a short drive from the entrance to Taroko Gorge, the "Grand Canyon of Taiwan" and one of the country's most famous tourist attractions.
After walking for a couple hours up a wide stream, the trek veers into a narrow gorge where you swim up a stream containing multiple hidden pools. Ropes are required (and often but not always left in place) to climb up numerous waterfalls before you reach the end at the Golden Grotto at the end. I hope the pictures do it justice!
4. Extreme Hiking
If hiking is your thing, then you should drop whatever you are doing in your life right now and buy a plane ticket directly to Taiwan. I'm dead serious. You could go on one epic hike in Taiwan every weekend, and not run out of hikes for years. There are hiking groups in Taiwan who literally do this.
Speaking of epic hikes, the capital city Taipei is once again surprisingly close to not one but three that are worth mentioning (are you beginning to see why living in Taipei is so awesome?).
What makes these three hikes particularly epic is the sheer variety of terrain and insane verticals: think rope ladders up cliff faces, jungle all around you, and crags poking impossibly into the sky. But the best part is that you don't need any equipment, and anyone who is in reasonable shape can do any of them.
The Pingxi Crags feature a cluster of crags that you can ascend in sequence, Huang Di Dian takes you up to a long ridge walk, while Wuliaojian is probably the pick of the three, with a little of everything.
If you are into ascending high mountains, then welcome to the home of Northeast Asia's highest peak: Yushan (Jade Mountain). At 3952, it just barely beats out Mt. Fuji (and minus all the crowds, due to strictly enforced daily limits), and it's a relatively easy two-day return hike to reach the peak. I did it in my first year in Taiwan, and witnessed a glorious sunrise from above a sea of clouds from the summit.
A different option is to hike Xueshan (Snow Mountain) in winter, when it really does snow, and holy shit did it ever snow a lot when we did it! We still made it to the summit, but I'm not going to lie and say that we saw anything up there!
5. Surfing
Did you know that Taiwan has become a surfing destination in recent years? Few people do, so you are excused. The country is a great place for beginners because the waves are often quite small, but advanced surfers may be rewarded with wilder surf in winter or when a typhoon is a day or two away in summer.
Editor's note: read more about Taiwan's epic surf potential in our monster guide to surfing in Asia!
In northern Taiwan, the long stretch of beach at Wai Ao in Yilan county, accessible on the regular train from Taipei in 2 hours, is the best choice. Here you'll find a row of surf shops providing equipment, gear, and cold beers for when you're done, or you can rent a board from right on the beach. You can also book a surfing lesson here.
In Southern Taiwan, Dulan in Taitung county is the best choice. This little aboriginal village has become an enclave of hippies, musicians, artists, and backpackers in recent years, and nearby Dulan Beach is one of the country's best places to hit the surf.
6. Whale Watching
This one's still on my to-do list for Taiwan (excuses, I know), but Taiwan is a great place to spot a surprising variety of whales, including humpback whales, killer whales, sperm whales, false killer whales, and pygmy killer whales, not to mention a similarly varied number of dolphins.
All in all you can see 29 of the world's 60 cetacean (whales and dolphin) species in Taiwan! The best place to try is Hualien on the east coast. Book your trip here on Klook.
Like anywhere in the world, sightings are not guaranteed, and reviewers of these whale watching tours often mention that they saw dolphins but not any whales, so you also need some luck here.
7. White Water Rafting
I'm starting to feel like a real poseur now, because I haven't done #7 either, but it has to be mentioned. White water rafting is not a common activity in Taiwan, but if you want to, Hualien County is the place to do it.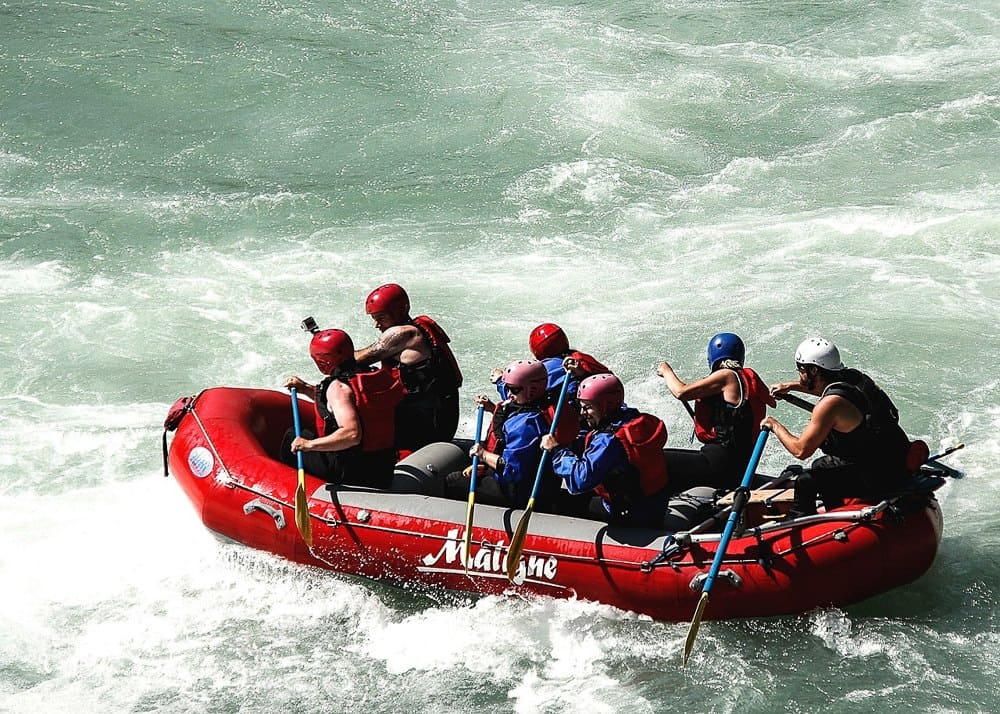 The most famous white water rafting route is on the Xiuguluan river, which is the only river in eastern Taiwan that cuts through the coastal mountain range. There are at least 20 sections of rapids on the 3-4 hour trip. You can organize it through companies such as this one.

8. Scuba Diving
OK, let's talk about something I have actually done: scuba diving in Taiwan! In Northern Taiwan, there's scuba diving and snorkeling to be had at Longdong (see #1 and #2). However, in the less tropical north, colors are less vivid, and you'll want to skip winter when the weather gets far too chilly for most people to want to go in.
Once you travel south of the tropic of cancer (which bisects Taiwan right in half), the weather gets warmer more tropical, allowing for scuba diving year-round. One of the best places to try it is Green Island, a small tropical island off the east coast in Taitung, and this is where I tried it. Another more remote option is at Lanyu (Orchid Island).
There is also plenty of diving to be done in Kenting, the national park on the southern tip of Taiwan.
9. Paragliding
From the peaks of the Central Mountain Range and Coastal Mountain Range, the land drops to nearly 4000 meters below sea level just off the east coast of Taiwan.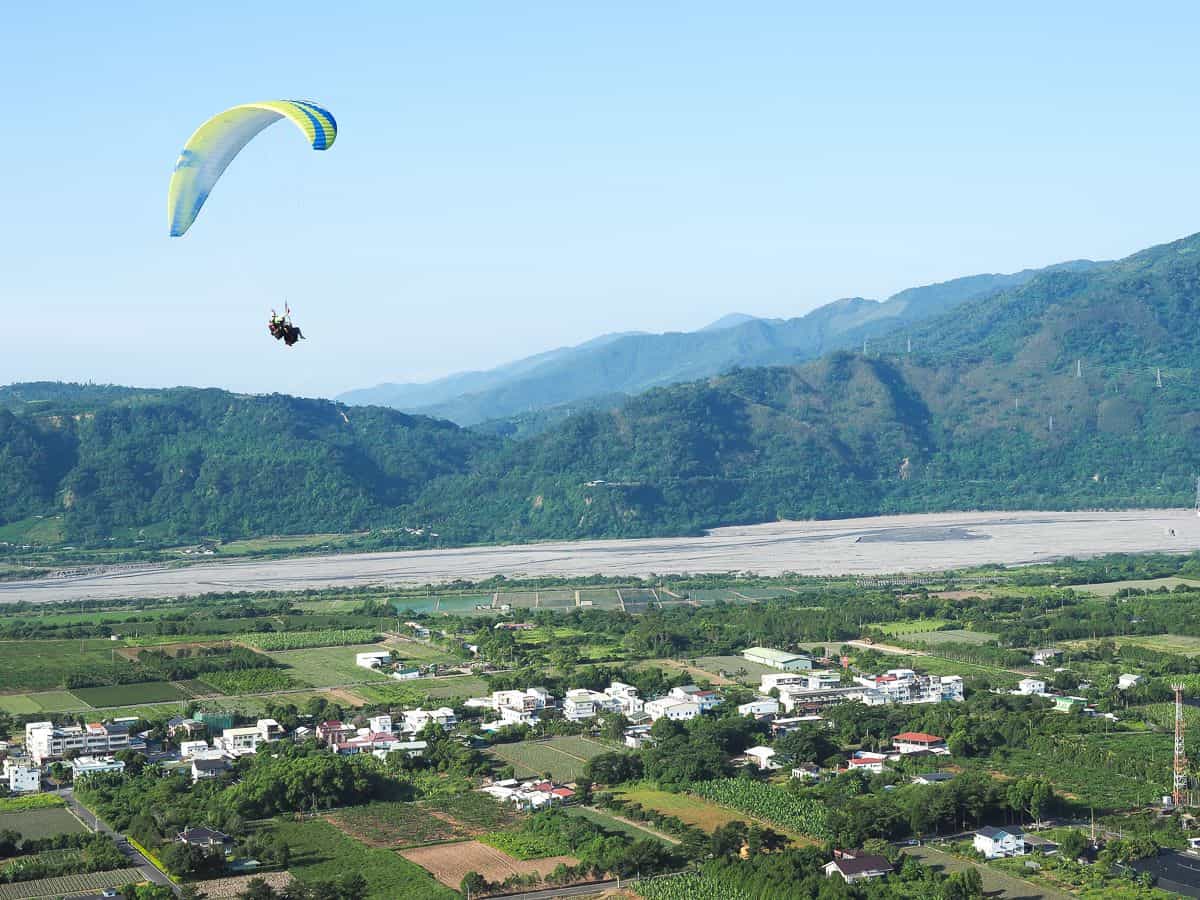 This dramatic landscape also makes the east coast of Taiwan, in particular the East Rift Valley, a picturesque backdrop of rice paddies and fruit farms, the perfect place for paragliding.
One popular spot to go paragliding in this area is in Fenglin, while another one is on the Luye Plateau (see #10).
10. Hot Air Balloon Riding
Did I save the best for last? You might think so. I can't imagine a more beautiful way to take in Taiwan's stunning East Rift Valley than from a hot air balloon.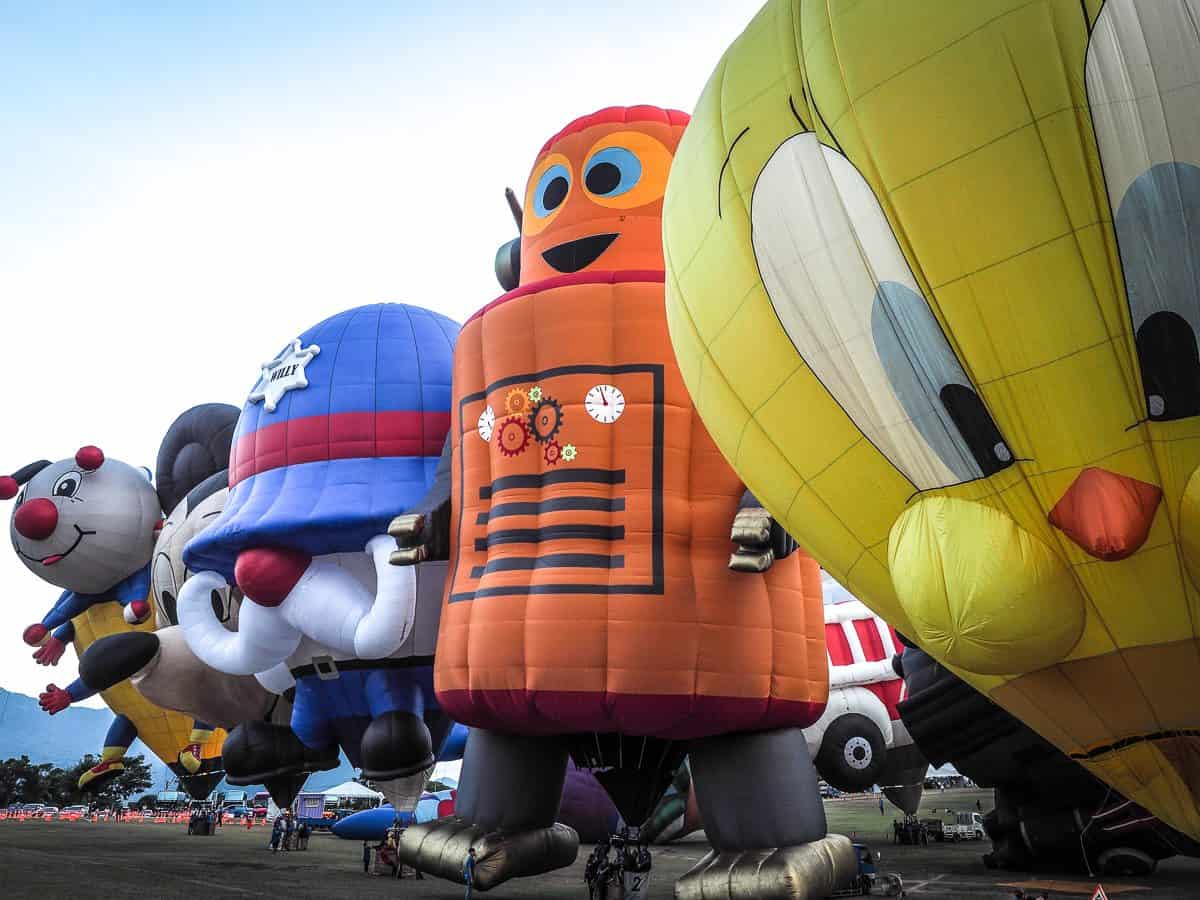 The tiny village of Luye in Taitung county is practically synonymous with hot air balloon riding in Taiwan. Every summer, the month-long Taitung Hot Air Balloon Festival takes place on the Luye Highland, a beautiful plateau above town.
Even if you don't actually ride a hot air balloon, the festival is a popular attraction for visitors. Last summer I took my kids, and we were mesmerized by the dozens of balloons, many of them shaped like cute animals or other characters, being blown up right in front of us.
You can also take a 10-minuted tethered balloon ride if you don't want to fork over the money for the full ride.
Got a burning question about what to do in Taiwan? Drop your questions about adventure activities in Taiwan in a comment below and we'll get back to you ASAP!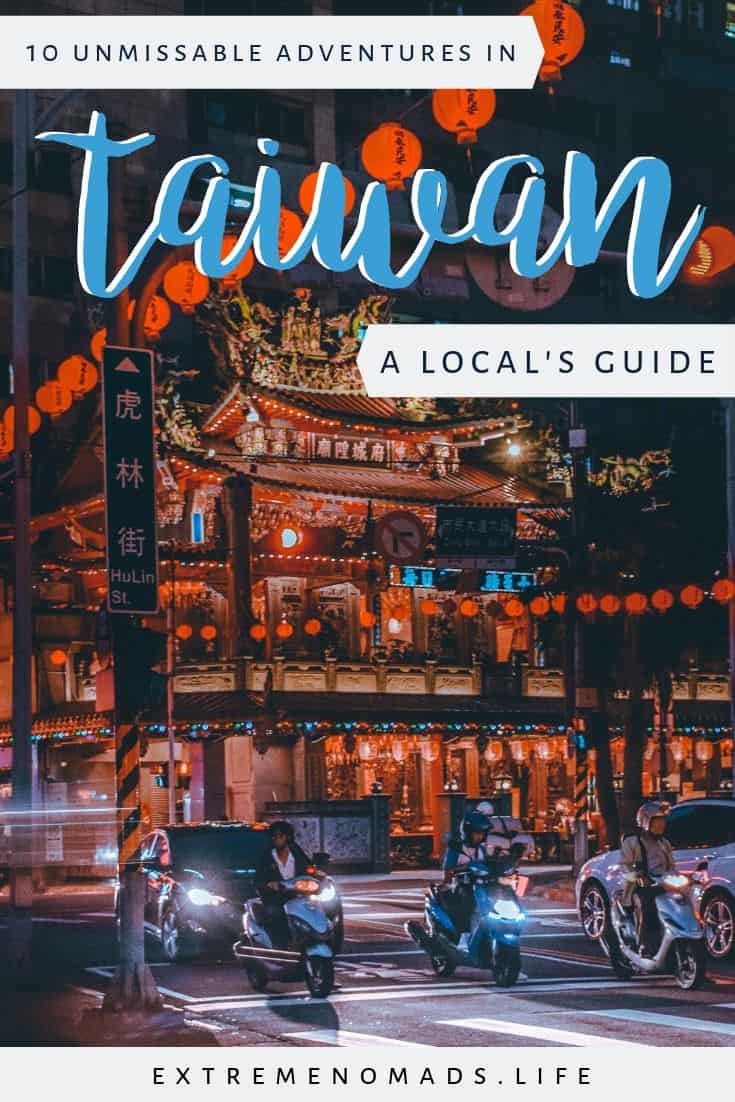 ---
Hey, want to make sure you don't miss any of our future articles? just sign up to our monthly Extreme Nomads newsletter when exiting this page (also located in the footer / sidebar), or follow us on Facebook, Instagram, or Youtube for more original content from us!
Read next: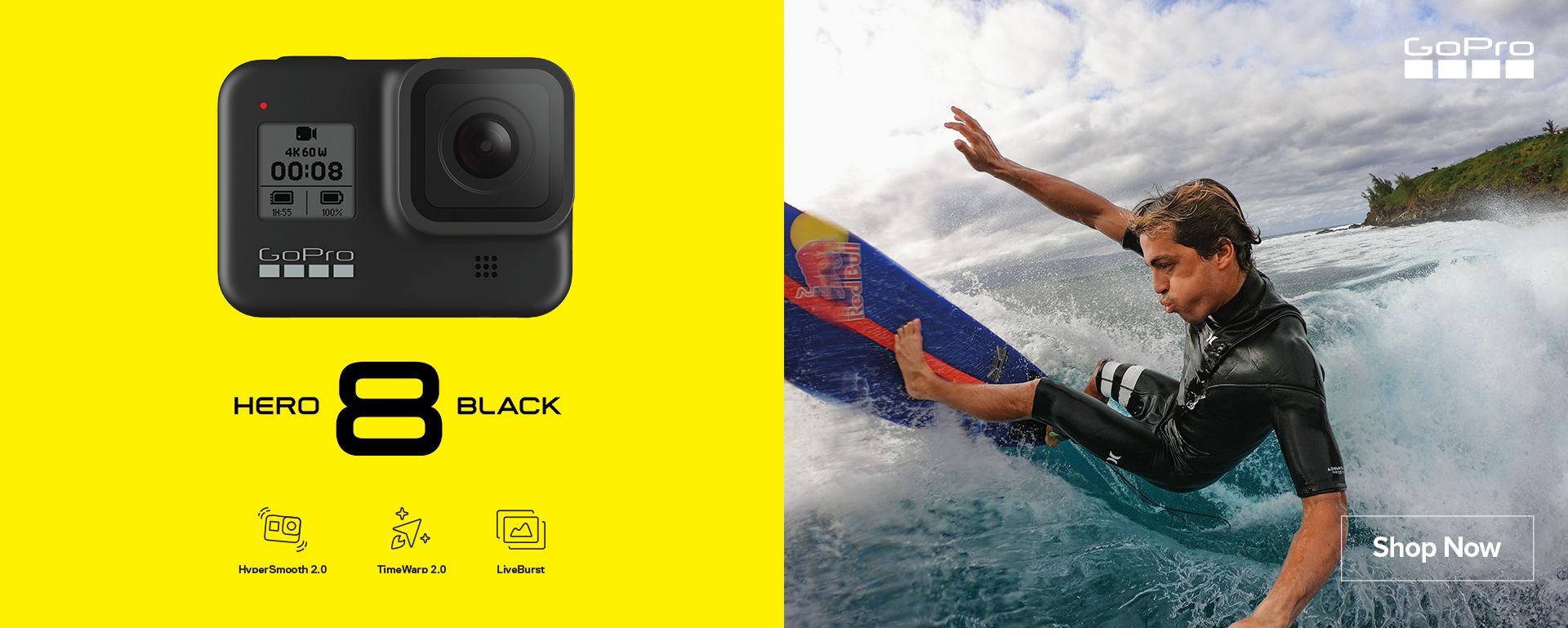 Get $100 – €100 off your new GoPro Hero 8 Black, offer valid until 1st of July, only on GoPro.com!